"A tree is best measured when it is down," the poet Carl Sandburg once observed, "and so it is with people." The recent death of Harry Belafonte at the age of 96 has prompted many assessments of what this pioneering singer-actor-activist accomplished in a long and fruitful life.
Belafonte's career as a ground-breaking entertainer brought him substantial wealth and fame; according to Playbill magazine, "By 1959, he was the highest paid Black entertainer in the industry, appearing in raucously successful engagements in Las Vegas, New York, and Los Angeles." He scored on Broadway, winning a 1954 Tony for Best Featured Actor in a Musical – John Murray Anderson's Almanac. Belafonte was the first Black person to win the prestigious award. A 1960 television special, "Tonight with Belafonte," brought him an Emmy for Outstanding Performance in a Variety or Musical Program or Series, making him the first Black person to win that award. He found equal success in the recording studio, bringing Calypso music to the masses via such hits as "Day-O (The Banana Boat Song)" and "Jamaica Farewell."
Harry Belafonte - Day-O (The Banana Boat Song) (Live)www.youtube.com
Belafonte's blockbuster stardom is all the more remarkable for happening in a world plagued by virulent systemic racism. Though he never stopped performing, by the early 1960s he'd shifted his energies to the nascent Civil Right movement. He was a friend and adviser to the Reverend Doctor Martin Luther King, Jr. and, as the New York Times stated, Belafonte "put up much of the seed money to help start the Student Nonviolent Coordinating Committee and was one of the principal fund-raisers for that organization and Dr. King's Southern Christian Leadership Conference."
The Southern Poverty Law Center notes that "he helped launch one of Mississippi's first voter registration drives and provided funding for the Freedom Riders. His activism extended beyond the U.S. as he fought against apartheid alongside Nelson Mandela and Miriam Makeba, campaigned for Mandela's release from prison, and advocated for famine relief in Africa." And in 1987, he received an appointment to UNICEF as a goodwill ambassador.
Over a career spanning more than seventy years, Belafonte brought joy to millions of people. He also did something that is, perhaps, even greater: he fostered the hope that a better world for all could be created. And, by his example, demonstrated how we might go about bringing that world into existence.
CULTURE
8 Things You Didn't Know About Martin Luther King Jr.
The American icon was a complicated man.
Every year, we celebrate the life and accomplishments of Martin Luther King Jr. on the third Monday of January. This typically works out to be around King's birthday, January 15. Most people know that King was a civil rights leader that fought against segregation. He also worked to secure voting rights for black Americans and other minorities. His work helped push the Civil Rights Act of 1964 through Congress and into law.
But there is so much more about Martin Luther King Jr. that just isn't common knowledge. Here are a few things that have been forgotten over the course of history.

1. King was a strong supporter of democratic socialism.

During the 2016 election, Bernie Sanders brought the term "democratic socialism" to the forefront of American politics. But Martin Luther King Jr. openly supported the philosophy throughout his life. As a child, King saw the bread lines during the Great Depression. "I can see the effects of this early childhood experience on my present anti-capitalistic feelings," he wrote in a paper while he was a divinity student in 1950. King saw capitalism as "a system that takes necessities from the masses to give luxuries to the classes."
2. King's activism went beyond the Civil Rights Movement.
He also protested the Vietnam War. In 1967, King delivered a speech entitled "Beyond Vietnam," in which he called for the United States to stop bombing in Vietnam. He also stated that American troops should pull out of the area and the U.S. should enter into a truce that would lead to peace talks. King viewed the American intervention in Vietnam as imperialism. He was staunchly anti-war and a pacifist.
3. It wasn't until the year 2000 that MLK Day was observed in every state.
While Martin Luther King Day became a federal holiday in 1986, but not every state observed it until 17 years ago. South Carolina became the last state to recognize the holiday in 2000. Because MLK Day is a federal holiday — not a national one — only federal employees received a paid day off. The holiday was met with resistance when it was first enacted because some felt King was too subversive to receive federal recognition.
4. King held numerous academic accomplishments.
Throughout his life, King's intellect shined in his writing and activism. As an adolescent, he skipped both the 9th and 12th grades. He entered Morehouse College at age 15. He studied Sociology and Systematic Theology and received his Ph.D. in 1955. He was also awarded many honorary degrees from various U.S. institutions and some foreign universities. Among them are multiple degrees titled Doctor of Law, Doctor of Humanities and Doctor of Divinity.
5. Over 900 streets in the United States are named after Martin Luther King Jr.
After his assassination in 1968, many states re-named streets in his honor. His name even graces streets in foreign countries. Forty states in America have at least one street named after King. Unfortunately, many of the streets in the U.S. with his namesake often struggle economically. These streets tend to have high levels of poverty, inequality, and racial segregation when compared to their respective cities and states.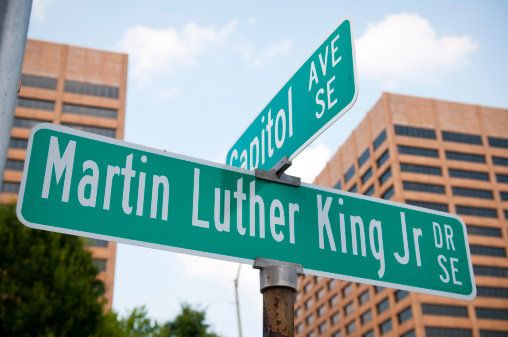 Getty Images
6. He was the youngest person to receive the Nobel Peace Prize.

In 1964, King received the Nobel Peace Prize for his nonviolent resistance to racial prejudice in America. At 35, he was the youngest person to ever receive the award. Alfred Nobel, for whom the award is named, described the recipient of the Peace Prize as "the person who shall have done the most or the best work for fraternity between nations, for the abolition or reduction of standing armies and for the holding and promotion of peace congresses."
7. King was a fan of Star Trek.
The classic science fiction TV show first aired in 1966. Star Trek made a mark on American pop culture and civil rights. The U.S.S. Enterprise crew was made up of various races and nationalities, including Lieutenant Uhura. Nichelle Nichols even discussed with King the possibility of leaving the show after its first season. King encouraged her to stay on. The representation of an African-American woman in a position of leadership was too important.
8. He was TIME Magazine's first black Man of the Year.
In 1963, TIME Magazine named King as the Man of the Year. That was the same year King delivered his famous "I Have A Dream" speech on the steps of President Abraham Lincoln's memorial. The magazine cited King's essay "Letter from Birmingham Jail" and his leadership in many peaceful protests as justification for the title.