Dall-E Mini, the AI-powered text-to-image generator has taken over the internet. With its ability to render nearly anything your meme-loving heart desires, anyone can make their dreams come true.
DALL-E 2, a portmanteau of Salvador Dali, the surrealist and Wall-E, the Pixar robot, was created by OpenAI and is not widely available; it creates far cleaner imagery and was recently used to launch Cosmpolitan's first AI-generated cover. The art world has been one of the first industries to truly embrace AI.
The open-sourced miniature version is what's responsible for the memes. Programmer Boris Dayma wants to make AI more accessible; he built the Dall-E Mini program as part of a competition held by Google and an AI community called Hugging Face.
And with great technology, comes great memes. Typing a short phrase into Dall-E Mini will manifest 9 different amalgamations, theoretically shaping into reality the strange images you've conjured. Its popularity leads to too much traffic, often resulting in an error that can be fixed by refreshing the page or trying again later.
If you want to be a part of the creation of AI-powered engines, it all starts with code. CodeAcademy explains that Dall-E Mini is a seq2seq model, "typically used in natural language processing (NLP) for things like translation and conversational modeling." CodeAcademy's Text Generation course will teach you how to utilize seq2seq, but they also offer opportunities to learn 14+ coding languages at your own pace.
You can choose the Machine Learning Specialist career path if you want to become a Data Scientist who develops these types of programs, but you can also choose courses by language, subject (what is cybersecurity?) or even skill - build a website with HTML, CSS, and more.
CodeAcademy offers many classes for free as well as a free trial; it's an invaluable resource for giving people of all experience levels the fundamentals they need to build the world they want to see.
As for Dall-E Mini, while some have opted to create beauty, most have opted for memes. Here are some of the internet's favorites:
There's no looking back now, not once you've seen Pugachu; artificial intelligence is here to stay.
POLITICS
Warren Rebukes Trump's 'Pocahontas' Taunts with DNA Test Results
TheHill
Genetics expert tells Warren, "The facts suggest that you absolutely have a Native American ancestor in your pedigree."
Like a schoolyard bully who can make even the most uncreative insult sting through pure repetition, Trump manages to provoke his political opponents with his uninspired — but doggedly consistent — nicknames.
From "lyin' Ted" to "little rocket man," Trump's derisive monikers tend to become widely used in the media and draw angry reactions from those they're bestowed upon. Just as your sixth grade bully didn't seem to care that calling you "brace face" was neither clever nor funny, the only apparent criteria Trump has for his nicknames is the ability to easily tweet them...over and over again.
Trump's infamous nickname for Elizabeth Warren is perhaps the best known insult in Trump's arsenal. Calling the Senator "Pocahontas" began because of Warren's claims that she has distant native American ancestors. The label is staggeringly offensive, vaguely nonsensical, and frequently repeated with pride by the Commander-in-Chief. When Trump first used the epithet, he was criticized for the obviously racist implications of the name; but, always one to say, "hold my beer" when accused of racism, Trump then went on to reference the nickname at an event honoring Navajo veterans in November 2017, once and for all proving this presidency has made South Park obsolete.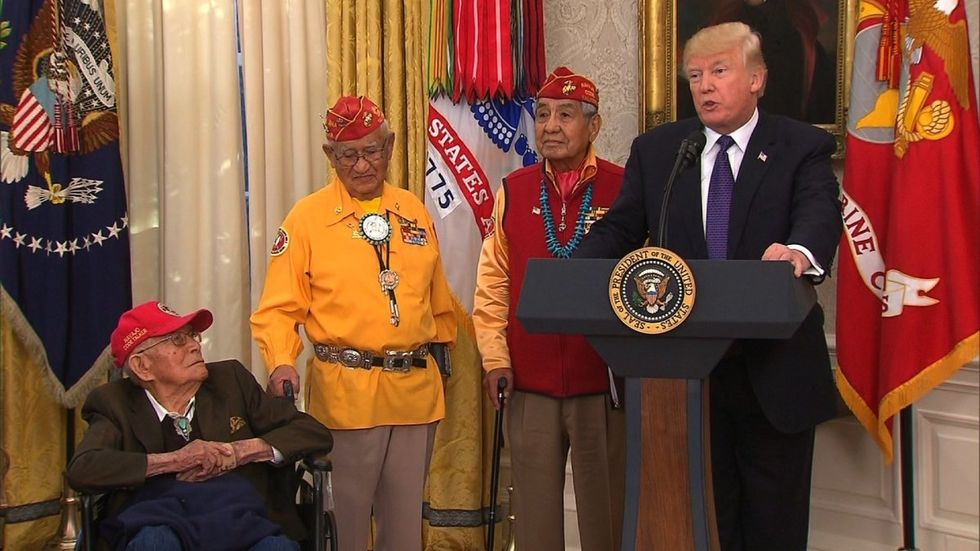 Fox43
But the Pocahontas taunting didn't stop there. During a July rally, Trump said that he would give $1 million to Warren's "favorite charity" if she took a DNA test and it showed she is "an Indian." Now, Warren has documentation to back up her claim of Native American heritage: an analysis of her genetic data performed by Carlos Bustamante, a professor of genetics at Stanford. Bustamante told the Senator, "The facts suggest that you absolutely have a Native American ancestor in your pedigree."
Just as you were naively sure the "brace face" teasing would cease as soon as you showed up to school braces-free, Warren seemed to think Trump would cease his mocking when presented with facts. But, proving that his nickname for Warren never had anything to do with her ancestry claim, Trump shrugged off Warren's DNA test results on Monday, telling reporters, "Who cares?" when asked to comment on the results.
Trump went on to say, "I didn't say that. You'd better read it again," when asked about the video footage that clearly shows the President saying, "I will give you a million dollars, to your favorite charity, paid for by Trump, if you take the test and it shows you're an Indian, I have a feeling she will say 'no.'"
Now, apparently unaware that he only spends money on golf and ugly hotels, Warren is calling for Trump to make good on his promise of $1 million. She tweeted Monday morning that Trump could "send the check to the National Indigenous Women's Resource Center."
By the way, @realDonaldTrump: Remember saying on 7/5 that you'd give $1M to a charity of my choice if my DNA showed… https://t.co/iaYj2J3OUm

— Elizabeth Warren (@Elizabeth Warren) 1539608627.0
Warren said in a video released Monday that the issue "isn't just about casual racism" but part of a pattern of "discrimination, neglect and violence" that Native communities have faced "for generations." She adds, "Trump can say whatever he wants about me, but mocking Native Americans or any group in order to try to get at me, that's not what America stands for."

Many speculate that the DNA test is further evidence that Elizabeth Warren is planning to run for president in 2020, a possibility that Trump responded to this morning by saying, "I hope she's running for president because I think she'd be very easy... I do not think she'd be very difficult at all." To which Elizabeth Warren likely responded with a long, hollow laugh.
---
Brooke Ivey Johnson is a Brooklyn based writer, playwright, and human woman. To read more of her work visit her blog or follow her twitter @BrookeIJohnson.