"A tree is best measured when it is down," the poet Carl Sandburg once observed, "and so it is with people." The recent death of Harry Belafonte at the age of 96 has prompted many assessments of what this pioneering singer-actor-activist accomplished in a long and fruitful life.
Belafonte's career as a ground-breaking entertainer brought him substantial wealth and fame; according to Playbill magazine, "By 1959, he was the highest paid Black entertainer in the industry, appearing in raucously successful engagements in Las Vegas, New York, and Los Angeles." He scored on Broadway, winning a 1954 Tony for Best Featured Actor in a Musical – John Murray Anderson's Almanac. Belafonte was the first Black person to win the prestigious award. A 1960 television special, "Tonight with Belafonte," brought him an Emmy for Outstanding Performance in a Variety or Musical Program or Series, making him the first Black person to win that award. He found equal success in the recording studio, bringing Calypso music to the masses via such hits as "Day-O (The Banana Boat Song)" and "Jamaica Farewell."
Harry Belafonte - Day-O (The Banana Boat Song) (Live)www.youtube.com
Belafonte's blockbuster stardom is all the more remarkable for happening in a world plagued by virulent systemic racism. Though he never stopped performing, by the early 1960s he'd shifted his energies to the nascent Civil Right movement. He was a friend and adviser to the Reverend Doctor Martin Luther King, Jr. and, as the New York Times stated, Belafonte "put up much of the seed money to help start the Student Nonviolent Coordinating Committee and was one of the principal fund-raisers for that organization and Dr. King's Southern Christian Leadership Conference."
The Southern Poverty Law Center notes that "he helped launch one of Mississippi's first voter registration drives and provided funding for the Freedom Riders. His activism extended beyond the U.S. as he fought against apartheid alongside Nelson Mandela and Miriam Makeba, campaigned for Mandela's release from prison, and advocated for famine relief in Africa." And in 1987, he received an appointment to UNICEF as a goodwill ambassador.
Over a career spanning more than seventy years, Belafonte brought joy to millions of people. He also did something that is, perhaps, even greater: he fostered the hope that a better world for all could be created. And, by his example, demonstrated how we might go about bringing that world into existence.
The pressure is building for Saudi Arabia to disclose information about the journalist's disappearance.
Reports now confirm that Maher Abdulaziz Mutreba, a frequent companion of Saudi Arabia's crown prince, entered the Saudi consulate in Istanbul shortly before journalist Jamal Khashoggi arrived.
The time-stamped photograph is one of the most condemning pieces of evidence to link Khashoggi's October 2nd disappearance to the crown prince, Mohammed bin Salman.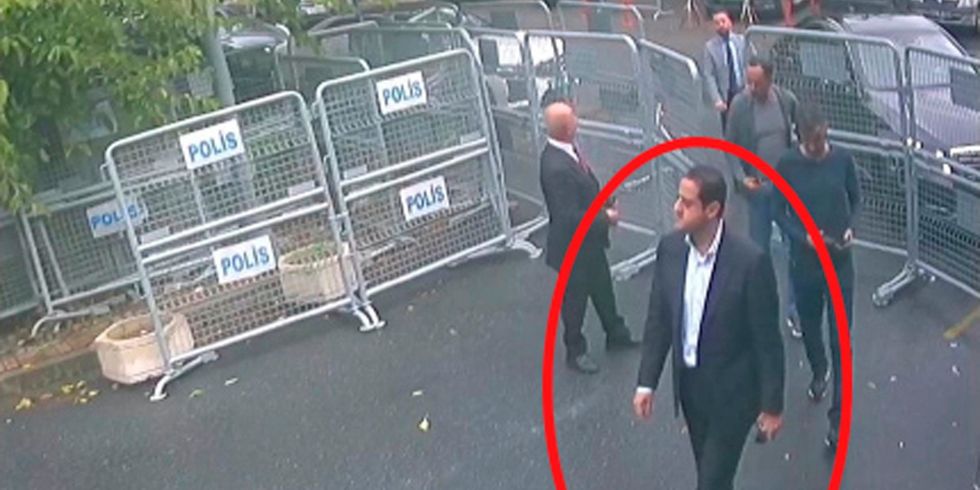 Associated Press
The New York Times reports that Sabah, a Turkish newspaper, also published photos of Mutreb "outside the Saudi consul general's home, leaving a Turkish hotel with a large suitcase, and leaving the country from Istanbul's international airport — all later that day."

This news comes in the wake of Steven Mnuchin, Treasury Secretary, announcing that he will not attend an upcoming investor conference in Saudi Arabia because of Khashoggi's disappearance. The DOW dropped 400 points after Mnuchin's tweet confirming his withdrawal.
Just met with @realDonaldTrump and @SecPompeo and we have decided, I will not be participating in the Future Invest… https://t.co/ESULIhy6Ov

— Steven Mnuchin (@Steven Mnuchin) 1539876574.0
Mnuchin had previously said he planned to attend the Future Investment Initiative, despite reports in the American and Turkish press alleging the gory dismemberment of the journalist at the hands of individuals with ties to high-up Saudi officials.

It's likely that Mnuchin's decision was influenced by several European countries recently announcing their respective withdrawals from the conference. The Trump administration had reportedly been waiting to see what other countries would do before making a decision about American representation at the conference.
This withdrawal comes as a surprising development in light of President Trump's repeated defense of Saudi Arabia since the news of Khashoggi's disappearance broke. Trump said the crown prince of Saudi Arabia "totally denied" knowledge about the suspected death of the journalist and that information about the matter would be coming "shortly."
But CNN reports that a group of Saudi men, who Turkish officials believe were involved in Khashoggi's apparent killing, were led by a high-ranking intelligence officer, with one source saying he was close to the inner circle of the country's Crown Prince Mohammed bin Salman.
With news of Mutreba's presence at the consulate, as well as the many withdrawals from the Future Investment Initiative, many speculate that the Saudis will soon be forced to reveal more information about Khashoggi's disappearance.
Brooke Ivey Johnson is a Brooklyn based writer, playwright, and human woman. To read more of her work visit her blog or follow her twitter @BrookeIJohnson.

Genetics expert tells Warren, "The facts suggest that you absolutely have a Native American ancestor in your pedigree."
Like a schoolyard bully who can make even the most uncreative insult sting through pure repetition, Trump manages to provoke his political opponents with his uninspired — but doggedly consistent — nicknames.
From "lyin' Ted" to "little rocket man," Trump's derisive monikers tend to become widely used in the media and draw angry reactions from those they're bestowed upon. Just as your sixth grade bully didn't seem to care that calling you "brace face" was neither clever nor funny, the only apparent criteria Trump has for his nicknames is the ability to easily tweet them...over and over again.
Trump's infamous nickname for Elizabeth Warren is perhaps the best known insult in Trump's arsenal. Calling the Senator "Pocahontas" began because of Warren's claims that she has distant native American ancestors. The label is staggeringly offensive, vaguely nonsensical, and frequently repeated with pride by the Commander-in-Chief. When Trump first used the epithet, he was criticized for the obviously racist implications of the name; but, always one to say, "hold my beer" when accused of racism, Trump then went on to reference the nickname at an event honoring Navajo veterans in November 2017, once and for all proving this presidency has made South Park obsolete.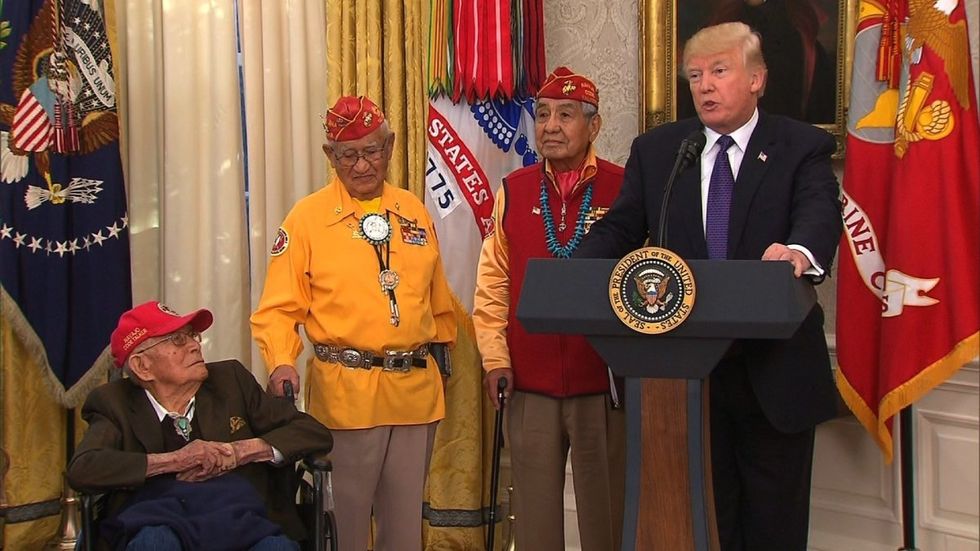 Fox43
But the Pocahontas taunting didn't stop there. During a July rally, Trump said that he would give $1 million to Warren's "favorite charity" if she took a DNA test and it showed she is "an Indian." Now, Warren has documentation to back up her claim of Native American heritage: an analysis of her genetic data performed by Carlos Bustamante, a professor of genetics at Stanford. Bustamante told the Senator, "The facts suggest that you absolutely have a Native American ancestor in your pedigree."
Just as you were naively sure the "brace face" teasing would cease as soon as you showed up to school braces-free, Warren seemed to think Trump would cease his mocking when presented with facts. But, proving that his nickname for Warren never had anything to do with her ancestry claim, Trump shrugged off Warren's DNA test results on Monday, telling reporters, "Who cares?" when asked to comment on the results.
Trump went on to say, "I didn't say that. You'd better read it again," when asked about the video footage that clearly shows the President saying, "I will give you a million dollars, to your favorite charity, paid for by Trump, if you take the test and it shows you're an Indian, I have a feeling she will say 'no.'"
Now, apparently unaware that he only spends money on golf and ugly hotels, Warren is calling for Trump to make good on his promise of $1 million. She tweeted Monday morning that Trump could "send the check to the National Indigenous Women's Resource Center."
By the way, @realDonaldTrump: Remember saying on 7/5 that you'd give $1M to a charity of my choice if my DNA showed… https://t.co/iaYj2J3OUm

— Elizabeth Warren (@Elizabeth Warren) 1539608627.0
Warren said in a video released Monday that the issue "isn't just about casual racism" but part of a pattern of "discrimination, neglect and violence" that Native communities have faced "for generations." She adds, "Trump can say whatever he wants about me, but mocking Native Americans or any group in order to try to get at me, that's not what America stands for."

Many speculate that the DNA test is further evidence that Elizabeth Warren is planning to run for president in 2020, a possibility that Trump responded to this morning by saying, "I hope she's running for president because I think she'd be very easy... I do not think she'd be very difficult at all." To which Elizabeth Warren likely responded with a long, hollow laugh.
---
Brooke Ivey Johnson is a Brooklyn based writer, playwright, and human woman. To read more of her work visit her blog or follow her twitter @BrookeIJohnson.