For the third installment of the Visionaries Project, we spoke to Sara Gozalo about capitalism, fighting ICE and the prison industrial complex, combating burnout as an activist, and her vision of a better world.
The Visionaries Project is a subsection of The Liberty Project dedicated to highlighting the lives, passions, and work of radical activists currently working towards social justice and liberation from oppression. We aim to uplift the perspectives of diverse voices working in media and activism today—and not just the faces who make headlines, but the real people on the ground every day, working towards their visions of a better world.
Sara Gozalo is an organizer currently based in New Orleans. Originally from Madrid, she describes herself as a "queer immigrant who believes in a world without borders and without jails, where everyone has the right to live in dignity." She currently works as a Unanimous Jury Specialist at the Promise of Justice Initiative, co-founded Students for Peace and Justice, and was formerly the Supervising Coordinator of the New Sanctuary Coalition and a member of the Worcester Global Action Network. We spoke with her about the insidiousness of capitalism, her work fighting ICE and the prison industrial complex, combating burnout as an activist, and her vision of a better world.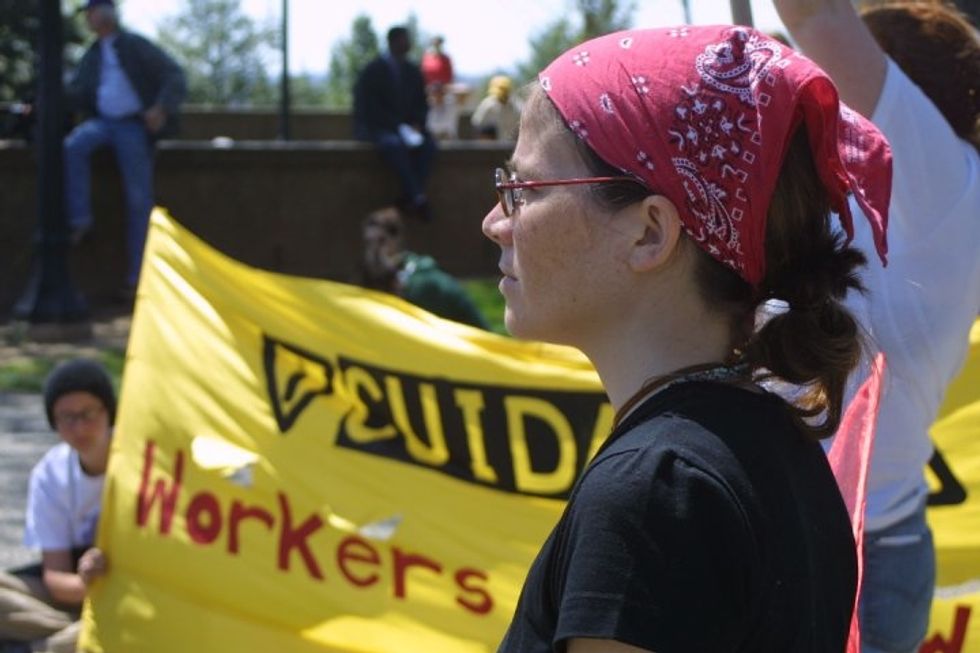 LIBERTY PROJECT: I was wondering if you could give an overview of your experience in activism and organizing.
SARA GOZALO: I have been organizing for a long time. I've only been organizing professionally for the past three and a half to four years, but I organized when I was at UMass against the war in Iraq. We did a lot of workshopping and teachings about free trade agreements, and how capitalism was destroying the planet.
It seems like that was such a long time ago, and we're still dealing with the same issues. I think that a lot of organizing is understanding that you're running a marathon, and it's never going to be a sprint. It's going to be a lot of small victories along the way, but you're going to fight the same issues constantly. That can be pretty demoralizing, but it also means you can never stop.
I come from a family that's very political. My dad is an attorney in Spain, and when he was a student he got arrested and kicked out of school for organizing against Franco during the dictatorship. My mom was always very political, and I remember hating that when I was a little kid.
While I was going through my own immigration case, I realized how hard it is for someone with a ton of privilege, and I started to look into what it was like for people who aren't as privileged. I got very involved in the immigration issue. Since I moved to New Orleans, I've seen the same patterns in the criminal justice system.
I think New Orleans brings these issues together. It has been very impacted in terms of climate change. Louisiana has the highest numbers per capita of incarcerated people [in the US], and one of the highest numbers of migrants in detention. The city brings everything together, and ties in all the different aspects that I have organized around in my life. In the end, it is important to remember that they're all related to each other.
Where are you at now?
I moved to New Orleans this summer. My wife was born and raised here. I'm working at the Promise of Justice Initiative, which is an organization that does a lot of criminal justice work.
It's clear that all these issues are very interconnected. Lately it seems that there's been a particular resurgence of anticapitalist sentiment, though that was always there…Is that affecting your organizing at all?
I have been organizing with these anti-capitalists since the late '90s. It feels like the "resurgence" has been a long time coming.
When we were organizing around the Iraq war in 2002 and 2003, we were very much organizing under the capitalist lens. Grassroots movements like Occupy and the movement for Medicare for All have ignited something even bigger now. It's become more mainstream.
The fight against capitalism is decades long, and its roots are in the people who are directly impacted, especially indigenous people all around the world. They have led that fight, because they know in their bodies what capitalism is doing to the world. I think it's important that now that conversation is part of western countries, especially the United States, which in many ways is the belly of the beast in terms of capitalism. Anti-capitalist organizing has been there forever; it just now feels like you can talk about it and people won't immediately discard you as someone crazy.
I want to make sure that [in spite of all the] now-mainstream groups that are taking this fight on—which is super important and necessary—we recognize how many people have been fighting this fight for so long and leading the efforts.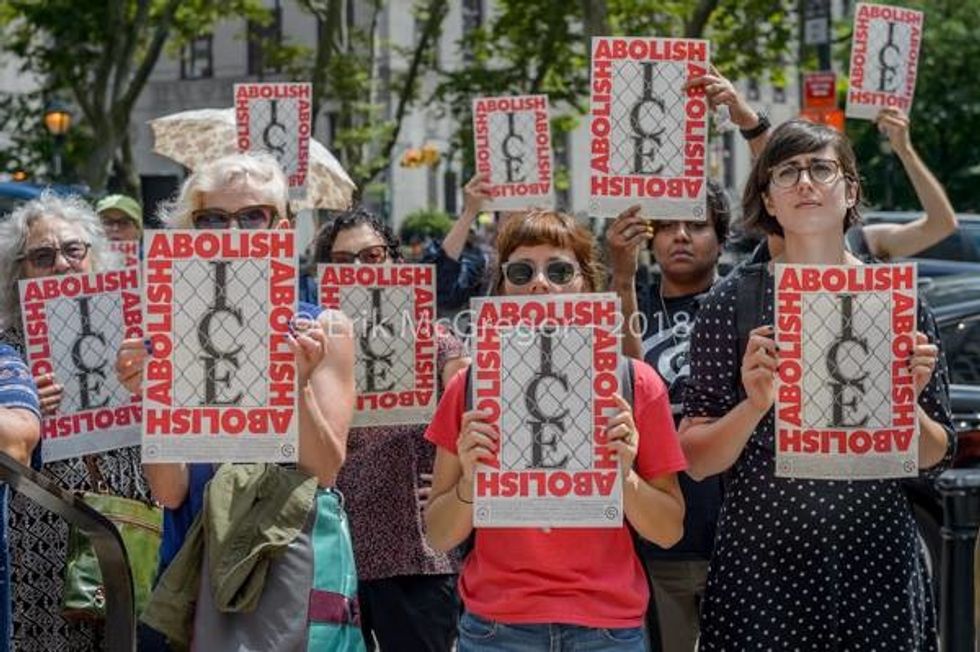 I first met you through New Sanctuary Coalition (an organization that provides legal support to immigrants in New York City). You were doing so much for them at once, and I was wondering what your reflections on that experience are.
NSC is one of the most powerful organizing groups that I have ever known, in terms of the numbers of people who are involved. Post-election, after Trump took power, it became very obvious that immigration was going to become one of the issues that he was going to attack the most. NSC grew because there are very concrete ways that people could get involved, and I think that is incredibly powerful. It's led by people who are directly impacted, but it really utilizes the number of people who want to fight alongside people who are directly impacted. That was a beautiful thing to see.
I've worked with other groups where there isn't a clear way for volunteers to get involved, and I think NSC recognizes that people can fight against the system with the support of others with more privilege. It's a great way to utilize the privilege that US citizens have. The [idea] that the people who are impacted lead, and you're showing up for solidarity—not to help or save anyone—is really important.
The accompaniment work, in particular, was hard for volunteers in that it was so boring, but it's such a good example of how much privilege US citizens have, and how important it is to show up and not feel like they're saving or leading. They're just standing in solidarity, which is an incredible exercise for everyone.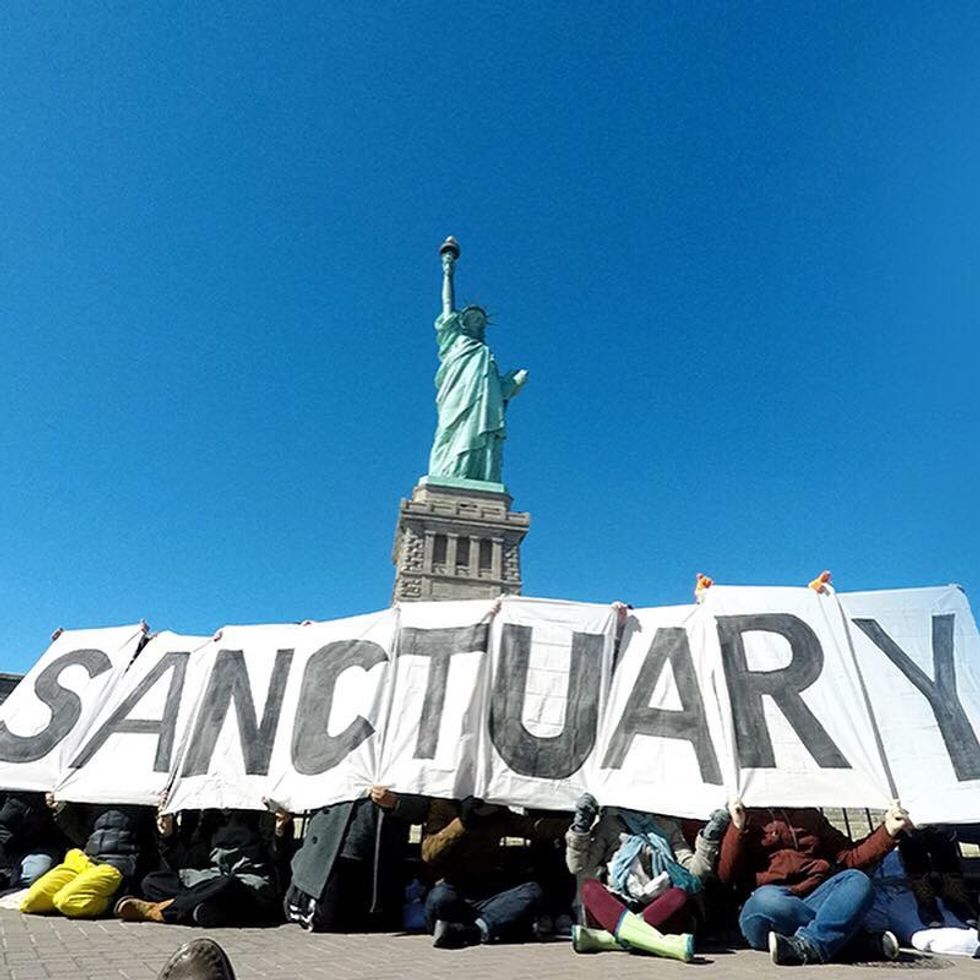 ignationsolidarity.net
It did feel at times overwhelming, which obviously leads to a lot of burnout and the sense of, oh my God, I am never doing enough, because everything is an emergency.
It felt at times that I was just pouring oil on the machine as opposed to throwing a wrench in it. For instance, if a judge said, I need an asylum application in three months as opposed to the year, we became so good at meeting those demands that it felt like in some way we were contributing to them.
I think that's a constant in organizing. There's a big difference between asking, what can you today to help a person who's going to be deported unless they show up with an asylum application, and what can you do to dismantle the system? Of course you're gonna support the person who's dealing with something today and not think in bigger terms, and so those were some difficult moments.
I don't have the answer. Maybe we need organizations that do more direct impact service work, and other organizations that only do the disruptive work; maybe that's the balance that we could work towards.
When I was leaving this summer, a lot of people finally went out on the streets, and people got arrested by the hundreds. I think that's the energy we need in the streets, while organizations like NSC do the day-to-day work that's helping people stay in the country and not be deported.
Speaking of those larger systemic changes, are there any visions you have of changes that you would like to see happen on a large scale?
Yeah, so many.
First of all, we need to realign our belief system. Our bones, our insides, are so ingrained with this capitalist system of oppression. We make decisions on a daily basis that are informed by that upbringing. I admire Decolonize This Place and other groups that are really going to the roots of the problem, recognizing that unless we deal with those root problems, we're never going to affect systemic change.
For instance, we can't deal with climate change from a capitalist perspective. My friend was just fired for his job—which was to install solar panels—because they tried to unionize. We can't keep moving forward from the perspective of putting capital before humans and before the planet.
I really would like to see us having very honest conversations in which we start seeing, within ourselves and within our communities, how colonized we really are. We need to look at the root causes of the problem, if we really want to achieve any change that's going to make a difference, for our planet and for the survival of our communities everywhere in the world.
For instance, in Chile, I love to see the women who are protesting with everyone else and also bringing up the fact that the patriarchy is one of the biggest problems we have. Everything we see as an injustice has a root problem that's attached to racism and capitalism, and we need to address those, otherwise we're really not going to achieve the change that we want to achieve. Having these issues come into the light is an important step.
Women in South America sing against gender violence www.youtube.com
I think I would like to see more compassion in our organizing. I think we're all very angry. We're all very quick to attack each other while not understanding that organizing is hard. Organizing is the hardest thing you can ever do, because there are no models for the world that we want. We have to reinvent the world.

Because we don't have those models, even nonprofits and some of the most progressive groups continue to replicate the systems of oppression that we are fighting against. [We need to ask], what does the world that we want look like, as opposed to fighting against something with means we learned from something we're fighting against.
I've read a lot about how organizations can replicate the systems they're trying to take down—people will be like, let's change ICE, but it really needs to be abolished, and I feel like that's symbolic.
I also really admire abolitionists; their clarity about what they're fighting for could be used by all nonprofits and all other organizing groups.
Do you have any advice as to how to keep going in this long fight?
In your struggle, you have to allow yourself to be led by the people who are directly impacted, because in a way, people who are directly impacted don't have the privilege of giving up. When you surround yourself with people who have to keep fighting, it helps you keep fighting.
I would say surround yourself with a supportive community, with people that you trust and people you can confide in and talk with when things get hard. And I would say be compassionate with yourself. You're going to make a lot of mistakes. That doesn't mean you're a terrible person. Everybody makes mistakes, and learning from those mistakes is the only thing you can do; don't beat yourself up so much that it paralyzes you.
And take breaks. I have been planting trees, I started a compost bin in my backyard, and I am learning how to plant vegetables. Putting your hands on the earth is actually incredibly therapeutic, and it brings everything back to what matters the most, which is life and sustainability and love for each other and our planet. When you bring it back to those core values of what really truly matters, then it allows you to breathe a little bit easier.
In our second Visionaries Project installment, we talk to sex workers' rights activist and writer Elsie B.
The Visionaries Project is a new subsection of The Liberty Project dedicated to highlighting the lives, passions, and work of radical activists currently working towards social justice and liberation from oppression. We aim to uplift the perspectives of diverse voices working in media and activism today—and not just the faces who make headlines, but the real people on the ground every day, working towards their visions of a better world.
For our second installment of the Visionaries Project, we're featuring Elsie B., a writer and activist who can be found on Twitter at @NotSuperIntoIt. Elsie is an out and proud member of the bisexual community and an active participant in the fight for sex workers' rights.
Sex workers, as Elsie informs us, often face unique legal constraints and social stigma that can prevent them from accessing adequate healthcare and opportunities. As sex workers' rights have been threatened in the United States and across the world by new laws that constrain their ability to work and share online under legal protections, the need for information and action has grown.
As Amnesty International implies, criminalization of sex workers' rights almost always puts them at a disadvantage. "We have chosen to advocate for the decriminalization of all aspects of consensual adult sex - sex work that does not involve coercion, exploitation or abuse," reads the organization's statement on the matter. "This is based on evidence and the real-life experience of sex workers themselves that criminalization makes them less safe."
Or as Elsie writes, "It's long past time to demand fair and equal treatment for sex workers, and the consequences of delayed action by civilians and lawmakers will be lethal."
We spoke to Elsie about how she became involved in the fight for sex workers' and LGBTQ+ rights, what kind of activism work she does, and how she unwinds after a long day of fighting oppression and injustice.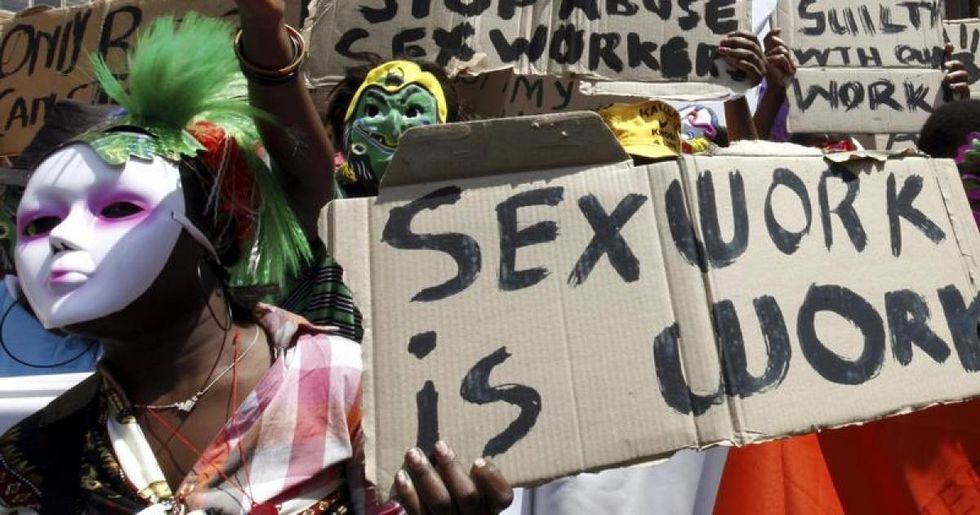 Human Rights Watch
LIBERTY PROJECT: Can you tell me a bit about your background? How did you get interested in activism?
ELSIE B: I'm fortunate to have grown up in a family that values social justice. I was raised as an ethical vegetarian and attended circus protests as a child. In middle school, I printed animal rights literature and ordered a pack of stickers from Peta2 that said "cut class, not frogs," which I slapped on every table in the science room when the dissection unit began approaching. As I got older, my dad and I would attend political rallies for Democratic candidates. During college, my politics became more radical than those I was raised with, thanks to some incredible professors. I was involved in social justice clubs, including the campus LGBTQ+ outreach program and an animal rights group of which I became VP.
In graduate school, I met a group of activists who shared my radical political beliefs and were doing meaningful, grassroots work for social justice and to end animal suffering. As I befriended these folks, I began to widen my interests in regard to my activism. I met my friend Emily during this time who is a stripper. Her influence changed my understanding of feminism and women's rights.
After graduate school, I started a small organization that helped connect feminist women and worked for the Sanders 2016 campaign.
How did you first start getting interested in sex workers' and LGBTQ+ rights?
A: From the time I realized LGBTQ+ folks were treated differently, I've been interested in the rights of non-hetero folks. I grew up with gay and lesbian culture as a constant in my life. And, at about the age of eight, I realized I myself am interested in more than only the opposite sex.
My official foray into LGBTQ+ activism started in college, but I saw myself as an ally at that time. However, after the Pulse shooting, I began to see my role in the LGBTQ+ community not as an ally but as a member of the community. I had quietly come out as bisexual many years before but had never felt comfortable identifying as someone in the LGBTQ+ community. However, after the gut-wrenching experience of watching what I realized was my community face such horrific violence, I decided it was my responsibility as an out bisexual to fight for destigmatization, especially of bisexuals who are at the highest risk for suicidal ideation and attempts.
Around the same time, sex workers started to experience attacks on their primary methods of advertisements, especially on Backpage. As so many of my friends are sex workers, I saw the panic these workers experienced. This is when I began to incorporate sex workers' rights into my activism platform. Then, in 2018, FOSTA/SESTA was introduced and passed. During this time, I dedicated all of my activism to fighting FOSTA/SESTA. During that year, I marched, helped plan harm reduction meetings, petitioned, and contacted government officials. The energy during 2018 was one of terror and excitement as sex workers rallied to fight against these new laws. It was electrifying to be a part of the first International Wh*re's March, but that euphoric buzz of being with other activists was quelled as the reality of a changing internet landscape for sex workers sunk in.
From 2018 to present, most of my activism has been based online, since sex workers work mostly in isolation. Through online communities, I have been able to continue my work in harm reduction, petitioning, and community organizing. I've also written under various pseudonyms (since even working as an activist carries stigma). I've had viral writing, which has given me some hope that sex workers' rights are beginning to creep into the consciousness of civilians, the term for non-sex workers.
Are there any challenges you've faced in activism work? Any particular successes, favorite moments, or pieces you've written?
A: Activism is draining, but there is no better feeling to me than having someone reach out to let me know how I've helped them. This has been especially true of my work as an activist for bisexual individuals. The number of messages I've received from people telling me I gave them the courage to come out or that reaching out to me is the first time they've admitted their attraction to more than one gender has been simultaneously heartbreaking and the most rewarding feeling.
Working as an activist for sex workers has unique challenges in that even associating with sex work as a topic comes with stigma. I usually work under pseudonyms, as I don't want my work in sex work to affect my other activism (I've worked in activism for education orgs which serve younger students).
Activism as a bisexual cis-woman has also been challenging, as biphobia and stigma are often just as hostile, if not more, in the community. Bisexuals have a unique fight, in that they are shunned from straight and gay communities for not being straight or gay enough. It can be painful to watch people choose to repress their complex sexual orientation in order to feel accepted by one group.
Coming out very publicly was one of the best feelings as an activist. It was such a personal act, and the number of friends and acquaintances who reached out to me during that time to tell me their stories was so touching.
What would you suggest people do if they want to start to get involved in the fight for LGBTQ+ and sex workers' rights?

A: For most people, the most effective activism they can do is within their own communities. Talking about sex workers and LGBTQ+ rights with family and friends may seem menial, but it is some of the most important work we can all do.
To talk to folks in your circles though, you need to be armed with correct information about those you are hoping to help. It is important to avoid savior complexes. Listen to people in the communities you want to fight for. Trusted sources are SWOP chapters, the ACLU, the LGBT Center in Los Angeles (or local chapters to you), and actual LGBTQ+ folks and sex workers.
Of course, you can volunteer and leaflet with local chapters and organizations, but it is also important to support community members directly. You can do this by supporting a business owned by LGTBQ+ folks and sex workers or by tipping them directly!
You do a lot of challenging work. What do you do to take care of yourself and have fun?
A: What's been so great about my current work is the wonderful people I have met. I have never had more fun with a group of people than my sex worker comrades. We take trips, drink wine in the backyard, and gas each other up constantly.
Personally, I go to the gym almost every day and try to spend some time there with my phone off. Turning your phone off is very important for activists (and all workers at this point). In 2019 we can be constantly reached, and it's hard not to engage when you are so passionate about your work helping others.
I also got a fully functional TV for the first time in my adult life this year and now understand the benefits of winding down watching TV (even if I mostly watch The Office).
The 16-year-old will take to Foley Square to spearhead a global strike on September 20.
Teen activist Greta Thunberg touched down on the shores of New York today after a two-week journey at sea, but her real journey has just begun.
The Swedish teenager rose to prominence last year with her "School Strikes for Climate," which have since sparked a worldwide movement. She's since become one of the leading faces in climate activism, representing young people's refusal to tolerate the ignorance of their elders.
Sixteen-year-old Thunberg has spent the past two weeks traveling to New York City via solar-powered yacht, which was chosen in order to avoid a carbon-heavy airplane flight. The journey—which was obsessively followed by activists and European media and much-maligned by critics—culminated with a landing on the shores of Coney Island, Brooklyn, and her final destination was a port off Lower Manhattan. She was welcomed by excited crowds of activists and fans.
Thunberg has a packed itinerary, which includes high-profile meetings with some of the world's most powerful officials. On Friday, September 20, she'll be leading a worldwide Climate Strike, and millions of people will be taking to the streets to call for aggressive global action on climate change. Find your local strike (or start your own) using this website.
Thunberg will be attending New York City's strike, which begins with a march in Foley Square and ends with a rally in Battery Park, where speakers, performers, and Thunberg herself will take the stage. If you want to be more involved in this event, NYC is having an art build on August 30 and 31, and the group Fridays for Future will be organizing other logistical actions in preparation for the strike. Also for NYC folks: Ethical Culture is hosting strike planning meetings every Wednesday from 6-8pm, and Greta herself will be striking each Friday, starting with a strike on Friday, 8/30 at Ralph Bunche Park outside of the United Nations from 11-2pm.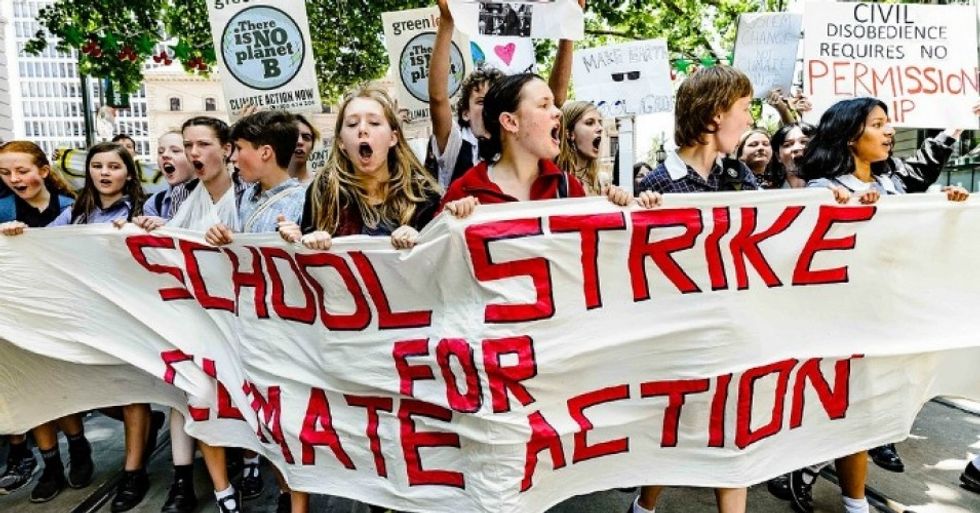 commondreams.org
Participants hope that mass action will influence several important upcoming climate meetings, which will be attended by Thunberg. The first will be the Youth Climate Summit at the United Nations in Manhattan on September 23rd. The next is the COP25 summit in Santiago, Chile, which takes place in December.

The young activist recently announced that she's taking a year-long sabbatical from school to focus on her activism. Her actions manifest the emotions and thoughts of many students who are asking, "What's the point in going to school and working towards our future if there is no future?"
As Thunberg put it in 2018, "We cannot solve the crisis without treating it as a crisis. You say you love your children above all else, and yet you're stealing their future in front of their very eyes."
Yet she's also resolutely hopeful. "It is still not too late to act," she reminded the European Parliament in a recent speech. "It will take a far-reaching vision, it will take courage, it will take fierce, fierce determination to act now, to lay the foundations where we may not know all the details about how to shape the ceiling. In other words, it will take cathedral thinking. I ask you to please wake up and make changes required possible."
Thunberg was nominated for a Nobel Peace Prize in 2018 for her work. She has mobilized millions of strikers around the world, and she's given hope and a sense of urgency to countless others. She also has been heavily criticized, mostly by conservative outlets and European nationalists. One British businessman even went as far as to Tweet, "Freak yachting accidents do happen in August…" She was also described as a "teenage puppet" by a member of Trump's transition team and a "prophetess in shorts" by a conservative French politician.
Many of these criticisms have taken on a misogynistic undertone, resembling those lobbed at another young, powerful female activist—Alexandria Ocasio-Cortez. This may not be incidental, since the kind of global structural overhaul that human survival requires necessitates a revamp of many patriarchal and conservative ideas based in traditional ways of doing things. "For climate skeptics … it was not the environment that was threatened, it was a certain kind of modern industrial society built and dominated by their form of masculinity," proposed one study that linked misogynistic comments about Thunberg and Ocasio-Cortez to toxic masculinity.

Thunberg, however, is not advocating for any particular shift in gender dynamics, nor any politician's agenda. Instead, she's all about ensuring human survival by adjusting our actions based on scientific fact.
As the Malitzia II sailed towards the New York City skyline, a banner reading "Unite Behind the Science" waved proudly above it. Unfortunately, the scientific consensus about the dire consequences of climate change hasn't been enough to mobilize humanity into acting. That has required one particularly outspoken teen activist, and New York City is lucky to have her here.
Each day, the Amazon loses over a football field of land to fire.
Right now, the wildfires in the Amazon forests are so massive they can be seen from space.
According to INPE, about a football field and a half of rainforest is being destroyed each day. Since Thursday, over 10,000 acres have been lost.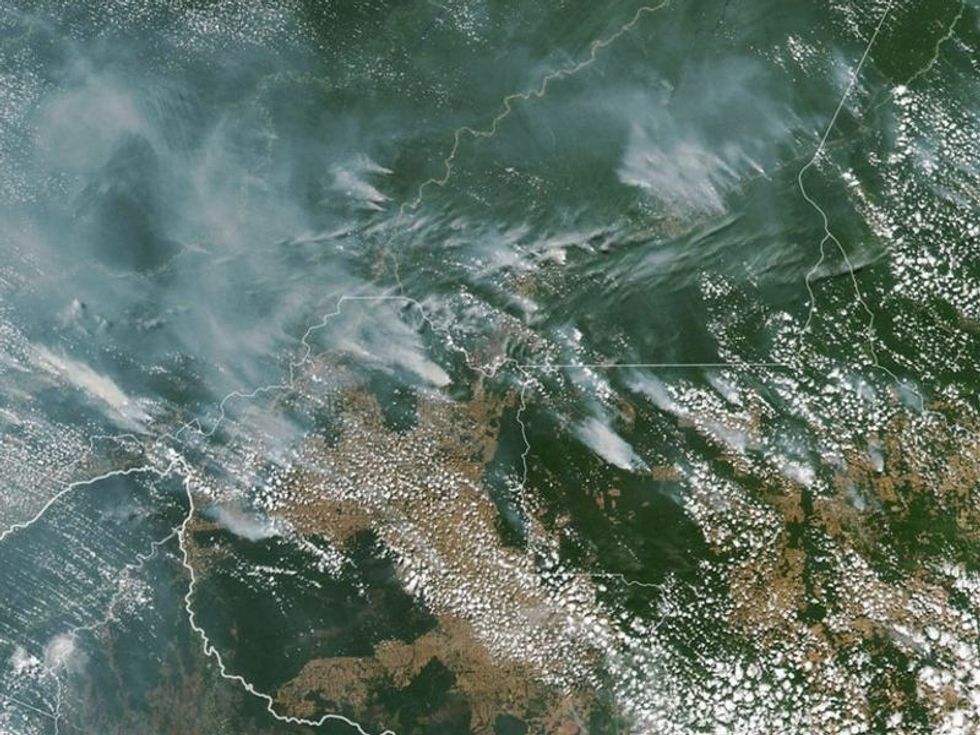 amazonwatch.org
Since January 2019, the number of forest fires in Brazil have grown by 80%. It's normal for wildfires to clear away the forest to make room for new growth, but these fires are happening at an unprecedented rate that scientists say is caused by human activity and the rising climate.

The destruction has also been exacerbated by the sentiments of Brazil's president, Jair Bolsonaro, who has been nonchalant when told that many of the fires are being caused by humans. Farmers are setting fire to the land in order to clear away indigenous forests, according to reports, and Bolsonaro has encouraged these actions with his anti-environmentalist sentiments.
In the name of development, Bolsonaro is endangering the entire world's future. The Amazon contains 40% of the world's rainforests, which are our best defense against a rising climate. Sometimes described as the planet's lungs, the Amazon rainforest provides around 20% of our world's oxygen and absorbs a quarter of the world's carbon. It also contains 10-15% of animal species, many of which are being incinerated along with ancient trees and rich biodiversity.
Indigenous peoples are on the front lines of these fires, as many of them live in or near the forests, but the loss of such a large portion of the Amazon will be damaging to the whole world.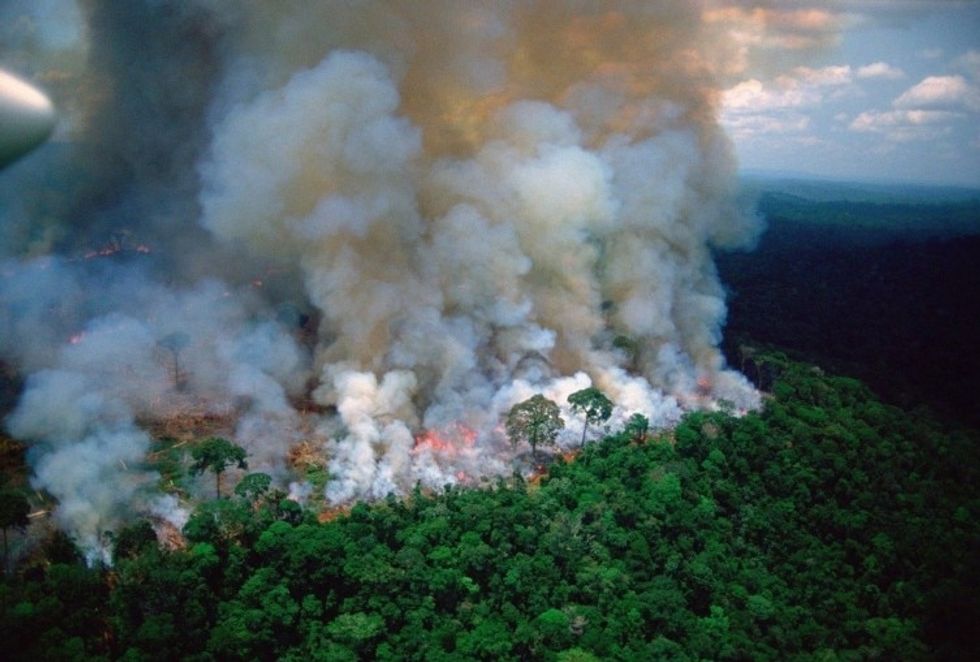 Image via India Today
Many people have asked about what they can do. Here are some actions you can take in response to the fires:

1. The main thing you can do to help out immediately with these forest fires is give money.
It's particularly important to give to organizations that work directly with indigenous people and those who know and live in the Amazon rainforest. Avoid major, corporatized organizations like the Red Cross.
Here are several organizations to give to:
*Protect and purchase rainforest land through rainforesttrust.org or the Rainforest Action
*Support indigenous communities through Amazon Watch or Survival International.
*Support arts, culture, and research about the Amazon through the Amazon Aid Foundation.
2. Unfortunately, even though donations will help, these wildfires will probably keep happening without massive political overhaul in Brazil. Contact your nation's Brazilian embassy to make your views heard. Here is a list of embassies in the US.
3. Sign this petition, being passed around by opponents of Bolsonaro and his policies.
4. Boycott beef and products made from rainforest trees. Check with the Rainforest Alliance to see whether the products you're buying are safe.
5. Switch your browser to Ecosia, which is run by an organization that plants trees based on searches—roughly one tree per 45 searches, to be exact. So far, it's planted over 65 million trees and has garnered good reviews from across the web.
6. To stop things like this from happening in the future (and to ensure that there is a future at all), you can also get involved in the fight against climate change and disaster capitalism.
Here are four ways to do that right now:
There are no quick fixes with regards to the deep-rooted problems that have caused this tragedy to happen. However, a worldwide shift in political sentiment towards environmentalism could be the start of the changes we need to see to stop this from growing even worse.
The Immigration and Customs Enforcement agency detained 680 migrants yesterday. Here's how you can respond.
This has been an unusually horrific week for American immigrants, and that's saying something.
Yesterday, ICE staged its largest single-state immigration raid in history, sending over 600 agents to seven Mississippi food processing plants. 680 people were arrested and detained. They were ushered onto buses, where they had their hands tied with plastic bands; some tried to flee into parking lots but were captured on foot. The detained immigrants will be tried on a case-by-case basis, with no limit on how long they might be kept in ICE custody. As of now, 300 people have allegedly been released.
Many of the detained have children at home, who have been left without their parents. A local school in Scott County that started their academic year on Tuesday has gone "on standby," and bus drivers have been instructed to check whether the child is met by a parent or guardian before letting them off the bus, in order to ensure that the child is not returning to an empty house.
While the children have waited to hear from their parents, some members of the local community have stepped up, including a gym owner named Jordan Barnes, who's helped house some children until they can be connected with a family member or guardian.
Summer of Deportation
For supporters of the crackdown on illegal immigration, the raids are viewed as triumphs. In July, President Trump told reporters that "[ICE is] gonna take people out and they're going to bring them back to their countries or they're gonna take criminals out, put them in prison, or put them in prison in the countries they came from."
The raids in Mississippi came only five days after a mass shooting that was motivated by racism and anti-immigrant sentiment rocked El Paso, Texas and left 31 dead. They appear to be the climax of a summer of relentless ICE crackdown on migrants across the nation. Currently, the U.S. operates the world's largest immigration detention system, with an estimated 30,000 people in custody on any given day. The raids began in June, with ICE targeting up to 2,000 migrants in 10 U.S. cities.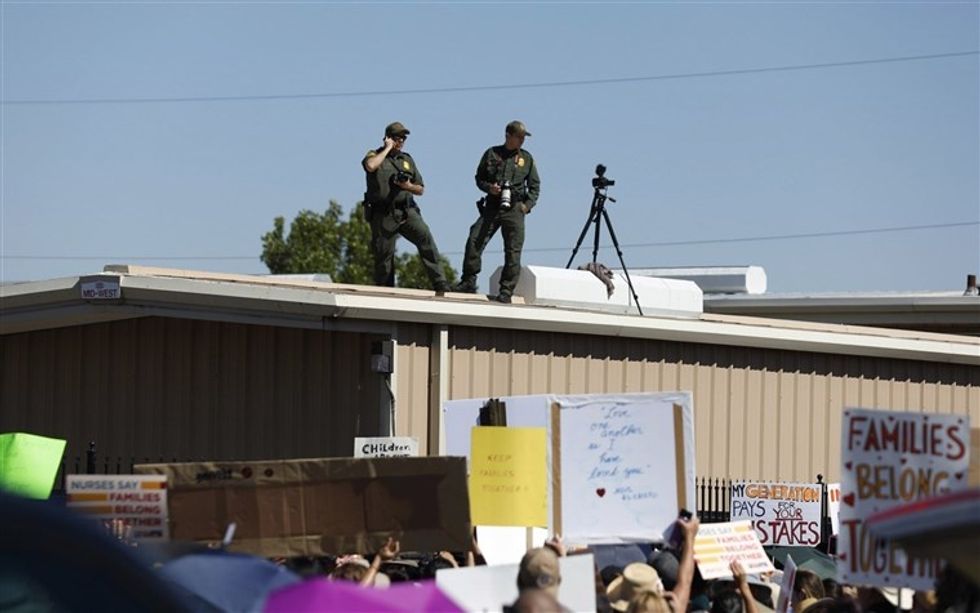 Image via NBC News
These detention centers have been loci of contention for the past few months in particular. On Tuesday, August 6, over 100 hunger-striking immigrants at a Louisiana facility were sprayed with pepper spray, shot at with rubber bullets, and blocked from contacting their families. Reports of atrocious conditions at the facilities have continued to flood in from many sources.

On Wednesday, just one day before the Mississippi raids, a man named Jimmy Aldaoud—who spent most of his life in the U.S. and had never lived in Iraq, though he was of Iraqi nationality—died in Baghdad, after he'd been left homeless and without access to insulin following his deportation. Aldaoud was detained as part of a massive crackdown on the Detroit Iraqi community. In a video filmed before he died, he appears to be sitting on a street in Iraq. "Immigration agents pulled me over and said I'm going to Iraq," he said in the clip. "I said, 'I've never been there. I've been in this country my whole life, since pretty much birth.' … They refused to listen to me."
What Can You Do?
In the wake of this news, and knowing that the raids will likely only grow worse, you might be wondering what you can do. Here are a few suggestions:
Spread and share information about immigrants' rights.
There are many guides in various formats available to the public that detail immigrants' rights. The ACLU has one, as well as the National Immigration Law Center, and the Immigration Defense Project offers a variety of flyers and pamphlets available for distribution. Essentially, the most important fact to share is that if an ICE agent shows up at your door, you are never obligated to open it unless they have a warrant, and you are never obligated to speak to an officer if they stop you in public. They cannot arrest you without a warrant, and you have permission to tell them that you are exercising your right to remain silent.
As an ally, you can also share stories on social media and among your networks, highlight migrants' voices, do your own research into issues of asylum and immigration and contact your representatives to voice your opposition, especially if you live in a state or community where the raids are taking place. You can find your local ICE community relations officer here and your representative here. You can also use the website 5calls.org to find more people to contact.
Report ICE raids when you see them.
If you see an arrest, take note of the officers' badge numbers and license plates and take videos. You can also report raids to hotlines, like United We Dream. If you're a legal U.S. citizen, use your judgment to decide when to speak up and get involved in a raid. Recently, in Nashville, a group of community members noticed that the ICE was surrounding one of their neighbors' vans, and so they formed a circle around the car until the agents left the scene.
Remember that it's unhelpful to report potentially false information about ICE raids, as they can spread unnecessary panic, so exercise caution when dealing with raids in real time.
Donate to help migrants.
A lawyer can make all the difference in a migrant's case. Many migrants qualify for legal citizenship in the U.S. and simply are unable to compile the necessary documentation. The Cornell Law School has a list of organizations seeking donors or volunteers. Just be sure to do your research and vet the charity using a site like Charity Navigator.
Get involved in advocacy groups.
Allies can participate in a variety of contexts. There are many organizations that allow allies to help migrants prepare their documents for citizenship hearings, or coordinate groups to attend these hearings, such as the New Sanctuary Coalition and Cosecha in NYC.
If you're an attorney or are fluent in translating Spanish to English, your expertise is particularly valuable to these groups. Even if not, just attending a court hearing can put enough pressure on judges to turn the tide in favor of migrants.
You can also push your local church, school, or community organization to act as a short-term sanctuary for migrants. If you want to give even more, you could look into underground networks dedicated to keeping migrants and refugees safe.
Organize for the 2020 elections.
Though protests and active allyship can be powerful, none of these small actions can replace systemic changes coming from the very top.
The rising tides of migration to the U.S. are not occurring in a vacuum. They are products of policy issues stemming from root sources like climate change, the War on Drugs, and other large, structural issues that require equally large, structural changes.
Even if you don't believe that undocumented immigrants should be allowed to stay in the country, the images of children crying as their parents are dragged away into unsanitary and dangerous prisons should be enough to stir some basic human impulse to react. There is a better way.
This was an act of terror, and should be widely condemned.
Emyra Wajãpi was a leader of the Wajãpi indigenous community, a group located in the north of Brazil—until he was murdered this week by a group of armed miners, who stabbed him to death and threw his body into a river.
On Saturday, Wajãpi community leaders issued a cry for help to the Brazilian government, stating that they were being invaded by troops bearing rifles and weapons and requesting the assistance of the army. Though a police force was en route, they did not arrive in time, and the community was forced to flee.
The invasion comes as a shock but not a surprise. In recent months, Brazil's far-right president, Jair Bolsonaro, has explicitly encouraged loggers, miners, and farmers to invade protected areas and land occupied by indigenous communities, arguing that the Brazilian government has the right to develop and profit off of any and all of its national territories. Under Bolsonaro, deforestation in the Amazon has skyrocketed, though he has repeatedly denied the validity of studies that reveal just how much land has been lost during his reign.
"The president is responsible for this death," said Brazilian lawmaker Rodolfe Rodrigues to the The New York Times. Bolsonaro has a history of making racist comments about indigenous people and is currently telling the public that the murder did not happen.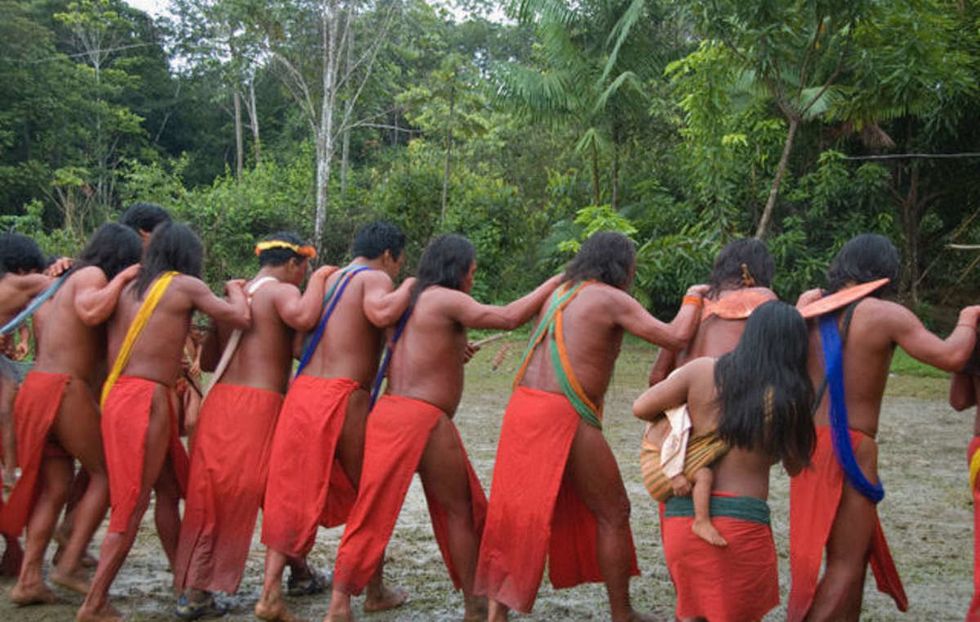 The Wajãpi people united in protest against invadersImage via survivalinternational.org
In March 2019, Bolsonaro met with U.S. President Donald Trump, and they signed a letter of intent promising the "sustainable development of the Amazon" (read: the ravaging of indigenous lands). Bolsonaro has also drafted plans that would legalize artisanal mining in protected lands, and that—to add insult to injury—would encourage indigenous communities to mine their own lands.
His priorities are crystal clear. "Brazil lives from commodities," Bolsonaro said in a recent speech. "What do we have here in addition to commodities? Do people not remember this? If the [commodities] business fails, it will be a disaster." These comments come at a time when mining and pollution present unparalleled threats to the planet's well-being and when indigenous ways of life present one of the best models of combating climate change and developing sustainable infrastructure.
The killing of Emyra Wajãpi should be viewed as a serious act of domestic terror among international communities. The U.N. human rights chief Michelle Bachelet has decried the death, calling it "a disturbing symptom of the growing problem of encroachment on indigenous land – especially forests – by miners, loggers and farmers in Brazil." World leaders should follow suit in denouncing these actions and reaffirming their commitment to conserving protected lands.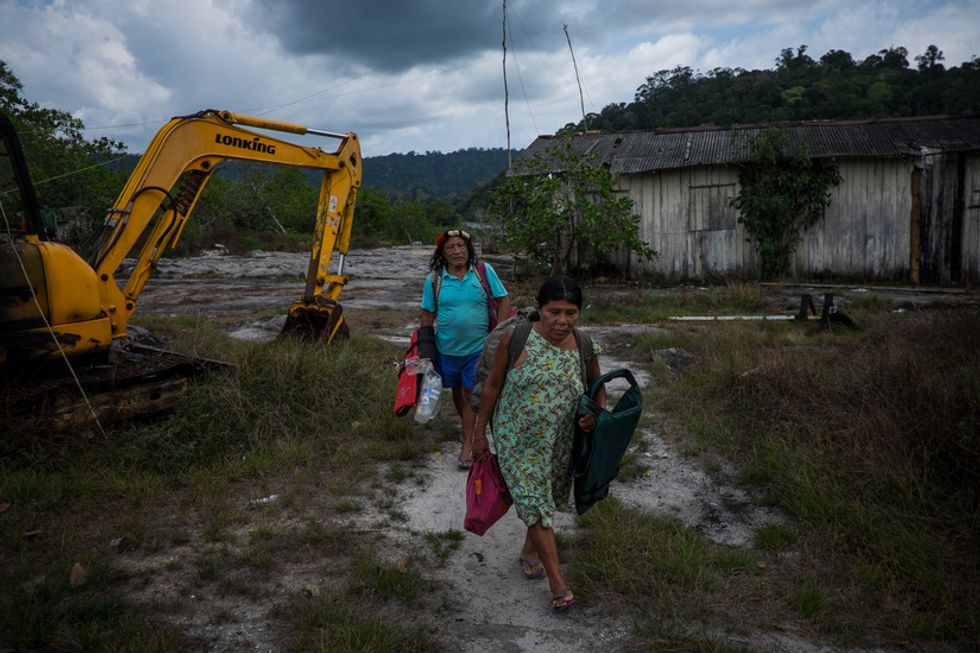 Wajãpi Indigenous Tribe Image via Victor Moriyama
If they do not, a genocide could ensue. "This government is massacring our rights and our indigenous peoples," said a Wajãpi leader to NBC News. "They are already starting, killing the indigenous peoples."
Indigenous communities of the Americas have endured relentless persecution since the arrival of Europeans in the 1400s. The Wajãpi did not receive protected land until 1996, after a 21-year period of brutal military rule. In the 1970s, their community was almost completely wiped out by disease—brought by invading gold miners.
Over the course of the evening, it became apparent the two frontrunners, Joe Biden and Bernie Sanders, aren't old dogs with new tricks.
Last night, the second round of Democratic debates came and went. Ten out of the twenty candidates who qualified for the debates were chosen at random to participate in the second half of NBC's nationally televised event. Of course, the goal for the Democratic Party is to take the Oval Office and hopefully the Senate.
Over the course of the evening, it became apparent the two frontrunners, Joe Biden and Bernie Sanders, are old dogs without any new tricks. Honestly, it'd be difficult to tell the difference between a clip of Senator Sanders debating in 2016 and 2019—maybe this time around, he's a little more tired. Joe Biden was alarming on the stage: He was ill-prepared, stumbled over his words, and leaned heavily on his smile. It's not that Biden had a terrible night' it's that he only had an okay night— which, for a frontrunner, is not a good sign. There were only three people anyone should be excited to hear from: Kamala Harris, Pete Buttigieg, and Marianne Williamson.
#LetYangSpeak
Between the two debates, candidate Andrew Yang spoke the least by a two-minute margin. During the three minutes he did speak, Yang introduced his Freedom Dividend policy. The Freedom Dividend Policy is a Universal Basic Income plan. All people over the age of eighteen would be eligible to obtain a basic income of a thousand dollars a month. Yang's policy is one of the few proposed that addresses an imminent threat: technology. If corporations like Amazon were heavily taxed, that'd free a lot more money for workers who are displaced due to automated jobs accomplished by AI.
If you look into Yang, he's a contender thanks to his reasonably successful grassroots campaign. Last night, Yang turned his campaign into the trending hashtag #LetYangSpeak. According to the candidate, his mic had been turned off multiple times throughout the evening. The only evidence available is footage of Yang attempting to get a word in but to no avail.
In the video, he's speaking, loud enough for Joe Biden to hear him. Beyond that clip, there is no other evidence. If that were, in fact, true, then NBC would have a lot to answer for ah regarding their meddling in a primary debate.

Marianne Williamson, Be Still My Heart
Marianne Williamson sure made a name for herself last night. Her dramatic and chaotic delivery was a delight for many. Yet, she did not come to play games; she came to bring up points of contention and big ideas we need to tackle. According to her, "It's really nice if we've got all these plans, but if you think we're going to beat Donald Trump by just having all these plans, you've got another thing coming. He didn't win by saying he had a plan. He won by simply saying 'Make America Great Again.'" She's right, like she was right about a lot of things: Williamson thoughtfully addressed the need for reparations, slammed ageist rhetoric, and exclaimed of love over hate.
Although her delivery was off-kilter to many, Williamson should not be underestimated for her flowery language; she explained:
"I have had a career not making the political plans, but I have had a career harnessing the inspiration and the motivation and the excitement of people. Masses of people. When we know that when we say we are going to turn from a dirty economy to a clean economy, we're going to have a Green New Deal, we're going to create millions of jobs, we're going to do this within the next 12 years, because I'm not interested in just winning the next election, we are interested in our grandchildren. Then it will happen."
Many Americans never imagined Donald Trump would be our president, but here we are. Williamson's bold statements and captivating delivery about her hopes and dreams for this country have the potential to capture the American imagination. Sure, she may give off the spiritual energy of a wine mom who likes crystals, but why does that discredit her abilities? Remember, the hippies of our nation began revolutions.
Marianne Williamson: I Will 'Harness Love' To Defeat President Donald Trump | NBC News www.youtube.com
Yes, We Just Witnessed a Murder

Kamala Harris came prepared last night. Over all the ruckus, Harris reprimanded her fellow candidates with her rehearsed one-liner: "America does not want to witness a food fight; they want to know how we're going to put food on their table."
She continued to command the evening by confronting Joe Biden on his record. Harris challenged the former VP, asserting:
"I'm going to now direct this at Vice President Biden, I do not believe you are a racist, and I agree with you when you commit yourself to the importance of finding common ground. But I also believe, and it's personal— and I was actually very—it was hurtful to hear you talk about the reputations of two United States senators who built their reputations and career on the segregation of race in this country. And it was not only that, but you also worked with them to oppose busing.
"And, you know, there was a little girl in California who was part of the second class to integrate her public schools, and she was bused to school every day. And that little girl was me."
Kamala Harris Confronts Joe Biden On Race | TIME www.youtube.com
Biden, who was once a spirited debater, floundered in his response. He clarified that he supported busing, but on the state level. Harris clapped back, recounting how in her hometown of Berkeley, California, busing was not enforced. She utilized the anecdote to explain why The Civil Rights Act of 1964 and the Voting Rights Act of 1965 were crucial to this country, which is why we need to ratify the Equal Rights Amendment.

Biden was given thirty seconds to respond. He vouched for his record, reasserting that he always supported Civil Rights, before cutting himself off, saying, "— anyway, my time is up. I'm sorry." Biden caused the most damage to himself, as he failed to successfully defend himself.
Sometimes, You Just Can't Get it Done
Pete Buttigieg was another candidate with a breakout performance. The South Bend, Indiana Mayor may be young, but he's had skin in the game for seventeen years. Buttigieg is a veteran, a politician, a polyglot, and a gifted orator. He also made history last night as the first openly gay candidate to participate in a primary debate.
On the topic of immigration, he broke down the hypocrisy of the Christian-aligning Republican Party. Buttigieg did not hold back, proclaiming:
"The Republican Party likes to cloak itself in the language of religion. We should call hypocrisy, and for a party that associates with Christianity to say it is okay to suggest that God would smile on the division of families at the hands of federal agents, that God would condone putting children in cages has lost all claim to ever use religion language again."
The South Bend native also candidly addressed his failure to diversify his city's police force, noting, "I couldn't get it done." He went on to explain the pain his city is experiencing due to the devastating death of a local black man, Eric Logan. Logan was shot and killed by a white police officer. The officer did not have his body camera on at the time of the incident. Buttigieg unpacked how he could not take a position on the matter until the investigation is complete.
The mayor's transparency was received favorably and for a good reason. We need a president who doesn't spread fake news.
Stop Name Dropping
Joe Biden name-dropped Obama almost as frequently as he did Trump. Biden's attempts to piggy-back off the former President's accomplishments highlighted the reason Biden why was only able to make it into the Oval Office as a running mate instead of president: He is not our future. While Biden is a respected Washington staple, his vision for our country is dated and boring. It doesn't capture the America we live in today. After Harris' takedown, it's apparent that Biden cannot justify his unfavorable past.
Maybe California Senator Eric Swalwell was right when he told Biden to finally "pass the torch" to the next generation. Biden slyly smiled and said, "Not yet." However, if last night proved anything, it's that he should've let go of it a long time ago.
Over the course of two hours, ten candidates employed Trump's name for applause and support a total of 35 times.
The first round of Democratic debates are underway. Ten out of the twenty candidates who qualified for the debates were chosen at random to participate in the first half of NBC's debate last night. The goal for the Democratic Party is obviously to take the Oval Office and hopefully the Senate, but for most of the candidates, last night seemed more like a bid for positions in Elizabeth Warren's cabinet. Straight from the get-go, Warren stood strong like she had nothing to prove and answered every question directed at her with poise and eloquence. Consequently, she may have won the evening. Although, a couple of lesser-known candidates also made their marks, most notably Julian Castro and Jay Inslee.

We Get it, You Speak Spanish
Beto O'Rourke, former representative for Texas, spoke in Spanish during his first response of the evening. Evidently, neither Cory Booker or Elizabeth Warren could maintain their poker faces during the surprising moment. Booker and Warren appeared humored and stunned by the skinny white guy's pandering.
To compete, Booker whipped out his Spanish, as well. Notably, the only Latinx candidate on stage, Julian Castro, did not speak in his family's native tongue until his closing comment, where he used his bilingual skills to celebrate the opportunity to represent his people.
Jimmy Kimmel?
Ok, when John Delaney, the Maryland Congressman, began speaking before the camera panned to him, did it sound to anyone else like Jimmy Kimmel was on stage? Unfortunately, Delaney is not as charismatic as the Jimmy Kimmel Live! host. He rubbed many the wrong way with his countless attempts to get a word in.
While it's crucial for the lesser-known candidates to elbow their way into the debate, Delaney came off as pathetic. At the end of the discussion about the separation of families at the border, Delaney tried to butt in a personal anecdote, disclosing, "My grandfather was actually separated from his family when he came to this country." Lester Holt rightfully moved on from the comment and switched to another pressing issue.
2020 Democratic Candidates Debate - Separated Grandfather www.youtube.com
Finally, when asked whether or not any of the candidates would choose to prosecute Trump after the Mueller Report, Delaney was indifferent. Out of all the references to Trump last night, this was the most important, because Trump could become the first president to be indicted after his term. Delaney claimed that everyday citizens don't care about Donald Trump breaking the law because it doesn't affect them. Although Delaney supports justice being served to criminals, he hypocritically proposed that Trump's indictment isn't a big enough concern to take up his time if he were president.
Yes, Women Care Too
While Washington Governor Jay Inslee had an overall good showing, his one big fumble occurred when he claimed to be the only one on stage to pass a reproductive rights act. Minnesota's Senator Klobuchar spoke for everyone when she interrupted Inslee, saying, "I just want to say there are three women up here that have fought pretty hard for a woman's right to choose, I'll start with that." The crowd gave Klobuchar resounding and deserved applause.
Recognition for the Trans Community

Early in the debate, San Antonio's finest, Julian Castro, highlighted an overlooked population that's affected by abortion restrictions: trans people. It was a standout moment for the former mayor.
Later on, Cory Booker piggybacked off Castro's sentiment. When Hawaii Representative, Tulsi Gabbard, was asked about her former dismissal of the LGBTQ community, she highlighted the work she's done for gay men and women since. Booker retorted that it's not enough:
"Look, civil rights is someplace to begin, but in the African-American civil right community, another place to focus was to stop the lynching of African-Americans. We do not talk enough about trans-Americans, especially African-American trans-Americans and the incredibly high rates of murder now."
Just like climate change is a national emergency and should be treated as such, so should the murder rates of trans people, especially POC trans people. Booker, as the only African-American candidate on stage, brought attention to historically under-represented issues.
Tulsi Gabbard Dunks on Tim Ryan

Army veteran Tusli Gabbard was the most googled candidate last night for good reason.
While she was one of the candidate who spoke the least, overall, she corrected and challenged Ohio Representative Tim Ryan when he asserted the troops should stay in Afghanistan longer to keep an eye on the Taliban.
Tusli Gabbard rips Tim Ryan over foreign policy www.youtube.com
Gabbard draws from her military experience to inform her non-interventionist position, and she memorably reminded Ryan that families want their children to finally come home, saying, "The Taliban was there long before we came in and will be there long before we leave. We cannot keep U.S. troops deployed to Afghanistan thinking that we are going to somehow squash this Taliban."
Ryan gustily clapped back, saying, "I didn't say squash them. When we weren't in there, they started flying planes into our buildings."
Gabbard corrected Ryan's outlandish error, notifying the Congressman, "The Taliban didn't attack us on 9/11. Al Qaeda did." While that should be common knowledge, Gabbard came out on top and successfully relayed her position on foreign policy, diplomacy, and war.
Castro Annihilates Beto
Besides Ryan and Delaney, Beto took the biggest L of the evening.
Throughout the night, O'Rourke failed to answer questions in an informed or committed fashion. For example, when discussion about immigration policies arose, Castro called out Beto for not supporting decriminalization of border crossing:
"Let's be very clear: The reason that they're separating these little children from their families is that they're using Section 1325 of that act, which criminalizes coming across the border, to incarcerate the parents and then separate them. Some of us on this stage have called to end that section, to terminate it. Some, like Congressman O'Rourke, have not."
Beto attempted to defend himself by explaining that he supports a complete rewrite of the bill, instead of just repealing Section 1325. He then tried to pivot by readdressing his support of asylum seekers. But asylum seekers are only a small portion of the immigrants affected (and now imprisoned) for attempting to cross the border.
Castro did not take the bait, putting an end to the exchange by suggesting, "You should do your homework on this issue."
Forget Trump

Among the ten candidates last night, eight referenced Trump in a total of thirty-five times. Over the course of two hours, candidates employed Trump's name for applause and support of their anti-Trump Democratic position.
The two candidates who refrained from name-dropping were Bill de Blasio and Elizabeth Warren. The two remained measured and composed throughout the evening, respectfully sticking to their ideas, raising concerns, and focusing on change.
While Elizabeth Warren did not have any quippy moments, she stood out as the strongest candidate, never wavering from her beliefs, policy ideas, or promises. Her comprehensive vision for America involves restructuring broken systems that don't work for the majority of citizens.
Although Warren shined, it's possible that the absence of other frontrunners, Joe Biden and Bernie Sanders, contributed to this. Only time will tell how the three will stack up agaisnt one another, but tonight we'll see how Biden and Sanders fare among hopefuls like Kamala Harris and Pete Buttigieg.
The pain and struggle in those camps must be spun into a persuasive narrative; and the phrase "concentration camps" comes with a narrative, with implications, with images of something that we globally swore we would never let happen again.
In New York City there's an organization that sometimes operates out of empty college classrooms and sometimes out of church basements.
Every week, hundreds of undocumented people flow into the crowded rooms, working with translators to fit their stories into I-589 asylum application forms.

One week a woman came in with her eight-year-old son. Her court date was in days, but she had yet to begin filling out her official forms; just part of her story lay in disarray on an intake sheet. As she told her story—which involved rape and murder and decades of abuse—she began to sob. If she went back to Honduras, she said, she would die.
Her story, which would likely make worldwide headlines if any fraction of it was being told by a white woman in America, is not unique at all; abuse of the kind she experienced is one of the most common reasons why migrants come to the U.S.-Mexico border to seek refuge. If you present yourself at the border as seeking asylum, you are legally entitled to a hearing, under domestic and international law; and once she tells her story to the court she may well not receive asylum. Still, for now she is one of the lucky ones: she made it past the camps at the border.
The Semantics of a Human Rights Crisis
This week, Alexandria Ocasio-Cortez described the camps holding migrants at the U.S. border as "concentration camps." Immediately, she faced protests from politicians across the nation, most of whom have never been to the camps at the border and whose main point of contestation was the argument that the prisons at the U.S. border cannot be compared to the concentration camps of Nazi Germany.
Criticism of Ocasio-Cortez's word choice is a convenient and fundamentally flawed distraction from the reality of what is happening. Firstly, both the Jewish people who experienced that genocide and the migrants who are attempting to cross the border are being caged, dehumanized, and denounced as vicious security and economic threats. Arguments that propose the suffering of the Jews is incomparable to the suffering of these migrants are a sort of Olympics of tyranny on the most depraved scale. How can the pain of one group delegitimize the suffering of another?

As a Jewish woman, I feel strongly that any trauma lingering in my bone marrow from the deaths of my family does more to link me to the migrants at the border than it does to separate me from them. We are not solitary in our persecution. Our struggle, as well as the lessons we have learned, means that we should feel a nauseating shock of recognition upon hearing that a group of people is being caged in brutal conditions on the basis of where they were born.
Though the meaning behind words is ultimately more important than the words themselves, semantics and word choice are undeniably powerful. As humans, we cling to symbols and patterns to make sense of our disorderly world. Words have sway over us, which is perhaps why calling the border camps concentration camps has sent such shockwaves across news outlets—more shockwaves than the reports of freezing cages, desert shootings, and persistent abuse in government facilities have created. In truth, words and our ability to freely speak them are often more incendiary than incidents of abuse and human suffering.
This is why calling the camps at the border concentration camps is a powerful act of political protest, one that merits repeating. In order to effectively protest these camps, merely telling stories of the human suffering that occur within them is not enough. The pain and struggle in those camps must be spun into a persuasive narrative; and the phrase "concentration camps" comes with a narrative, with implications, with images of something that we globally swore we would never let happen again.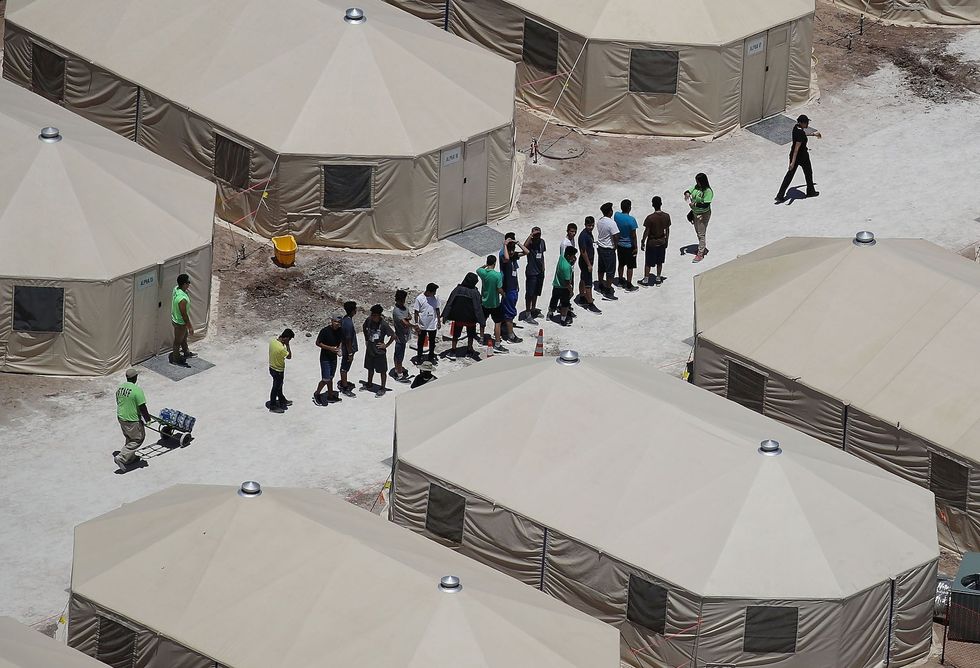 Image via Esquire
Another Holocaust?
The Holocaust, like most genocides, did not arise spontaneously. It began because of money—because of economic insecurity in Germany, a nation that had once been powerful but found itself suffering after wartime loss and a recession. It began with scattered proposals that Jewish people and other minority groups were to blame for these problems. It took off as a way of making Jews leave the country. The violence started with sporadic murders. The camps came later.
Even if the U.S.'s persecution of migrants at the border never reaches the level of the Final Solution, this does not legitimize the mistreatment and brutality that are occurring in those overcrowded, freezing prisons in the desert. Should the Holocaust be the standard that we expect human rights violations to live up to in order to merit serious criticism?
Andrea Pitzer, author of "One Long Night: A Global History of Concentration Camps," writes that the border camps qualify as concentration camps because the prisoners there are detained "without regard to individual circumstances, treating people as one mass, one group," and that the U.S. government, like the German government, is "presenting them as a national security threat to the country and then using as punitive means as the system will allow to detain them."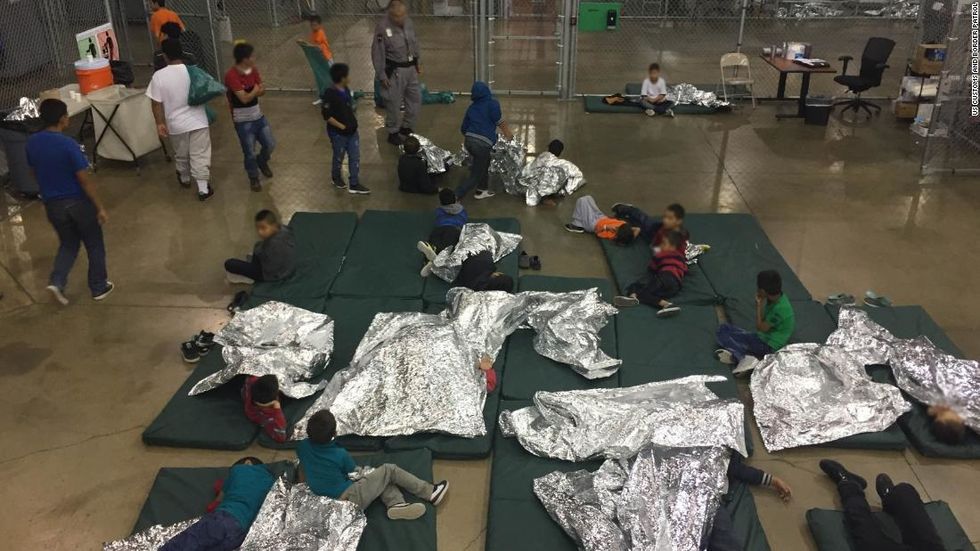 Image via CNN
This is a key requirement for the success of concentration camps: prisoners must be turned into shadowy, menacing masses. Through a variety of rhetorical strategies, the U.S. government has implemented this technique. Many Americans are convinced that migrants are criminals who should keep out of this country. They argue that refugees are not deserving of our justice system or our charity, nevermind that the justice system systemically targets poor and non-white people and that we are the richest nation in the world.
Most of the detainees are not criminals. Conditions in these migrants' homes are unbearable; the fact that they are willing to risk death at the U.S. border to escape shows this clearly. Migrants are usually not asking for charity or trying to steal the salaries of U.S. workers. They are asking for asylum. For mercy. For America to be a fraction of what some people once dreamed it could've been.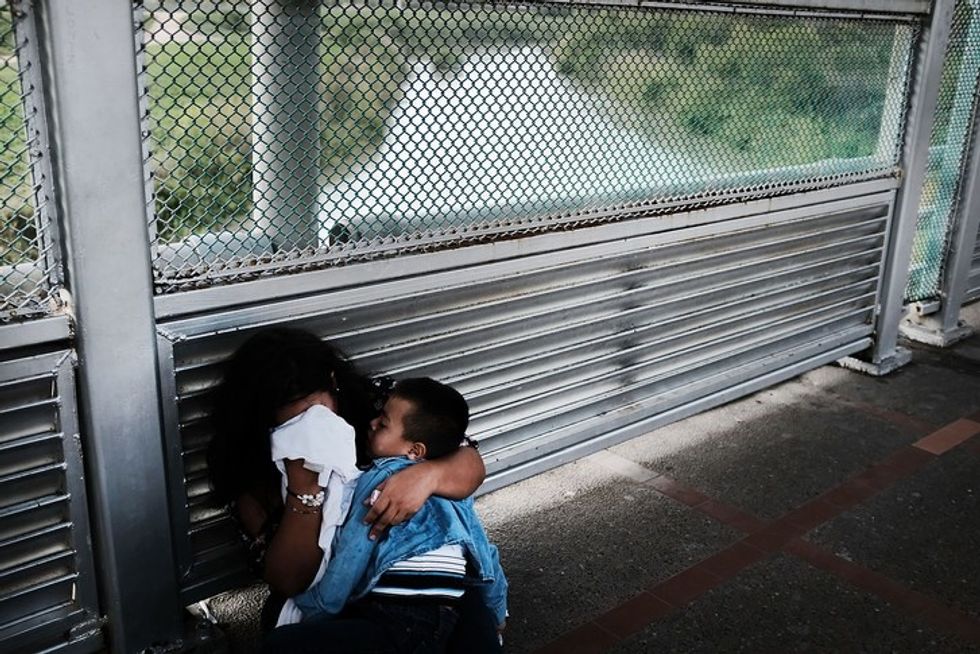 Image via The New Yorker
Call Them By Their Real Names
Rebecca Solnit writes that once we call injustices by their names, "we can start having a real conversation about our priorities and values. Because the revolt against brutality begins with a revolt against the language that hides that brutality." Alexandria Ocasio-Cortez has shown that she is unafraid to put this into practice, to look the murky viciousness of the U.S.'s treatment of migrants at the border straight in the eye. By calling the concentration camps what they are, she is replacing the language that legitimizes these injustices with language that condemns them. Unfortunately, she is largely alone in this.
Here is the name of our American S.S., the group that is fostering the concentration camps at the border: the ICE, or Immigration and Customs Enforcement. (Like the leaders of S.S., they also believe they're simply "doing their jobs").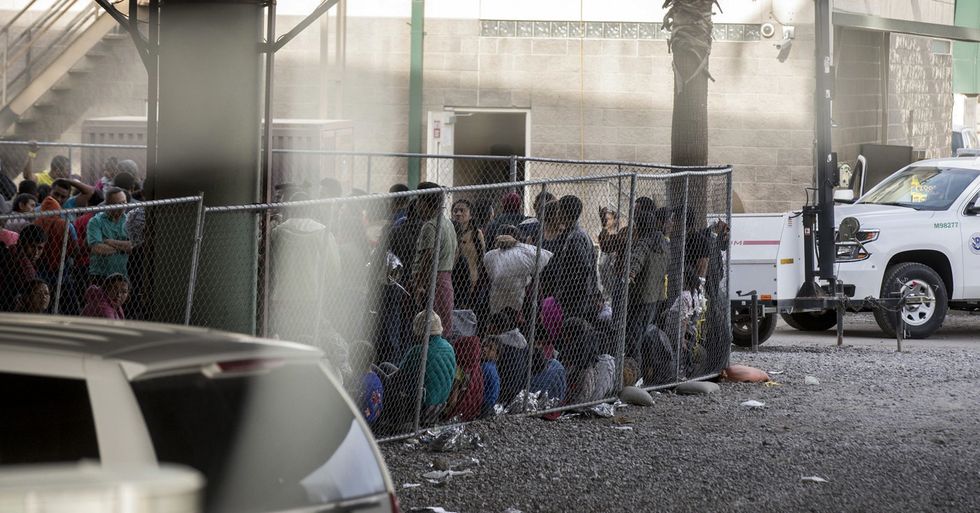 Image via BuzzFeed News
Here is a number: the ICE held 42,000 migrants in its detention camps last year.

Here is a list of DHS reports about the conditions at the border, including titles like "Lack of Planning Hinders Effective Oversight and Management" and "Immigration and Customs Officials Do Not Follow Federal Procurement Guidelines When Contracting For Detention Services."
Here are just a few quotes from official statements about the camps: A 2017 inspection found "problems that undermine the protection of detainees' rights, their humane treatment, and the provision of a safe and healthy environment." A Reuters report about the Paso Del Norte facility stated that "single adults were held in cells designed for one-fifth as many detainees as were housed there and were wearing soiled clothing for days or weeks with limited access to showers." It also stated that inspectors saw "detainees standing on toilets in the cells to make room and gain breathing space, limiting access to toilets." Additionally, there are reports of extreme temperatures, of physical and sexual abuse, of solitary confinement.
Right now, even the Customs and Border Patrol Commissioner John Sanders is demanding that the Senate pass a $4.6 billion dollar bill in emergency funding. If the bill is not passed, he testified, kids will keep dying.
Here are the names of some of the legally innocent people who have died at the border. Jakelin Caal Maquin, 7. Felipe Alonzo-Gomez, 8. Gurupreet Kaur, age 6, dead of dehydration in the Arizona desert. Roxana Hernandez, dead of untreated septic shock and HIV. Osmar Epifanio Gonzalez-Gadma, Jeancarlo Jiminez-Joseph, and Efrain Romero De La Rosa, all dead by suicide while in ICE facilities. Sergio Alonso Lopez, dead of internal bleeding after prison staff did not administer doses of methadone he needed to survive.
These names don't do justice to who they were and how they lived. No migrant story does, because migrants are whole people who want nothing but to live in America. They come for many reasons; they come knowing that they will be hated and discriminated against all their lives here—because, as poet Warsan Shire writes, "the insults are easier to swallow / than rubble / than bone / than your child body / in pieces."
Here are the names of some of the 200 ICE facilities:
The Adelanto Detention Center in California.
La Salle Processing Center in Louisiana.
The Aurora Detention Facility in Colorado.
Essex County Correctional Facility in New Jersey.
Fort Sill, an Oklahoma military base used to house Japanese immigrants during World War II.
The nameless makeshift camp underneath Paso Del Norte International Bridge, which connects Ciudad Juarez with El Paso, where hundreds of migrants were held outside behind a chain-link fence covered in razor wire.
The Tornillo Camp in Texas, meant to hold 400, now holding 2,400.
Here is the name of what these detention centers are: concentration camps. Remember these names. Imagine what you'll say when someone asks in the future: Did you know?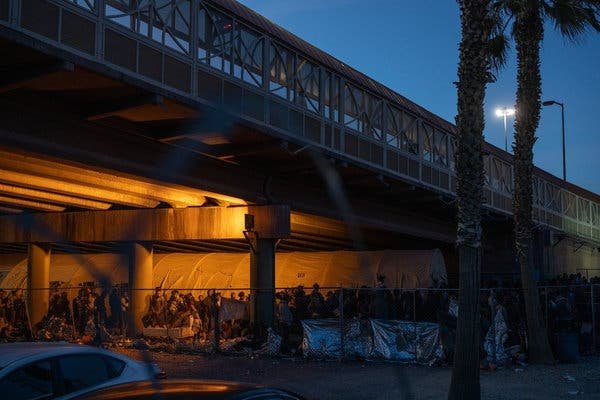 Image via The New York Times
On Valentine's Day, Amazon pulled out of its plan to build a second headquarters in Queens, citing the efforts of citizen protestors and politicians who opposed its imminent arrival.
The moment Amazon announced that it would be building its second headquarters in NYC's Long Island City, people took to the streets.

On November 26th, a coalition of immigrant advocates and anti-HQ2 groups gathered to protest Amazon's involvement with ICE, Paladir, and other organizations responsible for deportations. Citizens marched again on Cyber Monday, launching a " day of action" and flooding an Amazon Bookstore in Manhattan, holding signs aloft and chanting sing-song rhymes about Jeff Bezos. Together, over two dozen community groups organized these protests, including local unions and nonprofits. Following the protests in Manhattan, Amazon workers employed in warehouses in Staten Island made the decision to unionize, citing low pay and impossible performance quotas, and leveraging Amazon's impending move to Queens to draw attention to their case.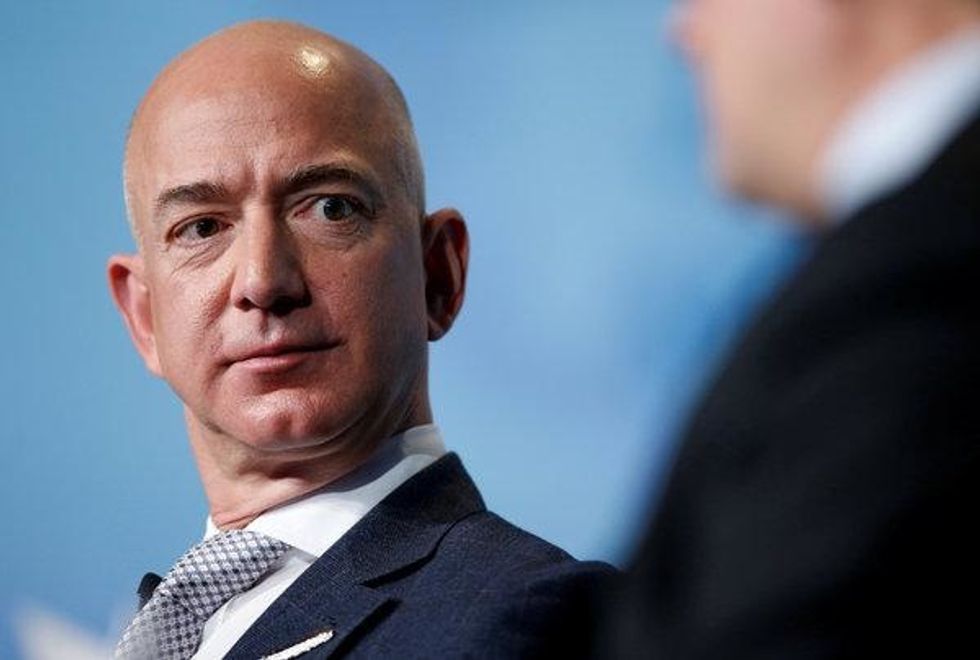 Image via The New York Times
Their protests attracted the attention of some of New York City's political officials, such as City Council Speaker Corey Johnson, who initially supported Amazon's entry but denounced it after learning more about the circumstances surrounding the deal. He began to stand with the protestors, complaining that a general lack of transparency and the fact that Amazon bypassed NYC's standard review process mandated further investigation.

In December, a public hearing was held at City Hall, and protestors gathered outside while council members grilled economists and officials who had been instrumental in making the deal with the world's most profitable corporation. "We are not in the business of corporate welfare here at city council," said Johnson.
It was this so-called corporate welfare—the $3 billion in government and tax incentives that Amazon was promised, in exchange for the 25,000 jobs it promised to create—that became the foundations of the anger stewing around the sales conglomerate's impending arrival, anger which resulted in Amazon's decision to pull out of its promise to develop a huge corporate campus in Queens.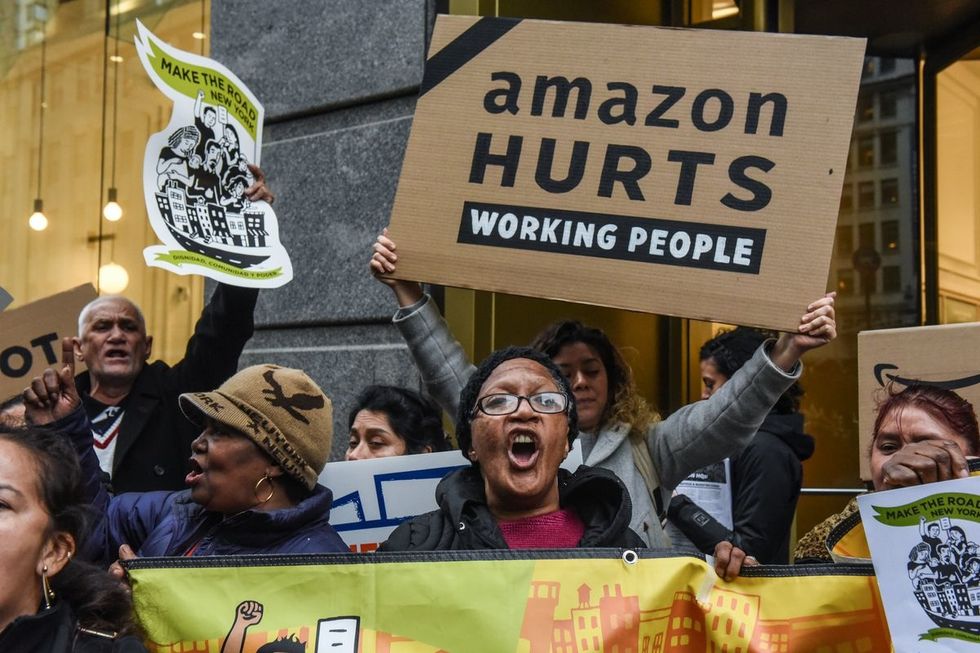 Image via Vox.com
The people's anger came from different places, and their protests were haphazard efforts, but their rage had been brewing for a long time, and Amazon's imminent arrival fed a variety of fears about corporate greed and pervasive gentrification, which opponents feared would tear apart places like Long Island City, sucking it clean of culture and community. Amazon's arrival was predicted to catalyze a wave of homelessness; the announcement that it was setting up shop in Long Island City was instantly followed by dizzying spikes in rent—chilling lower-income residents in a city already plagued by stretches of empty storefronts.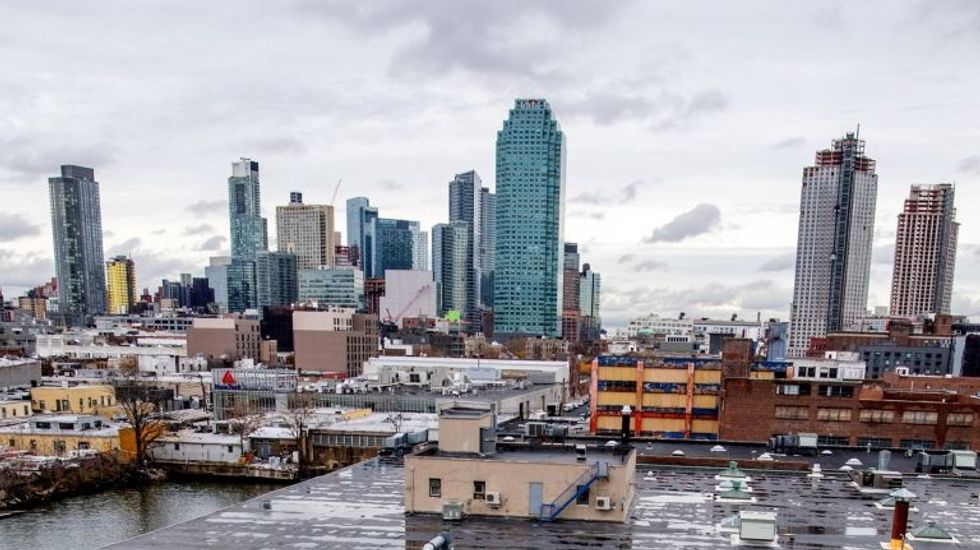 Long Island CityImage via AM NY
Protestors cited Amazon's effects on Seattle, Amazon's first home city, as reasons why the conglomerate shouldn't move on with its plan. Some people argue that Amazon made Seattle into a hull, a kind of paper city that existed only to facilitate its metallic corporate heart; and Seattle's homeless corporation did rise in tandem with rising housing prices, making it home to the third-highest number of homeless people in the country, after New York and Los Angeles.

HQ2 opposition united a great deal of unlikely allies—including an unlikely ally in the Wall Street Journal's Editorial Board, who argued that the deal was "crony capitalism at its worst." Their article continued, "Amazon's case is aboveboard, but it still amounts to a company with a market capitalization of nearly $800 billion getting paid to create jobs it would have created somewhere anyway."
Alexandria Ocasio-Cortez was the most visible face of a group of politicians who protested Amazon's HQ2 establishment, and her resistance might have been one of the central reasons for its decision to abandon ship. "It was that the environment over the course of the past three months had not got any better," said Joni Seth, Amazon's head of policy communications. "There were some local and state elected officials who refused to meet with Amazon and criticized us day in and day out about the plan."
Ocasio-Cortez had long denounced Amazon's plans to move into Queens, and she celebrated Amazon's retraction on Twitter. So did other political figures, including Cynthia Nixon. Following the company's Valentine's Day breakup announcement, the actress-turned politician triumphantly tweeted, "The fight against Amazon laid bare their union-busting, corporate welfare, ICE-abetting practices and shows why we need to break up monopolies like Amazon."

In addition to its ties to law enforcement giants, Amazon had also been accused of developing facial recognition technologies to gain information about customers without them knowing; and many protests have cropped up among its warehouse workers, especially in Europe, where employees have staged walkouts against low wages and poor working conditions.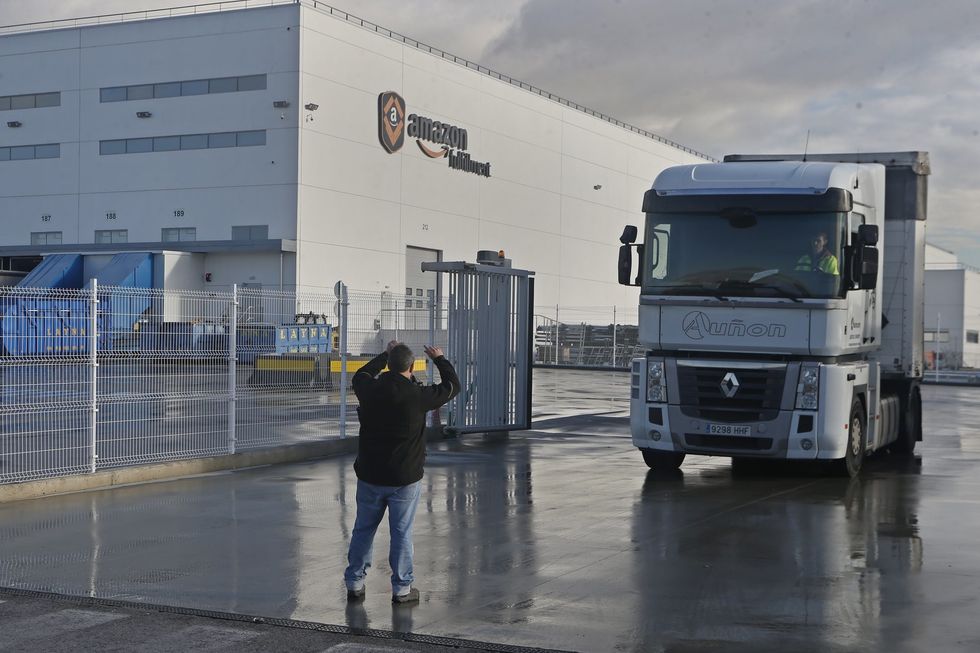 A protestor stops an Amazon truck in Spain.Image via apnews.com
Despite Amazon's shady ethics, many people were not as enthusiastic about the company's foiled New York City dreams, arguing that the demise of HQ2 will compromise what could've been an economic boom for the city, criticizing Ocasio-Cortez's decision to favor ideology over economics. Amazon may have hiked up rents, but rents are high anyway; and its arrival would have created thousands of jobs, including consistent positions for lower-level staff members and service workers.

Plus polls showed that 56% of New Yorkers approved Amazon's arrival, which was initially billed as a triumph by Mayor Bill de Blasio and Governor Andrew Cuomo—both central players in the deal's initial success who believed that the arrival would help NYC solidify its position as a worldwide hub of tech and industry. Bill DeBlasio's tweets following Amazon's decision resembled those of a spurned ex. He also lashed out at Ocasio-Cortez, stating that "a small group of politicians put their own narrow political interests above their community—which poll after poll showed overwhelmingly supported bringing Amazon to Long Island City—the state's economic future and the best interests of the people of this state," the governor said in a statement.
But even so, a great deal of major political figures opposed the deal, including Senator Michael Gianaris of Queens, who initially supported Amazon's arrival but, like Johnson, changed his mind after learning about its policies. Still, Amazon in Long Island City's demise all started with those first street protests, which erupted directly after De Blasio's announcement as politicians remained silent. Ultimately, community members and citizen organizers catalyzed the start of the resistance that led to the downfall of Amazon's Queens campus.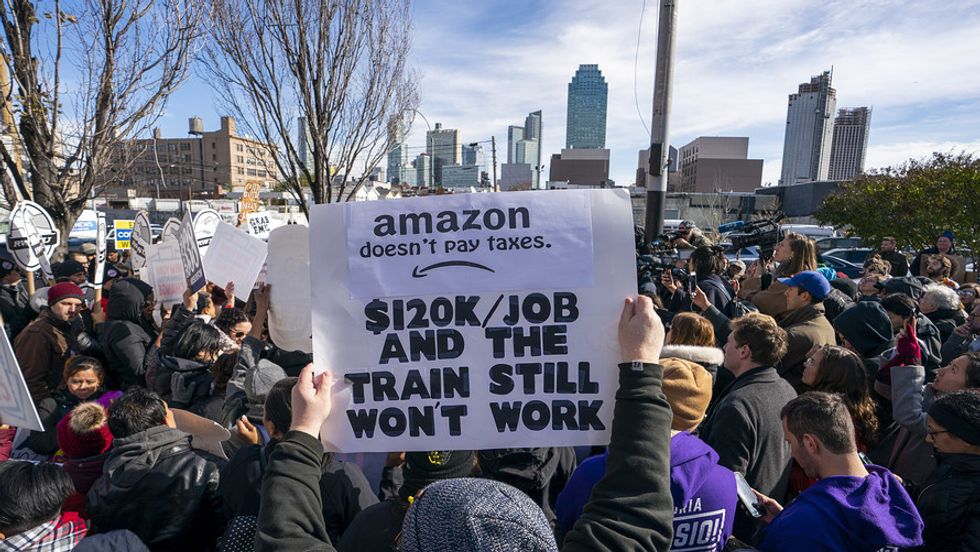 Image via Marketwatch
There's something deeply satisfying about the image of the world's richest man and his behemothic corporation getting kicked out of New York by impassioned Queens residents, ready to unite and fight for the integrity of their home borough. Still, Amazon's departure won't stop gentrification, won't fill up empty stores, and won't bring back the days when young artists could gallivant around Greenwich Village with pennies in their pockets and working-class families could call Manhattan home.
In a way, Amazon's departure is a symbolic victory for its opposition, a tantalizing promise that the people can triumph over corporations. Of course, this move will not deter Amazon from building its global empire, and America's supermassive wealth gap will remain. It just won't be as tangibly visible in New York.
---
Eden Arielle Gordon is a writer and musician from New York. Follow her on Twitter at @edenarielmusic.