We've all been there. You were gifted a dumb present that you'll never in a million-zillion years ever use and you're too polite to tell anyone any differently. It sits at the bottom of your drawer for months, then years. And when you finally feel like enough time has passed, you can throw it out in good conscience.
A return is almost always out of the question. Plus, gift givers don't often include a return receipt, and we all know we wouldn't dare ask for one. I'd rather admit to a crime than confess I don't like a gift - how insulting to the gifter's sense of aesthetics.
And-hey, I have limited drawer space. Who can keep these unwanted gifts for six months when there isn't any space for them? I hate clutter, and unwanted gifts are just that.
This year, I am making an effort to swiftly remove any unwanted gifts from my house without hurting anyone's feelings…and potentially benefiting others. As the old saying goes, one man's trash is another man's treasure. And thank goodness for that.
From the The Guardian:
"According to research published this week by the consumer body, one in four people (24%) received an unwanted or unsuitable gift for the Christmas of 2021. Meanwhile, a separate study by the personal finance comparison site Finder said £1.2bn was wasted on unwanted Christmas gifts each year."
Come to terms with the fact that you will never use that gift and follow these quick tips to offload those unwanted gifts:
Donate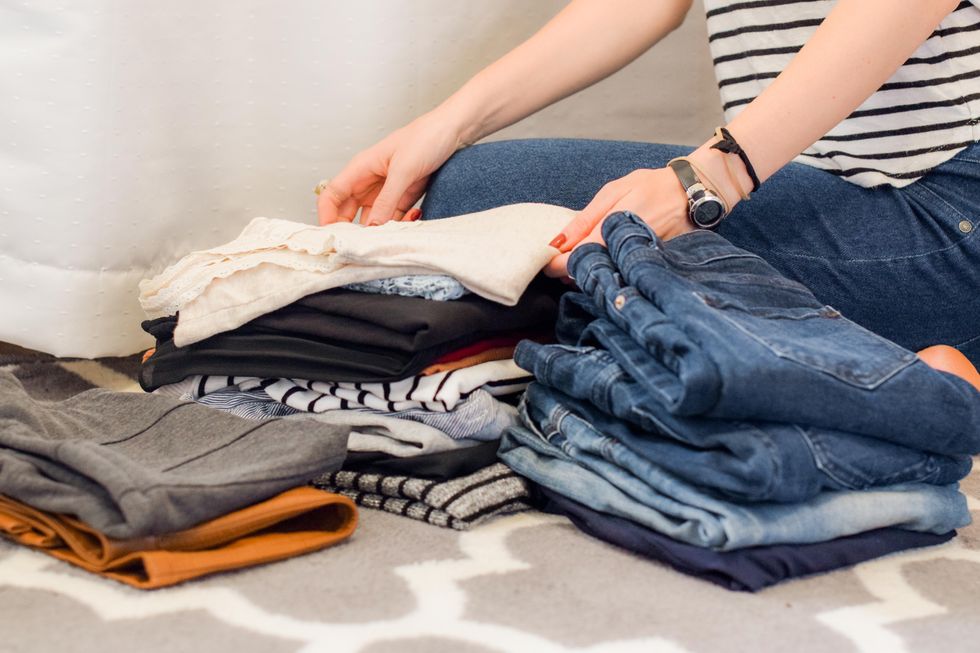 Sarah Brown via Unsplash
The most obvious choice for those unwanted pairs of mud-green sweat socks and that same fluffy robe you get every year from your Aunt Judy is to donate them. Just round up everything you don't want and Google the donation center closest to you.
This is also a fantastic excuse to purge your closet of that pile of stuff you've been meaning to get rid of. A few bags of give-away-clothes will get your spring cleaning out of the way early.
Sell Them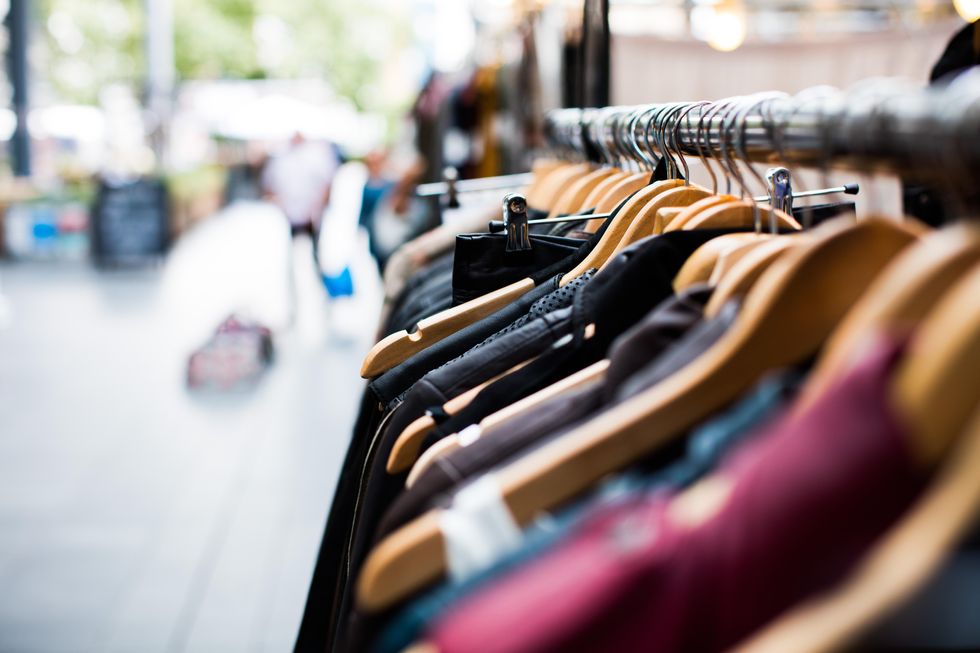 Artificial Photography via Unsplash
Resale websites are all the rage right now. If you got a pair of pants that don't fit or a sweater that isn't your style, resell them on a website dedicated to just that. Sites like Poshmark, Mercari, and DePop are known for selling those trendy pieces of clothing you barely used.
Thrifting has never been hotter. Hop on the trend while people are constantly perusing sites for the hottest deal. Then reward yourself for being so virtuous, by dropping the cash on some fabulous things you'll actually wear!
Re-Gift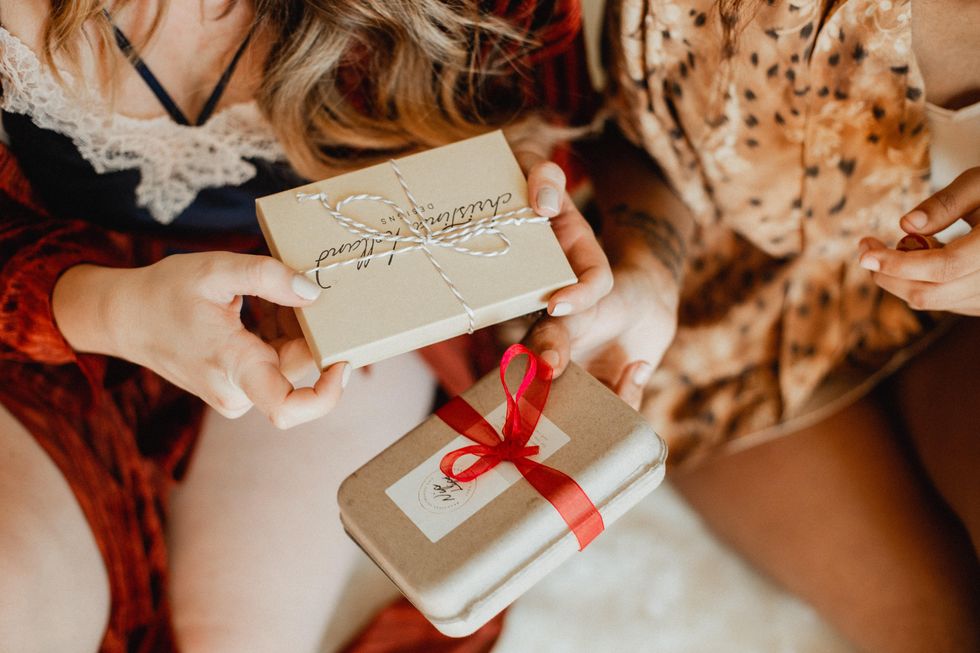 Jackie S via Unsplash
If you got something that you think one of your friends or family can benefit from, why not give it to them? There's no shame in revealing that it was a gift and you don't want it anymore…as long as you aren't re-gifting to the person who gave it to you!
Or, keep the gifts to re-gift at a later date. You never know when you're going to need a last minute gift. You'll thank yourself later.
Attempt a Return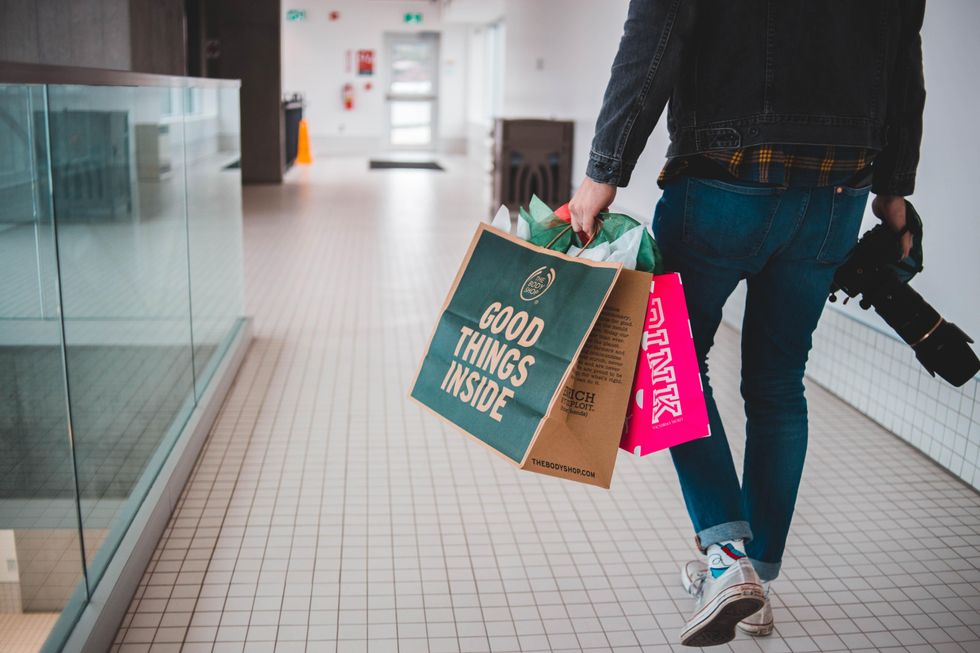 Erik McLean via Unsplash
If your item still has a tag, you can make a valiant effort to return to the store. If you can make your case, many stores won't want to fight you on it. They may be forgiving and grant you store credit at the very least.
The 16-year-old will take to Foley Square to spearhead a global strike on September 20.
Teen activist Greta Thunberg touched down on the shores of New York today after a two-week journey at sea, but her real journey has just begun.
The Swedish teenager rose to prominence last year with her "School Strikes for Climate," which have since sparked a worldwide movement. She's since become one of the leading faces in climate activism, representing young people's refusal to tolerate the ignorance of their elders.
Sixteen-year-old Thunberg has spent the past two weeks traveling to New York City via solar-powered yacht, which was chosen in order to avoid a carbon-heavy airplane flight. The journey—which was obsessively followed by activists and European media and much-maligned by critics—culminated with a landing on the shores of Coney Island, Brooklyn, and her final destination was a port off Lower Manhattan. She was welcomed by excited crowds of activists and fans.
Day 12. We are getting closer to the North American mainland. Rough conditions, but downwind sailing. https://t.co/n9huwHUSGI

— Greta Thunberg (@Greta Thunberg) 1566746954.0
We have anchored off Coney Island - clearing customs and immigration. We will come ashore at North Cove Marina earl… https://t.co/SItklEhQeK

— Greta Thunberg (@Greta Thunberg) 1566997753.0
Thunberg has a packed itinerary, which includes high-profile meetings with some of the world's most powerful officials. On Friday, September 20, she'll be leading a worldwide Climate Strike, and millions of people will be taking to the streets to call for aggressive global action on climate change. Find your local strike (or start your own) using this website.
Thunberg will be attending New York City's strike, which begins with a march in Foley Square and ends with a rally in Battery Park, where speakers, performers, and Thunberg herself will take the stage. If you want to be more involved in this event, NYC is having an art build on August 30 and 31, and the group Fridays for Future will be organizing other logistical actions in preparation for the strike. Also for NYC folks: Ethical Culture is hosting strike planning meetings every Wednesday from 6-8pm, and Greta herself will be striking each Friday, starting with a strike on Friday, 8/30 at Ralph Bunche Park outside of the United Nations from 11-2pm.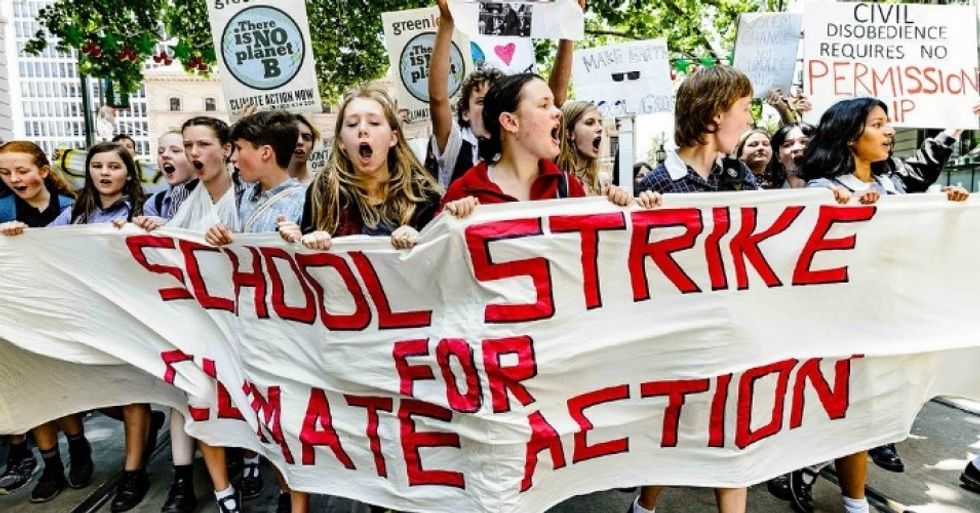 commondreams.org
Participants hope that mass action will influence several important upcoming climate meetings, which will be attended by Thunberg. The first will be the Youth Climate Summit at the United Nations in Manhattan on September 23rd. The next is the COP25 summit in Santiago, Chile, which takes place in December.

The young activist recently announced that she's taking a year-long sabbatical from school to focus on her activism. Her actions manifest the emotions and thoughts of many students who are asking, "What's the point in going to school and working towards our future if there is no future?"
As Thunberg put it in 2018, "We cannot solve the crisis without treating it as a crisis. You say you love your children above all else, and yet you're stealing their future in front of their very eyes."
Yet she's also resolutely hopeful. "It is still not too late to act," she reminded the European Parliament in a recent speech. "It will take a far-reaching vision, it will take courage, it will take fierce, fierce determination to act now, to lay the foundations where we may not know all the details about how to shape the ceiling. In other words, it will take cathedral thinking. I ask you to please wake up and make changes required possible."
Thunberg was nominated for a Nobel Peace Prize in 2018 for her work. She has mobilized millions of strikers around the world, and she's given hope and a sense of urgency to countless others. She also has been heavily criticized, mostly by conservative outlets and European nationalists. One British businessman even went as far as to Tweet, "Freak yachting accidents do happen in August…" She was also described as a "teenage puppet" by a member of Trump's transition team and a "prophetess in shorts" by a conservative French politician.
Freak yachting accidents do happen in August ... https://t.co/6CPePHYLtu

— Arron Banks (@Arron Banks) 1565817064.0
Many of these criticisms have taken on a misogynistic undertone, resembling those lobbed at another young, powerful female activist—Alexandria Ocasio-Cortez. This may not be incidental, since the kind of global structural overhaul that human survival requires necessitates a revamp of many patriarchal and conservative ideas based in traditional ways of doing things. "For climate skeptics … it was not the environment that was threatened, it was a certain kind of modern industrial society built and dominated by their form of masculinity," proposed one study that linked misogynistic comments about Thunberg and Ocasio-Cortez to toxic masculinity.

Thunberg, however, is not advocating for any particular shift in gender dynamics, nor any politician's agenda. Instead, she's all about ensuring human survival by adjusting our actions based on scientific fact.
As the Malitzia II sailed towards the New York City skyline, a banner reading "Unite Behind the Science" waved proudly above it. Unfortunately, the scientific consensus about the dire consequences of climate change hasn't been enough to mobilize humanity into acting. That has required one particularly outspoken teen activist, and New York City is lucky to have her here.
To keep the earth's temperatures from rising, serious changes need to happen over the next year and a half.
While Robert Mueller and Donald Trump dominate the public's attention, experts have quietly come to the consensus that we have around 18 months to stop the worst effects of climate change.
Last year, a study by the Intergovernmental Panel on Climate Change found that in order to prevent catastrophic warming, we need to cut carbon emissions by 45% by 2030. Today, political theorists believe that in order to achieve that goal, we must immediately begin implementing the political structures that will allow us to reach it.
At a reception for the Commonwealth foreign ministers, Prince Charles spoke out in support of climate action. "I am firmly of the view that the next 18 months will decide our ability to keep climate change to survivable levels and to restore nature to the equilibrium we need for our survival," he said.
'It's happening, it's now,' says U.S. government report on climate changewww.youtube.com
A Critical Time
So, why are the next 18 months so vital for the future of the earth's climate? During the next year and a half, a series of important political meetings and conventions will take place. On September 23, the UN will hold a special climate summit in New York, where attending countries are expected to present their emission-cutting plans. Then the UN's annual climate change summit, known as the COP25, will be held in Santiago, Chile in December 2019. Finally, the COP26 will take place at the end of 2020, most likely in the UK.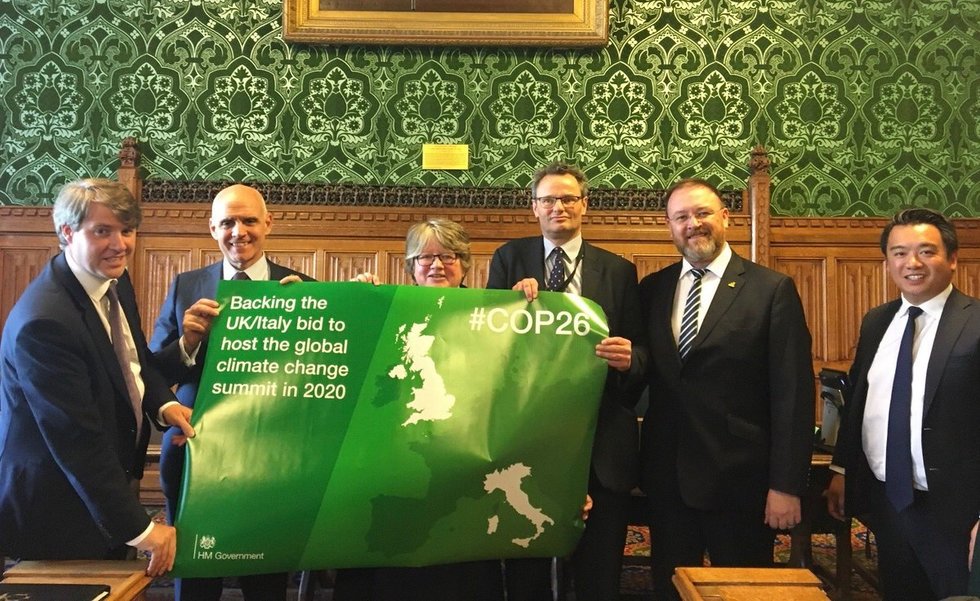 Image via Twitter
According to Environmental Secretary Micheal Gobe, the importance of these meetings cannot be understated. "We need at COP26 to ensure other countries are serious about their obligations and that means leading by example," he said. "Together we must take all the steps necessary to restrict global warming to at least 1.5C."

Depending on what happens at these meetings during the next 18 months, we could see plans like the Green New Deal set into motion. On the other hand, if a climate change denier remains in the US office, the UK summit could be the moment where the US formally withdraws from the Paris agreement (which proposed the bare minimum carbon emission cuts needed to prevent extreme consequences from climate change).
No Choice but Change
If these conferences fail to spark large-scale action, "we will have no chance of getting to a 1.5 or 2C limit," said Professor Michael Jacobs, a former climate advisor to the Prime Minister Gordon Brown.
There are several other conferences happening in the next year and a half, namely the Convention on Biological Diversity and the UN Convention on the Law of the Sea, both of which are expected to craft plans to protect our livelihoods. It's promising that all these conferences are occurring. Still, many fear that they will not push for action radical enough to meet the 1.5 degree goal.
If the goal is not met, the consequences will be unimaginable. More natural disasters (like the wildfires we're seeing right now in Alaska) would ravage coastlines and could destroy entire nations. Chronic refugee crises would ensue. Disease would flourish. One in four animal species would go extinct.
Judging by the current state of politics and carbon emissions (India is on track to overshoot its Paris Agreement goal by 60%), things are looking bleak. Fortunately, a rise in activism and protest—helmed by figures like Greta Thunberg and Alexandria Ocasio-Cortez—has drawn much needed political attention to the climate crisis. Still, it's not enough: In order to ensure a livable future for the earth, people around the world must come together and force their representatives and nations to listen to science and reason.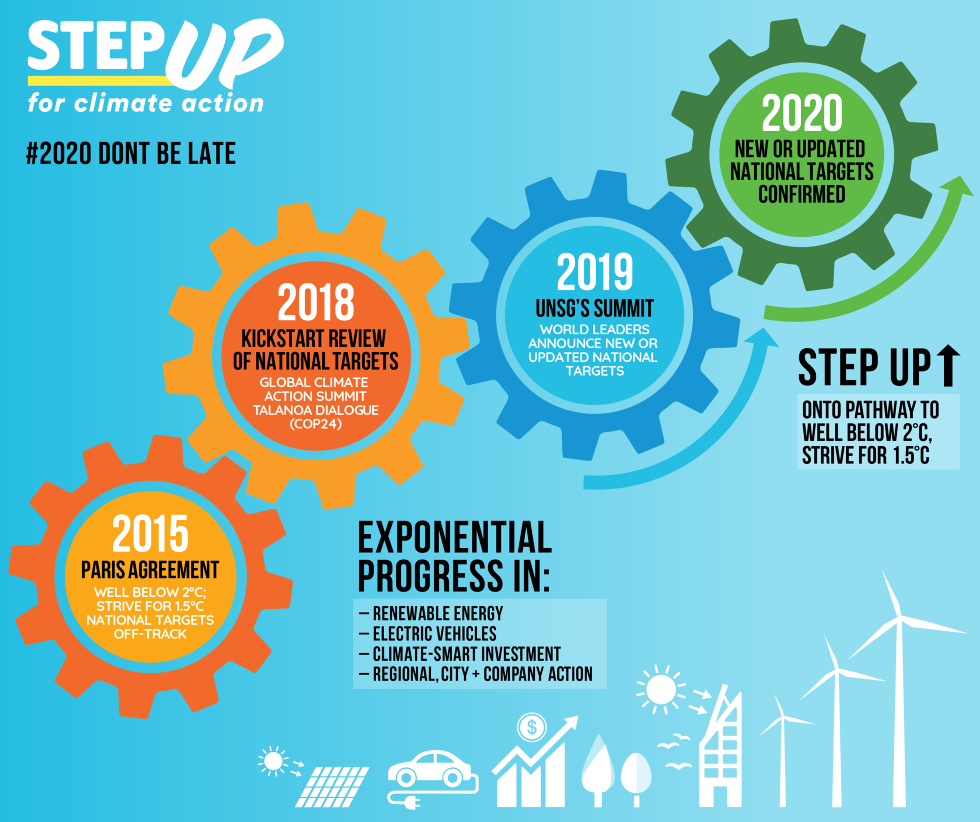 Image via World Economic Forum
Trump says he will announce her replacement in two to three weeks' time.
President Trump's ambassador to the United Nations, Nikki R. Haley, announced this morning that she will be resigning at the end of the year.
Haley, a former governor of South Carolina, was appointed as ambassador in 2016 shortly after Trump's election. She was an outspoken critic of Trump prior to his election, so when he named her the envoy to the world body the appointment was seen as a peacekeeping move.
However, it appears any previously existing tension between them has been resolved, as the two continually emphasized their admiration for each other in an oval office press conference this morning. Trump said he believes Haley has helped make the position of UN ambassador "more glamorous" and "more important," and said that "many people" want the job. He went on to say that, "She's done a fantastic job, and we've done a fantastic job together," adding that Haley has been, "very special to me." Trump says he will announce the name of the new ambassador in two to three weeks.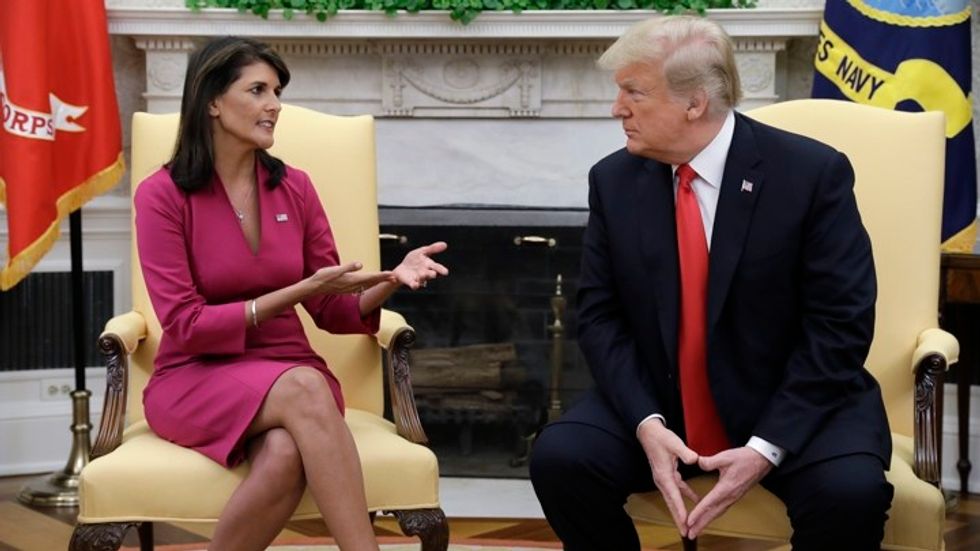 Associated Press
Trump claimed that Haley informed him of her plan to resign several months ago, but The Hill reports that Haley's staff and Secretary of State, Mike Pompeo, were supposedly "blindsided" by the news. President Trump said regarding Pompeo, "I can speak for Secretary of State Mike Pompeo. He thinks the world of Nikki." Pompeo has yet to comment on Haley's resignation.
Despite the abrupt nature of her departure, Haley was considered by many to have been a stabilizing force within the Trump administration. The New York Times describes her as, "someone whom foreign diplomats looked to for guidance from an administration known for haphazard and inconsistent policy positions."
Peter Yeo, a U.N. Foundation official, told the Washington Post that Haley, "was critical in ushering in U.N. reforms in partnership with the secretary general, and she took a thoughtful approach to peacekeeping and national security issues." He went on to say, "There certainly were great areas of contention between the United States and the U.N. But she played a very important and constructive role."
Haley was the first cabinet United Nations ambassador for a Republican administration since the end of the Cold War. There has been some past speculation that Haley saw the position as a way to climb to a higher political post, which Trump may have resented. But Haley put any rumors of a 2020 presidential run to rest this morning, saying, "For all of you that are going to ask about 2020, no, I'm not running for 2020," Haley said. "I can promise you what I'll be doing is campaigning for this one. So I look forward to supporting the president in the next election."

Haley described her job as US ambassador to the United Nations as the "honor of a lifetime."
Brooke Ivey Johnson
is a Brooklyn based writer, playwright, and human woman. To read more of her work visit her
blog
or follow her twitter
@BrookeIJohnson
A U.N. panel recommends "rapid, far-reaching" overhauls to prevent global catastrophe by 2030.
When responding to a disaster, the last phase is containment. The latest report from the world's leading experts on global warming is urging world leaders and policy-makers that that time is now. In order to prevent the earth's temperature from rising any more than another .5 ˚Celsius over the next 12 years, "rapid, far-reaching and unprecedented changes in all aspects of society" are necessary.
The report is the latest from the UN's Intergovernmental Panel on Climate Change (IPCC), which draws from thousands of publications and reviews of data on climate changes to assess and measure "increases in global average air and ocean temperatures, widespread melting of snow and ice, and rising global average sea level." In the past five reports, the IPCC has gone from investigating if and to what degree global warming was taking place to finding it "unequivocal" that global warming was an ongoing disaster with a 5% chance of being caused by natural climate change and a 90% probability that society's emissions of greenhouse gases were perpetuating the damage.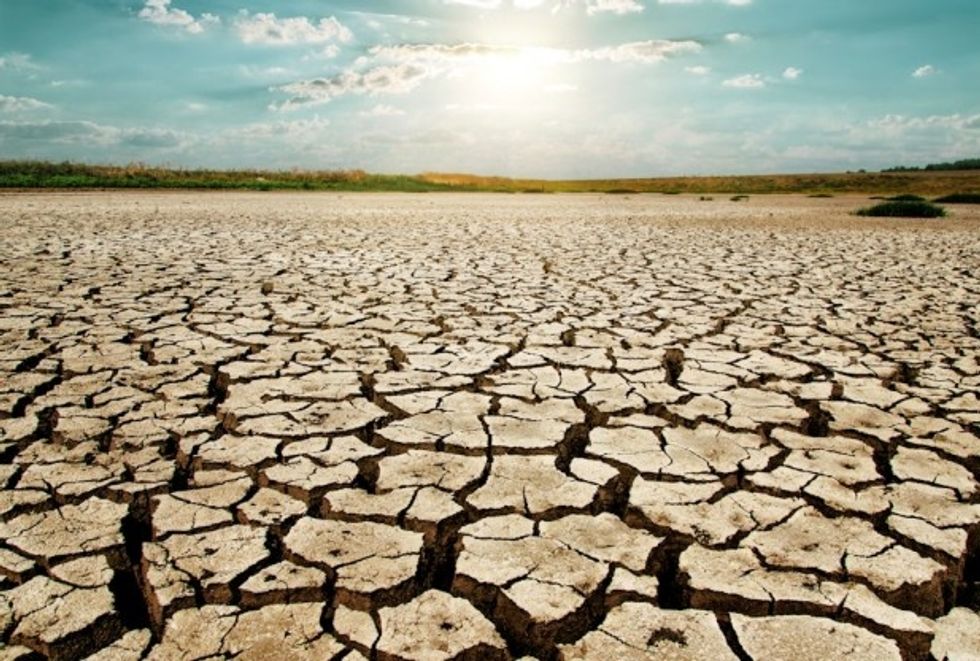 Environment and Human Being
Now, the IPCC is no longer concerned with spreading awareness or recommending practices to prevent damage from global warming, but to contain the coming destruction. The latest report cites that global temperatures are already 1 ˚C higher than in pre-industrial times; if temperatures rise more than 1.5 ˚C, environmental damages will put hundreds of millions of human lives at risk.

Furthermore, Earth's temperatures are expected to rise to the catastrophic 1.5 ˚C as early as 2030, unless "unprecedented changes" in transportation, agriculture, and energy are implemented. The IPCC's report verifies that carbon dioxide emissions have not been hampered by existing environmental policies, or lack thereof, recommending "rapid and far-reaching transitions" in society that leave some doubtful of its feasibility.
Skeptics include Glen Peters, research director of the Center for International Climate Research in Oslo, who stated, "Even if it is technically possible, without aligning the technical, political and social aspects of feasibility, it is not going to happen. To limit warming below 1.5 ˚C, or 2 ˚C for that matter, requires all countries and all sectors to act."
The rhetoric of environmentalism has been deemed alarmist and even fear-mongering in the past, but one reason skeptics remain unmoved could be due to a history of sanitized language. Phil Duffy, president of the Woods Hole Research Center, doubts not only the IPCC's radical changes but their words: "If you're expecting IPCC to jump up and down and wave red flags, you're going to be disappointed. They're going to do what they always do, which is to release very cautious reports in extremely dispassionate language."
Scientists involved in the IPCC hope that the newest report will counteract that history of apathetic fatalism, urging that the present risk should merit the global, united response it will take to scale back potential disaster. "It's a line in the sand and what it says to our species is that this is the moment and we must act now," affirmed Dr. Debra Roberts, co-chair of the IPCC's working group on climate impacts. "This is the largest clarion bell from the science community and I hope it mobilizes people and dents the mood of complacency."
---
Meg Hanson is a Brooklyn-based writer, teacher, and jaywalker. Find Meg at her website and on Twitter @megsoyung.
---
Those already in the U.S. required to marry by end of year or leave the country
The Trump administration began enforcing a new policy on Monday that denies visas to same-sex domestic partners of foreign diplomats.
The restrictions affect staff of U.S.-based international organizations such as the United Nations, the World Bank, and the International Monetary Fund, requiring those currently residing in the country to get married by December 31st or leave within 30 days. Announced earlier this year, the policy is framed by the administration as an effort to equalize visa requirements between straight and gay diplomats.
Officials say they are building off of rules implemented in 2009 by the Obama administration that asks other countries to treat same-sex partners of U.S. Foreign Service employees on a "reciprocal basis" to receive diplomatic visas.
In an August follow-up email to the Washington Blade, a State Department official explained, "This is based on changes to U.S. law recognizing same-sex marriages. Therefore, the Department will likewise require that, as a general matter, officials from other governments and international organizations be married to enjoy the rights and benefits of spouses for purposes of visa issuance and privileges and immunities."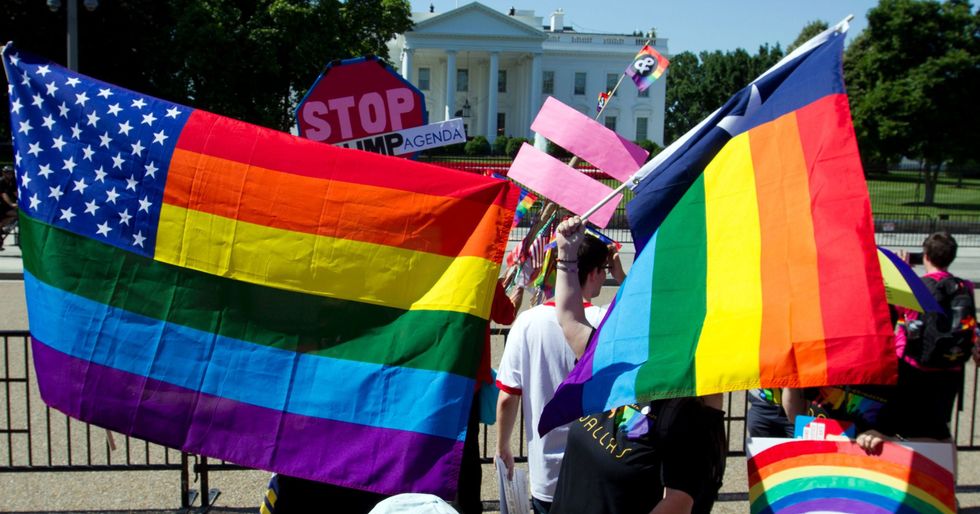 Jose Luis Magana, AFP/Getty Images
LGBT advocates are quick to point out that same-sex marriage is illegal in most countries, and cannot be compared to the rights given to heterosexual couples. Gay people face the death penalty in eight countries including U.N. members Saudi Arabia and Nigeria. Critics say the administration's rules will force LGBT diplomats to choose between breaking up their relationship for a career, or facing potentially life-threatening repercussions at home for entering into an illegal marriage.

Former U.S. Ambassador to the United Nations Samantha Power described the policy as "needlessly cruel & bigoted," tweeting that "only 12% of U.N. member states allow same-sex marriage."
Needlessly cruel & bigoted: State Dept. will no longer let same-sex domestic partners of UN employees get visas unless they are married. But only 12% of UN member states allow same-sex marriage. https://t.co/MjZpRVLYcf
— Samantha Power (@SamanthaJPower) September 28, 2018
Alfonso Nam, president of UN-GLOBE, an organization that advocates for LGBT staff in the U.N. system, told the Blade, "A policy that prioritizes marriages over all other forms of legal unions will have a chilling effect on all couples in the United States under a U.N.-sponsored visa who are in legal unions other than marriage."
"Whether it is an opposite-sex couple who did not get married for philosophical reasons, or a same-sex couple who did not get married because marriage was not a choice available to them, they would all now have to find a way to get married in order to remain in the United States," added Nam.
Currently, there are 10 U.N. employees in the United States who would need to marry by the New Year to have their partners' visas extended.
Joshua Smalley
is a New York-based writer, editor, and playwright. Find Josh at his
website
and on Twitter:
@smalleywrites
The refugee crisis is becoming impossible to ignore.
There are currently 68.5 million people in the world who have been displaced because of war or racial/religious persecution. This is the highest this number has been since World War II, and as natural resources and access to clean water begin to dwindle, this number is projected to grow significantly. In response to this issue, the West has begun closing its borders in fear of mass migration. This fear however, is misguided. According to the U.N., most refugees don't go further than the countries neighboring their homelands. Still, the refugee crisis continues to grow unabated, so much so, that it threatens to be the defining marker of the 21st century. It's a multifaceted problem that's very difficult to solve, impossible if the following factors aren't properly addressed. Here's a look at the five major contributors to the world refugee crisis.
There are many who would argue that humanity has gotten less violent throughout history, but one look at the headlines and it's easy to prove that this isn't the case. The difference now is that violence doesn't typically occur between powerful nation states–that it's the poorer countries and factions who are left to fight over their limited resources. The death tolls from fighting alone are lower, but regimes are becoming more creative, weaponizing famine and hoarding resources as a means of oppression. These methods have created nearly 70 million refugees so far and when issues like climate change and water shortage come to a head in the next few decades, the refugee crisis is only going to get worse.
Matt Clibanoff is a writer and editor based in New York City who covers music, politics, sports and pop culture. His editorial work can be found in Inked Magazine, Pop Dust, The Liberty Project, and All Things Go. His fiction has been published in Forth Magazine. -- Find Matt at his website and on Twitter: @mattclibanoff