Dall-E Mini, the AI-powered text-to-image generator has taken over the internet. With its ability to render nearly anything your meme-loving heart desires, anyone can make their dreams come true.
DALL-E 2, a portmanteau of Salvador Dali, the surrealist and Wall-E, the Pixar robot, was created by OpenAI and is not widely available; it creates far cleaner imagery and was recently used to launch Cosmpolitan's first AI-generated cover. The art world has been one of the first industries to truly embrace AI.
The open-sourced miniature version is what's responsible for the memes. Programmer Boris Dayma wants to make AI more accessible; he built the Dall-E Mini program as part of a competition held by Google and an AI community called Hugging Face.
And with great technology, comes great memes. Typing a short phrase into Dall-E Mini will manifest 9 different amalgamations, theoretically shaping into reality the strange images you've conjured. Its popularity leads to too much traffic, often resulting in an error that can be fixed by refreshing the page or trying again later.
If you want to be a part of the creation of AI-powered engines, it all starts with code. CodeAcademy explains that Dall-E Mini is a seq2seq model, "typically used in natural language processing (NLP) for things like translation and conversational modeling." CodeAcademy's Text Generation course will teach you how to utilize seq2seq, but they also offer opportunities to learn 14+ coding languages at your own pace.
You can choose the Machine Learning Specialist career path if you want to become a Data Scientist who develops these types of programs, but you can also choose courses by language, subject (what is cybersecurity?) or even skill - build a website with HTML, CSS, and more.
CodeAcademy offers many classes for free as well as a free trial; it's an invaluable resource for giving people of all experience levels the fundamentals they need to build the world they want to see.
As for Dall-E Mini, while some have opted to create beauty, most have opted for memes. Here are some of the internet's favorites:
There's no looking back now, not once you've seen Pugachu; artificial intelligence is here to stay.
POLITICS
Nikki Haley Resigns from Role as US Ambassador to the UN
Trump says he will announce her replacement in two to three weeks' time.
President Trump's ambassador to the United Nations, Nikki R. Haley, announced this morning that she will be resigning at the end of the year.
Haley, a former governor of South Carolina, was appointed as ambassador in 2016 shortly after Trump's election. She was an outspoken critic of Trump prior to his election, so when he named her the envoy to the world body the appointment was seen as a peacekeeping move.
However, it appears any previously existing tension between them has been resolved, as the two continually emphasized their admiration for each other in an oval office press conference this morning. Trump said he believes Haley has helped make the position of UN ambassador "more glamorous" and "more important," and said that "many people" want the job. He went on to say that, "She's done a fantastic job, and we've done a fantastic job together," adding that Haley has been, "very special to me." Trump says he will announce the name of the new ambassador in two to three weeks.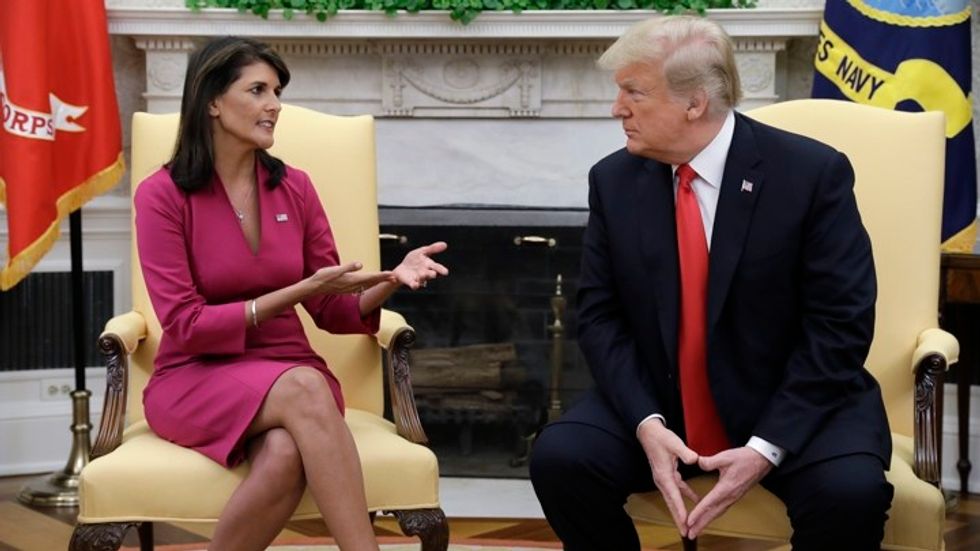 Associated Press
Trump claimed that Haley informed him of her plan to resign several months ago, but The Hill reports that Haley's staff and Secretary of State, Mike Pompeo, were supposedly "blindsided" by the news. President Trump said regarding Pompeo, "I can speak for Secretary of State Mike Pompeo. He thinks the world of Nikki." Pompeo has yet to comment on Haley's resignation.
Despite the abrupt nature of her departure, Haley was considered by many to have been a stabilizing force within the Trump administration. The New York Times describes her as, "someone whom foreign diplomats looked to for guidance from an administration known for haphazard and inconsistent policy positions."
Peter Yeo, a U.N. Foundation official, told the Washington Post that Haley, "was critical in ushering in U.N. reforms in partnership with the secretary general, and she took a thoughtful approach to peacekeeping and national security issues." He went on to say, "There certainly were great areas of contention between the United States and the U.N. But she played a very important and constructive role."
Haley was the first cabinet United Nations ambassador for a Republican administration since the end of the Cold War. There has been some past speculation that Haley saw the position as a way to climb to a higher political post, which Trump may have resented. But Haley put any rumors of a 2020 presidential run to rest this morning, saying, "For all of you that are going to ask about 2020, no, I'm not running for 2020," Haley said. "I can promise you what I'll be doing is campaigning for this one. So I look forward to supporting the president in the next election."

Haley described her job as US ambassador to the United Nations as the "honor of a lifetime."
Brooke Ivey Johnson
is a Brooklyn based writer, playwright, and human woman. To read more of her work visit her
blog
or follow her twitter
@BrookeIJohnson