The economic impact of reopening is unclear, but the goal to keep government "small" is unwavering even in a crisis
In the coming weeks many US states will begin the process of loosening COVID-19 lockdown restrictions and "reopening" their economies.
Other states have already done so.
While the argument for reopening has been unequivocal—it's supposedly what we need to save our flagging economy from a full-blown depression—it's not clear that it will serve that function at all. Recent polling has shown that the vast majority of Americans support social-distancing and stay-at-home measures and are not enthusiastic about the prospect of going back to restaurants and crowded stores while the coronavirus pandemic is ongoing. Which means that the number of customers who return as states drop their restrictions may not be enough to keep small businesses afloat.
Unfortunately that majority opinion has not received as much attention as many of the loudest advocates for reopening—who have argued that a death toll that is likely to more than double current figures is worth it, or that the whole pandemic is just a hoax. Of course it makes sense for small business owners and people who are struggling to make ends meet right now to want to get back to work, but what good will it do?
If cases spike, overwhelming local hospital systems and causing deaths and tremendous medical debt in the process, then restrictions will need to be reinstated, and the economic problems we're currently dealing with will only be prolonged. Right now we lack the widespread testing and the sufficiently improving conditions to support reopening without a vaccine. There are measures we could take at the federal level to improve the situation without such startling risks, but we are ignoring those options—treating reopening like it's the only solution available—for one simple reason: Americans hate "big government."
Since at least the 1980s our society has been flooded with anti-government propaganda. We recite mantras about government mismanagement, waste, incompetence, while ignoring successful programs at home and abroad. One of our two major parties has devoted much of its political willpower to actively sabotaging federal programs and agencies like the US Postal Service to prove their point and push for further privatization (that they, along with their donors and friends, stand to personally profit from). In this context, the kind of aggressive federal spending we would need to keep small businesses and struggling families afloat in current conditions is virtually unthinkable.

Even America's relatively compassionate party is only pushing fairly moderate measures that are likely to be whittled down and paired with massive business subsidies in the Senate—just like what happened with the Cares Act in March. In its current form the Heroes Act includes $175 billion in housing assistance, a second round of $1200 stimulus payments (with children receiving as much as adults this time), $200 billion in hazard pay for essential workers, $1 trillion in funding for states to pay their vital workers, and a six month extension of the $600 unemployment expansion.
Undoubtedly these measures will help a lot—though not as much as more generous proposals—but they ignore some major issues. The biggest problem (apart from the fact that the senate isn't going to let the bill pass as is) is that states are straining to make the basic unemployment payments that the $600 expansion is meant to supplement. As a result, many of the tens of millions of people trying to file for unemployment have been stymied by bureaucratic foot-dragging and red tape, and now states are using reopening as a way to push workers off of unemployment and protect state budgets from possible bankruptcy—an outcome which Senate Majority Leader Mitch McConnell has no interest in preventing. In some states there are even systems being implemented to report workers who refuse to go back to work, regardless of their circumstances or legitimate fears.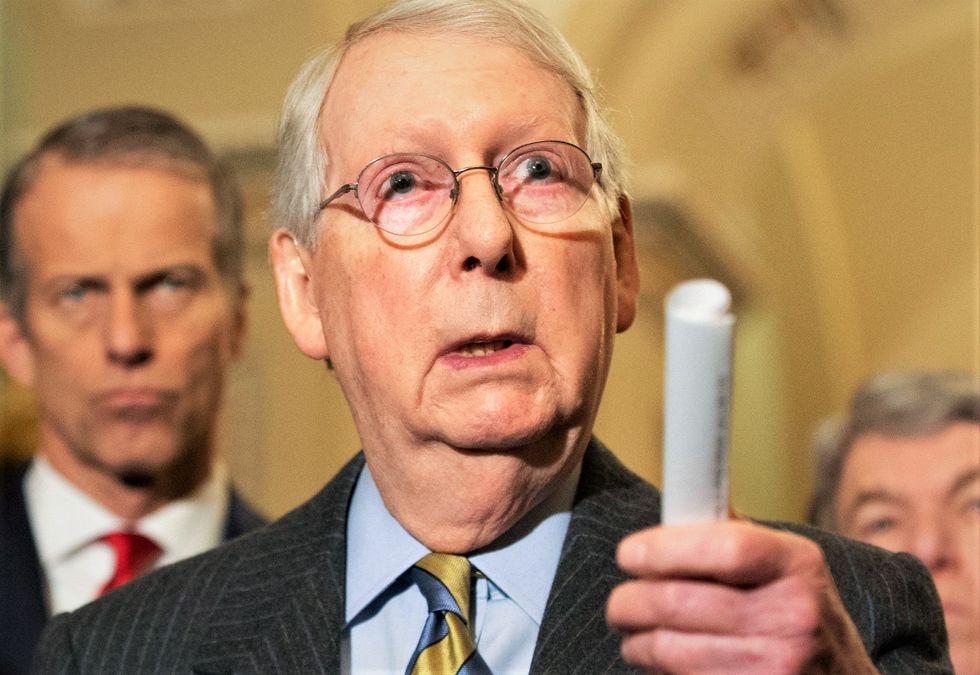 Whether any of this will improve the national economy in the long run remains to be seen. What is clear is that state governments are being understandably cautious with their budgets, and the Republican party is playing their usual political games with lives, health, and livelihoods on the line. The result is that states are reopening, and millions of workers are about to be pushed off unemployment. The next stop is cutting retirement benefits, and fully dissolving any remnant of a social safety net this country has.

As we enter what is likely to be another global depression, it's worth keeping in mind that these programs are among the measures that helped us get through the last one under FDR and that countries that chose a different path were pushed toward a scarier form of politics that has lately been threatening resurgence: outright fascism. Let's try not to repeat the mistakes of the 1930s.
Plus, how to apply for unemployment.
A record number of Americans have applied for unemployment benefits in the wake of the coronavirus pandemic. So many, in fact, that there has been a 3000% jump in jobless claims since early March. Unfortunately, the situation is likely to only get worse. According to Citi economist Andrew Hollenhorst, "Further job loss expected in coming weeks is very likely to push unemployment above 10%, even taking account of a potential steep decline in the labor force participation rate, as some displaced workers are neither furloughed nor looking for work."
Of course, if you've been outright fired from your job, you can at least take comfort in the fact that you face a relatively straightforward process for applying for unemployment. But what if you've been furloughed? What do you do now?
What is a furlough?
Furlough's have become increasingly common as the pandemic has continued to devastate the American job market. In short, a furlough is when an employee is put on an unpaid leave from work for an indefinite amount of time. According to the Office for Personnel Management, there are two types of furlough:
"An administrative furlough is a planned event by an agency which is designed to absorb reductions necessitated by downsizing, reduced funding, lack of work, or any budget situation other than a lapse in appropriations. Furloughs that would potentially result from sequestration would generally be considered administrative furloughs."
"A shutdown furlough (also called an emergency furlough) occurs when there is a lapse in appropriations, and can occur at the beginning of a fiscal year, if no funds have been appropriated for that year, or upon expiration of a continuing resolution, if a new continuing resolution or appropriations law is not passed. In a shutdown furlough, an affected agency would have to shut down any activities funded by annual appropriations that are not excepted by law. Typically, an agency will have very little to no lead time to plan and implement a shutdown furlough."
A furlough is, by its nature, temporary, but that doesn't mean that you can count on getting your job back. Many private and public companies have furloughed employees as a cost saving measure in hopes of weathering the economic turmoil of COVID-19 and hiring back furloughed employees as soon as possible, but as economies grind to a halt across the world, it becomes more and more likely that furlough will turn to permanent termination for many workers. As Jie Feng, an assistant professor in the Rutgers School of Management and Labor Relations told the Society for Human Resource Management, "Unlike layoffs, furloughs reduce labor costs without adding new costs such as severance packages and outplacement services." That means that, unfortunately, your company may just be putting off termination in order to avoid the costs associated with it.
While you likely still have healthcare as a furloughed employee, its not a guarantee, so its worth verifying with your specific company what benefits you retain during your leave.

Do I qualify for unemployment if I've been furloughed?
While you wait to see how long your furlough lasts, you can at least take comfort knowing that you probably qualify for unemployment benefits, particularly as they've been expanded under the $2 trillion coronavirus relief package. Usually, it wouldn't be a guarantee that furloughed workers would qualify for unemployment (it depends on the state you live in) but thanks to the new relief packaged, anyone who was furloughed due to the coronavirus outbreak qualifies for unemployment insurance. Additionally, unlike filing for unemployment because you've lost your job, furloughed employees do not have to prove they lost their jobs. Keep in mind that if you're on paid leave or are able to work from home, you won't qualify for the updated unemployment benefits.
According to CNET, you are likely eligible for additional unemployment under the new package if: "you're a part-time or self-employed worker, as well as if you're already unemployed or can't work because of COVID-19."
You are also eligible if:
You were set to start a new job and can't because of the outbreak
You collect veteran or Social Security benefits
Your job closed due to the coronavirus (for instance, restaurants or businesses deemed "nonessential")
You're not working because you have to care for children or other family members who would otherwise attend school or another facility
So, how much money will I get?
While the total sum of the unemployment money you receive will depend on your state's unemployment plan, the new federal relief package will give you an extra $600 a week on top of whatever you get through your state. It will also cover you for an extra 13 weeks in addition to whatever amount of time your state unemployment program covers. Most states unemployment benefits are upwards of 26 weeks, meaning you're likely to be covered for around 39 weeks. How much money you'll receive is entirely dependent on your state, for example, California residents get $450 a week so the extra $600 would put their weekly benefits at more than $1,000, but Florida residents get a max of $275 per week, putting their total unemployment at a maximum amount of $875.
How do I apply?
There is no way to apply for unemployment via the federal government, so you'll have to find the specific process for your state. Luckily, you can apply immediately. You used to have to wait at least a week to receive benefits, but thanks to the stimulus package you can now expect a more immediate turnaround time. While some states have waived the waiting period, others might still have one implemented. To find out what your state's unemployment program looks like, refer to the table on this site or select your state on this page.
Automation is set to replace a large portion of the American workforce. What do we do once it happens?
In his 1984 essay Is it O.K. to be a Luddite?, Thomas Pynchon predicted that "the next great challenge to watch out for will come when the curves of research and development in artificial intelligence, molecular biology and robotics all converge." Nearly 35 years later, that convergence is upon us. Barring some sort of federally enforced halt on technological progress, automation of most basic services is inevitable.
Keep reading...
Show less
And is this a good thing?
Test runs of self-driving cars conducted by both Uber and Tesla have recently caused some of the first fatalities associated with automated vehicles. The companies' respective responses to these tragedies were apologetic but came off somewhat cynical, as if human life were just an associated cost of progress. Still, many believe that self-driving cars can make the road a safer place, and frankly, they may have a point. 40,000 people died on the road in 2017, and human error was a factor in about 90% of these collisions. Currently, the technology just isn't there, but considering the amount of money being pumped into the idea, it's only a matter of time before self-driving vehicles take over the road. As we inch closer to the technocratic dream of super highways filled with robot cars, it's important to remember that disruptive technology–that necessarily obsolesces certain industries–has a very real impact on society.
Keep reading...
Show less