Dall-E Mini, the AI-powered text-to-image generator has taken over the internet. With its ability to render nearly anything your meme-loving heart desires, anyone can make their dreams come true.
DALL-E 2, a portmanteau of Salvador Dali, the surrealist and Wall-E, the Pixar robot, was created by OpenAI and is not widely available; it creates far cleaner imagery and was recently used to launch Cosmpolitan's first AI-generated cover. The art world has been one of the first industries to truly embrace AI.
The open-sourced miniature version is what's responsible for the memes. Programmer Boris Dayma wants to make AI more accessible; he built the Dall-E Mini program as part of a competition held by Google and an AI community called Hugging Face.
And with great technology, comes great memes. Typing a short phrase into Dall-E Mini will manifest 9 different amalgamations, theoretically shaping into reality the strange images you've conjured. Its popularity leads to too much traffic, often resulting in an error that can be fixed by refreshing the page or trying again later.
If you want to be a part of the creation of AI-powered engines, it all starts with code. CodeAcademy explains that Dall-E Mini is a seq2seq model, "typically used in natural language processing (NLP) for things like translation and conversational modeling." CodeAcademy's Text Generation course will teach you how to utilize seq2seq, but they also offer opportunities to learn 14+ coding languages at your own pace.
You can choose the Machine Learning Specialist career path if you want to become a Data Scientist who develops these types of programs, but you can also choose courses by language, subject (what is cybersecurity?) or even skill - build a website with HTML, CSS, and more.
CodeAcademy offers many classes for free as well as a free trial; it's an invaluable resource for giving people of all experience levels the fundamentals they need to build the world they want to see.
As for Dall-E Mini, while some have opted to create beauty, most have opted for memes. Here are some of the internet's favorites:
There's no looking back now, not once you've seen Pugachu; artificial intelligence is here to stay.
TECHNOLOGY
The Dangers of Automation: Are Self-Driving Cars Here To Stay?
And is this a good thing?
Test runs of self-driving cars conducted by both Uber and Tesla have recently caused some of the first fatalities associated with automated vehicles. The companies' respective responses to these tragedies were apologetic but came off somewhat cynical, as if human life were just an associated cost of progress. Still, many believe that self-driving cars can make the road a safer place, and frankly, they may have a point. 40,000 people died on the road in 2017, and human error was a factor in about 90% of these collisions. Currently, the technology just isn't there, but considering the amount of money being pumped into the idea, it's only a matter of time before self-driving vehicles take over the road. As we inch closer to the technocratic dream of super highways filled with robot cars, it's important to remember that disruptive technology–that necessarily obsolesces certain industries–has a very real impact on society.
Last year, Elon Musk unveiled his fully electric semi truck. It can travel 500 miles before needing a charge, and features a very advanced autopilot system. Tesla claims the truck can drive itself on highways, and while it's far from completely automated, it's pretty clear what Musk hopes the next version will have. This is bad news for a large portion of the American workforce.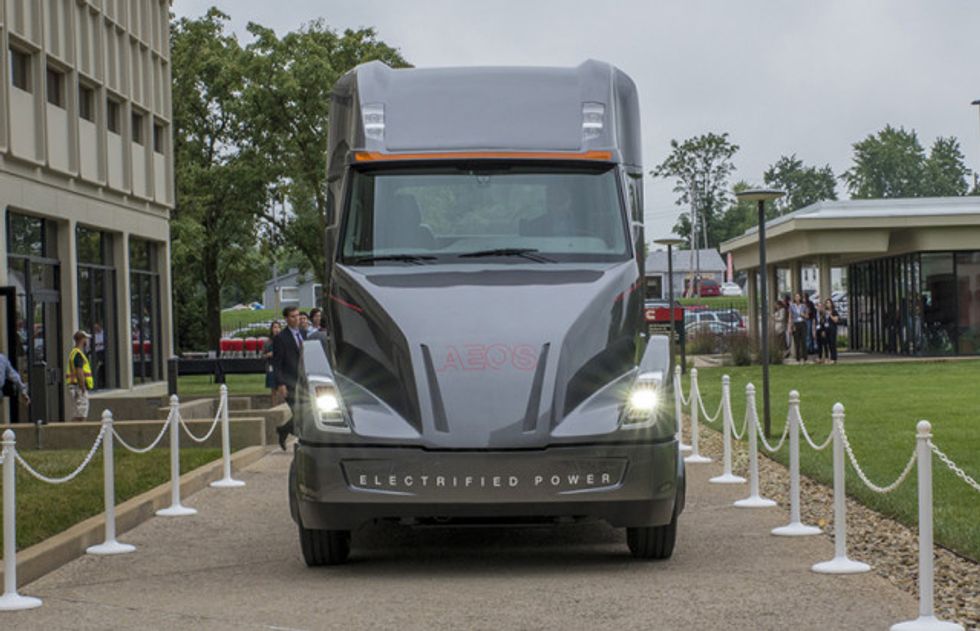 An electric semi truck
Currently, there are 3.5 million truck drivers in the United States. Including non-drivers, the trucking industry employs one in fifteen American workers. On top of this, there are around 375,000 taxi drivers and chauffeurs, and close to 700,000 bus drivers. It's not just jobs that will be affected by automated vehicles though. Ancillary jobs, such as auto repair, will also fall by the wayside as new safety features begin reducing the amount of traffic accidents. While there are numerous benefits to automated vehicles, such as more efficient parking and emergency services, the transition from human drivers to autopilot is going to be incredibly bumpy. The assertion made by Joel Lee (editor in chief of Make Use Of) that "the long-term gains that we'll see as a society far outweigh the short-term growing pains and inconveniences," is one that echoes the sentiments of technocrats like Elon Musk and Dara Khosrowshahi. That said, someone would have to be deliriously out of touch to call the loss of over five million jobs (about 4% of our total workforce) an "inconvenience."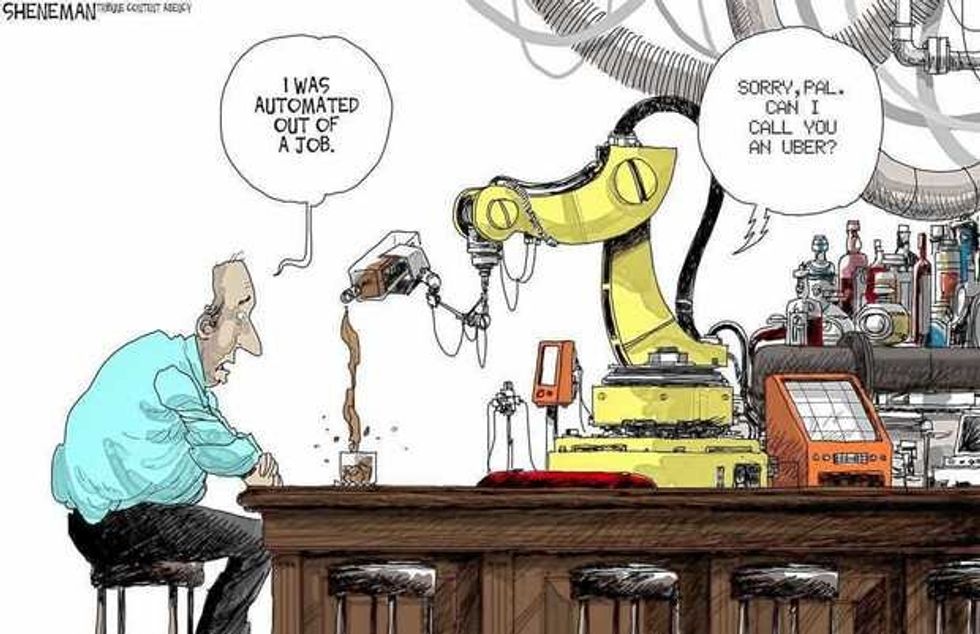 The future
The average age of an American truck driver is 55-years-old. The median income is around $42,000 a year. It's not a job that'll make someone rich, but it's enough to pay the bills and has been a safe career path for those without a college education. For many of these drivers, re-education isn't an option. Middle-aged people with families and mortgages can't afford to uproot their lives and go back to school. Self-driving cars may be a net good for society, but the technology definitely comes with some risks.

That said, the propensity to eliminate jobs isn't a feature that's unique to self-driving vehicles. There are some who believe that within 30 years, most of our jobs will be automated, resulting in unemployment rates as high as 50%. Less optimistic estimates have stated that up to 73 million jobs will be eliminated by 2030. Essentially what we're staring down the barrel of, is a Player Piano-type situation, in which the demand for work severely outweighs the supply. Unfortunately, the technological advancements that will eventually lead to our occupational undoing are going to continue. As professor Moshe Vardi put it, "the genie is out of the bottle." There seems to be only two options going forward. Either American society moves to address the issue of mass unemployment, setting up programs like Universal Basic Income and supporting those who can't work, or it doesn't, and we end up in class system that's so rigidly defined, the people at the bottom might as well be slaves.