In a time when trans people's safety, security, and integrity are subject to attack, here are the top 10 tips to being a good transgender ally.
In today's destabilized political climate, social progress in inclusivity and acceptance can seem glacially slow. On January 22, 2019, the Supreme Court allowed President Trump to ban transgender persons from serving in the military, despite a federal court ruling against it in 2018. LGBTQ+ activists condemn the ban as cruel and prejudiced, but people outside the queer community can play a crucial role combating transphobia.
Trans allies can enlighten cultural attitudes and shift discussions away from ill-informed or maligning stereotypes. PFLAG defines transgender as "a term often used to describe an individual whose gender identity does not necessarily match the sex assigned to them at birth." An ally, in the words of UC Berkeley's Gender Equity Unit, is "someone who advocates for and supports members of a community other than their own; reaching across differences to achieve mutual goals."
In a time when trans people's safety, security, and integrity are subject to attack, here are the top 10 tips to being a good transgender ally:
1.Never "out" a transgender person.
You wouldn't want your most personal information shared freely with strangers. Demonstrate the same respect for the personal lives of your friends. This includes being sharply aware of your surroundings when discussing trans topics before mentioning names, as you could expose your friend without meaning to.
2. Use the names and pronouns your friends prefer.
Don't be afraid to ask if you aren't sure. If you make a mistake, politely correct yourself, and gently correct others if they do the same. It isn't infringing upon someone's freedom of speech to allow individuals to self-identify and called by that name.
3. Don't make assumptions about a transgender person's sexual orientation.
Gender identity is not the same as sexual orientation. Gender identity is an individual's own understanding of their gender, and sexual orientation is who they feel attracted to. Transitioning is not an indication of any specific orientation.
4. Be patient.
Transitioning is a long process that may have long phases of questioning, exploring, and experimenting. Individuals may change their preferred pronouns, change their minds about their gender expression, and then change back. Be patient and accepting while they work it out for themselves.
5. Be willing to listen.
Transitioning can also be incredibly frustrating and emotionally turbulent. Be open and accepting when a friend wishes to talk. Respect their space when they ask for it, but make it clear that you're willing to listen.
6. Don't expect transgender people to educate you.
Don't expect your transgender friends to represent the entire community. Make use of resources to understand important issues. Books, films, blogs, and YouTube channels offer insight into the shared experiences in the community.
7. Challenge transphobic attitudes.
GLAAD advises you speak out against anti-trans remarks and backhanded compliments like, "She's so gorgeous, I would have never guessed she was transgender." Challenging these remarks and clarifying why they're inappropriate is a small step towards changing cultural attitudes.
8. Support all-gender public restrooms.
Advocate for unisex, all-gender, or single user restrooms at the workplace, schools, or businesses. Since some institutions still don't welcome gender non-conforming or transgender people, speaking up is one small way to shift attitudes towards acceptance.
9. Advocate for LGBTQ+ legislature.
As PFLAG states, People who are transgender or gender nonconforming can be fired from their jobs under state law in more than half of the states in the U.S. simply for being transgender." There's no federal law explicitly banning discrimination against transgender people, but a plethora of organizations are lobbying for that to change. You can get in touch with National Center for Transgender Equality or the Sylvia Law Project to help the cause.
10. Know your own limits as an ally.
It's never wrong to say you don't know. If you're unsure of what's appropriate, ask. If you don't feel comfortable discussing something, say so, and don't fake it. Otherwise, your reactions can range from insensitive to insincere without meaning to.
Other resources for information about the LGBTQ+ community and their allies include:
Transequality.org
,
ACLU
,
Lambda Legal
,
Human Rights Campaign
, and
New York Civil Liberties Union
.
Meg Hanson is a Brooklyn-based writer, teacher, and jaywalker. Find Meg at her website and on Twitter @megsoyung.
Rather than post its average of 100 posts per day, Fox News has issued a "Twitter Blackout" to support Tucker Carlson.
Fox News has boycotted Twitter after the social media company did not meet the network's demands to delete posts associated with a protest outside Tucker Carlson's home on Wednesday night.
Smash Racism DC, a self-described "anti-fascist" group, targeted Carlson by sharing his personal address on Twitter and congregating outside the Fox News commentator's home. The group of about 20 chanted, "Racist scumbag, leave town!" and "Tucker Carlson, we will fight! We know where you sleep at night!"
Carlson reported the incident to the police and has recounted the scene to various news outlets, telling the Washington Post, "It wasn't a protest. It was a threat." He also cited that an individual "actually cracked the front door." While Carlson himself was at his Fox News office, his wife was home alone at the time.
Sharing a user's personal information such as home address is in violation of Twitter's rules. In response, Twitter suspended the antifa group's account. However, this action was reportedly delayed by Twitter's technical support function, which did not immediately delete the posts containing Carlson's address, while Facebook acted quickly to do so.
In an act of protest, an internal email from Fox News details managing editor Greg Wilson instructing employees, "Please refrain from tweeting out our content from either section accounts or your own accounts until further notice."
Indeed, the Fox News Twitter account hasn't been active since Thursday. According to calculations posted by The Hill, the account has posted an average of more than 100 times per day since joining the site 11 years ago.
The only figure at Fox News who has been active on social media since the "Twitter blackout" is Carlson himself. On his personal Twitter account he recounted an altercation he had with a Latino man in Charlottesville, Virginia that initially prompted the protesters.
The man in question, Juan Granados, is represented by Michael Avenatti, an Anti-trump lawyer who Carlson often refers to on his show Tucker Carlson Tonight as a "creepy [expletive] lawyer."
In his post, Carlson alleges that Granados instigated a fight with him and his family by verbally assaulting his 19-year-old daughter, calling her words we can't even repeat here.
Avenatti, who's noted for representing Stormy Daniels and one of Brett Kavanaugh's accusers Julie Swetnick, took to Twitter on Sunday to post his client's statement against Carlson.

Granados is a self-described "proud gay member of the Latino community and...also an immigrant." Following an aggressive exchange at the Farmington Country Club, Granados stated that he intends to press charges against Carlson, his son, and an unidentified friend for assault after allegedly threatening him with physical violence and telling him, "Go back to where you came from."
Twitter has not commented on the Fox News blackout.
Meg Hanson is a Brooklyn-based writer, teacher, and jaywalker. Find Meg at her website and on Twitter @megsoyung.
Transgender rights are human rights.
While the media is focused on which party will serve as the majority in the House and Senate after the midterm elections, voters in 37 states also have the opportunity to vote on more than 150 statewide measures. Important issues like marijuana, voting rights, fracking, abortion rights, and trans rights, are all on the table this election.
One of the most vital midterms measures is Massachusetts' question 3, a measure that could repeal the state's landmark 2016 transgender rights law. The law was an important milestone in the battle for much-needed protections for the transgender community, ensuring individuals could use public restrooms and locker rooms according to their gender identity, and generally exist in public spaces without fear of discrimination. It was passed with almost 90% support in the state senate and over 75% support in the Massachusetts House of Representatives, signed into law by Republican Gov. Charlie Baker, and widely celebrated by a large range of LGBTQ+ business and civil rights groups, as well as New England's five major sports teams.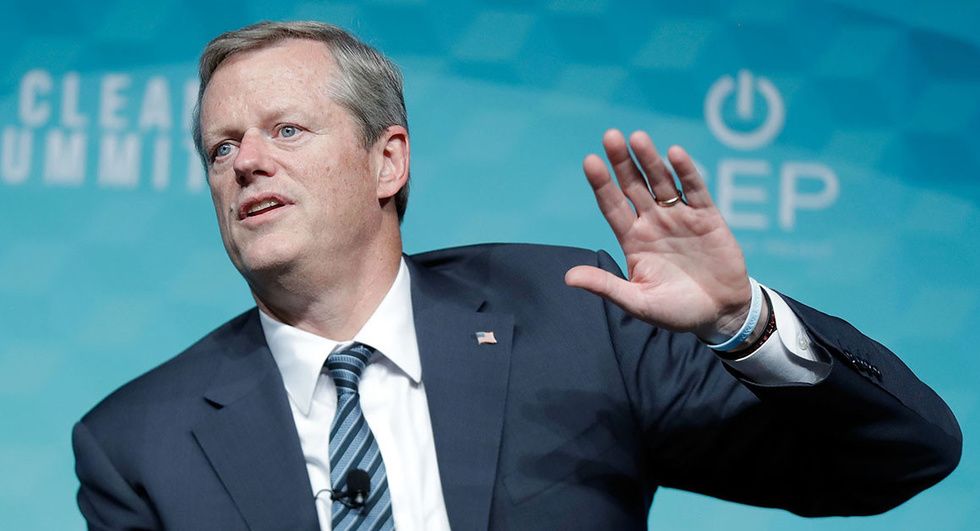 Governor Charlie BakerPolitico
The initiative to repeal this law is not the result of a movement by the people of MA, but rather the consequence of concerted efforts by a small, right-wing, Christian organization called the Massachusetts Family Institute and their allied organization Keep MA Safe. These critics say the law is "ripe for abuse," and could be taken advantage of by sex offenders entering women's bathrooms and dressing rooms with the aim of assaulting and harassing women and children. Debby Dugan, the chairwoman of Keep MA Safe, wrote in a Boston Globe piece last month that, "The way this law is written, an attempt to block someone who self-identifies as belonging in a women's locker room, dressing room, or bathroom — including convicted sex offenders — could result in penalties of up to a year in prison, and fines of up to $50,000 for multiple offenses."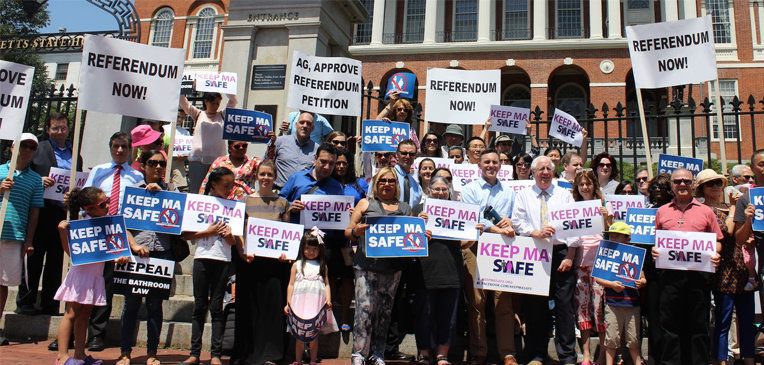 Nation Builder
The law was written with the expectation of this argument from the opposition, and includes a provision by directing Attorney General Maura Healey, who wrote that if, "an employee of a public accommodation has reasonable grounds to believe that a person, regardless of gender identity, is engaged in improper or unlawful conduct, they should do whatever they would normally do to address the situation, including asking the patron to leave or calling security or law enforcement." This means a person will not be legally liable for discrimination if they intervene in a suspected sexual assault, as long as they had reasonable cause to believe intervention was necessary.
Despite this, critics tend to frame the conversation as though the law protects offenders from legal consequences. But as Justice Healey wrote, "This new law does not provide any protections for someone who engages in improper or unlawful conduct, whether in a sex-segregated facility or elsewhere, nor does it provide a defense to criminal charges brought against someone engaged in unlawful conduct." Also, as many supporters of the law have pointed out, if someone had the intention of doing something unlawful in a public restroom, it is unlikely they would be deterred by gendered bathrooms in the first place.
It's difficult to believe that the people behind Keep MA Safe are actually concerned about the safety of Americans, given the lack of evidence that there is any correlation between assaults and trans rights laws, and the ample evidence that the trans community is constantly at risk of violence and harassment. The sex offender centered argument is a thinly veiled excuse for bigotry, as assault and harassment, regardless of the spaces they occur in, are illegal in the state of Massachusetts, and this law does nothing to change that. Additionally, the anti-discrimination law has been endorsed by the Massachusetts Chiefs of Police Association and the Massachusetts Coalition Against Sexual Assault and Domestic Violence.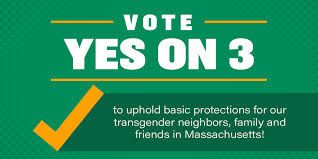 Healey's office noted that in the 18 other states with transgender anti-discrimination laws, reports of "improper assertion[s] of gender identity have been exceedingly rare." In June, Rep. Joe Kennedy III told Boston.com that there is "not one single incident that they can point to of any sort of assault or danger that's taken place as a result [of the law]". Researchers at the Williams Institute — a think tank at the UCLA School of Law that focuses on sexual orientation and gender identity law — backed up Kennedy's assertions, announcing that they found no correlation between the passage of the 2016 law in Massachusetts and any change in the "number or frequency of criminal incidents in restrooms, locker rooms or changing rooms."
According to Logan Nelson, a transgender Massachusetts resident, the assertion that sex offenders may pretend to be transgender is absurd. "All I want to do is f*cking pee. The claim that sex offenders will pretend to be transgender is just wildly offensive and inaccurate. You can't 'pretend' to be transgender. Wearing different clothing doesn't make you transgender. The whole thing is essentially just an attack and there has been no aggression from the trans community that warrants this. All it is, is a hate infused attack. And of course, trans women of color already have the highest mortality rate in the trans community, so this is forcing them even further into extinction."
While it is clear that the law does not offer any protection for sexual assailants or others who would seek to act unlawfully, it does offer vital protections for Transgender individuals. The National Center for Transgender Equality reports that "more than one in four trans people has faced a bias-driven assault, and rates are higher for trans women and trans people of color." Additionally, the Human Rights Campaign has reported 22 deaths due to fatal violence against transgender people in 2018 so far, most recently the death of Ciara Minaj Carter Frazier on Oct. 3. Despite these harrowing statistics, the Trump administration has made discrimination against the transgender community a part of their agenda, aiming to define gender based on anatomy at birth and exclude non-cisgender individuals from legal protections.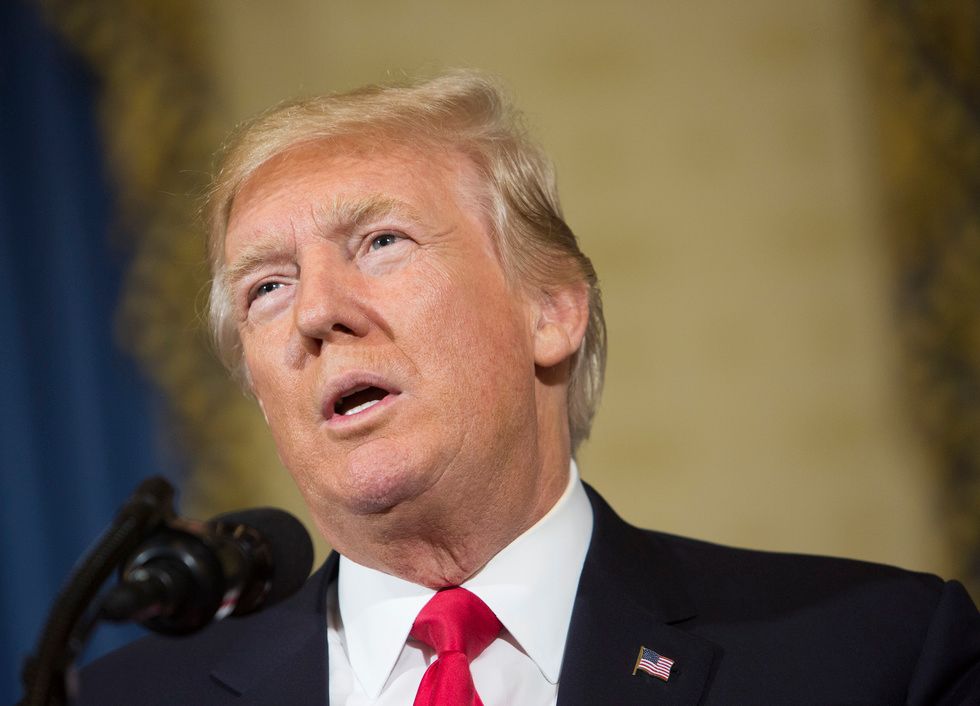 Fortune
In part because of Trump's harmful rhetoric, even if Massachusetts voters vote to keep the law, there is much work to be done in terms of providing transgender individuals with the rights and protection they deserve. As Mr. Nelson went on to say, "I'm not gonna stop using the bathroom. You know, cause I'm a human being who has to shit sometimes. And even without question 3, I still feel unsafe in bathrooms. I always have. Part of the trans experience is not having your rights respected or heard until they're in question. I have always felt unsafe and I will continue to. All this Question 3 stuff does is highlight the fact that Americans don't want transgender people to exist, that there are so few of us that the 'majority' (cisgender women and girls, men) matter more, and that there is zero education and cultural competency training in regard to gender in politics, the education system, and in popular culture."
While there is alway more work to be done in protecting trans Americans from systemic discrimination and violence, the outcome of Massachusetts vote on question 3 will have heavy implications for the rest of the country. If the referendum is successful in repealing the law — an unprecedented outcome in measures of this nature — supporters say a dangerous precedent could be set for other, less-liberal states where laws against discrimination on the basis of gender identity have been passed. In an America where division is actively encouraged by the President, it is important now more than ever to safeguard the legal protections of at risk communities. While we urge Massachusetts voters to vote "yes" on question 3, it's equally important for all Americans to continue to work to be better allies to the entire LBGTQ+ community.
Brooke Ivey Johnson is a Brooklyn based writer, playwright, and human woman. To read more of her work visit her blog or follow her twitter @BrookeIJohnson.
A victim of anti-gay hate, the LGBT icon's ashes are interred in Washington, DC.
Twenty years ago this month, a young gay man named Matthew Shepard was beaten and left for dead tied to a fence in Laramie, Wyoming.
Friday, on the other side of the country, his ashes were interred in a crypt at the Washington National Cathedral while thousands looked on. They came to celebrate the life of Shepard, who in the years since his death became a symbol of hope and love amidst anti-gay hate and oppression. For many LGBTQ+ people, the circumstances of his death bring memories of their own struggles, both inside the closet and out.
The public service was led by the Right Rev. Mariann Edgar Budde, Episcopal bishop of Washington and the Right Rev. Gene Robinson. Like Shepard, Robinson is an openly gay man, and poignantly, also the first elected as a bishop in the Episcopal Church.
Robinson had tears in his eyes as he welcomed attendees. To those who are LGBT, he said "many of you have been hurt by your own religious communities, and I want to welcome you back." He referred to Shepard's burial at the cathedral as a homecoming, saying "it is a remarkable step forward."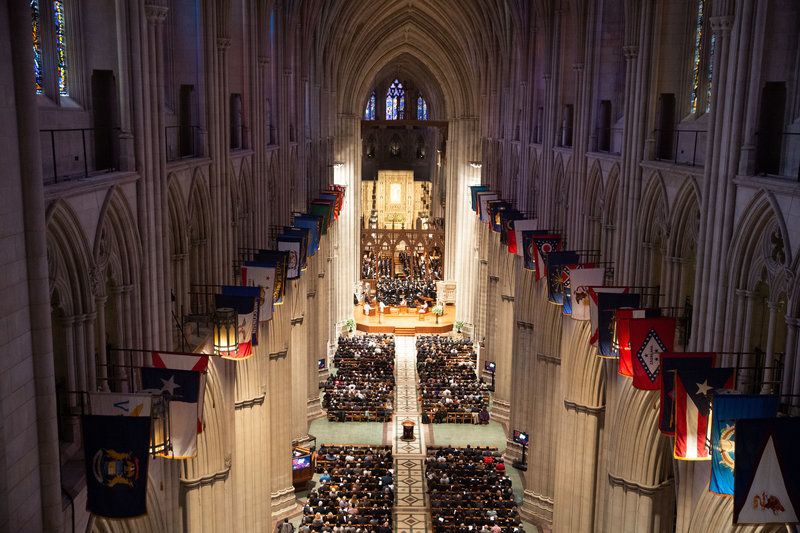 Cameron Pollack/NPR
Shepard's father thanked the attendees for their support. "It's so important that we now have a home for Matt... A home that is safe from haters. A home that he loved dearly." Robinson praised both of Shepard's parents, who founded the Matthew Shepard Foundation to combat hate crimes across the country, for devoting their lives to LGBT activism.

During the service, Robinson shared a touching anecdote from the police officer who first saw Shepard the day after his brutal attack. When she arrived, a deer was lying beside Shepard's body and looked the officer straight in the eye before running away.
"What she said was: 'That was the good Lord, no doubt in my mind.' And there's no doubt in my mind either. God has always loved Matt," Robinson said.
In October 1998, Shepard was tortured and robbed by two men he had encountered in a bar, and was subsequently abandoned for eighteen hours tethered to a chain-link fence. He died from his injuries five days later at the age of 21.
Prosecutors in his case alleged that Shepard was targeted because of anti-gay bigotry. The two attackers, Aaron McKinney and Russell Henderson, were both sentenced to life in prison. Although characterizing the murder as a hate crime has been disputed by some, outrage over Shepard's death ultimately led to the passage of the Shepard/Byrd Hate Crimes Prevention Act in 2009. James Byrd Jr, an African-American man killed by white supremacists in Texas, also inspired the legislation.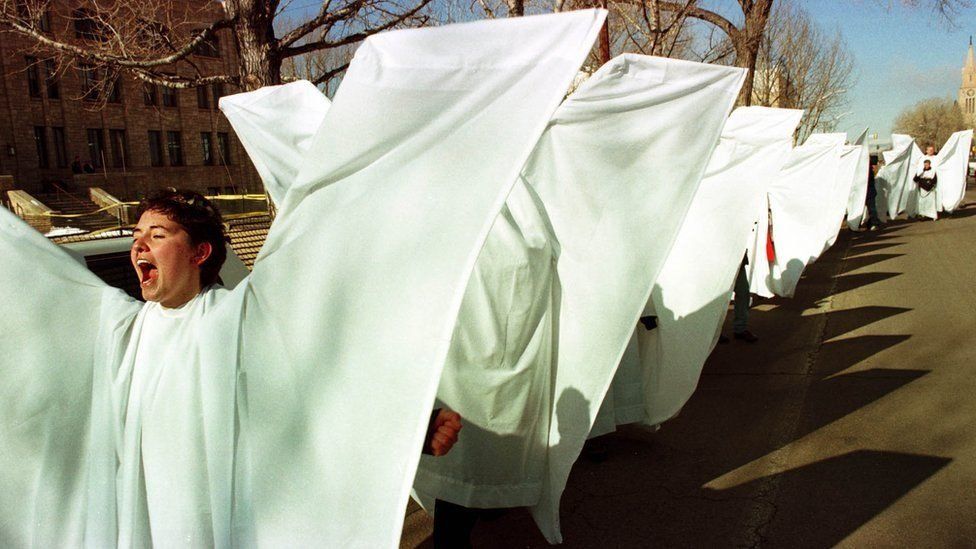 Getty Images
Shepard's funeral in 1998 was protested by the now-notorious Westboro Baptist Church carrying signs reading "God hates F*gs," "Matt in hell," "AIDS cures F*gs," among other hateful speech. During the trials for Shepard's killers, the group Angel Action peacefully counter-protested the church's signs while wearing white angel costumes. The costumes had ten-foot wingspans that covered and silenced the church protesters.

Throughout the Friday service, Robinson urged the crowd not only to commemorate Shepard, but to also confront the prejudice and violence that faces the LGBTQ community today. Marginalized factions within the community are particularly at risk of hate, like transgender people. "There are forces who would erase them from America," Robinson said. Twice he encouraged the crowd to "go vote."
Robinson received a long-standing ovation as he closed the service, choking down the final words:
"There are three things I'd say to Matt: 'Gently rest in this place. You are safe now. And Matt, welcome home.' Amen."
Joshua Smalley is a New York-based writer, editor, and playwright. Find Josh at his website and on Twitter: @smalleywrites.