"A tree is best measured when it is down," the poet Carl Sandburg once observed, "and so it is with people." The recent death of Harry Belafonte at the age of 96 has prompted many assessments of what this pioneering singer-actor-activist accomplished in a long and fruitful life.
Belafonte's career as a ground-breaking entertainer brought him substantial wealth and fame; according to Playbill magazine, "By 1959, he was the highest paid Black entertainer in the industry, appearing in raucously successful engagements in Las Vegas, New York, and Los Angeles." He scored on Broadway, winning a 1954 Tony for Best Featured Actor in a Musical – John Murray Anderson's Almanac. Belafonte was the first Black person to win the prestigious award. A 1960 television special, "Tonight with Belafonte," brought him an Emmy for Outstanding Performance in a Variety or Musical Program or Series, making him the first Black person to win that award. He found equal success in the recording studio, bringing Calypso music to the masses via such hits as "Day-O (The Banana Boat Song)" and "Jamaica Farewell."
Harry Belafonte - Day-O (The Banana Boat Song) (Live)www.youtube.com
Belafonte's blockbuster stardom is all the more remarkable for happening in a world plagued by virulent systemic racism. Though he never stopped performing, by the early 1960s he'd shifted his energies to the nascent Civil Right movement. He was a friend and adviser to the Reverend Doctor Martin Luther King, Jr. and, as the New York Times stated, Belafonte "put up much of the seed money to help start the Student Nonviolent Coordinating Committee and was one of the principal fund-raisers for that organization and Dr. King's Southern Christian Leadership Conference."
The Southern Poverty Law Center notes that "he helped launch one of Mississippi's first voter registration drives and provided funding for the Freedom Riders. His activism extended beyond the U.S. as he fought against apartheid alongside Nelson Mandela and Miriam Makeba, campaigned for Mandela's release from prison, and advocated for famine relief in Africa." And in 1987, he received an appointment to UNICEF as a goodwill ambassador.
Over a career spanning more than seventy years, Belafonte brought joy to millions of people. He also did something that is, perhaps, even greater: he fostered the hope that a better world for all could be created. And, by his example, demonstrated how we might go about bringing that world into existence.
Brown was sex trafficked as a teen and given a life sentence for murdering the man who paid for her.
Cyntoia Denise Brown was granted clemency after serving 15 years in prison for murdering the sex trafficker who solicited her for sex. Tennessee Governor Bill Haslam granted Brown's early release on Monday after years of lobbying by prison rights' activists, state lawmakers, and high-profile celebrities, including Amy Schumer, Rihanna, Kim Kardashian, and Ashley Judd. In December, Judd posted a message to Governor Haslam on Twitter, "Cyntoia Brown was a victim of child sex trafficking, raped, and forced into paid sexual exploitation to stay alive. She deserves our empathy and your mercy."
I encourage and plead with my Tennessee Governor @BillHaslam to grant #Clemency4Cyntoia. Cyntoia Brown was a victim… https://t.co/f6AUUoZxUG

— ashley judd (@ashley judd) 1545045922.0
In 2004, Brown was a 16-year-old forced into prostitution by her 24-year-old pimp, "Kut Throat." She was solicited for sex in a parking lot by 43-year-old Johnny Allen. Alarmed by the man's behavior, Brown shot Allen with the gun he kept under the bed, later recounting to the police that he was reaching for the gun first.

While Brown was tried as an adult and found guilty for murder and robbery, her case helped to inspire reform in Tennessee's juvenile sentencing. Stacy Case, CNN affiliate and WZTZ anchor, points out, "If Cyntoia Brown were tried today, legal experts say she would not have been tried in the same way. Our courts today would view her as a child sex slave... She would be viewed as a victim."
Brown served over 14 years of her life sentence before Governor Haslam granted her clemency. His office issued the following statement: "This decision comes after careful consideration of what is a tragic and complex case. Cyntoia Brown committed, by her own admission, a horrific crime at the age of 16. Yet, imposing a life sentence on a juvenile that would require her to serve at least 51 years before even being eligible for parole consideration is too harsh, especially in light of the extraordinary steps Ms. Brown has taken to rebuild her life. Transformation should be accompanied by hope."
Brown, now 30 years old, told Haslam, "Thank you for your act of mercy in giving me a second chance. I will do everything I can to justify your faith in me." She continued, "With God's help, I am committed to live the rest of my life helping others, especially young people. My hope is to help other young girls avoid ending up where I have been."
Brown will be released on parole on August 7. Conditions of her release will include regular counseling sessions, 50 hours of community service, and gainful employment. While in prison, Brown has earned her Associate's degree, continues to work towards her Bachelor's, and mentors at-risk youth with plans to begin a nonprofit organization for troubled teens in the future.
Meg Hanson is a Brooklyn-based writer, teacher, and jaywalker. Find Meg at her website and on Twitter @megsoyung.
A call for Julian Assange's arrest and extradition was found in an unrelated court filing.
U.S. Department of Justice charges against WikiLeaks founder Julian Assange have been discovered through an administrative error in an unrelated court filing late Thursday night.
The filing from prosecutors for the Eastern District of Virginia on August 22 contains language indicating the government is seeking a future warrant for Assange's arrest "in connection with the charges" in a sex-crimes case for Seitu Sulayman Kokayi, who was charged with coercing and enticing an underage person to engage in unlawful sexual activity. Unsealed last week by Seamus Hughes, a terrorism expert at George Washington University, the file says Assange "can therefore no longer evade or avoid arrest and extradition."
Joshua Stueve, a spokesman for the Eastern District of Virginia, referred to the mentions of Assange as an "administrative error" on Friday, and said the August case had nothing to do with WikiLeaks. He declined to comment further. However, multiple news outlets have reported that the Justice Department is preparing to prosecute Assange, citing people familiar with the matter in addition to the inadvertent court disclosure. The precise criminal charges he faces remain unclear.
U.S. authorities were allegedly prepared to seek charges against Assange in April 2017, but none were ever sought. Assange is currently located in the Ecuadorean embassy in London, where he's been living for years. If the charges against Assange are filed, it would require a multistep diplomatic and legal process to arrest and extradite him.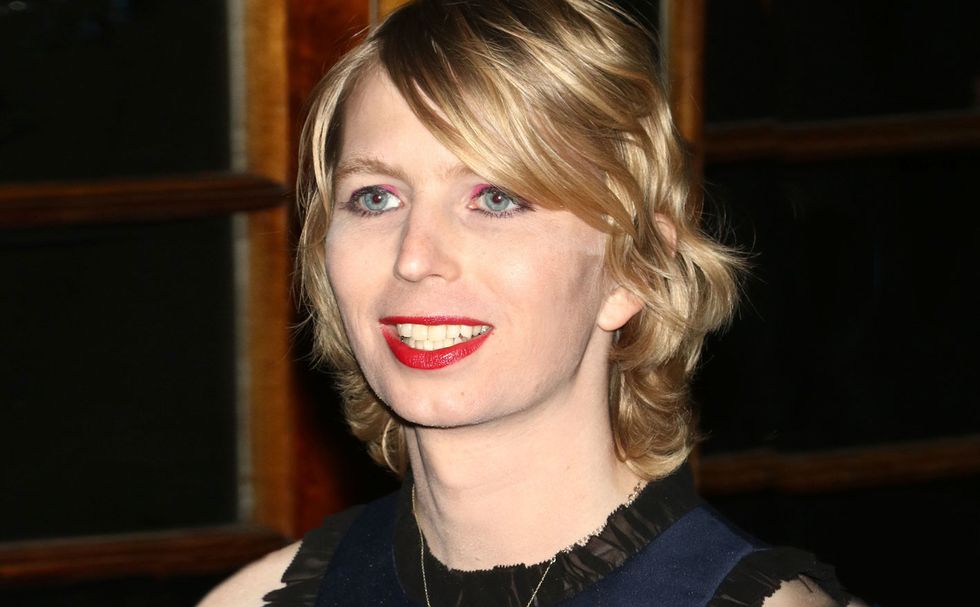 Chelsea Manning
Justice Department officials have been investigating Assange since 2010, when thousands of confidential government files were posted on WikiLeaks from U.S. Army intelligence analyst Chelsea Manning. The recent disclosure comes as special counsel Robert S. Mueller III continues to investigate the website while discerning potential links between Trump Administration officials and Russia's 2016 election interference. The site published thousands of emails during the election that were stolen by Russian intelligence officers as part of a disruption campaign against presidential nominee Hillary Clinton.

WikiLeaks tweeted about the filing soon after the news broke, saying "US Department of Justice 'accidentally' reveals existence of sealed charges (or a draft for them) against WikiLeak's publisher Julian Assange in apparent cut-and-paste error in an unrelated case."
SCOOP: US Department of Justice "accidentally" reveals existence of sealed charges (or a draft for them) against Wi… https://t.co/GjZMblZXAy

— WikiLeaks (@WikiLeaks) 1542338074.0
While the exact details are a mystery, the potential charges against Assange for publishing information of public interest—even if it was obtained by Moscow hackers—would be a critical development in the relationship between modern governments and freedom of the press, and may set a threatening precedent.

"The news that criminal charges have apparently been filed against Mr. Assange is even more troubling than the haphazard manner in which that information has been revealed," Barry Pollack, an attorney for Assange, told CNN. "The government bringing criminal charges against someone for publishing truthful information is a dangerous path for a democracy to take."
Joshua Smalley is a New York-based writer, editor, and playwright. Find Josh at his website and on Twitter: @smalleywrites.
The 85-year-old Supreme Court Justice fell in her office on Wednesday night.
According to a statement from the Supreme Court, Justice Ruth Bader Ginsburg fell in her office Wednesday night and fractured three ribs. Initially, the Justice thought all was well following the fall and went home. After experiencing pain throughout Wednesday night, however, she was admitted to George Washington University Hospital Thursday morning.
Her stay at the hospital meant that Ginsburg was not present for Thursday's investiture of Trump-appointed Justice Brett Kavanaugh, an event that reportedly drew crowds in protest.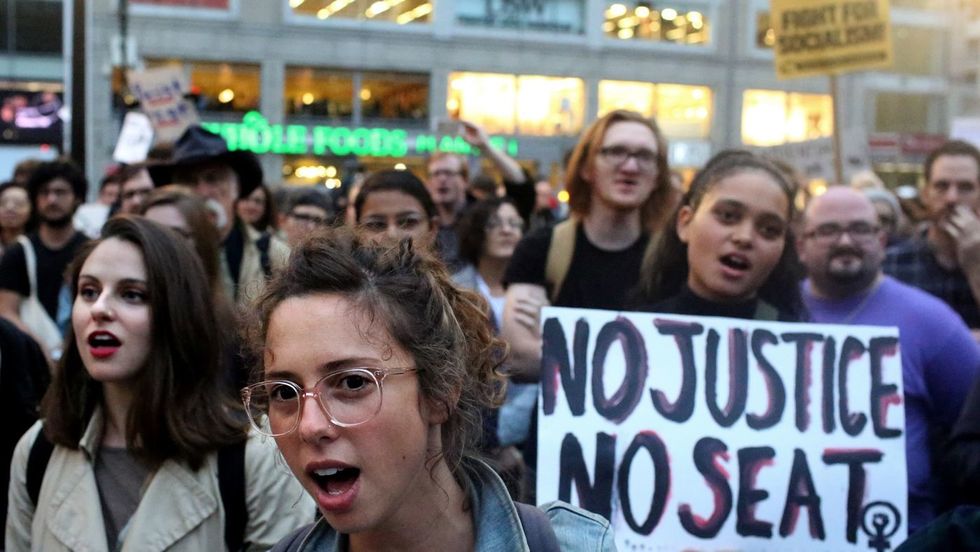 LA Times
Since her appointment to the court in 1993, Ginsburg has become a pop culture icon, praised by progressives for her liberal influence. In particular, Ginsburg is seen as an opponent of President Trump, whom she called "a faker" in 2016. Since the replacement of Justice Anthony M. Kennedy by conservative Justice Brett Kavanaugh, progressives have been particularly concerned as to the state of Ginsburg's health, fearing that her age may force her to retire before Trump's tenure ends, allowing him to put another conservative Justice on the bench.
The next sitting of the Supreme Court begins Nov. 26, and given Justice Ginsburg's history of attending work despite health issues, her fractured ribs are unlikely to hinder her participation. She broke two ribs in 2012 and returned to work the next day. In November 2014, she underwent a heart procedure; in 2009, she was treated for early stages of pancreatic cancer and returned to work three weeks later.
In July, the Justice stated that she hopes to stay on the bench for the duration of Trump's term. "I'm now 85," Ginsburg said. "My senior colleague, Justice John Paul Stevens, he stepped down when he was 90, so think I have about at least five more years."

Brooke Ivey Johnson is a Brooklyn based writer, playwright, and human woman. To read more of her work visit her
blog
or follow her twitter
@BrookeIJohnson
.
China has forced at least 1,000,000 Uighur Muslims to undergo "re-education" training.
Remote buildings fenced in by barbed wire, governmental slogans urging citizens to declare their loyalty, and armed guards preventing entry and exit: history has highlighted these as familiar omens of totalitarian oppression. Now the international community is condemning the Chinese government's "re-education camps," in which approximately one million Uighur Muslims have been detained, as the latest government machination violating human rights.
Under claims of combating religious radicalism," Chinese authorities have revised a law to condone the use of detention centers "to carry out the educational transformation of those affected by extremism." However, witness testimony and government documents have exposed a litany of human rights violations taking place in the camps under the guise of "vocational training" for the Uighur and other Muslim minority populations.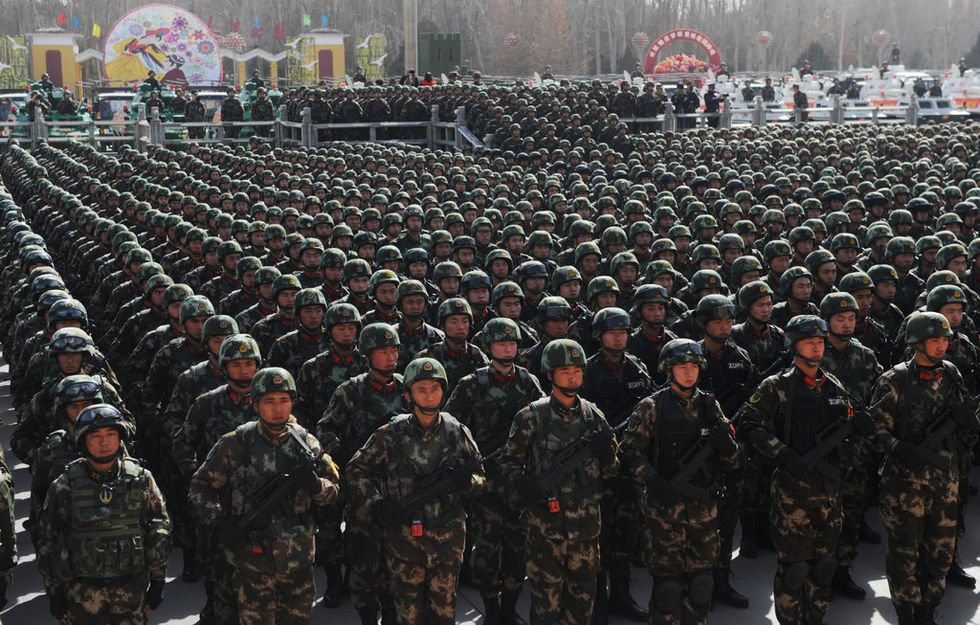 Chinese security in XinjiangThe New York Times
Within the camps, "re-education" programs not only restrict Muslims from practicing their religion, but impose a militant regimen of psychological indoctrination, including studying communist propaganda, reciting hymns to praise the Chinese Communist Party, writing "self-criticism" essays, and ritually giving thanks to Chinese President Xi Jinping. In what The New York Times calls "the country's most sweeping internment program since the Mao era," detainees are disciplined by thousands of guards armed with police batons, electric cattle prods, and pepper spray.

Camps are located in Xinjiang, an autonomous, arid region in the northwest. It's the largest region of China and noted as the residence of about 10 million Uighur Muslims among China's 1.4 billion population. Gay McDougall of the U.N. Committee on the Elimination of Racial Discrimination condemned the Chinese authorities' treatment of Muslims "as enemies of the state solely on the basis of their ethno-religious identity." Despite the Chinese government's initial claims that the camps' "students" were treated to amenities from ping-pong and TV to air conditioning and free dining, McDougall makes clear that Xinjiang has become "something resembling a massive internment camp, shrouded in secrecy, a sort of no-rights zone."
Most concerning are the reports of torture methods like waterboarding, sleep deprivation, and beatings for those who deviate from the program. A former detainee named Omir told the BBC in September, "They have a chair called the 'tiger.' My ankles were shackled, my hands locked to the chair. I couldn't move. They wouldn't let me sleep. They also hung me up for hours, and they beat me. They had thick wooden and rubber batons, whips made from twisted wire, needles to pierce the skin, pliers for pulling out your nails."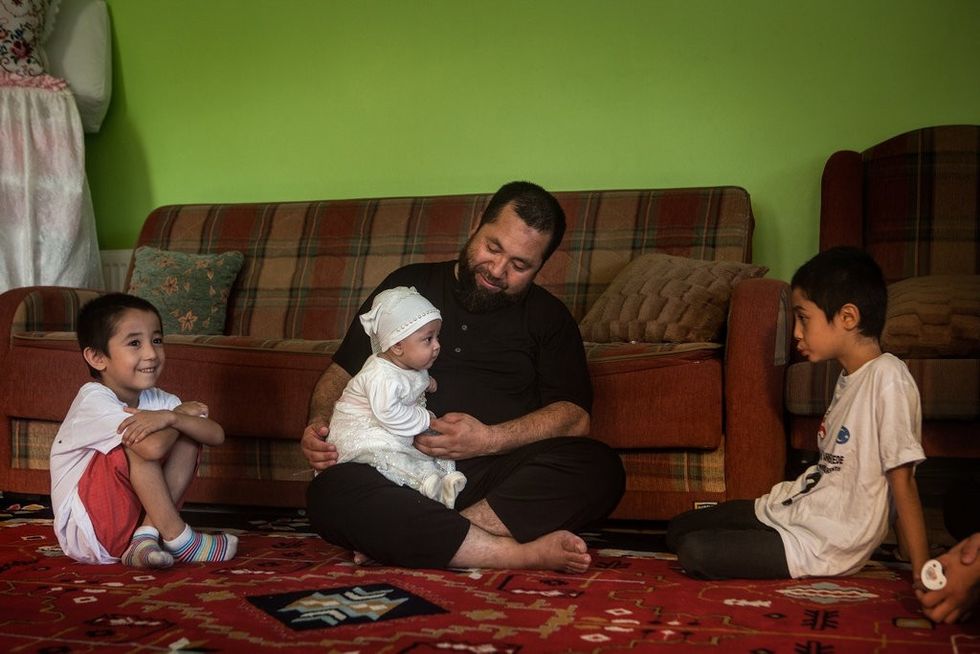 Abdusalam Muhemet and his 3 children in their Istanbul home.The New York Times
Abdusalam Muhemet, a 41-year-old former restaurant owner, recited a verse from the Quran at a funeral in 2015 and was subsequently detained in a prison cell for seven months before being relocated to a Xinjiang camp. "That was not a place for getting rid of extremism," he recalled to The New York Times. "That was a place that will breed vengeful feelings and erase Uighur identity." Muhemet was released after two months of detainment; he was never charged with a crime.

Meg Hanson is a Brooklyn-based writer, teacher, and jaywalker. Find Meg at her website and on Twitter @megsoyung.
100 prominent French women have signed an open letter arguing that the #MeToo movement has gone too far.
The #MeToo movement, first sparked by allegations against Hollywood heavyweights like Harvey Weinstein, has shown Americans just how many of us are survivors of sexual violence. Not only did #MeToo empower women to talk about our experiences with abuse and harassment, but it also inspired many employers to work toward creating a safer, more equitable workplace.
Most Americans appeared to be receptive to this revelation, but apparently the same can't be said for the French. At least that's how it seemed after a group of 100 prominent French women signed an open letter in the French newspaper Le Monde in January of this year, calling the movement a "hatred of men and sexuality."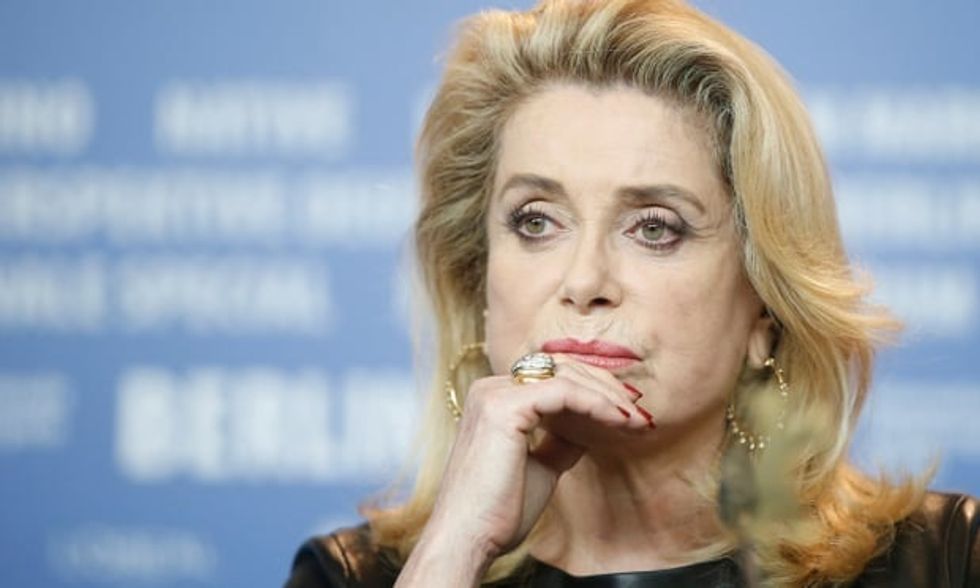 French actress Catherine DeneuveThe Guardian
On top of their claims that it's anti-men, these women noted that #MeToo attempts to make seduction shameful and frames women as "eternal victims." Among the co-signers were actress Catherine Deneuve, Catherine Millet, who authored a best-selling novel about sex, and conservative women like Elisabeth Lévy, editor of Causeur magazine.

Part of the letter reads: "As women, we do not recognize ourselves in this feminism, which goes beyond denouncing abuse of power and has turned into a hatred of men and of sexuality … Rape is a crime, but trying to seduce someone, even awkwardly, is not. Nor is being gallant a macho aggression ...
"It is the nature of puritanism to borrow, in the name of the supposed collective good, the arguments of the protection of women and of their emancipation to better chain them to their status as eternal victims; poor little things under the control of demonic phallocrats, like in the good old days of witchcraft."
It is here that I, as an American feminist, take issue with their fundamental misunderstanding of #MeToo — and survivorship.
For most of us in the United States, it's hard to find fault in something that feels so pure. Women live their lives with the awareness that there are men who want to hurt us. They're in our families, our friend groups, workplaces, and even among strangers. For many of us, it feels good to talk about our experiences and fears out loud.
The idea that asking to be treated better, to be seen as more than sexual objects for men to attempt to "conquer," turns us into perennial victims is absurd. The only thing that turns a woman into a victim is an abuser making the choice to harm her. In that vein, the only thing that makes women seem like we are always victims is the astounding prevalence of sexual violence, abuse, and harassment put upon us by abusers and a culture that excuses them.
This thinking also proposes that a fundamental aspect of femininity is being desired, while masculinity is inextricably tied to pursuit. This is a dangerous binary for women, and a limiting one for men.
When we expect that seduction is a natural part of how men interact with women, we place a massive burden upon women. Implying that men have some fundamental right to try to seduce us asks us to endure unwanted, inappropriate, and sometimes illegal sexual interaction. It places no responsibility upon men to control themselves or to even have empathy for the women they're trying to seduce. This type of thinking places more value upon men's right to seduce us than our right to feel safe and be treated as equals.
See, my husband has never had to worry about sexual harassment in the workplace. He's been working different jobs for 35 years, but he's never once considered how an outfit he is about to put on might cause his colleagues to sexually harass him. He's never worried that he might have to endure uncomfortable, inappropriate come-ons in order to keep his job.
In contrast, I've worried about these things in every male-dominated job I've ever had. In fact, my first experience with sexual harassment in the workplace happened when I was only 17 years-old. My boss was in his forties. I didn't report it or even tell my parents, because I believed it was normal for men to behave that way.
I'm far from alone. While there is a glaring need for more research in this area, one study determined that 81% of women have been sexually harassed. For generations, we have been taught — either overtly by our parents and teachers or implicitly through our own experiences — that being harassed is the price we pay for being in the workplace, school, or out in the world.
Teenage girls in school are groped, catcalled, and harassed by boys in classrooms and hallways. Sexist dress code policies imply that their bodies tempt boys into distraction, suggesting that boys simply cannot control themselves. Most women and girls have dealt with stalking, harassment, and sometimes even outright violence from strangers attempting to "seduce" them on the street.
The French women who wrote the open letter against #MeToo mention that many of the stories in this movement haven't featured an imbalance of power, as was the case with Harvey Weinstein. These French women make clear that they are against rape or men who abuse their power. But if you ask me, unwanted sexual attention from any man — whether he's your boss, classmate, or just a guy on the street — can feel like an abuse of power.
In our society, men, particularly white men, naturally hold positions of power over women. This begins with the fact that men are often physically larger and stronger; but, additionally, men are also more likely to be police officers, security guards, judges, and even legislators. So while the man or boy who harasses you may not necessarily hold formal power of you, he will likely evade prosecution due to the fact that he's part of a system designed to protect men.
Of course, there are exceptions to this rule of power when it comes to intersecting privileges. For instance, a white woman accusing a Black man of rape or violence holds an extraordinary amount of power. Despite the fact that 90% of rapes happen intra-racially (wherein the victim and perpetrator are of the same race), the disparaging stereotype that Black men are sexually violent toward white women has proven to be deadly for Black men and boys, resulting in staggering rates of wrongful convictions and vigilante violence.
Such was the case for Emmett Till, a 14-year-old boy who was accused of making sexual advances towards a white woman in 1955 and subsequently lynched. According to one historian, the white woman in question admitted in 2008 that she had lied about the boy touching her or talking suggestively. Of course, by then, it was decades too late.
Still, considering that the majority of sexual violence occurs between individuals of the same racial group, the men who choose to harm women generally hold more societal power than women do. This creates a scary world for women who wish to report their abusers or harassers.
Considering how likely men are to protect one another, asking the world to become a safer place for women doesn't present us as "eternal victims," as the French dissenters propose. It simply demands that women be treated as equal members of society, with the same freedoms to move through the world safely and free of harassment that men possess. And despite what the French #MeToo dissenters may have expected, the movement seems to have helped French women.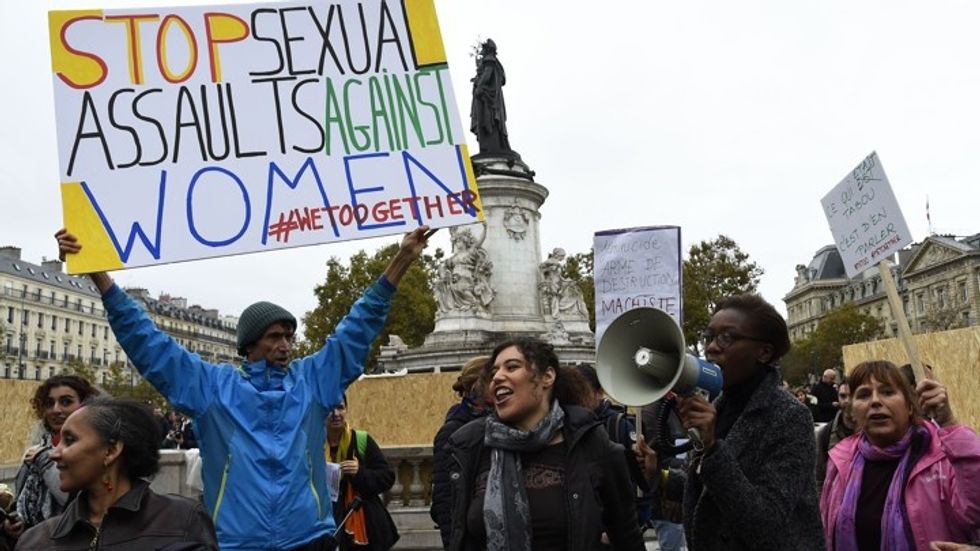 Protest in FranceThe Atlantic
According to a report by France24, "Reports of sexual violence surged between 23 and 30 percent in October 2017 from the year before...The increased number of complaints has been widely attributed to the movement for encouraging victims to speak out." France has also enacted a new law that makes street harassment illegal, which has led to the successful prosecution of a man who called a woman a "whore" on the street and groped her buttocks. The man was fined and was sentenced to time in jail, becoming the first person convicted for "sexist insults" in France.

None of this is to say that #MeToo is the end of romance, either. Rather, it proposes that men can do better than seducing women in a way that makes them feel scared or uncomfortable. After all, most men don't want to make women feel unsafe, and plenty understand that it's not "seduction" when you have to convince someone to want you — it's coercion.
Asking for equal access to work, schooling, and public spaces does not make us weak. In fact, standing up against the notion that men have the right to harass, assault, or even try to seduce us — awkwardly or not — is the epitome of strength, and it's sad that the French women who signed the letter don't understand that.
A government agency proposes to restrict gender identity to only "male" or "female."
The Trump administration is attempting to scale back civil rights of transgender and non-binary identifying persons. The New York Timesexposed an interoffice memo from the Department of Health and Human Services (HHS) proposing to dictate the definitions of "sex" and "gender" "on a biological basis that is clear, grounded in science, objective and administrable." The memo caps a concerted effort by the Trump administration to negate Obama-era expansions of civil rights to the transgender community. Previous progress loosened the legal concept of gender in federal education and health programs to recognize gender as an individual's chosen identity rather than the sex assigned at birth.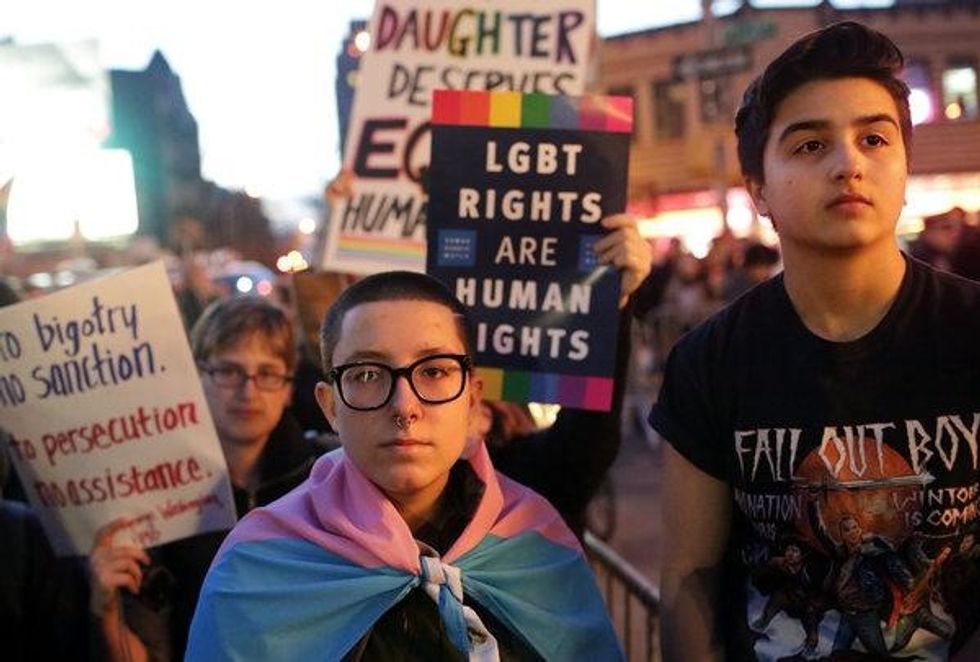 Spirit Daily
Now, HHS plans to present a new definition of "sex" to the Justice Department before the end of this year. The draft of the memo argues: "Sex means a person's status as male or female based on immutable biological traits identifiable by or before birth. The sex listed on a person's birth certificate, as originally issued, shall constitute definitive proof of a person's sex unless rebutted by reliable genetic evidence." If the Justice Department adopts the proposed legal definition, then sex will be restricted to male or female designations, with no legal option to change one's category in adulthood.

The impetus for the memo relates to the federal government's ability to distribute funding to educational services and its power to dictate the policies of those services. The drafted memo attempts to justify defining individuals' gender identity under Title IX of the Education Amendment Act of 1972, which "prohibits discrimination on the basis of sex in any federally funded education program or activity." The claim is that all federal agencies need to adopt a concrete and uniform definition of "sex" in order to comply with the law; in reality, the attempt is the latest in a series of maneuvers to restrict the transgender community's rights. Over the last year, President Trump has attempted to ban transgender people from serving in the military. Contentious political debate has also surrounded the right of transgender individuals to use public restrooms that align with their gender identity rather than their sex assignment at birth.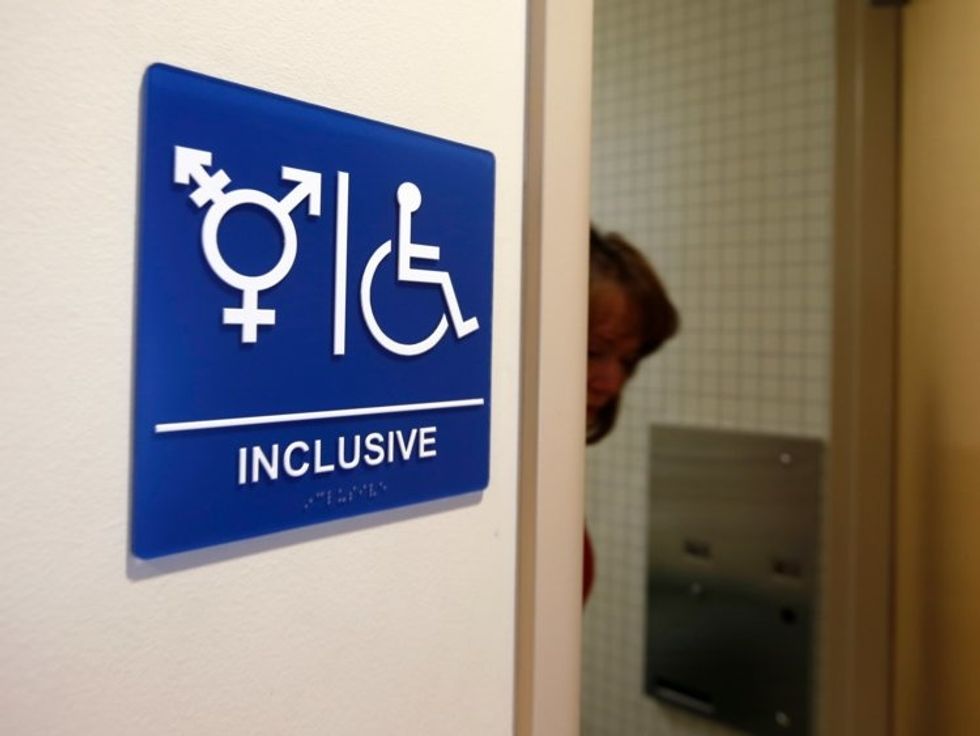 Business Insider
If the proposed definition is approved by the Justice Department, then an estimated 1.4 million transgender Americans could have their right to self-identity negated by U.S. law. Public spaces like locker rooms and bathrooms could become oppressive and discriminatory places that contradict America's putative legal bans of discrimination based on race, color, religion, national origin, age, disability, and sex.

HHS spokeswoman Caitlin Oakley went on record, "We do not comment on alleged, leaked documents that purport to indicate the status of deliberations or the focus of the department," yet she criticized, "The Obama administration's broad definition of 'sex' was enjoined by a federal court on a nationwide basis in December 2016 and the Obama administration did not appeal. That court found that the Obama administration regulation was overbroad and inconsistent with the text of the 1972 Title IX law prohibiting discrimination on the basis of sex."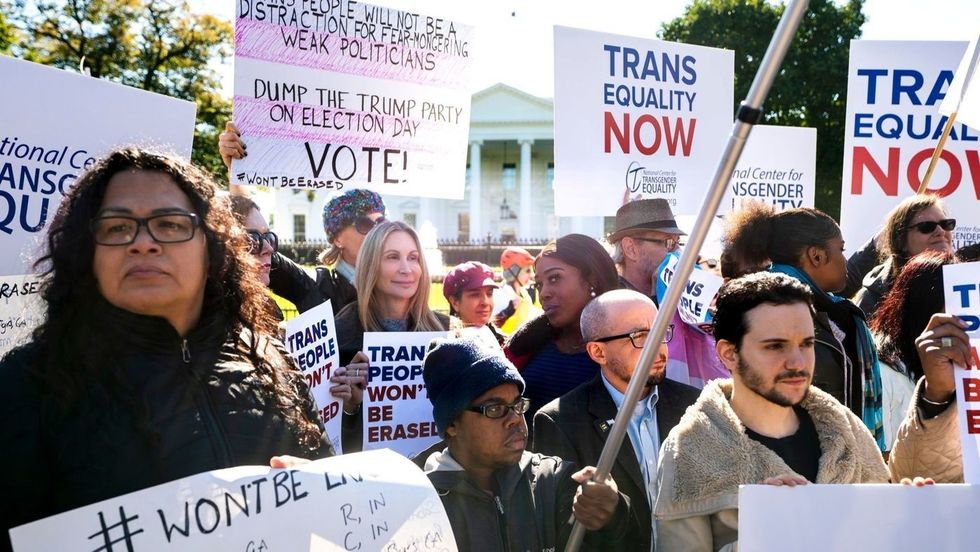 Los Angeles Times
In a response posted by Psychology Today, Elizabeth J. Meyer, Ph.D. castigates the administration for its ignorance, stating, "The authors of this memo are under-informed or misusing terms and concepts that are generally agreed-upon by most active members of the scholarly community who research sex and gender." Dr. Meyer enumerates that gender allows for diverse expressions of the self and is not an "immutable, biological" category, sex is recognized by the medical community as a multifaceted set of characteristics, and gender is constructed by social institutions that have "harmed many people and led to long-term harm" when prescribed in rigid and oppressive regimes.

"This narrowing of civil rights protections – which on its surface impacts a small percentage of the population – in actuality harms us all," Dr. Meyer attests.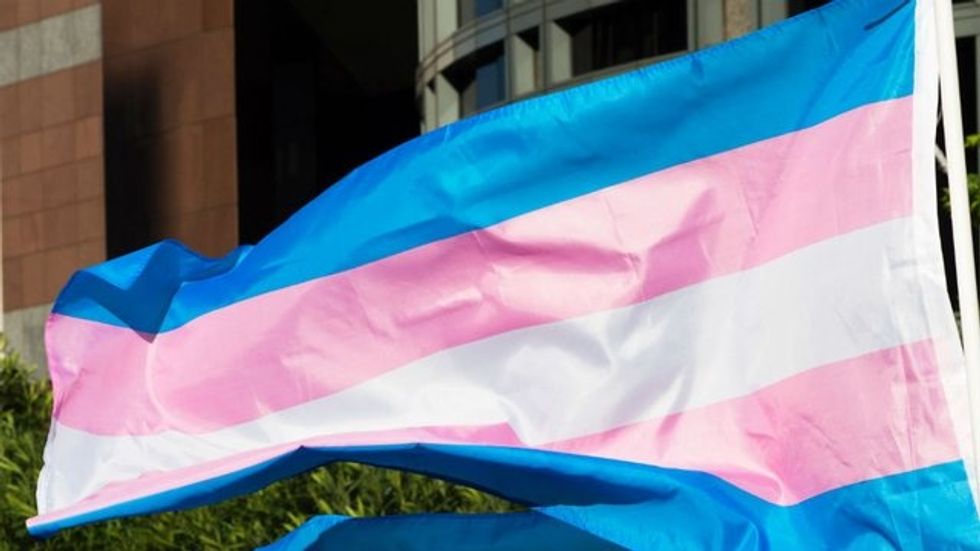 The Hill
In fact, the federal imposition of a single, rigid definition of "gender" also highlights how divisive social issues give rise to tensions between state and federal governments. Earlier this month, New York City Mayor Bill de Blasio signed into law a provision that added a third gender category ("X") on birth certificates. New York City joined five other states to do so, decreeing that restrictions to male and female categories discriminate against non-binary, gender-nonconforming, and transgender people. With five states taking action to widen their local law's recognition of gender identities and the federal government pushing to narrow them, the conflict rests between state and federal administrations. If the U.S. government is seeking to codify the gender binary into law, then what power will the states have to counteract it? Who will listen?

Meg Hanson is a Brooklyn-based writer, teacher, and jaywalker. Find Meg at her website and on Twitter @megsoyung.
Kavanaugh's supreme court nomination will now head to the senate floor.
Amidst controversy and drama, Brett Kavanaugh's Supreme Court nomination has been approved and now heads to the full senate for approval.
Republicans were able to push the nomination through committee with an 11-to-10 vote despite Democratic opposition. The judiciary committee voted along party lines, but Republican Sen. Jeff Flake voted yes with the stipulation that he receive support to request a floor vote delay to allow a one week FBI investigation into the sexual assault allegations against Kavanaugh.
Flake has not been given a clear commitment by Senate Majority Leader Mitch McConnell on these requests, but Flake plans to vote against Kavanaugh if McConnell moves forward without the investigation. Flake said in a statement Friday that, "This country is being ripped apart here and we've got to make sure that we do due diligence." He said he was seeking an F.B.I. investigation "limited in time and scope to the current allegations that are there." With regard to the vote, President Trump said that the senators, "have to do what they think is right and be comfortable with themselves."
CNN reports that this decision by Jeff Flake is somewhat unprecedented, and that it's unclear what will happen next.
---
Brooke Ivey Johnson is a Brooklyn based writer, playwright, and human woman. To read more of her work visit her blog or follow her twitter @BrookeIJohnson.
Amidst the chaos of confirmation, the real force behind right-wing policy is going unnoticed
When a storm hits, it can be difficult to remember everything that came before. After the revelations of the past week regarding allegations of sexual assault against Supreme Court nominee Brett M. Kavanaugh, the relative calm that was the previous months of the confirmation process seem like hazy half-memories. Yet, in light of where the political gaze of the nation now finds itself directed, perhaps it's time to ask, in the spirit of The Talking Heads, "How did we get here?" How did a man accused of sexual assault end up receiving a lifetime nomination to one of the most powerful institutions in America? Answering that question will require traversing the interconnected and exclusive ranges of the right-wing political machinery, where dark money and faceless groups lay their hands on the scales of our civic life. Yet, in the end, the question of how we got here is one with a relatively simple answer and one that strikes at the heart of a vast range of the illnesses that seem to be ravaging the body politic. We are here, and we are here with Brett Kavanaugh because a small group of wealthy people wanted us to be.
On July 9th in the East Room of the White House, Judge Brett M. Kavanaugh of the D.C. Circuit was officially unveiled as President Trump's nominee to the Supreme Court. It was a sedated Trump who showed up to emcee the big reveal that day –– the incarnation of the 45th President who is shuffled out to read a script at grand occasions of state such as this, lest his free-wheeling, ad-libbing alter-ego debase the few civic rituals that have survived his first year in office. Trump dutifully sang Kavanaugh's praises: "Judge Kavanaugh has impeccable credentials, unsurpassed qualifications and a proven commitment to equal justice under the law," he assured the American people, squinting into the light of the teleprompter. His detachment seemed palpable, but not in the way that repeating the kind of boilerplate political language that comes so unnaturally to him usually appears. This was the detachment of a man uninvested in the grand spectacle of tension, power, and pomp that surrounded him, and, in a simpler previous life, would have been his to conduct. This was Donald Trump, trapped hosting a reality show he wasn't controlling, put on by producers he despises; a show where the contestants were pre-selected and the winner decided in advance.
Prior to the upending effect of the public disclosure of the sexual assault allegations levied at Judge Kavanaugh by Christine Blasey Ford (the consequences of which, at time of writing, are yet to be fully borne out), the confirmation hearings had been mostly marked by the kind of aesthetic grandstanding that has come to form the majority of our contemporary political discourse. This was particularly true of the contribution of the Democrats on the Judiciary Committee, who struggled to form a single substantive counter-argument against what had appeared to be a confirmation secured on the strength of a brute mathematical reality. Despite bouts of laser-sharp questioning from Kamala Harris on women's rights and Mazie Hirono on the judge's view on Native Americans, as well as slightly less laser-sharp bouts of Cory Booker tweeting links to his Dropbox account, asserting, in the guise of a liberal Alex Jones, that he "has the documents", the broad Democratic counter-argument during the confirmation hearings was a simple one. Brett Kavanaugh is Donald Trump's justice, and, as Donald Trump is bad, he should be denied confirmation on account of being bad.
Yet, looking at the breadth of the Democrats' campaign against Kavanaugh's nomination, one can't help but think that the bulk of their strategy would not have changed regardless of who won this season of The Judicial Apprentice, as though there were already a hymn sheet prepared for everyone to sing from with a space to write the name of whoever was eventually nominated. The plan until the recent revelations appears to have been to attack Kavanaugh as an extension of Trump personally, rather than as someone who poses a specific and pressing threat to certain ideals. That one-size-fits-all communications strategy was made a little too publicly apparent immediately after the East Room unveiling when, in the proud Democratic tradition of reliable competence, the DNC tweeted out a rousing call to #StopKavanaugh that made one small error: the picture of the judge they used was of Thomas Hardiman (another rumored candidate for the seat). Yet, perhaps the Democrats can be forgiven for approaching Kavanaugh as a factory-made, hard-right jurist because, in fact, that's exactly what he is.
In early 2016 –– a time that now seems to belong to another political epoch –– then-candidate Donald Trump took the unusual step of publishing a list of his potential Supreme Court picks. The list, which, at the time, appeared unlikely to ever actually become relevant, was designed by then-campaign lawyer Don McGahn to assure the right-wing establishment that his ideologically erratic candidate could be relied upon to deliver them a justice who would swing the court in their preferred direction for generations. After the election, the list made the seamless transition from speculative fiction to official White House policy, as Neil Gorsuch jumped from paper to robe under the careful guidance of now White House counsel McGahn and became the newest Associate Justice of the Supreme Court. The rest of the names on the list; which included DNC-canon justice Hardiman, evangelical Catholic cult aficionado Amy Coney Barrett, William Pryor –– a man who thinks that decriminalizing homosexuality was made a bit too hastily, as well as Kavanaugh, could not have been more palatable to the conservative donor base if they'd written it themselves. This is probably because, essentially, they did.
The Federalist Society, founded in 1982 at the height of the Reagan-era conservative fever dream, is a network of lawyers and jurists who work to combat the perceived 'liberal' tendencies of America's judicial system. They advocate the so-called 'originalist' and 'textualist' approaches to jurisprudence most famously espoused by former Supreme Court Justice Antonin Scalia, the product of an ill-fated crossover between the Scarlet Letter and The Sopranos whose most famous contributions to the judicial corpus involved compromising the ability of states to regulate firearms and enshrining the rights of corporations to spend unlimited, unaccountable sums of money to influence elections. The group is backed by the kind of people one would expect would be interested in enshrining a judicial philosophy that can essentially be boiled down to 'Mad Max, but the NFL is still on'; the Koch brothers, Exxon Mobil, Google, and the Knights of Columbus are all donors. It should come as no surprise then that the Federalist Society Executive Vice President Leonard Leo was the co-author of Trump's Supreme Court list, and that the shadowy organization has been one of the strongest lobbyists in Congress for both Gorsuch and Kavanaugh's confirmations.
In many ways, the establishment of the Republican party has gotten away with their role in enabling the Trump Presidency –– whether it be the donors like Islamophobic blob-fish Sheldon Adelson, who so quickly moved to pour resources into his campaign after condemning his lack of support for Israel; or the #NeverTrumpers like Jeff Flake, who has made himself a CNN-ebrity by shouting "how dare you, sir!" at the President on the floor of the Senate before sitting down and voting 83% of the time for his policies. For these people, the litany of horrors unleashed by the Trump administration is either their stated policy goals or acceptable casualties. Their primary objections to Trump are largely aesthetic –– they worry that the President's propensity for free-association bigotry is saying the quiet part of their ideology loud in a way that might attract undue attention and resistance. Yet they endure it and will continue to endure it for however long the President remains in office because he has signed up to give a life appointment to those who whistle at a much less audible pitch.
Brett Kavanaugh is the apotheosis of the right-wing, corporatist establishment's vision of a justice. In his confirmation hearings, he gave answers to direct questions that were so evasive they were practically quantum. He replied that he "could not provide his views" 53 times to written questions, providing a rationale of response that seemed to be limitless only in defining what he was not, not what he is. This is all that The Federalist Society and their boosters in Congress and the business world desired. Trump could morph into a cloud of sarin and visit a playground so long as their ideological aim of pushing the Supreme Court to the right is achieved, and so they have instituted a system that has ensured they have complete control over the trajectory of that process. This is the mechanism that resulted in such an inanimate Trump appearing in the East Room that day, a mechanism with one singular focus –– to place in the President's hand a cue card with "Brett Kavanaugh" written in big bold type. Considering the subsequent trajectory of the confirmation process, perhaps Donald Trump is glad he didn't take that producer's credit.
Seamus McGuigan is a writer and academic studying Critical Theory and Comparative Literature at NYU. Find him on Twitter: @seamusmcguigan.
Since President Barack Obama first stepped into office, the American people were startled by a possibility that there didn't have to be a "Black America and White America," anymore, but just "the United States of America." According to New Yorker contributor, author, and associate professor at the University of Connecticut, Jelani Cobb, that was some promising presidential rhetoric, but overall, a lie. Anyone who's read the headlines or seen the news for the past few years can recognize that race relations are far from stable, and the U.S. is far from "united." With issues such as police violence, racial profiling, and the "Black Lives Matter" movement as our modern-day Civil Rights movement, the rift between black and white transcends skin color—it's also a matter of class, power, and the notion of our republic.

As a long-time ally of the United States, France has played an integral role in its development. France has had its share of race problems of its own, seen most prominently through the Algerian War (1954-1962) and lingering racism against people of North African descent that largely populate the banlieues, or suburbs. The war prompted a silence that was only sort of broken recently, by French president François Hollande, who acknowledged the war's brutality, but didn't really apologize. Immigration has always been a hotbed issue in France, but it is especially now more important in preparation for their 2017 presidential election. On the other hand, Americans have a little less time to figure out new policies as the "changing of the guards" is decided next week. Even so, Paris was (and still is) a destination for African-Americans. James Baldwin, Langston Hughes, and Ta-Nehisi Coates, all found inspiration on French turf.
You may know Coates as the National Book Award-winning author of Between the World and Me. But Coates has also had a history struggling to learn French, as he told us at the opening reception of Festival Albertine last night. He just returned from Paris after a year-long writing fellowship, and there, had various interactions with African-Americans. He used his research to help curate the 3rd annual festival of the famed French-English bookstore housed by the French Embassy in New York City.
During last night's gathering, we were among a room of French, American, White, Black, and more. Coates stood before us and explained the process of selecting his panel for the November 2nd discussion, When Will France Have Its Barack Obama? Joining Cobb on the panel was journalist Iris Derœux, and historians Pap Ndiaye and Benjamin Stora.
What first struck me about the title of this discussion was the use of the word, "when." It suggests that France will have a Barack Obama, and it's only a matter of time. But will France ever have a Barack Obama? The French perspective is so used to seeing White males in political positions that a Black president would seem revolutionary, but would it be more revolutionary than what happened in America?
Ndiaye recounted an anecdote of a modern iteration of W.E.B. Du Bois's theory of double-consciousness. As a Black French man from Paris, when people ask him where he's from, he always answers, logically, "I'm from Paris." But then there's always a follow-up question; "Where are you really from?" This implies that because of the color of his skin and the language that he speaks, people don't feel comfortable accepting him as a Parisian. He must therefore be from somewhere else.
Both France and the United States have had different forms of racism. Americans had slavery, the French had the Algerian war, and that's just two examples. But these major tragedies in world history do not come without aftershocks. Festival Albertine will explore race and identity in the modern age through a series of panels highlighting a number of artistic forms, including art, film, literature, and dance.
The festival runs through November 6th, 2016. For more information, click here. And if you can't make it to New York, all of the events are livestreamed to help spread the messages of these scholars, artists, and writers to people in the rest of the United States, in France, and beyond.
Court cases you should know about
The Supreme Court's term ended with several huge decisions in cases dealing with abortion, affirmative action and immigration. With several hot-button issues being examined, the Supreme Court has been front page news for several days.

Two colleagues discuss mistakes made in reporting on court cases and how to avoid them.
L: The Supreme Court just ended its term for the year and handed down some pretty big decisions on abortion, affirmative action and immigration.
J: Covering Supreme Court cases along with other federal cases tends to be the bread and butter for a lot of newspapers and media organizations because that can affect the way people live their lives. However, sometimes cases get misreported on. Either because a journalist doesn't have the knowledge to cover a case correctly or people just simply re-report what other media organizations report on.
L: And one of the most common areas that mistakes are made is in misinterpreting what the Court is actually doing. So the Supreme Court either decides to hear a case or it doesn't decide to hear a case. And if it doesn't hear a case, the lower court decision just stands for that Circuit — for that part of the country. It doesn't apply to the rest of the country.
J: Another way journalists can mishandle the reporting of court cases is in the verbiage they use. Legal jargon can tend to be high brow and sometimes in attempts to simplify the language, they can end up using the wrong words.
J: Another trap that news organizations and reporters can fall into is not reading through, or far enough into the opinion. There was two parts to that decision, in one part they struck down the health care mandate based on the commerce clause, but they also upheld it under the taxing powers of the government. So, the individual healthcare mandate is legal and constitutional. And in not reading through that whole opinion, people ended up misreporting what the Supreme Court actually decided.
J: Journalists can end up paying way too much attention to the drama and the hype that surrounds the case and use that as filler in the reporting, rather than referring to the facts.
L: That's a good point especially because the Supreme Court often consolidates cases that have a similar Constitutional question or concern. So like the contraceptive mandate part of Obamacare was under review this term and they consolidated eight cases that dealt with the same issue. So it's important to realize that even though somebody's name is in the case title, they might not be the best person to put a face on the story.
J: Some tips for court reporting would definitely be: know the case and all of the facts of the case, understand legal jargon, understand how the court handles specific types of cases. A grand jury is very different from a regular trial. Where it is in the Supreme Court process can significantly differ.