Chicago Tribune
The 85-year-old Supreme Court Justice fell in her office on Wednesday night.
According to a statement from the Supreme Court, Justice Ruth Bader Ginsburg fell in her office Wednesday night and fractured three ribs. Initially, the Justice thought all was well following the fall and went home. After experiencing pain throughout Wednesday night, however, she was admitted to George Washington University Hospital Thursday morning.
Her stay at the hospital meant that Ginsburg was not present for Thursday's investiture of Trump-appointed Justice Brett Kavanaugh, an event that reportedly drew crowds in protest.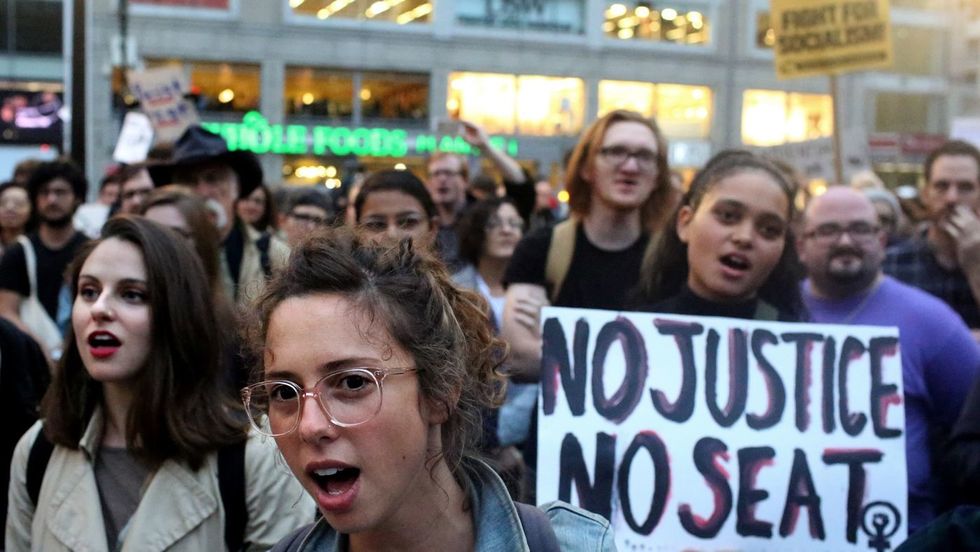 LA Times
Since her appointment to the court in 1993, Ginsburg has become a pop culture icon, praised by progressives for her liberal influence. In particular, Ginsburg is seen as an opponent of President Trump, whom she called "a faker" in 2016. Since the replacement of Justice Anthony M. Kennedy by conservative Justice Brett Kavanaugh, progressives have been particularly concerned as to the state of Ginsburg's health, fearing that her age may force her to retire before Trump's tenure ends, allowing him to put another conservative Justice on the bench.
The next sitting of the Supreme Court begins Nov. 26, and given Justice Ginsburg's history of attending work despite health issues, her fractured ribs are unlikely to hinder her participation. She broke two ribs in 2012 and returned to work the next day. In November 2014, she underwent a heart procedure; in 2009, she was treated for early stages of pancreatic cancer and returned to work three weeks later.
In July, the Justice stated that she hopes to stay on the bench for the duration of Trump's term. "I'm now 85," Ginsburg said. "My senior colleague, Justice John Paul Stevens, he stepped down when he was 90, so think I have about at least five more years."

Brooke Ivey Johnson is a Brooklyn based writer, playwright, and human woman. To read more of her work visit her
blog
or follow her twitter
@BrookeIJohnson
.