"A tree is best measured when it is down," the poet Carl Sandburg once observed, "and so it is with people." The recent death of Harry Belafonte at the age of 96 has prompted many assessments of what this pioneering singer-actor-activist accomplished in a long and fruitful life.
Belafonte's career as a ground-breaking entertainer brought him substantial wealth and fame; according to Playbill magazine, "By 1959, he was the highest paid Black entertainer in the industry, appearing in raucously successful engagements in Las Vegas, New York, and Los Angeles." He scored on Broadway, winning a 1954 Tony for Best Featured Actor in a Musical – John Murray Anderson's Almanac. Belafonte was the first Black person to win the prestigious award. A 1960 television special, "Tonight with Belafonte," brought him an Emmy for Outstanding Performance in a Variety or Musical Program or Series, making him the first Black person to win that award. He found equal success in the recording studio, bringing Calypso music to the masses via such hits as "Day-O (The Banana Boat Song)" and "Jamaica Farewell."
Harry Belafonte - Day-O (The Banana Boat Song) (Live)www.youtube.com
Belafonte's blockbuster stardom is all the more remarkable for happening in a world plagued by virulent systemic racism. Though he never stopped performing, by the early 1960s he'd shifted his energies to the nascent Civil Right movement. He was a friend and adviser to the Reverend Doctor Martin Luther King, Jr. and, as the New York Times stated, Belafonte "put up much of the seed money to help start the Student Nonviolent Coordinating Committee and was one of the principal fund-raisers for that organization and Dr. King's Southern Christian Leadership Conference."
The Southern Poverty Law Center notes that "he helped launch one of Mississippi's first voter registration drives and provided funding for the Freedom Riders. His activism extended beyond the U.S. as he fought against apartheid alongside Nelson Mandela and Miriam Makeba, campaigned for Mandela's release from prison, and advocated for famine relief in Africa." And in 1987, he received an appointment to UNICEF as a goodwill ambassador.
Over a career spanning more than seventy years, Belafonte brought joy to millions of people. He also did something that is, perhaps, even greater: he fostered the hope that a better world for all could be created. And, by his example, demonstrated how we might go about bringing that world into existence.
Amidst the chaos of confirmation, the real force behind right-wing policy is going unnoticed
When a storm hits, it can be difficult to remember everything that came before. After the revelations of the past week regarding allegations of sexual assault against Supreme Court nominee Brett M. Kavanaugh, the relative calm that was the previous months of the confirmation process seem like hazy half-memories. Yet, in light of where the political gaze of the nation now finds itself directed, perhaps it's time to ask, in the spirit of The Talking Heads, "How did we get here?" How did a man accused of sexual assault end up receiving a lifetime nomination to one of the most powerful institutions in America? Answering that question will require traversing the interconnected and exclusive ranges of the right-wing political machinery, where dark money and faceless groups lay their hands on the scales of our civic life. Yet, in the end, the question of how we got here is one with a relatively simple answer and one that strikes at the heart of a vast range of the illnesses that seem to be ravaging the body politic. We are here, and we are here with Brett Kavanaugh because a small group of wealthy people wanted us to be.
On July 9th in the East Room of the White House, Judge Brett M. Kavanaugh of the D.C. Circuit was officially unveiled as President Trump's nominee to the Supreme Court. It was a sedated Trump who showed up to emcee the big reveal that day –– the incarnation of the 45th President who is shuffled out to read a script at grand occasions of state such as this, lest his free-wheeling, ad-libbing alter-ego debase the few civic rituals that have survived his first year in office. Trump dutifully sang Kavanaugh's praises: "Judge Kavanaugh has impeccable credentials, unsurpassed qualifications and a proven commitment to equal justice under the law," he assured the American people, squinting into the light of the teleprompter. His detachment seemed palpable, but not in the way that repeating the kind of boilerplate political language that comes so unnaturally to him usually appears. This was the detachment of a man uninvested in the grand spectacle of tension, power, and pomp that surrounded him, and, in a simpler previous life, would have been his to conduct. This was Donald Trump, trapped hosting a reality show he wasn't controlling, put on by producers he despises; a show where the contestants were pre-selected and the winner decided in advance.
Prior to the upending effect of the public disclosure of the sexual assault allegations levied at Judge Kavanaugh by Christine Blasey Ford (the consequences of which, at time of writing, are yet to be fully borne out), the confirmation hearings had been mostly marked by the kind of aesthetic grandstanding that has come to form the majority of our contemporary political discourse. This was particularly true of the contribution of the Democrats on the Judiciary Committee, who struggled to form a single substantive counter-argument against what had appeared to be a confirmation secured on the strength of a brute mathematical reality. Despite bouts of laser-sharp questioning from Kamala Harris on women's rights and Mazie Hirono on the judge's view on Native Americans, as well as slightly less laser-sharp bouts of Cory Booker tweeting links to his Dropbox account, asserting, in the guise of a liberal Alex Jones, that he "has the documents", the broad Democratic counter-argument during the confirmation hearings was a simple one. Brett Kavanaugh is Donald Trump's justice, and, as Donald Trump is bad, he should be denied confirmation on account of being bad.
Yet, looking at the breadth of the Democrats' campaign against Kavanaugh's nomination, one can't help but think that the bulk of their strategy would not have changed regardless of who won this season of The Judicial Apprentice, as though there were already a hymn sheet prepared for everyone to sing from with a space to write the name of whoever was eventually nominated. The plan until the recent revelations appears to have been to attack Kavanaugh as an extension of Trump personally, rather than as someone who poses a specific and pressing threat to certain ideals. That one-size-fits-all communications strategy was made a little too publicly apparent immediately after the East Room unveiling when, in the proud Democratic tradition of reliable competence, the DNC tweeted out a rousing call to #StopKavanaugh that made one small error: the picture of the judge they used was of Thomas Hardiman (another rumored candidate for the seat). Yet, perhaps the Democrats can be forgiven for approaching Kavanaugh as a factory-made, hard-right jurist because, in fact, that's exactly what he is.
In early 2016 –– a time that now seems to belong to another political epoch –– then-candidate Donald Trump took the unusual step of publishing a list of his potential Supreme Court picks. The list, which, at the time, appeared unlikely to ever actually become relevant, was designed by then-campaign lawyer Don McGahn to assure the right-wing establishment that his ideologically erratic candidate could be relied upon to deliver them a justice who would swing the court in their preferred direction for generations. After the election, the list made the seamless transition from speculative fiction to official White House policy, as Neil Gorsuch jumped from paper to robe under the careful guidance of now White House counsel McGahn and became the newest Associate Justice of the Supreme Court. The rest of the names on the list; which included DNC-canon justice Hardiman, evangelical Catholic cult aficionado Amy Coney Barrett, William Pryor –– a man who thinks that decriminalizing homosexuality was made a bit too hastily, as well as Kavanaugh, could not have been more palatable to the conservative donor base if they'd written it themselves. This is probably because, essentially, they did.
The Federalist Society, founded in 1982 at the height of the Reagan-era conservative fever dream, is a network of lawyers and jurists who work to combat the perceived 'liberal' tendencies of America's judicial system. They advocate the so-called 'originalist' and 'textualist' approaches to jurisprudence most famously espoused by former Supreme Court Justice Antonin Scalia, the product of an ill-fated crossover between the Scarlet Letter and The Sopranos whose most famous contributions to the judicial corpus involved compromising the ability of states to regulate firearms and enshrining the rights of corporations to spend unlimited, unaccountable sums of money to influence elections. The group is backed by the kind of people one would expect would be interested in enshrining a judicial philosophy that can essentially be boiled down to 'Mad Max, but the NFL is still on'; the Koch brothers, Exxon Mobil, Google, and the Knights of Columbus are all donors. It should come as no surprise then that the Federalist Society Executive Vice President Leonard Leo was the co-author of Trump's Supreme Court list, and that the shadowy organization has been one of the strongest lobbyists in Congress for both Gorsuch and Kavanaugh's confirmations.
In many ways, the establishment of the Republican party has gotten away with their role in enabling the Trump Presidency –– whether it be the donors like Islamophobic blob-fish Sheldon Adelson, who so quickly moved to pour resources into his campaign after condemning his lack of support for Israel; or the #NeverTrumpers like Jeff Flake, who has made himself a CNN-ebrity by shouting "how dare you, sir!" at the President on the floor of the Senate before sitting down and voting 83% of the time for his policies. For these people, the litany of horrors unleashed by the Trump administration is either their stated policy goals or acceptable casualties. Their primary objections to Trump are largely aesthetic –– they worry that the President's propensity for free-association bigotry is saying the quiet part of their ideology loud in a way that might attract undue attention and resistance. Yet they endure it and will continue to endure it for however long the President remains in office because he has signed up to give a life appointment to those who whistle at a much less audible pitch.
Brett Kavanaugh is the apotheosis of the right-wing, corporatist establishment's vision of a justice. In his confirmation hearings, he gave answers to direct questions that were so evasive they were practically quantum. He replied that he "could not provide his views" 53 times to written questions, providing a rationale of response that seemed to be limitless only in defining what he was not, not what he is. This is all that The Federalist Society and their boosters in Congress and the business world desired. Trump could morph into a cloud of sarin and visit a playground so long as their ideological aim of pushing the Supreme Court to the right is achieved, and so they have instituted a system that has ensured they have complete control over the trajectory of that process. This is the mechanism that resulted in such an inanimate Trump appearing in the East Room that day, a mechanism with one singular focus –– to place in the President's hand a cue card with "Brett Kavanaugh" written in big bold type. Considering the subsequent trajectory of the confirmation process, perhaps Donald Trump is glad he didn't take that producer's credit.
Seamus McGuigan is a writer and academic studying Critical Theory and Comparative Literature at NYU. Find him on Twitter: @seamusmcguigan.
The sounds of the summer don't have to just be the cries of your enemies...
There was a time when, if a leader of a nation wanted to speak to their people, they could just hop on the radio and instantly be transported into every living room. Nowadays, politicians –– democrat and demagogue alike –– have to fight to be heard above the unending noise of social media, where the inane musings of a citizen's friend is given equal time as whatever pronouncement they (the politicians) wish to make. Increasingly, this has led to attention-starved politicians engaging in some previously unimaginable behavior, in a seeming attempt to not just compete with your online friends, but become one of them.
The current U.S. President has eschewed the official White House statement in favor of stream-of-consciousness tweeting that resembles some kind of fridge poetry for Tea Party uncles. His predecessor, CoolDadPresident™ Barack Obama, realizing that Roosevelt's fireside chat shtick wouldn't work with the kids, did something different. Realizing that music is both a Thing That Humans Generally Like and a excellent signifier of cultural literacy, the White House published a series of summer playlists curated by the President that combined tracks from some up-and-coming artists (Courtney Barnett's, "Elevator Operator" made an appearance) with undeniable classics like Miles Davis' "Flamenco Sketches".
But why should elected leaders be the only ones who get to cut a mixtape? What about the outcasts of the global order; the ones who everyone avoids at UN meetings? Don't dictators love to dance too? According to The Guardian, the answer is yes, at least in the case of Bashar Al-Assad, whose iTunes purchase history reveals that even the Syrian autocrat is not immune to the charms of LMFAO's "I'm Sexy and I Know It". Years of brutal civil war has left Al-Assad's image somewhat tarnished (war crimes will do that), so perhaps he should find some time in-between barrel-bombing sessions to reveal the softer side of himself; the Bashar who, like any regular loving husband, sends Blake Shelton songs to his wife. Yes, he may have given the order to shell Homs into glass that same day, but it's a start.
So, in the spirit of the humble profession of providing PR advice to despots, I have compiled what I think is a perfect summer playlist fit for any established or prospective authoritarian; one that is sure to give them a much-needed image boost, as well as providing a few helpful tips along the way:
Track 1: "Who Wants the World" by The Stranglers
Before you can even begin to throw that tyrannical power around, you've got to have the ambition to take it. The Stranglers' 1980 new wave classic should get you pumped up for some putsch-ing. "Who waaaants the world?" You do.
Track 2: "Cruel" by St. Vincent
Any dictator worth their salt knows that, even with ambition, seizing and maintaining their positions can't be done with a clean pair of hands. That's okay though, the lilting melodies of Annie Clark should be cool enough to help you drown out the screams you hear in your head.
Track 3: "SHAME" by Young Fathers
So you've taken power, but something feels off, right? People really seem to not like you. Sure, you might've "disappeared" half their family, but your "dodgy dealings just got deadly", it's nothing to be ashamed of. In fact, they should be the ones who are ashamed. Sing it with me: "What a shame on you/Where's your gall when it's a shame on you?"...
Track 4: "Illicit Fields" by Ka
Being a dictator can be tough, but it can have its perks, even if they might be a little blood-stained. Mixing sweeping melodies and punchy samples, Ka's Honor Killed the Samurai depicts the grey moral territory of life on the margins, where there is very little time for sweeping generalizations like 'good' and 'evil'. It's a seismic work, and sure to provide lots of cool credibility when you invite some influencers over to one of your six places to listen to it on vinyl. Just don't sound too into it when you're singing the hook: "Hate's well known/It's that love I'm unfamiliar with".
Track 5: "Rasputin" by Boney M
With all of this good publicity, you're probably going to be so tied up giving interviews and re-tweeting praise fromNew York Times op-ed columnists that you'll need a reliable henchman to run the affairs of state in your stead. Just make sure that he's at least somewhat qualified. Oh... he's a womanizing cult leader who may or may not be sleeping with your wife? Eh, I'm sure everything will be fine. Plus, his song is so catchy.
Track 6: "The Partisan" by Leonard Cohen
The henchman thing didn't work out, there's rebellion in the air. It'll be okay though; just study this legendary Résistance hymn and you'll get to know your enemy. A bit of Cohen should also help you court some hipsters to your side, and he once published a book of poems entitled Flowers for Hitler, which sounds like a dictator-y thing to bring to a meeting with Hitler. There is something eerily sleep-inducing about the way that Cohen strums through a song that is so saturated with sadness and death; it's enough to make you ignore the wind that's blowing...
Track 7: "Sinnerman" by Nina Simone
There's really nothing that dictators obsess about more than the pursuit of immortality. Obtaining a permanent place in history, whether it be through building palaces, empires, or body counts, is kind of the dictator thing. But, as Simone herself once noted, "time is the dictator of us all," and there's a certain justice that, in the end, everyone fears. This winding, ten-minute symphony of a song is probably Simone's greatest work, and her engine-like piano playing and rhythmic vocals are the perfect accompaniment to some vigorous exercise; the kind of exercise that you'd get from say, running away from an angry mob. Turn it up, tyrants –– time to figure out "where you're gonna run to"...
The super-rich are hoping inequality is here to stay, even after the apocalypse.
With the Atlantic hurricane season already underway, tens of millions of people are preparing grab bags and emergency kits and hoping that the next storm isn't the one that will take away their lives, their homes, or their resources. Yet, in spite of researchers' warnings suggesting that global climate change is increasing the likelihood that the next big storm, or the one after that, will wreak unavoidable devastation on those same millions, a much smaller group have no such anxieties. These people are not members of a doomsday cult, climate change 'skeptic' Super-PAC, or owners of exceptionally-developed spleens. They are a part of a far more elite class of mammals –– the super-rich –– and, as the storms rage ever harder on the rest of us, they've prepared emergency kits that have far more than a flashlight and a radio in them.
In 1888, the British industrialist and fervent imperialist Cecil Rhodes gained a charter for exclusive mineral rights in lands that are now part of the nation of Zimbabwe. What set this particular acquisition apart from the earlier expansions of British control, however, was the fact that Southern Rhodesia (named, in customarily humble fashion, after its 'founder') was not a colony founded under the usual auspices of the desire of British expansionism, but as a result of the singular desire of a wealthy man to exert his control over territories that he believed were his to rule. The explicitly apartheid state of Rhodesia –– which would rule the nation from 1965 to 1979 without international recognition –– was the symbolic successor to this ideology, and its legacy of colonial plunder haunts Zimbabwe (once the great breadbasket of Africa) to this day. Eccentric Victorian industrialists' dreams of vainglorious expansion may seem like a far-flung relic; something to be exiled to a colonial past, rather than alive in our interconnected present.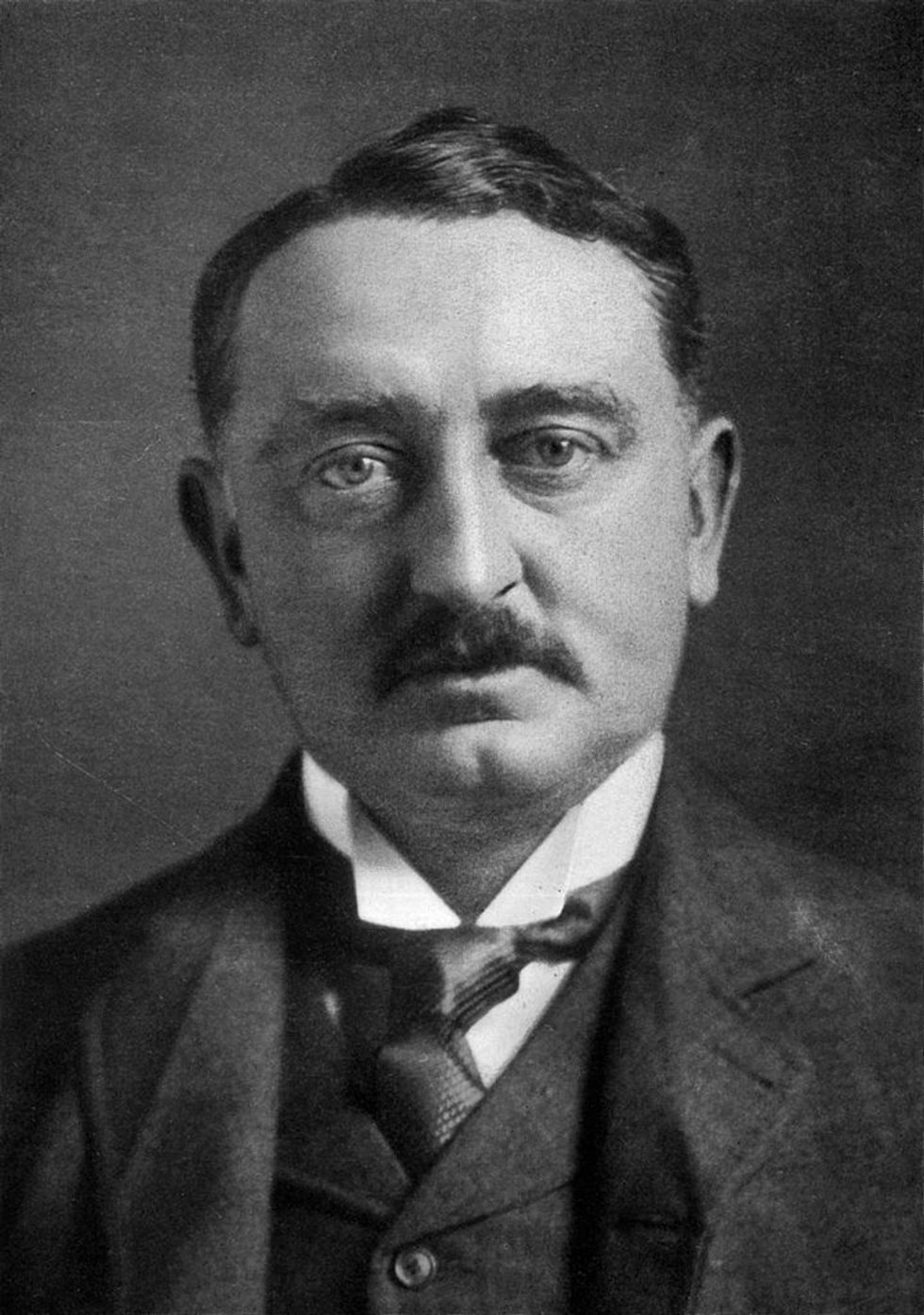 Photo: Wikimedia Commons
Yet, a world where sea levels are rising and storms are strengthening has given impetus to a new generation of businessmen dedicated to the prospect of forging a different future for their own ends. Unlike Rhodes, the unimaginably wealthy of our time are not motivated by the pride and riches of a national empire, but by the base desire to survive in an apocalyptic future where others of lesser means cannot.
The Seasteading Institute, established in 2008 by prominent techno-libertarians such as venture capitalist and Facebook investor Peter Thiel, seeks to develop:
"...a model wherein a single company comprising several stakeholders will oversee construction and management of a highly autonomous floating city, leaving residents and entrepreneurs free to operate their own lives and businesses."
While this may sound like the vanity project of a few multi-millionaires, the institute is far from a folly. In 2017 they gained the rights to develop their first 'autonomous community' off the coast of French Polynesia –– a settlement that is explicitly designed to be immune to the rising sea-levels that are an existential threat to the Pacific island nation; which is also, in a sort of tragic irony, a relic of French imperial power. That the endeavor seems to be simply interested in offering a tax-free refuge for the rich rather than mitigating the threat of global climate change to its prospective hosts is indicative of a world where the future of a tiny percentage of the population possesses the means to forge a future for themselves that is widely divergent from that of the rest of the planet –– a sort of survivalist colonialism that derives its power from capital, rather than nation states.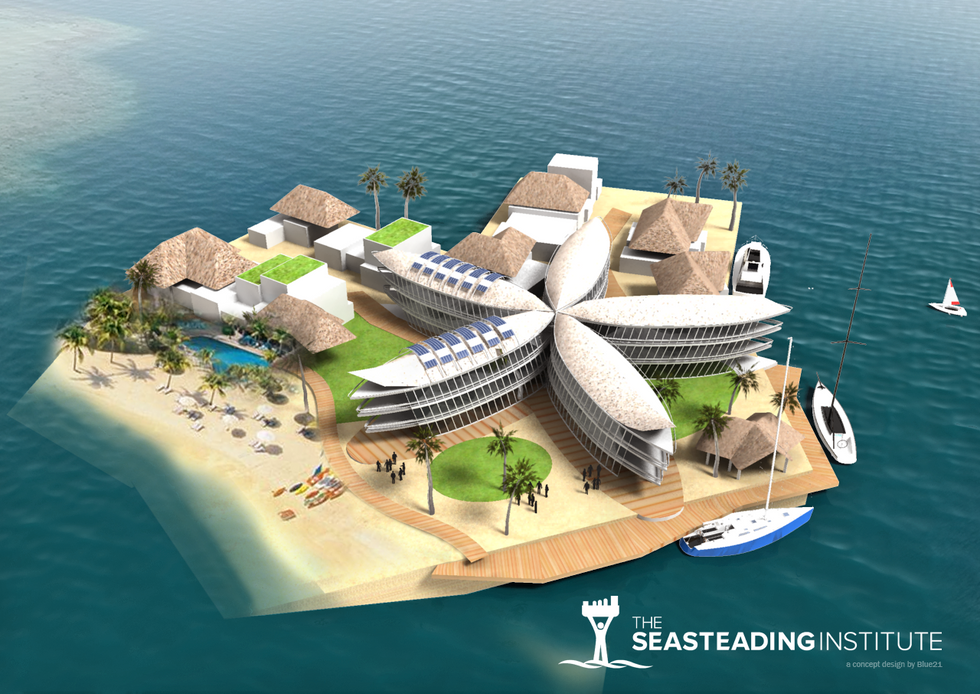 Concept design for the 'Floating Island Project'Photo: The Seasteading Institute
The sea-steader mindset is not, like their imperialist forebearers, constricted by the bonds of the globe, or confined to the lands of the so called 'Global South' –– its ambitions stretch as far as outer space, while also touching the homey plains of Kansas. Inspired by writers like Ayn Rand and Murray Rothbard (who famously rejected the women's rights and civil rights movements as "contemptuous and hostile"), these new self-styled 'anarcho-capitalists' seem willing to forge a future which protects their property and status at any cost, including the lives of their fellow human beings. Elon Musk, Twitter's favorite tech-billionaire, appears dedicated to using his fortune (which currently stands at 20 billion dollars) on a Martian colonization project which is unlikely to be in the price range of most regular apocalypse-fleeing humans. While Musk's space-faring future continues to be the preserve of engineering-defying ambition, his reaction to real-world climate catastrophes has been ambivalent at best. When Hurricane Maria destroyed Puerto Rico's power grid, Musk's press-friendly offer to rebuild with Tesla technology turned out to be a veiled attempt at privatization –– a brazen con by a man bound for life on Mars, seeking to profit off of those left drowning behind. On a smaller scale, the increasing number of tech entrepreneurs hoarding ammunition and building shelters in disused Kansas missile silos represents a similar desire for the wealthy to ensure that the vast wealth inequality already present in America continues after the end of days.
That is not to say that the rest of us in the 'developed' world are immune from blame. While the extravagant fantasies of a few individuals makes for intriguing (and often darkly hilarious) copy, the nature of global wealth disparity has led to a reality in which the measures taken by even the most middle-class citizens to survive in a warming world are actively contributing to its demise.
Experts warn
that, as temperatures rise, the increasing use of air conditioning by Americans seeking shelter from record-setting heat waves could contribute to a surge in air pollution and carbon dioxide emissions. It is becoming increasingly clear that the threat posed to communities by climate change, from Floridian retirees to
Mongolian subsistence farmers
, is the result of an unsustainable and unequal distribution of resource-use that implicates
all
of us. It should not come as a surprise, therefore, that, just as Cecil Rhodes once lashed out on his own at the limits of a waning colonial power, the elite of our time are now blazing a destructive trail of survival in the wake of a system on the verge of collapse.
From bonfires to bicentennials, the history of America's birthday tells the story of a changing nation
The 4th of July is one of those rare days where everyone knows what to expect –– a hot summer's day off spent with family, friends, fireworks, food, and patriotically-branded cans of beer. Yet, all the common rituals of our national day are the product of almost two-hundred and fifty years of chaotic, challenging, and occasionally calamitous celebration; the lesser-known parts of which offer us an interesting view of a constantly changing America. So, here are some things you may not know about Independence Day.