Pogues frontman Shane McGowan was an ancient 65 when he died on November 30. Television producer Norman Lear was a youthful 101 when he left this realm on December 5. No doubt his zest for life kept him going for so long – and his zest for controversy.
Norman Lear's work was an integral part of American life in the second half of the 20th Century. Television programs like Maude, Sanford and Son, and The Jeffersons dragged television out of the 1950s and into the real world. As Variety states: "Lear's shows were the first to address the serious political, cultural and social flashpoints of the day – racism, abortion, feminism, homosexuality, the Vietnam war – by working pointed new wrinkles into the standard domestic comedy formula. No subject was taboo: Two 1977 episodes of All in the Family revolved around the attempted rape of lead character Archie Bunker's wife Edith."
All in the Family, which ran on CBS from 1971 to 1979, typified the clash of generations. Middle-aged bigot Archie Bunker – played by Carrol O'Connor – was a right-wing King Lear in Queens, raging at the radical changes in society. Archie didn't let ignorance get in the way of his opinions; once he argued that people who lived in communes were communists. The thing is, the old dog was actually capable of learning new tricks. Archie never evolved into any kind of saint. But over the nine seasons "Family" aired, experience taught Archie the benefits of listening to (and respecting) viewpoints far different from his own.
All in the Family was the jewel in Lear's crown, but don't forget the highly popular shows One Day at a Time (which featured Bonnie Franklin as a divorcee raising two daughters in the Midwest) and Mary Hartman, Mary Hartman (with Louise Lasser as the titular figure in a parody of soap opera conventions). Good or bad, Lear's work was never indifferent.
More recently, you may have heard about Lear's lively activism. His TV shows were themselves arguments for free and unfettered speech, and Lear supported a slate of liberal causes. In 1981 he founded People for the American Way. The organization's website describes the ways that PFAW has "engaged cultural and community leaders and individual activists in campaigns promoting freedom of expression, civic engagement, fair courts, and legal and lived equality for LGBTQ people."
Lear's life was a long and fulfilling one. In 1978 he was given the first of two Peabody Awards, the most prestigious award in television. "To Norman Lear," it reads, "...for giving us comedy with a social conscience. He uses humor to give us a better understanding of social issues. He lets us laugh at our own shortcomings and prejudices, and while doing this, maintains the highest entertainment standards."
A pioneer, a gadfly of the state, a mensch. To paraphrase a lyric from All in the Family's theme song, "Mister, we could use a guy like Norman Lear again."
Home of celebrities and neo-nazis, Twitter has it all. With nearly 400 million users globally — half of them active — the social networking and micro-blogging platform remains the central spot for 280-character musings.
Known for its fandoms, spam bots, garbage discourse, and the tantalizing opportunity to respond directly to even the most famous of people, it's now going to be known for Elon Musk's desecration of it.
The multi-billionaire — ex-husband of Grimes — and purchaser of the title of "founder of Tesla" boasts 100 million+ Twitter followers, 20k+ tweets, and the title of CEO as of 2022.
Despite the goal of redefining Twitter as an innovation of grand proportions and as a "free speech" haven, Musk's tyrannical management style may cause the platform to grind to a screeching halt any moment. Instead of a slow sinking ship, Musk crashed into the iceberg and then set off rocket launchers at the escaping boats.
Here's a timeline of Musk's acquisition and subsequent murder of Twitter:
Most recent news at the top — scroll down and read up for a full chronological timeline (this will be updated frequently)
November 18, 2022: Twitter in trouble
Teams responsible for Twitter's basic functioning have been laid off or fled for the hills. Critics posit that the site could cease to exist any day now.
Musk closes all office sites — even after stating that all employees were required to work in the office, or resign.
November 16, 2022: Go hardcore or leave
Musk issues an ultimatum for the remaining Twitter staff to be "hardcore" and "exceptional" employees or leave. Effectively creating a cult-like environment for employees willing to work with such a toxic boss, his ultimatum draws criticism.
November 11, 2022: Blue checkmarks for all!
Ignoring Twitter's Trust & Safety team, Musk rolls out the purchase of the blue verification checkmark.
The checkmark, which is also used on Instagram and TikTok, was originally a verification system to distinguish legitimate account holders — such as celebrities, publications, and organizations — from posers or parodies. However, Musk's latest policy changes make it a status symbol, and a free for all when it comes to posing as brands or established entities.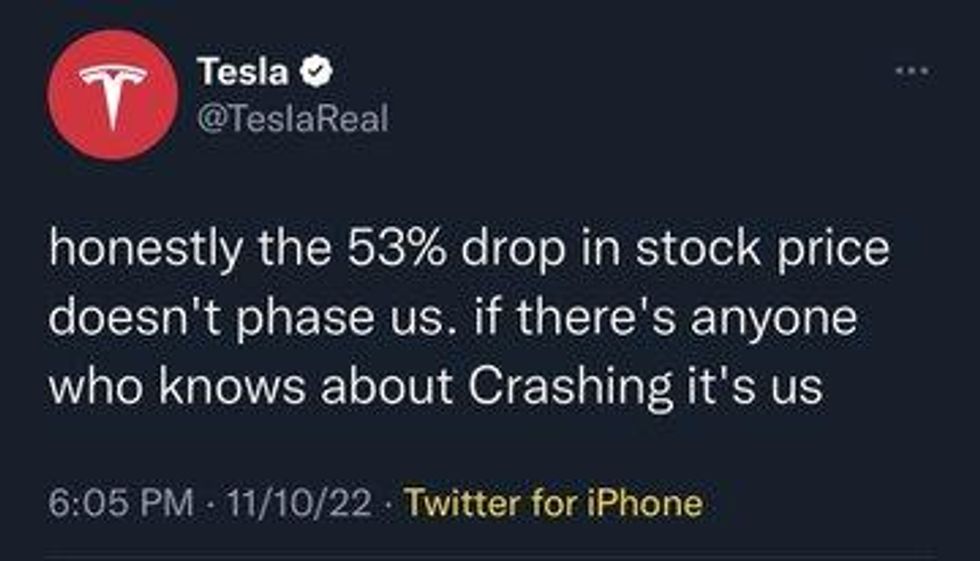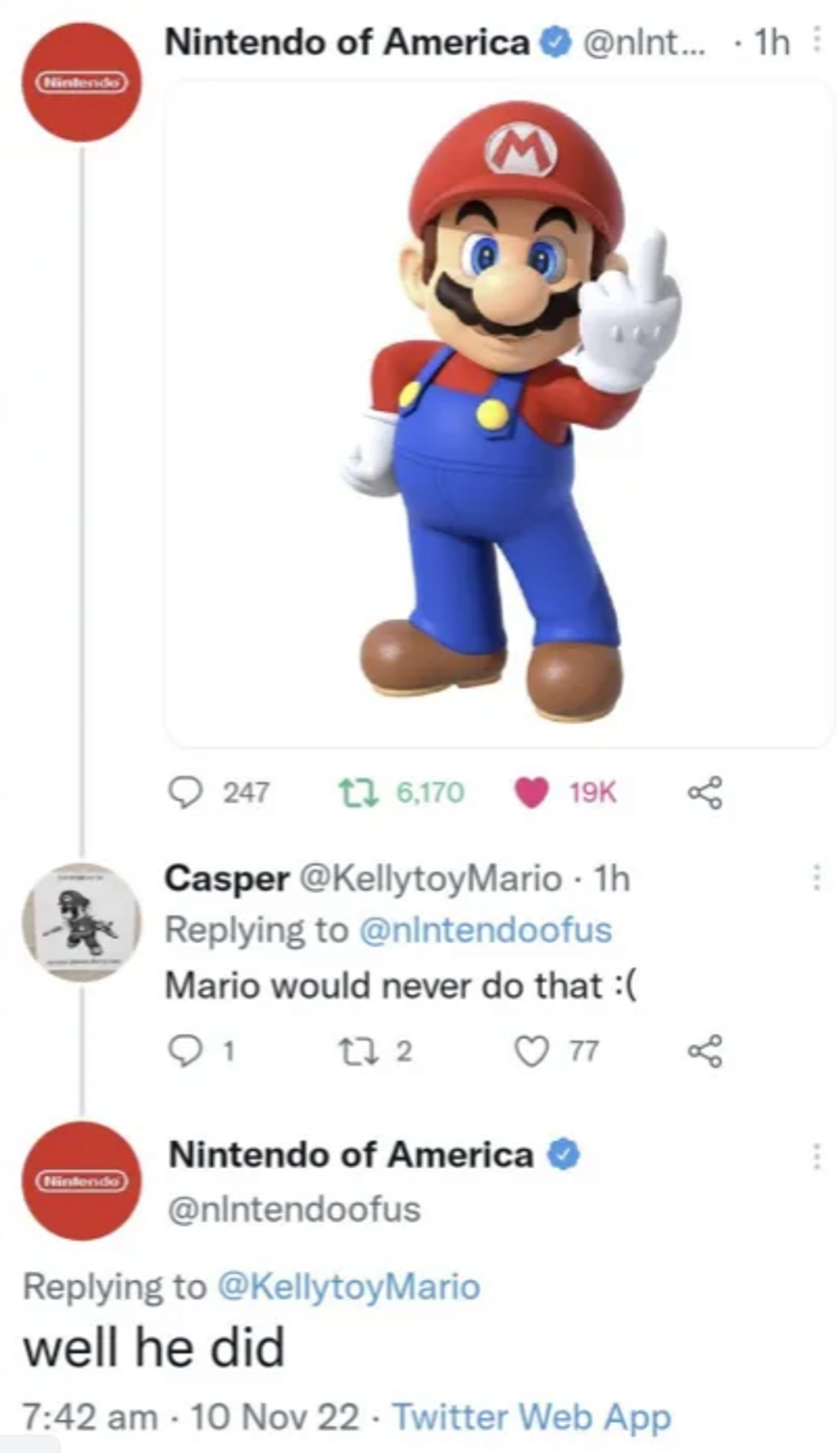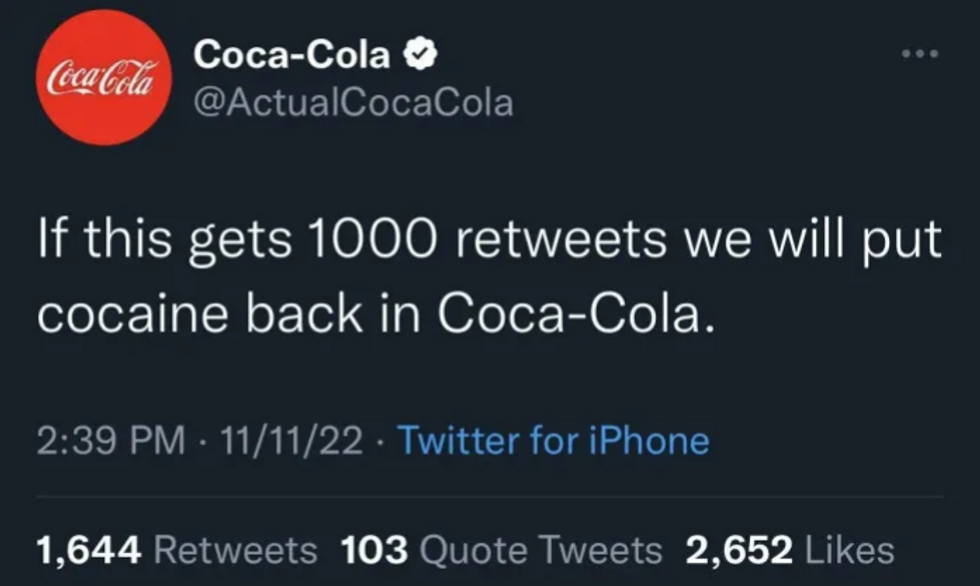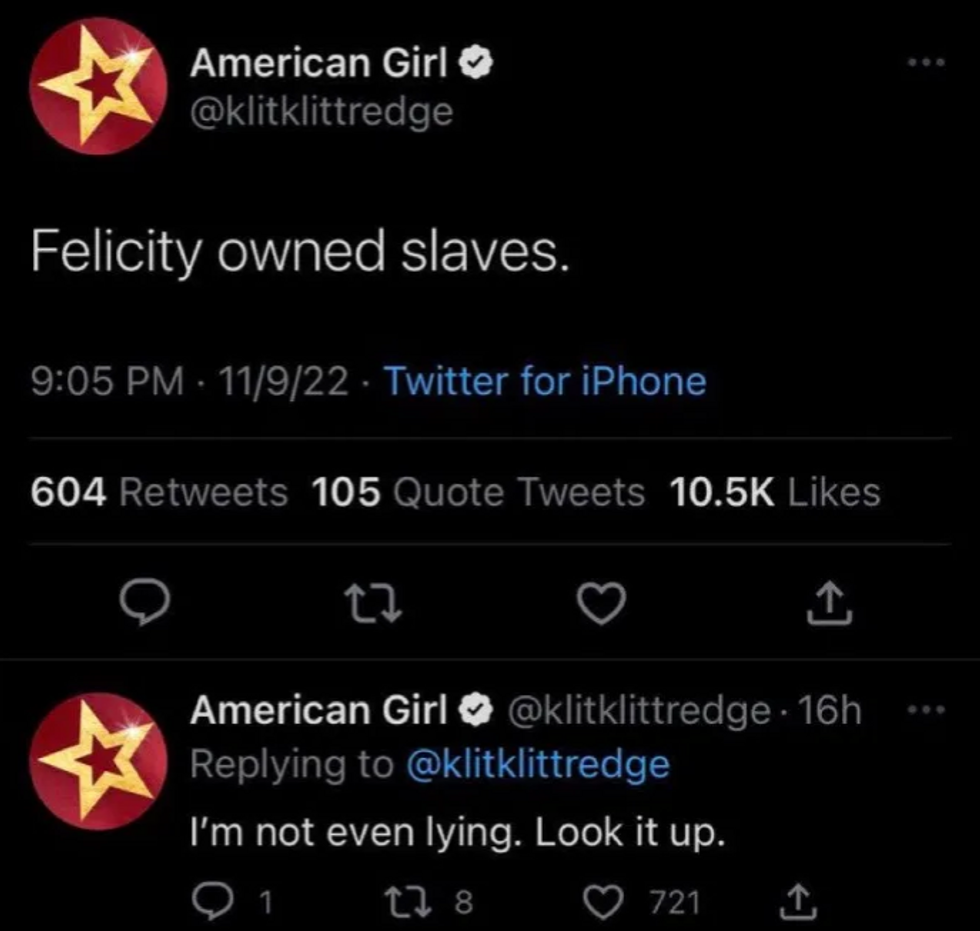 November 4, 2022: Musk lays off half the company

Employees are alerted by being locked out of their computers.
November 3, 2022: Musk has beef with renowned horror writer, Stephen King
Musk announces his plan to charge $20 for the blue checkmark of verification. King tells him he'll leave the platform, and Musk backtracks to $8.
⭐️ October 27, 2022: Musk buys Twitter
Musk becomes CEO for $44 billion and announces himself "Chief Twit." He takes the company private, so it's no longer listed with the New York Stock Exchange.
Musk's number one priority is to make Twitter a haven for "free speech." This will not end well for him.
October 3, 2022: Musk agrees to buy Twitter
During the Twitter vs. Musk trial, he was unable to prove that Twitter mislead him by misrepresenting the platform.
September 13, 2022: Twitter shareholders vote in favor of the Musk acquisition
Musk privately offers to purchase Twitter at a reduced price of $31 billion, but they reject his lower offer.
July 12, 2022: Twitter formally launches a lawsuit against Musk
Twitter requests that the trial be moved from September 19 - September 22, right before the deal's "drop dead" date on October 24.
July 8, 2022: Musk threatens to terminate the contract
Citing that he'd been misled by Twitter's bot numbers and security features, Musk threatens to terminate the contract, ensuring legal action.
May 13, 2022: The Deal's on hold
According to Musk, the deal's put on hold due to the high amount (5%) of spambots on Twitter. This announcement causes Twitter's stock to plunge by 10%.
April 25, 2022: Twitter accepts
Because Musk's offer is much higher than what Twitter is deemed worth and he has the cash, Twitter accepts, with caveats. If Mr. Musk wants to back out or disparages the company while the deal is closing, there's a $1 billion termination fee.
⭐️ April 13, 2022: Musk offers to buy Twitter
He makes a $43 billion unsolicited bid to take Twitter private at $54.20 per share. The offer is 38% above the April 1 asking price. It was described as a "hostile takeover attempt."
"I invested in Twitter as I believe in its potential to be the platform for free speech around the globe, and I believe free speech is a societal imperative for a functioning democracy.
However, since making my investment I now realize the company will neither thrive nor serve this societal imperative in its current form. Twitter needs to be transformed as a private company.
As a result, I am offering to buy 100% of Twitter for $54.20 per share in cash, a 54% premium over the day before I began investing in Twitter and a 38% premium over the day before my investment was publicly announced. My offer is my best and final offer and if it is not accepted, I would need to reconsider my position as a shareholder.
Twitter has extraordinary potential. I will unlock it."
It's rumored that the "420" in $54.20 is a reference to the cannabis slang for smoking daily at 4:20pm.
April 11, 2022: Musk rejects his spot on the Board
Joining the Board would have meant protecting the interests of Twitter, and therefore not criticizing the brand. There also would be a cap on his shares.
April 5, 2022: Musk is asked to join the Twitter Board
Musk's announcement causes a major spike in Twitter's stock prices — and a dip in Tesla stock prices. But Twitter invites him to join the board, even amidst concerns. Musk accepts the invite and extends an invite to Jack Dorsey, who declines.
April 4, 2022: Musk becomes Twitter's largest shareholder
By investing $2.64 billion into Twitter's stock over the course of the last few months, Musk gains 9.2% of shares, making him the largest shareholder.
January - March 2022: Musk shares his Twitter grievances
Musk's tweets gain attention for his multiple complaints about the social media platform's bot problem as well as its crypto scammers. He also placed a poll for his followers on whether or not Twitter's code should be open-source — meaning available for anyone to view and rework themselves.
December 21, 2017: Musk shares his love for Twitter
Then-CEO Jack Dorsey replied, "Same." A user suggested the multi-millionaire should buy Twitter and Musk replied, "How much is it?" So technically, this dumpster fire has been 5 years in the making.
On March 22nd, Senator Bernie Sanders and Elon Musk entered a debate over the fate of the world.

It began when Sanders published a very in-character tweet. "We are in a moment in American history where two guys — Elon Musk and Jeff Bezos — own more wealth than the bottom 40% of people in this country," he wrote. "That level of greed and inequality is not only immoral. It is unsustainable."
Elon Musk, the Tesla and SpaceX CEO who briefly surpassed Jeff Bezos in early 2021 to become the wealthiest man in the world, had a ready-made response. In a Tweet, he wrote, "I am accumulating resources to help make life multiplanetary & extend the light of consciousness to the stars."
@cleantechnica I am accumulating resources to help make life multiplanetary & extend the light of consciousness to the stars

— Elon Musk (@Elon Musk) 1616304691.0
Sanders's reply remained laser-focused on his lifelong mission to fight income inequality on Earth. He wrote, "Space travel is an exciting idea, but right now we need to focus on Earth and create a progressive tax system so that children don't go hungry, people are not homeless and all Americans have healthcare. The level of inequality in America is obscene and a threat to our democracy."
Musk's starry-eyed statement has since faded into the ether of Twitter, but the context of this debate raises larger questions about futuristic technologies, the present-day interests and needs of humans on Earth, and the ongoing battle between them.
Billionaires dream of flying machines
As the Earth speeds towards irreversible climate disaster, many people's minds have naturally turned towards the stars. The distant, spinning nebulae and gleaming planets above us have long been idealized as potential escape routes for the unhappily earthbound.
But as the climate crisis grows more dire on Earth and space travel ramps up, thanks to ambitious patrons, some (like Elon Musk) have proposed that space may be our best shot at collective survival.
Famously, Musk founded SpaceX because he believed that NASA was not working hard enough to bring humans to Mars, and he feared that humanity is approaching its last chance to escape Earth before our planet becomes an uninhabitable hellscape.
His fellow Bernie Sanders nemesis Jeff Bezos has expressed similarly apocalyptic concerns. Bezos, who founded a rocket and aerospace travel company called Blue Origin in 2000, recently stepped down from his position as CEO of Amazon, claiming he planned on investing more time in his work with Blue Origin and his efforts to fight climate change.
Like Musk, Bezos aims to colonize space by investing ambitiously in new technologies that could help people reach the stars. And also like Musk, he fears for the future of civilization — and sees space as the place where these problems might be solved.
"Hundreds of years into the future, we will move all the polluting industries to space and other planets, where we have infinite resources for all practical purposes and Earth will only be (used for) light industries and residential," Bezos stated in a conversation with Amazon India chief Amit Agarwal in New Delhi.
This plan, which Bezos calls the New Inversion, is a long-term vision that would effectively move all pollution to the cosmos. "I would think, kind of [a] time frame of hundreds of years," Bezos added, reiterating that "we have to preserve this planet and we can do that using the resources of space."
The "space escape" as an escape route for the super-rich
Bezos, Musk, and their future-focused peers may claim that their plans to reach the stars are efforts to ensure a future for humanity, but their own reputations and vast fortunes have raised many questions about who this interplanetary future would actually serve.
At the moment, the future of space travel appears to be reserved for the super-rich — the sort of people who are already least affected by earthly calamities like climate change, despite unleashing the vast majority of the world's carbon emissions. For example, private spaceflight companies such as Axiom reportedly charge up to $55 million to send travelers into specially designed rooms located in the International Space Station.
It is likely that even if space travel begins to evolve in step with Moore's law (the theory that computers' processing power tends to double every two years), whatever world we build in the cosmos will remain reserved for the 1% for quite a long time. In this light, the futures preached by techno-prophets like Bezos and Musk start to look like thin cloaks for a kind of moon-eyed eugenics that would leave billions of people in the literal dust.
"The space barons are shrewdly — one might say cynically — tapping into our respect for astronauts and our idealism about what space represents," Ceridwen Dovey writes in The New Yorker. "They seem to be counting on us to be awestruck by whatever it is they do in space, and to overlook the fact that their motives are not exactly pure, nor are their methods of getting us there egalitarian."
Humans are drawn to mystery and beauty, and space is such a tantalizing frontier that it's difficult to completely write off billionaires' ambitious plans to penetrate it, even though we know their earthly work typically involves hoarding vast amounts of wealth while underpaying and mistreating masses of workers.
The ongoing battle between technological innovation and human-centered reform
Similar contradictions plague a multitude of existing plans to address climate change on Earth, and they are particularly endemic to plans broadcasted by corporate entities who have nothing to gain and everything to lose from substantial climate action.
For example, Jeff Bezos recently pledged $10 billion of his $188 billion net worth to the Bezos Earth Fund, yet his overall approach to climate and philanthropy has continuously come under fire.
First, there's the fact that despite all his talk of concern about climate change, Bezos's company continues to belch out carbon emissions, releasing around 51.17 million metric tons of carbon dioxide in 2019 – up 15% from the previous year despite various green pledges. The company has also been slammed with reports about its poor treatment of workers, and prior to the Capitol riots, Bezos also reportedly donated thousands of dollars to conservative politicians such as progressive disruptor-in-chief Mitch McConnell.
Then there's the fact that Bezos failed to donate more than roughly 0.1% of his net worth prior to his 2020 donations — and the latter comprised less than 8% of his vast net worth, a sum that, along with Musk's wealth, is equivalent to the collective wealth of the United States's poorest 40% of people.
The $10 billion Bezos did donate via the Earth Fund was also met with criticism, particularly from groups invested in climate justice. The vast majority of Bezos's donations went to established environmental organizations like the Environmental Defense Fund and World Wildlife Fund, most of which already possess endowments in the millions. Critics said that many of these contributions will never reach communities already subject to the worst effects of climate-caused floods, wildfires, pollution, and destruction, and many of their ultimate goals involve conserving an existing status quo rather than addressing interconnected crises like racism and economic inequality.
In a statement released in December, a group of community-focused NGOs called the Climate Justice Alliance released a statement in protest of Bezos's donations. It found that "less than a quarter of the first-round grants will go to intermediary funds that support thousands of grassroots communities cultivating solutions on the frontlines of the climate emergency. The inequities couldn't be more striking."
This could also be said of the work of many of the "Big Green" environmental groups, particularly those historically focused on conservation rather than human-focused social change. Conservation movements have historically been bound up with white supremacy, and a look at the bigger picture reveals that white supremacy created and perpetuates the conditions for climate change, itself is an inherently racist crisis.
Other billionaires and corporations' efforts have been subject to similar critiques. For example, Elon Musk recently launched a competition offering $50 million to whomever could invent the best carbon capture techniques. Carbon capture technology has long been an alluring yet elusive potential solution to climate change, and it has also been the recipient of generous funding.
Despite all this investment, no miracle technology with the ability to stop climate change has ever emerged, and waiting for one feels more and more like waiting for a doomsday savior who will never arrive.

False promises further threaten any chance of climate action
An April 2020 study from Lancaster University argues against promises that glorify miraculous technologies, because "overreliance on promises of new technology to solve climate change is enabling delay."
Hinging the solution of climate change on miraculous technological breakthroughs like ice-restoration, nuclear fusion power, massive carbon-eating machines, and extraterrestrial offshoring can "feed systemic 'moral corruption', in which current elites are enabled to pursue self-serving pathways, while passing off risk onto vulnerable people in the future and in the global South," say researchers Duncan McLaren and Nils Markusson, who encourage "cultural, social and political transformation" over placing hopes in instant solutions.
It seems that any genuine "cultural, social and political transformation" will not come directly from billionaires and massive corporations, who naturally often benefit most from current cultural, social, and political structures and hierarchies. Recent corporate efforts to combat climate change have been hollow and hypocritical; and many corporations are being accused of greenwashing as they release statements and pledges that appear to be commitments to fighting climate change but that are really efforts to deflect opposition.
A January 2021 report from the Sierra Club entitled "The Dirty Truth About Utility Climate Pledges" graded utility companies on their plans to cut emissions and transition to clean energy solutions and issued many failing grades to companies that have released "carbon neutral" pledges and similar statements. "
The infuriating truth is that many utilities are not only protecting their coal plants from retirement, but are also actively planning to build out climate destabilizing gas plants," said Mary Anne Hitt, who is the Director of Campaigns at the Sierra Club. "The consequences of allowing utilities to continue to delay the transition to clean energy will be particularly disastrous for low-income communities and communities of color."
Learning from the people and the planet
So where will change come from, if not rockets to stars or carbon pledges or the latest addictive inventions of Silicon Valley coders? Perhaps the answer is not above us but rather below our feet. Perhaps we have everything we need already here on Earth.
"We already have a safe and natural technology for carbon capture and storage (CCS)," writes Francis Seymour in a report for the Center for Global Development. It's called 'tropical forests.'"
We already have everything we need to transition to clean energy, and we already have enough food to feed the world's population. What is needed is a redistribution of wealth and resources — something billionaires, conservative politicians, and oil companies have fought against since climate change was exposed as a dangerous reality in the '80s.
Slowly but surely, the idea of wealth redistribution as an investment in fighting climate change is seeping into reality in the form of modern politics. Joe Biden's infrastructure plan will be paid for, in part, by taxing the super-rich. Still, there's a long way to go.
As things grow more dire, environmentalists increasingly view a cross-racial, cross-class movement as the only feasible solution to climate change. This framework, long supported by environmental justice movements and knitted into intersectional plans like the Green New Deal, sees the solutions to climate change as bound up with ending capitalism, racial injustice, and other interconnected global plagues.
The new vanguard of the climate movement also acknowledges how important Indigenous knowledge of land stewardship and conservation, frontline communities' understanding of environmental racism and the stakes of the climate crisis, and ongoing working class and BIPOC struggles for justice are to any just transition away from a fossil fuel-based economy.
Clearly, billionaires' expensive efforts to colonize space would be low on the priority list of any intersectional response to climate change.
Is there any place for space in the climate fight?
All this being said, it's unlikely that humans will ever totally abandon our desire to explore distant galaxies. Our desire to know the cosmos is as innate as our childhood desires to explore the deep green mysteries of the nearby woods. Fortunately, we don't have to write space exploration out completely in the fight for Earth.
Actually, Jeff Bezos wasn't wrong when he said space could be key to helping us fight climate change. NASA, the UN, and other organizations have consistently reported that some solutions to the climate crisis might be found through space-based technology capable of deepening our understanding of the climate crisis and providing key evidence of its effects.
For example, satellites can detect changing temperature levels, rising sea levels, and other factors that could be vital in the current global effort to halt warming at 1.5°C. On a more theoretical level, thinking about how alien civilizations may have responded to climate change could help us address our own situation.
It seems that for now, space travel's greatest contribution is its ability to help humans look back at Earth — either to measure its changes or to feel awed by what Carl Sagan called our "pale blue dot," as many astronauts have been when they viewed Earth from space and experienced the famous "Overview Effect." (Upon seeing the Earth from space, astronauts report a newfound sense of compassion for and responsibility to the planet and for the interconnected webs of life that live upon it).
Plus, the sheer ambition of the space race provides an excellent blueprint for the kind of effort it will take to actually address the climate crisis. All in all, there is room for space travel within a just transition to an ethical future.
But for now, it seems that the "light of consciousness," as Elon Musk put it, would be best directed towards Earth's living, breathing beings rather than towards a few billionaires and their efforts to further puncture the edges of our already damaged, airless, eternally silent atmosphere.
If they were actually generous, they wouldn't be billionaires.
Don't you love to see a story about someone giving back?
Not every wealthy person is a miser. Some of the richest people on Earth recognize how lucky they are and choose to share the wealth.
Just look at Amazon's Jeffy B.—or Jeff Bezos, as his friend's call him—who recently donated $100 million to food banks to help America get through the coronavirus. Wowie! So much money, and he's just giving it away!
It's a lot more than you and I and several large families put together will ever give to charity, because it's more than we are likely to earn in our entire lifetimes! It's more money than you could fit in the trunk of your car in stacks of $100 bills!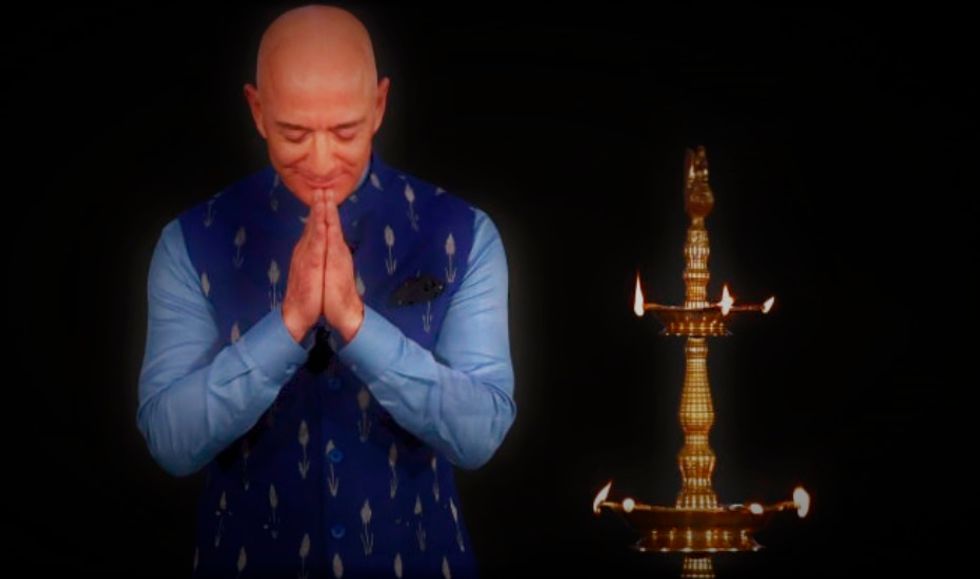 If you had that much money in a basic savings account, you and me and those several families could easily live off the interest alone! Actually, it's kind of more money than any one person could ever need or even spend on anything normal.
Sure, if you want to travel the world on a yacht, eating meals off the shaved heads of a series of world leaders, you could spend it all pretty easily. But if you just want to have a happy, comfortable life, $100 million isn't much better than an $80,000 salary.
So why don't people like Bill Gates, Jeffy B., Warren Buffett, Michael Bloomberg, Elon Musk, Charles Koch, or any of the Walmart Waltons just give away their riches and go down in history as the person who ended world hunger? At an estimated cost of $30 billion a year, each of them could feed the world's hungry for between one and five years. Or they could end homelessness in America for between two and eight years.

They could even keep a few hundred million so they could continue hunting supermodels for sport. And imagine how much those millions of people could improve their lives if they weren't constantly struggling to feed themselves or find a place to sleep.
It must not be that simple... Because if private greed was the only thing holding back transformational change, governments could have snatched up all that wealth with some steep taxes and made the world a better place. There has to be some reasonable explanation for why these people don't just give it all away…
In this series we will look at a number of prominent myths around philanthropy, including the notions that billionaires' "wealth" is substantially different than money, that their private foundations do a lot of good, and that they are patrons of the arts.
Previously we debunked the idea that charity is better than "government handouts," but today we'll look at the question of whether it's even possible for a billionaire to be generous.
The Myth:
The billionaires must know something we don't about these issues, because they're clearly smart, and would solve them if it was that easy. Just look at how much they give away! They aren't being stingy!
Why It's Wrong:
They absolutely are being stingy.
Let's look back at that $100 million donation from Jeff Bezos. At an estimated net worth of $165 billion—even after his mega-billion-dollar divorce—that "generous" sum constitutes about 0.06% of his wealth. To put that in perspective, if you had a $15,000 car, another $1,500 sitting in a bank account, and you had zero debt (lucky you), this would be the equivalent of giving $10 to charity.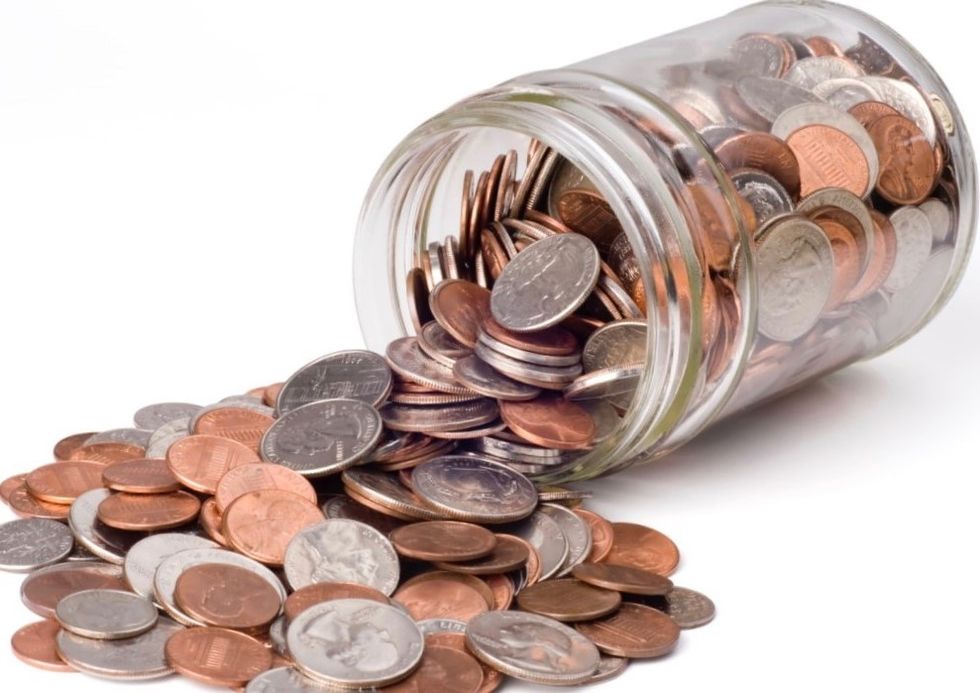 Why didn't CNN cover your swear jar donation?
It's nice and all, but it's hardly worthy of a flock of journalists rushing to tell the world about your incredible selflessness. And actually, it's much worse than that—because if you lost 99% of what you had, you'd be flat broke. If Jeff Bezos did the same, he'd still have more money than the 10 richest a**holes you've ever met.

Likewise, Bill Gates, Warren Buffett, and other "good" billionaires who have pledged to give away half of their wealth somehow still seem to get richer every year. They give away a tidy sum here and there to earn some fawning PR, all while their investments in companies that underpay their workers and destroy the environment earn them way more money than they hand out.
Everyone knows that large sums of money in a stable economic environment can easily be grown—as Uncle Phil put it on Fresh Prince, "my money makes money." But when your inordinate stacks make you further stacks on stacks on stacks, giving money away in dribs and drabs like this is entirely meaningless.
It may help some people, but it doesn't cost you anything you will even notice. It's like having a hole in your pocket that occasionally drops a few dimes on the street. Whoever is on the receiving end might appreciate those dimes, but you will literally never notice they're gone.
Billionaire Taxes
To see through the myth of billionaire generosity, you just need to look at how they reacted when they were worried that their vast fortunes might actually become appreciably less vast.
Last fall, when Elizabeth Warren looked like a contender for the Democratic nomination for president, she boosted her proposed tax on wealth over a billion dollars from 3% to 6%, and that was a bridge too far for Bill Gates who said, "I'm all for super-progressive tax systems," he said:
"I've paid over $10 bilion in taxes. I've paid more than anyone in taxes. If I had to pay $20 billion, it's fine. But when you say I should pay $100 billion, then I'm starting to do a little math about what I have left over … you really want the incentive system to be there and you can go a long ways without threatening that."
Elizabeth Warren tweets an open invitation to Bill Gates to discuss her wealth taxwww.youtube.com
To clarify Warren's plan, wealth between $50 million and $1 billion would only be taxed at a 2% rate—barely touching that first billion dollars. At the time, Bill Gates was worth $106 billion. He's gotten richer since then (because that's what billionaires do...even in 2020) and is now estimated to have just shy of $110 billion. If he'd been taxed at Warren's proposed rate, he'd now be down to about $103 billion (poor guy).

Considering the stock market grows an average of around 7% each year, he could pay that 6% tax and still rake in about $1 billion each year with some basic investments. That's enough money to buy about 4400 average American homes...each year...without spending any of your original investment...
If all these numbers are starting to hurt your head, that's because you don't have the brain disease that billionaires suffer from. It's how they got to where they are. All they think about is their money—how they can use it, and how they can make more of it.
Even the ones who support slight increases in their taxes just want to quell the masses and obscure the fact that they are all ripping us off. It's the same motivation that leads them to give away some money here and there—it makes them look like good guys, and it soothes their neglected, battered consciences.
The less cautious among them aren't even interested in going that far. Michael Bloomberg spent over $1 billion not on charity but on trying to buy the Democratic nomination because if Sanders or Warren had gotten elected it would have cost him several billion dollars each year. What's the cost of his public humiliation on a national stage compared to that.
The Ultra-Wealthy Rule Over Us
These people aren't satisfied simply with having more money than anyone could reasonably spend in a hundred lifetimes. They always want more, because more money is more power; power to sway politics to their singular will, manipulate the media, and to be the absolute arbiter of which causes are "worthy," and which will continue to be underfunded and ignored.
That "incentive system" that Gates mentioned has nothing to do with quality of life at the billionaire level. Working hard to earn more money doesn't change how these people eat, where they live, how their children are educated, how often they go to the doctor…
If we taxed wealth over $1 billion at 100%—just took it all away—food banks could just have that $100 million on hand without waiting for a billionaire to be in a good mood, and Jeff Bezos' actual quality of life would be unchanged. He'd still have his last billion dollars to spend on daily baths in endangered animal parts. Yet he clings to his insane level of wealth because it allows him to be an oligarch, and to be worshipped for his generosity (without ever losing a cent).
"Generosity" for billionaires has nothing to do with how much they want to help. It's based entirely on how much they want to be praised.
I'm moving $1B of my Square equity (~28% of my wealth) to #startsmall LLC to fund global COVID-19 relief. After we… https://t.co/TtdU7W4SWk

— jack (@jack) 1586289859.0
There are possible exceptions of course. Twitter CEO Jack Dorsey recently "donated" $1 billion to COVID-19 relief—which is almost 28% of his net worth. So if he does that a couple more times he won't even be a billionaire anymore… except that he "donated" that money to Start Small Fund—his private, "donor-advised" LLC that doesn't have to disclose its financials.

Surely though, this sort of private "charitable" foundations must do a lot of good for the world, right? We'll take a look at that myth in our third installment.
Charitable donations can not replace government programs.
Isn't it refreshing to see a story about someone giving back?
Not every wealthy person is Ebenezer Scrooge, clutching every penny for himself. Some of the wealthiest people on Earth also realize how fortunate they are to have been so blessed, so they share the wealth. When they open their pocketbooks, they aren't stingy.
Just look at Jeff Bezos, who recently announced he was donating $100 million to food banks to help America get through the coronavirus. Wow! That's so much money, and he's just giving it away! It's way more than you or I or several families put together are likely to earn in our entire lifetimes! It's more money than you could fit in your fridge in stacks of $100 bills—unless you're Nancy Pelosi.
If you had that much money in a bank account with just 1% interest compounding annually, you and me and those several families could easily live off that interest without ever touching the principal! Forever! Come to think of it, it's kind of more money than any one person could ever need or even spend on anything reasonable.
Sure, if you want your own private jet to shuttle you around the world eating dinner off the naked bodies of a series of celebrities, you could spend that much pretty easily, but if you just want to have a good, satisfying life, $100 million in the banks isn't much better than an $80,000 salary—depending on factors like your debt burden and the cost of living where you live.

So why don't any one of these mega-billionaires like Mark Zuckerberg, Bill Gates, Elon Musk, and Michael Bloomberg—if they really are as generous as they seem—just give away their riches and secure a place in history as the person who personally ended world hunger or homelessness in America? They could even keep a few hundred million to continue living like kings (or at least like Warren Buffett).
Surely it must not be that simple? Because if this was just a matter of private greed preventing that kind of transformational change, governments would surely have used their ability to levy taxes for the public good to seize that fallow wealth and make the world a better place. There has to be some reasonable explanation for why they don't just give it all away. Surely...
In this series we'll look at myths around philanthropy, including the notions that it's possible for billionaires to be generous, that their "wealth" is substantially different than money, that their private foundations do a lot of good, and that they are patrons of the arts.
But to start things off, let's look at one of the simplest explanations for this disconnect.
Myth: Charity Is Actually Better Than Taxation
What you'll hear
Government intervention is a blunt instrument, and charity is a scalpel.
The government is okay at helping people, but charity is really the way to go. Private individuals aren't hampered by government bureaucracy and can respond more efficiently and directly to needs as they occur. Over time we should try to shift toward a more voluntary charity-based model of social assistance, rather than relying on big government.
Why It's wrong
Actually the opposite is true.
During economic downturns, when the need is greatest, government assistance like unemployment, food stamps, and welfare kick in automatically to help those in need. They're called automatic stabilizers, and they help to mitigate the impact of these crises and make it easier to shift toward recovery.
Automatic stabilizers | National income and price determination | AP Macroeconomics | Khan Academywww.youtube.com
Meanwhile the wealthy are often anxiously tending to their own floundering finances or businesses amid the tumult and aren't as likely to open their checkbooks for charity. What this means is that charitable giving actually declines when people need it the most.
On top of that, as bad as politicians often are at being responsive to the needs of their constituents, at least they have constituents. By contrast, there's nothing to stop the wealthy from holing up in their gated compounds, beholden to no one and only responsive to the needs of the rarefied elites they know—donating to foundations developing a cure for gout or gene therapy to treat Habsburg Jaw.
To the extent that they are aware of the plight of others, it's often connected to their religious affiliation, which is why religious charities—that often spend money on churches and missionary work and who proselytize to the needy—are among the largest charities in the US.
If you don't mind someone else's idea of God determining which causes are important and who gets helped, then charity is a great way to go. For the rest of us, higher taxes on the wealthy—and reducing the amount they can dodge those taxes through, say "charity"—would be better.
In this sense, a blunt instrument is often exactly what we need—just a flood of money going to everyone who might realistically need it. And while government bureaucracy is annoying and should be cut where possible—particular when it comes to overzealous means testing—the fact that the federal government deals with such massive sums of money actually makes it possible to consolidate administrative overhead.
All this means that the government can actually use its resources for the public good far more efficiently than a bunch of disparate charitable foundations. In other words: Taxation and government handouts are (generally) much better than charity.
Charity: how effective is giving? | The Economistwww.youtube.com
While charitable donations have the added value of making rich people feel good and earning them some good PR, they aren't actually better for the world—or even nearly as good—as a robust social safety net. That means we should really limit the amount of taxes that can be written off through charitable donations.

Of course, without that tax incentive a lot of charities might receive substantially less in donations from the ultra-wealthy. But in that case we would have to ask: Are Billionaires really that generous? Check out our next installment to find out.
The GPT-2 software can generate fake news articles on its own. Its creators believe its existence may pose an existential threat to humanity. But it could also present a chance to intervene.
Researchers at OpenAI have created an artificial intelligence software so powerful that they have deemed it too dangerous for public release.
The software, called GPT-2, can generate cohesive, coherent text in multiple genres—including fiction, news, and unfiltered Internet rants—making it a prime candidate for creating fake news or fake profiles should it fall into the wrong hands.
Fears like this led the Elon Musk-founded company OpenAI to curtail the software's release. "Due to our concerns about malicious applications of the technology, we are not releasing the trained model," they announced in a blog post. "As an experiment in responsible disclosure, we are instead releasing a much smaller model for researchers to experiment with, as well as a technical paper."

In addition to writing a cohesive fictional story based on Lord of the Rings, the software wrote a logical scientific report about the discovery of unicorns. "In a shocking finding, scientist discovered a herd of unicorns living in a remote, previously unexplored valley, in the Andes Mountains," the software wrote. "Even more surprising to the researchers was the fact that the unicorns spoke perfect English. The scientist named the population, after their distinctive horn, Ovid's Unicorn. These four-horned, silver-white unicorns were previously unknown to science."
This journalistic aptitude sparked widespread fears that AI technologies as sophisticated as the GPT-2 could influence upcoming elections, potentially generating unfathomable amounts of partisan content in a single instant. "The idea here is you can use some of these tools in order to skew reality in your favor," said University of Washington professor Ryan Calo. "And I think that's what OpenAI worries about."
Elon Musk quit OpenAI in 2018, but his legacy of fear and paranoia regarding AI and its potential evils lives on. The specter of his caution was likely instrumental in keeping GPT-2 out of the public sphere. "It's quite uncanny how it behaves," echoed Jack Clark, policy director of OpenAI, when asked about his decision to keep the new software under locks.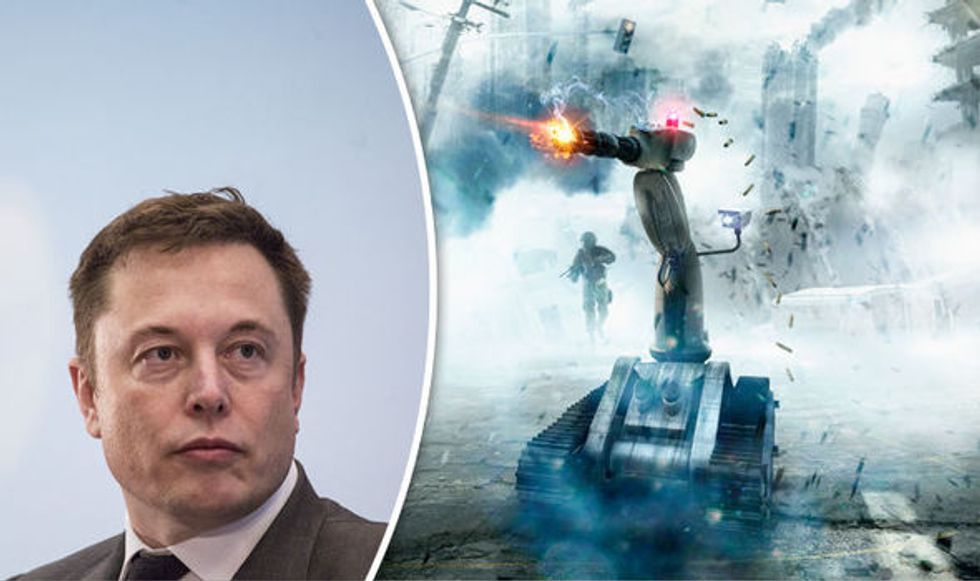 The fears of Elon MuskImage via express.co.uk
In a world already plagued by fake news, cat-fishing, and other forms of illusion made possible by new technology, AI seems like a natural next step in the dizzying sequence of illusion and corruption that has rapidly turned the online world from a repository of cat videos (the good old days) to today's vortex of ceaselessly reproduced lies and corrupted content. Thinkers like Musk have long called for resistance against AI's unstoppable growth. In 2014, Musk called AI the single largest "existential threat" to humanity. That same year, the late physicist Stephen Hawking ominously predicted that sophisticated AI could "spell the end of the human race."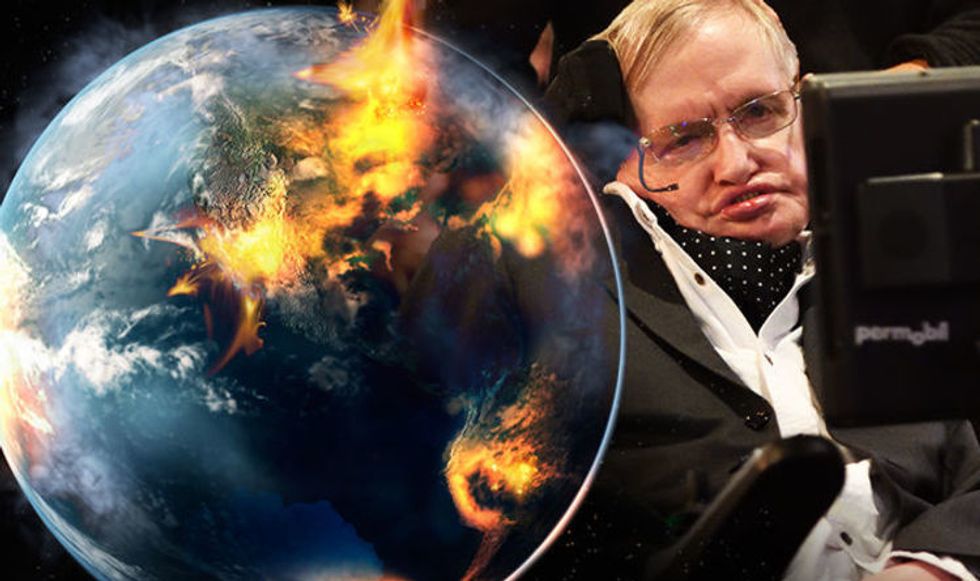 Stephen Hawking's apocalyptic visionsImage via longroom.com
But until AI achieves the singularity—a level of consciousness where it achieves and supersedes human intelligence—it is still privy to the whims of whoever is controlling it. Fears about whether AI will lend itself to fake news are essentially fears of things humans have already done. All the evil at work on the Internet has had a human source.
When it comes down to the wire, for now, AI is a weapon.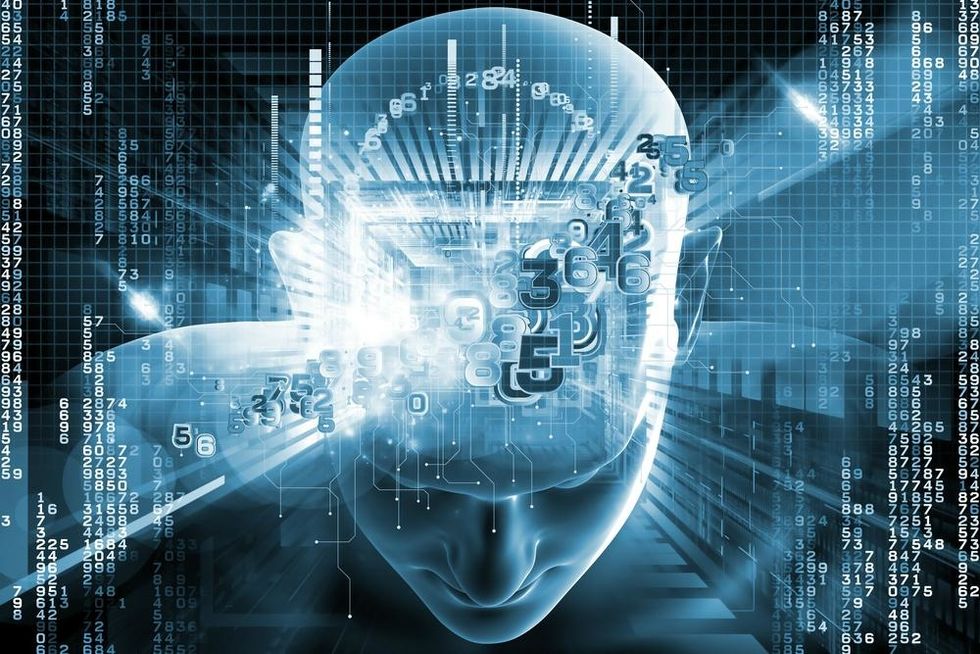 When AI is released into the world, a lot could happen. AI could become a victim, a repository for displaced human desire. Some have questioned whether people should be allowed to treat humanoid creatures in whatever ways they wish to. Instances of robot beheadings and other violent behaviors towards AI hint towards a darker trend that could emerge should AI become a free-for-all, a humanoid object that can be treated in any way on the basis of its presumed inhumanity.
Clearly, AI and humanity have a complex and fundamentally intertwined relationship, and as we all become more dependent on technology, there is less of a clear line dividing the human from the robotic. As a manmade invention, AI will inevitably emulate the traits (as well as the stereotypes) of the people who created it. It could also take on the violent tendencies of its human creators. Some thinkers have sounded the alarm about this, questioning the dearth of ethics in Silicon Valley and in the tech sphere on the whole. Many people believe that AI (and technology in general) is fundamentally free of bias and emotion, but a multitude of examples have shown that this is untrue, including instances where law enforcement software systems displayed racist bias against black people (based on data collected by humans).
AI can be just as prejudiced and close-minded as a human, if not more so, especially in its early stages where it is not sophisticated enough to think critically. An AI may not feel in and of itself, but—much like we learn how to process the world from our parents—it can learn how to process and understand emotions from the people who create it, and from the media it absorbs.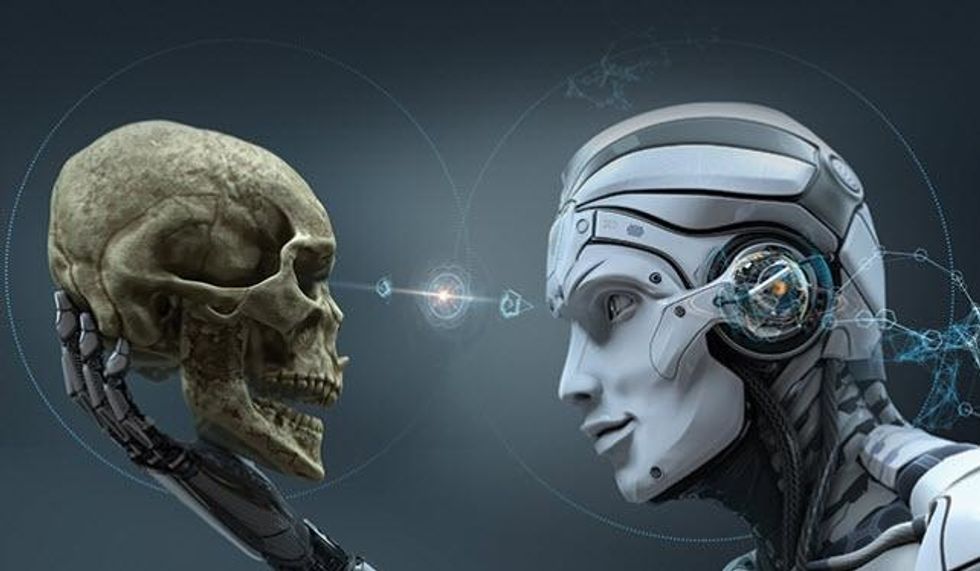 Image via techno-pundit.blogspot.com
After all, who could forget the TwitterBot who began spewing racist, anti-Semitic rants mere hours after its launch—rants that it, of course, learned from human Twitter users? Studies have estimated that 9 to 15 percent of all Twitter accounts are bots—but each one of these bots had to be created and programmed by a human being. Even if the bot was not created for a specific purpose, it still learns from the human presences around it.
A completely objective, totally nonhuman AI is kind of like the temperature absolute zero; it can exist only in theory. Since all AI is created by humans, it will inevitably take on human traits and beliefs. It will perform acts of evil when instructed to, or when exposed to ideologies that can inspire it to. It can also learn morality if its teachers choose to imbue it with the ability to tell right from wrong.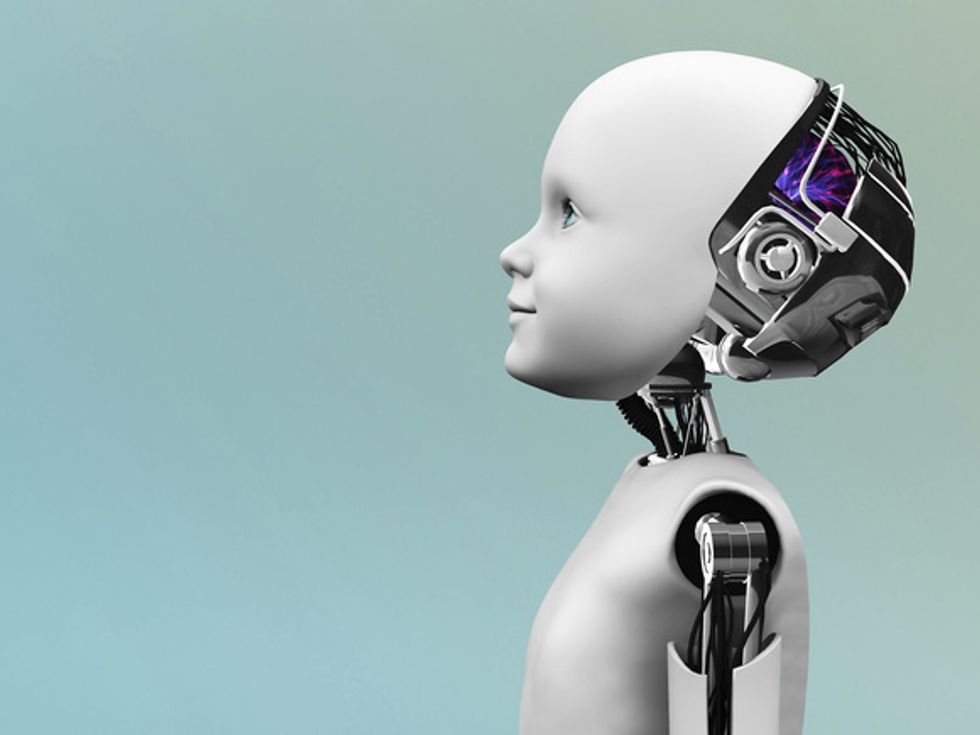 Image via cio.com
Their quandary may not be so different from the struggle parents face when deciding whether to allow their children to watch R-rated movies. In this case, both the general public and the AIs are the children, and the scientists, coders, and companies peddling new inventions are the parents. The people designing AIs have to determine the extent to which they can trust the public with their work. They also have to determine which aspects of humanity they want to expose their inventions to.
OpenAI may have kept their kid safe inside the house a little longer by freezing the GPT-2, but that kid is growing—and when it goes out into the world, it could change everything. For better or worse, at some point, super-intelligent AI is going to wind up in the public's hands. Now, during its tender, formative stages, there is still a chance to shape it into whom it's going to be when it arrives.
---
Eden Arielle Gordon is a writer and musician from New York City. Talk to her about AI on Twitter @edenarielmusic.

Enough with the Elon Musk hero worship.
A World Economic Forum survey found that Millennials consider Elon Musk to be the third-most admirable public figure in the world, finally confirming, once and for all, that Millenials are the worst.
If you haven't read Rolling Stone's bleak profile of Musk yet, don't bother. The experience is kind of like watching a mashup of all the sad parts of Spike Jonze's her; entertaining, but you're left feeling like you need a shower. The piece presents readers with an emotionally stunted, socially bizarre man, who finds solace only in the possibilities of technology. I am not implying that I think Elon Musk would fuck a Tesla; but I'm not not.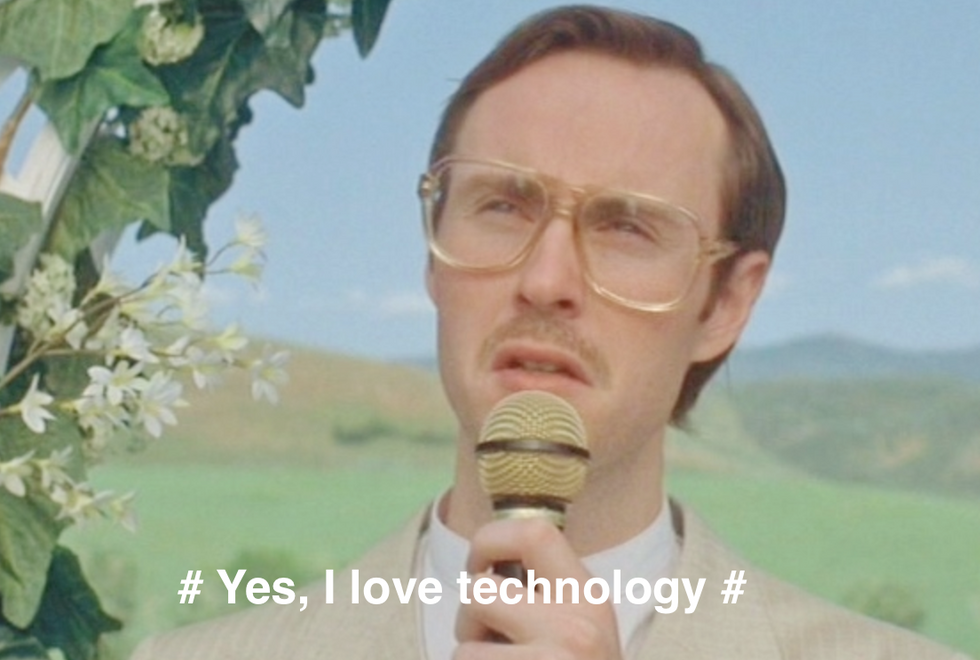 The latest mess up in a string of blunders that the New York Times recently called Elon Musk's " No Good, Very Bad Year" is the result of one fateful tweet.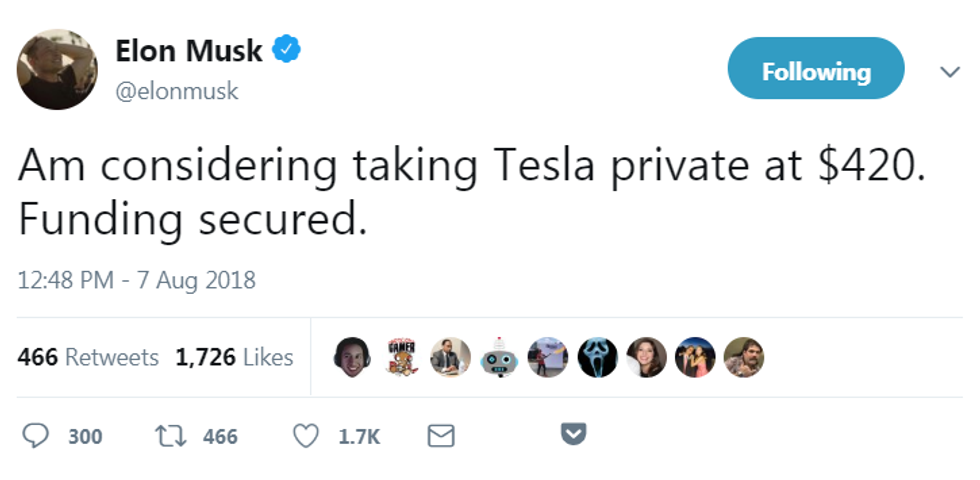 The Security and Exchange Commission sued Musk for making "false and misleading" statements to investors. It turned out Musk had not actually secured the funding mentioned in the Tweet. The SEC elaborated, "In truth and in fact, Musk had not even discussed, much less confirmed, key deal terms, including price, with any potential funding source." People on Pinterest probably didn't realize when they re-pinned Musk's inspirational quote, "Brand is just a perception, and perception will match reality over time," what Musk meant by that was: "Just lie."

While the flamethrower-making, weed-smoking entrepreneur is popular among a generation of people desperate for a role model as uncomfortable with human contact as they are, Musk's online bluff didn't go over well with investors. The SEC claims that the Tweet and subsequent tweets from Musk over the next several hours caused "significant confusion and disruption in the market for Tesla's stock." After Musk's tweet, Tesla's stock shot up nearly 9% but then dropped more than 11% in after-hours trading Thursday.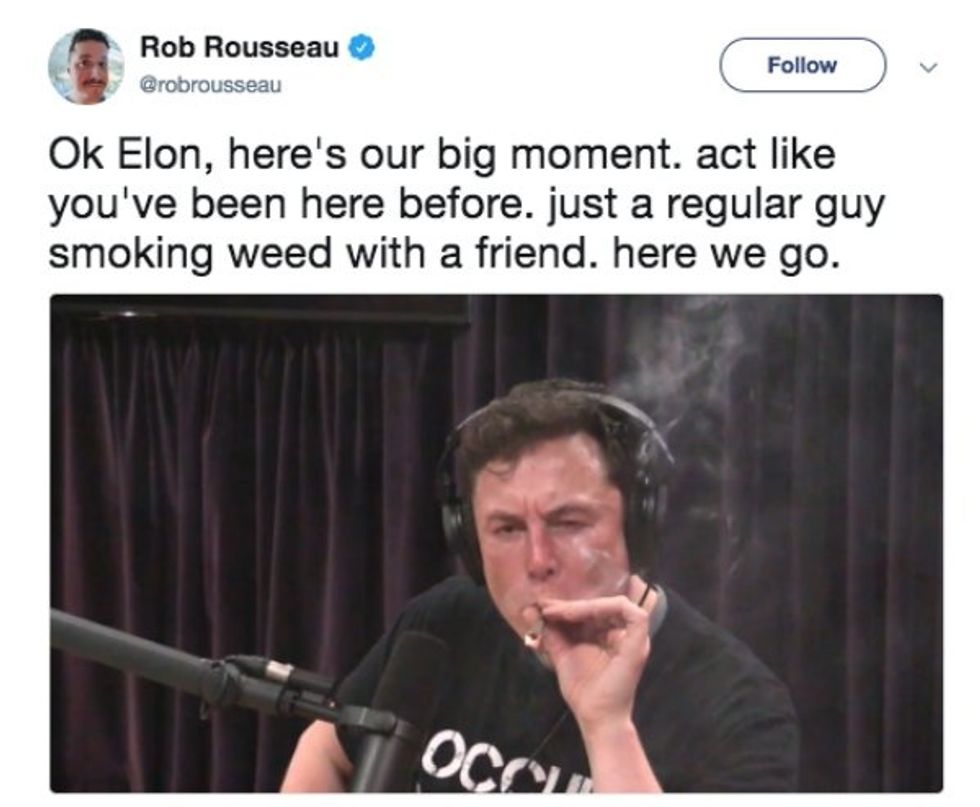 As a result of the complaint, the Iron Man-wanna-be agreed Saturday to step down as chairman of Tesla and pay a $20 million fine to settle the charges. According to CNN, once the settlement is approved in courts, "Musk will be allowed to stay as CEO but must leave his role as chairman of the board within 45 days. He cannot seek reelection for three years, according to court filings."
Whether the now infamous August 7th Tweet was a poorly executed PR move, Musk had a secret source of funding for privatizing the company, or the technicians at Tesla just forgot to update his software and caused him to glitch, Musk has denied any wrongdoing on his part. He responded to the complaint in a statement saying, "This unjustified action by the SEC leaves me deeply saddened and disappointed, I have always taken action in the best interests of truth, transparency and investors. Integrity is the most important value in my life and the facts will show I never compromised this in any way." We can only assume the transparency he refers to is that which he exhibited in a May 2018 conference call, when he called an analyst's inquiry about Tesla's finances a "boring bonehead question" and refused to answer.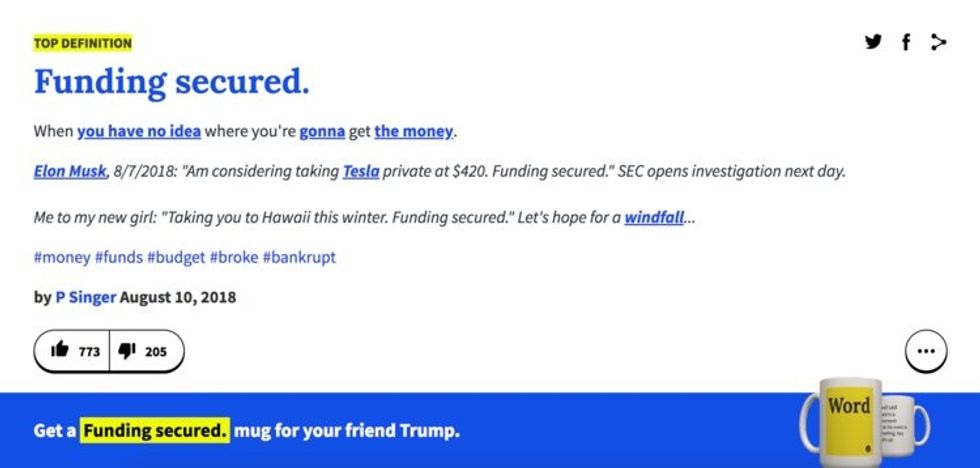 Urban Dictionary Trolling Musk's August 7th Tweet
To add further interest to the disintegration of America's favorite Robot with feelings, rapper Azealia Banks is now claiming that Musk was on acid at the time of the Tweet. She stated, in the best series of quotes to ever grace the internet, "I waited around all weekend while grimes coddled her boyfriend for being too stupid to know not to go on twitter on acid," Banks wrote, concluding that, "it was probably some weird threesome sex shit to begin with."
This writer would be shirking her journalistic responsibility to the truth if she didn't include that Banks said of Musk, "He's not cute at all in person." Musk has denied that he was on drugs at the time of the Tweet and would probably want to add that he is actually very handsome - and he's definitely cool enough to take acid if he felt like it.
Perhaps Musk's recently self-diagnosed " severe emotional pain" is to blame for his string of strange behaviors. After reading any of Musk's recent interviews in which he seems to be actively spiraling - even once asking the interviewer, "Is there anybody you think I should date?"- it can be easy to feel bad for him. But, when the pity starts to creep in, just remember: he recently bought his fifth multi-million dollar home within a one mile radius of his four other multi-million dollar homes; he goes on Trump-style "fake news" Twitter rants anytime anything negative is written about him or his companies; his girlfriend creepily wore a collar shaped like the Tesla logo to the Met ball; and he unjustly called one of the divers that rescued the trapped Thai soccer team a pedophile. So save your sympathy for, well, literally anyone else.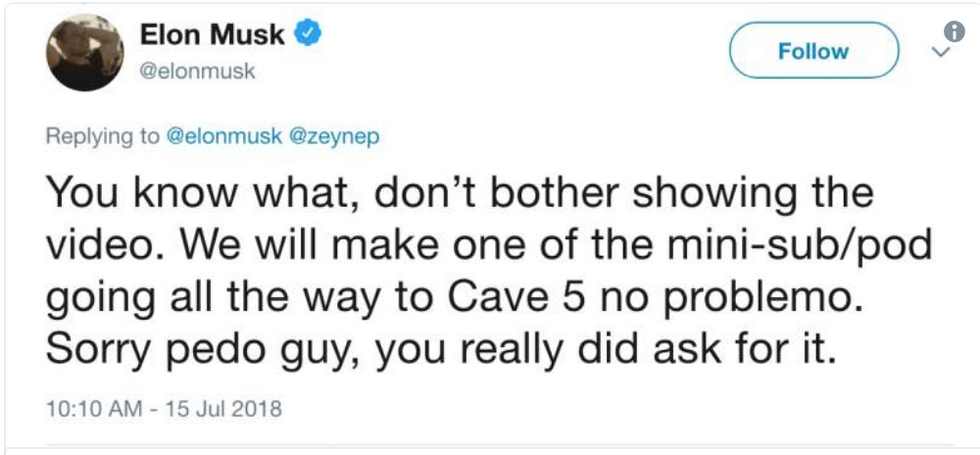 ---
Brooke Ivey Johnson is a Brooklyn based writer, playwright, and human woman. To read more of her work visit her blog or follow her twitter @BrookeIJohnson.
The super-rich are hoping inequality is here to stay, even after the apocalypse.
With the Atlantic hurricane season already underway, tens of millions of people are preparing grab bags and emergency kits and hoping that the next storm isn't the one that will take away their lives, their homes, or their resources. Yet, in spite of researchers' warnings suggesting that global climate change is increasing the likelihood that the next big storm, or the one after that, will wreak unavoidable devastation on those same millions, a much smaller group have no such anxieties. These people are not members of a doomsday cult, climate change 'skeptic' Super-PAC, or owners of exceptionally-developed spleens. They are a part of a far more elite class of mammals –– the super-rich –– and, as the storms rage ever harder on the rest of us, they've prepared emergency kits that have far more than a flashlight and a radio in them.
In 1888, the British industrialist and fervent imperialist Cecil Rhodes gained a charter for exclusive mineral rights in lands that are now part of the nation of Zimbabwe. What set this particular acquisition apart from the earlier expansions of British control, however, was the fact that Southern Rhodesia (named, in customarily humble fashion, after its 'founder') was not a colony founded under the usual auspices of the desire of British expansionism, but as a result of the singular desire of a wealthy man to exert his control over territories that he believed were his to rule. The explicitly apartheid state of Rhodesia –– which would rule the nation from 1965 to 1979 without international recognition –– was the symbolic successor to this ideology, and its legacy of colonial plunder haunts Zimbabwe (once the great breadbasket of Africa) to this day. Eccentric Victorian industrialists' dreams of vainglorious expansion may seem like a far-flung relic; something to be exiled to a colonial past, rather than alive in our interconnected present.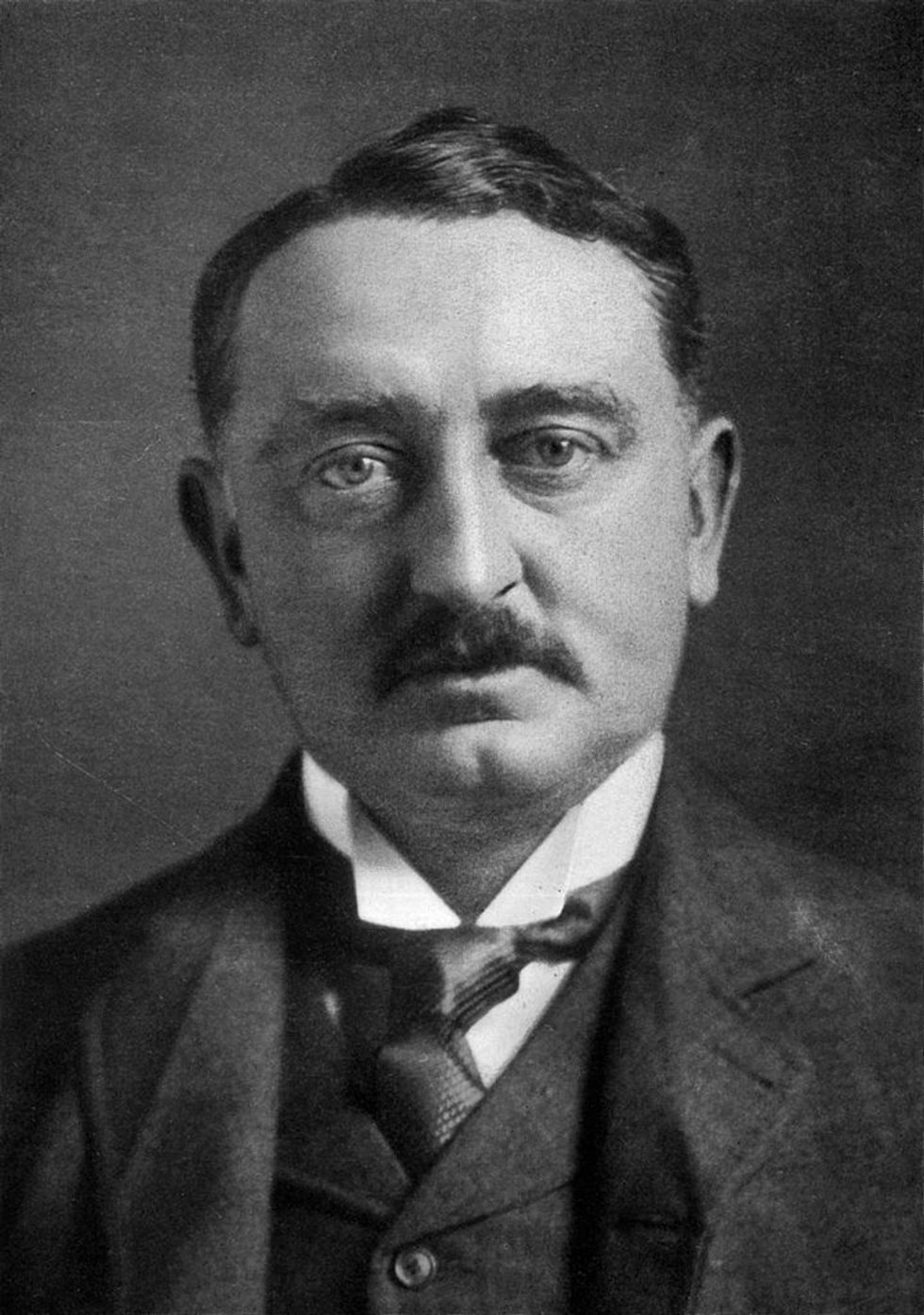 Photo: Wikimedia Commons
Yet, a world where sea levels are rising and storms are strengthening has given impetus to a new generation of businessmen dedicated to the prospect of forging a different future for their own ends. Unlike Rhodes, the unimaginably wealthy of our time are not motivated by the pride and riches of a national empire, but by the base desire to survive in an apocalyptic future where others of lesser means cannot.
The Seasteading Institute, established in 2008 by prominent techno-libertarians such as venture capitalist and Facebook investor Peter Thiel, seeks to develop:
"...a model wherein a single company comprising several stakeholders will oversee construction and management of a highly autonomous floating city, leaving residents and entrepreneurs free to operate their own lives and businesses."
While this may sound like the vanity project of a few multi-millionaires, the institute is far from a folly. In 2017 they gained the rights to develop their first 'autonomous community' off the coast of French Polynesia –– a settlement that is explicitly designed to be immune to the rising sea-levels that are an existential threat to the Pacific island nation; which is also, in a sort of tragic irony, a relic of French imperial power. That the endeavor seems to be simply interested in offering a tax-free refuge for the rich rather than mitigating the threat of global climate change to its prospective hosts is indicative of a world where the future of a tiny percentage of the population possesses the means to forge a future for themselves that is widely divergent from that of the rest of the planet –– a sort of survivalist colonialism that derives its power from capital, rather than nation states.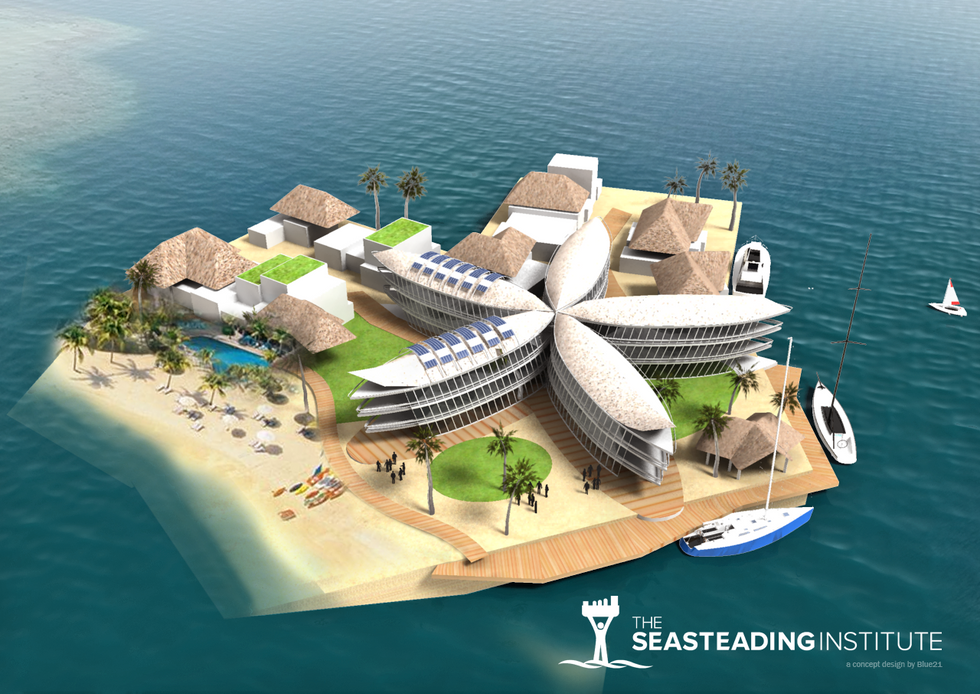 Concept design for the 'Floating Island Project'Photo: The Seasteading Institute
The sea-steader mindset is not, like their imperialist forebearers, constricted by the bonds of the globe, or confined to the lands of the so called 'Global South' –– its ambitions stretch as far as outer space, while also touching the homey plains of Kansas. Inspired by writers like Ayn Rand and Murray Rothbard (who famously rejected the women's rights and civil rights movements as "contemptuous and hostile"), these new self-styled 'anarcho-capitalists' seem willing to forge a future which protects their property and status at any cost, including the lives of their fellow human beings. Elon Musk, Twitter's favorite tech-billionaire, appears dedicated to using his fortune (which currently stands at 20 billion dollars) on a Martian colonization project which is unlikely to be in the price range of most regular apocalypse-fleeing humans. While Musk's space-faring future continues to be the preserve of engineering-defying ambition, his reaction to real-world climate catastrophes has been ambivalent at best. When Hurricane Maria destroyed Puerto Rico's power grid, Musk's press-friendly offer to rebuild with Tesla technology turned out to be a veiled attempt at privatization –– a brazen con by a man bound for life on Mars, seeking to profit off of those left drowning behind. On a smaller scale, the increasing number of tech entrepreneurs hoarding ammunition and building shelters in disused Kansas missile silos represents a similar desire for the wealthy to ensure that the vast wealth inequality already present in America continues after the end of days.
That is not to say that the rest of us in the 'developed' world are immune from blame. While the extravagant fantasies of a few individuals makes for intriguing (and often darkly hilarious) copy, the nature of global wealth disparity has led to a reality in which the measures taken by even the most middle-class citizens to survive in a warming world are actively contributing to its demise.
Experts warn
that, as temperatures rise, the increasing use of air conditioning by Americans seeking shelter from record-setting heat waves could contribute to a surge in air pollution and carbon dioxide emissions. It is becoming increasingly clear that the threat posed to communities by climate change, from Floridian retirees to
Mongolian subsistence farmers
, is the result of an unsustainable and unequal distribution of resource-use that implicates
all
of us. It should not come as a surprise, therefore, that, just as Cecil Rhodes once lashed out on his own at the limits of a waning colonial power, the elite of our time are now blazing a destructive trail of survival in the wake of a system on the verge of collapse.
The press is under siege, but it hasn't stopped great journalists from doing their job.
Last week, Luke O'Brien, a writer for the Huffington Post, penned an article which revealed the person behind the Twitter handle @AmyMek (real name: Amy Jane Mekelberg), an account dedicated to peddling racist garbage predominantly aimed at Muslims. O'Brien's story itself quickly gets muddled in minutia (albeit interesting minutia), revealing various details about Mekelberg's life. As one can imagine, the article was met with scorn from Mekelberg's many fans, but things took a distinctly violent turn over the past few days, with O'Brien receiving death threats online. Over the course of Donald Trump's presidency, rhetoric against the mainstream press has become increasingly malignant.
Political criticisms are touted as un-American and there's a rapidly growing sentiment that our freedom of the press is under siege. But, while direct threats against journalists are frightening, there's an argument to be made that we're entering a new golden era of American journalism.
A Brief History Lesson:
The rise of newspapers in this country runs directly parallel to the adoption of our two party system in the late 18th century. Following the end of George Washington's second term, political groups rapidly began sponsoring papers to curry favor with the general public and to support their candidates. In this way, the press is directly responsible for stoking the fires of American partisanism. Still, these early papers were little more than pamphlets, and there were no pretenses surrounding unbiased reporting. These political newspapers were essentially used as a means of smearing the competition. The press as we know it began with the invention of the Linotype Machine, a device that rapidly industrialized the newspaper business by allowing papers to be printed at astonishing (for the time) speeds. It's important to remember though,while freedom of the press was baked into the fabric of the constitution, there were no rules prohibiting newspapers from distorting the truth, or in some case, outright lying in their publications.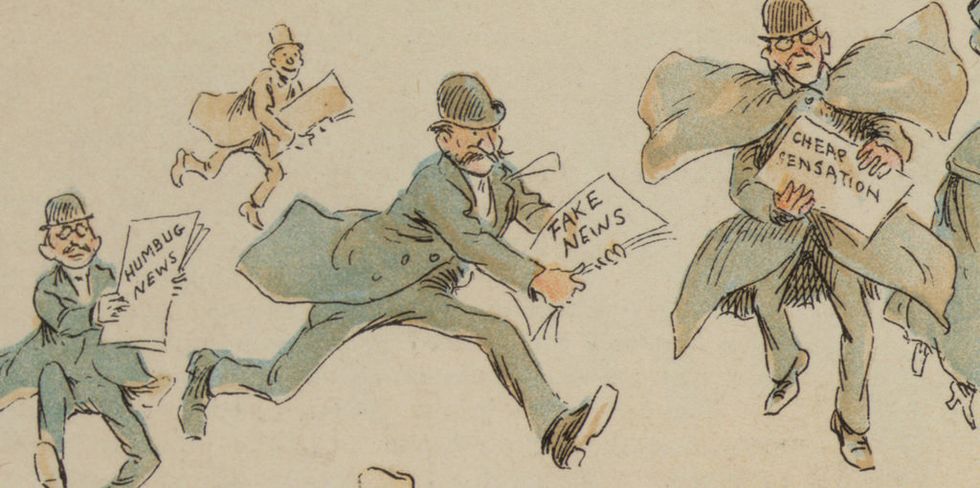 Yellow Journalism
In the late 19th century, the yellow journalism of William Randolph Hearst and Joseph Pulitzer pushed us into the Spanish American War. Throughout the early 20th century, the news slowly became more and more fact-based, eventually reaching what many consider to be the "Golden Age of Journalism," that brief period during the Vietnam War when the press core took on the U.S. government and won. Unfortunately, this period was little more than a blink, an exception to the rule of American media. In the decades following journalism's golden age, the 24-hour cable news circuit coupled with the Internet, rendered print newspapers obsolete.