Prisons and coronavirus is a particularly dangerous combination, one that could lead to disaster.
As the whole world slowly self-isolates and New York City shuts down completely, prison inmates remain in close quarters, making prisoners extremely vulnerable to exposure.

Prisons and coronavirus is a particularly dangerous combination, one that could lead to disaster. "Jails and prisons are often dirty and have really very little in the way of infection control," said Homer Venters, former chief medical officer at Rikers' Island. "There are lots of people using a small number of bathrooms. Many of the sinks are broken or not in use. You may have access to water, but nothing to wipe your hands off with, or no access to soap."
Inside prisons, it may be nearly impossible to successfully separate sick patients from well patients. Outbreaks are inevitable, and healthcare in prisons is often lacking to begin with.
Because of this, most public health officials are arguing that the best solution to the problem is mass release. According to the Marshall Project, Mark Stern, the former Assistant Secretary for the Washington State Department of Corrections, has suggested "downsizing" prison populations in order to ensure inmate and staff health and safety. Downsizing might involve releasing low-risk prisoners and proposing alternatives to arrest for certain crimes.

David Falthi, director of the ACLU's National Prison Project, puts it more succinctly. "The only effective response is to reduce the population density by releasing people," Fathi says, "starting with those who are most at risk of severe injury or death if they were to contract the virus." In particular, people who suffer from preexisting health conditions and other vulnerable populations like older people, ought to be sent back to their families where they can isolate and be taken care of.
"Across the U.S. we have built a system of punishment that is traumatic, and this is only increased with the coronavirus," said Becca Fealk, an organizer with the American Friends Service Committee of Arizona. "ADC must do more than just provide soap to reduce the chance of an outbreak. They need to release people, including older/aging adults who can be cared for by their loved ones."

Many prison administrations have insisted that they're complying with the CDC's guidelines with regards to their incarcerated populations, but if prisons aren't providing inmates with basic human rights and living supplies—and if even Tekashi 6ix9ine can't get to a doctor—how can we expect them to take care of people during an outbreak?
Prisons Begin Releasing Inmates—But Is It Enough?
Faced with a public health crisis that could lead to mass deaths, prisons all around the nation and the world are taking note. Alameda County plans to release 250 inmates, per NPR, and Los Angeles jails have also begun releasing nonviolent inmates. In New Jersey, up to 1,000 inmates will be released this Thursday, including those serving for parole violations and those serving municipal court convictions. In some places, prisons and law enforcement are coming together to reduce their inmate population. France has delayed or suspended short-term sentences, reducing daily prison admissions from 200 to 30.
These actions garnered support from Senator Kamala Harris, who tweeted that the Bureau of Prisons should release "all low-risk inmates, including those who are in pretrial detention because they can't afford to make bail."

Some jails are also beginning to waive copays in an effort to make sure their incarcerated populations receive healthcare.
"The state's decision to temporarily suspend the $4 copay — the equivalent of a week's worth of work at the prisoner minimum wage of 10 cents an hour — for people reporting cold and flu-like symptoms is a step in the right direction," said Prison Law Office attorney Corene Kendrick, "but it exposes how counterproductive it is to have such a barrier to seeking care. Unfortunately, prior to the COVID-19 crisis," she added, "We regularly heard from incarcerated people that there were shortages of hygiene supplies such as toilet paper and menstrual products." Many incarcerated people's families wind up paying for their hygiene and healthcare.
The coronavirus crisis is exposing the flaws in many institutions, and mass incarceration is just one of them. All these revelations beg deeper questions about why inmates weren't given these supplies or opportunities in the first place. Activists have been asking these questions for years, and the tragedy of the American carceral system has come to the fore in the case of migrants enclosed on the U.S.-Mexico border and in ICE facilities across the nation.
In three ICE detention centers in New Jersey, prisoners are currently on hunger strike in protest of poor conditions and coronavirus risks. One detainee told Vice that his fellow inmates are being kept in a small room without access to soap or even cleaning supplies.

"They say they are locking us in so we can be protected," said a current hunger striker named Olisa Uzoegwu. "But they don't do anything different. The cells stink. The toilets don't flush. There's never enough soap. They give out soap once a week. One bar of soap a week. How does that make any sense?"
This week, hundreds of doctors and thousands of activist organizations expressed this concern about these issues, flooding ICE with letters demanding that they release their overcrowded detention centers. The only crime committed by inmates in these facilities is usually non-sanctioned entry to the United States. Despite all this, ICE is still making arrests. Agents were spotted tracking down undocumented immigrants in San Francisco the day of the state's lockdown.
A Global Issue and a Gathering Storm: Colombia, France, Iran, and the US Grapple with Prison Risks
But the coronavirus pandemic is a global issue, and prisons all around the world are facing questions about how to handle incarcerated populations and prison employees. In some cases, inmates are taking things into their own hands. In Colombia, a prison riot left 23 inmates dead. Prisoners were rioting in protest of overcrowding and poor health services that they felt left them at an extreme risk. Riots have also broken out in prisons in Brazil and Italy.
The largest prison coronavirus outbreak in the nation is in New York City, with 38 inmates at the Rikers' Island prison testing positive; 20 have been released, and 200 more will be tested today. In As Mayor Bill DeBlasio considers whether to release 200 more people, 551 people serving "city sentences" for minor offenses and another 666 serving for technical parole or probation violations (like missing a drug test or a parole check-in) are trapped in Rikers alone. These are nonviolent offenders who do not deserve to be exposed to a potentially deadly virus. Still, the New York Police Chief has said that his officers will not cease making arrests, even though 70 officers have tested positive for COVID-19.
All across the nation and the world, jails are releasing inmates. Why they—especially nonviolent offenders—were there in the first place begs a different question. For now, the most important thing is to open the jails and let the people go. Short of mass release, prisons should not be arresting new inmates outside of extreme circumstances; they need to take more precautionary measures, institute comprehensive testing and quarantine, and follow protocols like those called for by the Federal Defenders of New York.
"A storm is coming," wrote Ross MacDonald, the chief physician at Rikers. "We have told you who is at risk. Please let as many out as you possibly can."
How to Help
In the meantime, anyone concerned can make a call to their state representative and inquiring about their current efforts; calling airports and prisons using this script from the New Sanctuary Coalition; participating in actions and protests like those being hosted by the Never Again Action, donating to the ACLU, the Southern Poverty Law Center, and other similar organizations.
Look on our works, ye mighty, and despair!
There is a saying that it is easier to imagine the end of the world than to imagine the end of capitalism.
Entrenched systems of power have established bulwarks against the kind of institutional reform that younger Americans have recently been pushing for. By controlling the political conversation through lobbying, control of mass media, regulatory capture, and authoring of legislation, the ultra-wealthy maintain the status quo in a way that makes changing it seem impossible. The problem is that change is desperately needed if we are going to maintain any semblance of civilization.
While political dynamics have become so rigid that the boundaries of what we can achieve begin to feel impenetrable, the COVID-19 pandemic has revealed that the vital structures of our society—a society that is superficially so robust—have been so weakened that a collapse in one form or another is inevitable. We are the world's superpower, yet faced with a slightly more contagious, slightly more lethal virus than the flu, we are powerless. How did it get to be this bad? How were we so blind to it?
To clarify, depending on the part of the country you live in, it could seem like I'm exaggerating. It may not seem "so bad," or like we're on the verge of collapse. Not long ago the president and many of his loyalists on Fox News and AM radio were still calling dire forecasts around the coronavirus a hoax. At the time it seemed reckless but not unhinged from current events—which were still largely unaffected. In much of the country there is little cause for alarm, so few people are doing much to change their behavior. That's about to change, and the areas hit worst will soon be making the dire choices that Italian hospitals were recently faced with—which patients are we going to hook up to ventilators, and which are we going to allow to die. We are already started on a path that leads to overflowing hospitals in every major city.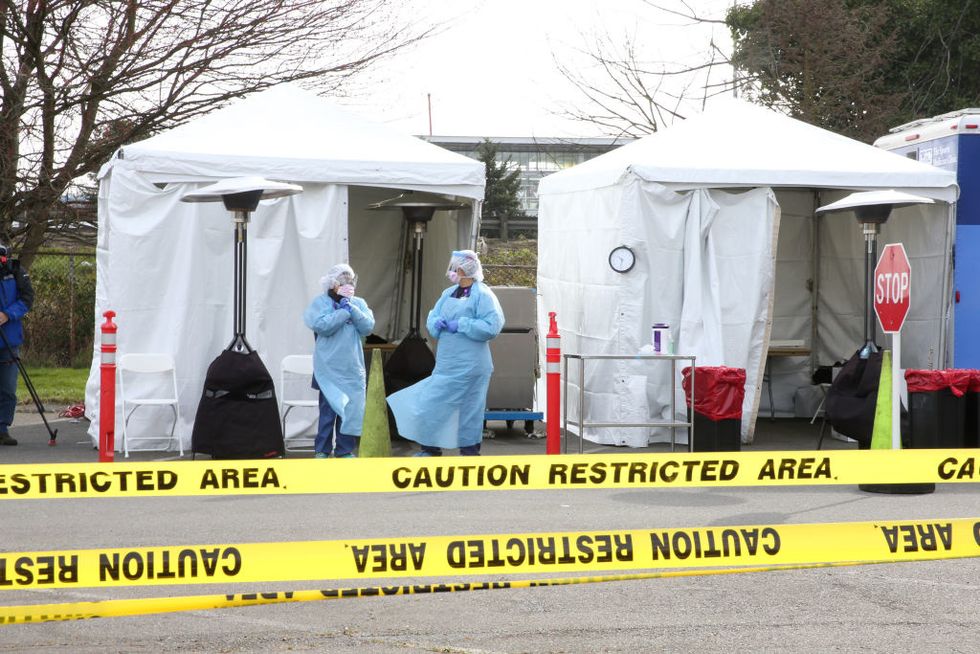 A makeshift testing facility in Seattle, Washington Getty Images
The problem is that our entire economy is set up around the same kind of short-term thinking that drive publicly traded corporations. The mentality that "government should be run like a business," leads to cost-cutting measures that only look to the current budget, with minimal consideration given to the kind of intermittent crises that we are bound to face—like a viral pandemic. If it's not particularly likely to happen before the next election cycle, it's better not to even worry about it. This is the kind of thinking that led Donald Trump's administration to push for cuts to the CDC and to disband their global health security team in 2018.

But the systemic issues go much deeper than that and started long before Trump took office. Trump and his ilk can't be blamed for the fact that the US has two hospital beds for every 1,000 citizens. Nor are they responsible for the fact that almost every aspect of America's critical infrastructure receives a near-failing grade from the American Society of Civil Engineers. This includes airport congestion—which has already become an issue with the current pandemic—and important shipping routes that we will rely on to maintain the movement of necessary goods as conditions around the country worsen.
Add to those issues the fact that we have a massive population of prisoners sharing tight quarters with poor sanitation, a substantial homeless population with no way to quarantine, a dearth of worker protections like paid sick leave, and it becomes hard to imagine how we'll get through this unscathed. And, of course, this is still ignoring the elephant in the room—a for-profit healthcare system that discourages millions of uninsured and underinsured Americans from seeking medical advice or treatment until it's too late.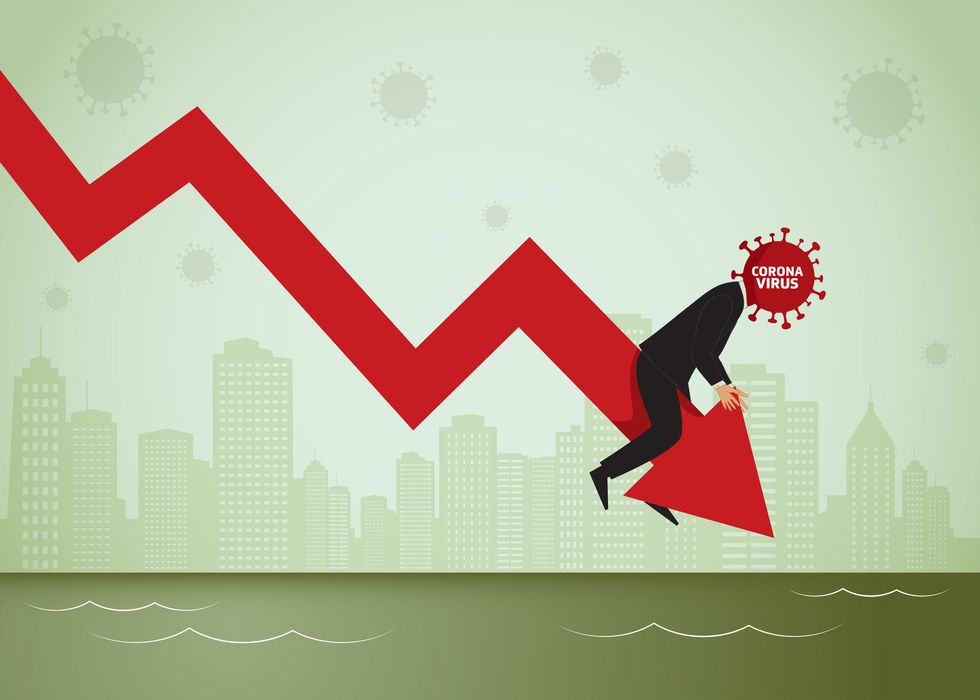 Getty Images
Meanwhile, the economic hardships imposed by the necessity of social distancing are being exacerbated by an economy that is heavily reliant on the whims of financial speculators who create an echo chamber of divestment that heightens every crisis. The stock market, in other words, is going crazy in the worst possible way. It's too soon to say how thoroughly the weaknesses in our system will be tested by the developing pandemic, but even in the best case scenario they are going to be strained to a terrifying extent.

Fortunately, there are efforts underway to shore up some of the most obvious breaking points so we can avoid complete societal collapse. They may turn out to be too little too late, but even if they get us through this current disaster, how long will it be before the next one hits? The best models of climate change predict that we are nearing an era that will be ruled by powerful natural disasters and refugee crises that will threaten economic stability and critical infrastructure and may heighten the threat of infectious diseases. Temporary, reactive measures cannot save us if the next crisis hits a little harder or when multiple crises overlap.
A strong social safety net like the one the US tried to develop under FDR would serve to mitigate the damage from this kind of crisis. But modern American politics has worked for decades—in an effort that became an object of worship under Ronald Reagan—to whittle the welfare state of the New Deal and the Great Society down to a fragile bare minimum.
We need to take seriously the voices of politicians like Bernie Sanders and Alexandria Ocasio-Cortez who have called for the kind of broad, sweeping legislation that stands a chance of upending the rigid political dynamics that maintain the status quo. The Green New Deal would be a good start. The alternative, one way or another, is the end of our civilization and the world as we know it.
Don't listen to everything you read on the Internet.
There is a lot of misinformation about COVID-19 spreading across the Internet, and as the pandemic worsens, its more important than ever to keep yourself informed. Recently, France's Health Minister, Olivier Veran, tweeted that "taking anti-inflammatory drugs (ibuprofen, cortisone…) could be an aggravating factor of the infection".
While there is reportedly very little clinical evidence to support this, medical professionals said that ibuprofen is still not recommended for managing coronavirus symptoms. Of course, those already taking ibuprofen for other conditions should not stop without consulting a doctor.
The UK's National Health Service recently updated their website to say, "there is currently no strong evidence that ibuprofen can make coronavirus (Covid-19) worse... until we have more information, take paracetamol to treat the symptoms of coronavirus, unless your doctor has told you paracetamol is not suitable for you."
So, while we wait for more information, it is best to avoid Ibuprofen for the treatment of coronavirus symptoms and to instead opt for paracetamol (also called acetaminophen). So, stock up on Tylenol and keep washing your hands, but most of all, always consult with your doctor about what's best for you.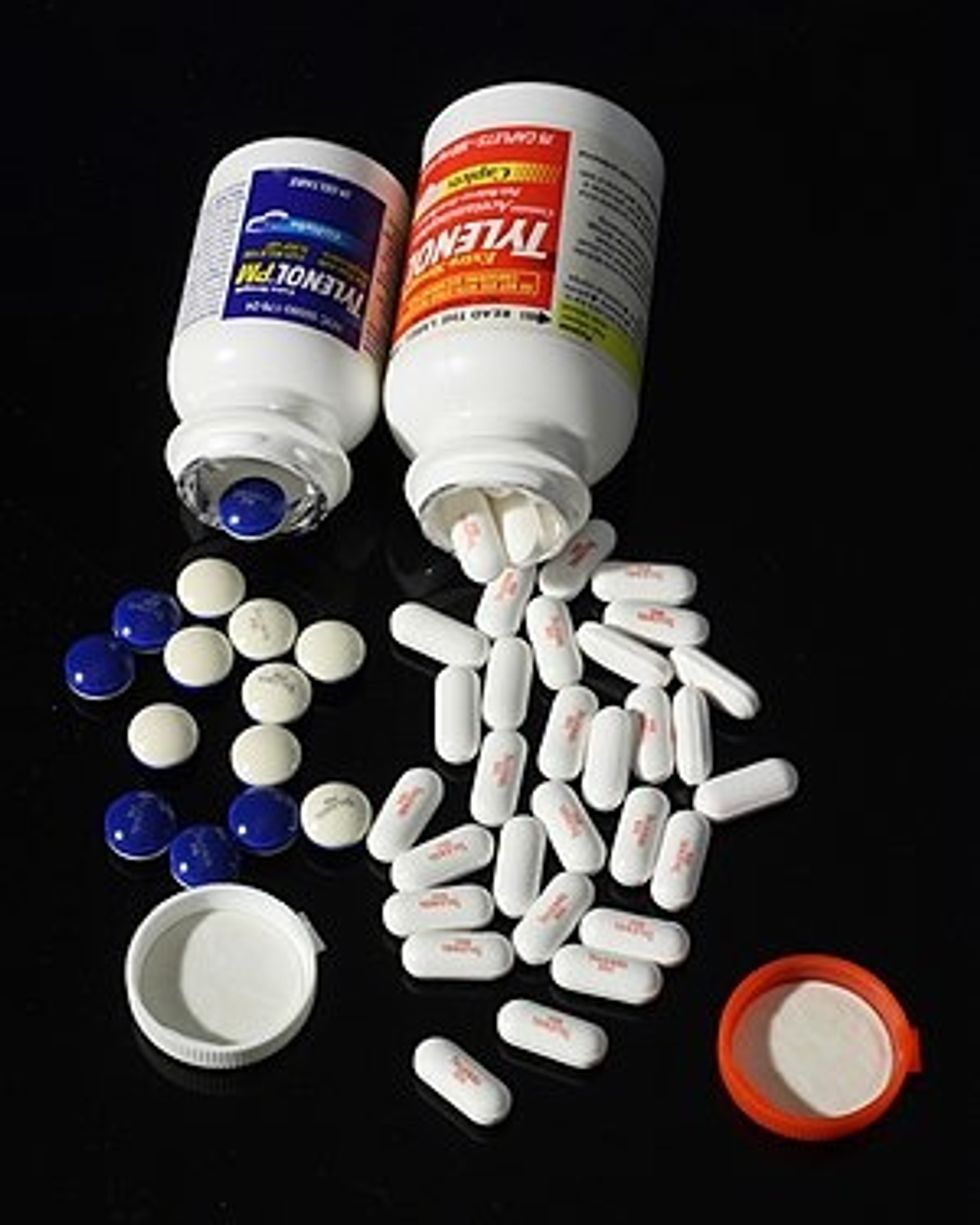 You must be very concerned about what your favorite companies are doing during this global crisis.
For most Americans, the COVID-19 pandemic has turned life as we know it upside down.
From school and restaurant closures to quarantines and social distancing, the American people are largely waking up to the fragility of our social systems. But for corporations, and especially marketing professionals, a new art form has emerged from amidst the chaos—the COVID-19 e-mail.
The COVID-19 e-mail, as an ideological concept, is quite simple. If major corporations are your friends, as American culture has attempted to establish time and time again, it follows that you must be very concerned about what they're doing during this global crisis. Sure, you might be a bit worried about how to feed your children when your paychecks aren't coming in and the schools are closed, but how could you sleep at night without knowing that Chipotle is safe? And yes, while it sucks that your grandpa might die without you even being able to enter his room for fear of spreading the virus to others, imagine how much more it would suck if GameStop didn't let you know what they were up to during these perilous times?
But fear not. All of your favorite corporations are right there in your e-mail inbox, detailing exactly what they're doing to prevent the coronavirus from spreading (short of shutting down while continuing to properly pay their employees).
Chipotle
While many Chipotle employees were upset that Chipotle was continuing to disregard sick leave laws even after the pandemic had already reached New York, Chipotle kindly assured us that their protocols were already "industry-leading." So even though it's scary that your significant other is coming down with an awful cough, hopefully knowing that Chipotle already supplied Purell sanitizer to their employees can take a hefty weight off your shoulders.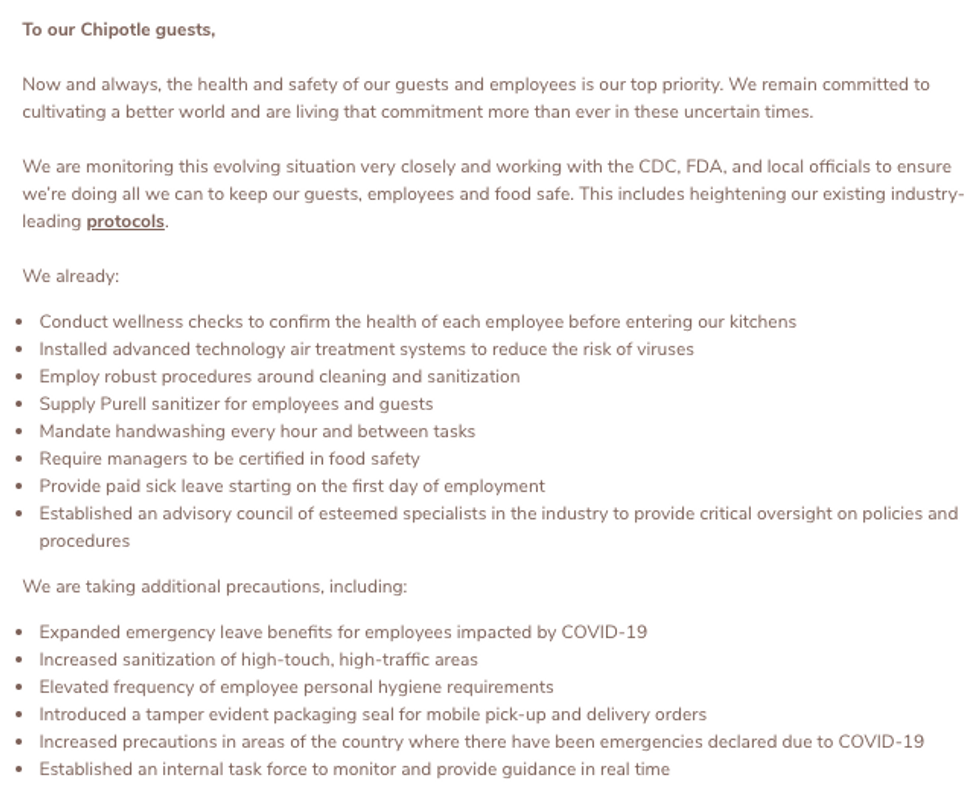 GameStop
As an asthmatic, I think I can speak for all of us when I say that learning about GameStop's newly assembled "internal COVID-19 taskforce dedicated solely to this issue" is like aloe to the lingering burn of realizing that my compromised immune system makes dying a whole lot more likely. There's only so much that we can do to protect ourselves, so it's comforting to know that GameStop's "taskforce" is watching over everyone.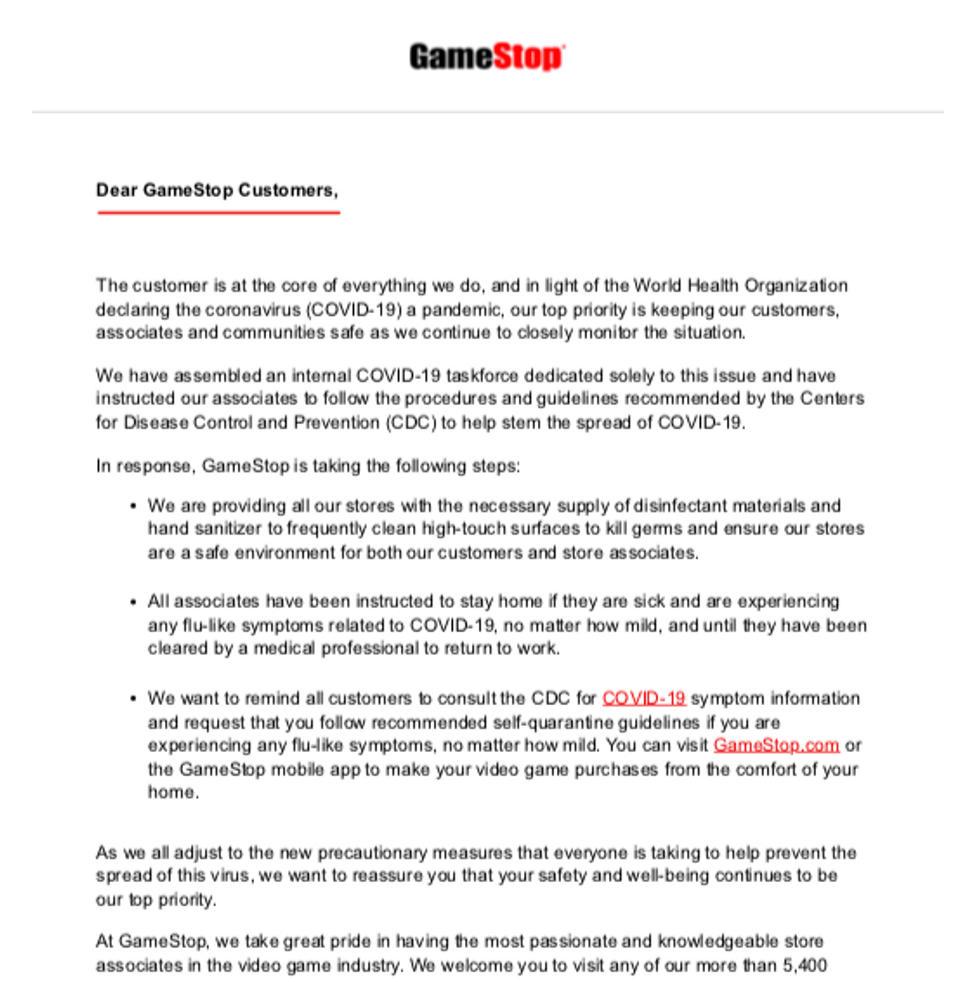 TurboTax
As Benjamin Franklin once said, "In this world nothing can be said to be certain, except death and taxes." Indeed, this deadly pandemic has arrived in the middle of tax season, so it makes sense that many of us have been waiting on pins and needles to hear from our good pal TurboTax. Happily, they are continuing to "closely monitor, assess and respond to this situation" and, by all accounts, are planning to stay functional as a business with products that exist entirely online. I was upset enough about my brother being homeless after his out-of-state college dorm closed down, so it's great to know that at least TurboTax has their sh*t together.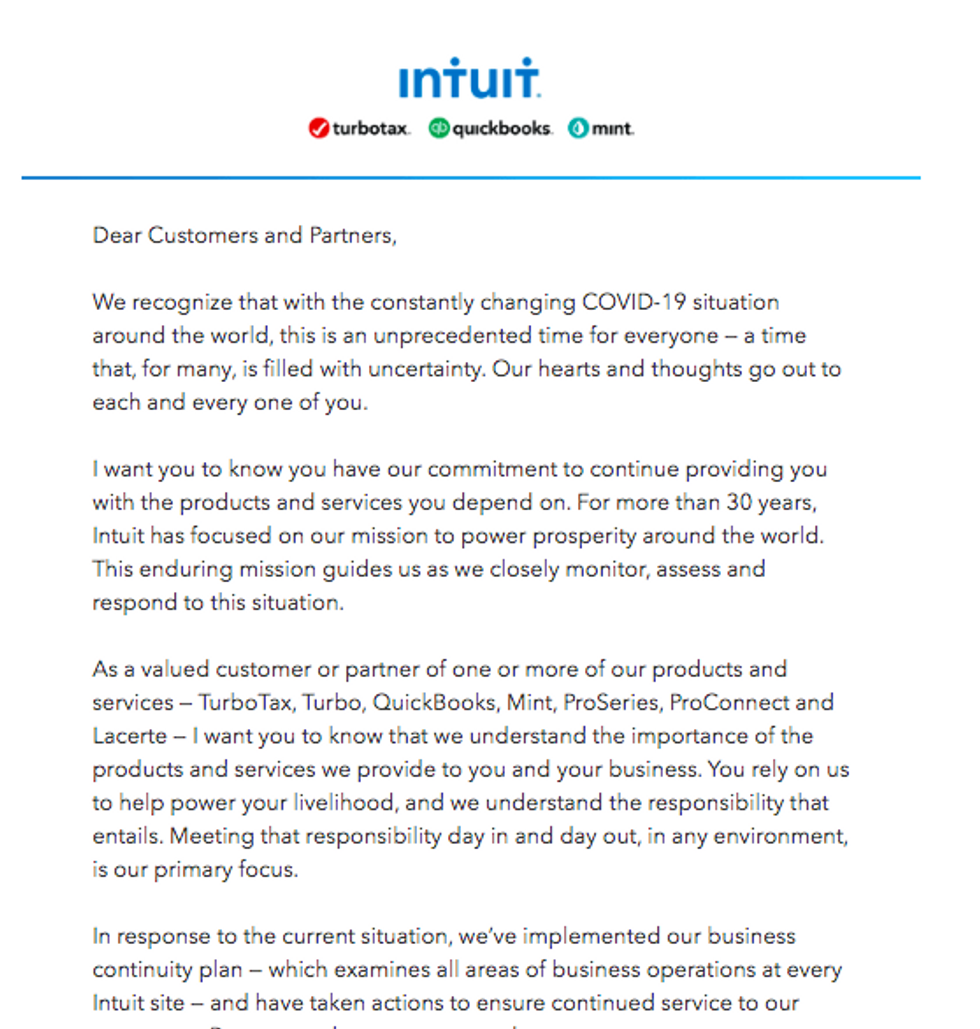 Free People

Even while we're socially isolated, it's incredibly important for us to maintain our sense of community. After all, we're still a social species. Sadly, many of our human friends have been too ill or preoccupied with their lives falling apart to spend hours chatting online. There are few feelings quite as painful as wishing you could help the people you care about but knowing that doing so very well might make everything a whole lot worse. Free People understands this. "Whether you have questions about a pending order or shipment, where to find a coveted dress, or are simply looking for someone to talk to, we are always here for you," they promise. I hope that none of my loved ones die during all of this, but if they do, I'm genuinely grateful to know that Free People is there for me.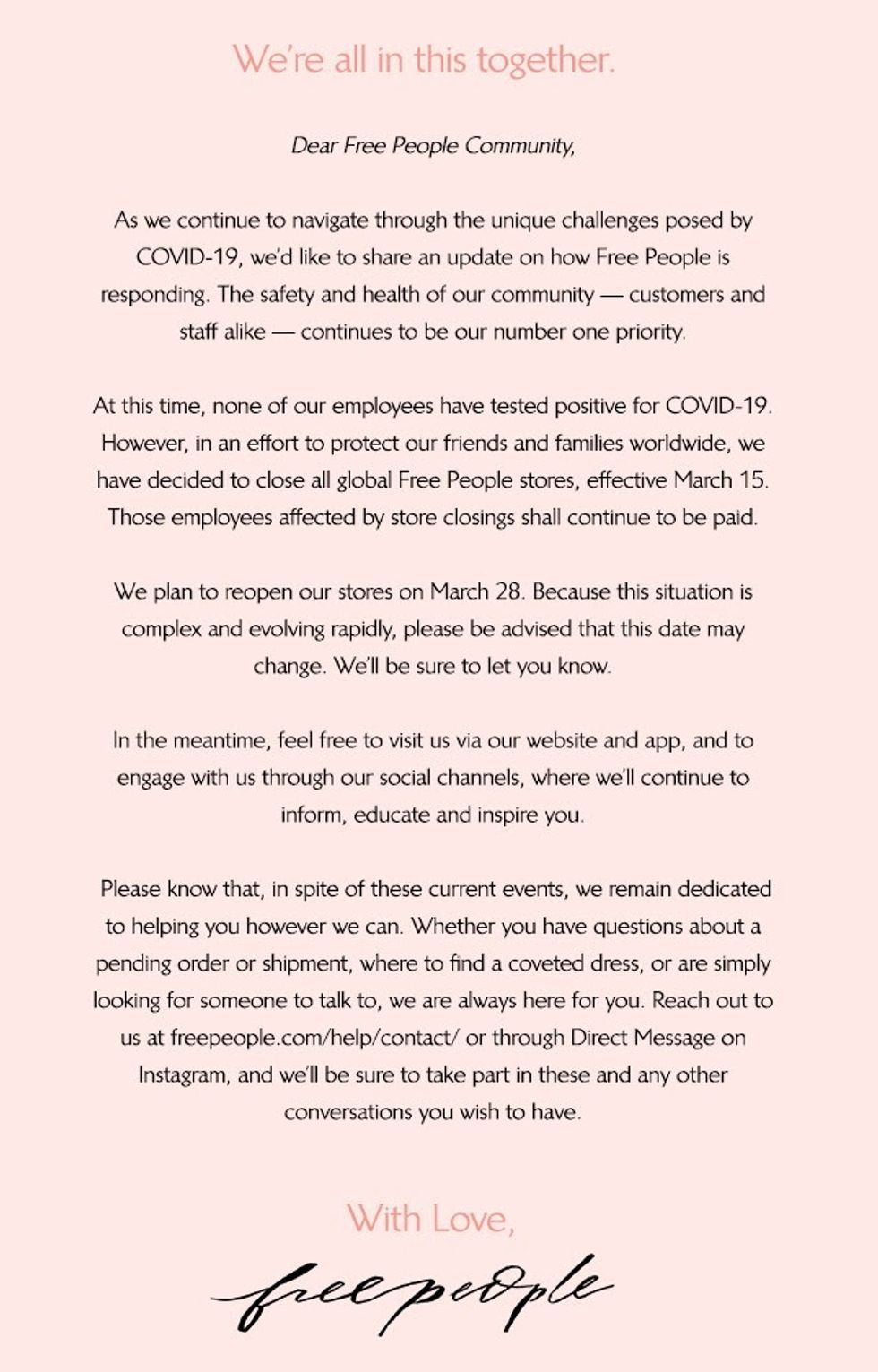 Sephora
There's no reason that being stuck alone in your apartment needs to mean that you can't go all out. That said, if you want to keep your make-up supply stocked through an indefinite period of isolation, you're going to need to hit up Sephora while you still can. Yes, logically a company whose store model revolves around sampling shared display make-up should probably stop that practice for the good of literally everybody at the first sign of a global pandemic. But that's why Sephora wants you to know that they are "cleaning all display testers with disinfectant multiple times per day and replacing as needed." Who would Sephora be if not your fun, trendy friend who lives life on the wild side. If looking good means spreading just a little bit of coronavirus, so be it.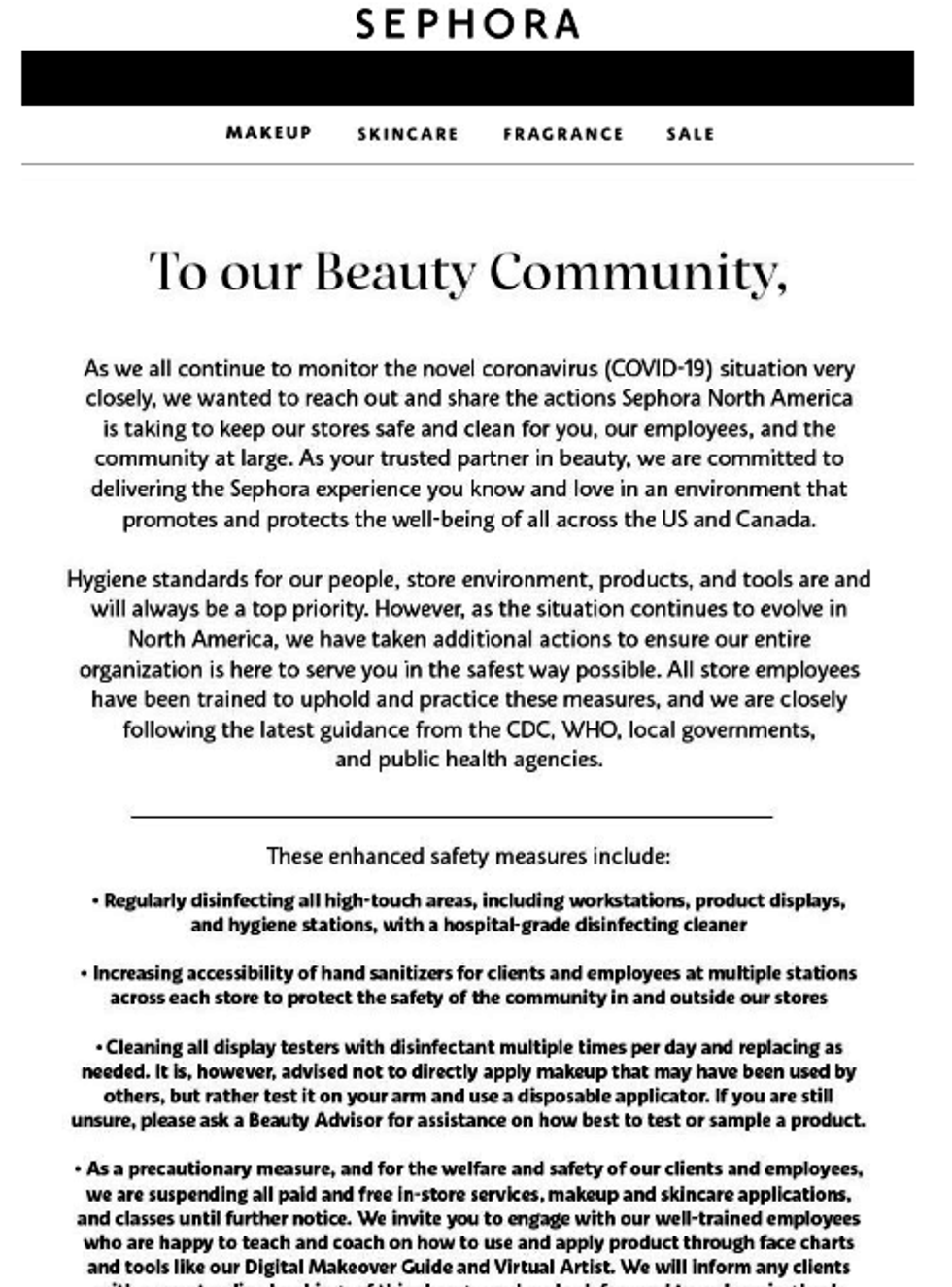 Schmackary's
Personal story: One time before human society started imploding, my girlfriend and I were walking around New York City and had a sudden craving for cookies. A quick Yelp search directed us to a nearby cookie shop called Schmackary's. While checking out, I entered my e-mail for their reward point system or something, thinking that if the cookies were good, I might come back at some point. I do live in New York, after all. In truth, I don't crave cookies often and, in time, I forgot about Schmackary's. But that's the thing about long lost friends; even after years, they were still a part of your life, and sometimes it's nice to have the peace of mind that, while the sky falls down around you, an old friend is doing okay. Even as I run out of food and worry about paying my rent, even as my loved ones fall ill around me, even as paranoia sets in, my heart is filled with joy thinking about how Schmackary's is going "above and beyond in order keep our bakery safe and clean."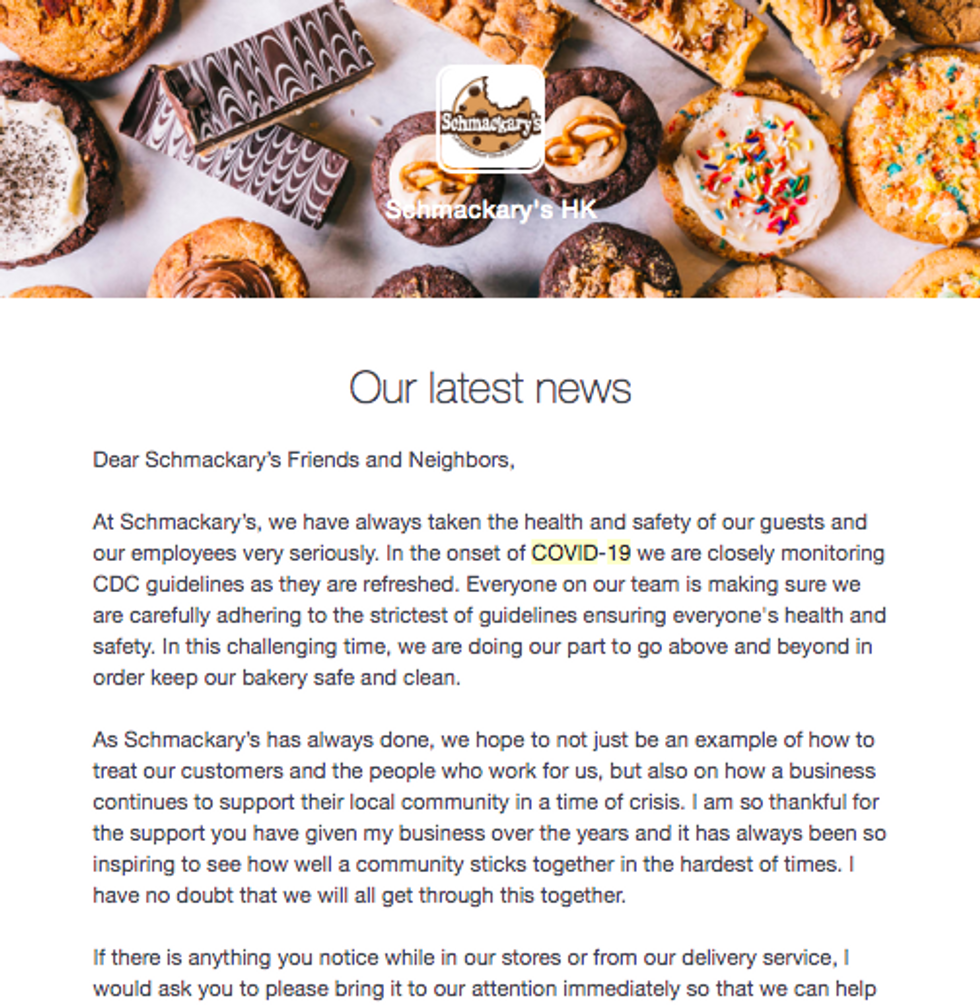 Just don't listen to anything qAnon says.
If there's anything that's spreading faster than COVID-19 is spreading across the globe, it's rumors and misinformation about the virus.
You may have heard any number of things about the new coronavirus that originated in Wuhan, China by now, but odds are that only a fraction of that information is actually accurate. Here are the craziest, falsest, and just plain funniest coronavirus conspiracy theories.
Cocaine cures coronavirus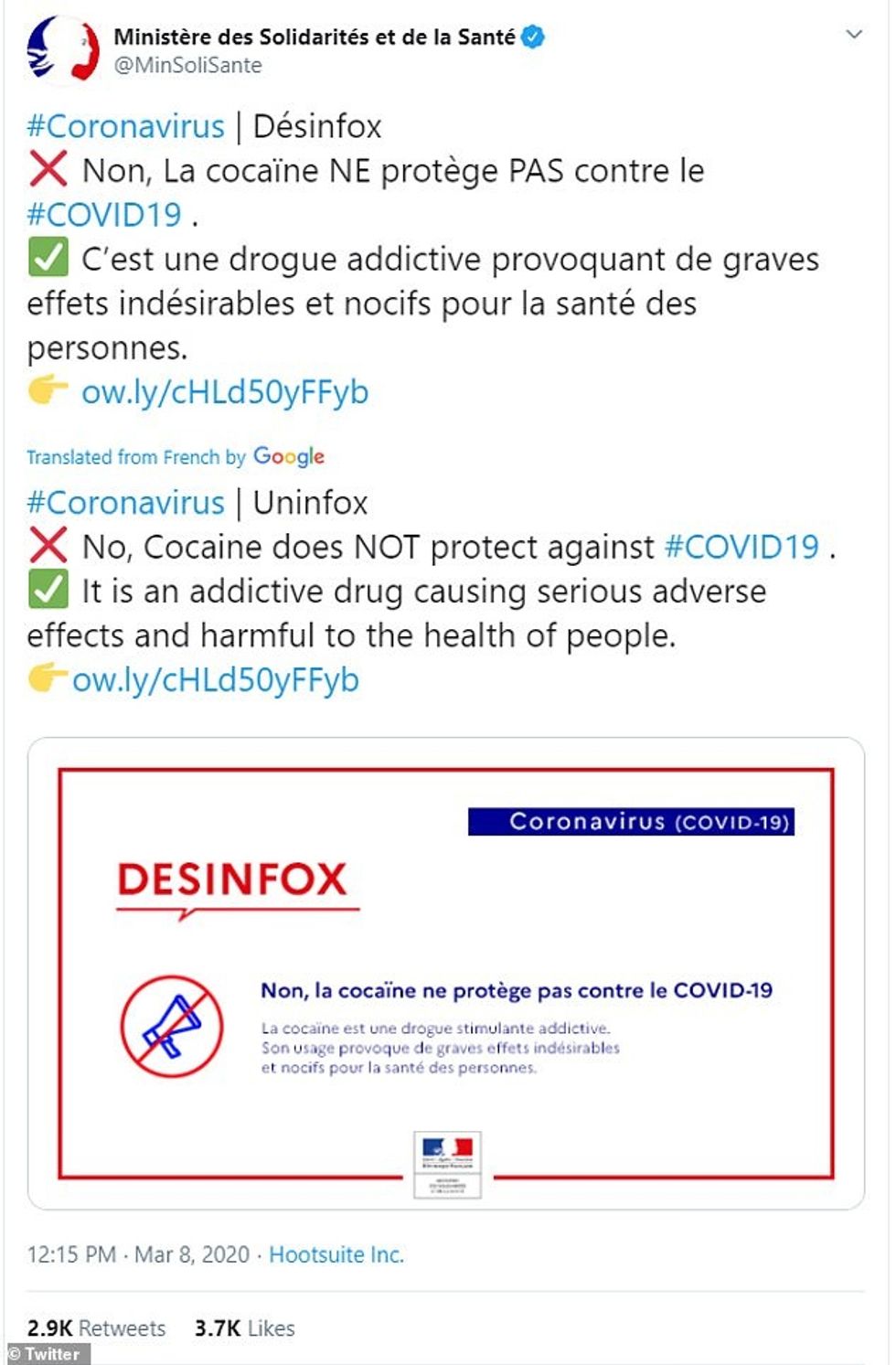 Thanks to a series of viral online posts, many French citizens apparently genuinely believed that snorting cocaine could cure them of COVID-19, forcing the French department of health to post an official notice stating that cocaine does not, in fact, cure anything.
Coronavirus is activated by 5G networks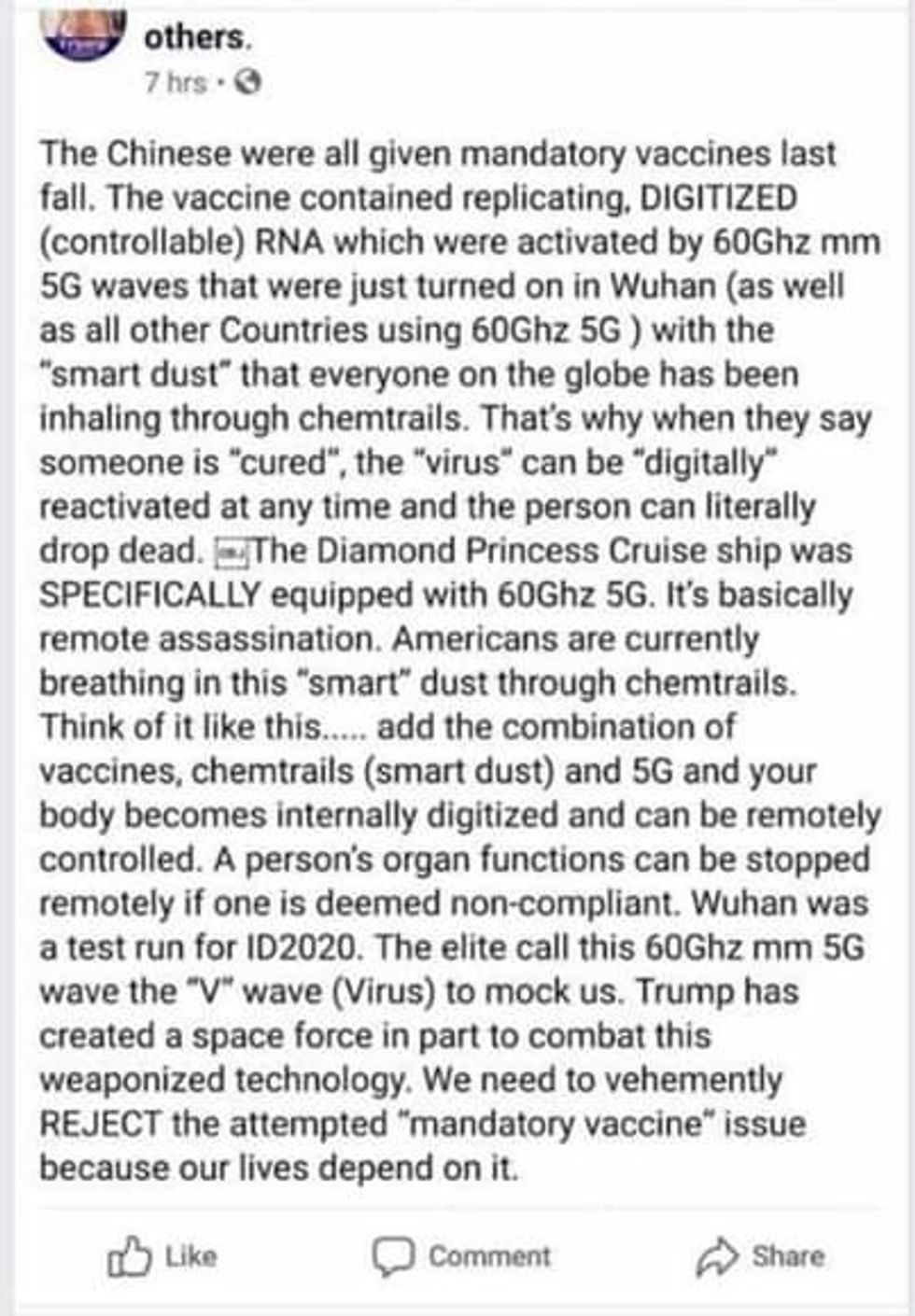 In the deep, dark wells of the Internet, a theory has emerged that claims the Chinese were given a mandatory vaccine last year that contained the coronavirus, which was then "activated" by 5G services in the country. At least Trump's space force is poised to step in.
Bill Gates invented the coronavirus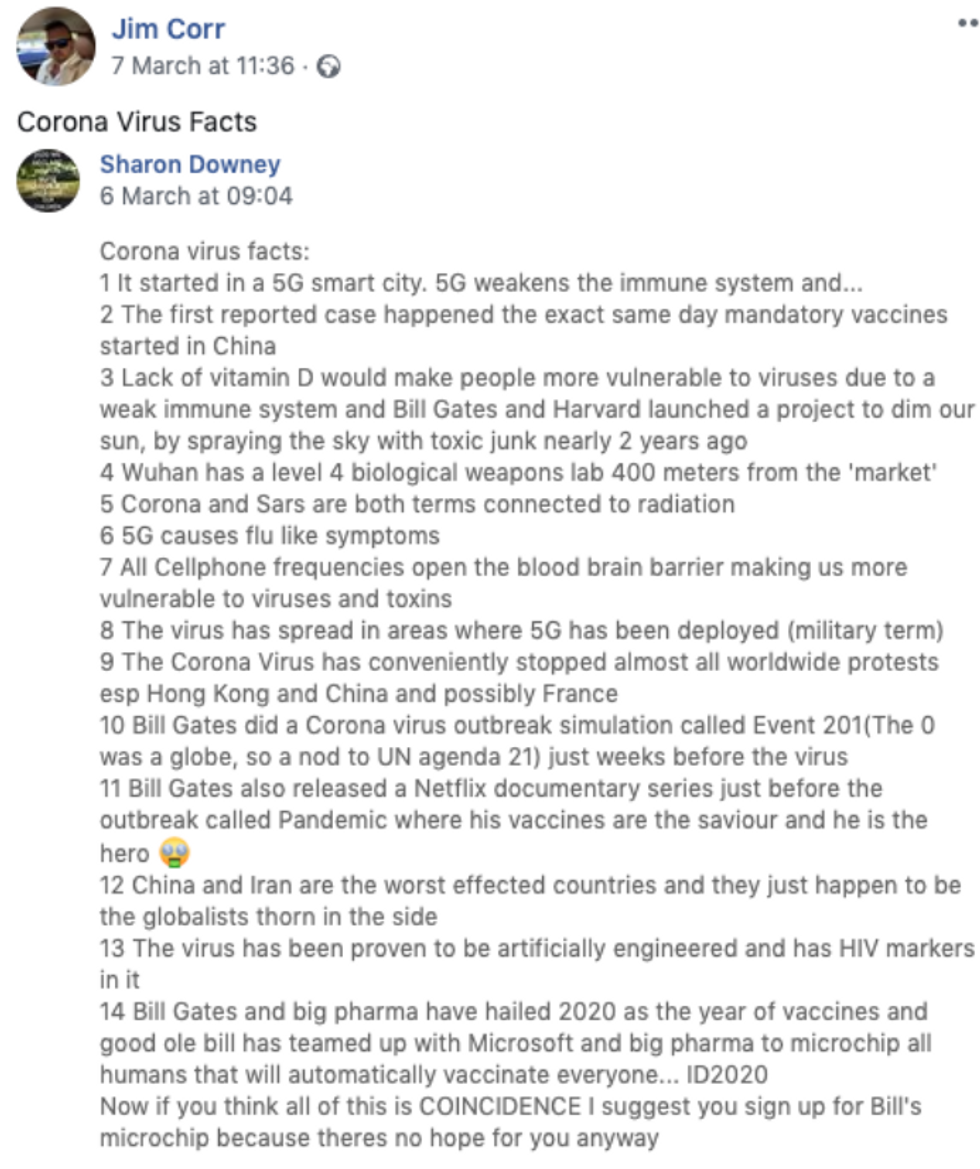 It's actually admirable that this list somehow manages to get crazier as it progresses despite starting with an assertion that Harvard and Bill Gates "weakened the sun". But seriously, people actually think Bill Gates is responsible for the virus.
The coronavirus was patented in 2015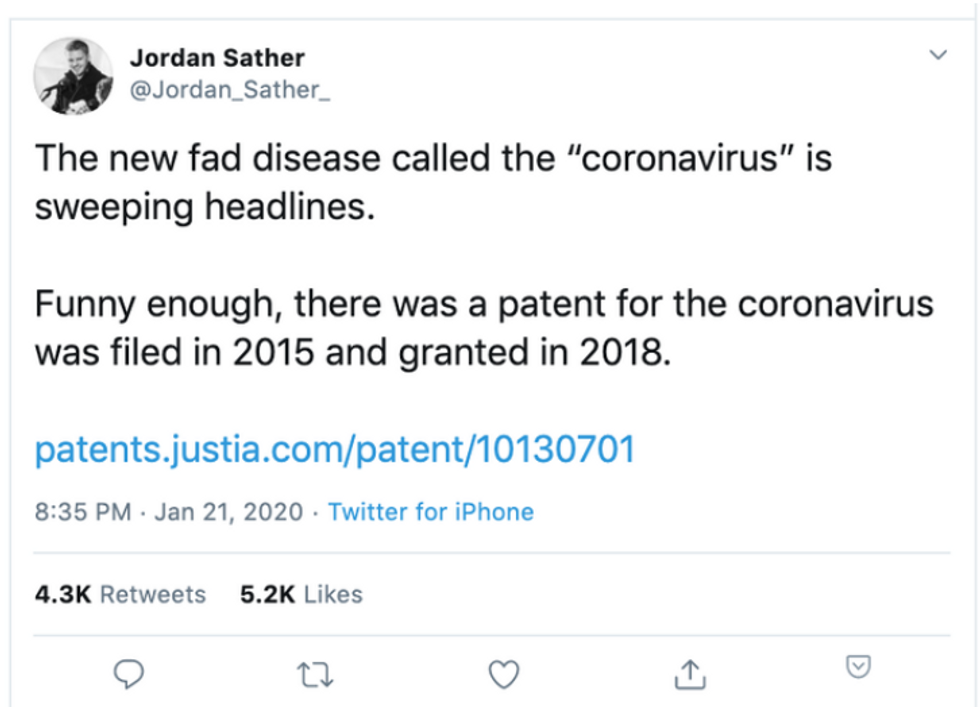 The patent referenced here was for a much weaker version of a coronavirus to be used as a vaccine on birds and other animals, and it has nothing to do with the current pandemic affecting humans. As Dr. Erica Bickerton, who studies avian pathology for Pirbright, told BuzzFeed News, "The name coronavirus is a whole family of viruses," she said. "Each of these viruses has their own characteristics."
American Democrats are responsible for the virus' spread to America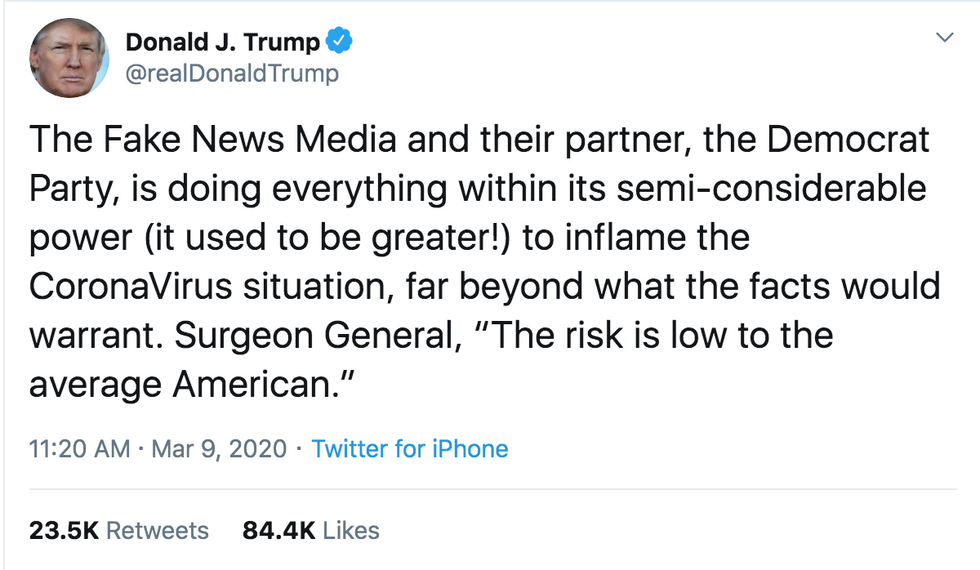 Donald Trump Jr. recently went on Fox and Friends and said, "For [Democrats] to try to take a pandemic and seemingly hope that it comes here and kills millions of people, so that they could end Donald Trump's streak of winning, is a new level of sickness," he said. "You know, I don't know if this is coronavirus or Trump derangement syndrome, but these people are infected badly." The President has jumped aboard his son's disinformation campaign, repeatedly conjecturing that the virus is a hoax by the Democrats to oust him from office.
The coronavirus was created in a lab in Wuhan
This particular theory has been shared widely across the Internet, and despite being utter nonsense, Republican Congressman Tom Cotton even espoused it on live television. As the Telegraph points out, "The coronavirus is just another zoonotic infection - a virus that jumped from animals to humans. The Spanish flu, HIV and Ebola are others."
Eating garlic can protect you from the coronavirus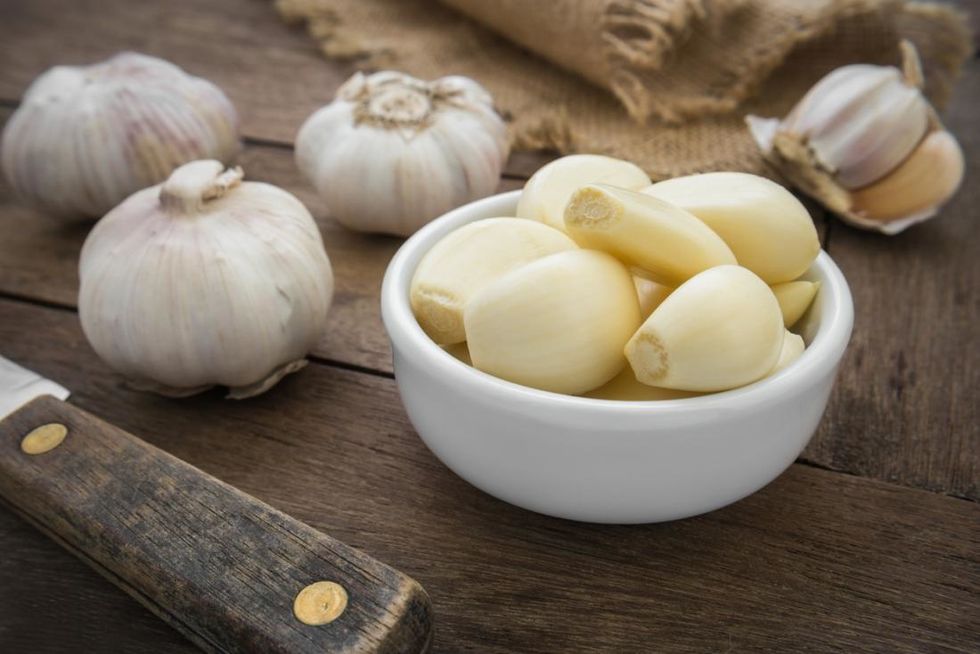 It's unclear where this one originated, but the WHO has been clear that "no evidence from the current outbreak that eating garlic has protected people from the new coronavirus."
Drinking bleach can protect you from the coronavirus

Don't drink bleach. Just don't ever drink bleach, even if someone is calling said bleach a "Miracle Mineral Solution." According to the Daily Beast, a "promoters of the pro-Trump QAnon conspiracy theory were urging their fans to ward off the illness by purchasing and drinking dangerous bleach. The substance—dubbed 'Miracle Mineral Solution' or 'MMS'—has long been promoted by fringe groups as a combination miracle cure and vaccine for everything from autism to cancer and HIV/AIDS."
I've lived in New York City for the past year. About a week ago I moved to London to be with my long term partner. You may be thinking that international travel was a bold decision given the rapid global spread of COVID-19. Truthfully, it barely crossed my mind.
I bought my plane ticket to London about a month ago, when the novel coronavirus was still just a headline, not a reality in my life. I'm 23-years-old, don't have any health problems besides a history of Lyme's disease, and I have access to healthcare. I'm not in the demographic that needs to worry over every flu and cold for fear that it could be fatal; and besides, I've been nowhere near the places where the disease is most rampant.
So I set off from Dulles International Airport in Washington D.C. to Heathrow Airport in London on March 3rd with only the vaguest fears about COVID-19. If anything, I was admittedly pleased to find my flight unexpectedly empty thanks to people's fear of the virus keeping them from traveling. As always, I wiped down my seat with antibacterial wipes as soon as I boarded, used hand sanitizer throughout the uneventful journey, and made sure to wash my hands frequently.
Upon landing at Heathrow, I was met with a bizarrely sparse customs line, something I was also exceedingly grateful for. There were no temperature checks or other indications that the virus had reached London. I got my luggage from the carousel and stacked my bags on a luggage trolley, waiting for my partner to arrive at the airport.
Flash forward a couple of days, and I find myself repeating for the second time that day that I might be coming down with a cold.
I take my temperature to find that it's about 100.5 Fahrenheit. I take nighttime cold medicine and go to bed. The next morning I find the fever has persisted, and with it has come a hacking, wet cough. Assuming it's the flu, my partner calls a doctor and lists my symptoms. They ask about international travel, and upon learning that I passed through Heathrow, they inform us that two baggage handlers at that airport have just been confirmed to have COVID-19. This means that, technically, I've been exposed to the virus. We're told to remain in the house for two weeks at the very least but certainly as long as symptoms persist, and if my illness progresses such that I need medical attention we are to call an ambulance and inform them about my exposure status, so I can be transported safely. Both my partner and I immediately start taking my symptoms a lot more seriously.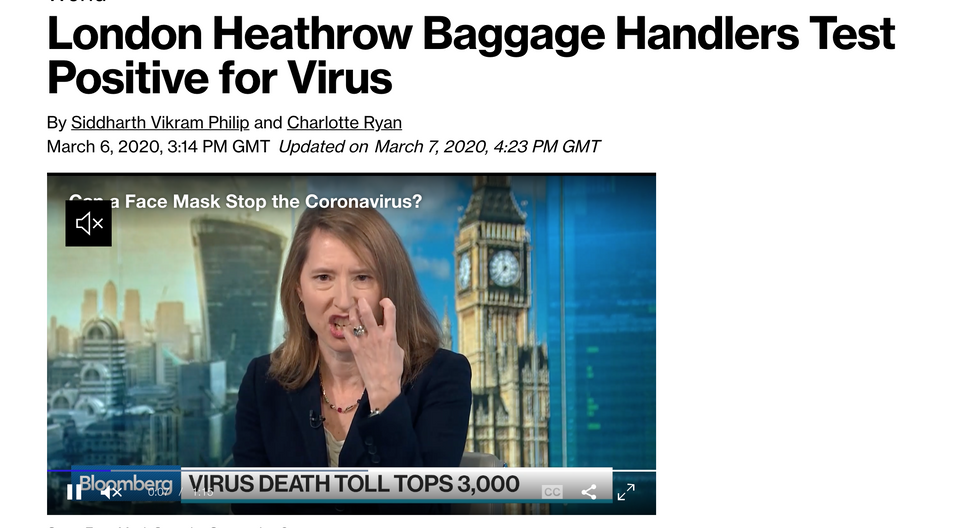 For the first several days, I had a fever on-and-off (pretty effectively suppressed with day time cold medicine and ibuprofen), a sore throat, plugged ears, nasal congestion, and a hacking cough that caused me to feel breathless if stood upright too long. From Friday, March 6th to today, March 9th, I slept essentially 24-hours-a-day, only waking up to eat (my appetite was not as impacted as I would have thought). Today, I woke up without a fever and feeling stronger than I have since arriving in London. My cough persists, but now I just feel like I have a bad cold or a mild case of bronchitis.

Whether or not I have COVID-19 is still unclear, as I have not been definitively tested, but my symptoms fit perfectly with those described on the NHS website, and I know I've been in an infected airport. For the most part, my illness has felt like the flu with a particularly bad cough. Most of all, my illness has caused me to wonder how many people have mild cases like mine and were told, when they contacted a doctor, to recover at home.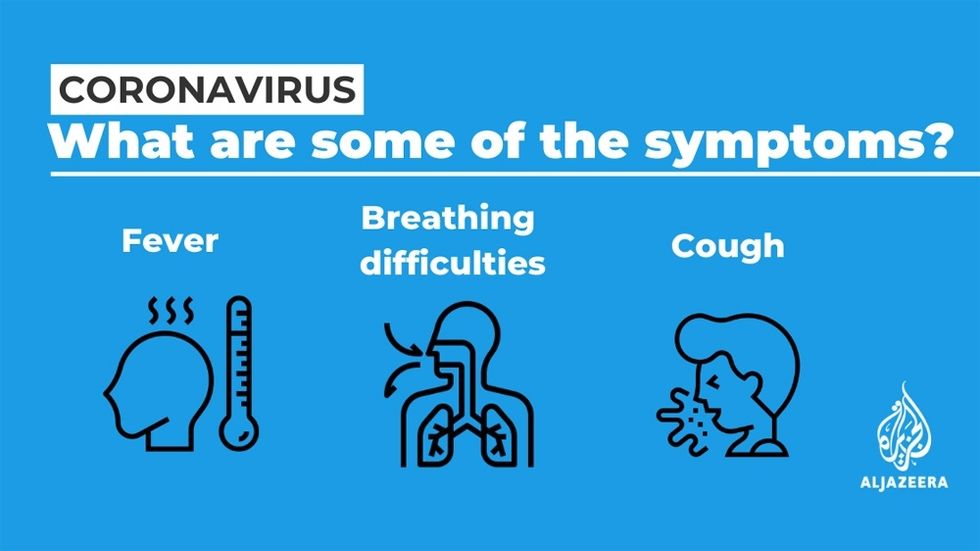 How many cases are governments across the world keeping under wraps because they're discouraging people from seeking medical help? How many people across the world are staying home from work but still going to the grocery store, waiting out what they think is a bad cough? If I am infected with COVID-19, I'm lucky that I seem to be on the path to a relatively swift recovery. I'm also lucky in that I was economically able to take the time to rest and recover. But how many people will feel the relatively common and mild symptoms I felt and still go into work out of economic necessity? How many immunocompromised people will be infected because a doctor wouldn't test some other person because their symptoms were comparatively mild? How many elderly people will die because Trump's strategy to keep American COVID-19 case numbers low is to simply not test?

If I am infected, then I can tell you that COVID-19, for me, felt very similar to the flu or any other run-of-the-mill upper respiratory infection. I can also tell you it absolutely flattened me for several days, and I'm a healthy young adult. I can't imagine how badly I would have felt if I were elderly and immunocompromised. Our governments have to come up with a better strategy for testing, even mild cases, and they have to do it soon. Because, if my experience is any indicator, it's already far more widespread than we think.