In a closed vote House Democrats spotlit Pelosi with overwhelming support, 203-32.
Nancy Pelosi secured the Democratic nomination on Wednesday, regaining her position as Speaker of the House. Pelosi, 78, ran unopposed on a secret ballot when the House Democrats cast a 203-32 vote in a closed door meeting.
Still, Pelosi was opposed by a small faction who charge that the Californian lawmaker is too divisive a figure to represent the party. Rep. Brian Higgins (D-N.Y.) was an initial detractor, but he turned to voice his endorsement of Pelosi last week.
Higgins told reporters, "Democracy is a sloppy mess. ... There are a lot of differing views, even within the Democratic Caucus. The ability to pull that together is not clean and efficient all the time, and everyone has laid on the table what they are looking for." He added, "Everyone here, 435 members in the House, has one legislative tool and that is their vote."
The House of Representatives will elect a new speaker on January 3. Even with Democrats holding a majority of the 435 seats, it's still possible for Pelosi to lose the final vote; those 32 opposers are enough to tip the scales if Republicans unanimously reject her. Pelosi has until the new year to win over more representatives like Higgins.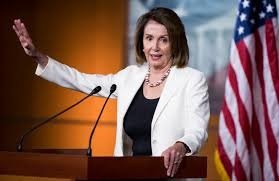 Time Magazine
Meg Hanson is a Brooklyn-based writer, teacher, and jaywalker. Find Meg at her website and on Twitter @megsoyung.

The conservative Republican made history when she won a seat in Congress, despite backlash over recent racially-charged comments.
In the last Senate race to be called, Mississippi has elected its first female Senator. Cindy Hyde-Smith will hold one of the Republicans' 53 seats to Democrats' 47 seats, setting a new record of 24 women in the Senate next year. However, the victory as a mark of social progress is tainted due to Hyde-Smith's history of racially-charged comments and sheltered background.
Leading up to the election, Hyde-Smith received backlash over a video of her joking with a supporter that if she were invited to a "public hanging," she'd be in "the front row." Following public outcry, she released an apology, stating, "For anyone who was offended by my comment, I certainly apologize."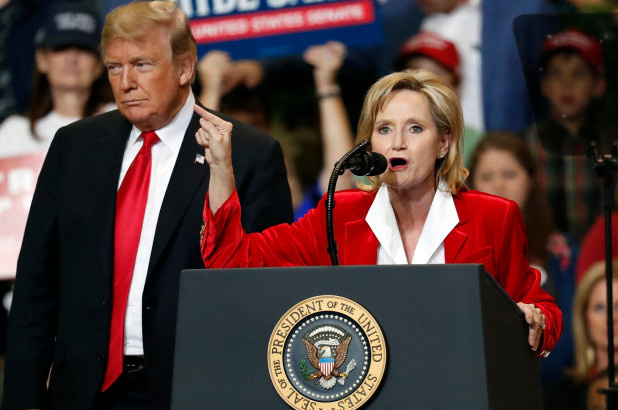 New York Post
At the same time, however, she dismissed the criticism as "ridiculous." Claiming that she possessed no ill intentions, she framed the comment as nothing more than banter with a supporter, stating, "In referencing the one who invited me, I used an exaggerated expression of regard, and any attempt to turn this into a negative connotation is ridiculous."

The conservative Senator has the public divided over whether Mississippi is heading towards a more inclusive future or embracing a troubled past. Hyde-Smith's "public hanging" comments evoke the state's ignominious history of mob lynchings, Jim Crow, and legally-enforced segregation. On Friday, the Jackson Free-Press uncovered that the 59-year-old graduated from a southern private school established in the '70s to eschew desegregation orders after the ruling of Brown v. Board of Education.
Mississippi has been criticized for allowing segregated private schools as recently as 2017. Hyde-Smith's alma mater, Lawrence County Academy, hosted a mascot dressed as a Confederate general and displayed a Confederate flag. The Senator elected to send her daughter to a similar "segregation academy."
CNN also looked into Hyde-Smith's past and reported that she's advocated a revisionist view of the Civil War and backed a measure to honor a Confederate soldier's efforts to "defend his homeland." Additionally, the Senator's Facebook page displays pictures from 2014 in which she's posing with Confederate artifacts during a visit to Beauvoir, the hometown of Confederate President Jefferson Davis. The photo's caption reads, "Mississippi history at its best!"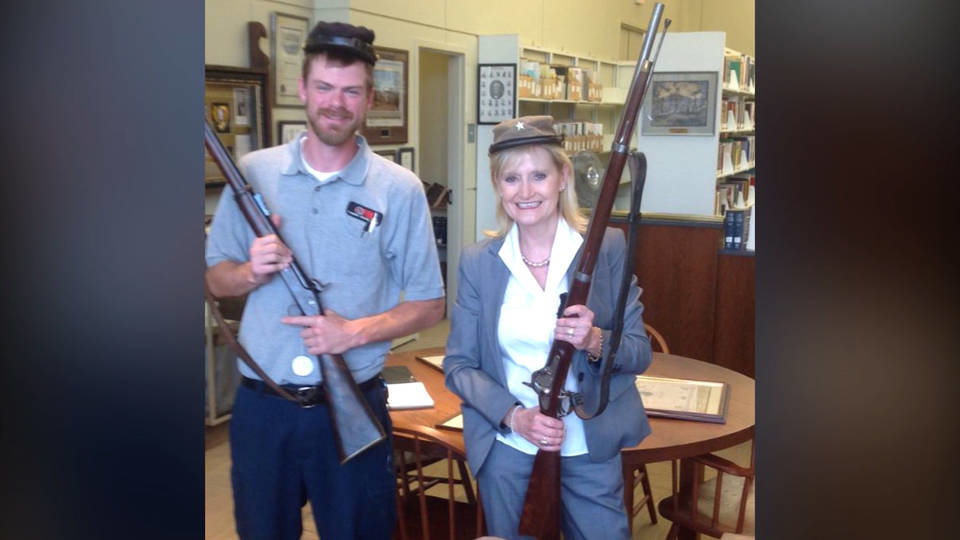 Democracy Now!
On Tuesday, Hyde-Smith credited her win to the state's dedication to "conservative values." In her victory speech, she said, "The reason we won is because Mississippians know me and they know my heart. This win tonight, this victory, it's about our conservative values, it's about the things that mean the most to all of us Mississippians: our faith, our family."

Hyde-Smith received her strongest support from Mississippi's rural and predominantly white counties, according to The New York Times. CNN also attributed the win to Donald Trump's last-minute trips to the state. During a Monday night rally in Biloxi, Trump told the crowd, "She is respected by all. Some long-term senators, they've been down there, they told me, this is a woman that gets it. She's smart, she's tough, and she loves you." He went on, "She produces like few produce. This is a very, very special person."
After a race that was closer than anticipated, Democrat Mike Espy conceded to Hyde-Smith on Tuesday. He offered hopeful regards to the new Senator, stating, "[She] has my prayers as she goes to Washington to unite a very divided Mississippi."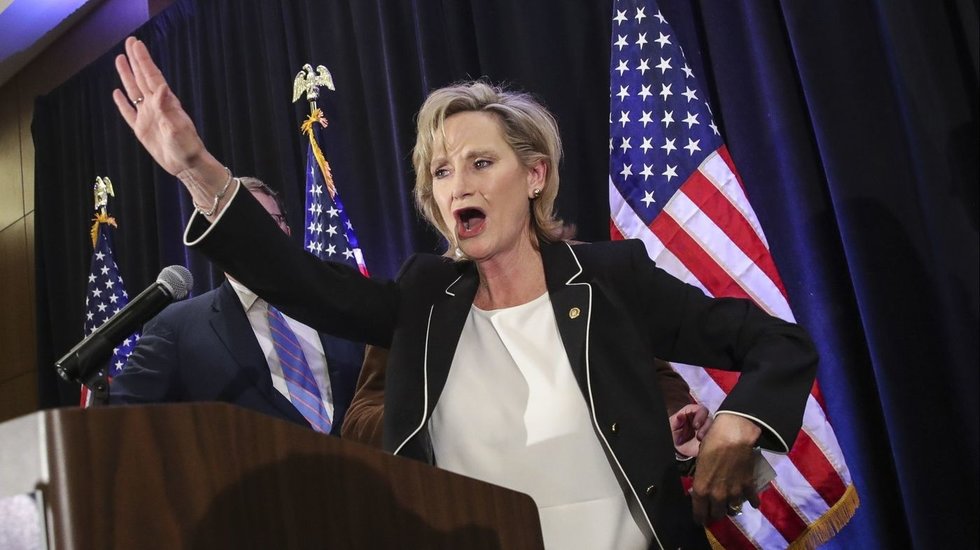 Los Angeles Times
Meg Hanson is a Brooklyn-based writer, teacher, and jaywalker. Find Meg at her website and on Twitter @megsoyung.

Trump's demands for $5 billion to build a border wall stymies Congress' ability to fund government in 2019.
Just nine days ahead of the December 7 deadline, Congress has made no progress towards passing the seven appropriations bills needed to avoid government shutdown. At the center of the deadlock are President Trump's demands for $5 billion to fund his border wall. In an Oval Office interview with Politico on Tuesday, Trump affirmed he'd "totally be willing" to shut down the government if Congress doesn't allocate the funds.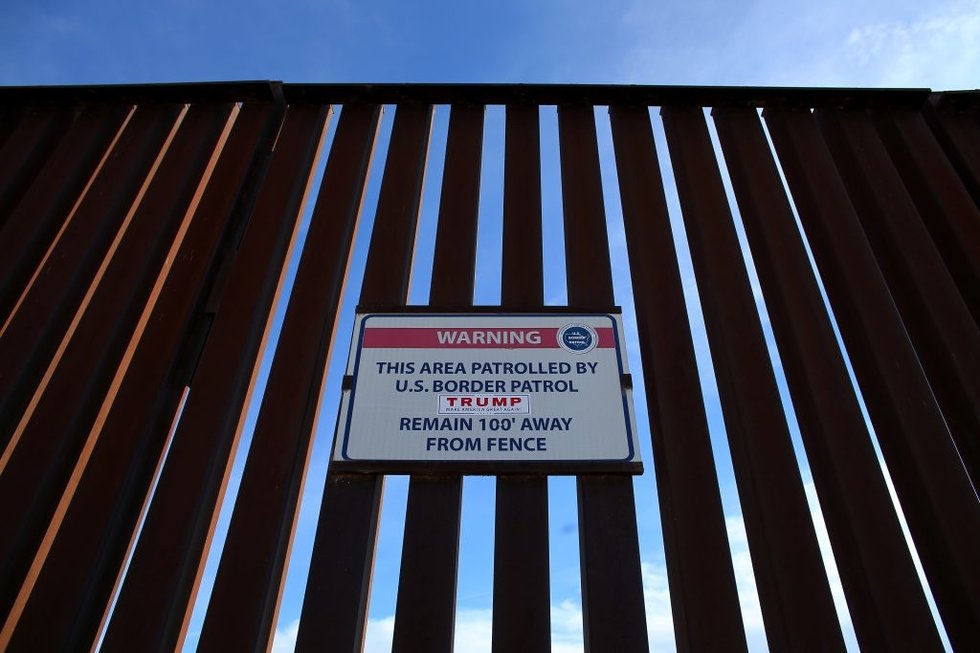 PBS
In September Democrats and Republicans agreed on a long-term funding package for the departments of Defense, Labor, Health and Human Services, and Education for 2019. However, they only reached short-term compromises for the remaining agencies, including the Department of Homeland Security, Justice Department, and the State Department. Even then, Trump was threatening to shut down the federal government if he didn't receive multi-billion dollar funding for his wall, but Republican leaders expressed doubt over his conviction.

Now, with those short-term deals expiring next Friday, Congress is more wary than ever of losing government function. Senator Joni Ernst (R-Iowa) spoke against the prospect in an interview on Sunday, "I hope that we can avoid shutting down the government. We have a lot of departments that do a lot of good for our citizens, so we need to make sure that we're funding them properly through Congress."
That's not to say Trump doesn't have Republican support, with House Majority Whip Steve Scalise (R-Louisiana) stating from the White House on Tuesday, "I'm glad that President Trump is following through on his commitment to keep this country safe. He needs $5 billion to make sure he can follow through on that promise and we need to be there for him and see that this gets done."
Resistance from Democrats is the main obstacle to appeasing Trump, with Scalise even posing the deadlock as a failure of the party's values. He asked if Democrats are "going to shut down the government because they don't want to keep America safe?"
The closest piece of compromise is the Democrats' concession of $1.6 billion in funding for border security. They've showed no sign of budging towards Trump's demands for triple that figure. Senate Democratic leader Chuck Schumer spoke for the party on Tuesday, affirming, "If there is any shutdown, it's on President Trump's back. Stick to the $1.6 billion."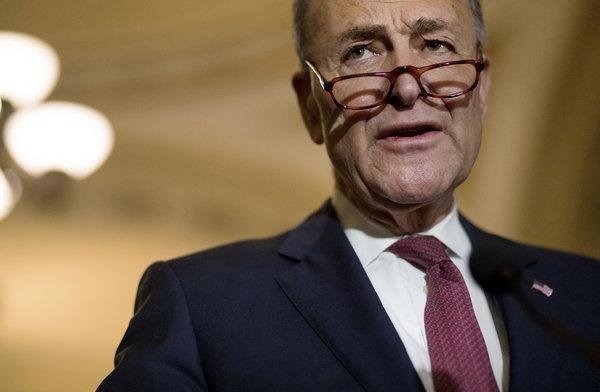 The New York Times
As for Trump, he told Politico he "was in no mood" to compromise on using federal funds to construct a border wall (despite initial and unfeasible claims it was to be funded by Mexico). He told Politico, "I will tell you, politically speaking, that issue is a total winner. People look at the border, they look at the rush to the police, they look at the rock throwers and really hurting three people, three very brave border patrol folks – I think that it's a tremendous issue, but much more importantly, is really needed. So we have to have border security."

Trump was referring to a confrontation at the border on Sunday in which he claimed three border patrol agents were "very badly hurt." While multiple migrants were harmed by tear-gas unleashed by border officials on Sunday, Trump's claim remains unsubstantiated.
Negotiations between Democrats and Republicans continue to take place this week, as a possible funding package is still in nascent planning stages. The odds of avoiding government shutdown are grim, with only nine days to draft a deal, gain sign off from House and Senate leadership, and win over a president who is "in no mood" to compromise his own agenda.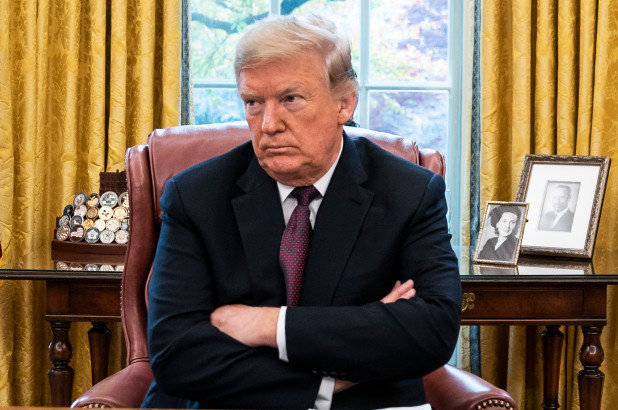 Getty Images - New York Post
Meg Hanson is a Brooklyn-based writer, teacher, and jaywalker. Find Meg at her website and on Twitter @megsoyung.

Democrats have control of the House for the first time in eight years. Now, they have a mandate to push for a bold agenda on infrastructure, healthcare, immigration, and voting rights.
After months of warnings, the "Blue Wave" finally came to shore. Democrats took back control of the House, gaining 32 seats, a number that could increase to 38 or 39, depending on the results of the uncalled races. With the party back in charge of the lower chamber, much of the discussion around what their priorities should be has revolved around investigating the president and his myriad of financial and political scandals. House Democrats have a clear mandate to fulfill their constitutional duty to provide oversight of the White House, but Democrats also have a mandate to address a number of major legislative issues. Though it's unlikely Democrats that will get any of these priorities pushed before the president and a Republican Senate, it's crucial that they signal to their voters what they want to done should they win the presidency and the Senate in the future.
Infrastructure
As a candidate and in the beginning of his presidency, Donald Trump promised to tackle the nation's crumbling infrastructure. That, of course, has gone nowhere and every "Infrastructure Week" ended in some scandal, quickly becoming an ongoing joke. But the state of America's infrastructure is nothing to joke about. Infrastructure spending has long been a Democratic Party priority before Trump attempted to co-opt it. Democrats should push that issue once again, proposing a bold infrastructure plan to repair crumbling roads and bridges, modernize public transportation systems, expand access to high-speed, fiber-optic Internet, and invest in green energy projects like wind, solar, and hydroelectric power.
Such an infrastructure plan would signal the party's commitment to investing in neglected communities and funding renewable energy projects such as a broader plan to combat climate change—not to mention open the door to the many economic benefits of infrastructure spending. It would also establish a clear contrast with Trump's previous infrastructure plan that's been criticized as a giveaway to private contractors. The president has said he is willing to work with Democrats, so why not press him to keep his word? Democrats would be wise to pressure the president and his Republican supporters to prioritize infrastructure, or face political consequences.
Healthcare
No other issue played a bigger role in the Democrats' midterm success than healthcare. Their electoral message on healthcare was simple: Protect people with pre-existing conditions, expand coverage and stop proposed cuts to Medicare and Medicaid. Now they must deliver on these promises. House Democrats can immediately pass legislation to protect coverage for people with pre-existing conditions, pressuring Trump and other Republicans who have vowed to do the same to keep their word. With a full repeal of the Affordable Care act now temporarily off the table, Democrats should push to expand coverage and address the limitations of the ACA. These can range from introducing incremental policies that get support from more moderate Democrats, like legislation to stabilize insurance markets, to bolder policies that attract the progressive wing of the party, like allowing Medicare more power to negotiate drug prices and proposing a Medicare buy-in for 55 to 64-year-olds.
While the long-term goal for the party should be to push for a Medicare for All system, these are positive steps toward a goal that still has a lot of opposition from within the party. Finally, any budget proposed by House Democrats should reverse any funding cuts to Medicare and Medicaid. Democrats have an ideal opportunity to push for a positive vision on healthcare and continue to have the upper hand on the issue heading into 2020.
Immigration
Bitter political battles over immigration, especially over funding for the border wall and the fate of DACA, will be a prominent feature of politics the next two years. Democrats are right to be alarmed over the administration's immigration policies like family separation and ending DACA, but now it's crucial they advocate for an immigration agenda in contrast to the Republican agenda. With the fate of DACA likely in the hands of the Supreme Court, Democrats must push for a long-term legislative solution. The most stable solution is the passage of the Dream Act. It would also be politically beneficial for the Democrats to bring it to the floor cleanly, without a compromise on funding for the wall. Furthermore, Democrats should schedule hearings about the family separation policy and Trump's pre-election decision to bring troops to the southern border in response to the migrant caravan. Democratic voters have become more liberal on immigration, and it's important the party signal to its base that they are willing to find solutions on the issue without compromising its core values.
Voting Rights
Much of the post-election analysis has focused on the effects of voter suppression, notably in Georgia, North Dakota, and Florida. These voter suppression efforts have only increased since the Supreme Court struck down the section of the Voting Rights Act, which required states with a history of racial discrimination to get permission from the Department of Justice when enacting any changes in voting laws. In response, states around the country immediately passed strict voter ID laws. Fortunately, the Supreme Court decision left the door open for future legislative action. House Democrats can immediately take action and strengthen the Voting Rights Act. They would also be wise to propose legislation to make Election Day a federal holiday, or move Election Day to a Sunday, as it is in most places around the world. While Republicans are busy spreading conspiracy theories about voter fraud, Democrats should take the opposite path and make it clear they will fight continuing discrimination in voting. For strategic and moral purposes, the party has an obligation to extend democracy in every way when voting rights are under tremendous pressure.
Dan is a writer, thinker and occasional optimist in this random, chaotic world. You can follow him on Twitter @danescalona77.
Gone at 81, his legacy will live on
Thoughts and prayers are ringing in with harmony at the news that Senator John McCain lost his brave battle with brain cancer. A life well-lived, filled with strength and struggle, wins and losses, and ups and downs, McCain's 81 years on Earth have left a mighty legacy, one that his family will forever cherish, politicians from both sides of the aisle appreciate, and Americans admire.
Keep reading...
Show less
You've heard of Clinton and Trump, but did you know Ameruc's relationship with impeachment started all the way back in 1868?
Republicans in Congress face a desperate dilemma. The President, ostensibly their ally, has proven increasingly erratic and hard to control. He acts with minimal regard for the law, lashes out at his Cabinet, and seems determined to tear down everything his predecessor worked so hard to build. The year is 1868, and Congress decides to bring Andrew Johnson to heel with the greatest weapon at their disposal: impeachment.
Keep reading...
Show less