"A tree is best measured when it is down," the poet Carl Sandburg once observed, "and so it is with people." The recent death of Harry Belafonte at the age of 96 has prompted many assessments of what this pioneering singer-actor-activist accomplished in a long and fruitful life.
Belafonte's career as a ground-breaking entertainer brought him substantial wealth and fame; according to Playbill magazine, "By 1959, he was the highest paid Black entertainer in the industry, appearing in raucously successful engagements in Las Vegas, New York, and Los Angeles." He scored on Broadway, winning a 1954 Tony for Best Featured Actor in a Musical – John Murray Anderson's Almanac. Belafonte was the first Black person to win the prestigious award. A 1960 television special, "Tonight with Belafonte," brought him an Emmy for Outstanding Performance in a Variety or Musical Program or Series, making him the first Black person to win that award. He found equal success in the recording studio, bringing Calypso music to the masses via such hits as "Day-O (The Banana Boat Song)" and "Jamaica Farewell."
Harry Belafonte - Day-O (The Banana Boat Song) (Live)www.youtube.com
Belafonte's blockbuster stardom is all the more remarkable for happening in a world plagued by virulent systemic racism. Though he never stopped performing, by the early 1960s he'd shifted his energies to the nascent Civil Right movement. He was a friend and adviser to the Reverend Doctor Martin Luther King, Jr. and, as the New York Times stated, Belafonte "put up much of the seed money to help start the Student Nonviolent Coordinating Committee and was one of the principal fund-raisers for that organization and Dr. King's Southern Christian Leadership Conference."
The Southern Poverty Law Center notes that "he helped launch one of Mississippi's first voter registration drives and provided funding for the Freedom Riders. His activism extended beyond the U.S. as he fought against apartheid alongside Nelson Mandela and Miriam Makeba, campaigned for Mandela's release from prison, and advocated for famine relief in Africa." And in 1987, he received an appointment to UNICEF as a goodwill ambassador.
Over a career spanning more than seventy years, Belafonte brought joy to millions of people. He also did something that is, perhaps, even greater: he fostered the hope that a better world for all could be created. And, by his example, demonstrated how we might go about bringing that world into existence.
We live in a divided nation—but there some things will always bind us together.
Very few people seem to be getting along in America right now. Countless relationships have ended, and families have broken apart because of political and ideological differences, which have only grown more extreme following the 2016 election. The divide between Democrats and Republicans, pro-lifers and pro-choicers, climate-change deniers and believers, and many more have become unfathomably vast.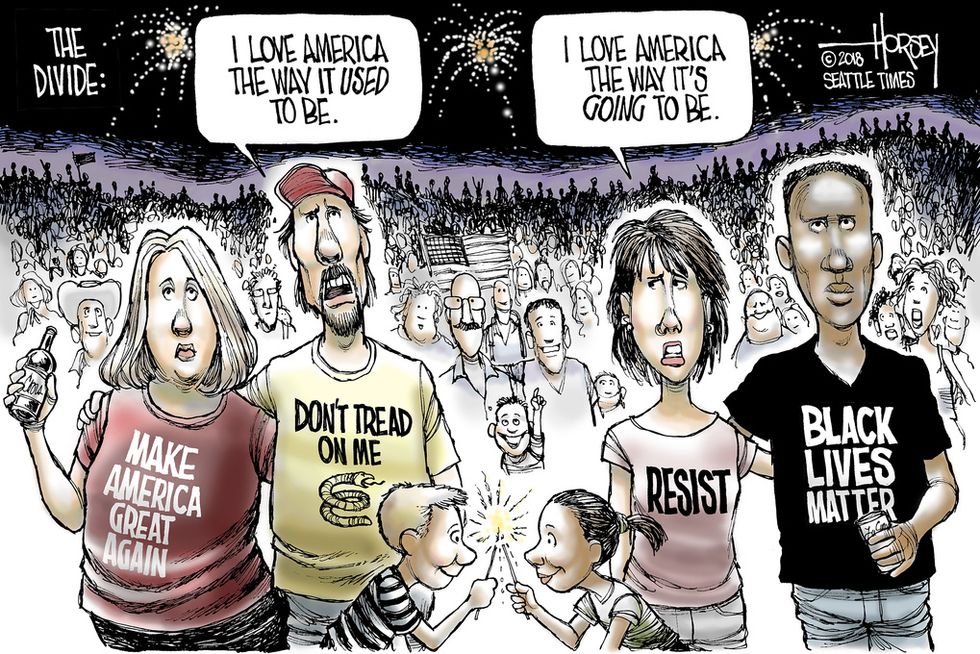 Image via the Seattle Times
But amidst all the chaos, violence and noise, there are just some issues that are decidedly non-partisan; some topics that are so unanimously agreed on that for a moment, it almost seems like we're all only human. In a time of rage, here are the few points of commonality we have.
1. Robocalls Should Stop Forever
There are so many contentious issues being debated in Congress today—from the Green New Deal to bathrooms to anything even remotely connected to the president; it's safe to say that there are very few things everyone in the House and Senate agree upon. But recently, two bills were introduced in the spirit of stopping robocalls—those awful telemarketer messages that constantly interrupt our day with health insurance scams or calls from the Chinese consulate—forever. One is the proposal Stopping Bad Robocalls, from Senator Frank Pallone of New Jersey. The other is Massachusetts Senator Ed Markey's Telephone Robocall Criminal Abuse Enforcement and Deterrence Act. Both of these proposals will make it much harder for telemarketers to call and force their wills upon unsuspecting constituents. According to Markey, "If this bill can't pass, no bill can pass."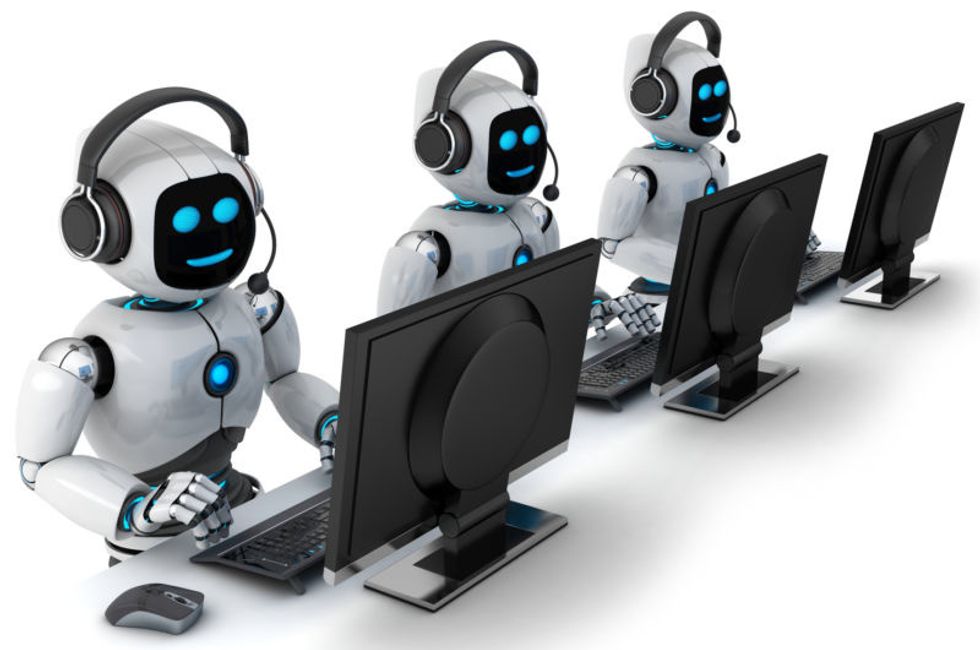 AI support centreImage via Ars Technica
2. Voting is Important

Now, though the issue of who to vote for is one of the easiest ways to turn an ordinary Thanksgiving dinner into a full-on screamfest, most Americans do agree that as citizens of this country, we are responsible for performing our civic duty and making our political opinions heard. Starting way back with the Founding Fathers, this has been an American ideal that nobody except for the staunchest anarchists or most apathetic among us is resistant to. Even so, only around 58.1% of America's voting-eligible population voted in 2016, although 67% of Americans believe that not voting is a huge problem, according to a survey by the Public Religion Research Institute. Maybe the disparity lies in the fact that the people who do not believe in voting also probably wouldn't be too likely to respond to a random political survey.
3. The News Is Fake
No matter where you prefer to get your news, most Americans agree that the media has serious issues—namely the abundance of falsified information plaguing and distorting everything from our elections to our dating lives. The issue isn't only a problem among journalists; politicians themselves are also widely distrusted, and for a good reason. In 2010, Senator Jim McMinn proclaimed that 94% of bills in Congress are passed without issue (it was found to be about 27.4%—although who knows if that statistic is true, though it did come from a Pulitzer-prize-winning political fact-checking organization). Since then, things have spiraled more and more out of control. There's no legitimate way to check how much fake news is out there, but according to one survey, most viewers were suspicious of 80% of the news they saw on social media and 60% of what they saw online overall. Though if you're like the majority of Americans, you won't be taking this article's word for it.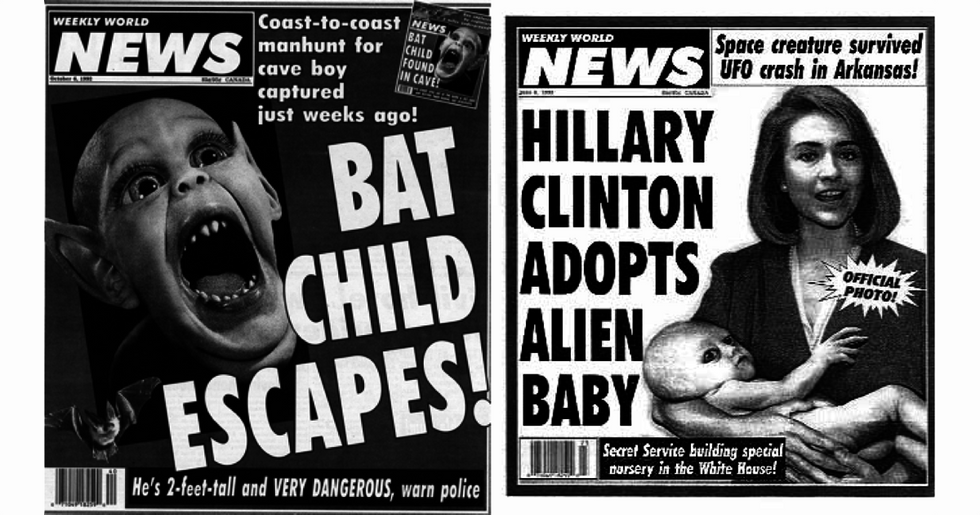 Image via Vox
4. We Should Have Healthcare

Although there is certainly not a clear consensus, most Americans do support healthcare for all. According to a 2018 poll, 6 out of 10 Americans believe that the government should provide healthcare for everyone; another survey from The Hill found that 70% of Americans support Medicare for all, and even a small majority of Republicans are in favor of the idea.
5. The Nation Is Divided
We can all agree on one thing: disagreeing. 81% of Americans believe that we are more divided than at any other time in our nation's history, according to Time. (Remember, there was this thing called the Civil War). Americans can't even agree on what exactly the nation's most significant points of disagreement are: most Democrats believe gun control is a huge issue while most Republicans consider it unimportant; same with climate change and income equality, according to surveys from the Pew Institute.
Although contention and chaos might be the laws of the day, at least we'll always have a shared hatred of telemarketers to bind us all together.
---
Eden Arielle Gordon is a writer and musician from New York City.

Historically, fewer than 10% of all presidential vetoes have been overturned, or 106 in total.
On Tuesday, the House of Representatives voted 245-182 to overrule Donald Trump's declaration of national emergency regarding immigration at the U.S.-Mexico border. Trump declared a national emergency on February 15 in hopes to redirect up to $8 billion from military funds and the Treasury to fund a border wall. While unprecedented, the tactic could theoretically manipulate the Constitution's funding laws to successfully bypass Congress and allow a sitting president to reallocate funds without congressional permission. Even though the House passed the resolution to terminate the declaration of emergency, Trump has vowed to veto the resolution if it should make it to his desk. So how can Congress overrule a veto, and how rarely is it done?
When a president vetoes a bill, Congress can only override the veto by taking a second vote in both chambers and passing the bill with a two-third majority in both houses. Historically, fewer than 10% of all presidential vetoes have been overturned, or 106 in total. The last time Congress over-ruled a veto was October 11, 2000, when Bill Clinton's bill Energy and Water Development Appropriations.
The rarity of a veto override is attributed to the bipartisan conflict of each chamber of Congress. For example, in 2000, the Republicans held a majority in both the Senate and the house when they overruled the sitting Democrat president. The current Congress is divided between a Democrat-lead House (235-199) and a Republican-led Senate (53-45). Achieving a two-thirds majority in both chambers of Congress is simply unlikely when they are led by separate parties.
As for the resolution to overrule Trump's national emergency, the Senate is set to vote on the resolution before March 18. Since it's a privileged measure, no filibustering is allowed; only a majority will pass or defeat the resolution. The crux of the matter is whether enough Republican Senators can be swayed to vote with the Democrats. As of Friday, three Republican Senators have vowed to to do so: Susan Collins of Maine, Lisa Murkowski of Alaska, and Thom Tillis of North Carolina. Only four more would be needed to send the resolution to Trump, assuming all Democrat Senator voted with their party. According to Five Thirty Eight, if Trump vetoes the measure, then both chambers of Congress are short of the votes needed to override (50 short in the House and 20 short in the Senate).
Thom Tillis wrote an op-ed for The Washington Post explaining his position to vote against party: "As a U.S. senator, I cannot justify providing the executive with more ways to bypass Congress," Tillis explained. "As a conservative, I cannot endorse a precedent that I know future left-wing presidents will exploit to advance radical policies that will erode economic and individual freedoms."
Prior to the House vote, Speaker Nancy Pelosi addressed House Republicans, "Is your oath of office to Donald Trump or is it to the Constitution of the United States? You cannot let him undermine your pledge to the Constitution."
Meg Hanson is a Brooklyn-based writer, teacher, and jaywalker. Find Meg at her website and on Twitter @megsoyung.
This week, Rep. Alexandria Ocasio-Cortez and Senator Ed Markey will be proposing the most ambitious plan to fight climate change yet.
Recycle. Take shorter showers. Turn the lights off.

Over the past several decades, most of us have heard these diatribes repeated over and over, and have perhaps become numbed to these mantras, which promise that tiny droplets of collective action could potentially save the planet from environmental ruination.
It's true that small changes are important, and that each person contributes to the growing levels of waste and pollution that are killing our ecosystems and raising the planet's temperatures so dramatically that Manhattan-size gaps are forming in Antarctic ice. But it's also true that 71% of carbon emissions come from just 100 companies. It's also true that the scale of the crisis has grown unmanageable, and poses an unprecedented threat to human life.
That's where the Green New Deal comes in.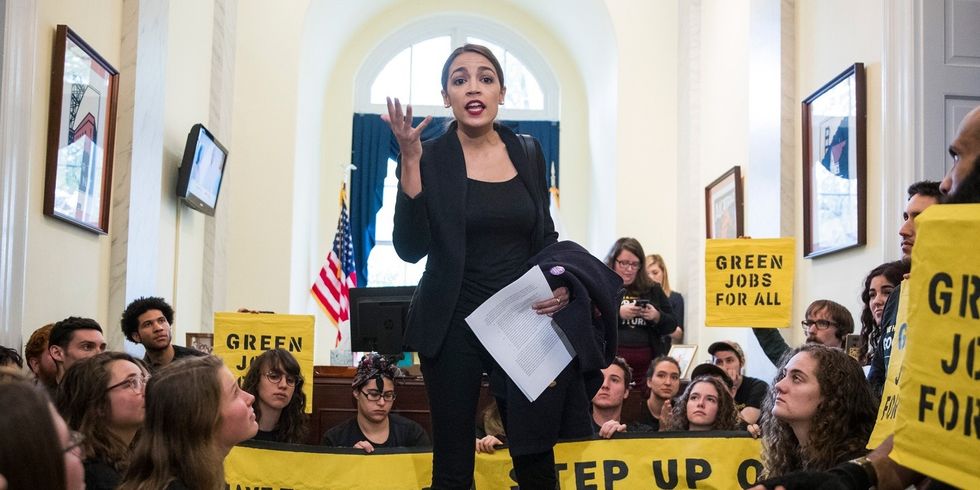 Image via The Intercept
"It's the only plan that matches the scale of the crisis," said Naomi Klein of the proposal, speaking on livestream yesterday night to thousands of activists tuning in across America. The livestream was hosted by the Sunrise Movement, a millennial-founded organization dedicated to supporting and fortifying the Green New Deal, especially as it's proposed in Congress in the coming week. Klein is the author of This Changes Everything, a book that argues that impending climate catastrophe actually presents an extraordinary opportunity to revamp the world's economic systems for the better. "I believe we were born for this moment," she told viewers.

Named after FDR's New Deal—which revolutionized the entire country on a tremendous scale, planting three billion trees and establishing hundreds of national forests in addition to catalyzing widespread economic, agricultural, and social reforms—the Green New Deal seeks to implant reforms on an equivalent scale in a time when it seems like there is no other option.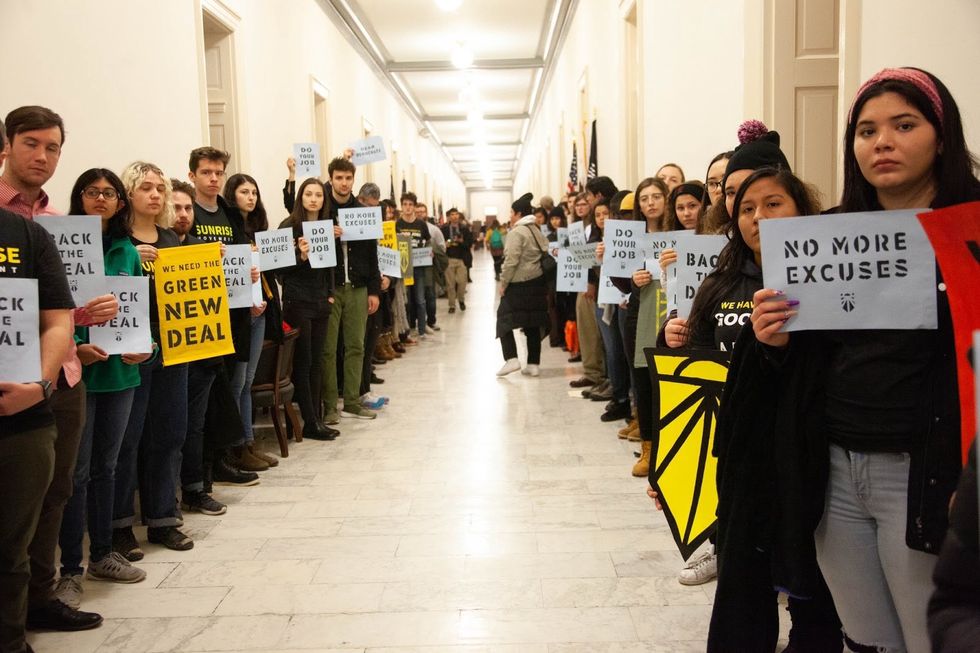 Image via Vice News
The plan has gone through several phases, but the one that's being proposed in Congress this week focuses on several fundamental points. First: achieve net-zero carbon emissions by 2030, and transition to renewable energy on a huge scale through initiatives like the creation of a nationwide electrical grid. Second: institute a living wage for all, in tandem with the creation of unlimited numbers of green jobs. These are the plan's main tenets, but its ideological aspirations stretch much further. It hopes to generate thousands of jobs in the form of start-ups and maintenance, and to start a wave of international trade in the renewable energy sector.

The original plan focused on a switch to 100% renewable energy by 2030, but a recent five-page draft obtained today by Bloomberg didn't mention this point, perhaps as a nod to moderates, though the omission is still subject to change. The draft proposes large-scale investment in green technology, the restoration of threatened lands, waste removal, and "massive growth in clean U.S. manufacturing, removing pollution byproducts and greenhouse gas emissions from that sector as much as technologically feasible."
The term "Green New Deal" is not a new one, though it has been going through different iterations since its inception. It was coined in a 2007 column by Thomas Friedman, and Barack Obama included it in his 2008 platform. Britain also took note, but a surge of Republican/Tory victories stymied its momentum.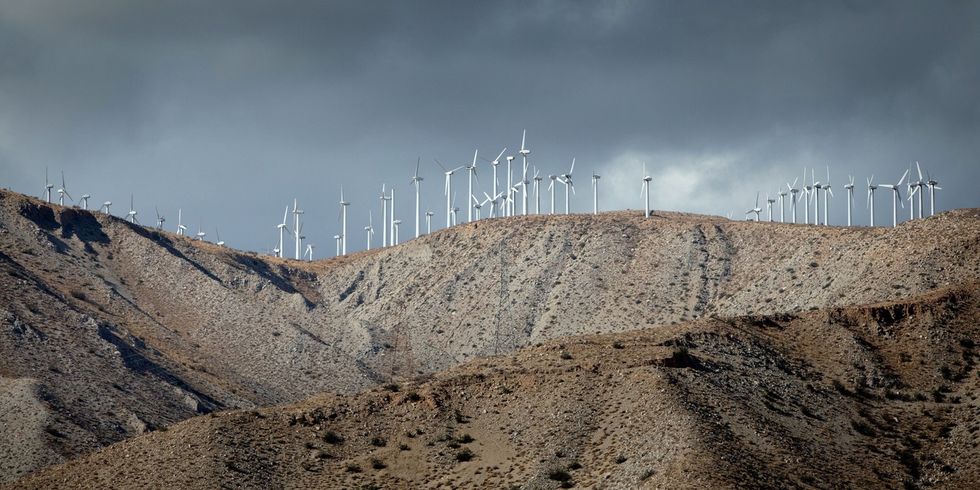 Image via theintercept.com
The GND has found new life in Representative Alexandria Ocasio-Cortez, the Bronx electorate whose rise to political success has been accompanied by widespread social media fame. Ocasio-Cortez showed up in person to support a Sunrise Movement sit-in in Nancy Pelosi's office, demanding the creation of a committee dedicated to developing and pushing the GND, and since then she has become one of its biggest proponents. Now she will be proposing it in Congress this week, alongside Massachusetts senator Ed Markey. The plan has also garnered support from Rep. Ayanna Pressley, as well as 2020 presidential candidates Kamala Harris, Cory Booker, and Bernie Sanders.

The Sunrise Movement began in 2015, when it was founded by climate activists Sara Blazevic and Varsini Prakash, and quickly gained momentum, taking notes from the heady drive of the 1963 civil rights protests of Birmingham, Alabama. Its founders gathered activists, reached out to politicians, and pulled together the finer points of the Sanders campaign and other recent social movements; the successful Pelosi sit-in was the product of months of organizing.
The movement is appealing in a narrative sense: the vision of young people fighting against bloated fossil fuel behemoths has a definite draw to it. There's also the fact that science says the fate of the entire world requires unprecedented global change over the next few years, otherwise catastrophes like Hurricane Sandy and the California wildfires will become the stuff of the everyday.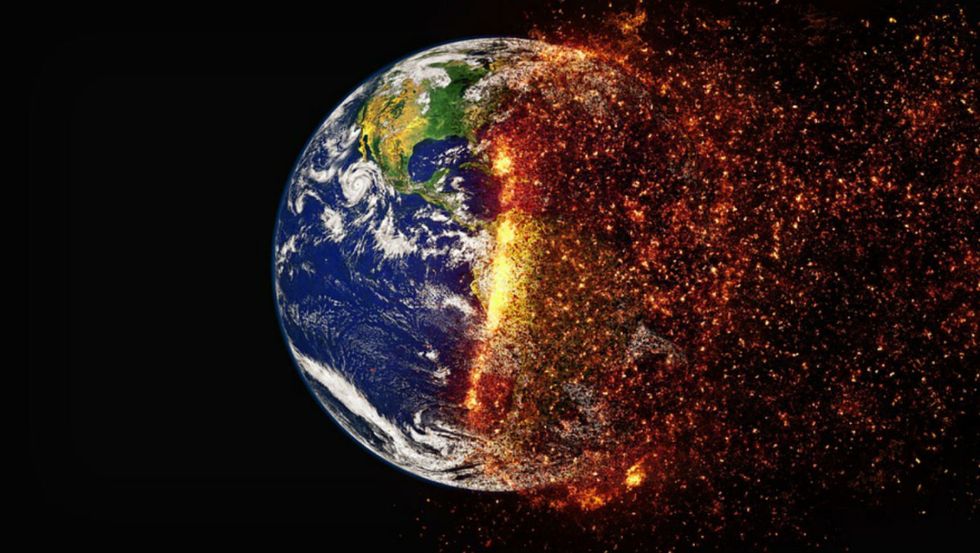 Image via theinsurgent.com
But the GND is still just an idea, and it could remain that way. Its lack of specific policy has been subject to criticism, though an official draft has yet to be unveiled, and conservative news sources have labeled it as a hoax, an amorphous idea without policy to back it.
While the GND might seem like an impossibly ambitious proposition, humans have revamped and reshaped the world before a hundred times over, and we are nothing if not creative and adaptive. We've created technologies that connect the globe and turned empty landscapes to highway-lined cities in a matter of years. Now—unless you like the idea of joining Elon Musk's exclusive Mars colony—it's time to turn all of our collective energies towards the future of the home we share.
70 leading Democrats have signed on in support so far, and momentum is building for its official proposition. The Sunrise Movement is planning on facilitating office visits to congress people across the country this week, as well as a rally in Washington on February 26th.
In an age of doomsday threats and constant headlines about plastic oceans and refugee crises facilitated by environmental droughts, the idea of a Green New Deal—something that could actually, genuinely make a difference that touches every aspect of life—seems like a light at the end of the tunnel. Now it's just a matter of getting there.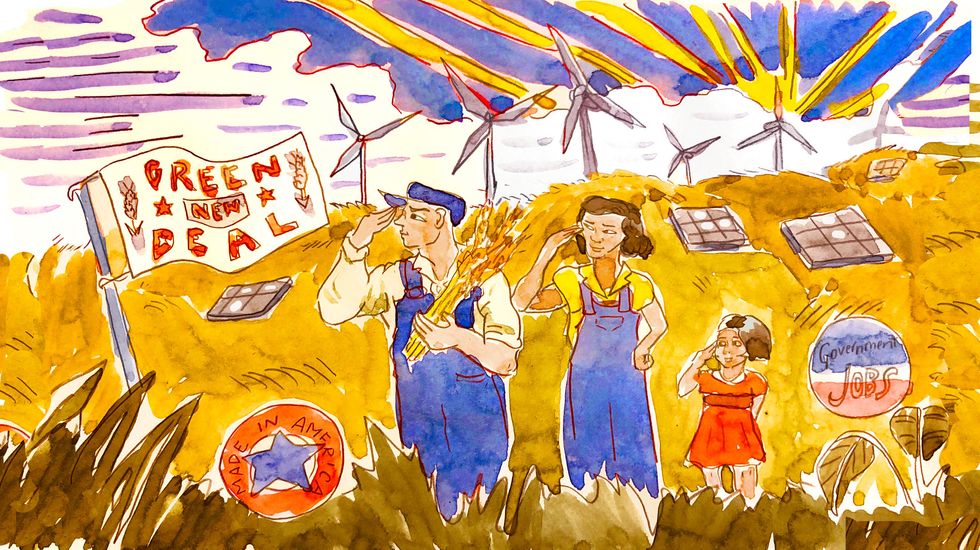 Image via radioopensource.org
Environmental crisis affects the poor and vulnerable at disproportionate levels; it catalyzes mental and physical illness, economic decline, and overall devastation. Irreparable damage has already been done—but the fight is not quite over yet, though time is running out.
---
Eden Arielle Gordon is a writer and musician from New York City. Follow her on Twitter at @edenarielmusic.

---
The President can take control of your home, your money, and—worse—your internet in the event of a national emergency. Well, sort of.
In the past, Donald Trump has threatened to declare a "national emergency" in order to forcibly move forward with his plan for a $5.6 billion border wall. A state of emergency, designated for times of crisis and national instability, is meant to accelerate the government's political process in order to restore stability. When presidents declare national emergencies, the law provides hundreds of provisions that endow the commander-in-chief with "extraordinary authority" to make executive decisions without asking congress for approval.
After the National Emergencies Act of 1976 (NEA), presidents must identify which specific powers they're asking to activate in order to address the designated emergency–which means selecting a few out of approximately 130 laws that grant special authorities to the President. Barack Obama invoked those powers 13 times over his eight years in the White House; similarly, George W. Bush did so 12 times over his two terms. One major dilemma with the NEA, however, is that it does not create a time limit within which a state of emergency must be resolved, allowing for various national emergencies to remain ongoing simultaneously (in 2017, there were 28 concurrent active emergencies). This, of course, allows the sitting President to hold "extraordinary authorities" for an indeterminate period of time.
Another yet greater shortcoming of the NEA is that it doesn't define what constitutes an "emergency," allowing a President to interpret current events–and the laws–in his own way. Alarmingly, the President doesn't operate under many limitations when it comes to defining and declaring a national emergency. Elizabeth Goitein, co-director of the Liberty and National Security Program at the Brennan Center for Justice, says, "There aren't a lot of legal limits on his ability to do that, frankly, even if there isn't a real emergency happening."
Over the course of Trump's first two years as President, he declared three events to be national emergencies, including the H1N1 influenza epidemic and a series of cyber-hacking activities that still technically constitute a national emergency to this day. Recently, Trump has openly called the US-Mexico border a crisis situation, saying, "We have a crisis at the border, of drugs, of human beings being trafficked all over the world, they're coming through . . . criminals and gang members coming through. It is national security. It is a national emergency."
So what happens when a President does declare a national emergency?
According to the Congressional Research Service, there are hundreds of specific provisions codifying what the president is allowed to do–and those powers are far-reaching and invasive into daily American lives. While "the vast majority of them are of the stand-by kind — dormant until activated," a state of a national emergency allows the President to: "seize property, organize and control the means of production, seize commodities, assign military forces abroad, institute martial law, seize and control all transportation and communication, regulate the operation of private enterprise, restrict travel, and, in a variety of ways, control the lives of United States citizens."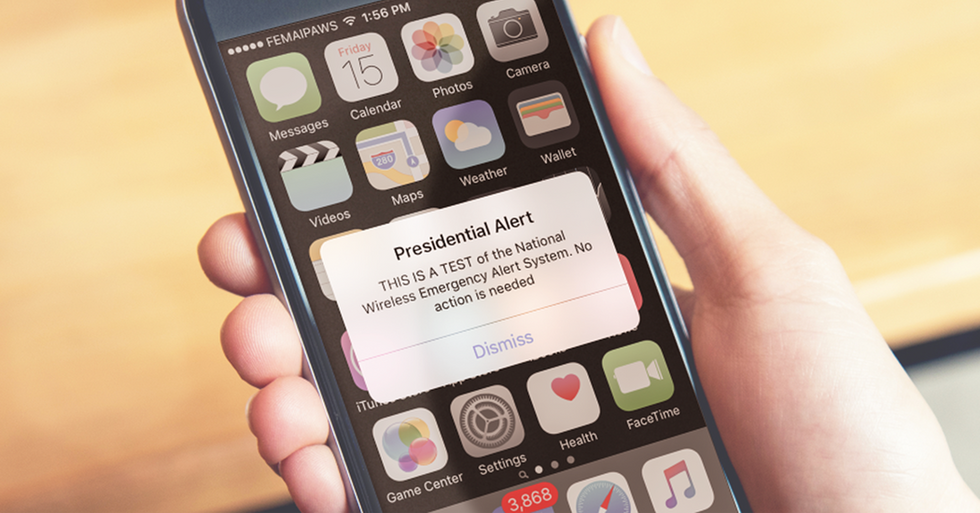 NY Times
What It Means:
1. Presidents can control funding
Trump could declare a national emergency in order to fund his wall. As Kim Lane Scheppele, a professor at the Center for Human Values at Princeton University, told Vox, "It could be that by putting together a lot of different sources of emergency authority, the president could tap a lot of different funds and at least start." With the above powers to seize property and commodities, as well as regulate means of production and private enterprises, the President could re-direct government funding away from ongoing military projects to fund the border wall. Last Friday, Trump told reporters, "I can do it if I want."
Technically, he's right. If Trump's administration can prove that the border wall is a "military construction," then using military funding would fall under the U.S. code for "Reprogramming During National Emergencies," which states that a President may "apply the resources of the Department of the Army's civil works program, including funds, personnel, and equipment, to construct or assist in the construction, operation, maintenance, and repair of authorized civil works, military construction, and civil defense projects that are essential to the national defense."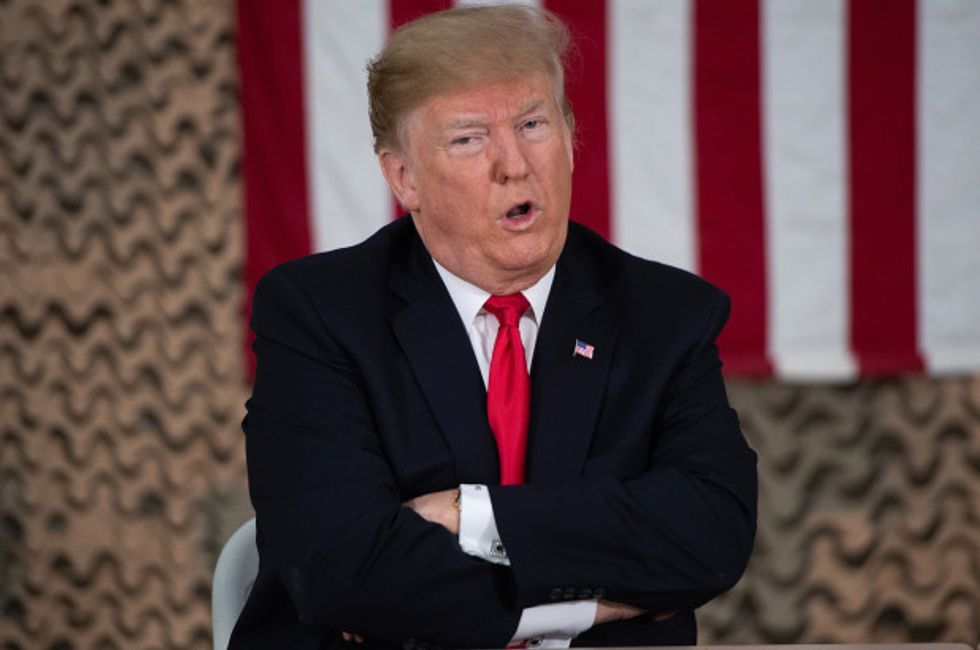 New York Post
2. Presidents can control the internet.

Seizure and control of transportation and communication includes controlling all internet traffic, restricting access to information deemed security risks. Today, that could mean "impeding access to certain websites and ensuring that internet searches return pro-Trump content as the top results."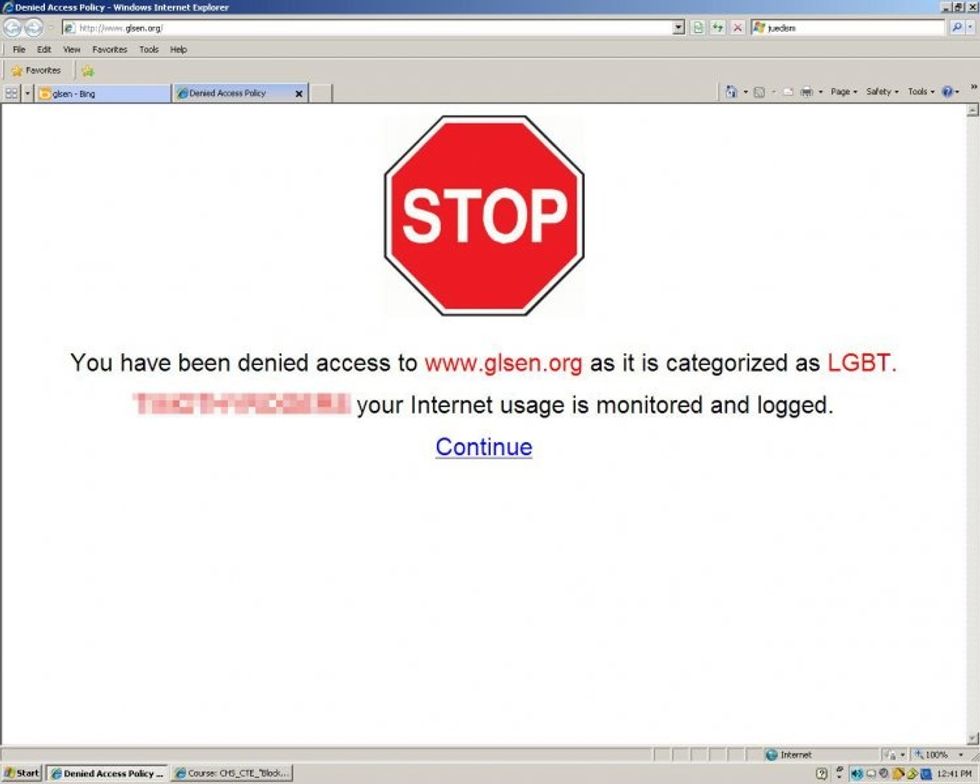 Ars Technica
3. Presidents can deploy troops to your neighborhood—easily.

4. Presidents can confiscate your property.
5. Presidents can forcibly relocate Americans.
Among the most notorious and regretful instances of Presidents declaring states of emergency is Franklin D. Roosevelt's use in 1941, months after Pearl Harbour was attacked. The above powers endowed the President to forcibly relocate more than 110,000 Japanese-Americans to internment camps. To retell it simply, the President instituted martial law along the east coast, forcibly transported U.S. citizens to the camps, confiscated their property, and restricted them from leaving or communicating with the outside world. Meanwhile, Roosevelt deployed the U.S. military overseas to enter World War II. 30 years later, the NEA was designed to prevent sitting Presidents from abusing declarations of emergencies, but with its vague language, much of the law remains to be tested in court.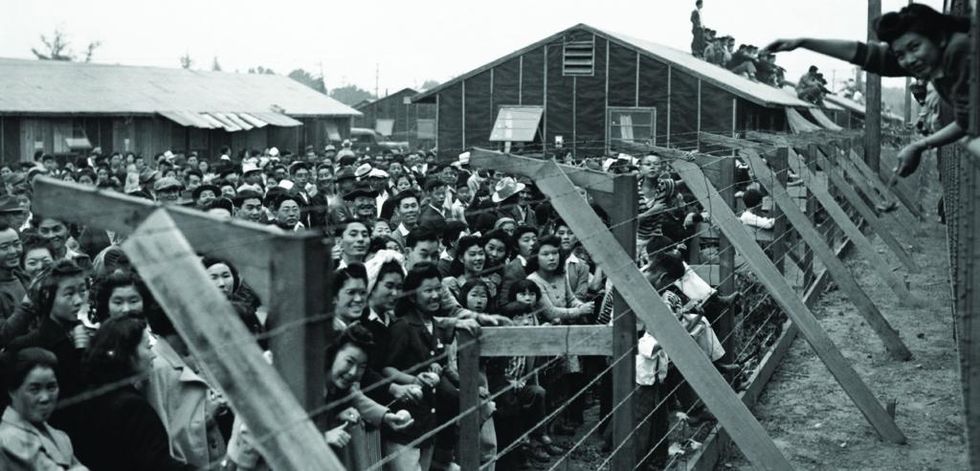 Equal Justice Initiative
In total, lack of clarity in the NEA gives Trump the legal grounds to argue for emergency powers over the country. However, legal experts, as well as passionate congressmen, have been outspoken about fighting against the president if he were to push that agenda. After all, congress reserves the right to overrule a president's declaration if they can pass a resolution to do so in both the House of Representatives and the Senate. However, the President would need to sign the resolution; otherwise, congress would need a second majority vote to override his veto.
President Trump is due to give a national address Tuesday night at 9PM. While he is not expected to declare a national emergency, he is expected to urge the American people that the southern border constitutes a "humanitarian and security crisis" that urgently needs to be addressed. To Trump, that means building a border wall, even if it means prolonging what is already one of the longest government shutdowns in history, or perhaps even abusing executive powers.

Meg Hanson is a Brooklyn-based writer, teacher, and jaywalker. Find Meg at her website and on Twitter @megsoyung.
Nine federal departments will shutdown at midnight on Friday due to Congress' inability to settle funding disputes, including Trump's demands for $5 billion for his border wall.
With Trump predicting that "chances are probably very good" that the government will shut down at midnight, he's reneged on his proud claim that he'd "totally be willing" to "take the mantle" of a shutdown. Instead, he said on Friday, "Now it's up to the Democrats as to whether or not we have a shutdown tonight."
Congress has been unable to pass funding packages for seven federal agencies, mainly due to Trump's stubborn demands for $5 billion to build his border wall. With funding deals expiring at midnight tonight, hundreds of thousands of federal employees will be either out of work or expected to work without pay until the government resumes full function in 2019.
Among those affected are more than 420,000 employees required to keep working through the shutdown, including those in the Department of Homeland Security, the FBI, the DEA, and Forest Service firefighters. With dozens of federal agencies expected to close down, national parks, museums, and zoos may be shuttered, with housing agencies warning that loan processing and approvals may be significantly delayed.
Aside from disrupting government services, shutdowns worsen deficits with financial losses in productivity. The longest government shutdown took place under the Clinton Administration, lasting 21 days and costing approximately $1.4 billion. The 2013 shutdown under Barack Obama lasted 16 days and cost about $2 billion.
Trump took to Twitter to blame Democrats for their refusal to offer more than $1.3 billion to fund the border wall. He posted, "If the Dems vote no, there will be a shutdown that will last for a very long time." After Congress voted and Trump still did not receive his inflated amount of $5 billion, he followed up with, "The Democrats now own the shutdown!"
The Democrats, whose votes we need in the Senate, will probably vote against Border Security and the Wall even thou… https://t.co/o4ZLHp93QM

— Donald J. Trump (@Donald J. Trump) 1545395058.0
As of early Friday evening, Congress had made no progress in settling the border wall dispute. Government agencies had been alerted on Thursday to prepare to freeze their functioning for an indeterminate amount of time.

"I hope we don't [shut down]," Trump told the press on Friday afternoon at a bill signing event at the White House. "But we are totally prepared for a very long shutdown and this our only chance that we'll ever have in our opinion, because of the world and the way it breaks out, to get great border security."
In a closed vote House Democrats spotlit Pelosi with overwhelming support, 203-32.
Nancy Pelosi secured the Democratic nomination on Wednesday, regaining her position as Speaker of the House. Pelosi, 78, ran unopposed on a secret ballot when the House Democrats cast a 203-32 vote in a closed door meeting.
Still, Pelosi was opposed by a small faction who charge that the Californian lawmaker is too divisive a figure to represent the party. Rep. Brian Higgins (D-N.Y.) was an initial detractor, but he turned to voice his endorsement of Pelosi last week.
Higgins told reporters, "Democracy is a sloppy mess. ... There are a lot of differing views, even within the Democratic Caucus. The ability to pull that together is not clean and efficient all the time, and everyone has laid on the table what they are looking for." He added, "Everyone here, 435 members in the House, has one legislative tool and that is their vote."
The House of Representatives will elect a new speaker on January 3. Even with Democrats holding a majority of the 435 seats, it's still possible for Pelosi to lose the final vote; those 32 opposers are enough to tip the scales if Republicans unanimously reject her. Pelosi has until the new year to win over more representatives like Higgins.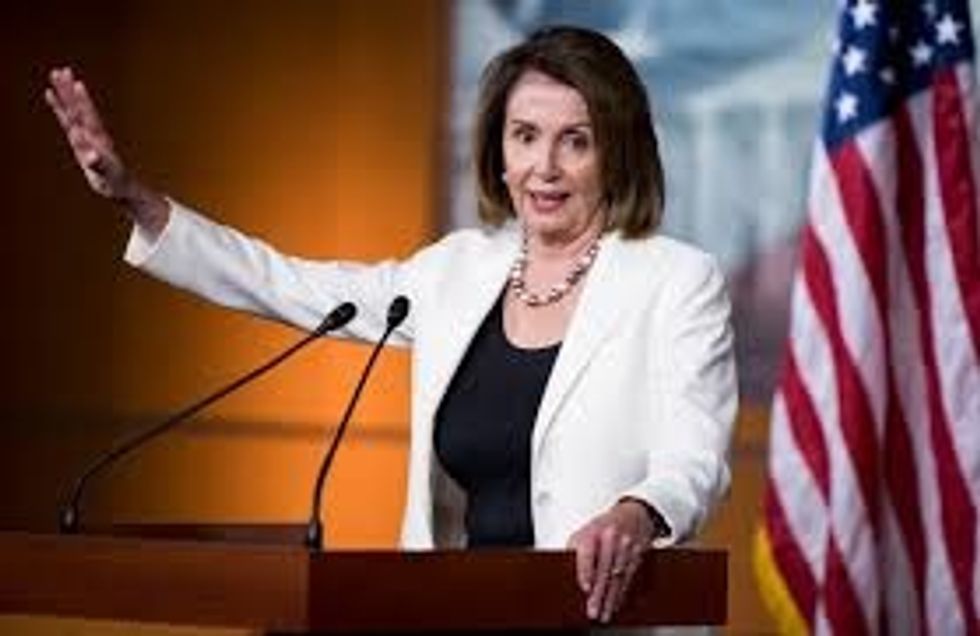 Time Magazine
Meg Hanson is a Brooklyn-based writer, teacher, and jaywalker. Find Meg at her website and on Twitter @megsoyung.

The conservative Republican made history when she won a seat in Congress, despite backlash over recent racially-charged comments.
In the last Senate race to be called, Mississippi has elected its first female Senator. Cindy Hyde-Smith will hold one of the Republicans' 53 seats to Democrats' 47 seats, setting a new record of 24 women in the Senate next year. However, the victory as a mark of social progress is tainted due to Hyde-Smith's history of racially-charged comments and sheltered background.
Leading up to the election, Hyde-Smith received backlash over a video of her joking with a supporter that if she were invited to a "public hanging," she'd be in "the front row." Following public outcry, she released an apology, stating, "For anyone who was offended by my comment, I certainly apologize."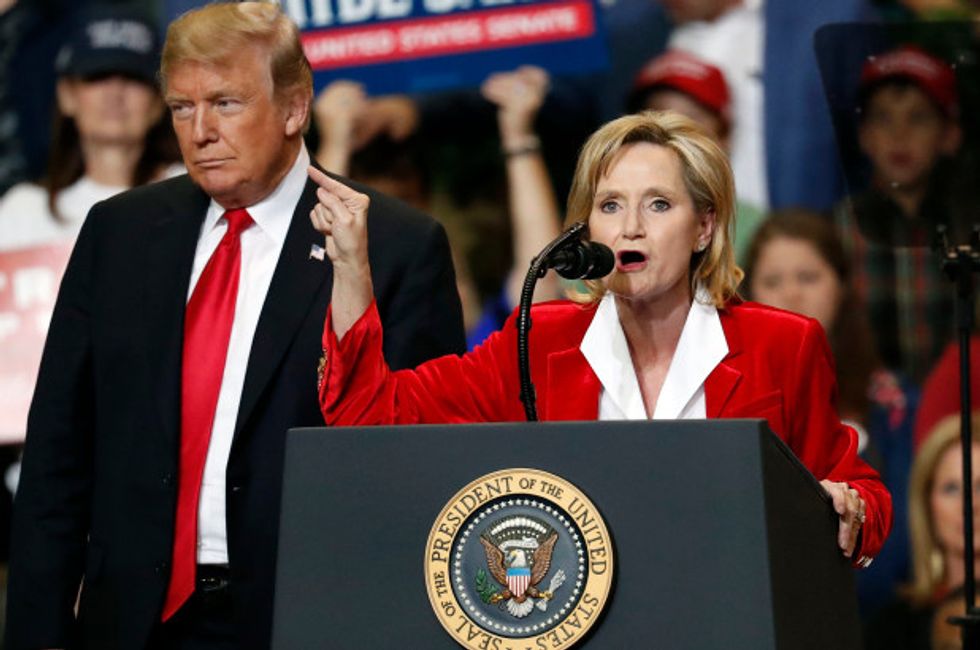 New York Post
At the same time, however, she dismissed the criticism as "ridiculous." Claiming that she possessed no ill intentions, she framed the comment as nothing more than banter with a supporter, stating, "In referencing the one who invited me, I used an exaggerated expression of regard, and any attempt to turn this into a negative connotation is ridiculous."

The conservative Senator has the public divided over whether Mississippi is heading towards a more inclusive future or embracing a troubled past. Hyde-Smith's "public hanging" comments evoke the state's ignominious history of mob lynchings, Jim Crow, and legally-enforced segregation. On Friday, the Jackson Free-Press uncovered that the 59-year-old graduated from a southern private school established in the '70s to eschew desegregation orders after the ruling of Brown v. Board of Education.
Mississippi has been criticized for allowing segregated private schools as recently as 2017. Hyde-Smith's alma mater, Lawrence County Academy, hosted a mascot dressed as a Confederate general and displayed a Confederate flag. The Senator elected to send her daughter to a similar "segregation academy."
CNN also looked into Hyde-Smith's past and reported that she's advocated a revisionist view of the Civil War and backed a measure to honor a Confederate soldier's efforts to "defend his homeland." Additionally, the Senator's Facebook page displays pictures from 2014 in which she's posing with Confederate artifacts during a visit to Beauvoir, the hometown of Confederate President Jefferson Davis. The photo's caption reads, "Mississippi history at its best!"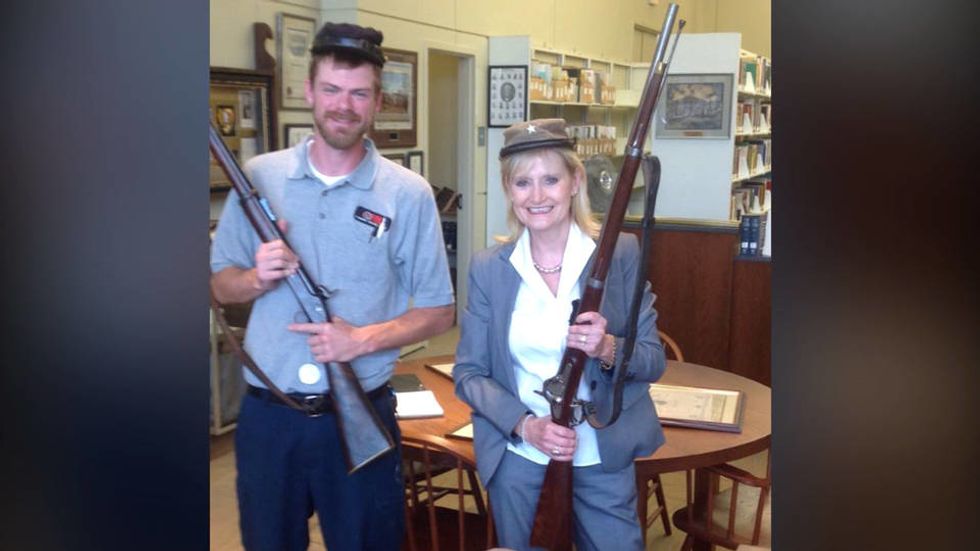 Democracy Now!
On Tuesday, Hyde-Smith credited her win to the state's dedication to "conservative values." In her victory speech, she said, "The reason we won is because Mississippians know me and they know my heart. This win tonight, this victory, it's about our conservative values, it's about the things that mean the most to all of us Mississippians: our faith, our family."

Hyde-Smith received her strongest support from Mississippi's rural and predominantly white counties, according to The New York Times. CNN also attributed the win to Donald Trump's last-minute trips to the state. During a Monday night rally in Biloxi, Trump told the crowd, "She is respected by all. Some long-term senators, they've been down there, they told me, this is a woman that gets it. She's smart, she's tough, and she loves you." He went on, "She produces like few produce. This is a very, very special person."
After a race that was closer than anticipated, Democrat Mike Espy conceded to Hyde-Smith on Tuesday. He offered hopeful regards to the new Senator, stating, "[She] has my prayers as she goes to Washington to unite a very divided Mississippi."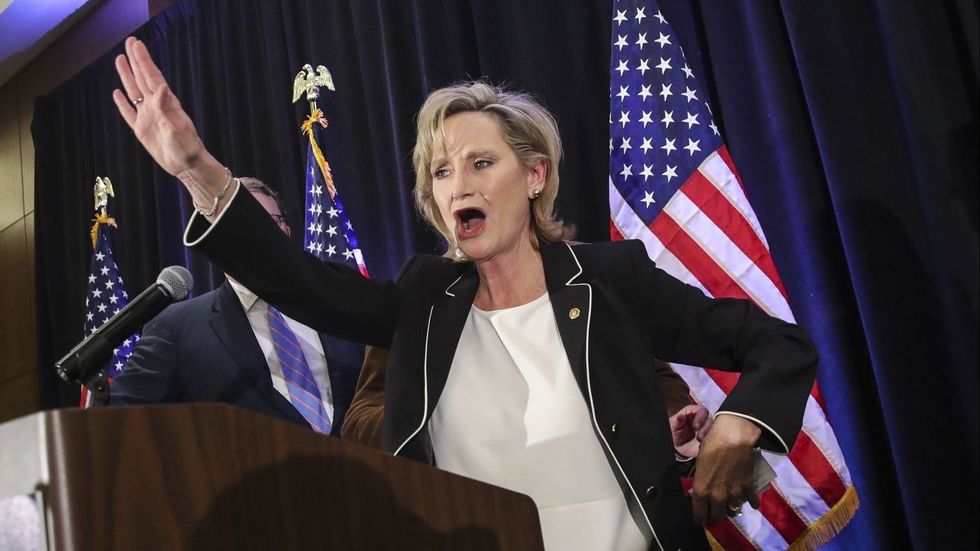 Los Angeles Times
Meg Hanson is a Brooklyn-based writer, teacher, and jaywalker. Find Meg at her website and on Twitter @megsoyung.

Trump's demands for $5 billion to build a border wall stymies Congress' ability to fund government in 2019.
Just nine days ahead of the December 7 deadline, Congress has made no progress towards passing the seven appropriations bills needed to avoid government shutdown. At the center of the deadlock are President Trump's demands for $5 billion to fund his border wall. In an Oval Office interview with Politico on Tuesday, Trump affirmed he'd "totally be willing" to shut down the government if Congress doesn't allocate the funds.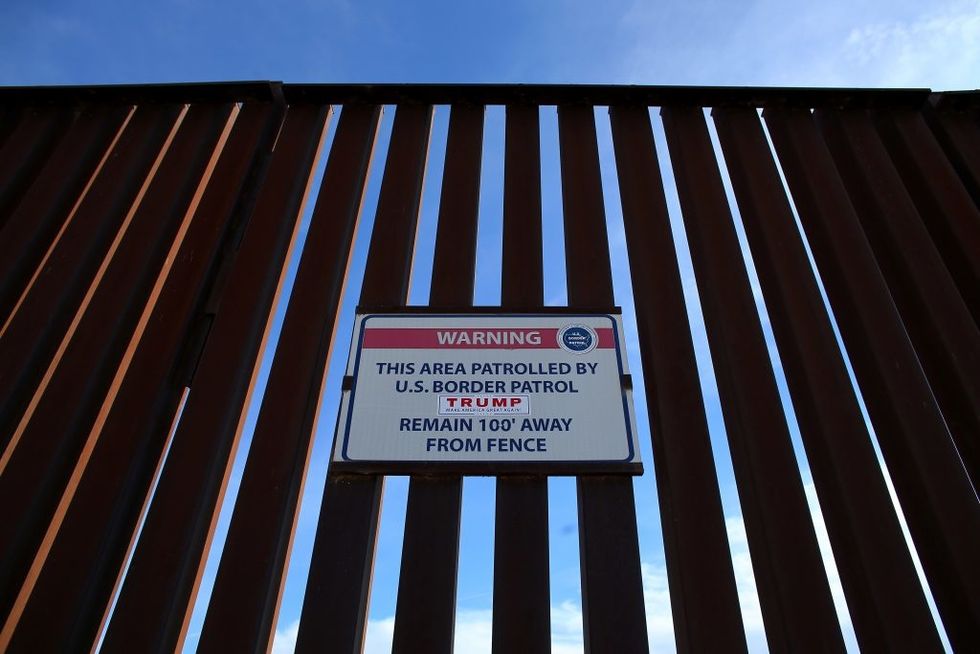 PBS
In September Democrats and Republicans agreed on a long-term funding package for the departments of Defense, Labor, Health and Human Services, and Education for 2019. However, they only reached short-term compromises for the remaining agencies, including the Department of Homeland Security, Justice Department, and the State Department. Even then, Trump was threatening to shut down the federal government if he didn't receive multi-billion dollar funding for his wall, but Republican leaders expressed doubt over his conviction.

Now, with those short-term deals expiring next Friday, Congress is more wary than ever of losing government function. Senator Joni Ernst (R-Iowa) spoke against the prospect in an interview on Sunday, "I hope that we can avoid shutting down the government. We have a lot of departments that do a lot of good for our citizens, so we need to make sure that we're funding them properly through Congress."
That's not to say Trump doesn't have Republican support, with House Majority Whip Steve Scalise (R-Louisiana) stating from the White House on Tuesday, "I'm glad that President Trump is following through on his commitment to keep this country safe. He needs $5 billion to make sure he can follow through on that promise and we need to be there for him and see that this gets done."
Resistance from Democrats is the main obstacle to appeasing Trump, with Scalise even posing the deadlock as a failure of the party's values. He asked if Democrats are "going to shut down the government because they don't want to keep America safe?"
The closest piece of compromise is the Democrats' concession of $1.6 billion in funding for border security. They've showed no sign of budging towards Trump's demands for triple that figure. Senate Democratic leader Chuck Schumer spoke for the party on Tuesday, affirming, "If there is any shutdown, it's on President Trump's back. Stick to the $1.6 billion."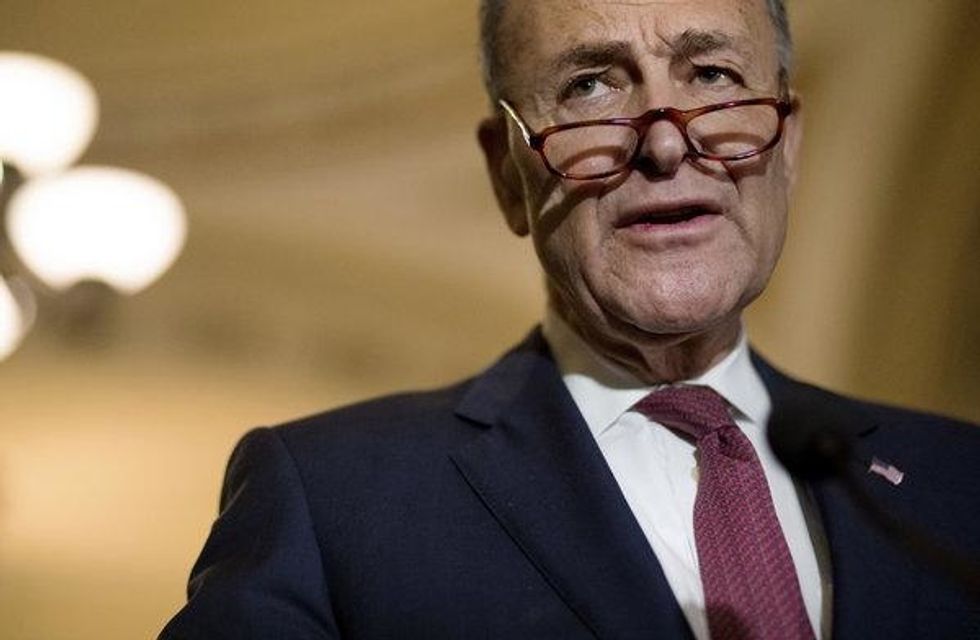 The New York Times
As for Trump, he told Politico he "was in no mood" to compromise on using federal funds to construct a border wall (despite initial and unfeasible claims it was to be funded by Mexico). He told Politico, "I will tell you, politically speaking, that issue is a total winner. People look at the border, they look at the rush to the police, they look at the rock throwers and really hurting three people, three very brave border patrol folks – I think that it's a tremendous issue, but much more importantly, is really needed. So we have to have border security."

Trump was referring to a confrontation at the border on Sunday in which he claimed three border patrol agents were "very badly hurt." While multiple migrants were harmed by tear-gas unleashed by border officials on Sunday, Trump's claim remains unsubstantiated.
Negotiations between Democrats and Republicans continue to take place this week, as a possible funding package is still in nascent planning stages. The odds of avoiding government shutdown are grim, with only nine days to draft a deal, gain sign off from House and Senate leadership, and win over a president who is "in no mood" to compromise his own agenda.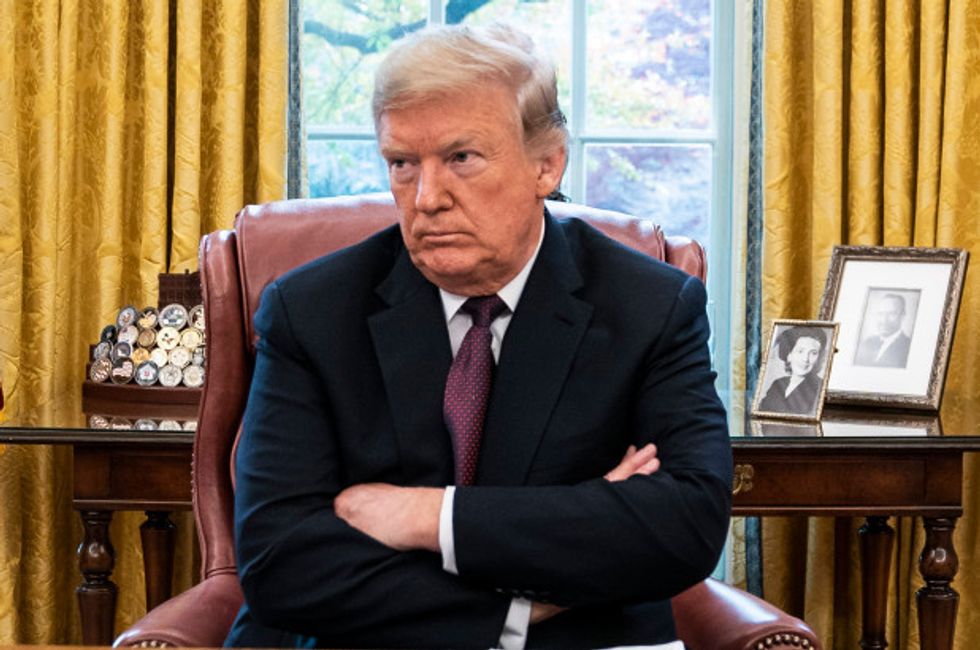 Getty Images - New York Post
Meg Hanson is a Brooklyn-based writer, teacher, and jaywalker. Find Meg at her website and on Twitter @megsoyung.

Democrats have control of the House for the first time in eight years. Now, they have a mandate to push for a bold agenda on infrastructure, healthcare, immigration, and voting rights.
After months of warnings, the "Blue Wave" finally came to shore. Democrats took back control of the House, gaining 32 seats, a number that could increase to 38 or 39, depending on the results of the uncalled races. With the party back in charge of the lower chamber, much of the discussion around what their priorities should be has revolved around investigating the president and his myriad offinancial and political scandals. House Democrats have a clear mandate to fulfill their constitutional duty to provideoversight of the White House, but Democrats also have a mandate to address a number of major legislative issues. Though it's unlikely Democrats that will get any of these priorities pushed before the president and a Republican Senate, it's crucial that they signal to their voters what they want to done should they win the presidency and the Senate in the future.
Infrastructure
As a candidate and in the beginning of his presidency, Donald Trump promised to tackle the nation's crumbling infrastructure. That, of course, has gone nowhere and every "Infrastructure Week" ended in some scandal, quickly becoming anongoing joke. But thestate of America's infrastructure is nothing to joke about. Infrastructure spending has long been a Democratic Party priority before Trump attempted to co-opt it. Democrats should push that issue once again, proposing a bold infrastructure plan to repair crumbling roads and bridges, modernize public transportation systems, expand access to high-speed, fiber-optic Internet, and invest in green energy projects like wind, solar, and hydroelectric power.
Such an infrastructure plan would signal the party's commitment to investing in neglected communities and funding renewable energy projects such as a broader plan to combat climate change—not to mention open the door to the manyeconomic benefits of infrastructure spending. It would also establish a clear contrast with Trump's previous infrastructure plan that's been criticized as agiveaway to private contractors. The president has said he is willing to work with Democrats, so why not press him to keep his word? Democrats would be wise to pressure the president and his Republican supporters to prioritize infrastructure, or face political consequences.
Healthcare
No other issue played a bigger role in the Democrats' midterm success than healthcare. Their electoral message on healthcare was simple: Protect people with pre-existing conditions, expand coverage and stop proposed cuts to Medicare and Medicaid. Now they must deliver on these promises. House Democrats can immediately pass legislation to protect coverage for people with pre-existing conditions, pressuring Trump and other Republicans who have vowed to do the same to keep their word. With a full repeal of the Affordable Care act now temporarily off the table, Democrats should push to expand coverage and address the limitations of the ACA. These can range from introducing incremental policies that get support from more moderate Democrats, like legislation tostabilize insurance markets, to bolder policies that attract the progressive wing of the party, like allowing Medicare more power tonegotiate drug prices and proposing aMedicare buy-in for 55 to 64-year-olds.
While the long-term goal for the party should be to push for a Medicare for All system, these are positive steps toward a goal that still has a lot of opposition from within the party. Finally, any budget proposed by House Democrats should reverse any funding cuts to Medicare and Medicaid. Democrats have an ideal opportunity to push for a positive vision on healthcare and continue to have the upper hand on the issue heading into 2020.
Immigration
Bitter political battles over immigration, especially over funding for the border wall and the fate of DACA, will be a prominent feature of politics the next two years. Democrats are right to be alarmed over the administration's immigration policies like family separation and ending DACA, but now it's crucial they advocate for an immigration agenda in contrast to the Republican agenda. With the fate of DACA likely in thehands of the Supreme Court, Democrats must push for a long-term legislative solution. The most stable solution is the passage of the Dream Act. It would also be politically beneficial for the Democrats to bring it to the floor cleanly, without a compromise on funding for the wall. Furthermore, Democrats should schedule hearings about the family separation policy and Trump's pre-election decision to bring troops to the southern border in response to the migrant caravan. Democratic voters havebecome more liberal on immigration, and it's important the party signal to its base that they are willing to find solutions on the issue without compromising its core values.
Voting Rights
Much of the post-election analysis has focused on the effects of voter suppression, notably in Georgia, North Dakota, and Florida. These voter suppression efforts have only increased since theSupreme Court struck down the section of the Voting Rights Act, which required states with a history of racial discrimination to get permission from the Department of Justice when enacting any changes in voting laws. In response, states around the country immediately passed strict voter ID laws. Fortunately, the Supreme Court decision left the door open for future legislative action. House Democrats can immediately take action andstrengthen the Voting Rights Act. They would also be wise to propose legislation to make Election Day a federal holiday, or move Election Day to a Sunday, as it is in most places around the world. While Republicans are busy spreadingconspiracy theories about voter fraud, Democrats should take the opposite path and make it clear they will fight continuing discrimination in voting. For strategic and moral purposes, the party has an obligation to extend democracy in every way when voting rights are under tremendous pressure.
Dan is a writer, thinker and occasional optimist in this random, chaotic world. You can follow him on Twitter @danescalona77.
Gone at 81, his legacy will live on
Thoughts and prayers are ringing in with harmony at the news that Senator John McCain lost his brave battle with brain cancer. A life well-lived, filled with strength and struggle, wins and losses, and ups and downs, McCain's 81 years on Earth have left a mighty legacy, one that his family will forever cherish, politicians from both sides of the aisle appreciate, and Americans admire.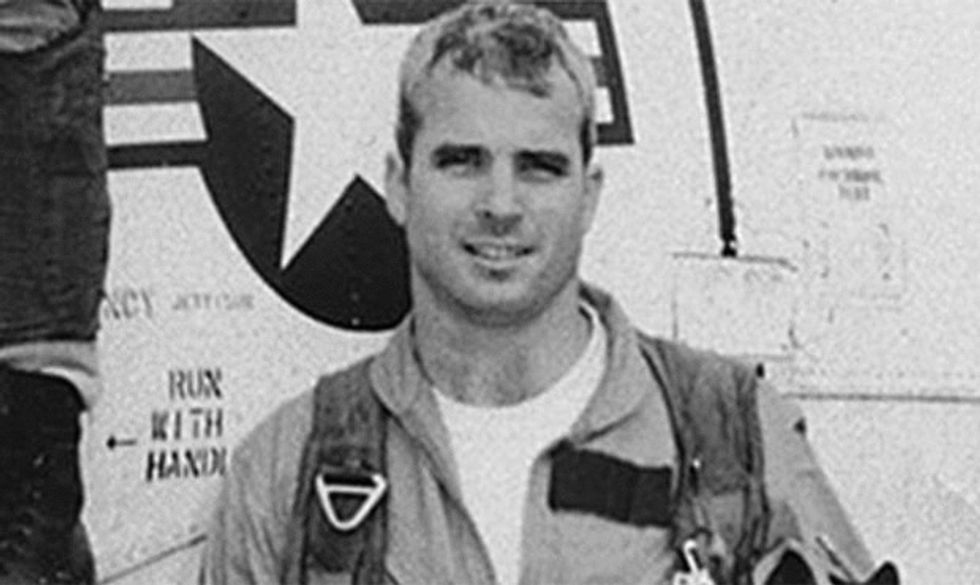 War herohttp://ktar.com
Political affiliations aside, most agree that McCain was a true hero – in every sense of the word. Be it his unimaginable imprisonment in Vietnam, his devotion to his family, his thoughtful approach to politics, or his courage against cancer, McCain made a difference, created conversation, and gifted us with values and integrity that seem to be otherwise slipping away.
McCain once wrote, "I made a small place for myself in the story of America and the history of my times." But many would argue his place was far more profound. His life as a warrior, an independent voice among the Republican party, and a true leader among colleagues and candidates, McCain's drive, determination, and duty to our country never waned and was welcomed by those who subscribed to his sensibilities, wanted something better to believe in, and a future to look forward to.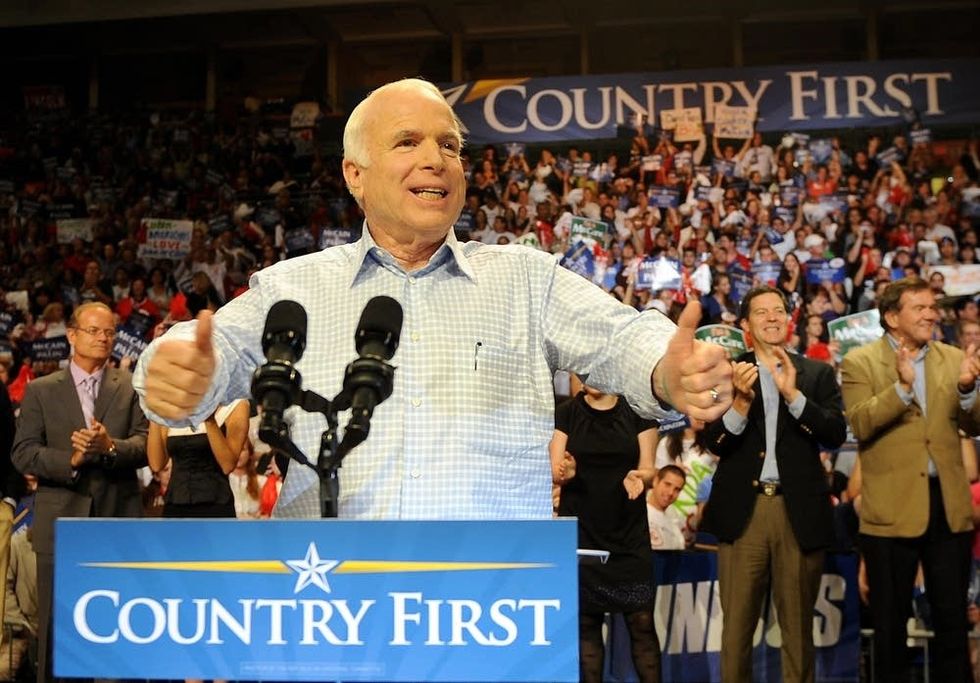 On the campaign trailuselectionatlas.org
As reported by NBC News, "'With the senator when he passed were his wife, Cindy, and their family. At his death, he had served the United States of America faithfully for 60 years,' McCain's office said in (a) statement."

Known for his wit as much as his work on Capitol Hill, McCain's fair and balanced take on issues gained him well-deserved recognition and camaraderie. As NBC News eloquently explains, "In his 36 years in Congress, McCain became one of the country's most respected and influential politicians, challenging his fellow lawmakers to reach across the aisle for the good of the country. On a variety of issues — torture, immigration, campaign finance, the Iraq War — McCain was often known as the moral center of the Senate and of the Republican Party."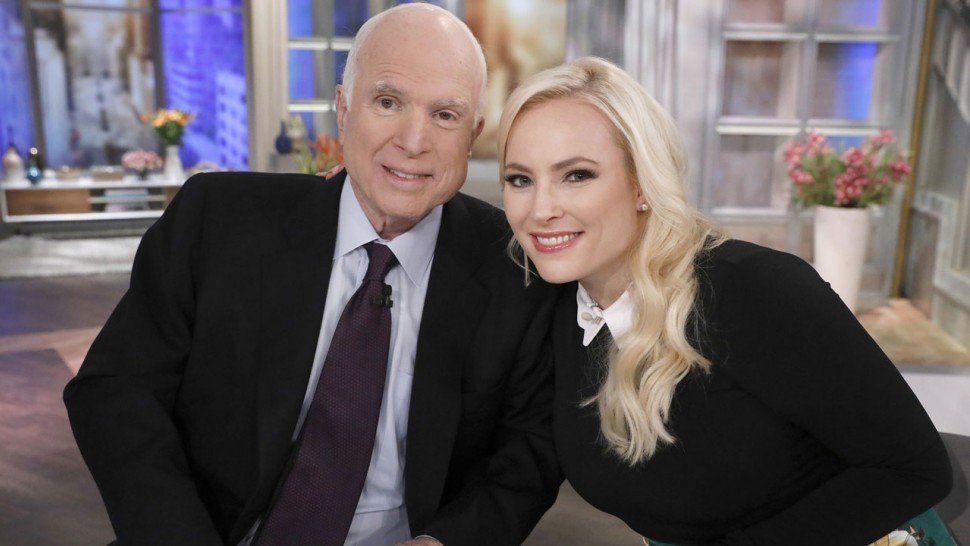 A father's love www.etonline.com
His daughter, Meghan McCain, shared, "All that I am is thanks to him. Now that he is gone, the task of my lifetime is to live up to his example, his expectations, and his love." Perhaps we can all take something from his example and use it to raise the bar, challenge ourselves, and show compassion when it counts.
A maverick, a man of honor, John McCain. Rest in peace.