"A tree is best measured when it is down," the poet Carl Sandburg once observed, "and so it is with people." The recent death of Harry Belafonte at the age of 96 has prompted many assessments of what this pioneering singer-actor-activist accomplished in a long and fruitful life.
Belafonte's career as a ground-breaking entertainer brought him substantial wealth and fame; according to Playbill magazine, "By 1959, he was the highest paid Black entertainer in the industry, appearing in raucously successful engagements in Las Vegas, New York, and Los Angeles." He scored on Broadway, winning a 1954 Tony for Best Featured Actor in a Musical – John Murray Anderson's Almanac. Belafonte was the first Black person to win the prestigious award. A 1960 television special, "Tonight with Belafonte," brought him an Emmy for Outstanding Performance in a Variety or Musical Program or Series, making him the first Black person to win that award. He found equal success in the recording studio, bringing Calypso music to the masses via such hits as "Day-O (The Banana Boat Song)" and "Jamaica Farewell."
Harry Belafonte - Day-O (The Banana Boat Song) (Live)www.youtube.com
Belafonte's blockbuster stardom is all the more remarkable for happening in a world plagued by virulent systemic racism. Though he never stopped performing, by the early 1960s he'd shifted his energies to the nascent Civil Right movement. He was a friend and adviser to the Reverend Doctor Martin Luther King, Jr. and, as the New York Times stated, Belafonte "put up much of the seed money to help start the Student Nonviolent Coordinating Committee and was one of the principal fund-raisers for that organization and Dr. King's Southern Christian Leadership Conference."
The Southern Poverty Law Center notes that "he helped launch one of Mississippi's first voter registration drives and provided funding for the Freedom Riders. His activism extended beyond the U.S. as he fought against apartheid alongside Nelson Mandela and Miriam Makeba, campaigned for Mandela's release from prison, and advocated for famine relief in Africa." And in 1987, he received an appointment to UNICEF as a goodwill ambassador.
Over a career spanning more than seventy years, Belafonte brought joy to millions of people. He also did something that is, perhaps, even greater: he fostered the hope that a better world for all could be created. And, by his example, demonstrated how we might go about bringing that world into existence.
"President Kennedy never foresaw that the chickens would come home to roost so soon...Being an old farm boy myself, chickens coming home to roost never did make me sad; they always made me glad." -Malcolm X.
The attack on Capitol Hill was another example of how President Donald Trump has emboldened white supremacy. His term in office has given racism and fascism a bigger platform and an official advocate. He proved that, at his command, MAGA fanatics will assemble to do his bidding.
As the world watched the descent of democracy, many were appalled at the visual. This was an attempted coup two weeks before the inauguration of Joe Biden and Kamala Harris. News outlets and politicians questioned how we, as a country, got to this point. But for Black Americans, this has always been our country.
The violence witnessed on Capitol Hill was a scene all too familiar for Black people. The difference was that we weren't the direct targets. Trump's base has antagonized and threatened violence against Black people while law enforcement abuses its power when interacting with us. The confrontation between the two entities responsible for our oppression was unexpected, but not surprising.

Many Trump supporters and members of law enforcement are cut from the same cloth. In fact, many members of law enforcement voted for him. Their belief in excessive force under the guise of law and order gives them what they feel is the right to harm anyone who goes against their authority. They are loyal to a flawed system and a man that keeps them in power and not to the country and its citizens seeking progress and peace.
Throughout this presidency, both sides have pledged their allegiance to each other. MAGA supporters have backed the Blue Lives Matter movement. Police officers have demonstrated leniency when dealing with unruly Trump disciples at rallies and protests. Both believe they are the good guys trying to make things great again.
[shorcode-Newsletter-Embed]
Black people have had to do battle with both. We've had to listen to the various lies spewed about the Black Lives Matter movement from supporters of the president while fighting police brutality daily. The assault on Blackness was a cause that unified them. Black people have warned the world of the dangers these factions were capable of for years. Those claims fell on deaf ears, until yesterday when they turned on one another.

For many Black Americans, yesterday was the manifestation of this country's inability to address domestic terrorism. Peaceful protests and resistance against police brutality are viewed in the same light as the insurrection. The anarchy and mayhem that GOP pundits accuse BLM of inciting was a direct order from their leader.
Their ignorance and arrogance gave them the courage to lay siege to a government building. But if angry Black protesters attempted the same actions, many lives would've been lost.
The same reason why the police routinely kill Black people is the same reason why the police are routinely unprepar… https://t.co/Rc3yWRZ2PA

— Ibram X. Kendi (@Ibram X. Kendi) 1609964271
Suddenly, Trump supporters view themselves as oppressed. Their reign over the country is coming to a not so graceful end. Rather than humbly accepting defeat, they want to dismantle the establishment. The same establishment that helped empower them over the last four years.

Somehow this attack was yet another revelation for white Americans. Before Trump's election, the idea of police officers displaying a lack of regard for the lives of Black people was inconceivable to white Americans. The thought of parts of our government upholding systemic racism was unfathomable.
Last night, after a year of reckoning with the racism built into America's system, white Americans were forced to once again look at the enormous part white privilege plays in policing. But for Black people, it was simply a clear visual of America's decision on November 8, 2016, coming home to roost.
Trump supporters swarmed the U.S. capitol during today's Senate debate over the Electoral College votes.
This article was originally published at 3:55 p.m. on January 6. It was updated at 5:50 p.m. on January 6.
Less than a year after Black Lives Matter protesters were met with tear gas, rubber bullets, and countless instances of brutality from police officers across the country, Trump supporters are being let off rather easy for...also protesting.
January 6 marked the Senate debate over the Electoral College count, during which the soon-to-be Senate Minority Leader Mitch McConnell and various other Trump cronies asserted that Joe Biden did not win the 2020 election (though he did) and the current president would have been reelected in a landslide if it weren't for massive voter fraud (which didn't exist).
As Senators debated in the capitol, a swarm of protestors — donning Trump swag, MAGA hats, and, yes, Confederate flags—began encroaching in. At around 2 PM EST, however, Capitol Police notified everyone inside the building to shelter in place. The protesters had, in fact, breached the capitol building.
A Timeline: Here's Video Evidence of What's Going On
First, Trump supporters began gathering outside the Capitol steps. As they inched up the steps, it appeared as though police officers did little to hold them back — save for a few spritzes of pepper spray.
It's a far cry from the violence that police enacted on Black Lives Matter protesters last summer.
Protesters then raised a cross outside of the Capitol (unclear if they plan on nailing Trump to it).
The Capitol's front doors were shattered as protesters then came inside, demanding to see senators.
Protesters were able to walk throughout the building with little to no pushback from security.
Protesters began getting violent with police officers in an attempt to reach the senate chamber. Chants of "U.S.A." echo throughout the building.
DC police reported that one person had been shot inside the capitol. MSNBC shared a clip in which a bloodied woman was shown leaving the capitol on a stretcher.
Protestors found their way to the senate chamber. No tear gas, no rubber bullets.
A source reportedly told Aaron C. Davis, investigative reporter for the Washington Post, that the Defense Department denied a request by DC officials to deploy the National Guard to the capitol.
President Trump's advice: "Stay peaceful," coming from the same man who told Black Lives Matter protesters, "When the looting starts, the shooting starts."
Despite bipartisan demands, Trump does not strengthen his language at all.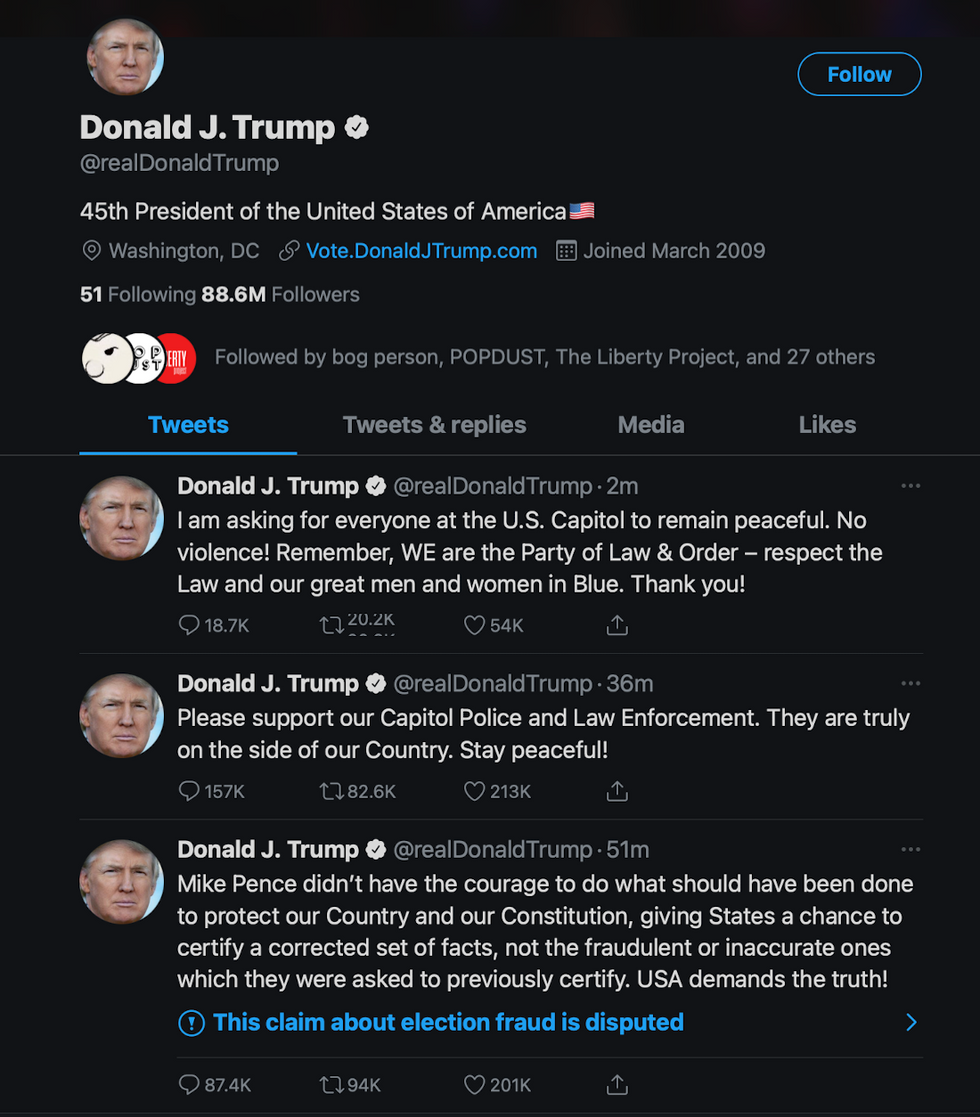 Reports of violence and injuries, including a woman shot in the neck, confirm escalating violence. Later in the evening, MSNBC confirmed that the woman who was shot had died.
After a confusing delay, more DC National Guard troops are finally mobilized to quell the mob.
The far-right group has links with the 2017 Unite the Right Rally and recent alt-right rallies in Portland, Oregon.
In case you were blissfully unaware, last night marked the first presidential debate between President Trump and Democratic nominee Joe Biden.
In what has been called "maybe the worst presidential debate in American history," Trump's constant interruptions of both Biden and moderator Chris Wallace did very little to expand his appeal beyond his existing fervent fan base. The president also repeatedly tried to associate Biden with the radical left—a statement that is simply not true. And while Biden kept a relatively calm composure, he missed a few key talking points, his most memorable quote being "Will you shut up, man?"
But the most disconcerting moment in the debate was when President Trump blatantly failed to denounce white supremacy.
"You have repeatedly criticized the vice president for not specifically calling out Antifa and other left wing extremist groups," Wallace said to Trump. "But are you willing tonight to condemn white supremacists and militia groups and to say that they need to stand down and not add to the violence in a number of these cities, as we saw in Kenosha and as we've seen in Portland?"
After a few moments of fumbling and putting the blame on left-wing groups, Trump's response was: "Proud Boys, stand back and stand by."
President Donald Trump: White supremacist group Proud Boys should 'stand back and stand by'www.youtube.com
Social media was immediately flooded with people voicing their concerns. While Trump has clearly displayed white supremacist behavior throughout his presidency, this is perhaps the most blatant example of all. The aforementioned Proud Boys have reportedly been celebrating Trump's apparent endorsement—but who are they, anyway?

The Proud Boys are a far-right, all-male extremist group that was formed in 2016 by Gavin McInnes, who describes the organization as a "pro-Western fraternal organization." Though they firmly denounce any accusations of racism (even filing a defamation lawsuit after being categorized as a hate group), they have been described as violent, nationalistic, Islamophobic, transphobic, and misogynistic. Though they deny any connotation with the alt-right, some of their core values include "anti-political correctness," "anti-racial guilt," and "reinstating a spirit of Western Chauvinism."
In its early months, the Proud Boys veered away from begin just a men's club and began growing into a flat-out, far-right extremist group that lived up to McInnes's longtime racist ideals. "I love being white and I think it's something to be very proud of," McInnes told the New York Times in 2003. "I don't want our culture diluted. We need to close the borders now and let everyone assimilate to a Western, white, English-speaking way of life."
In his detailed plan for the Proud Boys, McInnes stated that members would be sorted into nationwide chapters, and that each member can be sorted into one of three ranks. To achieve the first rank, you must publicly declare your pride in being a Proud Boy. The second is to receive a brutal beating while reciting five breakfast cereal names, and the third is to get a Proud Boy tattoo. "It's very freeing to finally admit the West is the best," McInness wrote. "That's because it's the truth."
No matter what accusations you might hear about violent protests supposedly escalated by Antifa, violence has been a major aspect of the Proud Boys' M.O. since their inception. A notable ex-Proud Boy is Jason Kessler, the founder of the infamous Unite the Right Rally in Charlottesville, Virginia in 2017. Many Proud Boys attended the event, which resulted in the death of a counter-protester named Heather Heyer.
More recently, the Proud Boys have had a significant presence in the current protests and rallies in Portland, Oregon. Their involvement in Black Lives Matter protests has revealed that they feel a duty to assist law enforcement officers.
And now, with fairly explicit approval from Trump, the Proud Boys feel a renewed sense of responsibility to further uphold their xenophobic beliefs.
"To say Proud Boys are energized by [Trump's statement at the debate] is an understatement," Megan Squire, a computer science professor who tracks online extremism, told NBC News. "They were pro-Trump before this shoutout, and they are absolutely over the moon now. Their fantasy is to fight antifa in his defense, and he apparently just asked them to do just that."
Screenshots of the Proud Boys' Telegram, a private messenger app, evidence their glee following the debate.
"Trump basically said go f*ck them up," member Joe Biggs wrote. "This makes me so happy."

If you were somehow unsure of Trump's white supremacy before, hopefully this alarming situation helps clear it up.
We have his public explanation, but it's worth considering his underlying motivation
On Wednesday afternoon Mitt Romney announced that he would be voting to convict President Donald Trump in the Senate's impeachment trial.
Romney became the only Republican to join in the Democrats vote to convict Donald Trump for abuses of power and remove him from office—a vote that failed, 48-52, resulting in President Trump's acquittal. The move also immediately inspired mass calls to remove Romney from the senate with #RecallRomney trending across Twitter almost immediately after the announcement was made public. Romney explained his reasoning in a statement on the senate floor, saying of Trump's crimes that "Corrupting an election to keep oneself in office is perhaps the most abusive and destructive violation of one's oath of office that I can imagine." But that only tells us what he wants us to know. There remains a question of his underlying motivation, and there are four basic theories that cover the full gamut of possibilities.
Theory 1: He Did it Because He's Brave
According to this theory, Romney is essentially telling the truth. He believed Trump was guilty, and he was too principled to vote for acquittal for reasons of political expediency. Trump and his fellow Republicans would not be jumping down his throat if he had gone along with the rest of the party, but it would also have given Donald Trump a stronger case to claim that the whole impeachment was a sham. Romney's vote wasn't enough to secure a conviction, but if every Republican had voted in lockstep against conviction, then the whole enterprise would could easily have been written off by Trump and his allies as a witch hunt by the wacky Democrats, and Trump would have leapt immediately to claiming exoneration. Romney basically sacrificed himself for the cause of democracy and justice. This is the theory behind another trending hashtag #MittRomneyIsMyHero.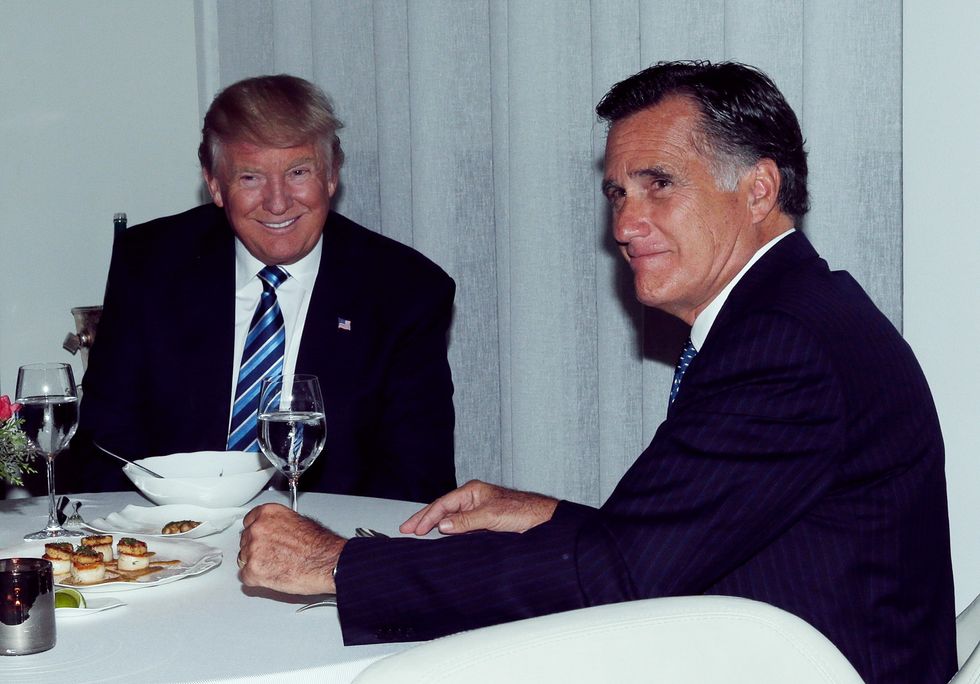 John Angelillo
Theory 2: He Did it Because He's Stupid
Did he really think a nice speech and a surprise vote was going to turn the tides? Trump and his loyalists (i.e. most of the Republican party) have no problem abandoning a former ally and throwing him under the bus. They've turned against John Bolton, Steve Bannon, Jim Mattis, Michael Cohen and countless others from Trump's inner circle. They feel no qualms about declaring a Trump-critic like Romney a traitor—which is why #RomneyIsADemocrat is also trending. But it's not as though the Democrats will actually welcome Romney to their side. They still disagree with him on basically everything. All he managed to do, according to this theory, is to isolate himself and doom his political future.
Theory 3: He Did it Because He's Jealous

Mitt Romney ran for president against Barack Obama in 2012. When he was pressured to release his tax returns he gave in, and it likely contributed to him losing the election. Donald Trump has never given in to any sense of duty, dignity, or decorum, and that's why he was elected president in 2016. Mitt Romney was a vocal critic at the time and has remained a critic because, according to a tweet from Donald Trump Jr., "Mitt Romney is forever bitter that he will never be POTUS."
Mitt Romney is forever bitter that he will never be POTUS. He was too weak to beat the Democrats then so he's joini… https://t.co/IA9GnnQ2zi

— Donald Trump Jr. (@Donald Trump Jr.) 1580931158.0
Theory 4: He Did it Because He Can

This is the theory that takes all the other theories into consideration, and adds some more logistics. Romney may be brave, stupid, and jealous, but the major reason he felt free to vote for Trump's removal is that he had no reason not to. Romney serves as Senator for the state of Utah, where the Mormon church and Mormon values still reign. Unlike many other Christian groups in America, the Church of Latter Day Saints has had a hard time getting behind a crass, philandering, biblically illiterate man. In 2016 Utah gave Evan McMullin more than 21% of the vote—the highest proportion a third-party candidate received in any state—largely on the basis of his #NeverTrump campaign. Utah is the one Republican stronghold where that tactic plays reasonably well. On top of that, Romney won't be up for reelection until 2024. He may be playing a long game, hoping that Trump will have lost popularity by then.
Regardless of your opinion, it's worth checking out Romney's statement before jumping on one of these hashtag trends.
The 85-year-old Supreme Court Justice fell in her office on Wednesday night.
According to a statement from the Supreme Court, Justice Ruth Bader Ginsburg fell in her office Wednesday night and fractured three ribs. Initially, the Justice thought all was well following the fall and went home. After experiencing pain throughout Wednesday night, however, she was admitted to George Washington University Hospital Thursday morning.
Her stay at the hospital meant that Ginsburg was not present for Thursday's investiture of Trump-appointed Justice Brett Kavanaugh, an event that reportedly drew crowds in protest.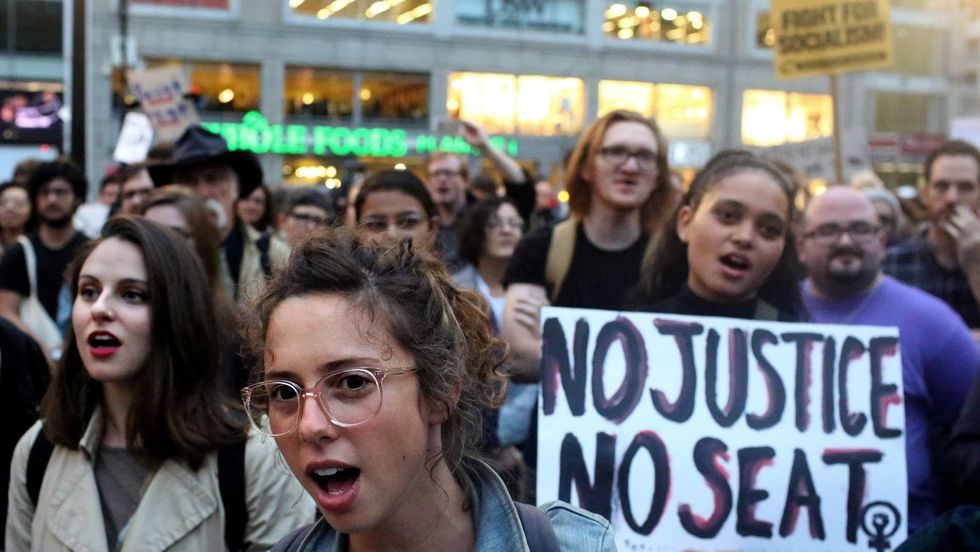 LA Times
Since her appointment to the court in 1993, Ginsburg has become a pop culture icon, praised by progressives for her liberal influence. In particular, Ginsburg is seen as an opponent of President Trump, whom she called "a faker" in 2016. Since the replacement of Justice Anthony M. Kennedy by conservative Justice Brett Kavanaugh, progressives have been particularly concerned as to the state of Ginsburg's health, fearing that her age may force her to retire before Trump's tenure ends, allowing him to put another conservative Justice on the bench.
The next sitting of the Supreme Court begins Nov. 26, and given Justice Ginsburg's history of attending work despite health issues, her fractured ribs are unlikely to hinder her participation. She broke two ribs in 2012 and returned to work the next day. In November 2014, she underwent a heart procedure; in 2009, she was treated for early stages of pancreatic cancer and returned to work three weeks later.
In July, the Justice stated that she hopes to stay on the bench for the duration of Trump's term. "I'm now 85," Ginsburg said. "My senior colleague, Justice John Paul Stevens, he stepped down when he was 90, so think I have about at least five more years."

Brooke Ivey Johnson is a Brooklyn based writer, playwright, and human woman. To read more of her work visit her
blog
or follow her twitter
@BrookeIJohnson
.
It was an election night of firsts.
While the midterm elections didn't bring the overwhelming blue wave Democrats had hoped for, they managed to win an important moral victory, electing several representatives from demographics that had never before been represented in Congress.
In the 2018 midterms, the U.S. elected its first Muslim congresswomen, Ilhan Omar of Minnesota and Rashida Tlaib of Michigan, both Democrats. Kansas and New Mexico elected the nation's first Native American women to join congress, Democrats Deb Haaland (KS) and Sharice Davids (NM). South Dakota and Maine elected their first female governors, Tennessee and Arizona sent women to the Senate for the first time, and Massachusetts and Connecticut elected their first-ever black women to the House. These milestones are joined by America's first lesbian mom in congress (Angie Craig, Minnesota), the first openly gay man elected as a state's governor (Jared Polis, Colorado), and the youngest woman ever elected to Congress, twenty-nine-year-old Democrat Alexandria Ocasio-Cortez (NY).
As NPR reports, "record numbers of Native Americans, Muslim Americans and women, including many women of color, ran for office in 2018. A 'rainbow wave' of LGBTQ candidates also sought office. And after the ballots were cast, all those groups notched notable firsts."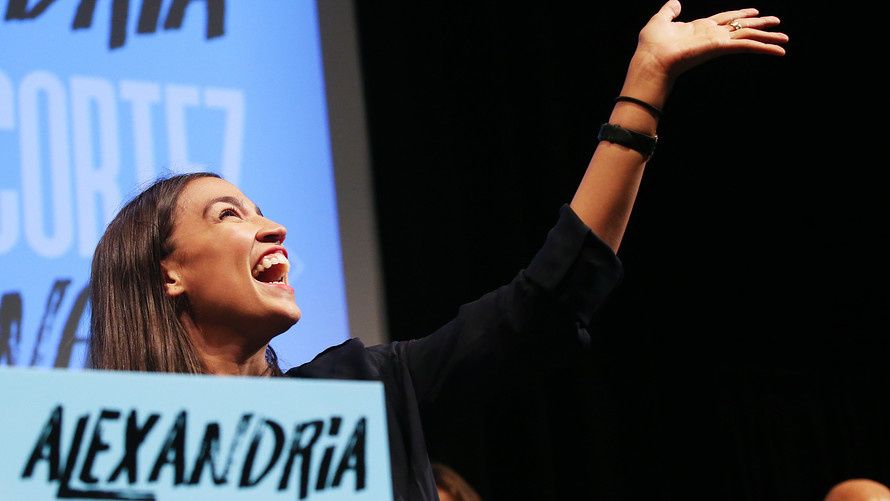 Alexandria Ocasio-CortezMarketWatch
These candidates can likely thank a record turnout by women and young people for their victories. The polls found that voters under 30 favored Democrats by a 35-point margin over Republicans, compared with an 11-point margin in 2014, and women chose the Democratic Party by 19 points — the largest margin in the history of US midterms — compared with their margin of four points in 2014, according to network exit surveys from CNN.
Despite these Democratic victories, Trump can take comfort in the fact that Republicans managed to retain control of the Senate, exposing an America deeply divided. As CNN points out, the midterm results "underscored a political and cultural gulf among diverse and affluent liberals living in big cities and their suburbs and the mostly, white, working class and rural conservative bloc of voters for whom Trump remains an iconic figure." The midterm elections proved that the extreme polarization of political leanings, to which many attribute Trump's 2016 election, are still alive and well in America.
But even with consistent support from his base, this new influx of progressives to Washington spells bad news for the Trump administration, as Democrats are prepared to closely scrutinize Trump's policies on immigration, education, and healthcare. But progressive leaders have also made it clear that they don't plan to immediately pursue impeachment, as former House Majority leader Nancy Pelosi said that a call for impeachment "would have to be bipartisan, and the evidence would have to be so conclusive."
Despite this, Trump has already begun threatening Democrats with retaliation if they move to investigate him, tweeting:
If the Democrats think they are going to waste Taxpayer Money investigating us at the House level, then we will likewise be forced to consider investigating them for all of the leaks of Classified Information, and much else, at the Senate level. Two can play that game!
— Donald J. Trump (@realDonaldTrump) November 7, 2018
Senate Majority Leader Mitch McConnell (R-Ky.) has also picked up this defensive tune, telling reporters Wednesday morning that he cautioned Democrats against engaging in "presidential harassment."

In response, Democratic Rep. Jerrold Nadler, the likely leader of the House Judiciary Committee, cautioned Republicans that the election was about accountability for Trump. "He's going to learn that he's not above the law," Nadler said.
Brooke Ivey Johnson is a Brooklyn based writer, playwright, and human woman. To read more of her work visit her blog or follow her twitter @BrookeIJohnson.
New Jersey voters face a difficult choice.
It's a tough pill for progressives to swallow that in the age of the Trump GOP, one of our most flagrantly corrupt politicians is a Democratic senator. It's difficult to say when exactly the scandals surrounding New Jersey Senator Bob Menendez began, but it may have been as early as 2006, when "federal prosecutors suspected that the New Jersey senator had steered federal funds to a nonprofit group that was paying him rent." Or in 2014, when Menendez allegedly helped free two accused Ecuadorian criminals in exchange for campaign donations. There have even been rumors that just before Menendez's 2012 election, he was involved with underage prostitutes in the Dominican Republic, though the FBI ultimately found no evidence to support these allegations.
At this point, Menendez has escaped all of these scandals relatively unscathed. The most he has faced in the way of repercussions was the Senate Ethics Committee "severely admonishing" him for accepting over a million dollars in gifts from an affluent Florida eye doctor. But whether Menendez's behavior has been explicitly unlawful or not, there is no question that the Democratic senator has a questionable moral compass unbecoming of a lawmaker, as well as a knack for getting out of trouble. And now, thanks to the virulently anti-Trump attitude of New Jersey, Menendez may just avoid negative consequences once again.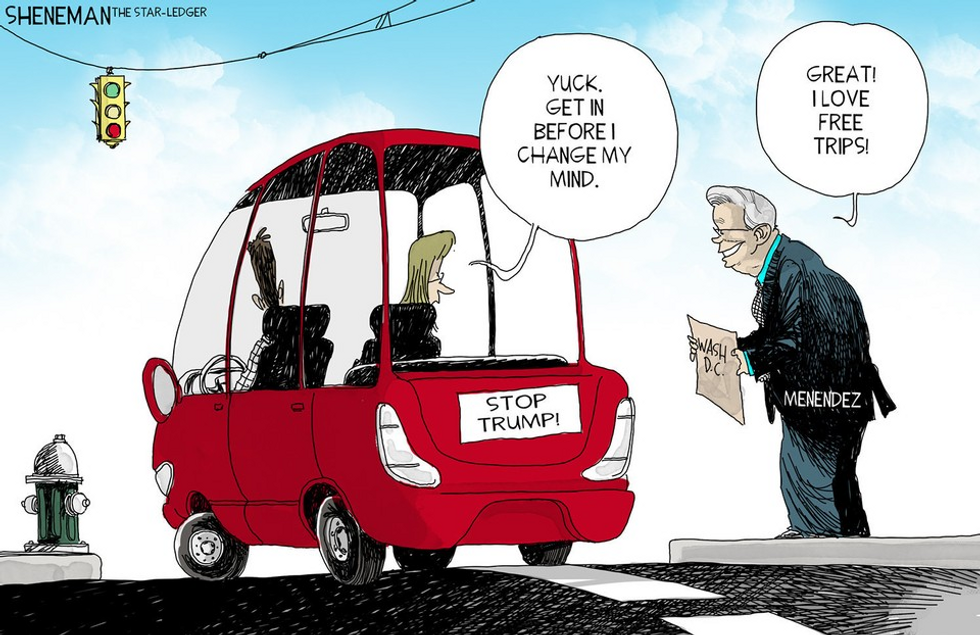 The Star Ledger
In an average year, New Jersey voters would likely settle for a republican Senator instead of appearing to condone Menendez and the corruption he has come to represent. Indeed, in the latest poll conducted by Rutgers University's Eagleton Institute of Politics, only 28 percent of New Jersey voters view Menendez favorably. But, it appears he may just win reelection anyway, as he currently leads Republican Bob Hugin by a narrow margin ahead of Tuesdays midterm election. While Menendez is, in a word, slimy, the historically blue state appears to be willing to grit their teeth and bear him in order to avoid electing a Senator with clear Trump affiliations. Menendez's opponent, Bob Hugin, is a pharmaceutical mogul who raised money for Trump's campaign in 2016, donated $200,000 to Trump, and served as a convention delegate for Trump. As a result, New Jerseyans are facing what many editorials call "the most depressing choice for New Jersey voters in a generation."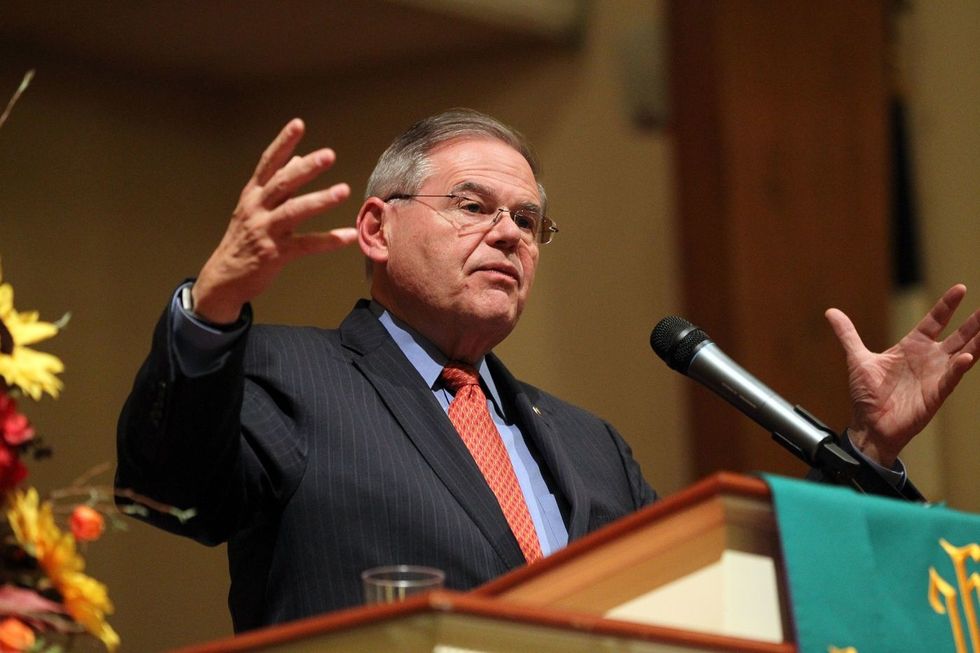 Philly.com
The fact is that this is not a normal midterm election, and progressive voters are willing to put up with a lot to take back congress. The extremist rhetoric and erratic behavior that has become characteristic of Trump's presidency is driving people to the polls in record numbers already, and that is expected to remain true during regular voting on Tuesday. Trump's presidency has forced many previously moderate Americans to cling, unquestioningly, to the Democratic Party, because for all of the democrats' flaws, at least they aren't tainted by the White House's toxic run-off. If Menendez does manage to win reelection, he can thank this Trump-fueled reticence towards conservative candidates. As Drew Sheneman writes for the New Jersey paper The Star Ledger, by voting for Menendez, "Are you rewarding a man who in no way deserves a reward? Certainly. Should you do it anyway? Certainly."

Brooke Ivey Johnson is a Brooklyn based writer, playwright, and human woman. To read more of her work visit her
blog
or follow her twitter
@BrookeIJohnson
.
The President vilifies immigrants as the midterms approach.
On Thursday Nov. 1st, President Trump released a political ad that accused Democrats of plotting to help murderers and criminals invade the country.
The ad is a flagrantly manipulative and fear mongering move, a new low in Trump's inflammatory closing argument of the GOP's midterm campaign.
It is outrageous what the Democrats are doing to our Country. Vote Republican now! https://t.co/0pWiwCHGbh https://t.co/2crea9HF7G

— Donald J. Trump (@Donald J. Trump) 1541017087.0
The video — produced by Trump's campaign — features Luis Bracamontes, a Mexican immigrant who returned to the United States after being deported, and was then convicted of killing two California deputies. Bracamontes is shown with a chilling smile, saying, "I'm going to kill more cops soon," meanwhile, a caption flashes across the screen that reads "Democrats let him into our country. Democrats let him stay." The video then goes on to show footage of people crossing the border as menacing music plays. The screen then reads, "Who else would Democrats let in?" The spot is not only a clear attempt at sowing fear, but also rife with misinformation, as Bracamontes was actually originally deported by a democrat, Bill Clinton, and let back in by a Republican, George W. Bush.

After posting the video, Trump told reporters he would deploy 15,000 troops to the southern border to repel a caravan of central American immigrants, which is still hundreds of miles away. He also suggested that these troops could fire on the migrant caravan if rocks or stones were thrown, a claim that contradicts Official Department of Defense regulations, which state, "deadly force is justified only when there is a reasonable belief that the subject of such force poses an imminent threat of death or serious bodily harm to a person." Additionally, Trump repeatedly implied to reporters that there are Middle Eastern individuals hiding amongst the caravan, but later said, "There's no proof of anything. There's no proof of anything. But there could very well be."
In the wake of all of this troubling rhetoric surrounding immigration, Trump claimed Thursday that he would sign an executive order "next week" aimed at limiting immigrants ability to seek asylum in the United States. These developments come on the heels of Trump's recent assertion that he aims to repeal the 14th amendment, which automatically grants citizenship to children born in the United States.

This recent rise in anti-immigration rhetoric is yet another example of the President's willingness to exploit racial divides to falsely inflate his power and the cause of the Republican midterm campaign. It's clear that the Trump administration has chosen to scapegoat and villify central American immigrants in an attempt to counteract
rising enthusiasm
about democratic candidates in the midterm elections. The question is, will voters succumb to Trump's scare tactics, or see it as the manipulative and divisive rhetoric that it is?
Brooke Ivey Johnson is a Brooklyn based writer, playwright, and human woman. To read more of her work visit her blog or follow her twitter @BrookeIJohnson.
Trump has expressed his intention to repeal the 14th amendment.
President Trump's latest attack on immigration targets the children of undocumented persons by threatening to nullify the writ of birthright citizenship, also known as the 14th Amendment. Legislatively, this is nearly impossible and unheard of; but, most damningly, its patent ridiculousness is alienating both sides of the aisle.
While fatuous celebrity rants may err in understanding constitutional law, as was the case of Kanye West's Twitter fodder to "abolish" the 13th Amendment, a United States President's defective understanding of the constitution is as alarming as it is shameful.
But on Wednesday Trump once again aimed his tweets directly at his blind spot for facts, underscoring that he's impenetrable to shame. He claimed that "so-called Birthright Citizenship...is very unfair to our citizens. It is not covered by the 14th Amendment because of the words 'subject to the jurisdiction thereof."
So-called Birthright Citizenship, which costs our Country billions of dollars and is very unfair to our citizens, w… https://t.co/TDGBLMUNAh

— Donald J. Trump (@Donald J. Trump) 1540992317.0
The tweet was precipitated by an interview with Axios on HBO, which was released on Tuesday. Trump evinced his ignorance on constitutional law by stating, "It was always told to me that you needed a constitutional amendment. Guess what? You don't." Convinced, he added, "You can definitely do it with an act of Congress. But now they're saying I can do it just with an executive order."
No, of course he can't. In brief, the U.S. policy of jus soli dictates that an individual has a right to citizenship in the country he/she is born. This "Citizenship Clause" is codified in the 14th Amendment, which reads, "All persons born or naturalized in the United States, and subject to the jurisdiction thereof, are citizens of the United States and of the State wherein they reside." Depending on your interpretation of the constitution, no matter if you see it as elastic or fixed, legal precedent set by the U.S. Supreme Court in 1898 has upheld the Citizenship Clause as we know it.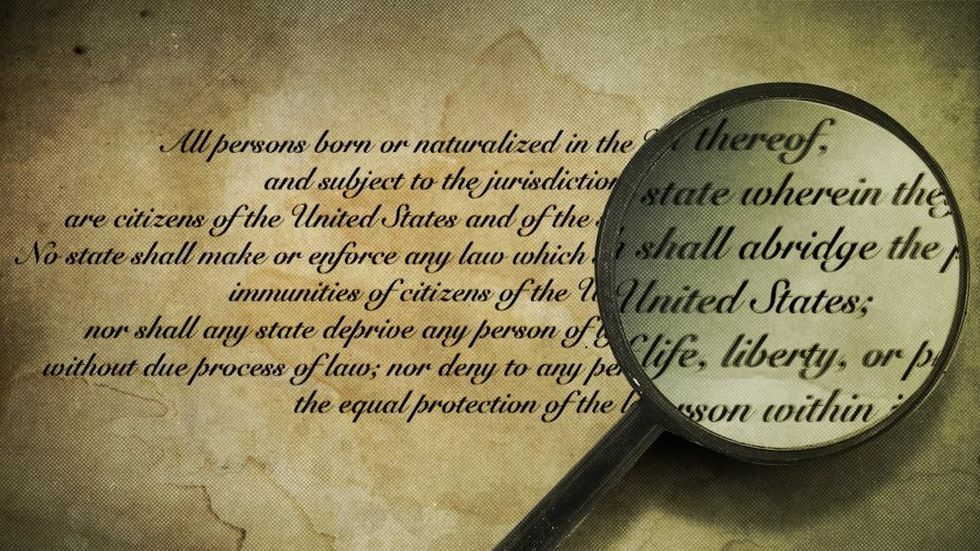 CNN
Trump went on to misattribute the "law of soil" as a singularly American mistake, stating, "We're the only country in the world where a person comes in, has a baby, and the baby is essentially a citizen of the United States for 85 years with all of those benefits." That's incorrect; over 30 other nations recognize birthright citizenship. "It's ridiculous. It's ridiculous. And it has to end," Trump went on.

Of course, rudimentary awareness of American history reminds us that constitutional amendments are complex pieces of legislation which are subject to checks and balances. If President Trump truly believes he can solely command an amendment change, House Speaker Paul Ryan clarified in a radio interview that he "obviously cannot do that." In fact, Ryan spoke on behalf of all conservatives as fully dissenting from Trump's views.
"You obviously cannot do that. You cannot end birthright citizenship with an executive order. We didn't like it when Obama tried changing immigration laws via executive action, and obviously as conservatives, we believe in the Constitution," Ryan told WVLK radio. "I'm a believer in following the plain text of the Constitution, and I think in this case, the 14th Amendment's pretty clear, and that would involve a very, very lengthy Constitutional process." Ryan added, "I believe in interpreting the Constitution as its written."
With midterm elections approaching, Trump's turgid misrepresentations of immigration law can only be in hopes of rallying votes from anti-immigration supporters and encouraging strife between republicans and democrats. Dem. Sen. of Virginia, Mark Warner said, "This is simply an attempt for Donald Trump, who wants to do anything possible to bring back fears around immigration, to use that as a political tool in this last week before the election."
He adds, tellingly, "This is again, where a President's words matter. The Constitution is quite clear that no one, including the President of the United States, is above the law."
Indeed, the President's stream of inflammatory rhetoric only serves as a distraction from his unfulfilled promises and his administration's failings. For instance, two new studies reported by The New York Times indicate growing anti-Trump sentiments in the top GOP district, suggesting that voters are alienated by "endless lies and hate-mongering." Greg Sargent at The Washington Post adds, "One likely answer is that the story Trump has told about the economy - and the country - just isn't resonating in many of these districts."
That Trump took to Twitter to repudiate Paul Ryan's reality check is par for the course, as was his ad hominem attack questioning Ryan's credentials to comment on birthright citizenship.
Paul Ryan should be focusing on holding the Majority rather than giving his opinions on Birthright Citizenship, som… https://t.co/fWpqNevAGI

— Donald J. Trump (@Donald J. Trump) 1541004199.0
Meg Hanson is a Brooklyn-based writer, teacher and jaywalker. Find Meg at her website and on Twitter @megsoyung.
Gone at 81, his legacy will live on
Thoughts and prayers are ringing in with harmony at the news that Senator John McCain lost his brave battle with brain cancer. A life well-lived, filled with strength and struggle, wins and losses, and ups and downs, McCain's 81 years on Earth have left a mighty legacy, one that his family will forever cherish, politicians from both sides of the aisle appreciate, and Americans admire.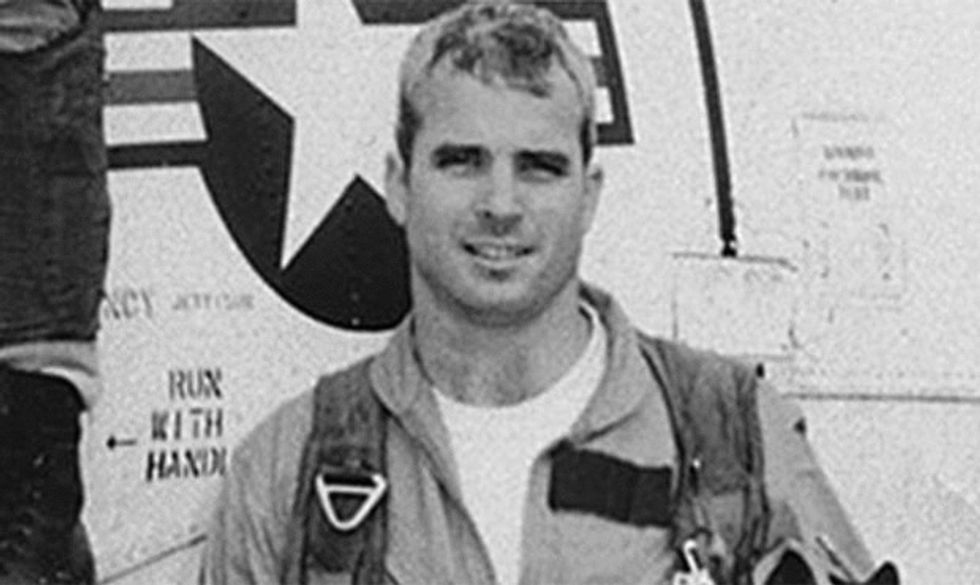 War herohttp://ktar.com
Political affiliations aside, most agree that McCain was a true hero – in every sense of the word. Be it his unimaginable imprisonment in Vietnam, his devotion to his family, his thoughtful approach to politics, or his courage against cancer, McCain made a difference, created conversation, and gifted us with values and integrity that seem to be otherwise slipping away.
McCain once wrote, "I made a small place for myself in the story of America and the history of my times." But many would argue his place was far more profound. His life as a warrior, an independent voice among the Republican party, and a true leader among colleagues and candidates, McCain's drive, determination, and duty to our country never waned and was welcomed by those who subscribed to his sensibilities, wanted something better to believe in, and a future to look forward to.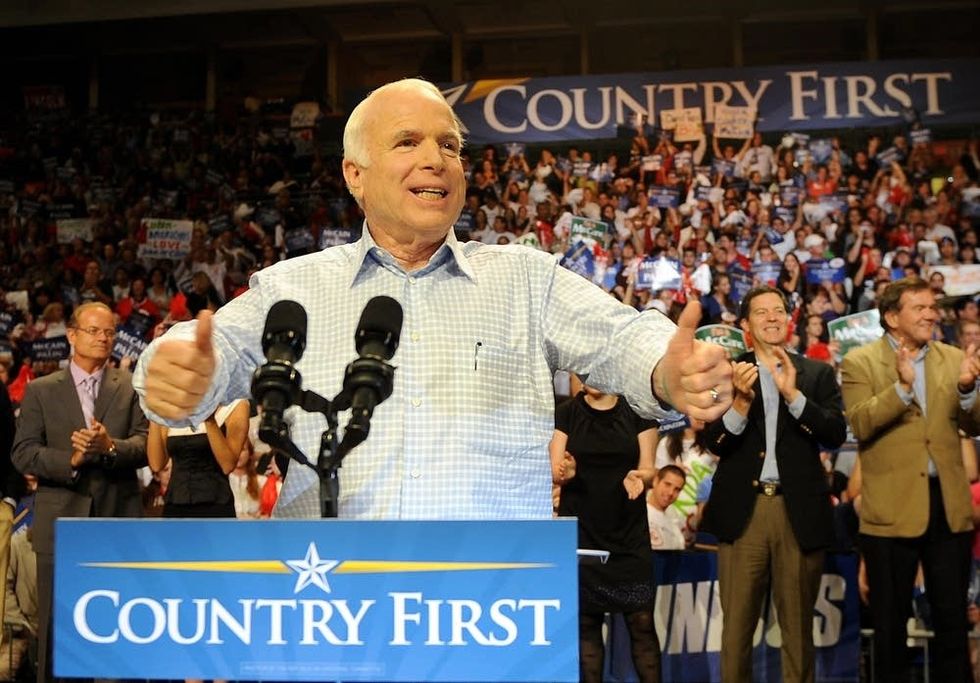 On the campaign trailuselectionatlas.org
As reported by NBC News, "'With the senator when he passed were his wife, Cindy, and their family. At his death, he had served the United States of America faithfully for 60 years,' McCain's office said in (a) statement."

Known for his wit as much as his work on Capitol Hill, McCain's fair and balanced take on issues gained him well-deserved recognition and camaraderie. As NBC News eloquently explains, "In his 36 years in Congress, McCain became one of the country's most respected and influential politicians, challenging his fellow lawmakers to reach across the aisle for the good of the country. On a variety of issues — torture, immigration, campaign finance, the Iraq War — McCain was often known as the moral center of the Senate and of the Republican Party."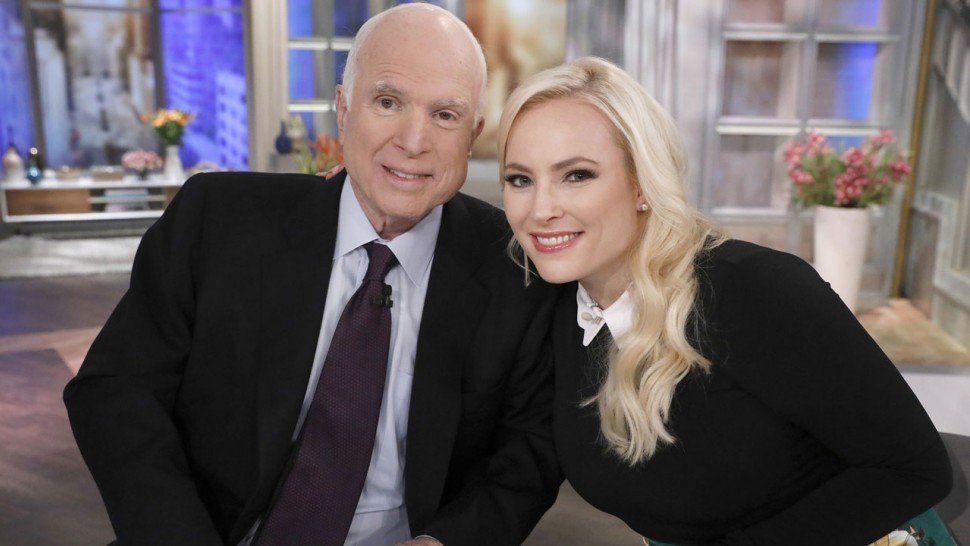 A father's love www.etonline.com
His daughter, Meghan McCain, shared, "All that I am is thanks to him. Now that he is gone, the task of my lifetime is to live up to his example, his expectations, and his love." Perhaps we can all take something from his example and use it to raise the bar, challenge ourselves, and show compassion when it counts.
A maverick, a man of honor, John McCain. Rest in peace.