Dall-E Mini, the AI-powered text-to-image generator has taken over the internet. With its ability to render nearly anything your meme-loving heart desires, anyone can make their dreams come true.
DALL-E 2, a portmanteau of Salvador Dali, the surrealist and Wall-E, the Pixar robot, was created by OpenAI and is not widely available; it creates far cleaner imagery and was recently used to launch Cosmpolitan's first AI-generated cover. The art world has been one of the first industries to truly embrace AI.
The open-sourced miniature version is what's responsible for the memes. Programmer Boris Dayma wants to make AI more accessible; he built the Dall-E Mini program as part of a competition held by Google and an AI community called Hugging Face.
And with great technology, comes great memes. Typing a short phrase into Dall-E Mini will manifest 9 different amalgamations, theoretically shaping into reality the strange images you've conjured. Its popularity leads to too much traffic, often resulting in an error that can be fixed by refreshing the page or trying again later.
If you want to be a part of the creation of AI-powered engines, it all starts with code. CodeAcademy explains that Dall-E Mini is a seq2seq model, "typically used in natural language processing (NLP) for things like translation and conversational modeling." CodeAcademy's Text Generation course will teach you how to utilize seq2seq, but they also offer opportunities to learn 14+ coding languages at your own pace.
You can choose the Machine Learning Specialist career path if you want to become a Data Scientist who develops these types of programs, but you can also choose courses by language, subject (what is cybersecurity?) or even skill - build a website with HTML, CSS, and more.
CodeAcademy offers many classes for free as well as a free trial; it's an invaluable resource for giving people of all experience levels the fundamentals they need to build the world they want to see.
As for Dall-E Mini, while some have opted to create beauty, most have opted for memes. Here are some of the internet's favorites:
There's no looking back now, not once you've seen Pugachu; artificial intelligence is here to stay.
How do you fall back on your "Well they shouldn't commit crimes!" argument now?
It was recently announced that the death of Elijah McClain, a 23-year-old Black man who died in 2019 while in police custody, will be reexamined by Colorado Officials.
Colorado Governor Jared Polis personally announced that his administration will reexamine the case. The governor wrote on Twitter, "a fair and objective process free from real or perceived bias for investigating officer-involved killings is critical." Polis added that he is having lawyers "examine what the state can do and we are assessing next steps."
Public confidence in our law enforcement process is incredibly important now more than ever. A fair and objective p… https://t.co/vGdBthXcQc

— Governor Jared Polis (@Governor Jared Polis) 1593032085.0
Undoubtedly, Gov. Polis was influenced by a petition, signed by over 2 million people, that urged him to reopen the case of Elijah McClain, who died after being put in a chokehold by police in a Denver suburb. McClain's case has been the subject of renewed outrage since the police murders of George Floyd, Breonna Taylor, and others; which were instrumental in sparking wide-spread protests against racist police brutality.

The facts surrounding Elijah McClain's death
On August 24, 2019, McClain was on his way home from a convenience store. He was wearing a ski mask, something his sister later told ABC affiliate, Denver7 that he often did because he "had anemia and would sometimes get cold." He had gone to the convenience store to buy his brother an iced tea.
Soon, McClain was stopped by three white officers because a 911 caller described a "suspicious person" in a face covering "waving their arms around." According to McClain's family, it was likely he was dancing to the music in his headphones, something he often did.
According to CNN, the police report said that McClain resisted officer contact and a struggle ensued. The audio from one of the officer's body cams depicts McClain clearly pleading with the officers, saying, "I'm an introvert, please respect the boundaries that I am speaking." He goes on to say that he was trying to stop his music to listen to them, and they promptly start to arrest him. One officer is heard telling another, "He just grabbed your gun, dude."
The full audio of McClain's arrest and subsequent murder can be listened to below. The transcript is as follows:
"I can't breathe. I have my ID right here... My name is Elijah McClain. That's my house. I was just going home. I'm an introvert. I'm just different. That's all. I'm so sorry. I have no gun. I don't do that stuff. I don't do any fighting. Why are you attacking me? I don't even kill flies. I don't eat meat. But I don't judge people, I don't judge people who do eat meat. Forgive me. All I was trying to do was become better... I will do it... I will do anything. Sacrifice my identity, I'll do it. I'll do it. You all are phenomenal. You are beautiful and I love you. Try to forgive me. I'm a mood Gemini. I'm sorry. I'm so sorry. Ow, that really hurt. You are all very strong. Teamwork makes the dream work."
In the video, McClain can be heard sobbing, vomiting, and then saying: "Oh, I'm sorry I wasn't trying to do that. I just can't breathe correctly." You can also hear one of the officers threaten to bring a police dog over to him and bite him for "messing around."
Later in the footage, one officer can also be heard admitting McClain had done nothing illegal.
Body Worn Camera Regarding the In-Custody Death of Elijah McClainyoutu.be
As McClain sobbed, one of the officers put him in a carotid hold, or chokehold, and he briefly lost consciousness, according to an overview of the incident provided by police. Soon, paramedics arrived and administered ketamine to sedate McClain, according to the report. McClain then suffered a heart attack while in the ambulance and was taken off life support three days later. His family said at the time that he was covered in bruises.
The officers involved were cleared of all wrongdoing
After McClain's death, the Adams County district attorney, Dave Young, declined to file criminal charges against the officers involved, though they were placed on administrative leave briefly before being reinstated. In February 2020, a police review board declared, "[t]he force applied during the altercation to include the carotid control hold and the force applied during the altercation was within policy and consistent with training."
Additionally, in a coroner's reportForensic Pathology Consultant Dr. Stephen Cina was unable to definitively explain McClain's cause of death. Cina said that "the manner of death may be accident if it was an idiosyncratic drug reaction. It may be natural if [McClain] had an undiagnosed mental illness that led to excited delirium, if his intense physical exertion combined with a narrow coronary artery led to an arrhythmia, if he had an asthma attack, or if he aspirated vomit while restrained."
He continued, writing that Mcclain's death, "may be a homicide if the actions of officers led to his death (e.g. carotid control hold led to stimulation of the carotid sinus resulting in an arrhythmia)."
When CNN asked DA Young about the recent tidal wave of support for the reopening of McClain's case, Young said, "we've got to have the evidence ... so the petitions, the emails, the voicemails and Facebook attacks to me, my family, everyone else expressing their opinions ... is not evidence." Young added that he doesn't "condone the actions of the officers. I think they could've done things differently."
Who was Elijah McClain?
Since his death, Elijah has been described by family and friends alike as an "angel." He worked as a massage therapist, and seemed to be universally beloved by his coworkers and clients.
According to CBSN Denver, his mother, Sheneen McClain, described her son as life-giving. "I thank God that he was my son because just him being born brought life into my world, you know what I mean?" she said. "I know he was giving life to other people too.
According to the Sentinel, Eric Behrens, a friend of McClain's, said, "I don't even think he would set a mouse trap if there was a rodent problem."
A former client and friend of McClain, Marna Arnett, reportedly said he, "Was the sweetest, purest person I have ever met," She added, "He was definitely a light in a whole lot of darkness." Arnett also mentioned McClain's social anxiety to reporters, attributing his frequent mask wearing to both his anemia and a desire to create a separation from the world. "He would hide behind that mask," Arnett said. "It was protection for him, too. It made him more comfortable being in the outside world."
One of the most frequent anecdotes mentioned on social media about McClain is the fact that he often used his lunch breaks to play the violin for the dogs and cats in a nearby animal shelter, believing the music helped to calm them.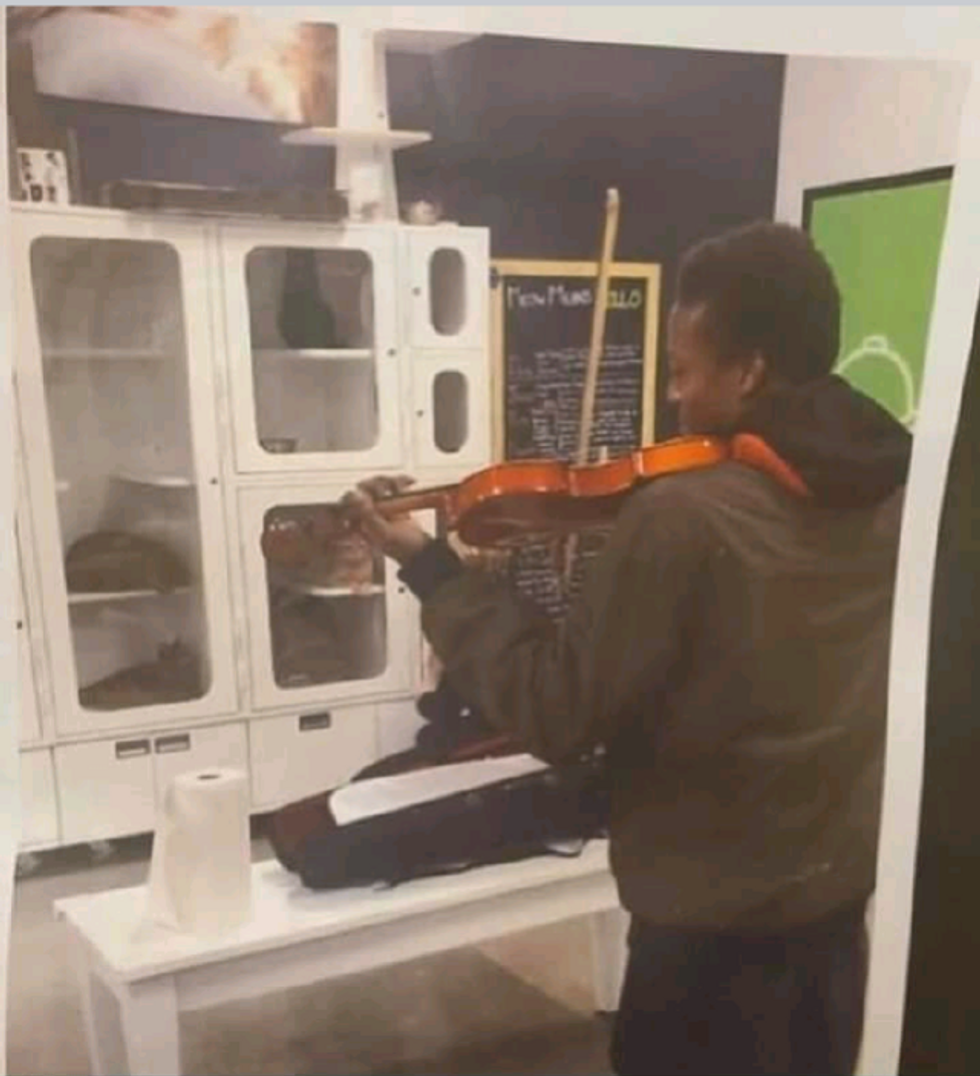 Elijah McClain playing the violin for cats
The more you read about McClain, the more obvious it becomes that he was a gentle young man, often anxious, but eager to love and be loved. The more you read about McClain, the more heart-wrenching his death becomes. Why? Because he didn't deserve it. Because he was a good guy who didn't commit a crime.
His supposed resistance was likely just the result of the extreme anxiety that would likely overtake most of us in that situation—particularly a young Black man; particularly a person who clearly already struggled with anxiety. The case of Elijah McClain makes white people particularly uncomfortable, because they can't justify it.
Why "All Lives Matter" people aren't sure what to say about Elijah McClain
"George Floyd was using counterfeit money," they argue. "The police had to restrain him!"
"Well, sure, Breonna Taylor was sleeping, but her boyfriend pulled a gun! The cops had to shoot!"
These are common tactics conservative white people use to deny the pandemic of racist police violence in America. Arguments like "Well, he shouldn't have committed a crime, then!" have long followed in the wake of anger over the death of a Black person at the hands of the police.
Even more common, white people comfortable with the status quo tend to talk about all the past transgressions of the Black victim in question, or use language to conjure images of a threatening individual, as if that justifies the police's behavior.
This line of thinking has become so prominent, that doctors CalvinJohn Smiley and David Fukunle conducted a 2016 study on the topic entitled "From 'Brute' to 'Thug:' the Demonization and Criminalization of Unarmed Black Male Victims in America". The study sought to investigate, "The historical criminalization of Black males and its connection to contemporary unarmed victims of law enforcement. And "to interpret how Black male victims are portrayed by traditional mass media, particularly through the use of language, in ways that marginalize and de-victimize these individuals."
Smiley and Fakunle found ample evidence that Eric Garner, a Black man killed by police officers in 2014 for selling cigarettes, was (posthumously) routinely characterized in the media as physically imposing (Garner was 350 lbs), unhealthy (Garner had a history of asthma), and inherently criminal.
They write, "The prominent references related to Mr. Garner's physical attributes were micro-invalidations and micro-insults regarding his behavior at the time of his death, which involved Garner vehemently defending his role in breaking up an altercation. Additionally were the micro-invalidations related to his past actions and lifestyle. This included criminality and the perception of being a 'hustler' due to his propensity to sell single cigarettes, which is illegal yet not a felony in New York."
Essentially, white people who lean towards the "all lives matter" argument are quick to brush off the discomfort that racist police violence forces them to feel. They do so by justifying a Black victim's death. This is often done by finding a reason the victim "deserved" to die, or finding reasons to excuse the police officer's actions.
In the case of Elijah McClain, this kind of justification is almost impossible. McClain was gentle and physically small, had a good job, was possibly neurodivergent, had no criminal history, and was literally just walking home from the store. The audio of his last moments depict a person trying desperately not to offend anyone, even in that dire and unjust situation.
If your argument in the past has been, "Well he just should have complied with the police officers and shown them the respect they deserve," then how do you reckon with the fact that some of McClain's last words were, "All I was trying to do was become better... I will do it... I will do anything. Sacrifice my identity, I'll do it. I'll do it. You all are phenomenal. You are beautiful and I love you. Try to forgive me."
His fear is palpable in the audio recording, as is his aggressor's brutality. Elijah McClain's murder cannot be explained away as anything other than a moment of racist abuse of power with deadly consequences.
Guilty people don't deserve to die either
The discomfort and reckoning that Elijah McClain's case has brought up in white people (specifically those who have been trying desperately to pretend that the police are a necessary force for good) can only be productive. But that's not to say that there is anything acceptable about justifying a person's murder at the hands of the police because of past criminality or any other factor beyond a clear and imminent deadly threat.
If Elijah McClain HAD committed a crime, it still wouldn't be justifiable that he died at the hands of the police. We have a system in place for assigning punishment to those who commit crimes. It's a deeply flawed system, but it at least affords people the right to a trial before they are sentenced. It is not the role of the police to kill—not even the guilty.
If McClain's story is making you uncomfortable because he was so obviously "one of the good ones" or because you can't explain away the police officer's actions, perhaps now is a good time for you to question your view of justice. Why do you think past crimes justify someone's death? Why do you think a police officer who "feels in danger" has the right to murder someone?
For that matter, why do you think any crime justifies someone's death? Have you ever stolen something small from a store? Has your child or loved one? Do you think they would deserve to die for that crime?
If we're going to put an end to America's decades-long history of police brutality, we're going to have to collectively rethink our culture of retributive justice. While Elijah McClain certainly didn't deserve to die, neither did the thousands of Black people—guilty of a crime or not—who have lost their lives to the brutality of the American justice system.
Elijah McClain's death should make you uncomfortable, but so should every other death at the hands of American policing.