We've all been there. You were gifted a dumb present that you'll never in a million-zillion years ever use and you're too polite to tell anyone any differently. It sits at the bottom of your drawer for months, then years. And when you finally feel like enough time has passed, you can throw it out in good conscience.
A return is almost always out of the question. Plus, gift givers don't often include a return receipt, and we all know we wouldn't dare ask for one. I'd rather admit to a crime than confess I don't like a gift - how insulting to the gifter's sense of aesthetics.
And-hey, I have limited drawer space. Who can keep these unwanted gifts for six months when there isn't any space for them? I hate clutter, and unwanted gifts are just that.
This year, I am making an effort to swiftly remove any unwanted gifts from my house without hurting anyone's feelings…and potentially benefiting others. As the old saying goes, one man's trash is another man's treasure. And thank goodness for that.
From the The Guardian:
"According to research published this week by the consumer body, one in four people (24%) received an unwanted or unsuitable gift for the Christmas of 2021. Meanwhile, a separate study by the personal finance comparison site Finder said £1.2bn was wasted on unwanted Christmas gifts each year."
Come to terms with the fact that you will never use that gift and follow these quick tips to offload those unwanted gifts:
Donate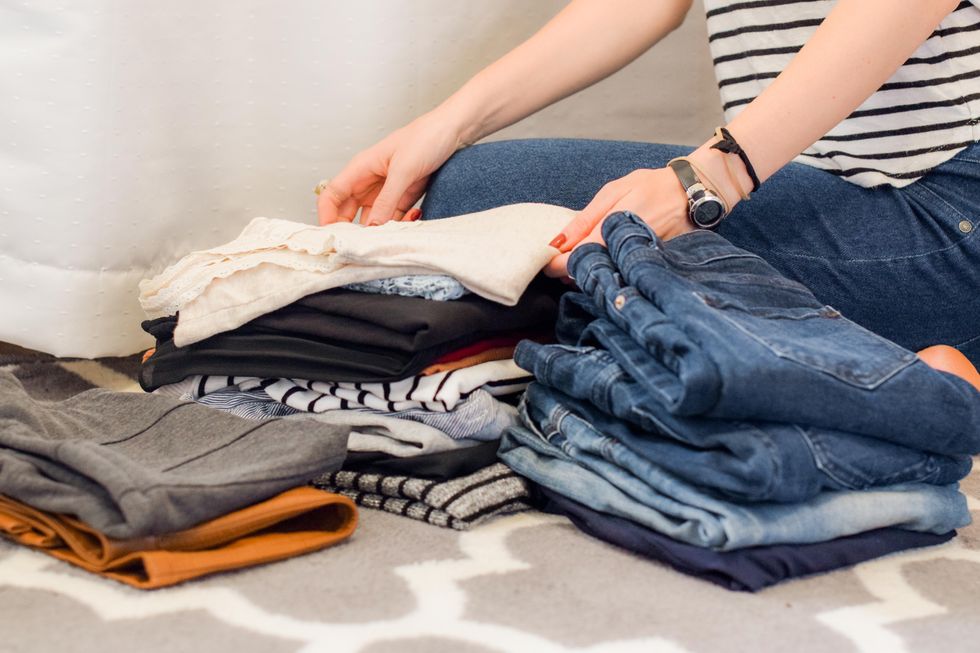 Sarah Brown via Unsplash
The most obvious choice for those unwanted pairs of mud-green sweat socks and that same fluffy robe you get every year from your Aunt Judy is to donate them. Just round up everything you don't want and Google the donation center closest to you.
This is also a fantastic excuse to purge your closet of that pile of stuff you've been meaning to get rid of. A few bags of give-away-clothes will get your spring cleaning out of the way early.
Sell Them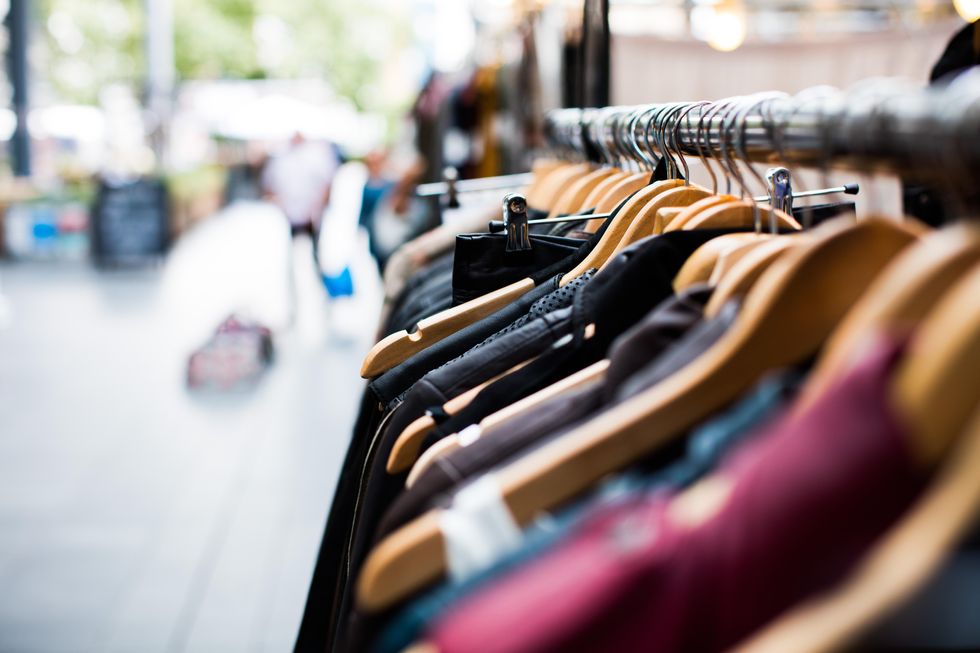 Artificial Photography via Unsplash
Resale websites are all the rage right now. If you got a pair of pants that don't fit or a sweater that isn't your style, resell them on a website dedicated to just that. Sites like Poshmark, Mercari, and DePop are known for selling those trendy pieces of clothing you barely used.
Thrifting has never been hotter. Hop on the trend while people are constantly perusing sites for the hottest deal. Then reward yourself for being so virtuous, by dropping the cash on some fabulous things you'll actually wear!
Re-Gift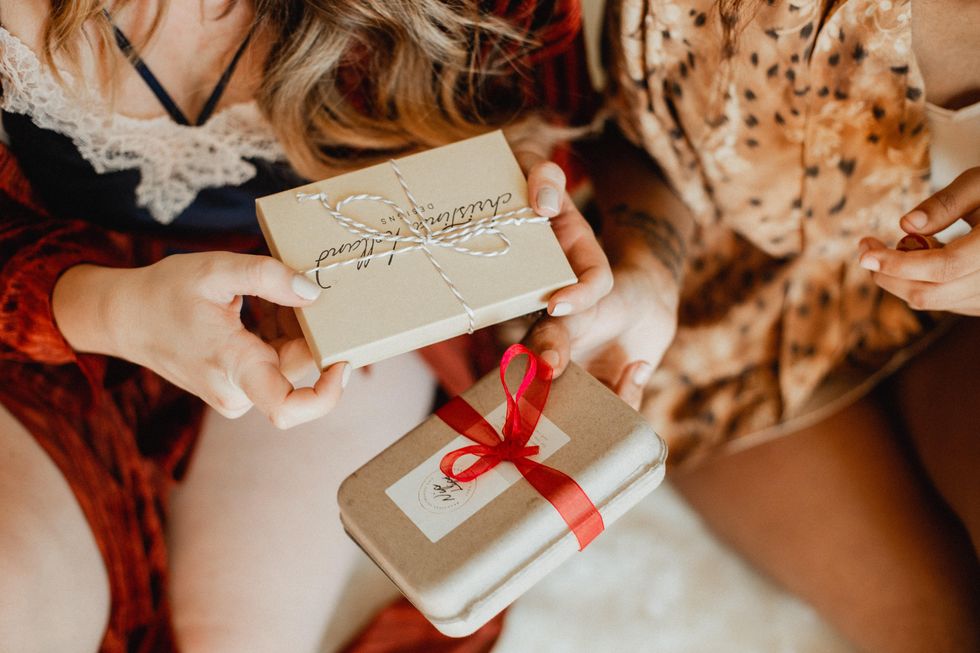 Jackie S via Unsplash
If you got something that you think one of your friends or family can benefit from, why not give it to them? There's no shame in revealing that it was a gift and you don't want it anymore…as long as you aren't re-gifting to the person who gave it to you!
Or, keep the gifts to re-gift at a later date. You never know when you're going to need a last minute gift. You'll thank yourself later.
Attempt a Return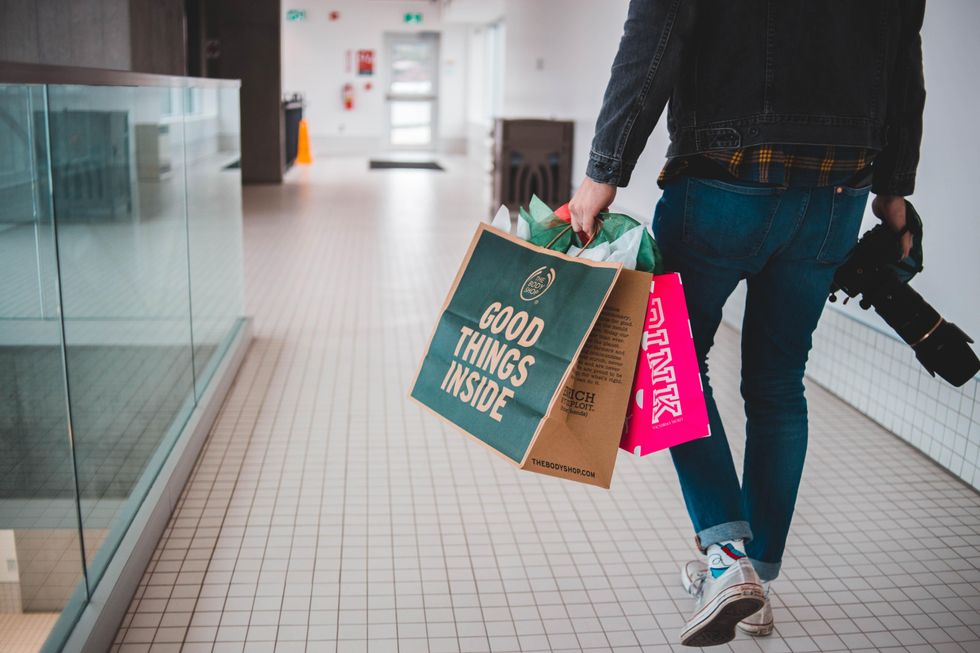 Erik McLean via Unsplash
If your item still has a tag, you can make a valiant effort to return to the store. If you can make your case, many stores won't want to fight you on it. They may be forgiving and grant you store credit at the very least.
Critical race theory is one of the most controversial topics of 2021. It's also one of the most misunderstood.
If you have been paying attention to conservative media, you will have certainly heard the term critical race theory. In fact, Fox News has mentioned "critical race theory" over 1,900 times in the past 3.5 months alone. Yet, most Americans can't define it.

What Critical Race Theory Is
Critical race theory is an academic legal concept that is more than 40 years old. The core idea is that no race is inherently inferior to another and that racism is not just the product of individual bias or prejudice, but also something embedded in legal systems and policies in the US.
Critical race theory originated in the 1970s as a result of the civil rights movement. The father of the movement was Harvard Law School professor Derrick Bell, who voiced frustration at the limited impact of landmark civil rights laws and U.S. Supreme Court rulings of the previous decade. Bell argued that if racial inequality persisted in a post-civil rights era, then the law was central to explaining that persistence.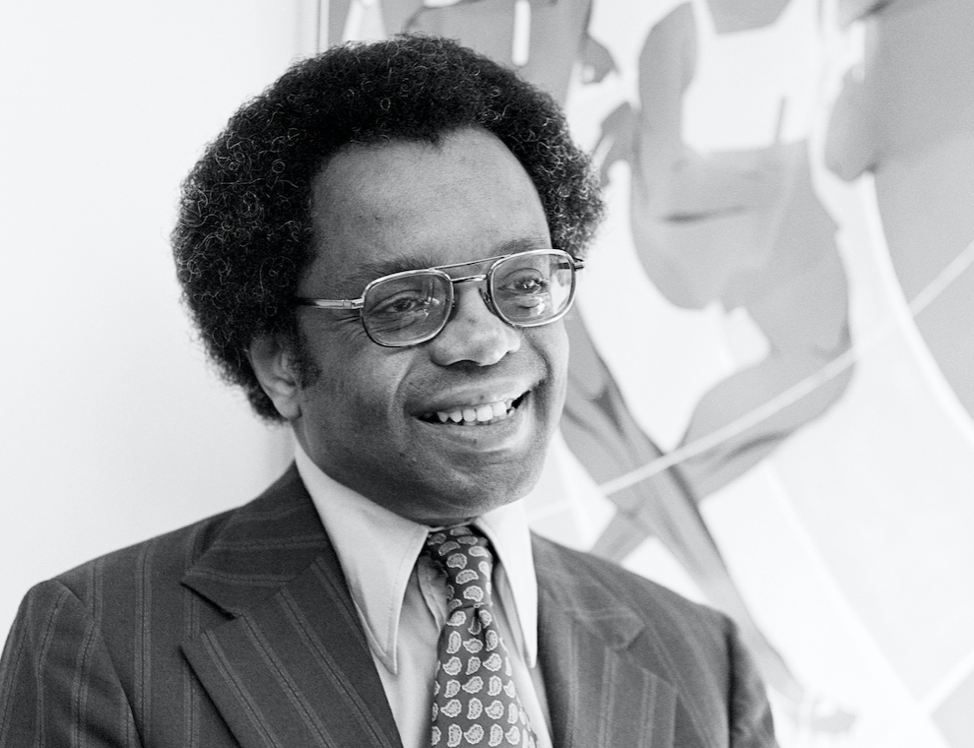 Derrick Bell, Founder of CRTJohn Chapin
Legal scholars, such as Kimberlé Crenshaw, Neil Gotanda, Gary Peller and Kendall Thomas, developed Bell's ideas further. In a 1995 book, they curated the writings that formed the movement, and their theories began to be explored in law schools all over the country. Critical race theory became a framework for looking at how racism in the law could still exist even when the judiciary claimed to be "color-blind."
In the words of legal scholar Angela Harris, "Critical race theory not only dares to treat race as central to the law and policy of the United States, it dares to look beyond the popular belief that getting rid of racism means simply getting rid of ignorance, or encouraging everyone to 'get along.'"
What Critical Race Theory is Not
Critical race theory is not taught in the K-12 curriculum across the US and or in workplace diversity training. Critical race theory is primarily taught in college, particularly in law school, as a theory for understanding how race and racism have impacted America's legal and social systems. There is little to no evidence that critical race theory itself is being taught to K-12 public school students, though some ideas related to it, such as lingering consequences of slavery and Jim Crow laws, have been.
Critical race theory does not teach that all white people are inherently racist. The theory says that racism is an "ordinary" part of everyday life, so people — white or nonwhite — who don't intend to be racist can nevertheless make choices that fuel racism. Critical race theorists actually say that there are no traits that are "inherent" to any race.
Critical race theory insists that race is socially constructed and maintained to enforce a specific hierarchy, but individuals are not bound to any specific behaviors or skills because of their race. People with common origins share certain physical traits, of course, such as skin color, physique, and hair texture. But these constitute only an extremely small portion of their genes, are dwarfed by that which we have in common, and have little or nothing to do with traits such as personality, intelligence, and moral behavior. So no, white people are not inherently racist, nor are they inherently smarter or better.
Critical race theory also is not supposed to teach people to hate America. One of the CRT founders, Kimberlé Crenshaw, says, "Critical race theory just says, let's pay attention to what has happened in this country and how what has happened in this country is continuing to create differential outcomes so we can become that country that we say we are. So critical race theory is not anti-patriotic. In fact, it is more patriotic than those who are opposed to it because we believe in the 13th and the 14th and the 15th Amendment. We believe in the promises of equality, and we know we can't get there if we can't confront and talk honestly about inequality."
Critical race theory is also not a Marxist theory. No matter how many times Ted Cruz tweets that it is.
#CriticalRaceTheory is a Marxist ideology that sees the world as a battle, not between the classes - as classical M… https://t.co/FJyA9gJEBV

— Senator Ted Cruz (@Senator Ted Cruz) 1625158184.0
Karl Marx never offered fully developed critiques of law, let alone theories of jurisprudence or legal history. However, CRT is similar to critical legal studies, which claims that laws are used to maintain the status quo of society's power structures. Critical legal studies is an offshoot of Critical Theory, which was a school of thought made up of German philosophers and social theorists in the Western European Marxist tradition known as the Frankfurt School. So while you could draw a line back to Marxism, it's a pretty long walk.
Additionally, critical race theory doesn't really have any similarities to Marxism, or at least not any that would actually upset Ted Cruz. CRT does not advocate for communism, it doesn't advocate for giving up property rights, and it doesn't encourage a worker revolution to overthrow capitalism. It is a framework for looking at our legal system, and at its most radical, it advocates for the end of color-blindness in law and the institution of a more race-conscious judiciary.
Why are we arguing about it?
So what does a somewhat obscure legal theory have to do with current politics? Well, it started with the death of George Floyd at the hands of a police officer in 2020. Floyd's death created a nationwide resurgence of the ideals of the civil rights era as Americans of all races and backgrounds began to educate themselves on issues of race and books about race relations selling out across the country.
This emphasis on learning about Black history and racial inequality spread to classrooms. Teachers began expanding their classroom libraries and including more Black history lessons in their curriculums. This outraged Trump Republicans who argued that learning about these dark parts of American history was designed to make people hate America.
The term "critical race theory" became part of the zeitgeist due to a Fox News interview and a Trump tweet. Christopher Rufo, director of the Center on Wealth and Poverty at the conservative Discovery Institute, argued on Fox News in early September 2020 that Trump should end "radical" diversity training programs in the federal government immediately. He claimed that the reason the programs were bad is that they used critical race theory.
Trump tweeted his opposition to the theory a few days later. By the end of September, former President Trump had issued a memo and an executive order ending racial sensitivity training in the federal government.
According to the memo, all agencies were asked to suspend "any training on 'critical race theory' or 'white privilege,' or any other training or propaganda effort that teaches or suggests either (1) that the United States is an inherently racist or evil country or (2) that any race or ethnicity is inherently racist or evil."
Suddenly, Trump has made critical race theory his enemy, so his supporters started looking for a way to "defeat it." Legislatures in 28 states used Trump's executive order as a template to draw up their own "critical race theory bills." These bills aim to outlaw the teaching of critical race theory specifically, or to prohibit contentious talks about racism, discrimination or privilege in general.
As of July 15, legislators in 26 states have introduced bills that would restrict teaching critical race theory or limit how teachers can discuss racism and sexism, according to an Education Week analysis. 11 states have enacted these restrictions.
America's teachers have decried the laws as "censorship" and the president of the nation's second-largest teachers union vowed to take legal action to protect any member who "gets in trouble for teaching honest history."
There are perhaps valid discussions to be had about how much race should be discussed in classrooms, but critical race theory is simply a distraction from that conversation.
Republicans have deliberately turned critical race theory into a catch-all term for anything they dislike about the discussion of race. Cristopher Rufo explained it best. He
tweeted
that conservative activists hoped to brand the phrase as a "toxic" catch-all for a broad range of cultural issues: "The goal is to have the public read something crazy in the newspaper and immediately think 'critical race theory.'"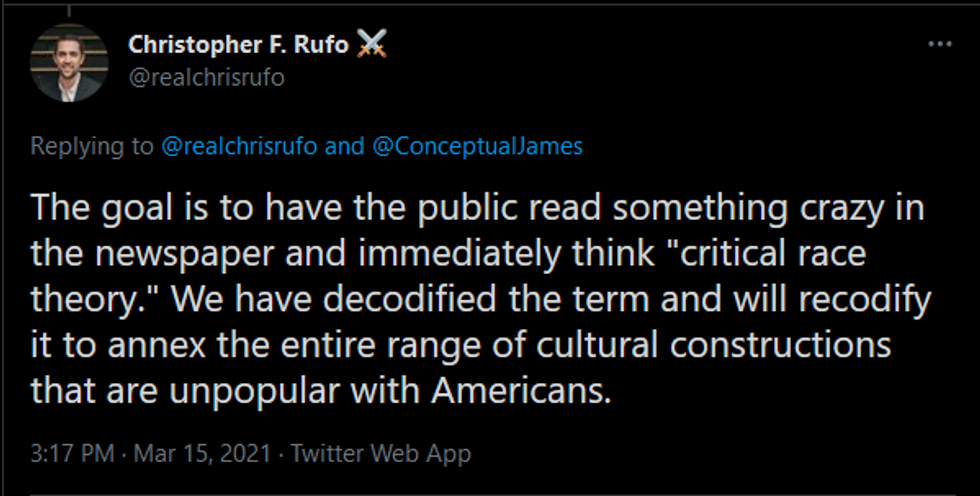 Critical race theory has become a scapegoat for conservative punditsTwitter screenshot
In February we celebrate Black History Month in America.
For the entire month, we commemorate the vast contributions from Black people who have impacted society here and abroad. After all, we are responsible for countless inventions and innovations in art, science, athletics, business, and activism, contributions that often get overlooked because of our country's pervasive legacy of racism.
Black History Month may also be the only annual instance that this country comes close to acknowledging its racist heritage. The brilliance that Blackness has provided modern-day society is, unfortunately, also rooted in hatred and exclusion.

Recognizing the creations shaped by the hands of Black people means examining the oppressive infrastructures that sparked their genius. One of those infrastructures is slavery.
The mention of slavery prompts various reactions amongst white people. Some declare it to be our country's greatest shame, while others act as if it never happened. If the latter admits to its existence, it's to admonish others for "living in the past."
The celebration of Black History Month and the acknowledgment of slavery go hand in hand. Although a vast majority of Black History itself isn't a direct result of slavery, its ramifications are certainly a factor.
For instance, Martin Luther King Jr'.s vaunted legacy hinges upon his fight against racism and segregation. His peaceful marches and resounding speeches became the introduction to Black History and the Civil Rights Movement for most children in elementary schools across the country.
King is a lauded American hero for his fortitude. But his battle with a racist system is often romanticized. His reimagining sees him as a man standing up for his beliefs instead of a victim of a hateful construct who was forced to rise up against his oppressors.
The irony resides in Black people being labeled as world-changers and trailblazers in the eyes of history but only being allowed to access a small portion of it in order to apply their craft.
Similarly, Black people becoming a dominant force in sports and entertainment hasn't been without their share of obstacles. Unlike today where they have access to a worldwide audience to entertain, Black musicians and athletes' sole audiences used to be people who looked like them.
Sports pioneer Jackie Robinson made history as the first Black man to play professional baseball. His breaking of the color barrier instituted a new day in American sports, but the country's prejudicial temperament remained the same. Robison received death threats from angry white fans, players, and even owners.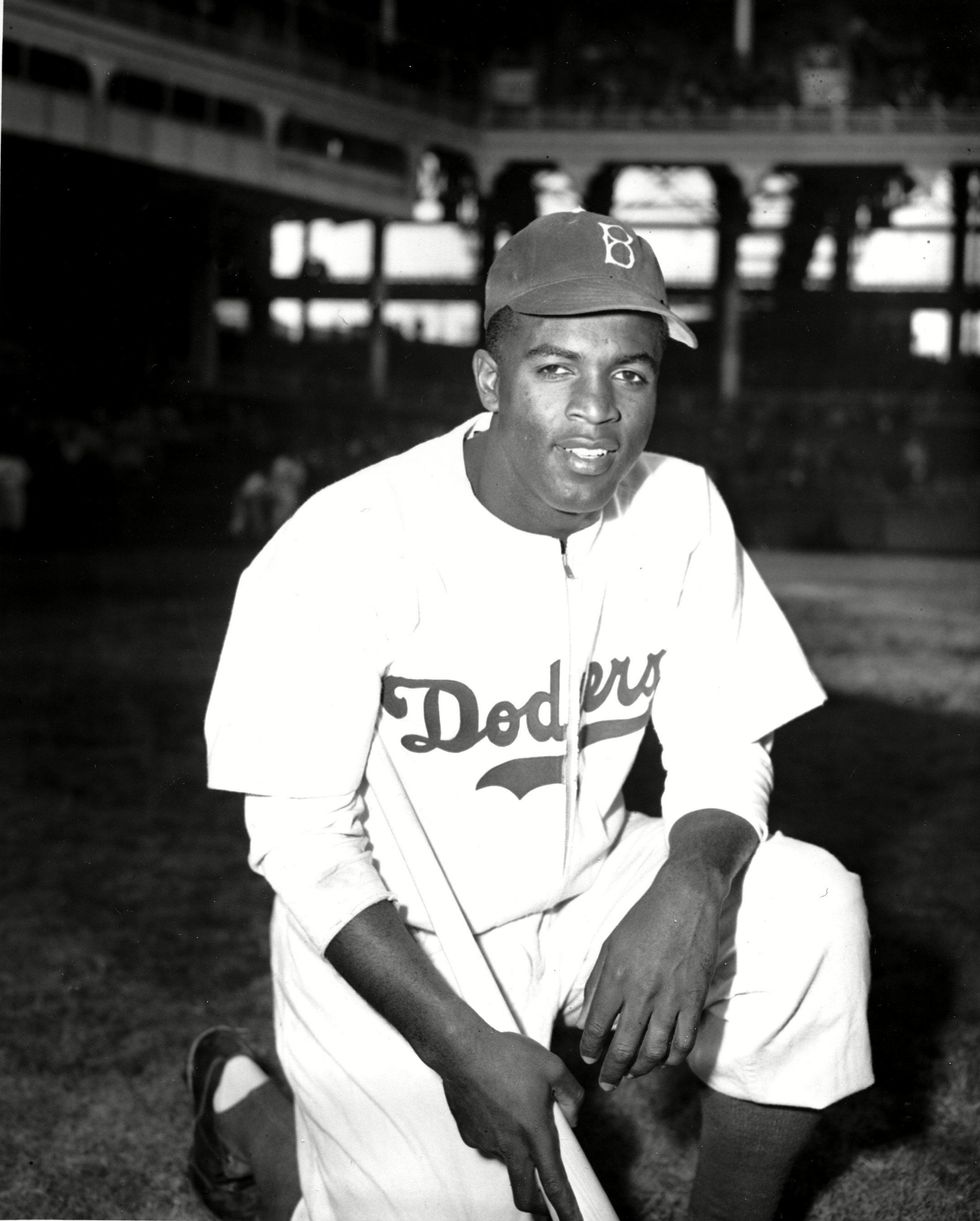 Robinson Jackie Robinson of the Brooklyn Dodgers poses at Ebbets Field in the Brooklyn borough of New York. John Rooney/AP/Shutterstock
Furthermore, musicians like Chuck Berry and Muddy Waters, who are pioneers of Rock and Roll, are credited with inspiring The Rolling Stones and Eric Clapton. But during the '50s, their sound was classified as "race music." Conversely, that same "race music" was acceptable when taken and repurposed by white artists.
They and others like them persevered in the face of adversity to open doors for Black people today. Their struggles are reminders of the resiliency of Black people that changed the world and the unnecessary roadblocks they had to overcome to do so.
The observance of Black History Month in today's racial climate in America feels insincere. When entities are dedicated to oppression the other 11 months of the year, it's hard to believe their calls for racial unity in February
We voice our grievances about the government and law enforcement's wanton negligence daily, only to hear how stuck in the past we are as a race. Yet, that same past is responsible for the evolution of civilization as we know it today. Without Black people, America would not be the culturally rich place it is today.
Still, many feel sentiments like "Black Lives Matter" are radical movements, when in actuality they are an ever-present reminder of the conditions Black people had to navigate to pull off these incredible feats.
America cannot sincerely immerse itself in the celebration of Black History Month until it confronts its history. Racism is the beating heart beneath the floorboards of privilege. But as the beating grows louder, our country continues to disregard its pulse.
Dr. Martin Luther King Jr.'s legacy is defined by his pursuit of equal rights for Black Americans through unity and peace.
He is canonized in American history as the patron saint of change through passive measures.
His infamous "I Have A Dream" speech was a rallying cry for this country to live up to its promises of life, liberty, and the pursuit of happiness. King urged us to be a nation that advocates for the inclusion of all of its citizens in the American Dream, no matter their race.

But Dr. King's message of non-violence and civil disobedience is often misinterpreted. For some in the Black community, it means doing absolutely nothing in the face of physical harm from white people. In the hands of many conservatives and racists, his beliefs are a gag order against racial injustice. They have distorted King's dream in an attempt to make us docile.
The marches and protests during the Civil Rights Movement were peaceful acts of civil disorder. King implored members of the movement not to engage in chaos and destruction. Unfortunately, these non-threatening gatherings became violent due to agitation from law enforcement, despite honoring King's wishes of peaceful resistance.
At the time, King's call for unity and equal rights was considered radical and unpatriotic. The FBI had him under surveillance, and he was the recipient of death threats from white extremists. King was a beacon of peace; but, his cause made him a target for hate.

The narrative surrounding King's death has been warped, as well. Revisionist history paints him as a martyr when, in reality, he was a victim of white supremacy. His assassination in 1968 was a cruel irony. He preached peace only for its antithesis to be his demise.
Today, civil unrest is at an all-time high. Innocent Black lives are taken by police almost daily, and the election of President Trump brought to light how much America hasn't changed since Jim Crow. We've applied the same tactics that King advised his followers to use, only to receive the same treatment decades later.
When highlighting the level of violence against non-aggressive demonstrations, many on the Right feel that Black people's right to protest is a justification for police brutality. In their eyes, the need to peacefully assemble to combat racism is excessive and unnecessary, as if any non-violent uprising is a threat and has to be silenced to preserve law and order.
Even Black entertainers and athletes have faced public backlash for speaking against racial inequality. NFL Quarterback Colin Kaepernick was blackballed for kneeling in protest against police brutality. Kendrick Lamar's "Alright", a song about Black people overcoming struggle, was deemed an anti-police anthem. White America demonized them and others for using their platforms to bring awareness.

Meanwhile, white nationalism doesn't face the same level of persecution that Black liberation receives. Racists and fascists that subscribe to Trumpism are considered "patriots." But Black people seeking a level playing field are labeled as treasonous. One side has resorted to rioting as a last resort. The other looked at insurrection as a first solution.
Over 50 years after his death, Dr. King's message of peaceful resistance is a patronizing jab at the Black community. His philosophy isn't a factor when barbaric bigots are looking to harm us. Instead, it's as a pseudo restraining order to thwart our attempts at seeking change and potential retaliation.
For many Americans, Dr. King was a Civil Rights Superman. Unfortunately, his stance has become the movement's kryptonite.
The far-right group has links with the 2017 Unite the Right Rally and recent alt-right rallies in Portland, Oregon.
In case you were blissfully unaware, last night marked the first presidential debate between President Trump and Democratic nominee Joe Biden.
In what has been called "maybe the worst presidential debate in American history," Trump's constant interruptions of both Biden and moderator Chris Wallace did very little to expand his appeal beyond his existing fervent fan base. The president also repeatedly tried to associate Biden with the radical left—a statement that is simply not true. And while Biden kept a relatively calm composure, he missed a few key talking points, his most memorable quote being "Will you shut up, man?"
But the most disconcerting moment in the debate was when President Trump blatantly failed to denounce white supremacy.
"You have repeatedly criticized the vice president for not specifically calling out Antifa and other left wing extremist groups," Wallace said to Trump. "But are you willing tonight to condemn white supremacists and militia groups and to say that they need to stand down and not add to the violence in a number of these cities, as we saw in Kenosha and as we've seen in Portland?"
After a few moments of fumbling and putting the blame on left-wing groups, Trump's response was: "Proud Boys, stand back and stand by."
President Donald Trump: White supremacist group Proud Boys should 'stand back and stand by'www.youtube.com
Social media was immediately flooded with people voicing their concerns. While Trump has clearly displayed white supremacist behavior throughout his presidency, this is perhaps the most blatant example of all. The aforementioned Proud Boys have reportedly been celebrating Trump's apparent endorsement—but who are they, anyway?

The Proud Boys are a far-right, all-male extremist group that was formed in 2016 by Gavin McInnes, who describes the organization as a "pro-Western fraternal organization." Though they firmly denounce any accusations of racism (even filing a defamation lawsuit after being categorized as a hate group), they have been described as violent, nationalistic, Islamophobic, transphobic, and misogynistic. Though they deny any connotation with the alt-right, some of their core values include "anti-political correctness," "anti-racial guilt," and "reinstating a spirit of Western Chauvinism."
In its early months, the Proud Boys veered away from begin just a men's club and began growing into a flat-out, far-right extremist group that lived up to McInnes's longtime racist ideals. "I love being white and I think it's something to be very proud of," McInnes told the New York Times in 2003. "I don't want our culture diluted. We need to close the borders now and let everyone assimilate to a Western, white, English-speaking way of life."
In his detailed plan for the Proud Boys, McInnes stated that members would be sorted into nationwide chapters, and that each member can be sorted into one of three ranks. To achieve the first rank, you must publicly declare your pride in being a Proud Boy. The second is to receive a brutal beating while reciting five breakfast cereal names, and the third is to get a Proud Boy tattoo. "It's very freeing to finally admit the West is the best," McInness wrote. "That's because it's the truth."
No matter what accusations you might hear about violent protests supposedly escalated by Antifa, violence has been a major aspect of the Proud Boys' M.O. since their inception. A notable ex-Proud Boy is Jason Kessler, the founder of the infamous Unite the Right Rally in Charlottesville, Virginia in 2017. Many Proud Boys attended the event, which resulted in the death of a counter-protester named Heather Heyer.
More recently, the Proud Boys have had a significant presence in the current protests and rallies in Portland, Oregon. Their involvement in Black Lives Matter protests has revealed that they feel a duty to assist law enforcement officers.
And now, with fairly explicit approval from Trump, the Proud Boys feel a renewed sense of responsibility to further uphold their xenophobic beliefs.
"To say Proud Boys are energized by [Trump's statement at the debate] is an understatement," Megan Squire, a computer science professor who tracks online extremism, told NBC News. "They were pro-Trump before this shoutout, and they are absolutely over the moon now. Their fantasy is to fight antifa in his defense, and he apparently just asked them to do just that."
Screenshots of the Proud Boys' Telegram, a private messenger app, evidence their glee following the debate.
The Proud Boys are ecstatic tonight about getting mentioned in the debate tonight. "Trump basically said to go fuc… https://t.co/rNxehnscKb

— Mike Baker (@Mike Baker) 1601432901.0
"Trump basically said go f*ck them up," member Joe Biggs wrote. "This makes me so happy."

If you were somehow unsure of Trump's white supremacy before, hopefully this alarming situation helps clear it up.
We're all getting something wrong when we view political correctness as fundamentally opposed to free speech.
Few issues have divided the nation further than the free speech vs. political correctness debate.
In addition to deepening the gap between conservatives and liberals, the debate tends to fracture the left, leading to dissent from the inside. This stems in part from the fact that many older liberals simply can't wrap their minds around the idea of political correctness.
Political Correctness: Censorship or Part of the Fight for Equality?
Critics of political correctness equate it to censorship, which they see as a threat to the all-American ideal of unbridled freedom. For most liberal millennials and Gen-Z kids, however, political correctness is about freedom, just of a different sort. It's really about shutting down hate speech and supporting marginalized communities.
Nowhere did this divide become clearer than in one of my lectures in college, a postmodernism class with a professor who I'd always seen as uniquely brilliant (and who also happened to teach a lesbian erotica class). She lost a lot of my respect when—as a white woman—she insisted that there was nothing really wrong with a white person saying the "n" word in solitude, prompting one of the few people of color in the class to raise her hand and ask: "Why are white people so desperate to say that one word?" The professor responded with a lecture about free speech and the insubstantiality of language, a response that felt misguided and totally out of touch.
This generational divide appeared again when prominent feminist and author Margaret Atwood published an op-ed critiquing the #MeToo movement. "My fundamental position is that women are human beings, with the full range of saintly and demonic behaviours this entails, including criminal ones," she wrote. "They're not angels, incapable of wrongdoing." In short, Atwood was critiquing the #MeToo movement for the same reason that many people critique political correctness. They feel that restricting one's language, or giving the benefit of the doubt to and prioritizing the voices of certain demographics, is infantilizing or threatening to other demographics' freedoms.
On the other hand, many young liberals understand that political correctness is an important part of the process of giving respect to groups that have been and are still systematically oppressed. This political correctness can take the form of prioritizing people of color's voices, or calling out offensive speech—even, or especially, when it's the product of ignorance, or when it's conducted out of earshot of the people it might hurt.
What Toni Morrison Knew: Political Correctness and Free Speech Can Be the Same Thing
What we all need to understand is that, among other things, the left's internal war over political correctness and free speech actually presents a chance for generations to learn from each other. Defenders of political correctness might realize that sometimes, accidentally offensive language can present a valuable educational opportunity—though this is definitely not always the case, and no one should be required to educate others about why they deserve basic respect.
Older proponents of free speech, for their part, can realize that political correctness, safe spaces, and the like ultimately come from places of compassion. At their core, they are efforts to achieve a more equitable world.
Perhaps it's too starry-eyed to imagine that older allies could learn from younger people who refuse to accept middle-of-the-road policies or veiled racism, but some older people have certainly embraced progressive worldviews. "Oppressive language does more thanrepresent violence; it is violence; does more than represent the limits of knowledge; it limits knowledge," said Toni Morrison in a 1993 address about political correctness. Morrison, whose wisdom stretched far beyond the blind spots of her generation, was a supporter of what political correctness stands for, though not of the implications of that specific term. In a later interview, she added, "I believe that powerful, sharp, incisive, critical, bloody, dramatic, theatrical language is not dependent on injurious language, on curses. Or hierarchy."
In short, freedom of speech is not contingent on the ability to use offensive language. We can be free—in fact, we can only be free—when all of us are free, which will only happen when language that demonizes or injures certain groups is purged from acceptable discourse.
Ironically, the book we were discussing that day in my postmodernism class was Morrison's Beloved.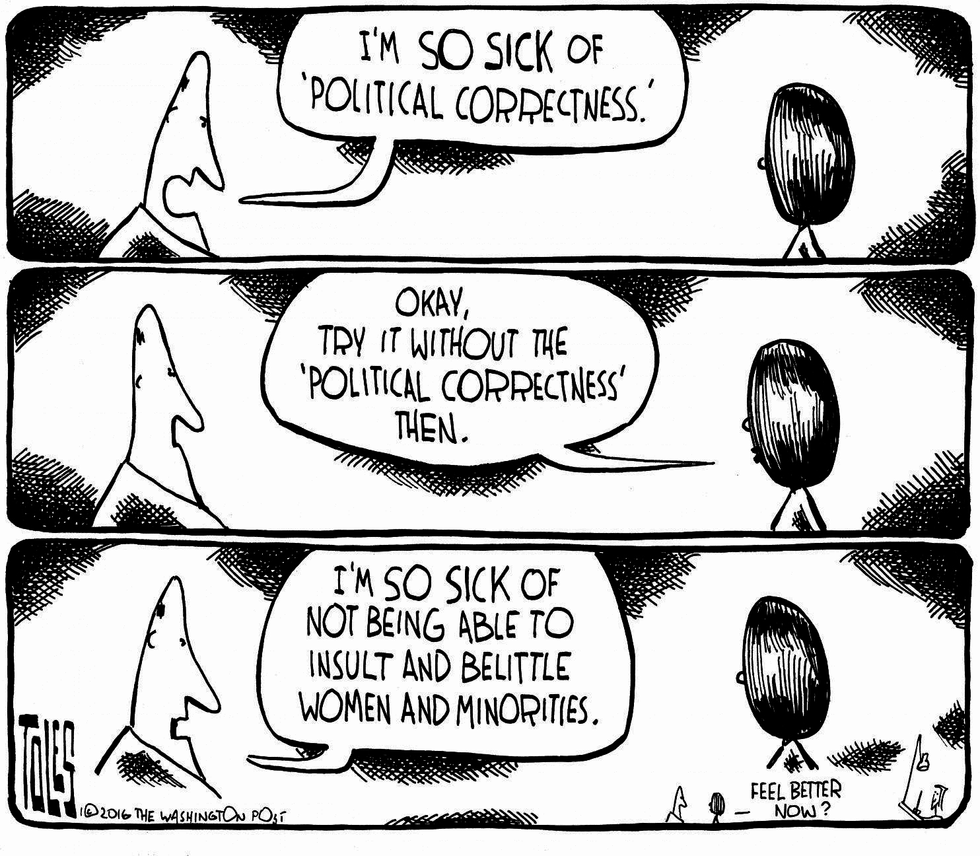 Image via the Washington Post
In a country where everyone has freedom of speech, where do we draw the line?
The structures of heteronormativity, patriarchy, and white supremacy are now made fun of, overshadowed, and cast aside by many.
Consequently, some straight, white, and/or male people, used to a society built for their needs, feel irrelevant and unheard. Anytime a minority or oppressed group is celebrated, privileged people try and insert themselves in the conversation. There's a reason why every year people ask, "Why isn't there a White History Month?" during Black History Month. When white men start getting passed up for promotions in favor of more diverse hires, it causes them to feel a fraction of what POC and women have experienced for decades. They view these setbacks as oppression and their erasure from representation as an attack. In turn, they acknowledge they're beginning to lack dominant authority. Groups like Meninists and All Lives Matter exist to belittle the root causes of systemic issues in our country. The relationship between the main systemic sources of violence in America resonate beyond Straight Pride: They remind us how those power dynamics are at play even within marginalized communities.
John Hugo, the President of Super Happy Fun America and head organizer of Boston's controversial Straight Pride Parade, describes himself "living openly as a straight man." Hugo is one of three white men advocating for heterosexual representation within the LBGTQ+ community. Super Happy Fun America is a perfect example of the phenomenon in which the privileged see equality as oppression. SHFA even has their own gay ambassador, Chris Bartely. His tokenism and bio illuminates that although he is a gay man, that does not mean he has the right to speak for the entire LGBTQ+ community:
As gay ambassador, Chris uses his status in the LGBTQ community to challenge heterophobia wherever it exists. He became involved in the straight pride movement after being ostracized from established advocacy groups for merely suggesting that straight people be afforded equal rights.
What Bartley gets wrong is that straight people are discriminated against. Although, not all people within straight relationships are afforded rights like maternity and paternity leave or an abortion, but that's due to issues unrelated to sexual orientation. SHFA utilizes right-wing Trumpism to prick at the current frustration white, straight men entertain. Meanwhile, the definition of "great" is up for debate across the nation. In retaliation, liberals are readdressing America's history and the narratives ignored in textbooks, thus increasing the discourse of who truly makes America great.
The SHFA convinced themselves they have good intentions, but in reality they're misinterpreting the purpose of the LGBTQ+ community. The organizers fail to understand that the community is more than an umbrella term for sexual orientation: It's comprised of identities that could endanger lives and livelihoods because of outside discrimination. Those identities go beyond sexual orientation. They include a spectrum of gender identities which already foster inner conflict within the community due to transphobia and misogyny. By viewing LGBTQ+ solely as a flag of sexual identities is to entirely miss the point of why the community itself exists.
However, pride is a touchy subject when it comes to who is welcome at the celebrations and who it's about. Specifically, it spawns conflict within the community from gay men who exhibit misogynistic rhetoric about female allies and bisexuals. Some within the community push binaries of homosexual relationships (gay men and lesbian women) as the standard. In such instances, systems of patriarchy and white supremacy affect transgender people and queer POC at an alarming rate compared to other peers. Straight pride is a reminder that pride incites complicated matters of identity politics and how the community can be exclusionary by gate-keeping.
Meanwhile, the leaders of Super Happy Fun America are challenging said gate-keeping by arguing in favor of an S in LGBTQIA. Their Vice President, Mark Sahady, has come forward to announce the event is moving forward since they have a permit from the city. If Boston were to take that permit away, Sahady would sue on grounds of discrimination. Their argument is a slap in the face to Pride's history.
With the 50th Anniversary of Stonewall, members of the community are reflecting on the horrors of their history, specifically police brutality. Today, police presence stirs debate about how parades can exist within governmental bounds. After all, every parade needs a permit, and the police are brought to enforce the safety of its participants. But when there's a history of police brutality with an oppressed community, it's difficult to trust their intentions. Yet, the men of Super Happy Fun America use their permit from Boston to their benefit (and yet, also as a legal threat). Due to their privilege, they don't see police presence as an issue, because the enforcers have never endangered them: Police protect white men.
The LGBTQ+ community and their allies are rightfully disappointed that anyone would want a straight pride parade, since they know what it truly stands for: These heterosexuals want to overshadow a marginalized community that is beginning to thrive. American society is not at a point yet where we can see or accept each other for who we are and our diverse perspectives. By breaking down other viewpoints' origins, we can get to the root of such ignorance. Straight Pride is a reminder that prejudice is often wielded in reaction to "others" and increases our divisions. To reflect on the roles of sexism, racism, and homophobia is to better ourselves and our communities, dismantling systems of oppression that keep us at odds and with each other as Americans.
Trump threatens to close the border completely, despite having no authority to do so.
On Sunday, a group of Mexican migrants reportedly rushed the San Ysidro border crossing near San Diego, drawing tear gas from Border Patrollers. Consequently, the crossing was closed for several hours. Homeland Security Secretary Kirstjen Nielsen later said the closing of the border was "to ensure public safety in response to large numbers of migrants seeking to enter the U.S. illegally." According to the Washington Post, "At least two dozen tear gas canisters could be seen on the Mexican side of the border after the migrants eventually turned back."
Images from the incident, shot by Reuters photographer Kim Kyung-Hoon and showing young children fleeing the tear gas in obvious distress, have elicited outrage across the country. The photos also appear to contradict Republican propaganda claiming the migrant caravan was full of criminals.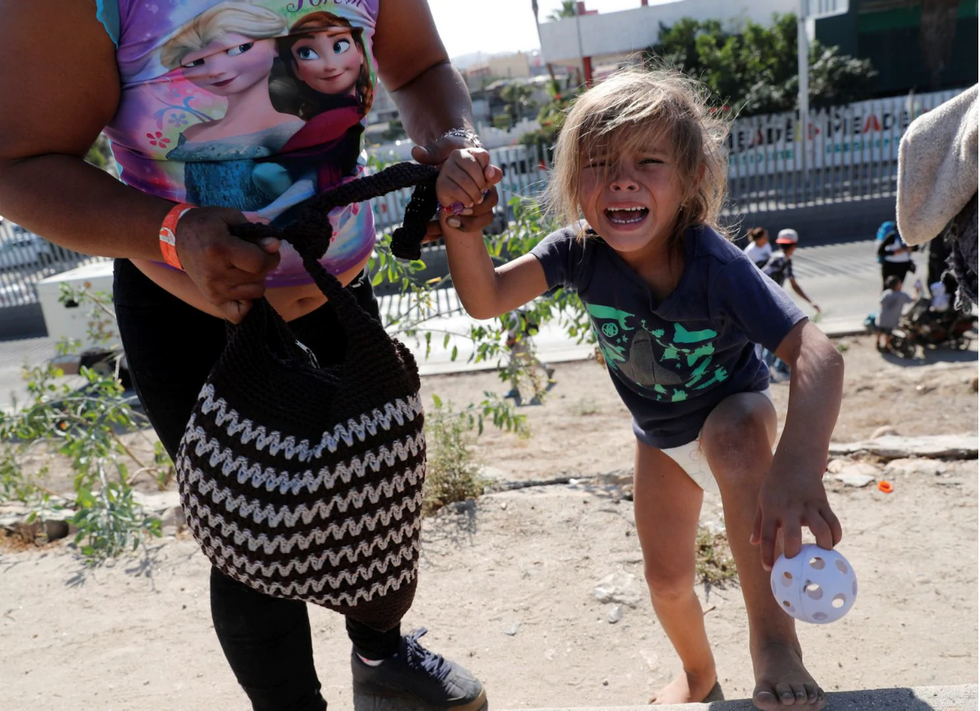 Kim Kyung-Hoon/Reuters
Senator Brian Schatz, D-Hawaii, condemned the extreme measures taken by border patrol, tweeting:

Tear gas across the border against unarmed families is a new low.

— Brian Schatz (@Brian Schatz) 1543185824.0
Gavin Newsom, the Democratic governor-elect from California, echoed this sentiment, saying:
These children are barefoot. In diapers. Choking on tear gas. Women and children who left their lives behind -- se… https://t.co/r3SXbDyGGW

— Gavin Newsom (@Gavin Newsom) 1543208589.0
On Monday, President Trump addressed the border closing by threatening to close the border permanently and calling for the deportation of the tear gassed migrants.
Mexico should move the flag waving Migrants, many of whom are stone cold criminals, back to their countries. Do it… https://t.co/IqgnrBTQFl

— Donald J. Trump (@Donald J. Trump) 1543231181.0
Despite this inflammatory claim, there are no legal provisions that would allow Trump to close the border in its entirety. Additionally, by law, asylum seekers must be allowed to present their case to a U.S. judge if they're able to cross the border. This means that the migrants who were tear-gassed on Sunday were not there illegally at all, and U.S. officials are required by law to consider their claim before deporting them back to Mexico. Yale Law School's Harold Hongju Koh, former legal adviser to the State Department, said that what Trump does not understand "is that everyone crossing our Southern border is not illegally present. Those with valid asylum claims have a legal right to assert those claims and remain."

But as the number of migrants waiting at the border grows and as Trump's anti-immigration policies and rhetoric cause longer and longer delays in the hearing of these cases, illegal immigration actually becomes more likely, not less. Wayne Cornelius, professor at the University of California, San Diego and expert on the border, told the New York Times, "The longer the caravaners stay in Tijuana, the more likely they are to succumb to the temptation to cross illegally into the U.S." So the Trump administration's anti-immigration stance is not only perpetuating a false impression that immigrants at the border are breaking the law, but also making the illegal immigration they're supposedly so opposed to more likely than ever.
Now, Trump is reportedly working with the Mexican government to add further peril and hardship to the journeys of these migrants. Trump tweeted on Saturday:
Migrants at the Southern Border will not be allowed into the United States until their claims are individually appr… https://t.co/1rhhYBhKvM

— Donald J. Trump (@Donald J. Trump) 1543103365.0
This provision, which the new Mexican government is reportedly agreeable to, would further violate asylum laws, which state that the United States must ensure that individuals waiting for asylum are safe not only from a hostile government, but from gangs and other threats. It would be nearly impossible for America to ensure asylum seekers this kind of protection while they're still in Mexico, and it would undoubtedly require a massive allocation of resources to do so. The American Civil Liberties Union immigration attorney Lee Gelernt told the Washington Post on Sunday night, "We believe it would be impossible for the U.S." to ensure asylum seekers safety while still in Mexico.
The truth of the matter is that these migrants are not the villains Trump has made them out to be, as they're merely seeking a better life for themselves and their families. Andrés Medina, 22, who left Honduras to escape gang recruitment and was a part of the group that rushed the crossing, said, "We've got to try one more time, we don't even have weapons." He added, "We just wanted to cross."
Brooke Ivey Johnson is a Brooklyn based writer, playwright, and human woman. To read more of her work visit her blog or follow her twitter @BrookeIJohnson.