In February we celebrate Black History Month in America.
For the entire month, we commemorate the vast contributions from Black people who have impacted society here and abroad. After all, we are responsible for countless inventions and innovations in art, science, athletics, business, and activism, contributions that often get overlooked because of our country's pervasive legacy of racism.
Black History Month may also be the only annual instance that this country comes close to acknowledging its racist heritage. The brilliance that Blackness has provided modern-day society is, unfortunately, also rooted in hatred and exclusion.

Recognizing the creations shaped by the hands of Black people means examining the oppressive infrastructures that sparked their genius. One of those infrastructures is slavery.
The mention of slavery prompts various reactions amongst white people. Some declare it to be our country's greatest shame, while others act as if it never happened. If the latter admits to its existence, it's to admonish others for "living in the past."
The celebration of Black History Month and the acknowledgment of slavery go hand in hand. Although a vast majority of Black History itself isn't a direct result of slavery, its ramifications are certainly a factor.
For instance, Martin Luther King Jr'.s vaunted legacy hinges upon his fight against racism and segregation. His peaceful marches and resounding speeches became the introduction to Black History and the Civil Rights Movement for most children in elementary schools across the country.
King is a lauded American hero for his fortitude. But his battle with a racist system is often romanticized. His reimagining sees him as a man standing up for his beliefs instead of a victim of a hateful construct who was forced to rise up against his oppressors.
The irony resides in Black people being labeled as world-changers and trailblazers in the eyes of history but only being allowed to access a small portion of it in order to apply their craft.
Similarly, Black people becoming a dominant force in sports and entertainment hasn't been without their share of obstacles. Unlike today where they have access to a worldwide audience to entertain, Black musicians and athletes' sole audiences used to be people who looked like them.
Sports pioneer Jackie Robinson made history as the first Black man to play professional baseball. His breaking of the color barrier instituted a new day in American sports, but the country's prejudicial temperament remained the same. Robison received death threats from angry white fans, players, and even owners.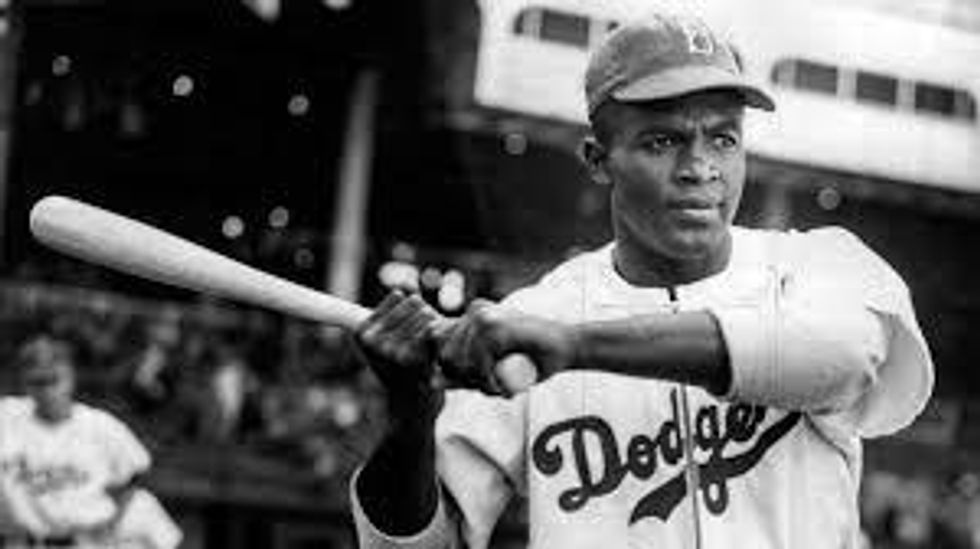 Jackie Robinson
Furthermore, musicians like Chuck Berry and Muddy Waters, who are pioneers of Rock and Roll, are credited with inspiring The Rolling Stones and Eric Clapton. But during the '50s, their sound was classified as "race music." Conversely, that same "race music" was acceptable when taken and repurposed by white artists.
They and others like them persevered in the face of adversity to open doors for Black people today. Their struggles are reminders of the resiliency of Black people that changed the world and the unnecessary roadblocks they had to overcome to do so.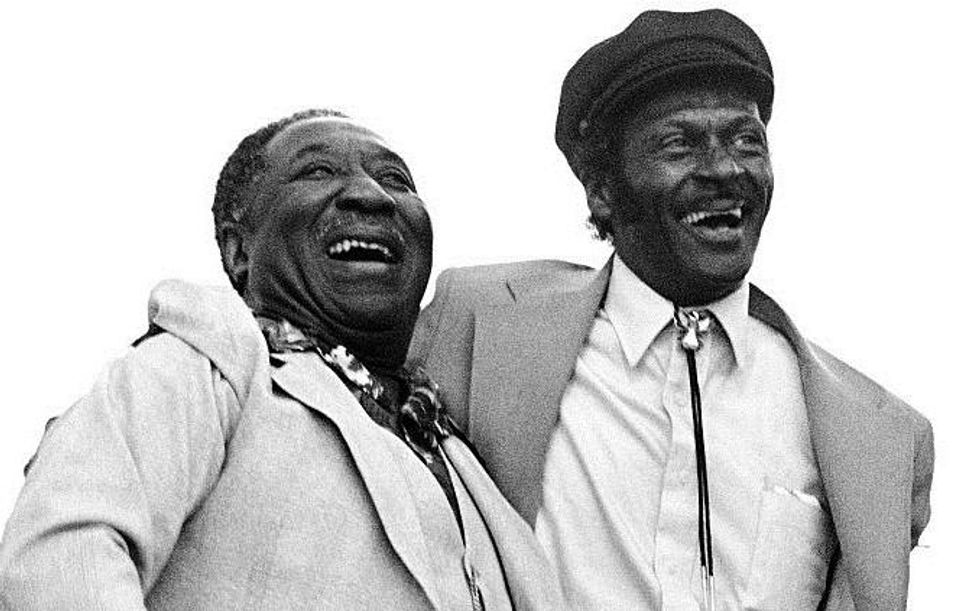 Muddy Waters and Chuck Berry
The observance of Black History Month in today's racial climate in America feels insincere. When entities are dedicated to oppression the other 11 months of the year, it's hard to believe their calls for racial unity in February
We voice our grievances about the government and law enforcement's wanton negligence daily, only to hear how stuck in the past we are as a race. Yet, that same past is responsible for the evolution of civilization as we know it today. Without Black people, America would not be the culturally rich place it is today.
Still, many feel sentiments like "Black Lives Matter" are radical movements, when in actuality they are an ever-present reminder of the conditions Black people had to navigate to pull off these incredible feats.
America cannot sincerely immerse itself in the celebration of Black History Month until it confronts its history. Racism is the beating heart beneath the floorboards of privilege. But as the beating grows louder, our country continues to disregard its pulse.
Keep reading...
Show less
Dr. Martin Luther King Jr.'s legacy is defined by his pursuit of equal rights for Black Americans through unity and peace.
He is canonized in American history as the patron saint of change through passive measures.
His infamous "I Have A Dream" speech was a rallying cry for this country to live up to its promises of life, liberty, and the pursuit of happiness. King urged us to be a nation that advocates for the inclusion of all of its citizens in the American Dream, no matter their race.

But Dr. King's message of non-violence and civil disobedience is often misinterpreted. For some in the Black community, it means doing absolutely nothing in the face of physical harm from white people. In the hands of many conservatives and racists, his beliefs are a gag order against racial injustice. They have distorted King's dream in an attempt to make us docile.
The marches and protests during the Civil Rights Movement were peaceful acts of civil disorder. King implored members of the movement not to engage in chaos and destruction. Unfortunately, these non-threatening gatherings became violent due to agitation from law enforcement, despite honoring King's wishes of peaceful resistance.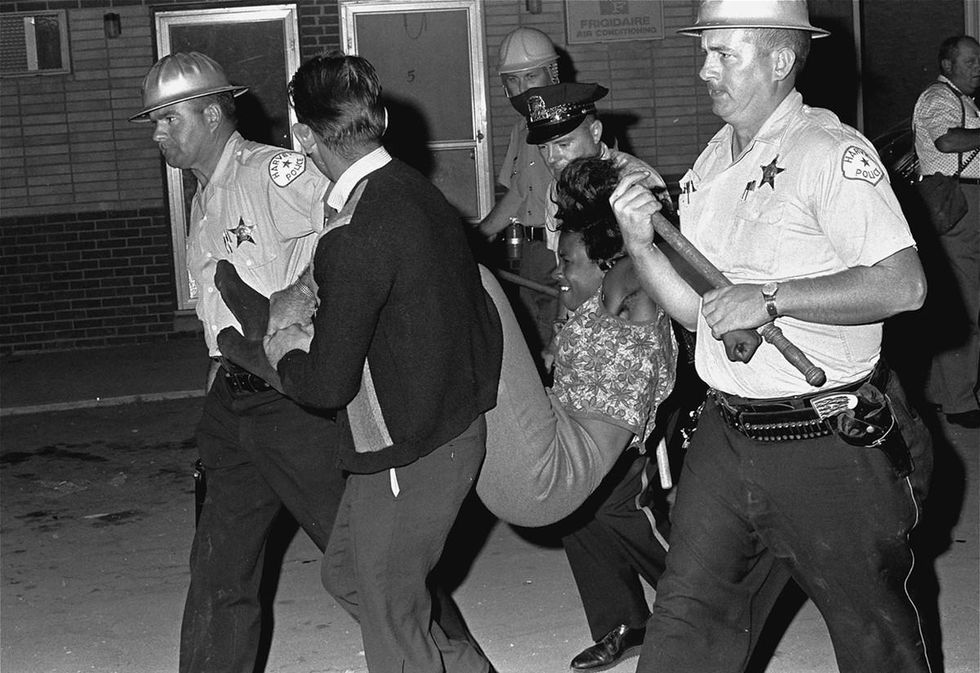 At the time, King's call for unity and equal rights was considered radical and unpatriotic. The FBI had him under surveillance, and he was the recipient of death threats from white extremists. King was a beacon of peace; but, his cause made him a target for hate.

The narrative surrounding King's death has been warped, as well. Revisionist history paints him as a martyr when, in reality, he was a victim of white supremacy. His assassination in 1968 was a cruel irony. He preached peace only for its antithesis to be his demise.
Today, civil unrest is at an all-time high. Innocent Black lives are taken by police almost daily, and the election of President Trump brought to light how much America hasn't changed since Jim Crow. We've applied the same tactics that King advised his followers to use, only to receive the same treatment decades later.
When highlighting the level of violence against non-aggressive demonstrations, many on the Right feel that Black people's right to protest is a justification for police brutality. In their eyes, the need to peacefully assemble to combat racism is excessive and unnecessary, as if any non-violent uprising is a threat and has to be silenced to preserve law and order.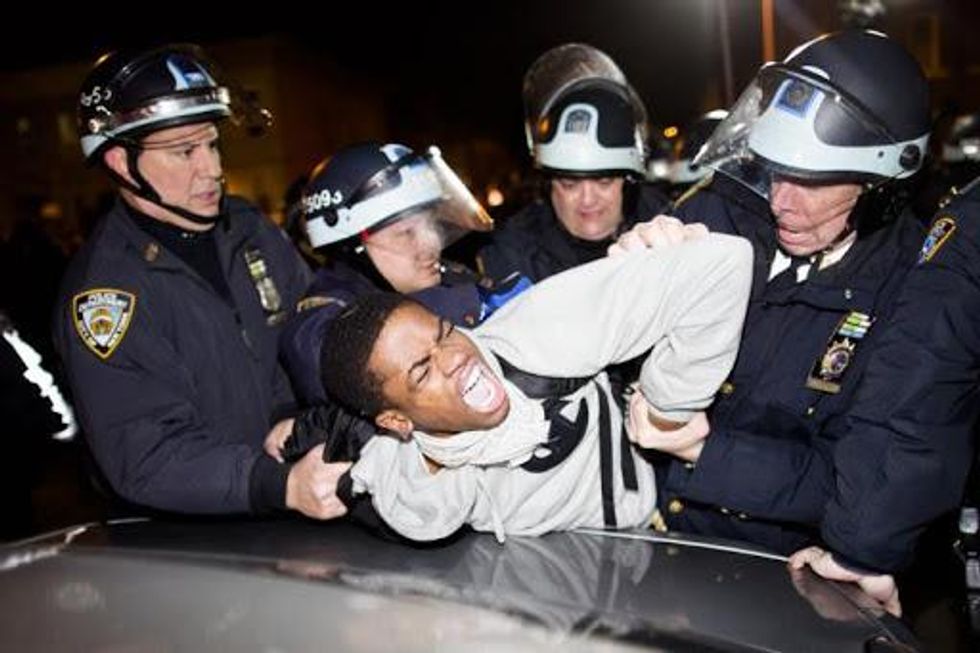 Even Black entertainers and athletes have faced public backlash for speaking against racial inequality. NFL Quarterback Colin Kaepernick was blackballed for kneeling in protest against police brutality. Kendrick Lamar's "Alright", a song about Black people overcoming struggle, was deemed an anti-police anthem. White America demonized them and others for using their platforms to bring awareness.

Meanwhile, white nationalism doesn't face the same level of persecution that Black liberation receives. Racists and fascists that subscribe to Trumpism are considered "patriots." But Black people seeking a level playing field are labeled as treasonous. One side has resorted to rioting as a last resort. The other looked at insurrection as a first solution.
Over 50 years after his death, Dr. King's message of peaceful resistance is a patronizing jab at the Black community. His philosophy isn't a factor when barbaric bigots are looking to harm us. Instead, it's as a pseudo restraining order to thwart our attempts at seeking change and potential retaliation.
For many Americans, Dr. King was a Civil Rights Superman. Unfortunately, his stance has become the movement's kryptonite.
Keep reading...
Show less
The far-right group has links with the 2017 Unite the Right Rally and recent alt-right rallies in Portland, Oregon.
In case you were blissfully unaware, last night marked the first presidential debate between President Trump and Democratic nominee Joe Biden.
In what has been called "maybe the worst presidential debate in American history," Trump's constant interruptions of both Biden and moderator Chris Wallace did very little to expand his appeal beyond his existing fervent fan base. The president also repeatedly tried to associate Biden with the radical left—a statement that is simply not true. And while Biden kept a relatively calm composure, he missed a few key talking points, his most memorable quote being "Will you shut up, man?"
But the most disconcerting moment in the debate was when President Trump blatantly failed to denounce white supremacy.
"You have repeatedly criticized the vice president for not specifically calling out Antifa and other left wing extremist groups," Wallace said to Trump. "But are you willing tonight to condemn white supremacists and militia groups and to say that they need to stand down and not add to the violence in a number of these cities, as we saw in Kenosha and as we've seen in Portland?"
After a few moments of fumbling and putting the blame on left-wing groups, Trump's response was: "Proud Boys, stand back and stand by."
President Donald Trump: White supremacist group Proud Boys should 'stand back and stand by' www.youtube.com
Social media was immediately flooded with people voicing their concerns. While Trump has clearly displayed white supremacist behavior throughout his presidency, this is perhaps the most blatant example of all. The aforementioned Proud Boys have reportedly been celebrating Trump's apparent endorsement—but who are they, anyway?

The Proud Boys are a far-right, all-male extremist group that was formed in 2016 by Gavin McInnes, who describes the organization as a "pro-Western fraternal organization." Though they firmly denounce any accusations of racism (even filing a defamation lawsuit after being categorized as a hate group), they have been described as violent, nationalistic, Islamophobic, transphobic, and misogynistic. Though they deny any connotation with the alt-right, some of their core values include "anti-political correctness," "anti-racial guilt," and "reinstating a spirit of Western Chauvinism."
In its early months, the Proud Boys veered away from begin just a men's club and began growing into a flat-out, far-right extremist group that lived up to McInnes's longtime racist ideals. "I love being white and I think it's something to be very proud of," McInnes told the New York Times in 2003. "I don't want our culture diluted. We need to close the borders now and let everyone assimilate to a Western, white, English-speaking way of life."
In his detailed plan for the Proud Boys, McInnes stated that members would be sorted into nationwide chapters, and that each member can be sorted into one of three ranks. To achieve the first rank, you must publicly declare your pride in being a Proud Boy. The second is to receive a brutal beating while reciting five breakfast cereal names, and the third is to get a Proud Boy tattoo. "It's very freeing to finally admit the West is the best," McInness wrote. "That's because it's the truth."
No matter what accusations you might hear about violent protests supposedly escalated by Antifa, violence has been a major aspect of the Proud Boys' M.O. since their inception. A notable ex-Proud Boy is Jason Kessler, the founder of the infamous Unite the Right Rally in Charlottesville, Virginia in 2017. Many Proud Boys attended the event, which resulted in the death of a counter-protester named Heather Heyer.
More recently, the Proud Boys have had a significant presence in the current protests and rallies in Portland, Oregon. Their involvement in Black Lives Matter protests has revealed that they feel a duty to assist law enforcement officers.
And now, with fairly explicit approval from Trump, the Proud Boys feel a renewed sense of responsibility to further uphold their xenophobic beliefs.
"To say Proud Boys are energized by [Trump's statement at the debate] is an understatement," Megan Squire, a computer science professor who tracks online extremism, told NBC News. "They were pro-Trump before this shoutout, and they are absolutely over the moon now. Their fantasy is to fight antifa in his defense, and he apparently just asked them to do just that."
Screenshots of the Proud Boys' Telegram, a private messenger app, evidence their glee following the debate.
The Proud Boys are ecstatic tonight about getting mentioned in the debate tonight. "Trump basically said to go fuc… https://t.co/rNxehnscKb

— Mike Baker (@Mike Baker)1601432901.0
"Trump basically said go f*ck them up," member Joe Biggs wrote. "This makes me so happy."

If you were somehow unsure of Trump's white supremacy before, hopefully this alarming situation helps clear it up.
Keep reading...
Show less
It was a dumpster fire inside a train wreck.
The first presidential debate of the 2020 election cycle took place last night, September 29th.
While we've known for a long time that Trump doesn't think treating others with basic respect is a necessity, that fact has never been clearer than last night when he spent 90 minutes interrupting and insulting both opponent Joe Biden and moderator Chris Wallace. Not only was the majority of the debate just the three men talking over each other; when Trump did actually form a complete sentence, he mostly spouted blatant lies and falsehoods—not to mention that he flat-out refused to condemn white supremacy.
In fact, if you want to see just how many times both men exaggerated, twisted, or just straight up denied the truth, check out Politifacts 100% accurate fact check of the debate. It will quickly become clear that Trump almost exclusively lied while on the debate stage.
Still, facts have become a negligible facet of democracy under the Trump administration, so it's no surprise that Trump supporters still feel certain that their president's truly childish behavior in the debate was not only acceptable but praiseworthy. To be honest, it's difficult to fathom that there are many truly undecided voters at this point. You're either against the rise of fascism, white supremacy, misogyny, and misinformation, or you're voting for Trump and have decided those things are fine with you. In the most polarizing political moment perhaps in the history of America, the undecided voter is rare (and probably not paying attention).
So if most people are already certain about who they're voting for, why did anyone watch the debate? Let's be honest with ourselves: we watched because we knew it would be such a disaster it would be entertaining, we watched as a form of passive self-flagellation, and most of all we watched so we could keep up with the Twitter discourse. The only bright spot in the darkness of 2020 is the endlessly hilarious Twitter takes that both encompass the chaos of the moment and remind us not to take anything too seriously.
Here are our favorite Tweets about the first 2020 presidential debate, divided by category.
Watching the debate as a form of self punishment
Self care is easier said than done, and as the months of social isolation wear on, we're all getting more and more prone to doom-scrolling on social media, reading opinions that we know will make us angry, and engaging in Facebook comment battles with our weird great uncle who might be an actual Neo-Nazi now. For many of us, watching the debate was just an extension of this toxic behavior.
Just marveling at how much three men can talk over each other
The amount of times Trump interrupted either the moderator or Joe Biden were truly countless, and ultimately forced Biden and Wallace to interrupt him and each other to get a word in edgewise. What resulted had a similar energy to a Kindergarten classroom if all the students were on amphetamines.
Mocking and/or pitying Chris Wallace
Poor Chris Wallace had the toughest job of the night. He had to try to maintain some semblance of control while asking important questions and then ensuring that the American people could actually hear the answers to the questions. It ultimately proved to be an impossible task, and America was divided on whether or not he could have done better.
Feeling bad for Hillary and despising the amount of toxic masculinity on display
If I wanted to watch three out-of-touch old white men yell at each other, I would have just waited for my family Thanksgiving in Texas.
From the moment Joe Biden said "Would you just shut up, man," many started thinking about the double standards for men and women in power.
Just straight up insults
It's not about looks, but these are pretty funny.
Trump refusing to condemn white supremacy
There were no winners and the losers were the American people
While we think Biden did his best to retain some level of calm under the circumstances, there is no question that the entire debate was a disaster that provided almost no concrete information.
Just....f**k Trump
Disgustingly, Trump repeatedly went after Biden's family, insulting his son Hunter repeatedly and (falsely) claiming he had received money from Russia and been dishonorably discharged. Trump then later made it very clear that he is prepared to deny the election results should he lose.
No matter what you took away from the debate last night, make sure you're registered to vote and have a plan to do so. Check your voter registration at Vote.Org.
Keep reading...
Show less
How do you fall back on your "Well they shouldn't commit crimes!" argument now?
It was recently announced that the death of Elijah McClain, a 23-year-old Black man who died in 2019 while in police custody, will be reexamined by Colorado Officials.
Colorado Governor Jared Polis personally announced that his administration will reexamine the case. The governor wrote on Twitter, "a fair and objective process free from real or perceived bias for investigating officer-involved killings is critical." Polis added that he is having lawyers "examine what the state can do and we are assessing next steps."
Public confidence in our law enforcement process is incredibly important now more than ever. A fair and objective p… https://t.co/vGdBthXcQc

— Governor Jared Polis (@Governor Jared Polis)1593032085.0
Undoubtedly, Gov. Polis was influenced by a petition, signed by over 2 million people, that urged him to reopen the case of Elijah McClain, who died after being put in a chokehold by police in a Denver suburb. McClain's case has been the subject of renewed outrage since the police murders of George Floyd, Breonna Taylor, and others; which were instrumental in sparking wide-spread protests against racist police brutality.

The facts surrounding Elijah McClain's death
On August 24, 2019, McClain was on his way home from a convenience store. He was wearing a ski mask, something his sister later told ABC affiliate, Denver7 that he often did because he "had anemia and would sometimes get cold." He had gone to the convenience store to buy his brother an iced tea.
Soon, McClain was stopped by three white officers because a 911 caller described a "suspicious person" in a face covering "waving their arms around." According to McClain's family, it was likely he was dancing to the music in his headphones, something he often did.
According to CNN, the police report said that McClain resisted officer contact and a struggle ensued. The audio from one of the officer's body cams depicts McClain clearly pleading with the officers, saying, "I'm an introvert, please respect the boundaries that I am speaking." He goes on to say that he was trying to stop his music to listen to them, and they promptly start to arrest him. One officer is heard telling another, "He just grabbed your gun, dude."
The full audio of McClain's arrest and subsequent murder can be listened to below. The transcript is as follows:
"I can't breathe. I have my ID right here... My name is Elijah McClain. That's my house. I was just going home. I'm an introvert. I'm just different. That's all. I'm so sorry. I have no gun. I don't do that stuff. I don't do any fighting. Why are you attacking me? I don't even kill flies. I don't eat meat. But I don't judge people, I don't judge people who do eat meat. Forgive me. All I was trying to do was become better... I will do it... I will do anything. Sacrifice my identity, I'll do it. I'll do it. You all are phenomenal. You are beautiful and I love you. Try to forgive me. I'm a mood Gemini. I'm sorry. I'm so sorry. Ow, that really hurt. You are all very strong. Teamwork makes the dream work."
In the video, McClain can be heard sobbing, vomiting, and then saying: "Oh, I'm sorry I wasn't trying to do that. I just can't breathe correctly." You can also hear one of the officers threaten to bring a police dog over to him and bite him for "messing around."
Later in the footage, one officer can also be heard admitting McClain had done nothing illegal.
Body Worn Camera Regarding the In-Custody Death of Elijah McClain youtu.be
As McClain sobbed, one of the officers put him in a carotid hold, or chokehold, and he briefly lost consciousness, according to an overview of the incident provided by police. Soon, paramedics arrived and administered ketamine to sedate McClain, according to the report. McClain then suffered a heart attack while in the ambulance and was taken off life support three days later. His family said at the time that he was covered in bruises.
The officers involved were cleared of all wrongdoing
After McClain's death, the Adams County district attorney, Dave Young, declined to file criminal charges against the officers involved, though they were placed on administrative leave briefly before being reinstated. In February 2020, a police review board declared, "[t]he force applied during the altercation to include the carotid control hold and the force applied during the altercation was within policy and consistent with training."
Additionally, in a coroner's report Forensic Pathology Consultant Dr. Stephen Cina was unable to definitively explain McClain's cause of death. Cina said that "the manner of death may be accident if it was an idiosyncratic drug reaction. It may be natural if [McClain] had an undiagnosed mental illness that led to excited delirium, if his intense physical exertion combined with a narrow coronary artery led to an arrhythmia, if he had an asthma attack, or if he aspirated vomit while restrained."
He continued, writing that Mcclain's death, "may be a homicide if the actions of officers led to his death (e.g. carotid control hold led to stimulation of the carotid sinus resulting in an arrhythmia)."
When CNN asked DA Young about the recent tidal wave of support for the reopening of McClain's case, Young said, "we've got to have the evidence ... so the petitions, the emails, the voicemails and Facebook attacks to me, my family, everyone else expressing their opinions ... is not evidence." Young added that he doesn't "condone the actions of the officers. I think they could've done things differently."
Who was Elijah McClain?
Since his death, Elijah has been described by family and friends alike as an "angel." He worked as a massage therapist, and seemed to be universally beloved by his coworkers and clients.
According to CBSN Denver, his mother, Sheneen McClain, described her son as life-giving. "I thank God that he was my son because just him being born brought life into my world, you know what I mean?" she said. "I know he was giving life to other people too.
According to the Sentinel, Eric Behrens, a friend of McClain's, said, "I don't even think he would set a mouse trap if there was a rodent problem."
A former client and friend of McClain, Marna Arnett, reportedly said he, "Was the sweetest, purest person I have ever met," She added, "He was definitely a light in a whole lot of darkness." Arnett also mentioned McClain's social anxiety to reporters, attributing his frequent mask wearing to both his anemia and a desire to create a separation from the world. "He would hide behind that mask," Arnett said. "It was protection for him, too. It made him more comfortable being in the outside world."
One of the most frequent anecdotes mentioned on social media about McClain is the fact that he often used his lunch breaks to play the violin for the dogs and cats in a nearby animal shelter, believing the music helped to calm them.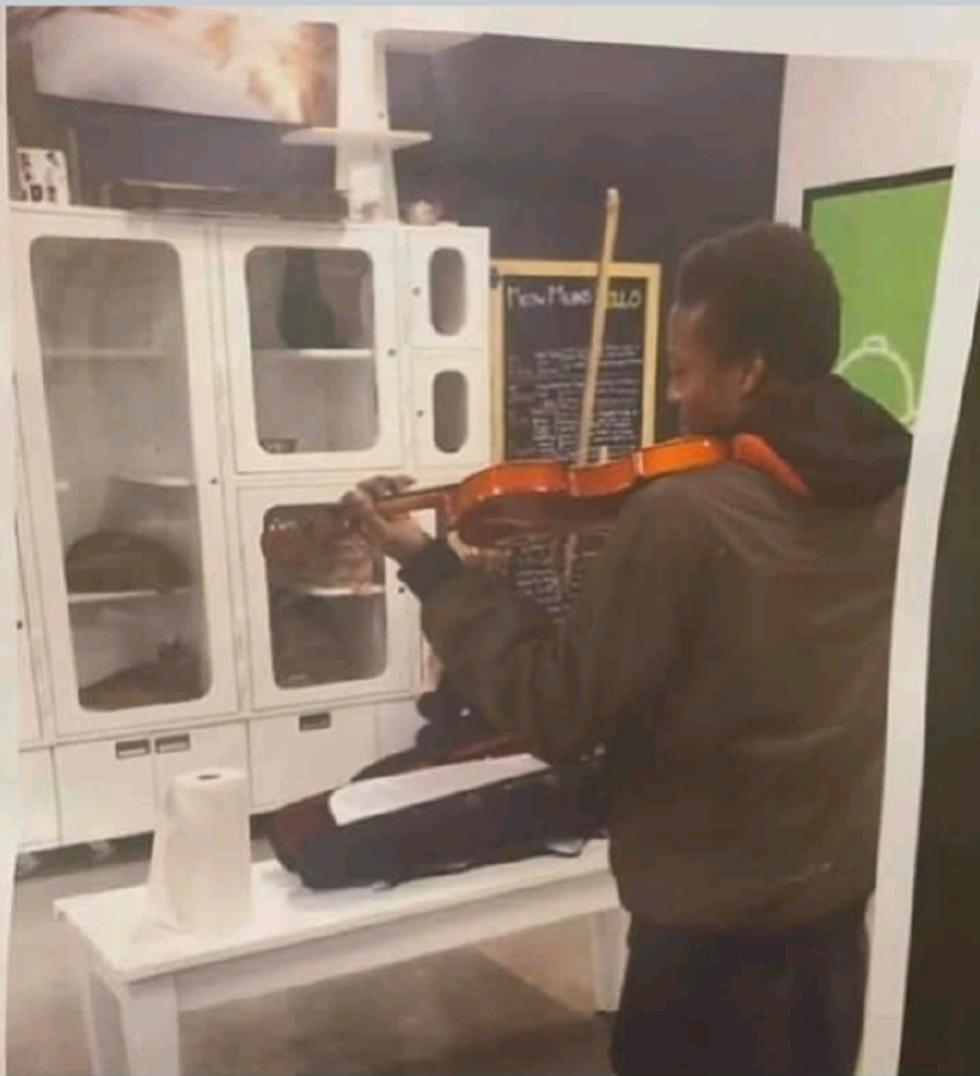 Elijah McClain playing the violin for cats
The more you read about McClain, the more obvious it becomes that he was a gentle young man, often anxious, but eager to love and be loved. The more you read about McClain, the more heart-wrenching his death becomes. Why? Because he didn't deserve it. Because he was a good guy who didn't commit a crime.
His supposed resistance was likely just the result of the extreme anxiety that would likely overtake most of us in that situation—particularly a young Black man; particularly a person who clearly already struggled with anxiety. The case of Elijah McClain makes white people particularly uncomfortable, because they can't justify it.
Why "All Lives Matter" people aren't sure what to say about Elijah McClain
"George Floyd was using counterfeit money," they argue. "The police had to restrain him!"
"Well, sure, Breonna Taylor was sleeping, but her boyfriend pulled a gun! The cops had to shoot!"
These are common tactics conservative white people use to deny the pandemic of racist police violence in America. Arguments like "Well, he shouldn't have committed a crime, then!" have long followed in the wake of anger over the death of a Black person at the hands of the police.
Even more common, white people comfortable with the status quo tend to talk about all the past transgressions of the Black victim in question, or use language to conjure images of a threatening individual, as if that justifies the police's behavior.
This line of thinking has become so prominent, that doctors CalvinJohn Smiley and David Fukunle conducted a 2016 study on the topic entitled "From 'Brute' to 'Thug:' the Demonization and Criminalization of Unarmed Black Male Victims in America". The study sought to investigate, "The historical criminalization of Black males and its connection to contemporary unarmed victims of law enforcement. And "to interpret how Black male victims are portrayed by traditional mass media, particularly through the use of language, in ways that marginalize and de-victimize these individuals."
Smiley and Fakunle found ample evidence that Eric Garner, a Black man killed by police officers in 2014 for selling cigarettes, was (posthumously) routinely characterized in the media as physically imposing (Garner was 350 lbs), unhealthy (Garner had a history of asthma), and inherently criminal.
They write, "The prominent references related to Mr. Garner's physical attributes were micro-invalidations and micro-insults regarding his behavior at the time of his death, which involved Garner vehemently defending his role in breaking up an altercation. Additionally were the micro-invalidations related to his past actions and lifestyle. This included criminality and the perception of being a 'hustler' due to his propensity to sell single cigarettes, which is illegal yet not a felony in New York."
Essentially, white people who lean towards the "all lives matter" argument are quick to brush off the discomfort that racist police violence forces them to feel. They do so by justifying a Black victim's death. This is often done by finding a reason the victim "deserved" to die, or finding reasons to excuse the police officer's actions.
In the case of Elijah McClain, this kind of justification is almost impossible. McClain was gentle and physically small, had a good job, was possibly neurodivergent, had no criminal history, and was literally just walking home from the store. The audio of his last moments depict a person trying desperately not to offend anyone, even in that dire and unjust situation.
If your argument in the past has been, "Well he just should have complied with the police officers and shown them the respect they deserve," then how do you reckon with the fact that some of McClain's last words were, "All I was trying to do was become better... I will do it... I will do anything. Sacrifice my identity, I'll do it. I'll do it. You all are phenomenal. You are beautiful and I love you. Try to forgive me."
His fear is palpable in the audio recording, as is his aggressor's brutality. Elijah McClain's murder cannot be explained away as anything other than a moment of racist abuse of power with deadly consequences.
Guilty people don't deserve to die either
The discomfort and reckoning that Elijah McClain's case has brought up in white people (specifically those who have been trying desperately to pretend that the police are a necessary force for good) can only be productive. But that's not to say that there is anything acceptable about justifying a person's murder at the hands of the police because of past criminality or any other factor beyond a clear and imminent deadly threat.
If Elijah McClain HAD committed a crime, it still wouldn't be justifiable that he died at the hands of the police. We have a system in place for assigning punishment to those who commit crimes. It's a deeply flawed system, but it at least affords people the right to a trial before they are sentenced. It is not the role of the police to kill—not even the guilty.
If McClain's story is making you uncomfortable because he was so obviously "one of the good ones" or because you can't explain away the police officer's actions, perhaps now is a good time for you to question your view of justice. Why do you think past crimes justify someone's death? Why do you think a police officer who "feels in danger" has the right to murder someone?
For that matter, why do you think any crime justifies someone's death? Have you ever stolen something small from a store? Has your child or loved one? Do you think they would deserve to die for that crime?
If we're going to put an end to America's decades-long history of police brutality, we're going to have to collectively rethink our culture of retributive justice. While Elijah McClain certainly didn't deserve to die, neither did the thousands of Black people—guilty of a crime or not—who have lost their lives to the brutality of the American justice system.
Elijah McClain's death should make you uncomfortable, but so should every other death at the hands of American policing.
Keep reading...
Show less
The quarterback said "I will never agree with anybody disrespecting the flag of the United States of America or our country." And then he tried to apologize. And only made it worse.
Drew Brees, a man who makes literally millions of dollars for throwing a ball, has come under fire for insensitive comments he made about NFL players kneeling during the National Anthem to protest police brutality.
"I will never agree with anybody disrespecting the flag of the United States of America or our country," Brees said in the interview with Yahoo Finance. He clarified that this was in part because he envisioned his grandfathers, who fought in World War II, during the National Anthem. He continued, saying, "And is everything right with our country right now? No. It's not. We still have a long way to go. But I think what you do by standing there and showing respect to the flag with your hand over your heart, is it shows unity. It shows that we are all in this together. We can all do better. And that we are all part of the solution."
This isn't the first time Brees made it clear that he cares more for the idea of a make-believe unified America than he does for actual human lives. In 2016, he criticized Colin Kaepernick for kneeling during the anthem, saying it was "disrespectful to the American flag" and "an oxymoron" because the flag gave critics the right to speak out in the first place.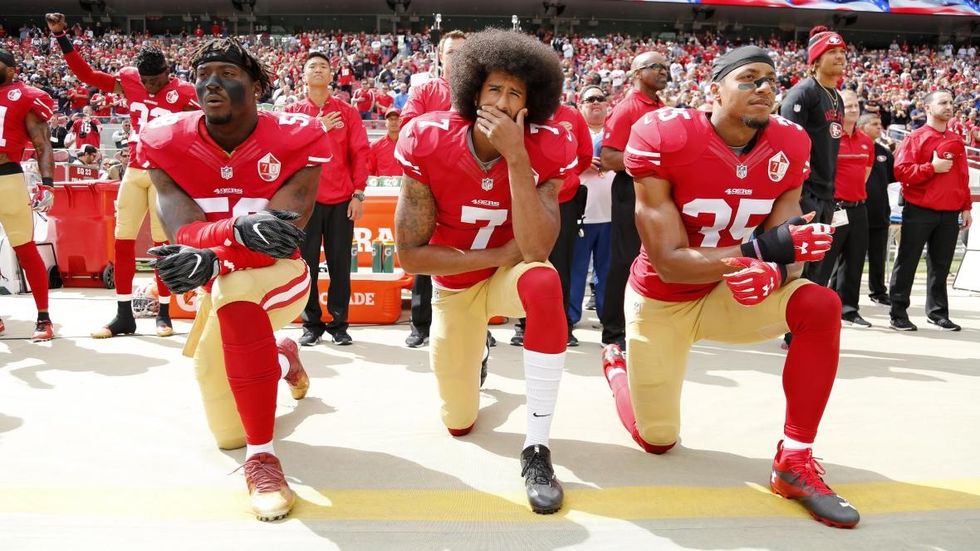 Colin Kaepernick kneeling in protest of racist police brutality
Of course, the flag's alleged ideals have been proven to only be applicable to wealthy, white men—men like Brees. Sure, his grandfathers did a noble thing when they fought under the US flag during WWII, and no one, including Kaepernick, has ever said that sacrifice isn't worth respecting. Thanks to the sacrifices of many people (including the enslaved Black backs upon which this country was built, including the scores of routinely abused Black soldiers who fought for American lives), America has offered opportunity and peace for many, many people. In particular, Ole' Glory has been very kind to men like Brees: rich, white men who still control the majority of the power and the wealth in the United States.
But what about the rest of us, Drew? What about George Floyd whose neck was crushed by a police officer who kneeled on him so casually that he didn't even take his hand out of his pocket? What about Ahmaud Arbery, who was shot for the crime of being Black and going for a jog? What about Breonna Taylor, a black woman who was murdered by police in her home in the middle of the night for a crime that had nothing to do with her? What about Tony McDade, Drew–have you heard his name? Have you heard about the 38-year-old Black trans man who was gunned down in Florida last week? Do you understand why these people's family's may harbor just a bit of disrespect for your precious flag?
Is it possible for you to realize, Drew, that your wish for "unity" is not a wish for progress, but a wish to maintain the status quo? When you call for unity under the American flag, you're talking about your flag, the flag that represents a long, sordid history of racial oppression and violence. There is no unity where there is no justice. When you say that "we are all in this together," what you're saying is that we all have roles to play in the version of society that has served you so well. For your part, you'll be a rich, white man, and for Black people's part, they'll continue to be victims of state-sanctioned murders– but hopefully more quietly, hopefully in a manner that doesn't make you uncomfortable?
When you say, "We can all do better. And that we are all part of the solution," what you mean to say is that POC and their allies are at fault. Sure, you probably agree that Derek Chauvin took it a bit too far, and you probably feel a little self-conscious that he's brought all this "Black rights" stuff up again. But when you say "all," you place blame on the victims who are dying under a broken system. And what, exactly, do you expect POC to do differently, Drew? Ahmaud Arbery was just out jogging, and still he died. George Floyd was just trying to pay a cashier, and still he died. POC and their allies try to peacefully protest by marching in the streets or taking a knee at a football game, and still white people condemn and criticize. Still the police shoot.
After much criticism, Brees did attempt an apology on Instagram, where he posted a hilariously corny stock photo of a Black and white hand clasped together. His caption, though possibly well-intentioned, made it even clearer that his understanding of the movement for Black lives is thoroughly lacking.
Highlights of the "apology" include his immediate attempt to exonerate himself from culpability, claiming that his words were misconstrued, saying of his previous statement: "Those words have become divisive and hurtful and have misled people into believing that somehow I am an enemy. This could not be further from the truth, and is not an accurate reflection of my heart or my character." Unfortunately, Drew, white people like you are the "enemy," as you put it, because by default you are at the very least part of the problem. No one is accusing you of being an overt racist, Drew; no one thinks you actively and consciously detest Black people. But your lack of empathy, your apathy, and your unwillingness to unlearn your own biases are precisely what has persisted in the hearts and minds of well-meaning white Americans for centuries.
Next, you say, "I recognize that I am part of the solution and can be a leader for the Black community in this movement." No, Drew. Just no. Black people don't need white people's savior complexes to interfere in their organizing; what they need is for us to shut up and listen. What they need is for us to get our knees off of their necks.
Finally, you say, "I have ALWAYS been an ally, never an enemy." This, Drew, is suspiciously similar to saying, "But I'm one of the good whites!" The fact of the matter is that feeling the need to prove your allyship is not about helping a movement; it's about feeding your own ego. Not only that, but your emphasis on "ALWAYS" does a pretty good job of making it clear that you don't think you have a racist bone in your body and that you have taken great offense at any accusations to the contrary. I have some news for you, Drew: Every white person is racist. Sure, the levels vary, and while you may not be actively and consciously discriminating against POC, you have been brought up in a racist system, and your implicit biases are as strong as any other white person's. Your job now is to unlearn those biases and confront those subtle prejudices in yourself and in other white people. Maybe the first step in doing so is just shutting your f*cking mouth about kneeling at football games. Maybe you should even consider taking a knee yourself.
For other non-BIPOC trying to be better allies, check out one of these 68+ anti-racism resources.
"In a racist society it is not enough to be non racist. We must be anti-racist." - Angela Davis
Yesterday, Tony McDade was shot in cold blood by a white cop.
On Wednesday, George Floyd was murdered by a policeman.

Last week we lost Breonna Taylor and Ahmaud Arbery to police violence.
These racist killings of innocent people—reminiscent of lynchings, indicative of the systems of oppression of people of color and particularly Black people that have only morphed and grown more insidious over the years—have many people feeling motivated to join the ongoing fight against police brutality and racism in America, while others are feeling the call to deepen their involvement and join in protests.
Wherever you are, the best place to start is always with education, and the Internet is full of resources carefully compiled by people trained in anti-oppression, people who are sharing free resources in the hopes that they might help mobilize movements in the fight for justice.
Here are just ten social media accounts to start with. These are only jumping-off points—places to start the journey. White people in particular need to be careful and thoughtful while beginning this work. Please don't steal these activists' work or message them asking for help—the Internet has more than enough resources that you can digest on your own without asking for more labor from people of color.
Don't let this be the end of your advocacy. Don't let injustice continue to fester while you remain silent. Donate, read, protest if you're able, and get ready to stand in solidarity for the long haul.
1. Rachel Cargle
Rachel Cargle is an incredible writer and activist whose platform offers a selection of invaluable resources. Her Patreon course, "The Great Unlearn," is dedicated to sharing information, helping people unlearn systemic racism, and sparking action. Her personal accounts are also full of valuable, carefully crafted guides and actionable steps.
Part memes and TikToks, part information and political education, @urdoinggreat has a reel full of highlights on Instagram that are worth scrolling through as well as a Patreon full of useful content. Whether you're looking to understand why riots work or wanting to learn more about the radical Black history of mutual aid, Gem's account is full of enlightening and easily digestible tools for anyone looking to join the revolution.
3. We Are Malikah
Malikah is a "global grassroots movement, a network of active and engaged women leaders."
4. The Equal Justice Initiative
The Equal Justice Initiative works to end racial inequality and mass incarceration. Their Twitter feed is full of informative articles about the history of race and racism and the way it manifests in modern acts of racist violence.
4. Black Visions Collective
Black Visions Collective "believes in a future where all Black people have autonomy, safety is community-led, and we are in right relationship within our ecosystems." Focusing on systemic transformation through collective power, it's a Minnesota-based campaign with a global vision for racial justice and for a world where Black lives matter.
5. The Conscious Kid
This account is meant to help parents raise anti-racist children, but let's face it: We could all use a brush up on the basic facts, because we were all raised in education systems that prioritized whiteness.
6. @ckyourprivilege
Founded by Myisha T. Hill, @ckyourprivilege offers many resources for anyone interested in dismantling white supremacy and unlearning their complicity in these systems.
7. Austin Channing
The author of "I'm Still Here: Black Dignity in a World Made for Whiteness" has an incredibly comprehensive social media and online presence, full of resources and books and web series and based in collaborative learning and collective action.
8. Showing Up For Racial Justice (SURJ)
SURJ fights for collective liberation. With chapters across the country and an established theory of change, and with an emphasis on creating accountability for white folks, they are a great place to donate to or join.
9. Layla F. Saad
Layla F. Saad is a writer who frequently shares events and observations about allyship and racial justice. The author of White Supremacy and Me and the co-host of the Good Ancestor podcast, her account and work is a no-nonsense direct challenge to white supremacy.
10. Matt McGorry and We Inspire Justice
Actor Matt McGorry's account is a treasure trove of anti-racist resources (as well as ani fat-phobia, intersectional feminism and more). He's also the co-founder of We Inspire Justice alongside JLove Calderón, and all are worth following and paying close attention to.
This is by no means a comprehensive list. It's just a starting point, a place to gather bearings and to develop an understanding of basic rules before plunging into the work of fighting for justice and for human rights, which is really just doing the bare minimum to prevent cold-blooded racist violence. While posting and reading on social media is more important, it's much more valuable to protest, to donate, and to join movements with pre-established visions and commitments to deep work. It's up to each of us to fight this f*cked up racist policing system.
Keep reading...
Show less
Racist police violence is a modern epidemic. So why are we talking about an SNL skit from 2000?
At this point, celebrity apologies are incredibly common. In 2020, it seems like some formerly beloved actor or TV personality is being put through the wringer of public opinion a few times a week.
Most recently, Twitter canceled Jimmy Fallon after an unquestionably racist skit from the 2000 season of SNL resurfaced online. The skit features Fallon impersonating Chris Rock, complete with black face and an offensive imitation of Rock's speech patterns.
Jimmy Fallon Blackface youtu.be
This quickly led to the hashtag #jimmyfallonisoverparty trending on Twitter. While fans seemed split on whether Fallon should be forgiven for the 20-year-old misstep, most everyone agreed that Fallon should apologize regardless. This morning, he did just that in the form of a tweet.
In 2000, while on SNL, I made a terrible decision to do an impersonation of Chris Rock while in blackface.  There i… https://t.co/6k9alCsBq7

— jimmy fallon (@jimmy fallon)1590526687.0
As far as celebrity apologies go, Fallon's is a pretty good one. He doesn't try to sidestep the blame, he doesn't bring up the fact that there were undoubtedly many, many other individuals involved in the creation of the skit, and he doesn't even mention the fact that in 2000, many people still thought it was possible for black face to be done in the spirit of fun, because the deeply racist nature of the act was largely ignored in mainstream (white) media. Of course, we know better now, and it's easy to see that a white person doing an exaggerated imitation of a black person—darkened skin included—can only be a racist, belittling act with a long, dark history of racial oppression. With that in mind, Fallon's only option was to apologize without caveat or reservation. Indeed, it's refreshing to see a celebrity apology that doesn't try to justify or minimize their own misstep. While we can all agree Fallon made a terrible, racist choice 20 years ago, we have to believe that, like all of us, he's grown since then. If cancel culture is to have any efficacy in making the world a better place, it has to leave room for forgiveness and growth. Hopefully, the whole affair will leave Fallon (and those who witnessed it) more racially sensitive.
All of that being said, one has to ask why the clip was brought up now, given that it's been circulated around the Internet before, and the specific YouTube clip that was shared was posted on the site over a year ago. It's also worth noting that the version of the clip that was going around Twitter has a text overlay that reads: "NBC FIRED MEGAN KELLY FOR MENTIONING BLACKFACE. JIMMY FALLON PERFORMED ON NBC IN BLACKFACE."
Megan Kelly, an outspoken conservative, was indeed fired from her job at NBC because she defended the use of blackface in Halloween costumes, saying on her talk show, "Truly, you do get in trouble if you are a white person who puts on blackface for Halloween, or a black person who put on whiteface for Halloween," she said. "When I was a kid, that was OK as long as you were dressing up as a character." While Fallon's instance of racial insensitivity was in 2000, Kelly defended blackface in 2019, long after society at large had begun to acknowledge the hurt that blackface and other forms of racial impersonation could cause. This fundamental difference aside, Kelly also has a long history of racial insensitivity that Fallon does not, even once saying, "What is the evidence that what happened to Eric Garner and what happened to Michael Brown has anything to do with race?" in a conversation about the epidemic of racist police officers in America.
Given the text overlay, it's pretty clear that whoever began the #jimmyfallonisoverparty was not necessarily seeking justice for the black community, but was instead trying to imply hypocrisy in the cancellation of Megan Kelly, given that Fallon (who has been outspoken about the flaws of the Trump administration and political pundits like Kelly) is still on the air. One even has to wonder if, given that it's obvious that the #jimmyfallonisoverparty trend was begun by a conservative individual or group, if the trend was meant to be a distraction from the widespread racist police violence that has been emphasized in recent weeks by incidents like the death of George Floyd, a black man who was murdered in Minneapolis by a white police officer on Monday. It seems oddly coincidental that the clip of Fallon should flood the Internet with controversy the day after Floyd's murder, unfortunately serving to help steer conversation away from Floyd's unjust death.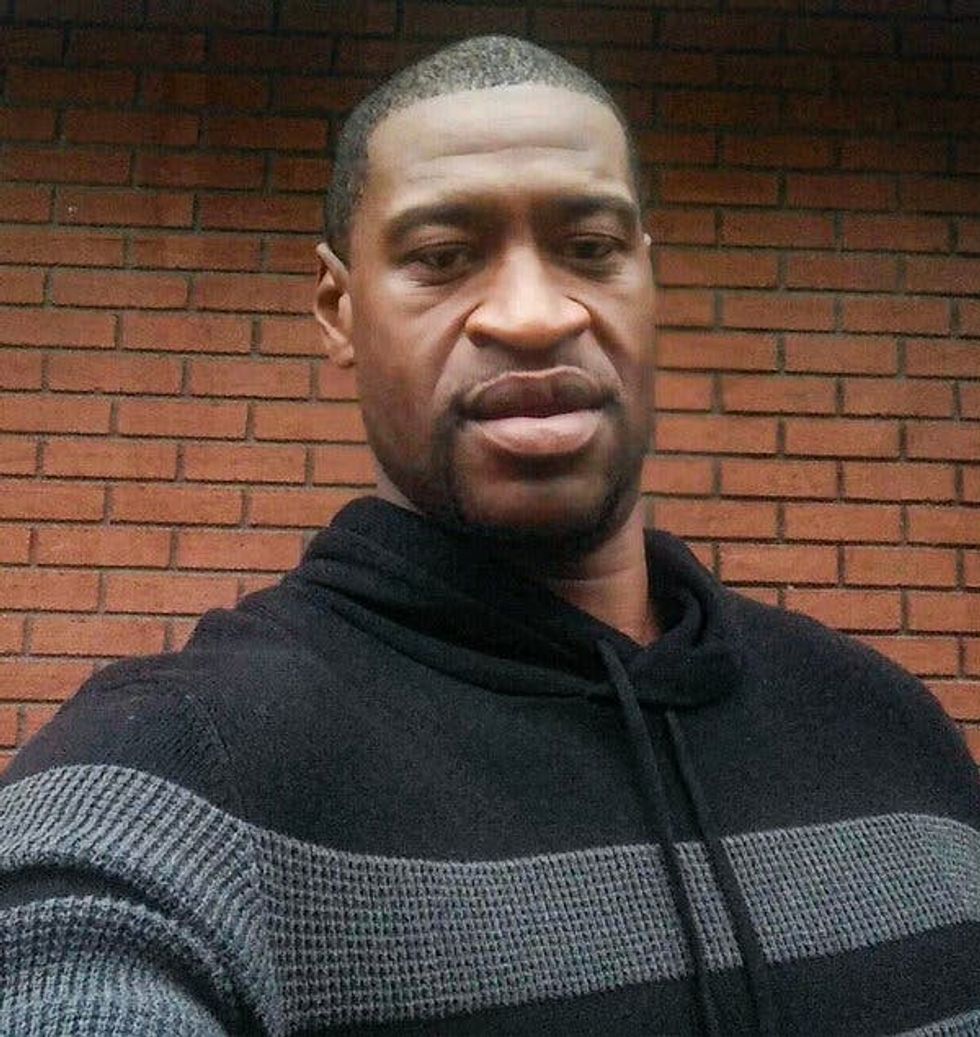 George Floyd
Indeed, under the unquestionably racist Donald Trump administration, more and more black people are being harassed, attacked, and murdered at the hands of racist white civilians and police officers. But Trump and his supporters don't want you to focus on that–so much so that it doesn't feel impossible that the Fallon skit was intentionally weaponized as a distraction.

In the last few weeks alone we learned that Ahmaud Arbery was murdered senselessly by a white man while simply out for a jog, and we all witnessed the harassment of Christian Cooper, a black man who was threatened by a white woman in Central Park who didn't want to put her dog on a leash. It's clear that racism in America cannot be reduced to insensitive skits from 20 years ago but is instead a current and deadly problem. What Jimmy Fallon did in 2000 was racist, yes; but don't let that distract you from the deadly consequences of racism in 2020, don't let celebrity apologies make you take your eyes of our lawmakers, who aren't doing enough to protect people of color in this country. Don't let the latest "#_____isoverparty" trend distract you from the deadly consequences of racism in our laws, culture, and criminal justice system.
Keep reading...
Show less
We're all getting something wrong when we view political correctness as fundamentally opposed to free speech.
Few issues have divided the nation further than the free speech vs. political correctness debate.
In addition to deepening the gap between conservatives and liberals, the debate tends to fracture the left, leading to dissent from the inside. This stems in part from the fact that many older liberals simply can't wrap their minds around the idea of political correctness.
Political Correctness: Censorship or Part of the Fight for Equality?
Critics of political correctness equate it to censorship, which they see as a threat to the all-American ideal of unbridled freedom. For most liberal millennials and Gen-Z kids, however, political correctness is about freedom, just of a different sort. It's really about shutting down hate speech and supporting marginalized communities.
Nowhere did this divide become clearer than in one of my lectures in college, a postmodernism class with a professor who I'd always seen as uniquely brilliant (and who also happened to teach a lesbian erotica class). She lost a lot of my respect when—as a white woman—she insisted that there was nothing really wrong with a white person saying the "n" word in solitude, prompting one of the few people of color in the class to raise her hand and ask: "Why are white people so desperate to say that one word?" The professor responded with a lecture about free speech and the insubstantiality of language, a response that felt misguided and totally out of touch.
This generational divide appeared again when prominent feminist and author Margaret Atwood published an op-ed critiquing the #MeToo movement. "My fundamental position is that women are human beings, with the full range of saintly and demonic behaviours this entails, including criminal ones," she wrote. "They're not angels, incapable of wrongdoing." In short, Atwood was critiquing the #MeToo movement for the same reason that many people critique political correctness. They feel that restricting one's language, or giving the benefit of the doubt to and prioritizing the voices of certain demographics, is infantilizing or threatening to other demographics' freedoms.
On the other hand, many young liberals understand that political correctness is an important part of the process of giving respect to groups that have been and are still systematically oppressed. This political correctness can take the form of prioritizing people of color's voices, or calling out offensive speech—even, or especially, when it's the product of ignorance, or when it's conducted out of earshot of the people it might hurt.
What Toni Morrison Knew: Political Correctness and Free Speech Can Be the Same Thing
What we all need to understand is that, among other things, the left's internal war over political correctness and free speech actually presents a chance for generations to learn from each other. Defenders of political correctness might realize that sometimes, accidentally offensive language can present a valuable educational opportunity—though this is definitely not always the case, and no one should be required to educate others about why they deserve basic respect.
Older proponents of free speech, for their part, can realize that political correctness, safe spaces, and the like ultimately come from places of compassion. At their core, they are efforts to achieve a more equitable world.
Perhaps it's too starry-eyed to imagine that older allies could learn from younger people who refuse to accept middle-of-the-road policies or veiled racism, but some older people have certainly embraced progressive worldviews. "Oppressive language does more than represent violence; it is violence; does more than represent the limits of knowledge; it limits knowledge," said Toni Morrison in a 1993 address about political correctness. Morrison, whose wisdom stretched far beyond the blind spots of her generation, was a supporter of what political correctness stands for, though not of the implications of that specific term. In a later interview, she added, "I believe that powerful, sharp, incisive, critical, bloody, dramatic, theatrical language is not dependent on injurious language, on curses. Or hierarchy."
In short, freedom of speech is not contingent on the ability to use offensive language. We can be free—in fact, we can only be free—when all of us are free, which will only happen when language that demonizes or injures certain groups is purged from acceptable discourse.
Ironically, the book we were discussing that day in my postmodernism class was Morrison's Beloved.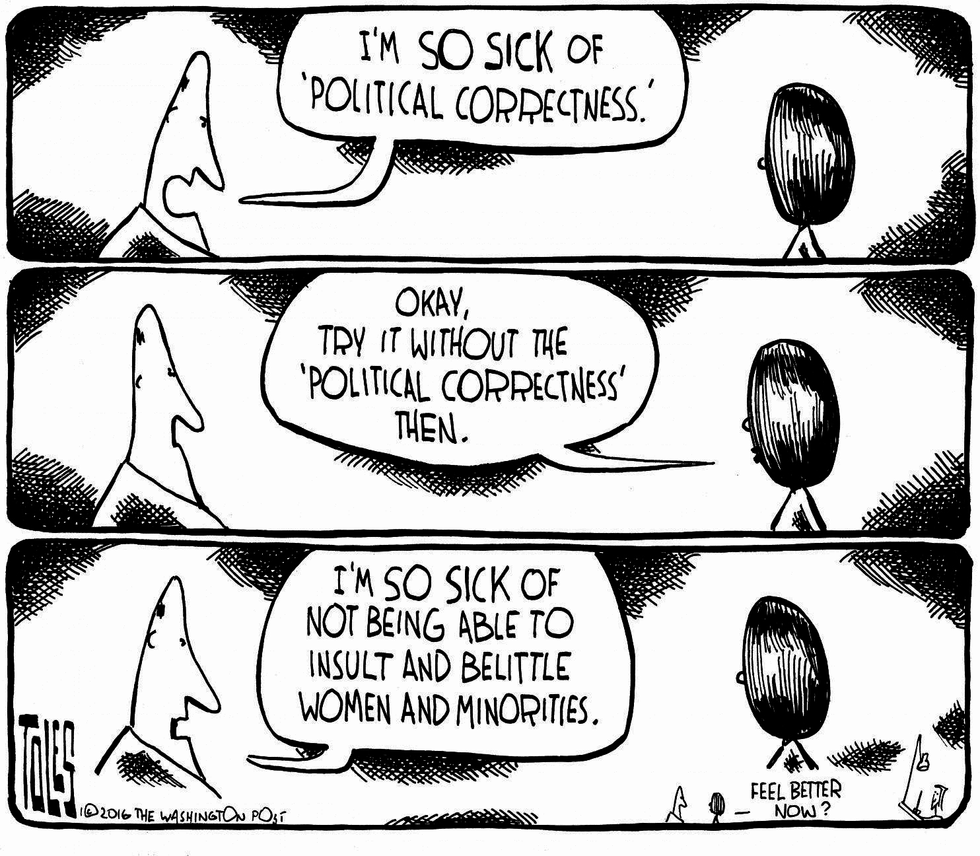 Image via the Washington Post
In a country where everyone has freedom of speech, where do we draw the line?
The structures of heteronormativity, patriarchy, and white supremacy are now made fun of, overshadowed, and cast aside by many.
Consequently, some straight, white, and/or male people, used to a society built for their needs, feel irrelevant and unheard. Anytime a minority or oppressed group is celebrated, privileged people try and insert themselves in the conversation. There's a reason why every year people ask, "Why isn't there a White History Month?" during Black History Month. When white men start getting passed up for promotions in favor of more diverse hires, it causes them to feel a fraction of what POC and women have experienced for decades. They view these setbacks as oppression and their erasure from representation as an attack. In turn, they acknowledge they're beginning to lack dominant authority. Groups like Meninists and All Lives Matter exist to belittle the root causes of systemic issues in our country. The relationship between the main systemic sources of violence in America resonate beyond Straight Pride: They remind us how those power dynamics are at play even within marginalized communities.
John Hugo, the President of Super Happy Fun America and head organizer of Boston's controversial Straight Pride Parade, describes himself "living openly as a straight man." Hugo is one of three white men advocating for heterosexual representation within the LBGTQ+ community. Super Happy Fun America is a perfect example of the phenomenon in which the privileged see equality as oppression. SHFA even has their own gay ambassador, Chris Bartely. His tokenism and bio illuminates that although he is a gay man, that does not mean he has the right to speak for the entire LGBTQ+ community:
As gay ambassador, Chris uses his status in the LGBTQ community to challenge heterophobia wherever it exists. He became involved in the straight pride movement after being ostracized from established advocacy groups for merely suggesting that straight people be afforded equal rights.
What Bartley gets wrong is that straight people are discriminated against. Although, not all people within straight relationships are afforded rights like maternity and paternity leave or an abortion, but that's due to issues unrelated to sexual orientation. SHFA utilizes right-wing Trumpism to prick at the current frustration white, straight men entertain. Meanwhile, the definition of "great" is up for debate across the nation. In retaliation, liberals are readdressing America's history and the narratives ignored in textbooks, thus increasing the discourse of who truly makes America great.
The SHFA convinced themselves they have good intentions, but in reality they're misinterpreting the purpose of the LGBTQ+ community. The organizers fail to understand that the community is more than an umbrella term for sexual orientation: It's comprised of identities that could endanger lives and livelihoods because of outside discrimination. Those identities go beyond sexual orientation. They include a spectrum of gender identities which already foster inner conflict within the community due to transphobia and misogyny. By viewing LGBTQ+ solely as a flag of sexual identities is to entirely miss the point of why the community itself exists.
However, pride is a touchy subject when it comes to who is welcome at the celebrations and who it's about. Specifically, it spawns conflict within the community from gay men who exhibit misogynistic rhetoric about female allies and bisexuals. Some within the community push binaries of homosexual relationships (gay men and lesbian women) as the standard. In such instances, systems of patriarchy and white supremacy affect transgender people and queer POC at an alarming rate compared to other peers. Straight pride is a reminder that pride incites complicated matters of identity politics and how the community can be exclusionary by gate-keeping.
Meanwhile, the leaders of Super Happy Fun America are challenging said gate-keeping by arguing in favor of an S in LGBTQIA. Their Vice President, Mark Sahady, has come forward to announce the event is moving forward since they have a permit from the city. If Boston were to take that permit away, Sahady would sue on grounds of discrimination. Their argument is a slap in the face to Pride's history.
With the 50th Anniversary of Stonewall, members of the community are reflecting on the horrors of their history, specifically police brutality. Today, police presence stirs debate about how parades can exist within governmental bounds. After all, every parade needs a permit, and the police are brought to enforce the safety of its participants. But when there's a history of police brutality with an oppressed community, it's difficult to trust their intentions. Yet, the men of Super Happy Fun America use their permit from Boston to their benefit (and yet, also as a legal threat). Due to their privilege, they don't see police presence as an issue, because the enforcers have never endangered them: Police protect white men.
The LGBTQ+ community and their allies are rightfully disappointed that anyone would want a straight pride parade, since they know what it truly stands for: These heterosexuals want to overshadow a marginalized community that is beginning to thrive. American society is not at a point yet where we can see or accept each other for who we are and our diverse perspectives. By breaking down other viewpoints' origins, we can get to the root of such ignorance. Straight Pride is a reminder that prejudice is often wielded in reaction to "others" and increases our divisions. To reflect on the roles of sexism, racism, and homophobia is to better ourselves and our communities, dismantling systems of oppression that keep us at odds and with each other as Americans.