We're all getting something wrong when we view political correctness as fundamentally opposed to free speech.
Few issues have divided the nation further than the free speech vs. political correctness debate.
In addition to deepening the gap between conservatives and liberals, the debate tends to fracture the left, leading to dissent from the inside. This stems in part from the fact that many older liberals simply can't wrap their minds around the idea of political correctness.
Political Correctness: Censorship or Part of the Fight for Equality?
Critics of political correctness equate it to censorship, which they see as a threat to the all-American ideal of unbridled freedom. For most liberal millennials and Gen-Z kids, however, political correctness is about freedom, just of a different sort. It's really about shutting down hate speech and supporting marginalized communities.
Nowhere did this divide become clearer than in one of my lectures in college, a postmodernism class with a professor who I'd always seen as uniquely brilliant (and who also happened to teach a lesbian erotica class). She lost a lot of my respect when—as a white woman—she insisted that there was nothing really wrong with a white person saying the "n" word in solitude, prompting one of the few people of color in the class to raise her hand and ask: "Why are white people so desperate to say that one word?" The professor responded with a lecture about free speech and the insubstantiality of language, a response that felt misguided and totally out of touch.
This generational divide appeared again when prominent feminist and author Margaret Atwood published an op-ed critiquing the #MeToo movement. "My fundamental position is that women are human beings, with the full range of saintly and demonic behaviours this entails, including criminal ones," she wrote. "They're not angels, incapable of wrongdoing." In short, Atwood was critiquing the #MeToo movement for the same reason that many people critique political correctness. They feel that restricting one's language, or giving the benefit of the doubt to and prioritizing the voices of certain demographics, is infantilizing or threatening to other demographics' freedoms.
On the other hand, many young liberals understand that political correctness is an important part of the process of giving respect to groups that have been and are still systematically oppressed. This political correctness can take the form of prioritizing people of color's voices, or calling out offensive speech—even, or especially, when it's the product of ignorance, or when it's conducted out of earshot of the people it might hurt.
What Toni Morrison Knew: Political Correctness and Free Speech Can Be the Same Thing
What we all need to understand is that, among other things, the left's internal war over political correctness and free speech actually presents a chance for generations to learn from each other. Defenders of political correctness might realize that sometimes, accidentally offensive language can present a valuable educational opportunity—though this is definitely not always the case, and no one should be required to educate others about why they deserve basic respect.
Older proponents of free speech, for their part, can realize that political correctness, safe spaces, and the like ultimately come from places of compassion. At their core, they are efforts to achieve a more equitable world.
Perhaps it's too starry-eyed to imagine that older allies could learn from younger people who refuse to accept middle-of-the-road policies or veiled racism, but some older people have certainly embraced progressive worldviews. "Oppressive language does more than represent violence; it is violence; does more than represent the limits of knowledge; it limits knowledge," said Toni Morrison in a 1993 address about political correctness. Morrison, whose wisdom stretched far beyond the blind spots of her generation, was a supporter of what political correctness stands for, though not of the implications of that specific term. In a later interview, she added, "I believe that powerful, sharp, incisive, critical, bloody, dramatic, theatrical language is not dependent on injurious language, on curses. Or hierarchy."
In short, freedom of speech is not contingent on the ability to use offensive language. We can be free—in fact, we can only be free—when all of us are free, which will only happen when language that demonizes or injures certain groups is purged from acceptable discourse.
Ironically, the book we were discussing that day in my postmodernism class was Morrison's Beloved.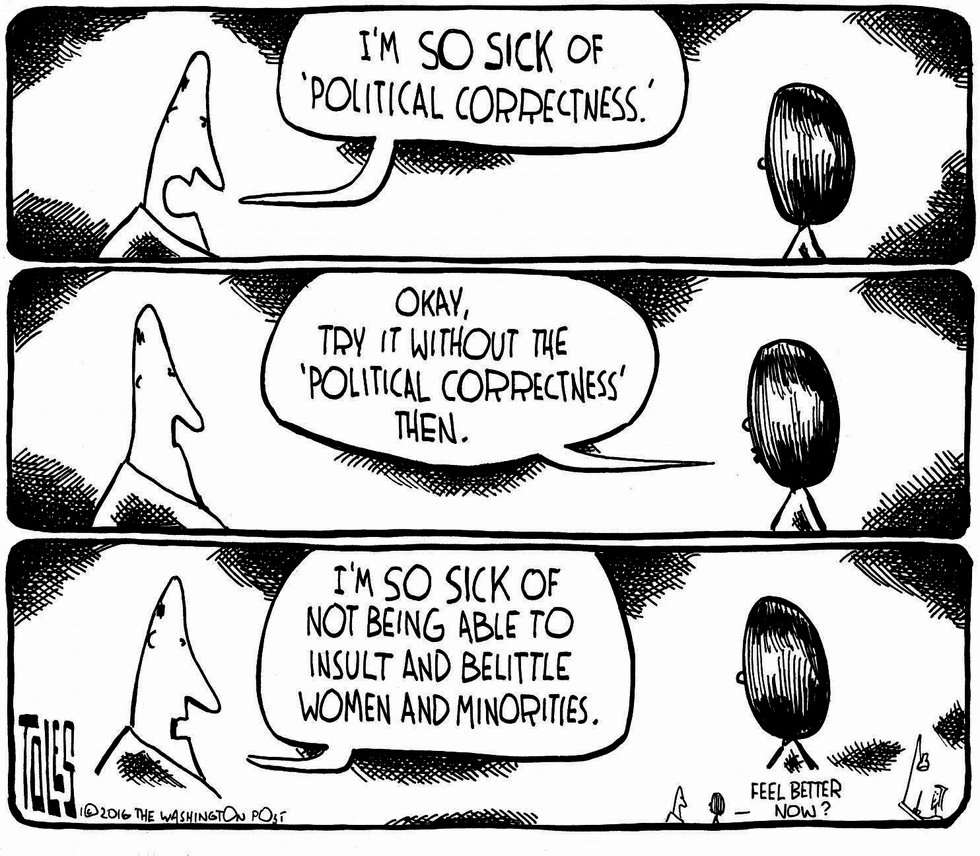 Image via the Washington Post
In a country where everyone has freedom of speech, where do we draw the line?
The structures of heteronormativity, patriarchy, and white supremacy are now made fun of, overshadowed, and cast aside by many.
Consequently, some straight, white, and/or male people, used to a society built for their needs, feel irrelevant and unheard. Anytime a minority or oppressed group is celebrated, privileged people try and insert themselves in the conversation. There's a reason why every year people ask, "Why isn't there a White History Month?" during Black History Month. When white men start getting passed up for promotions in favor of more diverse hires, it causes them to feel a fraction of what POC and women have experienced for decades. They view these setbacks as oppression and their erasure from representation as an attack. In turn, they acknowledge they're beginning to lack dominant authority. Groups like Meninists and All Lives Matter exist to belittle the root causes of systemic issues in our country. The relationship between the main systemic sources of violence in America resonate beyond Straight Pride: They remind us how those power dynamics are at play even within marginalized communities.
John Hugo, the President of Super Happy Fun America and head organizer of Boston's controversial Straight Pride Parade, describes himself "living openly as a straight man." Hugo is one of three white men advocating for heterosexual representation within the LBGTQ+ community. Super Happy Fun America is a perfect example of the phenomenon in which the privileged see equality as oppression. SHFA even has their own gay ambassador, Chris Bartely. His tokenism and bio illuminates that although he is a gay man, that does not mean he has the right to speak for the entire LGBTQ+ community:
As gay ambassador, Chris uses his status in the LGBTQ community to challenge heterophobia wherever it exists. He became involved in the straight pride movement after being ostracized from established advocacy groups for merely suggesting that straight people be afforded equal rights.
What Bartley gets wrong is that straight people are discriminated against. Although, not all people within straight relationships are afforded rights like maternity and paternity leave or an abortion, but that's due to issues unrelated to sexual orientation. SHFA utilizes right-wing Trumpism to prick at the current frustration white, straight men entertain. Meanwhile, the definition of "great" is up for debate across the nation. In retaliation, liberals are readdressing America's history and the narratives ignored in textbooks, thus increasing the discourse of who truly makes America great.
The SHFA convinced themselves they have good intentions, but in reality they're misinterpreting the purpose of the LGBTQ+ community. The organizers fail to understand that the community is more than an umbrella term for sexual orientation: It's comprised of identities that could endanger lives and livelihoods because of outside discrimination. Those identities go beyond sexual orientation. They include a spectrum of gender identities which already foster inner conflict within the community due to transphobia and misogyny. By viewing LGBTQ+ solely as a flag of sexual identities is to entirely miss the point of why the community itself exists.
However, pride is a touchy subject when it comes to who is welcome at the celebrations and who it's about. Specifically, it spawns conflict within the community from gay men who exhibit misogynistic rhetoric about female allies and bisexuals. Some within the community push binaries of homosexual relationships (gay men and lesbian women) as the standard. In such instances, systems of patriarchy and white supremacy affect transgender people and queer POC at an alarming rate compared to other peers. Straight pride is a reminder that pride incites complicated matters of identity politics and how the community can be exclusionary by gate-keeping.
Meanwhile, the leaders of Super Happy Fun America are challenging said gate-keeping by arguing in favor of an S in LGBTQIA. Their Vice President, Mark Sahady, has come forward to announce the event is moving forward since they have a permit from the city. If Boston were to take that permit away, Sahady would sue on grounds of discrimination. Their argument is a slap in the face to Pride's history.
With the 50th Anniversary of Stonewall, members of the community are reflecting on the horrors of their history, specifically police brutality. Today, police presence stirs debate about how parades can exist within governmental bounds. After all, every parade needs a permit, and the police are brought to enforce the safety of its participants. But when there's a history of police brutality with an oppressed community, it's difficult to trust their intentions. Yet, the men of Super Happy Fun America use their permit from Boston to their benefit (and yet, also as a legal threat). Due to their privilege, they don't see police presence as an issue, because the enforcers have never endangered them: Police protect white men.
The LGBTQ+ community and their allies are rightfully disappointed that anyone would want a straight pride parade, since they know what it truly stands for: These heterosexuals want to overshadow a marginalized community that is beginning to thrive. American society is not at a point yet where we can see or accept each other for who we are and our diverse perspectives. By breaking down other viewpoints' origins, we can get to the root of such ignorance. Straight Pride is a reminder that prejudice is often wielded in reaction to "others" and increases our divisions. To reflect on the roles of sexism, racism, and homophobia is to better ourselves and our communities, dismantling systems of oppression that keep us at odds and with each other as Americans.
Trump threatens to close the border completely, despite having no authority to do so.
On Sunday, a group of Mexican migrants reportedly rushed the San Ysidro border crossing near San Diego, drawing tear gas from Border Patrollers. Consequently, the crossing was closed for several hours. Homeland Security Secretary Kirstjen Nielsen later said the closing of the border was "to ensure public safety in response to large numbers of migrants seeking to enter the U.S. illegally." According to the Washington Post, "At least two dozen tear gas canisters could be seen on the Mexican side of the border after the migrants eventually turned back."
Images from the incident, shot by Reuters photographer Kim Kyung-Hoon and showing young children fleeing the tear gas in obvious distress, have elicited outrage across the country. The photos also appear to contradict Republican propaganda claiming the migrant caravan was full of criminals.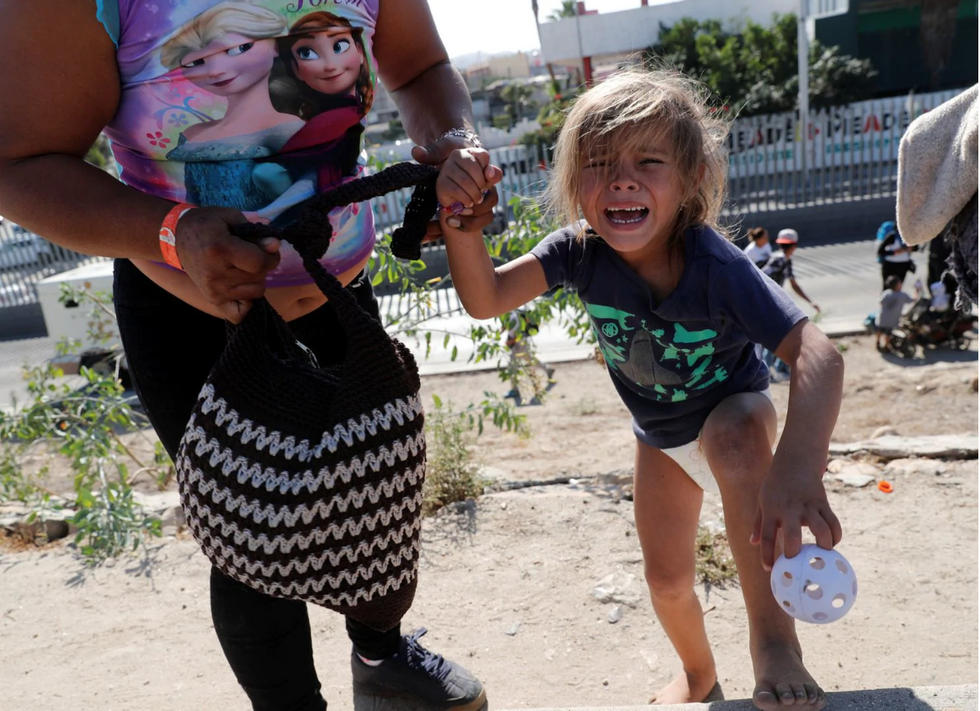 Kim Kyung-Hoon/Reuters
Senator Brian Schatz, D-Hawaii, condemned the extreme measures taken by border patrol, tweeting:

Tear gas across the border against unarmed families is a new low.

— Brian Schatz (@Brian Schatz)1543185824.0
Gavin Newsom, the Democratic governor-elect from California, echoed this sentiment, saying:
These children are barefoot. In diapers. Choking on tear gas. Women and children who left their lives behind -- se… https://t.co/r3SXbDyGGW

— Gavin Newsom (@Gavin Newsom)1543208589.0
On Monday, President Trump addressed the border closing by threatening to close the border permanently and calling for the deportation of the tear gassed migrants.
Mexico should move the flag waving Migrants, many of whom are stone cold criminals, back to their countries. Do it… https://t.co/IqgnrBTQFl

— Donald J. Trump (@Donald J. Trump)1543231181.0
Despite this inflammatory claim, there are no legal provisions that would allow Trump to close the border in its entirety. Additionally, by law, asylum seekers must be allowed to present their case to a U.S. judge if they're able to cross the border. This means that the migrants who were tear-gassed on Sunday were not there illegally at all, and U.S. officials are required by law to consider their claim before deporting them back to Mexico. Yale Law School's Harold Hongju Koh, former legal adviser to the State Department, said that what Trump does not understand "is that everyone crossing our Southern border is not illegally present. Those with valid asylum claims have a legal right to assert those claims and remain."

But as the number of migrants waiting at the border grows and as Trump's anti-immigration policies and rhetoric cause longer and longer delays in the hearing of these cases, illegal immigration actually becomes more likely, not less. Wayne Cornelius, professor at the University of California, San Diego and expert on the border, told the New York Times, "The longer the caravaners stay in Tijuana, the more likely they are to succumb to the temptation to cross illegally into the U.S." So the Trump administration's anti-immigration stance is not only perpetuating a false impression that immigrants at the border are breaking the law, but also making the illegal immigration they're supposedly so opposed to more likely than ever.
Now, Trump is reportedly working with the Mexican government to add further peril and hardship to the journeys of these migrants. Trump tweeted on Saturday:
Migrants at the Southern Border will not be allowed into the United States until their claims are individually appr… https://t.co/1rhhYBhKvM

— Donald J. Trump (@Donald J. Trump)1543103365.0
This provision, which the new Mexican government is reportedly agreeable to, would further violate asylum laws, which state that the United States must ensure that individuals waiting for asylum are safe not only from a hostile government, but from gangs and other threats. It would be nearly impossible for America to ensure asylum seekers this kind of protection while they're still in Mexico, and it would undoubtedly require a massive allocation of resources to do so. The American Civil Liberties Union immigration attorney Lee Gelernt told the Washington Post on Sunday night, "We believe it would be impossible for the U.S." to ensure asylum seekers safety while still in Mexico.
The truth of the matter is that these migrants are not the villains Trump has made them out to be, as they're merely seeking a better life for themselves and their families. Andrés Medina, 22, who left Honduras to escape gang recruitment and was a part of the group that rushed the crossing, said, "We've got to try one more time, we don't even have weapons." He added, "We just wanted to cross."
Brooke Ivey Johnson is a Brooklyn based writer, playwright, and human woman. To read more of her work visit her blog or follow her twitter @BrookeIJohnson.