Dall-E Mini, the AI-powered text-to-image generator has taken over the internet. With its ability to render nearly anything your meme-loving heart desires, anyone can make their dreams come true.
DALL-E 2, a portmanteau of Salvador Dali, the surrealist and Wall-E, the Pixar robot, was created by OpenAI and is not widely available; it creates far cleaner imagery and was recently used to launch Cosmpolitan's first AI-generated cover. The art world has been one of the first industries to truly embrace AI.
The open-sourced miniature version is what's responsible for the memes. Programmer Boris Dayma wants to make AI more accessible; he built the Dall-E Mini program as part of a competition held by Google and an AI community called Hugging Face.
And with great technology, comes great memes. Typing a short phrase into Dall-E Mini will manifest 9 different amalgamations, theoretically shaping into reality the strange images you've conjured. Its popularity leads to too much traffic, often resulting in an error that can be fixed by refreshing the page or trying again later.
If you want to be a part of the creation of AI-powered engines, it all starts with code. CodeAcademy explains that Dall-E Mini is a seq2seq model, "typically used in natural language processing (NLP) for things like translation and conversational modeling." CodeAcademy's Text Generation course will teach you how to utilize seq2seq, but they also offer opportunities to learn 14+ coding languages at your own pace.
You can choose the Machine Learning Specialist career path if you want to become a Data Scientist who develops these types of programs, but you can also choose courses by language, subject (what is cybersecurity?) or even skill - build a website with HTML, CSS, and more.
CodeAcademy offers many classes for free as well as a free trial; it's an invaluable resource for giving people of all experience levels the fundamentals they need to build the world they want to see.
As for Dall-E Mini, while some have opted to create beauty, most have opted for memes. Here are some of the internet's favorites:
There's no looking back now, not once you've seen Pugachu; artificial intelligence is here to stay.
Plus celebrities react to Nigerian protests.
Young people across Nigeria have been pouring into the streets for the last two weeks to protest police brutality, specifically the controversial special police force known as the Special Anti-Robbery Squad (SARS).
Tension came to a head on Tuesday when armed forces fired on protestors in Lagos, the biggest city in Nigeria, who were out past the state-mandated curfew. According to AP News, "Police also fired tear gas at one point, and smoke could be seen billowing from several areas in the city's center. Two private TV stations were forced off the air at least temporarily as their offices were burned."
According to Amnesty International, police have killed at least ten peaceful protestors and injured dozens more since the protests started.
The Nigerian people's protestation against SARS is nothing new. The #EndSARS hashtag first went viral in Nigeria in 2017. It was spurred by citizens' reports of harassment, abuse, extortion, torture, and kidnapping at the hands of SARS officers. While Nigerian leaders promised to reform SARS in 2018, protestors maintain there has been little meaningful change and are now doubtful of renewed promises.
What Is SARS doing?
Indeed, according to a harrowing report from Amnesty International, there have been at least 82 cases of severe police brutality since SARS was supposedly reformed two years ago. The report reads: "Detainees in SARS custody have been subjected to a variety of methods of torture including hanging, mock execution, beating, punching and kicking, burning with cigarettes, waterboarding, near-asphyxiation with plastic bags, forcing detainees to assume stressful bodily positions and sexual violence." It continues, Findings from our research indicate that few cases are investigated and hardly any officers are brought to justice on account of torture and other ill-treatment."
SARS was created in the 1990s as a special force meant to handle serious crimes in Nigeria including kidnapping, robbery, and murder. But since its inception, it's morphed into an abusive arm of the government used to intimidate and even torture supposed "criminals." Protestors claim that officers are essentially never brought to justice even when victims manage to bring complaints against them. As CNN states, the force has "become notorious for alleged abuses committed with apparent impunity." There are also myriad reports of SARS officers financially extorting the people they detain.
Global Citizen specifies, "At the time it was created, Nigeria had a big security problem that citizens argue now no longer exists. Over the years, the squad — and by extension the Nigerian police — have been repeatedly caught on video carrying out beatings and shooting at unarmed citizens, often without any consequences."
Celebrities Raise Awareness
The #EndSARS campaign and the related protests in Nigeria have come to international attention, in large part thanks to a growing roster of celebrities who have vocalized their support for the protestors. These celebrities include the always unpredictable Kanye West, who tweeted Monday: "I stand with my Nigerian brothers and sisters to end police brutality, the government must answer to the peoples cries #EndPoliceBrutalityinNigeria"
Other celebrities include Trey Songz who tweeted, "After doing a little research I would like to speak out against what's going on in Nigeria right now. Their pleas to #EndSarsNow IS VERY REAL. I have so much love for my Nigerian fans and it's so hurtful to hear whats happening."
Star Wars actor John Boyega also chimed in on Twitter to say, "The youth in Nigeria deserve good leadership and guidance. This situation is tied to many other issues. Please lend your attention to this pressing problem! #EndSARSImmediately #EndSarsProtests #EndSARS #EndSARSProtest"
Former football star Rio Ferdinand sent his love to protestors via Twitter.
Nigerian celebrities have also vocalized their support of the movement. Davido, Burna Boy, Adesua Etomi-Wellington, Runtown, and Falz have all spoken out in support of the protestors.
How the Nigerian Government Is Responding to #EndSARS Protests

In response to the heightening protests, inspector General of Police, Mohammed Abubakar Adamu, announced on October 11th that SARS would be disbanded. The next day, the President of Nigeria, Muhammadu Buhari, released a video in which he appeared to sympathize with protestors, he said that the disbanding of SARS was "only the first step" in more sweeping reform of the country's criminal justice system. He also assured the nation that, "We will also ensure that all those responsible for misconduct or wrongful acts are brought to justice."

But Nigerians are rightfully suspicious of these promises, given that they were told very similar things two years ago only to experience increasingly violent, extortionist police tactics. Now, protestors are demanding more widespread reforms to end the extensive human rights violations allegedly carried out by all branches of Nigerian security forces as well as the rampant government corruption.
Given that protestors were shot with tear gas and allegedly fired on with live ammunition even after SARS was supposedly disbanded, it's clear that the government has many steps left to take before they can expect protestors to be satisfied.
How Can You Help?
1. Seek out accurate information
As with most things, there is an abundance of misinformation out there about the #EndSARS movement. Make sure you're reading reliable, fact-checked sources (we recommend unbiased resources like AP News and Reuters). Or even better, read first hand accounts of what's happening in Nigeria on this website created by activists to document accounts, videos, and photos of the abuse individuals have suffered at the hands of corrupt Nigerian law enforcement.

2. Spread the message
The majority of the organizing surrounding these protests is being done online, specifically through Twitter, so social media is a great tool to spread awareness and accurate information about the #EndSARS movement. As of Friday, October 16 there had been nearly 3.3 million tweets with 744,000 retweets of posts containing the #EndSARS hashtag.
Sharing this simple Tweet that outlines the protestors five demands is a great place to start.
3. Donate funds
The way you can likely be the most helpful to the young revolutionaries in Nigeria is through financial support. Never donate to a fund that you don't have substantial evidence is going directly to the protestors in question, and try to stick to funds that offer detailed reporting of how the funds are being used. For example, we recommend donating to the Feminist Coalition, which has raised more than 70 million Naira (about $180,000) for protestors in Nigeria.
Keep reading...
Show less
The cases of Rusten Sheskey and Kyle Rittenhouse make it clear that the leniency afforded to police officers is not justified.
Amid protests of a police shooting in Kenosha, Wisconsin this week, three protesters were shot by a 17-year-old with an AR-15.
Two of the protesters died at the scene on Tuesday. The third was seriously injured, but survived. The shooter, Kyle Rittenhouse of Antioch Illinois, has been charged with two counts of first-degree homicide, among other charges.
The event that spurred the protests was shocking on its face, but an increasingly familiar scenario—a Kenosha police officer shot an unarmed Black man in the back seven times.
The incident took place on Sunday, August 23rd, after police officers arrived at the scene of a domestic disturbance with little information. A woman had called 911 and used 29-year-old Jacob Blake's name, but was reportedly "uncooperative" with the 911 operator, so police had little else to go on.
Sources since the incident have said that Blake was actually breaking up an argument, possibly between the 911 caller and another woman. But it turned out there was a warrant out for Blake's arrest, and police responded to the call with force.
While some details of the encounter remain uncertain, Blake was tased more than once, and two videos document police officers struggling to restrain him as he attempts to free himself and move toward the driver side door of his SUV.
Authorities identify officer who opened fire in Jacob Blake shooting l GMA www.youtube.com
The footage shows that as Blake opened the door, officer Rusten Sheskey grabbed him by the shirt and shot him seven times in the back. While all this took place, Blake's three young sons were sitting inside the SUV.
Miraculously, Blake survived those gunshots, but is paralyzed, and likely to never walk again. After regaining consciousness, a heavily medicated Blake reportedly asked his father "Why did they shoot me so many times?" to which his father responded, "Baby, they weren't supposed to shoot you at all."

Police have claimed that a knife was found on the driver's side floorboard, with the suggestion that Blake was reaching for it in order to harm the officers. Why else would he have struggled so hard to get to the driver side door? Surely he didn't think he could actually get away?
The answer is that Jacob Blake likely didn't think much at all. Nor would anyone in that situation.
A taser delivers an electrical pulse of around 50,000 volts of low amperage electricity that courses through the victim's body, causing muscles to seize violently. While the low amperage of these pulses generally protects the victim's heart from stopping, the electricity has been shown to reach the brain, where it can disrupt memory and thought processing.
Blake was effectively shot with a brain disruption device. Coupled with the body's natural fight or flight response—which causes adrenaline and other stress-response hormones to flood into the bloodstream—chances are he couldn't really get a handle on what was going on. If his instinct was to fight, maybe that means he was in fact reaching for a knife.
But if his instinct was to run—to quickly get himself and his children away from a very real threat—then no amount of arguing or reasoning was going to stop him from trying to get in his car to drive off.
Rusten Sheskey, likewise, may have been acting on instinct. The kind of tunnel vision that takes over in stressful situations may have prevented him from considering the innocent explanation for why Jacob Blake would struggle so hard to open his car door. He may also have been influenced by the kind of implicit racial bias that causes many Americans to perceive Black men as more threatening.
Or maybe there was nothing "implicit" about his bias at all. Maybe Rusten Sheskey was one of the open bigots that have actively infiltrated law enforcement, and would have taken any excuse to shoot a Black man with the intent to kill.
We don't know, and may never find out. What we do know is that, even if Rusten Sheskey is charged with Jacob Blake's murder—so far, no charges have been filed—he is very likely to be acquitted.
So why has Kyle Rittenhouse already been charged with murder?
His crimes took place more than two days after Jacob Blake was shot, yet no officers have been charged in connection with the incident. The answer is closely tied to the controversial concept of "qualified immunity."
Among calls to defund and reform America's police in the months since the horrific killing of George Floyd, one of activists' primary demands is the elimination of qualified immunity, which essentially says that police officers cannot be sued for any reasonable actions they take as part of fulfilling their duties. That includes shooting unarmed civilians if the officers perceive them—for whatever reason—as an imminent threat.
While the protections only apply to civil suits, the reasoning behind them is closely related to the logic that tends to prevent police officers from being charged and convicted in these cases. But why doesn't Jacob Blake deserve the same leniency? Were the circumstances under which he fired his rifle substantially different than what led Rusten Sheskey to fire seven bullets into Jacob Blake's back?
Again, many of the details are unclear. While there are multiple videos documenting portions of the incident, we don't know exactly what led up to the moment when Rittenhouse shot his first victim, 36-year-old Joseph Rosenbaum.
Reportedly Rosenbaum threw a plastic bag at Rittenhouse, and attempted to take his gun from him—possibly fearing that Rittenhouse was not in a state of mind to handle his firearm safely. If that was his fear, it was soon justified when Rittenhouse shot Rosenbaum, wounding him in the back, hand, groin, thigh, and head.
Perhaps Rittenhouse was influenced by the rhetoric from conservative outlets like the Daily Caller, and from President Donald Trump himself—who famously said "when the looting starts, the shooting starts"—to view the Black Lives Matter movement and protesters opposing police brutality as violent terrorists who deserved to be met with violence. Is that different than how Rusten Sheskey was primed to view Jacob Blake?
In the aftermath, while Richard McGinniss, a videographer from conservative website The Daily Caller, did his best to tend to Rosenbaum's wounds, Rittenhouse ran from the scene, rifle in hand. He was caught on video telling a friend over the phone, "I just killed someone."
Video shows Kyle Rittenhouse in Kenosha on the night three protestors were shot www.youtube.com
In further video protesters pursued Rittenhouse, and when he fell to the ground, he pointed his rifle at them. Multiple protesters attempted to disarm him—and 26-year-old Anthony Huber struck him with a skateboard. But rather than surrender or drop his weapon, Rittenhouse shot at them, shooting Huber in the heart and nearly severing the arm of Gaige Grosskreutz.

When Rittenhouse got back to his feet and managed to get away from protesters, he found his way to the police, whom he approached while protesters called out for him to be arrested. Instead, Rittenhouse was allowed to return to his home in Illinois, where he was arrested the next day.
But why was he arrested at all? Why Kyle Rittenhouse and not Rusten Sheskey?
If anything, Rittenhouse has more of a claim to make in terms of self defense. While Sheskey may have suspected that Jacob Blake was reaching for some kind of weapon, Rittenhouse knew for a fact that his victims were reaching for a high-powered semi-automatic rifle—his rifle.
And in the case of Anthony Huber, he actually attacked him with a skateboard—which may even be considered "assault with a deadly weapon" in some cases. Of course his victims were more than justified in fearing what Rittenhouse would do with his weapon, but couldn't you say the same for Jacob Blake? Didn't he have reason to fear for his life and attempt to either run from the police or defend himself however he thought he could? So why is it different?
Is it a matter of duty? While Rittenhouse may not have been serving in any official capacity as a police officer, he clearly saw his role in Kenosha as very similar.
He had trained with the Grayslake Police Department through their "Public Safety Cadet" program for aspiring police officers aged 14-21. On social media he included the motto "Duty. Honor. Courage. Blue Lives Matter." with his profile picture. In an interview with the Daily Caller prior to the shooting—filmed by none other than Richard McGinniss—Rittenhouse referred to it as his "job" to use his gun to defend himself and others.
According to reports, local police treated Rittenhouse and other armed civilians seeking to take a stand against riots as their allies rather than vigilantes—handing out water bottles and giving them encouragement. This may explain why police allowed Rittenhouse to leave the scene after killing two men and injuring a third.
Clearly Rittenhouse believed himself—not without reason—to be serving alongside the police, and in a similar capacity. Did he lack the training to do so with the professionalism of an actual police officer?
The Grayslake Police Department's Public Safety Cadet program—according to an archived page—included weekly meetings, a background check, and firearms training. Considering the fact that several states require police officers to receive just twelve weeks of training—less than barbers or plumbers—Rittenhouse may have had nearly as much training as many rookie cops.
New video shows Antioch teen just before deadly Kenosha protest shooting | ABC7 Chicago www.youtube.com
Was it his age then? One of the charges against Rittenhouse is "possession of a dangerous weapon by a person under 18." Is there a switch that was going to flip when he turned 18 that would have made him more responsible? More capable of wielding deadly force with care? At 21 then? Or 31—the age of Rusten Sheskey?

No, the only thing that really separates the actions of Kyle Rittenhouse and the numerous police officers who have shot unarmed people in recent years is that when Kenosha Sheriff David Beth was encouraged to deputize the armed civilians going out amid protests, he refused. Does that make him a hero? No, but it does mean that his police department won't be sued—at least in this case.
Now Kyle Rittenhouse has been charged with homicide, and he or his parents will no doubt be defendants in a number of civil suits likely to be filed by the victims' families. Meanwhile, neither Rusten Sheskey nor the officers who tased Jacob Blake have been charged with anything, nor will his family be allowed to sue them.
So why doesn't Rittenhouse deserve the leniency that police receive in these cases?
Because no one does.
We should not accept the fact that armed men and women patrol our streets—often with the same defensive, violent attitudes as Kyle Rittenhouse—and can shoot unarmed civilians with impunity. It's time to end qualified immunity, shift police funding toward non-violent community services, and to make police accountable to civilian review boards with the power to actually punish them.
Short of that, we might as well give Kyle Rittenhouse his gun back, and set him and others like him loose on our streets.
In a year marked by multiple consecutive crises, climate change remains more relevant than you may think.
2020 is a cursed year.

Unless you live under a rock, or you're Jeff Bezos, you're probably suffering from crisis overload. COVID-19 has killed over 160,000 Americans to date, and millions are still without jobs. The nationwide protests against police brutality have brought into sharp relief the racism endemic in our policing and in our society at large. We're worried about our safety and the safety of our families, about job security, or about how we're going to pay rent this month. With the election just months away, we're worried about the state of our democracy and whether it will withstand forces that threaten to dismantle it.
Remember climate change? If it's recently taken up less of your emotional real estate than it did in, say, February, I don't blame you. There's only so much crisis a person can take at one time. But unfortunately, despite whatever else is going on in the world, climate change continues its steady march toward the point of no return, which scientists say is about 15 years out.
Even though 15 years may as well be 15 centuries compared to the immediacy with which coronavirus has ravaged our country, there has never been a more urgent moment—nor a clearer opportunity—to fight for the radical climate reform necessary to combat it. But the window is small, and if we miss it, we may not get a better chance until it is too late.
Climate change in the 2020s: What impacts to expect youtu.be
For one, even though the past few months have shown a decrease in global carbon emissions, this is only a temporary effect of shuttered international borders and widespread economic shutdown. It's no victory, in other words.
In fact, this pandemic has given President Trump ample opportunity to ramp up the reversal of Obama-era environmental regulations in the name of restoring the economy. While we were distracted by his suggestion that injecting bleach could cure coronavirus, or that having his face carved in Mount Rushmore would be a "good idea," he was busy rolling back the crucial National Environmental Policy Act, which will accelerate federal approval for new power plants and pipelines. More recently, he lifted regulations on methane emissions.
His timing is as ironic as it is startling, given the fact that COVID is a respiratory disease. One study found that a person living in an area with high air pollution is 15 percent more likely to die from coronavirus than someone living in a less polluted area. It's well documented that Black Americans live disproportionately in high-polluted areas and also that they are more likely than whites to be essential workers. Taken together, these facts explain why Black individuals are about three times as likely to contract coronavirus as white people and about twice as likely to die from the infection.
Meanwhile, America's billionaires have profited over $600 billion since the start of the pandemic. Data shows that climate change follows the same trend, but on a global scale: The world's richest countries, the ones responsible for emitting the most greenhouse gases, have become about 10 percent richer as a result of global warming, whereas the world's poorest—the ones that contribute to the problem the least yet are hit hardest by the results—have seen their wealth decrease by 17-31 percent.
Many people make the mistake of believing that climate change is a purely scientific problem, but it is a deeply social one too. This pandemic has pulled back the curtain not only on inequalities that fuel our economy and systemic disregard for Black lives, but also how vastly unprepared we are to deal with disaster—disaster of the sort that, if climate change progresses unchecked, promises to become increasingly frequent and increasingly destructive, especially for BIPOC and low-income communities.
This is why the best proposals for combatting climate change go further and deeper than simply regulating carbon emissions (though that is paramount). Climate change touches American lives in many complex ways and requires an accordingly complex solution. For example, The Green New Deal—a nonbinding resolution spearheaded by Alexandria Ocasio-Cortez of New York and Ed Markey of Massachusetts—tackles unemployment, systemic racism, and healthcare on top of a transition to 100 percent renewable energy.
Past attempts at curbing carbon emissions have been largely unsuccessful due to lack of adequate public demand, a deep partisan divide that has pitted the health of humanity against the health of the economy (sound familiar?), and because of a few powerful oil companies with tentacles in Washington. But maybe, most crucially, these prior efforts to combat climate change have failed because we've never gotten the timing right.
The kinds of sweeping changes to our social and economic landscape that climate change requires don't happen when things are, ostensibly, going just fine. Our country's most radical policies were passed in the wake of devastation or of social unrest. Why should this moment be an exception?
While we're in the process of writing our new normal, we can't forget about climate change. The fight for climate justice is the fight for Black lives, is the fight for guaranteed healthcare, is the fight for a country that protects its citizens before it protects private industry. If the human toll of COVID-19 hasn't made clear why these things are necessary, I'm not sure anything will.
Keep reading...
Show less
How do you fall back on your "Well they shouldn't commit crimes!" argument now?
It was recently announced that the death of Elijah McClain, a 23-year-old Black man who died in 2019 while in police custody, will be reexamined by Colorado Officials.
Colorado Governor Jared Polis personally announced that his administration will reexamine the case. The governor wrote on Twitter, "a fair and objective process free from real or perceived bias for investigating officer-involved killings is critical." Polis added that he is having lawyers "examine what the state can do and we are assessing next steps."
Public confidence in our law enforcement process is incredibly important now more than ever. A fair and objective p… https://t.co/vGdBthXcQc

— Governor Jared Polis (@Governor Jared Polis) 1593032085.0
Undoubtedly, Gov. Polis was influenced by a petition, signed by over 2 million people, that urged him to reopen the case of Elijah McClain, who died after being put in a chokehold by police in a Denver suburb. McClain's case has been the subject of renewed outrage since the police murders of George Floyd, Breonna Taylor, and others; which were instrumental in sparking wide-spread protests against racist police brutality.

The facts surrounding Elijah McClain's death
On August 24, 2019, McClain was on his way home from a convenience store. He was wearing a ski mask, something his sister later told ABC affiliate, Denver7 that he often did because he "had anemia and would sometimes get cold." He had gone to the convenience store to buy his brother an iced tea.
Soon, McClain was stopped by three white officers because a 911 caller described a "suspicious person" in a face covering "waving their arms around." According to McClain's family, it was likely he was dancing to the music in his headphones, something he often did.
According to CNN, the police report said that McClain resisted officer contact and a struggle ensued. The audio from one of the officer's body cams depicts McClain clearly pleading with the officers, saying, "I'm an introvert, please respect the boundaries that I am speaking." He goes on to say that he was trying to stop his music to listen to them, and they promptly start to arrest him. One officer is heard telling another, "He just grabbed your gun, dude."
The full audio of McClain's arrest and subsequent murder can be listened to below. The transcript is as follows:
"I can't breathe. I have my ID right here... My name is Elijah McClain. That's my house. I was just going home. I'm an introvert. I'm just different. That's all. I'm so sorry. I have no gun. I don't do that stuff. I don't do any fighting. Why are you attacking me? I don't even kill flies. I don't eat meat. But I don't judge people, I don't judge people who do eat meat. Forgive me. All I was trying to do was become better... I will do it... I will do anything. Sacrifice my identity, I'll do it. I'll do it. You all are phenomenal. You are beautiful and I love you. Try to forgive me. I'm a mood Gemini. I'm sorry. I'm so sorry. Ow, that really hurt. You are all very strong. Teamwork makes the dream work."
In the video, McClain can be heard sobbing, vomiting, and then saying: "Oh, I'm sorry I wasn't trying to do that. I just can't breathe correctly." You can also hear one of the officers threaten to bring a police dog over to him and bite him for "messing around."
Later in the footage, one officer can also be heard admitting McClain had done nothing illegal.
Body Worn Camera Regarding the In-Custody Death of Elijah McClain youtu.be
As McClain sobbed, one of the officers put him in a carotid hold, or chokehold, and he briefly lost consciousness, according to an overview of the incident provided by police. Soon, paramedics arrived and administered ketamine to sedate McClain, according to the report. McClain then suffered a heart attack while in the ambulance and was taken off life support three days later. His family said at the time that he was covered in bruises.
The officers involved were cleared of all wrongdoing
After McClain's death, the Adams County district attorney, Dave Young, declined to file criminal charges against the officers involved, though they were placed on administrative leave briefly before being reinstated. In February 2020, a police review board declared, "[t]he force applied during the altercation to include the carotid control hold and the force applied during the altercation was within policy and consistent with training."
Additionally, in a coroner's report Forensic Pathology Consultant Dr. Stephen Cina was unable to definitively explain McClain's cause of death. Cina said that "the manner of death may be accident if it was an idiosyncratic drug reaction. It may be natural if [McClain] had an undiagnosed mental illness that led to excited delirium, if his intense physical exertion combined with a narrow coronary artery led to an arrhythmia, if he had an asthma attack, or if he aspirated vomit while restrained."
He continued, writing that Mcclain's death, "may be a homicide if the actions of officers led to his death (e.g. carotid control hold led to stimulation of the carotid sinus resulting in an arrhythmia)."
When CNN asked DA Young about the recent tidal wave of support for the reopening of McClain's case, Young said, "we've got to have the evidence ... so the petitions, the emails, the voicemails and Facebook attacks to me, my family, everyone else expressing their opinions ... is not evidence." Young added that he doesn't "condone the actions of the officers. I think they could've done things differently."
Who was Elijah McClain?
Since his death, Elijah has been described by family and friends alike as an "angel." He worked as a massage therapist, and seemed to be universally beloved by his coworkers and clients.
According to CBSN Denver, his mother, Sheneen McClain, described her son as life-giving. "I thank God that he was my son because just him being born brought life into my world, you know what I mean?" she said. "I know he was giving life to other people too.
According to the Sentinel, Eric Behrens, a friend of McClain's, said, "I don't even think he would set a mouse trap if there was a rodent problem."
A former client and friend of McClain, Marna Arnett, reportedly said he, "Was the sweetest, purest person I have ever met," She added, "He was definitely a light in a whole lot of darkness." Arnett also mentioned McClain's social anxiety to reporters, attributing his frequent mask wearing to both his anemia and a desire to create a separation from the world. "He would hide behind that mask," Arnett said. "It was protection for him, too. It made him more comfortable being in the outside world."
One of the most frequent anecdotes mentioned on social media about McClain is the fact that he often used his lunch breaks to play the violin for the dogs and cats in a nearby animal shelter, believing the music helped to calm them.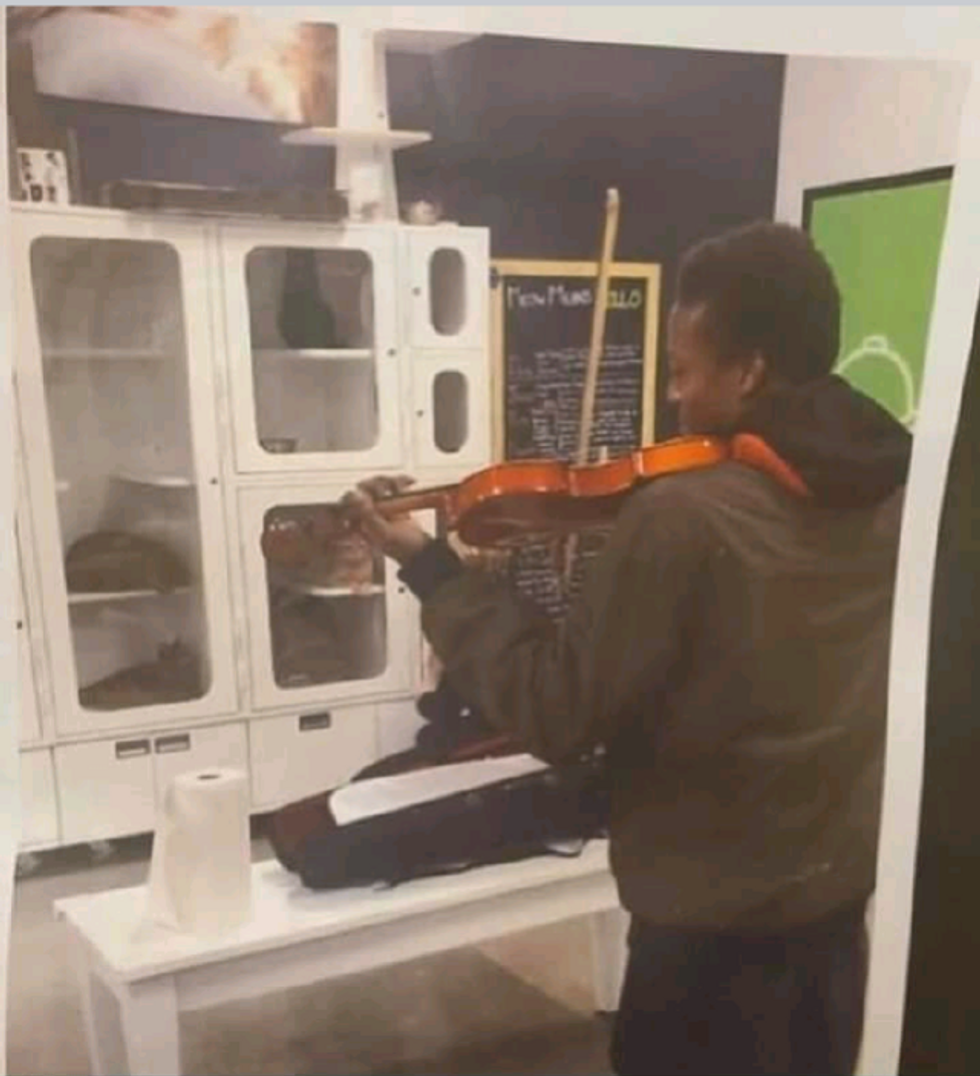 Elijah McClain playing the violin for cats
The more you read about McClain, the more obvious it becomes that he was a gentle young man, often anxious, but eager to love and be loved. The more you read about McClain, the more heart-wrenching his death becomes. Why? Because he didn't deserve it. Because he was a good guy who didn't commit a crime.
His supposed resistance was likely just the result of the extreme anxiety that would likely overtake most of us in that situation—particularly a young Black man; particularly a person who clearly already struggled with anxiety. The case of Elijah McClain makes white people particularly uncomfortable, because they can't justify it.
Why "All Lives Matter" people aren't sure what to say about Elijah McClain
"George Floyd was using counterfeit money," they argue. "The police had to restrain him!"
"Well, sure, Breonna Taylor was sleeping, but her boyfriend pulled a gun! The cops had to shoot!"
These are common tactics conservative white people use to deny the pandemic of racist police violence in America. Arguments like "Well, he shouldn't have committed a crime, then!" have long followed in the wake of anger over the death of a Black person at the hands of the police.
Even more common, white people comfortable with the status quo tend to talk about all the past transgressions of the Black victim in question, or use language to conjure images of a threatening individual, as if that justifies the police's behavior.
This line of thinking has become so prominent, that doctors CalvinJohn Smiley and David Fukunle conducted a 2016 study on the topic entitled "From 'Brute' to 'Thug:' the Demonization and Criminalization of Unarmed Black Male Victims in America". The study sought to investigate, "The historical criminalization of Black males and its connection to contemporary unarmed victims of law enforcement. And "to interpret how Black male victims are portrayed by traditional mass media, particularly through the use of language, in ways that marginalize and de-victimize these individuals."
Smiley and Fakunle found ample evidence that Eric Garner, a Black man killed by police officers in 2014 for selling cigarettes, was (posthumously) routinely characterized in the media as physically imposing (Garner was 350 lbs), unhealthy (Garner had a history of asthma), and inherently criminal.
They write, "The prominent references related to Mr. Garner's physical attributes were micro-invalidations and micro-insults regarding his behavior at the time of his death, which involved Garner vehemently defending his role in breaking up an altercation. Additionally were the micro-invalidations related to his past actions and lifestyle. This included criminality and the perception of being a 'hustler' due to his propensity to sell single cigarettes, which is illegal yet not a felony in New York."
Essentially, white people who lean towards the "all lives matter" argument are quick to brush off the discomfort that racist police violence forces them to feel. They do so by justifying a Black victim's death. This is often done by finding a reason the victim "deserved" to die, or finding reasons to excuse the police officer's actions.
In the case of Elijah McClain, this kind of justification is almost impossible. McClain was gentle and physically small, had a good job, was possibly neurodivergent, had no criminal history, and was literally just walking home from the store. The audio of his last moments depict a person trying desperately not to offend anyone, even in that dire and unjust situation.
If your argument in the past has been, "Well he just should have complied with the police officers and shown them the respect they deserve," then how do you reckon with the fact that some of McClain's last words were, "All I was trying to do was become better... I will do it... I will do anything. Sacrifice my identity, I'll do it. I'll do it. You all are phenomenal. You are beautiful and I love you. Try to forgive me."
His fear is palpable in the audio recording, as is his aggressor's brutality. Elijah McClain's murder cannot be explained away as anything other than a moment of racist abuse of power with deadly consequences.
Guilty people don't deserve to die either
The discomfort and reckoning that Elijah McClain's case has brought up in white people (specifically those who have been trying desperately to pretend that the police are a necessary force for good) can only be productive. But that's not to say that there is anything acceptable about justifying a person's murder at the hands of the police because of past criminality or any other factor beyond a clear and imminent deadly threat.
If Elijah McClain HAD committed a crime, it still wouldn't be justifiable that he died at the hands of the police. We have a system in place for assigning punishment to those who commit crimes. It's a deeply flawed system, but it at least affords people the right to a trial before they are sentenced. It is not the role of the police to kill—not even the guilty.
If McClain's story is making you uncomfortable because he was so obviously "one of the good ones" or because you can't explain away the police officer's actions, perhaps now is a good time for you to question your view of justice. Why do you think past crimes justify someone's death? Why do you think a police officer who "feels in danger" has the right to murder someone?
For that matter, why do you think any crime justifies someone's death? Have you ever stolen something small from a store? Has your child or loved one? Do you think they would deserve to die for that crime?
If we're going to put an end to America's decades-long history of police brutality, we're going to have to collectively rethink our culture of retributive justice. While Elijah McClain certainly didn't deserve to die, neither did the thousands of Black people—guilty of a crime or not—who have lost their lives to the brutality of the American justice system.
Elijah McClain's death should make you uncomfortable, but so should every other death at the hands of American policing.
Keep reading...
Show less
The police's violence comes as no surprise. Violence and oppression is built into the police's origin story, and violence will continue to define policing unless serious changes are made.
During the protests that are occurring all across the country in response of George Floyd's murder, the police have displayed violence, aggression, and brutality towards mostly peaceful activists exercising their rights.
Police have driven through crowds, have fired rubber bullets at peaceful journalists and crowds, and have attacked people who are not even protesting. They have destroyed medical tents, arrested medics, and trapped people before curfew, making arrests inevitable. They have pepper sprayed State senators and innocent people, have fired rubber bullets at crowds, and have independently instigated violence. Videos of protestors with blood streaming down their faces are now the norm.
This protest was entirely peaceful. There was no violence, no looting, no criminal behavior at all. The HORROR I… https://t.co/tOwBbKveAR

— jonathan (@jonathan) 1591334777.0
The police's violence during a protest against police brutality merely proves the point that protestors are trying to make and that many Black and brown communities have always known: The police are a violent, confrontational, largely untrained, and highly armed battalion of people that often encourage and instigate violence.

A History of Violence
It has, in fact, always been this way.
Modern policing is a relatively new institution that was actually developed in the 1830s and 40s, with the first police force established in Boston. These very early police forces initially focused on European immigrants, but later began to heavily police African Americans fleeing the Jim Crow South. "There was a lot of one-on-one conflict between police and citizens and a lot of it was initiated by the police," writes sociologist Malcolm Holmes.
In the South, slave patrols were primary forms of policing, and after slavery was abolished these patrols continued to work to maintain preexisting structures of power. "During Reconstruction, many local sheriffs functioned in a way analogous to the earlier slave patrols, enforcing segregation and the disenfranchisement of freed slaves," writes Olivia B. Waxman for Time.
Since those early days of policing, the definition of who and what the police are supposed to defend has been determined by those in power. During the late 19th century and early 20th century, police were arms of the powerful, used to harass opposing political parties, to torment union members, and to persecute people drinking in taverns, among other uses. This only grew worse during Prohibition.
Over the past century, policing has continued to work as a tool to maintain existing structures of power while criminalizing the poor and non-white. There has been pushback: Police brutality was a main catalyst for the Civil Rights movement in the 1960s, as was the fact that police enforced racist tactics such as redlining, which kept Black communities in positions of subjugation. But the police remain a beloved institution in white society. Nixon's War on Drugs only intensified this divide, resulting in the criminalization and incarceration of thousands and thousands of Black people. Today, America has 25% of the world's prison population while being only 5% of the world's population.
So what is there to be done about all this? What can be done about America's major, centuries-old problem with police and its related systems of mass incarceration?
The answer is tied up with the goals of the protests and the Black Lives Matter movement. There isn't one concise answer, but one thing is clear: Things have to change.
Police Don't Make Us Safer
Many people—often white—think of the police and prisons as institutions that keep us safe, but statistically, this is simply not the case.
In 2011, NYC saw nearly 700,000 incidents of stop-and-frisk. When "a radical scaling back of stop-and-frisk," occurred, "Critics predicted a disastrous return to, depending on one's age and experience, the 1970s or the 1990s," writes Joe Sexton for ProPublica. But "the disaster never happened. Instead, what many scholars and police officials thought nearly unthinkable — further reductions in crime after two decades of plummeting numbers—did."
Furthermore, incarceration—a natural consequence of increased aggressive policing—does very little to actually reduce crime."There is a very weak relationship between higher incarceration rates and lower crime rates," writes the Vera Project. "Since 2000, however, the increased use of incarceration accounted for nearly zero percent of the overall reduction in crime."
So if incarceration and policing don't reduce crime, what does?
"Research has shown that the aging population, increased wages, increased employment, increased graduation rates, increased consumer confidence, increased law enforcement personnel, and changes in policing strategies were associated with lower crime rates and, collectively, explain more of the overall reduction in crime rates than does incarceration," the Vera Project report continues. "Although it may seem counterintuitive, research has shown that incarceration may actually increase crime."
Still, the police and America's prisons receive tremendous high levels of funding—the NYPD received 6 billion dollars in funding this past year—and meanwhile police keep killing and imprisoning Black and brown communities.
"The punitive impulse [the police] embody saturates nearly every facet of American life," where officers "take the place of social workers and emergency medical personnel and welfare caseworkers, and when they kill, we let them replace judges and juries, too," writes Sarah Jones in New York Magazine.
There's no end to the responsibilities with which we have charged police offers, and no end, seemingly, to the tole… https://t.co/a1m4YjQ4cy

— New York Magazine (@New York Magazine) 1591138813.0
"At all levels of government, the country spends roughly double on police, prisons, and courts what it spends on food stamps, welfare, and income supplements," writes Annie Lowrey for The Atlantic.

During the onset of COVID-19, "the decision that mayors in even liberal cities like Los Angeles and New York were making as of early May was to propose deep cuts in essentially every major category except the police," writes Matthew Yglesias for Vox.
As has always been the case, policing and incarceration are often used to make money for the powerful, upholding structures of power. That's why they've avoided the cutting room.
"A Department of Justice investigation found that in Ferguson, Missouri, the town used the police and the courts as a kind of fundraising office, plugging budget holes with ginned-up traffic tickets and housing-code violations and charges for missed court dates," Lowrey continues. "America badly needs to rethink its priorities for the whole criminal-justice system."
Alternatives to Aggressive Policing
How does one actually address aggressive policing? What strategies actually work? "The problem America faces is not figuring out what to do," argue Seth W. Stoughton, Jeffrey J. Noble, and Geoffrey P. Alpert for The Atlantic. "As an industry, American policing knows how to create systems that prevent, identify, and address abuses of power. It knows how to increase transparency. It knows how to provide police services in a constitutionally lawful and morally upright way. And across the country, most officers are well intentioned, receive good training, and work at agencies that have good policies on the books. But knowledge and good intentions are not nearly sufficient… What we desperately need, but have so far lacked, is political will."
Therefore it's important to spread information about the logistics of alternatives to policing. Stoughton, Noble, and Alpert argue that in order to reform policing, we need to end qualified immunity (which prevents police from being sued unless their crimes were labeled unconstitutional at the time they committed them). Congress could also encourage better and clearer data about police's work and invest more in training.
According to a document from the organization Campaign Zero, here are five additional strategies that could help reform police:
End Broken Windows Policing
"Only 5% of all arrests made in America are for violent crimes. Meanwhile, the vast majority of arrests are for low level offenses that pose no threat to public safety. Police departments should decriminalize or de-prioritize enforcement of these issues," the document reads. Armed police who are trained to react violently but have no training in de-escalation strategies should not be tasked with dealing with nonviolent crime. Homelessness, mental health crises, and petty crime should initially be addressed by mental health workers, social workers, community intervention workers, or a task force specifically trained to deal with these issues, not cops as we know them today. Police funds should be redistributed towards community intervention initiatives and similar task forces.
2. End For-Profit Policing
Police should not rely on tickets or fines issued in order to make money. Arrests should not be sources of profit. The Supreme Court actually ruled to place limitations on for-profit policing in 2019, but these measures need to be enacted in every state.
3. Limit Use of Force
"The research is clear: police departments with more restrictive use of force policies - like banning chokeholds and requiring de-escalation - are substantially less likely to kill people," reads the document. An Early Intervention System that identifies officers who tend to use excessive force should be established.
4. Demilitarization
Cities and countries should not be allowed to use federal funds to purchase military equipment, and city council approval should be required before police can purchase this type of equipment.
5. Body Cameras
"Research shows that body cameras do not prevent police violence from happening, but they do increase the chances that officers will be disciplined or even prosecuted for these incidents."
6. Independent Investigations
"Only 1% of all killings by police lead to an officer being charged with a crime," the document reads. Independent investigations of officers charged with misconduct must be required.
7. Training
"The average police recruit spends 58 hours learning how to shoot and only 8 hours learning how to de-escalate." Police should receive de-escalation training.
8. Fair Police Union Contracts
Police union contracts are major impediments that make it difficult for police to be fired. Barriers to accountability should be removed. According to checkthepolice.org, police union contracts can block accountability by "disqualifying misconduct complaints, preventing police officers from being interrogated immediately, giving officers access to information that civilians do not get, requiring cities to pay for costs related to police misconduct, preventing information on past misconduct, and limiting disciplinary consequences."
Another Choice: Defund Police
Despite the purported efficacy of these tactics, people have been attempting to institute these police reform-based practices for years. Funds have been poured into police training, body cameras have been installed, and yet… These things have not worked, and people are still losing their lives to police violence.
"There is no evidence that better police training programs or "implicit bias" training changes police behavior," writes Samuel Sinyangwe. "More restrictive state and local policies governing police use of force are associated with significantly lower rates of police shootings/killings by police. This is backed by 30+ years of research," Sinyangwe adds.
For those who are interested in research-based solutions to stop police violence, here's what you need to know - ba… https://t.co/SoXi1hG3kA

— Samuel Sinyangwe (@Samuel Sinyangwe) 1570325229.0
The only solution to actually reducing police violence might be a more radical tactic: Defund the police—and channel that money into education, community development, social work, and other tactics that stop crime before it starts instead of tamping it out through violence or making it up to reach a quota.

There is no precise consensus on what defunding the police will actually involve, though people have plenty of ideas. "I think we need to consider a divest/invest model," said Queens Senator Julia Salazar as she made her argument for defunding the police. "When we look at their resources, and how they're deploying them violently and recklessly, it makes the case even stronger for reducing their budget, and then using those funds for social services, and specifically for things that New Yorkers would want the police to do but the police are not currently doing: harm reduction, community-based public safety."
When discussions about defunding and curtailing the power of the police come up, the main question that arises is: Who will uphold our laws?
It's important to remember that people who advocate for defunding the police are not advocating for a lawless land. Instead, they're asking for the massive amount of funds that the police receive to be redistributed to investments in people-powered organizations that actually keep us safe.
Should Police Be Abolished?
Beyond defunding is the ultimate goal of police abolition, which many abolitionists argue is the only way to actually stop police violence.
"Our police is not working—we need to replace it with something new. It's more than a repair. We need something new," writes Jessica Disu in the Chicago Reader. "We need to come up with community solutions for transformative justice."
The concept of police abolition is connected to the prison abolition movement started by Black abolitionists in the 70s. As the existence of the prison industrial complex—a complicated arrangement that allows the U.S. government and corporations to profit off of prison labor—became solidified in the early 2000s, so did the idea of prison abolition.
"[The work of maintaining incarceration], which used to be the primary province of government, is now also performed by private corporations, whose links to government in the field of what is euphemistically called 'corrections' resonate dangerously with the military industrial complex," wrote Angela Davis in an article in the magazine Colorlines.
Prison and police abolition doesn't mean suddenly abolishing police and prisons. Instead, it means redesigning the entire punitive system, and developing correctional systems based in communities, in systemic change, and justice. "For me prison abolition is two things: It's the complete and utter dismantling of prison and policing and surveillance as they currently exist within our culture. And it's also the building up of new ways of intersecting and new ways of relating with each other," says Mariame Kaba, a major prison abolitionist advocate.
When many people hear about abolishing police, they immediately begin to worry: Who would I call if my house is robbed? But it's important to remember that police are not a safe option in the first place for many people, particularly Black people, and so many are left without any help at all in the case of criminal activity. It's also important to remember that this kind of violence is often connected to poverty or other forms of suffering that could be eliminated by investments in communities, healthcare and the like.
Many reforms & strategies to fight policing are circulating right now, some are AMAZING like #DefundPolice; others,… https://t.co/FJxEN4o5rV

— Critical Resistance (@Critical Resistance) 1591319561.0
Seattle city council candidate Shaun Scott put it this way: America must "[disinvest] from the police state" and "build towards a world where nobody is criminalized for being poor." He went on to criticize so-called officers" for their "deep and entrenched institutional ties to racism" that created an "apparatus of overaggressive and racist policing that has emerged to steer many black and brown bodies back into, in essence, a form of slavery."

Another police abolitionist, Kristen Harris-Taley, asks: "How do you reform an institution that from its inception was made to control, maim, condemn, and kill people? Reform it back to what?"
"Oppressed people must give up the systems that harm them," writes Derecka Purnell for the Boston Review. "Police are not public, nor good. Departments arrest for profit and sell vulnerable people to jails and prisons to fill beds. Cities incentivize and reward police officers for maximizing their ticket writing and traffic stops. On college campuses, cops make drugs disappear; on the streets, cops make alleged dealers disappear. Police officers are prison–industrial complex foot soldiers, and poor people are its targets. Disadvantaged communities should not ask for law enforcement to ensure safety any more than someone should ask for poisoned water to quench thirst."
So while police abolition may sound extreme, it's worth deep study at the very least for anyone invested in racial justice. (Check out this syllabus on police abolition to learn more).
Restorative Justice: What Would a Post-Police Future Look Like?
If police were abolished, what would take their place?
The answers are surprisingly logical. "Police abolition work is not about defunding every department instantly; it's about a gradual process of strategically reallocating resources, funding, and responsibility away from police and toward community-based models of safety, support, and prevention," writes MPD 150, a police abolition organization. "The people who respond to crises in our community should be the people who are best equipped to deal with those crises."
"Where's the community resource center? Where are the supports for families, so that maybe they can fix their problems? Where are the outlets for women so that they can live independently, to get away from an abuser?" asks Alex Vitale, the author of The End of Policing.

Instead of aggressive policing, prison and police abolition advocates point to community organizations, better mental healthcare, an end to solitary confinement, and a "restorative justice" approach as viable alternatives.
In a restorative justice system, the victim and perpetrator's perspectives are both examined and discussed. "Typically, a facilitator meets separately with the accused and the victim, and if both are willing to meet face to face without animosity and the offender is deemed willing and able to complete restitution, then the case shifts out of the adversarial legal system and into a parallel restorative-justice process," writes Mark Engler for Morningside Center. "All parties — the offender, victim, facilitator and law enforcement — come together in a forum sometimes called a restorative-community conference. Each person speaks, one at a time and without interruption, about the crime and its effects, and the participants come to a consensus about how to repair the harm done." This may sound like a lot of work, but remember how much paperwork and processing one arrest requires.
"Restorative practices focus on repairing the harm that has been done, rather than simply punishing someone who has committed an offense by locking them up," writes Vanessa Hernandez in an ACLU op-ed. Restorative practices in the criminal justice system, including peacemaking circles, mediation, and family conferencing, bring people who have committed crimes together with victims of crime, their families, and other community members to identify and address the damage caused by crime." This is also particularly effective in schools and juvenile detention centers. When exposed to restorative justice practices, "Incarcerated people at San Quentin reported to the delegation that the restorative process was highly transformative in that it allowed them to be forgiven by those who they had harmed and cultivated in them an ability to forgive themselves," writes Peter Kletsan.
Seeking strength and wisdom from Angela Davis this morning. Thinking of the communities that sustain me. https://t.co/4k82jT1TXL

— Ethan Chang (@Ethan Chang) 1591022533.0
Of course, restorative justice practices alone are not enough to heal America's broken criminal justice system. That will take a lot more—a lot of protests, a lot of political action, a lot of coming together. Perhaps it will take a revolution.

As we wait, we can all learn ways to mitigate the amount of harm that police cause. We can research alternatives to calling 911; we can invest in community infrastructure; we can study de-escalation and first-aid; we can join prison and police abolition groups; white people can learn how to put their bodies in between Black people and the police; and we can continue to learn and make our own decisions about the policing systems that our tax dollars are paying for.
Take action and learn more here: https://m4bl.org/week-of-action/tuesday/
Action Steps for Defunding the Police
Police and Prison Abolition 101: A Syllabus and FAQ

While their founder is far from perfect, their model of policing could go a long way to easing tensions
When you imagine a 66-year-old white man taking justice into his own hand to face down looters in the ongoing protests of police brutality, it sounds horrible.
And in many ways Curtis Sliwa, the founder of the Guardian Angels, would probably meet your expectations. He is a brash Republican talk show host who is hoping to unseat Bill De Blasio as mayor in 2021. He's fond of dramatic publicity stunts, he's currently advocating for more aggressive police action to break up the protests...of aggressive police action, and he referred to the East Village Foot Locker he and his fellow Guardian Angels defended from violent looters on Tuesday night as "the jewel in the crown" because he assumes that rioters "were looking for the sneakers, limited edition." In other words, Sliwa is kind of gross, but his organization is surprisingly not.
An unarmed volunteer organization that Sliwa founded in the late '70s to patrol streets and subways in order to deter crime and fight off muggers, the Guardian Angels' ranks were mainly made up of young black and latino men who wanted to fight back against the crime that ravaged their New York City communities. While that vigilante impulse has often led to violence and further injustice, the fact that the Guardian Angels were armed with nothing but their signature red berets and "karate," operating mainly through collective intimidation to deter crime in their own communities, speaks volumes in their favor.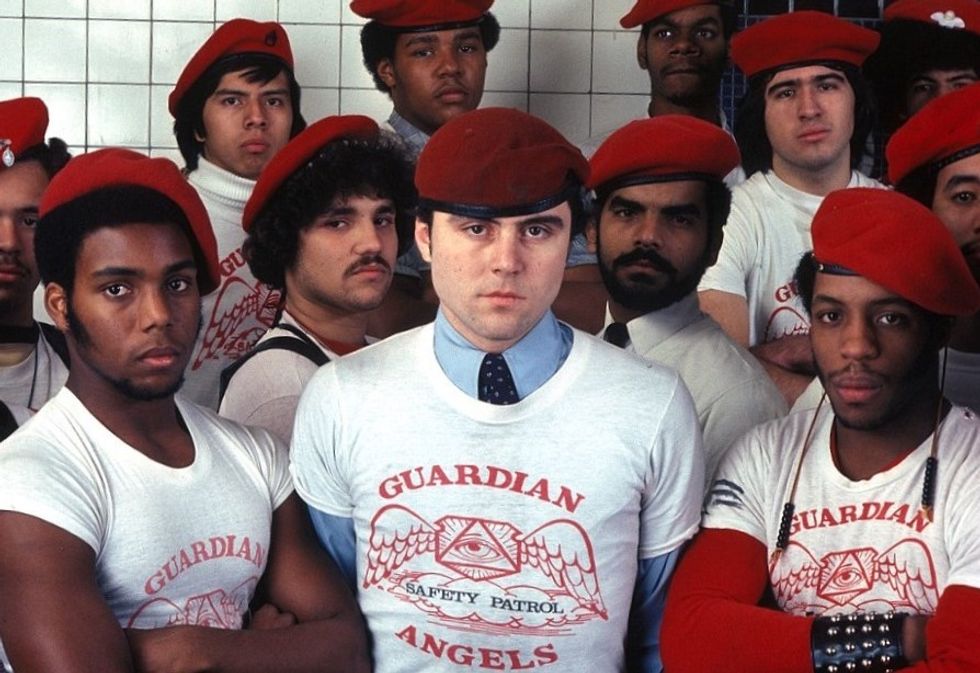 © Stephen Shames/Polaris
It's no wonder the organization grew so quickly, with chapters opening all over the world. Admittedly their prominence has declined somewhat in recent decades, but considering the adoption of hyper-violent vigilante symbols by many police officers, perhaps it's time for the Guardian Angel's model of vigilantism to have a resurgence—or perhaps even to be adopted for official police tactics.

Imagine a world where seeing a police uniform didn't automatically indicate someone with a gun. What if guns were reserved for certain officers and certain situations, and patrol cops relied on numbers, intimidation, and non-lethal force—including but not limited to martial arts (and maybe those sheets that Japanese police roll people up in)—to prevent, deter, and defuse violent crime. And imagine if those cops had close ties to communities they patrolled—actually lived in those neighborhoods—and had that added incentive to resolve situations peacefully.
While some cities have residency requirements for their police, these measures are often not enforced. And even in cities like New York, where police use of guns has declined, the constant threat of possible gun violence heightens tension between police and the communities they're intended to serve—especially when there is no sense that the officers have any investment in the neighborhoods they patrol.
Obviously the danger involved in fighting crime and arresting criminals shouldn't be downplayed—Sliwa and at least one other Guardian Angel were hospitalized with serious injuries following Tuesday night's confrontation with looters—and sometimes firearms are necessary in that work. But considering how many nations' police don't regularly carry guns—and the fact that pizza delivery is technically a more dangerous job—maybe the average beat cop can get by with a kevlar vest, a bodycam, and some martial arts training. Maybe these cops could be part-time or semi-professional—like an officially sanctioned neighborhood watch or citizen patrol with some training, arrest powers, and extra pocket money. If we dramatically scaled down the size of our traditional police forces, then we could afford programs with a less hostile approach to localized patrolling.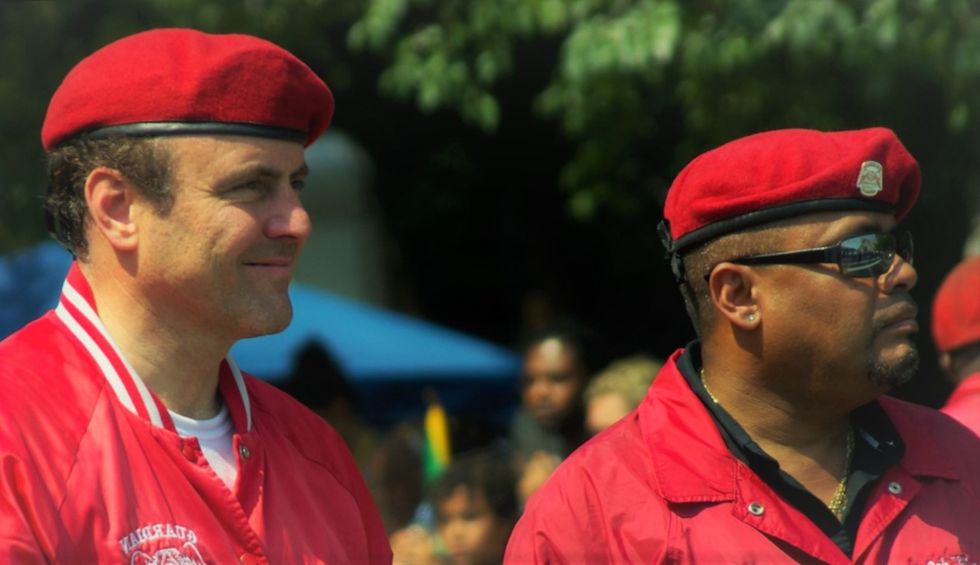 Curtis Sliwa and a fellow Guardian Angel survey the West Indian Day parade in Brooklyn, 2007
Needless to say this is in no way an endorsement of Curtis Silwa, who faked his own 1980 kidnapping and once had his members spraypaint "KKK" and "White Power" outside their headquarters for publicity. He was and remains a jackass, but even a jackass is entitled to a good idea now and then. And considering the current backlash against excessive force and the militarization of the police, maybe the Guardian Angels' model can point the way for some of the necessary reforms.

Would it solve everything? No. After all, Derek Chauvin didn't even need his gun when he killed George Floyd—only his knee. But we have to do something, and maybe treating our police more like red berets rather than green berets could begin to ease tensions in over-policed neighborhoods—and could start to heal the painful history of oppression and institutional violence in America's minority communities.
We looked for 2020 to be the year of Exodus from all of the strife of the previous decade(s). But, it seems that we might have to endure a few more plagues before we see the Promised Land.
2020 was supposed to usher in a decade of change and elevation. On December 31, 2019, personal and social resolutions were at the forefront of our minds as we collectively waited for midnight. For Black Americans exclusively, this was the hope that the atrocities from the 2010s in regards to race relations wouldn't accompany us. Still, it seems we've become more engrossed in the fight for our right to exist on several fronts.

The COVID-19 pandemic has caused an unprecedented paralysis in the world both economically and emotionally. Millions are without jobs, adequate health care, and engaged leadership. African Americans are the most impacted by the disease. As of June, there have been over 21,000 COVID-19 related deaths in the Black Community nationwide. Pre-existing health conditions and challenging living situations act as barriers preventing proper social distancing and protection/recovery. Though coronavirus is an unexpected nemesis for Blackness to combat, an old foe is still ever-present.
Currently, foreign and domestic protests and riots have erupted in response to the multiple deaths of unarmed Black men and women at the hands of law enforcement. The murder of George Floyd in Minneapolis, Minnesota, on Memorial Day has captured the world's attention. In an 8 minute and 46-second clip, America has yet another lifelong lasting image of an unarmed African American male screaming, "I Can't Breathe" - an unholy sequel to the video of Eric Garner uttering those exact words in 2014 as his life was brutally driven from his body.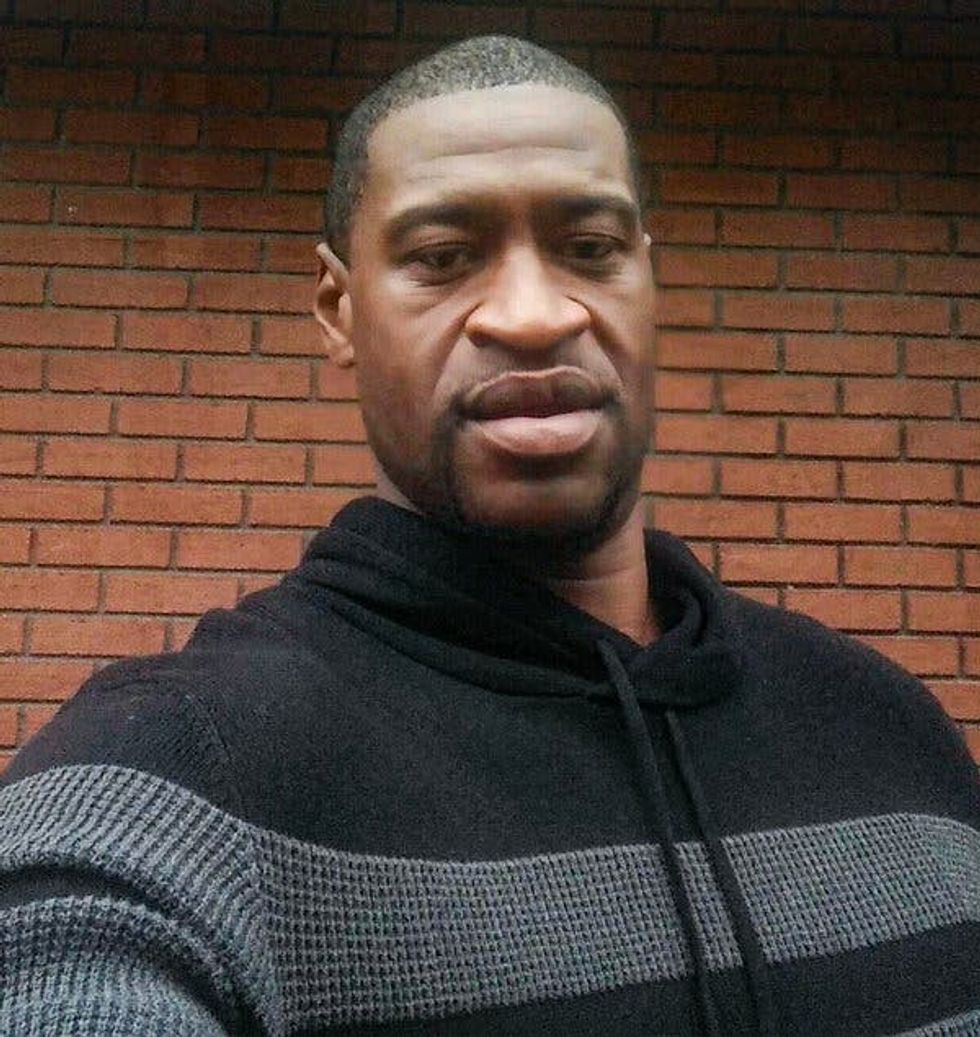 If Floyd's death was the explosion on a global scale, then Breonna Taylor's death was undoubtedly the fuse. Back in March, the 26-year-old Louisville EMT worker was fatally shot eight times when the Louisville Metro Police Department entered her home serving a no-knock warrant.

Overwhelming feelings of helplessness, anger and fear due to coronavirus, coupled with the recent murders at the hands of the authorities, have exacerbated our current temperaments. We are expected to adhere to the pleas of law officials and politicians to shelter in place and social distance when the particular cases of Floyd and Taylor indicate the antithesis of these requests when put into practice by the police.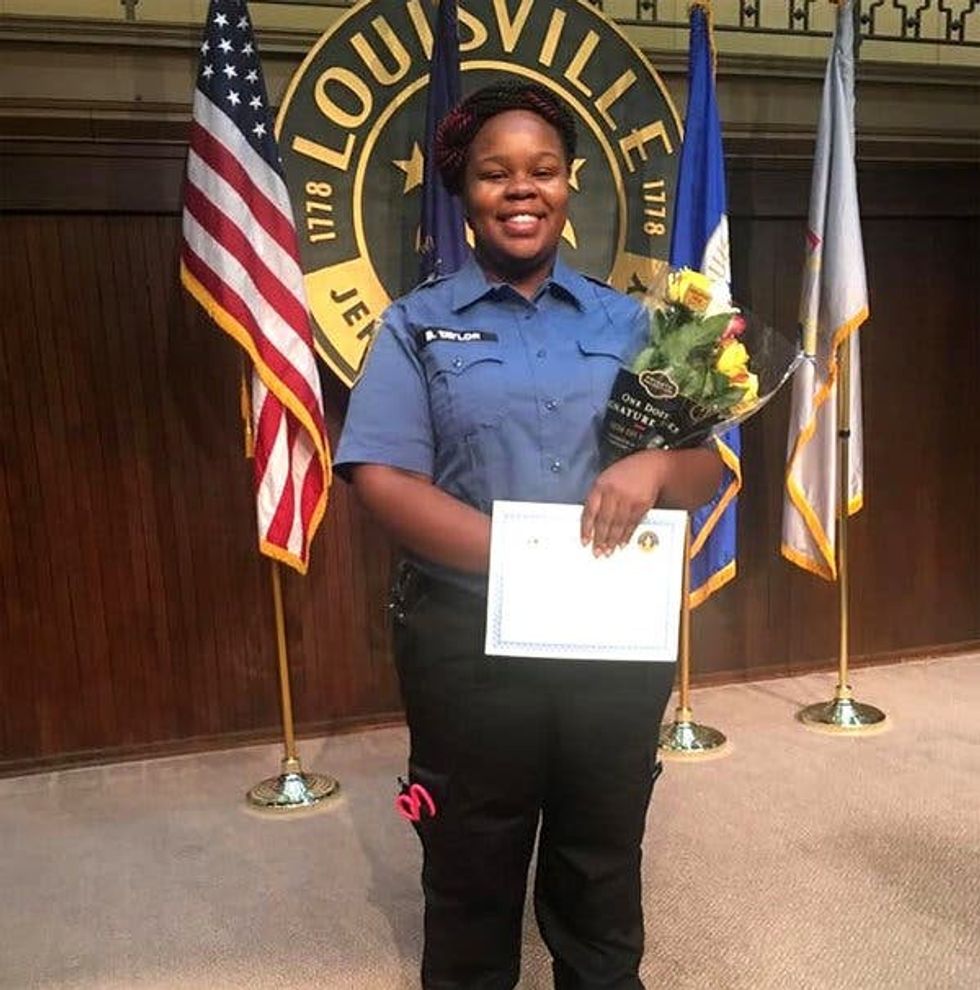 While dealing with a faceless adversary in COVID-19, African Americans remain engaged in an ongoing battle with a known opposition. Black people have become savants at juggling multiple issues of our survival. But balancing civil unrest and possible contagion simultaneously, and at this magnitude, is an ask that is too great - despite our resiliency.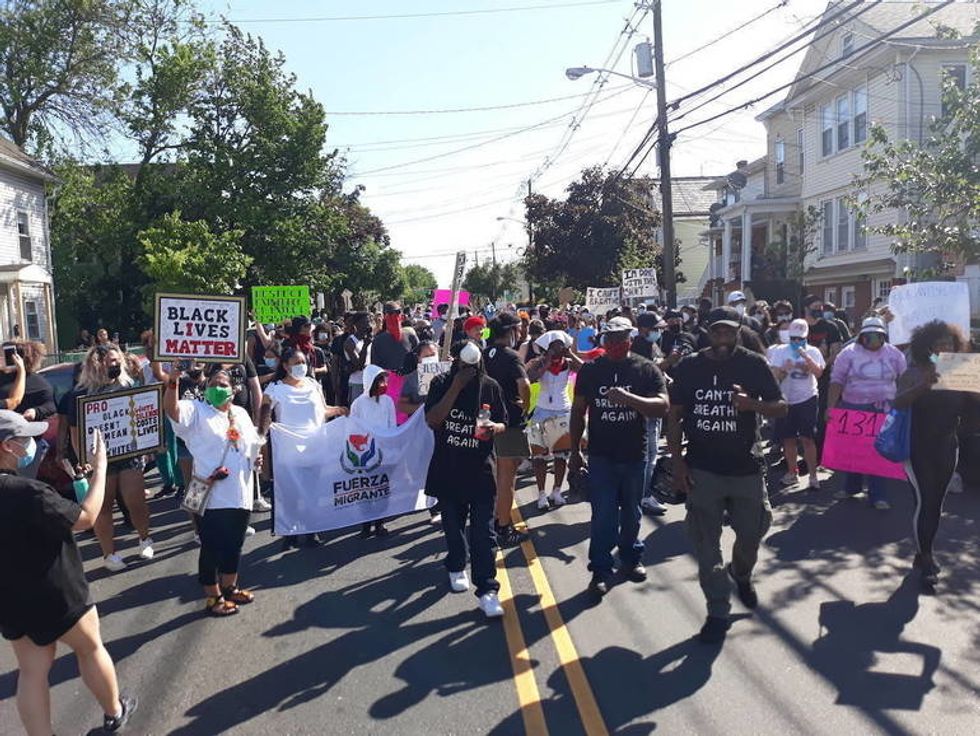 At the risk of further spreading coronavirus, the streets are running wild with rebellion. However, the sickness of racism, of injustice, is a pandemic that has been ever-present since this country's inception. We looked for 2020 to be the year of Exodus from all of the strife of the previous decade(s). But, it seems that we might have to endure a few more plagues before we see the Promised Land.

Dwayne "Deascent" Gittens is a Hip Hop artist, On-Air Personality, & Content Creator from The Bronx. Follow him on Instagram & Twitter @Deascent.
White people: We need to look to BIPOC leadership before participating in any anti-racist actions, online or otherwise.
As protests against racist police brutality continue across the United States and the world in the wake of the brutal murder of George Floyd, many people are taking to social media to share their support for the Black Lives Matter movement.
Posts shared across Instagram, Twitter, and Facebook include information on how to help protestors, how to financially contribute to black led organizations, how to protest safely in the face of police force, and how to be a better ally to the black community. Much of this is vital information that shows how helpful social media can be when harnessed for good.
Today, in another supposed show of support with the Black Lives Matter movement, a #BlackOutTuesday hashtag has begun to spread, particularly on Instagram. The hashtag is posted in combination with an entirely black square. Here is an example:
In theory, the idea is to so thoroughly occupy Instagram with this lack of content, as to make the movement impossible to ignore. Unfortunately, many black-identifying people of color have pointed out the folly of this hashtag. Notably, the danger of using the #BlackLivesMatter hashtag in combination with these posts buries vital information and activist posts that are exponentially more beneficial to the movement than an empty black square. Layla F. Saad, the best-selling author of Me and White Supremacy, posted the below video with the caption, "Hi all. For those taking part in the black out posts, please don't use the blacklivesmatter hashtag as it is actually muting/silencing this hashtag and important information that is being shared under that hashtag. Instead use #blackouttuesday. Thank you @ginaatinukeknight for this heads up."

Some are even questioning the intention of the hashtag, like singer-songwriter Kehlani, who posted on her Instagram story, "while i really do f*ck wit the intention behind the 'black out' something about its execution doesn't seem smart. we keep each other informed on here, we are each other [sic] news channels because we cannot trust the news. we cannot disappear for a day. secondly, now when you check the #BlackLivesmatter hashtag, it's no longer videos, helpful information, resources, documentation of the injustice, it's rows of black screens."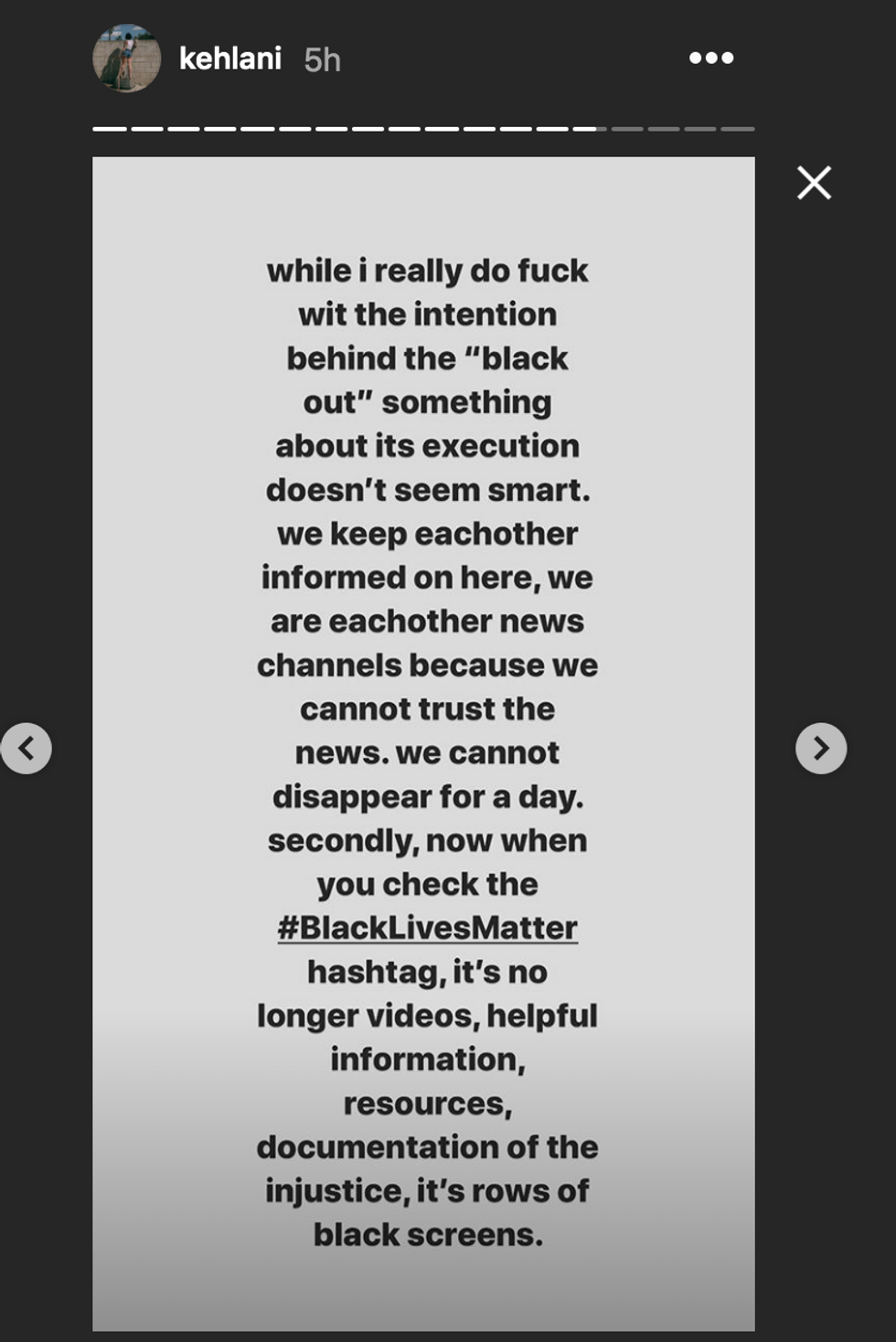 Supposedly, the original initiative was a music industry movement called #TheShowMustBePaused started by WOC music executives Jamila Thomas and Brianna Agyemang. According to The BBC, "All three major record labels have shared a message on social media promising 'a day to disconnect from work and reconnect with our community.' Employees have been given Tuesday off as 'a day of action,' intended to 'provoke accountability and change.'"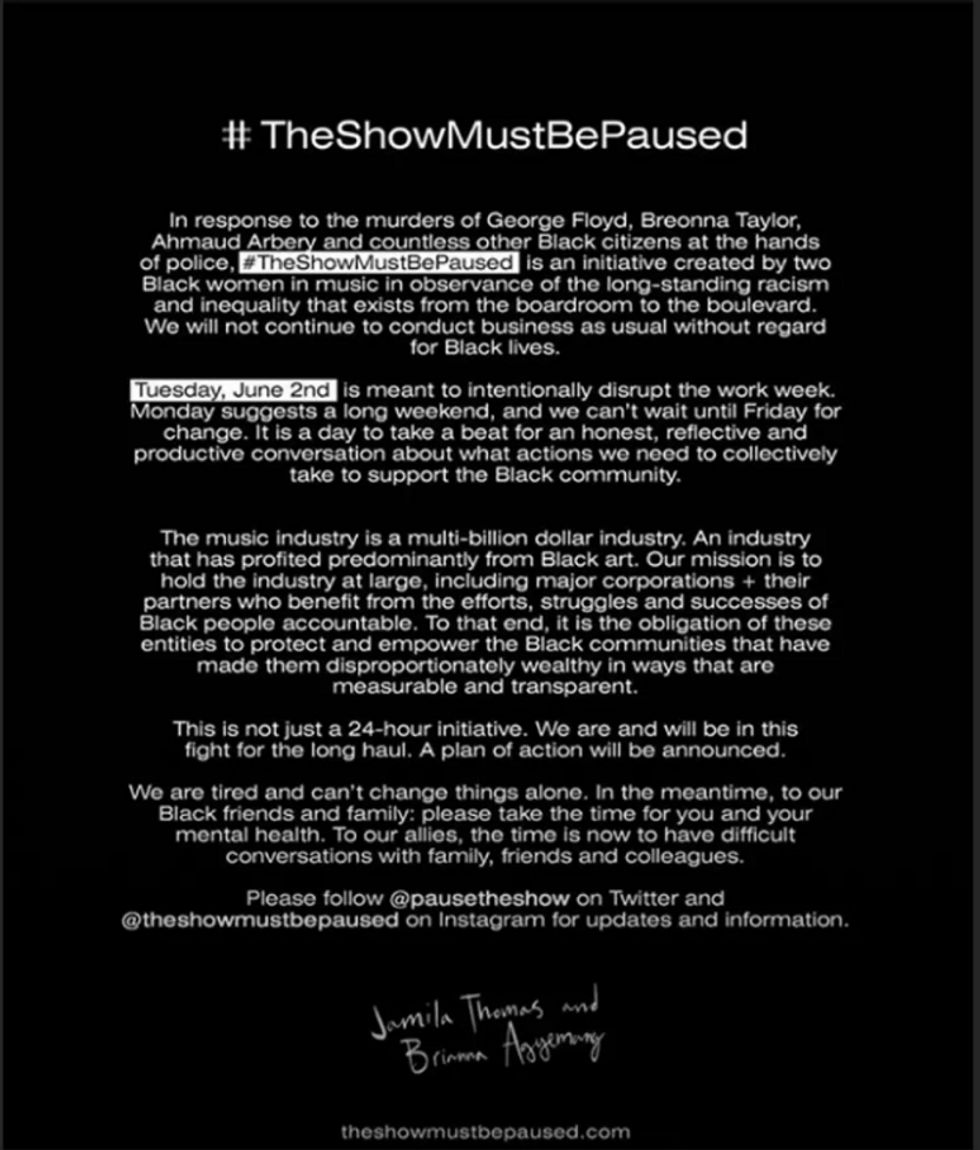 Many artists jumped on board, including Lady Gaga, who said, "[President Trump] holds the most powerful office in the world, yet offers nothing but ignorance and prejudice while black lives continue to be taken," she wrote. "He is fueling a system that is already rooted in racism, and racist activity, and we can all see what is happening."
But how exactly #TheShowMustBePaused became #BlackOutTuesday is unclear, but seeing as it does not seem to have been started by a BIPOC lead organization or BIPOC leader, it is our (white people's, in particular) responsibility to question it before participating. For one thing, simply posting a black square to Instagram is an incredibly easy action, even easier than reposting information or otherwise amplifying the voices of POC through social media. Before participating, ask yourself if you have decided to post your black square simply to assuage your own white guilt/feel like you're helping, or because you've genuinely been led to believe (by a POC) that your action is helpful to the movement. Instead of posting a black square, could you be taking more tangible steps? Could you be posting information for protestors, or suggestions of places to donate? Could you be holding yourself accountable for past racist actions? Could you be educating yourself on your own privilege? One also has to see how suspiciously close to censorship this action seems on the day after President Trump threatened the lives of protestors. Is now really the time to be quiet and remove ourselves from social media, or is it a time to be louder than ever?
If you do decide to participate in #BlackOutTuesday, at the very least, make sure you aren't using the #BlackLivesMatter hashtag, and as always, look to the leadership of POC before participating in any action, online or otherwise. Also, if you're white, consider giving the below post a thorough read.
Keep reading...
Show less
In a country where everyone has freedom of speech, where do we draw the line?
The structures of heteronormativity, patriarchy, and white supremacy are now made fun of, overshadowed, and cast aside by many.
Consequently, some straight, white, and/or male people, used to a society built for their needs, feel irrelevant and unheard. Anytime a minority or oppressed group is celebrated, privileged people try and insert themselves in the conversation. There's a reason why every year people ask, "Why isn't there a White History Month?" during Black History Month. When white men start getting passed up for promotions in favor of more diverse hires, it causes them to feel a fraction of what POC and women have experienced for decades. They view these setbacks as oppression and their erasure from representation as an attack. In turn, they acknowledge they're beginning to lack dominant authority. Groups like Meninists and All Lives Matter exist to belittle the root causes of systemic issues in our country. The relationship between the main systemic sources of violence in America resonate beyond Straight Pride: They remind us how those power dynamics are at play even within marginalized communities.
John Hugo, the President of Super Happy Fun America and head organizer of Boston's controversial Straight Pride Parade, describes himself "living openly as a straight man." Hugo is one of three white men advocating for heterosexual representation within the LBGTQ+ community. Super Happy Fun America is a perfect example of the phenomenon in which the privileged see equality as oppression. SHFA even has their own gay ambassador, Chris Bartely. His tokenism and bio illuminates that although he is a gay man, that does not mean he has the right to speak for the entire LGBTQ+ community:
As gay ambassador, Chris uses his status in the LGBTQ community to challenge heterophobia wherever it exists. He became involved in the straight pride movement after being ostracized from established advocacy groups for merely suggesting that straight people be afforded equal rights.
What Bartley gets wrong is that straight people are discriminated against. Although, not all people within straight relationships are afforded rights like maternity and paternity leave or an abortion, but that's due to issues unrelated to sexual orientation. SHFA utilizes right-wing Trumpism to prick at the current frustration white, straight men entertain. Meanwhile, the definition of "great" is up for debate across the nation. In retaliation, liberals are readdressing America's history and the narratives ignored in textbooks, thus increasing the discourse of who truly makes America great.
The SHFA convinced themselves they have good intentions, but in reality they're misinterpreting the purpose of the LGBTQ+ community. The organizers fail to understand that the community is more than an umbrella term for sexual orientation: It's comprised of identities that could endanger lives and livelihoods because of outside discrimination. Those identities go beyond sexual orientation. They include a spectrum of gender identities which already foster inner conflict within the community due to transphobia and misogyny. By viewing LGBTQ+ solely as a flag of sexual identities is to entirely miss the point of why the community itself exists.
However, pride is a touchy subject when it comes to who is welcome at the celebrations and who it's about. Specifically, it spawns conflict within the community from gay men who exhibit misogynistic rhetoric about female allies and bisexuals. Some within the community push binaries of homosexual relationships (gay men and lesbian women) as the standard. In such instances, systems of patriarchy and white supremacy affect transgender people and queer POC at an alarming rate compared to other peers. Straight pride is a reminder that pride incites complicated matters of identity politics and how the community can be exclusionary by gate-keeping.
Meanwhile, the leaders of Super Happy Fun America are challenging said gate-keeping by arguing in favor of an S in LGBTQIA. Their Vice President, Mark Sahady, has come forward to announce the event is moving forward since they have a permit from the city. If Boston were to take that permit away, Sahady would sue on grounds of discrimination. Their argument is a slap in the face to Pride's history.
With the 50th Anniversary of Stonewall, members of the community are reflecting on the horrors of their history, specifically police brutality. Today, police presence stirs debate about how parades can exist within governmental bounds. After all, every parade needs a permit, and the police are brought to enforce the safety of its participants. But when there's a history of police brutality with an oppressed community, it's difficult to trust their intentions. Yet, the men of Super Happy Fun America use their permit from Boston to their benefit (and yet, also as a legal threat). Due to their privilege, they don't see police presence as an issue, because the enforcers have never endangered them: Police protect white men.
The LGBTQ+ community and their allies are rightfully disappointed that anyone would want a straight pride parade, since they know what it truly stands for: These heterosexuals want to overshadow a marginalized community that is beginning to thrive. American society is not at a point yet where we can see or accept each other for who we are and our diverse perspectives. By breaking down other viewpoints' origins, we can get to the root of such ignorance. Straight Pride is a reminder that prejudice is often wielded in reaction to "others" and increases our divisions. To reflect on the roles of sexism, racism, and homophobia is to better ourselves and our communities, dismantling systems of oppression that keep us at odds and with each other as Americans.