Plus celebrities react to Nigerian protests.
Young people across Nigeria have been pouring into the streets for the last two weeks to protest police brutality, specifically the controversial special police force known as the Special Anti-Robbery Squad (SARS).
Tension came to a head on Tuesday when armed forces fired on protestors in Lagos, the biggest city in Nigeria, who were out past the state-mandated curfew. According to AP News, "Police also fired tear gas at one point, and smoke could be seen billowing from several areas in the city's center. Two private TV stations were forced off the air at least temporarily as their offices were burned."
According to Amnesty International, police have killed at least ten peaceful protestors and injured dozens more since the protests started.
The Nigerian people's protestation against SARS is nothing new. The #EndSARS hashtag first went viral in Nigeria in 2017. It was spurred by citizens' reports of harassment, abuse, extortion, torture, and kidnapping at the hands of SARS officers. While Nigerian leaders promised to reform SARS in 2018, protestors maintain there has been little meaningful change and are now doubtful of renewed promises.
What Is SARS doing?
Indeed, according to a harrowing report from Amnesty International, there have been at least 82 cases of severe police brutality since SARS was supposedly reformed two years ago. The report reads: "Detainees in SARS custody have been subjected to a variety of methods of torture including hanging, mock execution, beating, punching and kicking, burning with cigarettes, waterboarding, near-asphyxiation with plastic bags, forcing detainees to assume stressful bodily positions and sexual violence." It continues, Findings from our research indicate that few cases are investigated and hardly any officers are brought to justice on account of torture and other ill-treatment."
SARS was created in the 1990s as a special force meant to handle serious crimes in Nigeria including kidnapping, robbery, and murder. But since its inception, it's morphed into an abusive arm of the government used to intimidate and even torture supposed "criminals." Protestors claim that officers are essentially never brought to justice even when victims manage to bring complaints against them. As CNN states, the force has "become notorious for alleged abuses committed with apparent impunity." There are also myriad reports of SARS officers financially extorting the people they detain.
Global Citizen specifies, "At the time it was created, Nigeria had a big security problem that citizens argue now no longer exists. Over the years, the squad — and by extension the Nigerian police — have been repeatedly caught on video carrying out beatings and shooting at unarmed citizens, often without any consequences."
Celebrities Raise Awareness
The #EndSARS campaign and the related protests in Nigeria have come to international attention, in large part thanks to a growing roster of celebrities who have vocalized their support for the protestors. These celebrities include the always unpredictable Kanye West, who tweeted Monday: "I stand with my Nigerian brothers and sisters to end police brutality, the government must answer to the peoples cries #EndPoliceBrutalityinNigeria"
Other celebrities include Trey Songz who tweeted, "After doing a little research I would like to speak out against what's going on in Nigeria right now. Their pleas to #EndSarsNow IS VERY REAL. I have so much love for my Nigerian fans and it's so hurtful to hear whats happening."
Star Wars actor John Boyega also chimed in on Twitter to say, "The youth in Nigeria deserve good leadership and guidance. This situation is tied to many other issues. Please lend your attention to this pressing problem! #EndSARSImmediately #EndSarsProtests #EndSARS #EndSARSProtest"
Former football star Rio Ferdinand sent his love to protestors via Twitter.
Nigerian celebrities have also vocalized their support of the movement. Davido, Burna Boy, Adesua Etomi-Wellington, Runtown, and Falz have all spoken out in support of the protestors.
How the Nigerian Government Is Responding to #EndSARS Protests

In response to the heightening protests, inspector General of Police, Mohammed Abubakar Adamu, announced on October 11th that SARS would be disbanded. The next day, the President of Nigeria, Muhammadu Buhari, released a video in which he appeared to sympathize with protestors, he said that the disbanding of SARS was "only the first step" in more sweeping reform of the country's criminal justice system. He also assured the nation that, "We will also ensure that all those responsible for misconduct or wrongful acts are brought to justice."

But Nigerians are rightfully suspicious of these promises, given that they were told very similar things two years ago only to experience increasingly violent, extortionist police tactics. Now, protestors are demanding more widespread reforms to end the extensive human rights violations allegedly carried out by all branches of Nigerian security forces as well as the rampant government corruption.
Given that protestors were shot with tear gas and allegedly fired on with live ammunition even after SARS was supposedly disbanded, it's clear that the government has many steps left to take before they can expect protestors to be satisfied.
How Can You Help?
1. Seek out accurate information
As with most things, there is an abundance of misinformation out there about the #EndSARS movement. Make sure you're reading reliable, fact-checked sources (we recommend unbiased resources like AP News and Reuters). Or even better, read first hand accounts of what's happening in Nigeria on this website created by activists to document accounts, videos, and photos of the abuse individuals have suffered at the hands of corrupt Nigerian law enforcement.

2. Spread the message
The majority of the organizing surrounding these protests is being done online, specifically through Twitter, so social media is a great tool to spread awareness and accurate information about the #EndSARS movement. As of Friday, October 16 there had been nearly 3.3 million tweets with 744,000 retweets of posts containing the #EndSARS hashtag.
Sharing this simple Tweet that outlines the protestors five demands is a great place to start.
3. Donate funds
The way you can likely be the most helpful to the young revolutionaries in Nigeria is through financial support. Never donate to a fund that you don't have substantial evidence is going directly to the protestors in question, and try to stick to funds that offer detailed reporting of how the funds are being used. For example, we recommend donating to the Feminist Coalition, which has raised more than 70 million Naira (about $180,000) for protestors in Nigeria.
Keep reading...
Show less
How do you fall back on your "Well they shouldn't commit crimes!" argument now?
It was recently announced that the death of Elijah McClain, a 23-year-old Black man who died in 2019 while in police custody, will be reexamined by Colorado Officials.
Colorado Governor Jared Polis personally announced that his administration will reexamine the case. The governor wrote on Twitter, "a fair and objective process free from real or perceived bias for investigating officer-involved killings is critical." Polis added that he is having lawyers "examine what the state can do and we are assessing next steps."
Public confidence in our law enforcement process is incredibly important now more than ever. A fair and objective p… https://t.co/vGdBthXcQc

— Governor Jared Polis (@Governor Jared Polis) 1593032085.0
Undoubtedly, Gov. Polis was influenced by a petition, signed by over 2 million people, that urged him to reopen the case of Elijah McClain, who died after being put in a chokehold by police in a Denver suburb. McClain's case has been the subject of renewed outrage since the police murders of George Floyd, Breonna Taylor, and others; which were instrumental in sparking wide-spread protests against racist police brutality.

The facts surrounding Elijah McClain's death
On August 24, 2019, McClain was on his way home from a convenience store. He was wearing a ski mask, something his sister later told ABC affiliate, Denver7 that he often did because he "had anemia and would sometimes get cold." He had gone to the convenience store to buy his brother an iced tea.
Soon, McClain was stopped by three white officers because a 911 caller described a "suspicious person" in a face covering "waving their arms around." According to McClain's family, it was likely he was dancing to the music in his headphones, something he often did.
According to CNN, the police report said that McClain resisted officer contact and a struggle ensued. The audio from one of the officer's body cams depicts McClain clearly pleading with the officers, saying, "I'm an introvert, please respect the boundaries that I am speaking." He goes on to say that he was trying to stop his music to listen to them, and they promptly start to arrest him. One officer is heard telling another, "He just grabbed your gun, dude."
The full audio of McClain's arrest and subsequent murder can be listened to below. The transcript is as follows:
"I can't breathe. I have my ID right here... My name is Elijah McClain. That's my house. I was just going home. I'm an introvert. I'm just different. That's all. I'm so sorry. I have no gun. I don't do that stuff. I don't do any fighting. Why are you attacking me? I don't even kill flies. I don't eat meat. But I don't judge people, I don't judge people who do eat meat. Forgive me. All I was trying to do was become better... I will do it... I will do anything. Sacrifice my identity, I'll do it. I'll do it. You all are phenomenal. You are beautiful and I love you. Try to forgive me. I'm a mood Gemini. I'm sorry. I'm so sorry. Ow, that really hurt. You are all very strong. Teamwork makes the dream work."
In the video, McClain can be heard sobbing, vomiting, and then saying: "Oh, I'm sorry I wasn't trying to do that. I just can't breathe correctly." You can also hear one of the officers threaten to bring a police dog over to him and bite him for "messing around."
Later in the footage, one officer can also be heard admitting McClain had done nothing illegal.
Body Worn Camera Regarding the In-Custody Death of Elijah McClain youtu.be
As McClain sobbed, one of the officers put him in a carotid hold, or chokehold, and he briefly lost consciousness, according to an overview of the incident provided by police. Soon, paramedics arrived and administered ketamine to sedate McClain, according to the report. McClain then suffered a heart attack while in the ambulance and was taken off life support three days later. His family said at the time that he was covered in bruises.
The officers involved were cleared of all wrongdoing
After McClain's death, the Adams County district attorney, Dave Young, declined to file criminal charges against the officers involved, though they were placed on administrative leave briefly before being reinstated. In February 2020, a police review board declared, "[t]he force applied during the altercation to include the carotid control hold and the force applied during the altercation was within policy and consistent with training."
Additionally, in a coroner's report Forensic Pathology Consultant Dr. Stephen Cina was unable to definitively explain McClain's cause of death. Cina said that "the manner of death may be accident if it was an idiosyncratic drug reaction. It may be natural if [McClain] had an undiagnosed mental illness that led to excited delirium, if his intense physical exertion combined with a narrow coronary artery led to an arrhythmia, if he had an asthma attack, or if he aspirated vomit while restrained."
He continued, writing that Mcclain's death, "may be a homicide if the actions of officers led to his death (e.g. carotid control hold led to stimulation of the carotid sinus resulting in an arrhythmia)."
When CNN asked DA Young about the recent tidal wave of support for the reopening of McClain's case, Young said, "we've got to have the evidence ... so the petitions, the emails, the voicemails and Facebook attacks to me, my family, everyone else expressing their opinions ... is not evidence." Young added that he doesn't "condone the actions of the officers. I think they could've done things differently."
Who was Elijah McClain?
Since his death, Elijah has been described by family and friends alike as an "angel." He worked as a massage therapist, and seemed to be universally beloved by his coworkers and clients.
According to CBSN Denver, his mother, Sheneen McClain, described her son as life-giving. "I thank God that he was my son because just him being born brought life into my world, you know what I mean?" she said. "I know he was giving life to other people too.
According to the Sentinel, Eric Behrens, a friend of McClain's, said, "I don't even think he would set a mouse trap if there was a rodent problem."
A former client and friend of McClain, Marna Arnett, reportedly said he, "Was the sweetest, purest person I have ever met," She added, "He was definitely a light in a whole lot of darkness." Arnett also mentioned McClain's social anxiety to reporters, attributing his frequent mask wearing to both his anemia and a desire to create a separation from the world. "He would hide behind that mask," Arnett said. "It was protection for him, too. It made him more comfortable being in the outside world."
One of the most frequent anecdotes mentioned on social media about McClain is the fact that he often used his lunch breaks to play the violin for the dogs and cats in a nearby animal shelter, believing the music helped to calm them.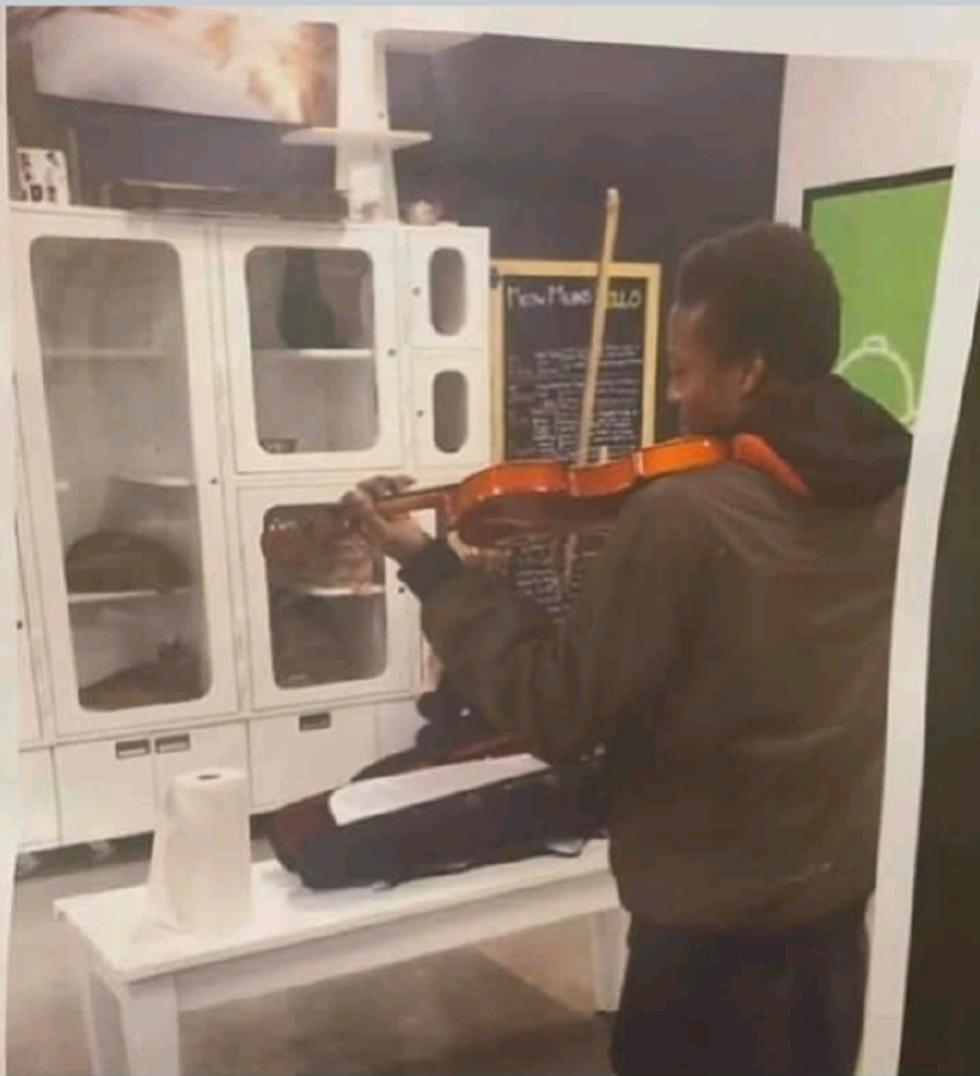 Elijah McClain playing the violin for cats
The more you read about McClain, the more obvious it becomes that he was a gentle young man, often anxious, but eager to love and be loved. The more you read about McClain, the more heart-wrenching his death becomes. Why? Because he didn't deserve it. Because he was a good guy who didn't commit a crime.
His supposed resistance was likely just the result of the extreme anxiety that would likely overtake most of us in that situation—particularly a young Black man; particularly a person who clearly already struggled with anxiety. The case of Elijah McClain makes white people particularly uncomfortable, because they can't justify it.
Why "All Lives Matter" people aren't sure what to say about Elijah McClain
"George Floyd was using counterfeit money," they argue. "The police had to restrain him!"
"Well, sure, Breonna Taylor was sleeping, but her boyfriend pulled a gun! The cops had to shoot!"
These are common tactics conservative white people use to deny the pandemic of racist police violence in America. Arguments like "Well, he shouldn't have committed a crime, then!" have long followed in the wake of anger over the death of a Black person at the hands of the police.
Even more common, white people comfortable with the status quo tend to talk about all the past transgressions of the Black victim in question, or use language to conjure images of a threatening individual, as if that justifies the police's behavior.
This line of thinking has become so prominent, that doctors CalvinJohn Smiley and David Fukunle conducted a 2016 study on the topic entitled "From 'Brute' to 'Thug:' the Demonization and Criminalization of Unarmed Black Male Victims in America". The study sought to investigate, "The historical criminalization of Black males and its connection to contemporary unarmed victims of law enforcement. And "to interpret how Black male victims are portrayed by traditional mass media, particularly through the use of language, in ways that marginalize and de-victimize these individuals."
Smiley and Fakunle found ample evidence that Eric Garner, a Black man killed by police officers in 2014 for selling cigarettes, was (posthumously) routinely characterized in the media as physically imposing (Garner was 350 lbs), unhealthy (Garner had a history of asthma), and inherently criminal.
They write, "The prominent references related to Mr. Garner's physical attributes were micro-invalidations and micro-insults regarding his behavior at the time of his death, which involved Garner vehemently defending his role in breaking up an altercation. Additionally were the micro-invalidations related to his past actions and lifestyle. This included criminality and the perception of being a 'hustler' due to his propensity to sell single cigarettes, which is illegal yet not a felony in New York."
Essentially, white people who lean towards the "all lives matter" argument are quick to brush off the discomfort that racist police violence forces them to feel. They do so by justifying a Black victim's death. This is often done by finding a reason the victim "deserved" to die, or finding reasons to excuse the police officer's actions.
In the case of Elijah McClain, this kind of justification is almost impossible. McClain was gentle and physically small, had a good job, was possibly neurodivergent, had no criminal history, and was literally just walking home from the store. The audio of his last moments depict a person trying desperately not to offend anyone, even in that dire and unjust situation.
If your argument in the past has been, "Well he just should have complied with the police officers and shown them the respect they deserve," then how do you reckon with the fact that some of McClain's last words were, "All I was trying to do was become better... I will do it... I will do anything. Sacrifice my identity, I'll do it. I'll do it. You all are phenomenal. You are beautiful and I love you. Try to forgive me."
His fear is palpable in the audio recording, as is his aggressor's brutality. Elijah McClain's murder cannot be explained away as anything other than a moment of racist abuse of power with deadly consequences.
Guilty people don't deserve to die either
The discomfort and reckoning that Elijah McClain's case has brought up in white people (specifically those who have been trying desperately to pretend that the police are a necessary force for good) can only be productive. But that's not to say that there is anything acceptable about justifying a person's murder at the hands of the police because of past criminality or any other factor beyond a clear and imminent deadly threat.
If Elijah McClain HAD committed a crime, it still wouldn't be justifiable that he died at the hands of the police. We have a system in place for assigning punishment to those who commit crimes. It's a deeply flawed system, but it at least affords people the right to a trial before they are sentenced. It is not the role of the police to kill—not even the guilty.
If McClain's story is making you uncomfortable because he was so obviously "one of the good ones" or because you can't explain away the police officer's actions, perhaps now is a good time for you to question your view of justice. Why do you think past crimes justify someone's death? Why do you think a police officer who "feels in danger" has the right to murder someone?
For that matter, why do you think any crime justifies someone's death? Have you ever stolen something small from a store? Has your child or loved one? Do you think they would deserve to die for that crime?
If we're going to put an end to America's decades-long history of police brutality, we're going to have to collectively rethink our culture of retributive justice. While Elijah McClain certainly didn't deserve to die, neither did the thousands of Black people—guilty of a crime or not—who have lost their lives to the brutality of the American justice system.
Elijah McClain's death should make you uncomfortable, but so should every other death at the hands of American policing.
Keep reading...
Show less
NYPD officers falsely claimed that their Shake Shack milkshakes had been poisoned.
According to a statement that has since been deleted, three NYPD officers were hospitalized after an ill-fated trip to Shake Shack.
The officers claimed that the officers drank milkshakes that had been poisoned with bleach. According to CNN, the statement read that the officers "discovered that a toxic substance, believed to be bleach, had been placed in their beverages" on Monday. But here's a question: What if the cops were just lactose intolerant?
Investigators believed that residual cleaning solution from the milkshake machine might've made its way into the officers' drinks. "When NYC police officers cannot even take a meal without coming under attack, it is clear that the environment in which we work has deteriorated to a critical level," Patrick Lynch, President of the New York Police Benevolent Association, wrote in the statement.
Shake Shack responded on Twitter, saying they were "horrified by the reports of police officers injured." But—spoiler alert—no criminality was found by the burger joint's employees, according to a tweet by NYPD Chief Rodney Harrison.
We are horrified by the reports of police officers injured at our 200 Broadway Shack in Manhattan. We are working w… https://t.co/t8DWEtc5z8

— SHAKE SHACK (@SHAKE SHACK) 1592279377.0
After a thorough investigation by the NYPD's Manhattan South investigators, it has been determined that there was n… https://t.co/aZJZUIR0RD

— Chief Rodney Harrison (@Chief Rodney Harrison) 1592294531.0
This is hardly the first time police have made food-tampering claims that have been proven false. Last July, a corrections officer with the Marion County Sheriff's Office in Indiana filed a complaint against a McDonald's employee he believed had taken a bite of his sandwich because he was a law enforcement officer; as it turns out, the officer had forgotten it was him who took the bite himself.
Last December, a Starbucks employee was fired after allegedly printing the name "Pig" on an Oklahoma officer's drink order. However, Twitter users pointed out that the label on the cup was that of a mobile order, indicating that "Pig" would've been the name the customer enters themself.
tale as old as time...🎶 https://t.co/EXz6esjx4A

— Endless 😱 Bummer (@Endless 😱 Bummer) 1592296381.0
Considering law enforcement has been especially scrutinized lately following the murder of George Floyd by Minneapolis police, now is not the smartest time for a milkshake hijinx. If I were a police officer, I would simply read the room and mind my own business. I would also quit my job.
Keep reading...
Show less