Dall-E Mini, the AI-powered text-to-image generator has taken over the internet. With its ability to render nearly anything your meme-loving heart desires, anyone can make their dreams come true.
DALL-E 2, a portmanteau of Salvador Dali, the surrealist and Wall-E, the Pixar robot, was created by OpenAI and is not widely available; it creates far cleaner imagery and was recently used to launch Cosmpolitan's first AI-generated cover. The art world has been one of the first industries to truly embrace AI.
The open-sourced miniature version is what's responsible for the memes. Programmer Boris Dayma wants to make AI more accessible; he built the Dall-E Mini program as part of a competition held by Google and an AI community called Hugging Face.
And with great technology, comes great memes. Typing a short phrase into Dall-E Mini will manifest 9 different amalgamations, theoretically shaping into reality the strange images you've conjured. Its popularity leads to too much traffic, often resulting in an error that can be fixed by refreshing the page or trying again later.
If you want to be a part of the creation of AI-powered engines, it all starts with code. CodeAcademy explains that Dall-E Mini is a seq2seq model, "typically used in natural language processing (NLP) for things like translation and conversational modeling." CodeAcademy's Text Generation course will teach you how to utilize seq2seq, but they also offer opportunities to learn 14+ coding languages at your own pace.
You can choose the Machine Learning Specialist career path if you want to become a Data Scientist who develops these types of programs, but you can also choose courses by language, subject (what is cybersecurity?) or even skill - build a website with HTML, CSS, and more.
CodeAcademy offers many classes for free as well as a free trial; it's an invaluable resource for giving people of all experience levels the fundamentals they need to build the world they want to see.
As for Dall-E Mini, while some have opted to create beauty, most have opted for memes. Here are some of the internet's favorites:
There's no looking back now, not once you've seen Pugachu; artificial intelligence is here to stay.
A single, minor attack on a police officer can not be held up as evidence of societal collapse.
I have a lot of thoughts about the police — and the NYPD in particular — many of which seem contradictory at first blush.
I think NYPD's rookie officers should be getting significantly better pay. I also think the department should be broadly defunded in favor of better forms of community intervention.
There's a police precinct near my home where groups of officers are often loitering out front, and I always feel anxious and uncomfortable as I pass by. Even as a white guy minding my own business, the presence of people authorized to commit violence for the state is intimidating. But, at the same time, I've had occasion to be grateful that they're so nearby and have had pleasant interactions with officers who seemed like they were doing their best to be helpful.
I'm glad that the NYPD doesn't use their guns as often as many other American police forces — with consistently far fewer "officer-involved shootings" than in Los Angeles, a city half New York's size (though that's faint praise considering the history of the LAPD).
But I also know that's far from an antidote to police violence, and the biggest difference between the killing of George Floyd and that of Eric Garner is that — unlike Derek Chauvin — fired NYPD officer Daniel Pantaleo was never put on trial.
Eric Garner's Daughter Exits Court Yelling 'Fire Pantaleo!' After DOJ Decides No Charges for Cop www.youtube.com
I also tend to think that a popular narrative that "All Cops Are Bastards" is generally unhelpful. But I'm certain that it's not nearly as harmful as the institutional pressure never to hold the "bad apples" accountable — a practice that is more or less guaranteed to "spoil the bunch."
Like around 20 million or so of my fellow citizens, I marched with Black Lives Matter as part of the largest protest movement in American history, following the murder of George Floyd. But the fact that I — unlike my Black and brown neighbors — have never been the target of stop-and-frisk or other forms of racial profiling at the hands of the NYPD, has kept these issues at a distance.
Apart from a vague anxiety walking past them, I've never had a reason to wish ill on any individual cops I've encountered. So when I saw a recent video of a police officer being attacked in my neighborhood, I was — as usual — conflicted.
The video, posted to Twitter by The Detectives' Endowment Association of the City of New York — a police union, shows a detective taking notes on a recent burglary when a man walks up behind him with what appears to be a one of those fiberglass poles used to mark the edges of a driveway, and he strikes him over the head with it before jogging off.
It first came to my attention when much of Twitter started mocking it, and the temptation to join in was strong. But the fact that I know that block in Flushing — that my wife and I have been meaning to try the restaurant in the background, that the cop is likely based in the precinct down the street — gave me pause, and I found myself digging deeper.
The main criticism was that the incident looked staged, and it's hard to argue that it doesn't. For a start, there's the question of why anyone was filming such a dull scene before anything happened. And the assailant — identified by the NYPD as 25-year-old Akeele Morgan — was so seemingly casual in the way he walked up to the detective and swung the pole.
There was hardly any force in the attack, after which Morgan backed away several steps before taking off at a light run, with other police in pursuit. Meanwhile, the detective Morgan struck had buckled over, clutching his head.
On first viewing, it doesn't even look like the pole hits the detective's head — it looks more like it comes in contact with his shoulder. But that turns out to be a trick of the camera angle, as closer inspection reveals the detective's glasses being knocked loose as the pole makes contact.
Still, there's something so surreal about the whole scene. It doesn't look like a genuine attack. It certainly doesn't look anything like the supposed phenomenon the union seemed to think it exemplified: "emboldened criminals, who have quickly realized there are no consequences for law breakers in our city."

Add to that the fact that the Detectives' Endowment Association has a proven record of hyperbole, and it all gets even harder to believe. Last year the union was called out for spreading misinformation about an alleged malicious poisoning involving some Shake Shack Milkshakes that tasted funny — it turned out to be a harmless amount of cleaning fluid that an employee had failed to wipe off the milkshake machine.
This fits the mold of the Kansas police officer who wrote "****ing pig" on his own coffee cup, the myth that pallets of bricks were being provided to protesters, and the "McMuffin Cop" who interpreted a delayed order as evidence of a plot against her.
The current climate of criticism and scrutiny being applied to the police has been met with disproportionate paranoia and efforts to frame innoccuous events as anti-cop violence.
Unfortunately, skepticism of these events can go too far, as well. Earlier this month, footage of a traffic stop was shared by the NYPD's official Twitter account. The driver threw a cup of liquid on the officer before fleeing, and the post referred to the liquid as "a chemical," adding that the driver later threw a Molotov cocktail at officers.
Users were quick to express their skepticism, insisting that the "chemical" was just a cup of water. But according to reports, the driver has since admitted to throwing bleach in the officer's face and of driving around with Molotov cocktails — one of which he attempted to use — with the intention of targeting police.
So, while we have good reason to question accounts of events offered by the police — and by the NYPD in particular, with its history of "testilying" — that can clearly go too far. Their tendency to exaggerate the dangers of the job doesn't mean that it's not genuinely dangerous.
There really are people who will violently attack a cop just for being a cop, and rhetoric claiming that they're "all bastards" may serve to inflame this violence. But what the Detectives' Endowment Association tweeted was far worse.
Seeing an isolated incidence of fairly mild violence — the detective was reportedly taken to a nearby hospital for "minor injuries," presumably meaning a small welt — and instantly framing it as an indication of societal collapse is a diseased sort of thinking.
It's also a train of thought that's familiar enough among political pundits who build their careers on "us vs. them" narratives. But when that same approach infects a public institution — the group nominally tasked to "protect and serve" the people who are increasingly on the other side of that dichotomy — that institution makes the strongest case for its abolition.
Because as horrifying as it is every time an unarmed civilian is killed by police seemingly on a whim, these incidents are still relatively rare. Most cops are obviously not murderers.
What's more pervasive is the sense of impunity — the fact that it's so hard to get justice when a police officer commits a crime — and the way every effort toward accountability is met with anger and resistance.
All police should unambiguously celebrate when punishment is doled out to the likes of Derek Chauvin. To use their logic, he was one of those "bad apples" that painted them all in a negative light.
So shouldn't they celebrate the fact that he's facing consequences? While some did, of course, far too many of his fellow cops took issue with his conviction.
In the aftermath of Chauvin's conviction on April 20th, Ed Mullins of the Sergeants Benevolent Association — another NYPD union — released a statement claiming that "it is hard to imagine a tougher time to be a member of the law enforcement profession," adding that "our elected officials are complicit in perpetuating the myth that we are the enemy."
This is the response when a cop is treated fairly in the justice system, instead of being allowed to walk the streets like Daniel Pantaleo. But somehow it's criminals like Akeele Morgan — who was arrested shortly after the video was taken and is being charged with assault, resisting arrest, criminal possession of a weapon, and disorderly conduct — whom police unions say we should think of as one of the city's "emboldened criminals."
Crowd reacts as Derek Chauvin found guilty over death of George Floyd – BBC News www.youtube.com
Many police unions would like us to think it's these civilians, lashing out ineffectually at representatives of power, that we should really be worried about. These are the people who supposedly face "no consequences."
But imagine making that kind of argument to Eric Garner's family. Imagine how they feel knowing that his killer is free because he wore a badge.
It seems unlikely that this latest video — as suspicious as it looks on its face — was staged for the sake of police union propaganda. Nonetheless, the union's message in that tweet was clear: "If citizens don't live in fear that we can kill them with impunity, we can't do our job."
If that's true of the cops in my neighborhood, whom I've otherwise felt okay about, then I will have no choice but to accept another premise I've been hesitant to embrace: That all cops are bastards, and that we must abolish the institution.
Maybe Flushing would be better off relying on concerned citizens, like the patrol groups that have formed to combat anti-Asian hate in recent months. Maybe the next time I'm tempted to call the police, I should turn to my neighbors instead.
I still think there's a better way — that there's a version of policing that can work and that's important to work toward. But the louder voices like the Detectives' Endowment Association get, the less hope I have that we can get there.
Keep reading...
Show less
The Nobel Prize committee has the chance to signal a better future for a prize with a fraught past.
I have almost reached the regrettable conclusion that the Negro's great stumbling block in his stride toward freedom is not the White Citizen's Counciler or the Ku Klux Klanner, but the white moderate, who is more devoted to "order" than to justice; who prefers a negative peace which is the absence of tension to a positive peace which is the presence of justice — Dr. Marin Luther King Jr. "Letter From Birmingham Jail" 1963
Nominations have been announced for the 2021 Nobel Peace Prize.
Among notable nominees are Ivanka Trump's husband Jared Kushner, politician and voting rights activist Stacey Abrams, and the Black Lives Matter movement. Depending on your political biases, you likely find at least one of those nominations offensive, though it should be noted that the list of nominees is long, and anyone can be nominated.
In this case, Black Lives Matter was nominated by Petter Eide, a member of Norway's parliament. As for Jared Kushner, he was nominated along with former Special Representative for International Negotiations Avi Berkowitz — the famed Harvard law professor, Trump sycophant, and defense attorney for O.J. Simpson and Jeffrey Epstein. Kushner and Berkowitz played central roles in brokering the Abraham Accords declaring, "Peace, Cooperation, and Constructive Diplomatic and Friendly Relations" between the US, Israel, Bahrain, and the UAE.
The Abraham Accords: The PR of the 'peace deals' | The Listening Post www.youtube.com
At face value many Americans would no doubt see the negotiation of a peace deal as more legitimate grounds for nomination than a protest movement that sparked violent confrontation with police and counter protesters around the country in 2020. And, if we look at the history of the Peace Prize, there is a sense in which they would be right — the prize has often been awarded for superficial diplomatic theater rather than the real and often messy work of addressing injustice.

The Fraught History of the Nobel Peace Prize
In 1928, Secretary of State Frank Kellogg received the prize for getting all the world's major powers to officially, meaninglessly renounce war...shortly before Hitler took power in Germany. Another Secretary of State, Henry Kissinger, was selected by the Nobel Committee for negotiating a cease fire with Vietnam in 1973 — the same year it was revealed that he had masterminded a secret carpet bombing campaign in Cambodia, which is credited with giving rise to the genocidal Khmer Rouge.
More recently, in 2009, Barack Obama was given the Peace Prize just for being elected president — in a move Obama acknowledged as premature. And in 2020, Donald Trump's son-in-law and his buddy Avi were nominated for the award for arranging "peace" between nations that were never at war — with a substantial arms deal thrown in for good measure.
To put it bluntly, it would make nearly as much sense for Jared Kushner to win the Nobel Peace Prize as it did for a number of other recipients with dubious claims to peace work. By contrast, in 1948 the Nobel committee chose not to award anyone — rather than acknowledge Mohandas Gandhi's work in pushing for Indian independence from Britain.
Historically the committee has often erred on the side of the powerful — rewarding hollow and hypocritical displays of diplomacy over the controversy that tends to arise around grassroots struggles. So while it may be unlikely that Kushner and Berkowitz will receive the peace prize, neither would it really be surprising.
But with Black History Month kicking off, it's worth articulating not just why their diplomacy is underwhelming, but why the Black Lives Matter movement deserves recognition for advancing the global fight against injustice.
No Justice, No Peace
While extensive efforts have been made to paint the Black Lives Matter movement as violent, anti-White, and at the political fringes, in reality it is the largest and most racially diverse protest movement in American history. And considering the thousands of demonstrations that have taken place, involving many millions of individuals, the relative lack of violence from the protesters is much more worthy of note than a handful of dramatic scenes.
Compared to the January 6th Trump rally, where a crowd of around 30,000 spawned a violent insurrection — which was handled with kid gloves by the police and led to five deaths — the 15 million plus who participated in BLM marches in 2020 were remarkably peaceful. The same cannot be said for far too many of police who patrolled those marches and gave proof to the brutality that inspired them.
A compilation of videos that captures how police officers incite violence. How are they responding to protests ag… https://t.co/7rBOh3OHMP

— Simran Jeet Singh (@Simran Jeet Singh) 1590893613.0
And though regrettable incidents of arson and violence have undeniably taken place in connection with BLM demonstrations, the alternative was not "peace."

What is often overlooked in discussions of peace is the reality of social and political injustice as among the most prevalent forms of violence on Earth. When millions of people, targeted through no fault of their own, are systemically dehumanized — their lives and their contributions devalued and their opportunities for life, liberty and pursuit of happiness both deliberately and incidentally truncated for centuries — that is violence that destroys lives on another scale altogether.
For Black Americans that obviously means slavery and its aftermath, as well as segregation and the continued legacies of practices like redlining. But it also means a so-called "war on drugs" that treats addiction as a crime rather than an illness and disproportionately targets and locks up Black Americans, depriving too many children of their parents.
It means racist police procedures like Stop and Frisk, as well as the implicit (and often explicit) racial biases of the officers themselves. It means making it nearly impossible for people convicted of felonies within this unjust, racist system to live within the bounds of the law, depriving them — as well as millions of Black Americans who haven't been convicted of anything — of the right to participate in democracy and change the system that treats them so cruelly.
And none of this even covers the immense wealth inequality that makes life harder for almost all Americans — though, again, the harm is leveled disproportionately against Black Americans. All of these ordinary and unacceptable aspects of American life are violence — "the negative peace which is the absence of tension."
They destabilize communities, families, and individual lives. And that violence came to a head in June, following the horrific killing of George Floyd by a Minneapolis police officer over a suspected counterfeit $20 bill.
While far from the only evidence of systemic racism in America, the murder of unarmed Black men, women, and children by police and by racist vigilantes who — more often than not — are allowed to walk free, is perhaps its most blatant and disgusting expression.
And the names of the slain — Ahmaud Arbery, Breonna Taylor, Tamir Rice, Trayvon Martin, Freddie Gray, Philando Castille, too many more to mention — have become rallying cries.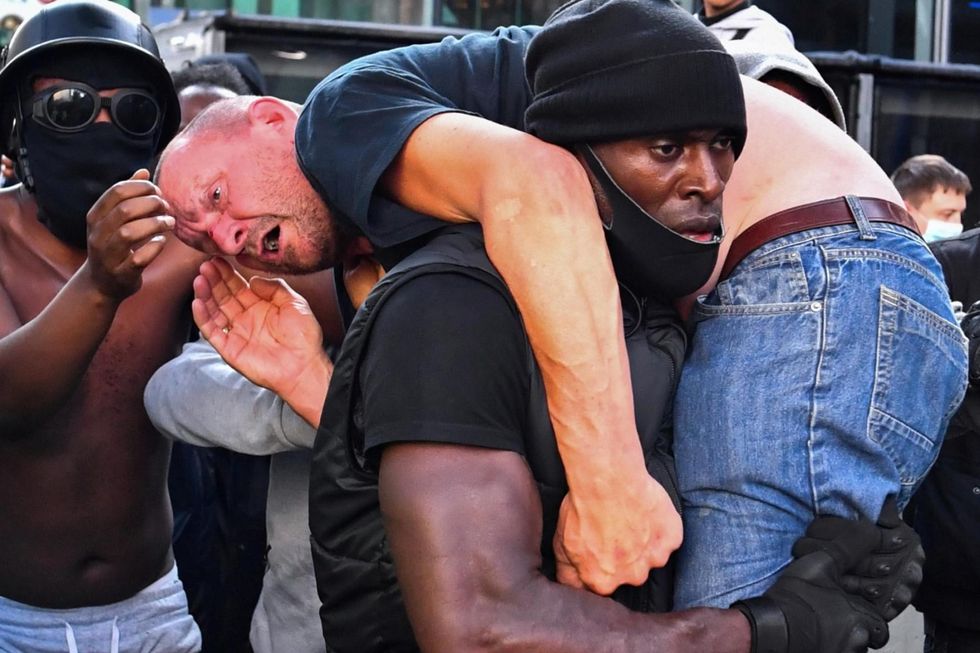 A Black Lives Matter protester carrying a counter protester to safety in London
With all the domestic resistance the protests met from people who insist on spitting "all lives matter!" (as if fighting for the value of Black lives implied otherwise) and "blue lives matter!" (as if the safety of police officers depends on their ability to shoot unarmed Black men, women, and children without consequence), it would be easy to lose sight of how much support the movement has received overseas. While the movement was started in America, the impact has been global.

"Injustice Anywhere Is a Threat to Justice Everywhere"
The reality of living as a dehumanized minority in a bigoted society is sadly all too common in the world. And while not everywhere is as bad in this respect as America, the recognition sparked protests of solidarity and of common cause around the world.
Like the civil rights movement of the 1960s, Black Lives Matter has continued the fight for America to live up to its promise. Because right now "the land of the free" is home to a carceral state where more people are imprisoned than anywhere else on Earth, and citizens are killed by police at a higher rate than in any comparable nation.
Because the systems that were deliberately set up to keep newly freed Black citizens oppressed following the Civil War were never truly purged — have been covertly bolstered and supplemented ever since.
That is not peace. Only a stable form of violence.
A cartoon from the 1960s My father wasn't beloved by America. In 'Letter From Birmingham Jail,' he responded to 8… https://t.co/ygwaqnWoO9

— Be A King (@Be A King) 1611017549.0
In 1964 the Nobel committee opted not to side with power. It was the same year the FBI sent a harassing letter to Dr. Martin Luther King Jr., urging him to commit suicide.

He was considered by FBI director J. Edgar Hoover — and many others in positions of power within the American government — to be an enemy of the state. There is even reason to believe that these forces were directly involved in his 1968 assassination.
His protest movement was disruptive to the normal order of American life that most white Americans were content to maintain. Many balked at the idea that it could be called peaceful. But the Nobel committee selected him for the honor of the Nobel Peace Prize. It was a serious signal that the world was watching how America handled peaceful dissent.
Did that make a difference in passing the voting rights act of 1965? Who can say? But the Nobel committee has a similar opportunity this year.
What Black Lives Matter has been fighting for in recent months is the "positive peace" King spoke of as "the presence of justice." With that in mind — and with some uncertainty remaining as to how a decentralized, leaderless movement of millions can receive an award — the Nobel committee should take seriously the option of selecting Black Lives Matter.
Martin Luther King Jr. Nobel Peace Prize Acceptance Speech www.youtube.com
There are no doubt many nominees whom the committee could select for the Peace Prize — including Jared Kushner. And some who would even be worthy — including Stacey Abrams.

But the significance of acknowledging a grassroots fight for justice that was centuries in the making (in a nation which — for all its flaws — continues to shape culture around the world) is too powerful to deny.
Keep reading...
Show less
The cases of Rusten Sheskey and Kyle Rittenhouse make it clear that the leniency afforded to police officers is not justified.
Amid protests of a police shooting in Kenosha, Wisconsin this week, three protesters were shot by a 17-year-old with an AR-15.
Two of the protesters died at the scene on Tuesday. The third was seriously injured, but survived. The shooter, Kyle Rittenhouse of Antioch Illinois, has been charged with two counts of first-degree homicide, among other charges.
The event that spurred the protests was shocking on its face, but an increasingly familiar scenario—a Kenosha police officer shot an unarmed Black man in the back seven times.
The incident took place on Sunday, August 23rd, after police officers arrived at the scene of a domestic disturbance with little information. A woman had called 911 and used 29-year-old Jacob Blake's name, but was reportedly "uncooperative" with the 911 operator, so police had little else to go on.
Sources since the incident have said that Blake was actually breaking up an argument, possibly between the 911 caller and another woman. But it turned out there was a warrant out for Blake's arrest, and police responded to the call with force.
While some details of the encounter remain uncertain, Blake was tased more than once, and two videos document police officers struggling to restrain him as he attempts to free himself and move toward the driver side door of his SUV.
Authorities identify officer who opened fire in Jacob Blake shooting l GMA www.youtube.com
The footage shows that as Blake opened the door, officer Rusten Sheskey grabbed him by the shirt and shot him seven times in the back. While all this took place, Blake's three young sons were sitting inside the SUV.
Miraculously, Blake survived those gunshots, but is paralyzed, and likely to never walk again. After regaining consciousness, a heavily medicated Blake reportedly asked his father "Why did they shoot me so many times?" to which his father responded, "Baby, they weren't supposed to shoot you at all."

Police have claimed that a knife was found on the driver's side floorboard, with the suggestion that Blake was reaching for it in order to harm the officers. Why else would he have struggled so hard to get to the driver side door? Surely he didn't think he could actually get away?
The answer is that Jacob Blake likely didn't think much at all. Nor would anyone in that situation.
A taser delivers an electrical pulse of around 50,000 volts of low amperage electricity that courses through the victim's body, causing muscles to seize violently. While the low amperage of these pulses generally protects the victim's heart from stopping, the electricity has been shown to reach the brain, where it can disrupt memory and thought processing.
Blake was effectively shot with a brain disruption device. Coupled with the body's natural fight or flight response—which causes adrenaline and other stress-response hormones to flood into the bloodstream—chances are he couldn't really get a handle on what was going on. If his instinct was to fight, maybe that means he was in fact reaching for a knife.
But if his instinct was to run—to quickly get himself and his children away from a very real threat—then no amount of arguing or reasoning was going to stop him from trying to get in his car to drive off.
Rusten Sheskey, likewise, may have been acting on instinct. The kind of tunnel vision that takes over in stressful situations may have prevented him from considering the innocent explanation for why Jacob Blake would struggle so hard to open his car door. He may also have been influenced by the kind of implicit racial bias that causes many Americans to perceive Black men as more threatening.
Or maybe there was nothing "implicit" about his bias at all. Maybe Rusten Sheskey was one of the open bigots that have actively infiltrated law enforcement, and would have taken any excuse to shoot a Black man with the intent to kill.
We don't know, and may never find out. What we do know is that, even if Rusten Sheskey is charged with Jacob Blake's murder—so far, no charges have been filed—he is very likely to be acquitted.
So why has Kyle Rittenhouse already been charged with murder?
His crimes took place more than two days after Jacob Blake was shot, yet no officers have been charged in connection with the incident. The answer is closely tied to the controversial concept of "qualified immunity."
Among calls to defund and reform America's police in the months since the horrific killing of George Floyd, one of activists' primary demands is the elimination of qualified immunity, which essentially says that police officers cannot be sued for any reasonable actions they take as part of fulfilling their duties. That includes shooting unarmed civilians if the officers perceive them—for whatever reason—as an imminent threat.
While the protections only apply to civil suits, the reasoning behind them is closely related to the logic that tends to prevent police officers from being charged and convicted in these cases. But why doesn't Jacob Blake deserve the same leniency? Were the circumstances under which he fired his rifle substantially different than what led Rusten Sheskey to fire seven bullets into Jacob Blake's back?
Again, many of the details are unclear. While there are multiple videos documenting portions of the incident, we don't know exactly what led up to the moment when Rittenhouse shot his first victim, 36-year-old Joseph Rosenbaum.
Reportedly Rosenbaum threw a plastic bag at Rittenhouse, and attempted to take his gun from him—possibly fearing that Rittenhouse was not in a state of mind to handle his firearm safely. If that was his fear, it was soon justified when Rittenhouse shot Rosenbaum, wounding him in the back, hand, groin, thigh, and head.
Perhaps Rittenhouse was influenced by the rhetoric from conservative outlets like the Daily Caller, and from President Donald Trump himself—who famously said "when the looting starts, the shooting starts"—to view the Black Lives Matter movement and protesters opposing police brutality as violent terrorists who deserved to be met with violence. Is that different than how Rusten Sheskey was primed to view Jacob Blake?
In the aftermath, while Richard McGinniss, a videographer from conservative website The Daily Caller, did his best to tend to Rosenbaum's wounds, Rittenhouse ran from the scene, rifle in hand. He was caught on video telling a friend over the phone, "I just killed someone."
Video shows Kyle Rittenhouse in Kenosha on the night three protestors were shot www.youtube.com
In further video protesters pursued Rittenhouse, and when he fell to the ground, he pointed his rifle at them. Multiple protesters attempted to disarm him—and 26-year-old Anthony Huber struck him with a skateboard. But rather than surrender or drop his weapon, Rittenhouse shot at them, shooting Huber in the heart and nearly severing the arm of Gaige Grosskreutz.

When Rittenhouse got back to his feet and managed to get away from protesters, he found his way to the police, whom he approached while protesters called out for him to be arrested. Instead, Rittenhouse was allowed to return to his home in Illinois, where he was arrested the next day.
But why was he arrested at all? Why Kyle Rittenhouse and not Rusten Sheskey?
If anything, Rittenhouse has more of a claim to make in terms of self defense. While Sheskey may have suspected that Jacob Blake was reaching for some kind of weapon, Rittenhouse knew for a fact that his victims were reaching for a high-powered semi-automatic rifle—his rifle.
And in the case of Anthony Huber, he actually attacked him with a skateboard—which may even be considered "assault with a deadly weapon" in some cases. Of course his victims were more than justified in fearing what Rittenhouse would do with his weapon, but couldn't you say the same for Jacob Blake? Didn't he have reason to fear for his life and attempt to either run from the police or defend himself however he thought he could? So why is it different?
Is it a matter of duty? While Rittenhouse may not have been serving in any official capacity as a police officer, he clearly saw his role in Kenosha as very similar.
He had trained with the Grayslake Police Department through their "Public Safety Cadet" program for aspiring police officers aged 14-21. On social media he included the motto "Duty. Honor. Courage. Blue Lives Matter." with his profile picture. In an interview with the Daily Caller prior to the shooting—filmed by none other than Richard McGinniss—Rittenhouse referred to it as his "job" to use his gun to defend himself and others.
According to reports, local police treated Rittenhouse and other armed civilians seeking to take a stand against riots as their allies rather than vigilantes—handing out water bottles and giving them encouragement. This may explain why police allowed Rittenhouse to leave the scene after killing two men and injuring a third.
Clearly Rittenhouse believed himself—not without reason—to be serving alongside the police, and in a similar capacity. Did he lack the training to do so with the professionalism of an actual police officer?
The Grayslake Police Department's Public Safety Cadet program—according to an archived page—included weekly meetings, a background check, and firearms training. Considering the fact that several states require police officers to receive just twelve weeks of training—less than barbers or plumbers—Rittenhouse may have had nearly as much training as many rookie cops.
New video shows Antioch teen just before deadly Kenosha protest shooting | ABC7 Chicago www.youtube.com
Was it his age then? One of the charges against Rittenhouse is "possession of a dangerous weapon by a person under 18." Is there a switch that was going to flip when he turned 18 that would have made him more responsible? More capable of wielding deadly force with care? At 21 then? Or 31—the age of Rusten Sheskey?

No, the only thing that really separates the actions of Kyle Rittenhouse and the numerous police officers who have shot unarmed people in recent years is that when Kenosha Sheriff David Beth was encouraged to deputize the armed civilians going out amid protests, he refused. Does that make him a hero? No, but it does mean that his police department won't be sued—at least in this case.
Now Kyle Rittenhouse has been charged with homicide, and he or his parents will no doubt be defendants in a number of civil suits likely to be filed by the victims' families. Meanwhile, neither Rusten Sheskey nor the officers who tased Jacob Blake have been charged with anything, nor will his family be allowed to sue them.
So why doesn't Rittenhouse deserve the leniency that police receive in these cases?
Because no one does.
We should not accept the fact that armed men and women patrol our streets—often with the same defensive, violent attitudes as Kyle Rittenhouse—and can shoot unarmed civilians with impunity. It's time to end qualified immunity, shift police funding toward non-violent community services, and to make police accountable to civilian review boards with the power to actually punish them.
Short of that, we might as well give Kyle Rittenhouse his gun back, and set him and others like him loose on our streets.
How do you fall back on your "Well they shouldn't commit crimes!" argument now?
It was recently announced that the death of Elijah McClain, a 23-year-old Black man who died in 2019 while in police custody, will be reexamined by Colorado Officials.
Colorado Governor Jared Polis personally announced that his administration will reexamine the case. The governor wrote on Twitter, "a fair and objective process free from real or perceived bias for investigating officer-involved killings is critical." Polis added that he is having lawyers "examine what the state can do and we are assessing next steps."
Public confidence in our law enforcement process is incredibly important now more than ever. A fair and objective p… https://t.co/vGdBthXcQc

— Governor Jared Polis (@Governor Jared Polis) 1593032085.0
Undoubtedly, Gov. Polis was influenced by a petition, signed by over 2 million people, that urged him to reopen the case of Elijah McClain, who died after being put in a chokehold by police in a Denver suburb. McClain's case has been the subject of renewed outrage since the police murders of George Floyd, Breonna Taylor, and others; which were instrumental in sparking wide-spread protests against racist police brutality.

The facts surrounding Elijah McClain's death
On August 24, 2019, McClain was on his way home from a convenience store. He was wearing a ski mask, something his sister later told ABC affiliate, Denver7 that he often did because he "had anemia and would sometimes get cold." He had gone to the convenience store to buy his brother an iced tea.
Soon, McClain was stopped by three white officers because a 911 caller described a "suspicious person" in a face covering "waving their arms around." According to McClain's family, it was likely he was dancing to the music in his headphones, something he often did.
According to CNN, the police report said that McClain resisted officer contact and a struggle ensued. The audio from one of the officer's body cams depicts McClain clearly pleading with the officers, saying, "I'm an introvert, please respect the boundaries that I am speaking." He goes on to say that he was trying to stop his music to listen to them, and they promptly start to arrest him. One officer is heard telling another, "He just grabbed your gun, dude."
The full audio of McClain's arrest and subsequent murder can be listened to below. The transcript is as follows:
"I can't breathe. I have my ID right here... My name is Elijah McClain. That's my house. I was just going home. I'm an introvert. I'm just different. That's all. I'm so sorry. I have no gun. I don't do that stuff. I don't do any fighting. Why are you attacking me? I don't even kill flies. I don't eat meat. But I don't judge people, I don't judge people who do eat meat. Forgive me. All I was trying to do was become better... I will do it... I will do anything. Sacrifice my identity, I'll do it. I'll do it. You all are phenomenal. You are beautiful and I love you. Try to forgive me. I'm a mood Gemini. I'm sorry. I'm so sorry. Ow, that really hurt. You are all very strong. Teamwork makes the dream work."
In the video, McClain can be heard sobbing, vomiting, and then saying: "Oh, I'm sorry I wasn't trying to do that. I just can't breathe correctly." You can also hear one of the officers threaten to bring a police dog over to him and bite him for "messing around."
Later in the footage, one officer can also be heard admitting McClain had done nothing illegal.
Body Worn Camera Regarding the In-Custody Death of Elijah McClain youtu.be
As McClain sobbed, one of the officers put him in a carotid hold, or chokehold, and he briefly lost consciousness, according to an overview of the incident provided by police. Soon, paramedics arrived and administered ketamine to sedate McClain, according to the report. McClain then suffered a heart attack while in the ambulance and was taken off life support three days later. His family said at the time that he was covered in bruises.
The officers involved were cleared of all wrongdoing
After McClain's death, the Adams County district attorney, Dave Young, declined to file criminal charges against the officers involved, though they were placed on administrative leave briefly before being reinstated. In February 2020, a police review board declared, "[t]he force applied during the altercation to include the carotid control hold and the force applied during the altercation was within policy and consistent with training."
Additionally, in a coroner's report Forensic Pathology Consultant Dr. Stephen Cina was unable to definitively explain McClain's cause of death. Cina said that "the manner of death may be accident if it was an idiosyncratic drug reaction. It may be natural if [McClain] had an undiagnosed mental illness that led to excited delirium, if his intense physical exertion combined with a narrow coronary artery led to an arrhythmia, if he had an asthma attack, or if he aspirated vomit while restrained."
He continued, writing that Mcclain's death, "may be a homicide if the actions of officers led to his death (e.g. carotid control hold led to stimulation of the carotid sinus resulting in an arrhythmia)."
When CNN asked DA Young about the recent tidal wave of support for the reopening of McClain's case, Young said, "we've got to have the evidence ... so the petitions, the emails, the voicemails and Facebook attacks to me, my family, everyone else expressing their opinions ... is not evidence." Young added that he doesn't "condone the actions of the officers. I think they could've done things differently."
Who was Elijah McClain?
Since his death, Elijah has been described by family and friends alike as an "angel." He worked as a massage therapist, and seemed to be universally beloved by his coworkers and clients.
According to CBSN Denver, his mother, Sheneen McClain, described her son as life-giving. "I thank God that he was my son because just him being born brought life into my world, you know what I mean?" she said. "I know he was giving life to other people too.
According to the Sentinel, Eric Behrens, a friend of McClain's, said, "I don't even think he would set a mouse trap if there was a rodent problem."
A former client and friend of McClain, Marna Arnett, reportedly said he, "Was the sweetest, purest person I have ever met," She added, "He was definitely a light in a whole lot of darkness." Arnett also mentioned McClain's social anxiety to reporters, attributing his frequent mask wearing to both his anemia and a desire to create a separation from the world. "He would hide behind that mask," Arnett said. "It was protection for him, too. It made him more comfortable being in the outside world."
One of the most frequent anecdotes mentioned on social media about McClain is the fact that he often used his lunch breaks to play the violin for the dogs and cats in a nearby animal shelter, believing the music helped to calm them.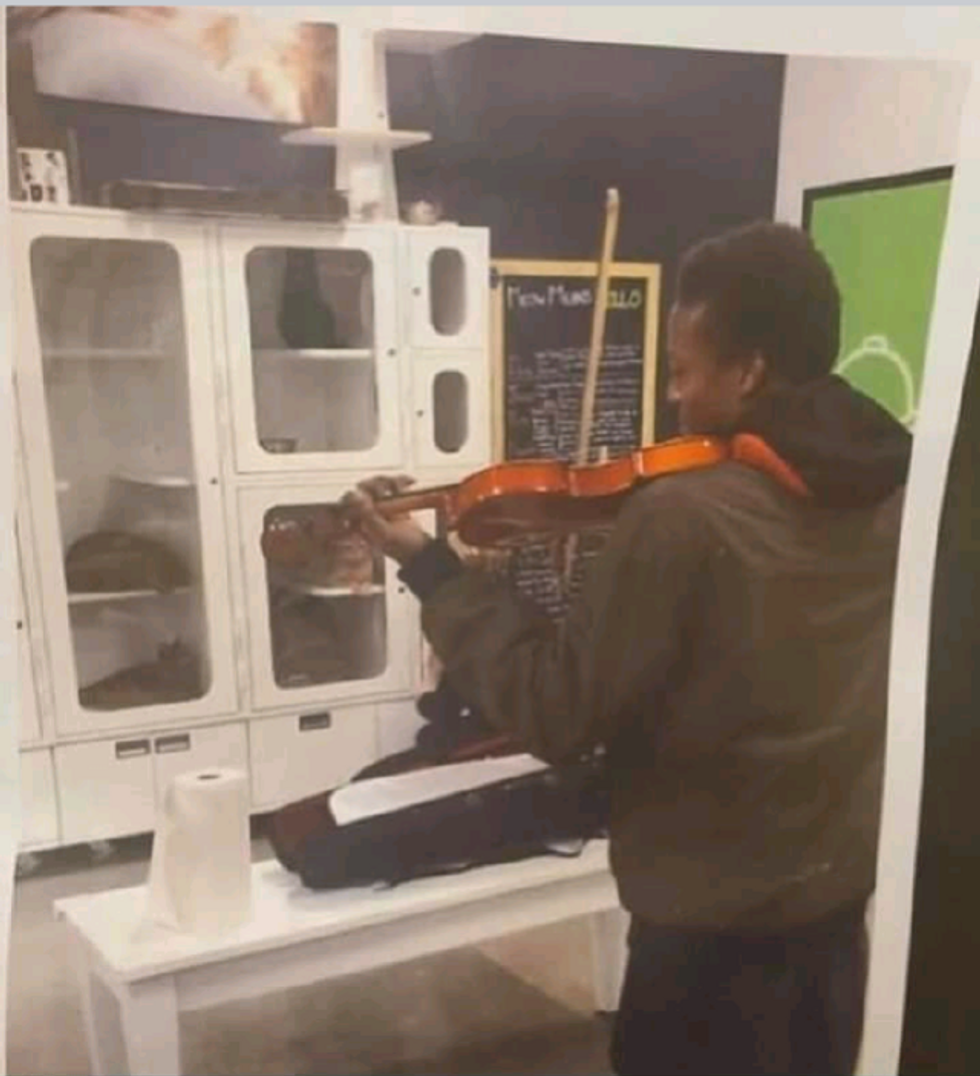 Elijah McClain playing the violin for cats
The more you read about McClain, the more obvious it becomes that he was a gentle young man, often anxious, but eager to love and be loved. The more you read about McClain, the more heart-wrenching his death becomes. Why? Because he didn't deserve it. Because he was a good guy who didn't commit a crime.
His supposed resistance was likely just the result of the extreme anxiety that would likely overtake most of us in that situation—particularly a young Black man; particularly a person who clearly already struggled with anxiety. The case of Elijah McClain makes white people particularly uncomfortable, because they can't justify it.
Why "All Lives Matter" people aren't sure what to say about Elijah McClain
"George Floyd was using counterfeit money," they argue. "The police had to restrain him!"
"Well, sure, Breonna Taylor was sleeping, but her boyfriend pulled a gun! The cops had to shoot!"
These are common tactics conservative white people use to deny the pandemic of racist police violence in America. Arguments like "Well, he shouldn't have committed a crime, then!" have long followed in the wake of anger over the death of a Black person at the hands of the police.
Even more common, white people comfortable with the status quo tend to talk about all the past transgressions of the Black victim in question, or use language to conjure images of a threatening individual, as if that justifies the police's behavior.
This line of thinking has become so prominent, that doctors CalvinJohn Smiley and David Fukunle conducted a 2016 study on the topic entitled "From 'Brute' to 'Thug:' the Demonization and Criminalization of Unarmed Black Male Victims in America". The study sought to investigate, "The historical criminalization of Black males and its connection to contemporary unarmed victims of law enforcement. And "to interpret how Black male victims are portrayed by traditional mass media, particularly through the use of language, in ways that marginalize and de-victimize these individuals."
Smiley and Fakunle found ample evidence that Eric Garner, a Black man killed by police officers in 2014 for selling cigarettes, was (posthumously) routinely characterized in the media as physically imposing (Garner was 350 lbs), unhealthy (Garner had a history of asthma), and inherently criminal.
They write, "The prominent references related to Mr. Garner's physical attributes were micro-invalidations and micro-insults regarding his behavior at the time of his death, which involved Garner vehemently defending his role in breaking up an altercation. Additionally were the micro-invalidations related to his past actions and lifestyle. This included criminality and the perception of being a 'hustler' due to his propensity to sell single cigarettes, which is illegal yet not a felony in New York."
Essentially, white people who lean towards the "all lives matter" argument are quick to brush off the discomfort that racist police violence forces them to feel. They do so by justifying a Black victim's death. This is often done by finding a reason the victim "deserved" to die, or finding reasons to excuse the police officer's actions.
In the case of Elijah McClain, this kind of justification is almost impossible. McClain was gentle and physically small, had a good job, was possibly neurodivergent, had no criminal history, and was literally just walking home from the store. The audio of his last moments depict a person trying desperately not to offend anyone, even in that dire and unjust situation.
If your argument in the past has been, "Well he just should have complied with the police officers and shown them the respect they deserve," then how do you reckon with the fact that some of McClain's last words were, "All I was trying to do was become better... I will do it... I will do anything. Sacrifice my identity, I'll do it. I'll do it. You all are phenomenal. You are beautiful and I love you. Try to forgive me."
His fear is palpable in the audio recording, as is his aggressor's brutality. Elijah McClain's murder cannot be explained away as anything other than a moment of racist abuse of power with deadly consequences.
Guilty people don't deserve to die either
The discomfort and reckoning that Elijah McClain's case has brought up in white people (specifically those who have been trying desperately to pretend that the police are a necessary force for good) can only be productive. But that's not to say that there is anything acceptable about justifying a person's murder at the hands of the police because of past criminality or any other factor beyond a clear and imminent deadly threat.
If Elijah McClain HAD committed a crime, it still wouldn't be justifiable that he died at the hands of the police. We have a system in place for assigning punishment to those who commit crimes. It's a deeply flawed system, but it at least affords people the right to a trial before they are sentenced. It is not the role of the police to kill—not even the guilty.
If McClain's story is making you uncomfortable because he was so obviously "one of the good ones" or because you can't explain away the police officer's actions, perhaps now is a good time for you to question your view of justice. Why do you think past crimes justify someone's death? Why do you think a police officer who "feels in danger" has the right to murder someone?
For that matter, why do you think any crime justifies someone's death? Have you ever stolen something small from a store? Has your child or loved one? Do you think they would deserve to die for that crime?
If we're going to put an end to America's decades-long history of police brutality, we're going to have to collectively rethink our culture of retributive justice. While Elijah McClain certainly didn't deserve to die, neither did the thousands of Black people—guilty of a crime or not—who have lost their lives to the brutality of the American justice system.
Elijah McClain's death should make you uncomfortable, but so should every other death at the hands of American policing.
Keep reading...
Show less
It's time for real allyship.
The protests being held in many American cities over the murder of George Floyd, Breonna Taylor, and Rayshard Brooks have drawn a lot of support and solidarity not just in the U.S, but across the world in general.
There has never been a better time to use one's voice–no matter how small–to speak up against racial injustice than now.

Online protests have also flooded social media, and they have proven more than ever to be an important part of the cause. In the last few days, we've seen several brands and companies get called out on Twitter for failing to embrace diversity in business, as well as for their unfair treatment of Black employees.
A few editors from some of the biggest publications have been called to step down after receiving backlash for their prejudicial treatment of Black people and other people of color in the past. Many corporations have put out statements admitting to their complicity in acts of racial bias and discrimination, rounding off these statements with a promise to "do better in the future."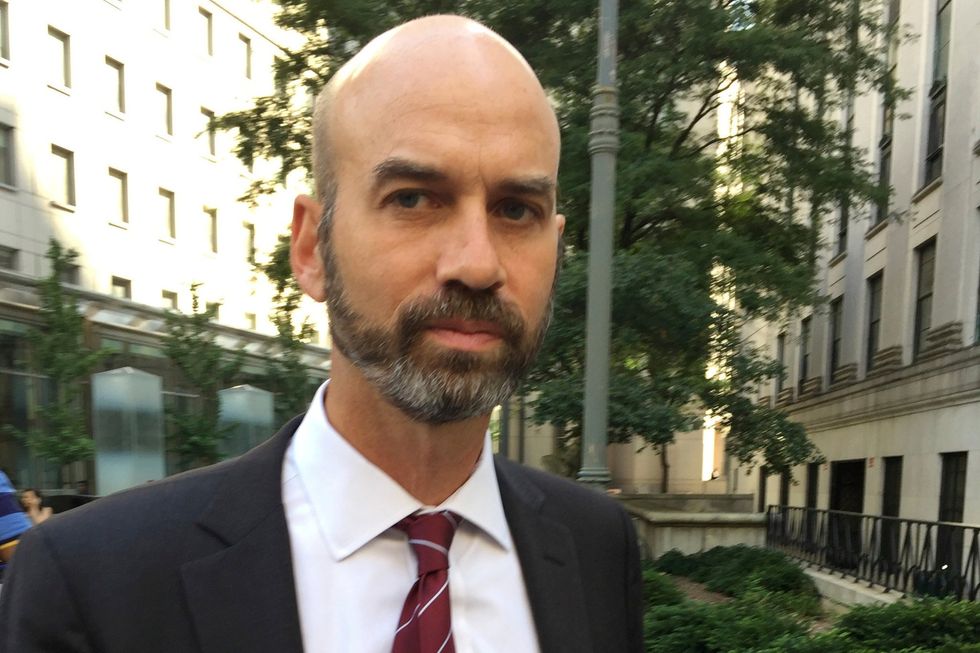 James Bennet, former New York Times Opinion Editor
But we have to ask: If these individuals, brands and companies claim to be allies, then why are they still failing to hire qualified Black people, or treat them just as equally as their white colleagues? Does there have to be constant backlash before Black people are given equal opportunities as their white counterparts? The cyclical pattern of showing support for Black people only when it's a trend, or when it's profitable to do so, is a dark side of allyship that has to end already.

Apart from the numerous instances of faux solidarity from self-proclaimed allies, there are certain aspects of online celebrity activism that have also been deemed counterproductive to the fight against racial injustice and inequality. From the blank dark squares of #BlackoutTuesday to the two-minute video of celebrities making firm vows to show their support against racism for the "I Take Responsibility" campaign, celebrities and public figures have been under fire for the obvious tone-deafness of their brand of activism.
We can agree that the criticism is rightfully deserved, considering the fact that a lot of celebrities have established their careers and made a fortune from incorporating Black culture into their work and selling their work to Black people. Yet, quite often, celebrities also fail to use their platform to speak up against racial injustice until it's socially beneficial to do so.
These are only a few out of the countless instances where the Black Lives Matter movement has been trivialized and reduced to a stream of hashtags that slowly fade away from our phone screens when the collective outrage subsides, along with the promises to encourage and promote racial equality that never materialize.
The first wave of Black Lives Matter protests that came up in 2014 after the death of Michael Brown in Ferguson, Missouri, led to a similar show of allyship, where legislators in almost every state proposed far-reaching changes in the way the police interact with the public, and many corporations jumped in with commitments to help rebuild communities that face racial and economic inequality. It's been six years since, and we're still having the same conversations about these issues. What happened to all the support that was promised?
Several social media users are currently taking advantage of the attempts to keep the momentum of online protests going and have begun to use activism as a means of gaining engagement and followers.
One Twitter user with the handle @jhaunay made a thread about the new, abhorrent trend of people who claim to be allies sharing memes about justice for the murder of Breonna Taylor. These memes, which are made under the guise of raising awareness for the arrest of the cops who killed her, attract thousands of retweets from users who are under the assumption that they're showing support.
The practice of performative allyship comes from a place of privilege, and it's counterproductive because it trivializes the Black Lives Matter movement, giving it a false appearance as a quest for pity. Public sympathy for Black pain is of no use when there's no accompanying desire to end racial injustice and discrimination.

White people who have failed to recognize and check their privilege cannot begin to fathom that the Black Lives Matter movement was born for the sake of the Black lives that have been lost, the friends and families of victims that directly face the trauma of losing a loved one, and the collective pain felt by Black people for having to exist in a system of oppression, injustice and marginalization. It's an unchecked privilege that makes a white man even consider the outrageous idea of applying to trademark the terms 'Black Lives Matter' and 'I Can't Breathe.'
As an ally, always remember that Black Lives do matter, even when voicing and living it out puts you in an uncomfortable position.
Keep reading...
Show less
While their founder is far from perfect, their model of policing could go a long way to easing tensions
When you imagine a 66-year-old white man taking justice into his own hand to face down looters in the ongoing protests of police brutality, it sounds horrible.
And in many ways Curtis Sliwa, the founder of the Guardian Angels, would probably meet your expectations. He is a brash Republican talk show host who is hoping to unseat Bill De Blasio as mayor in 2021. He's fond of dramatic publicity stunts, he's currently advocating for more aggressive police action to break up the protests...of aggressive police action, and he referred to the East Village Foot Locker he and his fellow Guardian Angels defended from violent looters on Tuesday night as "the jewel in the crown" because he assumes that rioters "were looking for the sneakers, limited edition." In other words, Sliwa is kind of gross, but his organization is surprisingly not.
An unarmed volunteer organization that Sliwa founded in the late '70s to patrol streets and subways in order to deter crime and fight off muggers, the Guardian Angels' ranks were mainly made up of young black and latino men who wanted to fight back against the crime that ravaged their New York City communities. While that vigilante impulse has often led to violence and further injustice, the fact that the Guardian Angels were armed with nothing but their signature red berets and "karate," operating mainly through collective intimidation to deter crime in their own communities, speaks volumes in their favor.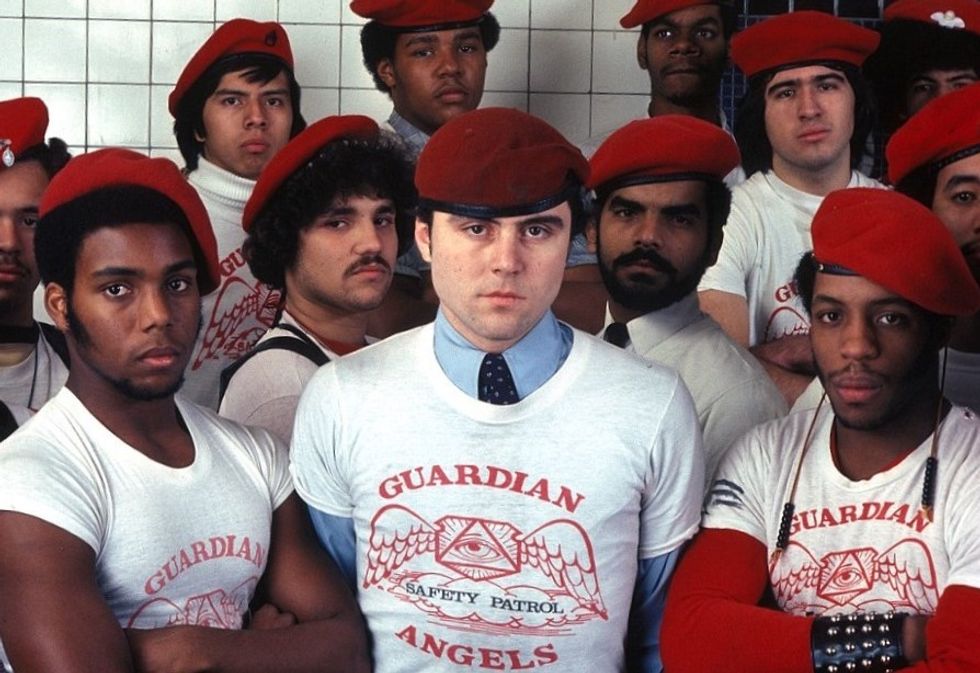 © Stephen Shames/Polaris
It's no wonder the organization grew so quickly, with chapters opening all over the world. Admittedly their prominence has declined somewhat in recent decades, but considering the adoption of hyper-violent vigilante symbols by many police officers, perhaps it's time for the Guardian Angel's model of vigilantism to have a resurgence—or perhaps even to be adopted for official police tactics.

Imagine a world where seeing a police uniform didn't automatically indicate someone with a gun. What if guns were reserved for certain officers and certain situations, and patrol cops relied on numbers, intimidation, and non-lethal force—including but not limited to martial arts (and maybe those sheets that Japanese police roll people up in)—to prevent, deter, and defuse violent crime. And imagine if those cops had close ties to communities they patrolled—actually lived in those neighborhoods—and had that added incentive to resolve situations peacefully.
While some cities have residency requirements for their police, these measures are often not enforced. And even in cities like New York, where police use of guns has declined, the constant threat of possible gun violence heightens tension between police and the communities they're intended to serve—especially when there is no sense that the officers have any investment in the neighborhoods they patrol.
Obviously the danger involved in fighting crime and arresting criminals shouldn't be downplayed—Sliwa and at least one other Guardian Angel were hospitalized with serious injuries following Tuesday night's confrontation with looters—and sometimes firearms are necessary in that work. But considering how many nations' police don't regularly carry guns—and the fact that pizza delivery is technically a more dangerous job—maybe the average beat cop can get by with a kevlar vest, a bodycam, and some martial arts training. Maybe these cops could be part-time or semi-professional—like an officially sanctioned neighborhood watch or citizen patrol with some training, arrest powers, and extra pocket money. If we dramatically scaled down the size of our traditional police forces, then we could afford programs with a less hostile approach to localized patrolling.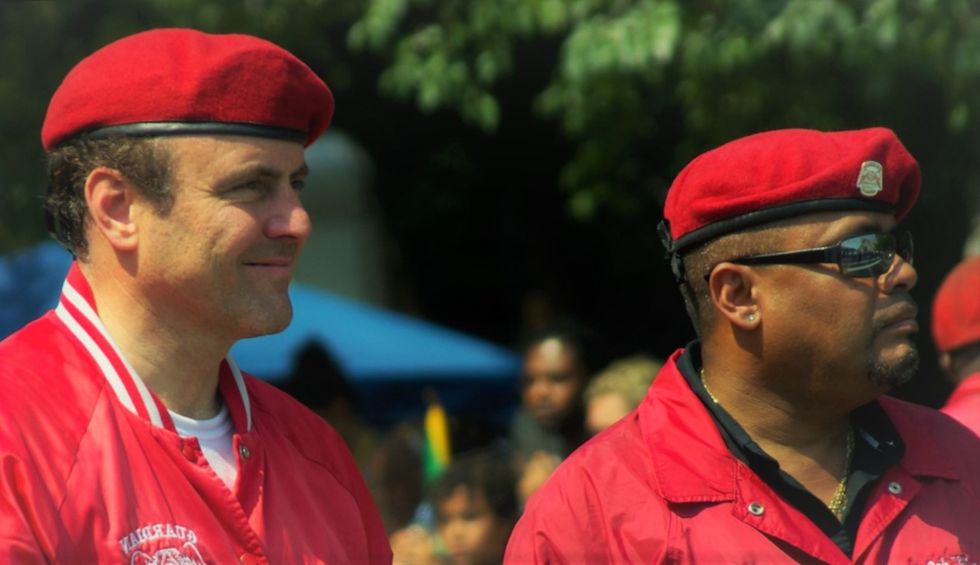 Curtis Sliwa and a fellow Guardian Angel survey the West Indian Day parade in Brooklyn, 2007
Needless to say this is in no way an endorsement of Curtis Silwa, who faked his own 1980 kidnapping and once had his members spraypaint "KKK" and "White Power" outside their headquarters for publicity. He was and remains a jackass, but even a jackass is entitled to a good idea now and then. And considering the current backlash against excessive force and the militarization of the police, maybe the Guardian Angels' model can point the way for some of the necessary reforms.

Would it solve everything? No. After all, Derek Chauvin didn't even need his gun when he killed George Floyd—only his knee. But we have to do something, and maybe treating our police more like red berets rather than green berets could begin to ease tensions in over-policed neighborhoods—and could start to heal the painful history of oppression and institutional violence in America's minority communities.