The science of COVID-19 explained by a doctor.
By Anthony Lee, MD
Faculty, Harvard Medical School
As we make our way through this pandemic, the large number of cases in the United States has caught our attention and prompted much discussion. In Part 8 of this series, we continue to see The US reliably decline in the number of daily deaths in most areas of the country with at least one exception being Georgia. Sweden has never shown a clear trend in decreasing cases and deaths. We will focus on these locations as they continue to be of interest. As mentioned in previous installments of this series, easing lockdown measures was expected to disrupt downward trends in cases and deaths. Georgia is the best example as they lifted lockdown measures on May 1st and we subsequently have 30 days of data.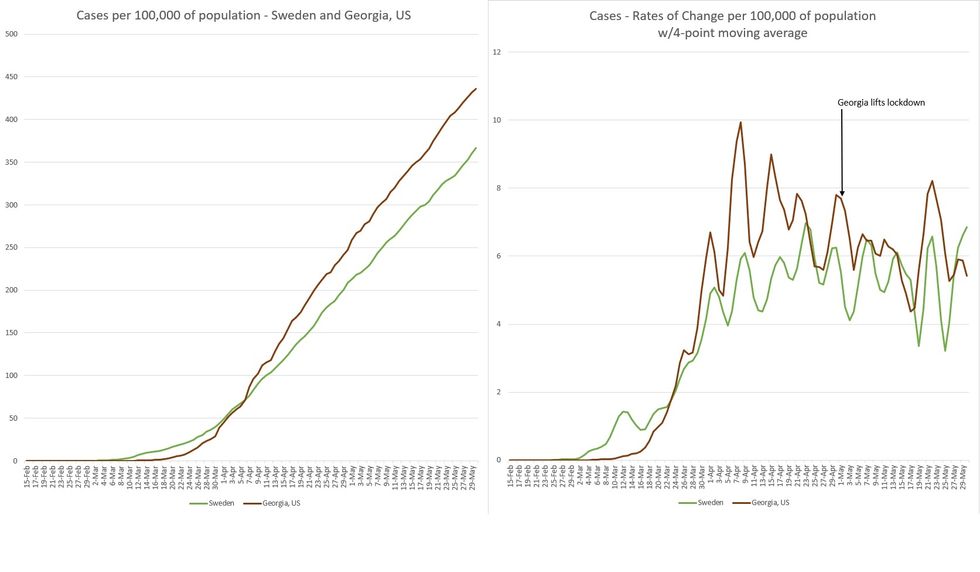 In Figure 1, we see the plots of daily new cases in Georgia and Sweden. On the left we see the cumulative number of cases per 100,000 population, and on the right, the number of daily new cases per 100,000 population. Three weeks after lifting of lockdown measures there appears to be a spike in Georgia's new cases. While in Sweden, daily new cases continue to plateau with a potentially larger surge in the midst.

Want to READ MORE?
COVID-19 Part 7: New York and Massachusetts Continue to Improve - Sweden Is Less Clear - Monitoring Georgia 17 Days After Lifting Restrictions
COVID-19 Part 6: Massachusetts Tops New York in Daily Casualties While Sweden Seems to Magically Improve
COVID-19 Part 5: Massachusetts Tops New York in Number of Daily New Cases Per Capita
COVID-19 Part 4: New York Cases Plateau, Massachusetts Surges, the Rest of the U.S. Is Relatively Flat
COVID-19 - Part 3: The Inflection Point
COVID-19 - Part 2: New York is the Epicenter of the World
COVID-19: Tracking the Changes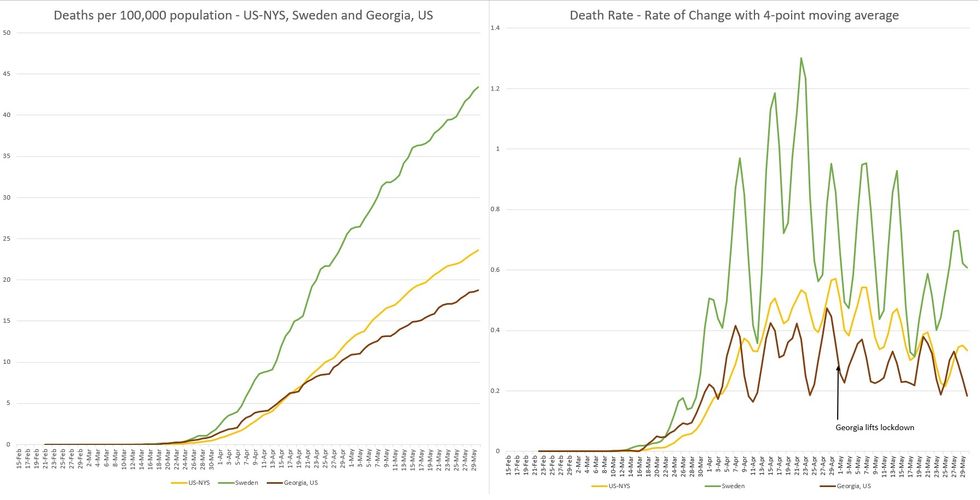 Figure 2 shows that for "The Rest of the United States" (US minus NYS or US-NYS), the maximum number of daily deaths occurred on 4/29 - 42 days after the start of social distancing, and this number continues to fall. In Georgia, daily deaths peaked on 4/27, 20 days after their peak of daily new cases. However, a more recent, lower peak appears on 5/22 - 3 weeks after lifting restrictions.
For Sweden, the maximum number of daily deaths (and new cases) occurred on 4/23 - 25 days after the start of their light social distancing measures. Since then these numbers have not shown a clear pathway to resolution, with the latest surge being larger than the previous one.
Sources of data: Worldometer.com, Georgia Department of Public Health,https://en.wikipedia.org/wiki/COVID-19_pandemic_in_the_United_States