Just don't listen to anything qAnon says.
If there's anything that's spreading faster than COVID-19 is spreading across the globe, it's rumors and misinformation about the virus.
You may have heard any number of things about the new coronavirus that originated in Wuhan, China by now, but odds are that only a fraction of that information is actually accurate. Here are the craziest, falsest, and just plain funniest coronavirus conspiracy theories.
Cocaine cures coronavirus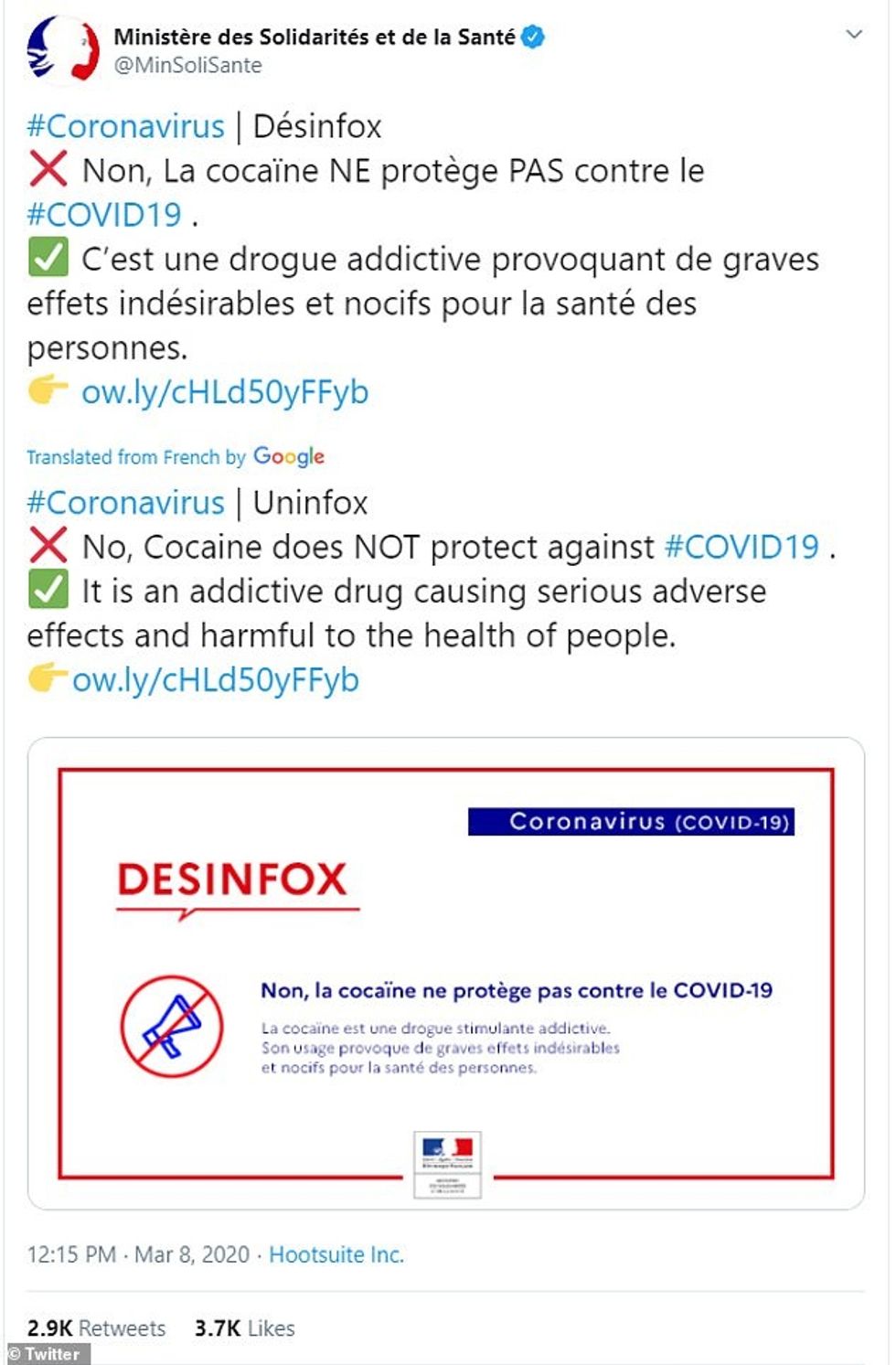 Thanks to a series of viral online posts, many French citizens apparently genuinely believed that snorting cocaine could cure them of COVID-19, forcing the French department of health to post an official notice stating that cocaine does not, in fact, cure anything.
Coronavirus is activated by 5G networks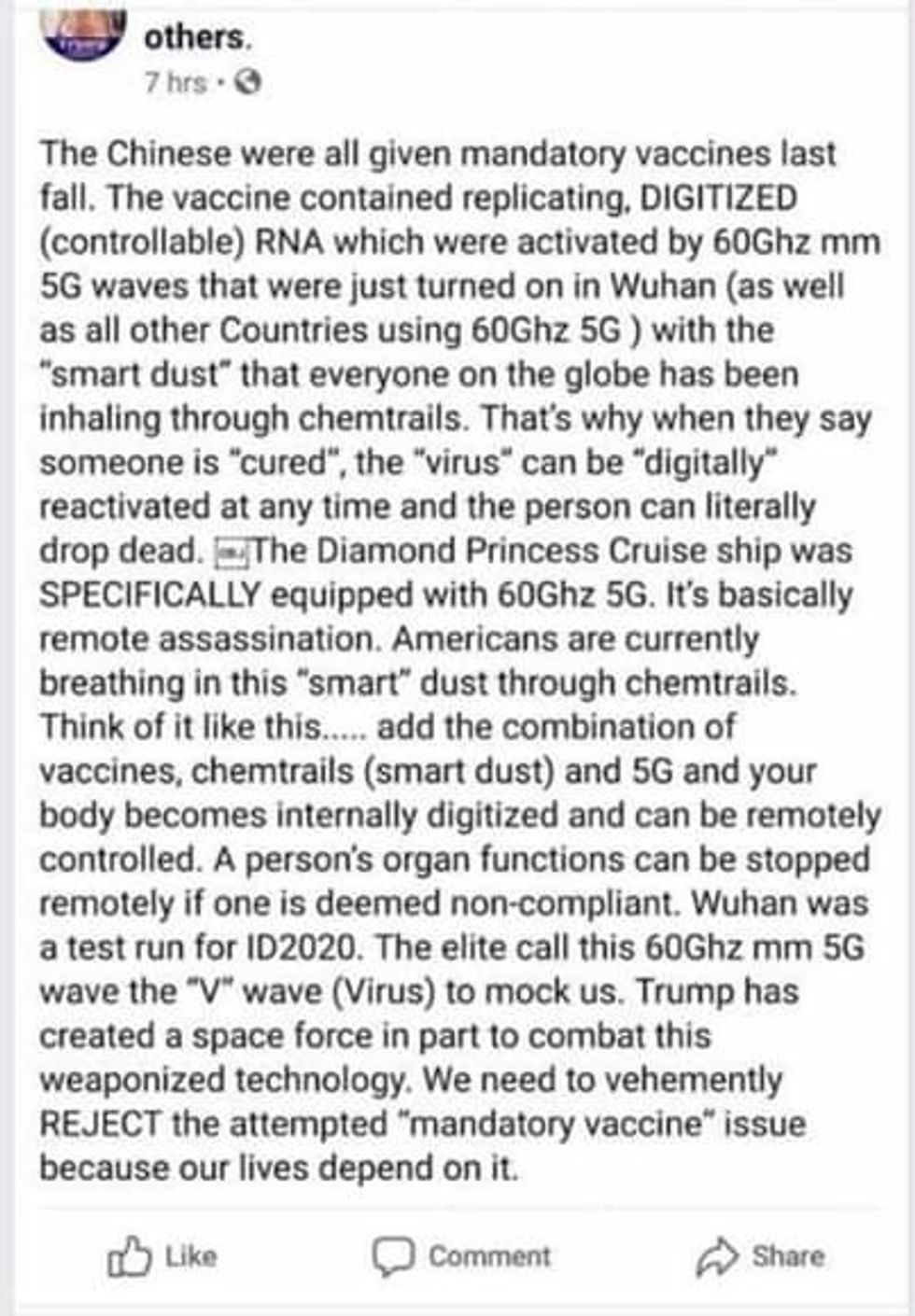 In the deep, dark wells of the Internet, a theory has emerged that claims the Chinese were given a mandatory vaccine last year that contained the coronavirus, which was then "activated" by 5G services in the country. At least Trump's space force is poised to step in.
Bill Gates invented the coronavirus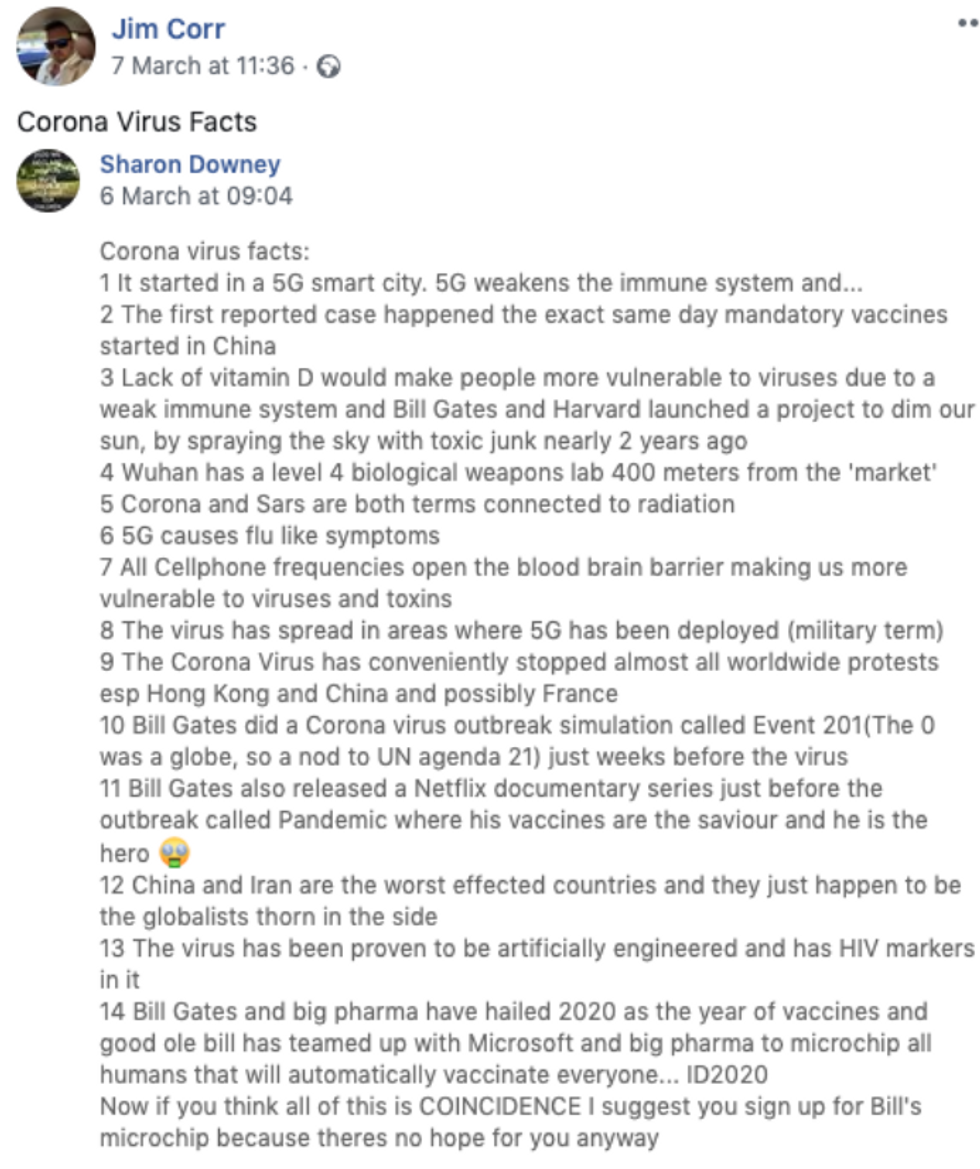 It's actually admirable that this list somehow manages to get crazier as it progresses despite starting with an assertion that Harvard and Bill Gates "weakened the sun". But seriously, people actually think Bill Gates is responsible for the virus.
The coronavirus was patented in 2015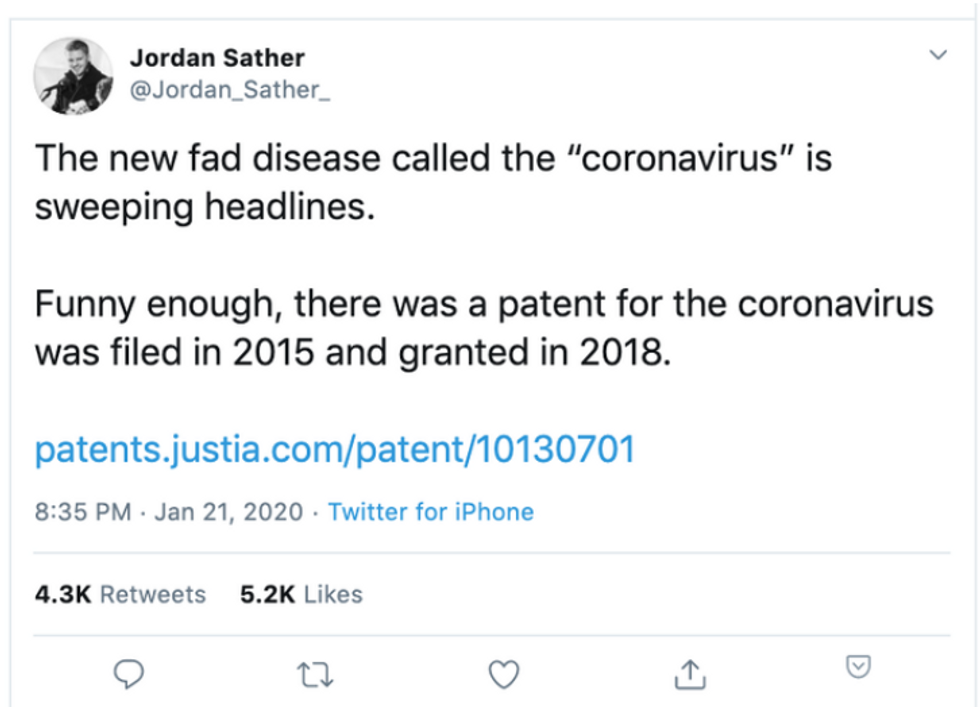 The patent referenced here was for a much weaker version of a coronavirus to be used as a vaccine on birds and other animals, and it has nothing to do with the current pandemic affecting humans. As Dr. Erica Bickerton, who studies avian pathology for Pirbright, told BuzzFeed News, "The name coronavirus is a whole family of viruses," she said. "Each of these viruses has their own characteristics."
American Democrats are responsible for the virus' spread to America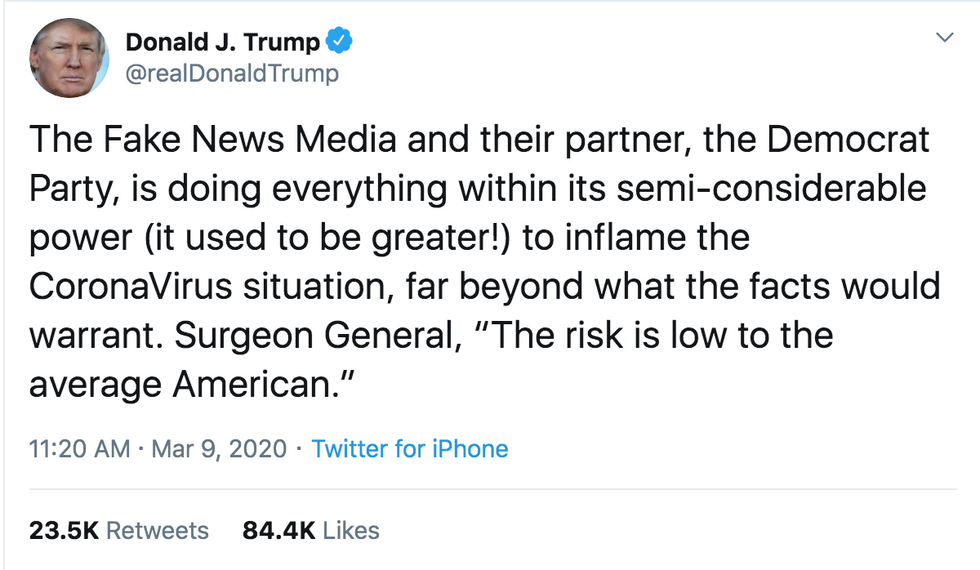 Donald Trump Jr. recently went on Fox and Friends and said, "For [Democrats] to try to take a pandemic and seemingly hope that it comes here and kills millions of people, so that they could end Donald Trump's streak of winning, is a new level of sickness," he said. "You know, I don't know if this is coronavirus or Trump derangement syndrome, but these people are infected badly." The President has jumped aboard his son's disinformation campaign, repeatedly conjecturing that the virus is a hoax by the Democrats to oust him from office.
The coronavirus was created in a lab in Wuhan
This particular theory has been shared widely across the Internet, and despite being utter nonsense, Republican Congressman Tom Cotton even espoused it on live television. As the Telegraph points out, "The coronavirus is just another zoonotic infection - a virus that jumped from animals to humans. The Spanish flu, HIV and Ebola are others."
Eating garlic can protect you from the coronavirus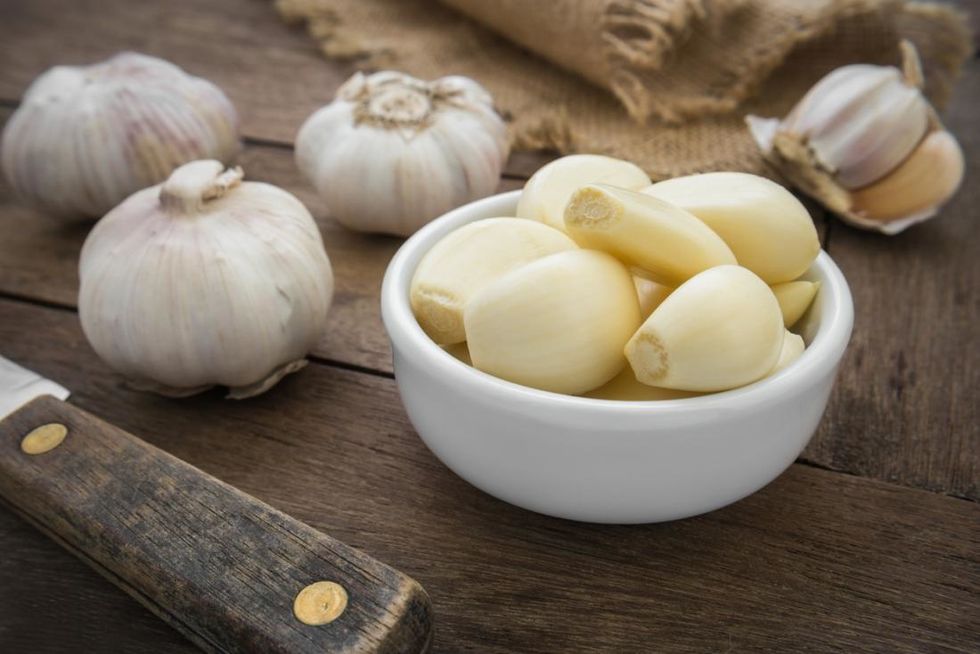 It's unclear where this one originated, but the WHO has been clear that "no evidence from the current outbreak that eating garlic has protected people from the new coronavirus."
Drinking bleach can protect you from the coronavirus

Don't drink bleach. Just don't ever drink bleach, even if someone is calling said bleach a "Miracle Mineral Solution." According to the Daily Beast, a "promoters of the pro-Trump QAnon conspiracy theory were urging their fans to ward off the illness by purchasing and drinking dangerous bleach. The substance—dubbed 'Miracle Mineral Solution' or 'MMS'—has long been promoted by fringe groups as a combination miracle cure and vaccine for everything from autism to cancer and HIV/AIDS."
Lies and cover-ups resulted in failed containment.
As the number of coronavirus cases worldwide rises to nearly 80,000, experts say the renamed COVID-19 is "almost certainly going to be a pandemic," with some saying it already is "in all but name."
But public information about the latest coronavirus, which describes a group of viruses that have crown-like spikes on the surface of the virus, has disseminated slowly considering the novelty of COVID-19. While coronaviruses are common and include SARS and MERS, they commonly cause mild to moderate respiratory infections similar to the common cold. However, COVID-19 is a new form that has caused serious respiratory illness in individuals with compromised immune systems, killing over 2,100 individuals worldwide. That's more than twice the number of deaths caused by SARS and MERS combined.
In China, where the virus originated and the vast majority of cases and nearly all of the casualties have taken place, the government has gone from being commended by the World Health Organization for their swift response to the disease to vilified by the international health community. Despite the government enforcing strict quarantines, the virus has continued to spread. What mistakes were made?
First, the Chinese government's strict media censorship resulted in Chinese citizens remaining unaware of the virus weeks after the government shared the information with the international community. Government officials not only limited the spread of information but downplayed the severity of the virus and its ability to spread from person to person. Writer Youyou Zhou of Quartz details how the doctor who first tried to warn the global community about the dangers of the virus, the late Dr. Li Wenliang, received a warning letter from the Wuhan police. Dr. Wenliang was one of eight doctors who were "reprimanded for [their] illegal activity of publishing false information online." He was forced to sign a statement that admitted he had violated the law and "seriously disrupted social order."
Zhou concludes, "The delayed information disclosure by the government combined with the population migration during the lunar new year caused the virus to spread quickly all over China. By Feb. 13, 1,383 have died from the virus around the world, and all except three took place within mainland China. On the same day, Beijing replaced the top officials of Wuhan and Hubei province with new party officials to contain the outbreak."
Second, when Dr. Wenliang himself was tested to have contracted the virus on January 11, officials should have publicly confirmed that the virus could be transferred from person to person. Instead, they issued straightforward denials that there was "no proof" that human transmission was possible. The Wuhan Health Commission only admitted how quickly the disease was spreading and its severity when confronted with irrefutable proof, with inconsistent numbers given in multiple reprots.
Third, when Dr. Wenliang, age 34, died on February 7 in Wuhan, the Chinese government took steps to suppress news of his death. Once word spread, the Chinese public grieved and expressed widespread frustration and anger at the government's censorship, which had proven to cost people's lives. On China's social media app Weibo, "We want free speech" trended with almost 2 million views before being censored.
Ultimately, the Chinese government's authoritarian censorship, cover-ups, and direct lies to the public resulted in failed containment of the coronavirus at the very outset. Global concerns about the virus have intensified due to doubts about the accuracy of the data released by the Chinese government.
But other global agencies are also being placed under intense scrutiny in regards to their response to the coronavirus. WHO Director-General Tedros Adhanom Ghebreyesus has been criticized for waiting to declare the outbreak a global health emergency.
Now, with a global pandemic "almost certain," government lies and cover ups have irrefutably resulted in an international health risk that may have been preventable if the Chinese government had practiced transparency and put human lives above party lines.
This year's flu virus is still slated to be a bigger threat.
It's believed that Chinese officials have not exactly been forthcoming about the true extent and severity of the coronavirus, a respiratory illness whose death toll in mainland China has now exceeded that of S.A.R.S. The Chinese foreign ministry has criticized the U.S.'s response of temporarily banning foreign individuals who had traveled in China from entering the country. Chinese officials initially said that U.S. health officials "inappropriately overreacted" and spread unnecessary fear. However, on Monday (February 3) China's elite Politburo Standing Committee admitted that there were "shortcomings and difficulties in the response to the epidemic," according to China's Xinhua news agency. The government said it "urgently" needed medical supplies, such as protective suits and masks.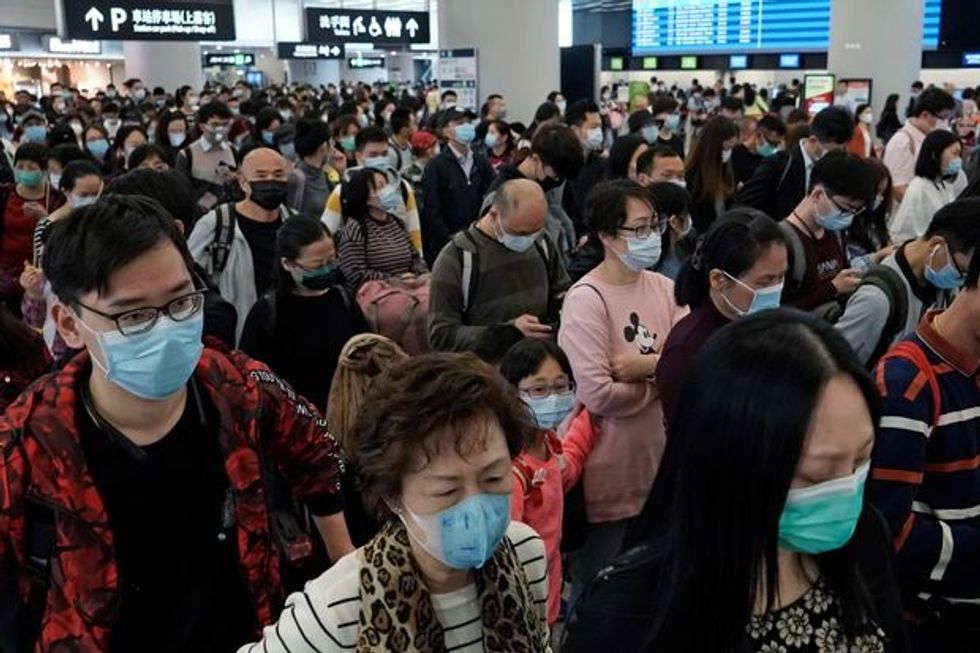 When the World Health Organization (W.H.O) declared the virus a "public health emergency of international concern," they said its organization "continues to have confidence in China's capacity to control the outbreak." They stated that their concern is about the virus' potential to reach countries with poor health care. In such an environment, the disease could spread rapidly, "infecting millions of people and killing thousands," according to The New York Times.
With over 20,000 cases reported in China and 170 more reported in over 25 other countries, the Centers for Disease Control and Prevention (C.D.C.) has been rapidly updating their findings on the respiratory disease. 11 cases have been confirmed in the U.S. (including 3 in California, 2 in Illinois, 1 in Arizona, 1 in Massachusetts, and 1 in Washington). More cases are currently under review. As of this writing, three New York cases have been sent to the Center for Disease Control and Prevention Laboratory in Atlanta, which is currently the only facility that can confirm a case of coronavirus. The New York City health commissioner has called the virus's presence in the city "inevitable."
But what does that really mean?
The coronavirus is distinct in a few ways, originating in animals in Wuhan, China but demonstrating the ability to spread from person to person once someone is infected. Symptoms present as common flu symptoms, including fever, dry cough, shortness of breath, aching muscles, and fatigue. There have been indications to suggest that individuals infected with the coronavirus are contagious before they show symptoms, but that has not been widely confirmed.
Out of over 20,000 confirmed cases spread across more than two dozen countries, there have been fewer than 500 deaths, with two deaths occurring outside of China so far. Most people infected have been elderly or those with compromised immune systems, and there have been full recoveries from the virus.
In fact, the first American patient confirmed to have the coronavirus has been released from the hospital and is staying in isolation in his home. "I am at home and continuing to get better," the nameless man said in a statement, "I ask that the media please respect my privacy and my desire not to be in the public eye. I would like to thank the doctors, nurses, and entire team at Providence who cared for me. I appreciate all of the concern expressed by members of the public, and I look forward to returning to my normal life."
The flu is more dangerous.
Meanwhile, public health officials underline that the coronavirus presents a low health risk to Americans. More dangerous is influenza B, or the common flu. The C.D.C. reports that 68 children have died of the flu this year, along with an estimated 10,000 adults! Todd Ellerin, the director of infectious diseases at South Shore Health in Massachusetts, told Mother Jones that the flu is "massively outstripping" the spread of the coronavirus in the U.S. He added in a a blog post for Harvard Medical School, "In the US, the average person is at extremely low risk of catching this novel coronavirus. This winter, in fact, we are much more likely to get influenza B—the flu—than any other virus: one in 10 people have influenza each flu season."
Studies find that millennials have the highest incidence of mental health problems.
October 10th marks the World Health Organization's (WHO) official observation of World Mental Health Day, with this year's theme focusing on "Young People and Mental Health in a Changing World."
In a prelude to this week's commemoration, Lady Gaga and the WHO director-general Tedros Adhanom co-wrote an op-ed on suicide, stigma, and mental health services for The Guardian. "By the time you finish reading this," they warn, "at least six people will have killed themselves around the world."
Gaga and Adhanom opine that "despite the universality of the issue, we struggle to talk about it openly or to offer adequate care or resources." Indeed, a shameful legacy of social stigma has shadowed mental health sufferers, allowing society to "ostracize, blame, and condemn" them due to a historical lack of tools and understanding. The piece outlines the WHO's hopes that countries around the world will encourage their citizens to openly discuss psychological issues and open channels for non-judgmental communication and mental healthcare. With Lady Gaga penning a condemnation of the world community that gives less than 1% of global aid to mental health, we can appreciate a public figure using her platform to highlight a crucial social issue — but it's another diagnosis without a cure.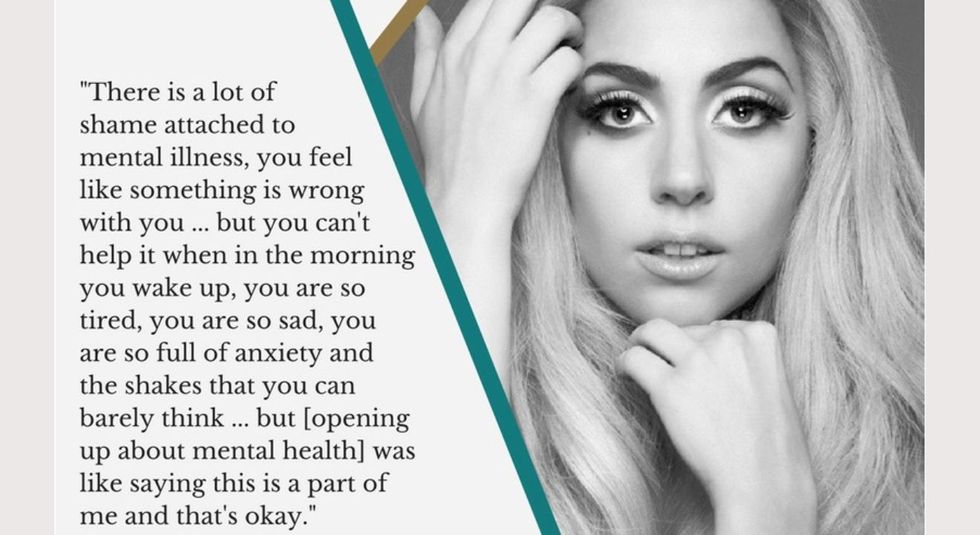 Entity Mag
Millennials, in particular, are very accustomed to discussing their struggles with mental illness, more so than any generation prior. With Selena Gomez recently entering treatment after an "emotional breakdown," Kanye West announcing he's off medication, and Demi Lovato publicly struggling with long-term "emotional and physical issues," there's a greater issue in the headlines than just the cost of a high-profile life. At least every celebrity blurb about a high profile figure battling mental illness opens another discussion about mental health.
Yet the core of the problem eludes us. While having those conversations makes progress towards destigmatizing psychological issues, various studies of the last year suggest that we still don't know how to have those conversations, and we might not be fully equipped to handle them when we do.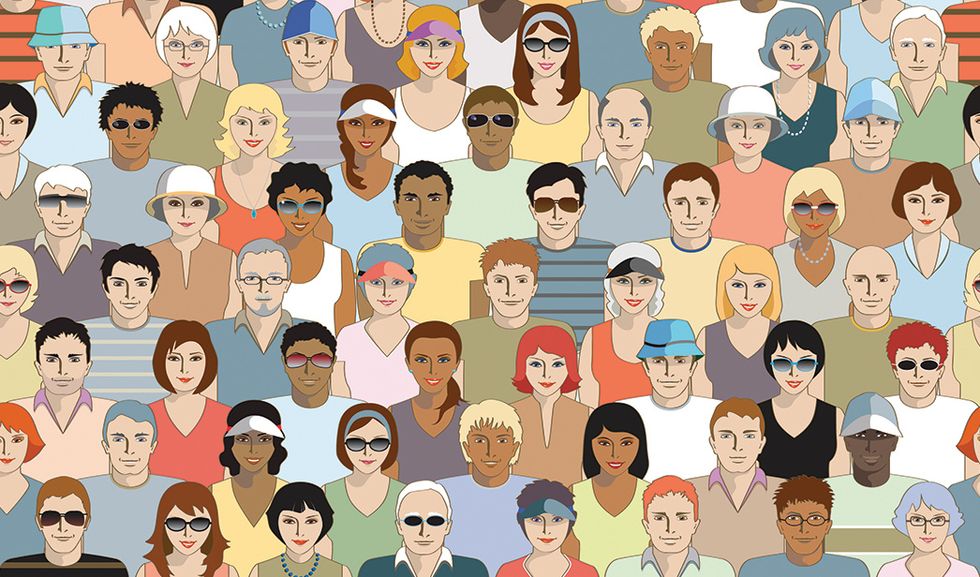 CMO
An assortment of studies in the past year have prefaced the WHO's focus on young people to highlight that millenials are the "most anxious generation" when compared to their predecessors dating back to the baby boomers (born 1945-64). While it's easy to malign millennials for their culture of abundance, youth centrism, and self-styling on social media, science has been weighing in that these privileges come at a cost. According to the American Psychological Association (APA), 12% of millennials have received a medical diagnosis of an anxiety disorder. Gaga and Adhanom cite in The Guardian, "One in four of us will have to deal with a mental health condition at some point in our lives," but they highlight, "Our young people are particularly vulnerable, with suicide being the second leading cause of death globally among 15-29 year olds and half of all mental illness beginning by the age of 14."

Statistics point to possible causes including lower employment rates, larger student loan debts, and decreased home ownership among millennials. However, other studies on the qualitative stressors on young people note epidemic detriment from "multidimensional perfectionism." Many millennials are the first to come of age under the unprecedented pressures of social media "to measure up to an ever-growing number of criteria," aiming for unrealistic perfection in work, school, romance, the arts, and an illustrious online persona. Of course "striving to reach impossible standards increases the risk of anxiety, depression, an eating disorder, and even suicidal ideation."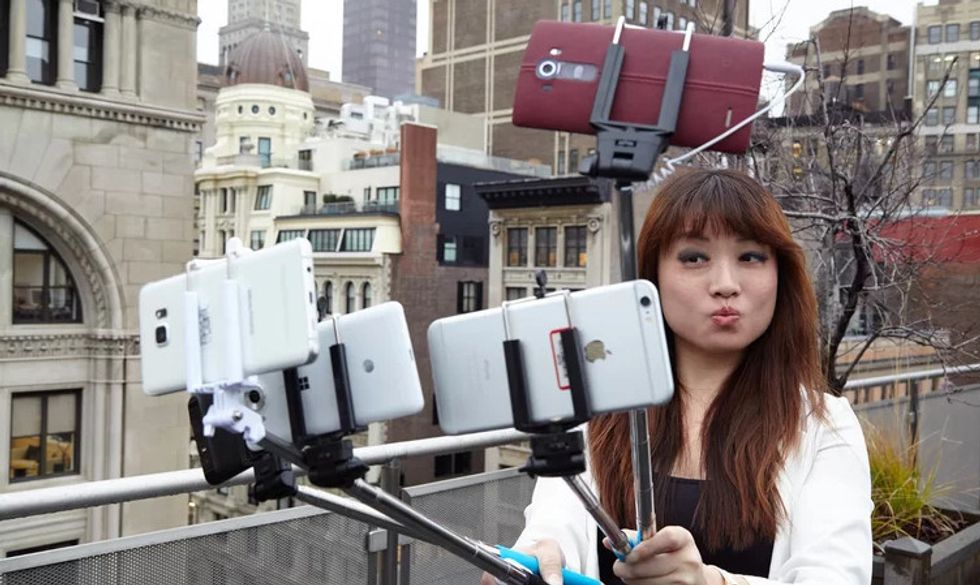 Curious Mind Magazine
While open dialogue about psychological issues is the first step to addressing them, we still risk being distracted by the celebrity gossip, the tragic suicide, or the newest controversial study that prompts us. How well we manage those conversations towards productive insights into stress management and coping strategies is the aim of our openness and turning point in improving world mental health. Rather than rumination (which can turn into commiseration) about mental health problems, there is the enduring truth that, "Stress is inevitable. You can either crumble and fall prey to it or ride it out," as neuropsychiatrist Dr. Era Dutta underscores in his work specializing in millennials' mental health.

Lady Gaga and Adhanom rally in their essay, "We can all be a part of a new movement – including people who have faced mental illness themselves – to call on governments and industry to put mental health at the top of their agendas." But we as individuals self-direct our conversations and manage our expectations — we know the diagnosis is too much silence, now how do we handle the cure?
Meg Hanson is a Brooklyn-based writer, teacher, and jaywalker. Find Meg at her website and on Twitter @megsoyung.
What's next for Monsanto?
Monsanto has been accused of not revealing the hazards of using its Roundup™ weed killer.
Research has shown a potential link between the glyphosate in Roundup and cancer. In addition, glyphosate may cause kidney and liver problems. Although an estimated 4,000 lawsuits have been filed against Monsanto, Dewayne Johnson is the first person to be awarded $289 million in damages after he developed terminal cancer, which he attributed to being exposed to Roundup as a school groundskeeper. What does this landmark lawsuit mean for the future?
More Lawsuits Against Monsanto
A federal judge has already ruled that lawsuits against Monsanto from 400 plaintiffs can move forward to trial. U.S. District Judge, Vince Chhabria, concluded that a jury should decide if glyphosate causes cancer in their cases. Ranging from landscapers to farmers, the plaintiffs claim that Roundup causes non-Hodgkin's lymphoma, which Monsanto denies. Considering Dewayne Johnson's successful case against Monsanto, it's reasonable to expect that the company's future will include hundreds and possibly thousands of lawsuits.
Bayer Will Appeal the Verdict
Bayer paid $66 billion to acquire Monsanto, and the merger will eliminate Monsanto's name. However, Bayer plans to appeal the $289 million verdict in the Dewayne Johnson case and wants a judge to reverse the jury's decision. If reversing the ruling fails, then Bayer plans to take the case to California appellate courts. In addition, Bayer has indicated it's not willing to settle out of court. It appears the company is prepared for years of lawsuits.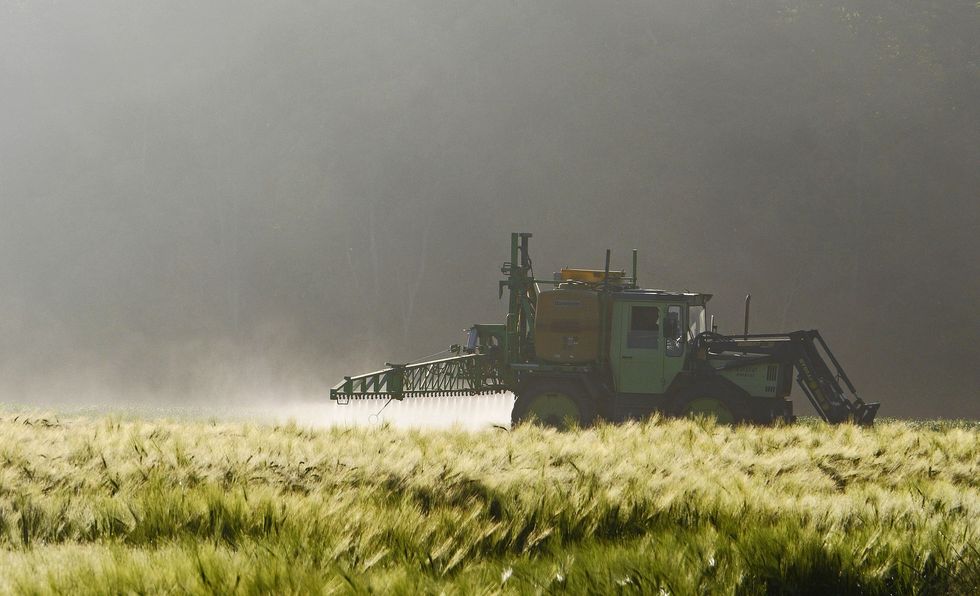 Roundup May Disappear From Store Shelves

Bayer is allegedly considering the option of removing Roundup from common gardening uses but may continue to sell it to farmers. This means that the average consumer may not be able to buy it in the future. It's important to note that the company hasn't confirmed these plans.
Roundup Bans May Increase
Roundup is already banned in several countries, and more may follow suit in the near future. Roundup is currently banned in Argentina, Belgium, El Salvador, Netherlands, and Sri Lanka. Germany and France have also announced their intention to ban the weed killer, and some stores have already started to remove it. In the United States, multiple cities and states (parts of Colorado, California, and Florida) around the country have glyphosate restrictions or bans.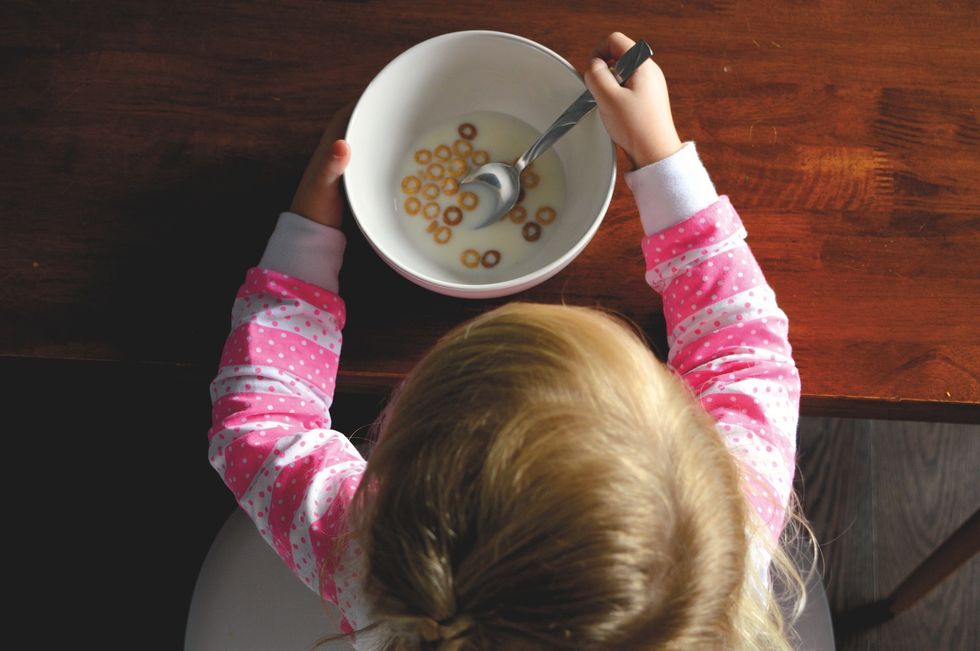 Concerns About Glyphosate in Food Will Grow
The lawsuit against Monsanto and the bans around the world are making people more aware of Roundup. Concerns about glyphosate, the active ingredient in the weed killer, showing up in food are also on the rise. A recent report from the Environmental Working Group (EWG) found Roundup in popular cereals, granola, and oats. Even some of the organic products tested positive for glyphosate. About 75 percent of all the samples tested by EWG had levels that were higher than the group considers safe for children. The EWG is encouraging people to demand that the United States Environmental Protection Agency (EPA) restrict Roundup use.
The Dewayne Johnson v. Monsanto Company was the first case to go to trial, but it will not be the last. You can expect to see more Roundup lawsuits and bans in the future.