The sordid history of Trump's NatSec advisor.
Picture the most gung-ho Warhawk in modern history, a man who's made a career out of calling for military invasions of foreign countries, forced regime changes, ends to peace treaties.
Do you imagine a hardened war veteran with military accolades who's seen the cost of war and knows its price? Or a nationalist who's fine throwing human life away from the safety of his armchair, despite doing everything in his power to avoid going off to war himself as a youth? If you picture the latter, you've got Trump's national security advisor John Bolton.
John Bolton did serve in the National Guard and Army Reserve. But he did so in order to avoid being drafted for the Vietnam War, essentially biding his time stateside out of fear of real battle. "I confess I had no desire to die in a Southeast Asian rice paddy. I considered the war in Vietnam already lost," wrote John Bolton in his 25th college reunion book.
Speaking from a position of privilege might be Bolton's greatest asset, though. Those who have seen war generally speak about it in more tempered measures, while Bolton reached his position through pushing extremes.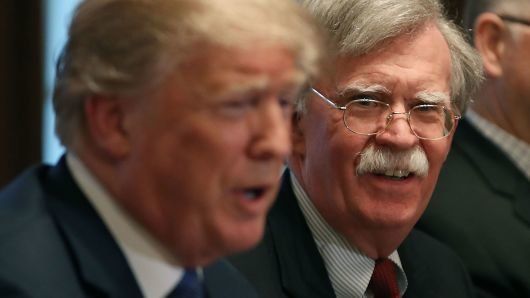 fm.cnbc.com
Throughout his long career, Bolton has worked under multiple right-wing administrations, from Reagan to W. Bush to Trump. During this time, he's advocated again and again for war, pushing for a U.S. invasion of Iraq dating back to shortly after the first Gulf War, calling for the "end of North Korea," and advocating to terminate the Iran Nuclear Deal. He has also expressed strong nationalistic views against the concept of the United Nations, stating, "There is no United Nations. There is an international community that occasionally can be led by the only real power left in the world, and that's the United States, when it suits our interests and when we can get others to go along."

John Bolton's greatest supporters tend to be similarly-minded radicals like Dick Cheney and Donald Trump, while his detractors tend to be anyone more moderate. Even fellow Republicans denounce Bolton. Condoleezza Rice resisted Cheney's efforts to make Bolton her deputy when she was secretary of state, instead passing him off as a UN ambassador. During the nomination hearing for that job, conservative Republican intelligence official Carl Ford described him as a "kiss-up, kick-down sort of guy" who "abuses his authority with little people." Even George W. Bush would later say he regretted Bolton's appointment, allegedly saying he didn't "consider Bolton credible."
And yet now, Bolton is the national security advisor to Donald Trump, a fellow draft dodger with a known disregard for human life. To Trump, it doesn't matter that Bolton is reviled by the international community. It doesn't matter that Bolton is considered radical, largely disrespected even within his own party. For Trump, Bolton is the right man for the job.

---
Dan Kahan is a writer & screenwriter from Brooklyn, usually rocking a man bun. Find more at dankahanwriter.com
---
Nine federal departments will shutdown at midnight on Friday due to Congress' inability to settle funding disputes, including Trump's demands for $5 billion for his border wall.
With Trump predicting that "chances are probably very good" that the government will shut down at midnight, he's reneged on his proud claim that he'd "totally be willing" to "take the mantle" of a shutdown. Instead, he said on Friday, "Now it's up to the Democrats as to whether or not we have a shutdown tonight."
Congress has been unable to pass funding packages for seven federal agencies, mainly due to Trump's stubborn demands for $5 billion to build his border wall. With funding deals expiring at midnight tonight, hundreds of thousands of federal employees will be either out of work or expected to work without pay until the government resumes full function in 2019.
Among those affected are more than 420,000 employees required to keep working through the shutdown, including those in the Department of Homeland Security, the FBI, the DEA, and Forest Service firefighters. With dozens of federal agencies expected to close down, national parks, museums, and zoos may be shuttered, with housing agencies warning that loan processing and approvals may be significantly delayed.
Aside from disrupting government services, shutdowns worsen deficits with financial losses in productivity. The longest government shutdown took place under the Clinton Administration, lasting 21 days and costing approximately $1.4 billion. The 2013 shutdown under Barack Obama lasted 16 days and cost about $2 billion.
Trump took to Twitter to blame Democrats for their refusal to offer more than $1.3 billion to fund the border wall. He posted, "If the Dems vote no, there will be a shutdown that will last for a very long time." After Congress voted and Trump still did not receive his inflated amount of $5 billion, he followed up with, "The Democrats now own the shutdown!"
As of early Friday evening, Congress had made no progress in settling the border wall dispute. Government agencies had been alerted on Thursday to prepare to freeze their functioning for an indeterminate amount of time.

"I hope we don't [shut down]," Trump told the press on Friday afternoon at a bill signing event at the White House. "But we are totally prepared for a very long shutdown and this our only chance that we'll ever have in our opinion, because of the world and the way it breaks out, to get great border security."
In a closed vote House Democrats spotlit Pelosi with overwhelming support, 203-32.
Nancy Pelosi secured the Democratic nomination on Wednesday, regaining her position as Speaker of the House. Pelosi, 78, ran unopposed on a secret ballot when the House Democrats cast a 203-32 vote in a closed door meeting.
Still, Pelosi was opposed by a small faction who charge that the Californian lawmaker is too divisive a figure to represent the party. Rep. Brian Higgins (D-N.Y.) was an initial detractor, but he turned to voice his endorsement of Pelosi last week.
Higgins told reporters, "Democracy is a sloppy mess. ... There are a lot of differing views, even within the Democratic Caucus. The ability to pull that together is not clean and efficient all the time, and everyone has laid on the table what they are looking for." He added, "Everyone here, 435 members in the House, has one legislative tool and that is their vote."
The House of Representatives will elect a new speaker on January 3. Even with Democrats holding a majority of the 435 seats, it's still possible for Pelosi to lose the final vote; those 32 opposers are enough to tip the scales if Republicans unanimously reject her. Pelosi has until the new year to win over more representatives like Higgins.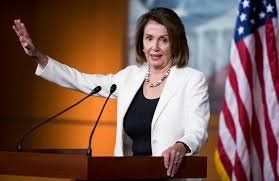 Time Magazine
Meg Hanson is a Brooklyn-based writer, teacher, and jaywalker. Find Meg at her website and on Twitter @megsoyung.

The WHCA will not invite a comedian to speak at the 2019 dinner due to "unusual moment" in history when Trump's threats to freedom of the press aren't funny.
According to The White House Correspondents' Association, tensions between the press and the Trump Administration are nothing to joke about. This year's annual fundraising dinner, which traditionally invites a comedian to roast the president and the press corps, will instead feature Ron Chernow, noted biographer of Alexander Hamilton, as its speaker.
Oliver Knox, the association's president, announced Chernow's selection on Monday, stating, "As we celebrate the importance of a free and independent news media to the health of the republic, I look forward to hearing Ron place this unusual moment in the context of American history."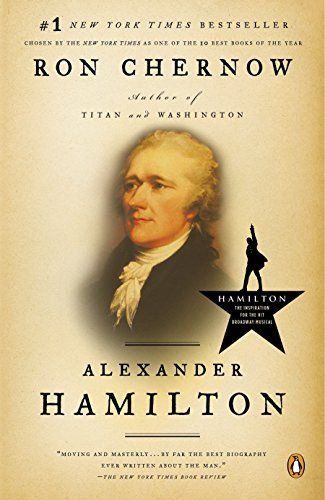 Town & Country Magazine
Ironically, it's Trump's expected absence from the event that worries the association. Another facet of the annual tradition is for the seated president to speak first, jest with the press corps and perhaps poke fun at himself, and then the comedian parries back in their own speech. However, Trump has declined to attend the last two years, giving no indication that he plans to appear at the April 27th event with Chernow. Knox has noted that the president's absence can skew the tone of the room into feeling antagonistic toward the current administration, rather than a good-humored acknowledgement of differences.

In fact, last year's event (sans Trump) featured Michelle Wolf, who incurred the president's wrath and general backlash for her remarks. For instance, Wolf singled out White House reporters for empowering Trump, stating, "You helped create this monster, and now you're profiting off of him." Later Trump took to Twitter to denounce Wolf as a "filthy 'comedian'."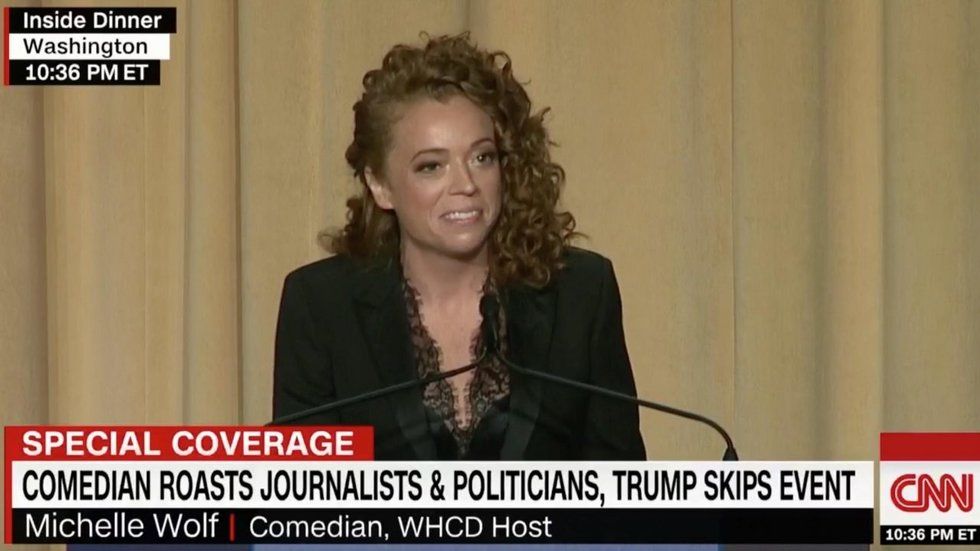 CNN - The Blaze
This year, Chernow is clarifying that "he's never been mistaken for a stand-up comedian," but he's aware of the "unusual moment" Knox speaks of, in terms of the fraught relationship between the Trump administration and the press. High points of tension include the widely publicized legal battle between CNN and the White House after CNN correspondent Jim Acosta's press pass was revoked and then reinstated by a judge after his network took the matter to court.

Stuck in the middle, Chernow released a statement, "The White House Correspondents' Association has asked me to make the case for the First Amendment and I am happy to oblige. Freedom of the press is always a timely subject and this seems like the perfect moment to go back to basics. My major worry these days is that we Americans will forget who we are as a people and historians should serve as our chief custodians in preserving that rich storehouse of memory."
Meg Hanson is a Brooklyn-based writer, teacher, and jaywalker. Find Meg at her website and on Twitter @megsoyung

The White House's decision to ban CNN's Jim Acosta is "dangerous" and "unprecedented."
CNN is suing President Trump in response to his administration's widely-disparaged ban and smear campaign of the media network's Chief White House Correspondent Jim Acosta.
The White House revoked Acosta's Secret Service "hard pass" in a decades-long breach of protocol last Wednesday night, preventing the journalist from accessing press-friendly spaces on White House grounds. Pointing to the First and Fifth Amendment of the U.S. Constitution, the lawsuit alleges that both Acosta and CNN's rights were violated by the suspension of these privileges.
In a statement released Tuesday morning, CNN announced that it filed its lawsuit in a DC District Court against six people, including the president, Press Secretary Sarah Sanders, Chief of Staff John Kelly, Kelly's deputy William Shine, the U.S. Secret Service and its director Randolph Alles, as well as "John Doe," the currently-unidentified agent who denied Acosta access to the grounds. The defendants are named because of their roles in enforcing and announcing Acosta's suspension.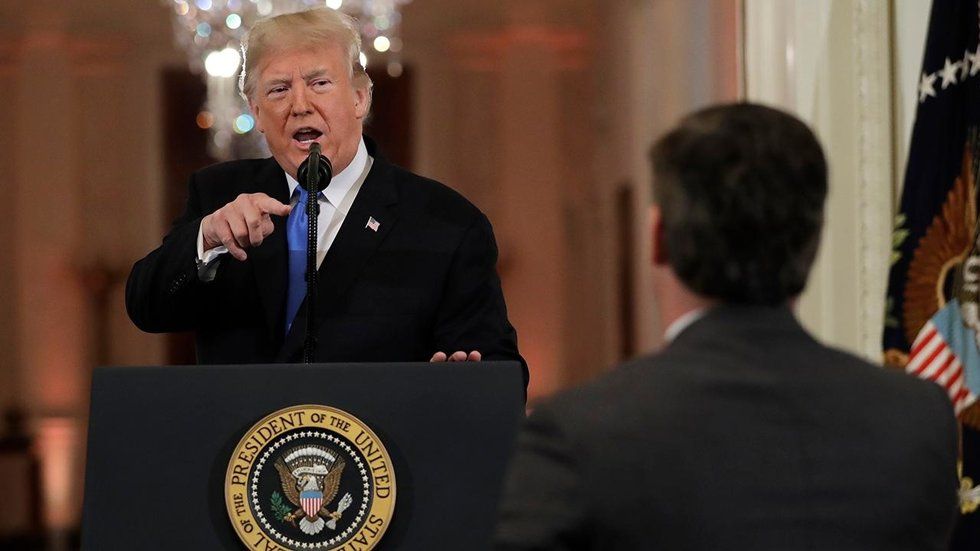 The lawsuit "demands the return of the White House credentials of CNN's Chief White House correspondent," according to the statement. "The wrongful revocation of these credentials violates CNN and Acosta's First Amendment rights of freedom of the press, and their Fifth Amendment rights to due process. We have asked this court for an immediate restraining order requiring the pass be returned to Jim, and will seek permanent relief as part of this process."

CNN's legal actions are the latest step in an escalating battle between President Trump and the media. Trump has shown particular antipathy to CNN, regularly deriding its reporters and the network as a whole. In light of the president going as far as to call the press "the enemy of the American people," it is fitting for there to be a lawsuit on the books titled "CNN vs. President Trump."
The White House responded to CNN's complaint in a statement by press secretary Sarah Sanders, accusing CNN of "grandstanding" by suing, and saying the administration "will vigorously defend against this lawsuit." Sanders previously alleged (in a tweet that is still live) that Acosta placed his hands on a female White House intern during a heated exchange with Trump last Wednesday.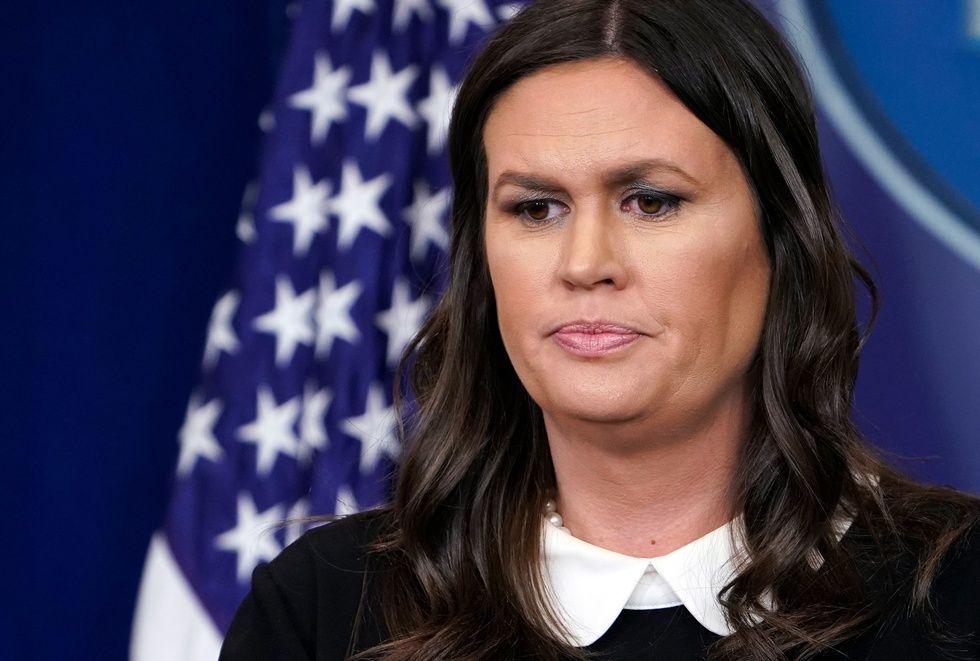 "Mr. Acosta is no more or less special than any other media outlet or reporter with respect to the First Amendment," said Sanders. "After Mr. Acosta asked the President two questions—each of which the President answered—he physically refused to surrender a White House microphone to an intern, so that other reporters might ask their questions. This was not the first time this reporter has inappropriately refused to yield to other reporters."

Trump's warlike stance against journalists, and his specific action to ban Acosta, flies in the face of decades of tradition and precedent. White House administrations on both sides of the aisle have sought to be accommodating of the press, erring on the side of inclusion, even for non-mainstream outlets. The well-known First Amendment attorney Floyd Abrams thinks CNN has a strong case in the precedent set by the 1977 ruling in favor of Robert Sherrill, a conservative journalist who was also denied access to the White House.
Furthermore, federal guidelines require that "officials of the Secret Service will be guided solely by the principle of whether the applicant presents a potential source of physical danger to the President and/or the family of the President so serious as to justify his or her exclusion from White House press privileges." The administration has made no claims that Acosta presents a physical danger to Trump during his press briefings.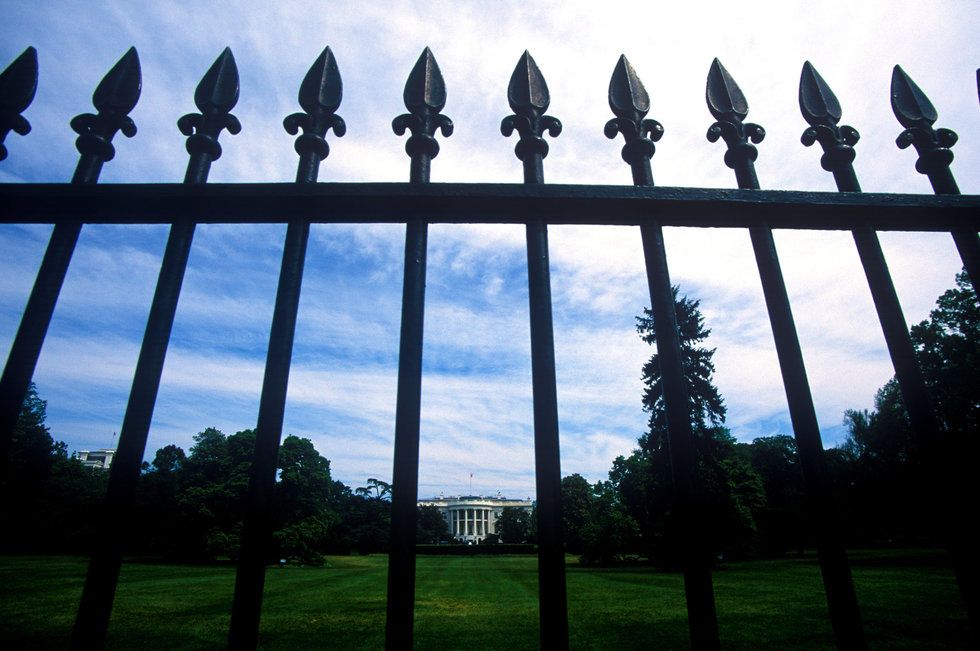 Getty
Abrams points out that those denied press privileges, "have to have notice… a chance to respond, and… a written opinion by the White House as to what it's doing and why, so the courts can examine it." He adds that, "We've had none of those things [in Trump's banning of Acosta]," giving weight to CNN's claim of due process violation.

As noted in CNN's statement, "While the suit is specific to CNN and Acosta, this could have happened to anyone. If left unchallenged, the actions of the White House would create a dangerous chilling effect for any journalist who covers our elected officials."
CNN Worldwide president Jeff Zucker emphasized the importance of taking action in an internal memo. "This is not a step we have taken lightly. But the White House action is unprecedented," Zucker said.
Joshua Smalley is a New York-based writer, editor, and playwright. Find Josh at his website and on Twitter: @smalleywrites.
The White House revokes CNN reporter Jim Acosta's press pass with "fraudulent accusations" of assault.
Trump's vilification of the press as "an enemy of the people" reached a crescendo on Wednesday when CNN's chief White House Correspondent Jim Acosta was banned from the property "until further notice." The dismissal followed a heated exchange between him and Trump during a press conference.
Acosta first shared on Twitter that he'd been barred from the White House grounds.
During a press conference earlier that day, Acosta questioned Trump's description of the migrant caravan approaching the US border from Central America as an "invasion." He then baldly asked about Russia's involvement in the 2016 presidential election, to which the president opted to lob insults at Acosta and CNN, including calling Acosta a "rude, terrible person."

Trump prevented the reporter from asking follow up questions, declaring, "That's enough" and, "Put down the mic!" A female aide approached and attempted to physically wrestle the microphone away from Acosta. This was the contentious point that Press Secretary Sarah Huckerbee Sanders referred to on Twitter after confirming that Acosta's press access had been revoked. Sanders claimed the decision was the result of him putting "his hands on a young woman just trying to do her job as a White House intern."
Shamefully, Sanders followed up by posting a clip of doctored footage from the incident. Paul Joseph Watson, editor of the infamously fallacious Infowars website, edited and shared the video on Twitter before Sanders posted it, stating, "We will not tolerate the inappropriate behavior clearly documented in this video."

Acosta simply posted his response to the accusation as "a lie," as accurate footage of the press conference clearly shows his lack of aggression towards the intern. CNN has responded on Twitter by condemning Trump's "disturbingly un-American" attacks on the press and asserting that they "stand behind Jim Acosta and his fellow journalists everywhere." They've also posted undoctored footage of the exchange "for the world to see."
In addition, CNN denounced the White House's decision and Sanders' "fraudulent accusations." In a statement, they asserted that Acosta's ban "was done in retaliation for his challenging questions at today's press conference. In an explanation, Press Secretary Sarah Sanders lied. She provided fraudulent accusations and cited an incident that never happened. This unprecedented decision is a threat to our democracy and the country deserves better."

While Fox News reporter Chris Wallace agreed that Acosta's actions were "shameful," the White House Correspondents' Association finds Acosta's ban "unacceptable." In a statement, they urge the White House to "immediately reverse this weak and misguided action."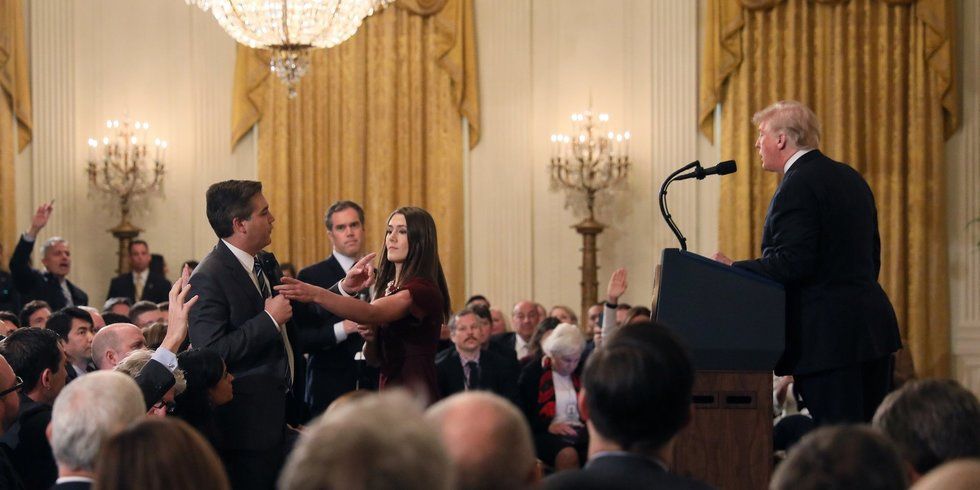 Business Insider
Trump and his administration have an infamous history of combating the press. In October, the writers organization and free speech advocacy group PEN America filed to sue President Trump in federal court "to stop President Trump from using the machinery of government to retaliate or threaten reprisals against journalists and media outlets for coverage he dislikes."

Neither Sarah Sanders nor the White House has made further comment on Acosta's press credentials since Wednesday.
Meg Hanson is a Brooklyn-based writer, teacher and jaywalker. Find Meg at her website and on Twitter @megsoyung.
The Trump Administration's new regulation would affect legal immigrants on welfare programs such as food stamps.
A new rule proposed over the weekend by the Trump Administration seeks to limit green cards to those who legally use food stamps, Medicaid, and other public benefits.
Pro-immigrant groups quickly condemned the regulation, saying that it creates additional barriers for legal immigrants in the U.S.
The National Immigration Law Center's executive director Marielena Hincapié said in a statement: "The Trump administration is using this regulatory backdoor approach because it attempted to enact its draconian agenda of restricting legal immigration through Congress — and failed. This rule change is radical and extreme, and it leaves the door wide open for potential abuse. All of us, regardless of where we were born, suffer when immigrants are penalized for trying to have their basic needs met."
Keep reading...
Show less
Amidst the chaos of confirmation, the real force behind right-wing policy is going unnoticed
When a storm hits, it can be difficult to remember everything that came before. After the revelations of the past week regarding allegations of sexual assault against Supreme Court nominee Brett M. Kavanaugh, the relative calm that was the previous months of the confirmation process seem like hazy half-memories. Yet, in light of where the political gaze of the nation now finds itself directed, perhaps it's time to ask, in the spirit of The Talking Heads, "How did we get here?" How did a man accused of sexual assault end up receiving a lifetime nomination to one of the most powerful institutions in America? Answering that question will require traversing the interconnected and exclusive ranges of the right-wing political machinery, where dark money and faceless groups lay their hands on the scales of our civic life. Yet, in the end, the question of how we got here is one with a relatively simple answer and one that strikes at the heart of a vast range of the illnesses that seem to be ravaging the body politic. We are here, and we are here with Brett Kavanaugh because a small group of wealthy people wanted us to be.
Keep reading...
Show less
This White House has the highest turnover of any recent administration. Who's leaving?
Trump's staff has the highest turnover within the first year out of the past five administrations. So far, as of April 16, 2018, a total of 32 of staffers and cabinet members have either resigned or been fired. While turnover is expected in the high stress environment of the White House, the frequency of exits is unprecedented. Who are the administration members who have left and been replaced? Here's a timeline of the most important officials who have left the administration.
Keep reading...
Show less
With Trump as president, the term 'impeachment' is always thrown around, but what does it mean?
Discussion of the possible impeachment of President Donald Trump has been following news regarding his administration and business practices for several months. Most recently, a Democratic congressman has announced plans to file articles of impeachment in the House of Representatives. However, not many people truly understand what impeachment means and how it really works. Impeachment is a process laid out in the Constitution as a check on presidential power, but it has only really been put to use twice in all of American history.

Keep reading...
Show less