The president attended the annual anti-abortion event in Washington, D.C.
Today, Donald Trump became the first-ever president to attend the March for Life.
The March for Life—not to be confused with the very different March for our Lives—is an annual gathering with an ultimate mission to end abortion in the United States. At the national march in Washington, D.C. this morning, Trump expressed that he was honored to be the first president in attendance.
Trump delivered his speech in a very characteristic manner, claiming the venue had maxed capacity, bragging about his contributions to the anti-abortion movement, and describing himself and his presidency with hyperbolic statements: "Unborn children have never had a stronger defender in the White House," he assured the crowd.
"When it comes to abortion...Democrats have embraced the most radical and extreme positions," Trump added.
March for Life's official website says they "celebrate life from the moment of conception to the moment of natural death, and every moment in between," a sentiment underlined in Trump's speech. "We are fighting for those who have no voice," he added. "[The women at the march] just make it your life's mission to spread God's grace." But of course, Trump's words and his actions haven't always aligned: just last November, the Associated Press reported that nearly 70,000 migrant children were held in U.S. government custody over the past year. While Trump may care about the fate of unborn children (or at least pretend to to gain the support of evangelical christians) he has made it extremely clear how little he cares about living children.
They need to put their differences aside if either of them hopes to win
In a recent interview with New York Magazine Alexandria Ocasio-Cortez commented that "in any other country, Joe Biden and I would not be in the same party, but in America we are."
With consistent cries for party unity since before presidential candidates even began announcing their campaigns, it would be tempting to attack Ocasio-Cortez as splitting the party, but she is absolutely right. There is only a unified party to split on paper. America's winner-take-all style of voting forces disparate political interests to share a title and to pool donors—unless they have the ability, like AOC, to source their own funding.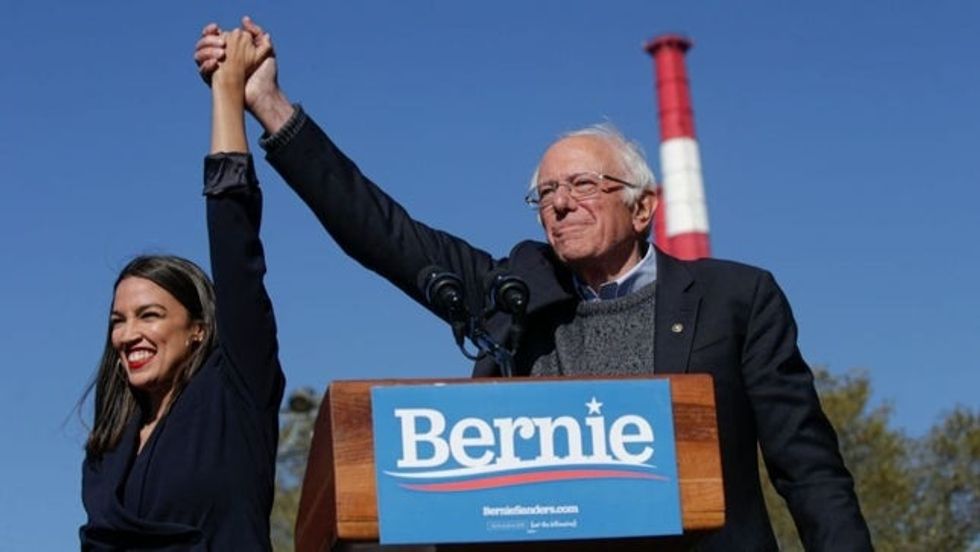 Getty Images
The GOP has used this to their advantage, emphasizing social wedge issues like abortion and immigration to pull working-class white voters away from their economic interests on the left—convincing them to cheer on tax cuts for the ultra-wealthy. For the Democrats, however, the powerful faction of the party that represents professional-class interests—the private-public partnership, means-testing, social-program-cutting wing—has represented a barrier to participation for truly progressive candidates and voters.

That's why it has been heartening, prior to this week, to see Bernie Sanders and Elizabeth Warren avoiding the temptation to attack one another. While many of Bernie's supporters online have adopted toxic attitudes toward anyone other than their preferred candidate, and many Warren supporters have questioned Bernie's feminist bona fides (particularly in light of that toxicity from many "Bernie Bros"), the candidates and their campaigns seemed largely cordial and supportive of one another. It's important, as the marginalized left-wing of the party, to focus on commonalities and mutual aid if there is going to be any hope of overcoming the powerful centrist forces that have ruled the party and served moneyed interests with only moderately less zeal than the Republican party.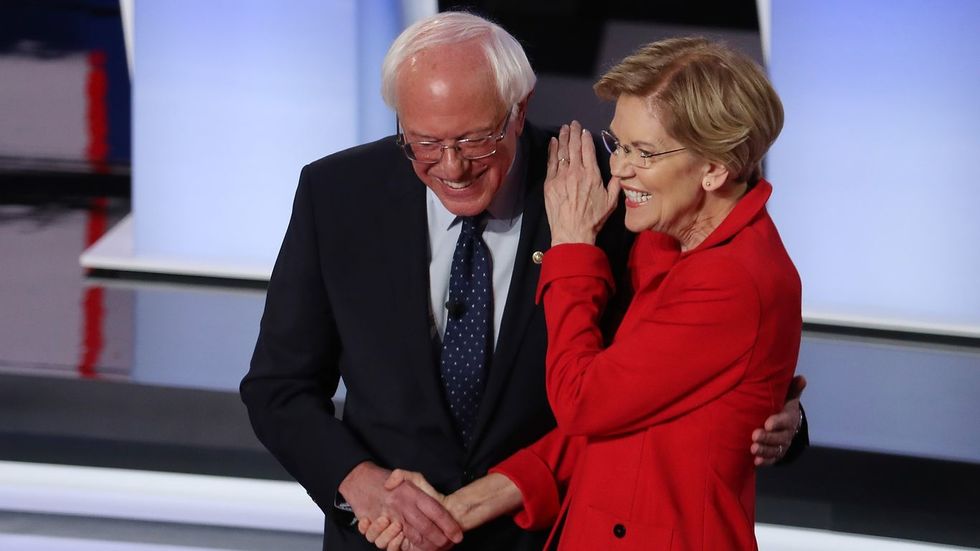 Justin Sullivan/Getty Images
That shared effort began to fall apart on Saturday night when Politico ran a story under the headline "Bernie Campaign Slams Warren as Candidate of the Elite." The story included excerpts from a document purported to be circulated within the Sanders campaign, with scripts instructing volunteers how to attack rivals in the Democratic primaries. While criticisms of Joe Biden and Pete Buttigieg are hardly surprising, the attacks on Warren—noting that her supporters are predominantly educated, affluent voters who "who are going to show up and vote Democratic no matter what"—came as a surprise in the context of the candidates' established alliance.

Skepticism in these cases is usually warranted, but the article contained little to suggest that the content was anything less than official and approved by Bernie Sanders himself. By the time Sanders came forward to repudiate the document and deny its official status, the damage was done. The rift was already beginning to widen.
Warren responded that she was "disappointed to hear that Bernie is sending his volunteers out to trash me," and she sent out a fundraising email that asked both for donations and for supporters to share personal stories and perspectives to contradict the framing of her base as elitist. If that had been all, then it might have been easy to move on and return to a mutually supportive stance within a few days. But the real damage was done when people close to Warren, perhaps in an effort to retaliate, spoke to CNN about a private conversation the two had in 2018.

Back then, the thought of actual voters making actual choices seemed distant and abstract, and the candidates sat down to discuss strategies against Trump and to establish the general truce that has held until now. Everyone involved seems to agree on those points, but differing reports emerge when it comes to the topic of gender. As CNN reported, Warren laid out her strengths as a candidate: "She could make a robust argument about the economy and earn broad support from female voters." Bernie was not on the same page.
According to anonymous members of Warren's team, Bernie didn't think a woman could win. Bernie shot back with his own version of events, saying, "It is ludicrous to believe that at the same meeting where Elizabeth Warren told me she was going to run for president, I would tell her that a woman couldn't win... What I did say that night was that Donald Trump is a sexist, a racist and a liar who would weaponize whatever he could. Do I believe a woman can win in 2020? Of course! After all, Hillary Clinton beat Donald Trump by 3 million votes in 2016." When Warren herself was finally convinced to weigh in directly, she urged people to move on, claiming that she was more interested in what she and Sanders agree on… But she also confirmed the more inflammatory version of events: "Among the topics that came up was what would happen if Democrats nominated a female candidate. I thought a woman could win; he disagreed."

While there is certainly a conversation to be had about to what extent America remains too sexist to support a female candidate, it seems like a stretch to accept the idea that, in 2018, Bernie would hold such a categorical view against the possibility of a woman being elected president. What makes it particularly questionable is the existence of footage from a C-SPAN appearance three decades earlier, in which Bernie says, "In my view, a woman could be elected president of the United States. The real issue is whose side are you on? Are you on the side of workers and poor people, or are you on the side of big money and the corporations?"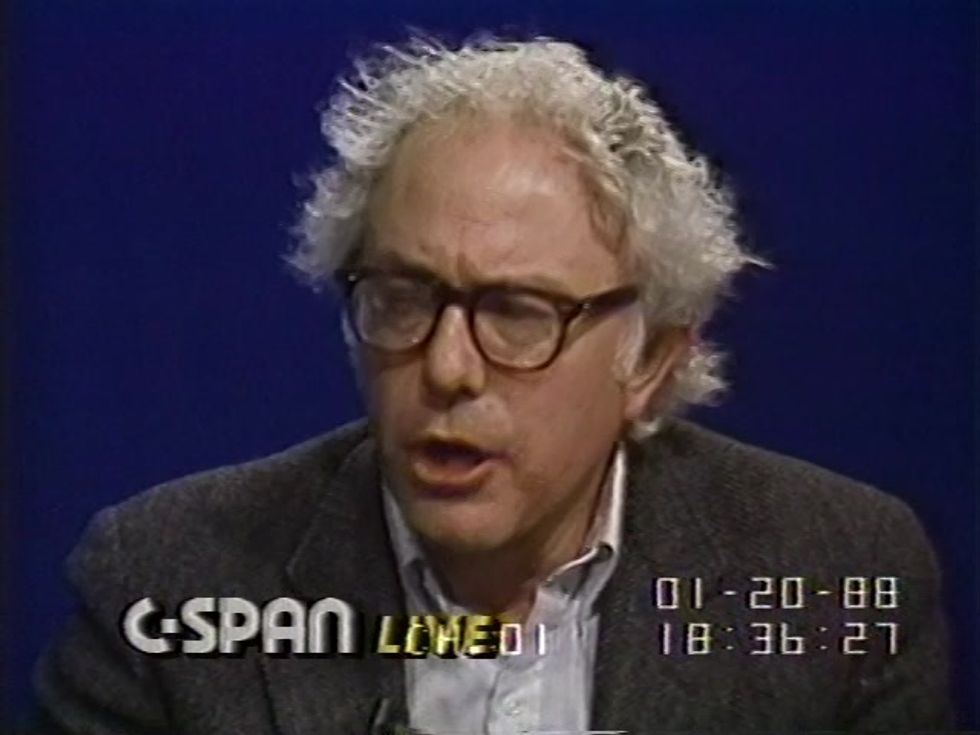 C-SPAN
The suggestion that Bernie's views have become more regressive since 1988 seems far-fetched. The inclusive, forward-thinking persona he has consistently presented to the public for 40+ years doesn't line up with this supposed private view. Then again, the idea that Warren would simply lie about Sanders' comments seems equally unlikely. Who you believe seems to depend largely on who you prefer, and the two camps seem to be moving further from each other as the Iowa Caucuses close in. On one side, Bernie Sanders is a sexist; on the other, Elizabeth Warren is a liar.
Without a recording or a transcript of the conversation, it doesn't seem quite justified to land in either of those camps. Without third-party witnesses, the basic facts of who did and who said what can quickly dissolve. The message that was intended and the message that was received crystallize in each person's mind to the point that they become irreconcilable. Perhaps Bernie did think that a progressive man was better poised than a progressive woman to counter Donald Trump's brand of populism in the 2020 election. Maybe his way of saying so was so clumsy that Warren took it as a broad statement about the viability (or lack of viability) of female candidates, and she recounted it as such to people close to her. Short of calling either of them a liar or worse, that is the best I can muster—a version of events that I prefer to believe in order to maintain my respect for both of these candidates.

Supporters from both sides will no doubt find this middle-ground unsatisfactory. The rift feels real right now, and it's starting to seem like each side is trying to undermine the chances of the other. But while only one candidate can win the nomination in the end, their support draws too much from the same pool of voters to allow this rift to remain. Already Bernie supporters who also donated to Warren are turning against her with the hashtag #RefundWarren. But the sad truth is that neither can win in the general election without support from the other's ardent fans. And who really stands to benefit from continued fighting? The center and the far-right. It can only help Joe Biden and Donald Trump. And Donald Trump seems to know it...
If Sanders and Warren can't each count on the other's supporters to get behind them as the primaries shake out, then Biden will likely hold onto his narrow lead. And if one of them does manage to get the nomination with this acrimony still hanging in the air between them, no amount of campaigning for one another is going to muster the sort of passion that we can count on to overwhelm Donald Trump in the general. 2016 should have taught us that much.

This feud needs to end now. Warren and Sanders need each other, and our country needs them. They are the only candidates taking America's economic divide seriously, and the only candidates willing to tackle climate change with the resolve and transformative action it requires. If Donald Trump gets reelected, he will continue to make both of these problems far worse, destroying hope for economic justice and a sustainable future. If Joe Biden is our next president, then we will go back to enacting middling, inadequate reforms—one step forward for every two steps back.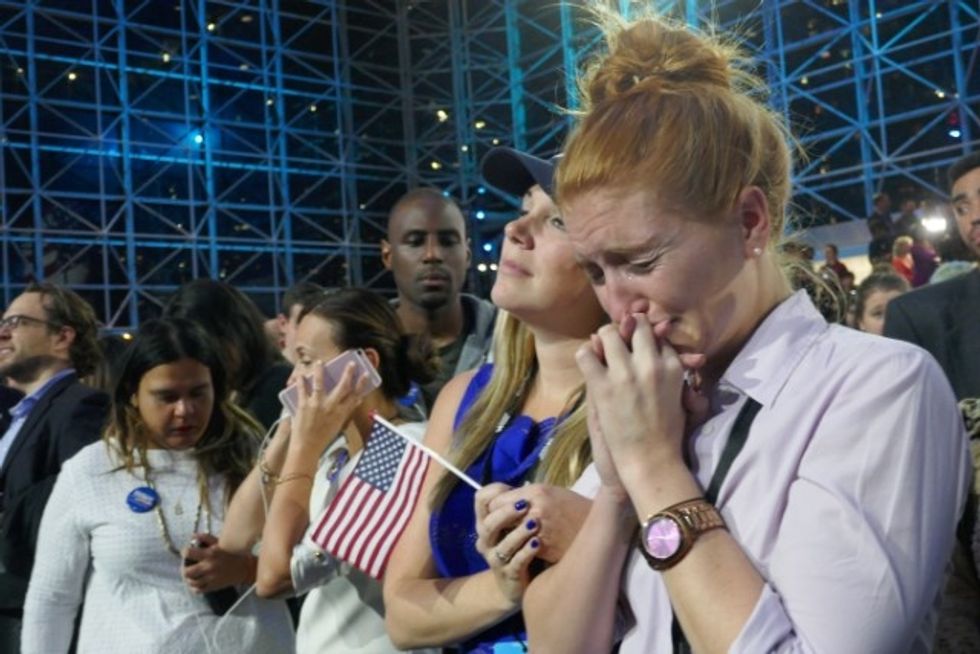 Hillary supporters as 2016 election results came inGetty Images
Warren and Sanders, united, represent our only real hope. Of course, they each believe that they are best suited to the job. They wouldn't be running otherwise. But if either of them is going to win, they need to come together, reaffirm progressive unity with one voice—acknowledging the differing accounts of events and decrying sexist limitations. Either of them can win this election, but neither can do it alone.
Why are we overlooking the brightest hope for America's future?
With 17 Democratic candidates vying for the chance to oust Trump in the 2020 presidential election, we're witnessing divides within the party that hammer home the fact that politics are infinitely nuanced, complicated, petty, and—forgettable? For some reason, Michael Bennet, the 54-year-old Colorado Senator whose face is as symmetrical and innocent as Mrs. Potts in Beauty and the Beast, is often overlooked in the race for the White House. But you are doing yourself a disservice—nay, an offense—if you haven't familiarized yourself with his campaign platform, his experiences as a Senator and as superintendent of Denver's school system, and his initiatives as a member on the Committee on Agriculture, Nutrition and Forestry; as well as the Committee on Finance and the Subcommittee on Energy, Natural Resources, and Infrastructure.
Basically, Michael Bennet might covertly be the sh*t. Consider the evidence: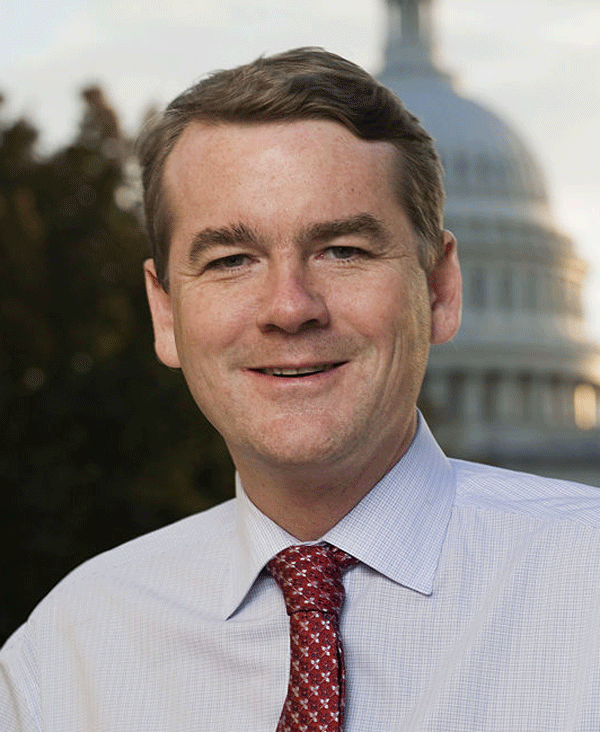 Look at that face! He looks like the Brave Little Toaster!
He's Good with His Hands
Listen: Bennet's home state of Colorado has a lot of land to farm. In fact, agriculture contributes up to $40 billion to the state's economy each year and accounts for over 173,000 jobs. As state Senator, Michael isn't afraid of dirty work. In 2019, he penned an op-ed in The Wall Street Journal calling out the ways that "Trump Has Been Bad for Farmers." What's the farmer's equivalent to throwing down a gauntlet? Throwing down a...hoe? Anyway, Michael's pushed for legislation to create jobs and protect dairy farmers, as market instability has endangered their livelihood, and he openly "believes a resilient agricultural sector is vital to a strong economy. This is certainly true in Colorado, where farming and ranching are a proud tradition and generate more than $40 billion in economic output each year. As a member of the Senate Committee on Agriculture, Nutrition, and Forestry, Michael is working to bring the diverse voices of Colorado to the debate in Washington."
Additionally, Michael's family owns a 1,500 acre farm in Arkansas; and sure, he rents it out to contribute to his notable wealth, but he probably owns at least one pair of overalls. Picture it: Michael Bennet in denim overalls. Wouldn't he look like such a happy little farmer? Hot.
He's Down-to-Earth and Down to Save the Earth
When it comes to land conservation, Michael doesn't mess around. Partly to advocate for America's 2 million farmers and partly because he's adorable and probably has a favorite species of flower, "Michael believes protecting public lands and wild places is an integral part of Colorado's heritage. It's why he brought together a diverse group of stakeholders to protect the Hermosa Creek watershed, and why he has stood up for sacred places and critical wildlife habitat across the country. From hiking to hunting, Michael also recognizes that outdoor recreation is vital to Colorado's economy."
Similarly, he's serious about converting American industry over to clean energy. In the last two years alone, he's cosigned or cosponsored multiple letters and legislation calling for improvements to the Environmental Protection Agency, the Land and Water Conservation Act, and proactive government action to combat climate change (like providing incentives to produce more solar panels in the U.S.). Always the good farmer, he wants to cut down hazardous emissions from farming and ranching with clean energy initiatives, and he supports plans that could conserve nearly one-third of U.S. lands.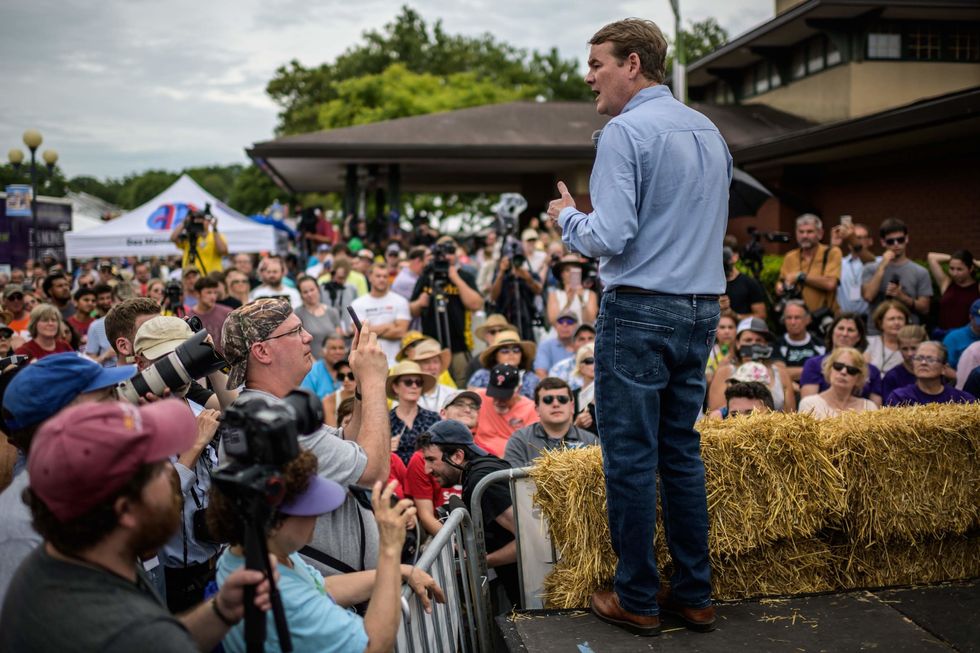 We're DEFINITELY not looking at his butt...We're DEFINITELY not looking at his butt...DEFINITELY not.The Gazette
Per his campaign team, "He recognizes this moment in our country as an opportunity to modernize our energy system, transition to low-cost renewable sources of energy, increase energy independence, and provide reliable and affordable energy for every American. Michael knows climate change is not a problem we can push off to the next generation. He believes in a comprehensive approach to combat climate change that includes commonsense actions to reduce carbon pollution and increase the resiliency of our communities, all while growing the economy."

Do you see? He's a happy and environmentally conscious farmer! (So screw you, Jay Inslee, you look like Bruce from Finding Nemo. We don't need you when we have Mike).
He's Almost Definitely into Weed
Speaking of loving plants, as the Colorado Senator, of course Mike is down with 4/20. Specifically, he's an advocate for legalizing marijuana for the sake of job creation, more health care options, and a fairer justice system. In fact, he's one of many supporters of the Affordable Care Act and supporting rural communities with less access to health care; but he's also a member of the U.S. Senate Committees on Finance and Agriculture. Through the committee, "Bennet championed the legalization of hemp in the 2018 Farm Bill and is a cosponsor of the SAFE Banking Act and Marijuana Justice Act, which would end the federal prohibition on cannabis and reverse decades of drug policies that have disproportionately affected low-income communities and communities of color."

In short, we're confident that Mike loves more than one type of grass.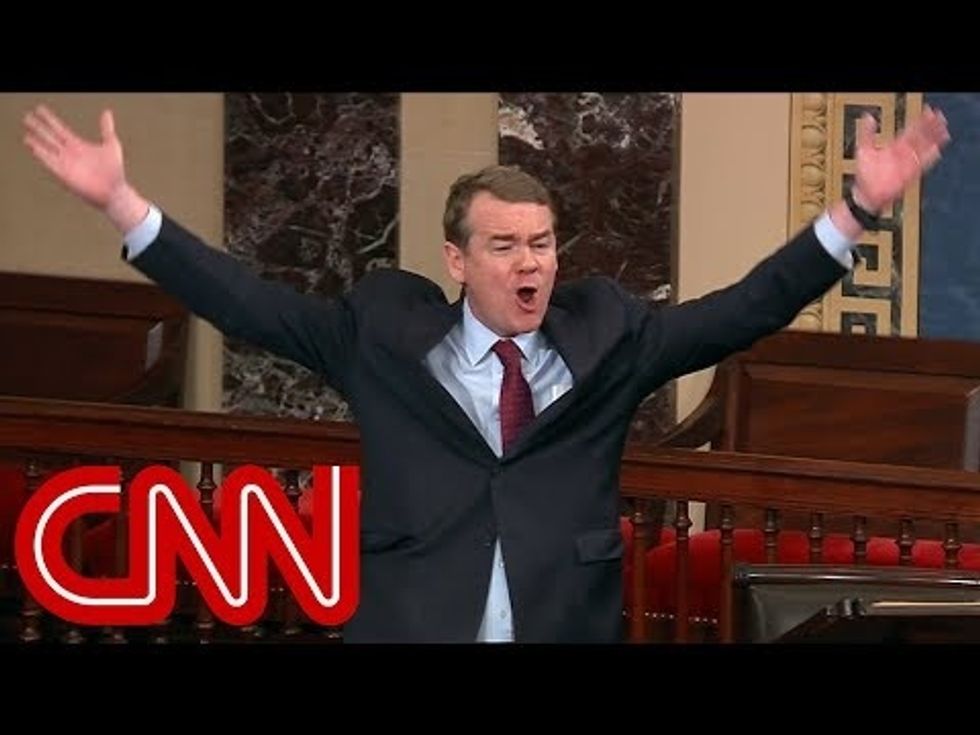 CNN
He Hates Washington

Who doesn't love the passion of a man who's running for the nation's highest office while publicly calling that office "broken." When it comes to government reform, "Michael knows that Washington is broken, and he has worked since 2009 to make Congress more functional. Michael has fought to hold lawmakers accountable to their promises and the rule of law. He supports overturning the Supreme Court's Citizens United decision and placing commonsense limits on campaign spending. Michael also believes that democracy depends on transparency and public access to information, and has lobbied federal agencies to swiftly comply with the Freedom of Information Act."
Michael's also called out the failures of America's immigration policies and our education system. Remember that he was Denver's superintendent for four years, during which time enrollment grew, dropout rates decreased, graduation rates increased, and college enrollment rose, leading The Denver Post to praise, "Bennet has been a force—pushing reforms and steering the state's second-largest district to a culture of success."
So he's proven his ability to helm a broken system and turn it around. He also managed to run a public school system to the public's satisfaction. If that's not a testament to the charm of his boyish freckles and a face that belongs on the label of some hipster's artisanal butter, we don't know what is.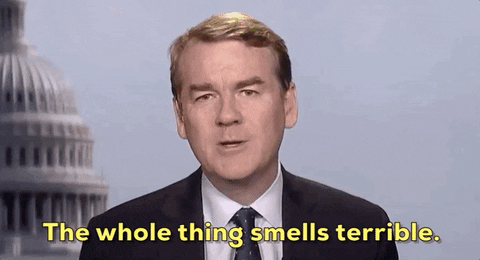 He's a Sagittarius
Obviously, you're not going to exercise your civic duty based on something as whimsical as a candidate's astrology sign. But to peer into the unassuming genius of Michael Bennet's brain, you must know his origins. Born on November 28, 1964, Michael is a through-and-through Sagittarius. Just ask Buzzfeed; they point out his "particularly Sagittarius trait: Bennet overcame dyslexia as a child and went on to graduate from Wesleyan University and Yale Law School, where he served as the Editor In Chief of the Yale Law Journal. That's some big Sagittarius energy!"
More tellingly, very credible and not at all bogus horoscopes for Sagittarius in 2020 foretell a year of professional strides and great success! Those born under the sign of the Archer are expected "to make more progress at work this year. You will work more this year than usual. But it will also help you to become more successful as the year goes on. If anything drains your energy this year, it will be your job!" Thanks, SunSigns.org, our gut's telling us that Michael's in for a future of glory, too!
No Scandals and No Game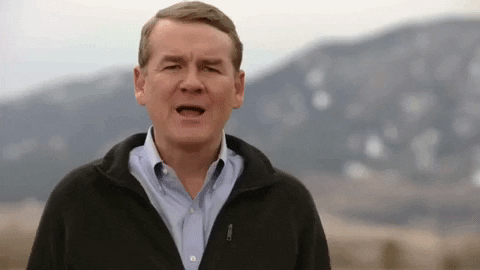 Let's face it: We love that he looks like George H. W. Bush was genetically spliced with our childhood hamster. He's the kind of boomer who just wants to drive you home from soccer practice and remind you to call your mother more often, without trying to smell your hair or mouth-breathing heavily with some rancid breath (JOE!). He's not creepy or even slick. In fact, he has zero moves that could remotely seem suspicious. Think about it: Obama danced like he knew he was hot. Everyone knows Trump has the most delicate, fluttery hands. Bennet? He has no distracting characteristics, no deceptive grace, and no smooth-talking rhetoric that raise any of our suspicions. Bill Clinton may have won over voters by pushing some "cool" image by playing saxophone on the Arsenio Hall Show, but that's not what we want in 2020.
We want a wholesome, dad's-golf-buddy type with a face that laughs even when he's trying to cry and who boldly tries new things. We want Bennet. After all, how could we be duped or betrayed as a nation by a man who dances this purely—as if a camera has never captured his quiet-uncle energy before, as if time and space were just illusions and he is that little boy beside him—as if he's never lost a race in his life and never will?
Ecoterrorism is the world's biggest threat.
Extinction Rebellion and other activist groups have been making headlines for disrupting traffic and confronting politicians about the environmental crisis that our planet is facing.
But environmental protests are not new. For a long time, vicious environmental activists have been committing evil actions like standing outside of their governors' offices and hanging banners from tall buildings, asking that someone take action to ensure a livable future. These unforgivable terrorists must be stopped instantly and preferably locked up for life.

It is believed that the term "ecoterrorism" was first coined in 1983, in an article by Ron Arnold that defined it as "a crime committed to save nature." Around the 1990s, a group known as the Earth Liberation Front popularized eco-terrorism and became noteworthy for their aggressive crimes. Though most of the fears about ecoterrorism never materialized, and not one person was ever killed in an ecoterrorism protest, the FBI still cracked down on the cause.
There are a lot of problems with the term "ecoterrorism," which was mostly created to give environmentalists a bad name. Every movement has its radicals, and most environmental activists don't believe in violent crimes. In fact, most of them would rather be growing plants and doing the kind of stuff they'd truly love to be doing if it weren't for the fact that our planet is dying. In fact, law enforcement poses a much larger threat to environmental activists than the other way around: While environmental activism has killed no one, 83 climate activists were killed in 2018, and nearly 200 activists were killed in 2017, with most of the deaths occurring in Brazil and the Philippines.
Recently—especially as humanity's future grows more dire and natural disasters ravage the world—the question of ecoterrorism has come back into the conversation. More than anything, it's a moral concern: How far are we willing to go in the present to determine our future?
While certainly we should all be taking action to combat climate change, almost no activist groups encourage violent crimes. That said, in the past, people have taken things a little too far. Here are five terrifying, violent, unforgivable acts of ecoterrorism, which you should not emulate. Wink.
1. Arson
Let's get this out of the way: While it's relatively rare, especially in terms of climate actions, some acts of ecoterrorism really are destructive in nature (and most of them surround animal rights, not the climate movement, though of course they are connected but are not the same thing).
It appears that in terms of violent ecoterrorism, arson is the most popular choice. In 1987, ALF activists firebombed a University of California-Davis veterinary laboratory, causing damages of $3.5 million. The Earth Liberation Front committed an act of arson in 1992 that cost $12 million in damages and effectively militarized the entire FBI against them. They burned down a ski resort in Vail, Colorado, kicking off a wave of copycat crimes. Most environmental activists don't advocate for this type of work, and in fact, some of these more militant-leaning organizations actually have disturbing connections to white supremacy.
2. The Great Animal Break-in
Now that we've gotten past that, let's get into the truly despicable crimes. One of the most famous and vicious ecoterrorism groups ever, the Animal Liberation Front, is dedicated to ensuring that all animals are safe and not abused or tortured. It is believed that the ALF's first act of ecoterrorism happened in 1979, when vandals broke into New York University and released five imprisoned animals.
2. Whaling in Japan

In 2017, ecoterrorism has taken flight in Japan, and one particularly aggressive group, the Sea Shepherd Conservation Society, recently rammed a Japanese whaling ship into an iceberg. (The whaling ship was fine). Apparently, other whalers in Japan have complained that activists are "harassing" them, filming their activities with cameras and giving them weird looks.
3. Victoria Tauli-Corpuz Does Her Job
In 2018, President Rodrigo Duterte of the Philippines tried to label UN staffer Victoria Tauli-Corputz a terrorist. Tauli-Corpuz's job is to look into abuses against indigenous peoples and present her findings to the UN, and she's also spoken out extensively about climate change. In response, President Duterte filed a petition that attempted to label 600 people (including Tauli-Corpuz) terrorists because of their purported connections to the Communist Party.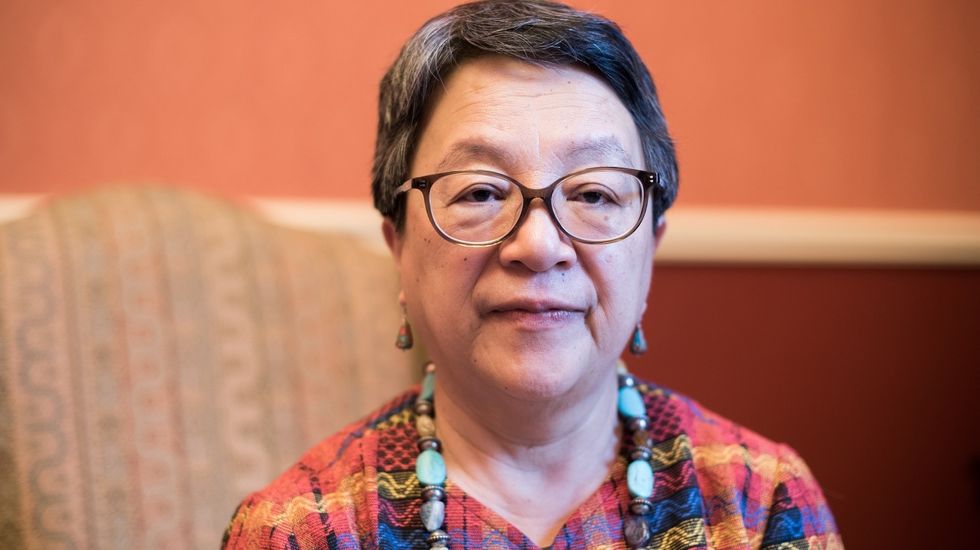 Global Landscape Forum
4. Activists Try to Go to Poland
At the 2018 Cop24 United Nations climate talks in Poland this past year, more than two dozen activists were denied entrance to the country on the basis that they posed national security threats. Poland faced controversy for its anti-terrorism legislation, with many fearing that Poland's national authorities had created a "blacklist" of activists.
5. The Valve Turners
In 2016, protests erupted at the North Dakota land where the Dakota Access Pipeline was to be built. In October, a group of five demonstrators broke into the pipeline's flow stations, cutting through padlocks and ultimately shutting off the pipeline's valves. Two of the protesters were convicted of felonies, and two await trial (the third was convicted of second-degree burglary). Nevermind the fact that the pipeline has already spilled hundreds of thousands of gallons of oil, effectively poisoning the Standing Rock Sioux Tribe's water supply and harming thousands of lives. Cutting those valves was the unforgivable offense.
Standing Rock inspired a generation, failed to stop the pipeline, and kicked off a wave of massive U.S. government panic and military action. Nevermind the fact that gun violence and white supremacy-motivated crimes have killed and harmed far, far more people than any of these environmental actions. Nevermind the fact that wildfires and mudslides have killed hundreds in California, or that climate change is already leading to deaths across the world and could wipe out entire countries. Certainly, it's the ecoterrorists we should be afraid of.
Historically, fewer than 10% of all presidential vetoes have been overturned, or 106 in total.
On Tuesday, the House of Representatives voted 245-182 to overrule Donald Trump's declaration of national emergency regarding immigration at the U.S.-Mexico border. Trump declared a national emergency on February 15 in hopes to redirect up to $8 billion from military funds and the Treasury to fund a border wall. While unprecedented, the tactic could theoretically manipulate the Constitution's funding laws to successfully bypass Congress and allow a sitting president to reallocate funds without congressional permission. Even though the House passed the resolution to terminate the declaration of emergency, Trump has vowed to veto the resolution if it should make it to his desk. So how can Congress overrule a veto, and how rarely is it done?
When a president vetoes a bill, Congress can only override the veto by taking a second vote in both chambers and passing the bill with a two-third majority in both houses. Historically, fewer than 10% of all presidential vetoes have been overturned, or 106 in total. The last time Congress over-ruled a veto was October 11, 2000, when Bill Clinton's bill Energy and Water Development Appropriations.
The rarity of a veto override is attributed to the bipartisan conflict of each chamber of Congress. For example, in 2000, the Republicans held a majority in both the Senate and the house when they overruled the sitting Democrat president. The current Congress is divided between a Democrat-lead House (235-199) and a Republican-led Senate (53-45). Achieving a two-thirds majority in both chambers of Congress is simply unlikely when they are led by separate parties.
As for the resolution to overrule Trump's national emergency, the Senate is set to vote on the resolution before March 18. Since it's a privileged measure, no filibustering is allowed; only a majority will pass or defeat the resolution. The crux of the matter is whether enough Republican Senators can be swayed to vote with the Democrats. As of Friday, three Republican Senators have vowed to to do so: Susan Collins of Maine, Lisa Murkowski of Alaska, and Thom Tillis of North Carolina. Only four more would be needed to send the resolution to Trump, assuming all Democrat Senator voted with their party. According to Five Thirty Eight, if Trump vetoes the measure, then both chambers of Congress are short of the votes needed to override (50 short in the House and 20 short in the Senate).
Thom Tillis wrote an op-ed for The Washington Post explaining his position to vote against party: "As a U.S. senator, I cannot justify providing the executive with more ways to bypass Congress," Tillis explained. "As a conservative, I cannot endorse a precedent that I know future left-wing presidents will exploit to advance radical policies that will erode economic and individual freedoms."
Prior to the House vote, Speaker Nancy Pelosi addressed House Republicans, "Is your oath of office to Donald Trump or is it to the Constitution of the United States? You cannot let him undermine your pledge to the Constitution."
Meg Hanson is a Brooklyn-based writer, teacher, and jaywalker. Find Meg at her website and on Twitter @megsoyung.
The refugee crisis hasn't gone anywhere. But news outlets and political leaders everywhere are ignoring it—and xenophobia is making it worse.
Around 2015, the so-called European refugee crisis was topping every newspaper headline. Reports of the 5.2 million refugees pouring in from Syria and other war-torn countries that year led to mass calls for mobilization to create infrastructure and support systems for displaced peoples. The photo of Alan Kurdi, the drowned three-year-old who provided a name and face to the crisis, sparked international acknowledgment and inspired humanitarian activists all over the world.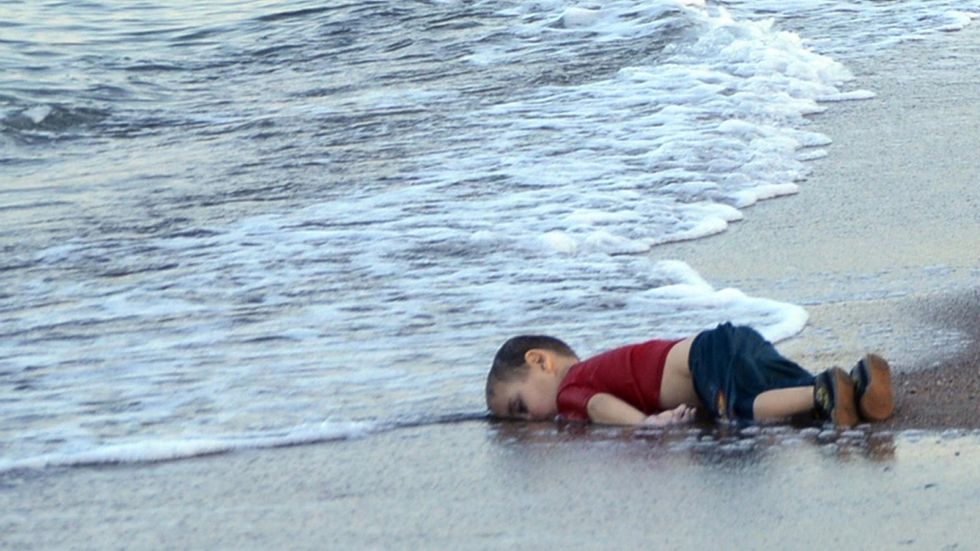 Alan Kurdi, via Medium
But that was four years ago. What has happened to those 5.2 million since then?

Firstly, there are a lot more than 5.2 million now. According to the UN, as many as 63.5 million people have had to flee their homes because of conflict since World War II; and today, roughly eight thousand people per month arrive in Greece, Italy, and Spain from Syria, Guinea, Algeria, and neighboring countries. These numbers are staggering; the lives they describe are almost impossible to imagine. But each figure corresponds to individual experience and a body that likely has crossed countless miles of ocean to arrive on European shores. Though it is impossible to generalize their stories, the majority of these people are currently stranded in liminal places like refugee camps or living as undocumented citizens without access to rights, living wages, and other protections.
According to the Aegean Boat Report, around 20 boats have arrived on the Greek island of Lesvos alone in February 2019, carrying a total of 791 people. Lesvos's Moria Camp holds somewhere between eight to ten thousand refugees; it was initially designed to hold ten. Many have been there for over half a decade, and the conditions in the camp are becoming more and more unlivable by the day.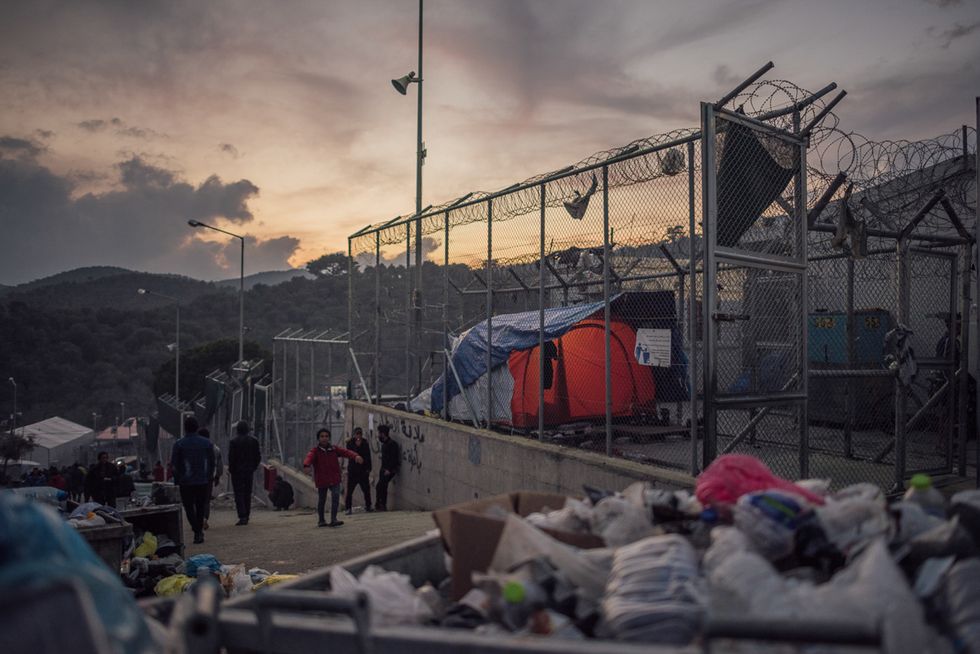 Moria Camp, via Al Jazeera
Many refugees go through hell and back to get there. Left with no choice but to flee violence and unlivable conditions, many spend thousands of dollars on hiring a smuggler who could carry them across the sea. The journey is treacherous—smugglers sometimes have deals with authorities or even pirates, and recent reports have revealed that the journey is more dangerous than ever before, with 1,600 to as many as 2,730 people dying at sea in 2018. The UNHCR released a report which argued that although the official number of migrants crossing the Mediterranean fell last year, this was likely due to "reductions to search and rescue capacity coupled with an uncoordinated and unpredictable response to disembarkation." This in turn, "led to an increased death rate as people continued to flee their countries due to conflict, human rights violations, persecution, and poverty." As the world forgets, the little structure and safety netting that does exist inevitably falls apart.

The news is a strange beast. Some stories can dominate for months and fade out so suddenly it's almost like they never happened; particularly shocking acts of individual or random violence can consume headlines while systematic, long-term horrors can fade away, having lost their ability to capture audiences' attention. With countries like South Sudan, Yemen, and Afghanistan steadily experiencing mass exoduses for years and years at a time, and with the inundation of tragic stories and gory photographs from Syria, it's easy for ongoing horrors to slip underneath an ocean of facts and figures that seem too overwhelming to address.
It's also easy for governments to shirk off responsibility for taking in refugees, seeing as technically they are stateless and, therefore, are not protected by any citizenship rights. Though the Universal Declaration of Human Rights guarantees basic protections for all people on earth, it does not specify which countries are responsible for providing these protections.
But every political decision manifests in lived experiences. For example, when migrants arrive on the shores of Lesvos, they are sometimes met with volunteers who provide water and transportation to the camps. Families and individuals are assigned at random to tents, which are crammed next to each other, creating unlivable conditions.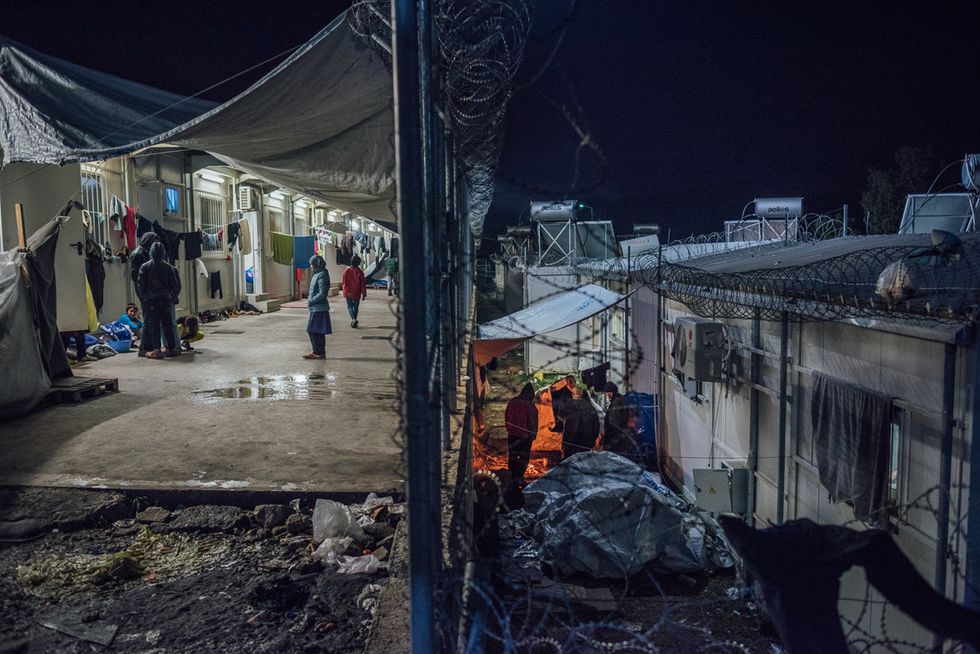 Image via aljazeera.com
Lesvos, in particular, has an extensive volunteer population, but overall aid groups often work as band-aids, failing to heal the sources of a larger issue and failing to structure a pathway forward. Instead, aid groups and refugees languish on Lesvos, in the grey area of statelessness and global amnesia. NGOs are gradually shifting their focus to working with refugees and locals to develop long-lasting relationships and skills, which can propel migrants forward into new lives.

But in light of the antipathy many locals hold towards newcomers, and also because of the trauma, language barriers, or other struggles that migrants face, the process of adjustment is challenging and will require individualized attention, patience, and cohesive efforts. Reports reveal that the majority of refugees fleeing severe conflicts will have vestiges of trauma; the IRC reported high levels of depression and PTSD among refugees across the board.
A 2011 Oxford University study found that the best way for refugees to move forward is through integration into life in their new countries. Solutions lie in treating the wound at its source, addressing xenophobia, and fighting for fair opportunities to education, jobs, healthcare, and other vital structural support systems. On the other hand, stranding migrants in places like Lesvos—where they live in unsanitary and dangerous conditions, surrounded by strangers who may also be experiencing trauma, with no idea of if or when they will be able to leave—is a product of a collective worldwide amnesia, a refusal to see what is happening in real time.
Long-term, slow-moving challengers are not foddered for breaking news. Particularly massive floods of refugees might pique the interest of a world leader; an artist might draw attention to the crisis through an installation in a busy city; but always, the cycles of violence and erasure continue as the world gets caught up in shinier, brighter topics. But remembering and acknowledging what is happening is the first step to moving in a new direction.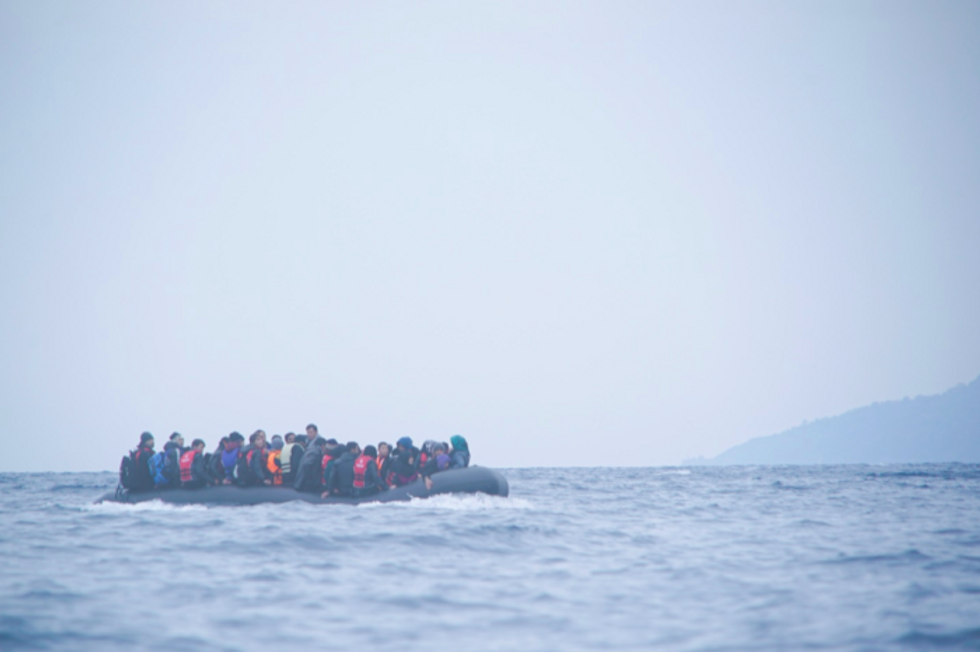 Image via Oxfam Novib Academy
---
Eden Arielle Gordon is a writer and musician from New York City.
What would Democratic Socialism mean for the economy?
Democratic Socialism, a subset of the democrat party, has been thrust into the spotlight recently with the shocking victory of Alexandria Ocasio-Cortez over a 10-term incumbent. Ocasio-Cortez often referred to in the media as AOC, is a self identified Democratic Socialist, as was 2016 presidential hopeful Bernie Sanders. Despite this newfound prominence, the political affiliation is still widely misunderstood, often confused with communism or European style socialism. So what exactly is Democratic Socialism? And how would a Democratic Socialist platform affect your life?
According to the biggest socialist organization in the US, the Democratic Socialists of America (DSA), "Democratic socialists believe that both the economy and society should be run democratically—to meet public needs, not to make profits for a few. To achieve a more just society, many structures of our government and economy must be radically transformed through greater economic and social democracy so that ordinary Americans can participate in the many decisions that affect our lives." This polished and condensed definition sounds good, but it's difficult to grasp what it actually means in practice. To help you understand, we've broken down the four pillars of Democratic Socialism to explore how their implementation in the American government could affect your life.

Workers Control Means of Production/The Importance of Unions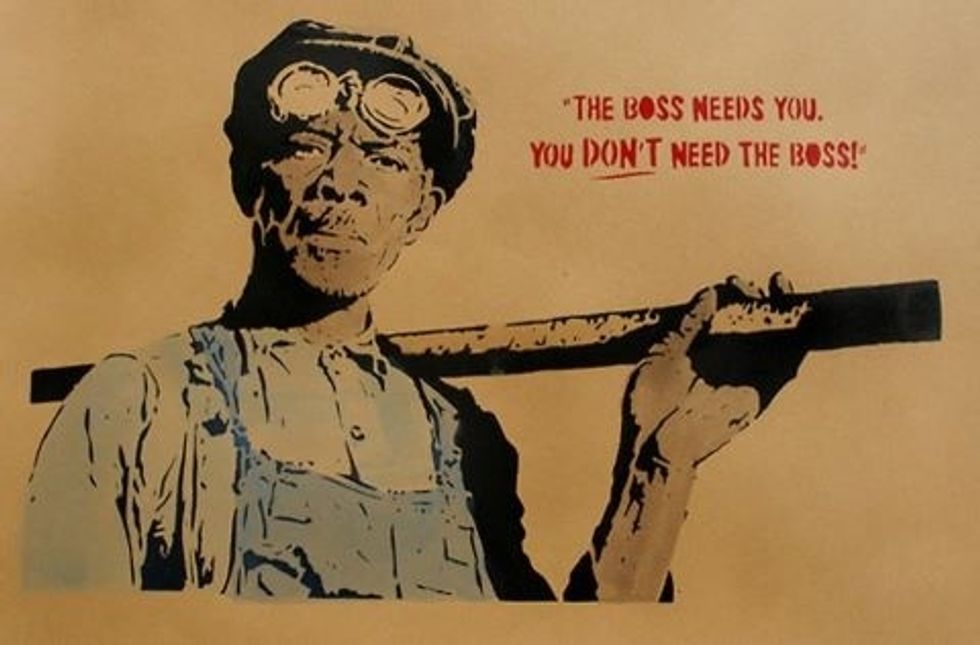 Perhaps most central to Democratic Socialism is the belief that American industry should be controlled by the workers who run it and the consumers who gain from it. Generally, they believe in a decentralized economy, though they think some indispensable portions of industry, like energy and steel, should be government controlled. As the DSA puts it, "We believe that social and economic decisions should be made by those whom they most affect."

In practice, this decentralization would likely mean the fruition of things like workers cooperatives and publicly owned ventures. Essentially, this economic model would mean that it would be much more difficult for a few people to get obscenely wealthy while those on the bottom of the economic ladder remain impoverished. Instead, everyone would have fairly equal opportunity to profit off the success of a business, creating a more widespread sense of ownership over the success of the economy, therefore stabilizing it. Unions are an important part of this pillar, as Democratic Socialists believe unions are essential in order to hold companies accountable to their workers and to empower workers to challenge capitalism as a concept.
Capitalism Promotes Greed and Must be Regulated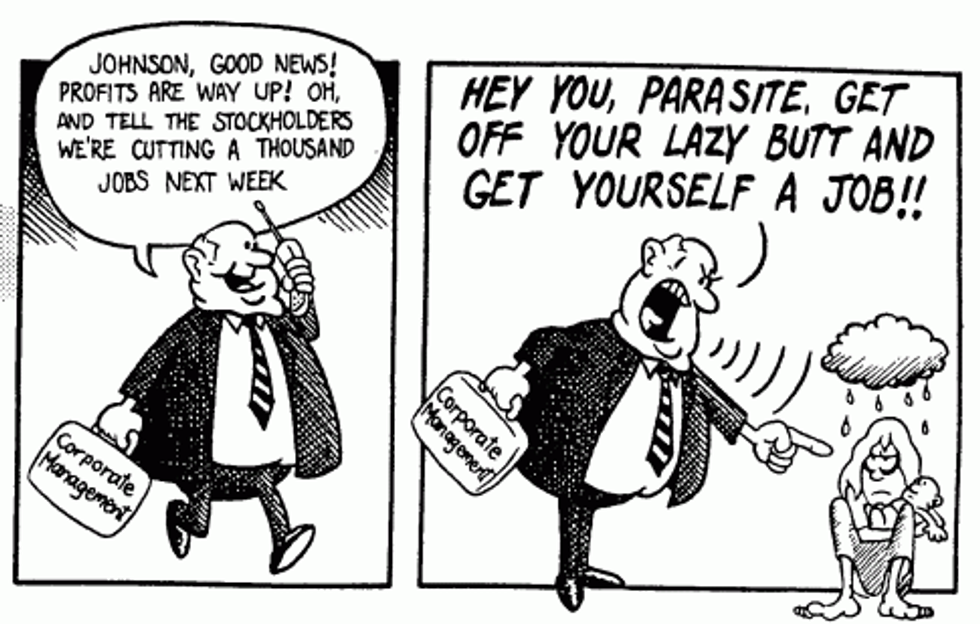 Democratic Socialists believe that capitalism has the inherent tendency to keep the rich rich and the poor poor and that capitalist corporations will always act in the interest of maximum profit at the expense of all else. Therefore, private corporations must be regulated by the government in order to ensure that they look out for the wellbeing of workers and lower rung employees. With this kind of philosophy implemented, there would likely be a strengthening of labor laws, a higher minimum wage, expanded parental leave, the prevention of foreign outsourcing to low wage countries, and the prevention of environmentally harmful activities.

A Minimum Quality of Life for All Citizens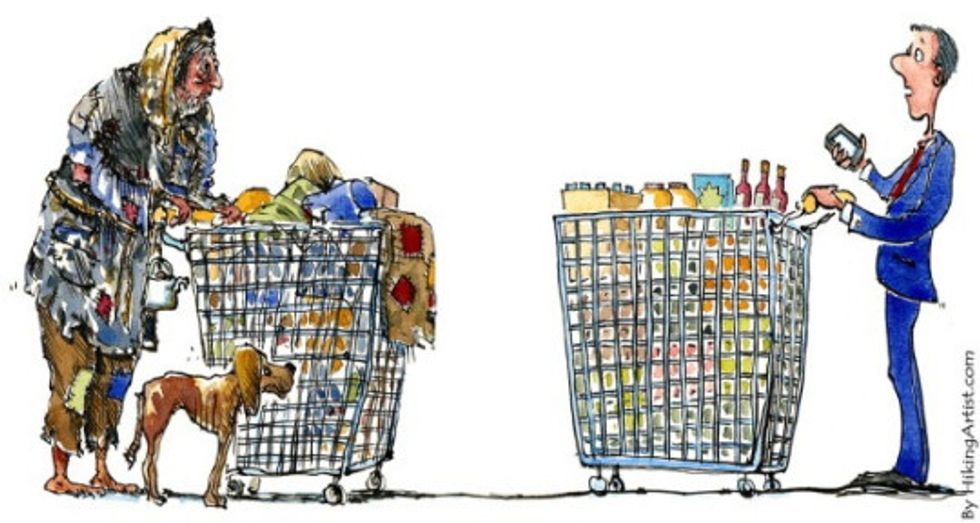 This is perhaps the simplest pillar of Democratic Socialism though likely would prove to be the most difficult to fulfill. Essentially, Democratic Socialists believe that all human beings have the right to sustenance, housing, clean water, healthcare, education, and child care, and that the government should ensure these things are accessible to all US citizens. This would likely mean significantly more spending on social welfare programs and expansion of government housing, which would inevitably require higher taxes. Of course, with the implementation of the other pillars of Democratic Socialism, more people would have a better chance of reaching this minimum quality of life even without an expansion of welfare programs.

Importantly, healthcare is an essential part of this equation in the eyes of Democratic Socialists. They don't merely believe in "medicare for all" health care system, but also that medical facilities should be publicly run and doctors publicly employed.
Grass Roots Means of Achieving Power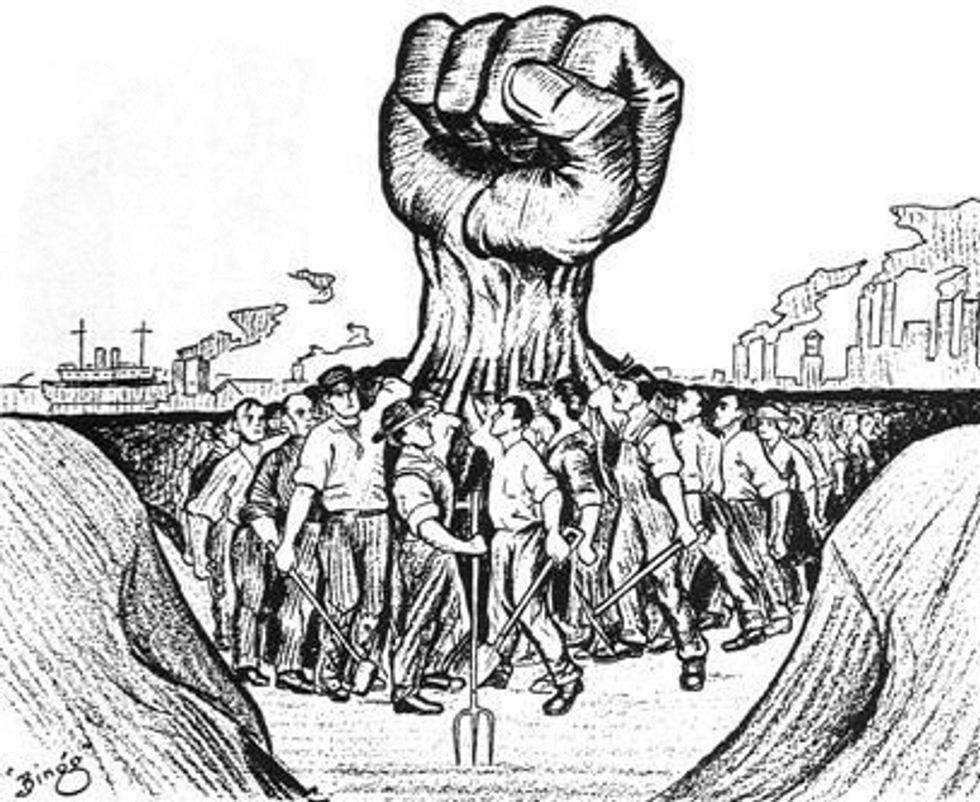 As mentioned before, the welfare of the community is important to Democratic Socialists, meaning that the election of the individual is also seen as having the tendency to play into the patterns of the centralization of power. A traditional Democratic Socialist would likely reject the concept of election altogether, instead opting for grass roots organization and mass mobilization. But as shown by AOC and all the other Democratic Socialist candidates elected this year, most who ascribe to these beliefs recognize that it's necessary to participate in the democracy in order to insight change, but still maintain that true change and empowerment comes from the mass mobilization of the people.
The sordid history of Trump's NatSec advisor.
Picture the most gung-ho Warhawk in modern history, a man who's made a career out of calling for military invasions of foreign countries, forced regime changes, ends to peace treaties.
Do you imagine a hardened war veteran with military accolades who's seen the cost of war and knows its price? Or a nationalist who's fine throwing human life away from the safety of his armchair, despite doing everything in his power to avoid going off to war himself as a youth? If you picture the latter, you've got Trump's former national security advisor John Bolton.
John Bolton did serve in the National Guard and Army Reserve. But he did so in order to avoid being drafted for the Vietnam War, essentially biding his time stateside out of fear of real battle. "I confess I had no desire to die in a Southeast Asian rice paddy. I considered the war in Vietnam already lost," wrote John Bolton in his 25th college reunion book.
Speaking from a position of privilege might be Bolton's greatest asset, though. Those who have seen war generally speak about it in more tempered measures, while Bolton reached his position through pushing extremes.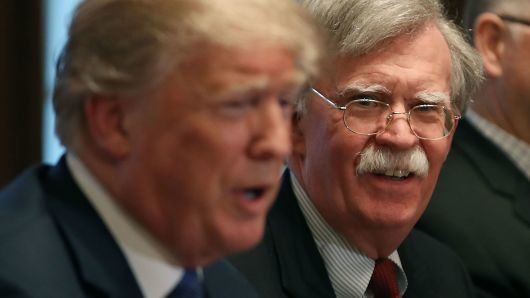 fm.cnbc.com
Throughout his long career, Bolton has worked under multiple right-wing administrations, from Reagan to W. Bush to Trump. During this time, he's advocated again and again for war, pushing for a U.S. invasion of Iraq dating back to shortly after the first Gulf War, calling for the "end of North Korea," and advocating to terminate the Iran Nuclear Deal. He has also expressed strong nationalistic views against the concept of the United Nations, stating, "There is no United Nations. There is an international community that occasionally can be led by the only real power left in the world, and that's the United States, when it suits our interests and when we can get others to go along."
John Bolton's greatest supporters tend to be similarly-minded radicals like Dick Cheney and Donald Trump, while his detractors tend to be anyone more moderate. Even fellow Republicans denounce Bolton. Condoleezza Rice resisted Cheney's efforts to make Bolton her deputy when she was secretary of state, instead passing him off as a UN ambassador. During the nomination hearing for that job, conservative Republican intelligence official Carl Ford described him as a "kiss-up, kick-down sort of guy" who "abuses his authority with little people." Even George W. Bush would later say he regretted Bolton's appointment, allegedly saying he didn't "consider Bolton credible."
And yet Bolton was named the national security advisor to Donald Trump, a fellow draft dodger with a known disregard for human life. To Trump, it didn't matter that Bolton was reviled by the international community. It didn't matter that Bolton was considered radical, largely disrespected even within his own party. For Trump, Bolton was the right man for the job. It remains to be seen whether he will do a better job as a witness.
Nine federal departments will shutdown at midnight on Friday due to Congress' inability to settle funding disputes, including Trump's demands for $5 billion for his border wall.
With Trump predicting that "chances are probably very good" that the government will shut down at midnight, he's reneged on his proud claim that he'd "totally be willing" to "take the mantle" of a shutdown. Instead, he said on Friday, "Now it's up to the Democrats as to whether or not we have a shutdown tonight."
Congress has been unable to pass funding packages for seven federal agencies, mainly due to Trump's stubborn demands for $5 billion to build his border wall. With funding deals expiring at midnight tonight, hundreds of thousands of federal employees will be either out of work or expected to work without pay until the government resumes full function in 2019.
Among those affected are more than 420,000 employees required to keep working through the shutdown, including those in the Department of Homeland Security, the FBI, the DEA, and Forest Service firefighters. With dozens of federal agencies expected to close down, national parks, museums, and zoos may be shuttered, with housing agencies warning that loan processing and approvals may be significantly delayed.
Aside from disrupting government services, shutdowns worsen deficits with financial losses in productivity. The longest government shutdown took place under the Clinton Administration, lasting 21 days and costing approximately $1.4 billion. The 2013 shutdown under Barack Obama lasted 16 days and cost about $2 billion.
Trump took to Twitter to blame Democrats for their refusal to offer more than $1.3 billion to fund the border wall. He posted, "If the Dems vote no, there will be a shutdown that will last for a very long time." After Congress voted and Trump still did not receive his inflated amount of $5 billion, he followed up with, "The Democrats now own the shutdown!"
As of early Friday evening, Congress had made no progress in settling the border wall dispute. Government agencies had been alerted on Thursday to prepare to freeze their functioning for an indeterminate amount of time.

"I hope we don't [shut down]," Trump told the press on Friday afternoon at a bill signing event at the White House. "But we are totally prepared for a very long shutdown and this our only chance that we'll ever have in our opinion, because of the world and the way it breaks out, to get great border security."
Trump continues to alienate the U.S. from the global community by panning diplomacy for his own agendas.
Donald Trump singled out the United States before the entire international community at the G20 summit over the weekend. He was the only leader in attendance to refuse to sign a joint statement pledging a non-binding commitment to continue combating climate change.
After a strenuous, all-night negotiation in Buenos Aires, the world leaders issued a communiqué re-affirming that the Paris climate agreement "is irreversible" and vowing "full implementation" of its policies to "continue to tackle climate change, while promoting sustainable development and economic growth."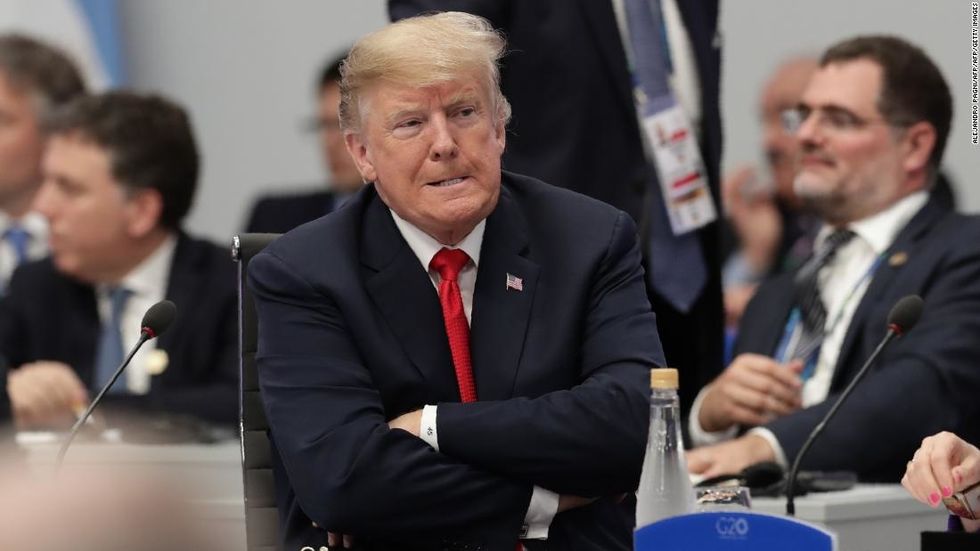 CNN
However, the summit was fraught with tensions over various countries' objections and demands, including Trump's refusal to budge on climate change or trade agreements. As such, world leaders struggled to pen a separate clause to account for Trump's "America First" stance. The communiqué reads: "The United States reiterates its decision to withdraw from the Paris Agreement, and affirms its strong commitment to economic growth and energy access and security, utilizing all energy sources and technologies, while protecting the environment."

In another compromise forced by Trump's intransigence, this year's G20 statement also shirked its usual promises to fight protectionism and uphold multilateral trading rules. The summit weakly acknowledged the "contribution" of the "multilateral trading system," despite the fact that it's "falling short" of its goals in trade growth and job creation. One European official present at the weekend's negotiations told NBC News, "There were moments when we thought all was lost."
At last year's summit, Trump shocked world leaders with his first refusal to join the consensus on climate and trade issues. He continued to alienate the U.S. from the international community over the summer. In June, the president refused to sign a joint statement on global economic policies from the G7 summit, even taking to Twitter to deride Canadian Prime Minister Justin Trudeau over the policies.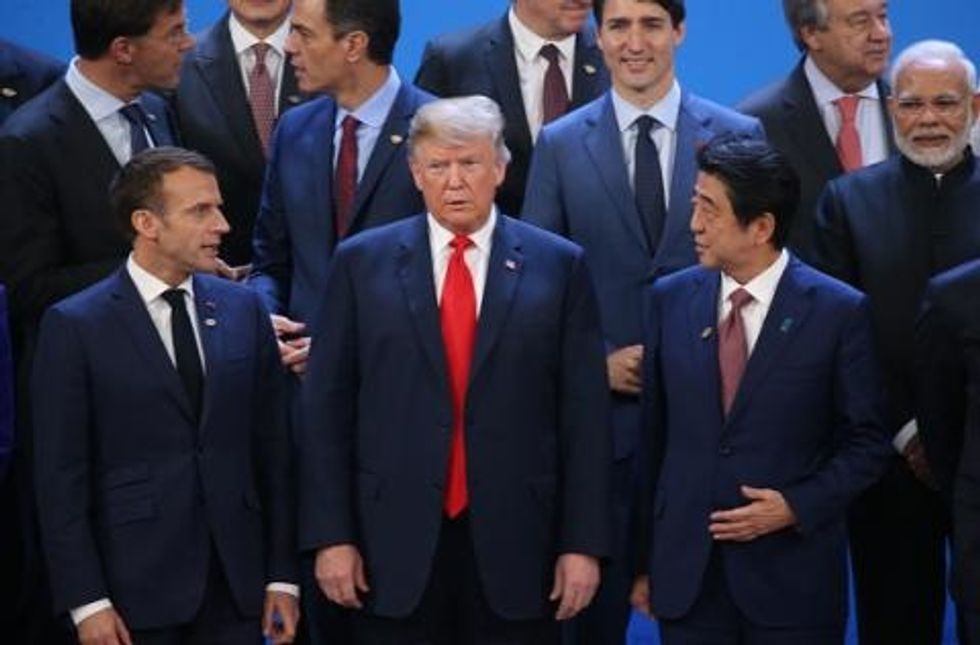 Newsweek - Getty Images
As a final act of belligerence, Trump stormed off the stage as the rest of the world leaders gathered for a photo to commemorate the end of a two-day effort in global solidarity. After shaking hands with Argentine President Mauricio Macri, Trump left Macri visibly confused on stage as he hastily left. Trump was audibly recorded telling an aide, "Get me out of here."

Reluctantly, he returned to the stage moments later to pose for group photos.
Hilarious moment Trump caught saying "get me out of here" at G20 Summit www.youtube.com
Meg Hanson is a Brooklyn-based writer, teacher, and jaywalker. Find Meg at her website and on Twitter @megsoyung.