From Cardi B to Hamilton to Queen Bey herself, here are ten songs that have inspired and soundtracked the ascensions of female politicians and powerful women of the modern world.
If it wasn't clear from Alexandria Ocasio-Cortez's recent Twitter battle with Cardi B and Tomi Lahren, we're living in an era where politicians and musicians have the ability to influence each other on huge scales.
But music has long been a source of inspiration and power, especially for women or other people whose voices have been subjugated or silenced.
In honor of the newest class of women in Congress, and in celebration of women in politics in general, here's a list of ten songs that we think would make the perfect soundtrack to their ascensions, and might even inspire you to follow suit.
1. Cardi B – Best Life
Cardi B - Best Life feat. Chance The Rapper [Official Audio] www.youtube.com
Not only did Rep. Alexandria Ocasio-Cortez grow up in the same borough of New York as superstar Cardi B; she also tweeted the lyrics to her song Best Life, featuring Chance the Rapper.
The song's lyrics seem to align with Ocasio-Cortez's approach to communicating with her supporters, which has been radically honest and personal, as she frequently shares developments at work and at home via her Instagram stories. Though she was met with backlash from users who told her to "write intelligibly," Ocasio-Cortez's supporters cheered the reference.

Unabashedly outspoken and proud of their stratospheric rise to the top of their respective fields, Ocasio-Cortez and Cardi B are two women who seem to be on unstoppable paths—while determined to keep it real all the while.
2. Anaïs Mitchell – Why We Build the Wall
Anaïs Mitchell ft. Greg Brown - Why We Build the Wall www.youtube.com
When folk singer Anaïs Mitchell penned "Why We Build the Wall" in 2006 for her concept album Hadestown, she never imagined that its lyrics—which retell the story of the Greek god of death Hades and his quasi-American capitalist hellscape—would become so relevant.

The song is a call-and-response narrative between Hades and his citizens, who work ceaselessly on a wall in exchange for the economic security that living in Hadestown provides. It contains lyrics like, "The wall keeps out the enemy / and the enemy is poverty / and we build the wall to keep us free / that's why we build the wall." Hadestown, which also tells the story of Orpheus and Eurydice, is coming to Broadway in the spring of 2019.
This song seems like it would make the perfect satirical rallying cry for Nancy Pelosi, who denounced Donald Trump's request for $5.7 billion to build his wall between the U.S. and Mexico after his speech on January 8th, two weeks in to what would become the longest government shutdown ever.
3. Aretha Franklin – Respect
Aretha Franklin - Respect [1967] (Original Version) www.youtube.com
Aretha Franklin passed away in August of 2018, but her legacy lives on within every woman who ever wanted to be treated with honor and—as perhaps her most iconic song repeats—R - E - S - P - E - C - T. (Hint: that's all of us).

Aretha's unforgettable voice soars above the song's infectious musical backdrop, coalescing to form a track that is alternatingly prideful and enraged, hopeful and world-weary. This song's message seems too vast to be contained to one politician or time period. It's a timeless sentiment that could change the world, if we'd only listen.
4. Ms. Lauryn Hill – Everything is Everything
Lauryn Hill - Everything Is Everything www.youtube.com
In June, recently-announced 2020 presidential candidate Kamala Harris posted a Spotify playlist as a homage to important black musicians of the 20th century. The third song on the playlist, "Everything is Everything" from the iconic The Miseducation of Ms. Lauryn Hill, echoes sentiments that Harris has proclaimed in her own speeches.

Its powerful lyrics, "Sometimes it seems / We'll touch that dream. But things come slow or not at all / And the ones on top, won't make it stop / So convinced that they might fall," seem like they could be a rallying cry for Harris, a politician campaigning on promises of "American values" and "not putting people in boxes."
Hill's message of everything is everything is a beautiful sentiment about the way that all people and all issues are interconnected and cannot be addressed independently, and she has long been a powerful voice for women of color.
Kamala Harris's work as a prosecutor is under scrutiny from leftists everywhere, but judging by her playlist, at least her music taste is up to par.
5. Lin-Manuel Miranda – Satisfied
Satisfied www.youtube.com
Female characters take the backseat to the titular protagonist of Lin-Manuel Miranda's Hamilton, but Angelica Schuyler's Satisfied is a show-stopper in a class of its own. Sung by the sister of Eliza, Alexander Hamilton's wife, it is a flashback to the night that they all met, when Angelica developed feelings for Alexander but decided she needed to set her sights on marrying someone richer.

Angelica, played by Renée Elise Goldsberry in the musical, spits some of the show's fastest bars and hits some of its highest notes in this virtuosic performance, which reveals the extent of her brilliance as well as the extent of her regret at not taking a chance on love.
It might be easy to dedicate this song to Hillary Clinton, whose tenacious determination to win the presidency and refusal to be satisfied with a mere first-ladyship (or Secretary of State position) does belie a similar ambition to Angelica's.
But Angelica, with her razor-sharp wit and social sensibilities, seems similar to some of Congress's outspoken freshmen members, such Ayanna Pressley, who has been an outspoken critic of Trump and many of his policies from her first moments on the House floor, running on the message "Change can't wait" with an urgency evocative of Angelica's intense drive.
6. Taylor Swift – Bad Blood
Taylor Swift - Bad Blood ft. Kendrick Lamar www.youtube.com
Taylor Swift has had her fair share of beef with other artists, but until 2018 remained staunchly apolitical. But after Swift announced in an Instagram post that she "could not support Marsha Blackburn," the politician lashed out—provoking serious flashbacks to the time that Taylor Swift allegedly attacked Katy Perry over a feud involving backup dancers through her video, Bad Blood.

The stakes were slightly higher in this situation, and Blackburn still snagged the Senate seat in spite of the star's opposition.
"Of course I support women and I want violence to end against women," said Blackburn in response to Swift, who had also written that the politician's "voting record in Congress appalls and terrifies" her. Blackburn has been a supporter of Trump's border wall as well as his efforts to end Obamacare.
7. Questlove's Entire Michelle Obama Playlist
Michelle Obama's Musiaqualogy Vol 1 1964-1979 by Questlove
Michelle Obama's Musiaqualogy Vol 2. 1980-1997 by Questlove
Michelle Obama's Musiaqualogy Vol 3. 1997-2018 by Questlove
The musician Questlove of the band The Roots has created three 100-song playlists for Michelle Obama's Becoming book tour, and every song is worth putting on repeat. Entitled The Michelle Obama Musiaquology, it is a journey through time (and occasionally, space) filled with mournful, fierce, and empowering tracks—much like the biography it was designed to soundtrack.

Obama's Becoming is more about hope and unity than it is about politics and division, and so are most of the songs in this playlist. An exuberant melding of jazz, pop, and the occasional stylistic outlier, Questlove's compilation elevates voices of joy, pride, black power, and solidarity in an era in desperate need of them. Featuring icons ranging from Ella Fitzgerald to Kendrick Lamar, it's a survey of music throughout history that has given hope to those who need it most.
8. MILCK – I Can't Keep Quiet
MILCK - Quiet www.youtube.com
Newcomer MILCK's powerful composition became the anthem of the first Women's March, and since then, the artist has continued to release waves of meaningful music while maintaining a confessional and motivational social media presence.

The vulnerable and passionate song that made her famous could be an anthem for kids like Emma Gonzalez, speaking out against gun violence, and for all the other women who have spoken and will continue to reach out and fight for their beliefs.
9. Against Me! — True Trans Soul Rebel
Against Me! - True Trans Soul Rebel [ALBUM VERSION] www.youtube.com
In the shadows of the Trump administration's ban against transgender people in the military, this song is a reminder that trans people not only exist but will continue to fight.

Transgender politician Christine Hallquist did not win in the general Vermont elections for governor, but she did secure a spot in the 2018 Democratic primaries, the first time a transgender person has been nominated by a major party. And more transgender and LGBTQ people ran and won races in November 2018 than ever before, signaling an upswing of pride in spite of the Trump administration's anti-trans policies.
Against Me!'s True Trans Soul Rebel has long been an anthem for the transgender community, an outcry of pain against a world that constantly threatens them with erasure.
10. Beyoncé – Who Run the World (Girls)
Beyoncé - Run the World (Girls) (Video - Main Version) www.youtube.com
No list of songs for female politicians would be complete without Queen Bey's presence. This song is one of the crown jewels of feminist anthems, with its infectious beat pounding underneath Beyonce's velvety vocals and its iconic refrain. This one goes out to all the future female politicians, including the hopefully soon-to-be first female commander-in-chief.

With that, we welcome the 42 new female congresswomen, celebrate the women who came before them, and encourage all the women and trans people coming after to rise up and sing out. Listen to these songs enough and internalize their messages, and it could be you in those seats someday.
---
Eden Arielle Gordon is a writer and musician from New York City.
---
Russian ships fired on Ukrainian sailors and illegally detained whole crews over the weekend, escalating Russia-Ukraine tensions.
Ukraine began the week by declaring martial law after six navy sailors were injured when the Russian coast guard open fired on them. Concerningly, three Ukrainian artillery ships were also seized, with their 24 crew members forcibly detained by Russian authorities.
U.S. Ambassador Nikki Haley urged Russia to "immediately cease its unlawful conduct" in the Black Sea off the coast of Crimea, which was illegally annexed by Russia in 2014. "In the name of international peace and security, Russia must immediately cease its unlawful conduct and respect the navigational rights and freedoms of all states," Haley announced at an emergency meeting of the U.N. Security Council late Monday morning.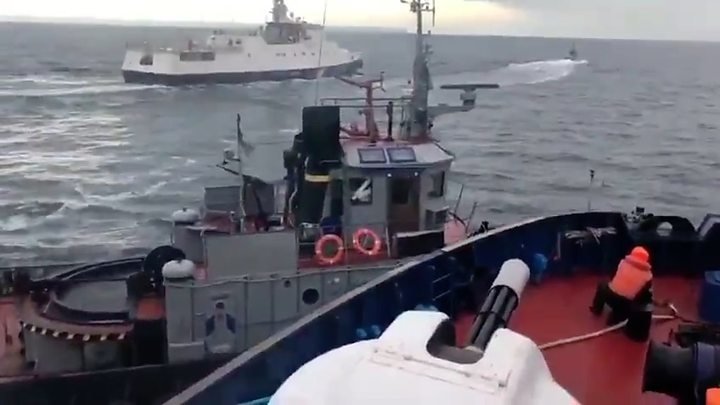 Russian vessel rams Ukrainian shipBBC
In response to the maritime incident, Ukraine's parliament overwhelmingly voted to impose martial law in the 10 regions bordering Russia. Ukrainian President Petro Poroshenko announced that martial law will last for 30 days, concluding in December, at which time he will assess the need for further action.
Poroshenko openly condemned Russia's actions, stating, "We consider it as an act of aggression against our state and a very serious threat," the president said. "Unfortunately, there are no 'red lines' for the Russian Federation." The international community has joined Ukraine in condemning Russia's actions, with NATO Secretary General Jens Stoltenberg pledging "full support for Ukraine's territorial integrity" and stating that Russia had "no justification" for the seizure of Ukraine's ships.
Russian officials dispute the details of the altercation, as the Federal Security Service contends that the skirmish was a justified response to the Ukrainian ships illegally entering territorial waters. Russia's Border Service released a statement over the weekend, stating, "The vessels are carrying out dangerous maneuvers and are disobeying the Russian authorities' demands." Ukraine denies allegations of wrongdoing, citing a 2003 treaty dictating maritime rights and protocol over the Kerch Strait where their ships were detained.
Ultimately, both governments are interpreting the incident as a fabricated aggression in order to discredit the other. Amidst an international backlash over the conflict, an arbitration court in Paris reportedly ruled that Russia owed Ukraine $1.3 billion in damages for the property seized in the annexation of Crimea. Though Russia did not comment on the ruling, they've accused the Ukrainian president of using the situation as a "dangerous provocation" that justifies the imposition of martial law, which grants him the power to manipulate Ukraine's next presidential election, scheduled for March.
It's true that President Poroshenko is currently far behind his political rival in the polls. Oksana Syroid, a deputy speaker in Ukraine's parliament, agreed, "Martial law in Ukraine would present a wonderful chance to manipulate the presidential elections." Aside from increasing the president's power, martial law would ostensibly allow the government to strengthen air defense and prepare a partial mobilization in the event of a Russian incursion. However, it could also restrict Ukrainians' civil liberties. For instance, objectors cite parliament's ambiguous wording in its plans for "strengthening" anti-terrorism measures and "information security." Three former Ukrainian presidents have already publicly opposed martial law, penning a letter that warns that it could be a "threat to democracy" in a country that found its democratic feet less than 30 years ago.
Martial law is set to begin on Wednesday, November 28. Alleged footage of the maritime clash has been leaked across news outlets and Youtube, found below.

Russian vessels fire at and seize Ukrainian ships youtu.be
Meg Hanson is a Brooklyn-based writer, teacher, and jaywalker. Find Meg at her website and on Twitter @megsoyung
The Senator tweeted an awkward sports analogy about the Florida election recounts.
Like a dorky but enthusiastic Dad trying to connect with a teenage son he doesn't understand, Marco Rubio made an epicly bad sports analogy in a tweet about the vote recount in Florida.
He was consequently mocked by twitter users for calling a field goal "a three point kick," earning a number of responses that questioned the Senator's sports knowledge and the logic of the intended metaphor.

In response, Rubio whined about the ridicule, somehow managing to go even further into the hole of lameness he dug for himself, essentially saying, "Haha no guys seriously I know about sport I love sport let's toss the ole pigskin haha go Dolphins!"

Of course, this is not the first time Rubio has embarrassed himself in the realm of sports. How can any of us forget the iconic moment in his 2016 presidential campaign when he nailed a child in the face with a football?

Maybe if you stop trying so hard be athletic, Marco, you won't need to be so disciplined about hydration.
Marco Rubio Pauses Speech for Water Break www.youtube.com
Brooke Ivey Johnson is a Brooklyn based writer, playwright, and human woman. To read more of her work visit her blog or follow her twitter @BrookeIJohnson.
"To discuss something this sensitive at a political rally is just not right," said Arizona senator Jeff Flake.
Lisa Murkowski (AK), called the president's remarks "wholly inappropriate, and, in my view, unacceptable."

The three Senate Republicans holding key swing votes on Brett Kavanaugh's Supreme Court nomination spoke out on Wednesday against comments the president made at a political rally in Mississippi the night before. "The president's comments are just plain wrong," said Susan Collins (ME).

"To discuss something this sensitive at a political rally is just not right," said Jeff Flake (AZ).

At the rally, Trump questioned the credibility of Dr. Christine Blasey Ford, who testified in front of the Committee last week that Kavanaugh forced himself on her, groped her, and attempted to silence her cries for help when they were teenagers. Mockingly reenacting the questioning, he said, "How did you get home? 'I don't remember.' How did you get there? 'I don't remember.' Where was the place? 'I don't remember.'"
The president's comments are a far cry from the days immediately after Ford's testimony, during which he called her "a very credible witness," and her testimony "very compelling." When asked by the Committee how sure she was that her assailant was Kavanaugh, Ford answered, "100%." Kavanaugh has denied all allegations.

The president then turned his attention to Kavanaugh, echoing the judge's own testimony that the accusations have "destroyed [his] family and good name," claiming, "A man's life is in tatters" and calling the Democratic party's attempts to investigate Ford's claims a smear campaign. President Trump has been vocal about the need for due process, lamenting that the criminal justice system has become one in which someone is "guilty until proven innocent." Rally attendees were enthusiastic about the president's remarks, despite having repeated their 2016 campaign battle cry, "Lock her up," hours earlier.
Ford isn't the only woman who's accused Kavanaugh of sexual misconduct. Julie Swetnick alleged that Kavanaugh and his friend Mark Judge, who Ford claims to have been present during her assault, were among a group of friends who would target and drug girls at parties and take turns having sex with them. While Swetnick does not accuse Kavanaugh of participating in her own gang rape, she claims that he was at the party where it happened. Deborah Ramirez, in an interview with The New Yorker, said that Kavanaugh exposed himself to her at a party when they both attended Yale.
In her opening statement, Ford noted that she was " terrified" to testify before the committee, despite having passed a polygraph test administered by the FBI. Still, both the president, Judge Kavanaugh, and many members of the GOP have dismissed Ford's accusations as false, despite the fact that false rape allegations are very rare.
Collins, Murkowski, and Flake have remained publicly undecided on whether they will vote to confirm Kavanaugh, though Flake called for an expanded background investigation of the nominee and the allegations against him. Controlled closely by the White House, the investigation was closed on Wednesday evening. A single copy of the investigation report was made available to Senate Judiciary Committee members on Thursday morning, and Collins and Flake have said that they were satisfied with the result. However, the FBI never contacted a number of potential sources and character witnesses who may have been able to corroborate such claims. While the agency did speak with Ramirez, they did not follow up with the roughly 20 people whom she said could provide more information. Over 40 people have contacted the agency to offer testimony, including Swetnick and Kerry Bercham, a former roommate of Ramirez's, but federal investigators never responded.
After the investigation was closed, majority leader Mitch McConnell filed a motion to cloture Kavanaugh's nomination, restricting the amount of time to debate before a floor vote to 30 hours and ensuring that a vote will take place this week.
---
Rebecca Linde is a writer and cultural critic in NYC. She tweets about pop culture and television @rklinde.
YouTube star Devin Graham has made a life out of traveling the world and documenting his extreme adventures on his YouTube channel. Here are four moments he will never forget.

Tahiti: Saved by Technology
I was in Tahiti filming for two weeks, capturing the culture, and staying with a family I had just met when I arrived. My host family couldn't speak any English, and I couldn't speak Tahitian or French, the two native languages. They lived in a super remote area – so remote that their school bus was a boat, not a car – and there weren't any bilingual people around to help us. I quickly realized that the caveman way of speaking didn't work so well for real dialogue. But the family had just been connected to the Internet, so I sat down with them at their computer, and together we used Google Translate to communicate. I would type on Google Translate in English, and my words would be translated into Tahitian, and then they would type in Tahitian which would be translated into English. By communicating this way, I was able to film all the shots I needed. I wanted so badly to communicate with this family for the first few days; when I finally realized we could use technology to help us, everything changed.
Keep reading...
Show less
The theme of trust and distrust has always been prevalent in music and art.