Russian ships fired on Ukrainian sailors and illegally detained whole crews over the weekend, escalating Russia-Ukraine tensions.
Ukraine began the week by declaring martial law after six navy sailors were injured when the Russian coast guard open fired on them. Concerningly, three Ukrainian artillery ships were also seized, with their 24 crew members forcibly detained by Russian authorities.
U.S. Ambassador Nikki Haley urged Russia to "immediately cease its unlawful conduct" in the Black Sea off the coast of Crimea, which was illegally annexed by Russia in 2014. "In the name of international peace and security, Russia must immediately cease its unlawful conduct and respect the navigational rights and freedoms of all states," Haley announced at an emergency meeting of the U.N. Security Council late Monday morning.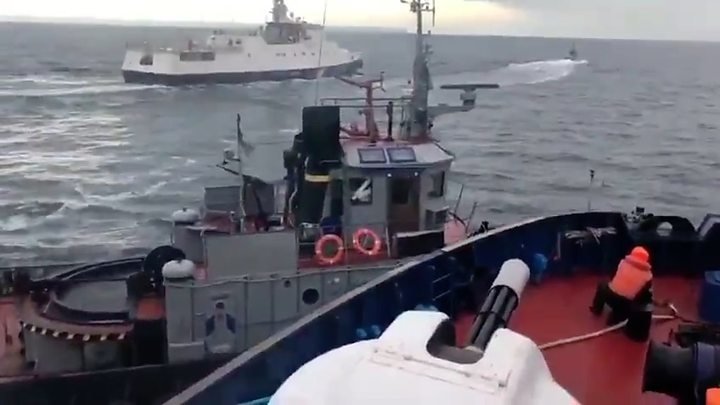 Russian vessel rams Ukrainian shipBBC
In response to the maritime incident, Ukraine's parliament overwhelmingly voted to impose martial law in the 10 regions bordering Russia. Ukrainian President Petro Poroshenko announced that martial law will last for 30 days, concluding in December, at which time he will assess the need for further action.
Poroshenko openly condemned Russia's actions, stating, "We consider it as an act of aggression against our state and a very serious threat," the president said. "Unfortunately, there are no 'red lines' for the Russian Federation." The international community has joined Ukraine in condemning Russia's actions, with NATO Secretary General Jens Stoltenberg pledging "full support for Ukraine's territorial integrity" and stating that Russia had "no justification" for the seizure of Ukraine's ships.
Russian officials dispute the details of the altercation, as the Federal Security Service contends that the skirmish was a justified response to the Ukrainian ships illegally entering territorial waters. Russia's Border Service released a statement over the weekend, stating, "The vessels are carrying out dangerous maneuvers and are disobeying the Russian authorities' demands." Ukraine denies allegations of wrongdoing, citing a 2003 treaty dictating maritime rights and protocol over the Kerch Strait where their ships were detained.
Ultimately, both governments are interpreting the incident as a fabricated aggression in order to discredit the other. Amidst an international backlash over the conflict, an arbitration court in Paris reportedly ruled that Russia owed Ukraine $1.3 billion in damages for the property seized in the annexation of Crimea. Though Russia did not comment on the ruling, they've accused the Ukrainian president of using the situation as a "dangerous provocation" that justifies the imposition of martial law, which grants him the power to manipulate Ukraine's next presidential election, scheduled for March.
It's true that President Poroshenko is currently far behind his political rival in the polls. Oksana Syroid, a deputy speaker in Ukraine's parliament, agreed, "Martial law in Ukraine would present a wonderful chance to manipulate the presidential elections." Aside from increasing the president's power, martial law would ostensibly allow the government to strengthen air defense and prepare a partial mobilization in the event of a Russian incursion. However, it could also restrict Ukrainians' civil liberties. For instance, objectors cite parliament's ambiguous wording in its plans for "strengthening" anti-terrorism measures and "information security." Three former Ukrainian presidents have already publicly opposed martial law, penning a letter that warns that it could be a "threat to democracy" in a country that found its democratic feet less than 30 years ago.
Martial law is set to begin on Wednesday, November 28. Alleged footage of the maritime clash has been leaked across news outlets and Youtube, found below.

Russian vessels fire at and seize Ukrainian ships youtu.be
Meg Hanson is a Brooklyn-based writer, teacher, and jaywalker. Find Meg at her website and on Twitter @megsoyung
The Senator tweeted an awkward sports analogy about the Florida election recounts.
Like a dorky but enthusiastic Dad trying to connect with a teenage son he doesn't understand, Marco Rubio made an epicly bad sports analogy in a tweet about the vote recount in Florida.
He was consequently mocked by twitter users for calling a field goal "a three point kick," earning a number of responses that questioned the Senator's sports knowledge and the logic of the intended metaphor.

In response, Rubio whined about the ridicule, somehow managing to go even further into the hole of lameness he dug for himself, essentially saying, "Haha no guys seriously I know about sport I love sport let's toss the ole pigskin haha go Dolphins!"

Of course, this is not the first time Rubio has embarrassed himself in the realm of sports. How can any of us forget the iconic moment in his 2016 presidential campaign when he nailed a child in the face with a football?

Maybe if you stop trying so hard be athletic, Marco, you won't need to be so disciplined about hydration.
Marco Rubio Pauses Speech for Water Break www.youtube.com
Brooke Ivey Johnson is a Brooklyn based writer, playwright, and human woman. To read more of her work visit her blog or follow her twitter @BrookeIJohnson.
"To discuss something this sensitive at a political rally is just not right," said Arizona senator Jeff Flake.
Lisa Murkowski (AK), called the president's remarks "wholly inappropriate, and, in my view, unacceptable."

The three Senate Republicans holding key swing votes on Brett Kavanaugh's Supreme Court nomination spoke out on Wednesday against comments the president made at a political rally in Mississippi the night before. "The president's comments are just plain wrong," said Susan Collins (ME).

"To discuss something this sensitive at a political rally is just not right," said Jeff Flake (AZ).

At the rally, Trump questioned the credibility of Dr. Christine Blasey Ford, who testified in front of the Committee last week that Kavanaugh forced himself on her, groped her, and attempted to silence her cries for help when they were teenagers. Mockingly reenacting the questioning, he said, "How did you get home? 'I don't remember.' How did you get there? 'I don't remember.' Where was the place? 'I don't remember.'"
The president's comments are a far cry from the days immediately after Ford's testimony, during which he called her "a very credible witness," and her testimony "very compelling." When asked by the Committee how sure she was that her assailant was Kavanaugh, Ford answered, "100%." Kavanaugh has denied all allegations.

The president then turned his attention to Kavanaugh, echoing the judge's own testimony that the accusations have "destroyed [his] family and good name," claiming, "A man's life is in tatters" and calling the Democratic party's attempts to investigate Ford's claims a smear campaign. President Trump has been vocal about the need for due process, lamenting that the criminal justice system has become one in which someone is "guilty until proven innocent." Rally attendees were enthusiastic about the president's remarks, despite having repeated their 2016 campaign battle cry, "Lock her up," hours earlier.
Ford isn't the only woman who's accused Kavanaugh of sexual misconduct. Julie Swetnick alleged that Kavanaugh and his friend Mark Judge, who Ford claims to have been present during her assault, were among a group of friends who would target and drug girls at parties and take turns having sex with them. While Swetnick does not accuse Kavanaugh of participating in her own gang rape, she claims that he was at the party where it happened. Deborah Ramirez, in an interview with The New Yorker, said that Kavanaugh exposed himself to her at a party when they both attended Yale.
In her opening statement, Ford noted that she was " terrified" to testify before the committee, despite having passed a polygraph test administered by the FBI. Still, both the president, Judge Kavanaugh, and many members of the GOP have dismissed Ford's accusations as false, despite the fact that false rape allegations are very rare.
Collins, Murkowski, and Flake have remained publicly undecided on whether they will vote to confirm Kavanaugh, though Flake called for an expanded background investigation of the nominee and the allegations against him. Controlled closely by the White House, the investigation was closed on Wednesday evening. A single copy of the investigation report was made available to Senate Judiciary Committee members on Thursday morning, and Collins and Flake have said that they were satisfied with the result. However, the FBI never contacted a number of potential sources and character witnesses who may have been able to corroborate such claims. While the agency did speak with Ramirez, they did not follow up with the roughly 20 people whom she said could provide more information. Over 40 people have contacted the agency to offer testimony, including Swetnick and Kerry Bercham, a former roommate of Ramirez's, but federal investigators never responded.
After the investigation was closed, majority leader Mitch McConnell filed a motion to cloture Kavanaugh's nomination, restricting the amount of time to debate before a floor vote to 30 hours and ensuring that a vote will take place this week.
---
Rebecca Linde is a writer and cultural critic in NYC. She tweets about pop culture and television @rklinde.
YouTube star Devin Graham has made a life out of traveling the world and documenting his extreme adventures on his YouTube channel. Here are four moments he will never forget.

Tahiti: Saved by Technology
I was in Tahiti filming for two weeks, capturing the culture, and staying with a family I had just met when I arrived. My host family couldn't speak any English, and I couldn't speak Tahitian or French, the two native languages. They lived in a super remote area – so remote that their school bus was a boat, not a car – and there weren't any bilingual people around to help us. I quickly realized that the caveman way of speaking didn't work so well for real dialogue. But the family had just been connected to the Internet, so I sat down with them at their computer, and together we used Google Translate to communicate. I would type on Google Translate in English, and my words would be translated into Tahitian, and then they would type in Tahitian which would be translated into English. By communicating this way, I was able to film all the shots I needed. I wanted so badly to communicate with this family for the first few days; when I finally realized we could use technology to help us, everything changed.
Keep reading...
Show less
The theme of trust and distrust has always been prevalent in music and art.