Dall-E Mini, the AI-powered text-to-image generator has taken over the internet. With its ability to render nearly anything your meme-loving heart desires, anyone can make their dreams come true.
DALL-E 2, a portmanteau of Salvador Dali, the surrealist and Wall-E, the Pixar robot, was created by OpenAI and is not widely available; it creates far cleaner imagery and was recently used to launch Cosmpolitan's first AI-generated cover. The art world has been one of the first industries to truly embrace AI.
The open-sourced miniature version is what's responsible for the memes. Programmer Boris Dayma wants to make AI more accessible; he built the Dall-E Mini program as part of a competition held by Google and an AI community called Hugging Face.
And with great technology, comes great memes. Typing a short phrase into Dall-E Mini will manifest 9 different amalgamations, theoretically shaping into reality the strange images you've conjured. Its popularity leads to too much traffic, often resulting in an error that can be fixed by refreshing the page or trying again later.
If you want to be a part of the creation of AI-powered engines, it all starts with code. CodeAcademy explains that Dall-E Mini is a seq2seq model, "typically used in natural language processing (NLP) for things like translation and conversational modeling." CodeAcademy's Text Generation course will teach you how to utilize seq2seq, but they also offer opportunities to learn 14+ coding languages at your own pace.
You can choose the Machine Learning Specialist career path if you want to become a Data Scientist who develops these types of programs, but you can also choose courses by language, subject (what is cybersecurity?) or even skill - build a website with HTML, CSS, and more.
CodeAcademy offers many classes for free as well as a free trial; it's an invaluable resource for giving people of all experience levels the fundamentals they need to build the world they want to see.
As for Dall-E Mini, while some have opted to create beauty, most have opted for memes. Here are some of the internet's favorites:
There's no looking back now, not once you've seen Pugachu; artificial intelligence is here to stay.
Opponents say too much homework is killing children's free time and adding unnecessary stress. But is there any evidence to support this?
As the 2017-18 school year heads into the home stretch, kids everywhere yearn for the glorious days and nights free of the dreaded "H-word."
The end of the school year means No. More. Homework.
Summer means freedom from completing assignments on the couch- unless you happen to be one of the 20,000 elementary school students in Florida's Marion County public school district because you never had any in the first place. This year, superintendent Heidi Maier did away with traditional homework in favor of having kids read on their own. Marion County wasn't alone either; other schools doing away with homework can be found in Vermont, Montreal, Virginia, and Texas. In Spain, students went on strike to reclaim their weekend free time from those dastardly textbooks.
Homework has become a lightning rod for controversy, a topic argued with all the fervor, and silliness of 6th-graders re-enacting the Lincoln-Douglas debates.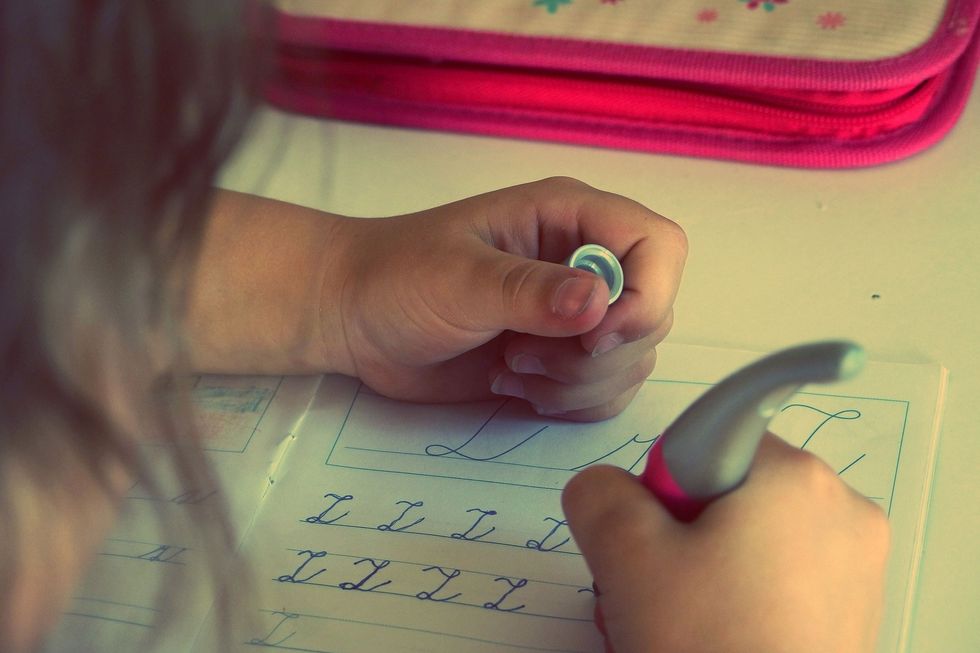 Some schools are banning homework all together
It all boils down to one simple question; how much is too much?
The answer is… This isn't an SAT test. There is no oval to fill in with a pencil. The answer is there is no right answer.
In 2009, the Organization for Economic Cooperation and Development (OECD) performed a study of 15-year-old students among its 38 member countries and found that American kids averaged 6.1 hours of homework a week, ranking them 15th overall. At 9.7 hours a week, Chinese students had the most homework time, while Finnish scholars and their scant 2.8 hours of homework, get to spend way more time doing whatever. Does it matter? Take Singapore, which comes in 3rd with 9.4 homework hours, but is the top dog in the OECD student assessment, PISA. Rounding out the PISA top five? Those lazy Finns, five spots ahead of the Chinese. The United States (which in the PISA survey is defined by 540,000 kids from Massachusetts and North Carolina) came in at #25, so clearly doing a lot of homework, or very little homework, beats doing some homework?
Is there any metric for setting a standard national allotted homework time?
Both the National Education Association (NEA) and the National PTA (NPTA) support a standard of "10 minutes of homework per grade level" and setting a general limit on after-school studying. This means a first-grader has 10 minutes, and a high school senior would have two hours. Sounds reasonable, right? Reasonable, but not scientific. According to a recent Slate article, the 10-minute rule is "not based on any research."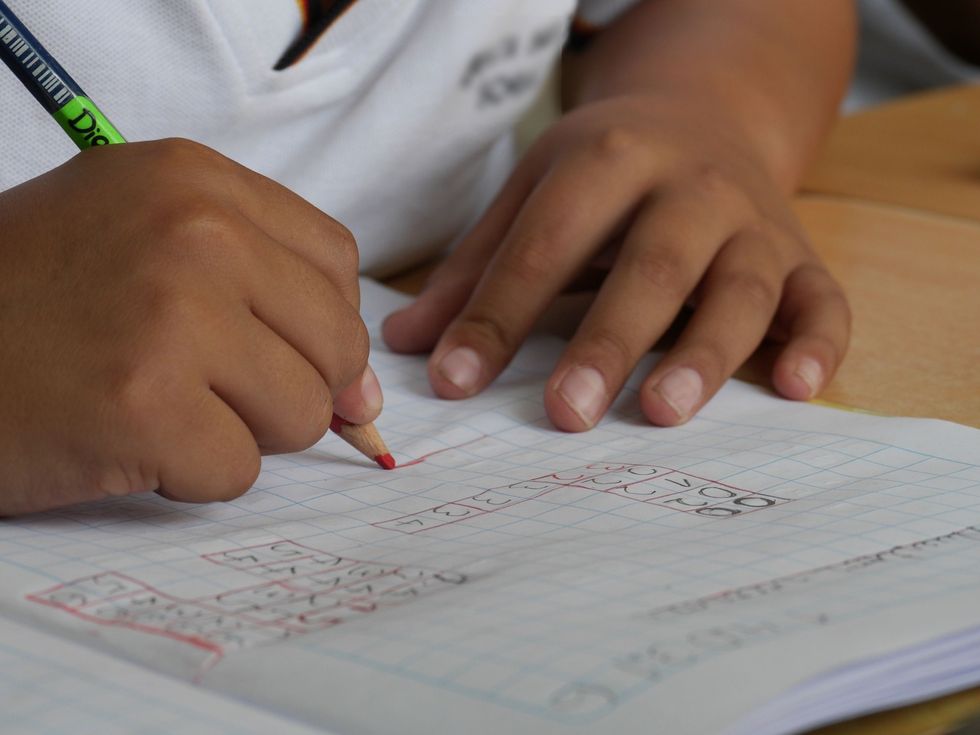 The standard in America is 10 minutes of homework per grade level
Given the role homework plays in the scholastic, social, and cultural development homework plays in a child's life, the lack of wide-ranging research into the topic is maddening.
Even the most basic metric is in dispute. A 2014 University of Phoenix study found high school teachers assign an average of 3.5-hours of homework, while the 2016 American Time Use study of full-time high school students found it took less than an hour to complete the daily outside-of-school assignments. These are not equal equations, both can not be true, except, of course, they can.
The crux of the is matter is the proper amount of homework is intertwined with individual students, which renders hard-and-fast rules moot.
The homework conundrum gets boiled down to personal anecdotes. If a child struggles with homework, it's a problem, one that can affect stress levels at school and home, and turn learning into a chore. A Brown Center on Education Policy report states that the homework burden isn't growing, but try telling that to a parent whose wigged-out child can't stay awake or focus because she's up until 1 a.m. doing schoolwork every night. (The terrific writer Karl Taro Greenfeld tried to live his eighth-grader's scholastic life for a week and declared "My Daughter's Homework is Killing Me.")
The main argument for homework, particularly in the upper grades, is that it prepares kids for their academic future. Well does it? An oft-cited 2006 Duke University meta-analysis looked at the years 1987-2003 to try and determine if homework improved academic achievement. The authors found a "stronger correlation existed in Grades 7-12 than K-6 and when students rather than parents reported on homework," and concluded with "the authors suggest future research." Presumably, outside of class.
Keep reading...
Show less
DIY: Do we need to teach kids cursive anymore or is it becoming a thing of the past?
It's been a long time since I was a grade school student (COUGH--late70searly80s--COUGH), but it boggles my mind how different classwork is today for our second-grade daughter. Techniques are so much better in terms of teaching kids' skills and strategies, instead of the rote "repetition and memorization" of my youth. I'm glad kids will never again know the tedium of pulling out a Big Chief tablet and taking dictation day-after-day-after-day. It's all in the name of competing in the global 21st-century economy, but there's one old school skill no longer taught (at least in my daughter's Brooklyn public school) that I have definite mixed feelings about. As she said to me the other day after I wrote something down for her, "Dad, I can't read this, it's in script." Or as we called it back at Kate Fratt Catholic, cursive.
So are the lovely flowing letters going the way of calligraphy? Not so fast. Break out your fountain pen and an ink cartridge, Longfellow… Sorry, ask your parents.
In a 2016 Washington Post article, Joe Heim writes that "cursive writing was suppose to be dead by now," but it's actually making a comeback in the age of the texting thumb. A number of states have added some form of cursive requirements, including Louisiana, which mandates all public schools, charters included, teach the sweeping script from 3rd-through-12th grade.
It's popping up all over the country. A Google search of "cursive writing" over the last year found a 4th-grade club in Kentucky, a Minnesota man literally named Loop hosting quarterly gatherings at craft beer bars, a New Hampshire museum exhibit highlighting the skill, and all manner of state legislatures arguing over whether it's a necessary part of childhood education.
The value of handwriting as a skill, separate from keyboarding, is clear. It's fundamental in learning to read and write, but the value of cursive as a form of penmanship on its own is murkier. A 1977 study said it's "possible" the continuous flow aids in higher reading and spelling scores, but forty years is a lifetime in classroom learning ago. A 2015 study hints at the same idea, but it wasn't specific to cursive outside of handwriting, so it's far from definitive. At best, the research is inconclusive and it seems cursive obsessiveness is driven by nostalgia.
The more time spent digging into the importance of cursive, the more it has a "get off my lawn" quality. Almost nobody uses it exclusively anymore, not even handwriting teachers as 55% use a print-cursive hybrid, according to a 2012 conference survey. Ask yourself, is there a time or place in modern society where cursive is even necessary? There is no scenario where cursive is required because print won't suffice. Even new Treasury Secretary Steve Mnuchin went with a printed signature on the dollar-dollar-bills. In theory, cursive might matter for electronic signatures, but in practice, a squiggly line is good enough. Then there's odd political supposition that kids "won't be able to read our Constitution," as if most Americans read their King James in Biblical Hebrew and Aramaic.
Yet, I hope my daughter learns to write "in script" and not just so we can communicate on paper. Experts say she can easily learn to read it without writing it, so my reason for wanting her to write cursive isn't pragmatic. It's aesthetic.
Perhaps cursive isn't necessary, but it is.
It's a wondrous style of writing created so the pen didn't have to leave the page (I suspect because those fountain pens were prone to major leakage), and there is something about the flow of cursive that tickles me. The swirls and twirls, curlicues and quirky "Qs," the weirdness of the lower-case letter similarities, individual styles and personal artistic flourishes, the indecipherable signature of my physician father and his brother, my priest uncle. Cursive provides an everyday beauty digital screens never can, and regular print rarely does.
Cursive has soul.
Hey, guess what, honey? The state of New York now wants 3rd-graders to learn cursive. Be still my ink-stained heart.
Keep reading...
Show less
A mother's reflection in the wake of yet another school shooting.
Several months ago, I heard an interview on NPR with a woman who said that water carries memory. When the water freezes, the memories it carries are held in place, and when the ice melts, those memories are released. I don't remember which NPR show this was, nor do I remember the woman's name or what she was being interviewed about, except that she was in the arts, perhaps theater, or music, and she was talking about her most recent project. But, I remembered this one thing she said; that water carries memories, which are held and released, and held and released with the cycling of seasons.

I took a walk this morning. The biting chill in the air was giving way to a cooling thaw, and it felt as if spring might be coming early this year. At Bear Mountain park, near where I live, a grayish white vapor rose off of the frozen surface of the man-made lake, hovering, stretching out like an altostratus cloud. It was early, and I was the only person on the trail. It was so peaceful – the sounds of the breeze through the still bare trees, their fallen branches reaching out from the underneath the veil of ice like giant hands and the smell of the wet earth, ready to release new life.
In the Bible, water is mentioned over 700 times. It symbolizes cleansing, but also creation and God's awesome power. In Genesis, before there is light, sun, earth, plants, leaving creatures, there was water—it existed before existence itself. In Chinese Taoist philosophy, water is home to our essence. It represents wisdom, and great force, as well as perseverance.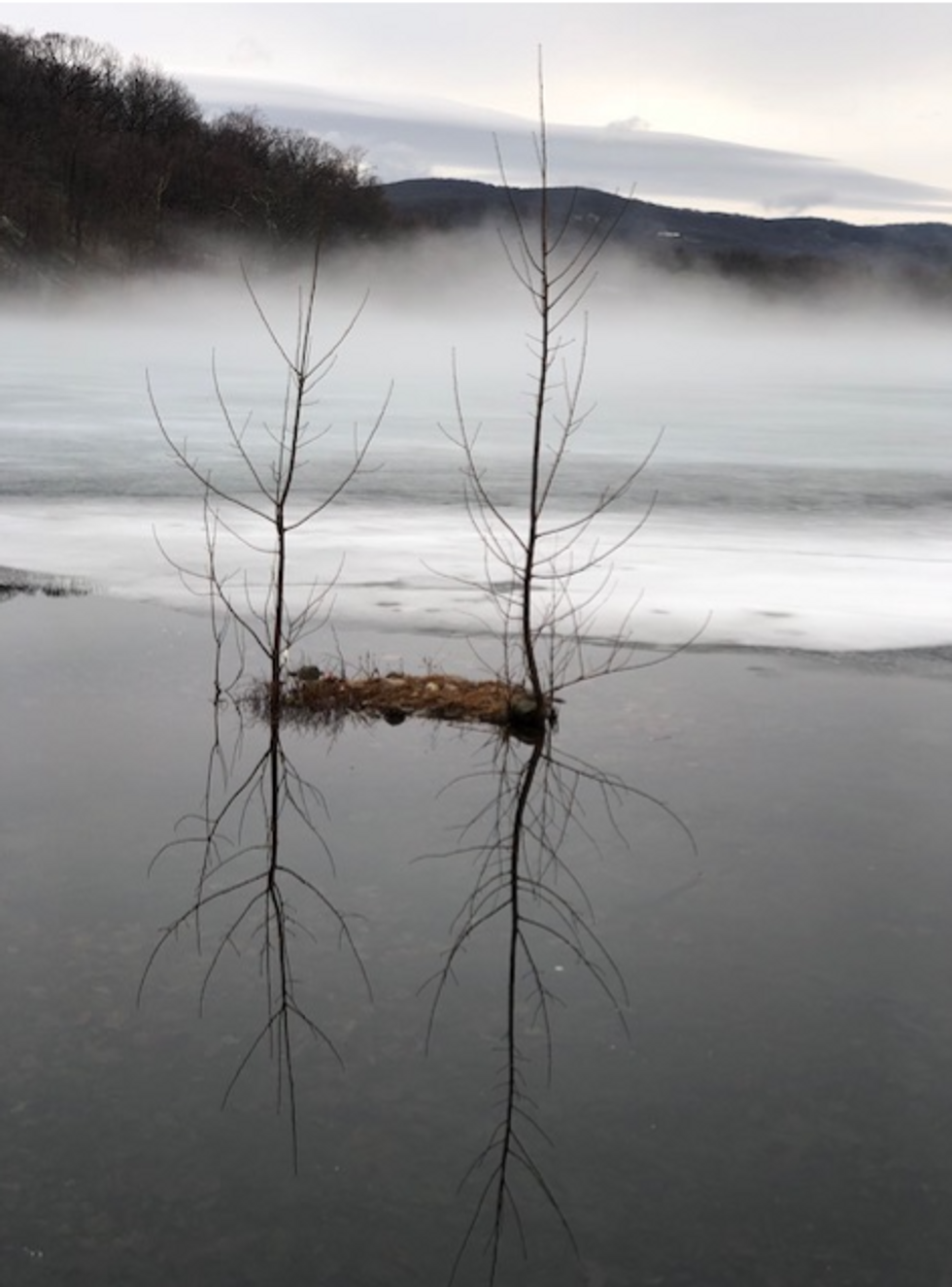 Everywhere I looked this morning, ice was melting, becoming liquid. Bubbles formed underneath the surface of the frozen water on the rocks, sliding and turning over and around the bumps and crevices like tad pols in a stream. The sound of the melting release was everywhere. The applause of the filling streams running down off of the mountain, the rain storm of the current under my feet. In the distance, there was the crack-crack sound of something breaking --- a giant tree falling, or perhaps the roll of a machine, clearing a path Today, however, it reminded me of gun fire.
I often work from home on Thursdays and Fridays, partly to give myself a break from a grueling two-hour commute to work, but mainly to be home to drop off and pick my daughter up from school and to be present. My child is the most important thing in the world to me. Her infectious laughter, the feel of her cheek against mine when I kiss her goodnight, the furrow in her brow when she's worried, how proud I am of all she has achieved and my hopes for all that is yet to come --- this, and everything else about her is part of me, like the heart in my chest or the soul that lives someplace even deeper.
Six years ago, when she was in second grade, I watched images of grieving, broken parents of Newtown, Connecticut on CNN. I lived in a small town very much like Newtown, and I had a daughter who was exactly the same age as those children who were murdered with an assault rifle. Not a day has gone by since when I don't, at some point, worry that I might drop my child off at school in the morning, and not see her alive in the afternoon. After February 14, 2018, I watched CNN again, and, again, the same images of broken and grieving parents as they endure what no parent should ever have to; the senseless murder of a child.
It is said that everything is cyclical. There are some cycles that ground us; nature, aging, good times and bad. Some that challenge us; sickness and health, success and failure. These can't always be controlled – we just have to go with it. And then there are the cycles of another sort; violence, insanity, corruption, dishonesty, dereliction of duty. These are the kind of cycles that, if not controlled, if not broken, will break us. These are the cycles that Lori Alhadeff, the mother of 14-year-old victim Alyssa Alhadeff inveighed against when she pleaded into the camera, "President Trump, we need action. Now!" It's the cycle that sophomore Isabella Gomez took on when, in response to President Trump's declaration that We are here for you. We are here to ease your pain, that "He really needs to take into consideration gun control."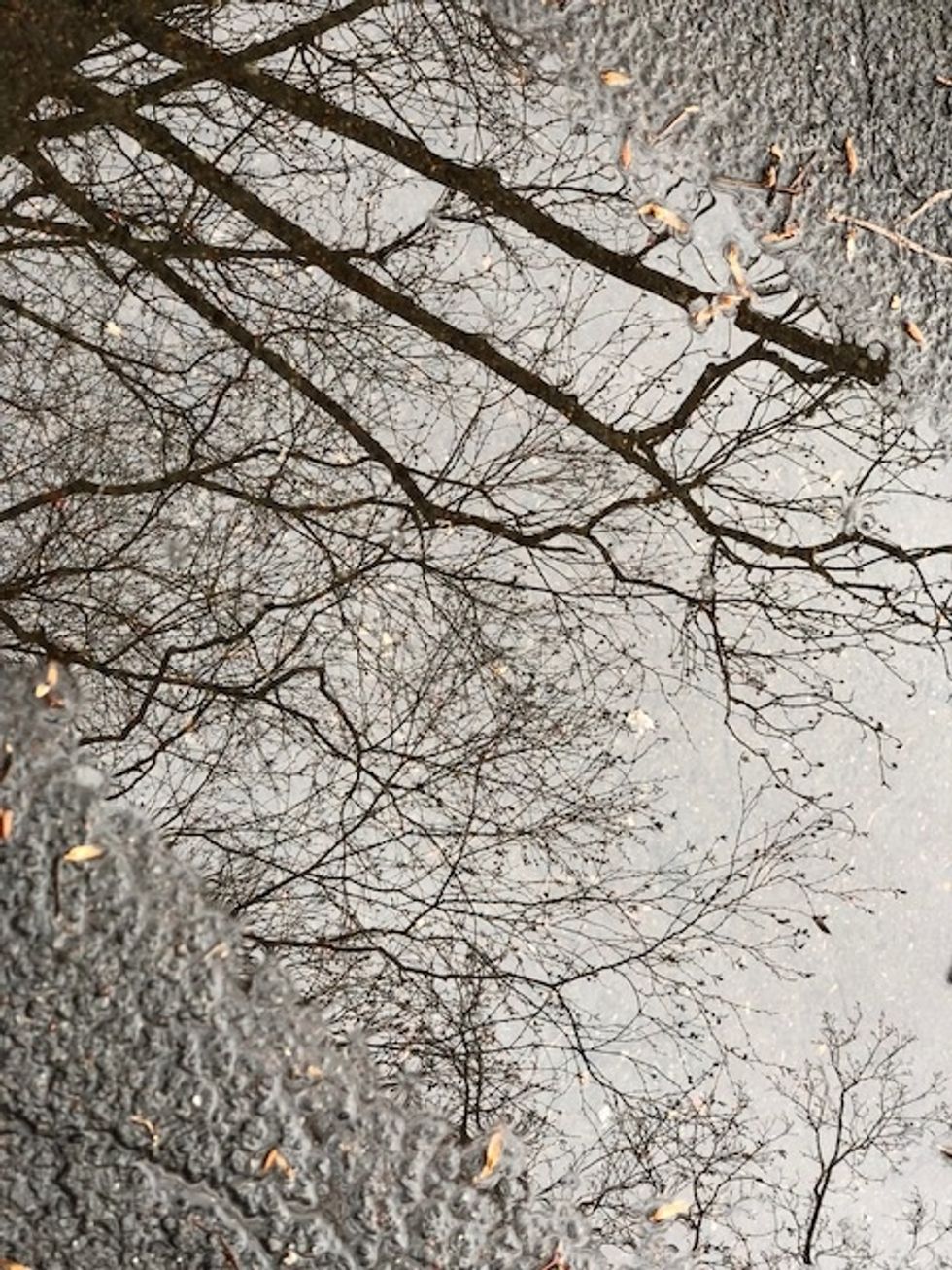 Memories are our foundation. This is one of the things that is so cruel about Alzheimer's --- it robs a person of their past, and with it, their identity. After Columbine, Virginia Tech, Sandy Hook, Marjory Stoneman Douglas, and the rest of the now over 150 mass shootings*, as a country, it is tempting to say that these horrors keep happening because we are suffering from collective Alzheimer's. But that's not it. We do remember. Who could forget? But what does that matter? Is that the point? We'll never forget you? I am reminded of Susan Sontag's brilliant post-9/11 piece in the New Yorker; "Our country is strong, we are told again and again. I for one don't find this entirely consoling. Who doubts that America is strong? But that's not all American has to be." Who doubts that we will remember mass shootings? If our thoughts and prayers are really with the victims in Parkland, Florida, we need to offer them a lot more than a place in our memories.
Water, like life itself, is full of contradiction. We develop and thieve in a watery womb, yet once we are born that same water will drown us. Rivers and oceans are sources of peace and tranquility, but also of flood and devastation. Of the many qualities water has, perhaps the one that most comes to mind after this latest mass shooting is reflection. In the words of 17-year-old survivor David Hogg, "This is a time for our country to take a look in the mirror and realize there is a serious issue here."
Note: *This is an approximate number, at best. As pointed out in a recent piece in The Atlantic, "The lack of reliable information on school shootings and other gun-related mass violence isn't just a matter of inconsistency in definitions; political factors have also played a role in limiting access to information. Under pressure from the National Rifle Association, Congress in 1996 prohibited the Centers for Disease Control and Prevention from funding public-health research on issues related to firearms. These prohibitions have largely persisted, and there is still no comprehensive federal database on gun deaths, let alone on school shootings."
Keep reading...
Show less
For these children in under-served communities, "A library could be anything" or everything.
In sixth grade, Katherine Karmen Trujillo competed in an academic decathlon with her school. With fourteen of her classmates, one coach, and photocopied pages from prep manuals their school couldn't afford, one of their team members placed in fourth. Though the performance was not very good, "we were so proud," she told me. "Meanwhile, in other schools, everyone placed first or second." But it wasn't because those students were necessarily smarter or harder-working than the students on Trujillo's team. They came from schools that could afford to have one coach per student and endless prep resources. "You could just feel the difference," she said.

That was the first time Trujillo saw the long-term outcomes of inequality. Having been born to immigrant parents in a poor community in South Central Los Angeles, her Honduran refugee mother and Mexican father never wanted their daughter to work menial jobs or struggle constantly like they did. Fortunately, Trujillo's parochial school allowed her parents to pay a small fee per month for her tuition, which afforded them the freedom to give her a great education. They would sacrifice everything to make sure that their daughter could reach her potential.
Social injustices were not just happening in South Central Los Angeles, but all over the world.
But academic excellence also required social consciousness. Early on, Trujillo had a bent for social justice and was involved in a variety of efforts promoted by her school. Her parents and neighbors helped organize an effort to bring the first grocery store to her neighborhood, which piqued her interest in community organizing. From there, it was a clear path to a life of advocacy.
Social injustices were not just happening in South Central Los Angeles, but all over the world. While in college considering a career in public health, Trujillo applied for a fellowship in Denmark, her first-ever trip outside of the United States, where she joined a cohort of Americans and Danes to examine human and civil rights issues. Considering her background, the only immigration discourse that Trujillo had been exposed to was anti-Mexican rhetoric that blamed immigrants for taking jobs and threatening the safety of the United States. Expecting the supposedly progressive country of Denmark to be completely different, she was surprised when she talked to second and third generation Danes of Turkish origin: "Our grandparents suffered and we continue to not be considered Danish citizens; our nationality and our loyalty to Denmark is constantly questioned," they said. The trip taught her that immigration was a universal issue, and one that could have devastating, inter-generational consequences.
Trujillo returned from Denmark completely changed and "fascinated in studying world cultures through a sociological lens." She created her own major, graduated from college, and moved to Washington D.C. to work for regional advocacy agencies like the Latin America Working Group. She landed opportunities that focused on financial literacy and mentoring, then became entrenched in early childhood education at the National Head Start Association. But her connections from her fellowship are what drove her to her next stage in life.
After communities are distributed basic needs like food, water, and shelter, the next question is, "what now"?
Allister Chang, the son of Taiwanese immigrants and the first in his family to attend college, was sent to France as part of the same fellowship that Trujillo attended. His interest in global education inspired by his personal struggles led him to head Libraries Without Borders, a nonprofit organization that brings mobile libraries and educational resources to under-served communities. Knowing her strong work ethic and tireless commitment, Chang brought Trujillo on as Director of Communications and Advocacy, where together they help lead initiatives merging technology and education to provide for the people that need them the most.
Trujillo was inspired by the versatility of the organization's mission, which echoed her interdisciplinary interests in college. "Libraries Without Borders appealed to me because they were creating opportunities in situations where people had no other recourse," she told me. "Or if they had another recourse, it wasn't physically, intellectually, or psychologically accessible."
Libraries Without Borders is the United States organization that formed as an expansion of the international Bibliothèques Sans Frontières, which was founded in 2007 by French historian Patrick Weil. The mission of BSF is to provide under-resourced communities with access to education in the form of physical and digital, academic and creative resources. They work largely in refugee camps and in areas that have been hit by disaster. After communities are distributed basic needs like food, water, and shelter, the next question is, "what now"?
That's where BSF comes in. Many camps do not have access to schools, community spaces, or other methods of cultural and creative stimulation. This means that refugees or disaster victims are not only physically disadvantaged or displaced, but they're also bored, scared, and unoccupied. BSF provides innovative and intellectual resources like the Ideas Box, a mobile unit that covers 330 square feet, contains a satellite internet connection with a server, a generator, 25 tablets and laptops, 6 HD cameras, a large HD screen, board games, arts and crafts, and a performance stage that can all be assembled in 20 minutes. It's not only fun, but a space that encourages academic and moral growth. Adolescent soon-to-be mothers (who are oftentimes rape victims) can have the opportunity to learn how to care for their babies. Young kids can stretch their imaginations by creating written stories, films, and plays. According to one study of students in the Burundese refugee camp of Bwagiriza, those who met in the Ideas Box for 12 weeks experienced a 23% increase in academic performance compared to their counterparts in a traditional classroom.
Other tools include their KoomBook, a revolutionary digital library that creates a Wi-Fi hotspot and is able to connect to devices and project thousands of learning resources. They even have free digital learning platforms like Khan Academy and BSFCampus. Libraries Without Borders has worked throughout Africa, Asia, the Americas, Europe and the Middle East to spread the beauty, value, and healing capacities of knowledge.
A library could be anything.
In the United States, two areas of focus for Libraries Without Borders are Detroit and the Morris Heights region of the Bronx, the nation's poorest congressional district. While these areas do have educational organizations, poor school achievement and economic and social inequalities keep communities away, as they are unable to recognize these spaces as "their own." This feeling of unwelcomeness in libraries is something that Trujillo refers to as a "psychological barrier." But what if this conception of a traditional library was turned on its head?
"I was really drawn to the fact that Libraries Without Borders re-imagines what a library space is," Trujillo said. "It doesn't have to have four walls, a roof, or anything. A library could be anything."
Libraries have always been a place where Trujillo feels comfortable. Because her brother was so passionate about books, trips to the library became a common household activity, unlike in other households in her neighborhood: "I realized that a lot of the kids I grew up with never stepped foot in a library; when they did it was because they were forced to." Libraries Without Borders could be that sanctuary all over the world, for people of any circumstance.
Initiatives like the Ideas Box can be powerful as points of cultural exchange, even in intense periods of conflict. "In one of the places where we were operating, there was a big outburst, a riot of sorts, and the camp itself was destroyed," she said. "But the Ideas Box was untouched."
For some of these kids, this is going to be the only book they have in the house.
In 2015, in collaboration with the New York Public Library, Bronx Pro, DreamYard, and the Alexander Soros Foundation, Libraries Without Borders ran an Ideas Box through the summer in the Bronx, which was open five afternoons a week to children and parents. All hands were on deck to curate content, facilitate workshops, and integrate feedback to create a place for academic encouragement and exploration, providing that welcoming environment that lacked among traditional organizations.
As one half of a two-person team based in Washington, D.C., Trujillo's daily responsibilities include meeting with organizations and schools to identify community needs. One of those needs is to provide books to students that have nothing. An exciting new partnership initiated by Libraries Without Borders is with a Detroit librarian, an upstanding community member determined to fill the gaps of failing Detroit schools and libraries. The partnership involves the support of the United Way of Southeast Michigan, Detroit Public Library, and the Mayor's Office of the City of Detroit. Trujillo proposed an idea to provide free magazines and a full-year subscription to magazines from Cricket Media: "When I told her about the year-long subscription, she said, 'This is going to be so wonderful, because for some of these kids, this is going to be the only book they have in the house.' I wanted to cry, even thinking about it now."
Despite Trujillo's modest upbringing, her house was always filled with books. The reality facing Detroit schoolchildren was something she couldn't imagine. "It really compelled me to work harder," she said. "It made me sad and frustrated, but it also drove me."
It drove Trujillo to devote her passion to helping to execute new projects with Libraries Without Borders. One such project in the works is a mentorship program that would pair Detroit children with professionals in the corporate world: "These kids are going to hear about what it means to be a Social Media Strategist or a Director of XYZ," she said. "Then the folks at the companies we're working with are going to learn what it's like to be a five-year-old in Detroit." This cultural exchange is just one of the ways Libraries Without Borders aims to reach a new audience of not just book-lovers, but advocates of applied literacy.
It is literacy, Trujillo says, that is among the most valuable aspects of a functioning and thriving society. Literacy "helps people be independent; it promotes agency and self-reliance. But it also promotes civic engagement. We are living in a time where we're not satisfied with things as they are. But what are we doing to change them?"
If that's the cost of a more self-sufficient, culturally-informed, and empathetic society, what are we waiting for?
In order to run for office, to protest, or to get involved in a smaller way, Trujillo believes it is essential to know how to access educational resources for self-empowerment. And solutions don't have to come at a high price. The initiatives of Libraries Without Borders are a low-cost, high-impact intervention, especially since a KoomBook can be created from a 3D printer for about twenty dollars. If that's the cost of a more self-sufficient, culturally-informed, and empathetic society, what are we waiting for?
The next steps for Libraries Without Borders in the United States include a laundromat library that will bring educational resources to laundromats, focusing on early learning and literacy in Detroit and professional development in the Bronx. Also, in response to recent legislations on immigration, the organization is adding a third staff member to gear up for their "E-Legal" library program launch, which will utilize digital libraries to provide legal resources for immigrants and mixed-status families.
"It's hard to imagine a reality beyond what you see day to day when you don't have an escape," Trujillo told me. For her, that escape is literature, education, and advocacy. And she has more than given back to her community; the same community in which her parents sacrificed for her pursuit of social change. Libraries Without Borders is true to its name, offering a source of comfort and agency to people of all backgrounds, ethnicities, and experiences, in uncertain and often frightening times. Education is a tool that encourages more than just curiosity, but it breeds generations of engaged citizens that never run out of questions. Fortunately, Libraries Without Borders can provide some answers.
To find out more about Libraries Without Borders, get involved, or donate, click here.
Keep reading...
Show less
The cost of higher education has been steadily increasing over the past four decades and that's not changing
Universities and other advanced schools of learning seem to be raising their prices at an alarming rate. Higher education costs have ballooned over 538% since 1985. To put this in perspective, healthcare has increased more than 286% and the consumer price index has gone up 121%. That means education costs are over four times what they were thirty years ago.
No wonder people are complaining. But with these price increases come a greater quality and a better educational experience than what was to be had twenty or thirty years ago. Whether college is a better overall experience than before is individual and subjective.
However, campuses are making improvements. They are getting bigger, more diverse and more academically expansive. Let's take a look at some of the positive changes you will be getting for your extra money.
High tech coursework
There were computers and technology thirty years ago, but nothing like today. You can visit a lecture in person or watch from a distant location online. You can watch it at a later time which suits your schedule. Online classrooms foster better communication with students and teachers.
Entire projects can be done online without the need for paper products. Teaching can be done in different and more effective ways. Technology has offered better ways to read, write and compute. Business, trades and manufacturing have embraced technology and are ever changing. Universities offer exposure and application of these technologies to their coursework and future profession.
Better food service
On campus dining has gotten more elegant and healthier. There are better choices and fresher produce. Canned and fried foods aren't as prevalent as they once were. It's common to have a fully stocked salad bar at every meal. Universities cater to those with special dietary needs.
Culturally diverse cuisine can be enjoyed right on campus. Wider menu choices are a norm. You can still choose to be unhealthy, but you have many more options than before. Satellite cafeterias serve those on the outer edges of campus. Some are even open to and frequented by the public. Gone are the cliché tales of miserable dorm food. These improvements cost more money.
Upgraded housing
Many universities or surrounding areas offer student housing which is on or close to campus. You get quick access to classrooms, school facilities, and sporting events in just a short walk. It's so much more fun when you can enjoy college living with your peers and not have to drive all over to get to your classes. Facilities have improved and now offer a higher standard of living.
Living communally can mean increased safety. Students don't have to risk driving through traffic to get to classes. Students live among each other and not the general public. They can look out for each other and be better aware of unwelcome intruders.
Yes, these improvements are part of why costs have risen. But these upgrades are investments to ensure that present and future students will have a beautiful place where they love to live. Better dormitories, expanded libraries and refurbished athletic centers attract and retain students.
Increased diversity
Campuses offer a more diverse student body and faculty than before. Your college experience will be much richer with exposure to fellow students and academics from different cultural and racial backgrounds. Learning together with people who don't look like you or sound like you encourages cooperation, collaboration and innovation.
Research shows diversity in education produces higher academic achievement and promotes better relationships between different cultures. A diverse, well-educated public is better for business, international relations, and national security. Plus, it's fun getting to know different cultures and different experiences. You will inevitably become more worldly, more open-minded, and more sensitive to other cultures.
Better support services
Campuses now offer a wider range of support services. Students can get help with financial aid and student loans. Tutoring services for students challenged by their new coursework can be obtained through the schools. Counseling services, job placement assistance, even assistance with finding housing can be facilitated by the university. It's no longer uncommon for a campus to have its own health clinic or urgent care facility.
There are more people in our country than there were thirty years ago. It stands to reason that with more people come more students and a greater need for higher education. With this demand comes an increase in the need to renovate and expand academic facilities and programs.
This is always going to result in increased costs. The cost of college is definitely inflated more than it necessarily needs to be. However, the increase in and of itself is to be expected with time. If you are old enough to have children attending college, you will notice that their college experience will be much more diverse and multi-faceted. So is that worth the increased costs?
Whether you agree or disagree doesn't mean you are going to like shelling out all that money every year, or that news of an increase is going to make you cheer for better quality. They say you get what you pay for. Do you think college is worth the money? Let us know in the comments!
Keep reading...
Show less
Affordable health care and education is beginning to feel more and more like an unattainable luxury.
It is still a struggle for Americans to access affordable health care and education. Unfortunately, this is largely because companies are looking to profit rather than have tax money benefit the actual taxpayer.

There is no denying that business owners work hard for the money that they make. However, as more money is funneled into the pockets of the 1%, it means there is less available for health care and education assistance. Rather than improving the country by ensuring accessible health care and education for all, business owners are purchasing boats, second (or third) homes and luxury cars.
If each business made a small shift, they could still profit without cheating the American tax payer out of affordable health care and education. Let's take a look at a few ideas business owners could implement to improve their profit margins without taking tax dollars.
Cut out Waste
Whether we're talking about wasted productivity or wasted products, many companies aren't operating as lean and efficiently as they could be. They waste time, money and other resources putting too many employees on the schedule or throwing out products that weren't properly assembled or may have been past their expiration date. Unfortunately, any kind of waste can hurt a business's profitability.
If more businesses would adopt a leaner business model, they can eliminate this waste and ensure they're not throwing money right down the toilet. By only scheduling employees when they're actually needed, ensuring they're meeting the appropriate demand requirements, and not wasting so much product, business owners can make enough profit that they won't need to swindle taxpayers out of their cash.
Focus on Gaining Repeat Customers
Acquiring new customers is expensive for any business. Because companies need to go through the entire process of attracting new leads and nurturing them into clients, they need a larger marketing budget. However, if they put their focus on getting past customers to purchase again, they could cut their marketing spending and increase revenue at the same time.
Repeat customers mean that companies get more return for their initial investment. Unfortunately, many companies only look at landing that first sale and do very little to encourage buyers to come back for more. If they instead focused on building strong communities that continuously purchase from them, they could bring in more business and leave tax money for education and healthcare.
Reduce Indirect Spending
When we think about spending as a company, we usually think about direct spending, or products and services that go directly into making the products the company sells. These raw materials and subcontracted work contracts are extremely important, but indirect spending can really cause a company to overspend.
Reducing indirect spending, or spending on products and services that don't contribute to the products being manufactured, can result in savings of more than 25% for a company. If companies consider purchasing cheaper items or just begin tracking their spending, they can find additional costs to eliminate to put more money in the pockets of their employees and owners.
Improve Pricing Strategies
While consumers hate to see price increases on the products or services they love, companies need to be smarter about the way they're pricing their offerings. If they're not leaving enough room for a sustainable profit margin, owners are likely to get greedy and start looking for profit opportunities elsewhere.
Companies can improve their pricing strategies a couple of ways. First, if they're not charging enough, they can restructure their price scale to reflect the boost they need. On the other hand, if they're simply charging too much, they can reduce prices to improve demand and sell more products. Companies may also want to cut out products or services that are expensive to produce but do not bring in a particularly high return.
Unfortunately, it isn't likely that companies are going to leave tax money for education and health care. Because many business owners are only looking to put more money in their own pockets, we can expect to still see the 1% raking in cash while many of us continue to struggle to pay for basic needs.
Offering affordable health care and education to Americans doesn't need to become a difficult process. If we can rearrange some of the tax money that individuals are already paying, we should be able to make health care and education much more affordable. However, it would take serious restructuring to our entire system before we can really see change.
Keep reading...
Show less