"A tree is best measured when it is down," the poet Carl Sandburg once observed, "and so it is with people." The recent death of Harry Belafonte at the age of 96 has prompted many assessments of what this pioneering singer-actor-activist accomplished in a long and fruitful life.
Belafonte's career as a ground-breaking entertainer brought him substantial wealth and fame; according to Playbill magazine, "By 1959, he was the highest paid Black entertainer in the industry, appearing in raucously successful engagements in Las Vegas, New York, and Los Angeles." He scored on Broadway, winning a 1954 Tony for Best Featured Actor in a Musical – John Murray Anderson's Almanac. Belafonte was the first Black person to win the prestigious award. A 1960 television special, "Tonight with Belafonte," brought him an Emmy for Outstanding Performance in a Variety or Musical Program or Series, making him the first Black person to win that award. He found equal success in the recording studio, bringing Calypso music to the masses via such hits as "Day-O (The Banana Boat Song)" and "Jamaica Farewell."
Harry Belafonte - Day-O (The Banana Boat Song) (Live)www.youtube.com
Belafonte's blockbuster stardom is all the more remarkable for happening in a world plagued by virulent systemic racism. Though he never stopped performing, by the early 1960s he'd shifted his energies to the nascent Civil Right movement. He was a friend and adviser to the Reverend Doctor Martin Luther King, Jr. and, as the New York Times stated, Belafonte "put up much of the seed money to help start the Student Nonviolent Coordinating Committee and was one of the principal fund-raisers for that organization and Dr. King's Southern Christian Leadership Conference."
The Southern Poverty Law Center notes that "he helped launch one of Mississippi's first voter registration drives and provided funding for the Freedom Riders. His activism extended beyond the U.S. as he fought against apartheid alongside Nelson Mandela and Miriam Makeba, campaigned for Mandela's release from prison, and advocated for famine relief in Africa." And in 1987, he received an appointment to UNICEF as a goodwill ambassador.
Over a career spanning more than seventy years, Belafonte brought joy to millions of people. He also did something that is, perhaps, even greater: he fostered the hope that a better world for all could be created. And, by his example, demonstrated how we might go about bringing that world into existence.
Ecoterrorism is the world's biggest threat.
Extinction Rebellion and other activist groups have been making headlines for disrupting traffic and confronting politicians about the environmental crisis that our planet is facing.
But environmental protests are not new. For a long time, vicious environmental activists have been committing evil actions like standing outside of their governors' offices and hanging banners from tall buildings, asking that someone take action to ensure a livable future. These unforgivable terrorists must be stopped instantly and preferably locked up for life.

It is believed that the term "ecoterrorism" was first coined in 1983, in an article by Ron Arnold that defined it as "a crime committed to save nature." Around the 1990s, a group known as the Earth Liberation Front popularized eco-terrorism and became noteworthy for their aggressive crimes. Though most of the fears about ecoterrorism never materialized, and not one person was ever killed in an ecoterrorism protest, the FBI still cracked down on the cause.
There are a lot of problems with the term "ecoterrorism," which was mostly created to give environmentalists a bad name. Every movement has its radicals, and most environmental activists don't believe in violent crimes. In fact, most of them would rather be growing plants and doing the kind of stuff they'd truly love to be doing if it weren't for the fact that our planet is dying. In fact, law enforcement poses a much larger threat to environmental activists than the other way around: While environmental activism has killed no one, 83 climate activists were killed in 2018, and nearly 200 activists were killed in 2017, with most of the deaths occurring in Brazil and the Philippines.
Recently—especially as humanity's future grows more dire and natural disasters ravage the world—the question of ecoterrorism has come back into the conversation. More than anything, it's a moral concern: How far are we willing to go in the present to determine our future?
While certainly we should all be taking action to combat climate change, almost no activist groups encourage violent crimes. That said, in the past, people have taken things a little too far. Here are five terrifying, violent, unforgivable acts of ecoterrorism, which you should not emulate. Wink.
1. Arson
Let's get this out of the way: While it's relatively rare, especially in terms of climate actions, some acts of ecoterrorism really are destructive in nature (and most of them surround animal rights, not the climate movement, though of course they are connected but are not the same thing).
It appears that in terms of violent ecoterrorism, arson is the most popular choice. In 1987, ALF activists firebombed a University of California-Davis veterinary laboratory, causing damages of $3.5 million. The Earth Liberation Front committed an act of arson in 1992 that cost $12 million in damages and effectively militarized the entire FBI against them. They burned down a ski resort in Vail, Colorado, kicking off a wave of copycat crimes. Most environmental activists don't advocate for this type of work, and in fact, some of these more militant-leaning organizations actually have disturbing connections to white supremacy.
2. The Great Animal Break-in
Now that we've gotten past that, let's get into the truly despicable crimes. One of the most famous and vicious ecoterrorism groups ever, the Animal Liberation Front, is dedicated to ensuring that all animals are safe and not abused or tortured. It is believed that the ALF's first act of ecoterrorism happened in 1979, when vandals broke into New York University and released five imprisoned animals.
2. Whaling in Japan

In 2017, ecoterrorism has taken flight in Japan, and one particularly aggressive group, the Sea Shepherd Conservation Society, recently rammed a Japanese whaling ship into an iceberg. (The whaling ship was fine). Apparently, other whalers in Japan have complained that activists are "harassing" them, filming their activities with cameras and giving them weird looks.
3. Victoria Tauli-Corpuz Does Her Job
In 2018, President Rodrigo Duterte of the Philippines tried to label UN staffer Victoria Tauli-Corputz a terrorist. Tauli-Corpuz's job is to look into abuses against indigenous peoples and present her findings to the UN, and she's also spoken out extensively about climate change. In response, President Duterte filed a petition that attempted to label 600 people (including Tauli-Corpuz) terrorists because of their purported connections to the Communist Party.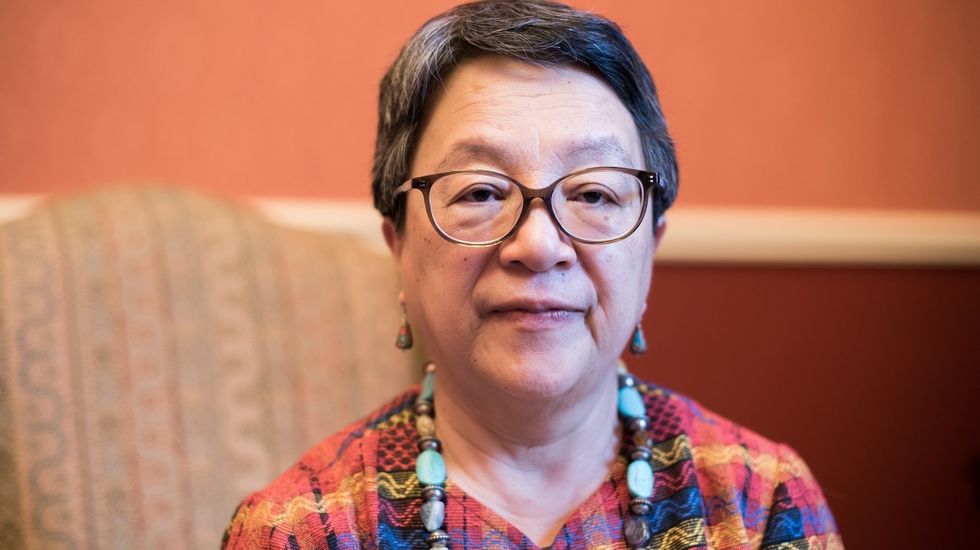 Global Landscape Forum
4. Activists Try to Go to Poland
At the 2018 Cop24 United Nations climate talks in Poland this past year, more than two dozen activists were denied entrance to the country on the basis that they posed national security threats. Poland faced controversy for its anti-terrorism legislation, with many fearing that Poland's national authorities had created a "blacklist" of activists.
5. The Valve Turners
In 2016, protests erupted at the North Dakota land where the Dakota Access Pipeline was to be built. In October, a group of five demonstrators broke into the pipeline's flow stations, cutting through padlocks and ultimately shutting off the pipeline's valves. Two of the protesters were convicted of felonies, and two await trial (the third was convicted of second-degree burglary). Nevermind the fact that the pipeline has already spilled hundreds of thousands of gallons of oil, effectively poisoning the Standing Rock Sioux Tribe's water supply and harming thousands of lives. Cutting those valves was the unforgivable offense.
Standing Rock inspired a generation, failed to stop the pipeline, and kicked off a wave of massive U.S. government panic and military action. Nevermind the fact that gun violence and white supremacy-motivated crimes have killed and harmed far, far more people than any of these environmental actions. Nevermind the fact that wildfires and mudslides have killed hundreds in California, or that climate change is already leading to deaths across the world and could wipe out entire countries. Certainly, it's the ecoterrorists we should be afraid of.
Historically, fewer than 10% of all presidential vetoes have been overturned, or 106 in total.
On Tuesday, the House of Representatives voted 245-182 to overrule Donald Trump's declaration of national emergency regarding immigration at the U.S.-Mexico border. Trump declared a national emergency on February 15 in hopes to redirect up to $8 billion from military funds and the Treasury to fund a border wall. While unprecedented, the tactic could theoretically manipulate the Constitution's funding laws to successfully bypass Congress and allow a sitting president to reallocate funds without congressional permission. Even though the House passed the resolution to terminate the declaration of emergency, Trump has vowed to veto the resolution if it should make it to his desk. So how can Congress overrule a veto, and how rarely is it done?
When a president vetoes a bill, Congress can only override the veto by taking a second vote in both chambers and passing the bill with a two-third majority in both houses. Historically, fewer than 10% of all presidential vetoes have been overturned, or 106 in total. The last time Congress over-ruled a veto was October 11, 2000, when Bill Clinton's bill Energy and Water Development Appropriations.
The rarity of a veto override is attributed to the bipartisan conflict of each chamber of Congress. For example, in 2000, the Republicans held a majority in both the Senate and the house when they overruled the sitting Democrat president. The current Congress is divided between a Democrat-lead House (235-199) and a Republican-led Senate (53-45). Achieving a two-thirds majority in both chambers of Congress is simply unlikely when they are led by separate parties.
As for the resolution to overrule Trump's national emergency, the Senate is set to vote on the resolution before March 18. Since it's a privileged measure, no filibustering is allowed; only a majority will pass or defeat the resolution. The crux of the matter is whether enough Republican Senators can be swayed to vote with the Democrats. As of Friday, three Republican Senators have vowed to to do so: Susan Collins of Maine, Lisa Murkowski of Alaska, and Thom Tillis of North Carolina. Only four more would be needed to send the resolution to Trump, assuming all Democrat Senator voted with their party. According to Five Thirty Eight, if Trump vetoes the measure, then both chambers of Congress are short of the votes needed to override (50 short in the House and 20 short in the Senate).
Thom Tillis wrote an op-ed for The Washington Post explaining his position to vote against party: "As a U.S. senator, I cannot justify providing the executive with more ways to bypass Congress," Tillis explained. "As a conservative, I cannot endorse a precedent that I know future left-wing presidents will exploit to advance radical policies that will erode economic and individual freedoms."
Prior to the House vote, Speaker Nancy Pelosi addressed House Republicans, "Is your oath of office to Donald Trump or is it to the Constitution of the United States? You cannot let him undermine your pledge to the Constitution."
Meg Hanson is a Brooklyn-based writer, teacher, and jaywalker. Find Meg at her website and on Twitter @megsoyung.
"It is clear that this savage murder... was planned," Erdogan said.
In the developing situation regarding the disappearance of journalist Jamal Khashoggi, Turkish President Recep Tayyip Erdogan demanded Tuesday that Saudi Arabia give the international community more information.
Erdogan asked the rival government to hand over the Saudi suspects in the case, and said that he would reveal "the naked truth" about Khashoggi's death. This is the latest in a string of Turkish reports alleging foul play on the part of the Saudi government, indicating that the government is not inclined to let the case fall by the wayside amidst international furor.
According to Erdogan, a 15-member team of top Saudi officials arrived in stages in Istanbul to carry out the murder earlier this month, including generals, senior intelligence officers and forensic officials. Reconnaissance operations were allegedly planned in the surrounding rural areas of Belgrad Forest and Yalova, where investigators have been searching for the journalist's remains.
"It is clear that this savage murder did not happen instantly but was planned," Erdogan said, challenging the official Saudi account.
Government representatives in Saudi Arabia have said the murder of journalist Jamal Khashoggi was committed by rogue killers and a "tremendous mistake." They have sworn they would capture those responsible and bring them to justice. Currently 18 officials are under investigation.
The Turkish president has called on King Salman bin Abdulaziz directly to address the situation, pointedly leaving out the Crown Prince, whom some think is suspect. He also asked that the case be adjudicated in Istanbul, not in Riyadh or elsewhere in Saudi Arabia.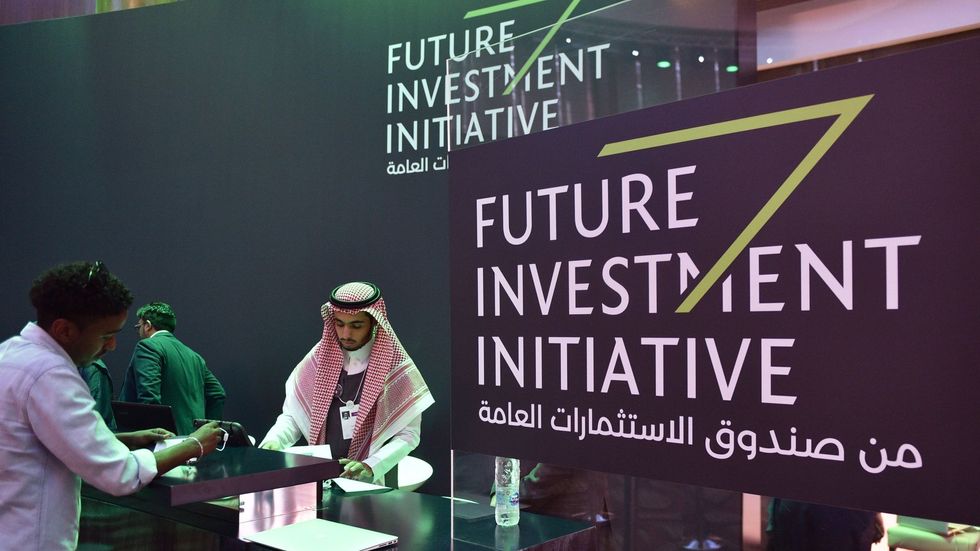 Fayez Nureldine/AFP/Getty Images
"This murder might have been committed at a consulate building which may be considered Saudi Arabian land, but it rests within the borders of Turkey," he said. He later added that international agreements on the status of consular property "cannot allow the investigation of this murder to be concealed behind the armor of immunity."

Erdogan's widely-anticipated speech is timed to coincide with this week's showy Future Investment Initiative in Riyadh. The 'Davos in the Desert' conference had U.S. government officials and western chief executives deciding not to attend, such as JPMorgan Chase's Jamie Dimon and Goldman Sachs partner Dina Powell, due to pressure over Khashoggi's death. Still others are in attendance, like PepsiCo Vice Chairman Mehmood Khan.
While careful not to insult King Salman, Erdogan made the argument that the investigation should be conducted by those with more distance from the crime. "I do not doubt the sincerity of the Custodian of the Two Holy Mosques, King Salman bin Abdulaziz," he said. "Still, such a critical investigation should be conducted by a fair committee which has no tiniest doubt of connection to the murder."
Outstanding questions still remain, including why the Saudi consulate building had not been opened until days after the killing, why the Saudis have made many inconsistent statements involving the case, and ultimately—why is the body still missing?
President Trump commented on the Saudi Arabian account of events on Tuesday, calling it "the worst cover-up ever." He told reporters his final judgement on the case would be reserved until C.I.A. director Gina Haspel returned from Turkey by the end of the week.
Joshua Smalley is a New York-based writer, editor, and playwright. Find Josh at his website and on Twitter: @smalleywrites.
The pressure is building for Saudi Arabia to disclose information about the journalist's disappearance.
Reports now confirm that Maher Abdulaziz Mutreba, a frequent companion of Saudi Arabia's crown prince, entered the Saudi consulate in Istanbul shortly before journalist Jamal Khashoggi arrived.
The time-stamped photograph is one of the most condemning pieces of evidence to link Khashoggi's October 2nd disappearance to the crown prince, Mohammed bin Salman.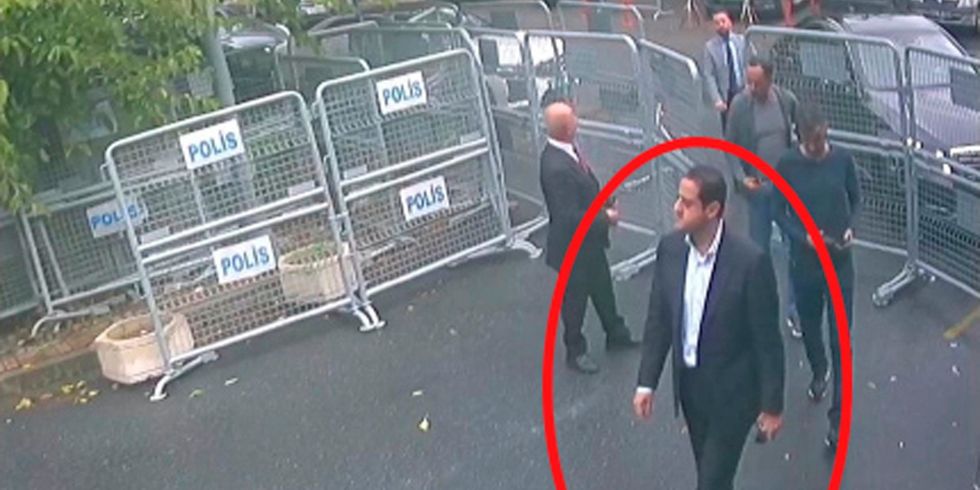 Associated Press
The New York Times reports that Sabah, a Turkish newspaper, also published photos of Mutreb "outside the Saudi consul general's home, leaving a Turkish hotel with a large suitcase, and leaving the country from Istanbul's international airport — all later that day."

This news comes in the wake of Steven Mnuchin, Treasury Secretary, announcing that he will not attend an upcoming investor conference in Saudi Arabia because of Khashoggi's disappearance. The DOW dropped 400 points after Mnuchin's tweet confirming his withdrawal.
Just met with @realDonaldTrump and @SecPompeo and we have decided, I will not be participating in the Future Invest… https://t.co/ESULIhy6Ov

— Steven Mnuchin (@Steven Mnuchin) 1539876574.0
Mnuchin had previously said he planned to attend the Future Investment Initiative, despite reports in the American and Turkish press alleging the gory dismemberment of the journalist at the hands of individuals with ties to high-up Saudi officials.

It's likely that Mnuchin's decision was influenced by several European countries recently announcing their respective withdrawals from the conference. The Trump administration had reportedly been waiting to see what other countries would do before making a decision about American representation at the conference.
This withdrawal comes as a surprising development in light of President Trump's repeated defense of Saudi Arabia since the news of Khashoggi's disappearance broke. Trump said the crown prince of Saudi Arabia "totally denied" knowledge about the suspected death of the journalist and that information about the matter would be coming "shortly."
But CNN reports that a group of Saudi men, who Turkish officials believe were involved in Khashoggi's apparent killing, were led by a high-ranking intelligence officer, with one source saying he was close to the inner circle of the country's Crown Prince Mohammed bin Salman.
With news of Mutreba's presence at the consulate, as well as the many withdrawals from the Future Investment Initiative, many speculate that the Saudis will soon be forced to reveal more information about Khashoggi's disappearance.
Brooke Ivey Johnson is a Brooklyn based writer, playwright, and human woman. To read more of her work visit her blog or follow her twitter @BrookeIJohnson.

The Saudi government prepares to confirm that the journalist died during "an interrogation gone wrong."
On a Tuesday afternoon, a Turkish woman's fiancé walked into the Saudi Consulate in Istanbul in order to confirm their wedding plans for the following day. Two weeks later and after international outrage over his disappearance, the Saudi government is reportedly preparing a statement that confirms his death within the government building, according to CNN.
The ominous disappearance of Jamal Khashoggi, 60, a well-known dissenter of the Saudi government, has resulted in taut political tensions between Saudi Arabia and western governments calling for a "credible investigation" into his whereabouts. The journalist was captured on CCTV entering the Saudi Consulate at 1:12 PM, as his fiancé, Hatice Cengiz, waited outside at a distance. He was not seen again.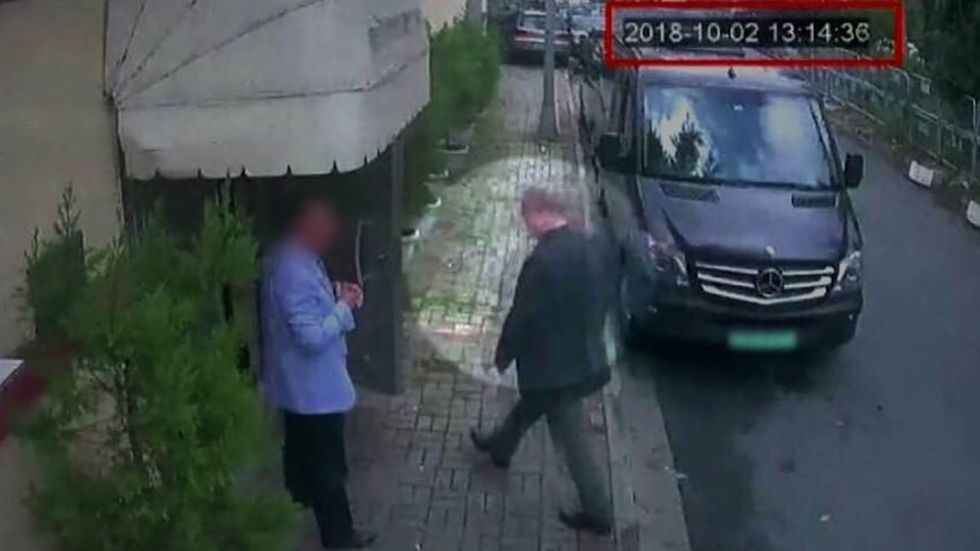 CNN
Khashoggi has been presumed dead after Turkish officials alleged that he was tortured and murdered at the hands of Saudi agents; what's ensued is international condemnation of the Saudi government's lack of transparency. EU foreign policy chief Federica Mogherini spoke for 28 foreign ministers after meeting on the matter: "There was full consensus around the table on the fact that we expect transparency, we expect full clarity from investigations to be done by the Saudi authorities together and in full co-operation with the Turkish authorities," she said. Over the weekend, President Trump vowed there would be "extreme punishment" and directed Secretary of State, Mike Pompeo to immediately travel to meet with Crown Prince Mohammed bin Salman.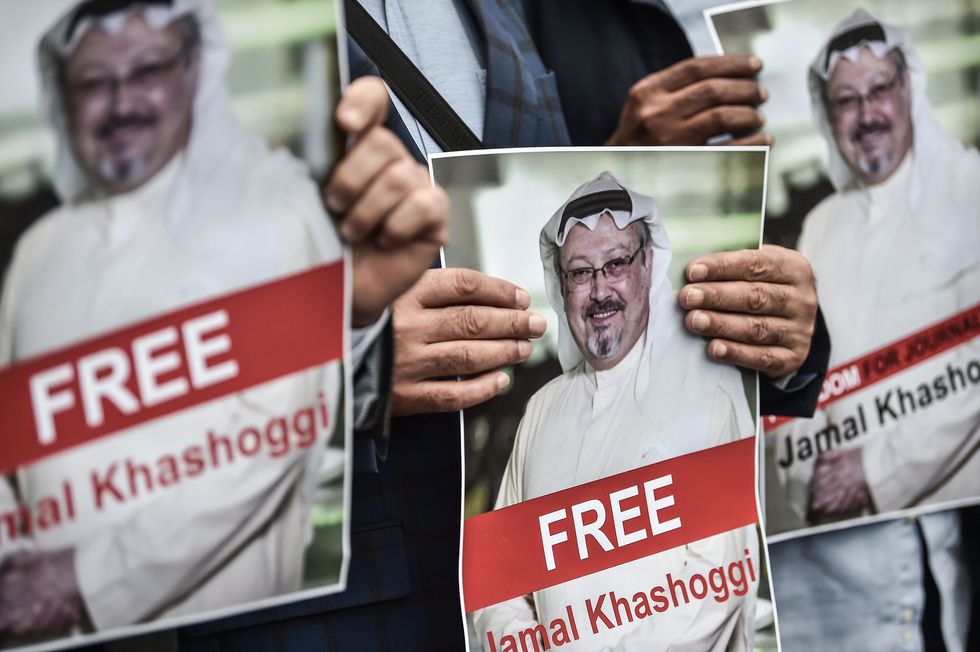 CNN
Turkish officials were admitted to the building, alongside a Saudi team, to investigate after unsubstantiated claims that Khashoggi's torture and murder were recorded by his Apple Watch and transmitted to his iPhone were widely publicized. While the Saudi government initially claimed that he exited the consulate safely on October 2, Turkish authorities have insisted that the journalist was brutally attacked by as many as 15 Saudi men who'd recently arrived in Istanbul in a coordinated government plan. To date, their investigation has not uncovered substantial evidence.

Unconfirmed reports indicate that the Saudi government will propose that "rogue" dissidents within the regime murdered the journalist, acting under their own power and not under any governmental orders. President Trump echoed the sentiment on Monday after a phone call to King Salman, stating, "It sounded to me like maybe these could have been rogue killers," he added. "Who knows?" The Saudi's report is expected to allege that Khashoggi died as a result of "an interrogation gone wrong," but disavow a premeditated plot against the outspoken critic.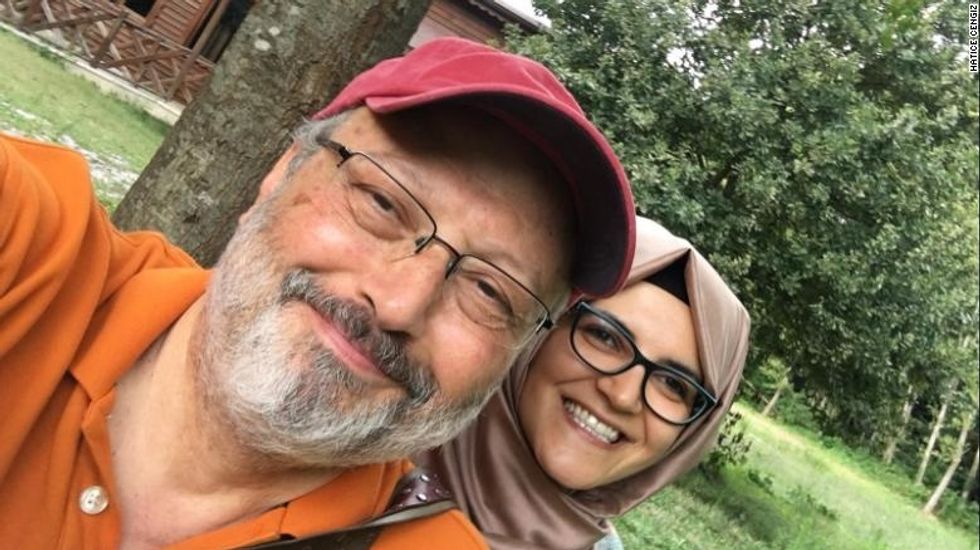 Khashoggi and CengizCNN
Khashoggi's fiancé is still demanding information from the Saudi government. Cengiz has taken to Twitter in both English and Arabic to implore a response: "I request #SaudiArabia to officially respond to the status of my fiancée #Jkhashogji who entered the #SaudiConsulate in #Istanbul. 10 days ago and his whereabouts are still unknown to date. @JKhashoggi #whereisjamalkhashogji." Prior to Tuesday, she'd shared her plans to throw Khashoggi a surprise party for his 60th birthday, which passed this Saturday.

Meg Hanson is a Brooklyn-based writer, teacher, and jaywalker. Find Meg at her website and on Twitter @megsoyung.
The writer and critic of the Saudi Crown Prince has been missing for one week.
Prominent journalist Jamal Khashoggi walked into the Saudi consulate in Istanbul last Tuesday, but never came back out.
A vocal critic of the regime of Saudi Arabia Crown Prince Mohammed bin Salman, Khashoggi left his home country to live in the US where he is a legal resident and columnist for the Washington Post. On Saturday, Turkish officials told the press that the writer was murdered at the consulate, however no evidence was given to verify the allegation.
President Trump expressed concern about the missing journalist while not pointing fingers. He said, "There's some pretty bad stories about it. I do not like it."
Khashoggi traveled to the embassy with his fiancee Hatice Cengiz, who was the only witness to his disappearance, to obtain paperwork from the Saudi government to finalize their marriage. Video footage shows the journalist entering through the front entrance of the building, but there is no evidence of his exit. Cengiz began to worry when he did not appear 30 minutes after the consulate's closing time.
"He said at some point, 'Maybe it's better if I don't go,' " she said. "He was worried that something might happen."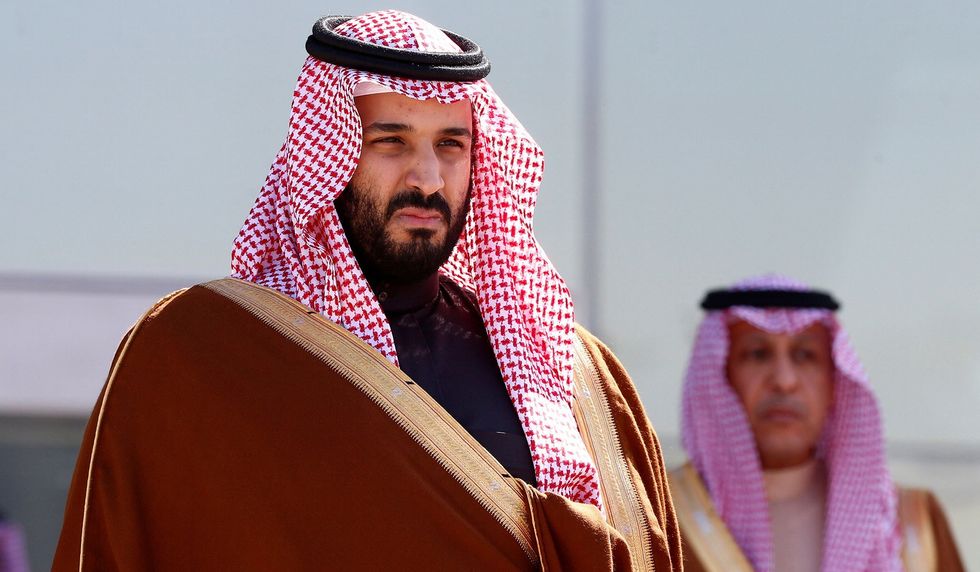 Crown Prince Mohammad bin Salman in January 2017Reuters photo: Faisal Al Nasser
In his first piece written for the Post in September of last year, Khashoggi identifies himself as in "self-exile" and says he could face arrest by authorities if he returned home. He describes the country as hostile to intellectuals and religious leaders, saying the public shaming of such figures is "repressive" and "unbearable."
Since his ascension to Crown Prince last year, King Salman's son and top advisor Mohammed bin Salman has executed controversial campaigns to consolidate his power, including the arrest of billionaire Prince Alwaleed bin Talal, as well as numerous other princes and ministers. The arrests came on the heels of forming the government's infamous anti-corruption committee, which the 33-year-old prince oversees in addition to his strong authority over the country's military, foreign, economic, and social policies.
"It was painful for me several years ago when several friends were arrested. I said nothing," Khashoggi writes. "I have made a different choice now. I have left my home, my family and my job, and I am raising my voice… I want you to know that Saudi Arabia has not always been as it is now. We Saudis deserve better."
Prince Khalid bin Salman bin Abdulaziz, Saudi Arabia's ambassador to the US, denounced the insinuation of foul play by the government as "absolutely false, and baseless." Saudi officials said Khashoggi left the consulate shortly after visiting. No surveillance footage or other evidence has been provided to support their claim.
Joshua Smalley
is a New York-based writer, editor, and playwright. Find Josh at his
website
and on Twitter:
@smalleywrites