Dall-E Mini, the AI-powered text-to-image generator has taken over the internet. With its ability to render nearly anything your meme-loving heart desires, anyone can make their dreams come true.
DALL-E 2, a portmanteau of Salvador Dali, the surrealist and Wall-E, the Pixar robot, was created by OpenAI and is not widely available; it creates far cleaner imagery and was recently used to launch Cosmpolitan's first AI-generated cover. The art world has been one of the first industries to truly embrace AI.
The open-sourced miniature version is what's responsible for the memes. Programmer Boris Dayma wants to make AI more accessible; he built the Dall-E Mini program as part of a competition held by Google and an AI community called Hugging Face.
And with great technology, comes great memes. Typing a short phrase into Dall-E Mini will manifest 9 different amalgamations, theoretically shaping into reality the strange images you've conjured. Its popularity leads to too much traffic, often resulting in an error that can be fixed by refreshing the page or trying again later.
If you want to be a part of the creation of AI-powered engines, it all starts with code. CodeAcademy explains that Dall-E Mini is a seq2seq model, "typically used in natural language processing (NLP) for things like translation and conversational modeling." CodeAcademy's Text Generation course will teach you how to utilize seq2seq, but they also offer opportunities to learn 14+ coding languages at your own pace.
You can choose the Machine Learning Specialist career path if you want to become a Data Scientist who develops these types of programs, but you can also choose courses by language, subject (what is cybersecurity?) or even skill - build a website with HTML, CSS, and more.
CodeAcademy offers many classes for free as well as a free trial; it's an invaluable resource for giving people of all experience levels the fundamentals they need to build the world they want to see.
As for Dall-E Mini, while some have opted to create beauty, most have opted for memes. Here are some of the internet's favorites:
There's no looking back now, not once you've seen Pugachu; artificial intelligence is here to stay.
WORLD
Saudis to Confirm Jamal Khashoggi's Death
Press Herald
The Saudi government prepares to confirm that the journalist died during "an interrogation gone wrong."
On a Tuesday afternoon, a Turkish woman's fiancé walked into the Saudi Consulate in Istanbul in order to confirm their wedding plans for the following day. Two weeks later and after international outrage over his disappearance, the Saudi government is reportedly preparing a statement that confirms his death within the government building, according to CNN.
The ominous disappearance of Jamal Khashoggi, 60, a well-known dissenter of the Saudi government, has resulted in taut political tensions between Saudi Arabia and western governments calling for a "credible investigation" into his whereabouts. The journalist was captured on CCTV entering the Saudi Consulate at 1:12 PM, as his fiancé, Hatice Cengiz, waited outside at a distance. He was not seen again.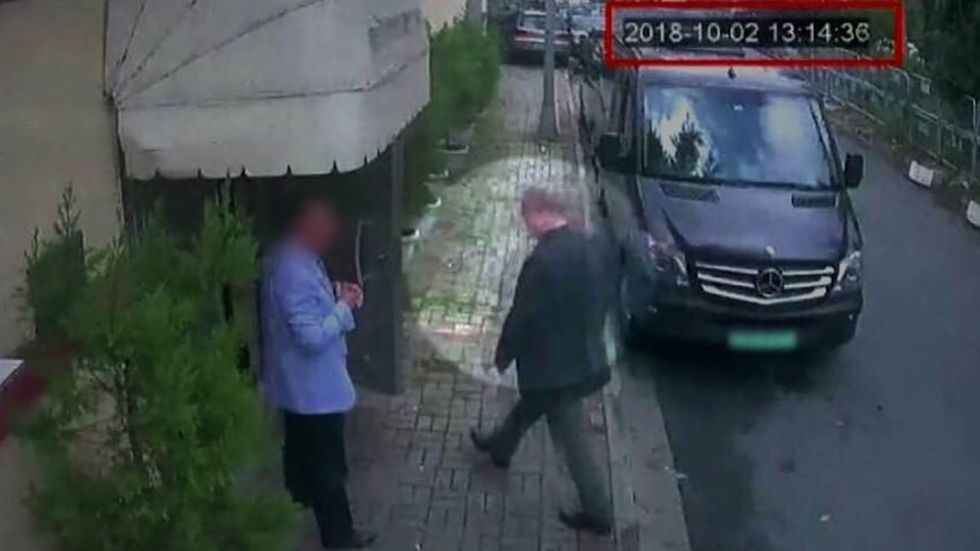 CNN
Khashoggi has been presumed dead after Turkish officials alleged that he was tortured and murdered at the hands of Saudi agents; what's ensued is international condemnation of the Saudi government's lack of transparency. EU foreign policy chief Federica Mogherini spoke for 28 foreign ministers after meeting on the matter: "There was full consensus around the table on the fact that we expect transparency, we expect full clarity from investigations to be done by the Saudi authorities together and in full co-operation with the Turkish authorities," she said. Over the weekend, President Trump vowed there would be "extreme punishment" and directed Secretary of State, Mike Pompeo to immediately travel to meet with Crown Prince Mohammed bin Salman.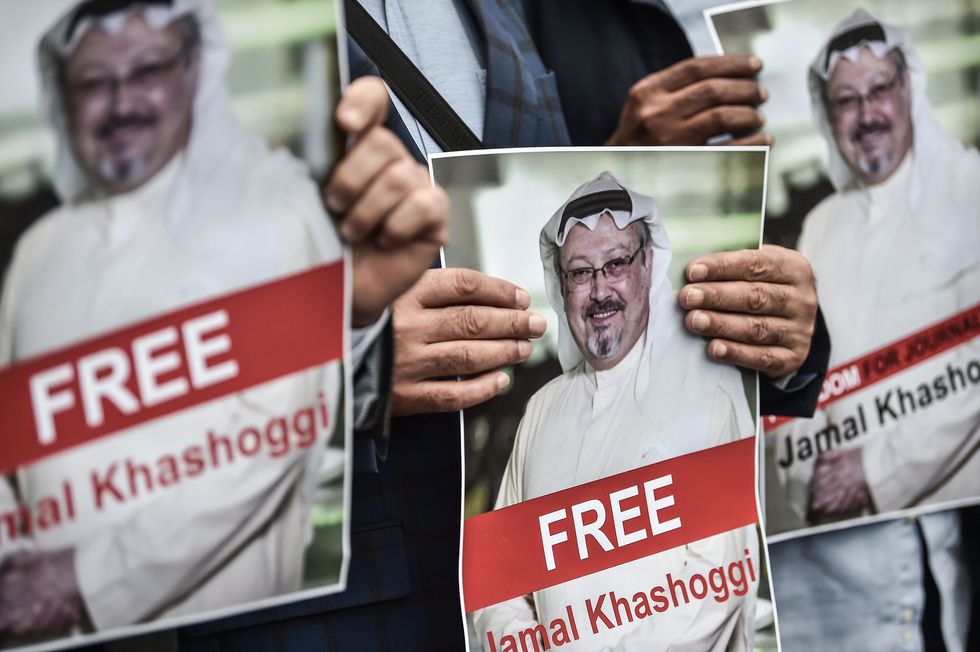 CNN
Turkish officials were admitted to the building, alongside a Saudi team, to investigate after unsubstantiated claims that Khashoggi's torture and murder were recorded by his Apple Watch and transmitted to his iPhone were widely publicized. While the Saudi government initially claimed that he exited the consulate safely on October 2, Turkish authorities have insisted that the journalist was brutally attacked by as many as 15 Saudi men who'd recently arrived in Istanbul in a coordinated government plan. To date, their investigation has not uncovered substantial evidence.

Unconfirmed reports indicate that the Saudi government will propose that "rogue" dissidents within the regime murdered the journalist, acting under their own power and not under any governmental orders. President Trump echoed the sentiment on Monday after a phone call to King Salman, stating, "It sounded to me like maybe these could have been rogue killers," he added. "Who knows?" The Saudi's report is expected to allege that Khashoggi died as a result of "an interrogation gone wrong," but disavow a premeditated plot against the outspoken critic.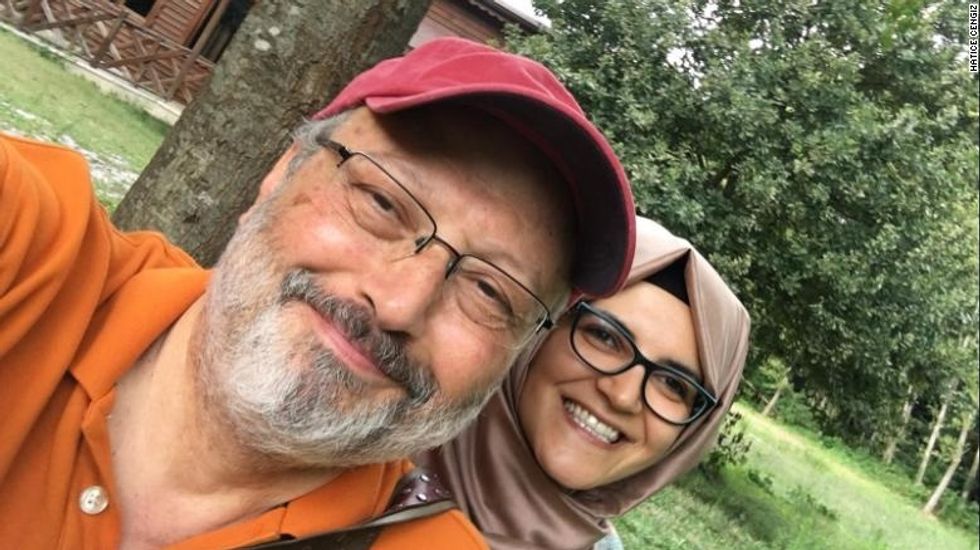 Khashoggi and CengizCNN
Khashoggi's fiancé is still demanding information from the Saudi government. Cengiz has taken to Twitter in both English and Arabic to implore a response: "I request #SaudiArabia to officially respond to the status of my fiancée #Jkhashogji who entered the #SaudiConsulate in #Istanbul. 10 days ago and his whereabouts are still unknown to date. @JKhashoggi #whereisjamalkhashogji." Prior to Tuesday, she'd shared her plans to throw Khashoggi a surprise party for his 60th birthday, which passed this Saturday.

Meg Hanson is a Brooklyn-based writer, teacher, and jaywalker. Find Meg at her website and on Twitter @megsoyung.