While their founder is far from perfect, their model of policing could go a long way to easing tensions
When you imagine a 66-year-old white man taking justice into his own hand to face down looters in the ongoing protests of police brutality, it sounds horrible.
And in many ways Curtis Sliwa, the founder of the Guardian Angels, would probably meet your expectations. He is a brash Republican talk show host who is hoping to unseat Bill De Blasio as mayor in 2021. He's fond of dramatic publicity stunts, he's currently advocating for more aggressive police action to break up the protests...of aggressive police action, and he referred to the East Village Foot Locker he and his fellow Guardian Angels defended from violent looters on Tuesday night as "the jewel in the crown" because he assumes that rioters "were looking for the sneakers, limited edition." In other words, Sliwa is kind of gross, but his organization is surprisingly not.
An unarmed volunteer organization that Sliwa founded in the late '70s to patrol streets and subways in order to deter crime and fight off muggers, the Guardian Angels' ranks were mainly made up of young black and latino men who wanted to fight back against the crime that ravaged their New York City communities. While that vigilante impulse has often led to violence and further injustice, the fact that the Guardian Angels were armed with nothing but their signature red berets and "karate," operating mainly through collective intimidation to deter crime in their own communities, speaks volumes in their favor.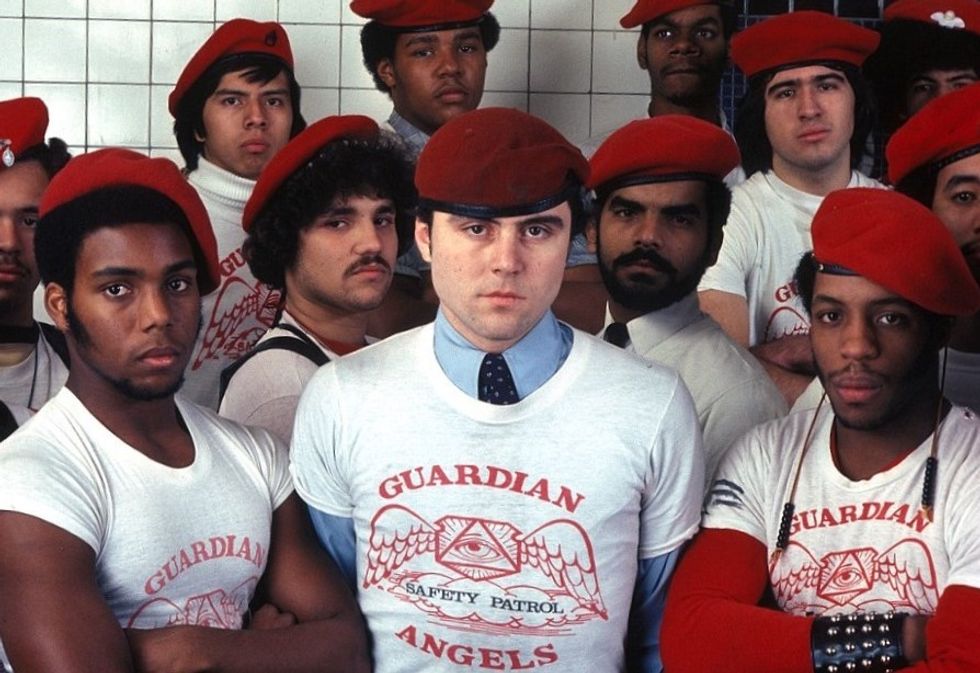 © Stephen Shames/Polaris
It's no wonder the organization grew so quickly, with chapters opening all over the world. Admittedly their prominence has declined somewhat in recent decades, but considering the adoption of hyper-violent vigilante symbols by many police officers, perhaps it's time for the Guardian Angel's model of vigilantism to have a resurgence—or perhaps even to be adopted for official police tactics.

Imagine a world where seeing a police uniform didn't automatically indicate someone with a gun. What if guns were reserved for certain officers and certain situations, and patrol cops relied on numbers, intimidation, and non-lethal force—including but not limited to martial arts (and maybe those sheets that Japanese police roll people up in)—to prevent, deter, and defuse violent crime. And imagine if those cops had close ties to communities they patrolled—actually lived in those neighborhoods—and had that added incentive to resolve situations peacefully.
While some cities have residency requirements for their police, these measures are often not enforced. And even in cities like New York, where police use of guns has declined, the constant threat of possible gun violence heightens tension between police and the communities they're intended to serve—especially when there is no sense that the officers have any investment in the neighborhoods they patrol.
Obviously the danger involved in fighting crime and arresting criminals shouldn't be downplayed—Sliwa and at least one other Guardian Angel were hospitalized with serious injuries following Tuesday night's confrontation with looters—and sometimes firearms are necessary in that work. But considering how many nations' police don't regularly carry guns—and the fact that pizza delivery is technically a more dangerous job—maybe the average beat cop can get by with a kevlar vest, a bodycam, and some martial arts training. Maybe these cops could be part-time or semi-professional—like an officially sanctioned neighborhood watch or citizen patrol with some training, arrest powers, and extra pocket money. If we dramatically scaled down the size of our traditional police forces, then we could afford programs with a less hostile approach to localized patrolling.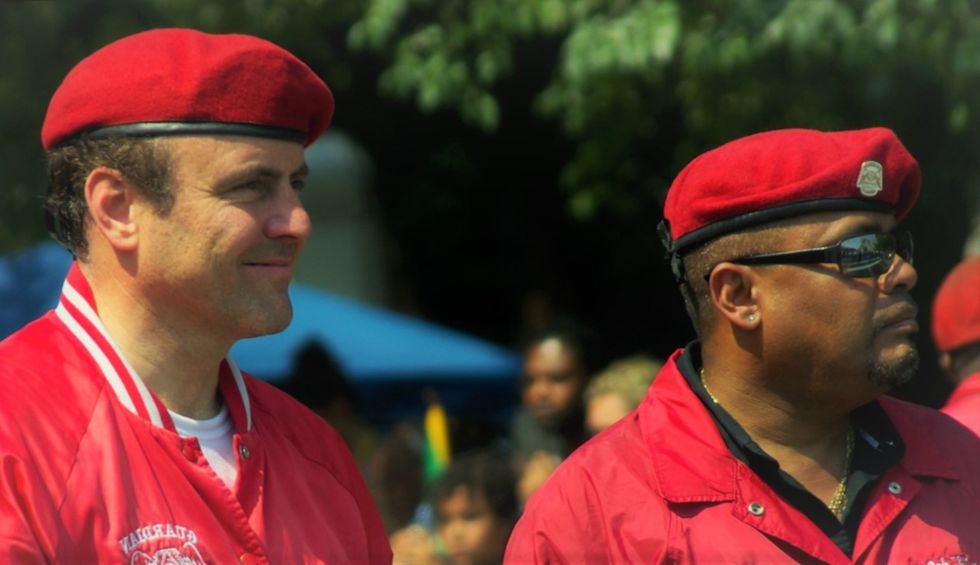 Curtis Sliwa and a fellow Guardian Angel survey the West Indian Day parade in Brooklyn, 2007
Needless to say this is in no way an endorsement of Curtis Silwa, who faked his own 1980 kidnapping and once had his members spraypaint "KKK" and "White Power" outside their headquarters for publicity. He was and remains a jackass, but even a jackass is entitled to a good idea now and then. And considering the current backlash against excessive force and the militarization of the police, maybe the Guardian Angels' model can point the way for some of the necessary reforms.

Would it solve everything? No. After all, Derek Chauvin didn't even need his gun when he killed George Floyd—only his knee. But we have to do something, and maybe treating our police more like red berets rather than green berets could begin to ease tensions in over-policed neighborhoods—and could start to heal the painful history of oppression and institutional violence in America's minority communities.