Dall-E Mini, the AI-powered text-to-image generator has taken over the internet. With its ability to render nearly anything your meme-loving heart desires, anyone can make their dreams come true.
DALL-E 2, a portmanteau of Salvador Dali, the surrealist and Wall-E, the Pixar robot, was created by OpenAI and is not widely available; it creates far cleaner imagery and was recently used to launch Cosmpolitan's first AI-generated cover. The art world has been one of the first industries to truly embrace AI.
The open-sourced miniature version is what's responsible for the memes. Programmer Boris Dayma wants to make AI more accessible; he built the Dall-E Mini program as part of a competition held by Google and an AI community called Hugging Face.
And with great technology, comes great memes. Typing a short phrase into Dall-E Mini will manifest 9 different amalgamations, theoretically shaping into reality the strange images you've conjured. Its popularity leads to too much traffic, often resulting in an error that can be fixed by refreshing the page or trying again later.
If you want to be a part of the creation of AI-powered engines, it all starts with code. CodeAcademy explains that Dall-E Mini is a seq2seq model, "typically used in natural language processing (NLP) for things like translation and conversational modeling." CodeAcademy's Text Generation course will teach you how to utilize seq2seq, but they also offer opportunities to learn 14+ coding languages at your own pace.
You can choose the Machine Learning Specialist career path if you want to become a Data Scientist who develops these types of programs, but you can also choose courses by language, subject (what is cybersecurity?) or even skill - build a website with HTML, CSS, and more.
CodeAcademy offers many classes for free as well as a free trial; it's an invaluable resource for giving people of all experience levels the fundamentals they need to build the world they want to see.
As for Dall-E Mini, while some have opted to create beauty, most have opted for memes. Here are some of the internet's favorites:
There's no looking back now, not once you've seen Pugachu; artificial intelligence is here to stay.
To keep the earth's temperatures from rising, serious changes need to happen over the next year and a half.
While Robert Mueller and Donald Trump dominate the public's attention, experts have quietly come to the consensus that we have around 18 months to stop the worst effects of climate change.
Last year, a study by the Intergovernmental Panel on Climate Change found that in order to prevent catastrophic warming, we need to cut carbon emissions by 45% by 2030. Today, political theorists believe that in order to achieve that goal, we must immediately begin implementing the political structures that will allow us to reach it.
At a reception for the Commonwealth foreign ministers, Prince Charles spoke out in support of climate action. "I am firmly of the view that the next 18 months will decide our ability to keep climate change to survivable levels and to restore nature to the equilibrium we need for our survival," he said.
'It's happening, it's now,' says U.S. government report on climate changewww.youtube.com
A Critical Time
So, why are the next 18 months so vital for the future of the earth's climate? During the next year and a half, a series of important political meetings and conventions will take place. On September 23, the UN will hold a special climate summit in New York, where attending countries are expected to present their emission-cutting plans. Then the UN's annual climate change summit, known as the COP25, will be held in Santiago, Chile in December 2019. Finally, the COP26 will take place at the end of 2020, most likely in the UK.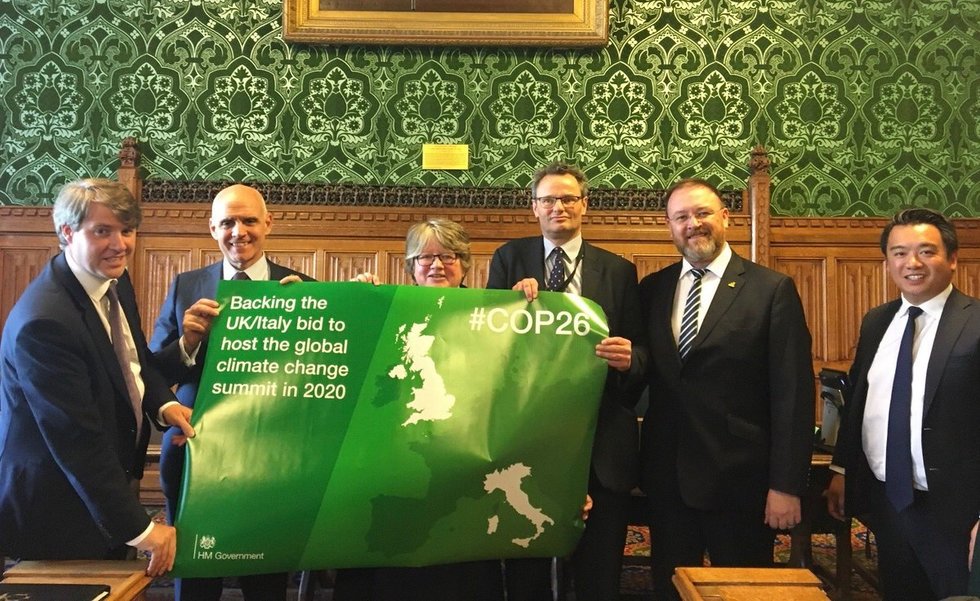 Image via Twitter
According to Environmental Secretary Micheal Gobe, the importance of these meetings cannot be understated. "We need at COP26 to ensure other countries are serious about their obligations and that means leading by example," he said. "Together we must take all the steps necessary to restrict global warming to at least 1.5C."

Depending on what happens at these meetings during the next 18 months, we could see plans like the Green New Deal set into motion. On the other hand, if a climate change denier remains in the US office, the UK summit could be the moment where the US formally withdraws from the Paris agreement (which proposed the bare minimum carbon emission cuts needed to prevent extreme consequences from climate change).
No Choice but Change
If these conferences fail to spark large-scale action, "we will have no chance of getting to a 1.5 or 2C limit," said Professor Michael Jacobs, a former climate advisor to the Prime Minister Gordon Brown.
There are several other conferences happening in the next year and a half, namely the Convention on Biological Diversity and the UN Convention on the Law of the Sea, both of which are expected to craft plans to protect our livelihoods. It's promising that all these conferences are occurring. Still, many fear that they will not push for action radical enough to meet the 1.5 degree goal.
If the goal is not met, the consequences will be unimaginable. More natural disasters (like the wildfires we're seeing right now in Alaska) would ravage coastlines and could destroy entire nations. Chronic refugee crises would ensue. Disease would flourish. One in four animal species would go extinct.
Judging by the current state of politics and carbon emissions (India is on track to overshoot its Paris Agreement goal by 60%), things are looking bleak. Fortunately, a rise in activism and protest—helmed by figures like Greta Thunberg and Alexandria Ocasio-Cortez—has drawn much needed political attention to the climate crisis. Still, it's not enough: In order to ensure a livable future for the earth, people around the world must come together and force their representatives and nations to listen to science and reason.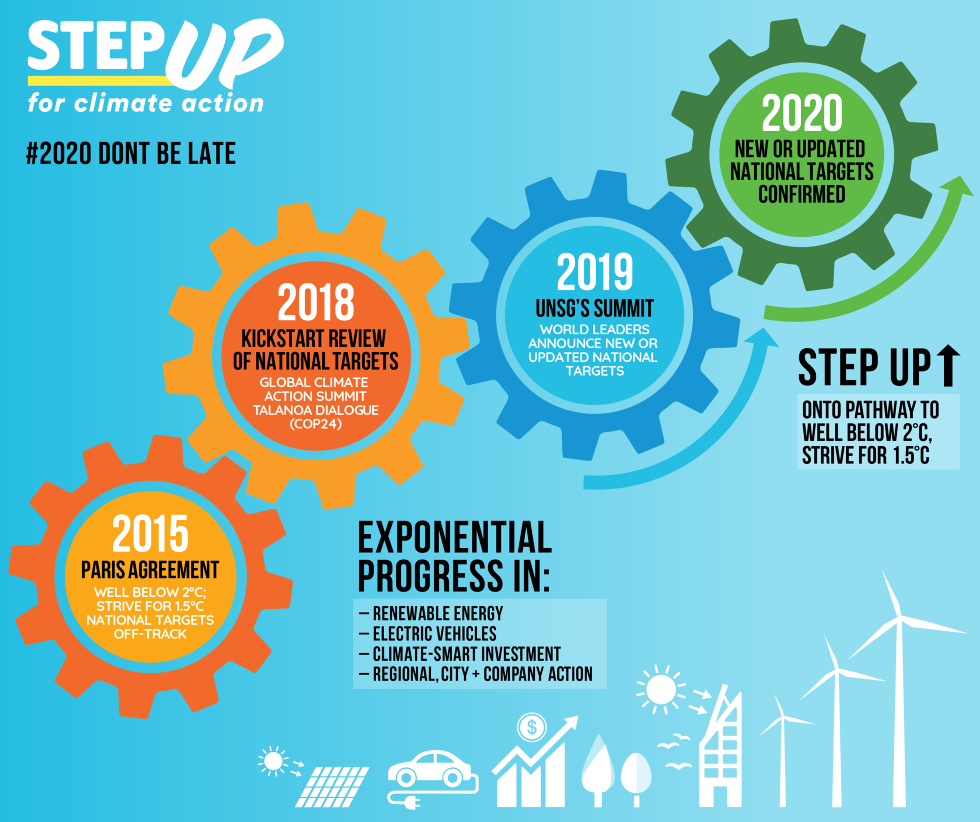 Image via World Economic Forum
Is there truth behind going green and can it really help save the planet?
So many campaigns want you to recycle, avoid creating trash and reduce your carbon footprint. There are many, many tips online to living a green lifestyle. And many people are attempting to reduce waste and conserve energy — but is this enough to really make an impact?

Sure, if every single person (or at least most people) in developed societies lived an eco-friendly lifestyle, there would be a significant impact on the environment. But right now, about 75 percent of Americans don't do more than turn off the lights and recycle even though about 79% consider themselves environmentally conscious.
...fossil fuels are intertwined with pretty much everything we do.
If you live in an urban area, it might be a little easier to make more green lifestyle choices. Your city probably has the ability to recycle more than in other areas. You have access to public transportation and many more options when it comes time to shop or get groceries. These options just aren't as widely available in suburban and rural areas. Some municipalities don't even have any kind of recycling plant. Everything (including plastic, paper, bottles and cans) goes to the dump. Beside the fact that going through the effort to change your lifestyle to become more green takes time and money that some just can't spare.
But let's take a step back. Even if a lot of people do everything right and live an incredibly environmentally conscious lifestyle, nothing will really change. Why? Because fossil fuels are intertwined with pretty much everything we do. The solution to global warming isn't rooted in going paperless (using paper is more eco-friendly than smartphones anyway). The solution is in fundamentally changing the very fabric of our economy. That's not something individuals can do on their own.
Almost everything you buy and consume has to be transported to the store (for you to purchase. Within the country, this is done with trucks. Overseas, it's usually done with ships or planes. Every single one of those vehicles burns some type of fossil fuels to get going. You probably burn them when you're going to the store too. (You can't really get around this by ordering online either.)
In the end, using an electric car can actually put more carbon in the atmosphere than your average gas-powered car.
Electric cars are often seen as a solution for this. It's better to use electricity than gas, right? Definitely — if most of the power didn't come from burning fossil fuels. America's power grid is powered by about 40 percent coal, 25 percent natural gas, 20 percent nuclear power and about 10 percent renewable sources (mostly hydroelectricity). If you own or are considering an electric car, you would most likely still be burning fossil fuels. And that's not even taking into account everything that goes into making a new car. Just like a regular car electric vehicles require precious metals and minerals to be manufactured. What's more is all of the materials and parts are transported using fossil fuels as well as the final product itself. In the end, using an electric car can actually put more carbon in the atmosphere than your average gas-powered car.
Just about every facet of our modern economy depends on burning fossil fuels. That isn't something one person can change. To really live a sustainable and eco-friendly lifestyle, we need to change everything about how we live. That just isn't an easy process.
Of course, it still helps to reduce, reuse and recycle — but that only makes a relatively small impact compared to the overall economy. But it isn't all doom and gloom. The Paris Agreement was an encouraging step toward reducing carbon emissions around the world. If you really care about reducing your carbon footprint, the best solution is to organize and lobby companies and the government to change procedures and regulations. Ultimately, individuals independently choosing to live a greener lifestyle only makes a small impact in reducing our global carbon footprint.
We may forget that water is not an infinite source on the planet so what happens when we run out?
While seventy percent of the Earth is covered in water, only about two percent of it is drinkable. On top of this, most freshwater is inaccessible, either frozen in glacial ice or buried deep beneath the Earth's surface. According to several sources, there are currently one billion people in developing nations who lack access to clean drinking water and by 2025, up to two thirds of the world's population could living under water stressed conditions. When looking at the increasing scarcity of usable water, rising populations, and today's volatile political climate,many experts have come to the conclusion that we are on the verge of widespread conflict and many are saying that the next major war will be fought over water.

The preliminary effects of the coming crisis are already being felt all over the world. Economic powerhouses like China are suffering from pollution in their rivers and as evidenced by the Flint water crisis, even the US isn't completely immune to clean water shortages. In the US, most of our problems are due to outdated and slowly crumbling infrastructure and while this is nothing to sneeze at, access to water in the US can be fixed by replacing old pipes for the time being. Whether this is done through public works or private investment is political semantics. Right now, Third World countries are the ones who truly suffer. About 2,300 people die per day from diseases contracted through unclean water and with very little support, these countries don't have the tools necessary to mitigate the effects of prolonged drought. Desertification and global warming are also contributing to water scarcity in a big way, the latter causing about 20% of our water scarcity issues today.
While the situation is dire, we aren't doomed yet and there are several conservation measures being kicked around by the world's top environmental scientists. One solution that has been gaining popularity in recent years is desalination. Israel has successfully used desalination to supply its population with fresh water with 55% of its water coming from the ocean. In the US and many countries in Europe, large scale desalination projects are being funded for a vast array of what-if scenarios.
The problem is, desalination isn't very energy efficient. Desalination requires an enormous amount of energy and although the technology is improving, desalination plants have the potential to become major contributors to global warming in the coming years. On top of this, there are unforeseeable effects on sea life and desalination has the potential to disrupt the fragile balance of the ocean's ecosystem. Significant changes in the ocean's ecosystem means significant changes to the way we fish and subsequently, the way we eat. Since there haven't been many studies on the long-term effects of desalination, it's difficult to say how damaging it is but there does seem to be some cause for alarm with regard to its immediate effect on sea life. Fish, plankton and other organisms are often killed during water intake and processing and at the moment, it's probably safer to look for other methods to fix the world's water issues.
When the well is running dry, it's sometimes better to examine its structural integrity before digging a brand new one. Agriculture accounts for 80% of America's water use. Rather than focusing on desalination, many water activists are looking to fix inefficiencies in the way we farm food. Leaking irrigation systems and the cultivation of non-local crops are wasteful practices that are squandering huge amounts of water. How much? Up to 60% of water used in farming is wasted because of irrigation issues alone. Rather than rushing to invest all of our time and resources into desalination, it might be time that we reexamine the way in which we grow food. In Volgograd, farmers have been using experimental drip irrigation with extremely effective results both in regard to maintaining healthy soil and proper water utilization. The water scarcity issue may have to get a whole lot worse before people start paying attention to it but it's important to recognize the farmers and scientists who are currently making a contribution. The Water Project and other charitable organizations are also doing their part for water conservation.
If the future looks tumultuous, it's because it is, but with the implementation of more eco-friendly farming methods and the use of desalination as a last resort, there is less of a reason to panic than one might think.
Keep reading...
Show less