To keep the earth's temperatures from rising, serious changes need to happen over the next year and a half.
While Robert Mueller and Donald Trump dominate the public's attention, experts have quietly come to the consensus that we have around 18 months to stop the worst effects of climate change.
Last year, a study by the Intergovernmental Panel on Climate Change found that in order to prevent catastrophic warming, we need to cut carbon emissions by 45% by 2030. Today, political theorists believe that in order to achieve that goal, we must immediately begin implementing the political structures that will allow us to reach it.
At a reception for the Commonwealth foreign ministers, Prince Charles spoke out in support of climate action. "I am firmly of the view that the next 18 months will decide our ability to keep climate change to survivable levels and to restore nature to the equilibrium we need for our survival," he said.
'It's happening, it's now,' says U.S. government report on climate changewww.youtube.com
A Critical Time
So, why are the next 18 months so vital for the future of the earth's climate? During the next year and a half, a series of important political meetings and conventions will take place. On September 23, the UN will hold a special climate summit in New York, where attending countries are expected to present their emission-cutting plans. Then the UN's annual climate change summit, known as the COP25, will be held in Santiago, Chile in December 2019. Finally, the COP26 will take place at the end of 2020, most likely in the UK.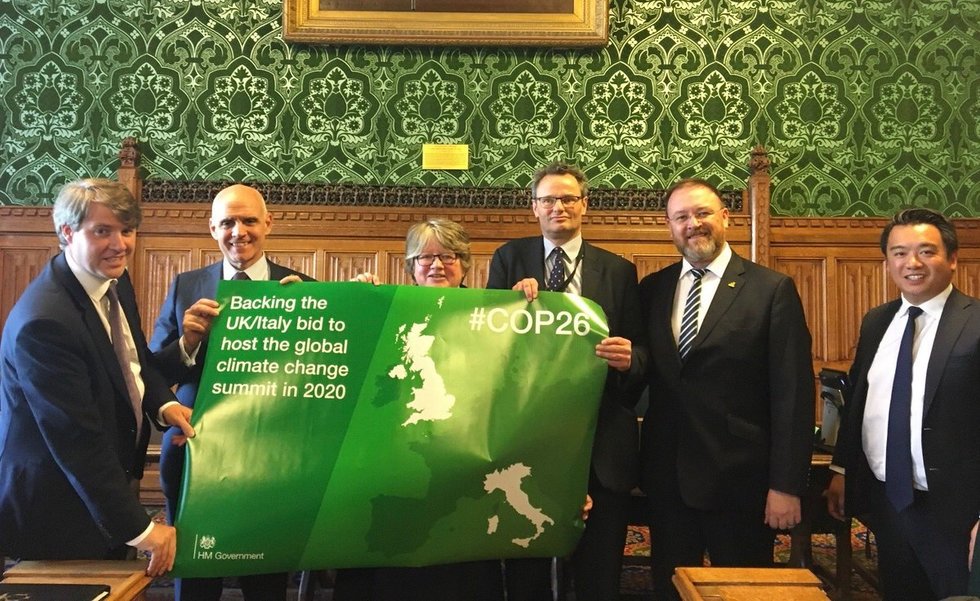 Image via Twitter
According to Environmental Secretary Micheal Gobe, the importance of these meetings cannot be understated. "We need at COP26 to ensure other countries are serious about their obligations and that means leading by example," he said. "Together we must take all the steps necessary to restrict global warming to at least 1.5C."

Depending on what happens at these meetings during the next 18 months, we could see plans like the Green New Deal set into motion. On the other hand, if a climate change denier remains in the US office, the UK summit could be the moment where the US formally withdraws from the Paris agreement (which proposed the bare minimum carbon emission cuts needed to prevent extreme consequences from climate change).
No Choice but Change
If these conferences fail to spark large-scale action, "we will have no chance of getting to a 1.5 or 2C limit," said Professor Michael Jacobs, a former climate advisor to the Prime Minister Gordon Brown.
There are several other conferences happening in the next year and a half, namely the Convention on Biological Diversity and the UN Convention on the Law of the Sea, both of which are expected to craft plans to protect our livelihoods. It's promising that all these conferences are occurring. Still, many fear that they will not push for action radical enough to meet the 1.5 degree goal.
If the goal is not met, the consequences will be unimaginable. More natural disasters (like the wildfires we're seeing right now in Alaska) would ravage coastlines and could destroy entire nations. Chronic refugee crises would ensue. Disease would flourish. One in four animal species would go extinct.
Judging by the current state of politics and carbon emissions (India is on track to overshoot its Paris Agreement goal by 60%), things are looking bleak. Fortunately, a rise in activism and protest—helmed by figures like Greta Thunberg and Alexandria Ocasio-Cortez—has drawn much needed political attention to the climate crisis. Still, it's not enough: In order to ensure a livable future for the earth, people around the world must come together and force their representatives and nations to listen to science and reason.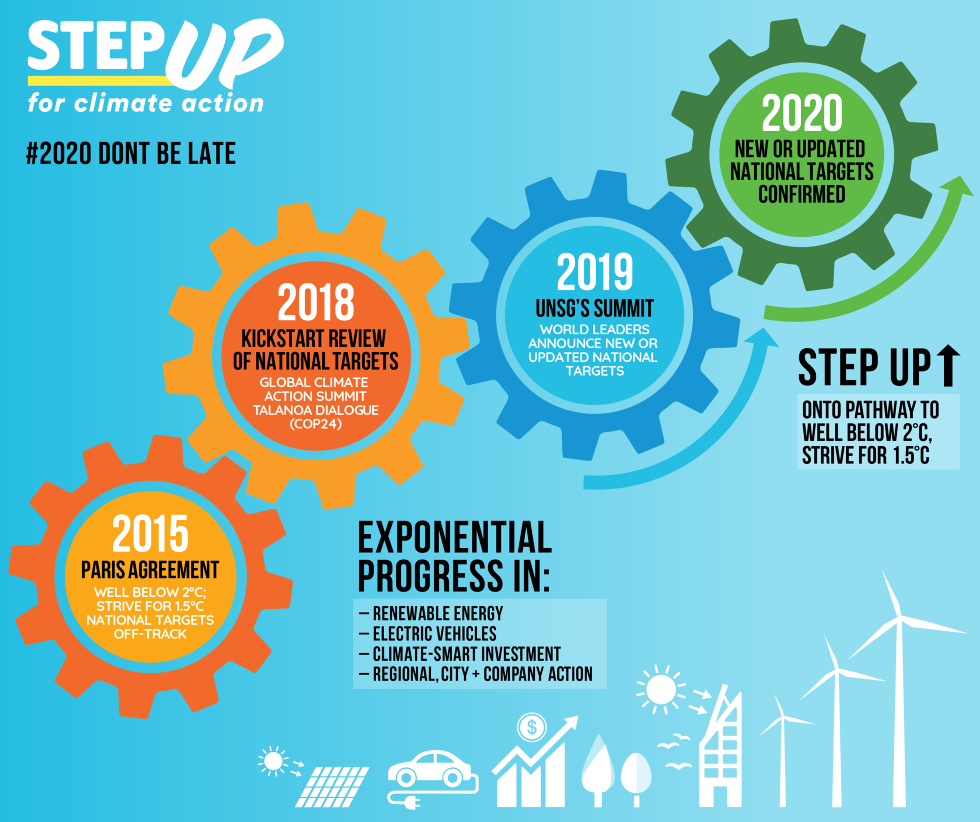 Image via World Economic Forum
Trump continues to alienate the U.S. from the global community by panning diplomacy for his own agendas.
Donald Trump singled out the United States before the entire international community at the G20 summit over the weekend. He was the only leader in attendance to refuse to sign a joint statement pledging a non-binding commitment to continue combating climate change.
After a strenuous, all-night negotiation in Buenos Aires, the world leaders issued a communiqué re-affirming that the Paris climate agreement "is irreversible" and vowing "full implementation" of its policies to "continue to tackle climate change, while promoting sustainable development and economic growth."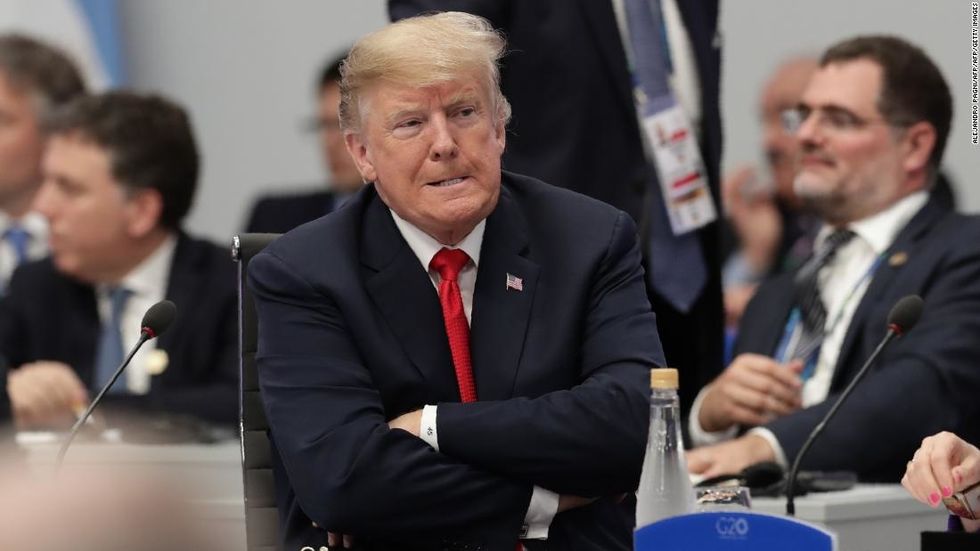 CNN
However, the summit was fraught with tensions over various countries' objections and demands, including Trump's refusal to budge on climate change or trade agreements. As such, world leaders struggled to pen a separate clause to account for Trump's "America First" stance. The communiqué reads: "The United States reiterates its decision to withdraw from the Paris Agreement, and affirms its strong commitment to economic growth and energy access and security, utilizing all energy sources and technologies, while protecting the environment."

In another compromise forced by Trump's intransigence, this year's G20 statement also shirked its usual promises to fight protectionism and uphold multilateral trading rules. The summit weakly acknowledged the "contribution" of the "multilateral trading system," despite the fact that it's "falling short" of its goals in trade growth and job creation. One European official present at the weekend's negotiations told NBC News, "There were moments when we thought all was lost."
At last year's summit, Trump shocked world leaders with his first refusal to join the consensus on climate and trade issues. He continued to alienate the U.S. from the international community over the summer. In June, the president refused to sign a joint statement on global economic policies from the G7 summit, even taking to Twitter to deride Canadian Prime Minister Justin Trudeau over the policies.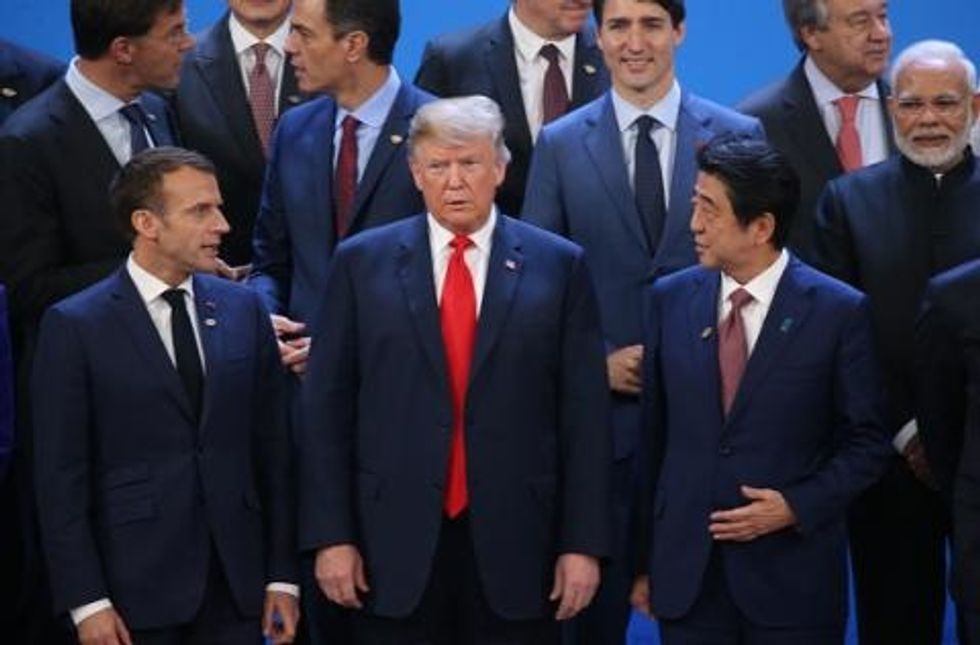 Newsweek - Getty Images
As a final act of belligerence, Trump stormed off the stage as the rest of the world leaders gathered for a photo to commemorate the end of a two-day effort in global solidarity. After shaking hands with Argentine President Mauricio Macri, Trump left Macri visibly confused on stage as he hastily left. Trump was audibly recorded telling an aide, "Get me out of here."

Reluctantly, he returned to the stage moments later to pose for group photos.
Hilarious moment Trump caught saying "get me out of here" at G20 Summit www.youtube.com
Meg Hanson is a Brooklyn-based writer, teacher, and jaywalker. Find Meg at her website and on Twitter @megsoyung.

Is there truth behind going green and can it really help save the planet?
So many campaigns want you to recycle, avoid creating trash and reduce your carbon footprint. There are many, many tips online to living a green lifestyle. And many people are attempting to reduce waste and conserve energy — but is this enough to really make an impact?

Sure, if every single person (or at least most people) in developed societies lived an eco-friendly lifestyle, there would be a significant impact on the environment. But right now, about 75 percent of Americans don't do more than turn off the lights and recycle even though about 79% consider themselves environmentally conscious.
...fossil fuels are intertwined with pretty much everything we do.
If you live in an urban area, it might be a little easier to make more green lifestyle choices. Your city probably has the ability to recycle more than in other areas. You have access to public transportation and many more options when it comes time to shop or get groceries. These options just aren't as widely available in suburban and rural areas. Some municipalities don't even have any kind of recycling plant. Everything (including plastic, paper, bottles and cans) goes to the dump. Beside the fact that going through the effort to change your lifestyle to become more green takes time and money that some just can't spare.
But let's take a step back. Even if a lot of people do everything right and live an incredibly environmentally conscious lifestyle, nothing will really change. Why? Because fossil fuels are intertwined with pretty much everything we do. The solution to global warming isn't rooted in going paperless (using paper is more eco-friendly than smartphones anyway). The solution is in fundamentally changing the very fabric of our economy. That's not something individuals can do on their own.
Almost everything you buy and consume has to be transported to the store (for you to purchase. Within the country, this is done with trucks. Overseas, it's usually done with ships or planes. Every single one of those vehicles burns some type of fossil fuels to get going. You probably burn them when you're going to the store too. (You can't really get around this by ordering online either.)
In the end, using an electric car can actually put more carbon in the atmosphere than your average gas-powered car.
Electric cars are often seen as a solution for this. It's better to use electricity than gas, right? Definitely — if most of the power didn't come from burning fossil fuels. America's power grid is powered by about 40 percent coal, 25 percent natural gas, 20 percent nuclear power and about 10 percent renewable sources (mostly hydroelectricity). If you own or are considering an electric car, you would most likely still be burning fossil fuels. And that's not even taking into account everything that goes into making a new car. Just like a regular car electric vehicles require precious metals and minerals to be manufactured. What's more is all of the materials and parts are transported using fossil fuels as well as the final product itself. In the end, using an electric car can actually put more carbon in the atmosphere than your average gas-powered car.
Just about every facet of our modern economy depends on burning fossil fuels. That isn't something one person can change. To really live a sustainable and eco-friendly lifestyle, we need to change everything about how we live. That just isn't an easy process.
Of course, it still helps to reduce, reuse and recycle — but that only makes a relatively small impact compared to the overall economy. But it isn't all doom and gloom. The Paris Agreement was an encouraging step toward reducing carbon emissions around the world. If you really care about reducing your carbon footprint, the best solution is to organize and lobby companies and the government to change procedures and regulations. Ultimately, individuals independently choosing to live a greener lifestyle only makes a small impact in reducing our global carbon footprint.