Dall-E Mini, the AI-powered text-to-image generator has taken over the internet. With its ability to render nearly anything your meme-loving heart desires, anyone can make their dreams come true.
DALL-E 2, a portmanteau of Salvador Dali, the surrealist and Wall-E, the Pixar robot, was created by OpenAI and is not widely available; it creates far cleaner imagery and was recently used to launch Cosmpolitan's first AI-generated cover. The art world has been one of the first industries to truly embrace AI.
The open-sourced miniature version is what's responsible for the memes. Programmer Boris Dayma wants to make AI more accessible; he built the Dall-E Mini program as part of a competition held by Google and an AI community called Hugging Face.
And with great technology, comes great memes. Typing a short phrase into Dall-E Mini will manifest 9 different amalgamations, theoretically shaping into reality the strange images you've conjured. Its popularity leads to too much traffic, often resulting in an error that can be fixed by refreshing the page or trying again later.
If you want to be a part of the creation of AI-powered engines, it all starts with code. CodeAcademy explains that Dall-E Mini is a seq2seq model, "typically used in natural language processing (NLP) for things like translation and conversational modeling." CodeAcademy's Text Generation course will teach you how to utilize seq2seq, but they also offer opportunities to learn 14+ coding languages at your own pace.
You can choose the Machine Learning Specialist career path if you want to become a Data Scientist who develops these types of programs, but you can also choose courses by language, subject (what is cybersecurity?) or even skill - build a website with HTML, CSS, and more.
CodeAcademy offers many classes for free as well as a free trial; it's an invaluable resource for giving people of all experience levels the fundamentals they need to build the world they want to see.
As for Dall-E Mini, while some have opted to create beauty, most have opted for memes. Here are some of the internet's favorites:
There's no looking back now, not once you've seen Pugachu; artificial intelligence is here to stay.
POLITICS
Trump Refuses to Sign G20 Statement on Climate Change
PBS
Trump continues to alienate the U.S. from the global community by panning diplomacy for his own agendas.
Donald Trump singled out the United States before the entire international community at the G20 summit over the weekend. He was the only leader in attendance to refuse to sign a joint statement pledging a non-binding commitment to continue combating climate change.
After a strenuous, all-night negotiation in Buenos Aires, the world leaders issued a communiqué re-affirming that the Paris climate agreement "is irreversible" and vowing "full implementation" of its policies to "continue to tackle climate change, while promoting sustainable development and economic growth."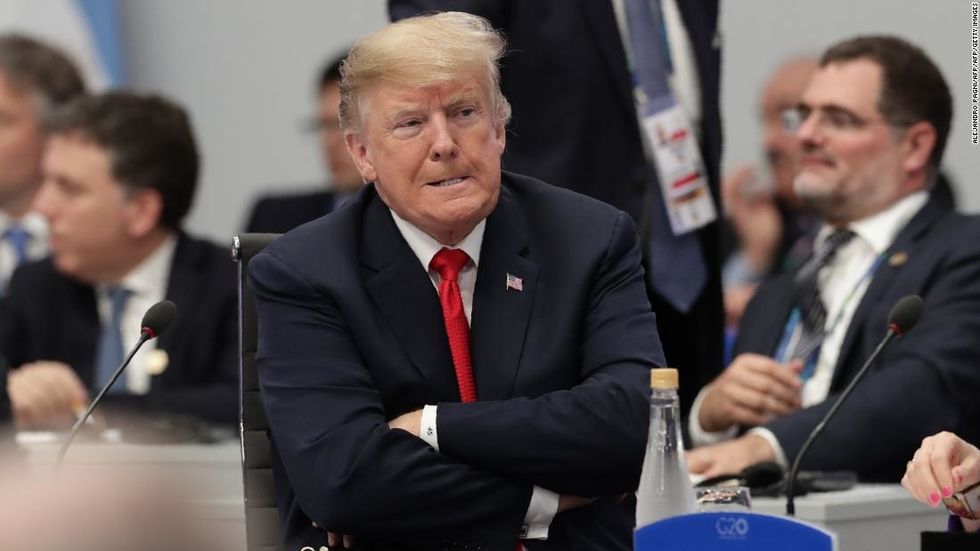 CNN
However, the summit was fraught with tensions over various countries' objections and demands, including Trump's refusal to budge on climate change or trade agreements. As such, world leaders struggled to pen a separate clause to account for Trump's "America First" stance. The communiqué reads: "The United States reiterates its decision to withdraw from the Paris Agreement, and affirms its strong commitment to economic growth and energy access and security, utilizing all energy sources and technologies, while protecting the environment."

In another compromise forced by Trump's intransigence, this year's G20 statement also shirked its usual promises to fight protectionism and uphold multilateral trading rules. The summit weakly acknowledged the "contribution" of the "multilateral trading system," despite the fact that it's "falling short" of its goals in trade growth and job creation. One European official present at the weekend's negotiations told NBC News, "There were moments when we thought all was lost."
At last year's summit, Trump shocked world leaders with his first refusal to join the consensus on climate and trade issues. He continued to alienate the U.S. from the international community over the summer. In June, the president refused to sign a joint statement on global economic policies from the G7 summit, even taking to Twitter to deride Canadian Prime Minister Justin Trudeau over the policies.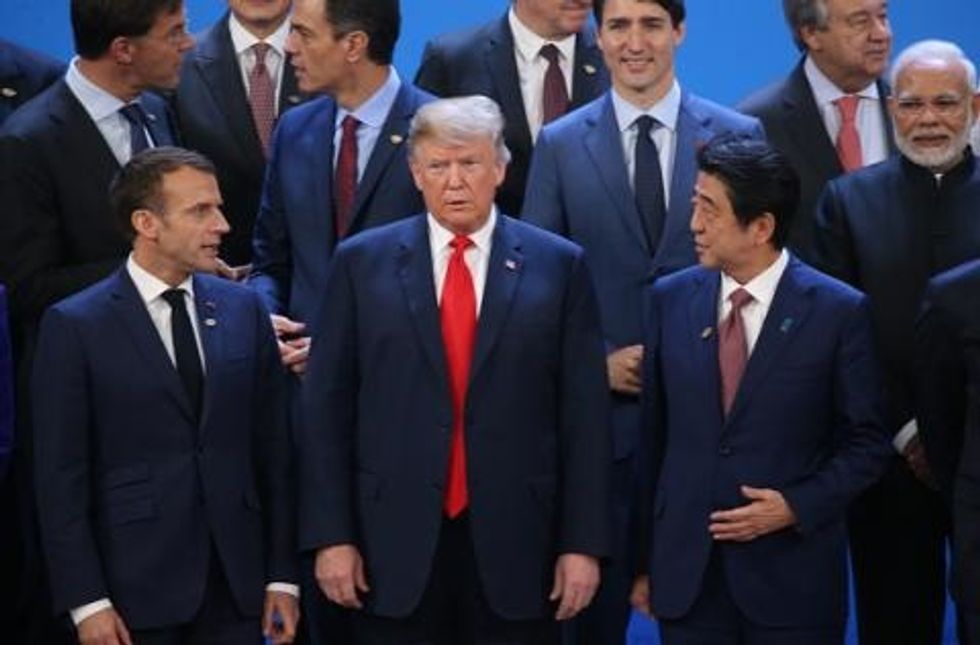 Newsweek - Getty Images
As a final act of belligerence, Trump stormed off the stage as the rest of the world leaders gathered for a photo to commemorate the end of a two-day effort in global solidarity. After shaking hands with Argentine President Mauricio Macri, Trump left Macri visibly confused on stage as he hastily left. Trump was audibly recorded telling an aide, "Get me out of here."

Reluctantly, he returned to the stage moments later to pose for group photos.
Hilarious moment Trump caught saying "get me out of here" at G20 Summitwww.youtube.com
Meg Hanson is a Brooklyn-based writer, teacher, and jaywalker. Find Meg at her website and on Twitter @megsoyung.