"A tree is best measured when it is down," the poet Carl Sandburg once observed, "and so it is with people." The recent death of Harry Belafonte at the age of 96 has prompted many assessments of what this pioneering singer-actor-activist accomplished in a long and fruitful life.
Belafonte's career as a ground-breaking entertainer brought him substantial wealth and fame; according to Playbill magazine, "By 1959, he was the highest paid Black entertainer in the industry, appearing in raucously successful engagements in Las Vegas, New York, and Los Angeles." He scored on Broadway, winning a 1954 Tony for Best Featured Actor in a Musical – John Murray Anderson's Almanac. Belafonte was the first Black person to win the prestigious award. A 1960 television special, "Tonight with Belafonte," brought him an Emmy for Outstanding Performance in a Variety or Musical Program or Series, making him the first Black person to win that award. He found equal success in the recording studio, bringing Calypso music to the masses via such hits as "Day-O (The Banana Boat Song)" and "Jamaica Farewell."
Harry Belafonte - Day-O (The Banana Boat Song) (Live)www.youtube.com
Belafonte's blockbuster stardom is all the more remarkable for happening in a world plagued by virulent systemic racism. Though he never stopped performing, by the early 1960s he'd shifted his energies to the nascent Civil Right movement. He was a friend and adviser to the Reverend Doctor Martin Luther King, Jr. and, as the New York Times stated, Belafonte "put up much of the seed money to help start the Student Nonviolent Coordinating Committee and was one of the principal fund-raisers for that organization and Dr. King's Southern Christian Leadership Conference."
The Southern Poverty Law Center notes that "he helped launch one of Mississippi's first voter registration drives and provided funding for the Freedom Riders. His activism extended beyond the U.S. as he fought against apartheid alongside Nelson Mandela and Miriam Makeba, campaigned for Mandela's release from prison, and advocated for famine relief in Africa." And in 1987, he received an appointment to UNICEF as a goodwill ambassador.
Over a career spanning more than seventy years, Belafonte brought joy to millions of people. He also did something that is, perhaps, even greater: he fostered the hope that a better world for all could be created. And, by his example, demonstrated how we might go about bringing that world into existence.
With Afghanistan in chaos and government and military resources strained to the limit, small, decentralized groups have been making a difference in the evacuation of American citizens and Afghans in danger.
One of the most effective has been The World Is My Country Foundation, a Texas non-profit agency that provides relevant, necessary, and efficient aid to those in need around the world regardless of race, religion, or gender. Founded by a 13-year veteran of the US Special Forces, the organization is working on a clearly defined mission.
With air evacuations being handled by other agencies, The World Is My Country Foundation is focusing on ground transportation. A GoFundMe Page titled GROUND OPTION: Emergency Ground Movements has raised close to $125,000 in less than two weeks. The team consists of a decentralized network of former Special Forces soldiers, intelligence officers, trusted Afghan allies, and volunteers working together to rescue the endangered.
It is said that the scale of these evacuation efforts is comparable to that of Dunkirk - the Allied Forces' evacuation in which more than 330,000 British, French, and Polish soldiers were cut off and surrounded by the Nazis in the spring of 1940. The Foundation has been extraordinarily successful in getting American citizens, Afghan interpreters, and other friendlies out of harm's way.
But more help – and funds – are required. And here's why:
The situation continues to deteriorate
"It's really bad," an anonymous source close to the effort says. "Kabul airport has been difficult to reach in good circumstances due to checkpoints and chokepoints, but the bombings yesterday have greatly hindered evacuation efforts. In addition, there's imperfect information about who needs to be rescued, where they are, and their current status."
Time is running out
"This is a chaotic environment, but the team is trusted and proven in working under extreme circumstances and duress," says the source, "and there's a small window between now and the August 31 pullout to make things happen."
A matter of life and death
Afghans who worked with American soldiers and citizens face severe – and fatal – reprisals from the Taliban. Interpreters, translators, Journalists, English language teachers, and government workers – to name only a few – fear the worst. As the BBC reports, the Taliban "is said to be carrying out door-to-door searches while violent scenes have also been reported at some Taliban-controlled checkpoints."
The facts are clear - the time to help is now. For the world truly is our country.
Warning: This article discusses sexual and physical violence, child abuse, and cultural genocide.

From around 1823 until they were officially shut down in 1996, residential schools operated in almost every province and territory in Canada.

These residential schools, which saw over 150,000 Indigenous children pass through their doors, were owned and operated by the Catholic Church and were part of a plan based on the "aggressive assimilation" and colonization of children and the eradication of Indigenous culture. Recent tragic discoveries at some of these former residential schools have sparked a resurgence of interest in what really went on within them, as well as a reckoning about their enduring legacy.
In early June 2021, 215 unmarked graves were discovered at the Kamloops Residential School, which was operated from 1890 to 1969.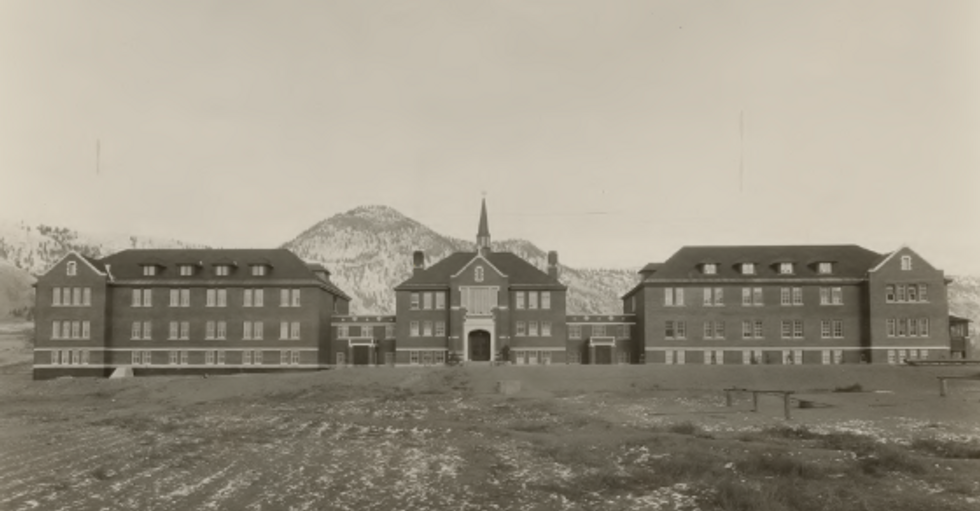 Kamloops Residential SchoolKamloops Residential School
The graves contained the bodies of children who died at the school. They were discovered by the Tk'emlúps te Secwépemc First Nation, who hired a specialist in ground-penetrating radar to examine the school grounds.
"To our knowledge, these missing children are undocumented deaths," said Tk'emlúps te Secwépemc Kukpi7 (Chief) Rosanne Casimir in a statement. "Some were as young as three years old. We sought out a way to confirm that knowing out of deepest respect and love for those lost children and their families, understanding that Tk'emlúps te Secwépemc is the final resting place of these children."
Then, on Thursday, 751 unmarked graves were discovered at the Marieval Indian Residential School in Saskatchewan.
Canada's Truth and Reconciliation Committee, established in 2008 to look deeper into the traumatic legacy of residential schools, concluded that 4,100 children may have died at the schools. However, Murry Sinclair, a judge who helped head the commission, now says that he believes the number may be over 10,000.
What happened to children at residential schools?
Residential schools were owned and operated by the Catholic Church in an effort to wipe out Indigenous culture. They forcibly removed children from their homes and banned Indigenous practices and languages on their grounds. In 2015, the Truth and Reconciliation Committee called the school system a form of "cultural genocide."
The causes of death of the children vary; but malnutrition, disease, fires, and physical and sexual abuse are among the primary causes.
Reports by a doctor found that children at Kamloops were extremely malnourished, and schools suffered deaths when disease like tuberculosis swept through them thanks to their cramped conditions and poor health regulations. Accidents such as fires also caused high numbers of deaths, and most of the schools had few safety measures in place.
Former students testified that sexual abuse was rampant, particularly among the priests and students. Some even testified that they had witnessed the infants of children impregnated by priests being thrown into furnaces. Many children also drowned or froze to death after trying to run away.
Parents of children who died at the schools were rarely even directly notified about their child's death, or allowed to bring their bodies home for burial.
Former students have been testifying and telling stories about the abuse suffered at the schools for decades. "A lot of survivors, my relatives, they've been saying this for years and years — that there was a lot of death, there's a lot of unmarked graves," said Perry Bellegarde, national chief of the Assembly of First Nations. "But nobody ever believed the survivors."
Barry Kennedy, a survivor of the Mareival residential school, said he witnessed many burials during his time at the school. He also said children were frequently slapped, kicked, and punched, and were forced to eat rancid food and even their own vomit.
"This has to be a worldwide cry of what systemic racism created," he said. "We have to try and fix it in a respectful way so that we can move forward, not only as Indigenous nations of Canada, but as a country. We have to make this right."
What should happen in the wake of these discoveries?
In response to these new findings, many have requested formal apologies from the Catholic Church, which operated the schools. Pope Francis did not provide a formal apology, but did state that "the sad discovery further raises awareness of the pains and sufferings of the past."
The statement was far too little, according to Indigenous advocates. "The Church needs to accept full responsibility, release all its Indian Residential School records, and trade in shallow placatory remarks for meaningful apologies through action," Grand Chief Stewart Phillip, president of the Union of BC Indian Chiefs, said in a statement.
Canadian Prime Minister Justin Trudeau has also requested that Pope Francis issue a formal apology. "I have spoken personally directly with His Holiness Pope Francis to press upon him how important it is not just that he makes an apology but that he makes an apology to Indigenous Canadians on Canadian soil," Trudeau said.
Across the board, advocates are calling for more sustained accountability from both the Church and the government. "There was no time to mourn, there was no time to sit with the grief, it was just an immediate spring to action and seize the moment, and try to harness the attention and the political will to push through the things that really matter, and that will really affect change in our community," Eva Jewell, associate fellow at the Yellowhead Institute, who co-authored a 2018 report on the residential schools, said of the response to the Truth and Reconciliation Committee's initial findings. "I would like to see more sustained commitment and action, and I hope Canadians will commit to that."
In response to the revelations, the Catholic Missionary Oblates of Mary Immaculate, which operated 48 schools, said it would reveal all documents in its possession and issued an apology. But many records have been changed, destroyed or lost over the years, leading many to call for an independent inquiry.
Murray Sinclair is calling for an official independent investigation into what happened at residential schools. "We need to know who died, we need to know how they died, we need to know who was responsible for their deaths or for their care at the time that they died," said Sinclair, who is a member of the Peguis First Nation. "We need to know why the families weren't informed. And we need to know where the children are buried."
Others have emphasized the importance of finding and identifying the lost children. Christine Diindiisi McCleave, chief executive of the National Native American Boarding School Healing Coalition, stated that finding the graves would be "very healing for a lot of our people."
She continued, "The thing that is the open wound for our communities right now is the fact that our children were taken, and they're lost, and we don't know where they went and we don't know what happened to them. We don't know their final resting place."
Still others have called for more education and awareness about the schools and their horrific legacy, which is not currently discussed in most history books or curriculums, with many emphasizing the nuance and care that must be taken when teaching children about these events — particularly children whose families may have been affected by them.
In the United States, which also operated hundreds of government-subsidized residential schools dedicated to wiping out Indigenous culture, Secretary of the Interior Deb Haaland — whose grandmother was loaded on a train as a child and shipped to one of the schools — has launched an investigation into the schools' records, with a deadline of April 2022. "We must uncover the truth about the loss of human life and the lasting consequences of these schools," Haaland said.
Some feel that this investigation's findings will inevitably provoke similar revelations in the United States.
"There is a reckoning happening," said Chase Iron Eyes, an influential Indigenous activist and lead counsel for the Lakota People's Law Project. "They don't teach this in schools — not in Canadian schools, not in American schools — that there are mass graves of children at church-run, government-sponsored residential schools and boarding schools. And now we're no longer able to hide from those truths."
Residential schools have enduring consequences that continue to affect Indigenous communities today. "The history of residential schools has been identified as having long lasting and intergenerational effects on the physical and mental well-being of Indigenous populations in Canada," reads a study published in Public Health Reviews.
"The findings from this scoping review highlight the importance of considering government policies and historical context as critical to understanding the contemporary health and well-being of Indigenous peoples," it concludes. "This includes other colonial policies, forms of cultural oppression, loss of autonomy, and disruption of traditional life, as well as residential schooling. Better knowledge of how the effects of these historically traumatic events continue to affect communities and individuals may help inform both population health interventions and the care and treatment of individuals."
Another study by researchers at the University of Ottawa found "empirical support for the concept of historical trauma, which takes the perspective that the consequences of numerous and sustained attacks against a group may accumulate over generations and interact with proximal stressors to undermine collective well-being."
The Enduring Violence of Generational Trauma
The idea that trauma can be passed on through generations was first identified in children whose parents had suffered in the Holocaust. Further studies have found that intergenerational trauma can lead directly to physical ailments, as well as mental health problems.
In practice, residual trauma from the residential schools has manifested in high levels of alcoholism, mental illness, and other issues that still plague First Nations peoples today.
The schools left "intractable legacies of residential schools including poverty, addictions, and domestic and sexual violence," reads a report by the Truth and Reconciliation Committee which found that the residential schools directly created many of the issues that continue to endure and tear apart First Nations communities today.
"One of the most devastating impacts of the residential school system was that it gave most students a poor education. For many, that led to chronic unemployment or underemployment, poverty, poor housing, substance abuse, family violence, and ill health."
The problems persist. "Governmental failure to meet the educational needs of Aboriginal children continues to the present day," the report continues. "Government funding is both inadequate and inequitably distributed. Educational achievement rates continue to be poor," the Committee found, citing a lack of government funding for schools on reservations as bearing "a shameful resemblance to the residential schools."
For those who suffered through the school systems and who continue to face their enduring consequences, the effects are felt viscerally.
"That anger and that resentment that I beared towards my parents, it really, really was very destructive and it led me down a road of heavy, heavy, heavy drinking and I ended up on the streets in Vancouver," said North Peigan, who was one of thousands of children taken from their parents in a sweep known as the Sixties Scoop.
For Peigan, healing only came when he began talking to his mother about her own experience at a residential school. "Once she was able to share with me her experiences and her trauma that she came home with, you know, coming out of residential school, I was able to actually work through that anger and that resentment that I had towards her," he said.
Now, he works with a group called the Legacy of Hope Foundation, which raises awareness and understanding about the residential schools. "To realize true Reconciliation requires consistent efforts by all individuals, communities, service providers, leaders and all levels of government," the organization's website reads.
Healing and reconciliation are slow and nonlinear processes, however, and the discovery of these unmarked graves — coupled with the government's Catholic Church's ongoing failure to adequately respond — has also provoked a more visceral kind of backlash. Since the most recent discovery at Marieval, four Catholic Churches on Indigenous land in Canada have burned.
Given the tragic murder of thousands of children and the ongoing legacy of horror and destruction facilitated by those churches, the response is not hard to understand. Many are calling for the Catholic church to be charged for crimes against humanity.
"What happened to Indigenous children is genocide, and the legacy of that continues through denial and inaction," said Beverly Jacobs, a University of Windsor law professor from Six Nations of the Grand River Territory. "All entities involved in residential schools...must be charged with genocide and tried at the International Criminal Court."
But reconciliation is never simple, and apologies and criminal charges only scratch the surface of what's really needed, particularly since the issues created by the residential school systems and other traumas continue to manifest today. "Dozens of First Nations do not have access to drinking water, the government is fighting a human rights tribunal order to compensate Indigenous children who suffered in foster care and a federal minister has admitted racism against Indigenous peoples is rampant within the healthcare system," writes Leyland Cecco in The Guardian. "Indigenous people are overrepresented in federal prisons and Indigenous women are killed at a rate far higher than other groups."
These realities are the result of sustained racial inequality, according to Sinclair.
"It took constant effort to maintain that relationship of Indigenous inferiority and white superiority," he said. "To reverse that, it's going to take generations of concerted effort to do the opposite."
Anyone affected by residential schools can call the free 24-hour Indian Residential School Crisis Line at 1-866-925-4419.
Content Warning: This article contains graphic descriptions of abuse and sexual violence.
Lisa Montgomery is the first woman to be executed by the federal government since 1953.

52-year-old Montgomery was killed by lethal injection at the U.S. Penitentiary in Terre Haute today. Her time of death was 1:31 AM.
Montgomery's crime was heinous by nature: In 2004, Montgomery killed 23-year-old Bobbie Jo Stinnett and removed Stinnett's unborn child from her womb. The infant, Victoria Jo, survived and is 16 today.
No one is arguing that Montgomery doesn't deserve a life in prison for her crimes (though whether she deserves a life in a mental asylum is another discussion). But her execution — part of a string of executions that the Trump Administration is ramming in before its dissolution — cannot be extricated from politics, nor can it be extricated from Montgomery's traumatic life story.
Her death was the result of a long, hard-won battle between those who believed she deserved to die and those who believed that a lifetime of sex trafficking, torture, and mental illness merited a life in prison, not government-sanctioned death.
An Early Life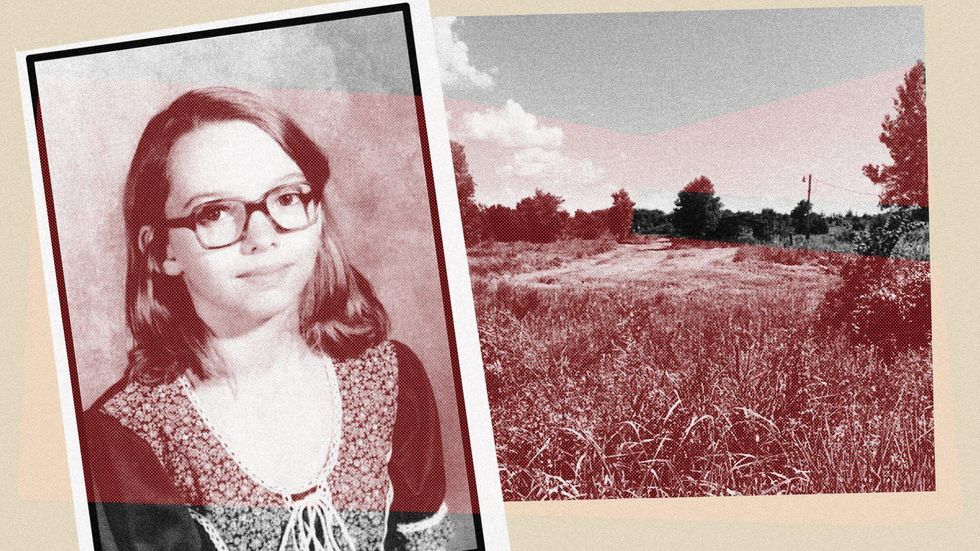 Lisa MontgomeryHuffPost
Lisa Montgomery's childhood was a nightmare in every sense. Her mother, Judy, drank during her pregnancy, and Lisa was born with brain damage. Judy would beat and psychologically torment Lisa and her sisters throughout their early years, even beating the family dog to death in front of them.
Starting at the age of 11, Lisa was raped multiple times each week by her stepfather, Jack Kleiner, who also beat her and her mother. The rapes became so frequent that Kleiner even built a makeshift shed on the side of the family's trailer where he could attack Lisa and no one could hear her screams. MRI brain scans show that Lisa suffered brain damage from his brutal retaliations to her attempts to resist.
Over the years, her stepfather began inviting friends over to violently gang rape Lisa for hours on end. Lisa's mother also participated, selling Lisa's body to plumbers and electricians in exchange for utility work and showing no empathy for what was happening to her daughter.
Teachers and doctors often suspected something was happening, but no one ever stepped up to help Lisa.
These were the formative experiences that shaped Lisa Montgomery, experiences that psychologists would later conclude amounted to torture. "This is a story about a woman who is profoundly mentally ill as a result of a lifetime of torture and sexual violence," said Sandra Babcock, a consultant to Montgomery's legal team. "Lisa is not the worst of the worst – she is the most broken of the broken."
Lisa's trials didn't end in childhood. She married her stepbrother at 18, and he continued the cycle, raping and abusing her again and again. Lisa gave birth to four children in four years before being pressured by her husband and mother into a sterilization procedure.
After that, her mental health declined and she began struggling to keep a job. She also started participating in sex work and frequently fell into trances around her children. Following the sterilization, she also often told people she was pregnant.
An Awful Crime
The crime Lisa Montgomery committed, as a journal article from the Cornell Center on the Death Penalty Worldwide writes, "reflects the depth of her mental illness and despair."
Two days before the crime, Montgomery's abusive ex-husband filed for custody of two of their children. At the time, Lisa told her new husband she was pregnant, but the abusive former husband knew this was impossible because of the sterilization and threatened to expose Lisa in court.
Desperate, and likely in the midst of a psychotic break, Lisa went to the home of Bobbie Jo Stinnett, a woman she had bonded with online over their shared love of dogs. She strangled Stinnett, then removed the infant from Stinnett's abdomen. The crime shattered the Skidmore, Missouri town where it occurred, and some family members called for death as retribution.
The Fight to Stop Lisa's Execution
Lisa's crime was horrific and unforgettable. Lisa herself felt "deep remorse" for the crime "before she lost all touch with reality in the days before her execution," according to her attorney.
But still, simply based on tradition, most murders do not result in the death penalty. Instead, prosecutors must actively make the decision to push for the death penalty. Under the Bush Justice Department, since-disgraced Attorney General Alberto Gonzales chose to break with tradition and pursue the death penalty for Lisa.
Lisa's initial defense team was led by an all-male team of lawyers that included Dave Owen, who had never defended anyone against the death penalty, let alone a woman who had a history of sexual violence and trauma. Experts recommended a more experienced lawyer be put on the team, and so experienced capital defense lawyer Judy Clarke was added. Clarke quickly built up a rapport with Lisa.
But Owen apparently could not stand having to take orders from a female lawyer, so removed her from the team. The male chief investigator on Lisa's case said that it was clear that Owen was "not going to take any orders from any damn woman."
Clarke was removed and banned from visiting Lisa in prison. Of course, Lisa's male team of attorneys failed her in the trial, failing to bring up Lisa's history of abuse and trauma. Instead they disparaged Lisa's mothering skills and the state of her home. Lisa was sentenced to death.
Near the end of her life, a new team of defenders stepped up to try to defend Lisa. They investigated her mental health, finding that Lisa suffered from bipolar disorder with psychotic features, complex post-traumatic stress disorder, temporal lobe epilepsy, and cerebellar dysfunction, according Amy Harwell, a public defender who worked on Montgomery's case.
Lisa showed "symptoms of dissociation, including confused thinking, major gaps in memory, and an inability to recognize the reality of certain events," explained Dr. Katherine Poterfield, a Bellevue clinical psychiatrist who interviewed Lisa in prison. She added that Lisa's trauma was "massive," one of the most severe cases of dissociative disorder she had ever seen.
"She would not be able to keep her train of thought, and describe strange ways of thinking to describe her reality," said Porterfield. "She lives in a state of disassociation, going in and out all the time. When I asked about her childhood, she would display an inability to connect to her emotions – with a blank facial expression, blank voice, talking about herself in the third person."
While in prison, Lisa also displayed other signs of debilitating mental dissociation, believing that God could speak with her through crossword puzzles and often expressing doubts about whether what she was seeing around her was real.
Montgomery's parents' family trees both feature psychiatric and neurological issues, including mood disorders, intellectual disability, PTSD and schizophrenia. Porterfield compared the abuse Lisa suffered to "pouring lighter fluid onto a spark."
"I have never seen a case like this. I don't know of any execution in the US or elsewhere that has been carried out on someone who has been subjected to such unrelenting sexual torture and violence," said defender Sandra Babcock.
"Talking to Lisa was like talking to Vietnam and Korean war veterans who had been held in holes and bamboo cages under the most horrible conditions," said social worker Janet Vogelsang.
Lisa's own sister and family also came to her defense, begging that Lisa be kept alive and in prison for the sake of her 14 grandchildren.
"I'm bruised, but I'm not broken," wrote Montgomery's sister Diane in an essay. "My sister, Lisa Montgomery, is broken. On December 8, the federal government plans to execute her for a crime she committed in the grip of severe mental illness after a lifetime of living hell. She does not deserve to die." Diane was adopted out of the house at the age of eight and Lisa was four.
"Retribution is one method of accountability for criminal acts," writes Rachel Louise Snyder in The New York Times. "But Ms. Montgomery's life, however much she has left of it, is already irreparably shattered. For many of us, that might seem punishment enough."
For more on the horrific abuse Lisa Montgomery suffered in her early childhood that contributed to her severe menta… https://t.co/nTJ9b7T3tR

— Scott Hechinger (@Scott Hechinger) 1610543173.0
For the Supreme Court, it wasn't.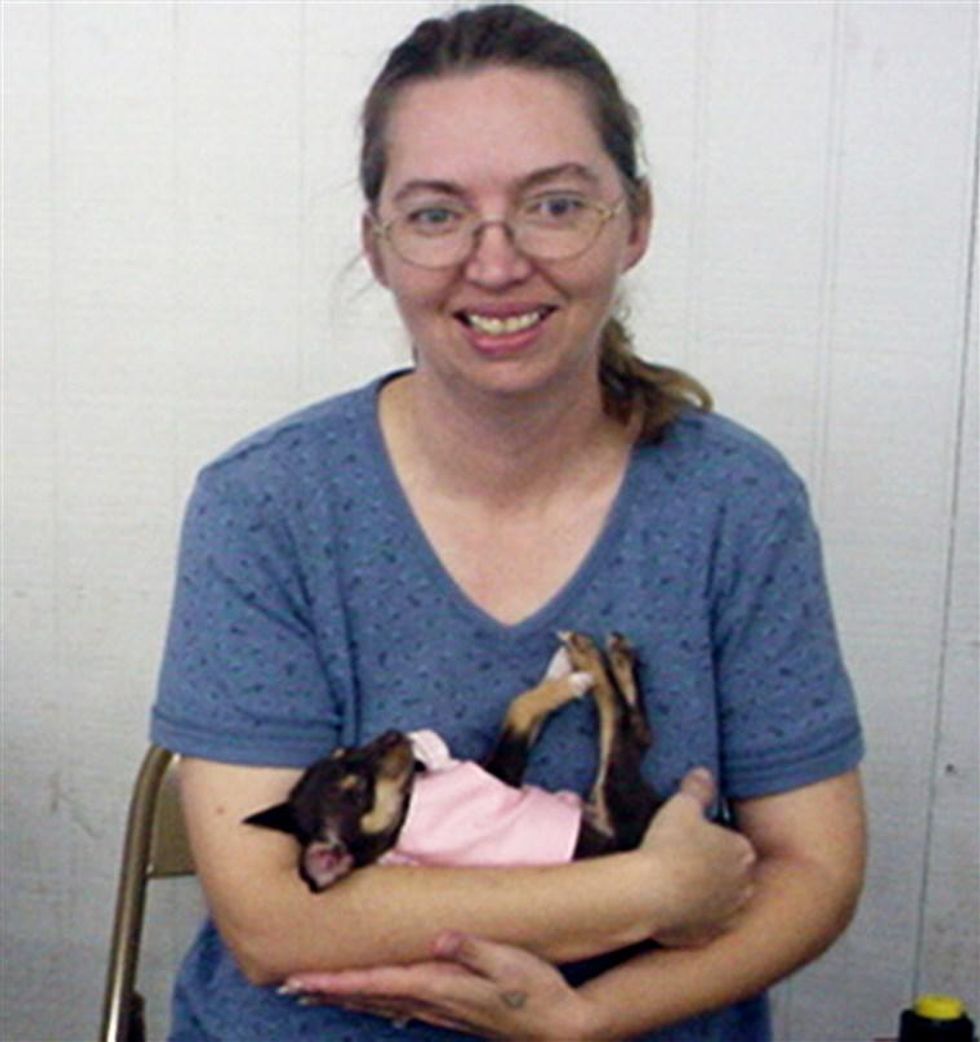 Lisa Montgomery
The Trump Administration's Bloodlust
Up until the last minute, people fought against Lisa's execution. On Monday, an Indiana judge halted the execution until a mental evaluation could be held. On Tuesday, an appeals court panel overruled the stay. Two further courts – in the district of Columbia and the eighth circuit court – issued their own separate stays.
In his ruling on a stay, Judge James Hanlon found that "the record before the court contains ample evidence that Ms Montgomery's current mental state is so divorced from reality that she cannot rationally understand the government's rationale for her execution." According to the Death Penalty Information Center, defendants who are so mentally ill they do not understand their crimes are not eligible for execution.
But still, the Supreme Court voted to uphold the execution just before midnight on Tuesday night.
The act has been widely condemned. "The craven bloodlust of a failed administration was on full display tonight. Everyone who participated in the execution of Lisa Montgomery should feel shame," said Montgomery's lawyer, Kelley Henry, in a statement to the USA TODAY Network. "Our Constitution forbids the execution of a person who is unable to rationally understand her execution," she said. "The current administration knows this. And they killed her anyway."
There is a cruel irony — if it could even be called that — to Lisa's death. Throughout her entire life, Lisa was taken advantage of and tortured by people who were supposed to protect her. She was damaged beyond comprehension by men and offered no mercy.
This tradition would extend to the end of her life, when Donald Trump's administration and the Supreme Court he stacked would vote to kill her.
That a man accused of sexual assault by 25 women has executed a woman who suffered psychologically devastating sexual abuse throughout her whole life feels like an appropriate end to a horrible story. That she died on the day of Trump's impeachment trial is another kind of twisted irony.
A Spree of Executions
Throughout 2020, the Trump Administration has rushed 10 prisoners to death in a murderous spree. Joe Biden has pledged to end the death penalty, so the Trump Administration's executions are a clear attempt to exercise and cling to power before it leaves or is forced to leave office.

In the few months since he lost the 2020 US election, Trump's administration has ordered the executions of Orlando Hall, Brandon Bernard, and Alfred Bourgeois, three Black men. The last time a sitting duck president presided over an execution was when Grover Cleveland presided over the murder of a Native American of the Choctaw Nation named Richard Smith.
Others who received the death penalty this year under Trump include Christopher Vialva and Brandon Bernard, who committed crimes when they were 18 and 19, respectively, making them the first teenage offenders sent to death by the government in 70 years. In addition, Trump came under fire for killing a Navajo man named Lezmon Mitchell, ignoring the fact that the crime was committed on tribal lands, which do not implement the death penalty.
Today, 22 states have abolished capital punishment and support for the death penalty has plummeted to its lowest in 50 years. Not only is a federal death penalty extraordinarily ethically questionable—federal executions are extravagantly expensive and a drain on government resources.
Yet the savagery of Trump's administration's string of executions is yet another affirmation of his and his administration's fundamental beliefs, another example of how easily invocations of "law and order" disintegrate to violence.
"No-one has ever attempted to carry out so many executions at the federal level," said Robert Dunham, the director of the Death Penalty Information Center. "No-one in modern American history has attempted to carry out so many executions in such a short period of time... and no-one has done so in a manner that so closely disregards the rule of law."
The refugee crisis hasn't gone anywhere. But news outlets and political leaders everywhere are ignoring it—and xenophobia is making it worse.
Around 2015, the so-called European refugee crisis was topping every newspaper headline. Reports of the 5.2 million refugees pouring in from Syria and other war-torn countries that year led to mass calls for mobilization to create infrastructure and support systems for displaced peoples. The photo of Alan Kurdi, the drowned three-year-old who provided a name and face to the crisis, sparked international acknowledgment and inspired humanitarian activists all over the world.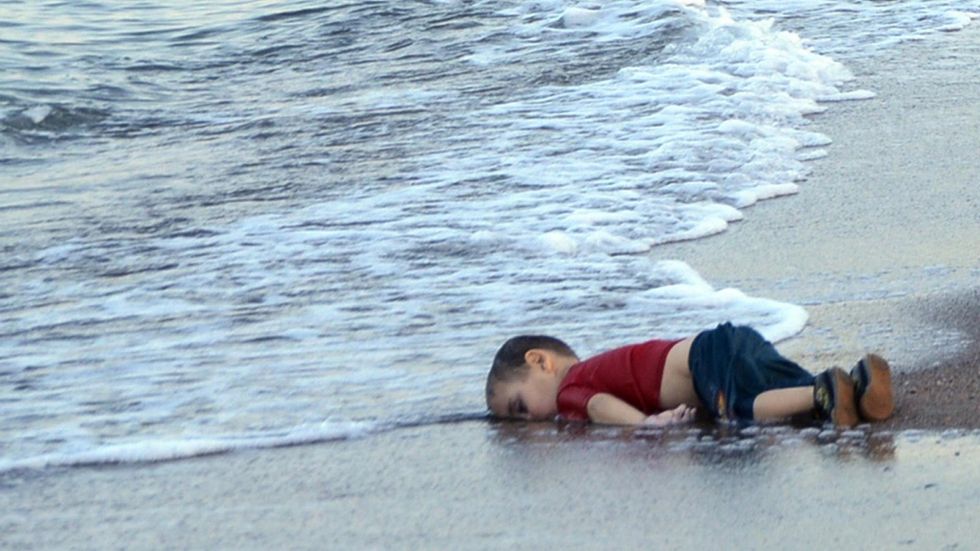 Alan Kurdi, via Medium
But that was four years ago. What has happened to those 5.2 million since then?

Firstly, there are a lot more than 5.2 million now. According to the UN, as many as 63.5 million people have had to flee their homes because of conflict since World War II; and today, roughly eight thousand people per month arrive in Greece, Italy, and Spain from Syria, Guinea, Algeria, and neighboring countries. These numbers are staggering; the lives they describe are almost impossible to imagine. But each figure corresponds to individual experience and a body that likely has crossed countless miles of ocean to arrive on European shores. Though it is impossible to generalize their stories, the majority of these people are currently stranded in liminal places like refugee camps or living as undocumented citizens without access to rights, living wages, and other protections.
According to the Aegean Boat Report, around 20 boats have arrived on the Greek island of Lesvos alone in February 2019, carrying a total of 791 people. Lesvos's Moria Camp holds somewhere between eight to ten thousand refugees; it was initially designed to hold ten. Many have been there for over half a decade, and the conditions in the camp are becoming more and more unlivable by the day.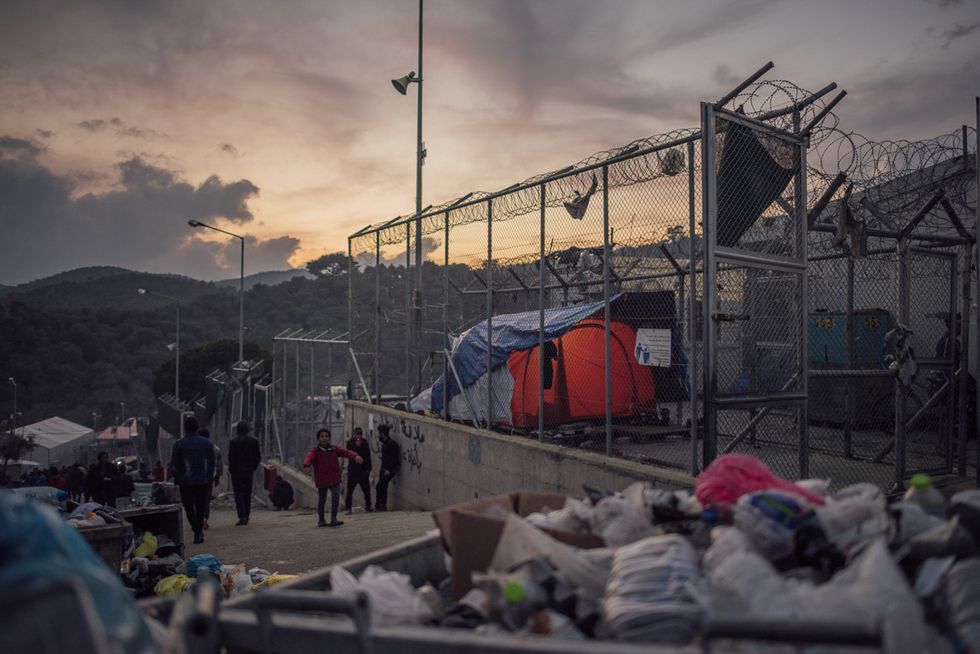 Moria Camp, via Al Jazeera
Many refugees go through hell and back to get there. Left with no choice but to flee violence and unlivable conditions, many spend thousands of dollars on hiring a smuggler who could carry them across the sea. The journey is treacherous—smugglers sometimes have deals with authorities or even pirates, and recent reports have revealed that the journey is more dangerous than ever before, with 1,600 to as many as 2,730 people dying at sea in 2018. The UNHCR released a report which argued that although the official number of migrants crossing the Mediterranean fell last year, this was likely due to "reductions to search and rescue capacity coupled with an uncoordinated and unpredictable response to disembarkation." This in turn, "led to an increased death rate as people continued to flee their countries due to conflict, human rights violations, persecution, and poverty." As the world forgets, the little structure and safety netting that does exist inevitably falls apart.

The news is a strange beast. Some stories can dominate for months and fade out so suddenly it's almost like they never happened; particularly shocking acts of individual or random violence can consume headlines while systematic, long-term horrors can fade away, having lost their ability to capture audiences' attention. With countries like South Sudan, Yemen, and Afghanistan steadily experiencing mass exoduses for years and years at a time, and with the inundation of tragic stories and gory photographs from Syria, it's easy for ongoing horrors to slip underneath an ocean of facts and figures that seem too overwhelming to address.
It's also easy for governments to shirk off responsibility for taking in refugees, seeing as technically they are stateless and, therefore, are not protected by any citizenship rights. Though the Universal Declaration of Human Rights guarantees basic protections for all people on earth, it does not specify which countries are responsible for providing these protections.
But every political decision manifests in lived experiences. For example, when migrants arrive on the shores of Lesvos, they are sometimes met with volunteers who provide water and transportation to the camps. Families and individuals are assigned at random to tents, which are crammed next to each other, creating unlivable conditions.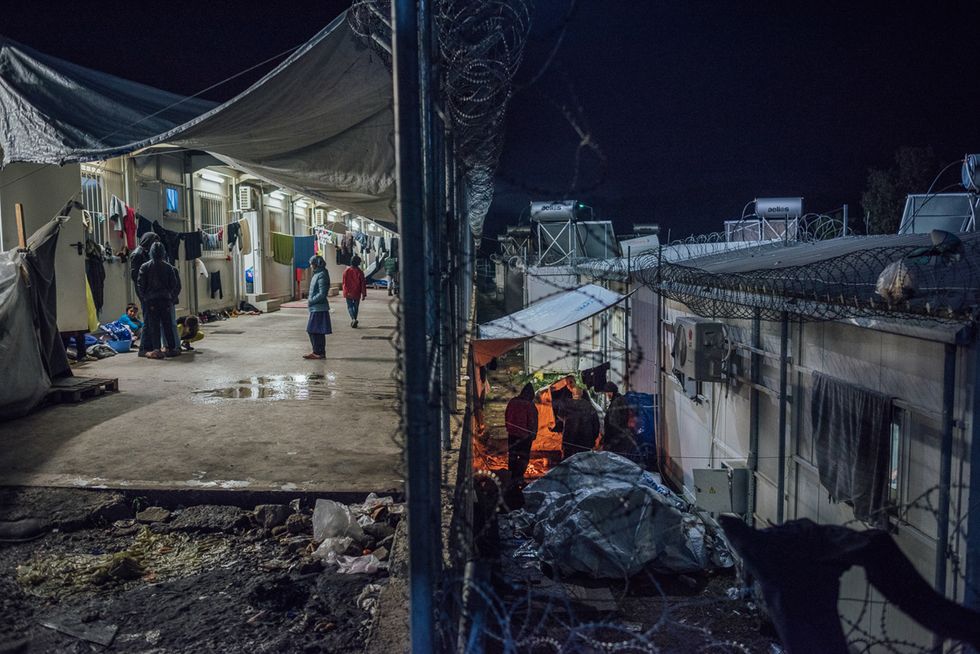 Image via aljazeera.com
Lesvos, in particular, has an extensive volunteer population, but overall aid groups often work as band-aids, failing to heal the sources of a larger issue and failing to structure a pathway forward. Instead, aid groups and refugees languish on Lesvos, in the grey area of statelessness and global amnesia. NGOs are gradually shifting their focus to working with refugees and locals to develop long-lasting relationships and skills, which can propel migrants forward into new lives.

But in light of the antipathy many locals hold towards newcomers, and also because of the trauma, language barriers, or other struggles that migrants face, the process of adjustment is challenging and will require individualized attention, patience, and cohesive efforts. Reports reveal that the majority of refugees fleeing severe conflicts will have vestiges of trauma; the IRC reported high levels of depression and PTSD among refugees across the board.
A 2011 Oxford University study found that the best way for refugees to move forward is through integration into life in their new countries. Solutions lie in treating the wound at its source, addressing xenophobia, and fighting for fair opportunities to education, jobs, healthcare, and other vital structural support systems. On the other hand, stranding migrants in places like Lesvos—where they live in unsanitary and dangerous conditions, surrounded by strangers who may also be experiencing trauma, with no idea of if or when they will be able to leave—is a product of a collective worldwide amnesia, a refusal to see what is happening in real time.
Long-term, slow-moving challengers are not foddered for breaking news. Particularly massive floods of refugees might pique the interest of a world leader; an artist might draw attention to the crisis through an installation in a busy city; but always, the cycles of violence and erasure continue as the world gets caught up in shinier, brighter topics. But remembering and acknowledging what is happening is the first step to moving in a new direction.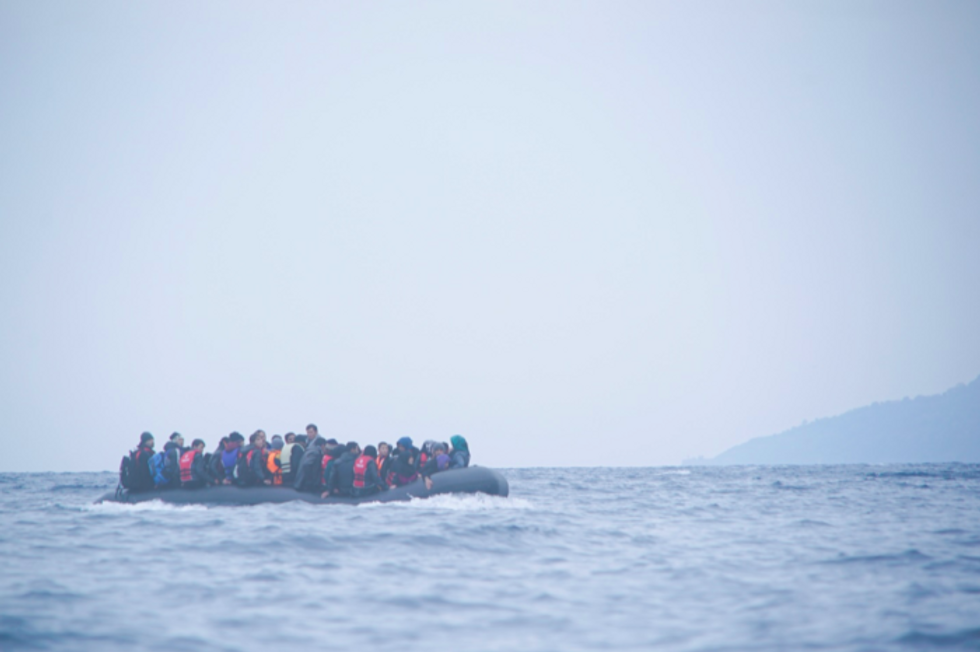 Image via Oxfam Novib Academy
---
Eden Arielle Gordon is a writer and musician from New York City.
Where are the freest places to live in terms of individual rights, economic freedoms, and political protections?
From "Brexit" to Brazil's election of Jair Bolsonaro, from Donald Trump's controversial stances to historic protests in the streets of Paris, political upsets and cultural shifts across the world have altered what it means to be a modern citizen. Interpretations of "liberty" and personal freedom will always vary between cultures and governments' ideologies, but where are the freest places to live in terms of individual rights, economic freedoms, and political protections, including social tolerance?
Evaluations of various countries' personal freedom in 2018 gave acute focus on freedoms of speech and religion and social acceptance of immigrants and ethnic minorities. According to reports from The Legatum Prosperity Index and Freedom House, the North American region showed overall gains in personal and economic freedom, while living in the Middle East and North Africa still present struggles in terms of safety and individual rights. Meanwhile, Northern European countries maintained historically high standards of civil liberties and political rights, accounting for six of the top ten "freest" countries.
1. Norway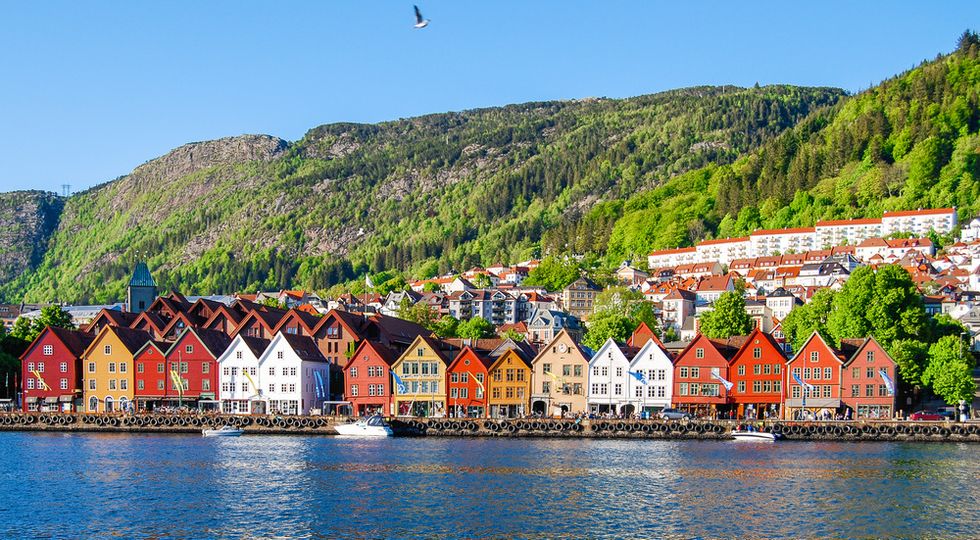 League of Students
This country of over 5 million citizens has consistently earned the top ranking in various assessments of personal liberty. Norway was the first Scandinavian country to legalize same-sex marriage, and men and women are guaranteed parity by law, from education and healthcare to social services and labor. Offering the 4th greatest access to education and healthy social capital, living in Norway combines economic freedoms with guaranteed freedoms of press and religion. In addition, residents enjoy arguably the safest and most secure protections against foreign threats and crime.

2. New Zealand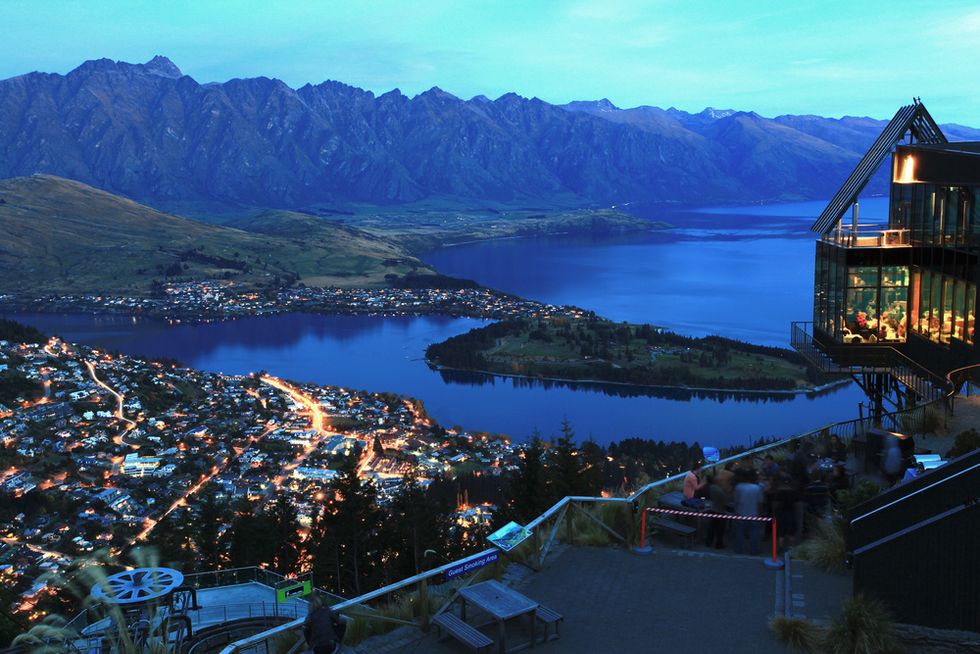 Culture Trip
New Zealand tops assessments of economic freedom in terms of social capital and business environment. Historically free of corruption, the Parliament's democratic elections represents its 4.7 million citizens in a multi-party system. In addition to protecting political freedom, the government prioritizes civil liberties for its citizens, particularly freedoms of free speech, press, and religion. For instance, same-sex marriage has been legal in Norway since 2009, and Parliament has been approximately 50% women since the 1980s.

3. Finland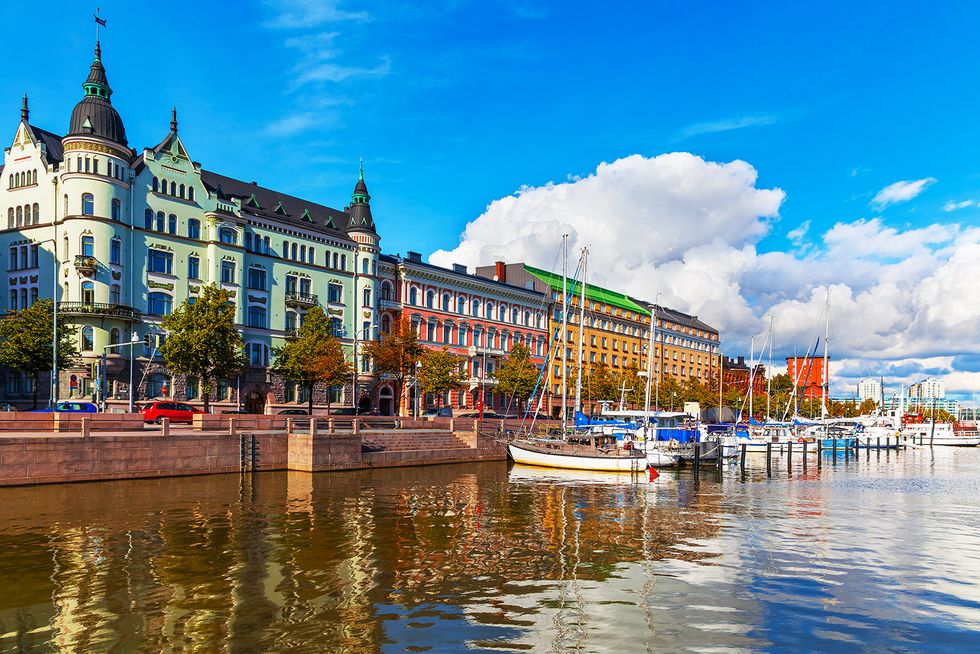 Old Town pier in Helsinki, FinlandLonely Planet
With top rankings in education and governance, Finland also protects political freedom with multi-party elections and anti-corruption legislation. In terms of social parity, women enjoy a "high degree of equality" and traditional courtesy." In fact, in 1906 Finland became the first European country to extend suffrage to women. Due to ample civil liberties protections, Finland was described by Forbes as the "happiest country in the world," drawing a high number of immigrant residents among its population of 5.5 million.

4. Switzerland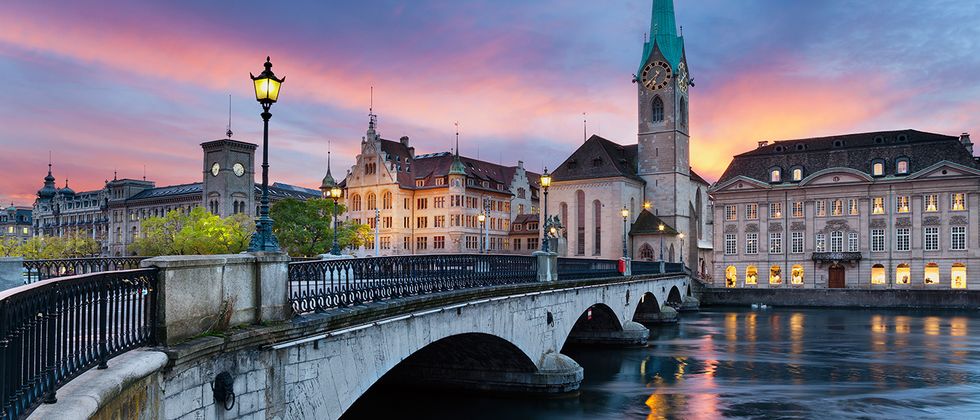 Wanderable
As a country that relies on direct democracy, Switzerland extends political freedom to 8.4 million residents through regular public referendums and a governing coalition of four political parties. Switzerland also offers excellent access to education and economic freedom. Same-sex marriage has been legal since 2007, and Switzerland has been described as one of the best countries for immigrants, with younger generations displaying an open attitude towards immigration.

5. Denmark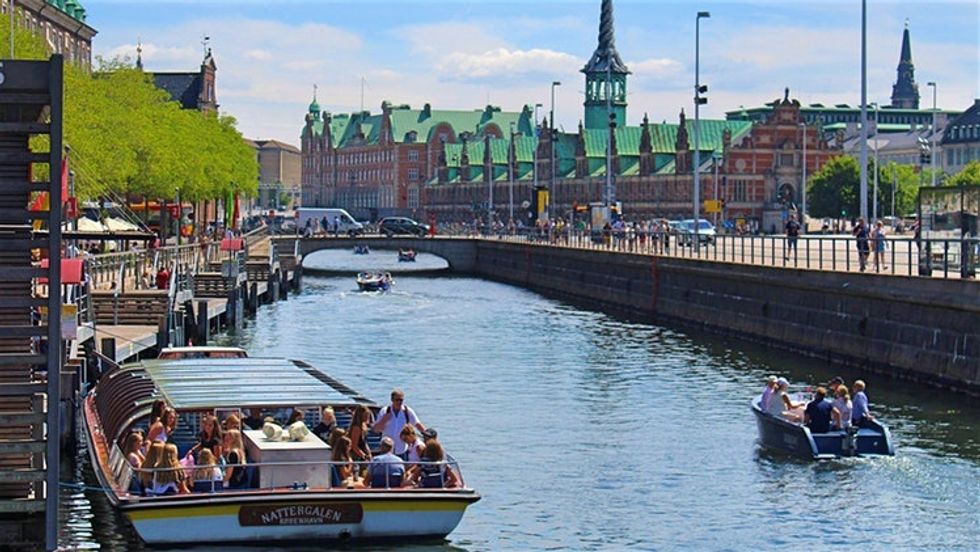 Denmark protects economic freedoms with strong opportunities for social capital with open-market policies. The government historically protects freedoms of expression and association, guaranteeing freedoms of press and speech under its constitution. Denmark was the first country in the world to recognize same-sex unions in the form of registered partnership. In 2012, same-sex marriages were legalized. Additionally, in 2016 the US News and World Report named Denmark the "best country in the world for women," citing gender equality, income quality, safety, and progressiveness.

While the U.S was #17 in The Legatum Prosperity Index's rankings (and #58 according to Freedom House), "freedom" remains a moving target that changes its appearance with each era. While many Scandinavian countries have offered exemplary
personal freedom protections to its citizens, shifting politics are changing the legal landscape that defines "freedom." For instance, while Finland legalized same-sex marriage in 2017, the country is still working to abolish the dark shadow of 1970s discriminatory laws, including forced sterilization for transgender people applying for sex reassignment surgery. In Switzerland, security measures passed in 2017 endow the government with heightened powers of surveillance of suspected terrorists, which critics say unfairly target new waves of immigrants.
Other countries to make the top 10 include (in order of ranking): Sweden, the United Kingdom, Canada, Netherlands, and Ireland. But as modern trends of immigration and growing awareness of LGBTQIA issues have outlined, even the "freest" countries can still improve.
Meg Hanson is a Brooklyn-based writer, teacher, and jaywalker. Find Meg at her website and on Twitter @megsoyung.
Trump threatens to close the border completely, despite having no authority to do so.
On Sunday, a group of Mexican migrants reportedly rushed the San Ysidro border crossing near San Diego, drawing tear gas from Border Patrollers. Consequently, the crossing was closed for several hours. Homeland Security Secretary Kirstjen Nielsen later said the closing of the border was "to ensure public safety in response to large numbers of migrants seeking to enter the U.S. illegally." According to the Washington Post, "At least two dozen tear gas canisters could be seen on the Mexican side of the border after the migrants eventually turned back."
Images from the incident, shot by Reuters photographer Kim Kyung-Hoon and showing young children fleeing the tear gas in obvious distress, have elicited outrage across the country. The photos also appear to contradict Republican propaganda claiming the migrant caravan was full of criminals.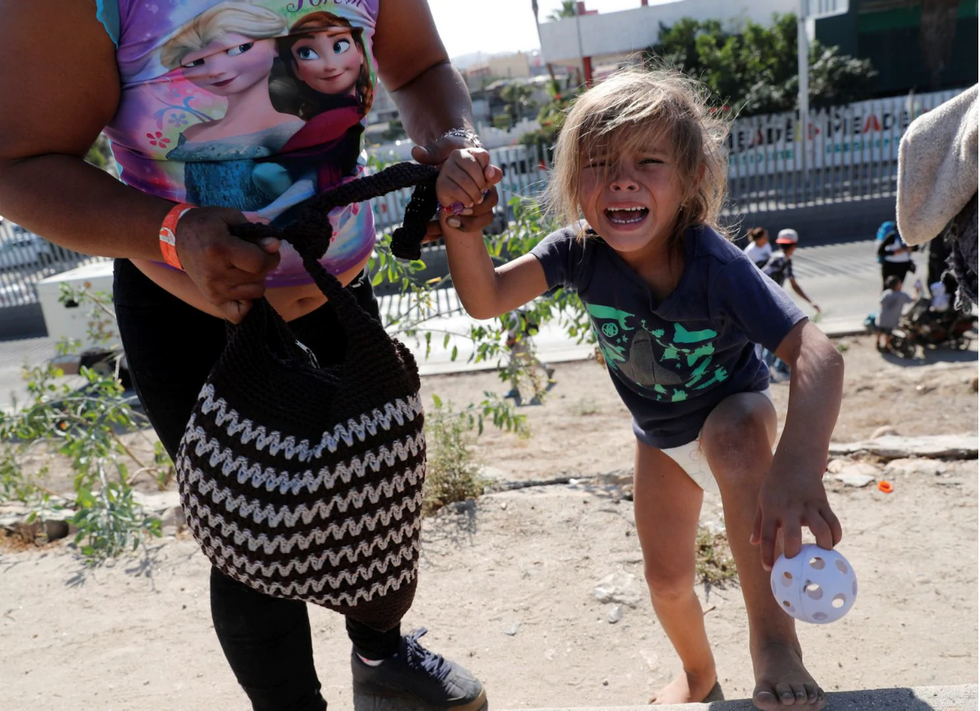 Kim Kyung-Hoon/Reuters
Senator Brian Schatz, D-Hawaii, condemned the extreme measures taken by border patrol, tweeting:

Tear gas across the border against unarmed families is a new low.

— Brian Schatz (@Brian Schatz) 1543185824.0
Gavin Newsom, the Democratic governor-elect from California, echoed this sentiment, saying:
These children are barefoot. In diapers. Choking on tear gas. Women and children who left their lives behind -- se… https://t.co/r3SXbDyGGW

— Gavin Newsom (@Gavin Newsom) 1543208589.0
On Monday, President Trump addressed the border closing by threatening to close the border permanently and calling for the deportation of the tear gassed migrants.
Mexico should move the flag waving Migrants, many of whom are stone cold criminals, back to their countries. Do it… https://t.co/IqgnrBTQFl

— Donald J. Trump (@Donald J. Trump) 1543231181.0
Despite this inflammatory claim, there are no legal provisions that would allow Trump to close the border in its entirety. Additionally, by law, asylum seekers must be allowed to present their case to a U.S. judge if they're able to cross the border. This means that the migrants who were tear-gassed on Sunday were not there illegally at all, and U.S. officials are required by law to consider their claim before deporting them back to Mexico. Yale Law School's Harold Hongju Koh, former legal adviser to the State Department, said that what Trump does not understand "is that everyone crossing our Southern border is not illegally present. Those with valid asylum claims have a legal right to assert those claims and remain."

But as the number of migrants waiting at the border grows and as Trump's anti-immigration policies and rhetoric cause longer and longer delays in the hearing of these cases, illegal immigration actually becomes more likely, not less. Wayne Cornelius, professor at the University of California, San Diego and expert on the border, told the New York Times, "The longer the caravaners stay in Tijuana, the more likely they are to succumb to the temptation to cross illegally into the U.S." So the Trump administration's anti-immigration stance is not only perpetuating a false impression that immigrants at the border are breaking the law, but also making the illegal immigration they're supposedly so opposed to more likely than ever.
Now, Trump is reportedly working with the Mexican government to add further peril and hardship to the journeys of these migrants. Trump tweeted on Saturday:
Migrants at the Southern Border will not be allowed into the United States until their claims are individually appr… https://t.co/1rhhYBhKvM

— Donald J. Trump (@Donald J. Trump) 1543103365.0
This provision, which the new Mexican government is reportedly agreeable to, would further violate asylum laws, which state that the United States must ensure that individuals waiting for asylum are safe not only from a hostile government, but from gangs and other threats. It would be nearly impossible for America to ensure asylum seekers this kind of protection while they're still in Mexico, and it would undoubtedly require a massive allocation of resources to do so. The American Civil Liberties Union immigration attorney Lee Gelernt told the Washington Post on Sunday night, "We believe it would be impossible for the U.S." to ensure asylum seekers safety while still in Mexico.
The truth of the matter is that these migrants are not the villains Trump has made them out to be, as they're merely seeking a better life for themselves and their families. Andrés Medina, 22, who left Honduras to escape gang recruitment and was a part of the group that rushed the crossing, said, "We've got to try one more time, we don't even have weapons." He added, "We just wanted to cross."
Brooke Ivey Johnson is a Brooklyn based writer, playwright, and human woman. To read more of her work visit her blog or follow her twitter @BrookeIJohnson.
At least 10 vocal activists have been "kidnapped" after stirring unrest about labor reform in the Communist Party.
Authorities in China have intensified their suppression of human rights, with their latest government crackdown targeting student activists at Peking University.
Last Friday, an alumnus of China's prestigious—and idiosyncratically liberal—University was reportedly "kidnapped" on campus property for drawing attention to labor reform. Zhang Shengye was forced into a car by a small group of unidentified men wearing black jackets. An anonymous witness noted, "They hit him hard and quickly got Zhang under control."
University officials had to spin the widely publicized arrest in a series of memos sent to students, claiming to have discovered an "illegal organization" within the university's own Marxist Society. The messages alleged that individuals had infiltrated the campus in order to subvert the government and sow dissent against the Communist Party. One memo warned that students would "bear consequences" if they became associated with the organization or the activism it encouraged.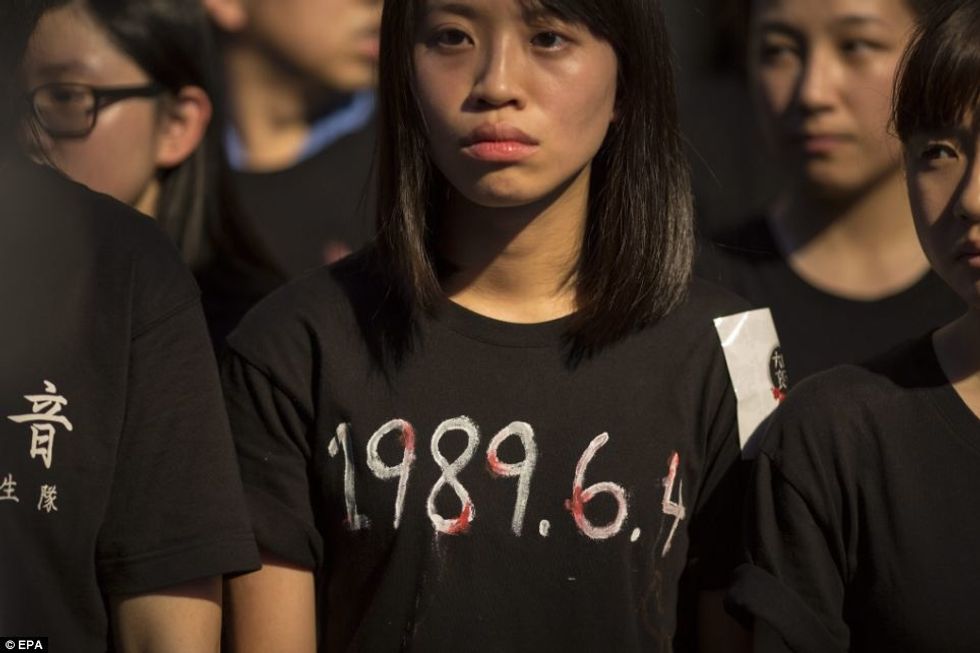 Student protesters commemorate Tiananmen Square anniversary Daily Mail
Several vocal activists, including other graduates from Peking University, have disappeared recently. According to CNN, at least nine other labor protesters are known to have been detained in five other cities. Despite touting Marxist ideologies, the Communist Party has long outlawed labor unions and opposed workers' rights. The government has been amplifying efforts to suppress activism since the summer, when the government denied a group of workers' demand to establish a trade union in southern China's Shenzhen's Jasic Technology company, stirring public dissent over labor laws.

"It's ironic to see how the students who have been studying and believing in Marxism are rounded up by the Chinese authorities for supporting workers, the fundamental value of Marxism," said Patrick Poon, a researcher at Amnesty International in Hong Kong. "The students are simply exercising their freedom of expression and showing their solidarity to the workers. They should be immediately released."
While students at Peking University are urged to study the tenets of Marxism and the power of the proletariat, China's Communist Party now has to suppress the empowered students who have not only noticed but resisted the government's hypocritical denigration of the working class. Cornell professor Eli Friedman notes, "Now that they've taken it to heart, the government is cracking down quite significantly. In some ways, this is the government's own making.
In response, Peking University's committee within the ruling Communist Party announced the implementation of an office focused on "internal control and management" of campus life, including inspections and patrol of campus grounds. Another new addition to campus is Qiu Suiping, the new Communist Party chief stationed at the university after serving as the top state security official in Beijing from 2013 to 2014.
Qiu's appointment and the rise of student activism both speak to the growing unrest in China for fairer and more humanitarian living conditions for workers. The average work schedule for a young professional in China is commonly referred to as "
996
": work from 9 AM to 9 PM, six days a week. For factory
laborers
, schedules can extend to grueling 16- or even 18-hour-day
Meg Hanson is a Brooklyn-based writer, teacher, and jaywalker. Find Meg at her websiteand on Twitter @megsoyung.
China has forced at least 1,000,000 Uighur Muslims to undergo "re-education" training.
Remote buildings fenced in by barbed wire, governmental slogans urging citizens to declare their loyalty, and armed guards preventing entry and exit: history has highlighted these as familiar omens of totalitarian oppression. Now the international community is condemning the Chinese government's "re-education camps," in which approximately one million Uighur Muslims have been detained, as the latest government machination violating human rights.
Under claims of combating religious radicalism," Chinese authorities have revised a law to condone the use of detention centers "to carry out the educational transformation of those affected by extremism." However, witness testimony and government documents have exposed a litany of human rights violations taking place in the camps under the guise of "vocational training" for the Uighur and other Muslim minority populations.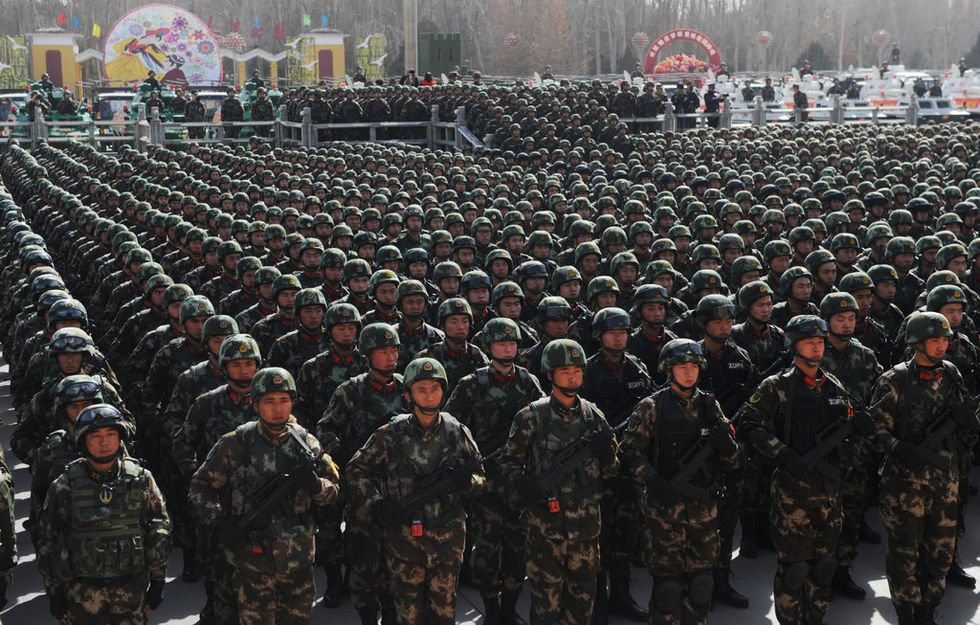 Chinese security in XinjiangThe New York Times
Within the camps, "re-education" programs not only restrict Muslims from practicing their religion, but impose a militant regimen of psychological indoctrination, including studying communist propaganda, reciting hymns to praise the Chinese Communist Party, writing "self-criticism" essays, and ritually giving thanks to Chinese President Xi Jinping. In what The New York Times calls "the country's most sweeping internment program since the Mao era," detainees are disciplined by thousands of guards armed with police batons, electric cattle prods, and pepper spray.

Camps are located in Xinjiang, an autonomous, arid region in the northwest. It's the largest region of China and noted as the residence of about 10 million Uighur Muslims among China's 1.4 billion population. Gay McDougall of the U.N. Committee on the Elimination of Racial Discrimination condemned the Chinese authorities' treatment of Muslims "as enemies of the state solely on the basis of their ethno-religious identity." Despite the Chinese government's initial claims that the camps' "students" were treated to amenities from ping-pong and TV to air conditioning and free dining, McDougall makes clear that Xinjiang has become "something resembling a massive internment camp, shrouded in secrecy, a sort of no-rights zone."
Most concerning are the reports of torture methods like waterboarding, sleep deprivation, and beatings for those who deviate from the program. A former detainee named Omir told the BBC in September, "They have a chair called the 'tiger.' My ankles were shackled, my hands locked to the chair. I couldn't move. They wouldn't let me sleep. They also hung me up for hours, and they beat me. They had thick wooden and rubber batons, whips made from twisted wire, needles to pierce the skin, pliers for pulling out your nails."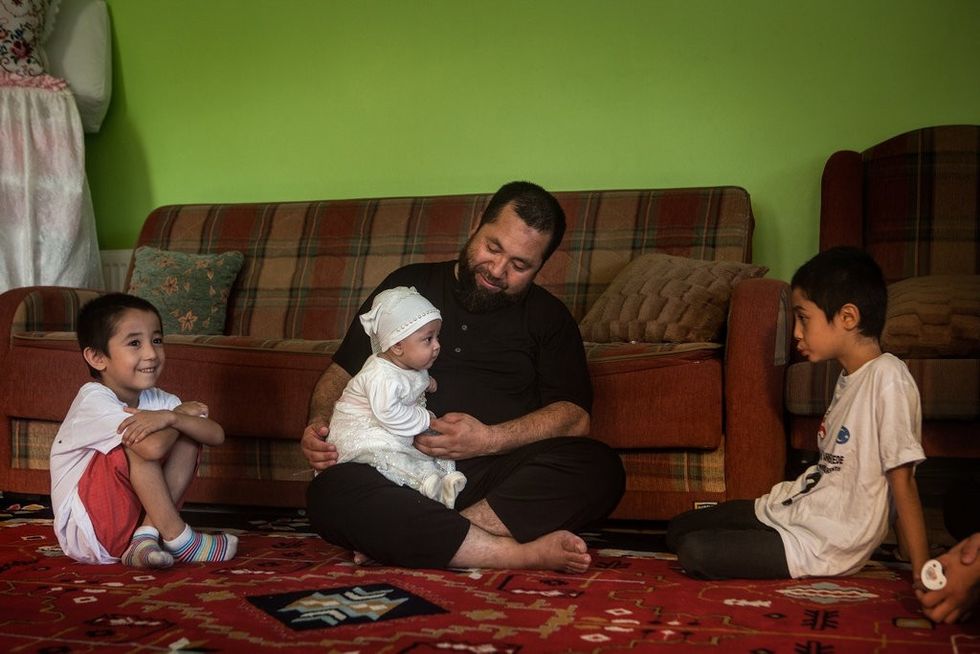 Abdusalam Muhemet and his 3 children in their Istanbul home.The New York Times
Abdusalam Muhemet, a 41-year-old former restaurant owner, recited a verse from the Quran at a funeral in 2015 and was subsequently detained in a prison cell for seven months before being relocated to a Xinjiang camp. "That was not a place for getting rid of extremism," he recalled to The New York Times. "That was a place that will breed vengeful feelings and erase Uighur identity." Muhemet was released after two months of detainment; he was never charged with a crime.

Meg Hanson is a Brooklyn-based writer, teacher, and jaywalker. Find Meg at her website and on Twitter @megsoyung.
Capital punishment has long been a debated topic in the U.S. Do you know both sides?
Capital punishment is a major moral question in the United States. Is the government justified in killing someone, even if they committed a terrible crime? Rick Halperin, the director of the Embrey Human Rights program at Southern Methodist University, discusses this and other ethical questions surrounding capital punishment. Halperin has done extensive research on the death penalty and is a recognized international authority on the subject.

Editor's note: This conversation has been edited for clarity and length.
From an ethical and human rights standpoint, should the government have the death penalty?
Never. The government clearly has the power to kill people, but that's different than whether they have the right to kill people. The most fundamental human right that anybody in this world has is not the right to life, but the right to life with dignity. And the death penalty, in any country, used against any individual or group of individuals violates that most fundamental right — even if it were to be used on a person or a group of persons who are guilty of heinous and violent offenses. The death penalty is the most fundamental human rights violation of any country in the world, including our own.
From your perspective, would life imprisonment be a better alternative to capital punishment?
I would say that mandatory life imprisonment without parole, to me, is a major human rights issue and violation. The U.S. is the only country that has such a thing. So, there's no globally recognized sanction about the penalty of life in prison without parole. Our country is the only one that has it and uses it.
Society has a right to be protected from violent offenders. There's no question about that. I would like to believe that all people can be given an opportunity to get better than the worst moment of their life. But if they can't, if they are too ill, too psychopathic or they just don't want to get better, then I think society should keep those people behind bars for the protection of other innocent people.
Is there a human rights implication in the racial makeup of prisons? Statistically, there are more black Americans incarcerated than white Americans. The same trend continues with executions.
I think that that is incontrovertible. African Americans, who only comprise 13 percent of this country's population, are clearly incarcerated at much greater percentages than their numbers in society. No question about it. The criminal justice system is inherent in its racism. We are in a nation of 330 million people and have several million people incarcerated, most of whom are poor and/or people of color.
We're in 2017 and most Americans don't want to face the fact that on issues of criminal justice and social justice issues, we remain a brutally racist society. That's just a fact. It's not a pretty one to face about ourselves in 2017, but that is — collectively as a people on issues of criminal justice and beyond — in large part who we remain. We're not in anything like a post-racial society. We are disgustingly racist country. It's amazing. We shouldn't be, but we are.
Do you think it's cruel to have prisoners wait on Death Row before they are executed?
Absolutely. Death Row is physical and psychological terror and torture. The death penalty is not just an act in which a human being is put to death in the name of the law. That's not the death penalty.
The death penalty is a process and it begins the moment an individual (an agent of the state) announces their intention to seek death. That process is dragged out through incarceration, trial, conviction, post-conviction appeals, time spent on Death Row, and ultimately execution — if that is carried out. So, time and conditions on death row absolutely are physical and psychological terror and torture.
Since we are a society that does have capital punishment, in your view, is there a way to carry out the death penalty without causing too much suffering?
No. There's no such thing as a humane or painless way to kill somebody.
You know, we have five [legal] methods of killing people. We have more methods of killing people than any country in the world. They're all legal. We don't use them much anymore, but they're all still legal. We used to hang people and we still shoot people. We strap people in electric chairs and sent anywhere between two and five thousand volts of electricity through their bodies and hope that they don't catch on fire, but frequently they do. Or we use lethal gas and the condemned person will disappear in a cloud of poisonous gas. But invariably, they'll cough, they'll choke, they'll sever part of their tongue, their eyes will bulge out.
Or we try to make ourselves feel better as a society by just saying, well, we'll chemically poison them. We'll strap them on a gurney and just put them to sleep. But even that has been horrifically botched. There's been over 50 botched, gruesomely botched, lethal injections. Including many in the last three years in states like Ohio, where an inmate took over 25 minutes to be put to death. In Oklahoma, where it was over 50 minutes. In Arizona, where it was almost 2 hours. So, we want to pat ourselves on the back and say that lethal injection is clean, quick and painless but the reality is it isn't.
There just isn't any way to make killing somebody that is pain-free and mistake free. It can't be done.
One of the ways the government tries to make an execution an easier process is to have doctors on site. But that seems to contradict a doctor's promise to heal people. What do you think about that?
The doctors are not supposed to be on site. The American Medical Association and the American Nurses Association has prohibited doctors and nurses and medical personnel from participating in executions with the threat of losing their medical license if they are found out.
Because they are not supposed to participate in a process which, if botched, the doctor would have to give the go-ahead that this individual is not dead and that the execution process would have to resume or continue in order to kill the person. They are not supposed to be in the death chamber. I am not under any illusions that several of them are, but it's outrageous. They should lose their license. They should not be participating in a system of human extermination.
People on death row have been exonerated due to newly discovered DNA evidence. What is your reaction to that?
I think it's great, of course. I think even pro-death penalty people would realize that we don't want to execute innocent people. So if DNA can help free somebody who should never have been convicted or incarcerated in the first place, then clearly that is a great usage of DNA to get somebody away from the shadow of death.
Sadly, most people who are on death row and most death penalty cases do not contain DNA. And the law in the United States is that if their case doesn't have DNA, you might be factually innocent, but the law says you can be put to death. That's the law in this depraved country. You can be innocent, but if you don't have DNA to help you, it's just too damn bad for you.
It's not your family member. It's probably not ever going to be you or anybody you know. But it is somebody. And the fact that this country says, "Well, sorry. A jury of your peers got it wrong and that's just too bad." It's depraved. But DNA to free people from death row is a great usage of that technology to spare innocent people.
You obviously think we are on the wrong path with capital punishment. What would you change in the United States to shift opinion on to the right path?
I would say education is a fundamental aspect in changing the culture in this country. Nobody in this country, per se, really talks about the death penalty a whole lot. But I think having mandatory human rights education in this country, starting in kindergarten and going through university, would do a lot of good.
People could study human rights the way they study any other subject. We ought to be about to talk about human rights in this country the way we talk about politics or sports. But we don't. There's no culture of human rights in the United States and it's a real pity. It's a great moral failing of younger and future generations. So, if we educated people about human rights and human dignity, we would have a better understanding as to how awful and how violent the death penalty is of people's basic human rights to a life with dignity.
Do you think capital punishment will end in the United States anytime soon?
However anybody feels about the death penalty, whether they're for it or against it or whether they don't even think about it, the process of ending the death penalty in the United States is already underway. We're not talking about if the death penalty is going to be ended. We're talking about when is it going to end. It's just a matter of when and how many more people are going to be put to death before it ends.
Many people in this country have come to learn about the death penalty, including pro-death penalty people, people who used to be fanatic supporters of the death penalty, have come to understand the shortcomings and the inherent flaws of the death penalty to change their opinions about it. The fact that 10 years ago, over 320 people were sentenced to death in this country and last year, only 30. Death sentencing is way down. Executions are way down. Removals from death row because of innocence are up. People's knowledge of the death penalty is better.
Are we still going to kill people in the immediate future? Sadly, yes. We killed 20 people last year in 2016. We have a bunch of people that are going to be killed this year. So, it's closer. I don't know when it's going to end, but sooner or later, this country is going to be death penalty free.