Dall-E Mini, the AI-powered text-to-image generator has taken over the internet. With its ability to render nearly anything your meme-loving heart desires, anyone can make their dreams come true.
DALL-E 2, a portmanteau of Salvador Dali, the surrealist and Wall-E, the Pixar robot, was created by OpenAI and is not widely available; it creates far cleaner imagery and was recently used to launch Cosmpolitan's first AI-generated cover. The art world has been one of the first industries to truly embrace AI.
The open-sourced miniature version is what's responsible for the memes. Programmer Boris Dayma wants to make AI more accessible; he built the Dall-E Mini program as part of a competition held by Google and an AI community called Hugging Face.
And with great technology, comes great memes. Typing a short phrase into Dall-E Mini will manifest 9 different amalgamations, theoretically shaping into reality the strange images you've conjured. Its popularity leads to too much traffic, often resulting in an error that can be fixed by refreshing the page or trying again later.
If you want to be a part of the creation of AI-powered engines, it all starts with code. CodeAcademy explains that Dall-E Mini is a seq2seq model, "typically used in natural language processing (NLP) for things like translation and conversational modeling." CodeAcademy's Text Generation course will teach you how to utilize seq2seq, but they also offer opportunities to learn 14+ coding languages at your own pace.
You can choose the Machine Learning Specialist career path if you want to become a Data Scientist who develops these types of programs, but you can also choose courses by language, subject (what is cybersecurity?) or even skill - build a website with HTML, CSS, and more.
CodeAcademy offers many classes for free as well as a free trial; it's an invaluable resource for giving people of all experience levels the fundamentals they need to build the world they want to see.
As for Dall-E Mini, while some have opted to create beauty, most have opted for memes. Here are some of the internet's favorites:
There's no looking back now, not once you've seen Pugachu; artificial intelligence is here to stay.
WORLD
China Cracks Down on Student Activism for Workers' Rights
NewsBreezer
At least 10 vocal activists have been "kidnapped" after stirring unrest about labor reform in the Communist Party.
Authorities in China have intensified their suppression of human rights, with their latest government crackdown targeting student activists at Peking University.
Last Friday, an alumnus of China's prestigious—and idiosyncratically liberal—University was reportedly "kidnapped" on campus property for drawing attention to labor reform. Zhang Shengye was forced into a car by a small group of unidentified men wearing black jackets. An anonymous witness noted, "They hit him hard and quickly got Zhang under control."
University officials had to spin the widely publicized arrest in a series of memos sent to students, claiming to have discovered an "illegal organization" within the university's own Marxist Society. The messages alleged that individuals had infiltrated the campus in order to subvert the government and sow dissent against the Communist Party. One memo warned that students would "bear consequences" if they became associated with the organization or the activism it encouraged.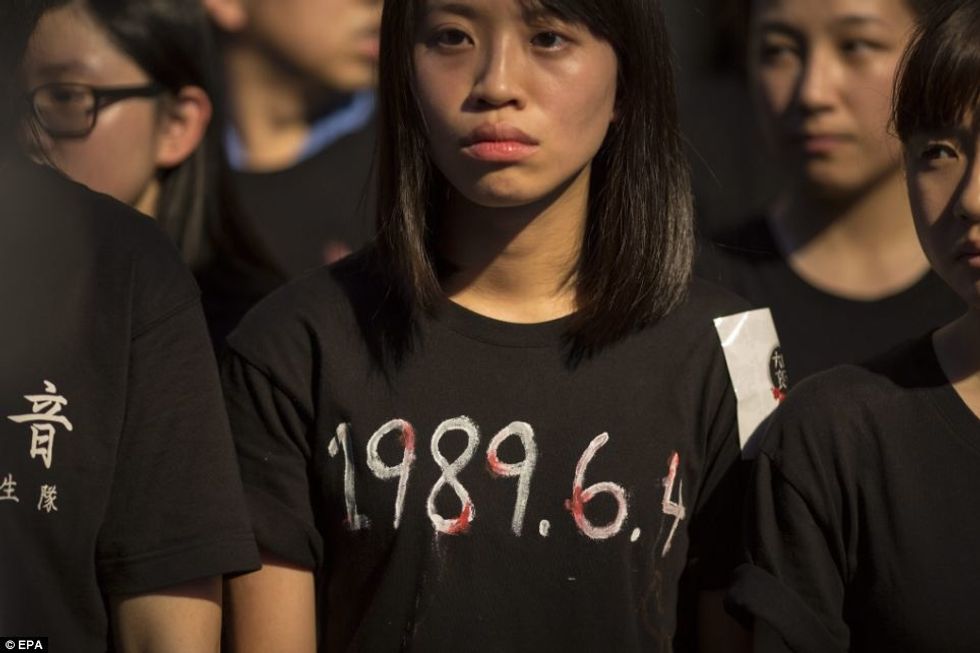 Student protesters commemorate Tiananmen Square anniversary Daily Mail
Several vocal activists, including other graduates from Peking University, have disappeared recently. According to CNN, at least nine other labor protesters are known to have been detained in five other cities. Despite touting Marxist ideologies, the Communist Party has long outlawed labor unions and opposed workers' rights. The government has been amplifying efforts to suppress activism since the summer, when the government denied a group of workers' demand to establish a trade union in southern China's Shenzhen's Jasic Technology company, stirring public dissent over labor laws.

"It's ironic to see how the students who have been studying and believing in Marxism are rounded up by the Chinese authorities for supporting workers, the fundamental value of Marxism," said Patrick Poon, a researcher at Amnesty International in Hong Kong. "The students are simply exercising their freedom of expression and showing their solidarity to the workers. They should be immediately released."
While students at Peking University are urged to study the tenets of Marxism and the power of the proletariat, China's Communist Party now has to suppress the empowered students who have not only noticed but resisted the government's hypocritical denigration of the working class. Cornell professor Eli Friedman notes, "Now that they've taken it to heart, the government is cracking down quite significantly. In some ways, this is the government's own making.
In response, Peking University's committee within the ruling Communist Party announced the implementation of an office focused on "internal control and management" of campus life, including inspections and patrol of campus grounds. Another new addition to campus is Qiu Suiping, the new Communist Party chief stationed at the university after serving as the top state security official in Beijing from 2013 to 2014.
Qiu's appointment and the rise of student activism both speak to the growing unrest in China for fairer and more humanitarian living conditions for workers. The average work schedule for a young professional in China is commonly referred to as "
996
": work from 9 AM to 9 PM, six days a week. For factory
laborers
, schedules can extend to grueling 16- or even 18-hour-day
Meg Hanson is a Brooklyn-based writer, teacher, and jaywalker. Find Meg at her websiteand on Twitter @megsoyung.