"A tree is best measured when it is down," the poet Carl Sandburg once observed, "and so it is with people." The recent death of Harry Belafonte at the age of 96 has prompted many assessments of what this pioneering singer-actor-activist accomplished in a long and fruitful life.
Belafonte's career as a ground-breaking entertainer brought him substantial wealth and fame; according to Playbill magazine, "By 1959, he was the highest paid Black entertainer in the industry, appearing in raucously successful engagements in Las Vegas, New York, and Los Angeles." He scored on Broadway, winning a 1954 Tony for Best Featured Actor in a Musical – John Murray Anderson's Almanac. Belafonte was the first Black person to win the prestigious award. A 1960 television special, "Tonight with Belafonte," brought him an Emmy for Outstanding Performance in a Variety or Musical Program or Series, making him the first Black person to win that award. He found equal success in the recording studio, bringing Calypso music to the masses via such hits as "Day-O (The Banana Boat Song)" and "Jamaica Farewell."
Harry Belafonte - Day-O (The Banana Boat Song) (Live)www.youtube.com
Belafonte's blockbuster stardom is all the more remarkable for happening in a world plagued by virulent systemic racism. Though he never stopped performing, by the early 1960s he'd shifted his energies to the nascent Civil Right movement. He was a friend and adviser to the Reverend Doctor Martin Luther King, Jr. and, as the New York Times stated, Belafonte "put up much of the seed money to help start the Student Nonviolent Coordinating Committee and was one of the principal fund-raisers for that organization and Dr. King's Southern Christian Leadership Conference."
The Southern Poverty Law Center notes that "he helped launch one of Mississippi's first voter registration drives and provided funding for the Freedom Riders. His activism extended beyond the U.S. as he fought against apartheid alongside Nelson Mandela and Miriam Makeba, campaigned for Mandela's release from prison, and advocated for famine relief in Africa." And in 1987, he received an appointment to UNICEF as a goodwill ambassador.
Over a career spanning more than seventy years, Belafonte brought joy to millions of people. He also did something that is, perhaps, even greater: he fostered the hope that a better world for all could be created. And, by his example, demonstrated how we might go about bringing that world into existence.
Ideas are indestructible, and Anonymous was always—first and foremost—an idea.
shortcode-01-02B3-go-to-responsive]
Once upon a time, the Internet was less a broken mirror of reality and more a diversion from it.
Maybe that's why prior to the era of identity monetization, blue check marks, and self-branding, anonymity was synonymous with power.
In the early 2000s, a group known as Anonymous sprung up across digital platforms, born out of a spirit of loose anarchism and disruption. "Anonymous" or "Anon" is an umbrella term, and like the Internet itself, the group was always slippery and amorphous.
Between 2003 and 2018, Anonymous's loosely interconnected network of digital hacktivists took on everything from Scientology to the Clintons to ISIS to Trump. At some point, they fractured, and it's unclear as to whether they still exist in any context, or if they ever really did. Was Anonymous an idea? A joke? A movement?
To try and answer these questions is a doomed enterprise from the start, because the group is (or was) so decentralized, so scattered, and so complex that it resists exact interpretation.
But perhaps Anonymous can also teach us something about our modern political moment—after all, the group was entwined with many of the major political forces of the past decade, from Occupy Wall Street to the Arab Spring to QAnon. Maybe it can teach us something about the art of modern rebellion, especially in a rapidly digitizing and artificial age when information is poised to become the most valuable currency of all.
Welcome to the netherworld of Anonymous, where everyone can be no one together.
Born of Trolls, Hackers Turn to Scientology
The hacktivist network known as "Anonymous" arose around 2003. Springing up on 4chan, the group began as a collective of tricksters harnessing the Internet to pull pranks and seed an ethos of trolling and general disarray.
Anonymous eventually gained global reach thanks to its appealing ethos of decentralized leadership and general anarchical spirit. With memetic virality, it spread thanks to broad, decentralized messaging techniques and an emphasis on both humor and justice.
Today, two images are usually associated with Anonymous. There's the Guy Fawkes mask from the 2006 film V for Vendetta, which follows one activist's quest to end a totalitarian fascist rule in England; and there's the "man without the head" image that symbolizes the group's commitment to decentralized, anti-authoritarian rule.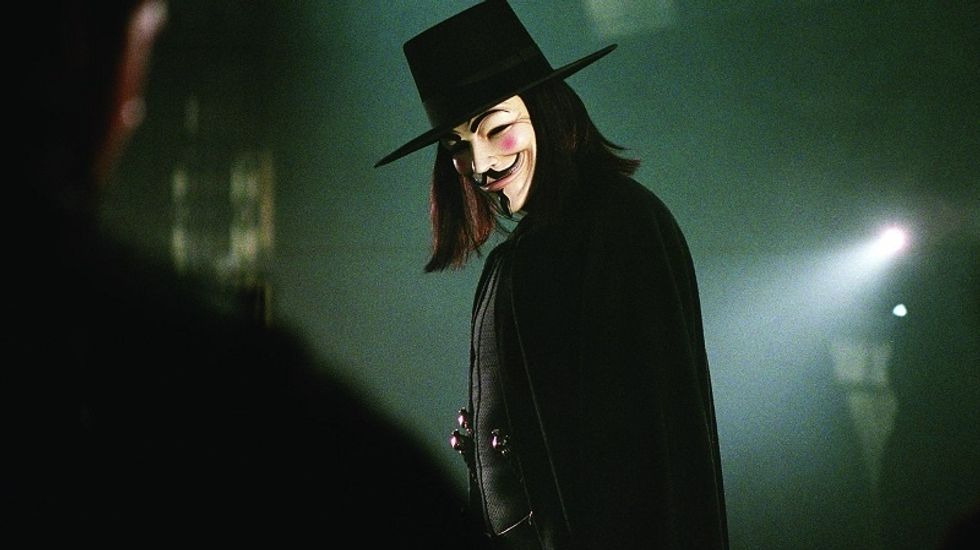 Literary Hub
Early on, the group embarked on helter-skelter actions and pranks, with mixed results. The group targeted the white nationalist figure Hal Turner in 2006, eventually exposing him as an FBI informant, and Anonymous first began to dive into high-profile political activism through an effort called "Project Chanology," a coordinated protest against the Church of Scientology. After the Church removed a video of Tom Cruise because they believed it portrayed them negatively, Anonymous hackers started a campaign to take down Scientology once and for all. They posted a video called "Message to Scientology" and launched a crusade against the church, which included a coordinated attack on the organization's website.

And so a movement was born. Thousands of people showed up in real life to protests around the country. "It was a very bizarre scene," the former hacker Gregg Housh said of the protest he attended in Los Angeles. "Here is a church created by a science-fiction author, being protested by people wearing masks created by a science-fiction author." Reality was bending; the simulation was showing its cracks.
For the next decade, Anonymous would harness the Internet in unprecedented ways, fighting for justice and destruction, for irony and distraction, and for change that would reverberate all the way to the top.
WikiLeaks and the Arab Spring: Anonymous Gets Political
Anonymous quickly shifted focus towards censorship and free speech. They used DDoS (Distributed Denial of Services) attacks to shut down websites they viewed as threatening to freedom. In 2010, they emerged to protest a censorship bill in Australia; and later that year, they collaborated to defend WikiLeaks after Amazon kicked Julian Assange's operation off its servers and Visa, Mastercard, and PayPal stopped processing donations to the group. (Anonymous later separated itself from WikiLeaks, due to Assange's influence over the organization).
Around the same time, a segment of the group decided that they'd collectively become too serious. They needed more "lulz"—LOLs, laughs, the trolling ethos that originally inspired the group. So a group called Lulz Security (or LulzSec) was born. They hacked the CIA's website. The next month, the FBI arrested fourteen Anonymous hackers for the aforementioned earlier attacks on PayPal, and Anonymous began to rise on the US government's radar.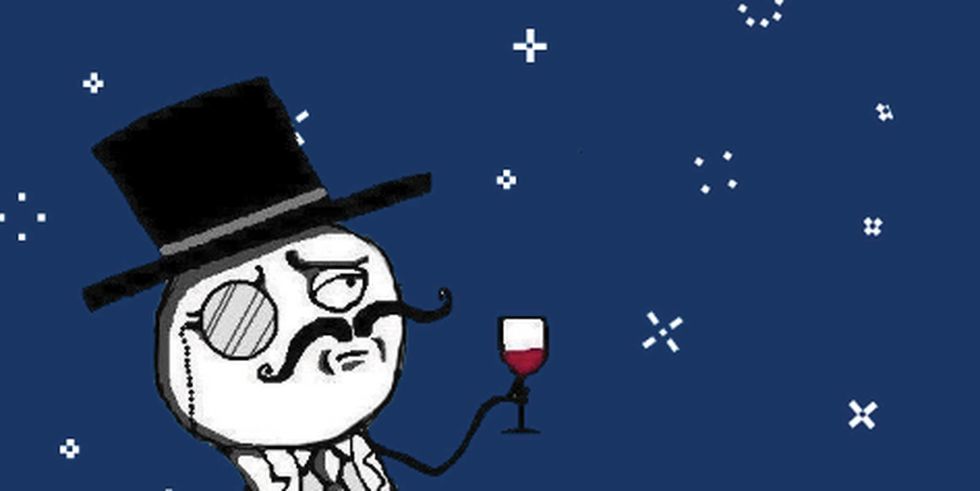 The Daily Dot
In 2011, when the Tunisian government blocked WikiLeaks, Anonymous launched a crusade to support protestors in the movement that would eventually spark the Arab Spring. One of the more infamous leaders of LulzSec, Hector Xavier Monseguer (or "Sabu")—who would later become an FBI informant—and others also allegedly helmed a DDoS attack on the Tunisian government's websites. Anonymous was also integral to the planning of 2011 Occupy Wall Street protests in New York, which were somewhat similar to the organization in that they lacked internal structure and clear leadership and set goals.
Soon, White House staff became concerned that the group could destabilize the US power grids. The group became known as cyber-terrorists and anarchists. Perhaps out of necessity, or because its major players were being taken out or growing up and leaving hacktivism behind, Anonymous fractured around 2015 and 2016, leaving behind conspiracies and a legacy of rupture and chaos.
Still, Anonymous's penchant for social action continued throughout the 2010s. In 2013, Operation Safe Winter fought to raise awareness about homelessness. In 2014, a group called "Operation Ferguson" organized cyberprotests against the police after the death of Michael Brown.
In 2015, Anonymous shifted its focus towards the Islamic State. #OpISIS was a response to the Charlie Hebdo attacks in Paris; despite being a largely uncoordinated effort, they still managed to make waves. "For more than a year, a ragtag collection of casual volunteers, seasoned coders, and professional trolls has waged an online war against the Islamic State and its virtual supporters," writes E. T. Brooking. But they never lost their irreverence.
"Taking away the free speech from a group that is advocating the end of free speech is delicious fun," a member wrote on a Reddit forum about the Hebdo operation.
"They rise up most forcefully when it comes to Internet freedoms and technology, particularly technology that is being abused in some way," says Brian Knappenberger, creator of the documentary We Are Legion. "They're sort of protectors of the Internet. This is their territory, and if it's abused, they're personally offended."
In the latter half of the 2010s, Anonymous waged war against pedophiles and the dark web. In 2018, they lashed out at QAnon, the pro-Trump conspiracy group that stole Anonymous's branding despite a complete lack of alignment with most of Anonymous's central ideologies.
Some members of Anonymous may have gone off to join QAnon; it's hard to know. Though different from Anonymous, QAnon shares some of Anonymous's hatred of the government—its "deep state" paranoia echoes Anonymous's fears of totalitarianism.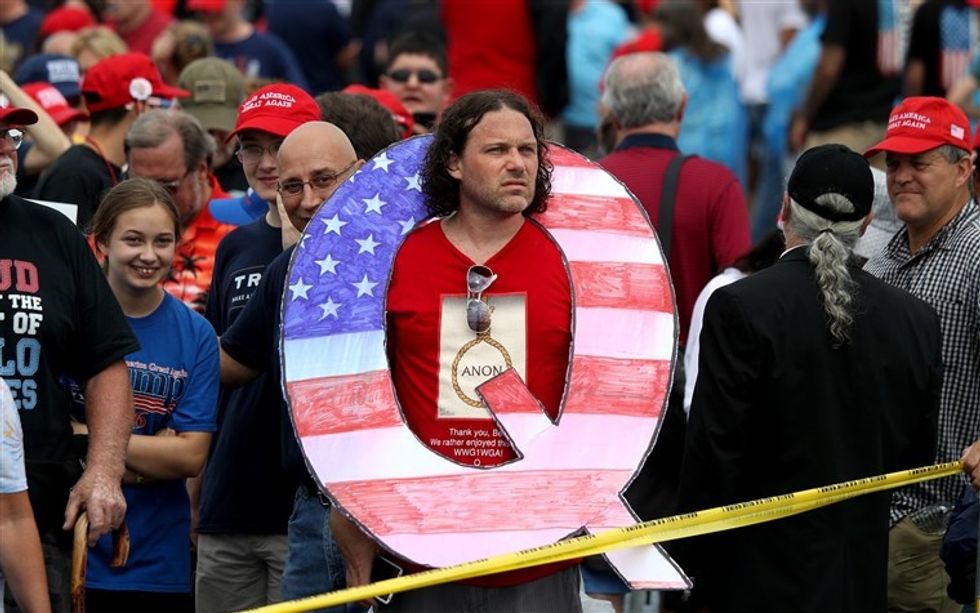 NBC News
Today, QAnon members often show up at Trump campaign rallies, and though Anonymous and QAnon have very different ideas about what constitutes freedom and free speech, it's clear they both believe they're fighting for it.

In the wilderness of the Internet, especially when so many layers of irony interlace with each other and when trolls abound, it's easy for ideologies to twist out of form. It's easy for trolls to be mistaken as criminals, too—just as it's easy for trolls to become criminals. On the Internet, at least outside the realm of corporate influence and bribes, identity is as fluid and amorphous as you want it to be. Anonymous members can become Trump supporters who can become Bernie supporters who can become QAnon supporters who can become FBI informants who can then rejuvenate Anonymous.
If the Anonymous movement shows us anything, it's that identity and ideology are not set. They're as fluid as the shifting landscape of the World Wide Web, which might just be a reflection of the shifting tides of the human spirit.
Remembering Anonymous in 2020
If you Google Anonymous, you'll see the question "is anonymous good"? pop up on the search bar.
A short search will reveal that most self-proclaimed authorities on the subject believe that Anonymous is neither good nor evil. Instead, it's a diverse group made up of people from all around the world, bound together by a shared symbol rather than a structure or hierarchy.
Because Anonymous never had a set ideology or leader, there's no one precise way to remember them. There's no way to know what's real, or if Anonymous was ever the super-group that the media made it out to be. Most likely, it was more of an idea than anything else, though it may still exist in pockets. There's also no way to tell if the group has just gone further underground or if it truly has been dead for years.
According to Gabriella Coleman, Anonymous was always about freedom and elusiveness. "They dramatize the importance of anonymity and privacy in an era when both are rapidly eroding," she writes.
In terms of ethos, Coleman argues that Anonymous embodied an ancient trickster archetype, using old ideas about freedom, hedonism, and the randomness of the universe to cope with an increasingly unbearable modernity. "Nietzsche was attuned to the vitality of sensuality, myth, and art. Music, poetry, and even the mad laughter of the trickster Dionysus, who he championed, offer an aesthetic life of pleasure," she writes in her book Hacker, Hoaxer, Whistleblower, Spy: The Many Faces of Anonymous. "They are pursuits through which humans can overcome their limits and the tragic condition of life: 'Not by wrath does one kill but by laughter. Come, let us kill the spirit of gravity!'"
Is Anonymous nothing more or less than an idea, which became a movement and an identity? Was it all just a story? Has the story ended, or has it fractured and bled into other movements and other corners of the Internet?
Someone in a Guy Fawkes mask is out there, laughing.
The Anonymous forum on Reddit is still alive and well. A month ago, one Redditor mused, "Is Anonymous just a legend to teach us that we do not need a name or an organization to use our power?" Could Anonymous have been a myth designed to reveal that 'All of us can anonymously exploit the options that we have (elections, commercial decisions, jobs we chose, freetime activities) to change the world together?'"

Recently, #AnonHasBeenDeadForYears trended on Twitter. Some agreed with the hashtag. Some warned the world that Anonymous has never been dead—instead, it's everywhere.
These are the kind of conversations that Anonymous inspires. Half-ironic, half-imbued with radical visions—zombified, always mutating—Anonymous (or whatever remains of it) persists.
Maybe it persists in part because it, ironically, offered a form of identity, of differentiation, of meaning crafted through collectivity born out of a crisis of meaning. Perhaps in anonymity, there is identity.
"On the street...I am just another person in a sea of faces," writes a (fittingly) anonymous blogger in Dazed, in a piece that may or may not be a parody or a fake—we'll never know. "But in cyberspace we are different. We helped free the people of Egypt. We helped fight against Israel as it attempted genocide. We exposed more than 50,000 paedophiles around the world. We fought the drug cartels. We have taken to the streets to fight for the rights you are letting slip through your fingers. We are Anonymous."
Are you?
The company claims over 600 law enforcement agencies use their app, but in the wrong hands, it could pose extreme dangers. Here's an explainer.
Imagine you're at a bar and you see a person you find attractive.
You sneakily take a photo of them, and use that photo in an app that pulls up every public photo of that person available online. Links to each photo are also provided, meaning you can find out this person's name, workplace, hometown, friends, and more, without even talking to them. An app called Clearview AI has made the potential for this situation a reality.
Recently, New York Times reporter Kashmir Hill investigated the tiny start-up that's taking revolutionary steps in facial recognition technology. Clearview AI was developed by Hoan Ton-That, a San Francisco techie by way of Australia, who marketed the app as a tool for law enforcement to hunt down their victims. Clearview's database contains over three billion images scraped from millions of websites; the premise is, when you take a photo of a person, you can upload it and see public photos of that person and access links to where those photos are from.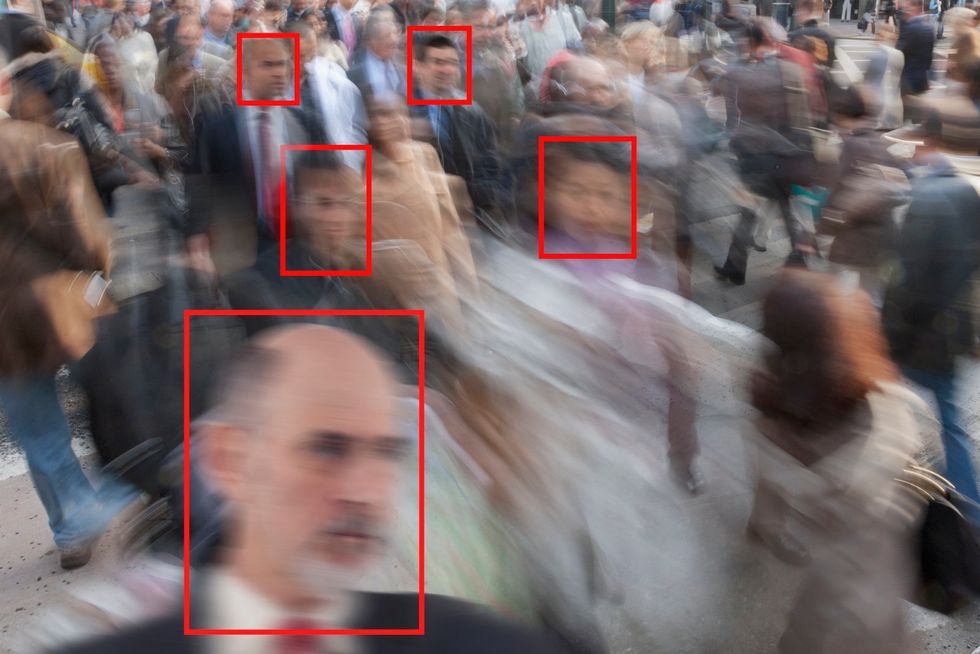 Facial Crowd Recognition Technology Getty Images
Though this sounds like a remarkable tool for law enforcement, Clearview poses severe threats to privacy if placed in the wrong hands. As Hill described in her appearance on Times podcast The Daily this week, someone with malicious intent could theoretically take a photo of a stranger, upload it to Clearview, and uncover personal information like that person's name, where they work, where they live, and who their family members are. In short: the concept is so risky that companies who were able to do the same thing first, like Google, refused to.

Still, Clearview claims that over 600 law enforcement agencies have been using the app, although they've kept their list of customers private. Clearview's investors have cited the app's crime-solving capabilities as a means to back it; Clearview has already helped track down suspects on numerous accounts. But, as Hill's reports found, the app isn't always perfect and might not be fully unbiased; "After the company realized I was asking officers to run my photo through the app, my face was flagged by Clearview's systems and for a while showed no matches," Hill wrote. "When asked about this, Mr. Ton-That laughed and called it a 'software bug.'" Later, when Ton-That ran another photo of Hill through the app, it pulled up a decade's worth of photos—many of which Hill didn't even realize were public.
"Our belief is that this is the best use of the technology," Ton-That told Hill. But is Clearview's usefulness in law enforcement worth leaving our privacy behind every time we leave the house?
Sites like Facebook will have more and more influence over our elections in the future.
America's favorite uncorroborated news story of the moment is that the Russian government masterminded Trump's rise to power. It's easy to understand why. Introspection after a loss is difficult, and rather than face themselves, the DNC decided to have a seance, evoking a Cold War ghost to explain their defeat. It's somewhat comforting to assume an international conspiracy was behind the Hillary Clinton's failure in the 2016 election. It absolves the DNC of any responsibility to change their conduct or adjust their political strategy. That said, there is no hard evidence of collusion, but rather a string of awkward encounters by Trump's largely inexperienced, and frankly stupid, staff. The meat of Russia's "interference" came in the form of social media bots, fake accounts that would automatically repost sensationalist headlines to drum up support for Trump. These accounts are pretty easy to spot however, as they don't even come close to passing a turing test.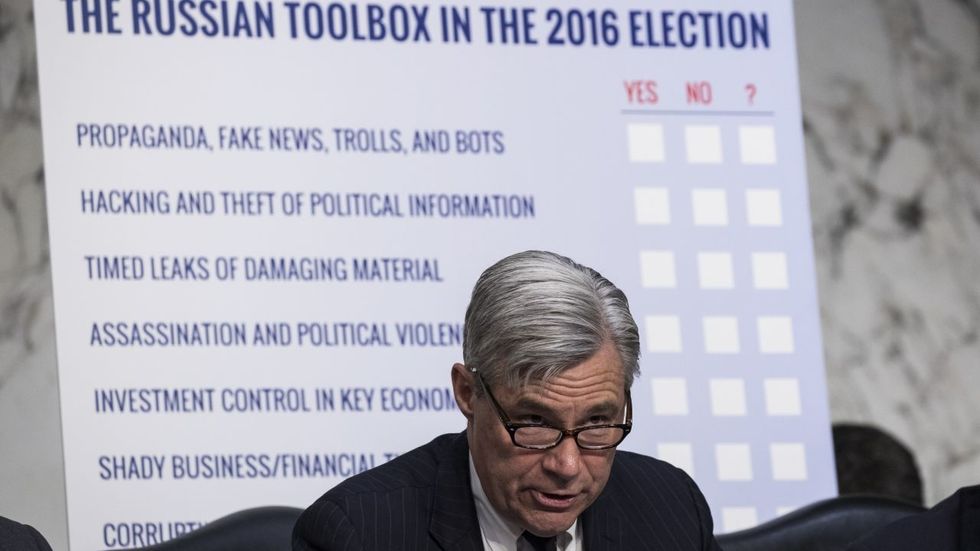 Blaming Russia is too easy
Still, the creation of Russia's bot army had to be predicated on some form of information, and many have accused Putin's government of tracking users' Facebook data in an attempt to gain a psychological understanding of the average American voter. This is where Aleksandr Kogan comes into play. Kogan sold the data of some 87 million Facebook users (collected via a quiz app) to Cambridge Analytica, a political consulting firm hired by the Trump campaign. Cambridge Analytica's goal was to create psychographic voting profiles. While there's no definitive connection between Cambridge Analytica and Russia, the precedent set by CA and their illegal exploitation of Facebook is a frightening one. If a private company is collecting data on citizens, it's a pretty safe bet that governments around the world are doing the same. While the Democratic Party's Russophobia is definitely a reaction to losing in 2016 more than anything else, but it accidentally shed light on an important issue: our data isn't safe, and with recent improvements AI and voice recognition software, we'll soon have the technology to not only create comprehensive individual psych profiles, but to tailor campaigns to individual voters.
Obviously companies like Google and Facebook have large stores of internal data, and they've certainly been amenable to
selling it
, but academic researchers (like Kogan) also have large data caches. Behavioral psychologists use Facebook in studies all the time, and the academic world isn't particularly well-known for its cyber security. Even in the event that these databases aren't hacked, there's nothing to prevent a researcher from
selling their findings
after their study is complete. The quick fix is to let Facebook block third parties from collecting data on its users, and for its part, Facebook has done just that. They've begun
blocking apps
from collecting information, and have also limited the number of researchers allowed to look at data on the site. Only academics researching political elections through the lens of social media are
permitted to apply
for access to Facebook's database.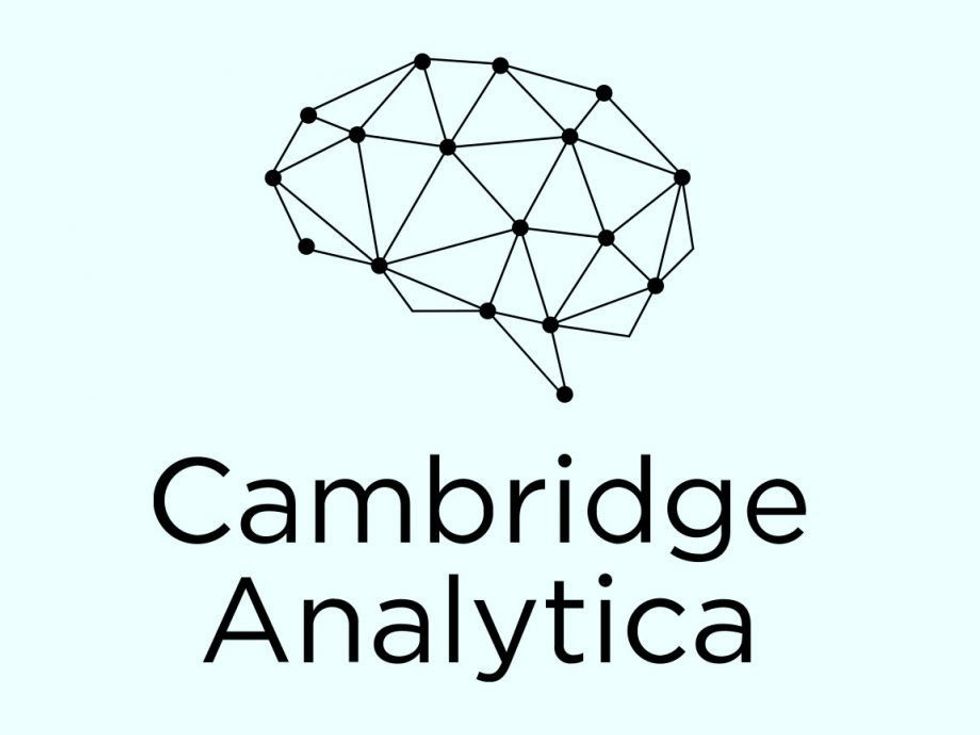 Cambridge Analytica
At a glance, these robust safety measures are a breath of fresh air. It isn't often that a tech company is so committed to its customers' privacy. That said, when things look too good to be true, they usually are. If Facebook continues its path to prohibition, "only Facebook will really know very much about how Facebook actually operates and how people act on Facebook," warns Dr. Rasmus Kleis Nielsen of Oxford University. Sure, measures like these could protect data from outsiders, but it would also give a private company sole proprietorship over the most comprehensive database of human behaviors and tendencies ever created. Facebook would have even more sway over our local and national elections than it already does, and would gain a monopoly over 2 billion people's personal data. Essentially, Facebook could name its price. Because of the way the Internet works, there's no way to effectively protect our Facebook data without severely compromising our freedom. And even if we were to let Zuckerberg shut everyone out of Facebook's data vaults, this doesn't prevent other websites or services from collecting information on us. It doesn't make us any safer. Our sensitive information is freely available to anyone who knows how to access it.
As technology improves, it's going to become more and more difficult to tell what is and isn't fake news–whether or not that article you just read was an advertisement for Tide or some political campaign you weren't aware of. For better or worse, we've set out to map the entire spectrum of human behaviors. Eventually, marketing campaigns will be so advanced, so accurate in their mapping of our desires, we may forget that we ever had the capacity to think. Somewhere, the ghost of B.F. Skinner smiling.

It's not as scary as you think.
There have been numerous pieces written about the dark web and the dangers it could pose to your personal cyber security. It's also been used in advertisements by Experian, in which they offer "free dark web scans" to help customers find out if their "information is on the dark web." This type of language is deliberately misleading, as is the company's definition of the dark web, which basically describes it as a world full of Internet marauders hunting for your social security number. Ironically, in order to acquire the "free dark web scan," Experian itself asks its customers for their social security numbers.
In a certain light, these ads are hilarious in their deliberate misinterpretation of how the dark web works, but there's definitely something sinister about the way they prey on the wallets of the uninformed. Though it sounds dangerous, the dark web isn't the nightmarish hellscape that cyber security companies would have you believe it is. Before understanding the dark web however, one has to first understand the deep web, and by extension, the Internet as a whole.
The Internet is divided into two subsections: the surface web and the deep web. The difference between the two is simple. The surface web is readily accessible via search engines; the deep web is not. While almost every site you visit is probably part of the surface web, there are certain places on the Internet that are necessarily hidden. For example, research papers, netbanking, and medical records aren't readily accessible to anyone using Google, as the search engine doesn't index these things. Another example, is content that exists behind a paywall, like the New York Times' online newspaper. The dark web can be thought of as a small subsect of the deep web, but while the two are often conflated, they aren't the same at all. It's helpful to think of the Internet as an iceberg, with most of it existing beneath the surface. The surface web encompasses about 4% of the entire Internet while the deep web and dark web, represent 90% and 6% respectively.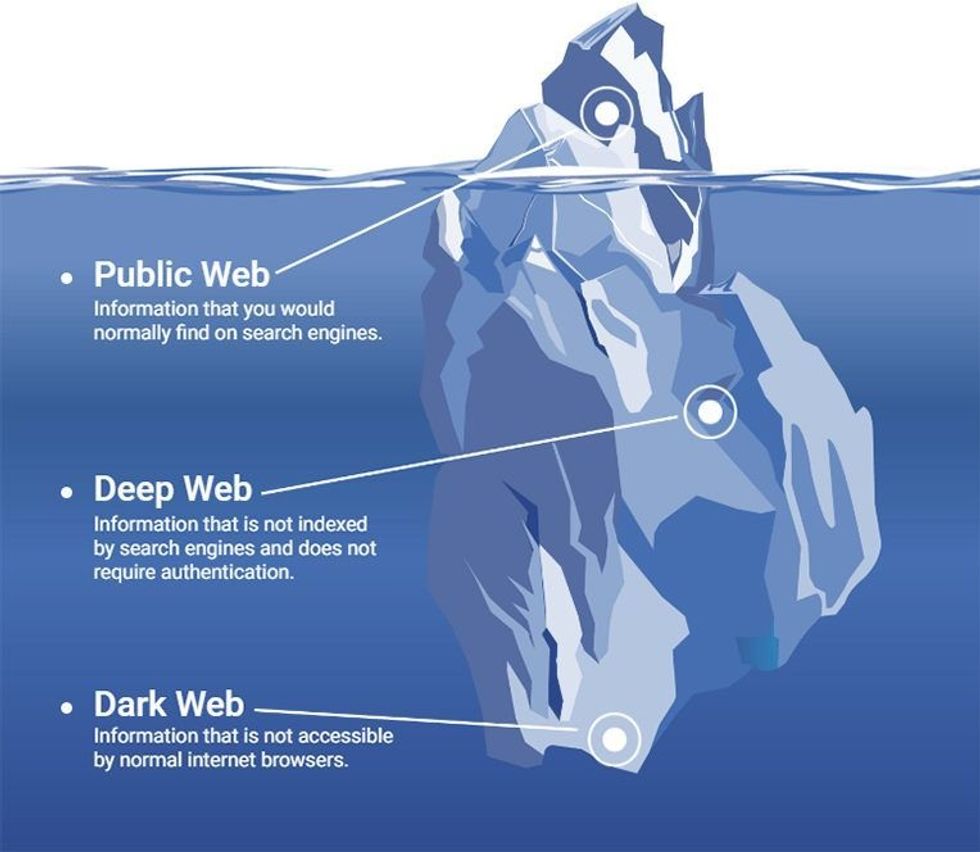 The iceberg
Unlike the deep web, the dark web is only accessible via special networks, the most popular of which being Tor. Browsers like Tor render your computer invisible while you browse, using complex encryptions to mask your computer's IP number while you browse, allowing for a truly private Internet experience. Confidentiality is at the heart of Tor's mission, and its developers goal was to create an Internet free of surveillance and tracking. Unfortunately, when they are guaranteed anonymity, many Internet users get into some pretty unsavory things.
The first time the dark web was in the news, was when the online black market the Silk Road became a major player in 2011. Until the FBI arrestedSilk Road founder Ross Ulbricht in 2013, the site was a forum dealing in illegal weapons, drugs, and child pornography, and the transactions were made via Bitcoin rather than actual cash. Bitcoin itself actually came to prominence in these illicit markets, though it's slowly falling out of favor with online black markets due to the wild fluctuations in its price over the past few years. Outside of the Silk Road and its successors, there has also been tons of publicity surrounding the hiring of hit men via the dark web, though most of these services have turned out to be scams. The most famous scam was run by a company called Besa Mafia, who would take cash from buyers, and then instead of killing the person they were hired to kill, they would report the buyers to the police and get them arrested.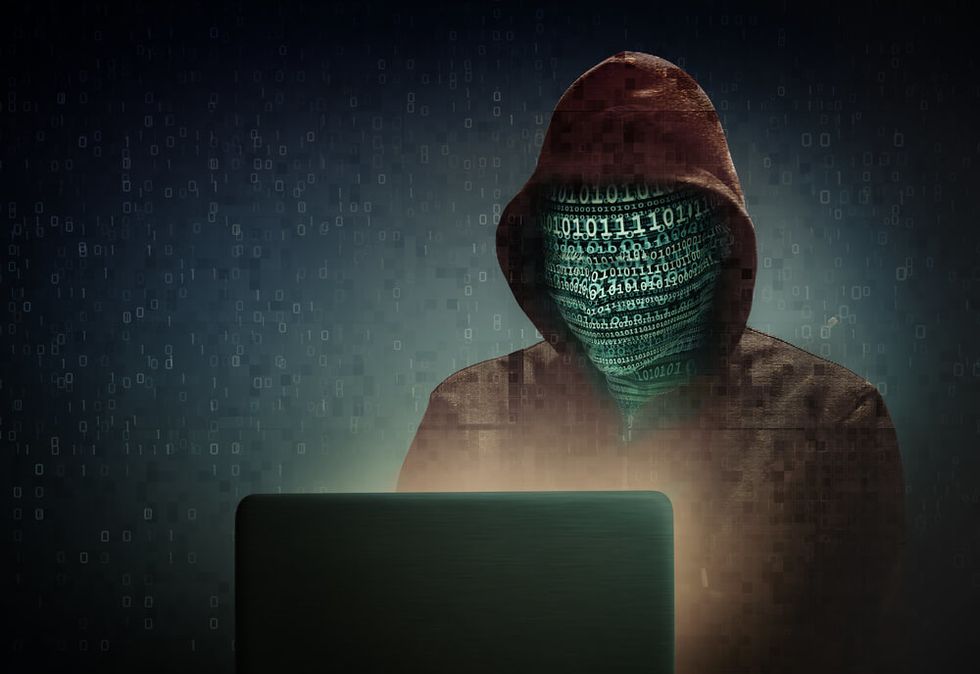 It's not quite this sinister
Realistically though, the dark web isn't nearly as scary as it's made out to be. Yes, there are hackers and illegal activity, but at the core of Tor's project, is privacy. If a hacker wanted to steal someone's social security number or if a pedophile wanted to seek out illicit porn, they wouldn't need to use the dark web to do it. In fact, the dark web only accounts for about .2% of the child porn being shared online. While it's fair to assume that most sites on the dark web are used for criminal activity, it's worth mentioning that the FBI can pretty easily arrest and track folks using the dark web. They've even contracted one of Tor's developers to help them track down cyber criminals.

The dark web's reach with regard to criminal activities has been largely exaggerated by the mainstream media, and there's no real reason to fear it. If you're someone who strongly values the privacy of your browsing habits, for whatever reason, the dark web provides a different type of Internet, one that's far more secure than your standard browser. If you don't care about your Internet privacy, that's fine too. Dark web hackers aren't going to hunt you down and steal all your information in the night, and you're no less safe on the Internet just because Tor browsers exist. There's a strange tendency in this country to conflate others' privacy and anonymity with a lack of personal security. Cyber security firms have a vested interest in keeping you scared and in the dark about how the Internet works. Don't put too much stock into it. The dark web as we know it has existed since 2002, and we're no worse for wear.
A handful of huge conglomerates produce the majority of consumer products. What buying options do Americans have left?
In an old episode of 30 Rock, Liz Lemon (Tina Fey) is obsessed with her new jeans, made by a fictional company called Brooklyn Without Limits. The jeans are supposedly locally-sourced and eco-friendly, and she has no problem bragging about this fact at every turn. That is until Jack Donaghy (Alec Baldwin) explains that Brooklyn Without Limits is actually owned by oil giant Halliburton, and that all of Lemon's jeans were made in a sweatshop. While this scene is hilarious, it's comic value comes from a place of truth. Kashi is owned by Kellogg's. Pepsi owns Naked Juice. Clorox owns Burt's Bees. Even Ben and Jerry's, the ice cream industry's paragons of civic responsibility and social justice, are owned by Unilever, the world's largest consumer goods company.
The marriage between smaller companies and large corporations is nothing new however, and there are certainly advantages on both sides of the aisle.
Smaller companies gain greater financial resources and wider distribution channels, while conglomerates purchase the marketing rights, and reputations of the companies they invest in. From a consumer standpoint, a buyout can occasionally mean a change in price or quality, but in today's brand-driven retail market a consumer is only likely to notice changes if she goes looking for one. Still, there's something fundamentally icky about the way so few companies control the majority of the American retail space.
On the one hand, this makes shopping for groceries a bit of a Hobson's choice, creating the illusion of alternatives without ever really providing any.
On the other, large conglomerates like General Mills and PepsiCo rob American citizens of a fundamental right: the ability to vote with their wallets. That's to say that the underpinnings of our democracy have been so corroded by corporate lobbyists and a largely nonsensical electoral system, that one of the most meaningful forms of political activism in this country is to purchase goods from companies whose (supposed) political agendas align with your personal beliefs. Without diverging into a history lesson or editorializing about the state of our republic, it's important to note that even this limited capacity to participate in the democratic process is being infringed upon.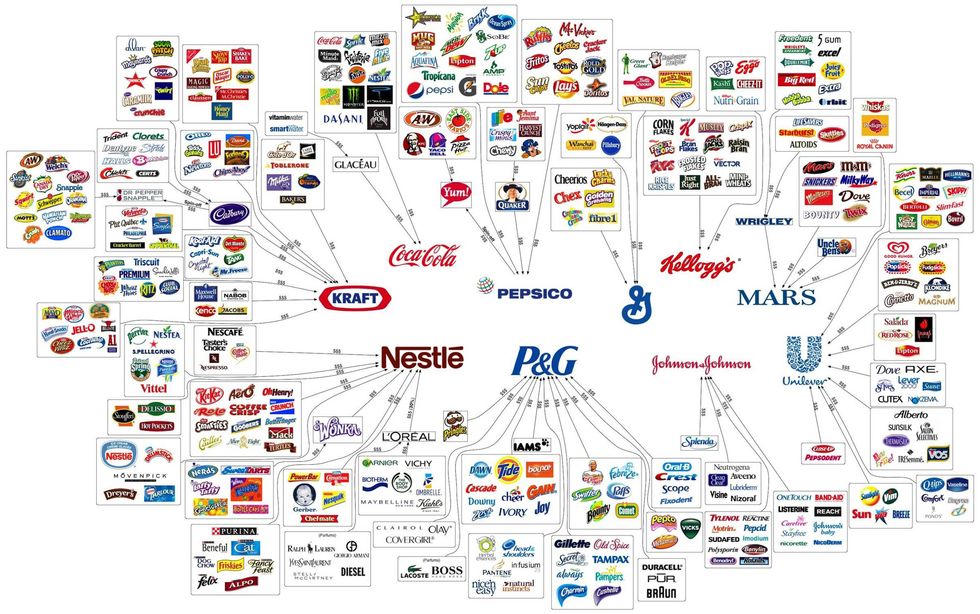 This is where your food comes from
Conglomerates aren't isolated to the world of retail and foodstuffs though.
Tech giants like Google and Apple dominant their respective marketplaces in a way that would have John D. Rockefeller and Andrew Carnegie spinning in their graves. For example, what if someone had strong political opinions about sweatshops and the way southeast asian factory workers are treated? When forced to pick between Apple and Samsung, there's only the illusion of choice; both companies manufacture their phones in sweatshops. From a manufacturing standpoint, Samsung and Apple combined control over 70% of the US smartphone market. Other companies like HTC, LG, and Motorola–regardless of their (most likely loose) position on ethical labor– are pressured to use the same unsavory business practices in an attempt to stay competitive.
When it comes to operating systems, the monopolies become even more apparent.
Android (Google) and Apple have their operating systems in over 98% of America's smartphones, Android taking the lion's share at about two-thirds of the total marketplace. If Google's Android OS is in a phone, Google is making money, and by extension are complicit in whatever human rights violations are committed by the phone's manufacturer. Apple manufactures its own phones, so they're even more directly responsible for the human suffering involved in their factories. All this considered, the conscientious consumer really has no choice but to use the products or services from morally ambiguous companies. In order to properly boycott Google and Apple over their tacit endorsement of slave labor, one would have to give up Gmail, Google Docs, YouTube, iTunes, Apple Music, Google Play, The Zagat Guide, Shazam, Beats by Dre, Emagic, Siri, Texture, Apigee, HopStop, and Waze. Those are just the popular ones. The sheer volume of Google and Apple-made products significantly dilutes the value of voting with one's wallet.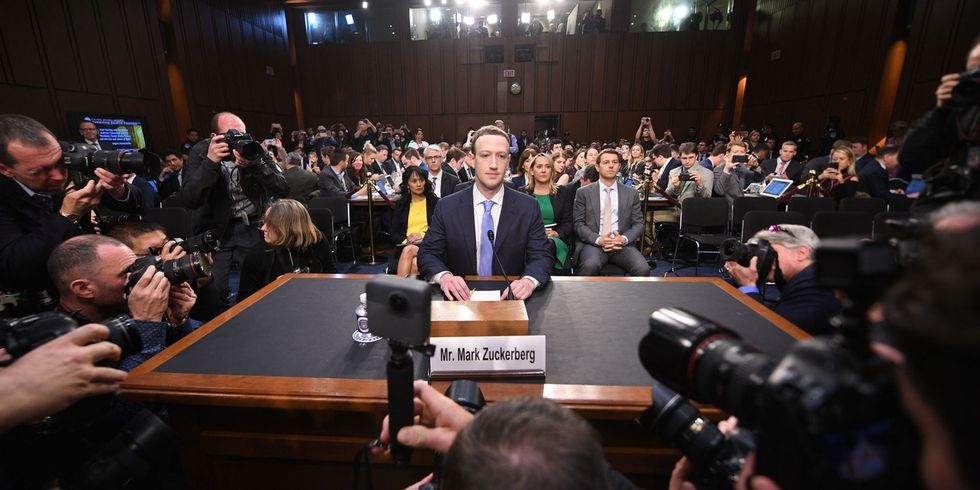 Mark Zuckerberg in Congressional Hearing
The solution for our current predicament, as it's been in the past, is the enforcement of antitrust laws and the busting up of corporations found to be participating in de facto monopolies.
That said, it probably won't be easy, as we have a Republican majority on the Supreme Court and Washington's current economic position is one of deregulation. But even these things weren't true, certain companies–the tech giants (Apple, Google, Amazon, Facebook) in particular are probably too big to be reigned in. Mark Zuckerberg made headlines when he was forced to testify in front of Congress about Cambridge Analytica, but outside of a minor PR crisis, Facebook didn't really suffer any consequences. In fact, Zuckerberg reportedly made three billion dollars during his time in Washington. Apple, Google, Amazon, and Facebook have a combined market capitalization equal to the GDP of France and a 24% share of the S&P 500. These tech companies now function more like independent, sovereign governments than corporations. The effort to slow their growth would require a tribunal on the world stage, and the largest antitrust lawsuit in the history of mankind.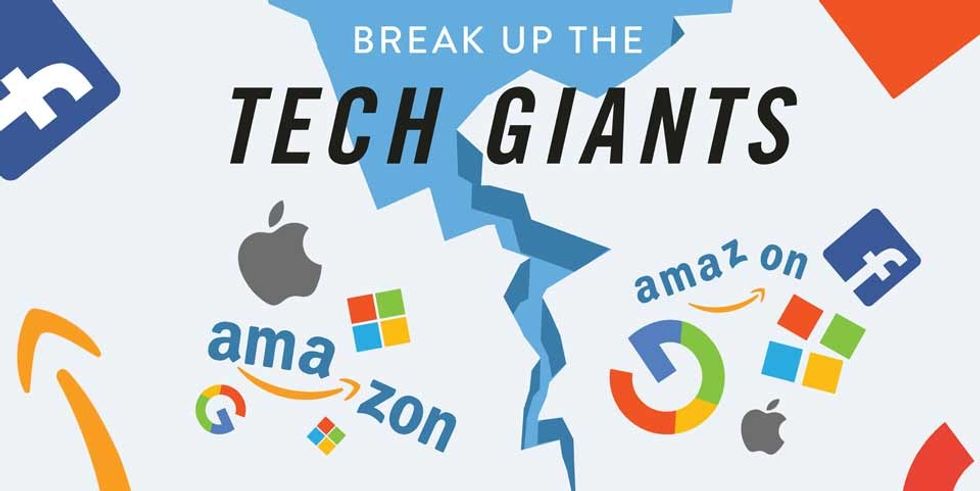 Good luck.
The question we're ultimately left with, is who really holds power in America?
Some might say it's indexers and Wall Street money managers- the folks who determine a company's value, but they can only fudge their numbers so much. No one at McGraw-Hill is going to push Google out of the S&P 500. Others might say it lies with the government, but with the amount of corporate lobbyists currently in Washington, this claim feels dubious as well. As our government officials, backed by corporate money, lean into the deregulation of the markets, it's becoming more and more obvious that Congress doesn't really speak for the people. This may seem cynical, but here's a list of the how much certain members of Congress made from lobbyists during the 2017-2018 election cycle so far.

What's coming to the fore is a battle between the U.S. government and the large conglomerates that control most of the economy.
The implications of allowing these monopolies to win are much farther reaching than inconvenient pricing and a general lack of choice. The future of American democracy is hanging in the balance. As voter, all you can do is research candidates with no corporate ties, and try to put them in office. Whether or not the U.S. government has the clout to go against the quasi-sovereign tech company/nations, depends entirely on this.
We're at the dawn of a second search engine war.
In the early days of the Internet, Google wasn't the biggest fish in the pond. They weren't worth billions. They didn't have a 78% market share in the US. In fact, at the turn of the century, their competitors were numerous and wide-ranging, both in their approach to searching the web, and in their overall style. When the first search engine war began in 2000, it was fought between so many belligerents that it could more accurately be described as a battle royale. Tons of companies, most of which have since lost their claims to legitimacy, were chasing the de facto monopoly Google has today. One by one though, they fell off, mutating, getting bought out, and merging along the way. Ask Jeeves, MSN, Excite, and even Google's top competitor Yahoo, couldn't keep up. Google has reigned supreme for the past decade. Now, almost thirty years after the invention of the first search engine, it looks as though another war is on the horizon.

The cellophane packaging the Internet arrived in has long since been removed and discarded. Nowadays, everyone–from grandparents to toddlers–is online, the novelty has worn off, and people are beginning to pay attention. With the recent news of Facebook and Cambridge Analytica, it's no longer a secret that tech companies make their money by collecting and selling data. While this practice isn't technically illegal, it certainly rubs people the wrong way, and Google is one of the biggest offenders. From tracking cell phones and search histories, to creating advertisement profiles based on its users, Google has rapidly become the poster-child for the ugly and invasive side of the Internet. Sensing Google's weakness–though whether or not one can call this PR hiccup a weakness is debatable–smaller search engines are crawling out of the woodwork and trying to take a piece of Google's pie by advocating for privacy online.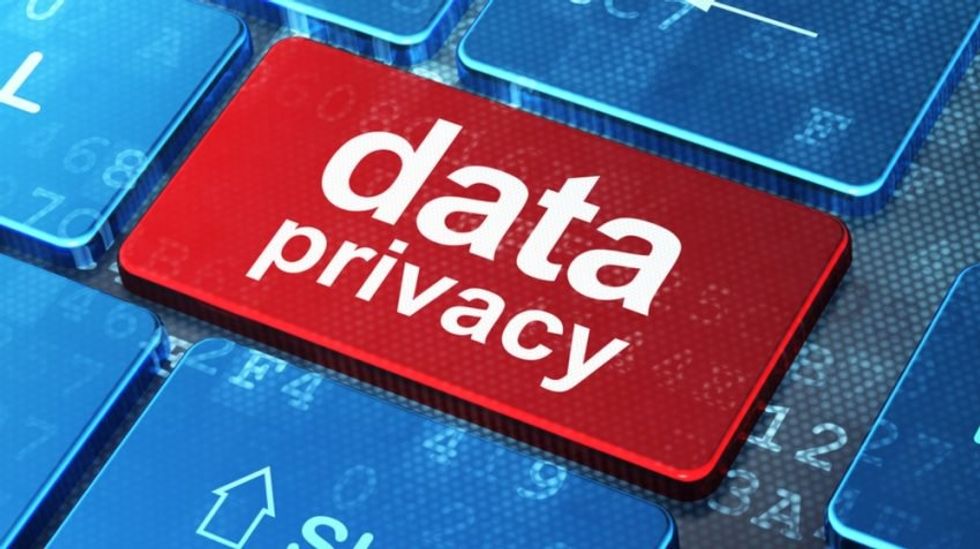 Should data privacy be the primary deciding factor in which search engine you chose?
Companies like DuckDuckGo and StartPage are attempting to live up to their mission statements, aiming to set a "new standard of trust online" by promising not to profit off of users' personal data. And they've had some pretty huge success so far, shaving close to 10% off of Google's total market share in the past year alone. DuckDuckGo, perhaps the biggest of the private search engines, reportedly averages about 16 million queries per day and has shown steady growth every year since its inception in 2011. In post-Snowden America, Internet privacy is more important than it's ever been, and, barring a massive shift in public opinion, these search engines can only be expected to continue growing.
Even considering DuckDuckGo's meteoric rise, the rest of the Search Engine' War may be a civil one, as challengers certainly aren't presenting a unified front against Google's tech empire. Between DuckDuckGo, StartPage, Wolfram Alpha, Yippy, and the rest, the relatively niche market is saturated with competitors and is starting to look a bit like the original search engine war in the early 2000s. Google on the other hand, is an entrenched power. Averaging 3.5 billion search queries per day and valued at over 500 billion dollars, Google is almost unchallengeable. Google also doesn't have to rely solely on its search engine for income, considering the amount of software and hardware they produce. On top of this, DuckDuckGo's foundational promise doesn't help them make money, considering how valuable a person's internet data is.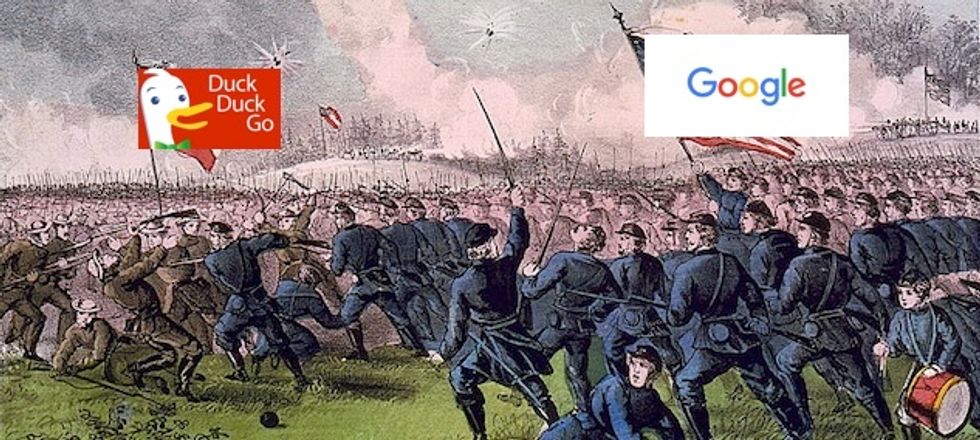 DuckDuckGo and Google face off again
Currently, websites that support online privacy simply are not well positioned to overtake Google in Search War II, especially considering that Google owns not only the most popular search engine, but the
most popular browser
as well. And despite the public's grumbling, congress decided to
strip
some of our commonsense privacy laws last year, electing to allow Internet services providers (ISPs) to sell users' data to third parties without their consent. While this repeal doesn't directly relate to the search engine battle, it sets an important precedent about Internet privacy; the likelihood of stopping data collection anytime soon is nothing more than a pipe dream. That said, it is important that we commend companies like DuckDuckGo for their groundbreaking business model. These websites are still for-profit corporations, but inasmuch as market trends can be used to indicate our moral valence as a country, it would seem that things are looking a little brighter regarding Internet privacy.
Musings: From two perspectives of tech conglomerate fines, antitrust laws, and the tech world as a whole
Lauren: The EU has given Google a $2.7 billion fine due to alleged antitrust violations. According to EU antitrust regulators, the internet giant is a monopoly. And so Google now has to prove that it has rivals that had made substantial inroads to its businesses, including specialized search categories, mobile phones, and online ad buying. This fine and punishment could also set a precedent for other tech giants. Seems like they're not as unstoppable as many have believed.

Jane: It would set a precedent in Europe. Google has been doing that here forever. But the application of antitrust laws to tech companies interesting. Amazon, Google, Apple, and etc. easily outpace other smaller companies and since they dominate the newer, harder to regulate marketplaces, there is a lack of checks and balances in place
L: The law is definitely slow to catch up in this area. It feels like the second a new law addressing internet companies or online privacy passes, things are updated into something new that needs a whole new framework of regulations. The pace of advancement in technology and regulations just don't match up. Because of this, so much of what is done online is in a legal gray area. That's why it's interesting that Europe is attacking the problem using antitrust law. Those laws are pretty old, but are working in the context of the 21st century.
It feels like the second a new law addressing internet companies or online privacy passes, things are updated into something new that needs a whole new framework of regulations
J: The concept is still the same. Make sure the market is in favor of the consumer. Limiting competition does the exact opposite. Manipulating search results when Google is the primary search engine is shady.
L: This also shows how much the digital world can affect the real one. If you can't Google a business, it might as well not exist. When you think about it, Google has immense power over our lives. So does Facebook or Amazon. These websites and companies are deeply ingrained in our daily lives and our economy.
J: Amazon is trying to be the one-stop shop for everything. They've been trying to get into the grocery business for a long time and buying Whole Foods would cement them in the industry. It could be very successful or they can run the grocery story to the ground since Amazon's model is vastly different from Whole Foods.
L: I think Amazon might use Whole Foods as a testing ground for their new grocery shopping concept Amazon Go. That will be a huge change for the industry.
J: It would definitely blur industry lines even more but Amazon has a history of doing that anyway. Bezos purchased the Washington Post a few years ago. In Whole Foods case, prices might possibly go down. But you never know. There's a lot of unknown as tech companies melded and absorb other traditional companies.