Dall-E Mini, the AI-powered text-to-image generator has taken over the internet. With its ability to render nearly anything your meme-loving heart desires, anyone can make their dreams come true.
DALL-E 2, a portmanteau of Salvador Dali, the surrealist and Wall-E, the Pixar robot, was created by OpenAI and is not widely available; it creates far cleaner imagery and was recently used to launch Cosmpolitan's first AI-generated cover. The art world has been one of the first industries to truly embrace AI.
The open-sourced miniature version is what's responsible for the memes. Programmer Boris Dayma wants to make AI more accessible; he built the Dall-E Mini program as part of a competition held by Google and an AI community called Hugging Face.
And with great technology, comes great memes. Typing a short phrase into Dall-E Mini will manifest 9 different amalgamations, theoretically shaping into reality the strange images you've conjured. Its popularity leads to too much traffic, often resulting in an error that can be fixed by refreshing the page or trying again later.
If you want to be a part of the creation of AI-powered engines, it all starts with code. CodeAcademy explains that Dall-E Mini is a seq2seq model, "typically used in natural language processing (NLP) for things like translation and conversational modeling." CodeAcademy's Text Generation course will teach you how to utilize seq2seq, but they also offer opportunities to learn 14+ coding languages at your own pace.
You can choose the Machine Learning Specialist career path if you want to become a Data Scientist who develops these types of programs, but you can also choose courses by language, subject (what is cybersecurity?) or even skill - build a website with HTML, CSS, and more.
CodeAcademy offers many classes for free as well as a free trial; it's an invaluable resource for giving people of all experience levels the fundamentals they need to build the world they want to see.
As for Dall-E Mini, while some have opted to create beauty, most have opted for memes. Here are some of the internet's favorites:
There's no looking back now, not once you've seen Pugachu; artificial intelligence is here to stay.
ISSUES
As Google falters over data privacy, a second search engine war emerges
We're at the dawn of a second search engine war.
In the early days of the Internet, Google wasn't the biggest fish in the pond. They weren't worth billions. They didn't have a 78% market share in the US. In fact, at the turn of the century, their competitors were numerous and wide-ranging, both in their approach to searching the web, and in their overall style. When the first search engine war began in 2000, it was fought between so many belligerents that it could more accurately be described as a battle royale. Tons of companies, most of which have since lost their claims to legitimacy, were chasing the de facto monopoly Google has today. One by one though, they fell off, mutating, getting bought out, and merging along the way. Ask Jeeves, MSN, Excite, and even Google's top competitor Yahoo, couldn't keep up. Google has reigned supreme for the past decade. Now, almost thirty years after the invention of the first search engine, it looks as though another war is on the horizon.

The cellophane packaging the Internet arrived in has long since been removed and discarded. Nowadays, everyone–from grandparents to toddlers–is online, the novelty has worn off, and people are beginning to pay attention. With the recent news of Facebook and Cambridge Analytica, it's no longer a secret that tech companies make their money by collecting and selling data. While this practice isn't technically illegal, it certainly rubs people the wrong way, and Google is one of the biggest offenders. From tracking cell phones and search histories, to creating advertisement profiles based on its users, Google has rapidly become the poster-child for the ugly and invasive side of the Internet. Sensing Google's weakness–though whether or not one can call this PR hiccup a weakness is debatable–smaller search engines are crawling out of the woodwork and trying to take a piece of Google's pie by advocating for privacy online.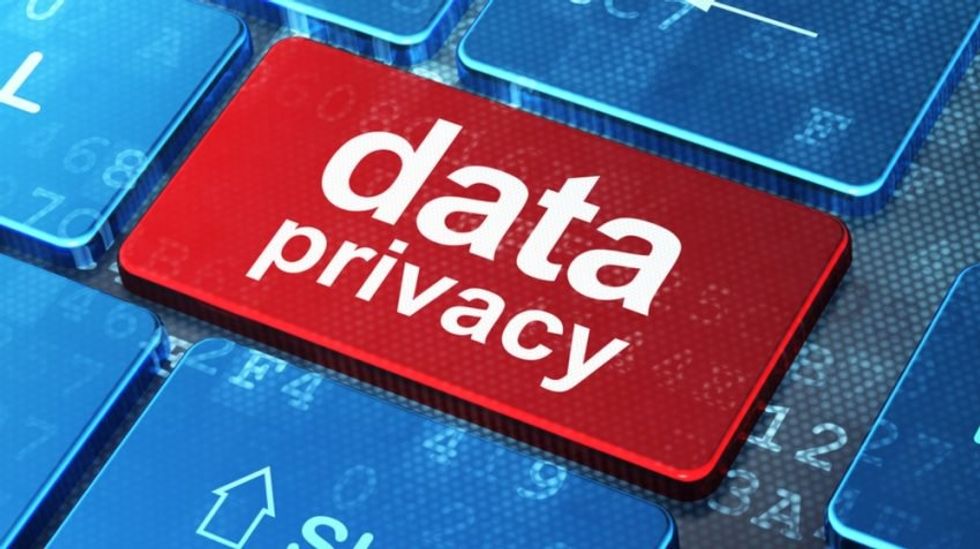 Should data privacy be the primary deciding factor in which search engine you chose?
Companies like DuckDuckGo and StartPage are attempting to live up to their mission statements, aiming to set a "new standard of trust online" by promising not to profit off of users' personal data. And they've had some pretty huge success so far, shaving close to 10% off of Google's total market share in the past year alone. DuckDuckGo, perhaps the biggest of the private search engines, reportedly averages about 16 million queries per day and has shown steady growth every year since its inception in 2011. In post-Snowden America, Internet privacy is more important than it's ever been, and, barring a massive shift in public opinion, these search engines can only be expected to continue growing.
Even considering DuckDuckGo's meteoric rise, the rest of the Search Engine' War may be a civil one, as challengers certainly aren't presenting a unified front against Google's tech empire. Between DuckDuckGo, StartPage, Wolfram Alpha, Yippy, and the rest, the relatively niche market is saturated with competitors and is starting to look a bit like the original search engine war in the early 2000s. Google on the other hand, is an entrenched power. Averaging 3.5 billion search queries per day and valued at over 500 billion dollars, Google is almost unchallengeable. Google also doesn't have to rely solely on its search engine for income, considering the amount of software and hardware they produce. On top of this, DuckDuckGo's foundational promise doesn't help them make money, considering how valuable a person's internet data is.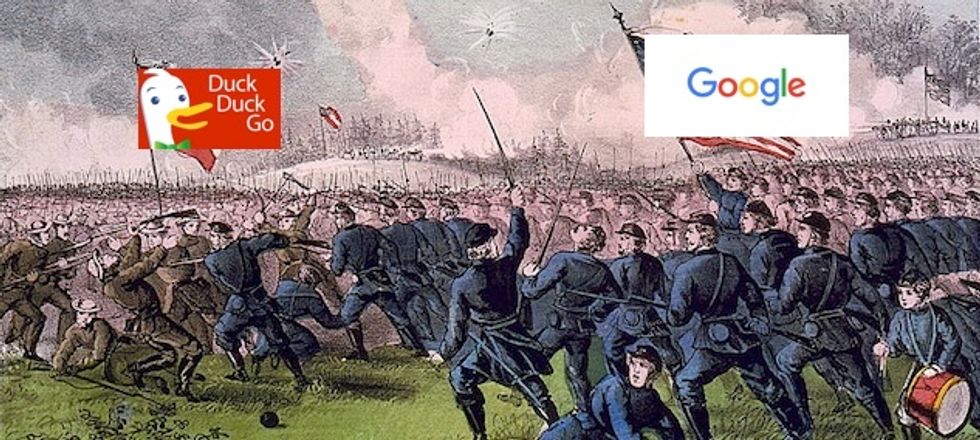 DuckDuckGo and Google face off again
Currently, websites that support online privacy simply are not well positioned to overtake Google in Search War II, especially considering that Google owns not only the most popular search engine, but the
most popular browser
as well. And despite the public's grumbling, congress decided to
strip
some of our commonsense privacy laws last year, electing to allow Internet services providers (ISPs) to sell users' data to third parties without their consent. While this repeal doesn't directly relate to the search engine battle, it sets an important precedent about Internet privacy; the likelihood of stopping data collection anytime soon is nothing more than a pipe dream. That said, it is important that we commend companies like DuckDuckGo for their groundbreaking business model. These websites are still for-profit corporations, but inasmuch as market trends can be used to indicate our moral valence as a country, it would seem that things are looking a little brighter regarding Internet privacy.