Studies have suggested that Rekognition less accurately recognized dark-skinned faces.
Amazon announced this week that they would be implementing a one-year moratorium on police use of Rekognition, a facial recognition software.
Launched in 2016, Rekognition has been sold to a number of government agencies, including various police departments and ICE. In 2017, it started being used by law enforcement for help identifying suspects.
But studies have shown that Rekognition is less accurate in recognizing dark-skinned faces, and the software has come under fire for propagating racism that's already relevant in the police force.

Black people are already mistaken for suspects at alarming rates, and the use of Rekognition in law enforcement poses extreme dangers for them. In a statement on their blog, Amazon stated that they've advocated for stronger regulations on facial recognition technology, however the company has sold Rekognition to various police departments in the past.
Read their statement below.
"We're implementing a one-year moratorium on police use of Amazon's facial recognition technology. We will continue to allow organizations like Thorn, the International Center for Missing and Exploited Children, and Marinus Analytics to use Amazon Rekognition to help rescue human trafficking victims and reunite missing children with their families.
We've advocated that governments should put in place stronger regulations to govern the ethical use of facial recognition technology, and in recent days, Congress appears ready to take on this challenge. We hope this one-year moratorium might give Congress enough time to implement appropriate rules, and we stand ready to help if requested."
What recession? A new report suggests that the Amazon CEO could earn his first trillion much sooner than originally predicted.
As many businesses have been tanking in 2020, Amazon sales have been doing just fine.
A Microsoft and Apple become trillion-dollar companies—with Amazon just a hair behind—the possibility of the world's first trillionaire is within arm's reach. Amazon's CEO and the richest person to ever live, Jeff Bezos, is projected to earn his first trillion by 2026. Especially in the wake of the worldwide health crisis and the recent strike of Amazon employees, Bezos has especially come under fire for his financial habits.
Here are just a few things Bezos could buy:
New Water Lines for Flint: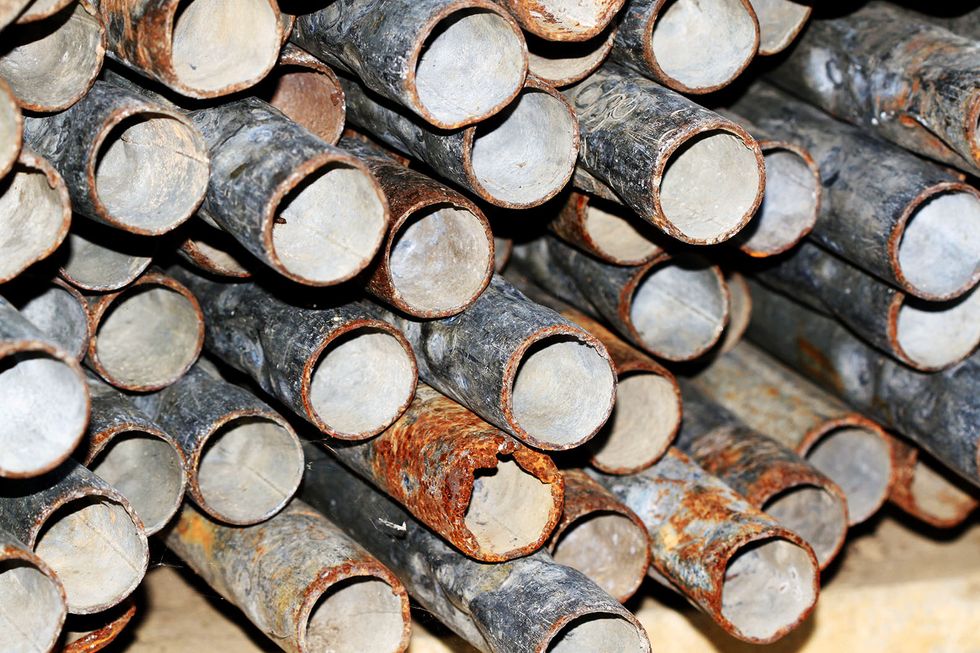 In 2017, the state of Michigan set aside $97 million for lead or galvanized steel water lines to be replaced in Flint as a solution to the city's ongoing water crisis.

Citizenship Tests: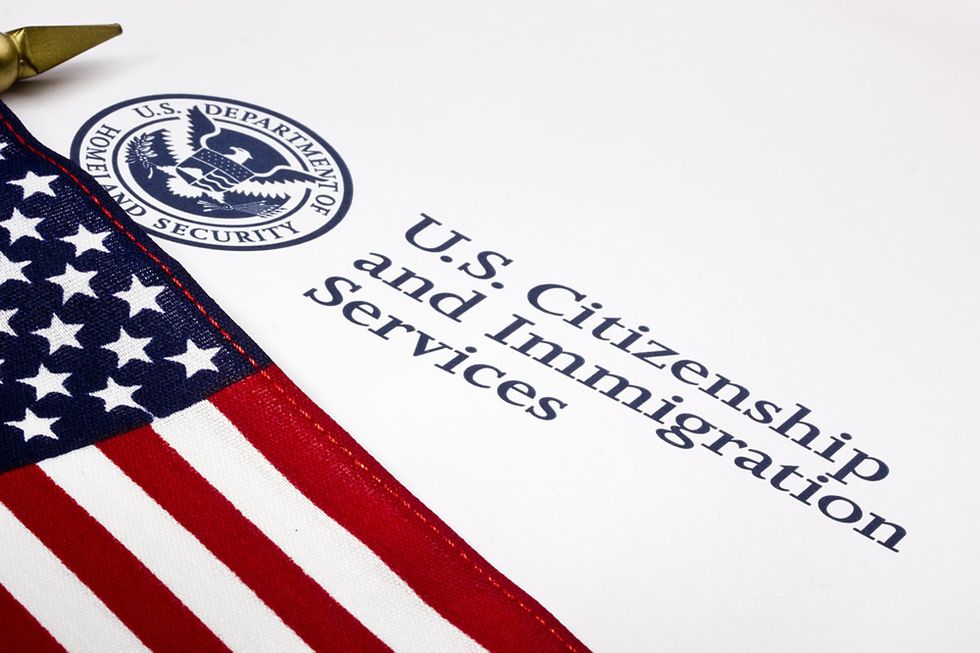 The current naturalization fee in the U.S. is $640. Although the exact number of undocumented immigrants in the United States is understandably difficult to pinpoint, the Pew Research Center estimated that there were roughly 10.5 million as of 2017. It would cost about $1 billion to pay for naturalization fees for all undocumented immigrants in the U.S., which Bezos could pay 100 times over and still have $40 billion to spare.

Homelessness: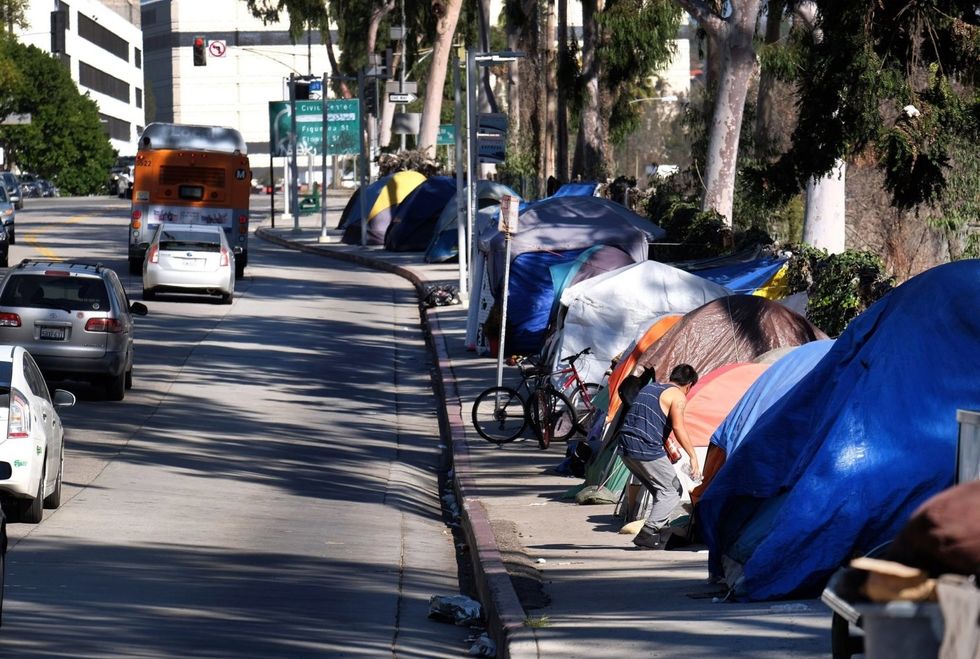 The San Francisco Bay Area and New York City account for two of the country's highest rates of homelessness. Reports in 2019 estimate that it would cost just under $13 billion to end homelessness in both San Francisco and New York City, which Bezos could pay and still have $100 billion for himself.

Universities: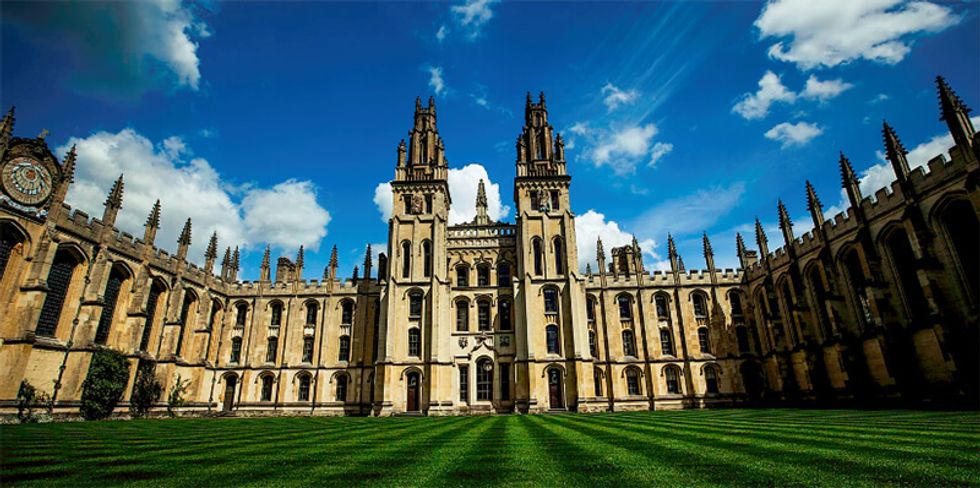 According to a 2018 report, the four richest universities in the U.S. are Harvard University ($38.3 billion), the University of Texas system ($30.9), and Yale University ($29.4 billion). Bezos could buy them all, with a few billion left over.

World Health: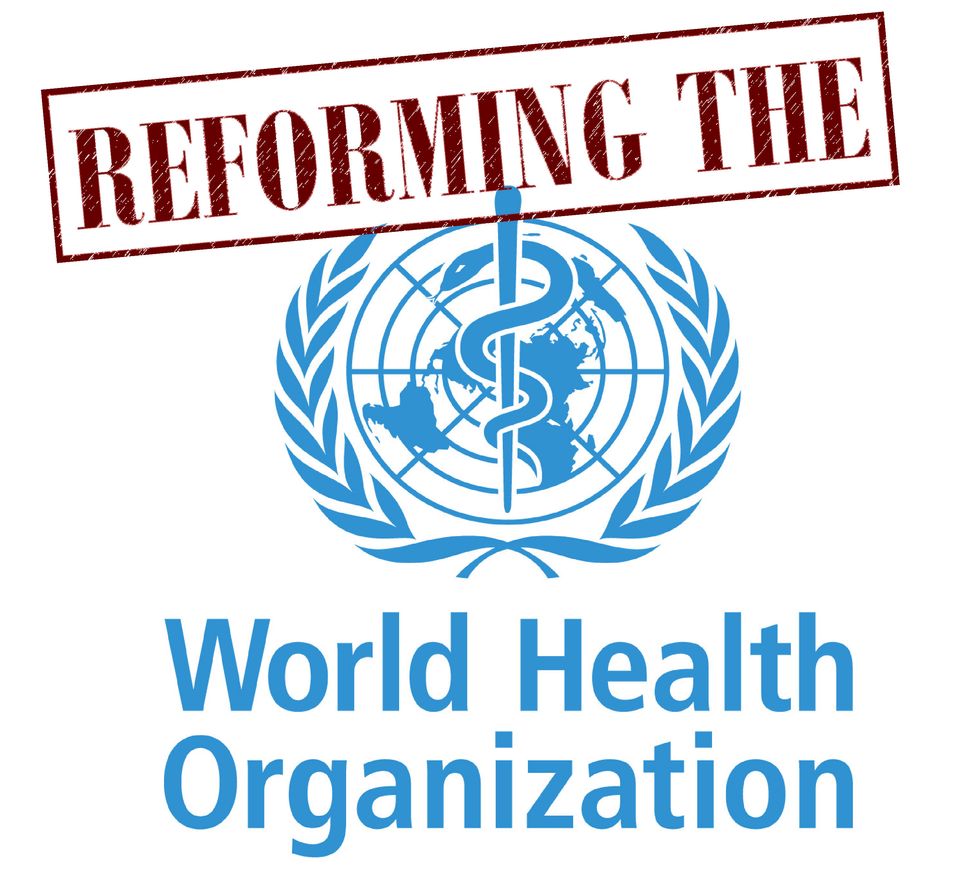 Bezos could permanently double the budgets (about $4.5 billion) of World Health Organization programs that address communicable diseases, health emergencies, vaccinations, and other global health threats—you know, the organization Trump just threatened to defund?

Workers at Amazon, Target, Instacart, and other companies were planning to strike May 1.
In just the most recent example of his utter uselessness and misdirected energy, President Trump has declared May 1, 2020, as Law Day in the United States.
"We know that our Republic can continue to shine as a beacon of liberty only if Americans diligently defend our Constitution and ensure that its limits are strongly enforced," reads a statement signed by Trump on the official White House website. "On this Law Day, I urge all Americans to honor our shared inheritance of respect for the principles of the rule of law, limited government, and individual liberty. Let us rededicate ourselves to remaining ever vigilant in defending our rights secured by the Constitution so that our experiment in self‑government continues in perpetuity."
This coincides with the massive strike scheduled to occur May 1 by essential employees at Amazon, Whole Foods, Target, Walmart, Instacart, and other companies in demand of better protections and benefits in the wake of the health crisis. Over the past few weeks, organizers have called for shoppers to boycott such companies and participate in the strike in support of essential workers.
Trump's unanticipated declaration of Law Day, then, scans as a deliberate effort to suppress workplace strikes. Many of his supporters have been protesting stay at home orders and mask mandates, despite evidence suggesting that reopening the country this early could pose greater risk. Those who dismiss these preventative measures often claim to do so on the basis of protecting the country's economy, seemingly without taking into account the health care workers who have been serving on the front lines of the virus.
Trump's statement continues: "I urge all Americans, including government officials, to observe this day by reflecting upon the importance of the rule of law in our Nation and displaying the flag of the United States in support of this national observance; and I especially urge the legal profession, the press, and the radio, television, and media industries to promote and to participate in the observance of this day."
Instead of sanctifying a 200-year-old document, Trump must focus his energy on undoing the damage he's done as the crisis takes over. The Americans who have died of the virus have him to blame.
Whether you're unemployed, working from home, or an essential worker, there's a lot to fight for right now
According to a report published in The Intercept on Tuesday, essential workers at major companies like Amazon, Walmart, Instacart, Target, Whole Foods, and FedEx are planning a walkout as part of a May Day general strike, fighting for workers' rights.
A lot of Americans probably don't know the history of May Day, or the fact that May 1st is known as International Workers' Day—or Labour Day—in much of the world. That ignorance, and the fact that we have our own Labor Day in September, can best be understood as part of a deliberate effort to undermine class consciousness and solidarity in the US, and is all the more reason why more workers need to participate in Friday's strike.
The power structures of our country have long maintained a hostile relationship toward labor and have successfully suppressed unionization and other efforts by workers to agitate for their rights. But this May 1st is the perfect time to correct that tendency and join the world in celebrating workers–because the historic event that International Workers' Day commemorates took place here in America in 1886, and it upset the established hierarchy in a way that should serve as inspiration for people currently struggling to make ends meet.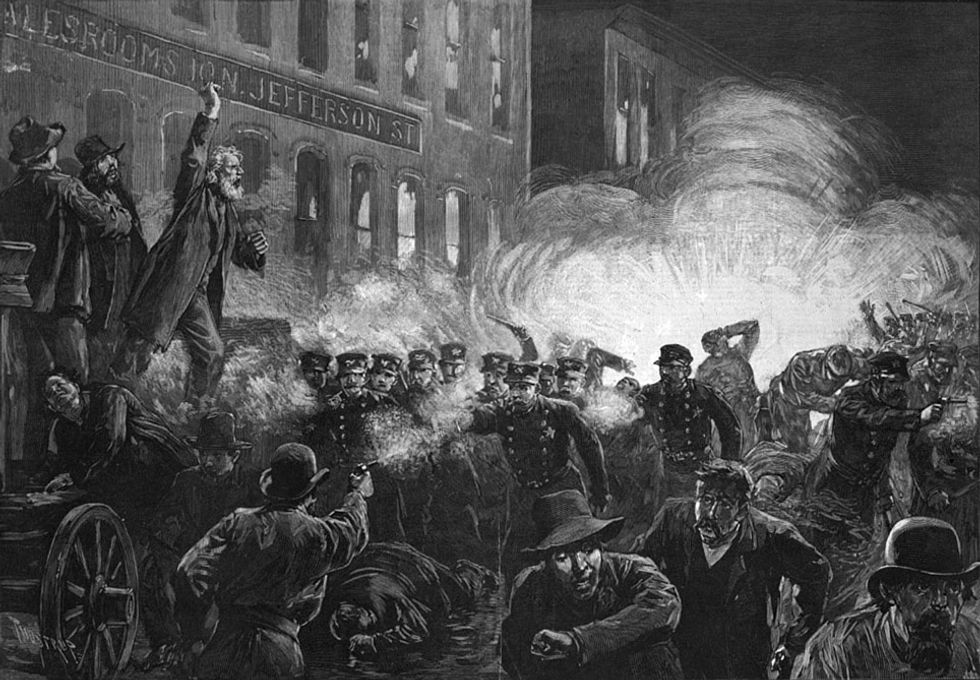 Prior to 1886, May Day had traditionally been celebrated in European cultures with a variety of festivals celebrating spring, but that year American workers took the occasion as an opportunity to fight for their rights. A massive, nationwide work stoppage began on May 1st and continued for several days, with thousands of striking workers demonstrating in every major city. At the time, workers were often made to work long hours in dangerous conditions, and they were fighting for the eight-hour workday—so if you've ever gotten overtime pay, or just enjoyed clocking out at 5:00, then you have them to thank.
On May 3rd police efforts to quash the protests in Chicago resulted in at least one death and several injuries.The next day an unknown assailant came prepared. When police once more attempted to disperse the crowd in Haymarket Square with violent tactics, that person threw a dynamite bomb. The explosion and the ensuing gunfire killed seven police officers and at least four civilians. Dozens more were badly hurt. Police then rounded up hundreds of organizers, and four men—none of whom had thrown the bomb—were hanged after a lengthy, internationally publicized trial.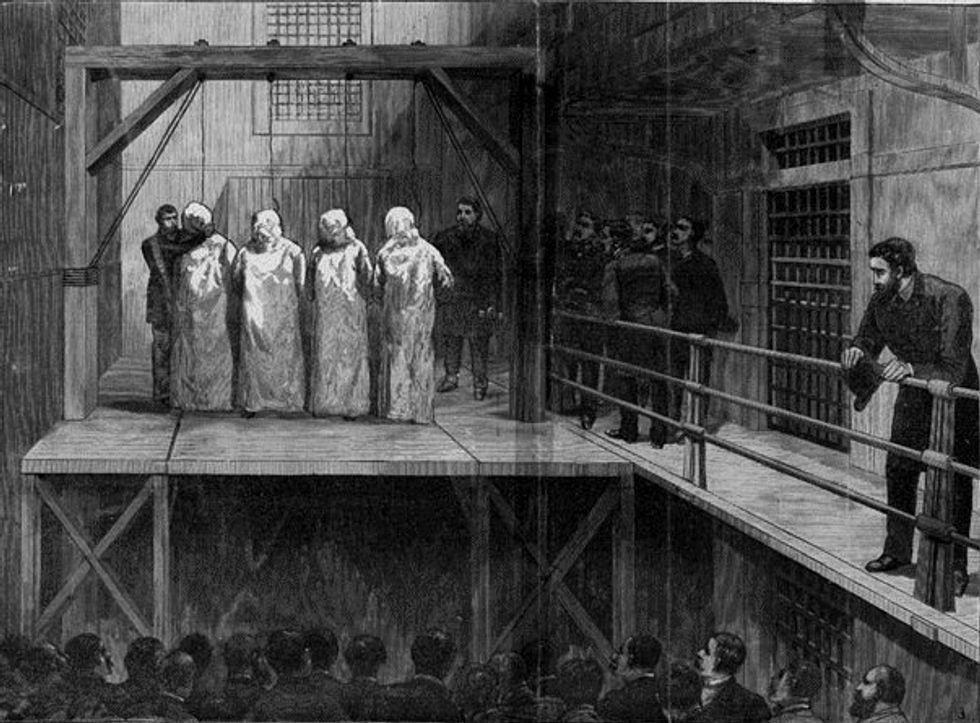 It would take another 30 years of fighting before a federal law established an eight-hour work day for any private industry—and even longer before FDR's administration made it standard across most types of work. But those four men became martyrs for the cause of workers' rights and galvanized people around the world to take action. According to historian William J. Adelman, "No single event has influenced the history of labor in Illinois, the United States, and even the world, more than the Chicago Haymarket Affair," yet few Americans are aware of these events or the holiday they spawned. While the violence and death that took place back then was obviously regrettable—and no one should be hoping for its recurrence—we are about due for another turning point in labor history.

The cracks in our system are being exposed like never before, and millions are falling through. Tens of millions of Americans find themselves suddenly unemployed or underemployed. Shockingly few have been able to sign up for unemployment benefits, and the federal government's $1,200 checks are being treated as a long-term cure-all. People aren't making money, yet most of them are still expected to pay their rent in full, and many have lost their health insurance amid a viral pandemic. It's no wonder people are protesting for their states to reopen; but seeing as that would plainly backfire (and is a push being secretly driven by wealthy backers who won't have to risk their lives), we need to direct that energy toward measures that would actually help.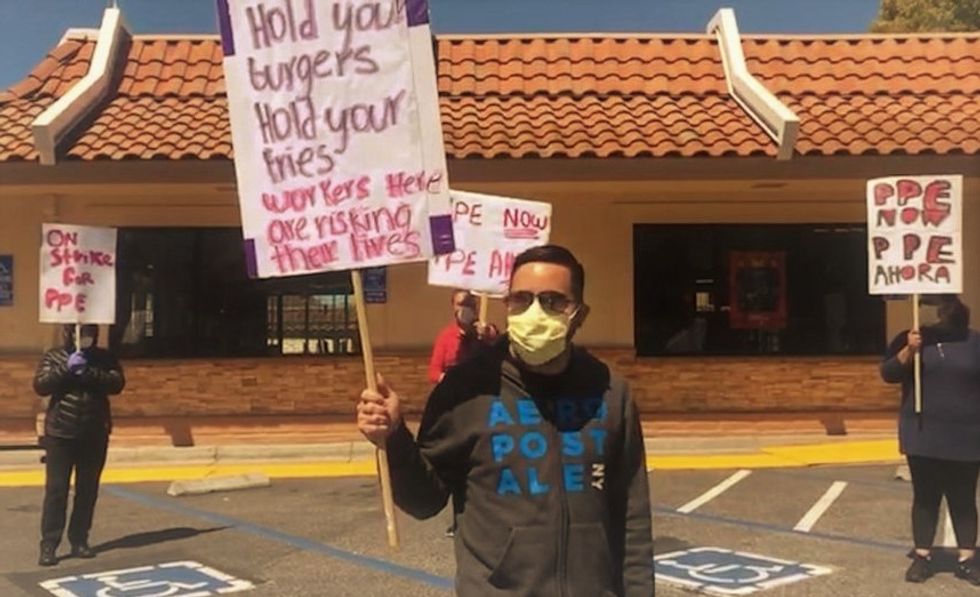 ABC
Meanwhile, many of the people who never stopped working—in healthcare, retail, food service, and other industries deemed "essential"—are being asked to risk their lives working without safety equipment, hazard pay, or even adequate sick leave. These conditions would be unacceptable at the best of times, but now—at the worst of times—we have no choice but to fight back and demand immediate relief and lasting reforms.

A rent strike is a good start, but a general strike—in which workers across industries and around the country participate—sends a real message. So if it's at all possible for you to join the general strike on Friday, May 1st, and/or participate in a (safe, socially-distant) demonstration, consider what you'd be fighting for: A rent and mortgage freeze; liveable stimulus payments; guaranteed healthcare; and hazard pay, sick leave, and PPE for all essential workers.
These are the absolute bare minimum measures that can get us all through this crisis, and if we don't demonstrate the collective power of the American working class—to drive or shut down the economy—we will continue to be deprived of even these. It's time to stand up.
On Valentine's Day, Amazon pulled out of its plan to build a second headquarters in Queens, citing the efforts of citizen protestors and politicians who opposed its imminent arrival.
The moment Amazon announced that it would be building its second headquarters in NYC's Long Island City, people took to the streets.

On November 26th, a coalition of immigrant advocates and anti-HQ2 groups gathered to protest Amazon's involvement with ICE, Paladir, and other organizations responsible for deportations. Citizens marched again on Cyber Monday, launching a " day of action" and flooding an Amazon Bookstore in Manhattan, holding signs aloft and chanting sing-song rhymes about Jeff Bezos. Together, over two dozen community groups organized these protests, including local unions and nonprofits. Following the protests in Manhattan, Amazon workers employed in warehouses in Staten Island made the decision to unionize, citing low pay and impossible performance quotas, and leveraging Amazon's impending move to Queens to draw attention to their case.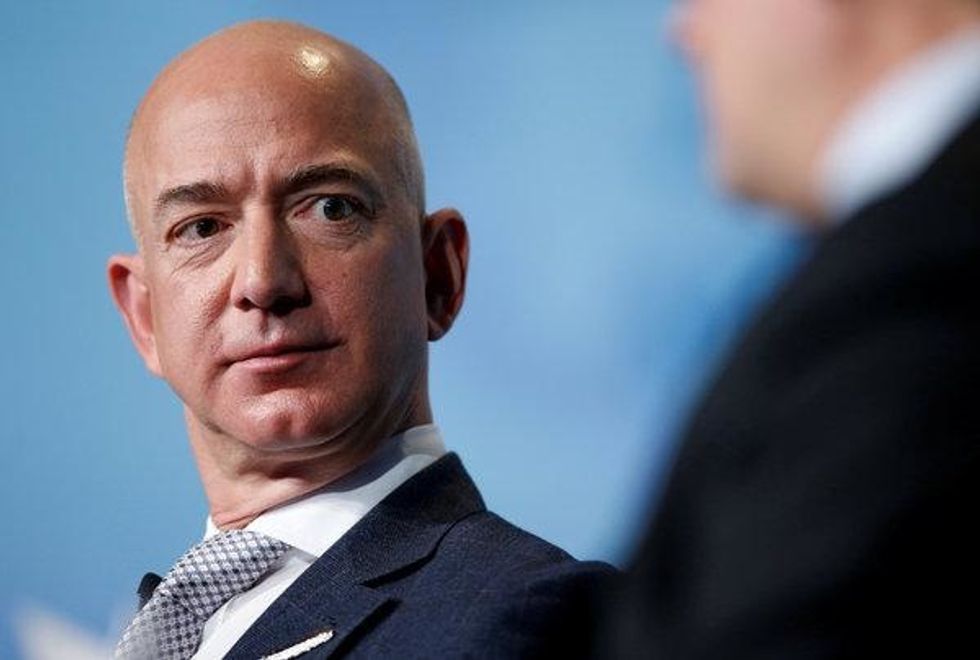 Image via The New York Times
Their protests attracted the attention of some of New York City's political officials, such as City Council Speaker Corey Johnson, who initially supported Amazon's entry but denounced it after learning more about the circumstances surrounding the deal. He began to stand with the protestors, complaining that a general lack of transparency and the fact that Amazon bypassed NYC's standard review process mandated further investigation.

In December, a public hearing was held at City Hall, and protestors gathered outside while council members grilled economists and officials who had been instrumental in making the deal with the world's most profitable corporation. "We are not in the business of corporate welfare here at city council," said Johnson.
It was this so-called corporate welfare—the $3 billion in government and tax incentives that Amazon was promised, in exchange for the 25,000 jobs it promised to create—that became the foundations of the anger stewing around the sales conglomerate's impending arrival, anger which resulted in Amazon's decision to pull out of its promise to develop a huge corporate campus in Queens.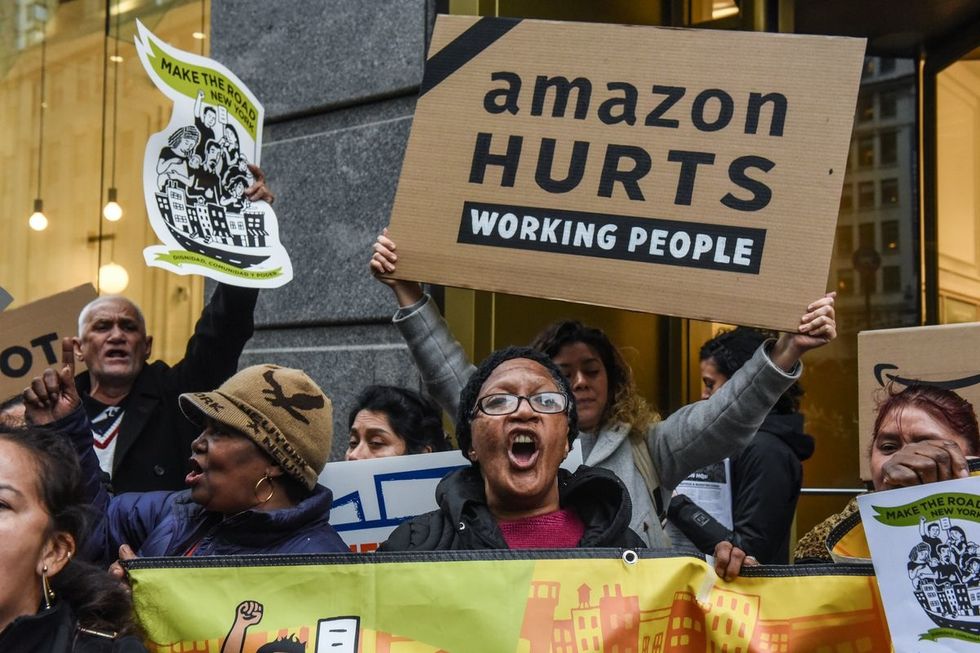 Image via Vox.com
The people's anger came from different places, and their protests were haphazard efforts, but their rage had been brewing for a long time, and Amazon's imminent arrival fed a variety of fears about corporate greed and pervasive gentrification, which opponents feared would tear apart places like Long Island City, sucking it clean of culture and community. Amazon's arrival was predicted to catalyze a wave of homelessness; the announcement that it was setting up shop in Long Island City was instantly followed by dizzying spikes in rent—chilling lower-income residents in a city already plagued by stretches of empty storefronts.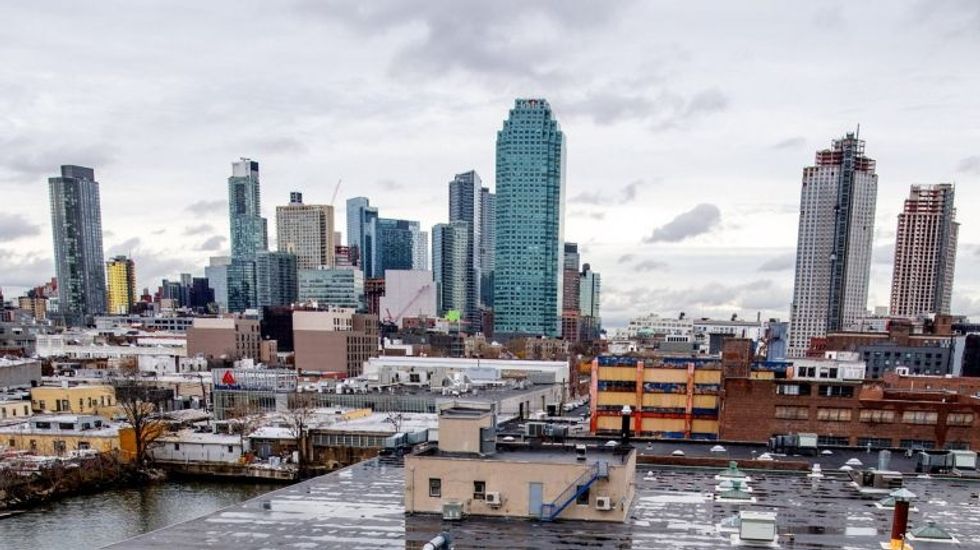 Long Island CityImage via AM NY
Protestors cited Amazon's effects on Seattle, Amazon's first home city, as reasons why the conglomerate shouldn't move on with its plan. Some people argue that Amazon made Seattle into a hull, a kind of paper city that existed only to facilitate its metallic corporate heart; and Seattle's homeless corporation did rise in tandem with rising housing prices, making it home to the third-highest number of homeless people in the country, after New York and Los Angeles.

HQ2 opposition united a great deal of unlikely allies—including an unlikely ally in the Wall Street Journal's Editorial Board, who argued that the deal was "crony capitalism at its worst." Their article continued, "Amazon's case is aboveboard, but it still amounts to a company with a market capitalization of nearly $800 billion getting paid to create jobs it would have created somewhere anyway."
Alexandria Ocasio-Cortez was the most visible face of a group of politicians who protested Amazon's HQ2 establishment, and her resistance might have been one of the central reasons for its decision to abandon ship. "It was that the environment over the course of the past three months had not got any better," said Joni Seth, Amazon's head of policy communications. "There were some local and state elected officials who refused to meet with Amazon and criticized us day in and day out about the plan."
This deal wasn't a simple tax break. It was $3 BILLION dollars. When the community wanted to negotiate, Amazon said… https://t.co/Q9E8zF3tZZ

— Alexandria Ocasio-Cortez (@Alexandria Ocasio-Cortez)1550243136.0
Ocasio-Cortez had long denounced Amazon's plans to move into Queens, and she celebrated Amazon's retraction on Twitter. So did other political figures, including Cynthia Nixon. Following the company's Valentine's Day breakup announcement, the actress-turned politician triumphantly tweeted, "The fight against Amazon laid bare their union-busting, corporate welfare, ICE-abetting practices and shows why we need to break up monopolies like Amazon."

In addition to its ties to law enforcement giants, Amazon had also been accused of developing facial recognition technologies to gain information about customers without them knowing; and many protests have cropped up among its warehouse workers, especially in Europe, where employees have staged walkouts against low wages and poor working conditions.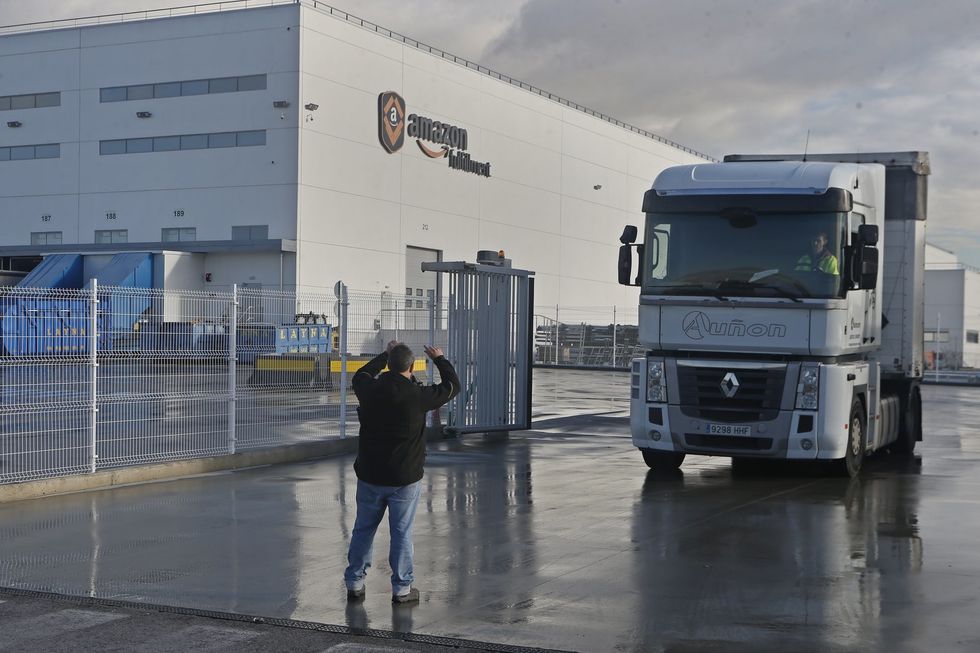 A protestor stops an Amazon truck in Spain.Image via apnews.com
Despite Amazon's shady ethics, many people were not as enthusiastic about the company's foiled New York City dreams, arguing that the demise of HQ2 will compromise what could've been an economic boom for the city, criticizing Ocasio-Cortez's decision to favor ideology over economics. Amazon may have hiked up rents, but rents are high anyway; and its arrival would have created thousands of jobs, including consistent positions for lower-level staff members and service workers.

Plus polls showed that 56% of New Yorkers approved Amazon's arrival, which was initially billed as a triumph by Mayor Bill de Blasio and Governor Andrew Cuomo—both central players in the deal's initial success who believed that the arrival would help NYC solidify its position as a worldwide hub of tech and industry. Bill DeBlasio's tweets following Amazon's decision resembled those of a spurned ex. He also lashed out at Ocasio-Cortez, stating that "a small group of politicians put their own narrow political interests above their community—which poll after poll showed overwhelmingly supported bringing Amazon to Long Island City—the state's economic future and the best interests of the people of this state," the governor said in a statement.
But even so, a great deal of major political figures opposed the deal, including Senator Michael Gianaris of Queens, who initially supported Amazon's arrival but, like Johnson, changed his mind after learning about its policies. Still, Amazon in Long Island City's demise all started with those first street protests, which erupted directly after De Blasio's announcement as politicians remained silent. Ultimately, community members and citizen organizers catalyzed the start of the resistance that led to the downfall of Amazon's Queens campus.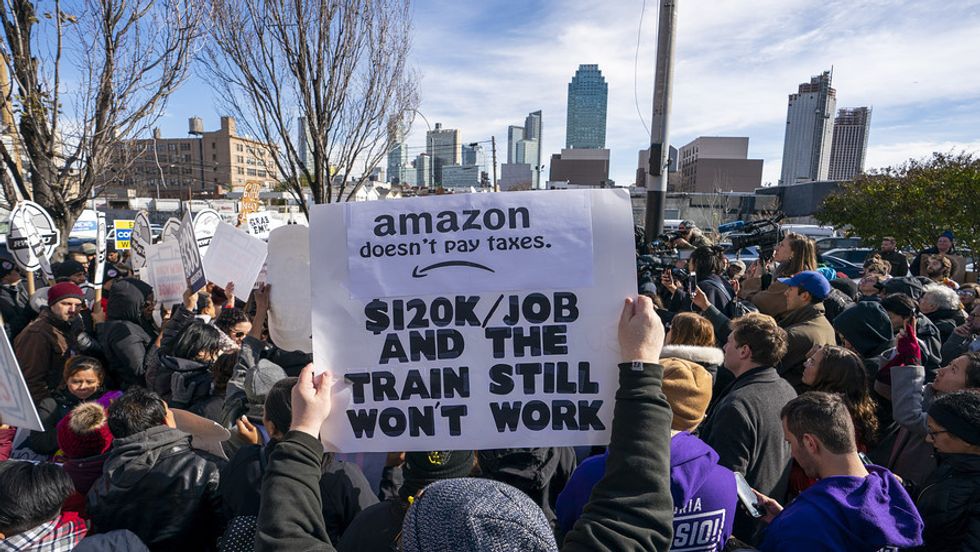 Image via Marketwatch
There's something deeply satisfying about the image of the world's richest man and his behemothic corporation getting kicked out of New York by impassioned Queens residents, ready to unite and fight for the integrity of their home borough. Still, Amazon's departure won't stop gentrification, won't fill up empty stores, and won't bring back the days when young artists could gallivant around Greenwich Village with pennies in their pockets and working-class families could call Manhattan home.
In a way, Amazon's departure is a symbolic victory for its opposition, a tantalizing promise that the people can triumph over corporations. Of course, this move will not deter Amazon from building its global empire, and America's supermassive wealth gap will remain. It just won't be as tangibly visible in New York.
---
Eden Arielle Gordon is a writer and musician from New York. Follow her on Twitter at @edenarielmusic.
Amazon's contest for two cities to house dual new headquarters has likely winners in Queens, NY and Crystal City, VA.
Amazon is looking to hire a total of 50,000 employees divided between two new headquarters. Leaked reports spotlight the Crystal City area of Arlington, VA and Long Island City in Queens, NY as the next locations for the Seattle-based retail giant.
While both are expensive real estate markets, New York Governor Andrew Cuomo is reportedly prepared to offer hundreds of millions of dollars in subsidies, according to The New York Times.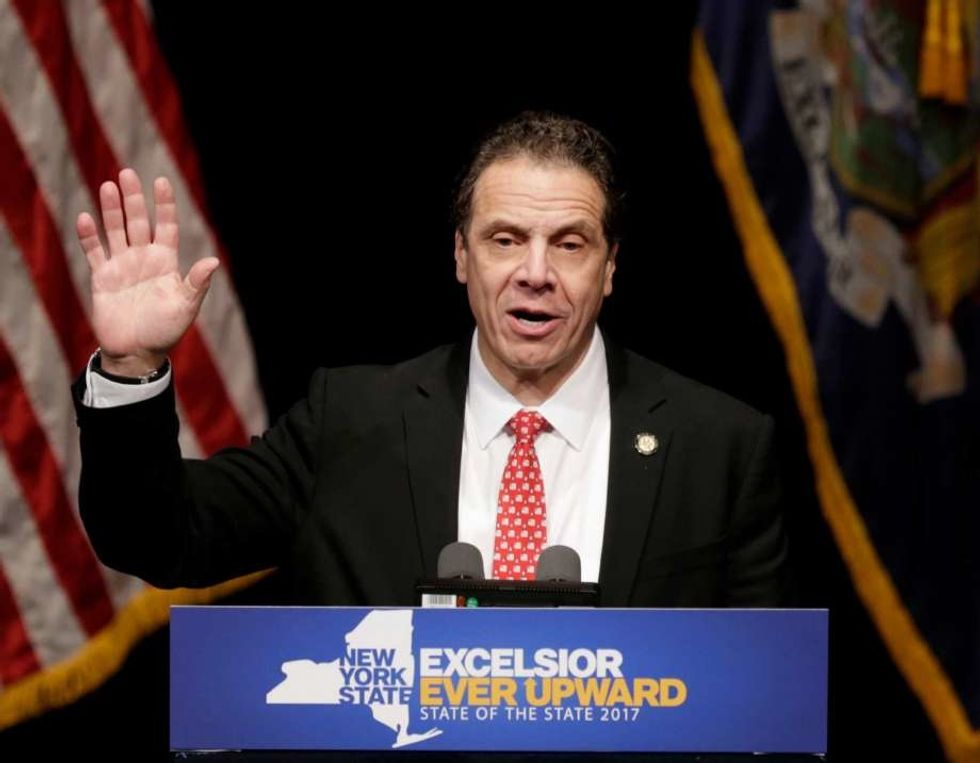 "Amazon Cuomo"Times Union
"I am doing everything I can," Governor Cuomo commented on Monday. "We have a great incentive package." He added, "I'll change my name to Amazon Cuomo if that's what it takes. Because it would be a great economic boost." Assuming Cuomo hopes to retain the respect of his supporters during his third term as governor, he won't be changing his name.

Governor Cuomo's enthusiasm, however, does set him apart from Virginia officials, who are staying mum on the prospect of Amazon's HQ2. In Crystal City, developer and land owner JBG Smith declined to comment. If chosen, the new Amazon headquarters would be in close proximity to Washington, DC's labor force.
Amazon is refraining from confirming or denying its final decision. Since announcing its plans to expand in September 2017, the company has been shortlisting locations based on availability of trained workers, access to public transportation, and quality of city infrastructure. Amazon is expected to invest $5 billion into its expansion.
Wherever Amazon chooses to expand, its previous impact on its home base of Seattle suggests that it will create an economic boom, but also an increase in housing and traffic congestion. In fact, in Seattle, Amazon has been "singularly blamed for a rapid influx of wealthy techies who...worsen traffic and increase housing problems." To that point, some residents in Queens are wary of the worsening effect 25,000 more employees could have on the already sub-par MTA subway service.
Steve Kovach at CNBC notes, "The 7 train, the subway line that runs through much of Queens, is already straining to service the influx of new residents in the Long Island City area. That would only get worse with 25,000 Amazon workers commuting into Long Island City every day."
If Amazon hopes to fulfill its goal of preparing 500,000 square feet of office space for thousands of new employees to begin work next year, secrecy and rumor need to give way to signed deals and a wave of hiring.
Meg Hanson is a Brooklyn-based writer, teacher and jaywalker. Find Meg at her website and on Twitter @megsoyung.
With high tech security measures becoming the norm, you'd think we'd be a lot safer.
From smartphones to smart cars to smart hotels, the market for interconnectivity has never been higher. The ability to control the majority of one's home from an app– everything from the thermostat to the alarm system– is ubiquitous. There are definitely benefits to this tech; speed, comfort etc.- but are our attempts to make everything smart leaving us vulnerable?
<p>When it comes to smart homes, the technologies involved can vary, but more often than not they're centered on security. <a href="https://www.gearbrain.com/arlos-security-light-with-alexa-2569284574.html" target="_blank">Some</a> using motion-sensing technology to automatically turn on cameras. <a href="https://www.gearbrain.com/frontpoint-security-review-diy-home-system-2029079280.html" target="_blank">Others</a> contain sensors for all types of issues including flood water, burglary, smoke, and carbon monoxide. The requisite paranoia required to purchase one of these systems aside, there is a growing concern that these security programs can be hacked and easily monitored by would-be burglars. While self-driving cars are still a work in progress (Uber just <a href="https://www.nytimes.com/2018/03/19/technology/uber-driverless-fatality.html" target="_blank">killed a woman</a> with one of theirs), hackers were able to shut down <a href="https://www.wired.com/story/car-hack-shut-down-safety-features/" target="_blank">security features</a> on a Jeep and prove how connected utilities are just as easy to hack as anything else connected to the Internet. The same principle can applied smart homes.</p><p><div id="ezoic-pub-ad-placeholder-143"></div> <!-- End Ezoic - incontent2 - long_content --></p><p class="shortcode-media shortcode-media-rebelmouse-image"> <img type="lazy-image" data-runner-src="https://assets.rebelmouse.io/eyJhbGciOiJIUzI1NiIsInR5cCI6IkpXVCJ9.eyJpbWFnZSI6Imh0dHBzOi8vYXNzZXRzLnJibC5tcy8xNzcxMDcxNi9vcmlnaW4uanBnIiwiZXhwaXJlc19hdCI6MTY2Mzg3MzA0NX0.zBEKx9XkCfA9u-GAowaG9TUCvEbGA9JsluNop0mpYUE/img.jpg?width=980" id="0e8db" class="rm-shortcode" data-rm-shortcode-id="f6063476f59bc3c4e862cc0fbd20d499" data-rm-shortcode-name="rebelmouse-image"> <small class="image-media media-caption" placeholder="add caption...">Alexa and her hackable friends</small></p><p><script async="" src="//pagead2.googlesyndication.com/pagead/js/adsbygoogle.js"></script> <!-- 04B3-text-and-display --> <ins class="adsbygoogle" style="display:block" data-ad-client="ca-pub-4301469008561137" data-ad-slot="1924957707" data-ad-format="auto" data-full-width-responsive="true"></ins> <script> (adsbygoogle = window.adsbygoogle || []).push({}); </script></p><p>On one end of the hacking spectrum, you have a previous home's owner. There are currently <a href="https://www.komando.com/downloads/418159/the-dangers-of-making-your-home-a-smart-home" target="_blank">no standards</a> in place to prevent a seller from having access to their old home's <em>smart </em>features. This means the flickering of your lights and the constant opening and closing of your home's garage door could be part of a prank by the last person living in your house. This can also leave home owners vulnerable to burglary, though the police would probably have an easy time cracking that case. Burglary is more likely to occur from an outside force, one that you haven't met and agreed to purchase a house from. That said, tech savvy burglars could have just as easy a time robbing you while you're at work or on a vacation. </p><p><div id="ezoic-pub-ad-placeholder-145"></div> <!-- End Ezoic - incontent3 - longer_content --></p><p>Direct denial of service (DDoS) attacks have been used to disrupt the Internet connection for <a href="https://www.cnbc.com/2016/10/21/major-websites-across-east-coast-knocked-out-in-apparent-ddos-attack.html" target="_blank">entire corporations</a>, and can now, <a href="https://www.cnbc.com/2014/02/21/can-your-fridge-be-hacked-in-the-internet-of-things.html" target="_blank">via the Internet of Things</a> (IoT), be accomplished with ordinary devices such as TVs and washing machines. When these devices were designed, many of the companies hectically released them without putting much thought into their (the devices) security. There are now over <a href="https://www.cnbc.com/2016/11/04/alarm-grows-as-smart-home-technology-and-hacking-risks-proliferate.html" target="_blank">six billion everyday items connected to the Internet</a>, with IoT spending to hit around 1.7 trillion by 2020. But how and why would burglars perform cyber attacks on smart homes, when it'd be just as easy to break a window wearing facemasks and steal as much as they can carry before the police arrive? While burglars could perform DDoS attacks on homes and shutdown security systems, this could raise suspicions, as homeowners might notice that their cameras and motion sensors aren't working. Burglars can however, hack into less obvious devices and use them as a means of surveillance, casing their target at a safe distance. Recently, it was discovered that the MyQ garage door system could be hacked and used to <a href="https://www.pcworld.com/article/2906952/researchers-show-that-iot-devices-are-not-designed-with-security-in-mind.html" target="_blank">spy on homeowners</a>, alerting hackers when the door opens and closes, and giving them the ability to reopen the door after residents leave. This sort of thing is much more useful to burglars performing smash and grab robberies and makes it far too easy for robbers to keep track of a homeowner's schedule.</p><p><div id="ezoic-pub-ad-placeholder-147"></div> <!-- End Ezoic - incontent4 - longest_content --></p><p><script async="" src="//pagead2.googlesyndication.com/pagead/js/adsbygoogle.js"></script> <!-- Popdust B3 test --> <ins class="adsbygoogle" style="display:block" data-ad-client="ca-pub-4301469008561137" data-ad-slot="8092445349" data-ad-format="auto"></ins> <script> (adsbygoogle = window.adsbygoogle || []).push({}); </script></p><p class="shortcode-media shortcode-media-rebelmouse-image"> <img type="lazy-image" data-runner-src="https://assets.rebelmouse.io/eyJhbGciOiJIUzI1NiIsInR5cCI6IkpXVCJ9.eyJpbWFnZSI6Imh0dHBzOi8vYXNzZXRzLnJibC5tcy8xNzcxMDcyMi9vcmlnaW4uanBnIiwiZXhwaXJlc19hdCI6MTY2NDg3ODI0NH0.vRs0L1nzU6yqsdGySK4-6c-znQ0ZrWWzcSLj8xZxkzw/img.jpg?width=980" id="0d9c0" class="rm-shortcode" data-rm-shortcode-id="5a9c65156bed927e5ac1c2f60ac2d218" data-rm-shortcode-name="rebelmouse-image"> <small class="image-media media-caption" placeholder="add caption...">New security systems are at risk.</small></p><p><strong>So, what can you do?</strong> </p>The fact of the matter is, smart homes are no more or less secure than regular homes. If someone is dedicated to robbing your house, they're going to find a way to get the job done. That said, smart homes do provide a baseline of coverage against standard, non-tech savvy burglars and having visible cameras on the outside of your house can be a serious deterrent. If none of the devices in your house are <em>smart</em> though, it might be worth it to wait until cyber-security measures become standard before buying that new app-controlled washer. As for alarm systems, at this point the <a href="http://peaceofhouse.com/do-home-alarm-systems-work-when-the-internet-is-down/" target="_blank">old school systems</a> that alert the police department via a landline rather than the Internet are far safer and effective. Like anything though, it's important to do your research before buying.<p><script async="" type="text/javascript" src="https://cdn.connatix.com/min/connatix.renderer.infeed.min.js" data-connatix-token="b874cbcf-9a6a-44c8-8d49-ccc44f839e74"></script></p>
Keep reading...
Show less