"A tree is best measured when it is down," the poet Carl Sandburg once observed, "and so it is with people." The recent death of Harry Belafonte at the age of 96 has prompted many assessments of what this pioneering singer-actor-activist accomplished in a long and fruitful life.
Belafonte's career as a ground-breaking entertainer brought him substantial wealth and fame; according to Playbill magazine, "By 1959, he was the highest paid Black entertainer in the industry, appearing in raucously successful engagements in Las Vegas, New York, and Los Angeles." He scored on Broadway, winning a 1954 Tony for Best Featured Actor in a Musical – John Murray Anderson's Almanac. Belafonte was the first Black person to win the prestigious award. A 1960 television special, "Tonight with Belafonte," brought him an Emmy for Outstanding Performance in a Variety or Musical Program or Series, making him the first Black person to win that award. He found equal success in the recording studio, bringing Calypso music to the masses via such hits as "Day-O (The Banana Boat Song)" and "Jamaica Farewell."
Harry Belafonte - Day-O (The Banana Boat Song) (Live)www.youtube.com
Belafonte's blockbuster stardom is all the more remarkable for happening in a world plagued by virulent systemic racism. Though he never stopped performing, by the early 1960s he'd shifted his energies to the nascent Civil Right movement. He was a friend and adviser to the Reverend Doctor Martin Luther King, Jr. and, as the New York Times stated, Belafonte "put up much of the seed money to help start the Student Nonviolent Coordinating Committee and was one of the principal fund-raisers for that organization and Dr. King's Southern Christian Leadership Conference."
The Southern Poverty Law Center notes that "he helped launch one of Mississippi's first voter registration drives and provided funding for the Freedom Riders. His activism extended beyond the U.S. as he fought against apartheid alongside Nelson Mandela and Miriam Makeba, campaigned for Mandela's release from prison, and advocated for famine relief in Africa." And in 1987, he received an appointment to UNICEF as a goodwill ambassador.
Over a career spanning more than seventy years, Belafonte brought joy to millions of people. He also did something that is, perhaps, even greater: he fostered the hope that a better world for all could be created. And, by his example, demonstrated how we might go about bringing that world into existence.
So much of Angela Davis's work is still relevant and urgent now
When you think of the Black Panther Party or Black women revolutionaries, one of the images that likely comes to mind is of Angela Davis and her giant, unapologetic afro, fist raised to the sky.

One of the foremost activists and revolutionaries of the time, Angela Davis is a blueprint for race theory and radical politics. Long before Kimberlé Crenshaw coined the term "intersectionality," Angela Davis was living it.
An activist during the concurrent Civil Rights Movement and the second-wave feminism of the 1960s and '70s, Davis made no compromises in her rhetoric for gender or racial equality. Her ideologies were also informed by Marxist analysis and fervent belief in the interlinked oppression of race, gender, and class as a product of capitalism.
Almost 60 years later, the same fight remains and Davis is still at the forefront. Her work, from her speeches to her books, are similarly potent sources of theory and inspiration. It's safe to say that Angela Davis should be required reading — not just as a resource for anti racism work, but just as a model of how to live.
Since so much of her work is still relevant and urgent now, here are some of the most resonant quotes for our current age and why they still matter today.
Join the fight for change.
From climate change to the prison industrial complex to the fact that billionaires exist while other people starve, the world's problems can feel overwhelming.
But the truth is that change starts with one small step, and you don't have to quit your day job in order to maximize your impact in the realm of social change. The truth is, if everyone dedicated some time each day to working on social change, the world would probably be a very different place. Here are seven ways you can help the world this week.
Here are eight small ways to take action and help the world this week.
A lot of horrible things are happening in the world right now. Want to get involved and make a difference? Ready to see a better future come to pass?
It won't happen quickly, though small changes can create movements. Still, doing something is better than doing nothing. If you're looking for a way to take action online right now but need a place to start, here are a few suggestions of ways to do something meaningful this week.
Amnesty International has an amazingly well-designed volunteer portal that lets you choose whether you'd like to take 5 minutes, an hour, or longer to fight for human rights. There are so many opportunities on their website, from signing petitions (questionably effective) to actually becoming a grassroots advocate. While joining for the long-haul is always the best move, signing a bunch of petitions can't hurt, right?
Donate Your Graduation Gowns to COVID-19 First Responders
Somehow or other, many COVID-19 first responders are still without proper gear. Gowns4good.net allows you to give a healthcare worker the gown that's probably hanging in your closet and tormenting you with memories of a time when you were optimistic and free. Graduation gowns, with their long sleeves and zippered access, are efficient PPE gowns, so you'll be helping out one of our healthcare workers and upcycling while you're at it.
Send Letters and Postcards to Voters
We're approaching one of the most important elections of our lifetimes, and you're not alone if you feel you truly have to do something. You could join the organization Indivisible's groups across the country and write handwritten postcards to swing state voters begging them to get Big Orange the hell out—well, you'll be provided with kinder words to write that are proven to actually persuade voters to vote blue.
You can also register to vote and join a Get Out the Vote campaign. Not inspired by Joe Biden? Remember that a vote for president is also a vote for all the down-ballot candidates who run smaller but incredibly important offices. Check out local groups that fight for progressive champions to get involved in local politics.
Attend and Support Protests and Movements in Your Area
Though the media frenzy around Black Lives Matter has died down, protests are still going strong in cities across the world.
If you're able, attend in-person protests; or, if you're looking for other ways to support, there are still many ways to support the mass movement for justice, from calling your reps to attending virtual events. Just research the events happening in your area and be aware of what's going on.
In NYC the vitriol has shifted slightly from a sole focus on the police towards anger at all the city's billionaires, who keep getting richer while the city suffers. Check out Housing Justice for All, or stay abreast of the momentum in your area.
Public movements and public pressure works. So keep up the pressure.
In the middle of a devastating pandemic, when many undocumented people weren't even receiving any government benefits at all and couldn't sign up for aid programs, ICE is still at it, evicting people, tearing families apart, caging children, and being horrible.
On September 9th, AOC is hosting an organizing workshop on how to start your own neighborhood ICE watch. You can also get to know your rights so you're prepared if ICE ever shows up.
If you want a specific event to attend: DSA is hosting a phone zap for Free Them All, an organization that demands incarcerated immigrants be released, on Friday at noon.
You could also watch this video, narrated by Fiona Apple, about how to document an ICE arrest.
Learn About Harm Reduction and Naxolone/Narcan
America is still in the midst of an opioid crisis, and during COVID-19, U.S. drug overdoses have reached record highs.
Harm reduction is one way to help people struggling with drug abuse—and you'd be surprised at how many people are. (If you're struggling, you're not alone). If you want to help, you could learn about responding to an overdose and you can start carrying Naxolone or Narcan, drugs that counter the toxic effects of opioids. Look up your local harm reduction group, learn more here, sign up for a training here, and of course, you can always donate.
August 31 is International Overdose Awareness Day, so this month is also a great time to educate yourself on prevention and to share information with others.
It's also always a good time to learn about alternatives to punishment, such as harm reduction and restorative justice. These strategies can be practiced on micro-levels (i.e. "calling in" instead of "calling out") or on the scale of the entire criminal justice system.
Work on Yourself
Change starts internally, and time spent working on your internal world is never time wasted. Just imagine how different movements and governments would be if all leaders had done internal work and had healed themselves before they tried to lead the world.
Healing your own wounds can be one of the most helpful things you can do in the long term. Justice movements and campaigns often fail in the wide scheme of things because they get destroyed by egos or corruption or savior complexes or poor communication.
But personal healing can be the foundation of genuine connection and community-building, which is where real change begins. Try therapy, find God, check in with your friends, take a day off; you and everyone you know deserves it.
Donate
It's the sad truth of capitalism: Money sometimes goes further than everything else. So if you're able, keep on donating—this list will show you how to make sure your donations reach the most marginalized. You could also set a goal for an amount you'd like to donate, such as 10% of your total income.
Here are five places to donate to this week:
Abundant Beginnings educates children about environmentalism, community, and liberation. It's a Black-led organization that invests in raising future activists and compassionate people.
The Center for Popular Democracy supports progressive causes and frontline communities.
Project South is a movement dedicated to fighting social, economic, and political problems in the American South.
The Community Foundation of Southwest Louisiana is donating to relief efforts at the site of Hurricane Laura.
The Climate Emergency Fund supports youth climate activists in their work to stop climate change on a global scale.
Three months later with no justice in sight, Beyoncé calls out the Kentucky authorities for their lack of action.
On Sunday, Beyoncé posted an open letter to Kentucky's Attorney General Daniel Cameron imploring him to press criminal charges against three police officers involved in the fatal shooting of 26-year-old EMT Breonna Taylor in Louisville.
In the three months since Taylor's death, no actions have been taken. "LMPD's investigations have created more questions than answers," the singer writes. She demands that Cameron create more transparency in the investigation of the incident and prosecute the officers' misconduct, as well as the police force's "pervasive practices that result in the repeated deaths of unarmed Black citizens."
"Don't let this case fall into the pattern of no action after a terrible tragedy," she writes. "With every death of a Black person at the hands of the police there are two real tragedies: the death itself and the inaction and delays that follow it. This is your chance to end that pattern. Take swift and decisive action in charging the officers. The next months can not look like the last three."
Breonna Taylor was sleeping in her bed on March 13 when three armed police officers used a battering ram to enter her apartment to execute a "no-knock" warrant as part of a drug investigation. Taylor was shot at least eight times. The details of the event are hotly disputed, with claims that the officers did not identify themselves and executed the raid despite already having the main suspect of their investigation in custody. Taylor's family filed a wrongful-death lawsuit but continues to await justice.

The family publicly thanked Beyoncé in a statement issued by their attorney. "It has been more than three months since Breonna was murdered. Her killers are still in uniform. Meanwhile, Atlanta's mayor yesterday called for immediate termination of the officer who shot Rayshard Brooks, and criminal charges have been filed against police in Minnesota and Georgia. Here, we cannot even see an investigative file," they wrote.
Meanwhile, the Kentucky Attorney General's office has merely acknowledged the letter and refused to comment. In a Sunday night statement, they told CNN, "We are aware of the letter. As the letter makes requests related to the ongoing investigation involving the death of Ms. Breonna Taylor, we have no further comment."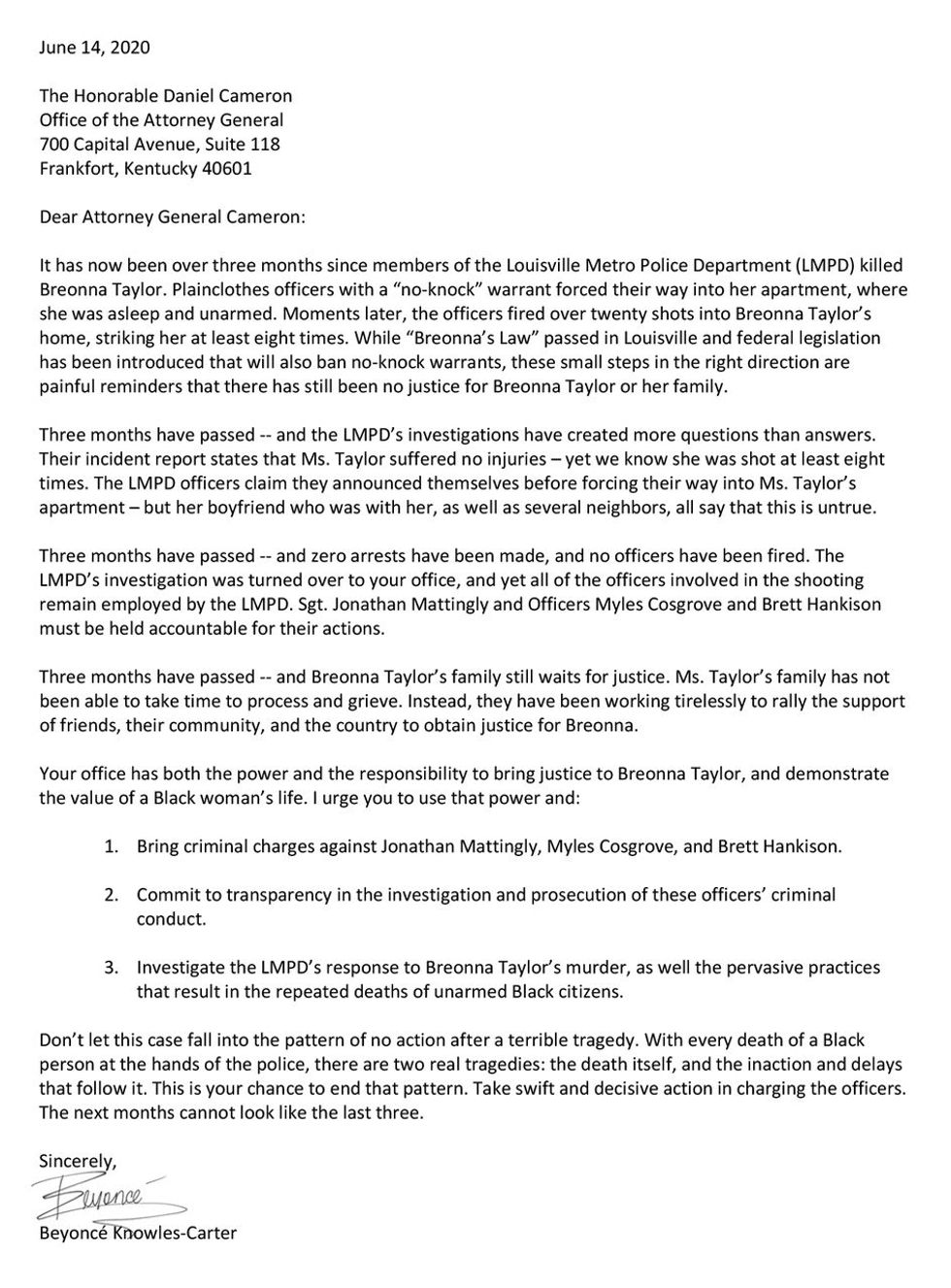 Beyonce.com
Interspiritual minister Chelsea MacMillan talks faith and healing in a time of tremendous change.
The Visionaries Project is a subsection of The Liberty Project dedicated to highlighting the lives, passions, and work of radical activists currently working towards social justice and liberation from oppression. We aim to uplift the perspectives of diverse voices working in media and activism today—and not just the faces who make headlines, but the real people on the ground every day, working towards their visions of a better world.
Rev. Chelsea MacMillan is the founder of the Brooklyn Center for Sacred Activism, the co-host of the podcast The Rising: Spirituality for Revolution, and a dedicated activist, community organizer, and "warrior for peace and change." She recently taught a course called "Reclaiming the Apocalypse," and her wisdom is invaluable in these times of crisis, and always. We spoke about the overlaps between religion and spirituality, collective healing, mutual aid during coronavirus, climate change, and more.
Find her at her Patreon and her website.
LIBERTY PROJECT: Did you grow up spiritual, or involved in activism?
CHELSEA MACMILLAN: I grew up in a really evangelical, conservative Christian family, but I rejected it pretty early on. My parents divorced when I was like ten or eleven, and that was around the time where I realized that being a Christian doesn't mean you're a perfect person. I was just woken up to a lot of hypocrisy. I started rejecting the exclusionary attitude of the churches that we went to, and I called myself an agnostic for a while. I started to question my epistemology without realizing it, wondering why I thought the way I did.
Then I started traveling the world in a performing group, and I had a lot of really intense, magical experiences that I think were mystical experiences. I remember feeling really connected to all people and all creatures everywhere, and I felt this sense of oneness. I definitely felt spiritual, though I didn't want to put it into any form.
Then I worked on staff at a place called the Omega Institute, which is a big retreat center in the Hudson Valley. I tried out different forms of Buddhist meditation and Earth-based practices and things that were vaguely pagan or shamanic, as well as more New Agey things. But I was always really impatient with the way that spiritual communities were in terms of what was happening in the world. I couldn't really accept the idea that we were all one and that we could "be the change we wish to see" while sitting on our yoga mats. The world doesn't reflect that. Yes, it's a spiritual truth, and I've experienced that feeling of oneness and connection, but I think it doesn't do any good to just sit here and believe that. We have to realize and actualize this belief.
During one of my summers at Omega, I learned about this interfaith seminary called One Spirit. I went there and was ordained as an interspiritual minister, and it was there that I learned about sacred activism. I actually took a class with Andrew Harvey, who basically coined the term "sacred activism." He was one of the only people really talking about how activists and spiritual folks needed to come together, because there's a shadow side to both of those groups.

And I realized...this is why I came here. This is what I've been looking for my whole life. Sacred activism is the idea that activism in itself is a sacred path, because all the great spiritual teachings tell us to live our lives with compassion.
I had also been going to a lot of activist meetings and circles and thinking that the people there really needed spirituality. Everybody was so caught up in blaming and shaming. No matter what your ideology is, rigid and dogmatic ideologies are harmful. That's what I had grown up with—but now I was with the liberals, and it was the same sh*t. It wasn't loving and wasn't accepting.
Along your journey to finding the place where activism meets spirituality, are there any experiences that stand out to you as particularly formative or that you feel set you on this path?
I did have a moment recently that confirmed for me why I'm on this path. This past October, Extinction Rebellion had a global week of rebellion. We started with actions at Wall Street and threw fake blood on the bull, and we did this dramatic die-in in front of the stock exchange.
We were also doing RebelFest in Washington Square Park, which felt like an example of realizing that you don't have to perform a direct action to be disruptive. Building community is disruptive, and feeding each other for free is disruptive, and doing art together is disruptive.
That week, I also took part in the Times Square takeover with XR. We shut down an intersection with this big bright green boat, and there were 13 of us who were glued and chained to it. My comrades and I were put in the tombs, which is where they take everyone who's been arrested, and there was a woman detoxing from heroin on the floor and a pregnant woman who totally should not have been in jail. It was a really intense experience, and I remember thinking—could I go to jail for longer? Would I be willing to go to prison for this cause?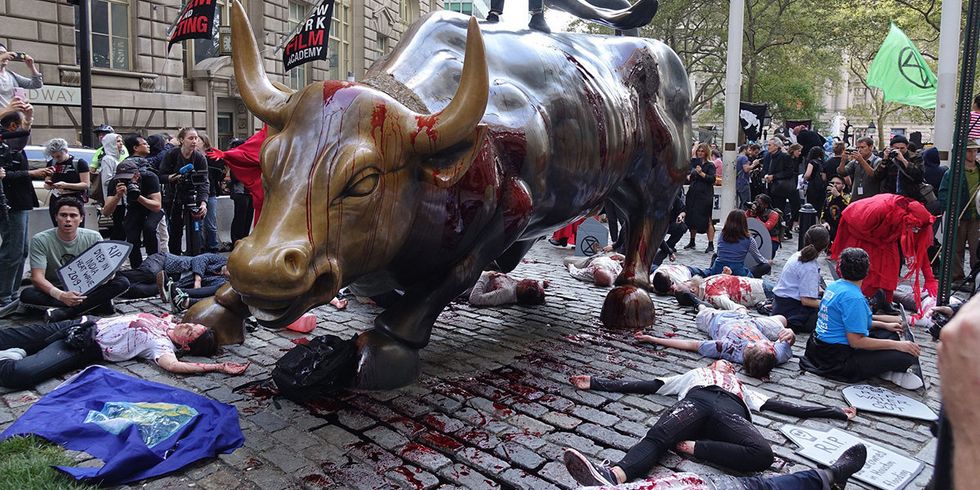 Wall Street
I was going through these ups and downs of feeling like I was losing my mind, and there was a moment where we all just were laughing at ridiculous things because...you lose all your power in there. You don't know [when] you're going to be let out; you're hungry and tired and dehydrated and dirty. And I was like… Could I do this more? Could I be here for months? Do I have it in me? I remember thinking, what am I called to do? How am I called to serve?

I thought of all the people who have inspired me like Dorothy Day and MLK and people who really followed that calling to make the world a better place. It's a spiritual calling.
I realized I do feel like I'm willing to sacrifice my life for building a more just and loving world. I was surprised to feel that in a moment of despair, but that's where I felt closest to God, spirit, or the great unknown. I felt like I was being called, and it felt very powerful.
What does your vision of a better world look like?
What excites me is thinking about the mystery, rather than coming up with the best plan for a bright new world. This requires us to be in the present and in the future and to bring the future into the present. When I think about a vision for the world, I ask questions like: How do I want it to feel? What does it look like, sound like, feel like?
I think what the future looks like is here now. I see it all the time. I see it with the current crisis, in the ways in which people have been jumping into action around creating and activating networks of mutual aid—and taking time to play with their kids, and rest and take walks in the park. I see it in places where we're really connecting with each other.
I think of a new world, or the future, as one in which we're taking care of each other, in which we're really connected. Can you imagine, if we really took care of each other? We wouldn't need housing justice. We'd already be doing it. We wouldn't let anybody not be cared for. We wouldn't have people going hungry, because we'd already be feeding each other.
It sounds a little overly simplistic to say all of that, but I think bringing things into the present and asking—what do we have that we want to grow?—actually helps us be more grateful for what we do have.
Humans have a limited capacity for understanding. We understand a lot and we're constantly innovating, and that's sort of what it means to be human—finding meaning—but we can't see the future, and we make mistakes. As soon as we have a plan for the future, it limits creativity and the emergence of something that can grow from the ways we're already connecting with each other and being with each other.
So many religions seem to boil down to this idea of compassion, and I'm definitely seeing that in responses like mutual aid. So in light of all your work, how have you been processing the current crisis? Are you seeing potential in it? I know you taught a workshop on the apocalypse—not that this is an apocalypse, but...
But we are! It's like a perfect example of the apocalypse. Apocalypse means "to lift the veil," and having this crisis is showing us how f*cked-up our medical system is and how f*cked up our whole economy is to rely on humans as capital. It's showing us how our leadership is broken, how so many people were living alone before this.
As a climate activist, we've wondered for a long time what can really change the momentum. It's so hard to make any change when there's such collective dedication towards keeping a system going, a system that is based on extraction and exploitation and corruption and domination and all of those things that are literally killing us and the planet. In XR we talk about stopping business as usual—well, here we are, and business is literally stopped.
It's my hope that it doesn't go back to normal. I don't want to go back to a world in which we're all hustling to make ends meet and we're working so hard and so long that we don't have time to connect to each other.
I do think it's showing us what's possible. All of the politicians and businesspeople have told us for a long time that it's not possible to stop the system and change it all in order to stave off the climate crisis—but we're doing it.
If the New York Times was reporting on the climate crisis as much as it's reporting on the coronavirus crisis… that could change things. If everyone was told that we have to stop using our cars and we have to stop doing this thing and taking flights and traveling for our safety and so we don't die…maybe we wouldn't have as big of a problem. The response we've been taking with coronavirus actually needs to happen with this climate crisis.
It all does seem like a wakeup call. Before this, it seemed like most of the people I know—even if they weren't plugged into the climate crisis—had the feeling that something unsustainable was going on, that something precarious was happening. And this does seem like a large planetary exhale to me.
We need to bow down and honor what's happening to us, to step back and see how enormous this shift is. It kind of takes my breath away. It's honestly the same feeling that I felt when I was sitting in jail.
It's interesting that you compare the feeling you're having in this crisis to the feeling of being in jail. Those both seem like moments of great change and shift. I keep seeing Octavia Butler's "God is change" quote everywhere and it feels like these moments could be related to that.
I love that quote. It's probably my favorite way to describe God.
I'm seeing all this in two ways: There's tragedy, but there's also growth that could be happening. It feels like if anything it's waking us up to the importance of community and the current lack of community. Even a lot of activism work doesn't seem to hone in on community or connection or rest and then there's so much burnout, and it feels like all this is kind of calling for a practice of rest and community-building.
I think it's so easy for humans to jump in and ignore all of our feelings and ignore connecting to each other, focusing on how we might fix this painful feeling, instead asking—what is this moment telling us? There's something beyond my comprehension happening right now.
It's easy for me to say that in times of crisis, people jump into action to help each other, because that's what I see in communities. But it's also true that there are people who get scared and hoard and only take care of their own.
I think every human has both responses possible in them, and this reminds me of a story that I read as part of my apocalypse research called Why the World Doesn't End by Michael Meade. He says there are three kinds of people in the world: There are the people who just only care for themselves and maybe their families, who in times of crisis will turn on their neighbor, and who are just trying to survive. Then there's a second group of people that really care about others and contribute to community and are attuned to other people's needs; but those people, under great stress, will also turn on their neighbor and contract and hoard and try to protect and defend themselves and their families.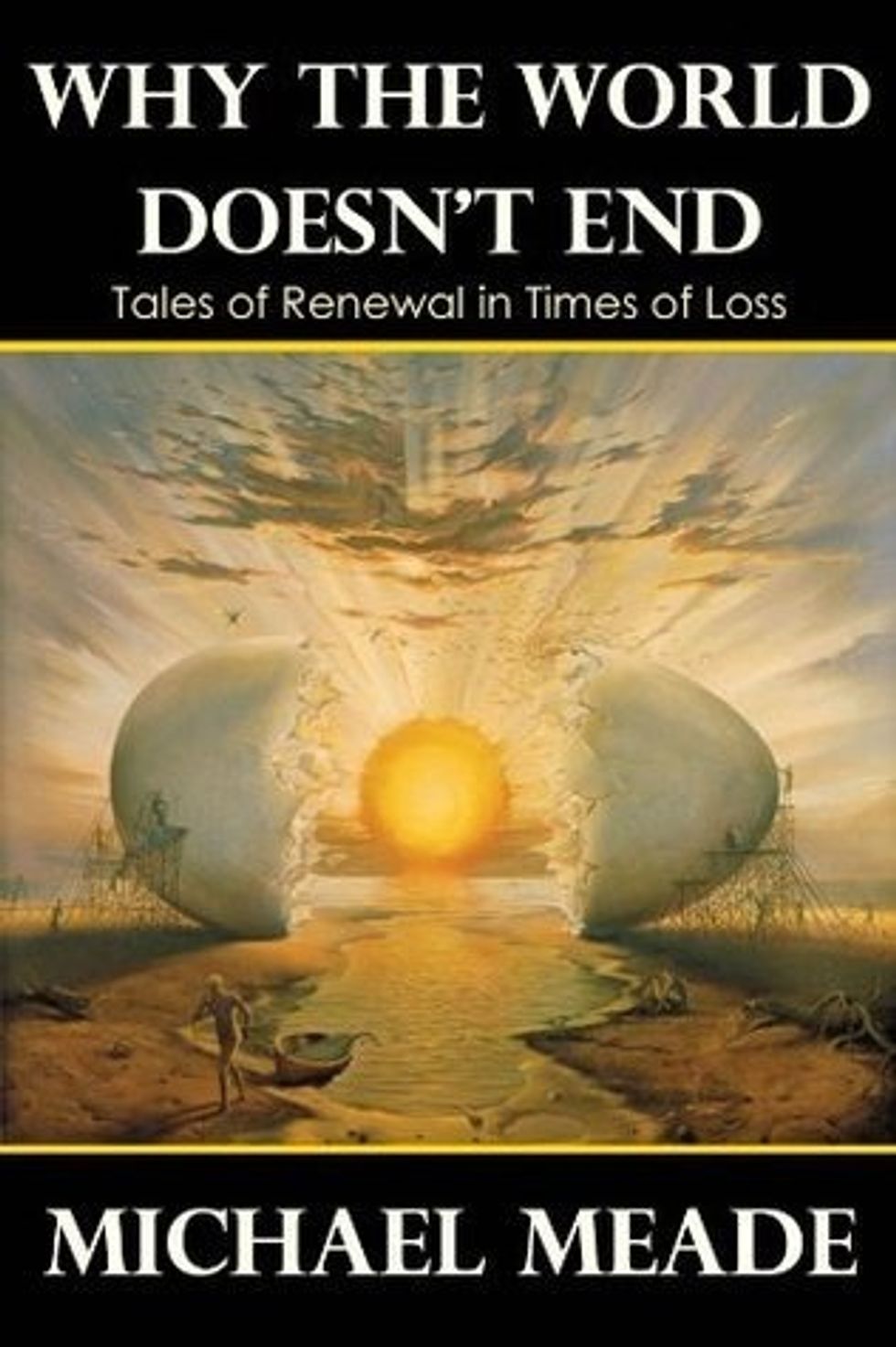 Goodreads
But then there's a third kind of person that in the midst of crisis will rise up and reach out when the impulse is to actually turn back in. I think that's what being a sacred activist is: someone who can be with the unknown and who can be with the vulnerability of reaching out in times of danger.

I think in order to be able to reach out, you have to rely on something other than yourself. You have to be able to rely on something, even if that's your community or if that's God or spirit or even the earth. You have to feel supported enough to reach out to others in a time of crisis.
I think that's been sticking with me. Who's going to be that third group of people?
Alright, I'm done on my soapbox. That's my sermon for today.
What do you suggest people dive into, if you're looking for a way to get involved at this time? I know you mentioned mutual aid.
XR has been plugging into neighborhood groups and existing networks of mutual aid. That could be taking care of your neighbors and seeing what they need or delivering meals to aging populations. Also there's something called The Leveler, a wealth redistribution tool that allows people to donate a certain amount of money to people who just lost their jobs.
But also...check in with people. Be with the feelings. XR has ramped up offerings for people to connect with each other and share their feelings and meditate. It's called "Extinction Resilience," and it'll pretty much be happening twice a week right now, and that's a great place to cultivate inner resilience.
In the fourth installment of the Visionaries Project, we speak to activist and community organizer Ebony Ava Harper.
The Visionaries Project is a new subsection of The Liberty Project dedicated to highlighting the lives, passions, and work of radical activists currently working towards social justice and liberation from oppression. We aim to uplift the perspectives of diverse voices working in media and activism today—and not just the faces who make headlines, but the real people on the ground every day, working towards their visions of a better world.
Ebony Ava Harper is an activist, philanthropist, writer, creator, life and world-changer, advocate for marginalized communities, and a tremendous inspiration to many. As an openly Black and trans woman and an advocate for environmental justice, prison reform, and so much more, she has done incredible work to fight for her communities, forging a path to a better world in the process. She is currently head of California TransCends, a statewide organization that works to promote the health and wellness of transgender people in California, and she's the recipient of the 2019 Stonewall Four Freedoms Award and the among other achievements (none of which could come close to adequately recognizing all of her marvelous work). We spoke about resilience, environmental justice, community organizing, and more.
1. Can you tell me a little bit about your background? Where are you from, and what were and are you passionate about?

I was born in Prince Georges County, Maryland, to a family of Jamaican immigrants. I believe I'm the first American born in my family. My parents migrated from Maryland to Los Angeles, CA when I was just a baby, so all I know is growing up in Los Angeles. I spent the first 27 years of my life mostly in Los Angeles, and then I moved to Sacramento. I've been in Sacramento for some time now, and I consider this my home city.
I'm passionate about dismantling systems of oppression and dismantling my own oppressive behaviors. I'm passionate about loving the unlovable. Flipping that negative into a positive and improving not only my quality of life but the quality of life of all living beings (plants and trees included).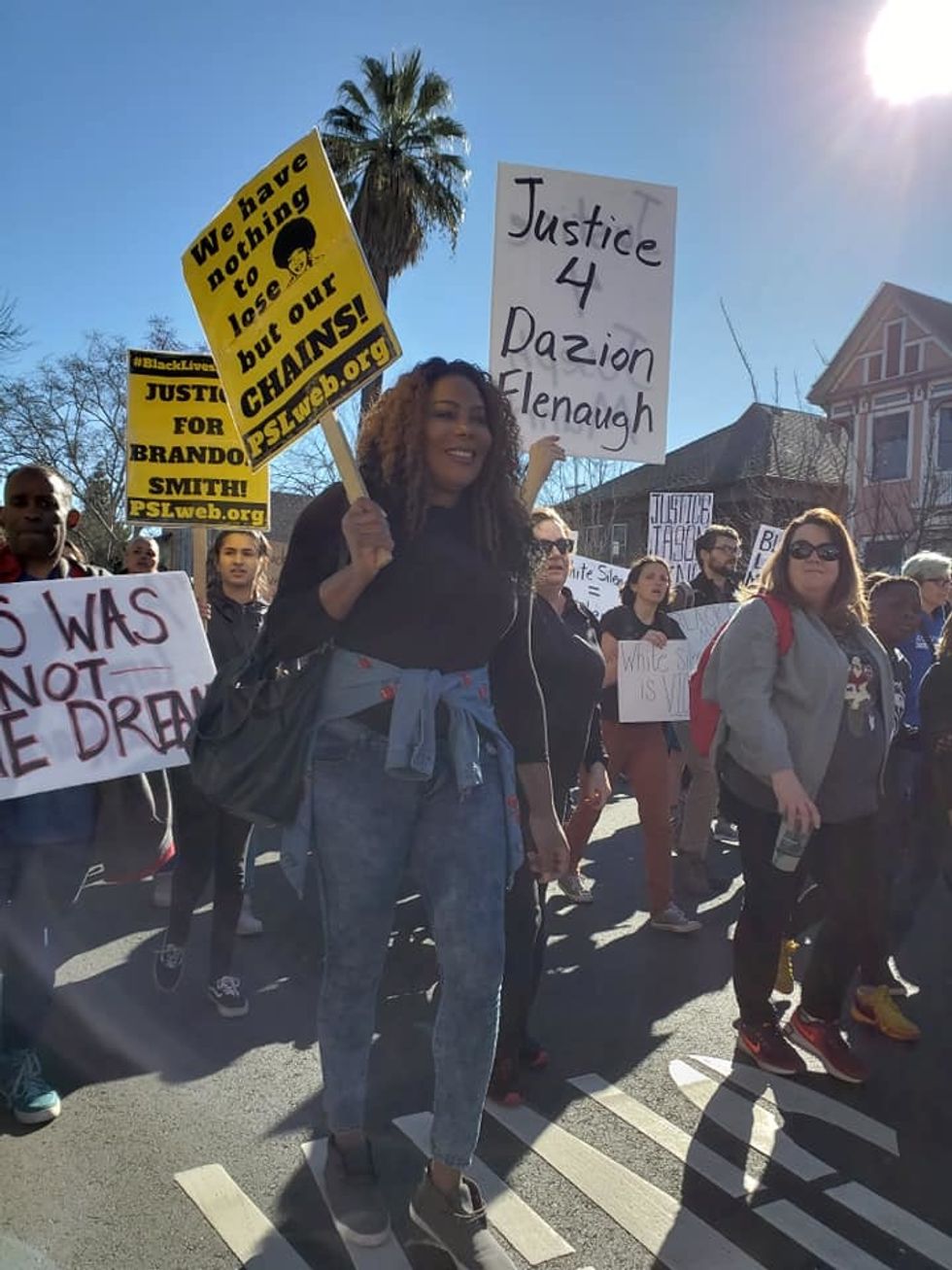 2. How did you first get started with activism, and what movements are you most involved in now?
I'm a Black trans woman that came out early in life, so I always say I came out fighting for survival from the gate (from the start). I was born an activist. I had to fight and speak up for myself to simply be... I'm a decedent of Jamaica, and if you listen to our music, you'll hear a lot about love, peace, "getting up, standing up, fighting for your rights." I would say I hit the ground fighting with all these intersections I embody. I also hit the ground loving and having empathy for others. My inner indignation against injustice and my tender Jamaican roots inform who I am today and my activism. My activism has transitioned along with me. I feel like we're all transitioning in some way. I have transitioned away from just relegating myself to being a trans activist, I'm a human rights activist. I fight for all oppressed peoples. Social oppression is even showing up through this current climate crisis.
I'm involved in Gender Justice, Climate Justice, Disability Justice, and Race Equity!! They all interconnect in my life.
3. A lot of your writing seems to focus on internal and community-wide restorative efforts and resilience, whether in terms of health, the environment, or the spirit. What does human resilience mean to you, and for you?
I love this question! It's a big question. I came from some harsh beginnings: All I know is resilience. I'm an introspective person, so as I have aged, I think about resilience on a much larger scale than the marginalized groups that produced me or my sole experience. I think about all the times life itself was on the brink of total catastrophe, and boom.... It rebounds. Resilience means to rebound from something that could've taken you out. It means hope for the future, it means another chance, another road, another shot. I'm a descendant of slaves and a descendant of those that have walked this trans path: All I know is resilience. I wish to share my struggle with others in hopes that they may be inspired not to give up. You know, "If that big ole queen can make it, so can I." That's the seed I want to plant when I'm sharing on any platform.
4. You wrote an amazing piece for Forbes in which you discuss feminism's failure to address "inequities of human injustices caused by colonial, capitalist, and social oppression." You also addressed this in your Sacramento News and Review piece in which you wrote, "Trans people, particularly our black women and femmes, were on the front lines of the Stonewall Rebellion, yet we're on the back lines of the gay and lesbian liberation." Feminism and many, or really most, social movements suffer from such a lack of intersectional and trans recognition. Where do you see that need for change manifesting itself?
I think social justice movements don't always think in terms of intersections, or they fight for things that will serve them in that particular moment, never really seeing how all this suffering intersects. They'll have all the language right, but their actions will be about that one topic. We need to remove the berries and realize an injustice to a Black trans woman is the same as an injustice to a cis woman. An injustice to a Black trans woman is an injustice to the Black community as a whole. There's no separation; Black trans issues are multidimensional and are relatable to any social justice issue today. You have to be radical and intentional about inclusivity to Black trans women.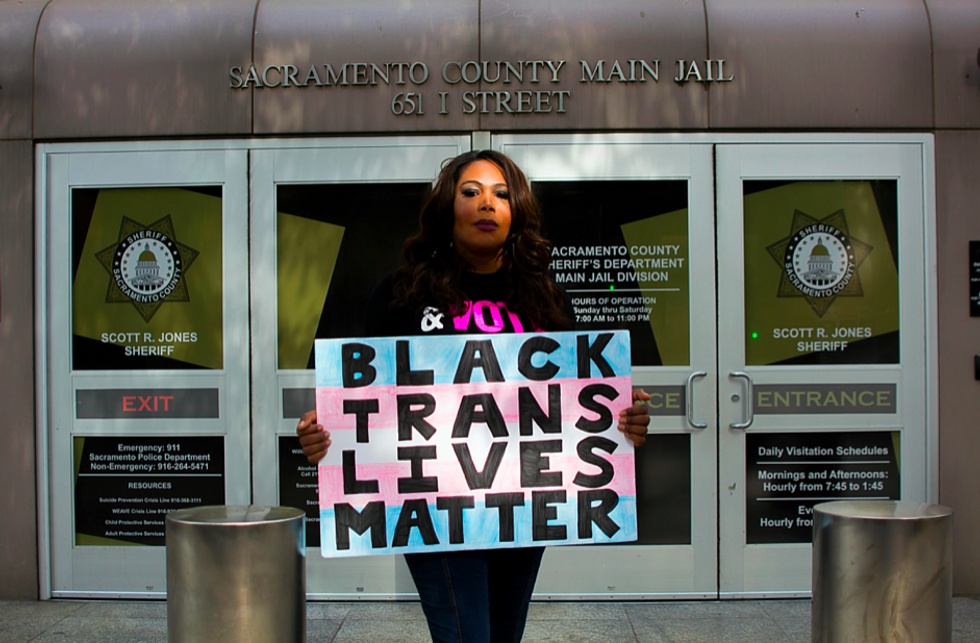 5. Are there any trans leaders, writers, or figures you're particularly inspired by at the moment?
Too many to name here, but I'll name just a few. Valerie Spencer inspired me as a young trans kid. We have Black trans philosophers, and I would say she's one of our great philosophers. Aria Sa'id is a young Black trans woman that has contributed so much to our movement at such a young age. She's Executive Director of the first Trans Cultural District in the nation, and she's smart as hell... Daroneshia Duncan-Boyd, from Alabam leading the charge for trans health equity throughout the South. Elle Hearns, one of the founding members of Black Lives Matter that just so happens to be a Black trans woman. Omega West, a Black trans man who, like me, came from some rough stuff and is out here fighting for our rights daily. Last but not least, my translatina sister, Bamby Salcedo, who's a national treasure in our community fighting for our freedoms every day.
6. You're vocal online about a lot of environmental issues. Do you see the environment as intertwined with queer, trans, and Black and Brown community issues? What does environmental justice mean to you?
It's absolutely intertwined! The factories in impoverished neighborhoods, access to clean food, clean water, information around health all are linked to poverty. Extreme poverty is linked to these marginalized groups that live on the fringe of the fringes of society. No resources, so capitalism exploits them. We have to look at what's affecting those at the bottom and work from there, while fighting these big corporations that are siphoning the life out of the planet.
7. What changes (spiritual or societal or both) would you like to see most in the near future? What does your vision of a better future look like?
Green renewable energy. No more wars. The end of capitalism! Love abounding on the earth like never before. Total freedom to just be without judgment.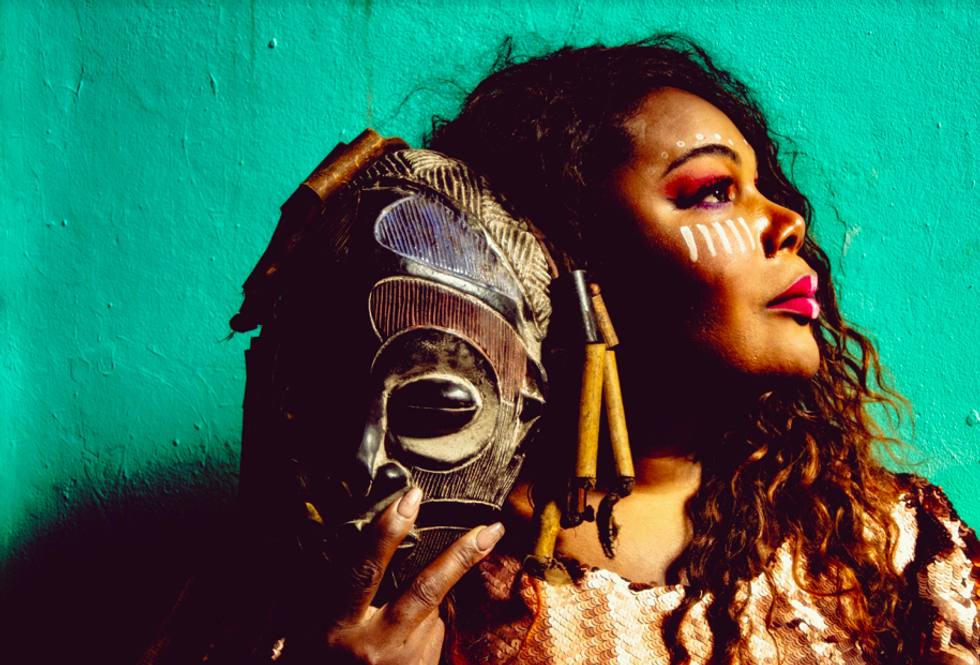 8. Are there any organizations or initiatives you'd like to promote?

I'm the leader of the new statewide initiative, California TransCends, in partnership with the California Endowment and California Public Health Advocates. California TransCends promotes the health and wellness of transgender people throughout the state of California. I'll be doing a statewide assessment of the needs of trans people living in rural communities, trans people of color, and our trans elders. We'll be working with local policymakers to see what we can do to make trans lives a bit more bearable. We're engaging other trans organizations that are leading statewide work to form a statewide and national coalition that will work in one accord on issues that need our rapid response. Lastly, we'll have micro-grants available for coalition-building conferences for trans people of color. I'm also one of the directors for the newly formed Employment Equality.
9. You're doing so much amazing work—how do you balance it all? What do you do for self-care and for fun?
I take a couple of days a week off and recharge. I have a small circle but good friends I can call when I'm going through a tough time. I have a spiritual community, The Center for Spiritual Awareness, that loves and supports me. This is my combination for staying afloat.
10. Do you have any advice for activists, or any lessons or mantras that you follow?
Don't become the same evil you're fighting! It's easy to fall into the trap of anger and vengeance. When fighting injustice, you have to make sure your approaches are balanced, or you'll perpetuate the same injustices you're fighting.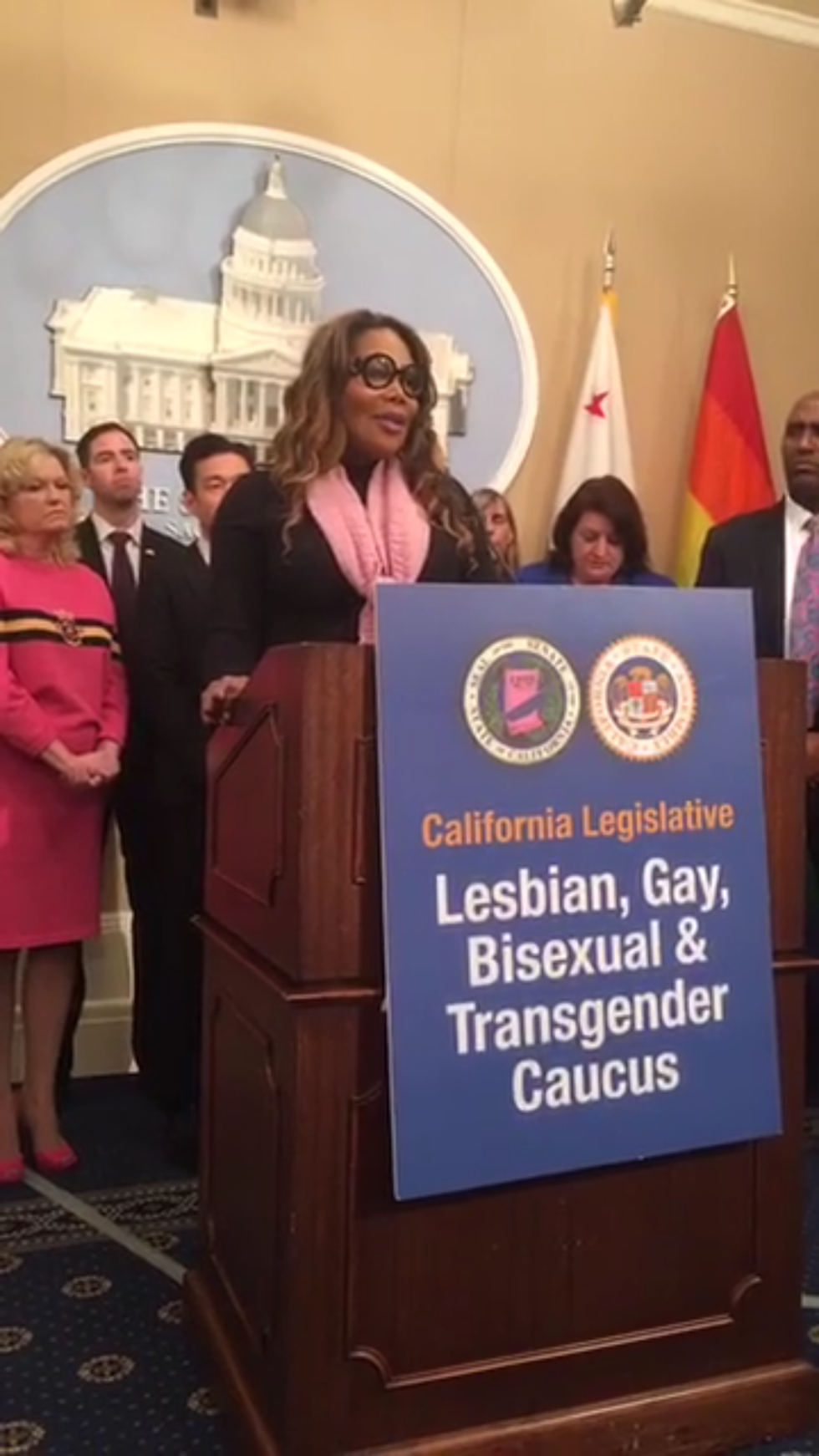 The revolution will not be Tweeted, but its agenda can be.
Can a tweet save the world? No. Is it a public record of your intolerance of unjust systems in the world? Sure, if anybody reads it among the white noise of Twitter rage. Protest movements in the digital age are tricky; hacktivism, or hashtag activism, has been critiqued as an ineffective and tokenizing way to virtue signal in the name of social justice while actually being armchair activists. Meanwhile, nonviolent protests like marches, boycotts, and strikes are critiqued for being too passive to ever enact real change. On the other end of the spectrum are volatile reactionaries who want to tear down the system and begin from scratch–even if they have no actionable plans to create a viable replacement.
So what are we supposed to do? More to the point, what are we supposed to believe? A patient and open-minded look at both sides of any issue is guaranteed to point out one commonality: Everybody has the wrong idea about the opposing side. When it comes to social movements that create a better future, there are some basic, prevailing myths that only distract people from the real problems at hand. Ask activists, historians, and political science analysts, and they agree that you shouldn't fall for the following misconceptions when fighting for a better world:
1. Myth: Nonviolence Is Ineffective
Historically speaking, this simply isn't true. When two researchers from the United States Institute of Peace conducted a study of nearly 330 major violent and nonviolent campaigns "targeting incumbent regimes and foreign military occupations," they concluded that "nonviolent efforts were twice as likely to achieve their goals." They wrote, "The majority succeeded against authoritarian governments, when even peaceful protests could have fatal consequences. The ousters of Augusto Pinochet in Chile, Ferdinand Marcos in the Philippines, Zine el-Abidine Ben Ali in Tunisia, Yahya Jammeh in Gambia, Bashir in Sudan and Abdelaziz Bouteflika in Algeria are only a handful of cases in which mass nonviolent force stripped power from despots." Furthermore, another study in 2011 looked at 323 civil resistance campaigns around the world between 1900 and 2006, concluding that nonviolent campaigns were successful in 53% of cases, compared to violent ones' success rate of 26%. Additionally, only 4% of violent revolutions ended up in a "functioning democracy," compared to 42% of non-violent regime changes.
So radical violent action, whether that be in the form of paramilitary groups or self-appointed vigilantes who want to burn down the Establishment, is statistically not as likely to produce change as collective nonviolent protest.
2. Social Media Makes Protests More Effective
With that being said, there is a degree of truth to the allegation that social media creates lazy activists. More specifically, however, social media encourages engagement in social issues (i.e. sharing an article, liking a tweet, and maybe hurling insults at the opposing side), which is different from collective action. While Facebook, Twitter, and Instagram allow people to express their displeasure at existing policies, the most social media can do is mobilize people to agree on a unified agenda and a set of actions.
The problem, of course, is that many online participants don't end up following through with in-person plans, thus there's no unity where it counts: on the ground, at the march, or holding up signs. Furthermore, analysts Maria J. Stephan and Adam Gallagheremphasize the importance of "durable organizations" and "long-term planning," and in the fast-paced, immediate gratification of social media platforms like Twitter, responses can often be reactionary and short-term, which doesn't even begin the work of effective protest.
3. Myth: You Need to Have a Massive Amount of People
This is half-true, but it's mostly misunderstood. Effective nonviolent protests gain traction and grow into massive movements when their tactics get them noticed–even if that doesn't involve a large amount of people. As evidenced by the progression of the Egyptian occupation of Tahrir Square and the Serbian student protest group, Otpor (translated as "Resistance!"), a large following of people don't mark the beginning of a movement but rather it's a sign that a movement's worked. Srdja Popovic, leader of Otpor, reflected on the overthrow of war criminal Slobodan Milošević, "All successful movements come with a very low entry bar. You need to offer people the chance to do something meaningful, and – crucially – to get away with it. In Chile, against Pinochet, they drove at half speed: not illegal, very low risk, pretty funny, nothing the cops can do. It's about doing something neat, and living to tell everyone." He added, "We had to go out and listen. Get the real people, rural people, not so clever-clever people, behind us. Build a movement. We did, but it took us five years." Resistance from within a system is more effective to create change than external opposition.
4. Myth: It's a Business
Popovic coins one of their best tactics "laughtivism." Making people laugh not only gets attention, but it alleviates tension from living within fraught social realities. From graffitiing pictures of the corrupt men in charge to spreading the movement's message through public pranks, nonviolent movements have gained global traction through being human and showing a sense of humor.
For the third installment of the Visionaries Project, we spoke to Sara Gozalo about capitalism, fighting ICE and the prison industrial complex, combating burnout as an activist, and her vision of a better world.
The Visionaries Project is a subsection of The Liberty Project dedicated to highlighting the lives, passions, and work of radical activists currently working towards social justice and liberation from oppression. We aim to uplift the perspectives of diverse voices working in media and activism today—and not just the faces who make headlines, but the real people on the ground every day, working towards their visions of a better world.
Sara Gozalo is an organizer currently based in New Orleans. Originally from Madrid, she describes herself as a "queer immigrant who believes in a world without borders and without jails, where everyone has the right to live in dignity." She currently works as a Unanimous Jury Specialist at the Promise of Justice Initiative, co-founded Students for Peace and Justice, and was formerly the Supervising Coordinator of the New Sanctuary Coalition and a member of the Worcester Global Action Network. We spoke with her about the insidiousness of capitalism, her work fighting ICE and the prison industrial complex, combating burnout as an activist, and her vision of a better world.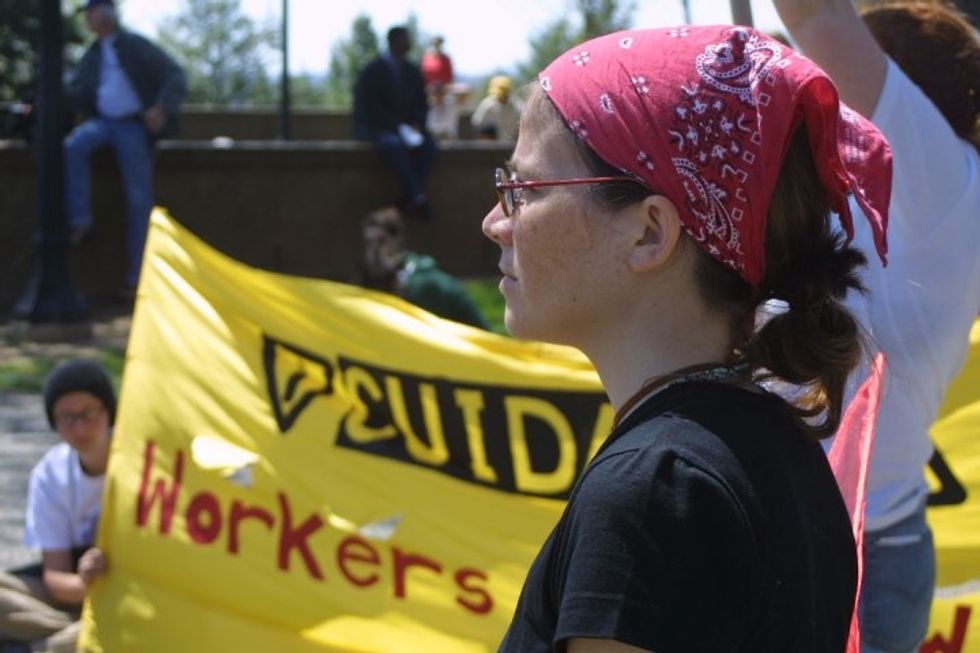 LIBERTY PROJECT: I was wondering if you could give an overview of your experience in activism and organizing.
SARA GOZALO: I have been organizing for a long time. I've only been organizing professionally for the past three and a half to four years, but I organized when I was at UMass against the war in Iraq. We did a lot of workshopping and teachings about free trade agreements, and how capitalism was destroying the planet.
It seems like that was such a long time ago, and we're still dealing with the same issues. I think that a lot of organizing is understanding that you're running a marathon, and it's never going to be a sprint. It's going to be a lot of small victories along the way, but you're going to fight the same issues constantly. That can be pretty demoralizing, but it also means you can never stop.
I come from a family that's very political. My dad is an attorney in Spain, and when he was a student he got arrested and kicked out of school for organizing against Franco during the dictatorship. My mom was always very political, and I remember hating that when I was a little kid.
While I was going through my own immigration case, I realized how hard it is for someone with a ton of privilege, and I started to look into what it was like for people who aren't as privileged. I got very involved in the immigration issue. Since I moved to New Orleans, I've seen the same patterns in the criminal justice system.
I think New Orleans brings these issues together. It has been very impacted in terms of climate change. Louisiana has the highest numbers per capita of incarcerated people [in the US], and one of the highest numbers of migrants in detention. The city brings everything together, and ties in all the different aspects that I have organized around in my life. In the end, it is important to remember that they're all related to each other.
Where are you at now?
I moved to New Orleans this summer. My wife was born and raised here. I'm working at the Promise of Justice Initiative, which is an organization that does a lot of criminal justice work.
It's clear that all these issues are very interconnected. Lately it seems that there's been a particular resurgence of anticapitalist sentiment, though that was always there…Is that affecting your organizing at all?
I have been organizing with these anti-capitalists since the late '90s. It feels like the "resurgence" has been a long time coming.
When we were organizing around the Iraq war in 2002 and 2003, we were very much organizing under the capitalist lens. Grassroots movements like Occupy and the movement for Medicare for All have ignited something even bigger now. It's become more mainstream.
The fight against capitalism is decades long, and its roots are in the people who are directly impacted, especially indigenous people all around the world. They have led that fight, because they know in their bodies what capitalism is doing to the world. I think it's important that now that conversation is part of western countries, especially the United States, which in many ways is the belly of the beast in terms of capitalism. Anti-capitalist organizing has been there forever; it just now feels like you can talk about it and people won't immediately discard you as someone crazy.
I want to make sure that [in spite of all the] now-mainstream groups that are taking this fight on—which is super important and necessary—we recognize how many people have been fighting this fight for so long and leading the efforts.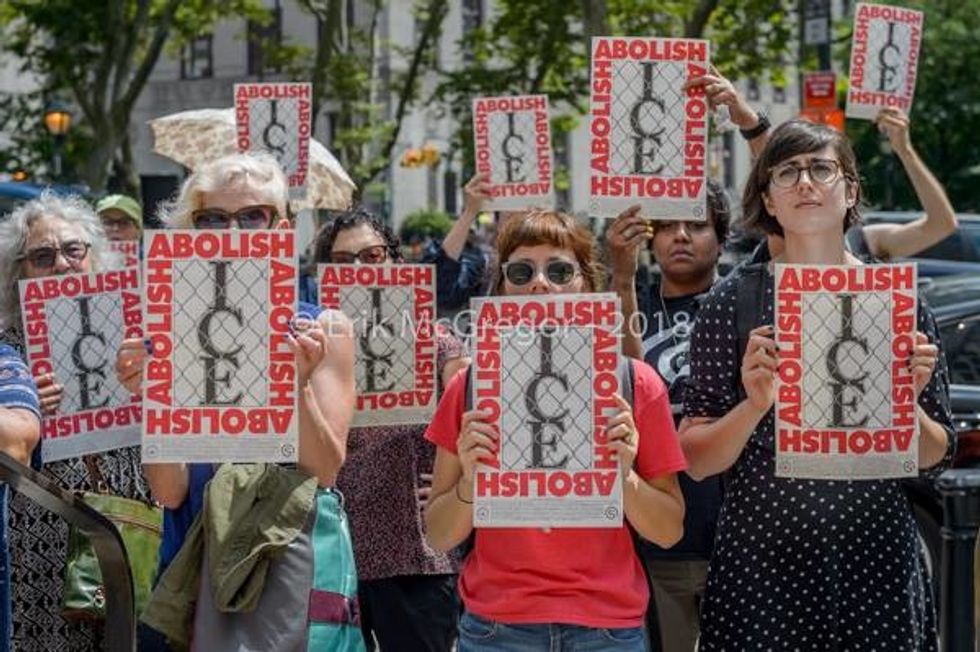 I first met you through New Sanctuary Coalition (an organization that provides legal support to immigrants in New York City). You were doing so much for them at once, and I was wondering what your reflections on that experience are.
NSC is one of the most powerful organizing groups that I have ever known, in terms of the numbers of people who are involved. Post-election, after Trump took power, it became very obvious that immigration was going to become one of the issues that he was going to attack the most. NSC grew because there are very concrete ways that people could get involved, and I think that is incredibly powerful. It's led by people who are directly impacted, but it really utilizes the number of people who want to fight alongside people who are directly impacted. That was a beautiful thing to see.
I've worked with other groups where there isn't a clear way for volunteers to get involved, and I think NSC recognizes that people can fight against the system with the support of others with more privilege. It's a great way to utilize the privilege that US citizens have. The [idea] that the people who are impacted lead, and you're showing up for solidarity—not to help or save anyone—is really important.
The accompaniment work, in particular, was hard for volunteers in that it was so boring, but it's such a good example of how much privilege US citizens have, and how important it is to show up and not feel like they're saving or leading. They're just standing in solidarity, which is an incredible exercise for everyone.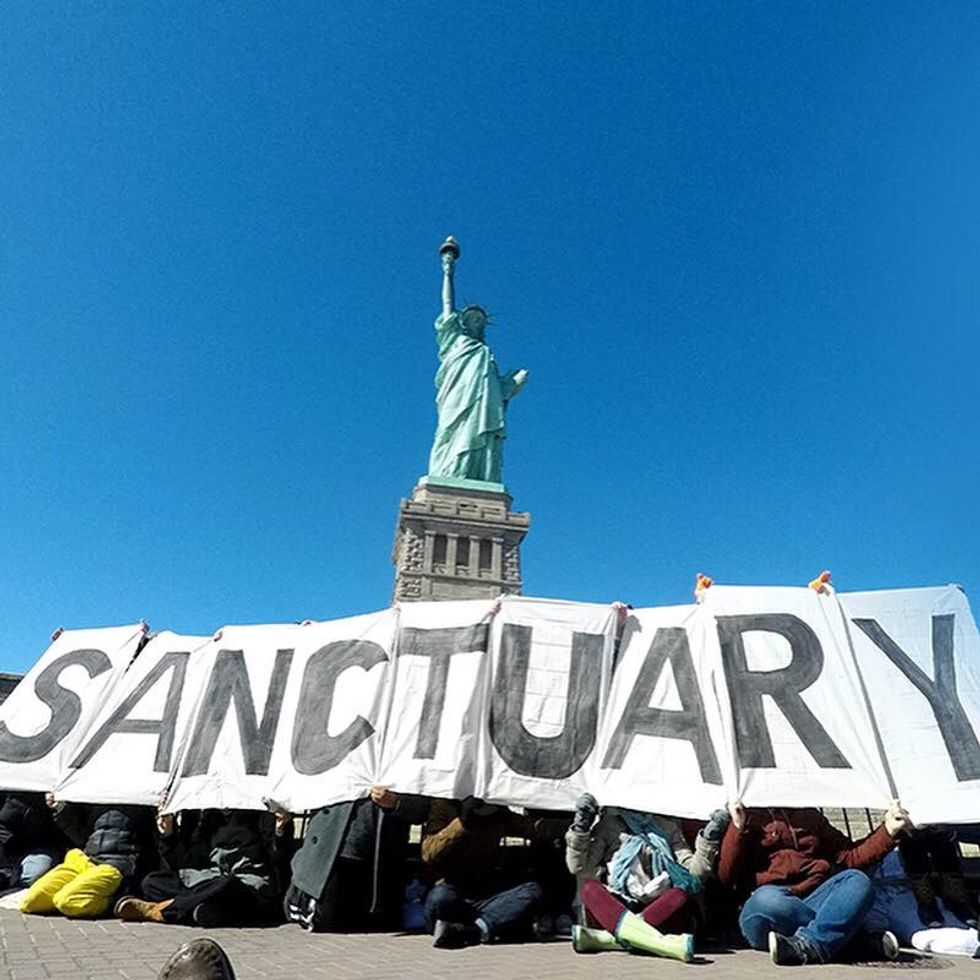 ignationsolidarity.net
It did feel at times overwhelming, which obviously leads to a lot of burnout and the sense of, oh my God, I am never doing enough, because everything is an emergency.
It felt at times that I was just pouring oil on the machine as opposed to throwing a wrench in it. For instance, if a judge said, I need an asylum application in three months as opposed to the year, we became so good at meeting those demands that it felt like in some way we were contributing to them.
I think that's a constant in organizing. There's a big difference between asking, what can you today to help a person who's going to be deported unless they show up with an asylum application, and what can you do to dismantle the system? Of course you're gonna support the person who's dealing with something today and not think in bigger terms, and so those were some difficult moments.
I don't have the answer. Maybe we need organizations that do more direct impact service work, and other organizations that only do the disruptive work; maybe that's the balance that we could work towards.
When I was leaving this summer, a lot of people finally went out on the streets, and people got arrested by the hundreds. I think that's the energy we need in the streets, while organizations like NSC do the day-to-day work that's helping people stay in the country and not be deported.
Activist Sara Gozalo from @NewSanctuaryNYC tells us about how they're working to empower immigrants during this dar… https://t.co/l1OK0TSFvA

— Jezebel (@Jezebel) 1541169069.0
Speaking of those larger systemic changes, are there any visions you have of changes that you would like to see happen on a large scale?
Yeah, so many.
First of all, we need to realign our belief system. Our bones, our insides, are so ingrained with this capitalist system of oppression. We make decisions on a daily basis that are informed by that upbringing. I admire Decolonize This Place and other groups that are really going to the roots of the problem, recognizing that unless we deal with those root problems, we're never going to affect systemic change.
For instance, we can't deal with climate change from a capitalist perspective. My friend was just fired for his job—which was to install solar panels—because they tried to unionize. We can't keep moving forward from the perspective of putting capital before humans and before the planet.
I really would like to see us having very honest conversations in which we start seeing, within ourselves and within our communities, how colonized we really are. We need to look at the root causes of the problem, if we really want to achieve any change that's going to make a difference, for our planet and for the survival of our communities everywhere in the world.
For instance, in Chile, I love to see the women who are protesting with everyone else and also bringing up the fact that the patriarchy is one of the biggest problems we have. Everything we see as an injustice has a root problem that's attached to racism and capitalism, and we need to address those, otherwise we're really not going to achieve the change that we want to achieve. Having these issues come into the light is an important step.
Women in South America sing against gender violencewww.youtube.com
I think I would like to see more compassion in our organizing. I think we're all very angry. We're all very quick to attack each other while not understanding that organizing is hard. Organizing is the hardest thing you can ever do, because there are no models for the world that we want. We have to reinvent the world.

Because we don't have those models, even nonprofits and some of the most progressive groups continue to replicate the systems of oppression that we are fighting against. [We need to ask], what does the world that we want look like, as opposed to fighting against something with means we learned from something we're fighting against.
I've read a lot about how organizations can replicate the systems they're trying to take down—people will be like, let's change ICE, but it really needs to be abolished, and I feel like that's symbolic.
I also really admire abolitionists; their clarity about what they're fighting for could be used by all nonprofits and all other organizing groups.
Do you have any advice as to how to keep going in this long fight?
In your struggle, you have to allow yourself to be led by the people who are directly impacted, because in a way, people who are directly impacted don't have the privilege of giving up. When you surround yourself with people who have to keep fighting, it helps you keep fighting.
I would say surround yourself with a supportive community, with people that you trust and people you can confide in and talk with when things get hard. And I would say be compassionate with yourself. You're going to make a lot of mistakes. That doesn't mean you're a terrible person. Everybody makes mistakes, and learning from those mistakes is the only thing you can do; don't beat yourself up so much that it paralyzes you.
And take breaks. I have been planting trees, I started a compost bin in my backyard, and I am learning how to plant vegetables. Putting your hands on the earth is actually incredibly therapeutic, and it brings everything back to what matters the most, which is life and sustainability and love for each other and our planet. When you bring it back to those core values of what really truly matters, then it allows you to breathe a little bit easier.
We must look at the mass actions that are making life difficult for the powerful in Chile and Lebanon and Hong Kong, and prepare ourselves to make the same kind of trouble at home.
With all the global significance connected to the 2001 attack on the World Trade Center, many people don't realize that September 11th has a very different set of meanings in Chile.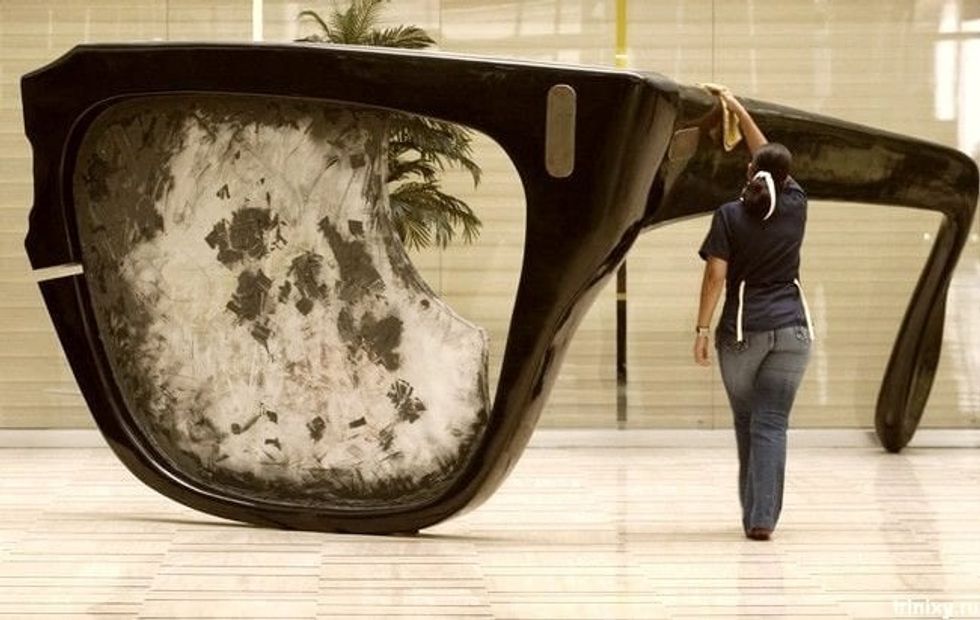 A memorial depicting Allende's broken glasses in the aftermath of the coup
On that day in 1973, the United States backed a coup that killed Chile's democratic socialist president, Salvador Allende, ushering in the brutal era of Pinochet. Chile has never fully recovered from the violence of that period, nor the sudden shift in economic policy that followed. For many Chileans, it has been hard to imagine a world in which the leadership could work for them, rather than the global elite. But now the streets of Santiago and Valparaiso are being taken over by thousands of protesters who've been unwilling to accept piecemeal concessions from President Sebastian Pinera.

In Chile, a billionaire president pushes austerity while the military represses protesters. Thousands have been arrested. Knowing Chile's history, this is very dangerous.

The solution here and across the world is obvious. Put power where it belongs: with working people. https://t.co/s6J7kOtDXs
— Bernie Sanders (@SenSanders) October 30, 2019
So far many of these protests have been peaceful, but there have been instances of arson and of violent clashes between protesters and security forces. At least 20 have already died, but the activists there are not giving up. They are relentless, and they are only interested in substantive change—a fundamental restructuring of the Chilean Government to serve the working people. They want Pinera to resign, and they are calling for changes to the Chilean constitution.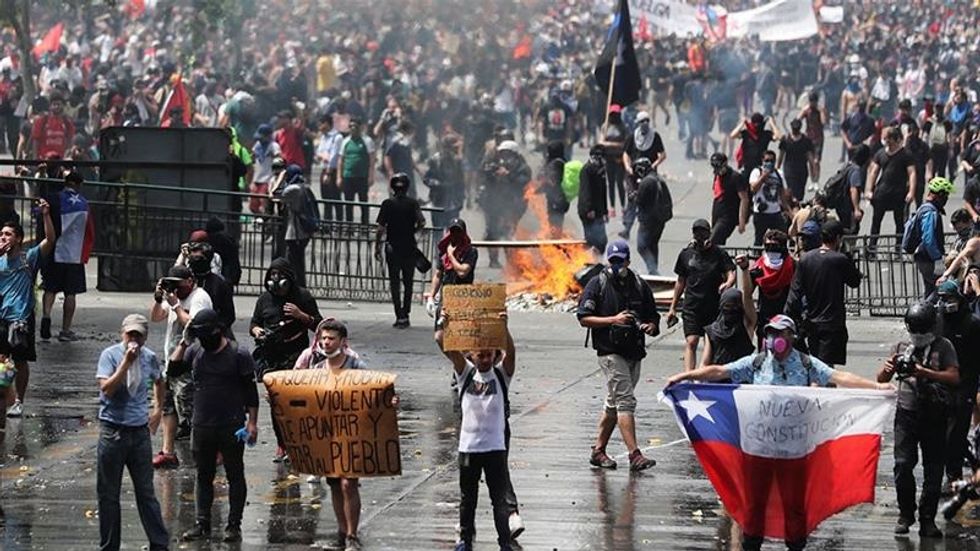 Al Jazeera
For Americans, this kind of protest remains out of the question. Protest in America does not exist to be disruptive or to force action. It only serves as a salve for our powerlessness.
American protest is sanctioned by the system and restricted to its proper time and place. It makes the protesters feel better for a time—makes them feel seen, like they're a part of something—and maybe it raises some awareness for a cause or inspires some phone calls to congress. And if it attempts to do more, it is met with swift and violent crackdowns. It does not—cannot—break down the country's normal functions.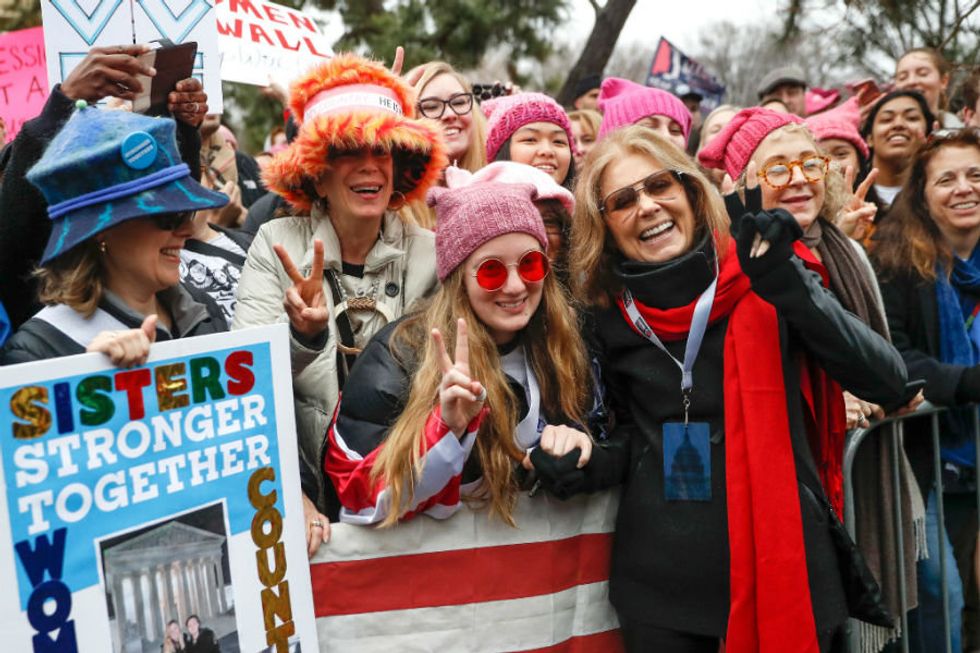 Christian Science Monitor
But what if the normal functions no longer work for the people? What if the interests that led the United States to back coups against Socialist leaders are also fueling mass propaganda campaigns against grass roots movements at home? What if they're defending those in power from the normal avenues of accountability?
The American media has a tight focus right now on the rapidly developing impeachment proceedings, and that makes sense. There is new information coming out of those efforts on a near daily basis, and there is a significant precedent for this kind of procedure to effect change. But it remains to be seen whether all this new evidence will survive the spin and propaganda from the likes of Fox News and One America News. We should not place our faith purely in the institutions of power to regulate power. To achieve anything for the people, the institutions of power must be afraid of the alternative.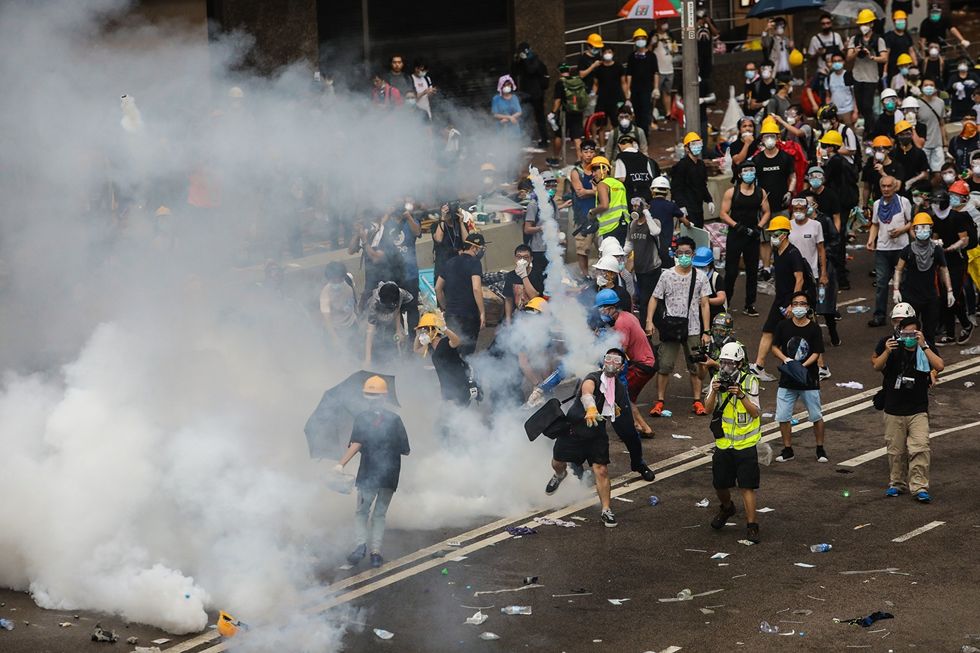 AFP/Getty Images
We must look at the mass actions that are making life difficult for the powerful in Chile and Lebanon and Hong Kong, and prepare ourselves to make the same kind of trouble at home. Even if Trump is forced out of office and the Democrats choose a progressive nominee and the 2020 election fully flips control to the Democrats, the fight will only be getting started. The interests and forces that killed Salvador Allende in Chile will still be doing everything in their power to protect the status quo. We must be willing to upend the normal order if we want to produce real change.

In our second Visionaries Project installment, we talk to sex workers' rights activist and writer Elsie B.
The Visionaries Project is a new subsection of The Liberty Project dedicated to highlighting the lives, passions, and work of radical activists currently working towards social justice and liberation from oppression. We aim to uplift the perspectives of diverse voices working in media and activism today—and not just the faces who make headlines, but the real people on the ground every day, working towards their visions of a better world.
For our second installment of the Visionaries Project, we're featuring Elsie B., a writer and activist who can be found on Twitter at @NotSuperIntoIt. Elsie is an out and proud member of the bisexual community and an active participant in the fight for sex workers' rights.
Sex workers, as Elsie informs us, often face unique legal constraints and social stigma that can prevent them from accessing adequate healthcare and opportunities. As sex workers' rights have been threatened in the United States and across the world by new laws that constrain their ability to work and share online under legal protections, the need for information and action has grown.
As Amnesty International implies, criminalization of sex workers' rights almost always puts them at a disadvantage. "We have chosen to advocate for the decriminalization of all aspects of consensual adult sex - sex work that does not involve coercion, exploitation or abuse," reads the organization's statement on the matter. "This is based on evidence and the real-life experience of sex workers themselves that criminalization makes them less safe."
Or as Elsie writes, "It's long past time to demand fair and equal treatment for sex workers, and the consequences of delayed action by civilians and lawmakers will be lethal."
We spoke to Elsie about how she became involved in the fight for sex workers' and LGBTQ+ rights, what kind of activism work she does, and how she unwinds after a long day of fighting oppression and injustice.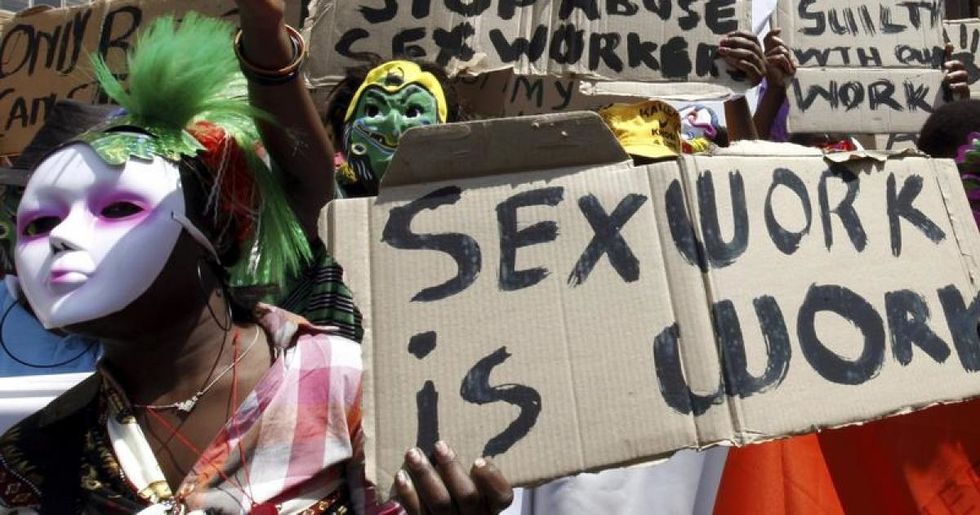 Human Rights Watch
LIBERTY PROJECT: Can you tell me a bit about your background? How did you get interested in activism?
ELSIE B: I'm fortunate to have grown up in a family that values social justice. I was raised as an ethical vegetarian and attended circus protests as a child. In middle school, I printed animal rights literature and ordered a pack of stickers from Peta2 that said "cut class, not frogs," which I slapped on every table in the science room when the dissection unit began approaching. As I got older, my dad and I would attend political rallies for Democratic candidates. During college, my politics became more radical than those I was raised with, thanks to some incredible professors. I was involved in social justice clubs, including the campus LGBTQ+ outreach program and an animal rights group of which I became VP.
In graduate school, I met a group of activists who shared my radical political beliefs and were doing meaningful, grassroots work for social justice and to end animal suffering. As I befriended these folks, I began to widen my interests in regard to my activism. I met my friend Emily during this time who is a stripper. Her influence changed my understanding of feminism and women's rights.
After graduate school, I started a small organization that helped connect feminist women and worked for the Sanders 2016 campaign.
How did you first start getting interested in sex workers' and LGBTQ+ rights?
A: From the time I realized LGBTQ+ folks were treated differently, I've been interested in the rights of non-hetero folks. I grew up with gay and lesbian culture as a constant in my life. And, at about the age of eight, I realized I myself am interested in more than only the opposite sex.
My official foray into LGBTQ+ activism started in college, but I saw myself as an ally at that time. However, after the Pulse shooting, I began to see my role in the LGBTQ+ community not as an ally but as a member of the community. I had quietly come out as bisexual many years before but had never felt comfortable identifying as someone in the LGBTQ+ community. However, after the gut-wrenching experience of watching what I realized was my community face such horrific violence, I decided it was my responsibility as an out bisexual to fight for destigmatization, especially of bisexuals who are at the highest risk for suicidal ideation and attempts.
Around the same time, sex workers started to experience attacks on their primary methods of advertisements, especially on Backpage. As so many of my friends are sex workers, I saw the panic these workers experienced. This is when I began to incorporate sex workers' rights into my activism platform. Then, in 2018, FOSTA/SESTA was introduced and passed. During this time, I dedicated all of my activism to fighting FOSTA/SESTA. During that year, I marched, helped plan harm reduction meetings, petitioned, and contacted government officials. The energy during 2018 was one of terror and excitement as sex workers rallied to fight against these new laws. It was electrifying to be a part of the first International Wh*re's March, but that euphoric buzz of being with other activists was quelled as the reality of a changing internet landscape for sex workers sunk in.
Sex workers are being locked out of their accounts en masse. This is terrifying for sex workers who have already be… https://t.co/8d7TYSFL7A

— Elsie (@Elsie) 1568936565.0
From 2018 to present, most of my activism has been based online, since sex workers work mostly in isolation. Through online communities, I have been able to continue my work in harm reduction, petitioning, and community organizing. I've also written under various pseudonyms (since even working as an activist carries stigma). I've had viral writing, which has given me some hope that sex workers' rights are beginning to creep into the consciousness of civilians, the term for non-sex workers.
Are there any challenges you've faced in activism work? Any particular successes, favorite moments, or pieces you've written?
A: Activism is draining, but there is no better feeling to me than having someone reach out to let me know how I've helped them. This has been especially true of my work as an activist for bisexual individuals. The number of messages I've received from people telling me I gave them the courage to come out or that reaching out to me is the first time they've admitted their attraction to more than one gender has been simultaneously heartbreaking and the most rewarding feeling.
Working as an activist for sex workers has unique challenges in that even associating with sex work as a topic comes with stigma. I usually work under pseudonyms, as I don't want my work in sex work to affect my other activism (I've worked in activism for education orgs which serve younger students).
Activism as a bisexual cis-woman has also been challenging, as biphobia and stigma are often just as hostile, if not more, in the community. Bisexuals have a unique fight, in that they are shunned from straight and gay communities for not being straight or gay enough. It can be painful to watch people choose to repress their complex sexual orientation in order to feel accepted by one group.
Coming out very publicly was one of the best feelings as an activist. It was such a personal act, and the number of friends and acquaintances who reached out to me during that time to tell me their stories was so touching.
Seattle Police shockingly claim sex workers need to be arrested "to disrupt the cycle of violence and abuse". Thi… https://t.co/WocSniI500

— Kshama Sawant (@Kshama Sawant) 1570115501.0
What would you suggest people do if they want to start to get involved in the fight for LGBTQ+ and sex workers' rights?

A: For most people, the most effective activism they can do is within their own communities. Talking about sex workers and LGBTQ+ rights with family and friends may seem menial, but it is some of the most important work we can all do.
To talk to folks in your circles though, you need to be armed with correct information about those you are hoping to help. It is important to avoid savior complexes. Listen to people in the communities you want to fight for. Trusted sources are SWOP chapters, the ACLU, the LGBT Center in Los Angeles (or local chapters to you), and actual LGBTQ+ folks and sex workers.
Of course, you can volunteer and leaflet with local chapters and organizations, but it is also important to support community members directly. You can do this by supporting a business owned by LGTBQ+ folks and sex workers or by tipping them directly!
You do a lot of challenging work. What do you do to take care of yourself and have fun?
A: What's been so great about my current work is the wonderful people I have met. I have never had more fun with a group of people than my sex worker comrades. We take trips, drink wine in the backyard, and gas each other up constantly.
Personally, I go to the gym almost every day and try to spend some time there with my phone off. Turning your phone off is very important for activists (and all workers at this point). In 2019 we can be constantly reached, and it's hard not to engage when you are so passionate about your work helping others.
I also got a fully functional TV for the first time in my adult life this year and now understand the benefits of winding down watching TV (even if I mostly watch The Office).