In a time when trans people's safety, security, and integrity are subject to attack, here are the top 10 tips to being a good transgender ally.
In today's destabilized political climate, social progress in inclusivity and acceptance can seem glacially slow. On January 22, 2019, the Supreme Court allowed President Trump to ban transgender persons from serving in the military, despite a federal court ruling against it in 2018. LGBTQ+ activists condemn the ban as cruel and prejudiced, but people outside the queer community can play a crucial role combating transphobia.
Trans allies can enlighten cultural attitudes and shift discussions away from ill-informed or maligning stereotypes. PFLAG defines transgender as "a term often used to describe an individual whose gender identity does not necessarily match the sex assigned to them at birth." An ally, in the words of UC Berkeley's Gender Equity Unit, is "someone who advocates for and supports members of a community other than their own; reaching across differences to achieve mutual goals."
In a time when trans people's safety, security, and integrity are subject to attack, here are the top 10 tips to being a good transgender ally:
1.Never "out" a transgender person.
You wouldn't want your most personal information shared freely with strangers. Demonstrate the same respect for the personal lives of your friends. This includes being sharply aware of your surroundings when discussing trans topics before mentioning names, as you could expose your friend without meaning to.
2. Use the names and pronouns your friends prefer.
Don't be afraid to ask if you aren't sure. If you make a mistake, politely correct yourself, and gently correct others if they do the same. It isn't infringing upon someone's freedom of speech to allow individuals to self-identify and called by that name.
3. Don't make assumptions about a transgender person's sexual orientation.
Gender identity is not the same as sexual orientation. Gender identity is an individual's own understanding of their gender, and sexual orientation is who they feel attracted to. Transitioning is not an indication of any specific orientation.
4. Be patient.
Transitioning is a long process that may have long phases of questioning, exploring, and experimenting. Individuals may change their preferred pronouns, change their minds about their gender expression, and then change back. Be patient and accepting while they work it out for themselves.
5. Be willing to listen.
Transitioning can also be incredibly frustrating and emotionally turbulent. Be open and accepting when a friend wishes to talk. Respect their space when they ask for it, but make it clear that you're willing to listen.
6. Don't expect transgender people to educate you.
Don't expect your transgender friends to represent the entire community. Make use of resources to understand important issues. Books, films, blogs, and YouTube channels offer insight into the shared experiences in the community.
7. Challenge transphobic attitudes.
GLAAD advises you speak out against anti-trans remarks and backhanded compliments like, "She's so gorgeous, I would have never guessed she was transgender." Challenging these remarks and clarifying why they're inappropriate is a small step towards changing cultural attitudes.
8. Support all-gender public restrooms.
Advocate for unisex, all-gender, or single user restrooms at the workplace, schools, or businesses. Since some institutions still don't welcome gender non-conforming or transgender people, speaking up is one small way to shift attitudes towards acceptance.
9. Advocate for LGBTQ+ legislature.
As PFLAG states, People who are transgender or gender nonconforming can be fired from their jobs under state law in more than half of the states in the U.S. simply for being transgender." There's no federal law explicitly banning discrimination against transgender people, but a plethora of organizations are lobbying for that to change. You can get in touch with National Center for Transgender Equality or the Sylvia Law Project to help the cause.
10. Know your own limits as an ally.
It's never wrong to say you don't know. If you're unsure of what's appropriate, ask. If you don't feel comfortable discussing something, say so, and don't fake it. Otherwise, your reactions can range from insensitive to insincere without meaning to.
Other resources for information about the LGBTQ+ community and their allies include:
Transequality.org
,
ACLU
,
Lambda Legal
,
Human Rights Campaign
, and
New York Civil Liberties Union
.
Meg Hanson is a Brooklyn-based writer, teacher, and jaywalker. Find Meg at her website and on Twitter @megsoyung.
50 years after M.L.K. was assassinated, his legacy continues to inspire. Who are the strongest voices fighting for his vision?
In the 50 years since Dr. Martin Luther King Jr.'s death, his legacy has only gained momentum as activists and everyday citizens fight against prejudicial policies that would scale back his vision of equality, rather than realize it. The March on Washington may be most commemorated for Dr. King's speech on August 28, 1963, but the determination of the Civil Rights Movement inspired even more than the 250,000 people who demonstrated in the nation's capital that summer. Dr. King declared, "Go back to Mississippi, go back to Alabama, go back to South Carolina, go back to Georgia, go back to Louisiana, go back to the slums and ghettos of our northern cities, knowing that somehow this situation can and will be changed."
True to his legacy of equality, Dr. King's passion touched people from all walks of life, from famous actors and politicians to scholars and everyday citizens. Here are 5 people whose aspirations were inspired by MLK:
1. Ineva May-Pittman, activist and NAACP member who marched with Dr. King:
"I just felt–free. With all these people from all across the country and the world, of all ethnicities, together–no incidents or anything, and everybody was friendly toward each other...Why can't this be, you know, all the time? So we had to come back and double our determination to try to make it be. And we still workin' on it."
2. Frankye Adams-Johnson, activist and teacher who marched with Dr. King:
"I felt that somehow we had achieved whatever this freedom meant, that it had been achieved there in Washington. We had marched, we had listened to speeches, and we had been moved by the great Martin Luther King, Jr." Reflecting on the summer of 1963, she says, "I envisioned that our quality of life as an African-American people … would be better for more of us than the handful that it is. I don't want to put a damper on celebrating and commemorating. But I will just say there's still so much more we need to be fighting for."
3. Forest Whitaker, actor:
"We followed him because he was holding your hope. The hope that your life would be full and complete with equality. There are few people in history who take that position that allows people to follow and change, who represent something powerful...He did it in this country and made people walk with him towards a better life. I think it's difficult for the next generation to see the things that happened before...So you have to continually, historically remind them and try to make them aware of what Martin Luther King was doing that we are all in this together. And that hope is alive today."
4. Barack Obama, 44th President of the United States:
"Dr. King was 26 when the Montgomery bus boycott began. He started small, rallying others who believed their efforts mattered, pressing on through challenges and doubts to change our world for the better A permanent inspiration for the rest of us to keep pushing towards justice."
5. Stevie Wonder, along with 80 other iconic figures, and the youth of today:
In commemoration of Dr. King's assassination in Memphis in 1968, musician Stevie Wonder created a powerful tribute to Martin Luther King that called upon figures from Apple CEO Tim Cook and London Mayor Sadiq Khan to Serena Williams and Paul McCartney. Most powerfully, he called for all Twitter users to post their own dedication to Dr. King and how he continued to inspire today's generation. He posted, "On April 4, 1968 at 7:05 p.m. central time, Dr. King's life was cut tragically short. 50 years later a need for his dream to be fulfilled is far greater than ever. Share your dream & post your own #DreamStillLives video. Spread love...spread hope"
Meg Hanson is a Brooklyn-based writer, teacher, and jaywalker. Find Meg at her website and on Twitter @megsoyung.

At least 10 vocal activists have been "kidnapped" after stirring unrest about labor reform in the Communist Party.
Authorities in China have intensified their suppression of human rights, with their latest government crackdown targeting student activists at Peking University.
Last Friday, an alumnus of China's prestigious—and idiosyncratically liberal—University was reportedly "kidnapped" on campus property for drawing attention to labor reform. Zhang Shengye was forced into a car by a small group of unidentified men wearing black jackets. An anonymous witness noted, "They hit him hard and quickly got Zhang under control."
University officials had to spin the widely publicized arrest in a series of memos sent to students, claiming to have discovered an "illegal organization" within the university's own Marxist Society. The messages alleged that individuals had infiltrated the campus in order to subvert the government and sow dissent against the Communist Party. One memo warned that students would "bear consequences" if they became associated with the organization or the activism it encouraged.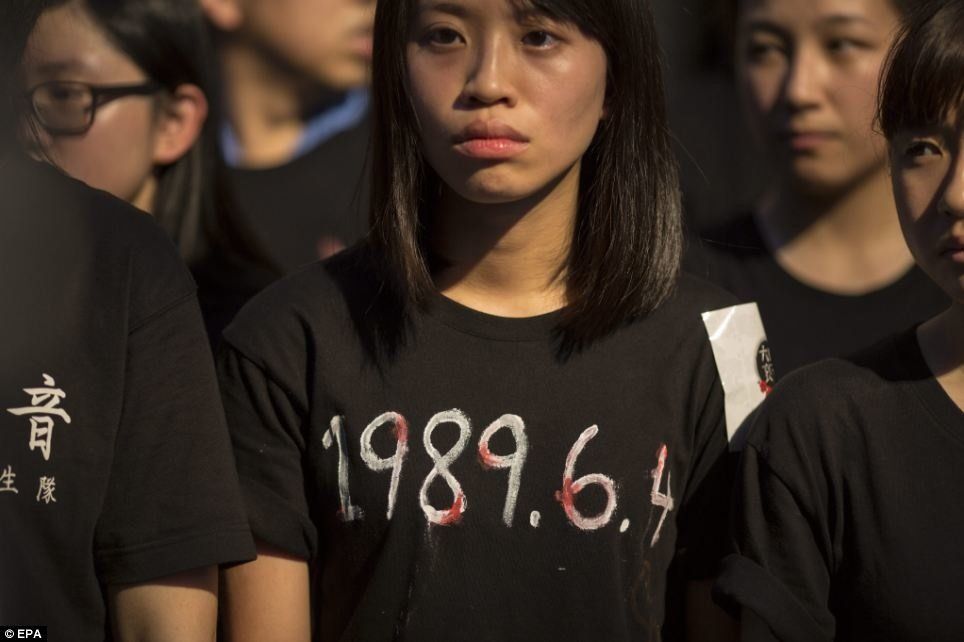 Student protesters commemorate Tiananmen Square anniversary Daily Mail
Several vocal activists, including other graduates from Peking University, have disappeared recently. According to CNN, at least nine other labor protesters are known to have been detained in five other cities. Despite touting Marxist ideologies, the Communist Party has long outlawed labor unions and opposed workers' rights. The government has been amplifying efforts to suppress activism since the summer, when the government denied a group of workers' demand to establish a trade union in southern China's Shenzhen's Jasic Technology company, stirring public dissent over labor laws.

"It's ironic to see how the students who have been studying and believing in Marxism are rounded up by the Chinese authorities for supporting workers, the fundamental value of Marxism," said Patrick Poon, a researcher at Amnesty International in Hong Kong. "The students are simply exercising their freedom of expression and showing their solidarity to the workers. They should be immediately released."
While students at Peking University are urged to study the tenets of Marxism and the power of the proletariat, China's Communist Party now has to suppress the empowered students who have not only noticed but resisted the government's hypocritical denigration of the working class. Cornell professor Eli Friedman notes, "Now that they've taken it to heart, the government is cracking down quite significantly. In some ways, this is the government's own making.
In response, Peking University's committee within the ruling Communist Party announced the implementation of an office focused on "internal control and management" of campus life, including inspections and patrol of campus grounds. Another new addition to campus is Qiu Suiping, the new Communist Party chief stationed at the university after serving as the top state security official in Beijing from 2013 to 2014.
Qiu's appointment and the rise of student activism both speak to the growing unrest in China for fairer and more humanitarian living conditions for workers. The average work schedule for a young professional in China is commonly referred to as "
996
": work from 9 AM to 9 PM, six days a week. For factory
laborers
, schedules can extend to grueling 16- or even 18-hour-day
Meg Hanson is a Brooklyn-based writer, teacher, and jaywalker. Find Meg at her websiteand on Twitter @megsoyung.