The WHCA will not invite a comedian to speak at the 2019 dinner due to "unusual moment" in history when Trump's threats to freedom of the press aren't funny.
According to The White House Correspondents' Association, tensions between the press and the Trump Administration are nothing to joke about. This year's annual fundraising dinner, which traditionally invites a comedian to roast the president and the press corps, will instead feature Ron Chernow, noted biographer of Alexander Hamilton, as its speaker.
Oliver Knox, the association's president, announced Chernow's selection on Monday, stating, "As we celebrate the importance of a free and independent news media to the health of the republic, I look forward to hearing Ron place this unusual moment in the context of American history."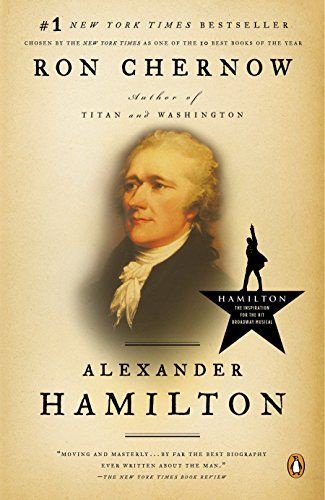 Town & Country Magazine
Ironically, it's Trump's expected absence from the event that worries the association. Another facet of the annual tradition is for the seated president to speak first, jest with the press corps and perhaps poke fun at himself, and then the comedian parries back in their own speech. However, Trump has declined to attend the last two years, giving no indication that he plans to appear at the April 27th event with Chernow. Knox has noted that the president's absence can skew the tone of the room into feeling antagonistic toward the current administration, rather than a good-humored acknowledgement of differences.

In fact, last year's event (sans Trump) featured Michelle Wolf, who incurred the president's wrath and general backlash for her remarks. For instance, Wolf singled out White House reporters for empowering Trump, stating, "You helped create this monster, and now you're profiting off of him." Later Trump took to Twitter to denounce Wolf as a "filthy 'comedian'."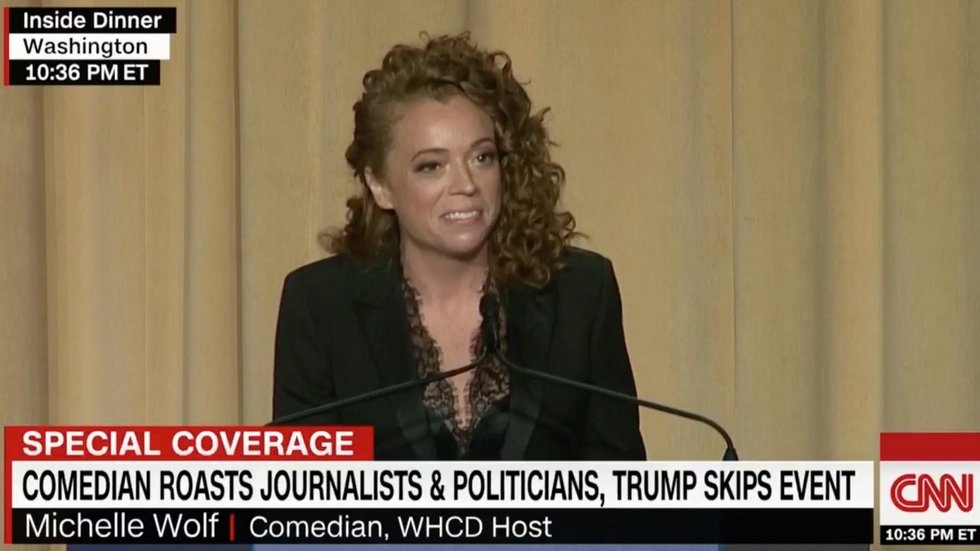 CNN - The Blaze
This year, Chernow is clarifying that "he's never been mistaken for a stand-up comedian," but he's aware of the "unusual moment" Knox speaks of, in terms of the fraught relationship between the Trump administration and the press. High points of tension include the widely publicized legal battle between CNN and the White House after CNN correspondent Jim Acosta's press pass was revoked and then reinstated by a judge after his network took the matter to court.

Stuck in the middle, Chernow released a statement, "The White House Correspondents' Association has asked me to make the case for the First Amendment and I am happy to oblige. Freedom of the press is always a timely subject and this seems like the perfect moment to go back to basics. My major worry these days is that we Americans will forget who we are as a people and historians should serve as our chief custodians in preserving that rich storehouse of memory."
Meg Hanson is a Brooklyn-based writer, teacher, and jaywalker. Find Meg at her website and on Twitter @megsoyung

The White House revokes CNN reporter Jim Acosta's press pass with "fraudulent accusations" of assault.
Trump's vilification of the press as "an enemy of the people" reached a crescendo on Wednesday when CNN's chief White House Correspondent Jim Acosta was banned from the property "until further notice." The dismissal followed a heated exchange between him and Trump during a press conference.
Acosta first shared on Twitter that he'd been barred from the White House grounds.
During a press conference earlier that day, Acosta questioned Trump's description of the migrant caravan approaching the US border from Central America as an "invasion." He then baldly asked about Russia's involvement in the 2016 presidential election, to which the president opted to lob insults at Acosta and CNN, including calling Acosta a "rude, terrible person."

Trump prevented the reporter from asking follow up questions, declaring, "That's enough" and, "Put down the mic!" A female aide approached and attempted to physically wrestle the microphone away from Acosta. This was the contentious point that Press Secretary Sarah Huckerbee Sanders referred to on Twitter after confirming that Acosta's press access had been revoked. Sanders claimed the decision was the result of him putting "his hands on a young woman just trying to do her job as a White House intern."
Shamefully, Sanders followed up by posting a clip of doctored footage from the incident. Paul Joseph Watson, editor of the infamously fallacious Infowars website, edited and shared the video on Twitter before Sanders posted it, stating, "We will not tolerate the inappropriate behavior clearly documented in this video."

Acosta simply posted his response to the accusation as "a lie," as accurate footage of the press conference clearly shows his lack of aggression towards the intern. CNN has responded on Twitter by condemning Trump's "disturbingly un-American" attacks on the press and asserting that they "stand behind Jim Acosta and his fellow journalists everywhere." They've also posted undoctored footage of the exchange "for the world to see."
In addition, CNN denounced the White House's decision and Sanders' "fraudulent accusations." In a statement, they asserted that Acosta's ban "was done in retaliation for his challenging questions at today's press conference. In an explanation, Press Secretary Sarah Sanders lied. She provided fraudulent accusations and cited an incident that never happened. This unprecedented decision is a threat to our democracy and the country deserves better."

While Fox News reporter Chris Wallace agreed that Acosta's actions were "shameful," the White House Correspondents' Association finds Acosta's ban "unacceptable." In a statement, they urge the White House to "immediately reverse this weak and misguided action."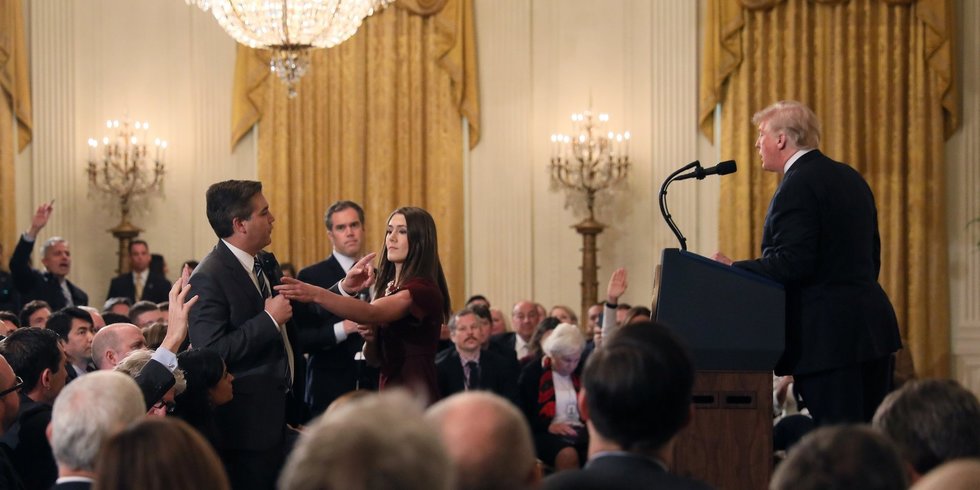 Business Insider
Trump and his administration have an infamous history of combating the press. In October, the writers organization and free speech advocacy group PEN America filed to sue President Trump in federal court "to stop President Trump from using the machinery of government to retaliate or threaten reprisals against journalists and media outlets for coverage he dislikes."

Neither Sarah Sanders nor the White House has made further comment on Acosta's press credentials since Wednesday.
Meg Hanson is a Brooklyn-based writer, teacher and jaywalker. Find Meg at her website and on Twitter @megsoyung.
Contrary to popular belief, there is no hate speech exception to the First Amendment.
The social networking site Gab has been taken offline since it was confirmed that the Pittsburgh synagogue gunman used it to post anti-Semitic hate speech and to threaten Jews. The site is popular with the far right and describes itself as "an ad-free social network for creators who believe in free speech, individual liberty, and the free flow of information online. All are welcome." Gab was originally created by conservative businessman Andrew Torba in response to Twitter clamping down on hate speech in 2016.
Robert Bowers logged onto the platform shortly before killing 11 people at the Tree of Life synagogue on Saturday to post the following.
Consequently, the site has been abandoned by payment processing firms PayPal and Stripe, as well as hosting service Joyent and domain register GoDaddy. A statement on Gab's website Monday read that the platform would be "inaccessible for a period of time" as it switches to a new web host. It said the issue was being worked on "around the clock." The statement went on to defend the website, saying, "We have been systematically no-platformed [and] smeared by the mainstream media for defending free expression and individual liberty for all people."
Regarding Bowers' use of the site, Torba said, "Because he was on Gab, law enforcement now have definitive evidence for a motive," Mr. Torba wrote. "They would not have had this evidence without Gab. We are proud to work with and support law enforcement in order to bring justice to this alleged terrorist."

But companies associated with Gab were not satisfied by the site's cooperation with law enforcement and continue to abandon the site. PayPal, the platform Gab used to manage donations from users, said in a statement, "When a site is explicitly allowing the perpetuation of hate, violence or discriminatory intolerance, we take immediate and decisive action."

A tweet from Gab on Monday morning implied that the people behind the site believe themselves to be a victim of intentional defamation.
Set aside the questionable intent of the decidedly tone-deaf tweet; and, legally, Gab did not do anything wrong. Contrary to popular belief, there is no hate speech exception to the First Amendment. The Supreme Court reaffirmed this in 2017 in Matal vs. Tal, deciding, "Speech that demeans on the basis of race, ethnicity, gender, religion, age, disability, or any other similar ground is hateful...the proudest boast of our free speech jurisprudence is that we protect the freedom to express 'the thought that we hate.'" Despite this, many people are calling for the permanent removal of the site, as Wired points out, "Momentary political rage can blind people into abandoning sacred values."

However, the internet inarguably contributes to the creation of extremists, as we have seen in the case of terrorists, rapists, school shooters, and now the synagogue shooter in Pittsburgh. Sites like Gab allows users to easily find other people who share their most extreme viewpoints, inevitably normalizing disturbing rhetoric the user may have otherwise suppressed or self-corrected in time. Therefore, sites like Gab become polarizing spaces that can help to sew the kinds of ideas that lead to violent acts. But, if there's no legal action to be taken against a site like Gab without damaging free speech, what can be done?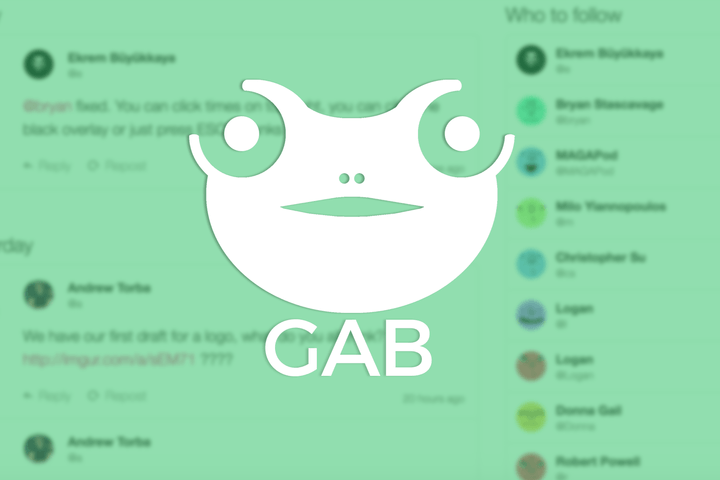 GAB Logo
Justice Anthony Kennedy said in his opinion following Matal vs. Tal, "A law that can be directed against speech found offensive to some portion of the public can be turned against minority and dissenting views to the detriment of all. The First Amendment does not entrust that power to the government's benevolence. Instead, our reliance must be on the substantial safeguards of free and open discussion in a democratic society."

While what exactly those safeguards are remains unclear, one can speculate that what Kennedy meant is exactly what Gab calling unjust now. As previously mentioned, the site has been abandoned by all of the companies whose services were needed for the site to remain online. And just as Gab has the right to allow freedom of expression on their site as they see fit, these companies are also free to express themselves in refusing to work with websites that allow hateful rhetoric.
Indeed, the conversation surrounding the fate of Gab has revealed that freedom of speech online is not decided by the government, but by social media platforms, servers, and domain registers who are free to decide with what kind of opinion their company wants to be associated. This also means that, on some level, what is seen as acceptable online is driven by consumer outrage and approval.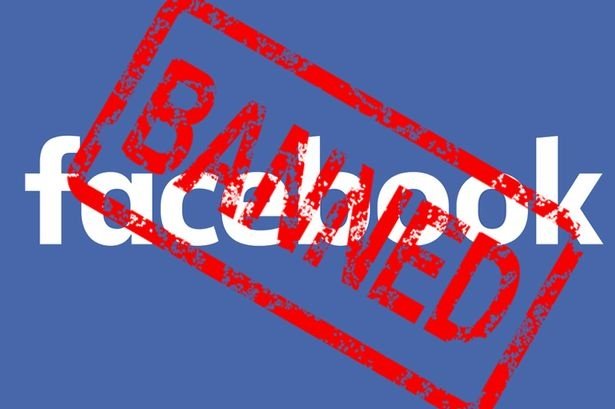 Daily Mirror
For example, after facing criticism for allowing users to post prejudiced content, larger social networking sites like Twitter and Facebook have been actively fighting against hateful rhetoric with varying degrees of success. In 2016, a code of conduct was established by the European Union in collaboration with Facebook, Twitter, YouTube, and Microsoft. The code is aimed at fighting racism and xenophobia and encourages the social media companies to remove hate speech from their platforms.

So, instead of outraged Americans calling for the legal suppression of sites like Gab — an impossibility if the First Amendment is to remain intact — the real power of the individual to fight hate speech is in one's ability to support or boycott companies based on how they handle free expression.
Brooke Ivey Johnson is a Brooklyn based writer, playwright, and human woman. To read more of her work visit her
blog
or follow her twitter
@BrookeIJohnson
.
Getting to know your Constitution and the rights it guarantees you.
Can you recite the five main freedoms protected by the First Amendment? If not, you aren't alone. The New York Times, citing a recent study by the First Amendment Center at Vanderbilt University, revealed that just over half the people surveyed knew that our First Amendment protects freedom of speech, under 25% knew that it protects freedom of religion, under 20% knew that it protects freedom of the press, 14% knew that it protects freedom of association and only 6% knew that it protects the right to petition the government for grievances. Yet another survey conducted by the Annenberg Public Policy Center found that 37% of Americans could not even name one right protected under the First Amendment. Back in 2006, one in four Americans could name one right, but more than half could name at least two members of the cartoon family, the Simpsons.

Keep reading...
Show less
An honest reflection on race, inequality, and justice in America
February 26, 2018 will mark the six year anniversary of Trayvon Martin's death. His killer, George Zimmerman, was acquitted of all charges on July 13, 2013. The tale of unarmed black men being killed in America is one that seems to be never-ending. Stories of unarmed African Americans being gunned down at the hands of law enforcement circulate throughout the news cycle as frequently as weather updates. Trayvon became a martyr at only 17 years old. His death was the pinch that woke America up from the dream of "racial equality" that had been conjured with the election of our first Black president four years before his murder. The Dog-whistle-politics that stemmed from this case would've made Lassie's head explode. Right wing talking heads went as far as to blame Trayvon's death on the hoodie he was wearing. Some feel that had he not been wearing said hoodie that made him look "suspicious," Martin would still be alive today.
Keep reading...
Show less
The meaning of freedom can vary from person to person, so what does it mean for all?
Freedom is a fundamental element of liberty; it's a concept, a value, and a feeling. It's also an essential human requirement, and something most people agree is worth fighting for. But what does freedom really mean in our daily lives, and the lives of others? What does it require of us?

Keep reading...
Show less