Dall-E Mini, the AI-powered text-to-image generator has taken over the internet. With its ability to render nearly anything your meme-loving heart desires, anyone can make their dreams come true.
DALL-E 2, a portmanteau of Salvador Dali, the surrealist and Wall-E, the Pixar robot, was created by OpenAI and is not widely available; it creates far cleaner imagery and was recently used to launch Cosmpolitan's first AI-generated cover. The art world has been one of the first industries to truly embrace AI.
The open-sourced miniature version is what's responsible for the memes. Programmer Boris Dayma wants to make AI more accessible; he built the Dall-E Mini program as part of a competition held by Google and an AI community called Hugging Face.
And with great technology, comes great memes. Typing a short phrase into Dall-E Mini will manifest 9 different amalgamations, theoretically shaping into reality the strange images you've conjured. Its popularity leads to too much traffic, often resulting in an error that can be fixed by refreshing the page or trying again later.
If you want to be a part of the creation of AI-powered engines, it all starts with code. CodeAcademy explains that Dall-E Mini is a seq2seq model, "typically used in natural language processing (NLP) for things like translation and conversational modeling." CodeAcademy's Text Generation course will teach you how to utilize seq2seq, but they also offer opportunities to learn 14+ coding languages at your own pace.
You can choose the Machine Learning Specialist career path if you want to become a Data Scientist who develops these types of programs, but you can also choose courses by language, subject (what is cybersecurity?) or even skill - build a website with HTML, CSS, and more.
CodeAcademy offers many classes for free as well as a free trial; it's an invaluable resource for giving people of all experience levels the fundamentals they need to build the world they want to see.
As for Dall-E Mini, while some have opted to create beauty, most have opted for memes. Here are some of the internet's favorites:
There's no looking back now, not once you've seen Pugachu; artificial intelligence is here to stay.
Because age is just a number... that tells us how incredibly old you are.
Joseph Robinette Biden Jr. was born on November 20th, 1942.
His teeth and hair were born quite a bit later and are likely immortal, but the point is: our President-elect is old. He's so old that "Robinette" probably seemed like a reasonable thing to put in the middle of your kid's name when he was born.
He's so old, in fact, that he's technically slightly older than the guy who is still president until January 20, and actively proving that old white guys are the milk-on-a-hot-day of politicians: a bad choice (also, they look and smell like spoiled dairy).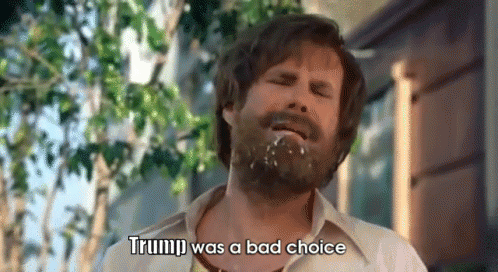 Joe Biden is so old that he's almost as old as the runner up in the Democratic primary. He's so old that, once inaugurated, he will be the oldest American president in history. Once Joe Biden is inaugurated, the second-oldest American president in history will be...Donald Trump.
The fact that our two options in the 2020 election to lead us are men who are both more than 35 years older—and about 40% whiter—than the average American, is a damning indictment of our political system. But with both men widely accused by their critics of losing a step and declining into senility, should age be a defining issue in this election? Is Joe Biden, 77, so much older than Donald Trump, 74, that he should be disqualified?
Shouldn't all your major life achievements be behind you at 77? Shouldn't people that old just be sitting on their porches, grumbling about young people? If that's what you think, you might want to ask...
So, clearly, being 74 or 77 does not mean you're done doing amazing things. If history is anything to go by, both Donald Trump and Joe Biden should have a lot of good years left. That said, there is such a thing as "biological age." If a person were to work out five times a week—as opposed to living off Big Macs and (allegedly) amphetamines and only working up a sweat by ranting on Twitter—that person could be much "younger" than someone born a few years after them.
So, while age itself should not necessarily be disqualifying for the job of president, certain habits—like inciting violence, opening concentration camps, and "joking" about running for a third term—definitely should be.