We've all been there. You were gifted a dumb present that you'll never in a million-zillion years ever use and you're too polite to tell anyone any differently. It sits at the bottom of your drawer for months, then years. And when you finally feel like enough time has passed, you can throw it out in good conscience.
A return is almost always out of the question. Plus, gift givers don't often include a return receipt, and we all know we wouldn't dare ask for one. I'd rather admit to a crime than confess I don't like a gift - how insulting to the gifter's sense of aesthetics.
And-hey, I have limited drawer space. Who can keep these unwanted gifts for six months when there isn't any space for them? I hate clutter, and unwanted gifts are just that.
This year, I am making an effort to swiftly remove any unwanted gifts from my house without hurting anyone's feelings…and potentially benefiting others. As the old saying goes, one man's trash is another man's treasure. And thank goodness for that.
From the The Guardian:
"According to research published this week by the consumer body, one in four people (24%) received an unwanted or unsuitable gift for the Christmas of 2021. Meanwhile, a separate study by the personal finance comparison site Finder said £1.2bn was wasted on unwanted Christmas gifts each year."
Come to terms with the fact that you will never use that gift and follow these quick tips to offload those unwanted gifts:
Donate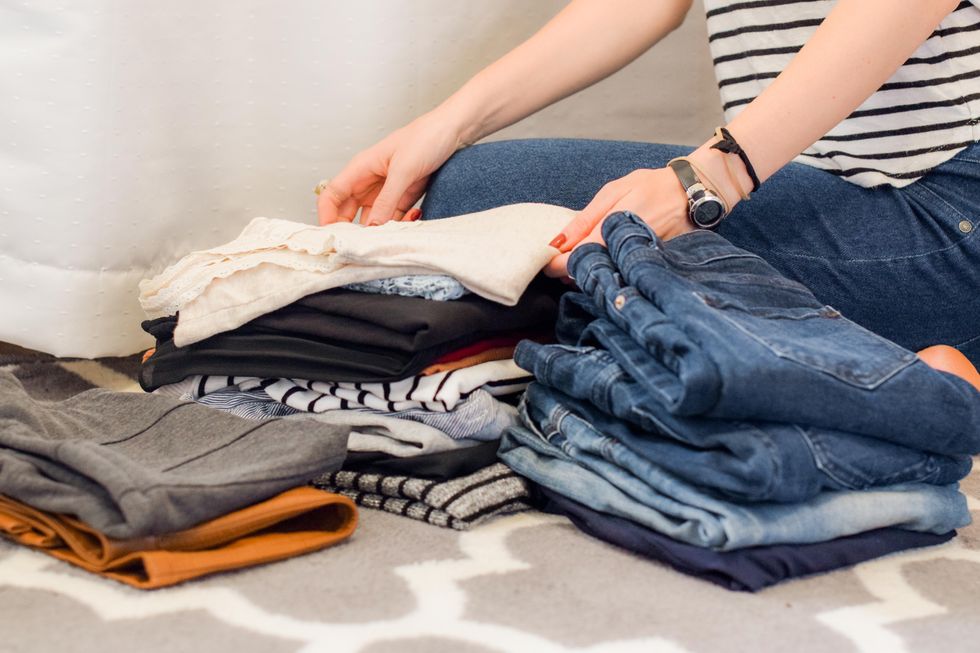 Sarah Brown via Unsplash
The most obvious choice for those unwanted pairs of mud-green sweat socks and that same fluffy robe you get every year from your Aunt Judy is to donate them. Just round up everything you don't want and Google the donation center closest to you.
This is also a fantastic excuse to purge your closet of that pile of stuff you've been meaning to get rid of. A few bags of give-away-clothes will get your spring cleaning out of the way early.
Sell Them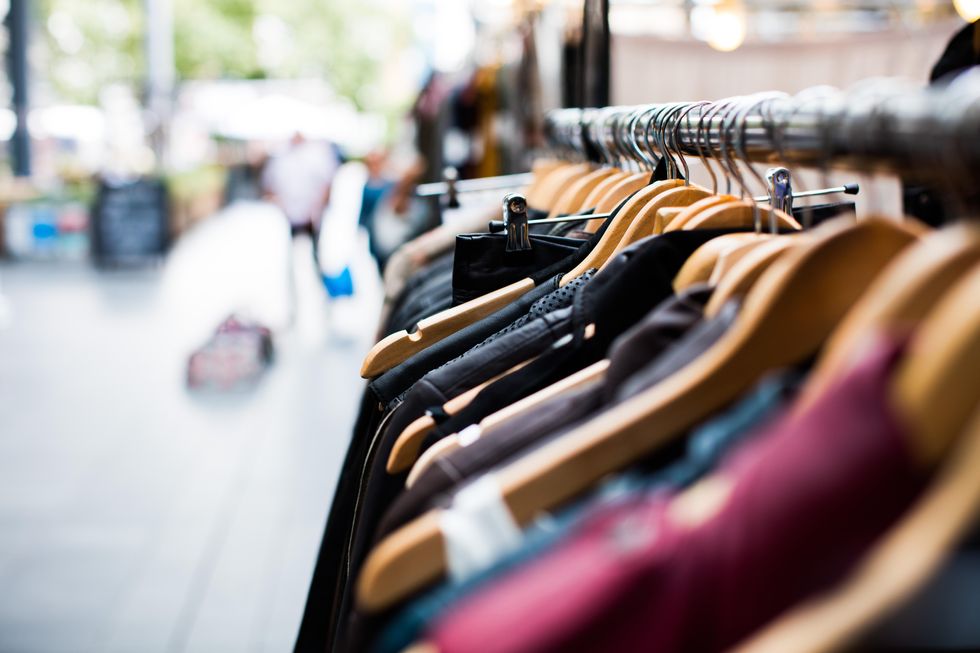 Artificial Photography via Unsplash
Resale websites are all the rage right now. If you got a pair of pants that don't fit or a sweater that isn't your style, resell them on a website dedicated to just that. Sites like Poshmark, Mercari, and DePop are known for selling those trendy pieces of clothing you barely used.
Thrifting has never been hotter. Hop on the trend while people are constantly perusing sites for the hottest deal. Then reward yourself for being so virtuous, by dropping the cash on some fabulous things you'll actually wear!
Re-Gift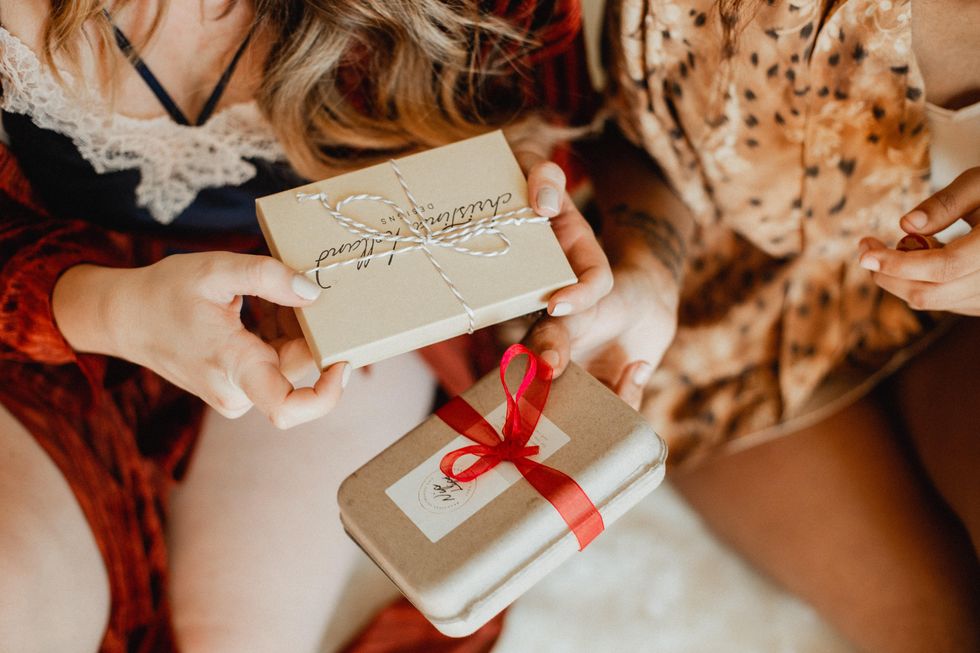 Jackie S via Unsplash
If you got something that you think one of your friends or family can benefit from, why not give it to them? There's no shame in revealing that it was a gift and you don't want it anymore…as long as you aren't re-gifting to the person who gave it to you!
Or, keep the gifts to re-gift at a later date. You never know when you're going to need a last minute gift. You'll thank yourself later.
Attempt a Return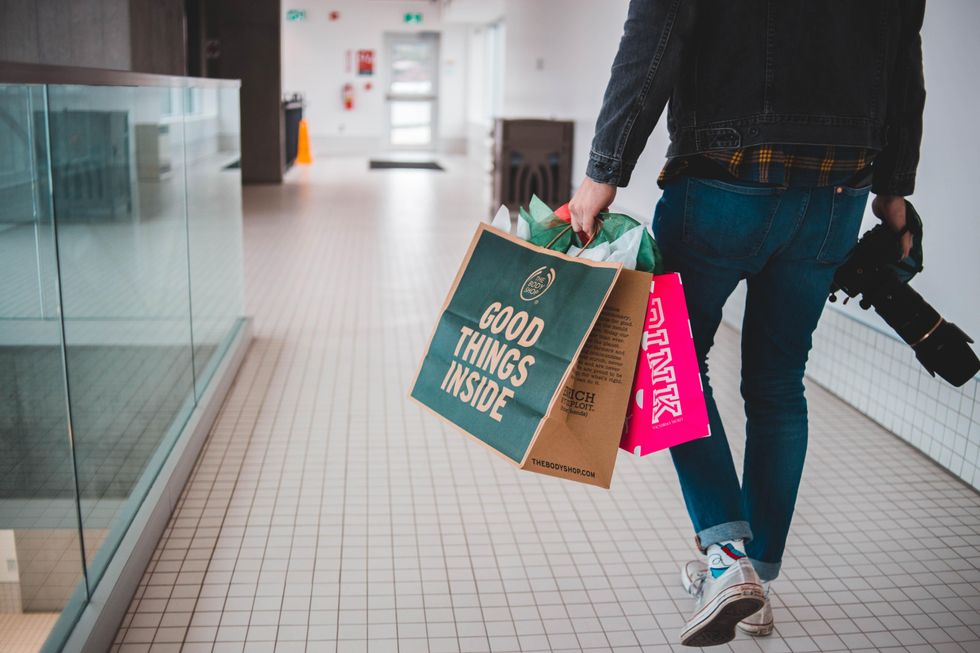 Erik McLean via Unsplash
If your item still has a tag, you can make a valiant effort to return to the store. If you can make your case, many stores won't want to fight you on it. They may be forgiving and grant you store credit at the very least.
Keep reading...
Show less
If you're hoping to collect your reward at the "cyber symposium," you just have to shatter a man's faith in God.
Democracy, it turns out, is a fragile thing.
What felt, not long ago, like a deeply flawed but ultimately ironclad arrangement of American politics has recently been undermined. But don't worry, Mike Lindell — the MyPillow guy — intends to save it...
Earlier this month Lindell announced his plans to reveal his evidence of election fraud at a so-called "cyber symposium" in Sioux Falls, South Dakota, which he is set to kick off in just three weeks time, and which he claims "is going to change the world ... it's gonna show everything and that this election was taken." At which point he believes that Donald Trump will be put immediately back in office.
The Threat to Democracy
For anyone living in a reality where Joe Biden and the Democrats stole the presidency, it must seem strange that the savior of democracy is a man whose primary claim to fame is the development of an $80 pillow that was supposed to make it possible to sleep while high on so much crack that your crack dealers are worried for you.

As Jimmy Kimmel put it in April, "Somehow a simple pillow salesman from Minnesota got to the bottom of the deepest conspiracy in the history of American politics. It's so crazy, it's almost hard to believe."
Jimmy Kimmel's Interview with Mike Lindell www.youtube.com
Still, whatever mental gymnastics are required to make that make sense, it seems that plenty of people have managed to do them, as Lindell reports people approaching him to say, "'You're our hope,' and all these things."

But for those of us who accept that millions of votes were not covertly flipped and manufactured — in a dozen states with wholly distinct election systems — in the most elaborate election fraud to ever go undetected by every expert except the secretive people reaching out to a pillow company CEO...the threat to democracy looks a little different.
From that perspective, the concerted effort — by former President Donald Trump and a legion of his most deranged stooges and acolytes — to spread these conspiracy theories is the real threat. And while we still have a technically functional democracy (albeit flawed to the point of practical oligarchy), the threat posed by these figures is to undermine faith in the legitimacy of that system until it's torn apart by terroristic violence and a groundswell of support for reactionary voter suppression.
Thanks to the loud and pervasive insistence of people like Lindell, around 60% of Republicans believe that the 2020 election was fraudulent. In reality, of course, the only thing substantially out of the ordinary about the whole process was the wide availability of mail-in ballots.
This made it far easier for more eligible citizens to cast their votes — particularly in Black and brown communities, which are often deliberately deprived of adequate polling stations, and which were hit particularly hard by the pandemic. But even that vital measure — taken as the COVID pandemic began the build up toward its horrifying winter surge — is treated as insidious by a group that disproportionately embraces virus denial, vaccine paranoia, and outright rejection of medical expertise. And seemingly nothing can make a crack in their defenses.
Even when Sidney Powell and the other lawyers behind the much-vaunted election fraud "Kraken" in Michigan are being viciously dressed down and considered for professional sanctions over the submission of their "fantastical" affidavit, it doesn't begin to break through. After all, Fox News, ONN, Newsmax, and your weird uncle who spends all day on Facebook aren't covering it, so it must not really be news...
A Way Out?
So when Mike Lindell announced this week a $5 million dollar reward for "cyber guys" or media figures who could prove his election fraud data is "not valid," it seemed like a golden opportunity. It seemed like there might be a way out of this mess.
Finally, a highly public chance to expose what a joke this whole theory is, and to get rich doing it! There are just two problems.
First, Lindell has shifted the burden of proof in the wrong direction. In his wording, the group calling to overturn the results of a presidential election for the first time in American history is assumed to be right, rather than the group calling for the constitutionally mandated election process to be upheld as usual.
He should have to prove that his numbers are valid, not the other way around. Because while it's trivially easy to show that a bunch of made up "true" election results have no basis in reality, and nothing to back them up, it's substantially harder to "prove" that they're nonsense.

For example, if I were to show you a drawing on the back of a Denny's placemat, and claim that it's a blueprint of Joe Biden's secret bunker where every missing child in America is being held prisoner, you probably wouldn't believe me. You might say "that's ridiculous" or "why is it drawn in crayon?" but you would be hard pressed to prove that I hadn't copied it by hand from secret government files that have since been destroyed as part of a massive coverup...
The Fatal Flaw
It will be incredibly surprising if Mike Lindell's "data" turns out to be more substantiated than that. But the second problem with Mike Lindell's offer is even harder to correct: Mike Lindell is the judge, and Mike Lindell is crazy.
Things would never have gotten to this point otherwise. A sane man, knowing as little about data analysis and cyber security as Lindell does, and knowing how easily he's been fooled in the past, would never feel qualified to say that the data he received from his anonymous sources is legit. But Mike Lindell feels qualified.
Why? Because Mike Lindell wants to believe it, and because Mike Lindell is crazy.
While he claims that a group of five supposed experts will evaluate every attempt to refute his "evidence" — again, an extremely difficult task even if those "experts" were unbiased — that $5 million is Mike's. He's not going to give it up until you convince him that he's wrong, and that's never going to happen, because Mike Lindell knows that God is on his side, and Mike Lindell is crazy.
My Pillow Mike Lindell gets prank called on news www.youtube.com
God has chosen him to sell over-priced pillows and to get the 2020 presidential election overturned. He believes this is all God's plan, and that after his cyber symposium "we will once again be one nation under God and it will be the biggest revival for Jesus in history." The only way you're going to win this $5 million dollars is if you shatter his faith in God and convince a truly unhinged man to notice his own lack of hinges.

As far as Mike Lindell is concerned, the only reason Donald Trump won't be in the White House on August 13th is if the devil and the deep state interfere. Therefore, his $5 million is safe.
Still, the spectacle of whatever happens at Mike Lindell's "cyber symposium" — from August 10-12 — is guaranteed to be entertaining — maybe even more so than the launch of his social media platform, Frank. And if the false promise of a $5 million reward is enough to bring some extra media attention to an event, that will no doubt be equal parts sad and hilarious, and we won't complain.
Keep reading...
Show less
Lately, a lot of conversation has been bubbling up about the Senate filibuster.
It's been called a "Jim Crow relic" by former president Obama, and Mitch McConnell threatened to launch a "nuclear winter" if the Senate attempts to end it. Increasingly, Democrats want to end it completely. So what is it, and why does it matter so much?
What Is the Filibuster?
The filibuster is a political strategy used by the Senate to delay, and often kill, votes on bills. Traditionally, a filibuster would mean that the resisting senator would stand on the floor and speak, sometimes for days, against a certain legislative effort.
When a senator utilizes the filibuster, they can delay a vote as long as they wish to — unless three fifths of senators, currently 60 out of 100, vote to move forward.
Nowadays, senators aren't even required to speak in order to deploy this tactic—they can essentially sign a note and curtail almost any legislation using the filibuster. (There's also currently an exception to this rule called budget reconciliation that fast-tracks bills related to the federal budget and only related to the federal budget).
The Constitution does not include a filibuster. Instead, our founding document states that bills should only require simple majorities to pass, not supermajorities. Exceptions to this are impeachment charges, the expulsion of members of Congress, overriding presidential vetoes, and creating constitutional amendments.
The Founding Fathers were very clear: They did not want a minority party to be able to dictate what should be majority rule —and in fact were fearful of this outcome.
In its first iteration, the U.S. Senate reconciled debates by voting on whether to end debates, thus moving a bill to an actual vote.
This changed when in 1806, Vice President Aaron Burr argued that this process of voting on whether to vote (called the previous-question motion) was redundant, as it was rarely ever used, and so it was ended. Inadvertently, Burr created a loophole that made it theoretically possible for senators to infinitely delay votes — and hence, we have the glacially slow, perpetually blocked governmental body that we know today.
First of all, we have to understand what the filibuster is. It's ANY MEASURE that stops a vote. That's it. That's… https://t.co/x2BwFCig0u

— Michael Harriot (@Michael Harriot) 1616550099.0
What Has the Filibuster Been Used for, and How Has It Evolved?
One thing that stands out about the filibuster: It has consistently been used to curtail the rights of Black Americans.
Once rarely used in policy decisions, the filibuster only came into frequent use during the Civil War era, when Southern states would often deploy it in defense of slavery and while blocking anti-slavery legislation.
John C. Calhoun, sometimes referred to as the "grandfather of the confederacy," was an important figure in developing the modern, common filibuster. "He did it for the express purpose of increasing the power of the slaveholding class," says Adam Jentleson, whose book Kill Switch details the rise of the modern Senate. "What he saw at this time — this was around the 1830s and 1840s — was that slaveholders and slave states were becoming steadily outpowered in Congress. And so, he knew that if majority rule was allowed to continue, slavery was going to end."
The filibuster was a solution to this issue and one of the reasons why the government remained incapable of simply ending slavery through democracy.
The filibuster was used throughout the 1800s and 1900s, with politicians challenging its legitimacy to various degrees without success. Woodrow Wilson edited it during WWI, after the Senate used it to stop him from arming ships against German U-Boats. With the help of public outcry, Wilson established Rule 22, which allows a two-thirds majority vote to invoke "cloture" — a rule that, essentially, limits filibustering to 30 hours.
From then on, the filibuster basically remained the same, though in 1975 the number of votes needed for a supermajority was changed to 60. Because earning a 60-vote majority is still quite difficult, the filibuster has remained an effective way for minority rule to block legislation.
Even after the Civil War, the filibuster was used to codify racial violence; for example, in 1922, the filibuster was used to defeat the Dyer Anti-Lynching Bill. Famously, the filibuster was also used to block civil rights legislation up until 1964. In protest of the Civil Rights Act, lawmakers filibustered for 57 days, until public pressure rose high enough for a supermajority to invoke cloture. Eventually, the supermajority necessary for cloture was changed to 60; but yet again, the filibuster remained firmly in place.
Since then, the filibuster has been used for various purposes on all sides of the political spectrum. It was the reason why George W. Bush couldn't overhaul immigration legislation and why Barack Obama couldn't pass climate legislation (or all that much of anything). It is the reason why bills still go to the Senate to die.
What Would Happen if the Filibuster Ended?
Without the filibuster, the Senate would be much more volatile than it is today. It's possible that massive amounts of legislation could pass — and then be reversed, should the Senate majority's political leanings change.
But Democrats have good reason to end the filibuster now (which is probably why Mitch McConnell is so scared). At the moment, Democrats want to enact a piece of voting rights legislation called the For the People Act. Among other things, the act would increase access to absentee voting, extend early voting, allow for same-day registration, and generally would make it easier for people to vote.
"In the wake of an unprecedented assault on our democracy, a never before seen effort to ignore, undermine, and undo the will of the people, and a newly aggressive attack on voting rights taking place right now all across the country, this landmark legislation is urgently needed to protect the right to vote and the integrity of our elections, and to repair and strengthen American democracy," the White House said in a statement.
Naturally, most Republicans hate the For the People Act as much as they hate the idea of getting rid of the filibuster. Their looming fear: The Democrat's proposed voting rights reforms could make it much easier for Democrats to hold onto power. As of now, the bill passed in the House but of course has no chance of passing in the Senate, thanks to the filibuster.
Without the filibuster, Democrats would also have a shot at passing significant voting rights reforms, climate legislation, stricter gun control laws, and immigration reforms. They would be able to achieve their goals of fighting student debt, taxing the super-wealthy, making healthcare more affordable, and more.
The vast majority of the American people want Washington to act to bring down gun violence. Voters elected a Democr… https://t.co/jraOwNAyGL

— Elizabeth Warren (@Elizabeth Warren) 1616613409.0
Of course, the Democrats have an extremely slim majority in the Senate, and many Democratic senators are more centrist than progressive (see: Joe Manchin), meaning that achieving these goals would still require a serious fight even if the filibuster ended.

How Could the Senate End the Filibuster?
There are two ways the Senate could end the filibuster. 60 out of 100 senators could vote to end it, which will never happen in our current version of reality.
Or, senators could use a complex series of political moves sometimes referred to as the "nuclear option," which basically involves three steps: First, a senator objects to a cloture ruling. Then the presiding officer rules this objection out of order, and a simple majority of senators could then vote to overturn that ruling, thus "blowing up" traditional Senate policies.
This "nuclear option" has already been utilized across party lines. Democrats used it to confirm some of Barack Obama's nominees, and Republicans—led by Mitch McConnell—used it to confirm Donald Trump's Supreme Court nominees. (Yes, McConnell, now the world's biggest filibuster proponent, paused it so he could ram Supreme Court nominees through the system).
Actually ending the filibuster is a long shot, but Democrats know this may be their only chance to pass any significant social and political reforms. For his part, Joe Biden has not advocated for the end of the filibuster, but rather he supports the reinstitution of the "talking filibuster" — the "good old days" version of the filibuster where senators have to actually stand up and talk in order to obstruct the passage of a bill.
"It's getting to the point where, you know, democracy is having a hard time functioning," Biden told ABC.
Democratic senators Joe Manchin and Kyrsten Sinema also said they would not vote to end the filibuster, though Manchin did say he supports making it "more difficult to use," which many centrist-leaning Democrats see as a promising option.
Still, despite the odds, those who support ending the filibuster see it as a life-or-death issue, as it's quite possibly the only way to make true progress on inequality, gun control, healthcare, and other issues.
Currently, it seems that the Senate is hurtling towards a high-stakes battle for the future of the filibuster, with both sides ramping up their efforts to intimidate each other. McConnell's threats to initiate a "scorched-earth Senate" if the filibuster is abolished has only encouraged those who want to end the filibuster, as it's clear he's genuinely afraid and believes there is a chance it could end.
Senate Majority Leader Chuck Schumer has been repeating the phrase, "Everything is on the table" in response to questions about the fate of the tactic. Indeed, everything is on the table, including the state of our present and future. The question is whether or not we can learn from the past.
Critics will always argue whether it's "worth it" to help people in need.
After its precipitous fall in February of 2020, the government took major steps to stabilize it.
By Monday, November 16th, the Dow had surpassed all previous records, closing at 29,950. Meanwhile, the national death rate as a result of COVID-19 was rising toward its horrifying January peak. Meanwhile, working Americans continued to struggle and suffer, wasting their gas money waiting in endless lines for limited supplies of free food.
If you, like nearly half of U.S. adults, don't own any stock at all, the numbers above are essentially meaningless. Even for most of the people who are invested in the stock market, their investment isn't substantial enough to make up for issues like widespread underemployment.

And yet, the Federal Reserve has poured $4 trillion into maintaining the stability of investment markets and ensuring that the Dow, the S&P 500 and various other numbers on charts that seem increasingly disconnected from reality move in the right direction. Why is that?
The answer to that question is complicated, but it is closely linked to the reason why President Joe Biden has been on the receiving end of a lot of scrutiny and pushback on the topic of student loan forgiveness — and why he hasn't already taken steps to cancel some or all of student debt already.

Recently the amount of student loan debt in the United States surpassed $1.7 trillion. That amount has more than tripled in the last 15 years, with around 45 million Americans currently holding some amount of student loan debt, and an average burden in excess of $30,000.
Most of that debt is nearly impossible to discharge through the standard bankruptcy process. And the fact that most of that burden falls on young people — whose careers are less established and who face generational declines in wages and wealth — exacerbates the impact of that debt. It's a major factor in the worrying declines in rates of home ownership, marriage, and birth rate among millennials.
It is widely acknowledged that the cost of higher education has ballooned out of control while it has increasingly been pushed as a necessary step on the path to prosperity. Underlying this problem is the fact that — unlike many developed nations — our federal government doesn't offer affordable public universities or fund education in fields like medicine and engineering where we always need more skilled professionals.
Why Is College So Expensive in America? | Making Cents | NowThis www.youtube.com
Instead we offer government-backed loans and guarantees that incentivize institutions to invest in administrative bloat and in expensive development projects to enhance their prestige and entice prospective students with unnecessary luxuries. Teenagers instilled with little sense of the financial commitments — but an unwavering belief in the necessity of college — have become cash cows.
The system as it stands is clearly broken, and whatever other reforms are called for, the resulting debt crisis is interfering with the spending power and attainment of an entire generation. In the context of a pandemic that has affected the livelihoods of so many, it would seem like an uncontroversial act for the government to alleviate some of that burden of student debt.

And for the most part, it is. Opinion polling shows that the notion of providing some amount of student loan forgiveness is broadly popular across partisan lines.
The exception is among the pundit class — and the wealthy donors they represent. Because, while various political figures — including Democratic Senators Chuck Schumer and Elizabeth Warren — have urged Joe Biden to make student loan forgiveness an early focus of his presidency, others in politics and the news media have done their best to push back.
At the moment, a forbearance measure laid out in the CARES act has been extended through the remainder of 2020 — allowing those with federal student loans to defer payments for the time being. But further action being proposed would include forgiveness for debt owed to private companies.

Among the wide range of suggestions are legislation to provide $10,000 of debt forgiveness for individuals meeting certain restrictive criteria and $50,000 of automatic forgiveness for all student debt holders — which Joe Biden could theoretically have delivered through an executive order as soon as he took office.
In either case, some would still be left with large burdens of debt, and some would likely be hit with unmanageable tax bills — as debt forgiveness is considered a form of income. But the debate has not largely involved addressing those shortcomings. Rather, many have questioned whether we should be considering these proposals at all.
The objections tend to fall into three categories: It wouldn't help the right people, it wouldn't stimulate the economy as much as other measures, and "I paid off my student loans, so why shouldn't they?"
The last is patently asinine, and should be ignored or mocked as it applies equally to any form of progress — "My face healed after smashing against the dashboard, so why should we add airbags now?" If the people espousing this perspective want to be acknowledged for their fiscal responsibility, here's the entirety of the praise they deserve: Good for you.
The fact remains that many people are not able to pay off their student loan debts, which can have a ruinous effect on their credit rating, affecting everything from interest rates on other loans to — in a cruel twist — their employment prospects. There is a disturbing potential for an accelerating debt cycle that becomes impossible to escape.
Even for those who are able to pay off their debts may feel pressured by the monthly payments to accept employment that they otherwise wouldn't — contributing to an imbalance in the employee-employer relationship that could further suppress wages. In short, it's bad.

So while it's valid to point out that there are others in the economy more in need than college graduates, we can't ignore the reality of the student debt crisis. Along with other important measures — further extension and expansion of unemployment benefits, rent subsidies, and direct payments to make it easier for people to stay home — student loan forgiveness should be considered an essential part of COVID relief.
Which leaves only one complaint left: It wouldn't do enough to stimulate the economy.
The basic issue is that the benefit of debt forgiveness is spread out over years or decades of remaining loan payments. And because it would also contribute to recipient's tax burdens, there is a concern that much of the cost of debt relief would not result in short term increases in consumer spending — the kind that spurs quick economic growth.
While that's worth being aware of, doesn't this objection have its priorities reversed? Isn't the entire purpose of a strong economy to improve people's lives? So why are we unwilling to improve people's lives unless it primarily contributes to short term economic growth?

Clearly our entire system has embraced this inverted way of thinking. That's why it can pass almost without notice when the Federal Reserve spends $4 trillion to prop up investment markets.
We happily spend that amount on measures that only directly benefit the wealthy, and yet — when it's suggested that we should spend a fraction of that on a popular policy that could improve the lives of 45 million Americans — it becomes a point of great contention.
We all seem to have forgotten the essential truth that the economy is meant to serve us — not the other way around.
AOC and others have shared frightening first-hand details from the attempted coup on January 6th, 2021.
Update 2/2/2021: On Monday night, Representative Ocasio-Cortez once again took to Instagram Live to share her experience of the attack on the Capitol building in more detail.
She talked about the frightening moment when an unknown man made his way into her office shouting, "Where is she?" as she hid behind a bathroom door believing that he was likely there to kill her — "this was the moment where I thought everything was over,"
Even the realization that this man was a Capitol police officer didn't feel like a guarantee that he was looking out for her safety — an uncertainty which friendly interactions between police and attackers would later justify. She described sheltering in Representative Katie Porter's office as they received reports of bombs being found and made contingency plans for escaping out a window or into a safer office.
The intensity and detail of her account are striking, as is her decision to share a personal context for how she processes the experience, relating that she is "a survivor of sexual assault," and noting that "when we go through trauma, trauma compounds on each other."

But perhaps the most important moment of the stream was her comparison of recent calls for us all to "move on" from the insurrection — often from those who stoked the misinformation that brought it on — to "the tactics of abusers," saying, "this is at a point where it's not about the difference of political opinion. This is about just basic humanity."
On Tuesday night, Representative Alexandria Ocasio-Cortez of New York's 14th congressional district took to Instagram Live to share her experience of last week's frightening events at Capitol Hill.
Ocasio-Cortez has made a point of making herself accessible to the public, sharing her cooking, her gaming, and even her struggle to find affordable housing through social media. It's a practice that has contributed to the adoration of her fans as well as the vitriol of her detractors. But she has never shared anything quite as personal and affecting as her experience of the attempted coup on January 6th.
Keep reading...
Show less
Erasing the reality of our troubled history — and our divided present — is not true unity.
Back in early September of 2020, when fewer than 200,000 Americans had yet died as a result of COVID-19, reality TV "businessman" Donald Trump was somehow the president of an entire country.
And he wanted everyone to "love" that country as much — and as selectively — as he did. So when Nikole Hannah-Jones' 1619 Project with The New York Times began winning awards and being taught in classrooms, he knew he had to act.
It was bad enough with people protesting in the streets against racialized violence today, but trying to place that injustice in a context of an ongoing pattern of racialized oppression was too much. Establishing an advisory committee to promote "patriotic education," Donald Trump tasked his 1776 commission with combatting the 1619 Project's unflattering focus on chattel slavery and its continued legacy.

The 1619 Project details the legacy of slavery in America www.youtube.com
What Unity?

Four months later, 200,000 more Americans have died of COVID-19, and Joe Biden has been elected to replace Donald Trump. An attempted coup failed to overturn the election, and many of the same political figures who stirred up the sentiments of insurrection — and still refuse to acknowledge Biden's legitimate victory — have been calling for "unity."
Those calls were echoed in Joe Biden's inauguration speech, but there has remained a question of what kind of unity they mean. And in that context, the 1776 Commission — which Biden has pledged to disband — released a report in the lead-up to inauguration day, clarifying what kind of "unity" they mean.

It's a unity not of solidarity, empathy, and shared struggle, but of erasure, appropriation, and myth. The report's primary contention seems to be that a more critical perspective on America's history is necessarily both skewed and harmful. That perspectives like Hannah-Jones' are actively and deliberately destructive of our "united" American spirit, and lead us, somehow — inexplicably — toward tyranny.
The Founding Fathers: Context and Contradictions
The report argues that — given the context of their horrifying and disturbing time period — we should be in awe of the fact that the Founding Fathers could recognize and articulate a concept of universal rights, even if they didn't quite live by their stated principles. And that America eventually achieved a society where universal rights were properly enshrined and should have stopped trying to fix apparent injustices decades ago.
It's clear that the report is referring to the 1619 Project — and similar work centering the experiences of oppressed and ignored groups in America's history — when it talks of "deliberately destructive scholarship." According to the report, this kind of scholarship, "shatters the civic bonds that unite all Americans."
It's better to focus on stories like George Washington's virtuous decision to finally, posthumously free the dozens of human beings he kept enslaved for so many years. Like the parable of the cherry tree, it almost doesn't matter that Washington's decision to grant them their freedom was never truly carried out... almost.
It's taken for granted that looking seriously at the crimes of our nation's past — and noting the continued legacy of those crimes — is divisive. That the only way to unite is to focus narrowly on what inspires "reverence and love" for our history and to refer to that narrow focus as "viewing our history clearly and wholly." To do otherwise "silences the discourse essential to a free society by breeding division, distrust, and hatred among citizens."
It's certainly true that a close look at the enslavement of millions of Black men, women, and children in what may be history's most extensive and systematic project of dehumanization does not tend to inspire the kind of reverence Donald Trump wanted Americans to feel for their country — and for him.
Unearthing Sally Hemings' legacy at Monticello www.youtube.com
The 1776 commission doesn't want you to ask why Washington didn't grant those people their "unalienable" freedom while he was alive. Or why other founding fathers — like Thomas Jefferson, who enslaved hundreds — didn't make even this lukewarm gesture toward emancipation.

Being offered now as a corrective to more serious scholarship, it repeatedly insists that our nation's founders — who drank more beer than water, wore powdered wigs rather than bathing, and enslaved their own children of rape — should be viewed with "reverence" and as "heroes."
According to the report, it is at once necessary to understand them in the context of a time period in which enslaved people were a foundational part of America's economic system — a system which served those founders well — and to ignore what that foundation might say about a country asserting natural rights as the reason for its very existence. Note the context. Ignore the contradictions.
Myths, Fallacies, and Hypocrites
As for its take on that historical context, the report continually perpetuates myths and fallacies that cast a positive light on America's early history. King George III, for instance, is held up as the Declaration of Independence's caricature of "a despotic king who violated the people's rights and overthrew the colonists' longstanding tradition of self-government."
In reality, England had long since adopted a constitutional monarchy in which the bulk of decisions were made by the parliament. Framing those decisions as — in the report's words — "the capricious whims of a tyrant," made for a better story.
In reality, the American colonists — particularly the wealthy merchants and plantation owners among them — resented being governed and taxed by distant politicians elected without their consent. It's a reasonable objection, though it's painful to note that the same objections can now be made by the residents of Puerto Rico and other American territories.
Puerto Ricans voted for statehood. Will it happen? www.youtube.com
If those American citizens — subject to taxation without representation — framed that relationship as tyranny, would the 1776 commission treat calls for liberty or statehood with the same reverence? Based on the report, it seems more likely that the commission would dismiss them as telling a story "of oppression and victimhood."

While it's no doubt true that America's founders were hugely influential in the history of political thought — and that the documents they wrote formed a foundation for the advancement of civil rights both at home and abroad — it would be foolish to treat their ideas and their motivations as pure. They applied their high-minded principles primarily when it served their interests to do so.
Another way to put that would be to say that they were hypocrites. But when the report talks about the blatant contradictions, words apparently speak louder than actions: "What is momentous is that a people that included slaveholders founded their nation on the proposition that 'all men are created equal.'"
We are to take it for granted that this sentiment was simply on a delay when applied to women and particularly to the people who were bought, sold, branded, bred, and worked like livestock.
An understanding of how that same dehumanization was carried forward not just in sharecropping and Jim Crow, but in Confederate memorials, the war on drugs, and predatory loans — in "welfare queens," "superpredators," and "all lives matter" — would be far less flattering.
"Equality of Opportunity" and "Shared Heritage"
Instead, the commission's report consistently conflates efforts at restorative justice with the evils they are intended to address. On the topic of affirmative action and identity politics, the report says, "This new creed creates new hierarchies as unjust as the old hierarchies of the antebellum South, making a mockery of equality with an ever-changing scale of special privileges on the basis of racial and sexual identities."
Better to ignore the ways in which historic injustices persist — the fact, for instance, that white families have nearly eight times the wealth of Black families. Whitewash those details and sell a story of meritocracy and "equality of opportunity," ignoring outcomes that fundamentally imply that Black Americans have less merit.
Better to talk about a "shared heritage." Better to ignore how the progeny of the enslaved have yet to share in the advantages left to the progeny of the wise and noble white thinkers who enslaved them.
Even when addressing the injustices of sharecropping in the reconstruction era, the report avoids the idea that vulnerable people were horribly exploited — as that sort of reasoning could likewise be applied to the dynamics of wage labor today. Instead, the report indicates that the system "enmeshed freedmen in relationships of extreme dependency," echoing conservative attacks on social programs that serve our nation's most disadvantaged.
Co-Opting MLK's Dream
Worse still, for a report released on Martin Luther King Jr. Day, is the way the commission abuses the message of the civil rights era — and King in particular.
When discussing the concept of identity politics — that oppressed groups must work together to advocate for their interests — the 1776 commission claims that this ethos"values people by characteristics like race, sex, and sexual orientation" and is thus "the opposite of King's hope that his children would 'live in a nation where they will not be judged by the color of their skin but by the content of their character.'"
Of course this is patently absurd. King and other civil rights leaders of his era plainly believed in the importance of people united by a shared struggle fighting for equality. And just as concepts like poll taxes and literacy tests were once used to disenfranchise Black voters — without explicitly mentioning race — there are aspects of our society that selectively disadvantage certain groups without expressly stating that aim.
That means over-policing of Black and Latinx neighborhoods, women receiving less pay for equal work, or school funding being inexplicably tied to property values. There is nothing about the affected groups organizing for their interests that is in conflict with King's values, nor with the principles of America's founding.
Martin Luther King Jr.: 'The Economic Problem Is the Most Serious Problem' www.youtube.com
On the contrary, that struggle is inherent in the "unalienable right" to the pursuit of happiness and enshrined in the first amendment. And pretending that oppressed groups are past the need for this kind of action or the protection it can win only sets us back. When the Supreme Court gutted the Voting Rights Act in 2013, it brought us right back to the era of poll taxes, with a surge of voter suppression that doesn't mention race, yet manages to target Black voters "with almost surgical precision."

As is so often the case, the report ignores the true history of Martin Luther King's unpopularity among white Americans of his time. They treat him in death as uncontroversially loved, appropriating his message to evoke a false contrast between the current protest movement — which is portrayed as disruptive and divisive — and the movement of the 1960s.
If you were to believe the report, the latter "presented itself, and was understood by the American people, as consistent with the principles of the founding." In reality — the movement's relationship to the principles of the founding aside — Martin Luther King was never particularly popular in America. And in the years before his assassination, one Gallup poll showed that 63% of Americans held an unfavorable view of King, compared to just 33% with a favorable view.
This was due in part to protests which rankled the same type of person offended by Colin Kaepernick and Black Lives Matter — white moderates whom king described as preferring "a negative peace which is the absence of tension to a positive peace which is the presence of justice." But it was also in response to King's harsh criticism of American activity in the Vietnam war and to his advocacy for a multiracial "Poor People's Campaign" uniting working class Americans to correct the injustices of capitalism.
King and Guthrie — This Report Erases Socialists
But of course the 1776 commission would be unlikely to acknowledge that King once described himself as "much more socialistic in my economic theory than capitalistic." They had to erase that aspect of his life in order to appropriate him for their skewed, elitist version of individual liberty.
After all, according to the report, socialism "leads down the same dangerous path of allowing the state to seize private property and redistribute wealth as the governing elite see fit." As opposed to wealth being distributed only as the billionaires see fit…
As foolish as this mischaracterization of King is, it is hardly the commission's most absurd omission. That distinction goes to the report's invocation of Woody Guthrie's classic song "This Land is Your Land," as a song for patriotic Americans to enjoy on the fourth of July.
In reality, that song was first penned as a Marxist critique of the notion of private property — in direct opposition to the narrow notion of freedom the 1776 report venerates. Woodie Guthrie — of "This machine kills fascists" fame — would not only have vehemently opposed the sort of "patriotic education" advocated by the commission, he vocally opposed Donald Trump's father for racist housing discrimination practices in a song he penned called "Old Man Trump."
This Land is Your Land www.youtube.com
It seems there is no Left-wing activity the 1776 commission won't co-opt for their reactionary purposes. Take for example their list of "great reforms" which places "anti-Communism," and "the Pro-Life Movement" alongside abolition, women's suffrage, and the Civil Rights Movement.

Never mind the fact that anti-abortion advocacy treats a pregnant person's sovereignty as secondary to that of a fetus that doesn't even have a central nervous system. What "reforms" have ever been associated with "anti-Communism?" McCarthyism? The erosion of social safety nets?
Throwing Obstacles in the Way of a Complete Education
But of course this report is propaganda. It shouldn't really come as a surprise that a commission established by a billionaire president — who wanted to ban muslims, labelled protestors terrorists, and called undocumented immigrants rapists — is deeply biased against calls for racial and economic justice.
It makes even more sense when you learn that the chair of the commission, Larry Arnn — president of conservative Hillsdale College — once complained that state officials had come looking for "dark ones" after his school was charged with violating the Michigan DOE's standards for diversity. His co-chair, Carol Swain, once compared Black Lives Matter to the Ku Klux Klan.
This is what "patriotism" and "unity" mean to people like Trump, Arnn, and Swain. They mean stop criticizing. Stop finding fault and stop standing up for yourself — just be grateful for the status quo.
It's the kind of "unity" that divides the poor white workers against poor black workers to prevent a working class movement, and it's not remotely surprising that these people would share such a remarkably skewed, incomplete, and ahistorical perspective. That they accuse every social justice movement past the 1960s of seeking special favor and imposing anti-majoritarian bigotry — e.g. affirmative action is the real racism — is likewise to be expected.

What is nonetheless shocking is how fervently they project that fault onto the other side while co-opting and mischaracterizing Left-wing figures and movements. There is, for instance, a bitter irony in the moment when the report cites early feminist icon Elizabeth Cady Stanton as saying "to throw obstacles in the way of a complete education is like putting out the eyes."
This pays off when the report goes on to attack universities for offering anything more than the most simplistic, rose-tinted view of the founders. As with the attack on the Capitol, they want to achieve unity not by embracing a shared understanding of our complex and often deeply painful history, but by agreeing as one to deny it. By moving on.
Nation as System and Myth
They believe that a nation is a myth of pure ideals — a myth of a people unified by principles — more than it is a system that should serve its citizen's sustainable happiness. And that patriotism — rather than pushing the system to improve — means worshipping the myth as dogma.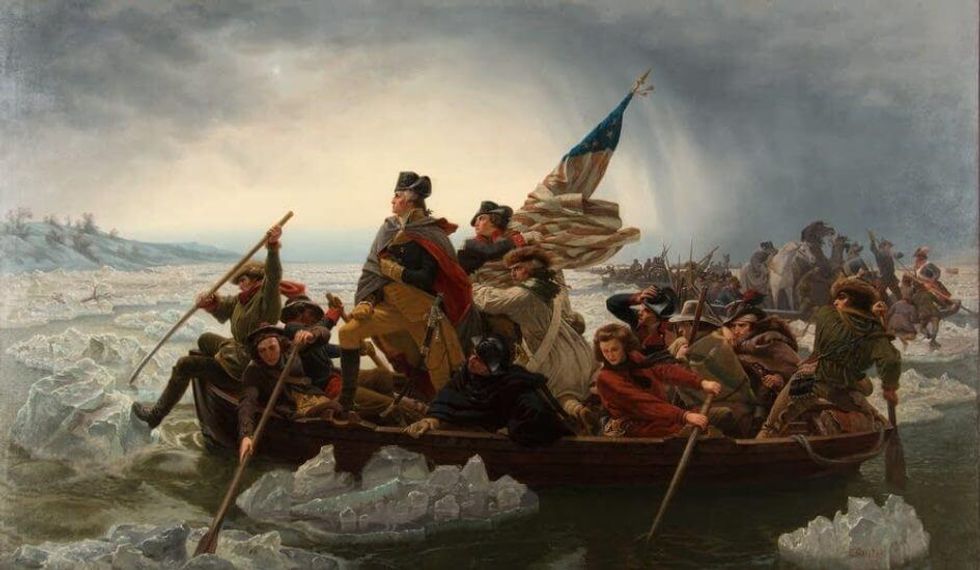 There is a huge difference between defending and working to improve a flawed system that broadly benefits you and the people you love — in ways that you may take for granted or not even notice — and devoting yourself to a mythic sense of noble community. The latter will always have such a huge advantage in terms of the picture it paints and the passion it invites — it almost doesn't matter that it's make-believe.
But the fact that it isn't real makes it far too malleable. The most gripping myths and stories have villains, and if patriotism is built on a myth of belonging, then our national myth can easily be molded to unite patriots against the "villains" outside our borders.

This form of unity and of patriotism is undoubtedly more exciting — more fun — than the version that focuses on highlighting problems, legislating policy to fix those problems and slowly improving our bureaucracy. But we should all see by now how these myths drift too easily into the dark side of nationalism — into xenophobia, warmongering, and fascist violence.
Even as President Biden signals the end of the 1776 commission, this report will live on. Its sentiments will remain in our national conversation,, and its deception will likely be read in classrooms across the country.
With that in mind, we should come away from this text with one clear message: "Unity" with people who favor myths and lies over difficult truths is not worth pursuing.
Keep reading...
Show less
This year, on January 5th, Georgia voters will participate in a runoff election to select their state senators. But why is this race so important, important enough to make national news and urgent enough that celebrities and activist groups around the nation are rallying to make sure as many voters as possible get out to the polls?
What's at Stake?
The Georgia runoffs will determine Georgia's two Senate seats. This is so important because the outcome of this election will determine whether there is a Republican or Democratic Senate majority.
To win a Democratic Senate majority, both Democratic candidates — Jon Ossoff and Reverend Raphael Warnock — will have to win their seats. If either Republican candidate, Kelly Loeffler or David Perdue, wins, the Republicans will maintain their Senate majority, and Mitch McConnell will remain Senate majority leader; as currently, Republicans hold 50 of the 100 Senate seats and Democrats hold 48, and there are two independents — Angus King of Maine and Bernie Sanders of Vermont — who caucus with the Democrats.
Democrats hold the House with a razor-thin majority, and Joe Biden, a Democrat, also holds the White House. But a Republican Senate can easily negate the efforts of Democratic governing bodies. When he was Senate Majority Leader during Barack Obama's presidency, Mitch McConnell was able to block much of Obama's legislation.
In short, in order to pass a substantial coronavirus relief bill, substantial climate crisis legislation, and many of the other initiatives Biden promised in his campaign, we need a Democratic Senate majority. While Mitch McConnell remains in charge of the Senate, every Democratic-leaning bill will face tremendous roadblocks to actualization.
As Jonathan Chait explains in his Intelligencer article, Only a Democratic Senate Can Produce a Moderate Biden Presidency, "McConnell won't bring a bill to the floor unless most Republicans support it," and, "When Biden takes office, the Republican incentive will lean heavily toward demonizing any Biden-supported initiative as a fiendish socialistic plot, making broad GOP support almost impossible."
That means, to put it bluntly: No $2,000 stimulus check and probably no future thanks to unchecked climate change. The stakes are, in fact, quite high.
In 8 days, Georgia has the opportunity to deliver the U.S. Senate majority by electing @ReverendWarnock and @ossoff… https://t.co/nykdQqPBg2

— Stacey Abrams (@Stacey Abrams) 1609180553.0
What Are Runoffs, and Why Do They Exist?

A runoff occurs when there is no clear winner in an election. Georgia law proclaims that candidates must win over 50% of the total vote to win an election; if this doesn't happen, the race goes to a runoff. In the general election, Warnock won the most votes followed by Loeffler, but neither garnered the 50% needed, and all candidates went to runoffs.
Georgia's runoff elections were created in the 1960s as a way to keep white candidates in power, reports The New York Times, in a majority-white state where Black candidates had better shots at winning a plurality of the vote. Runoffs also typically benefit white candidates whose followers typically vote more frequently.
Who Is Running?
Currently, Senator Kelly Loeffler and Senator David Perdue represent Georgia in the Senate. Kelly Loeffler is a businesswoman and devotee of Donald Trump. The richest US Senator, she made headlines for selling $18 million worth of vulnerable stocks after being briefed on COVID-19, meaning she profited from the coronavirus crisis. (Lawmakers are barred from insider training, but a probe into Loeffler's activity was eventually dropped).
Loeffler's opponent, Rev. Warnock, would be Georgia's first Black senator. He is a pastor at the Atlanta church where Martin Luther King once preached, and he is a strong supporter of Black Lives Matter. For her part, Loeffler has criticized BLM for what she calls its "Marxist" origins.
David Perdue is a Senator and businessman. Similarly to Loeffler, he sold stocks prior to the 2020 stock market crash. He does not believe in climate change, opposes same-sex marriage and wants to slash the Affordable Care Act.
Perdue's opponent, Jon Ossoff, is a 33-year-old former journalist. His campaign made waves when Perdue failed to meet him in their debate, leaving him to speak to an empty room. Ossoff interned for Congressman John Lewis, who passed away earlier this summer, and has painted himself as a youthful idealist and Democratic moderate.
"Both are representing the New South," said Representative Hank Johnson of Warnock and Ossoff. "It's very symbolic. It's providential. I think Georgia and Georgians have changed quite a lot. There are people with old South ideas — but they're fewer and fewer."
What Are the Odds?
Both Democrats and Republicans are pouring millions into the race, and the Republicans have far outspent the Democrats thus far.
Georgia has not seen a Democratic Senator in 20 years. Republicans have far more money and establishment power on their side. The polls aren't looking great for Democratic candidates, though most do show a close race (though who trusts polls anymore, anyway?).
There's also a long and horrifying history of voter suppression in Georgia that is alive and well today. In addition to the racist history of runoffs themselves, Georgia has always fought to make it difficult for anyone not white to vote. After the 15th Amendment allowed Black men to vote, Georgia employed the Ku Klux Klan and other forms of violence and intimidation at the polls.
It has since closed majority-Black polling spaces, creating hours-long waits. It has required "exact match" signatures on voting records, an effort that disqualified thousands — 80% of the disqualified being people of color.
A recent seven-year investigation found that Georgia purged over 200,000 evoters from its rolls, marking them as ineligible when they actually were eligible. These methods disproportionately affected Black voters, voters living in metro areas, and voters who did not speak English. The list of Georgia's effort to suppress its voters' constitutional rights goes on and on and continues to this day.
Democratic candidates, however, are supported by organizers like those at Fair Fight who are on the ground getting people to the polls. Other organizations like New Georgia Project and Southerners on New Ground have been working tirelessly to reach people who have too long been ignored by modern politics, showing them that their vote can help make a tangible difference in their lives. And with the entire country's eyes on Georgia, it's hard to know what the outcome will be.
Either way, it's clear that there's a new organizing infrastructure in Georgia that's here to stay.
What Can We Do?
If you're from Georgia or know people there, contacting family and friends and asking them to contact their family and friends and to ask the same — a technique known as vote tripling — is definitely one of the most effective ways to get out the vote. In addition, many people are going to Georgia to do in-person ballot curing, poll-watching, canvassing, and voter aid such as keeping voters comfortable in line.
If you're not in Georgia, you can join a phonebank or text bank and make calls or send texts to Georgians all throughout the week.
Like texting? How about expanding electoral access? How about the FABULOUS @Peppermint247?

[email protected]

get out the vote… https://t.co/ZxCfnYrkcv

— New Georgia Project (@New Georgia Project) 1609191711.0
And of course, donate to a Georgia organization like Fair Fight, and attend events like Popdust's fundraiser for Fair Fight, which occurs tomorrow night at 6PM EST.