"A tree is best measured when it is down," the poet Carl Sandburg once observed, "and so it is with people." The recent death of Harry Belafonte at the age of 96 has prompted many assessments of what this pioneering singer-actor-activist accomplished in a long and fruitful life.
Belafonte's career as a ground-breaking entertainer brought him substantial wealth and fame; according to Playbill magazine, "By 1959, he was the highest paid Black entertainer in the industry, appearing in raucously successful engagements in Las Vegas, New York, and Los Angeles." He scored on Broadway, winning a 1954 Tony for Best Featured Actor in a Musical – John Murray Anderson's Almanac. Belafonte was the first Black person to win the prestigious award. A 1960 television special, "Tonight with Belafonte," brought him an Emmy for Outstanding Performance in a Variety or Musical Program or Series, making him the first Black person to win that award. He found equal success in the recording studio, bringing Calypso music to the masses via such hits as "Day-O (The Banana Boat Song)" and "Jamaica Farewell."
Harry Belafonte - Day-O (The Banana Boat Song) (Live)www.youtube.com
Belafonte's blockbuster stardom is all the more remarkable for happening in a world plagued by virulent systemic racism. Though he never stopped performing, by the early 1960s he'd shifted his energies to the nascent Civil Right movement. He was a friend and adviser to the Reverend Doctor Martin Luther King, Jr. and, as the New York Times stated, Belafonte "put up much of the seed money to help start the Student Nonviolent Coordinating Committee and was one of the principal fund-raisers for that organization and Dr. King's Southern Christian Leadership Conference."
The Southern Poverty Law Center notes that "he helped launch one of Mississippi's first voter registration drives and provided funding for the Freedom Riders. His activism extended beyond the U.S. as he fought against apartheid alongside Nelson Mandela and Miriam Makeba, campaigned for Mandela's release from prison, and advocated for famine relief in Africa." And in 1987, he received an appointment to UNICEF as a goodwill ambassador.
Over a career spanning more than seventy years, Belafonte brought joy to millions of people. He also did something that is, perhaps, even greater: he fostered the hope that a better world for all could be created. And, by his example, demonstrated how we might go about bringing that world into existence.
Lately, a lot of conversation has been bubbling up about the Senate filibuster.
It's been called a "Jim Crow relic" by former president Obama, and Mitch McConnell threatened to launch a "nuclear winter" if the Senate attempts to end it. Increasingly, Democrats want to end it completely. So what is it, and why does it matter so much?
What Is the Filibuster?
The filibuster is a political strategy used by the Senate to delay, and often kill, votes on bills. Traditionally, a filibuster would mean that the resisting senator would stand on the floor and speak, sometimes for days, against a certain legislative effort.
When a senator utilizes the filibuster, they can delay a vote as long as they wish to — unless three fifths of senators, currently 60 out of 100, vote to move forward.
Nowadays, senators aren't even required to speak in order to deploy this tactic—they can essentially sign a note and curtail almost any legislation using the filibuster. (There's also currently an exception to this rule called budget reconciliation that fast-tracks bills related to the federal budget and only related to the federal budget).
The Constitution does not include a filibuster. Instead, our founding document states that bills should only require simple majorities to pass, not supermajorities. Exceptions to this are impeachment charges, the expulsion of members of Congress, overriding presidential vetoes, and creating constitutional amendments.
The Founding Fathers were very clear: They did not want a minority party to be able to dictate what should be majority rule —and in fact were fearful of this outcome.
In its first iteration, the U.S. Senate reconciled debates by voting on whether to end debates, thus moving a bill to an actual vote.
This changed when in 1806, Vice President Aaron Burr argued that this process of voting on whether to vote (called the previous-question motion) was redundant, as it was rarely ever used, and so it was ended. Inadvertently, Burr created a loophole that made it theoretically possible for senators to infinitely delay votes — and hence, we have the glacially slow, perpetually blocked governmental body that we know today.
First of all, we have to understand what the filibuster is. It's ANY MEASURE that stops a vote. That's it. That's… https://t.co/x2BwFCig0u

— Michael Harriot (@Michael Harriot) 1616550099.0
What Has the Filibuster Been Used for, and How Has It Evolved?
One thing that stands out about the filibuster: It has consistently been used to curtail the rights of Black Americans.
Once rarely used in policy decisions, the filibuster only came into frequent use during the Civil War era, when Southern states would often deploy it in defense of slavery and while blocking anti-slavery legislation.
John C. Calhoun, sometimes referred to as the "grandfather of the confederacy," was an important figure in developing the modern, common filibuster. "He did it for the express purpose of increasing the power of the slaveholding class," says Adam Jentleson, whose book Kill Switch details the rise of the modern Senate. "What he saw at this time — this was around the 1830s and 1840s — was that slaveholders and slave states were becoming steadily outpowered in Congress. And so, he knew that if majority rule was allowed to continue, slavery was going to end."
The filibuster was a solution to this issue and one of the reasons why the government remained incapable of simply ending slavery through democracy.
The filibuster was used throughout the 1800s and 1900s, with politicians challenging its legitimacy to various degrees without success. Woodrow Wilson edited it during WWI, after the Senate used it to stop him from arming ships against German U-Boats. With the help of public outcry, Wilson established Rule 22, which allows a two-thirds majority vote to invoke "cloture" — a rule that, essentially, limits filibustering to 30 hours.
From then on, the filibuster basically remained the same, though in 1975 the number of votes needed for a supermajority was changed to 60. Because earning a 60-vote majority is still quite difficult, the filibuster has remained an effective way for minority rule to block legislation.
Even after the Civil War, the filibuster was used to codify racial violence; for example, in 1922, the filibuster was used to defeat the Dyer Anti-Lynching Bill. Famously, the filibuster was also used to block civil rights legislation up until 1964. In protest of the Civil Rights Act, lawmakers filibustered for 57 days, until public pressure rose high enough for a supermajority to invoke cloture. Eventually, the supermajority necessary for cloture was changed to 60; but yet again, the filibuster remained firmly in place.
Since then, the filibuster has been used for various purposes on all sides of the political spectrum. It was the reason why George W. Bush couldn't overhaul immigration legislation and why Barack Obama couldn't pass climate legislation (or all that much of anything). It is the reason why bills still go to the Senate to die.
What Would Happen if the Filibuster Ended?
Without the filibuster, the Senate would be much more volatile than it is today. It's possible that massive amounts of legislation could pass — and then be reversed, should the Senate majority's political leanings change.
But Democrats have good reason to end the filibuster now (which is probably why Mitch McConnell is so scared). At the moment, Democrats want to enact a piece of voting rights legislation called the For the People Act. Among other things, the act would increase access to absentee voting, extend early voting, allow for same-day registration, and generally would make it easier for people to vote.
"In the wake of an unprecedented assault on our democracy, a never before seen effort to ignore, undermine, and undo the will of the people, and a newly aggressive attack on voting rights taking place right now all across the country, this landmark legislation is urgently needed to protect the right to vote and the integrity of our elections, and to repair and strengthen American democracy," the White House said in a statement.
Naturally, most Republicans hate the For the People Act as much as they hate the idea of getting rid of the filibuster. Their looming fear: The Democrat's proposed voting rights reforms could make it much easier for Democrats to hold onto power. As of now, the bill passed in the House but of course has no chance of passing in the Senate, thanks to the filibuster.
Without the filibuster, Democrats would also have a shot at passing significant voting rights reforms, climate legislation, stricter gun control laws, and immigration reforms. They would be able to achieve their goals of fighting student debt, taxing the super-wealthy, making healthcare more affordable, and more.
The vast majority of the American people want Washington to act to bring down gun violence. Voters elected a Democr… https://t.co/jraOwNAyGL

— Elizabeth Warren (@Elizabeth Warren) 1616613409.0
Of course, the Democrats have an extremely slim majority in the Senate, and many Democratic senators are more centrist than progressive (see: Joe Manchin), meaning that achieving these goals would still require a serious fight even if the filibuster ended.

How Could the Senate End the Filibuster?
There are two ways the Senate could end the filibuster. 60 out of 100 senators could vote to end it, which will never happen in our current version of reality.
Or, senators could use a complex series of political moves sometimes referred to as the "nuclear option," which basically involves three steps: First, a senator objects to a cloture ruling. Then the presiding officer rules this objection out of order, and a simple majority of senators could then vote to overturn that ruling, thus "blowing up" traditional Senate policies.
This "nuclear option" has already been utilized across party lines. Democrats used it to confirm some of Barack Obama's nominees, and Republicans—led by Mitch McConnell—used it to confirm Donald Trump's Supreme Court nominees. (Yes, McConnell, now the world's biggest filibuster proponent, paused it so he could ram Supreme Court nominees through the system).
Actually ending the filibuster is a long shot, but Democrats know this may be their only chance to pass any significant social and political reforms. For his part, Joe Biden has not advocated for the end of the filibuster, but rather he supports the reinstitution of the "talking filibuster" — the "good old days" version of the filibuster where senators have to actually stand up and talk in order to obstruct the passage of a bill.
"It's getting to the point where, you know, democracy is having a hard time functioning," Biden told ABC.
Democratic senators Joe Manchin and Kyrsten Sinema also said they would not vote to end the filibuster, though Manchin did say he supports making it "more difficult to use," which many centrist-leaning Democrats see as a promising option.
Still, despite the odds, those who support ending the filibuster see it as a life-or-death issue, as it's quite possibly the only way to make true progress on inequality, gun control, healthcare, and other issues.
Currently, it seems that the Senate is hurtling towards a high-stakes battle for the future of the filibuster, with both sides ramping up their efforts to intimidate each other. McConnell's threats to initiate a "scorched-earth Senate" if the filibuster is abolished has only encouraged those who want to end the filibuster, as it's clear he's genuinely afraid and believes there is a chance it could end.
Senate Majority Leader Chuck Schumer has been repeating the phrase, "Everything is on the table" in response to questions about the fate of the tactic. Indeed, everything is on the table, including the state of our present and future. The question is whether or not we can learn from the past.
An unprecedented inauguration for unprecedented times.
After a mob attacked the Capitol on January 6th and over 400,000 U.S. deaths as a result of the pandemic, this year's inauguration is going to look a little different.
Crowds will be small or nonexistent, events will be moved online, and security will be tougher than ever. It will be a day of historic firsts, both good and bad.Some things will change, but the important things will stay the same. The Vice President and President will take the oath of office, and it will be the same oath it always is: An oath to "preserve, protect and defend the Constitution of the United States."
1. Minimal attendance
The actual swearing-in ceremony is the most important part of Inauguration Day. And for the most part, it will proceed normally. As dictated by the Constitution, President Biden will be sworn in at noon on January 20th. He will continue the tradition of being sworn in on the Capitol steps.
It'll be no less star-studded than usual, with Lady Gaga, Jennifer Lopez and Garth Brooks, among others, expected to perform. There will be the normal recitation of poems and prayers, all concluding with a speech from the newly inaugurated president.
However, instead of giving this speech to the crowd of hundreds of thousands that usually populate the National Mall on Inauguration Day, Biden will give his speech to around 1,000 people and more than 191,500 flags.
Instead of the usual 200,000 tickets distributed to members of Congress and passed out to their constituents, organizers released just over 1,000 tickets — one for each of the 535 members of Congress and one guest each.
To make up for the minimal attendance, the Presidential Inaugural Committee planted more than 191,500 American flags on the National Mall, meant to represent the American people who can't attend Biden's inauguration.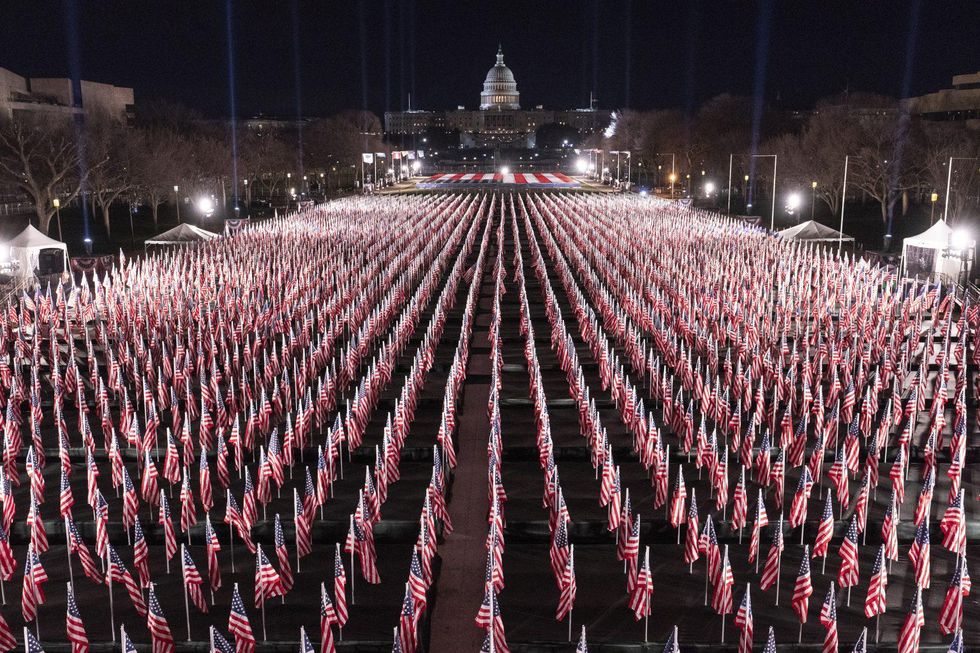 Flags are placed on the National Mall, with the U.S. Capitol behind them, ahead of the inauguration of President-elect Joe Biden and Vice President-elect Kamala Harris, Monday, Jan. 18, 2021, in Washington.AP Photo/Alex Brandon
2. Virtual inaugural events
Inauguration Day is usually packed with events, all of which are usually packed with people. On a normal inauguration day there is not only the swearing-in ceremony but also a luncheon with lawmakers, a parade through DC, and finally the inaugural ball held at the White House. In a year where so many Americans have died of the novel coronavirus, the inaugural committee has decided to change how these events will be held.
The Inaugural Luncheon is usually a grand affair where all the members of Congress gather in the capitol for a three course meal immediately after the swearing-in ceremony. The tradition began in 1953, but this year it has been cancelled entirely.
The next event is the inaugural parade where marching bands, first responders, military units, and other proud Americans accompany the new president in his historic march from the Capitol to the White House. There has been some sort of formal inaugural parade since 1809, when James Madison was inaugurated.
This year, the parade will go virtual. Joe Biden will still make the trip from the Capitol to the White House, but there will be no cheering crowds. Biden will get a presidential escort there, which will include representatives from every branch of the military, as well as the drumlines for the University of Delaware and Howard University — Biden's and Harris' alma maters. But the main event will be the virtual "Parade Across America," featuring performances from all 56 states and territories.
The final events of the day are usually the swanky inaugural balls. The city is usually taken over by both "official" and "unofficial" balls. Official ones are sponsored by the Presidential Inaugural Committee, and guarantee that the president and his spouse will show up. Normally the whole city is taken over by donors, supporters, and celebrities celebrating the new president.
This year, instead of an inaugural ball, there will be a primetime television event. The "Celebrating America Primetime Special" will be hosted by Tom Hanks and feature an impressive celebrity lineup. Demi Lovato, Justin Timberlake, Jon Bon Jovi, Ant Clemons, Bruce Springsteen, John Legend and Foo Fighters will all perform. And Kerry Washington, Eva Longoria, Kareem Abdul-Jabbar, José Andrés, Lin-Manuel Miranda and other big names will also be featured in some way.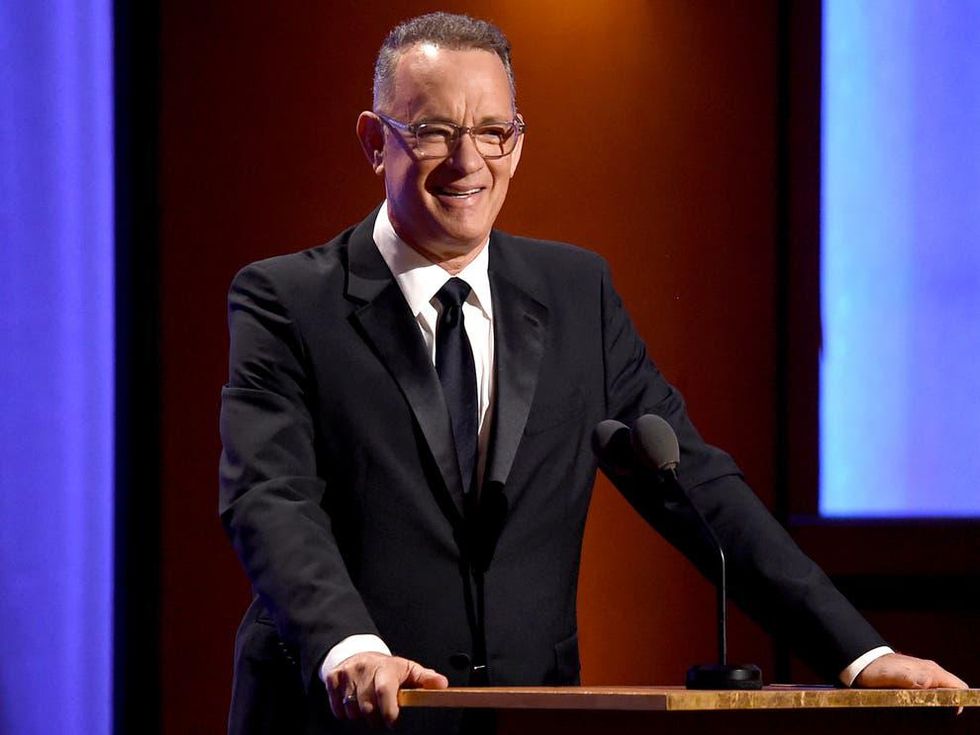 Tom Hanks to host televised inauguration special featuring Justin Timberlake and Demi Lovato.Getty Images
3. Historic moments
This inauguration will be particularly notable because of its historic firsts. Kamala Harris will be sworn in as the first woman, first woman of color, first Black American and first Asian American to be vice president. Harris' husband, attorney Doug Emhoff, will also make history as both the first male and first Jewish spouse of a vice president or president.
Joe Biden comes with his own first: He will be the oldest person ever sworn in as president at the age of 78. He will also be only the second Catholic President in our country's history.
Donald Trump is also making history on Inauguration Day–by not attending. Trump plans to fly to Mar-A-Lago the morning of the inauguration and will not attend the ceremony or welcome the Biden family to the White House. It has been 152 years since a President refused to attend his successor's inauguration.
The last president to refuse to attend was Andrew Johnson in 1869, and he was also an impeached, one-term president. Vice President Mike Pence will be in attendance for the inauguration, as will former presidents George W. Bush, Bill Clinton, and Barack Obama.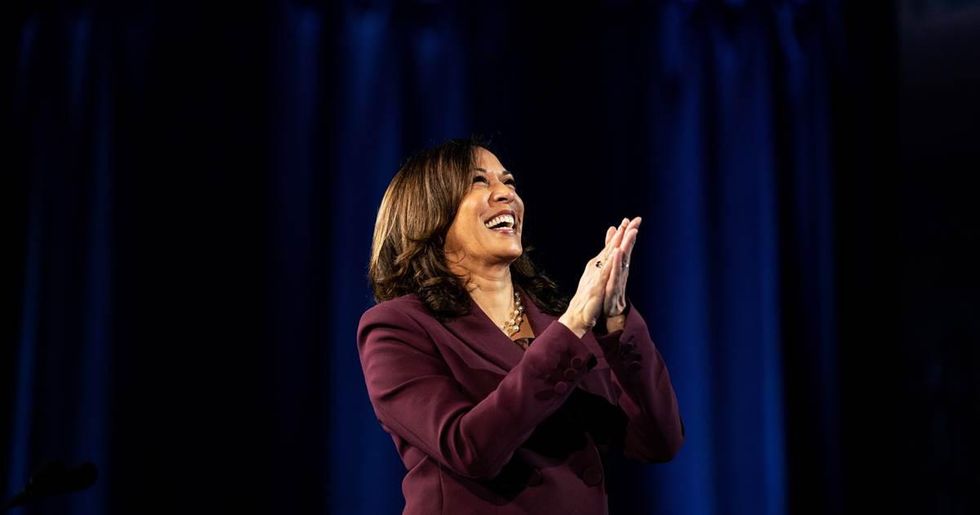 Kamala Harris accepts the Democratic nomination for as first Black female vice presidential candidate in Wilmington, Del., on Aug. 19.Erin Schaff / NYT via Redux file
4. Higher security
Inauguration security is always taken very seriously by the secret service, but after the riot that breached the capitol and delayed the election certification on January 6th, this inauguration will have unprecedented levels of security. The FBI has warned of threats to D.C., including to lawmakers and federal monuments, and all of Washington is well aware of the possibility of armed groups demonstrating in the District on Inauguration Day.
Inauguration viewers should expect a visible military presence, since a total of 25,000 National Guard troops are authorized to help secure the inauguration. There is also a seven-foot-high, unscalable, razor-wire fence encircling the Capitol.
Unlike usual inaugurations, several Metro stations are closed, a large portion of the city will be restricted for drivers, and a number of bridges that cross the Potomac River and Anacostia River will be closed.
There are also security checkpoints throughout the city. Those checkpoints have already resulted in several arrests, including a Virginia man who had fake inauguration credentials, a loaded gun, and more than 500 rounds of ammunition.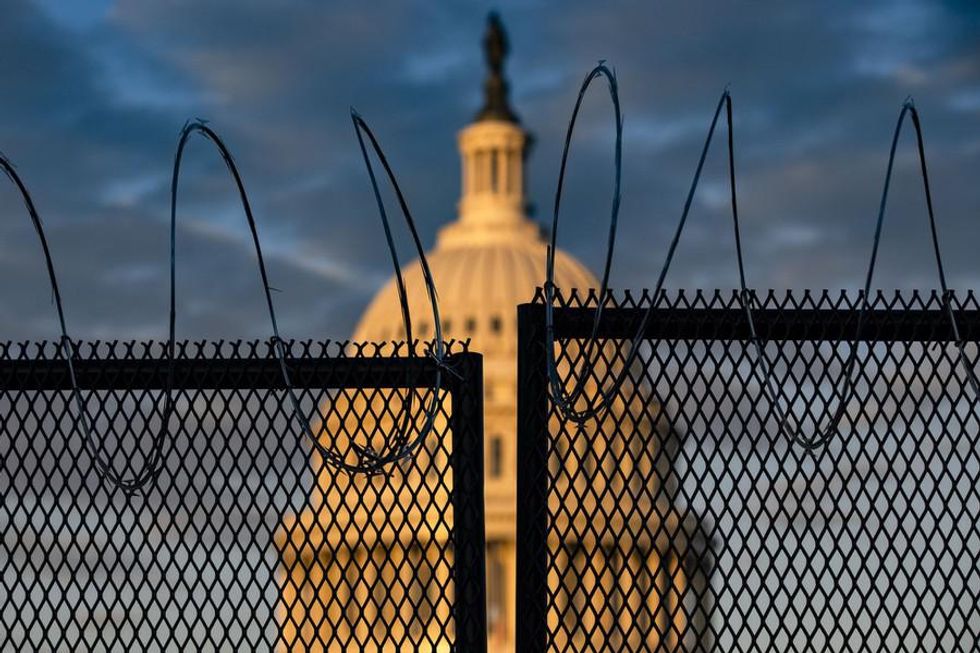 The U.S. Capitol is seen behind a fence with razor wire during sunrise on January 16, 2021.Samuel Corum / Getty
This will be an unprecedented Inauguration Day, but after seemingly countless months of "unprecedented times," what else could we possibly expect?
The attempted coup that took place at the Capitol building on Wednesday was equal parts terrifying and hilarious.
In times of crisis and chaos, it's important to keep a clear head and stay on top of the facts.
It's important to acknowledge that this was an unprecedented breach of security that could easily have been avoided and that it resulted in the deaths of at least four people.
But once you've processed the horror that entails, it's equally important to allow yourself a break from the tension and anxiety. Now and then it's essential to look at things from a different angle and just laugh at the absurdity.
Wednesday's attack on Capitol Hill was a great reminder of that lesson. Amid images of fascists and white supremacists taking over the Capitol building to disrupt the functioning of the federal government, chase legislators into hiding, and delay the confirmation of Joe Biden's clear victory over Donald Trump — waving the confederate flag, smashing things, stealing things, and generally getting away with it — there was also an abundance of clownish, hilarious behavior.
Some of the absurdity involved people being intentionally funny, while some of it displayed a raw, natural talent for being obliviously laughable. But all of it provided potent relief from the sense of American democracy falling to a movement of delusional bigots led by a petty conman (though that's still a disturbing possibility).
So as we move forward and focus on action to ameliorate the risk of further violence — anti-coup protests, impeachment, the 25th amendment — it's worth looking back at some of the highlights of absurdity that sprouted from Wednesday's waking nightmare.
At any rate, with all this absurdity, you have to laugh...or cry...or both, simultaneously while huddled in your closet.
"President Kennedy never foresaw that the chickens would come home to roost so soon...Being an old farm boy myself, chickens coming home to roost never did make me sad; they always made me glad." -Malcolm X.
The attack on Capitol Hill was another example of how President Donald Trump has emboldened white supremacy. His term in office has given racism and fascism a bigger platform and an official advocate. He proved that, at his command, MAGA fanatics will assemble to do his bidding.
As the world watched the descent of democracy, many were appalled at the visual. This was an attempted coup two weeks before the inauguration of Joe Biden and Kamala Harris. News outlets and politicians questioned how we, as a country, got to this point. But for Black Americans, this has always been our country.
The violence witnessed on Capitol Hill was a scene all too familiar for Black people. The difference was that we weren't the direct targets. Trump's base has antagonized and threatened violence against Black people while law enforcement abuses its power when interacting with us. The confrontation between the two entities responsible for our oppression was unexpected, but not surprising.

Many Trump supporters and members of law enforcement are cut from the same cloth. In fact, many members of law enforcement voted for him. Their belief in excessive force under the guise of law and order gives them what they feel is the right to harm anyone who goes against their authority. They are loyal to a flawed system and a man that keeps them in power and not to the country and its citizens seeking progress and peace.
Throughout this presidency, both sides have pledged their allegiance to each other. MAGA supporters have backed the Blue Lives Matter movement. Police officers have demonstrated leniency when dealing with unruly Trump disciples at rallies and protests. Both believe they are the good guys trying to make things great again.
[shorcode-Newsletter-Embed]
Black people have had to do battle with both. We've had to listen to the various lies spewed about the Black Lives Matter movement from supporters of the president while fighting police brutality daily. The assault on Blackness was a cause that unified them. Black people have warned the world of the dangers these factions were capable of for years. Those claims fell on deaf ears, until yesterday when they turned on one another.

For many Black Americans, yesterday was the manifestation of this country's inability to address domestic terrorism. Peaceful protests and resistance against police brutality are viewed in the same light as the insurrection. The anarchy and mayhem that GOP pundits accuse BLM of inciting was a direct order from their leader.
Their ignorance and arrogance gave them the courage to lay siege to a government building. But if angry Black protesters attempted the same actions, many lives would've been lost.
The same reason why the police routinely kill Black people is the same reason why the police are routinely unprepar… https://t.co/Rc3yWRZ2PA

— Ibram X. Kendi (@Ibram X. Kendi) 1609964271
Suddenly, Trump supporters view themselves as oppressed. Their reign over the country is coming to a not so graceful end. Rather than humbly accepting defeat, they want to dismantle the establishment. The same establishment that helped empower them over the last four years.

Somehow this attack was yet another revelation for white Americans. Before Trump's election, the idea of police officers displaying a lack of regard for the lives of Black people was inconceivable to white Americans. The thought of parts of our government upholding systemic racism was unfathomable.
Last night, after a year of reckoning with the racism built into America's system, white Americans were forced to once again look at the enormous part white privilege plays in policing. But for Black people, it was simply a clear visual of America's decision on November 8, 2016, coming home to roost.
This year, on January 5th, Georgia voters will participate in a runoff election to select their state senators. But why is this race so important, important enough to make national news and urgent enough that celebrities and activist groups around the nation are rallying to make sure as many voters as possible get out to the polls?
What's at Stake?
The Georgia runoffs will determine Georgia's two Senate seats. This is so important because the outcome of this election will determine whether there is a Republican or Democratic Senate majority.
To win a Democratic Senate majority, both Democratic candidates — Jon Ossoff and Reverend Raphael Warnock — will have to win their seats. If either Republican candidate, Kelly Loeffler or David Perdue, wins, the Republicans will maintain their Senate majority, and Mitch McConnell will remain Senate majority leader; as currently, Republicans hold 50 of the 100 Senate seats and Democrats hold 48, and there are two independents — Angus King of Maine and Bernie Sanders of Vermont — who caucus with the Democrats.
Democrats hold the House with a razor-thin majority, and Joe Biden, a Democrat, also holds the White House. But a Republican Senate can easily negate the efforts of Democratic governing bodies. When he was Senate Majority Leader during Barack Obama's presidency, Mitch McConnell was able to block much of Obama's legislation.
In short, in order to pass a substantial coronavirus relief bill, substantial climate crisis legislation, and many of the other initiatives Biden promised in his campaign, we need a Democratic Senate majority. While Mitch McConnell remains in charge of the Senate, every Democratic-leaning bill will face tremendous roadblocks to actualization.
As Jonathan Chait explains in his Intelligencer article, Only a Democratic Senate Can Produce a Moderate Biden Presidency, "McConnell won't bring a bill to the floor unless most Republicans support it," and, "When Biden takes office, the Republican incentive will lean heavily toward demonizing any Biden-supported initiative as a fiendish socialistic plot, making broad GOP support almost impossible."
That means, to put it bluntly: No $2,000 stimulus check and probably no future thanks to unchecked climate change. The stakes are, in fact, quite high.
In 8 days, Georgia has the opportunity to deliver the U.S. Senate majority by electing @ReverendWarnock and @ossoff… https://t.co/nykdQqPBg2

— Stacey Abrams (@Stacey Abrams) 1609180553.0
What Are Runoffs, and Why Do They Exist?

A runoff occurs when there is no clear winner in an election. Georgia law proclaims that candidates must win over 50% of the total vote to win an election; if this doesn't happen, the race goes to a runoff. In the general election, Warnock won the most votes followed by Loeffler, but neither garnered the 50% needed, and all candidates went to runoffs.
Georgia's runoff elections were created in the 1960s as a way to keep white candidates in power, reports The New York Times, in a majority-white state where Black candidates had better shots at winning a plurality of the vote. Runoffs also typically benefit white candidates whose followers typically vote more frequently.
Who Is Running?
Currently, Senator Kelly Loeffler and Senator David Perdue represent Georgia in the Senate. Kelly Loeffler is a businesswoman and devotee of Donald Trump. The richest US Senator, she made headlines for selling $18 million worth of vulnerable stocks after being briefed on COVID-19, meaning she profited from the coronavirus crisis. (Lawmakers are barred from insider training, but a probe into Loeffler's activity was eventually dropped).
Loeffler's opponent, Rev. Warnock, would be Georgia's first Black senator. He is a pastor at the Atlanta church where Martin Luther King once preached, and he is a strong supporter of Black Lives Matter. For her part, Loeffler has criticized BLM for what she calls its "Marxist" origins.
David Perdue is a Senator and businessman. Similarly to Loeffler, he sold stocks prior to the 2020 stock market crash. He does not believe in climate change, opposes same-sex marriage and wants to slash the Affordable Care Act.
Perdue's opponent, Jon Ossoff, is a 33-year-old former journalist. His campaign made waves when Perdue failed to meet him in their debate, leaving him to speak to an empty room. Ossoff interned for Congressman John Lewis, who passed away earlier this summer, and has painted himself as a youthful idealist and Democratic moderate.
"Both are representing the New South," said Representative Hank Johnson of Warnock and Ossoff. "It's very symbolic. It's providential. I think Georgia and Georgians have changed quite a lot. There are people with old South ideas — but they're fewer and fewer."
What Are the Odds?
Both Democrats and Republicans are pouring millions into the race, and the Republicans have far outspent the Democrats thus far.
Georgia has not seen a Democratic Senator in 20 years. Republicans have far more money and establishment power on their side. The polls aren't looking great for Democratic candidates, though most do show a close race (though who trusts polls anymore, anyway?).
There's also a long and horrifying history of voter suppression in Georgia that is alive and well today. In addition to the racist history of runoffs themselves, Georgia has always fought to make it difficult for anyone not white to vote. After the 15th Amendment allowed Black men to vote, Georgia employed the Ku Klux Klan and other forms of violence and intimidation at the polls.
It has since closed majority-Black polling spaces, creating hours-long waits. It has required "exact match" signatures on voting records, an effort that disqualified thousands — 80% of the disqualified being people of color.
A recent seven-year investigation found that Georgia purged over 200,000 evoters from its rolls, marking them as ineligible when they actually were eligible. These methods disproportionately affected Black voters, voters living in metro areas, and voters who did not speak English. The list of Georgia's effort to suppress its voters' constitutional rights goes on and on and continues to this day.
Democratic candidates, however, are supported by organizers like those at Fair Fight who are on the ground getting people to the polls. Other organizations like New Georgia Project and Southerners on New Ground have been working tirelessly to reach people who have too long been ignored by modern politics, showing them that their vote can help make a tangible difference in their lives. And with the entire country's eyes on Georgia, it's hard to know what the outcome will be.
Either way, it's clear that there's a new organizing infrastructure in Georgia that's here to stay.
What Can We Do?
If you're from Georgia or know people there, contacting family and friends and asking them to contact their family and friends and to ask the same — a technique known as vote tripling — is definitely one of the most effective ways to get out the vote. In addition, many people are going to Georgia to do in-person ballot curing, poll-watching, canvassing, and voter aid such as keeping voters comfortable in line.
If you're not in Georgia, you can join a phonebank or text bank and make calls or send texts to Georgians all throughout the week.
Like texting? How about expanding electoral access? How about the FABULOUS @Peppermint247? Help@us get out the vote… https://t.co/ZxCfnYrkcv

— New Georgia Project (@New Georgia Project) 1609191711.0
And of course, donate to a Georgia organization like Fair Fight, and attend events like Popdust's fundraiser for Fair Fight, which occurs tomorrow night at 6PM EST.

Pursuing more lawsuits and investigations will never restore trust. Fixing our electoral system could.
Update: Enough electors have now cast their votes to make Joe Biden and Kamala Harris officially the next president and vice president of the United States.
Today in D.C. the 538 electors in the electoral college are casting the votes that will seal Joe Biden's victory as president-elect of the United States.

Still, President Donald Trump has yet to concede, and thousands of his supporters are gathering in the streets in protest of what they believe was a stolen election. Perhaps they're hoping for a groundswell of faithless electors to flip the Electoral College vote — unlikely as that may be.
Thousands of Trump supporters rally in Washington, D.C. to protest election resultswww.youtube.com
What's more surprising is that nearly two thirds of Republican legislators in the House of Representatives recently backed a legal case in which the state of Texas was suing four other states for the way they ran their elections. The case has since been roundly rejected by the Supreme Court.

Even the three Trump-appointees ruled that there was no basis to even consider it. But why did so many GOP politicians stick their necks out to back a case that was doomed to fail?
The answer is that their voters no longer trust American elections. With trust in the electoral system having dropped by nearly half among Republican voters — down to 36% from its 68% peak just before the election — these legislators are signaling to their base that they agree.
Look at Georgia Senator Kelly Loeffler. In her debate with challenger Raphael Warnock on December 6th, Senator Loeffler repeatedly highlighted the existence of "over 250" open investigations into possible issues with the election.
Does she actually think that the results of the election are likely to be overturned? It's possible, but what's more likely is that she's concerned about her own prospects in the upcoming runoff election.

She wants to signal to the voters who are threatening to abandon the GOP out of loyalty to Trump that she is on their side — that she, too, wants to reject the election results… But she still wants them to go to the polls in January.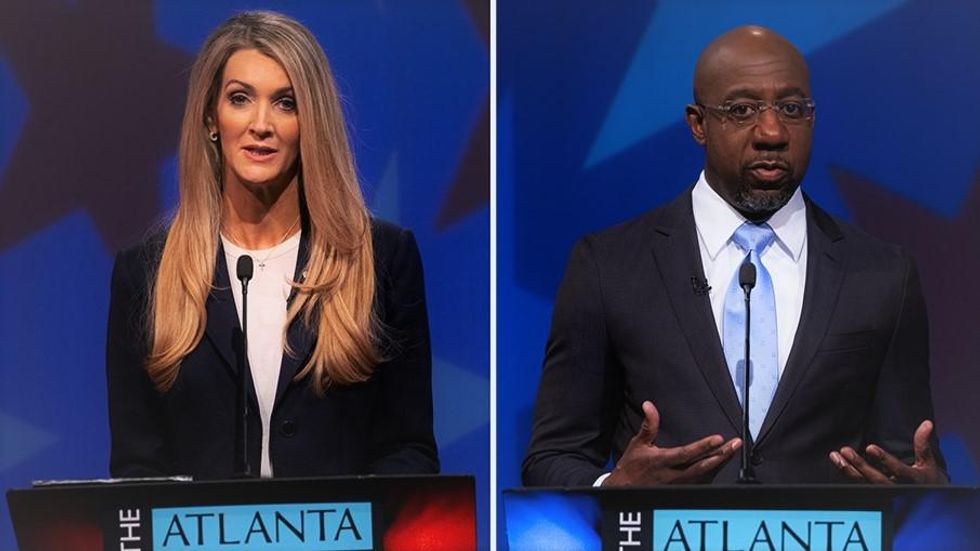 Loeffler Warnock debate
In many respects these lawsuits and the statements about investigations can be dismissed as political theater. But there is a real issue underlying them: American presidential elections are deeply messy and confusing.

It makes sense that voters don't trust our system, because our system is almost impossible to understand. Every state has its own rules for how votes can be cast, how they can be counted, and how the state's electors are distributed among the candidates.
Does your state allow drive-through polling or same-day registration? Does it use paper ballots or electronic voting?
Does it cut off mail-in ballots based on arrival date or postmark? Does it give all of its electors to the candidate that gets the most votes, or does it split them up — like Maine and Nebraska?
It would be silly to think that these differences don't affect the outcome of elections, so why shouldn't residents of a state like Texas scrutinize how other states run their elections? If we are all going to have to live with the result, don't we all have a stake in how voters are purged from the voting polls in Georgia?
The answer is that these differences are an inevitable consequence of the Constitution. All 50 states and the District of Columbia are granted sovereign control over how their electors are selected — with electors pledged to one presidential candidate or another.
In the past this meant that many states didn't rely on a popular vote at all. Instead, state legislatures decided which candidate they preferred and sent electors to Washington accordingly.
At this point every state allows its citizens to vote for their preferred candidate, but each state's election is so different, despite the fact that we all live with the results together. Is it any wonder people are confused and distrustful?
It doesn't help that the president and his supporters are casting further doubt on every aspect of the process, but that's hardly the only problem. The fact that every state has its own procedures and its own electoral apparatus multiplies the number of possible flaws in the system by 50 — technically 51, including DC.
This can only produce more confusion and distrust — more "Stop the Steal" protests and threats of violence. But there is good news: We can fix this.
The Constitution is not immutable. It is a living document, with an established process for changing and improving it. And while it's generally very hard to pass an amendment, if Donald Trump spent the remainder of his term in office pushing for an amendment to fix American elections, he could get enough bipartisan support — by killing the Electoral College.
Back in 2018 President Trump spoke out against the Electoral College in an interview with Fox & Friends. Democrats have long railed against the institution for having twice in the last 20 years handed the necessary 270 electoral votes to Republican candidates who lost the popular vote — the same thing nearly happened this year.

But those critics found an unlikely ally in one of the supposed beneficiaries of our current system. President Donald Trump argued in the interview that the Electoral College totally transforms the nature of the campaign, stating, "I would rather have the popular vote, because it's — to me, it's much easier to win."
President Trump Endorses National Popular Vote on Fox & Friendswww.youtube.com
If he pushes to reform the system now — uniting his loyalists with Democrats — he could have the chance to prove that point in 2024. It would also be a way for him to leave an indelible, positive mark on the very fabric of our nation.

It would prevent a recurrence of the current confusion and distrust — with so many lawsuits in different states making room for uncertainty. But it would also eliminate a lot of other problems with our current system.
By establishing a federally controlled popular vote for the presidency, we could correct the fact that votes in different states are worth more than others — a vote in Texas is worth ⅓ of a vote in Vermont. We could even take the opportunity to introduce some other common sense reforms, like ranked choice voting and enfranchising voters in Puerto Rico and other territories — who have so far been subject to taxation without representation.
There are other ways to fix some of the problems with the electoral college, but none would be as effective and enduring in restoring trust in our elections as an amendment to the Constitution. By establishing a secure, unified, and straightforward electoral process for all American citizens — one person, one vote — Donald Trump could establish a lasting legacy for his 2016-2020 term.
And if he decides to run again in 2024, there would be no question about last minute rule changes or cheating in swing states. There would be one set of rules for the entire country. He would win or lose based on the simple reality of how many voters want him to be their president.
With so many politicians arguing that we need to pursue an endless string of confusing lawsuits involving hazy evidence, in order to "restore faith in the election process," it's time to look toward preventing this chaos and doubt in the future.
We don't need 51 separate, potentially vulnerable elections to pick one president. We need to kill the electoral college.