Because the Military Forcing a Resignation is True Democracy
Bernie Sanders and Alexandria Ocasio Cortez would have you believe that Evo Morales's recent resignation at the behest of the Bolivian military was a coup.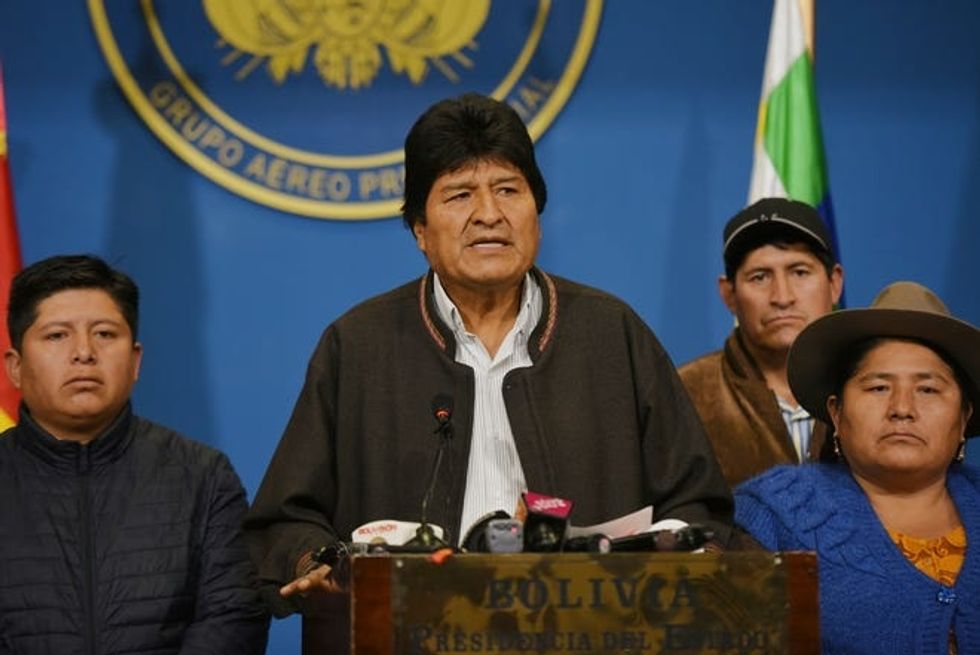 Don't be fooled! A coup is something bad that bad people do to take control of a democratically elected government, but there were actually irregularities in Bolivia's recent election, which means it's not democracy. Can you even imagine if there was ever any suggestion of electoral irregularities or cheating in the US? We would flip out. And yes, Evo Morales agreed to hold a second election, but that sounds boring, and it would take so much longer than just using the military to force him to leave so an opposition senator can declare herself president while wielding a giant bible and banishing indigenous belief systems from the palace.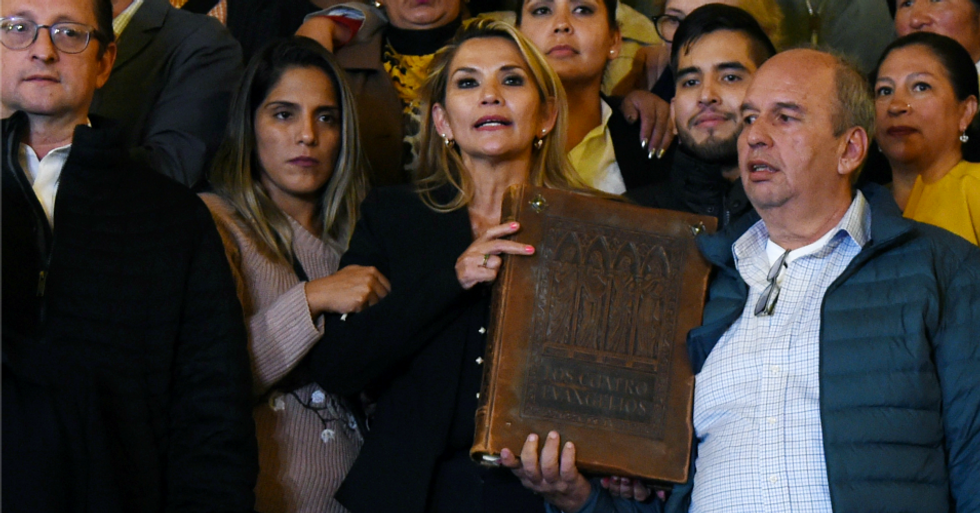 Speaking of elections, can you believe this impeachment nonsense? That's the real coup—the kind that is laid out in the constitution as an official process and is run according to rules established by the president's political allies. They've been acting as if just because this is a completely different context and process than a criminal trial, it doesn't need to follow the same rules as a courtroom. Since when? They're making this fundamentally political process into something ugly and political. Why can't these Democrat bozos just wait a year for the next election?

The Wall Street Journal knows what's up. Their opinion page has declared Evo Morales's resignation a "Democratic Breakout" and informed us that the impeachment "Subverts the Constitution." Clearly, if the Democrats were really upset with Trump's using military aid to get a foreign government to interfere with the 2020 election, they should not have investigated. They should have waited for an independent organization to point out the issues after Trump won reelection, then wait for Trump to agree to a new election before having the military kick him out of the country and allowing Dianne Feinstein to declare herself the new president. That's democracy! Investigating the President's crimes and airing his dirty laundry in front of the whole country, then having elected representatives who are accountable to their voters decide whether he should be removed from office—that's a coup.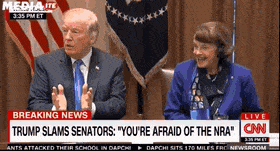 Of course, if you disagree with these sentiments, you may want to voice your opinion by calling your congressional representatives or signing a petition to have Congress acknowledge the Bolivian coup, so the US cannot support the new, unelected government. But that would be crazy.

We must look at the mass actions that are making life difficult for the powerful in Chile and Lebanon and Hong Kong, and prepare ourselves to make the same kind of trouble at home.
With all the global significance connected to the 2001 attack on the World Trade Center, many people don't realize that September 11th has a very different set of meanings in Chile.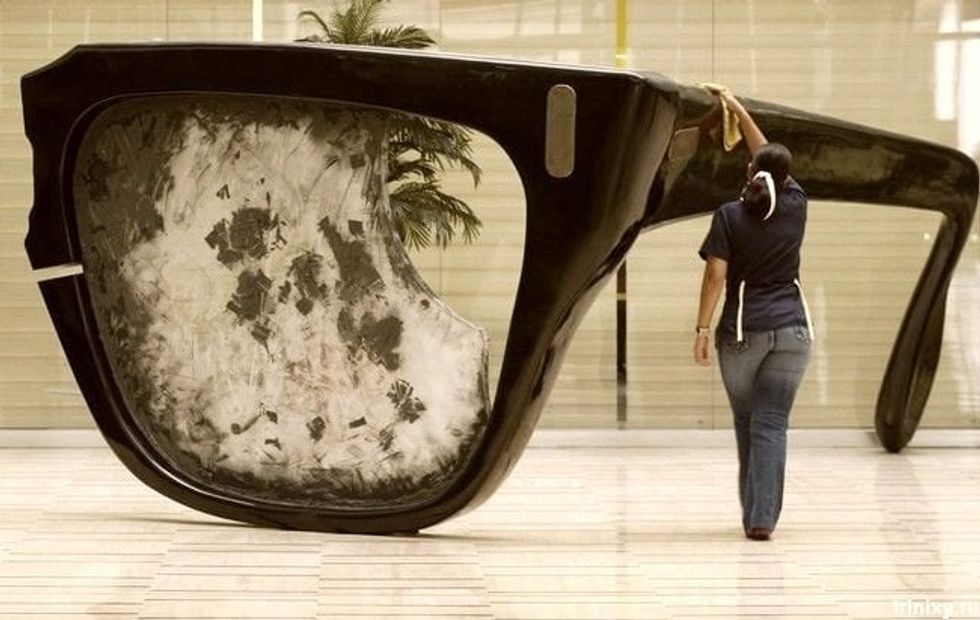 A memorial depicting Allende's broken glasses in the aftermath of the coup
On that day in 1973, the United States backed a coup that killed Chile's democratic socialist president, Salvador Allende, ushering in the brutal era of Pinochet. Chile has never fully recovered from the violence of that period, nor the sudden shift in economic policy that followed. For many Chileans, it has been hard to imagine a world in which the leadership could work for them, rather than the global elite. But now the streets of Santiago and Valparaiso are being taken over by thousands of protesters who've been unwilling to accept piecemeal concessions from President Sebastian Pinera.

In Chile, a billionaire president pushes austerity while the military represses protesters. Thousands have been arrested. Knowing Chile's history, this is very dangerous.

The solution here and across the world is obvious. Put power where it belongs: with working people. https://t.co/s6J7kOtDXs
— Bernie Sanders (@SenSanders) October 30, 2019
So far many of these protests have been peaceful, but there have been instances of arson and of violent clashes between protesters and security forces. At least 20 have already died, but the activists there are not giving up. They are relentless, and they are only interested in substantive change—a fundamental restructuring of the Chilean Government to serve the working people. They want Pinera to resign, and they are calling for changes to the Chilean constitution.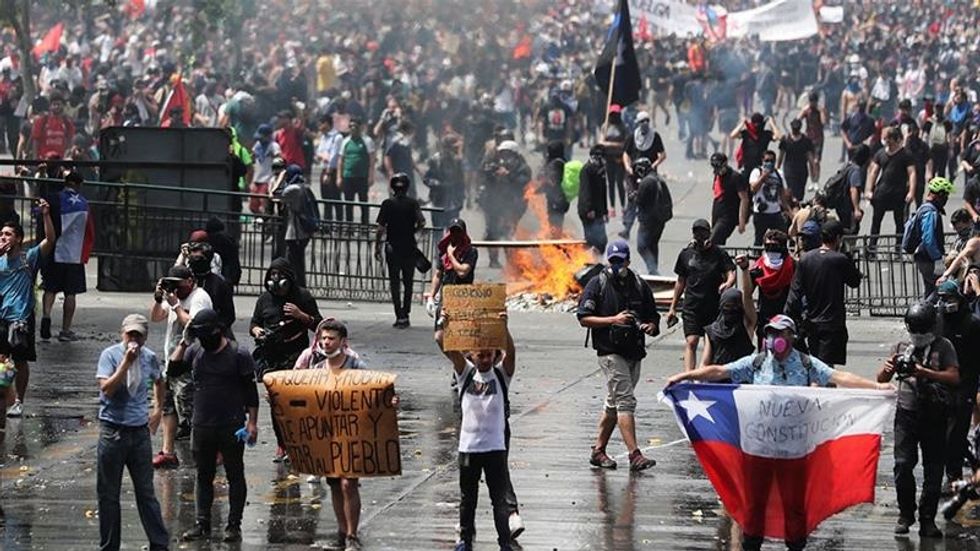 Al Jazeera
For Americans, this kind of protest remains out of the question. Protest in America does not exist to be disruptive or to force action. It only serves as a salve for our powerlessness.
American protest is sanctioned by the system and restricted to its proper time and place. It makes the protesters feel better for a time—makes them feel seen, like they're a part of something—and maybe it raises some awareness for a cause or inspires some phone calls to congress. And if it attempts to do more, it is met with swift and violent crackdowns. It does not—cannot—break down the country's normal functions.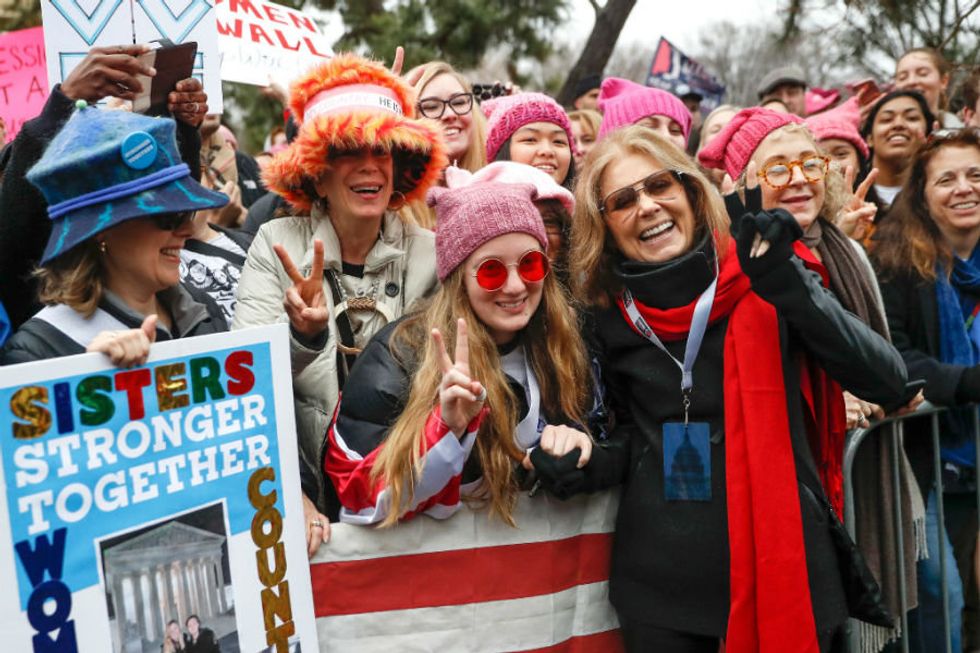 Christian Science Monitor
But what if the normal functions no longer work for the people? What if the interests that led the United States to back coups against Socialist leaders are also fueling mass propaganda campaigns against grass roots movements at home? What if they're defending those in power from the normal avenues of accountability?
The American media has a tight focus right now on the rapidly developing impeachment proceedings, and that makes sense. There is new information coming out of those efforts on a near daily basis, and there is a significant precedent for this kind of procedure to effect change. But it remains to be seen whether all this new evidence will survive the spin and propaganda from the likes of Fox News and One America News. We should not place our faith purely in the institutions of power to regulate power. To achieve anything for the people, the institutions of power must be afraid of the alternative.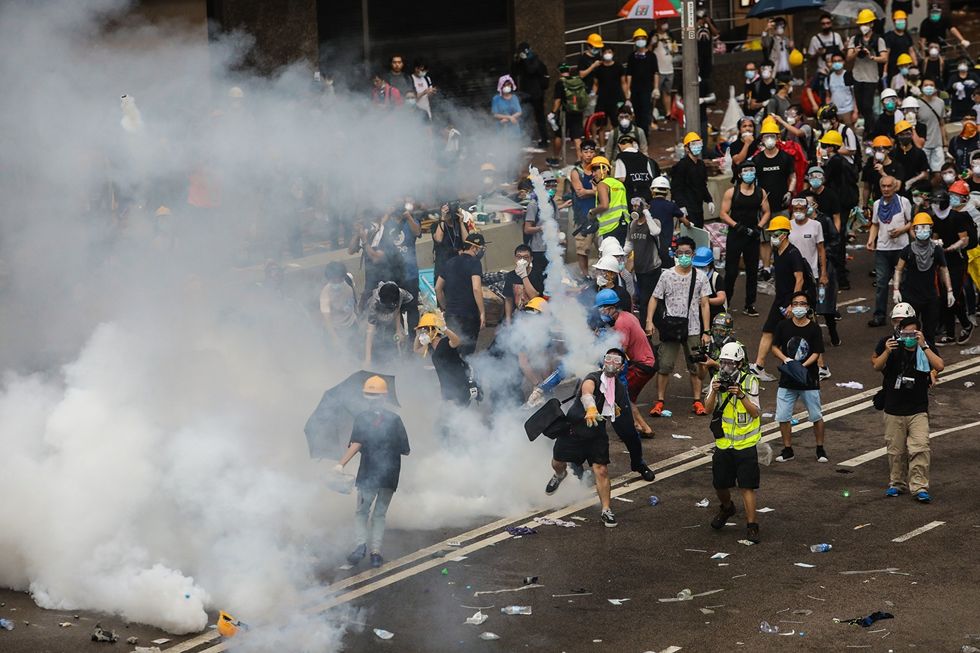 AFP/Getty Images
We must look at the mass actions that are making life difficult for the powerful in Chile and Lebanon and Hong Kong, and prepare ourselves to make the same kind of trouble at home. Even if Trump is forced out of office and the Democrats choose a progressive nominee and the 2020 election fully flips control to the Democrats, the fight will only be getting started. The interests and forces that killed Salvador Allende in Chile will still be doing everything in their power to protect the status quo. We must be willing to upend the normal order if we want to produce real change.

Each day, the Amazon loses over a football field of land to fire.
Right now, the wildfires in the Amazon forests are so massive they can be seen from space.
According to INPE, about a football field and a half of rainforest is being destroyed each day. Since Thursday, over 10,000 acres have been lost.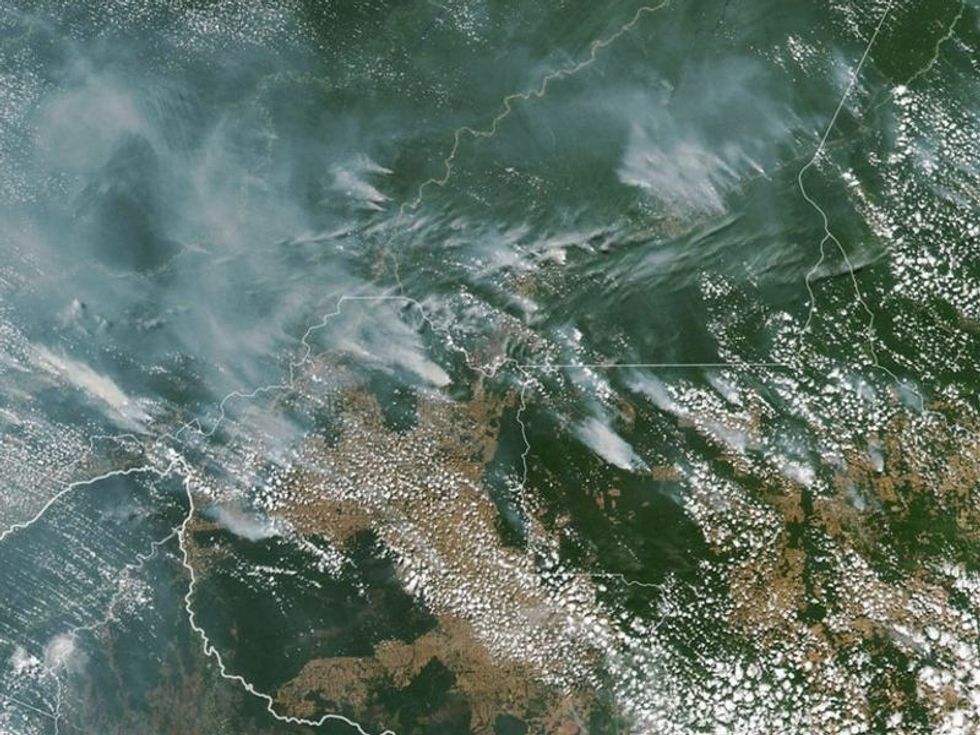 amazonwatch.org
Since January 2019, the number of forest fires in Brazil have grown by 80%. It's normal for wildfires to clear away the forest to make room for new growth, but these fires are happening at an unprecedented rate that scientists say is caused by human activity and the rising climate.

The destruction has also been exacerbated by the sentiments of Brazil's president, Jair Bolsonaro, who has been nonchalant when told that many of the fires are being caused by humans. Farmers are setting fire to the land in order to clear away indigenous forests, according to reports, and Bolsonaro has encouraged these actions with his anti-environmentalist sentiments.
In the name of development, Bolsonaro is endangering the entire world's future. The Amazon contains 40% of the world's rainforests, which are our best defense against a rising climate. Sometimes described as the planet's lungs, the Amazon rainforest provides around 20% of our world's oxygen and absorbs a quarter of the world's carbon. It also contains 10-15% of animal species, many of which are being incinerated along with ancient trees and rich biodiversity.
Indigenous peoples are on the front lines of these fires, as many of them live in or near the forests, but the loss of such a large portion of the Amazon will be damaging to the whole world.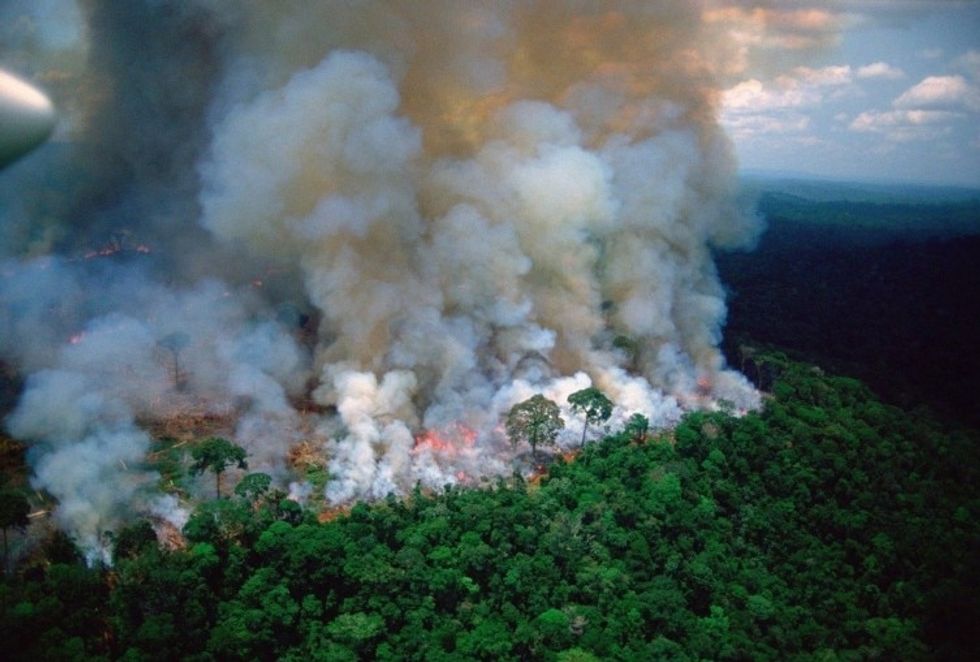 Image via India Today
Many people have asked about what they can do. Here are some actions you can take in response to the fires:

1. The main thing you can do to help out immediately with these forest fires is give money.
It's particularly important to give to organizations that work directly with indigenous people and those who know and live in the Amazon rainforest. Avoid major, corporatized organizations like the Red Cross.
Here are several organizations to give to:
*Protect and purchase rainforest land through rainforesttrust.org or the Rainforest Action
*Support indigenous communities through Amazon Watch or Survival International.
*Support arts, culture, and research about the Amazon through the Amazon Aid Foundation.
2. Unfortunately, even though donations will help, these wildfires will probably keep happening without massive political overhaul in Brazil. Contact your nation's Brazilian embassy to make your views heard. Here is a list of embassies in the US.
3. Sign this petition, being passed around by opponents of Bolsonaro and his policies.
4. Boycott beef and products made from rainforest trees. Check with the Rainforest Alliance to see whether the products you're buying are safe.
5. Switch your browser to Ecosia, which is run by an organization that plants trees based on searches—roughly one tree per 45 searches, to be exact. So far, it's planted over 65 million trees and has garnered good reviews from across the web.
6. To stop things like this from happening in the future (and to ensure that there is a future at all), you can also get involved in the fight against climate change and disaster capitalism.
Here are four ways to do that right now:
There are no quick fixes with regards to the deep-rooted problems that have caused this tragedy to happen. However, a worldwide shift in political sentiment towards environmentalism could be the start of the changes we need to see to stop this from growing even worse.
Marianne Williamson enrages some, makes others laugh, and inspires still others to form occult task forces. Could she be the only one who could meet Donald Trump on her own terms?
Objectively, Marianne Williamson had a fantastic night at the latest Democratic debate. She gained the largest number of Twitter followers afterwards, after all, and was the most Googled candidate of the night.
Perhaps this is because Williamson may be the most intriguing character of all the progressive Democratic candidates. With her aura of patchouli and residual dust from the astral plane, detectable even through the TV screen, she's the most memeable candidate (Elizabeth Warren and her plans are a strong second). She's also perhaps the most out-there, even compared to Elizabeth Warren and Bernie Sanders. If Warren and Sanders are marooned on the far left, Williamson has transcended direction, and she intends to bring America with her.
Regardless of how her campaign pans out, Williamson has undeniably made waves. She's the first political candidate to bring non-mainstream spirituality directly into her platform, and she's done it at the perfect time.
Four years ago and earlier, she would've seemed as absurd a candidate as Donald Trump—but we all know how that worked out. Today, qualifications for the presidential office matter less than one's star power and ability to inspire a movement, and Williamson seems to have the star power (if not the ability to commune directly with the stars).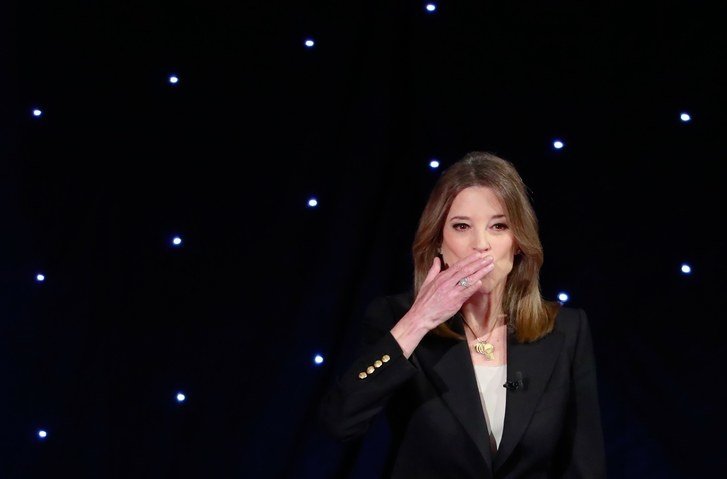 Image via NewYorker.com
In all seriousness, out of all the candidates, she may be the most similar to Donald Trump, in that she exists in the same realm of humorous implausibility as he does. Like Trump, she could be a reality TV fixture. She posts memes, is popular in fringe online forums, inspires occult task forces, and generates massive quantities of loathing and disbelief. She fits into the glitchy landscape of ironic and disillusioned online discourse and is bizarre enough to capture and hold the public's attention.

Like Trump, she's also bringing race directly into the conversation—though for the opposite reasons. Where Trump used racist ideas to win the presidency, Williamson has brought systemic reparations into the discussion. "We need to realize that when it comes to the economic gap between blacks and whites in America, it does come from a great injustice that has never been dealt with," she said. "That great injustice has to do with the fact there were 250 years of slavery followed by another 100 years of domestic terrorism." She followed this statement with some unusually cogent statistics. "If you did the math of the 40 acres and a mule, given that there were 4 to 5 million slaves at the end of the Civil War—they were all promised 40 acres and a mule for a family of four. If you did the math today it would be trillions of dollars."
Her articulate commentary about reparations was a high point in an otherwise discouraging debate that mostly revolved around the same arguments, with moderators and candidates circling around Bernie Sanders and Elizabeth Warren. While the Democratic party ate itself, Williamson—placed as far to the left as could be—stood on the outside.
None of these points are reasons to elect her. She is definitely not an experienced politician—she's a self-help guru, spiritual advisor, and occasional activist. Her platform's main points include a potential Department of Peace "as a first step to dismantling our systemically entrenched perpetuation of violence," movements towards sustainable agriculture in order to reestablish "humanity's spiritual connection to nature," and of course, fighting Donald Trump and his battalion of "dark psychic forces" with love.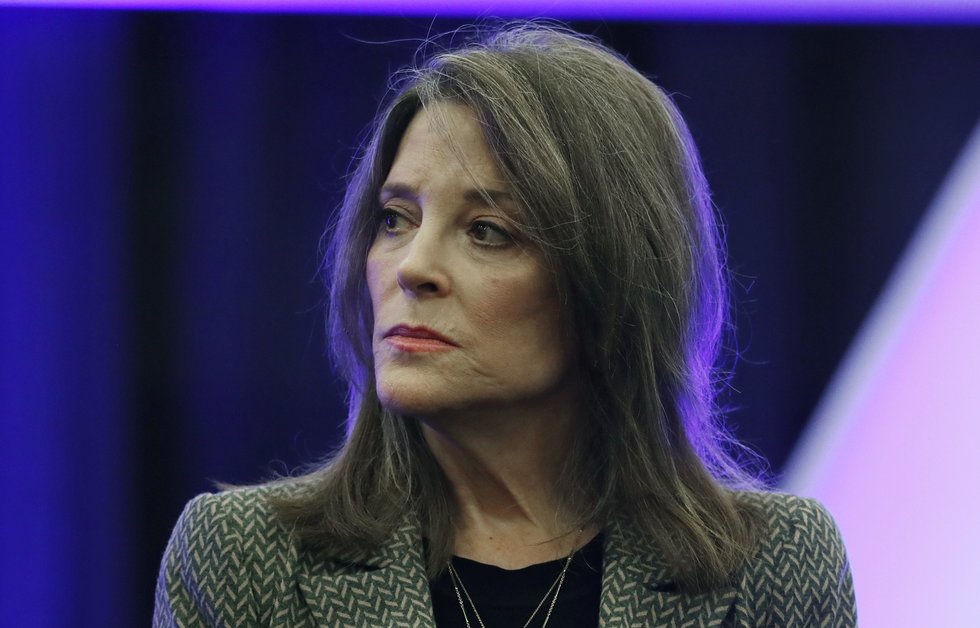 Image via USA Today
Her ideologies are absurd, and not based in (our) reality. She may be promoting an individualistic, dangerous brand of New Age spirituality that promotes an unhealthy fixation on the self. Still, she's arriving at a time when many Americans feel they are already living in an absurd, delusional world, and when they're seeking broader, more creative solutions.
Arguably, Williamson and Bernie Sanders are the only presidential candidates who have proposed changes to the sources of America's problems, not quick fixes that remain within its current, shattered structure. Where Sanders is proposing a revamp of the American economic system, Williamson is wisely proposing a different kind of recalibration—one that cuts to the sources of racial tension, the sources of pollution, the sources of neoliberalism, and the roots of the sicknesses that are costing Americans so much in health care costs.
In her distance from the here-and-now, she is undefinable, without order or direction. In her removal from the real world, she is quintessent: untouchable, and difficult to pin down. Depending on how you see it, she's absurd, enlightened, out of touch, awake, a crackpot, or a witch.
She would probably make a very poor president. But by bringing her messages of spirituality and structural healing to the table, she's changing the rules of the game.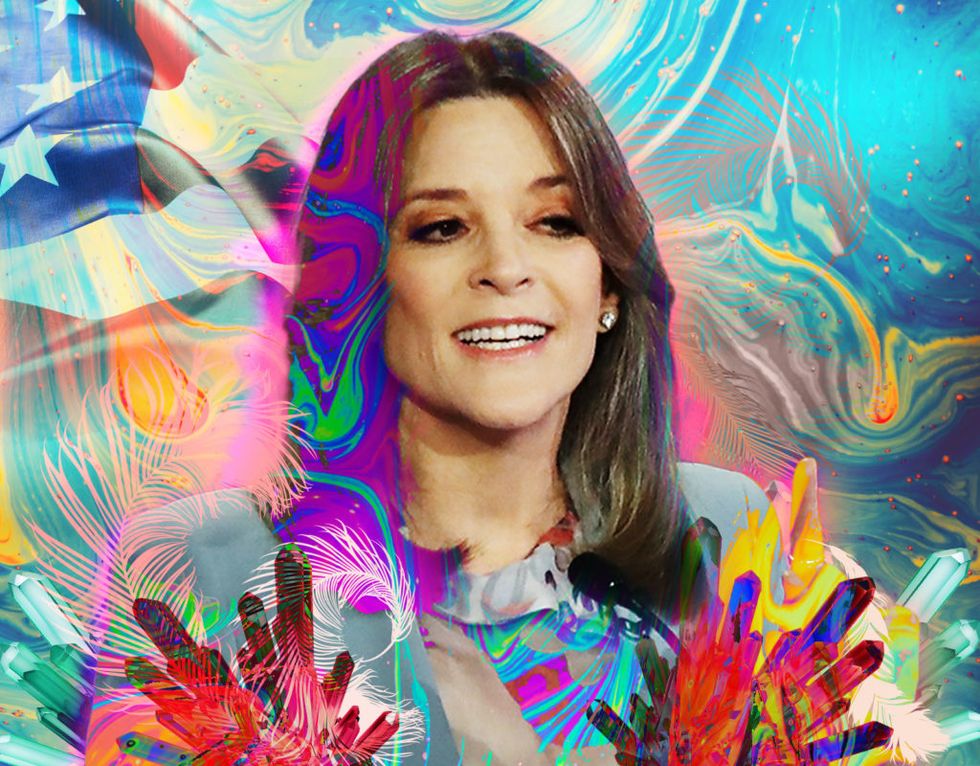 Image via The Bulwark
Together, Sanders and Warren promised radical hope—and wound up derailing the Democratic debate.
"Marooned on a desert island."
"Bonnie and Clyde."
"It's Bernie Sanders and Elizabeth Warren against the world."
These kinds of whimsical headlines, loaded with Americana folklore and reality TV surrealism, swirled across the Internet after the first installment of the second Democratic debates. They stemmed from the unlikely but oddly seamless union of Elizabeth Warren and Bernie Sanders, the second and third highest-polling and by far the most radically progressive candidates in the race to win the Democratic primary.
Standing in the dead center of the row of candidates, in between the youthful pillars of Buttegieg and Beto and far away from Marianne Williamson's mystic emanations and John Delaney's bitter combativeness, they seemed to cling to each other. By proxy, they seemed to cling to a similar collection of dreams, dreams that have been pulling a great deal of progressives towards the far reaches of socialism, or at least to the dissolution of income inequality.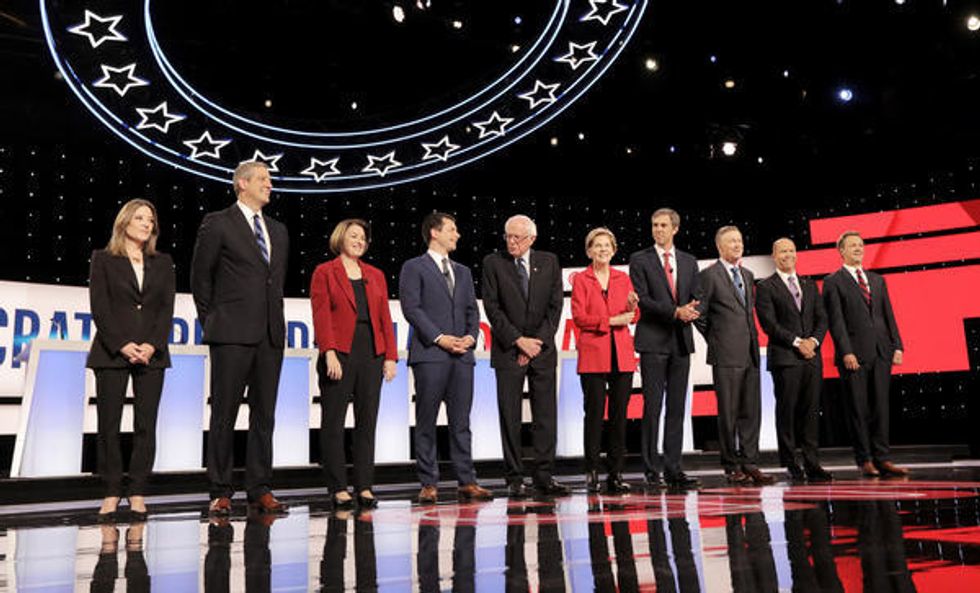 Image via WLRN
Watching Sanders vehemently defend the policies that he brought into the public eye—Medicare For All, free college, a refusal to accept superPAC donations—and watching Warren defend him (when she could get more than a few words in), the idea of a Sanders/Warren dream team entered the realm of plausibility.

Though either could lead, Sanders seems like the clear choice for the presidential candidate, with Warren as a strong VP. After all, the Warren/Sanders ethos thrives because it is buoyed by the idealism that Bernie popularized in 2016.
The fact that Sanders is a democratic socialist, while Warren is a self-proclaimed capitalist, is the primary reason why Bernie would be the most feasible leader of the duo. Sanders' campaign caught fire in 2016 because he spoke to a generation caught in the stranglehold of mind-blowing income inequality, a generation that faces the destabilizing knowledge that the world faces certain catastrophe if climate change is not addressed—and that capitalism has continuously favored the fossil fuel companies that prevent necessary environmental changes. Like most youth-led movements, Sanders supporters seek radical, totalizing change of the sort that's only be possible when the old systems are completely deconstructed.
On the whole, Sanders is more anti-establishment and seems more likely to reel in the followers of Trump's "drain the swamp" who could care less about actual policy, and she's more likely to inspire mass mobilization and excitement among those seeking radical change. As The Atlantic succinctly put it, "Sanders is fighting for a political revolution. Warren isn't."
Warren, for her part, maintains a link to solid ground with her vast collection of plans and policies—plans that, in theory, could be the perfect antidote to any accusation that Sanders' policies are implausible.
Still, last night, it seemed like Warren and Sanders were out in dreamland, reeling through a political Coney Island. This isn't necessarily a death knell, though. Together on a single ticket, their shared pull could be enough.
Torn apart, though, their campaigns might result in another 2016. Arguably, Bernie's campaign was a death knell for Hillary Clinton, as it provided the initial framework for Trump's demonization of her. In the same way, progressives are now putting up firewalls against the candidates they see as too middle-of-the-road, like Joe Biden.
In her opening statement, the ever-practical Warren reminded the audience that any candidate would be preferable to Donald Trump. While this is true, many progressives feel that the 2020 election presents an unmissable opportunity to completely change the direction of politics. In a nation that was prepared to elect someone as disruptive as Donald Trump, it seems feasible that we could handle a little more chaos, especially if it comes in tandem with the promise of a better world.
At the debate, with rampant arm-flailing and drawn-out storytelling, Warren and Sanders promised that better world. They stood for the dissolution of private health insurance companies and student debt in spite of endless criticisms from the other candidates. Against the totalizing extremity of their views, the other candidates who supported for-profit colleges and private insurance in any capacity seemed lost in the past—or lodged in reality, depending again on how willing you are to take the leap into their alternate state of mind.
But in last night's debate, the binary they created between themselves and the others didn't always work in their favor. Somehow, by the end of the night, both the Warren/Sanders island and the rest of the Democrats seemed to come out as losers.
This raises the question: Is extremism really the solution? For young progressives, it absolutely is. For this group, fighting against a rigged system that buoys the rich and throws the poor to the wolves, extreme action is the only thing that will work. Peace and love failed in the 1970s, and moderation is code for the status quo. For progressives, it's time to wake up from the dream presented at the start of the American capitalist experiment.
For other non-radical or socialism-phobic Democrats, the Sanders/Warren ticket is the stuff of nightmares, and the progressives are the ones lost in the dream. For those who merely want Trump gone and apparent order reinstated in the Oval Office, it seems that the division between the progressives and the middle-of-the-road Democrats is an unfortunate diversion.
Perhaps middle-of-the-road Democratic candidates could accrue more favor with would progressives if they could convince them (and the nation on the whole) that they actually stand for something (other than defeating Trump). In the technologically saturated mess of a modern era, one thing is certain: Policy is secondary to a candidate's ability to shape a vision of a better future.
For a long time, Sanders has been the best architect of that better future that the Democrats have. Though he and Warren presented an appealing team, seeing them cut down to size at the debate last night did nothing for the party and its motivation. Perhaps, had the debate been framed more as a discussion of specific policies rather than a black-and-white argument that pitted stagnancy against change, it wouldn't have been defined by such a strong feeling of premature defeat.
Can the Democratic establishment get it right this time?
With the first Democratic primary still about eight months away, the Democratic party establishment appears prepared to throw all of their weight behind Joe Biden.

To hear MSNBC or CNN tell the story, Joe Biden has been the Democratic party's frontrunner since before he even declared his candidacy. Whether or not this is entirely true, however, is debatable. Misleading polls are being conducted and then misrepresented by many liberal news outlets as a means of solidifying Uncle Joe's frontrunner status early on in hopes of swaying voters toward the "more electable" candidate in the primaries. If Joe Biden can be made to look like he actually has the best chance of clinching the nomination or winning against Trump in a general election, then, voters will be more likely to vote for him as the safe bet.
IVN, or the Independent Voters Network, self-described as "a platform for unfiltered political news and policy analysis from independent-minded authors," has highlighted the biased nature of many political polls. IVN writer, Rudolpho Cortes Barragan reports:
"FiveThirtyEight, which is owned by ABC/Disney, functions as a sort of gatekeeper for polling, and polls are extremely important for candidacies. The public is told that polls judged as A+ by FiveThirtyEight are to be seen as real bellwethers of popular opinion. In reality, 'the polls' are manufactured to produce the results that the pollsters (and their corporate funders) want to see."
Barragan goes on to cite a recent Mammoth University poll as evidence. "The results showed Biden 9 percentage points ahead of Sanders," he writes, "but if you look closely you will see that more than 70% of the people polled are over the age of 50. Any honest person would be able to tell you that the 2020 electorate will be far younger than 50." The data is seldom presented within its full context on mainstream news outlets like MSNBC or CNN, and instills in voters a false sense of Biden's electability and props him up as the "safe" vote.
If this sounds eerily familiar, it's because the same thing happened in 2016. Hillary Clinton, like Biden, was prematurely propped up as the most electable candidate, even though an anti-establishment candidate like Bernie Sanders may have stood a better chance against Trump's "outsider" persona, which resonated with many voters (particularly across the midwest). This was proven in the wake of Trump's victory when analyses showed that many Bernie supporters either did not vote in the general election or jumped on the Trump ticket, preferring the radical change suggested by Trump's "drain the swamp" narrative over Clinton's years of experience as a politician.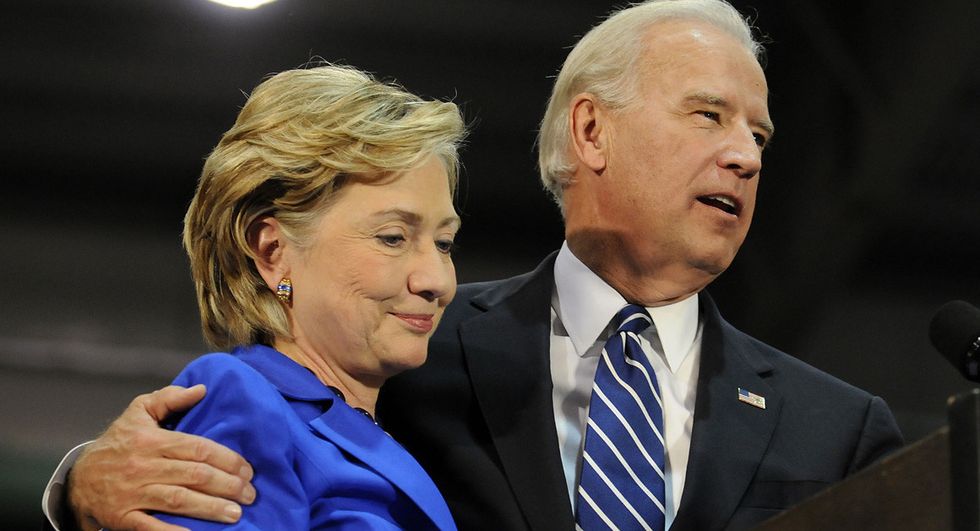 Joe Biden, like Clinton, is firmly rooted in the Democratic establishment. While Trump's approval rating has wavered over the last few years, hitting its low at 35% in 2017, it has remained around 40 to 45% — a number that should be alarming for Democrats going into 2020, as there have been only three single-term presidents since World War II.

Either way, the Democratic party and its voters must avoid making the same mistakes if there is any hope of preventing a Trump reelection. Poll manipulation was not the only issue in the 2016 election. The Democratic National Committee (DNC) was also exposed for unfairly tipping the scales toward Clinton in 2016, effectively rigging the primary against Bernie Sanders.
Donna Brazile, former interim chair of the DNC, revealed in her book, Hacks: The Inside Story of the Break-ins and Breakdowns that Put Donald Trump in the White House, the nefarious– although not technically illegal, according to US District Judge William J. Zloch, who dismissed a class action lawsuit against the DNC – actions of the Committee.
"Hillary would control the party's finances, strategy, and all the money raised," writes Brazile. "Her campaign had the right of refusal of who would be the party communications director, and it would make final decisions on all the other staff. The DNC also was required to consult with the campaign about all other staffing, budgeting, data, analytics, and mailings."
It's unclear whether the DNC's current chair, Tom Perez, will run an honest and fair ship as we approach the 2020 election cycle. Perez held the position of labor secretary during the Obama administration, and Biden publicly threw his support behind Perez during his campaign for DNC chair; whereas Sanders preferred Keith Ellison, who lost by a narrow margin. Only time will tell if Perez will tip the scales in Biden's favor due to their favorable history together, but the Democratic party is no stranger to nepotism, so Perez – especially in light of 2016 – should be watched carefully in the months to come.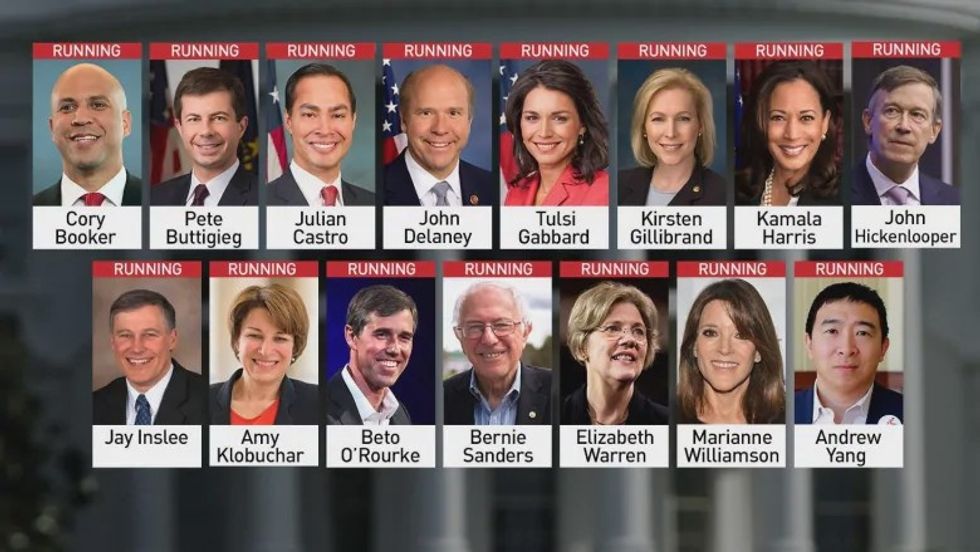 Even if the DNC does run a fair election this time around, electing Joe Biden would be a grave mistake. A mistake that the party already made last time around in the form of gifting the primary to Hillary Clinton. This election will not be one for tepid, center-of-the-road policies. We've already seen how an establishment centrist performs against Donald Trump. The Democratic party must embrace and adopt the progressive push to the left provided by candidates like Sanders and others if they have any hope of winning in 2020. Playing politics as usual will cost the Democratic party, and the nation, another four years of a Donald Trump White House.

Bernie is talking about voting rights, but is this the most important issue facing offenders?
Bernie Sanders has gotten some attention, and a lot of criticism, for proposing that people currently incarcerated, on probation, or parole should have the right to vote.
He even wrote an op-ed about it. Kamala Harris said she supported the idea and then flip-flopped once she realized what a gaffe it was. Vox has an excellent, though undoubtedly "woke" take on the issue here.
This is a legislation that is opposed by 3 out of 4 Americans. Which reveals that Bernie is a dangerous, even reckless candidate for the Dems. So many of his views are completely out of line with the mainstream. And we all know who is going to focus on those if he somehow surpasses Biden as the nominee.
Efforts to reform the criminal justice system are vital, but voting rights are just about at the bottom of the list of what matters to offenders. They want access to education and job training and work opportunities that will give them a chance to be productive in the world once they finally get out. The First Step Act was an excellent bit of progress, but there is so much more to do to block the school-to-prison pipeline. Progress is being made at the state level and there seems to be a bipartisan consensus, aside from Sen. Tom Cotton, to keep reform moving forward.
State by state, offenders need fewer of the tripwires- high bail amounts, fees, fines, drug tests- that get them locked up in the first place or sent back to prison. Overcrowded conditions still abound in so many facilities.
While Bernie dreams of things that few people support, will he draw attention away from needed reform, maybe even turn people against it?
What would Democratic Socialism mean for the economy?
Democratic Socialism, a subset of the democrat party, has been thrust into the spotlight recently with the shocking victory of Alexandria Ocasio-Cortez over a 10-term incumbent. Ocasio-Cortez often referred to in the media as AOC, is a self identified Democratic Socialist, as was 2016 presidential hopeful Bernie Sanders. Despite this newfound prominence, the political affiliation is still widely misunderstood, often confused with communism or European style socialism. So what exactly is Democratic Socialism? And how would a Democratic Socialist platform affect your life?
According to the biggest socialist organization in the US, the Democratic Socialists of America (DSA), "Democratic socialists believe that both the economy and society should be run democratically—to meet public needs, not to make profits for a few. To achieve a more just society, many structures of our government and economy must be radically transformed through greater economic and social democracy so that ordinary Americans can participate in the many decisions that affect our lives." This polished and condensed definition sounds good, but it's difficult to grasp what it actually means in practice. To help you understand, we've broken down the four pillars of Democratic Socialism to explore how their implementation in the American government could affect your life.

Workers Control Means of Production/The Importance of Unions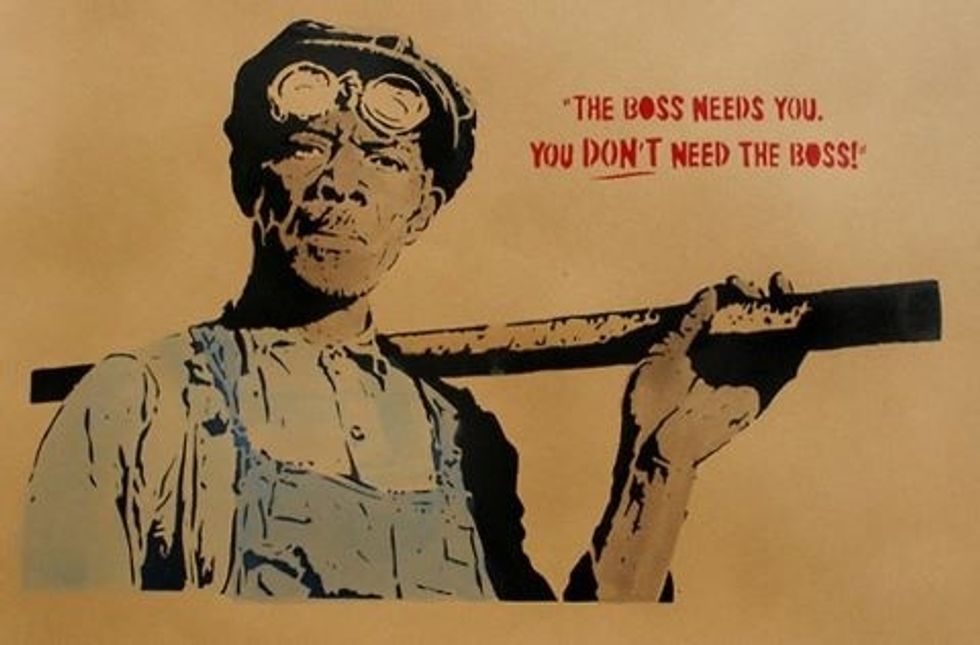 Perhaps most central to Democratic Socialism is the belief that American industry should be controlled by the workers who run it and the consumers who gain from it. Generally, they believe in a decentralized economy, though they think some indispensable portions of industry, like energy and steel, should be government controlled. As the DSA puts it, "We believe that social and economic decisions should be made by those whom they most affect."

In practice, this decentralization would likely mean the fruition of things like workers cooperatives and publicly owned ventures. Essentially, this economic model would mean that it would be much more difficult for a few people to get obscenely wealthy while those on the bottom of the economic ladder remain impoverished. Instead, everyone would have fairly equal opportunity to profit off the success of a business, creating a more widespread sense of ownership over the success of the economy, therefore stabilizing it. Unions are an important part of this pillar, as Democratic Socialists believe unions are essential in order to hold companies accountable to their workers and to empower workers to challenge capitalism as a concept.
Capitalism Promotes Greed and Must be Regulated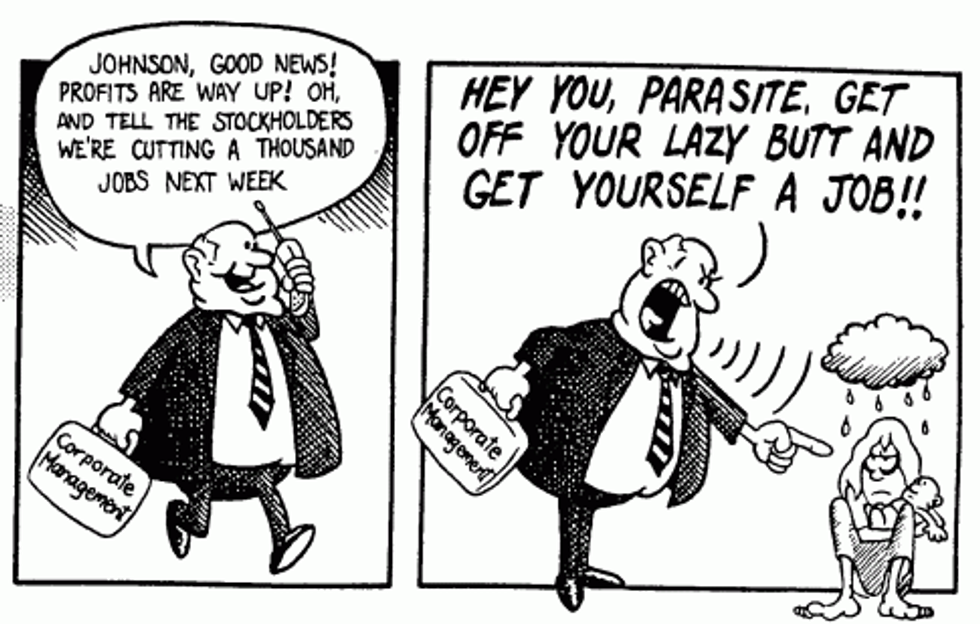 Democratic Socialists believe that capitalism has the inherent tendency to keep the rich rich and the poor poor and that capitalist corporations will always act in the interest of maximum profit at the expense of all else. Therefore, private corporations must be regulated by the government in order to ensure that they look out for the wellbeing of workers and lower rung employees. With this kind of philosophy implemented, there would likely be a strengthening of labor laws, a higher minimum wage, expanded parental leave, the prevention of foreign outsourcing to low wage countries, and the prevention of environmentally harmful activities.

A Minimum Quality of Life for All Citizens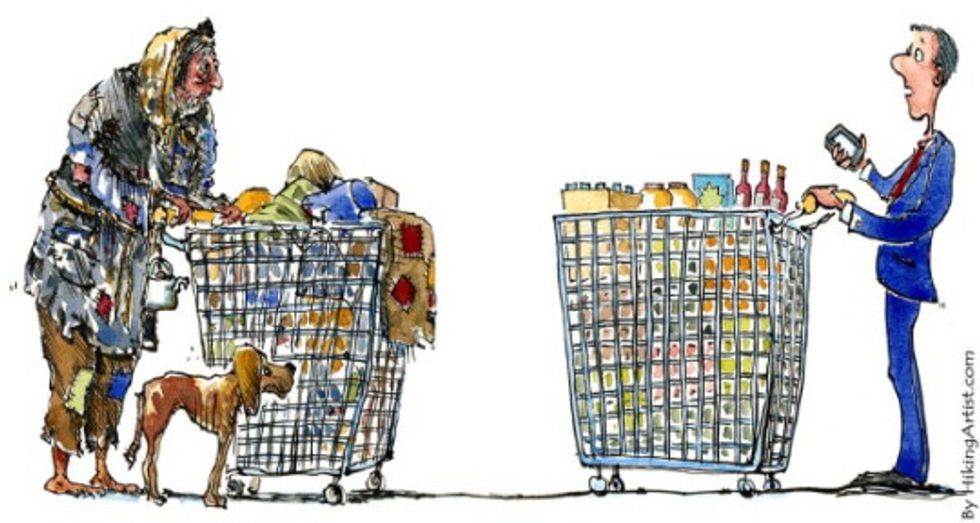 This is perhaps the simplest pillar of Democratic Socialism though likely would prove to be the most difficult to fulfill. Essentially, Democratic Socialists believe that all human beings have the right to sustenance, housing, clean water, healthcare, education, and child care, and that the government should ensure these things are accessible to all US citizens. This would likely mean significantly more spending on social welfare programs and expansion of government housing, which would inevitably require higher taxes. Of course, with the implementation of the other pillars of Democratic Socialism, more people would have a better chance of reaching this minimum quality of life even without an expansion of welfare programs.

Importantly, healthcare is an essential part of this equation in the eyes of Democratic Socialists. They don't merely believe in "medicare for all" health care system, but also that medical facilities should be publicly run and doctors publicly employed.
Grass Roots Means of Achieving Power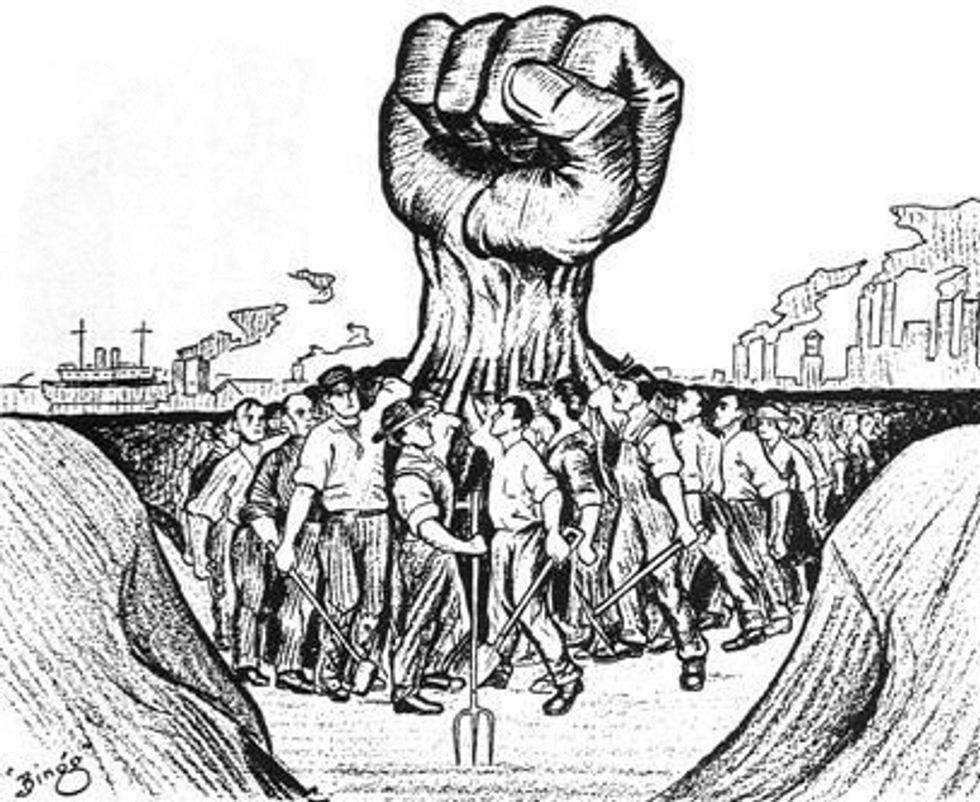 As mentioned before, the welfare of the community is important to Democratic Socialists, meaning that the election of the individual is also seen as having the tendency to play into the patterns of the centralization of power. A traditional Democratic Socialist would likely reject the concept of election altogether, instead opting for grass roots organization and mass mobilization. But as shown by AOC and all the other Democratic Socialist candidates elected this year, most who ascribe to these beliefs recognize that it's necessary to participate in the democracy in order to insight change, but still maintain that true change and empowerment comes from the mass mobilization of the people.
This week, Rep. Alexandria Ocasio-Cortez and Senator Ed Markey will be proposing the most ambitious plan to fight climate change yet.
Recycle. Take shorter showers. Turn the lights off.

Over the past several decades, most of us have heard these diatribes repeated over and over, and have perhaps become numbed to these mantras, which promise that tiny droplets of collective action could potentially save the planet from environmental ruination.
It's true that small changes are important, and that each person contributes to the growing levels of waste and pollution that are killing our ecosystems and raising the planet's temperatures so dramatically that Manhattan-size gaps are forming in Antarctic ice. But it's also true that 71% of carbon emissions come from just 100 companies. It's also true that the scale of the crisis has grown unmanageable, and poses an unprecedented threat to human life.
That's where the Green New Deal comes in.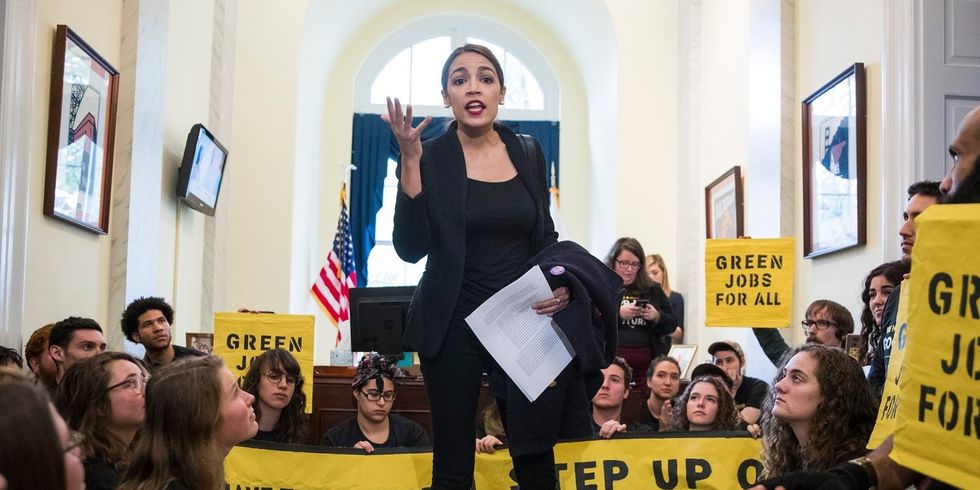 Image via The Intercept
"It's the only plan that matches the scale of the crisis," said Naomi Klein of the proposal, speaking on livestream yesterday night to thousands of activists tuning in across America. The livestream was hosted by the Sunrise Movement, a millennial-founded organization dedicated to supporting and fortifying the Green New Deal, especially as it's proposed in Congress in the coming week. Klein is the author of This Changes Everything, a book that argues that impending climate catastrophe actually presents an extraordinary opportunity to revamp the world's economic systems for the better. "I believe we were born for this moment," she told viewers.

Named after FDR's New Deal—which revolutionized the entire country on a tremendous scale, planting three billion trees and establishing hundreds of national forests in addition to catalyzing widespread economic, agricultural, and social reforms—the Green New Deal seeks to implant reforms on an equivalent scale in a time when it seems like there is no other option.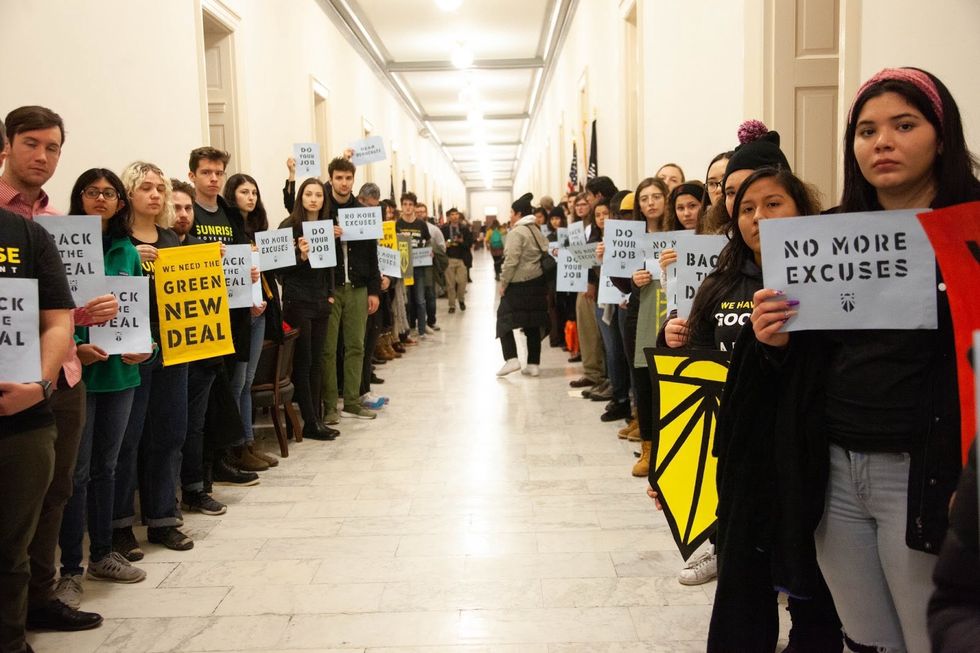 Image via Vice News
The plan has gone through several phases, but the one that's being proposed in Congress this week focuses on several fundamental points. First: achieve net-zero carbon emissions by 2030, and transition to renewable energy on a huge scale through initiatives like the creation of a nationwide electrical grid. Second: institute a living wage for all, in tandem with the creation of unlimited numbers of green jobs. These are the plan's main tenets, but its ideological aspirations stretch much further. It hopes to generate thousands of jobs in the form of start-ups and maintenance, and to start a wave of international trade in the renewable energy sector.

The original plan focused on a switch to 100% renewable energy by 2030, but a recent five-page draft obtained today by Bloomberg didn't mention this point, perhaps as a nod to moderates, though the omission is still subject to change. The draft proposes large-scale investment in green technology, the restoration of threatened lands, waste removal, and "massive growth in clean U.S. manufacturing, removing pollution byproducts and greenhouse gas emissions from that sector as much as technologically feasible."
The term "Green New Deal" is not a new one, though it has been going through different iterations since its inception. It was coined in a 2007 column by Thomas Friedman, and Barack Obama included it in his 2008 platform. Britain also took note, but a surge of Republican/Tory victories stymied its momentum.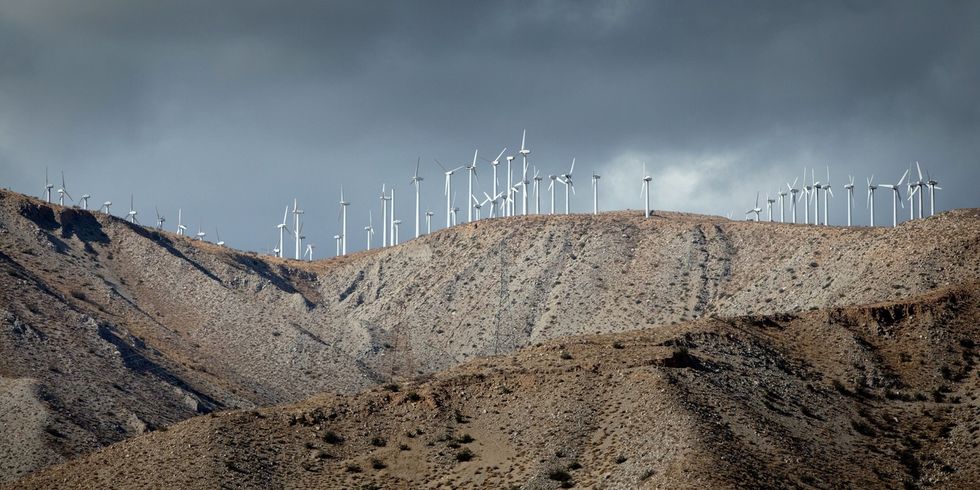 Image via theintercept.com
The GND has found new life in Representative Alexandria Ocasio-Cortez, the Bronx electorate whose rise to political success has been accompanied by widespread social media fame. Ocasio-Cortez showed up in person to support a Sunrise Movement sit-in in Nancy Pelosi's office, demanding the creation of a committee dedicated to developing and pushing the GND, and since then she has become one of its biggest proponents. Now she will be proposing it in Congress this week, alongside Massachusetts senator Ed Markey. The plan has also garnered support from Rep. Ayanna Pressley, as well as 2020 presidential candidates Kamala Harris, Cory Booker, and Bernie Sanders.

The Sunrise Movement began in 2015, when it was founded by climate activists Sara Blazevic and Varsini Prakash, and quickly gained momentum, taking notes from the heady drive of the 1963 civil rights protests of Birmingham, Alabama. Its founders gathered activists, reached out to politicians, and pulled together the finer points of the Sanders campaign and other recent social movements; the successful Pelosi sit-in was the product of months of organizing.
The movement is appealing in a narrative sense: the vision of young people fighting against bloated fossil fuel behemoths has a definite draw to it. There's also the fact that science says the fate of the entire world requires unprecedented global change over the next few years, otherwise catastrophes like Hurricane Sandy and the California wildfires will become the stuff of the everyday.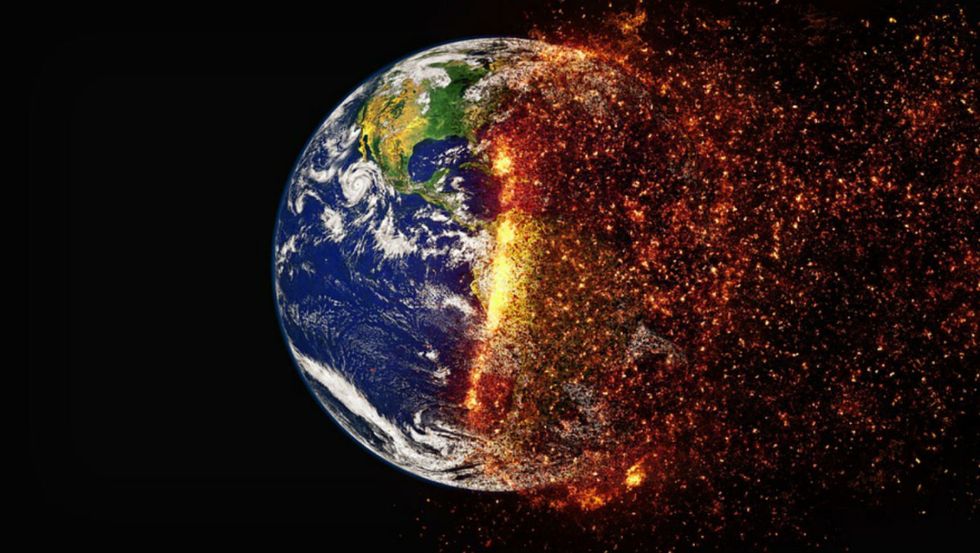 Image via theinsurgent.com
But the GND is still just an idea, and it could remain that way. Its lack of specific policy has been subject to criticism, though an official draft has yet to be unveiled, and conservative news sources have labeled it as a hoax, an amorphous idea without policy to back it.
While the GND might seem like an impossibly ambitious proposition, humans have revamped and reshaped the world before a hundred times over, and we are nothing if not creative and adaptive. We've created technologies that connect the globe and turned empty landscapes to highway-lined cities in a matter of years. Now—unless you like the idea of joining Elon Musk's exclusive Mars colony—it's time to turn all of our collective energies towards the future of the home we share.
70 leading Democrats have signed on in support so far, and momentum is building for its official proposition. The Sunrise Movement is planning on facilitating office visits to congress people across the country this week, as well as a rally in Washington on February 26th.
In an age of doomsday threats and constant headlines about plastic oceans and refugee crises facilitated by environmental droughts, the idea of a Green New Deal—something that could actually, genuinely make a difference that touches every aspect of life—seems like a light at the end of the tunnel. Now it's just a matter of getting there.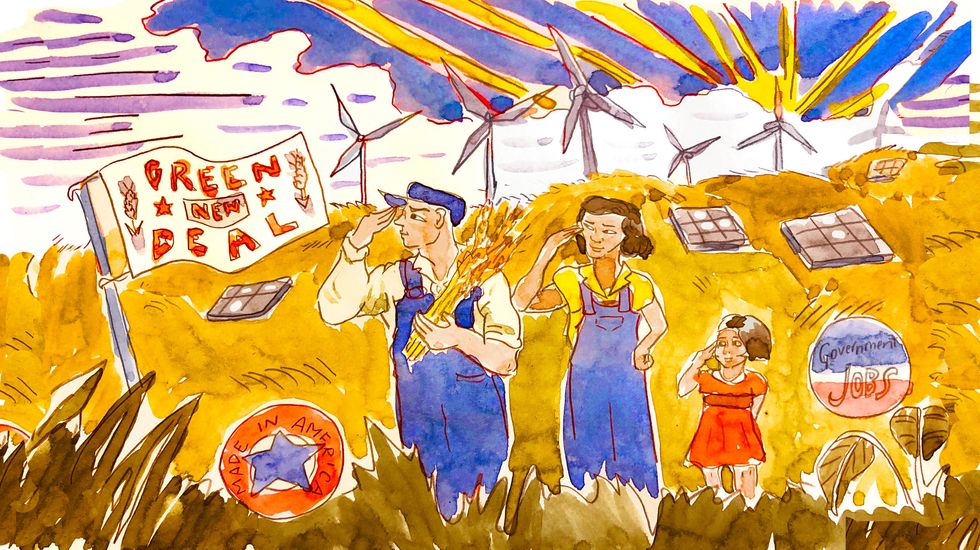 Image via radioopensource.org
Environmental crisis affects the poor and vulnerable at disproportionate levels; it catalyzes mental and physical illness, economic decline, and overall devastation. Irreparable damage has already been done—but the fight is not quite over yet, though time is running out.
---
Eden Arielle Gordon is a writer and musician from New York City. Follow her on Twitter at @edenarielmusic.

---
Dennis Hof won his bid for Nevada Assembly District 36 last night, despite having died three weeks ago.
Midterm elections are often considered a referendum on a sitting administration's progress—a collective report card graded by the people. Early numbers from this year's elections suggest a substantial and possibly record increase in voter turnout, which has been historically low in non-presidential voting years. It's not surprising, given the turbulent political climate, that candidates from both parties continued to campaign at full speed up until the final hours. Yet despite an election cycle that saw blatantly racist attack ads, felony accusations, and threats of violence, the one surefire road to victory has been apparent for years: death.
Outlandish as it may seem, at least nine dead people have been elected to public office since 1962—six in the last 20 years alone. The latest, Dennis Hof, whose body was discovered last month after the legal brothel owner had celebrated at a campaign-and-birthday party, claimed victory in Nevada last night. Prior to his death, the 72-year-old had been celebrating with friends Heidi Fleiss, Ron Jeremy, and Joe Arpaio.
Ballots Beyond the Grave: Deceased People Who Have Won Elections
Rep. Clement Miller (CA, 1962; airplane accident)

Reps. Nick Begich (AK) and Hale Boggs (LA, 1972; airplane accident)

Gov. Mel Carnahan (MO, 2000; plane crash)

Rep. Patsy Mink (HI, 2002; viral pneumonia)

Sen. James Rhoades (PENN, 2008; car accident)

Sen. Jenny Oropeza (CA, 2010; cancer)

Sen. Mario Gallegos (TX, 2012; liver disease)

Dennis Hof (NV, 2018; cause of death not yet reported)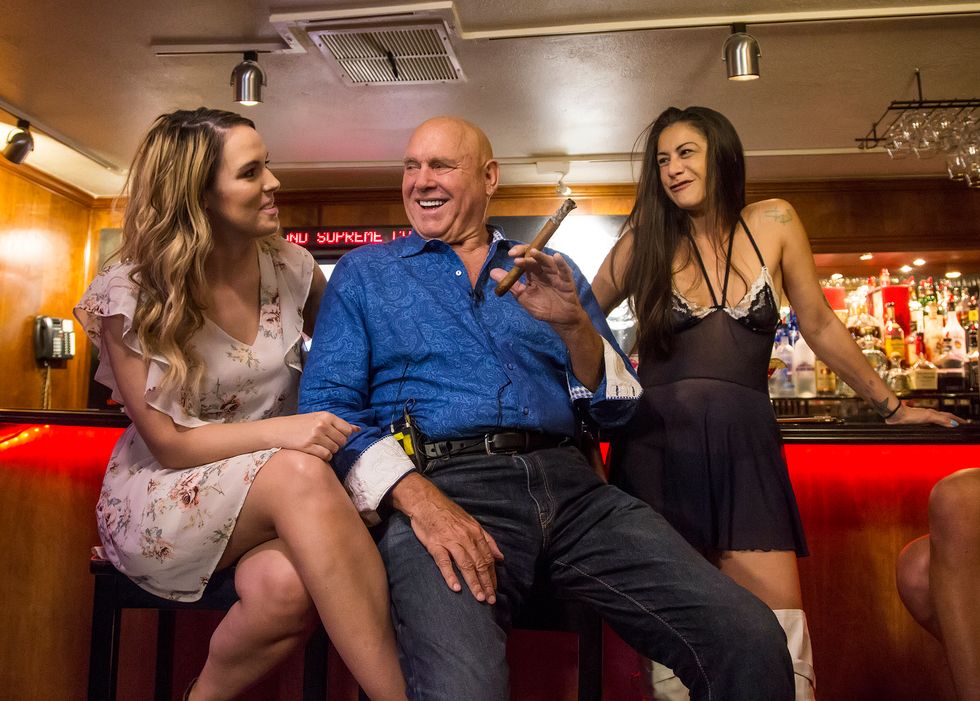 The Nevada Independent
Hof ran for office as a self-proclaimed "Trump Republican" and stated that the president's 2016 win ignited his own desire for a career in politics. Similarities between the two run deep. Hof gained fame as a reality star on the long-running HBO documentary series Cathouse, which captured life at the Moonlite Bunny Ranch, one of several legal brothels owned and operated by Hof. In 2015, he published a memoir titled "The Art of the Pimp," a clear homage to Trump's "The Art of the Deal." In it, Hof included a psychological profile by psychotherapist Dr. Sheenah Hankin, which categorizes Hof as a narcissist who abused the sex workers he employed.
Among the issues he championed were immigration reform, a repeal of Nevada's 2015 Commerce Tax, and a campus carry law that would allow concealed-carry permit holders to bring their weapons onto Nevada college and university campuses. He was endorsed by Roger Stone and Grover Norquist. In the 2018 primary elections, Hof beat incumbent James Oscarson by a mere 432 votes. Because he died within 60 days of the upcoming election, Hof remained on the ballot, though signs were posted at polling sites notifying voters of his death.
It seems as though these issues matter more than electing a living person to citizens of the 36th Assembly District. In fact, a 2013 study by Vanderbilt University found that, in lower-level elections, voters are most likely to elect the candidate with the highest name recognition.
The 36th Assembly District, which spans Clark, Lincoln, and Nye counties, has long been a GOP stronghold. Hof defeated Democrat Lesia Romanov, a first-time (living, breathing) candidate and lifetime educator who works as assistant principal of an elementary school for at-risk children. Romanov was impelled to run for office by a desire for common-sense gun reform following the mass shooting in Parkland, Florida. Yet, too many of her constituents, upon discovering she was running against Hof, she became a de facto advocate for women, including "survivors of sex trafficking and exploited and abused brothel workers," according to NBC News. Romanov was among many women running for office in hopes of making Nevada's legislature the first to hold a female majority in the country.
As The Washington Post reported in 2014, there hasn't been an election with a dead person on the ballot in which the dead person lost. It's hard to determine what's more damning for American democracy: that voters are so divided that they're more likely to vote for a dead person than cross party lines or that they've been voting that way for years. At the same time, one might argue that giving Hof's seat to a living Republican (as appointed by county officials, according to state law) is a better outcome than if it'd gone to Hof himself, considering his history of sexual abuse allegations. The most preposterous indictment of the American political system is that although deceased candidates have been elected before, now the electorate could seemingly ask itself—in all seriousness—whether a dead serial abuser makes a better candidate than a living one. And no one seems to know the answer.