Dall-E Mini, the AI-powered text-to-image generator has taken over the internet. With its ability to render nearly anything your meme-loving heart desires, anyone can make their dreams come true.
DALL-E 2, a portmanteau of Salvador Dali, the surrealist and Wall-E, the Pixar robot, was created by OpenAI and is not widely available; it creates far cleaner imagery and was recently used to launch Cosmpolitan's first AI-generated cover. The art world has been one of the first industries to truly embrace AI.
The open-sourced miniature version is what's responsible for the memes. Programmer Boris Dayma wants to make AI more accessible; he built the Dall-E Mini program as part of a competition held by Google and an AI community called Hugging Face.
And with great technology, comes great memes. Typing a short phrase into Dall-E Mini will manifest 9 different amalgamations, theoretically shaping into reality the strange images you've conjured. Its popularity leads to too much traffic, often resulting in an error that can be fixed by refreshing the page or trying again later.
If you want to be a part of the creation of AI-powered engines, it all starts with code. CodeAcademy explains that Dall-E Mini is a seq2seq model, "typically used in natural language processing (NLP) for things like translation and conversational modeling." CodeAcademy's Text Generation course will teach you how to utilize seq2seq, but they also offer opportunities to learn 14+ coding languages at your own pace.
You can choose the Machine Learning Specialist career path if you want to become a Data Scientist who develops these types of programs, but you can also choose courses by language, subject (what is cybersecurity?) or even skill - build a website with HTML, CSS, and more.
CodeAcademy offers many classes for free as well as a free trial; it's an invaluable resource for giving people of all experience levels the fundamentals they need to build the world they want to see.
As for Dall-E Mini, while some have opted to create beauty, most have opted for memes. Here are some of the internet's favorites:
There's no looking back now, not once you've seen Pugachu; artificial intelligence is here to stay.
Bronx native Alexandria Ocasio-Cortez first burst onto the political scene in the summer of 2018 with an incredible underdog win against 10-year incumbent Democrat Caucus Chair Joe Crowley.
Since then she's become an overnight celebrity, that infamous win being just the first of many historic moments to follow in her wake. During her short two years in office, she's done a lot, including authoring both the Green New Deal and the COVID-19 Funeral Assistance Act and introducing them to Congress.
(Seriously, when I say she's done a lot, I mean it — here's just some of her incredible political accomplishments, straight from the icon herself.)
Representative Cortez has proven that she's pretty amazing at a lot of things, but her most impressive skill of them all may just be her flawless social media game.
AOC is a trailblazer when it comes to the intersection of politics and social media. She has mastered the art of using her digital platforms (particularly Instagram and Twitter) to connect with her constituents and educate them on current political issues, legislation, votes, and world events. She breaks complex topics down into bite-sized pieces, answers public questions, and includes links to helpful infographics and resources.
Her down-to-Earth-ness is making politics much more accessible for young people who may otherwise find these topics too confusing or intimidating to research on their own. Her stories, livestreams, Q&As, and easy-to-digest explanations have brought an entire generation of voters into the loop when, for so many years, the ultimate goal of politicians was to keep us as far out of it as possible.

Livestreams
AOC has done quite a few Instagram Lives where she utilizes some of her spare time (it's hard to believe she has any) to talk with and answer her followers' questions.
She's even gone live on Twitch where a record-breaking 435,000 people watched her play Among Us with her fellow Congresswoman Minnesota Representative Ilhan Omar, as well as some popular streamers like Hasan Piker (Twitch user HasanAbi), Imane Anys (Twitch user Pokimane), Benjamin Lupo (Twitch user Dr Lupo), and Jeremy Wang (Twitch user Disguised Toast), among others. As of this writing, the archived video now has more than 5.6 million views.
AOC Among Us FULL STREAM with Ilhan Omar and Twitch Streamers #IWillVote | 10/20/20 www.youtube.com
In a completely unprecedented move, she posted an hour-long livestream where she broke down each part of the upcoming COVID relief bill and addressed questions and concerns from her followers in regards to exactly what this would mean for them and how it would affect them.
What Happened at the Capitol Instagram Live | Alexandria Ocasio-Cortez www.youtube.com
Never in American history have we had a politician that has taken the time to so closely and accurately explain what is in a piece of legislation to constituents. And especially during the pandemic — a time for so many people that was confusing, overwhelming, and frankly, pretty terrifying — having a politician be completely transparent about details surrounding relief was an incredible show of how politicians should serve the people.
"We are now in the era of receipts. People now want to see the actual clips of legislation. They want to hear less about our stances." - AOC
Although she's done many, her two most-watched lives are unsurprisingly both about the January 6th insurrection. In her first live addressing the situation, she explained what happened at the Capitol and answered some questions before stating that she wasn't quite ready to go into detail about her personal experience yet. A few weeks later, she revisited the topic in a second live where she finally dug a little bit deeper and got more personal about her experience, revealing the trauma she had endured and had been enduring ever since the violent attack on the capital.
Behind the Scenes and Q&As
Recently, in another never-before-seen political display of transparency, she's been taking her followers behind the scenes on her Instagram stories to see what she does in a week as a government employee. When most politicians would probably rather die (or have you die) than let you see what they're up to in a week, AOC wants to make sure you know that your tax dollars aren't wasted on her salary by showing you exactly what's in her work agenda: helping the people every single day.
During the COVID-19 pandemic (and the discourse surrounding the safety and legitimacy of vaccines), her Q&As have been an indispensable resource for a lot of people. She was very vocal about her COVID vaccination process and took her Instagram followers with her through the entire process via her stories, keeping them updated on her symptoms and side effects. (You can see all of this in a highlight she has pinned on her Instagram profile.)
Recently for Pride Month, she posted this Instagram story putting some companies on blast for using pride logos when they're funding anti-LGBTQ+ politicians behind the scenes. (We love an ally with receipts!)
Just @AOC using political social media flawlessly once again https://t.co/45LSkVLvev

— 🐉Samwise✨ (@🐉Samwise✨) 1623285306.0
The Relatability Factor

I know the term "relatable" has been completely overplayed by internet culture, but a certain air of relatability is such an important tool for politicians to have. People want to know real people, and the way Representative Cortez uses her social media to connect on a relatable level not just with young people, but constituents of all ages, is ingenious when it comes to breaking down the walls of secrecy surrounding political literacy.
Ocasio-Cortez comes from a lower-middle-class background, and before becoming a politician, she worked in the restaurant industry as a bartender. The fact that she comes from a "normal" background where she held a "normal" job gives her the distinct advantage of really knowing what it's like to live in the shoes of the people she represents. (As a former restaurant worker myself, it hits really close to home.) She knows what the most important issues are because she's lived them. She knows how to speak to people in vulnerable positions because she's been in them. And she knows how to connect with her audience because she understands the importance of accessibility.
AOC utilizing social media doesn't just make her relatable, it makes her accessible. There are so many people across America that don't have access to proper education or resources about things like politics, vaccines, laws, legislations, and voter rights — but many of them do have access to Instagram.
Representative Ocasio-Cortez has set a very high standard in terms of digital literacy for the next generation of politicians. She's setting a new precedent in terms of their responsibility to use their platforms as an opportunity to be open, honest, and engaging with their constituents. With the internet and social media increasingly becoming more ingrained in our everyday lives, it's more important than ever that politicians pivot to utilizing the platforms that will connect them the most efficiently with the people they represent. And to get started, it's easy: All they have to do is take the Masterclass from AOC herself.
Keep reading...
Show less
What does hope look like if our society is incapable of facing reality?
A 2020 study published in the journal Nature Climate Change shows that polar ice sheets are melting in line with "worst-case scenario" climate models.
In Antarctica and Greenland, melting ice sheets have been dumping hundreds of billions of tons of fresh water into the ocean each year, at a rate up to three times as fast as in recent decades.
This process not only raises water levels—causing dramatic increases in catastrophic storm surges—it alters the salinity, current dynamics, and acidity of the oceans in ways that have dire ecological and meteorological impacts. It is guaranteed to produce both predictable crises and unforeseen catastrophes. And nobody cares.
Why would they? We're in the midst of a global pandemic that is triggering an unprecedented economic crisis. It has caused food insecurity to affect millions more families than were already struggling, and may soon result in tens of millions of Americans losing their homes.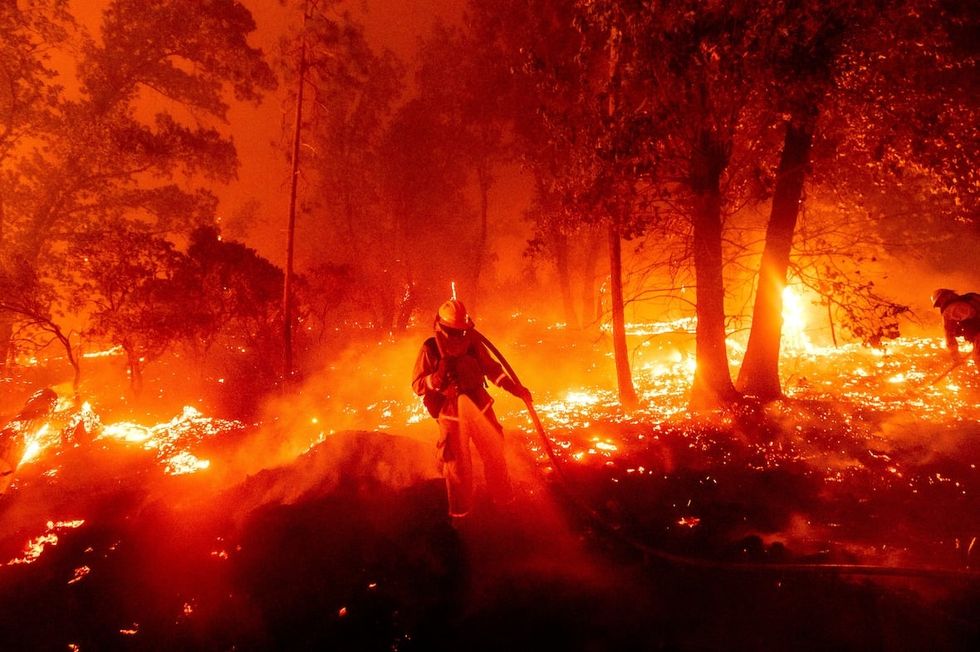 On top of that, California has faced another devastating wildfire season (including another "gender-reveal" gone wrong) amid a record-breaking heatwave and the now-familiar drought conditions, all while a tumultuous hurricane season in the Atlantic is producing powerful storms at a faster rate than in any year since we started keeping track.

The world—and the US in particular—has more pressing concerns than melting ice in 2020, don't we? Well, considering the fact that the "worst-case scenario" for climate change could bring about the collapse of civilization within 30 years, no we really don't.
We can't make the changes to avoid that scenario overnight. It will take years of change that will need to be done sooner, rather than later. Oh, and now scientists are advising the need for a new model of a worse worst-case scenario...
The COVID-19 pandemic has wreaked unforeseen havoc on our society, but it's really just a snapshot of the kind of devastation that climate change will inevitably bring about without the kind of transformational action that is beginning to seem impossible.
Congress can't agree to help people keep their homes during an unprecedented unemployment crisis. What chance do we have that they will stand up to lobbyists and big-business donors to restructure our economy into a sustainable model? Does it even matter how big the threat is? Does it matter that everything we're facing is only going to get worse?
Because not only will hurricanes, droughts, floods, heat waves, food shortages, wildfires, gradually get worse and worse as a result of climate change—until the crises of 2020 become a fond memory—but infectious diseases are likely to reach epidemic and pandemic levels more frequently.
With traditional food sources destroyed by weather events and the changing oceans—along with animals migrating due to deforestation—people will be exposed to more exotic animals, and non-human viruses will have more opportunity to make the leap.
With more and more heat waves reaching and exceeding body temperature for days at a time, microbes that can't currently survive inside our bodies will begin adapting into dangerous pathogens.
And with tens of millions of people being displaced by catastrophic weather events and conflicts arising from scarce resources—most of them forced into crowded conditions—infectious diseases new and old will spread more rapidly.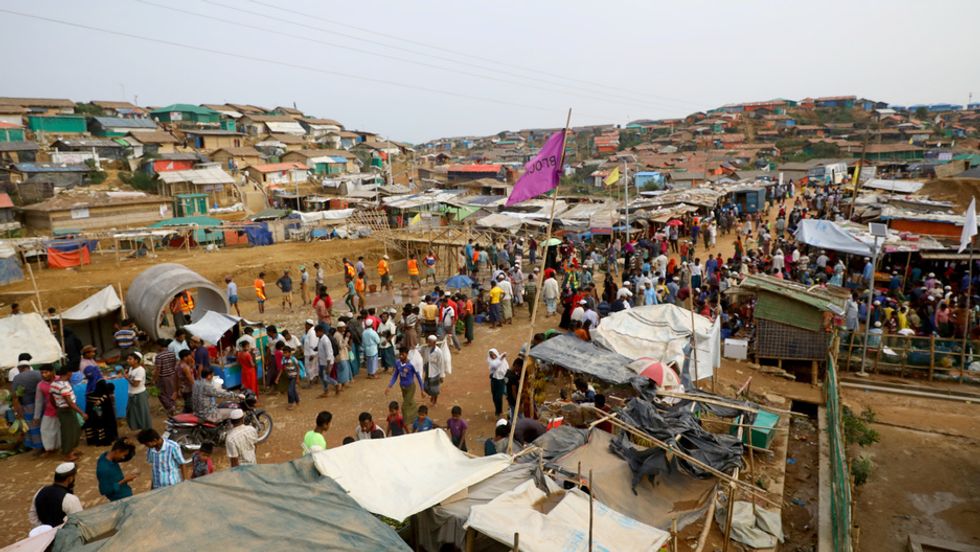 We will perpetually be dealing with some new epidemic. Some urgent disaster is always going to occupy our attention and energy while we continue to ignore the underlying, apocalyptic cause. And all of these problems will only make it easier for the rising strain of global fascism to demonize outsiders, and further isolate nations from the kind of international cooperation we so desperately need.

At what point are we expecting to have fewer "pressing concerns" than we have right now? In what idyllic future will we have the peace and security to start focusing on addressing the hazy, foundational threat that is likely to destabilize everything we know?
As a pandemic rages, America's two-parties continue to be incapable of cooperating to help the American people—of making the other side look good. Our aging, wealthy ruling class doesn't take threats facing younger generations and the working class seriously. And this familiar rot of a two-party stalemate is even more evident in the challenge of forming a consensus behind pragmatic, necessary action like Alexandria Ocasio Cortez's Green New Deal.
Instead of backing it, and favoring the long-term habitability of our only planet, people prefer to scoff at an imagined plan to steal their hamburgers. And corporate-owned media empires are happy to serve up the team-sports drama of it all while the end of everything we know rushes toward us. Meanwhile, the Pentagon is preparing for global societal destabilization.
The dynamics of American "democracy" under capitalism seem to be wholly incapable of saving us, and the structure of the military industrial complex will no doubt view the crises that arise from displaced people and global unrest as a series of nails to be handled by their ever-more-sophisticated hammers.
There is a famous quote of uncertain attribution that says that, within our system, "it is easier to imagine an end to the world than an end to capitalism." It's becoming increasingly easy to see that end to the world looming, while the armor protecting the forces of for-profit ecological ruination show no signs of weakening.
In astrophysics there is a concept known as the Fermi Paradox that questions why—if the conditions for producing intelligent life are not exceedingly rare—we do not see any evidence of other civilizations spread across the vastness of space.
The Fermi Paradox II — Solutions and Ideas – Where Are All The Aliens? www.youtube.com
There are various responses that may explain that observation, but among the most popular is the idea that civilizations just don't last. The forces of progress that allow creatures to develop technology like radio transmitters and spacecraft may lead inevitably to world-ending weapons or climate collapse.

Whether that's true throughout the universe, it seems increasingly to be the case for the only confirmed civilization in the Milky Way. For all our amazing advances, we remain stupid apes,—incapable of planning beyond next month, and constantly discovering new and clever ways to kill ourselves.
It's customary—in an article this dark—to end on a hopeful note. That makes sense. It's generally considered rude to actively ruin a stranger's day. But isn't it also rude to lie? Because I'm not convinced that there is any real hope for our civilization—not in the long run.
Sure, we can find some ways to delay and mitigate the damage. Pointing to 2050 as the likely end is probably overly pessimistic. If we do a surprisingly good job of adapting, legislating, and cooperating—and also get very lucky—we may have a couple good generations left.
In that case, most of the people reading this are likely to be dead of all the familiar causes before the total collapse of world order. Only our children or grandchildren—and however many generations after—will be forced to face the immense suffering of a new dark age.
That is the sad shade of fate that we should all be fighting for with desperate passion—because it's a hair shy of pure black void. Better than that, at this point, seems to be in the realm of fantasy.
We've already done so much irreversible harm. And the path we're on is so resistant to change. It would be wonderful—joyous—to be proven wrong, but the society and the way of life we know can't last. And there's no indication we'll be able to replace it in time.
Maybe our only realistic hope is to drastically lower our expectations. Short of saving the world as we know it, maybe we can keep portions of the planet habitable—maybe an enclave in the region around Colorado and another in the Mongolian steppe will hang onto less-than-hellish conditions. Maybe we need to start planning for the post-apocalypse.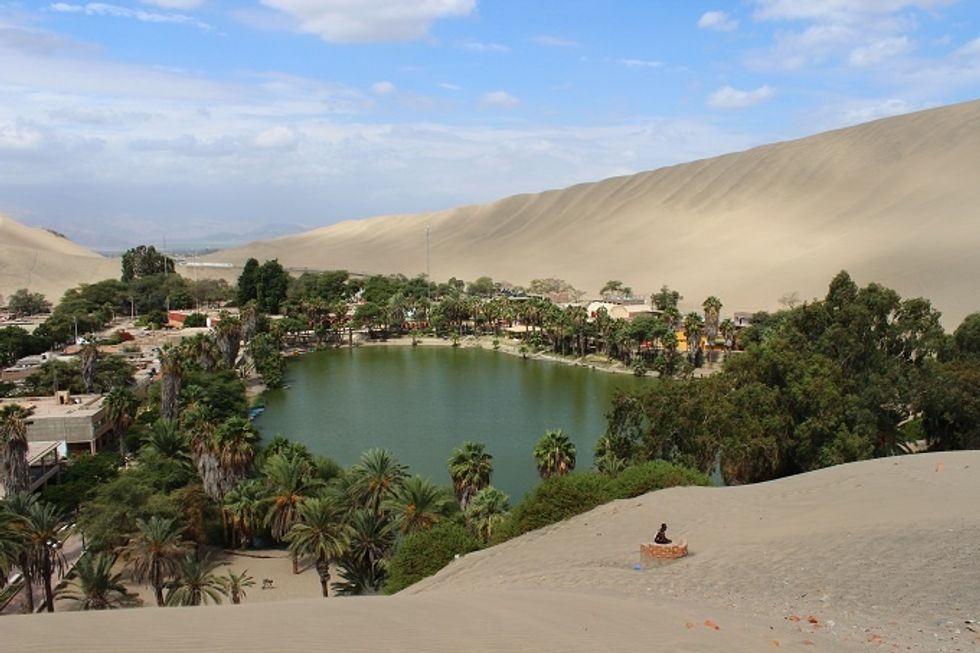 With preparation, little pockets around the world could maintain a lifestyle that's worth living for some sizable remainder of humankind—even if they have to do without most of the luxuries afforded by global stability—the electronics, transportation, medicines, supply chains, entertainment, and communication we take for granted.

A return to something closer to pre-industrial conditions is likely for survivors of the collapse, but maybe—for some fraction of the population—life won't become a living hell.
And maybe, somewhere out in the universe, there is an some alien species that has managed to survive the pitfalls of progress and achieve a sustainable, equitable, idyllic life. Maybe they're watching us, waiting to see how we handle ourselves—to see if we learn our lesson from this impending apocalypse—before they swoop in and share their utopia.
If we peer far enough into distant uncertainty, it's possible to conceive of something better after the end of Western Civilization—after likely billions of deaths and immeasurable suffering.
Does that count as hope? Is that enough to spit up the black pill of despair?
Massachusetts senator Ed Markey might look like your average outdated boomer, but make no mistake—Markey is a legend.
Markey may be 74 years old, but he's been fighting the good fight for a long time, serving as one of the most progressive members of Congress for over four decades. He co-sponsored the Green New Deal alongside Alexandria Ocasio-Cortez and Bernies Sanders, strongly advocates for single-payer healthcare, and believes in preserving an open Internet. In short, this dude is the real deal.
But let's face it: Leftists generally skew younger; and as such, we tend to gravitate towards other younger people who share the same progressive ideals and sensibilities that we do. You know: Eat the rich, save the world.
Enter Markey's primary challenger in the battle for Senate: 39-year-old Joe Kennedy, the grandnephew of President John F. Kennedy, with a net worth upwards of 43 million dollars. Wait, what? When we said we wanted younger progressives in congress, we weren't really talking about privileged failsons.
In fairness to Kennedy, his stated policies are actually pretty progressive and he also supports the Green New Deal. At the same time, it's baffling why he would choose to run against Markey when Markey is already one of the most respected, proven progressive voices in the Senate. As such, Markey has picked up endorsements from fellow big-name progressives like AOC, more moderate progressives like Elizabeth Warren, and major progressive organizations like Sunrise Movement.
But age is a big deal for a lot of voters, and in a race between a 39-year-old Kennedy heir and a 74-year-old incumbent, it didn't come as a huge surprise that Kennedy boasted an early double-digit lead.
Except here's the thing: Markey isn't just some boomer. He's an old Boston dad-style boomer, and oh man, this guy can dish it out.
See, Joe Kennedy, in spite of all of his supposedly progressive values, has a good deal of Super PAC money in his corner. That money is largely being used to air a constant stream of attack ads against Markey, and as it turns out, the Super PAC also happens to be run by Joe Kennedy's twin brother, Matthew Kennedy, and potentially funded by his father, Joseph P. Kennedy II.
Markey uses this connection to—there's really no better way to put this—spank the sh!t out of Joe Kennedy in the middle of a debate.
"My question is this: Is your father funding that Super PAC that is attacking me right now?" asks Markey.
"No clue. No idea," replies Kennedy.
"I'm sure your father's watching right now," says Markey. "Tell your father right now that you don't want money to go into a Super PAC that runs negative ads. Just tell your twin brother and tell your father you don't want any money to be spent on negative ads in Massachusetts in 2020 in the era of Donald Trump."
"I've said that multiple times," stammers Kennedy. Markey just keeps going.
"Have you told your father that? Have you said it to your father?" he asks again and again.
Each utterance of "father" might as well be a dagger in Joe Kennedy's heart, as we watch Markey eviscerate his campaign in real-time.
Markey comes off looking like a warrior, and Kennedy a little boy.
And then, shortly after, Markey delivered a death-blow in the form of, quite possibly, one of the best campaign videos ever made.
Ed Markey, playing a slowed down version of the same Nine Inch Nails "34 Ghosts" sample used in "Old Town Road," drums up John F. Kennedy's most famous words: "Ask not what your country can do for you – ask what you can do for your country."
Markey re-contextualizes this sentiment within the era of Trump's administration: "We asked what we could do for our country, they looked for what they could take. But there's a truth written in every history book. If you break the sacred contract, the people make a revolution." Cut to mass protests for Black Lives Matter and the American people demanding a "new deal."
Next, Markey plays old footage of his younger Congressional campaigns—pro-unions, freezing the arms race, and recently, backing the Green New Deal. He's indisputably a man of the people in opposition to the ruling class.
Then comes the clincher: "We asked what we could do for our country. We went out. We did it. With all due respect, it's time to start asking what your country can do for you."
Yes, in a race against a privileged, multi-millionaire Kennedy heir, Markey used JFK's legacy to empower the working class against jingoistic imperialism. Bravo.
Well, Gen Z took notice. Ed Markey is a true, bona fide cool boomer.
Markey's Senate re-election prospects have shifted dramatically since the start of the race. He now boasts a double-digit lead over Kennedy, with vast majority support amongst younger voters and an entire meme campaign behind him. One Esquire article said that he was "Closing the Massachusetts Senate Race Like F*cking Secretariat."
Ed Markey has sneaker game.
Ed Markey has girls Tik Tok dancing for him.
Ed Markey has hot girl energy.
Ed Markey even has some moms certified simping for him.
So, yeah, you could say that Ed Markey is proving that even boomers can be pretty cool. Don't let his efforts go to waste. If you're a boomer in Massachusetts, you can be cool, too.
Keep reading...
Show less
Earth Week NYC saw climate activists deftly pivoting from IRL to digital actions. Here's a look at how they did it.
Earth Week NYC wasn't supposed to look this way.
Just a month ago, climate activists were planning a massive in-person rally and a three-day sequence of curated protests in honor of the 50th anniversary of the first Earth Day. Earth Week NYC was meant to recapture the spirit of the first Earth Day celebrations, which took place in 1970 and brought nearly 20 million Americans into the streets, while uplifting the movement's modern and more intersectional demands.
Instead, most of the climate movement's energetic young activists—like most of the rest of us should be—are at home in their houses. But that hasn't stopped them from organizing. Over the past few weeks, a three-day event that was supposed to pull thousands into the streets shifted almost entirely online.
"The Earth Week NYC coalition switched to a fully digital strategy almost overnight once large gatherings were banned in the city," said Ted Bogin, a member of the youth-led climate organization Sunrise NYC. "We built a website, earthweeknyc.com, that allows anyone to fight for climate justice at home with tools and scripts for calling and emailing our elected representatives, among other ways."
Events and actions moved to Instagram, Facebook Live, Slack, and Zoom. In-person office visits turned into email blasts and telephone calls. In preparation, climate activists hosted digital community care workshops, drafted emails, and crafted mutual aid resources and teach-ins.
The themes of each day remained in place as planned. Earth Week NYC consisted of three themed days, each dedicated to a different aspect of climate action. The first day's theme was "Strike," the second day's was "Divest," and the third was "Vote."
On the first day, Earth Day, young organizers took to social media to post images of themselves holding signs, calling for a Green New Deal, a People's Bailout, and other climate and social justice actions. Some activists even banded together for a socially distanced banner drop in New York City.
On the second day, activists lobbied with Stop the Money Pipeline, an organization dedicated to ending Wall Street's support of fossil fuels. Participants were encouraged to make calls to the CEOs of BlackRock, JP Morgan, Chase, and Liberty Mutual, using scripts to request fossil fuel divestment. (One terrifying statistic kept appearing: Wall Street has poured $1.9 trillion into the fossil fuel industry since 2015).
On the third day, which centered around voting, lobbying, and teach-ins, the NYC coalition sent out toolkits full of lesson plans for teachers, asked people to fill out their censuses, and called on everyone to reach out to their representatives and to encourage their friends to vote for climate champions. Championed in part by Fridays for Future, the organization first inspired by Greta Thunberg, Friday's actions (like the rest of the week's) focused on the intersections between social justice and climate change and the vital importance of local, indigenous-led, people-powered action.

All of it was supplemented by a flurry of online activities, including a three-day, all-day live broadcast hosted by the Future Coalition. Featuring politicians like Elizabeth Warren and John Kerry, musicians like Jason Mraz, and hundreds of other superstar activists and musicians, the livestream was a rousing marathon, a display of unity in the face of a brutal pandemic and the looming reality of the climate crisis.
Despite activists' best efforts, the week still suffered from a sense of inevitable disjointedness. But the climate crisis, with all its intersecting forces and causes and consequences, has never been an easy or cohesive thing to fight.
Back in the 1970s, activists were fighting against visible consequences of environmental degradation—rivers in flame, birds falling from the sky—but now we fight against a more invisible but much more insidious monster: rising global temperatures and the inequity that created and continues to perpetuate them.
Still, today's climate activists are used to shifting strategies on a dime and fighting rampant misinformation as well as apathy and inequality.
"Our demands include a people's bailout, prioritizing and funding those who have been hit first and worst by COVID-19 and the current recession, including, but not limited to, Black, Latinx, Indigenous, and low-income communities," reads an op-ed by the Youth Climate Strike Coalition, published last month in Teen Vogue. Additional demands include a Green New Deal that transitions the economy to 100% clean energy by 2030 and the return of stolen Indigenous lands.
Careful not to praise clearing skies or temporarily lowered pollution, the modern climate movement is dedicated to addressing environmental racism and large-scale problems head-on. Gone are the days of recycling and individual guilt. Instead, the modern movement is about collective action in the face of global tragedy.
The climate movement is all about the intersections that tie all things together—the land, the people, the economy, and even the digital world. In a way, perhaps the modern climate movement is uniquely well-suited to online action. "As one of the social media coordinators for the Sunrise NYC hub, I've seen our channels swell in importance and reach as people isolated in their homes connect with us digitally," said Jon Kirsch, an organizer with Sunrise NYC. "It's been tremendously exciting seeing Earth Week NYC take shape the past few months." Perhaps the digital world, which thrives on connection, is an ideal vehicle for the modern climate movement.
Regardless, the movement will not be giving up anytime soon. Populist activists have always been up against shadowy, malicious powers, winning seemingly impossible battles and fighting for justice in the short and long term. Now, more than ever, most agree that change is imperative.
"New Yorkers have made their demands for Climate Justice heard, and the fight will continue on (digitally for now) after Earth Week," said Bluedorn. "Fighting for Climate Justice is more important in this moment than ever, as we fight to reimagine what a more just and equitable world can look like."
For more information and to get involved with the movement, visit https://www.earthweeknyc.com.
Look on our works, ye mighty, and despair!
There is a saying that it is easier to imagine the end of the world than to imagine the end of capitalism.
Entrenched systems of power have established bulwarks against the kind of institutional reform that younger Americans have recently been pushing for. By controlling the political conversation through lobbying, control of mass media, regulatory capture, and authoring of legislation, the ultra-wealthy maintain the status quo in a way that makes changing it seem impossible. The problem is that change is desperately needed if we are going to maintain any semblance of civilization.
While political dynamics have become so rigid that the boundaries of what we can achieve begin to feel impenetrable, the COVID-19 pandemic has revealed that the vital structures of our society—a society that is superficially so robust—have been so weakened that a collapse in one form or another is inevitable. We are the world's superpower, yet faced with a slightly more contagious, slightly more lethal virus than the flu, we are powerless. How did it get to be this bad? How were we so blind to it?
To clarify, depending on the part of the country you live in, it could seem like I'm exaggerating. It may not seem "so bad," or like we're on the verge of collapse. Not long ago the president and many of his loyalists on Fox News and AM radio were still calling dire forecasts around the coronavirus a hoax. At the time it seemed reckless but not unhinged from current events—which were still largely unaffected. In much of the country there is little cause for alarm, so few people are doing much to change their behavior. That's about to change, and the areas hit worst will soon be making the dire choices that Italian hospitals were recently faced with—which patients are we going to hook up to ventilators, and which are we going to allow to die. We are already started on a path that leads to overflowing hospitals in every major city.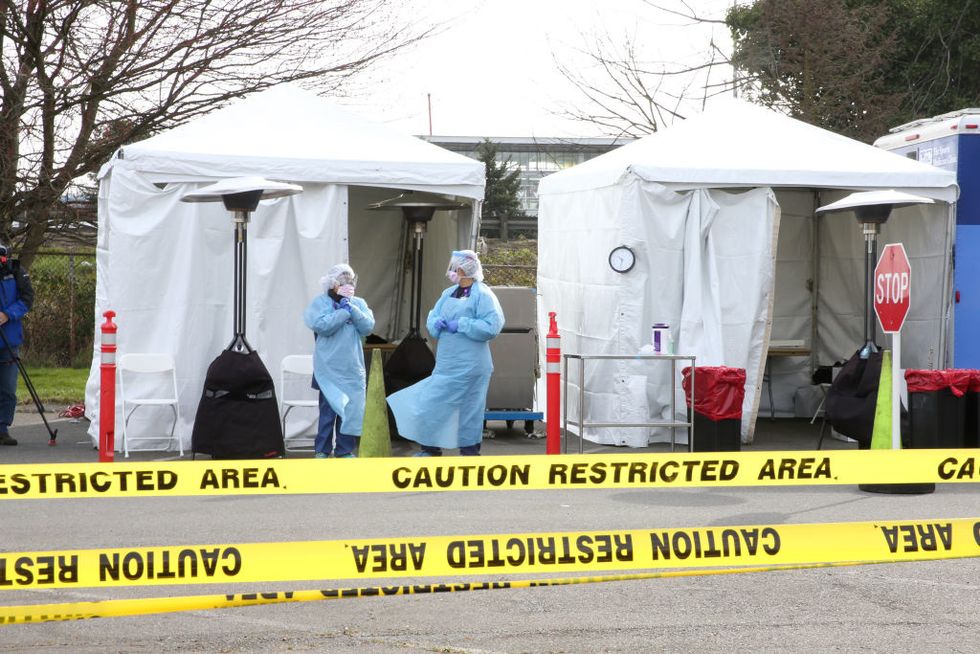 A makeshift testing facility in Seattle, Washington Getty Images
The problem is that our entire economy is set up around the same kind of short-term thinking that drive publicly traded corporations. The mentality that "government should be run like a business," leads to cost-cutting measures that only look to the current budget, with minimal consideration given to the kind of intermittent crises that we are bound to face—like a viral pandemic. If it's not particularly likely to happen before the next election cycle, it's better not to even worry about it. This is the kind of thinking that led Donald Trump's administration to push for cuts to the CDC and to disband their global health security team in 2018.

But the systemic issues go much deeper than that and started long before Trump took office. Trump and his ilk can't be blamed for the fact that the US has two hospital beds for every 1,000 citizens. Nor are they responsible for the fact that almost every aspect of America's critical infrastructure receives a near-failing grade from the American Society of Civil Engineers. This includes airport congestion—which has already become an issue with the current pandemic—and important shipping routes that we will rely on to maintain the movement of necessary goods as conditions around the country worsen.
Add to those issues the fact that we have a massive population of prisoners sharing tight quarters with poor sanitation, a substantial homeless population with no way to quarantine, a dearth of worker protections like paid sick leave, and it becomes hard to imagine how we'll get through this unscathed. And, of course, this is still ignoring the elephant in the room—a for-profit healthcare system that discourages millions of uninsured and underinsured Americans from seeking medical advice or treatment until it's too late.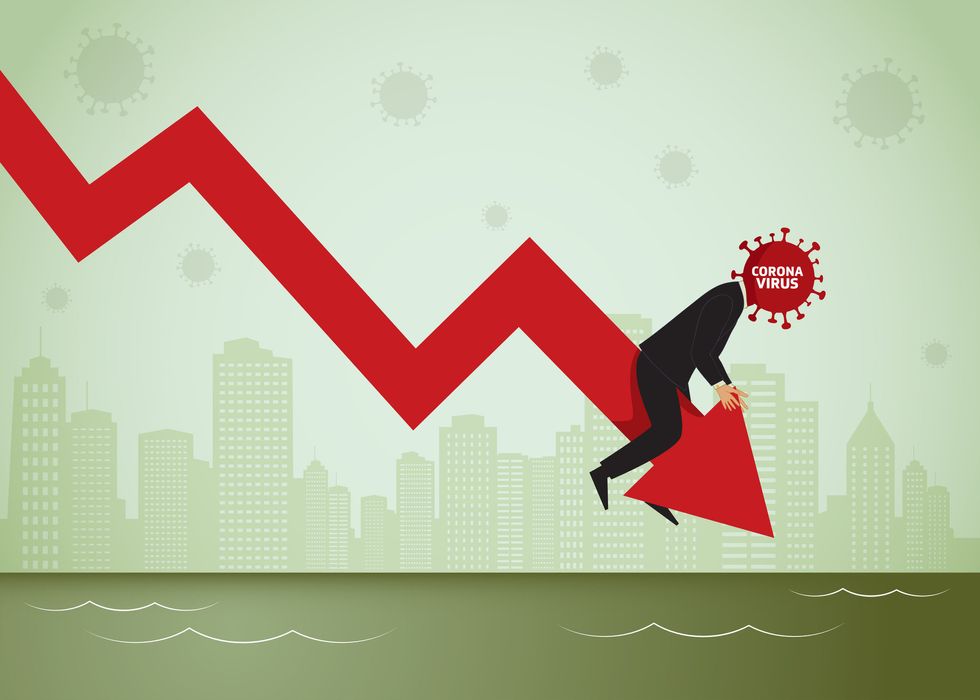 Getty Images
Meanwhile, the economic hardships imposed by the necessity of social distancing are being exacerbated by an economy that is heavily reliant on the whims of financial speculators who create an echo chamber of divestment that heightens every crisis. The stock market, in other words, is going crazy in the worst possible way. It's too soon to say how thoroughly the weaknesses in our system will be tested by the developing pandemic, but even in the best case scenario they are going to be strained to a terrifying extent.

Fortunately, there are efforts underway to shore up some of the most obvious breaking points so we can avoid complete societal collapse. They may turn out to be too little too late, but even if they get us through this current disaster, how long will it be before the next one hits? The best models of climate change predict that we are nearing an era that will be ruled by powerful natural disasters and refugee crises that will threaten economic stability and critical infrastructure and may heighten the threat of infectious diseases. Temporary, reactive measures cannot save us if the next crisis hits a little harder or when multiple crises overlap.
A strong social safety net like the one the US tried to develop under FDR would serve to mitigate the damage from this kind of crisis. But modern American politics has worked for decades—in an effort that became an object of worship under Ronald Reagan—to whittle the welfare state of the New Deal and the Great Society down to a fragile bare minimum.
We need to take seriously the voices of politicians like Bernie Sanders and Alexandria Ocasio-Cortez who have called for the kind of broad, sweeping legislation that stands a chance of upending the rigid political dynamics that maintain the status quo. The Green New Deal would be a good start. The alternative, one way or another, is the end of our civilization and the world as we know it.
The decision to have children carries huge moral, financial, and ecological implications, but they aren't enough to dissuade us
Kurt Vonnegut once wrote of a discussion with friend and fellow author William Styron, in which they tried to determine what portion of the people on Earth have lives worth living.
The figure they arrived at was 17%—about one in six people.
On a good day I can tell myself that number must have gone up since then—that we've made progress in battling poverty and disease on a global scale. Maybe it's up to 20% or even 25% by now. On a bad day I'm certain that they were being far too optimistic and that things are bound to get worse.
In the coming decades humanity is guaranteed to face mounting ecological crises as a result of the pollutants we've already pumped into the atmosphere. This is likely to feed into current political trends toward nationalism, as tens and hundreds of millions of climate refugees are forced to seek safe haven around the world.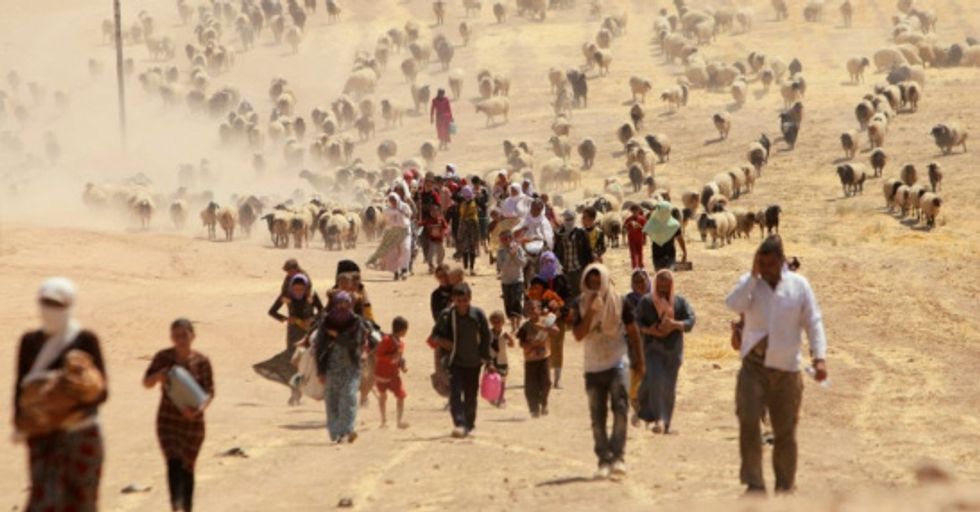 Reuters
Countries will seal up their borders and churn out propaganda about the inhuman hordes pounding at the gates—the crime, the diseases, the vermin. If we aren't careful, full-blown eco-fascism will take hold. The climate crisis will become a powerful excuse for state-sanctioned violence, oppression, and racism, and the coming generations will relive horrors that were supposed to be behind us. Those are the threats we face even if we defy current political trends and pass sweeping climate legislation—finally beginning the hard work of avoiding total ecological collapse.

Given the scale of the problem, the choices we can make at the individual level are inadequate, but still valuable. I cut out red meat, I avoid driving as much as possible, and I try not to buy a lot of stuff that I don't need. If millions of people made the same changes…it would probably be better than nothing. Of course the reality is that I still produce far more ecological damage than the average person on Earth. Some of that is unavoidable—a product of living in the US —but I can't deny that a lot of it is because of the way I live. There are certain things I don't want to give up. I travel. I eat dairy. And my wife and I are planning to have kids.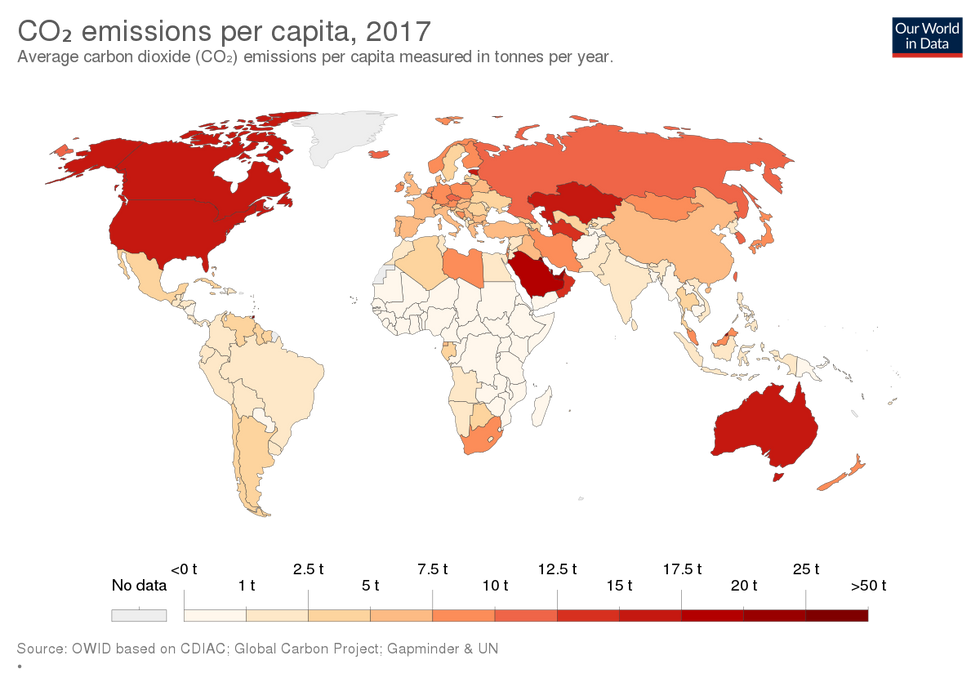 Whatever other decisions you make with your life, none are likely to have as much impact as deciding to create another life—another human to eat and travel and make imperfect decisions. Another human to wrestle with difficult questions and fear for the future. How can we justify the decision to force life on another person in a dark world? Another person whose life we can only try our best to make worth living. Another person who will, in many ways, add to the collective problems of humanity. I'm not going to claim that it's an easy decision to justify, and I don't fully expect to convince anyone who disagrees with our decision. As much as anything, this is an attempt to articulate a hazy justification for myself—and possibly to bolster my rationalization.

The aspect of being a parent that most excites me is the opportunity to reinvest in the future. After multiple decades of passionate concern for the planet—all while people with the power to effect positive change have done nothing—it's hard not to become a little jaded and complacent. Now that prominent political figures are finally pushing for the kind of societal transformation we need, I want to have a stake in fighting for a world that can sustain life beyond my death.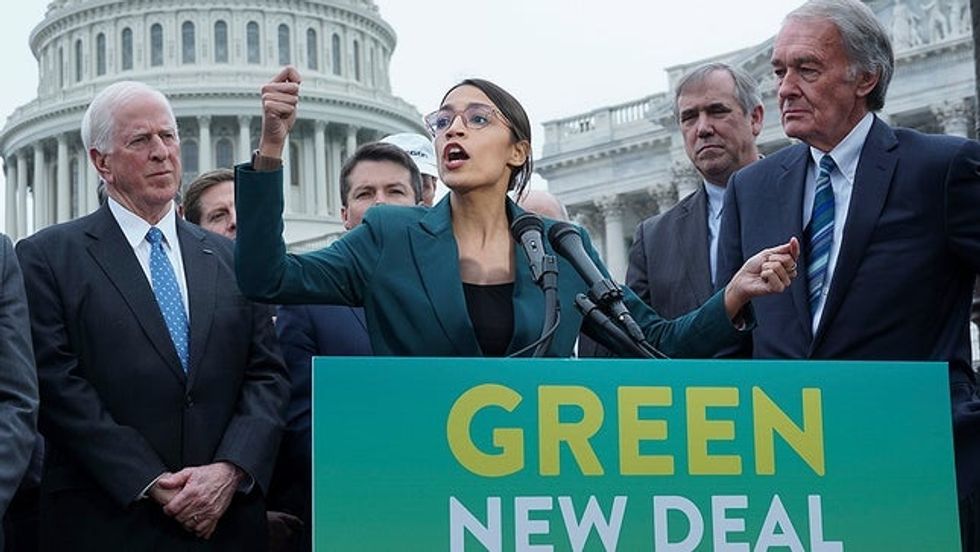 Stefani Reynolds
If I'm going to invest in that hope, I have to believe that—despite the ecological impact—it's still possible for a person to make the world a better place. And I want to believe that the people raised with care and love and positive intention are exactly what the future needs. Having a child—and caring for them, teaching them about our complicated and frightening and beautiful world—is a manifestation of that belief. I want the surprises and challenges that will come with parenting, and I want the pressure to contribute to something greater than myself—both in my personal life and my engagement with political change. I want a connection to the future of humanity that this fight is all about.

Of course, I can get all of that through adoption, and get it without forcing existence and the challenges of life on a brand new human. My wife and I do intend to adopt—or at least to be foster parents—down the line. But right now the window to have children of our own is closing. The financial burden of raising a child is so daunting that we would probably put it off for another decade if we could, but we can't. There are biological pressures that can't be ignored. Our bodies are getting older. The safest time to have kids will soon be behind us. If we could satisfy ourselves to raise adopted children, then we could wait until we reach some hypothetical state of readiness—prepared for the endless crises of raising a child. That state probably doesn't exist, but why is adoption not enough for us?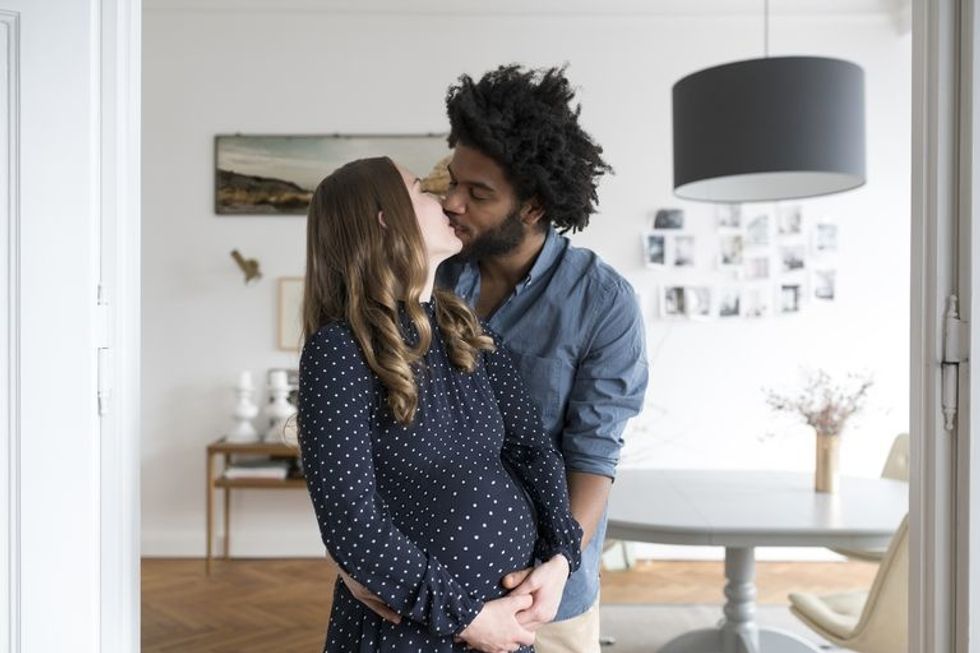 Getty Images
To suggest that the answer is anything but selfishness would be a lie; but, love is in some ways a selfish emotion. Being selfish for each other and selfish as a unit is part of what makes love worth all the pain and the effort we put into chasing it. We love what we are together, and we want good things for that union. We love us.
The bond and belonging between us is a strong comfort in a world that's dominated by so much loneliness. And as much as we believe that we could extend that bond to any child who needed to belong, there is something beautiful and exciting (and selfish) in the thought of using that bond to bring a new life into the world—a new person, autonomous and unique, but a person who embodies aspects of us both and of what we love about each other.
It's the idea of transforming what we are to welcome that new person into our bond. Life at its best is transformative and a little bit frightening. What could be more transformative and frightening than the process of pregnancy, birth, and parenthood? I can only be supporting staff in much of that process, but I'm still excited by the prospect.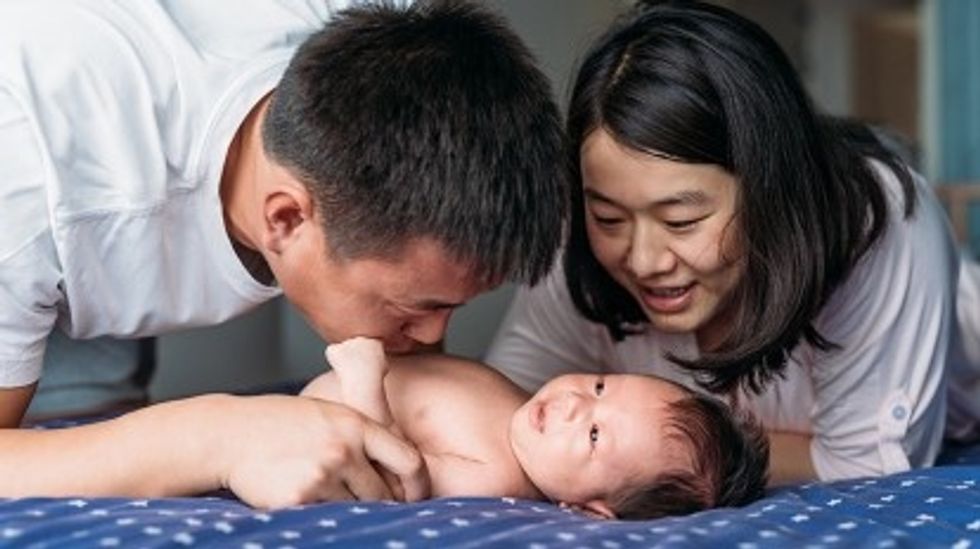 Maybe this is all just a muddled translation of my evolutionary function. That excitement might be a purely biological impulse. But there are limits to denying biology. At the base, biology drives everything we do. Regardless, at this point we are committed to having children of our own—or committed at least to trying. If it weren't such a common choice—if friends weren't choosing the same; if our families weren't also excited for us to pursue that selfish impulse—we would probably be shamed out of it. Instead, we just worry about being good parents while people with experience try to reassure us that the worry gets us halfway there.