Earth Week NYC saw climate activists deftly pivoting from IRL to digital actions. Here's a look at how they did it.
Earth Week NYC wasn't supposed to look this way.
Just a month ago, climate activists were planning a massive in-person rally and a three-day sequence of curated protests in honor of the 50th anniversary of the first Earth Day. Earth Week NYC was meant to recapture the spirit of the first Earth Day celebrations, which took place in 1970 and brought nearly 20 million Americans into the streets, while uplifting the movement's modern and more intersectional demands.
Instead, most of the climate movement's energetic young activists—like most of the rest of us should be—are at home in their houses. But that hasn't stopped them from organizing. Over the past few weeks, a three-day event that was supposed to pull thousands into the streets shifted almost entirely online.
"The Earth Week NYC coalition switched to a fully digital strategy almost overnight once large gatherings were banned in the city," said Ted Bogin, a member of the youth-led climate organization Sunrise NYC. "We built a website, earthweeknyc.com, that allows anyone to fight for climate justice at home with tools and scripts for calling and emailing our elected representatives, among other ways."
Events and actions moved to Instagram, Facebook Live, Slack, and Zoom. In-person office visits turned into email blasts and telephone calls. In preparation, climate activists hosted digital community care workshops, drafted emails, and crafted mutual aid resources and teach-ins.
The themes of each day remained in place as planned. Earth Week NYC consisted of three themed days, each dedicated to a different aspect of climate action. The first day's theme was "Strike," the second day's was "Divest," and the third was "Vote."
On the first day, Earth Day, young organizers took to social media to post images of themselves holding signs, calling for a Green New Deal, a People's Bailout, and other climate and social justice actions. Some activists even banded together for a socially distanced banner drop in New York City.
On the second day, activists lobbied with Stop the Money Pipeline, an organization dedicated to ending Wall Street's support of fossil fuels. Participants were encouraged to make calls to the CEOs of BlackRock, JP Morgan, Chase, and Liberty Mutual, using scripts to request fossil fuel divestment. (One terrifying statistic kept appearing: Wall Street has poured $1.9 trillion into the fossil fuel industry since 2015).
On the third day, which centered around voting, lobbying, and teach-ins, the NYC coalition sent out toolkits full of lesson plans for teachers, asked people to fill out their censuses, and called on everyone to reach out to their representatives and to encourage their friends to vote for climate champions. Championed in part by Fridays for Future, the organization first inspired by Greta Thunberg, Friday's actions (like the rest of the week's) focused on the intersections between social justice and climate change and the vital importance of local, indigenous-led, people-powered action.

All of it was supplemented by a flurry of online activities, including a three-day, all-day live broadcast hosted by the Future Coalition. Featuring politicians like Elizabeth Warren and John Kerry, musicians like Jason Mraz, and hundreds of other superstar activists and musicians, the livestream was a rousing marathon, a display of unity in the face of a brutal pandemic and the looming reality of the climate crisis.
Despite activists' best efforts, the week still suffered from a sense of inevitable disjointedness. But the climate crisis, with all its intersecting forces and causes and consequences, has never been an easy or cohesive thing to fight.
Back in the 1970s, activists were fighting against visible consequences of environmental degradation—rivers in flame, birds falling from the sky—but now we fight against a more invisible but much more insidious monster: rising global temperatures and the inequity that created and continues to perpetuate them.
Still, today's climate activists are used to shifting strategies on a dime and fighting rampant misinformation as well as apathy and inequality.
"Our demands include a people's bailout, prioritizing and funding those who have been hit first and worst by COVID-19 and the current recession, including, but not limited to, Black, Latinx, Indigenous, and low-income communities," reads an op-ed by the Youth Climate Strike Coalition, published last month in Teen Vogue. Additional demands include a Green New Deal that transitions the economy to 100% clean energy by 2030 and the return of stolen Indigenous lands.
Careful not to praise clearing skies or temporarily lowered pollution, the modern climate movement is dedicated to addressing environmental racism and large-scale problems head-on. Gone are the days of recycling and individual guilt. Instead, the modern movement is about collective action in the face of global tragedy.
The climate movement is all about the intersections that tie all things together—the land, the people, the economy, and even the digital world. In a way, perhaps the modern climate movement is uniquely well-suited to online action. "As one of the social media coordinators for the Sunrise NYC hub, I've seen our channels swell in importance and reach as people isolated in their homes connect with us digitally," said Jon Kirsch, an organizer with Sunrise NYC. "It's been tremendously exciting seeing Earth Week NYC take shape the past few months." Perhaps the digital world, which thrives on connection, is an ideal vehicle for the modern climate movement.
Regardless, the movement will not be giving up anytime soon. Populist activists have always been up against shadowy, malicious powers, winning seemingly impossible battles and fighting for justice in the short and long term. Now, more than ever, most agree that change is imperative.
"New Yorkers have made their demands for Climate Justice heard, and the fight will continue on (digitally for now) after Earth Week," said Bluedorn. "Fighting for Climate Justice is more important in this moment than ever, as we fight to reimagine what a more just and equitable world can look like."
For more information and to get involved with the movement, visit https://www.earthweeknyc.com.
Look on our works, ye mighty, and despair!
There is a saying that it is easier to imagine the end of the world than to imagine the end of capitalism.
Entrenched systems of power have established bulwarks against the kind of institutional reform that younger Americans have recently been pushing for. By controlling the political conversation through lobbying, control of mass media, regulatory capture, and authoring of legislation, the ultra-wealthy maintain the status quo in a way that makes changing it seem impossible. The problem is that change is desperately needed if we are going to maintain any semblance of civilization.
While political dynamics have become so rigid that the boundaries of what we can achieve begin to feel impenetrable, the COVID-19 pandemic has revealed that the vital structures of our society—a society that is superficially so robust—have been so weakened that a collapse in one form or another is inevitable. We are the world's superpower, yet faced with a slightly more contagious, slightly more lethal virus than the flu, we are powerless. How did it get to be this bad? How were we so blind to it?
To clarify, depending on the part of the country you live in, it could seem like I'm exaggerating. It may not seem "so bad," or like we're on the verge of collapse. Not long ago the president and many of his loyalists on Fox News and AM radio were still calling dire forecasts around the coronavirus a hoax. At the time it seemed reckless but not unhinged from current events—which were still largely unaffected. In much of the country there is little cause for alarm, so few people are doing much to change their behavior. That's about to change, and the areas hit worst will soon be making the dire choices that Italian hospitals were recently faced with—which patients are we going to hook up to ventilators, and which are we going to allow to die. We are already started on a path that leads to overflowing hospitals in every major city.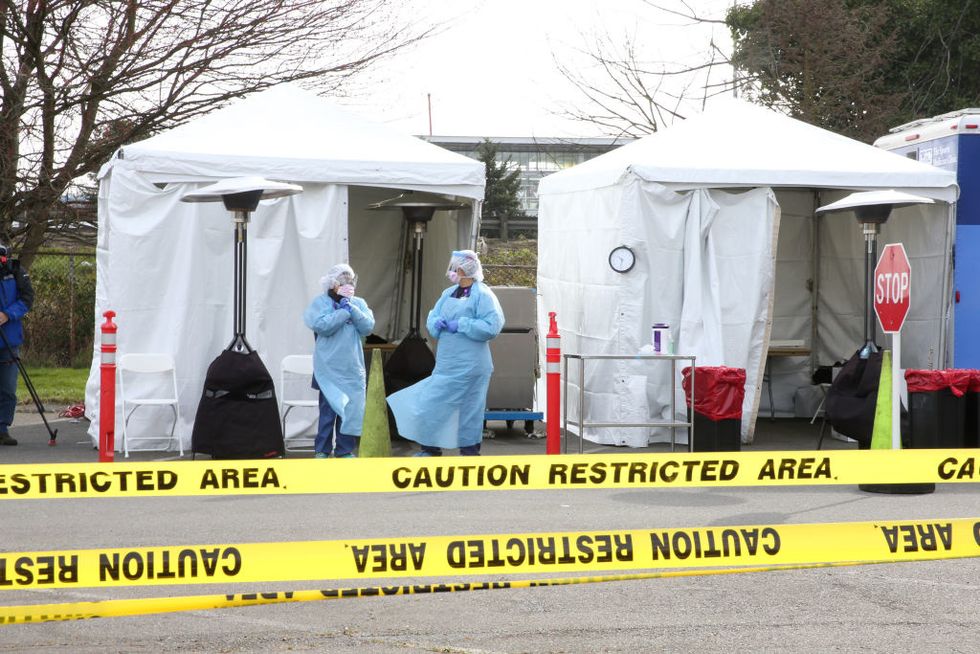 A makeshift testing facility in Seattle, Washington Getty Images
The problem is that our entire economy is set up around the same kind of short-term thinking that drive publicly traded corporations. The mentality that "government should be run like a business," leads to cost-cutting measures that only look to the current budget, with minimal consideration given to the kind of intermittent crises that we are bound to face—like a viral pandemic. If it's not particularly likely to happen before the next election cycle, it's better not to even worry about it. This is the kind of thinking that led Donald Trump's administration to push for cuts to the CDC and to disband their global health security team in 2018.

But the systemic issues go much deeper than that and started long before Trump took office. Trump and his ilk can't be blamed for the fact that the US has two hospital beds for every 1,000 citizens. Nor are they responsible for the fact that almost every aspect of America's critical infrastructure receives a near-failing grade from the American Society of Civil Engineers. This includes airport congestion—which has already become an issue with the current pandemic—and important shipping routes that we will rely on to maintain the movement of necessary goods as conditions around the country worsen.
Add to those issues the fact that we have a massive population of prisoners sharing tight quarters with poor sanitation, a substantial homeless population with no way to quarantine, a dearth of worker protections like paid sick leave, and it becomes hard to imagine how we'll get through this unscathed. And, of course, this is still ignoring the elephant in the room—a for-profit healthcare system that discourages millions of uninsured and underinsured Americans from seeking medical advice or treatment until it's too late.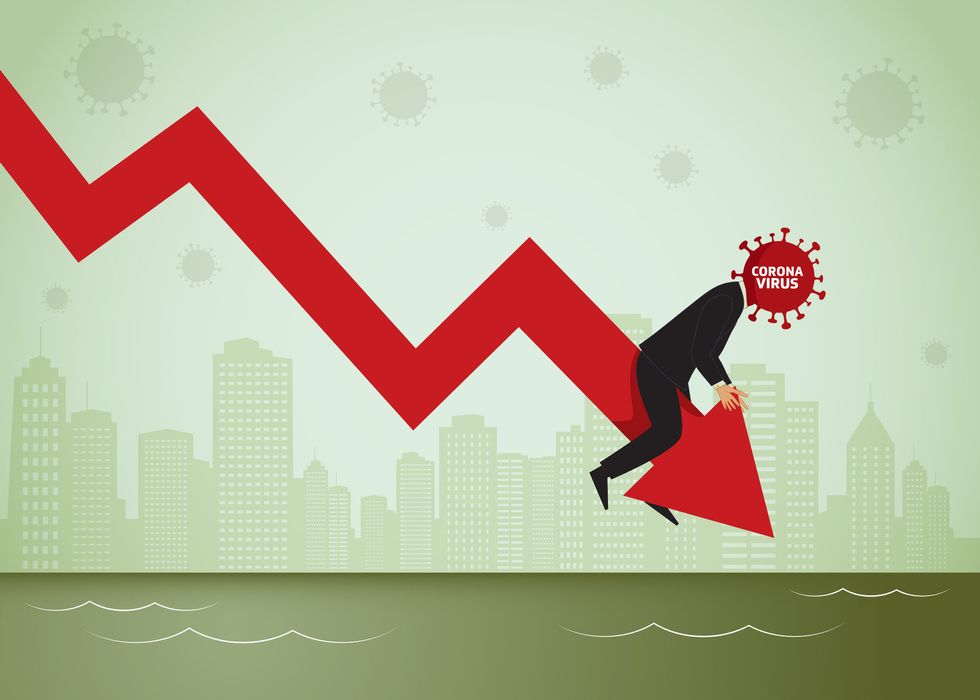 Getty Images
Meanwhile, the economic hardships imposed by the necessity of social distancing are being exacerbated by an economy that is heavily reliant on the whims of financial speculators who create an echo chamber of divestment that heightens every crisis. The stock market, in other words, is going crazy in the worst possible way. It's too soon to say how thoroughly the weaknesses in our system will be tested by the developing pandemic, but even in the best case scenario they are going to be strained to a terrifying extent.

Fortunately, there are efforts underway to shore up some of the most obvious breaking points so we can avoid complete societal collapse. They may turn out to be too little too late, but even if they get us through this current disaster, how long will it be before the next one hits? The best models of climate change predict that we are nearing an era that will be ruled by powerful natural disasters and refugee crises that will threaten economic stability and critical infrastructure and may heighten the threat of infectious diseases. Temporary, reactive measures cannot save us if the next crisis hits a little harder or when multiple crises overlap.
A strong social safety net like the one the US tried to develop under FDR would serve to mitigate the damage from this kind of crisis. But modern American politics has worked for decades—in an effort that became an object of worship under Ronald Reagan—to whittle the welfare state of the New Deal and the Great Society down to a fragile bare minimum.
We need to take seriously the voices of politicians like Bernie Sanders and Alexandria Ocasio-Cortez who have called for the kind of broad, sweeping legislation that stands a chance of upending the rigid political dynamics that maintain the status quo. The Green New Deal would be a good start. The alternative, one way or another, is the end of our civilization and the world as we know it.
The decision to have children carries huge moral, financial, and ecological implications, but they aren't enough to dissuade us
Kurt Vonnegut once wrote of a discussion with friend and fellow author William Styron, in which they tried to determine what portion of the people on Earth have lives worth living.
The figure they arrived at was 17%—about one in six people.
On a good day I can tell myself that number must have gone up since then—that we've made progress in battling poverty and disease on a global scale. Maybe it's up to 20% or even 25% by now. On a bad day I'm certain that they were being far too optimistic and that things are bound to get worse.
In the coming decades humanity is guaranteed to face mounting ecological crises as a result of the pollutants we've already pumped into the atmosphere. This is likely to feed into current political trends toward nationalism, as tens and hundreds of millions of climate refugees are forced to seek safe haven around the world.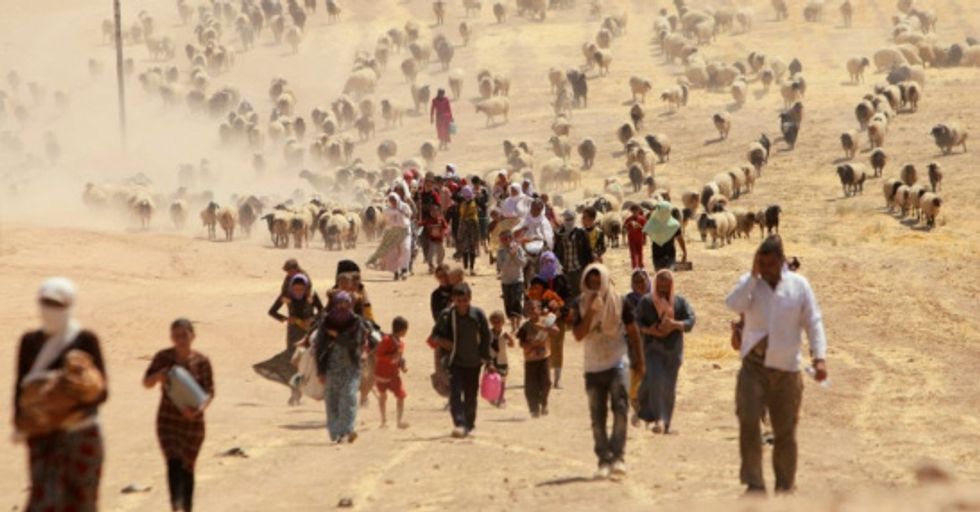 Reuters
Countries will seal up their borders and churn out propaganda about the inhuman hordes pounding at the gates—the crime, the diseases, the vermin. If we aren't careful, full-blown eco-fascism will take hold. The climate crisis will become a powerful excuse for state-sanctioned violence, oppression, and racism, and the coming generations will relive horrors that were supposed to be behind us. Those are the threats we face even if we defy current political trends and pass sweeping climate legislation—finally beginning the hard work of avoiding total ecological collapse.

Given the scale of the problem, the choices we can make at the individual level are inadequate, but still valuable. I cut out red meat, I avoid driving as much as possible, and I try not to buy a lot of stuff that I don't need. If millions of people made the same changes…it would probably be better than nothing. Of course the reality is that I still produce far more ecological damage than the average person on Earth. Some of that is unavoidable—a product of living in the US —but I can't deny that a lot of it is because of the way I live. There are certain things I don't want to give up. I travel. I eat dairy. And my wife and I are planning to have kids.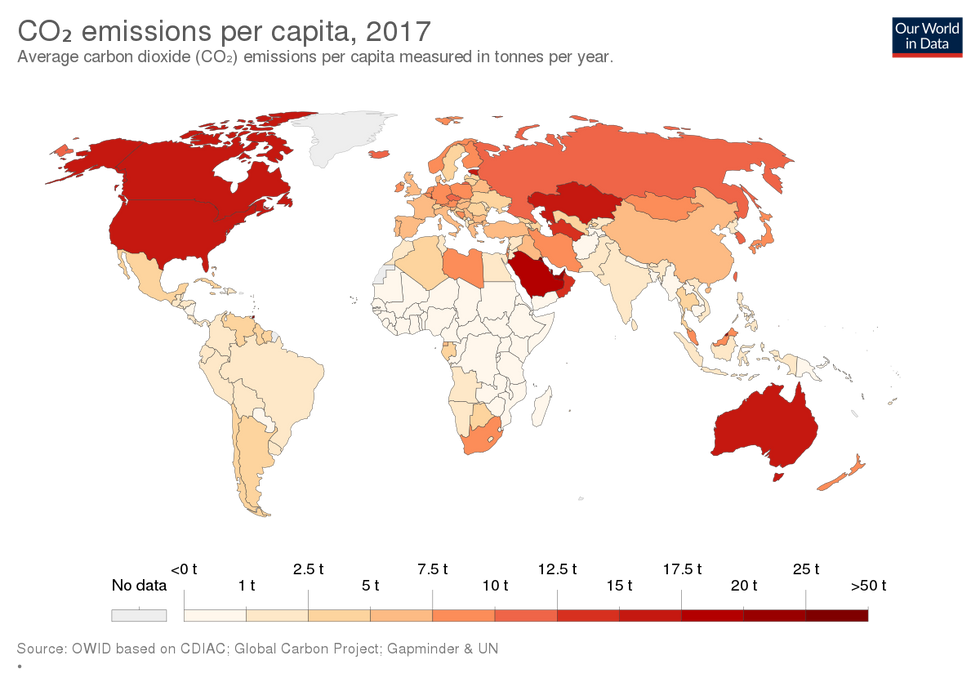 Whatever other decisions you make with your life, none are likely to have as much impact as deciding to create another life—another human to eat and travel and make imperfect decisions. Another human to wrestle with difficult questions and fear for the future. How can we justify the decision to force life on another person in a dark world? Another person whose life we can only try our best to make worth living. Another person who will, in many ways, add to the collective problems of humanity. I'm not going to claim that it's an easy decision to justify, and I don't fully expect to convince anyone who disagrees with our decision. As much as anything, this is an attempt to articulate a hazy justification for myself—and possibly to bolster my rationalization.

The aspect of being a parent that most excites me is the opportunity to reinvest in the future. After multiple decades of passionate concern for the planet—all while people with the power to effect positive change have done nothing—it's hard not to become a little jaded and complacent. Now that prominent political figures are finally pushing for the kind of societal transformation we need, I want to have a stake in fighting for a world that can sustain life beyond my death.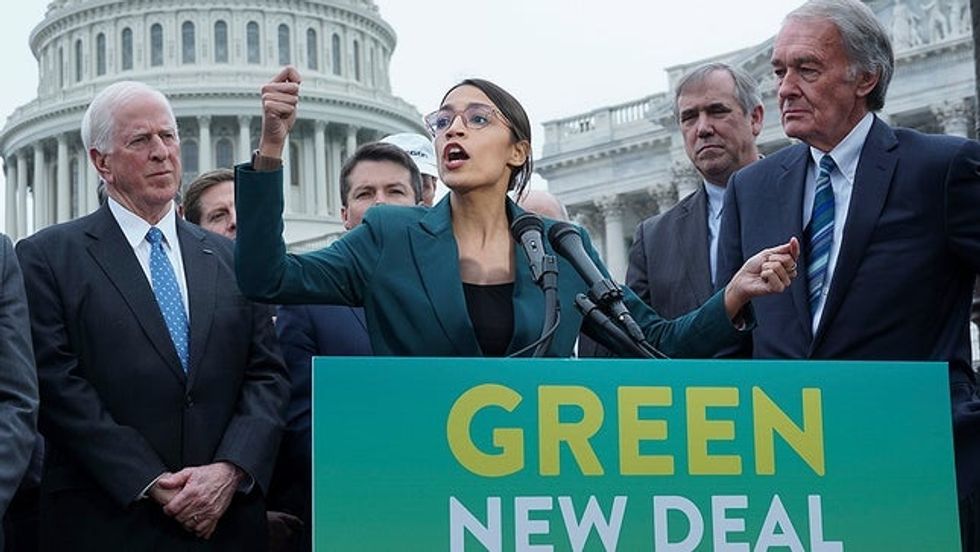 Stefani Reynolds
If I'm going to invest in that hope, I have to believe that—despite the ecological impact—it's still possible for a person to make the world a better place. And I want to believe that the people raised with care and love and positive intention are exactly what the future needs. Having a child—and caring for them, teaching them about our complicated and frightening and beautiful world—is a manifestation of that belief. I want the surprises and challenges that will come with parenting, and I want the pressure to contribute to something greater than myself—both in my personal life and my engagement with political change. I want a connection to the future of humanity that this fight is all about.

Of course, I can get all of that through adoption, and get it without forcing existence and the challenges of life on a brand new human. My wife and I do intend to adopt—or at least to be foster parents—down the line. But right now the window to have children of our own is closing. The financial burden of raising a child is so daunting that we would probably put it off for another decade if we could, but we can't. There are biological pressures that can't be ignored. Our bodies are getting older. The safest time to have kids will soon be behind us. If we could satisfy ourselves to raise adopted children, then we could wait until we reach some hypothetical state of readiness—prepared for the endless crises of raising a child. That state probably doesn't exist, but why is adoption not enough for us?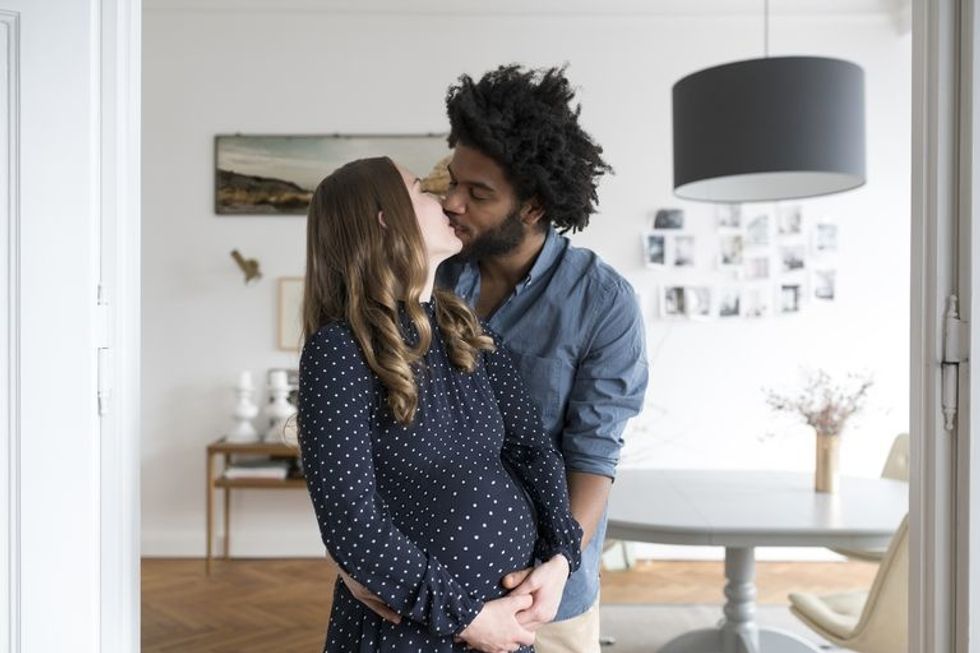 Getty Images
To suggest that the answer is anything but selfishness would be a lie; but, love is in some ways a selfish emotion. Being selfish for each other and selfish as a unit is part of what makes love worth all the pain and the effort we put into chasing it. We love what we are together, and we want good things for that union. We love us.
The bond and belonging between us is a strong comfort in a world that's dominated by so much loneliness. And as much as we believe that we could extend that bond to any child who needed to belong, there is something beautiful and exciting (and selfish) in the thought of using that bond to bring a new life into the world—a new person, autonomous and unique, but a person who embodies aspects of us both and of what we love about each other.
It's the idea of transforming what we are to welcome that new person into our bond. Life at its best is transformative and a little bit frightening. What could be more transformative and frightening than the process of pregnancy, birth, and parenthood? I can only be supporting staff in much of that process, but I'm still excited by the prospect.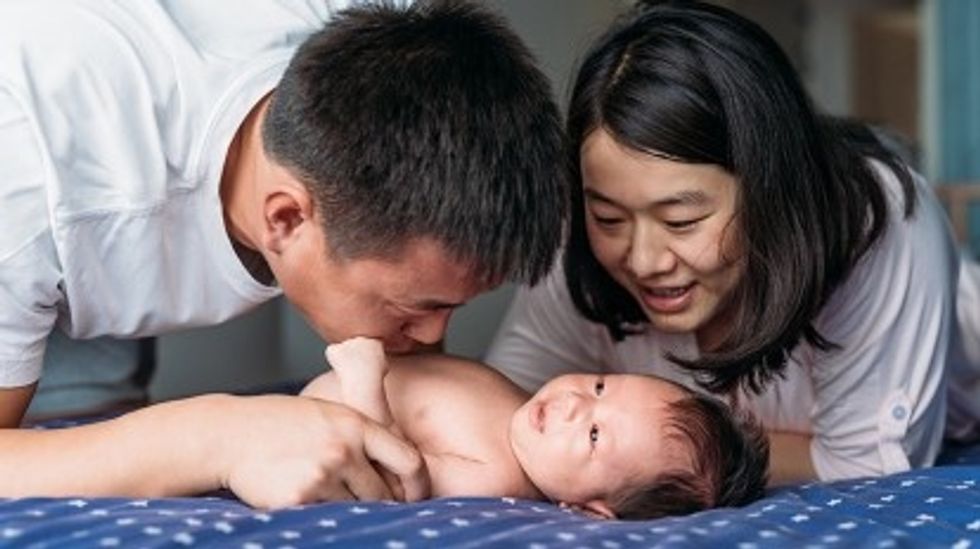 Maybe this is all just a muddled translation of my evolutionary function. That excitement might be a purely biological impulse. But there are limits to denying biology. At the base, biology drives everything we do. Regardless, at this point we are committed to having children of our own—or committed at least to trying. If it weren't such a common choice—if friends weren't choosing the same; if our families weren't also excited for us to pursue that selfish impulse—we would probably be shamed out of it. Instead, we just worry about being good parents while people with experience try to reassure us that the worry gets us halfway there.
They need to put their differences aside if either of them hopes to win
In a recent interview with New York Magazine Alexandria Ocasio-Cortez commented that "in any other country, Joe Biden and I would not be in the same party, but in America we are."
With consistent cries for party unity since before presidential candidates even began announcing their campaigns, it would be tempting to attack Ocasio-Cortez as splitting the party, but she is absolutely right. There is only a unified party to split on paper. America's winner-take-all style of voting forces disparate political interests to share a title and to pool donors—unless they have the ability, like AOC, to source their own funding.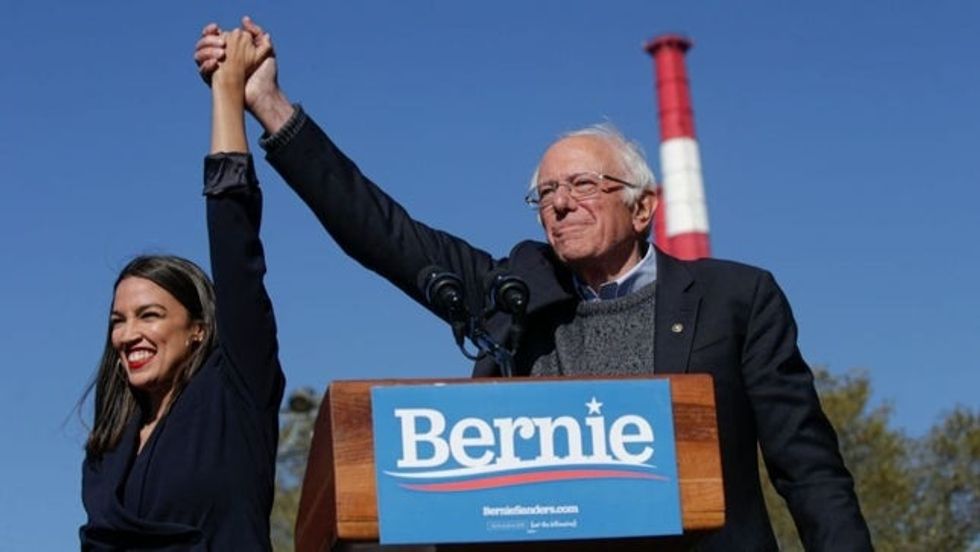 Getty Images
The GOP has used this to their advantage, emphasizing social wedge issues like abortion and immigration to pull working-class white voters away from their economic interests on the left—convincing them to cheer on tax cuts for the ultra-wealthy. For the Democrats, however, the powerful faction of the party that represents professional-class interests—the private-public partnership, means-testing, social-program-cutting wing—has represented a barrier to participation for truly progressive candidates and voters.

That's why it has been heartening, prior to this week, to see Bernie Sanders and Elizabeth Warren avoiding the temptation to attack one another. While many of Bernie's supporters online have adopted toxic attitudes toward anyone other than their preferred candidate, and many Warren supporters have questioned Bernie's feminist bona fides (particularly in light of that toxicity from many "Bernie Bros"), the candidates and their campaigns seemed largely cordial and supportive of one another. It's important, as the marginalized left-wing of the party, to focus on commonalities and mutual aid if there is going to be any hope of overcoming the powerful centrist forces that have ruled the party and served moneyed interests with only moderately less zeal than the Republican party.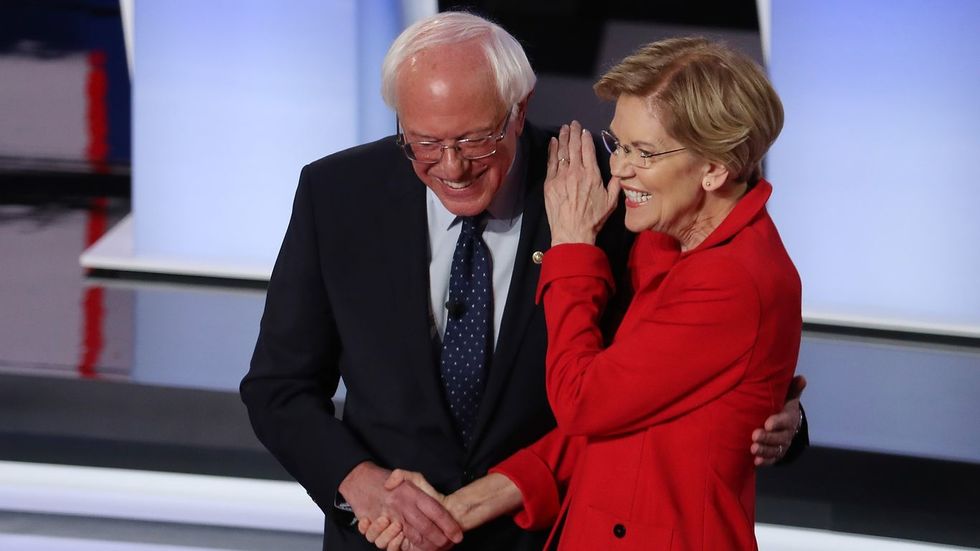 Justin Sullivan/Getty Images
That shared effort began to fall apart on Saturday night when Politico ran a story under the headline "Bernie Campaign Slams Warren as Candidate of the Elite." The story included excerpts from a document purported to be circulated within the Sanders campaign, with scripts instructing volunteers how to attack rivals in the Democratic primaries. While criticisms of Joe Biden and Pete Buttigieg are hardly surprising, the attacks on Warren—noting that her supporters are predominantly educated, affluent voters who "who are going to show up and vote Democratic no matter what"—came as a surprise in the context of the candidates' established alliance.

Skepticism in these cases is usually warranted, but the article contained little to suggest that the content was anything less than official and approved by Bernie Sanders himself. By the time Sanders came forward to repudiate the document and deny its official status, the damage was done. The rift was already beginning to widen.
@michelleinbklyn This campaign would NEVER attack supporters. The script, which was not directed by the campaign, p… https://t.co/smcZ6ssrU7

— Briahna Joy Gray (@Briahna Joy Gray)1578977594.0
Warren responded that she was "disappointed to hear that Bernie is sending his volunteers out to trash me," and she sent out a fundraising email that asked both for donations and for supporters to share personal stories and perspectives to contradict the framing of her base as elitist. If that had been all, then it might have been easy to move on and return to a mutually supportive stance within a few days. But the real damage was done when people close to Warren, perhaps in an effort to retaliate, spoke to CNN about a private conversation the two had in 2018.

Back then, the thought of actual voters making actual choices seemed distant and abstract, and the candidates sat down to discuss strategies against Trump and to establish the general truce that has held until now. Everyone involved seems to agree on those points, but differing reports emerge when it comes to the topic of gender. As CNN reported, Warren laid out her strengths as a candidate: "She could make a robust argument about the economy and earn broad support from female voters." Bernie was not on the same page.
The Bernie cult has been attacking @ewarren for way too long. They've minimized her achievements, called her a copy… https://t.co/9zLobcSgBv

— Joshua Manuel Bonet 🏳️‍🌈 (@Joshua Manuel Bonet 🏳️‍🌈)1578984471.0
According to anonymous members of Warren's team, Bernie didn't think a woman could win. Bernie shot back with his own version of events, saying, "It is ludicrous to believe that at the same meeting where Elizabeth Warren told me she was going to run for president, I would tell her that a woman couldn't win... What I did say that night was that Donald Trump is a sexist, a racist and a liar who would weaponize whatever he could. Do I believe a woman can win in 2020? Of course! After all, Hillary Clinton beat Donald Trump by 3 million votes in 2016." When Warren herself was finally convinced to weigh in directly, she urged people to move on, claiming that she was more interested in what she and Sanders agree on… But she also confirmed the more inflammatory version of events: "Among the topics that came up was what would happen if Democrats nominated a female candidate. I thought a woman could win; he disagreed."

While there is certainly a conversation to be had about to what extent America remains too sexist to support a female candidate, it seems like a stretch to accept the idea that, in 2018, Bernie would hold such a categorical view against the possibility of a woman being elected president. What makes it particularly questionable is the existence of footage from a C-SPAN appearance three decades earlier, in which Bernie says, "In my view, a woman could be elected president of the United States. The real issue is whose side are you on? Are you on the side of workers and poor people, or are you on the side of big money and the corporations?"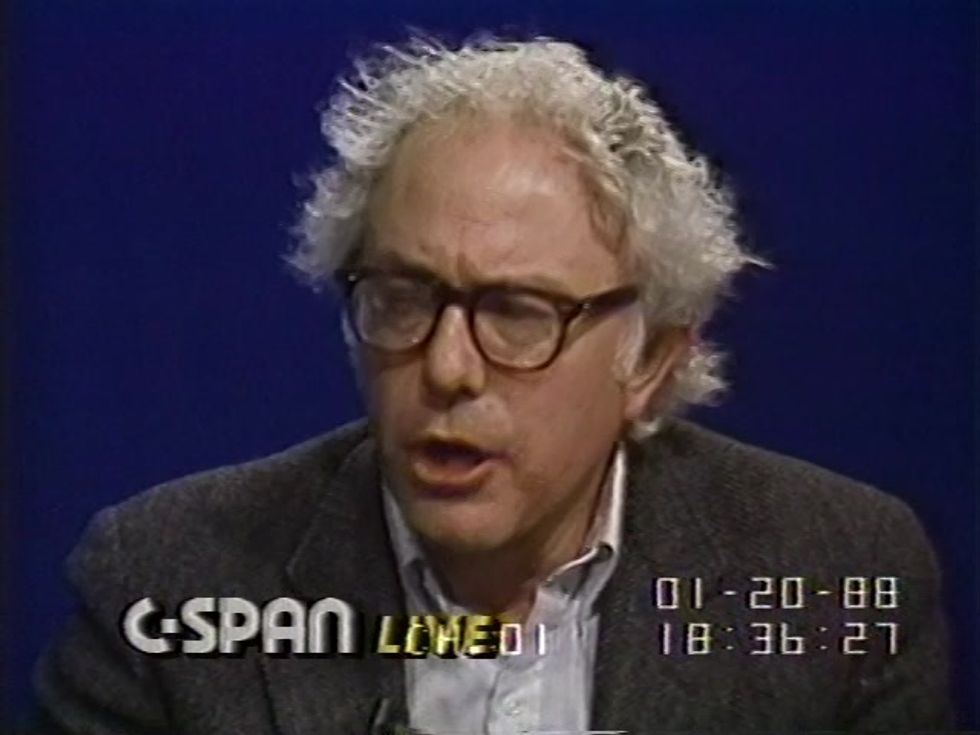 C-SPAN
The suggestion that Bernie's views have become more regressive since 1988 seems far-fetched. The inclusive, forward-thinking persona he has consistently presented to the public for 40+ years doesn't line up with this supposed private view. Then again, the idea that Warren would simply lie about Sanders' comments seems equally unlikely. Who you believe seems to depend largely on who you prefer, and the two camps seem to be moving further from each other as the Iowa Caucuses close in. On one side, Bernie Sanders is a sexist; on the other, Elizabeth Warren is a liar.
Without a recording or a transcript of the conversation, it doesn't seem quite justified to land in either of those camps. Without third-party witnesses, the basic facts of who did and who said what can quickly dissolve. The message that was intended and the message that was received crystallize in each person's mind to the point that they become irreconcilable. Perhaps Bernie did think that a progressive man was better poised than a progressive woman to counter Donald Trump's brand of populism in the 2020 election. Maybe his way of saying so was so clumsy that Warren took it as a broad statement about the viability (or lack of viability) of female candidates, and she recounted it as such to people close to her. Short of calling either of them a liar or worse, that is the best I can muster—a version of events that I prefer to believe in order to maintain my respect for both of these candidates.

Supporters from both sides will no doubt find this middle-ground unsatisfactory. The rift feels real right now, and it's starting to seem like each side is trying to undermine the chances of the other. But while only one candidate can win the nomination in the end, their support draws too much from the same pool of voters to allow this rift to remain. Already Bernie supporters who also donated to Warren are turning against her with the hashtag #RefundWarren. But the sad truth is that neither can win in the general election without support from the other's ardent fans. And who really stands to benefit from continued fighting? The center and the far-right. It can only help Joe Biden and Donald Trump. And Donald Trump seems to know it...
Bernie Sander's volunteers are trashing Elizabeth "Pocahontus" Warren. Everybody knows her campaign is dead and wan… https://t.co/XaRdJ6P3W8

— Donald J. Trump (@Donald J. Trump)1578929126.0
If Sanders and Warren can't each count on the other's supporters to get behind them as the primaries shake out, then Biden will likely hold onto his narrow lead. And if one of them does manage to get the nomination with this acrimony still hanging in the air between them, no amount of campaigning for one another is going to muster the sort of passion that we can count on to overwhelm Donald Trump in the general. 2016 should have taught us that much.

This feud needs to end now. Warren and Sanders need each other, and our country needs them. They are the only candidates taking America's economic divide seriously, and the only candidates willing to tackle climate change with the resolve and transformative action it requires. If Donald Trump gets reelected, he will continue to make both of these problems far worse, destroying hope for economic justice and a sustainable future. If Joe Biden is our next president, then we will go back to enacting middling, inadequate reforms—one step forward for every two steps back.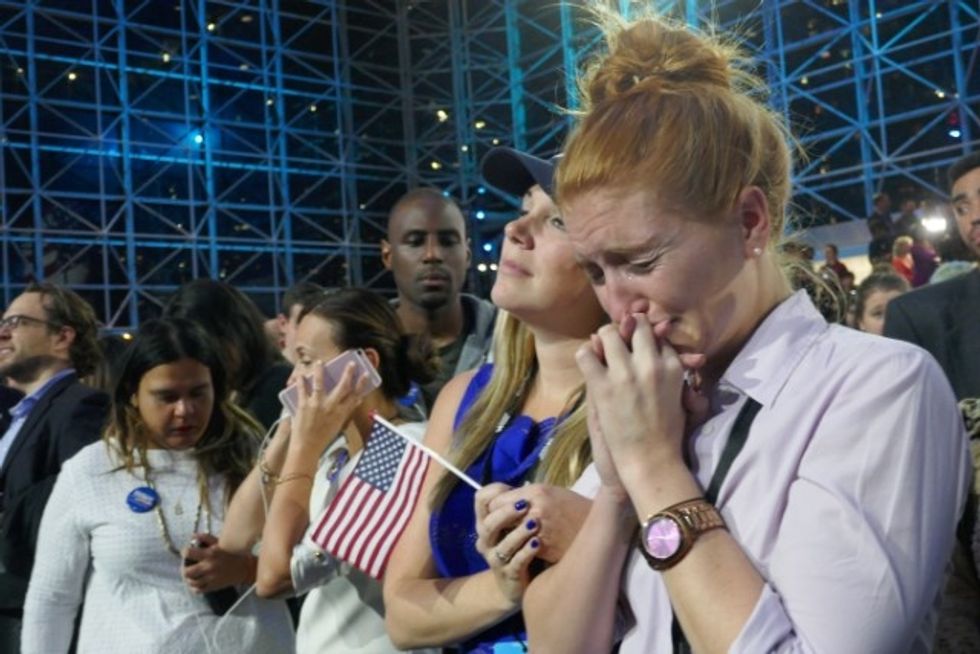 Hillary supporters as 2016 election results came inGetty Images
Warren and Sanders, united, represent our only real hope. Of course, they each believe that they are best suited to the job. They wouldn't be running otherwise. But if either of them is going to win, they need to come together, reaffirm progressive unity with one voice—acknowledging the differing accounts of events and decrying sexist limitations. Either of them can win this election, but neither can do it alone.
Because the Military Forcing a Resignation is True Democracy
Bernie Sanders and Alexandria Ocasio Cortez would have you believe that Evo Morales's recent resignation at the behest of the Bolivian military was a coup.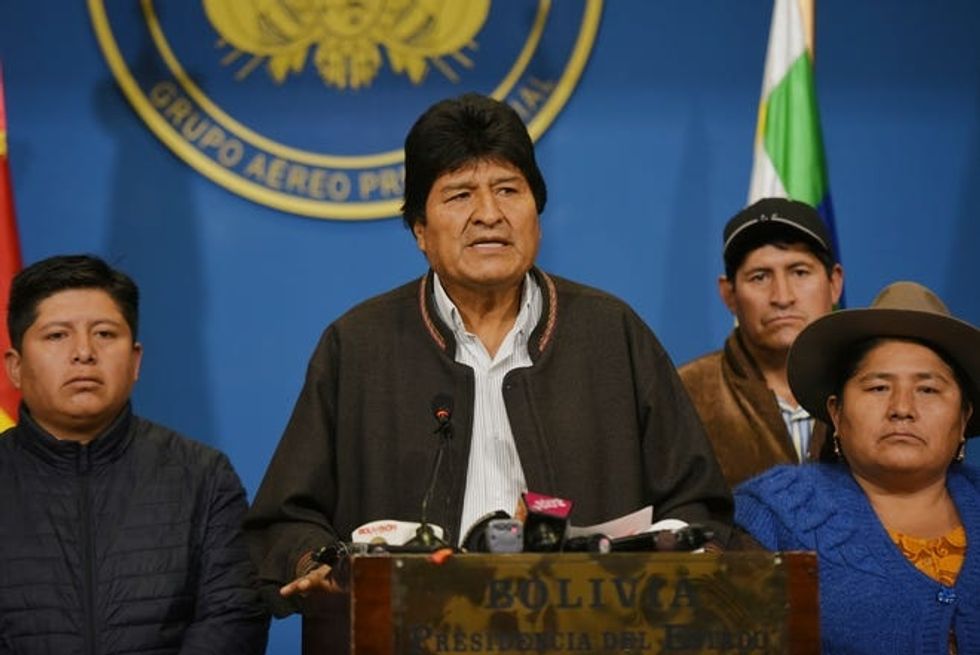 Don't be fooled! A coup is something bad that bad people do to take control of a democratically elected government, but there were actually irregularities in Bolivia's recent election, which means it's not democracy. Can you even imagine if there was ever any suggestion of electoral irregularities or cheating in the US? We would flip out. And yes, Evo Morales agreed to hold a second election, but that sounds boring, and it would take so much longer than just using the military to force him to leave so an opposition senator can declare herself president while wielding a giant bible and banishing indigenous belief systems from the palace.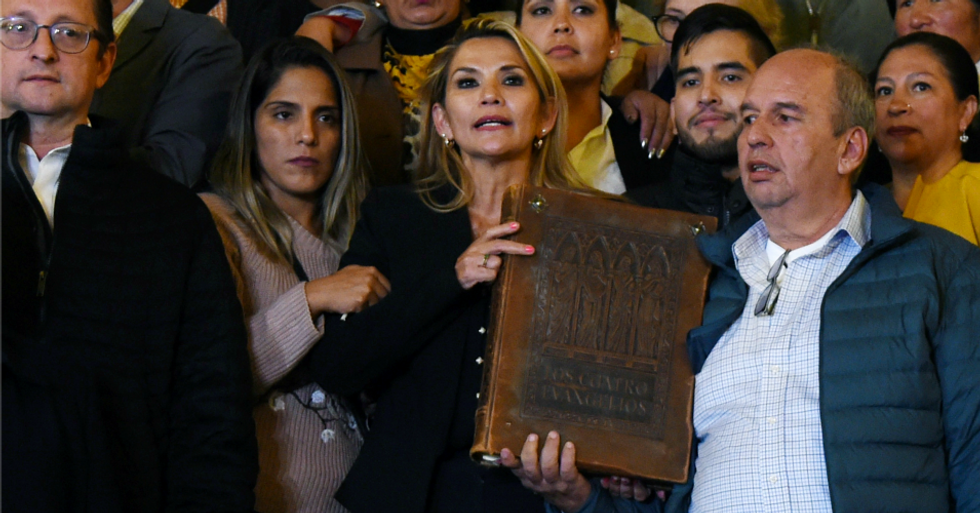 Speaking of elections, can you believe this impeachment nonsense? That's the real coup—the kind that is laid out in the constitution as an official process and is run according to rules established by the president's political allies. They've been acting as if just because this is a completely different context and process than a criminal trial, it doesn't need to follow the same rules as a courtroom. Since when? They're making this fundamentally political process into something ugly and political. Why can't these Democrat bozos just wait a year for the next election?

The Wall Street Journal knows what's up. Their opinion page has declared Evo Morales's resignation a "Democratic Breakout" and informed us that the impeachment "Subverts the Constitution." Clearly, if the Democrats were really upset with Trump's using military aid to get a foreign government to interfere with the 2020 election, they should not have investigated. They should have waited for an independent organization to point out the issues after Trump won reelection, then wait for Trump to agree to a new election before having the military kick him out of the country and allowing Dianne Feinstein to declare herself the new president. That's democracy! Investigating the President's crimes and airing his dirty laundry in front of the whole country, then having elected representatives who are accountable to their voters decide whether he should be removed from office—that's a coup.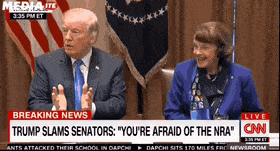 Of course, if you disagree with these sentiments, you may want to voice your opinion by calling your congressional representatives or signing a petition to have Congress acknowledge the Bolivian coup, so the US cannot support the new, unelected government. But that would be crazy.

To keep the earth's temperatures from rising, serious changes need to happen over the next year and a half.
While Robert Mueller and Donald Trump dominate the public's attention, experts have quietly come to the consensus that we have around 18 months to stop the worst effects of climate change.
Last year, a study by the Intergovernmental Panel on Climate Change found that in order to prevent catastrophic warming, we need to cut carbon emissions by 45% by 2030. Today, political theorists believe that in order to achieve that goal, we must immediately begin implementing the political structures that will allow us to reach it.
At a reception for the Commonwealth foreign ministers, Prince Charles spoke out in support of climate action. "I am firmly of the view that the next 18 months will decide our ability to keep climate change to survivable levels and to restore nature to the equilibrium we need for our survival," he said.
'It's happening, it's now,' says U.S. government report on climate changewww.youtube.com
A Critical Time
So, why are the next 18 months so vital for the future of the earth's climate? During the next year and a half, a series of important political meetings and conventions will take place. On September 23, the UN will hold a special climate summit in New York, where attending countries are expected to present their emission-cutting plans. Then the UN's annual climate change summit, known as the COP25, will be held in Santiago, Chile in December 2019. Finally, the COP26 will take place at the end of 2020, most likely in the UK.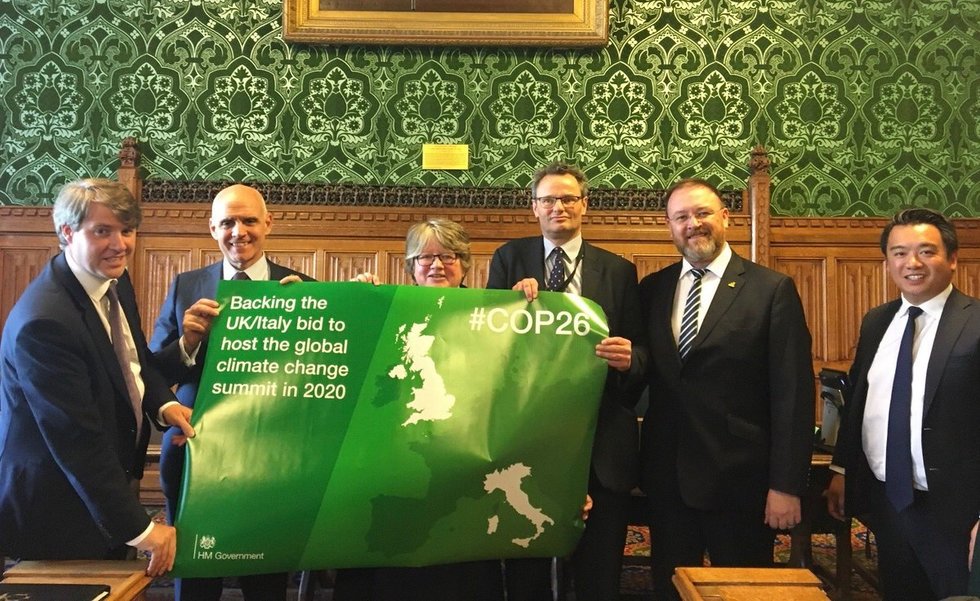 Image via Twitter
According to Environmental Secretary Micheal Gobe, the importance of these meetings cannot be understated. "We need at COP26 to ensure other countries are serious about their obligations and that means leading by example," he said. "Together we must take all the steps necessary to restrict global warming to at least 1.5C."

Depending on what happens at these meetings during the next 18 months, we could see plans like the Green New Deal set into motion. On the other hand, if a climate change denier remains in the US office, the UK summit could be the moment where the US formally withdraws from the Paris agreement (which proposed the bare minimum carbon emission cuts needed to prevent extreme consequences from climate change).
No Choice but Change
If these conferences fail to spark large-scale action, "we will have no chance of getting to a 1.5 or 2C limit," said Professor Michael Jacobs, a former climate advisor to the Prime Minister Gordon Brown.
There are several other conferences happening in the next year and a half, namely the Convention on Biological Diversity and the UN Convention on the Law of the Sea, both of which are expected to craft plans to protect our livelihoods. It's promising that all these conferences are occurring. Still, many fear that they will not push for action radical enough to meet the 1.5 degree goal.
If the goal is not met, the consequences will be unimaginable. More natural disasters (like the wildfires we're seeing right now in Alaska) would ravage coastlines and could destroy entire nations. Chronic refugee crises would ensue. Disease would flourish. One in four animal species would go extinct.
Judging by the current state of politics and carbon emissions (India is on track to overshoot its Paris Agreement goal by 60%), things are looking bleak. Fortunately, a rise in activism and protest—helmed by figures like Greta Thunberg and Alexandria Ocasio-Cortez—has drawn much needed political attention to the climate crisis. Still, it's not enough: In order to ensure a livable future for the earth, people around the world must come together and force their representatives and nations to listen to science and reason.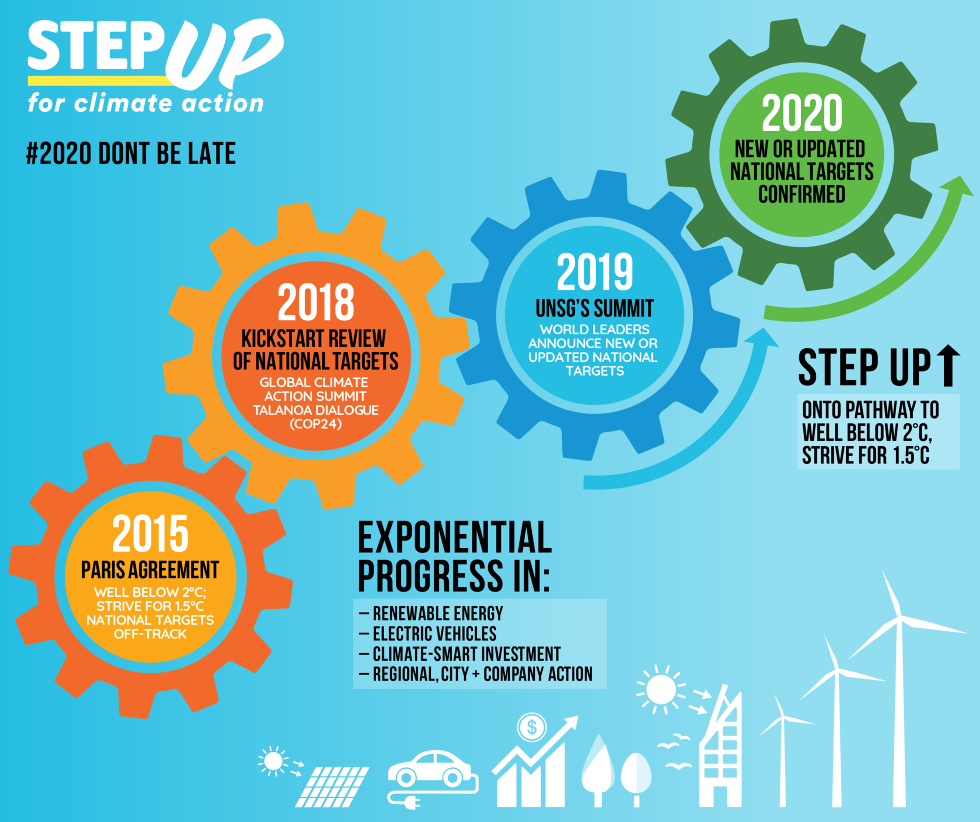 Image via World Economic Forum
Trump's words and actions have led our country into a terrifying state, a state in which the president has put people of color in severe danger.
This week the Republican party has only helped to fuel Donald Trump's racist fire. For many, this isn't surprising. Trump began his attacks during his first campaign, targeting Mexican-Americans and generalizing them as "drug dealers, criminals, and rapists." Once he was elected, Trump enforced a xenophobic Muslim ban and continued to fuel the fire of white supremacy. Now, immigrants seeking asylum are dying in American custody. Overall, Trump's words and actions have led our country to a terrifying state, a state in which the president has put minorities and POC immigrants in severe danger.
A lot has happened within the last seven days: It's harder than usual to keep up with Trump and his minions' actions. Here's a timeline to help get you up to speed.
July 12th
Vice President Mike Pence and Republican Senators Lindsey Graham, John Cornyn, and Mike Lee visited a detention center in McAllen, Texas. The government officials observed around 400 men crammed in cages with no mats, no pillows, and barely room to sit down. The four men did not speak to any of the 400 immigrants and stayed in the detention center for only 90 seconds.
Vice President Mike Pence Visits Texas Migrant Detention Center | TODAY www.youtube.com
July 14th

Only two days later, President Donald Trump took to Twitter to advise "progressive" congresswomen that, instead of participating in American politics, they should "go back and help fix the totally broken and crime infested places from which they came." The tweets were sent in the midst of ICE raids occurring across the nation. The tweets' purpose was clear: Create hysteria targeting people of color in hopes of eradicating the immigrant population.
....and viciously telling the people of the United States, the greatest and most powerful Nation on earth, how our… https://t.co/xPRSZHNNAd

— Donald J. Trump (@Donald J. Trump)1563107272.0
July 15th

A day after Trump's tweets, Senator Lindsey Graham, who once called the President a "race-baiting, xenophobic, religious bigot," defended him, proclaiming, "AOC and this crowd are a bunch of communists… they're Anti-Semitic. They're anti-America."
Lindsey Graham's Fox News MELTDOWN www.youtube.com
July 16th

On Tuesday, the House voted to condemn the President for his racist rhetoric. A President of the United States has not been formally rebuked a president in over a century. While the House voted in favor of the symbolic motion, the numbers included 240 Democrats in favor and 187 Republicans against. It's noteworthy that only four Republicans voted in favor of condemning the president's racist tweets.
That same night, Louisiana Senator John Kennedy referred to Rep. Alexandria Ocasio-Cortez (New York), Ayanna Pressley (Massachusetts), Ilhan Omar (Minnesota), and Rashida Tlaib (Michigan) as the "four horsewomen of the apocalypse."
John Kennedy Blasts The Squad www.youtube.com
July 17th

On Wednesday, during President Trump's rally in North Carolina, he again attacked the group of freshmen congresswomen, explicitly targeting the Minnesotan representative, a Muslim, and Somalian refugee, Ilhan Omar. His supporters began chanting, "Send her back." The president stood silently for a mighty thirteen-second pause, head held high, as he proudly looked upon his supporters.
'Send her back': Trump batters Ilhan Omar on campaign trail www.youtube.com
July 18th

The morning after, two of Twitter's top trending hashtags were #IStandWithPresTrump and #IStandWithIlhan. A few hours later, a few GOP members finally spoke out about the chants. Senator Marco Rubio called the targeting of Representative Omar "grotesque." A few other Republican Congressmen also spoke out on Twitter:
I deeply disagree with the extreme left & have been disgusted by their tone. I woke up today equally disgusted - ch… https://t.co/hlIxUraFva

— Adam Kinzinger (@Adam Kinzinger)1563455793.0
Though it was brief, I struggled with the "send her back" chant tonight referencing Rep. Omar. Her history, words… https://t.co/uHL8TNlr4k

— Rep. Mark Walker (@Rep. Mark Walker)1563418882.0
Trump later said he was "not happy" with the chants. When asked why he didn't stop the crowd, he answered, "I think I did—I started speaking very quickly."
Trump disavows supporters chant of 'Send her back!' at rally www.youtube.com
The same day, John McCain was also trending on Twitter. Former Representative of Florida, David Jolly, tweeted about how he missed the moment when John McCain cut off a woman claiming Barack Obama was an "Arab."
Missing this moment this morning. https://t.co/XPMmIH4PjF

— David Jolly (@David Jolly)1563453537.0
Senator Chuck Schumer also referred to the moment while addressing his colleagues.
Chuck Schumer: "The only way Pres. Trump will stop is when Republicans on the other side have the honor, the decenc… https://t.co/oR8NdLMPru

— Kyle Griffin (@Kyle Griffin)1563469210.0
Finally, to end this appalling timeline on a high note, here's a video of Minnesotan Representative Ilhan Omar returning home to the Twin Cities. Watch as she's celebrated below:
Congresswoman Omar just arrived back in the Twin Cities. https://t.co/ZiFqWnDJgQ

— Tom Hauser (@Tom Hauser)1563486133.0
The gap is growing wider and wider between Trump supporters and those who don't understand them. Here, we peer out across the gap, into the unknown shadowlands of the Trumpian psyche.
Studying the perspectives of Trump supporters can feel like researching the psychology of serial killers. Of course, Americans are naturally fascinated by serial killers—a fact that could potentially tell us something about the people who love Trump.
In today's political environment, it can feel like there are two Americas existing parallel to each other. To dwellers in both, the other side can feel as foreign and sinister as the Upside Down in Stranger Things, inhabited by ghoulish, many-armed monsters, hell-bent on mindless destruction.
This certainly rings true today, in light of recent videos of Trump supporters chanting "Send her back" in Greensboro, North Carolina.
The chant was referring to Representative Ilhan Omar, a freshman Congresswoman and Somali refugee who was the object of a Trump Twitter rant on Saturday, along with three other progressive freshmen congresswomen.
While the other three—Alexandria Ocasio-Cortez, Ayanna Pressley, and Rashida Tlaib—were all U.S.-born, Omar is not; and so she quickly became the primary subject of Trump's ire. At the North Carolina rally, he criticized her for her purported "un-Americanness," repeating the false claim that she has supported Al-Qaeda.
Trump's actions this past week have been widely criticized. Nancy Pelosi described Trump's statements as "racist." On Tuesday, the House voted to officially denounce his tweets, and everyone from the mayor of London to a variety of conservative commentators have expressed their disapproval and shock. The conservative radio commentator Guy Benson said, "I'm very tough on Omar [because] she deserves it, on the merits. I am sickened by the hate-laced 'send her back' chants. Shame on every person who participated. POTUS has a responsibility to put an end to it. He alone has the ability to do so."
Yet Trump's staunchest supporters apparently disagreed. They approved of the president's actions, so much so that they decided to chant, "Send her back."
It's tempting to try to understand what Trump supporters are thinking, if only to locate them in some context that makes them more compatible with reality. This exercise feels similar to attempting to tap into a serial killer's mind, as sometimes the mentality of Trump's followers, particularly the alt-right sect, can seem too utterly depraved to ever comprehend.
In some ways, trying to analyze the Trump supporters squeezed together at his rallies feels reminiscent of trying to understand all the women that filed in to attend Ted Bundy's final trial. There's a similar relentless ignorance of truth, a similarly toxic sense of spectacle and groupthink implicit in their love for him.
Still, it's undeniably fascinating to try to understand serial killers and the people who love them.
Always, there's that burning question: how could this happen? What were they thinking?
In terms of Trump supporters, all roads lead to one ideology in particular—but race has always played a major part along the way.
White Supremacy, Veiled by a Misunderstanding of Racism
Hiding behind illusory ideas like "reverse racism," Trump supporters tend to believe that "whiteness" is somehow under attack. Nevermind that on average, white households have 6.5 times the wealth of black households, or that black and Latino applicants are still 60% more likely to be turned down for a loan than white families, or any of the other statistics that prove that whiteness is still very much in power in America. Trump supporters tend to take measures like affirmative action and phenomenons like political correctness on campuses as proof that white liberty is under siege.
On the other hand, many Trump supporters will insist that they are "not racist" and that Trump himself is "not racist"—nevermind the fact that his comments were explicitly reminiscent of 19th century racial politics. "In many ways, this is the most insidious kind of racial demagoguery," said Douglas A. Blackmon, the author of Slavery by Another Name, a history of racial attitudes in America in the late 18th and early 19th century. "The president has moved beyond invoking the obvious racial slanders of 50 years ago — clichés like black neighborhoods 'on fire' — and is now invoking the white supremacist mentality of the early 1900s, when anyone who looked 'not white' could be labeled as unwelcome in America."
But for Trump supporters, all this talk is just overly aggressive.
Mitch McConnell, who said that the President is "onto something" with his comments against the congresswomen, added that he thinks Trump is "not a racist" and it's "about time we lowered the temperature across the board."
This statement—that it's "about time we lowered the temperature across the board"—is telling. In some ways, it's a form of gaslighting, a way of minimizing people's righteous anger at Trump's actions by framing their anger as a weakness or character flaw. Similar to the "special snowflake" diatribes thrown at online social justice warriors, this is a tactic that's worked well for Trump since the beginning of his campaign.
From many Trump supporters' perspectives, it seems that they just want America to calm down.
Of course, what they really want is for people of color to calm down, for poor people to calm down, for everyone except all-American upper and middle class white people to calm down. Gaslighting is ultimately a power play, and by its Trumpian logic, only people who have always been in power have the right to make policy and protest change.
Few will admit this, though; instead, supporters hide behind the delusion that those who dislike Trump are merely overreacting, blowing his actions out of proportion in order to facilitate a liberal agenda. This creates a loop that effectively insulates Trump supporters against any hope of hearing the other side.
Many of them do, however, hear the other side. The truth is that many simply don't care.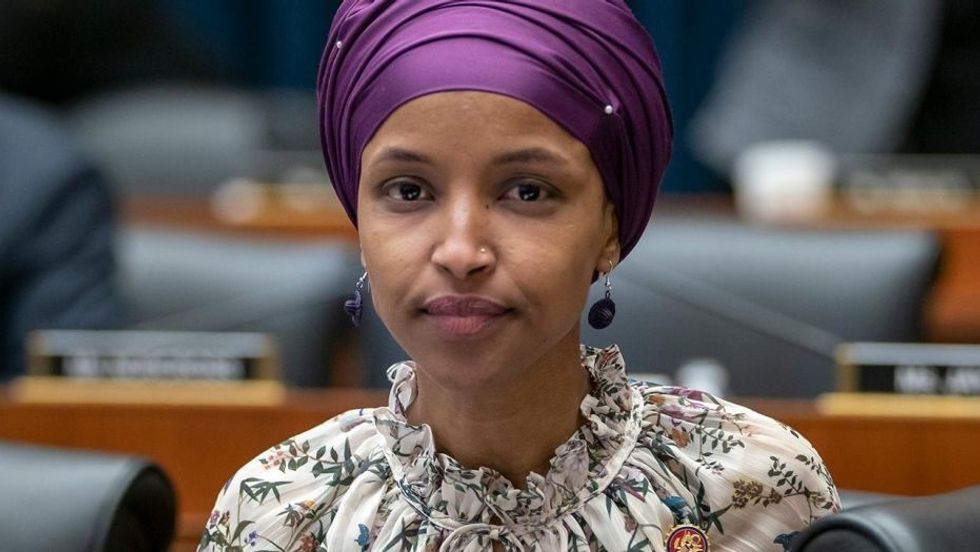 Image via Fox News
Inflammatory Rhetoric, Blatant Lies, Corruption: They Just Don't Care
Many Trump supporters see the flaws in Trump's rhetoric and policies. Many recognize that he's racist. Many of them admit that they themselves are racist. And they don't care.
They don't care that he lies constantly. One study presented Trump supporters with a false statement of his and then corrected it. Though people largely accepted the corrections, this didn't change their views about Trump. "People were willing to say Trump was wrong, but it didn't have much of an effect on what they felt about him," said one of the researchers. Apparently, sometimes fact checks can even backfire, somehow making people even more convinced of a false story; but even when the evidence is irrefutable, it seems that Trump supporters simply could care less.
They don't care about the way Trump tweets or conducts himself. They don't mind his attitudes towards women or minorities. This is the reason that summits like Women for Trump occur; this is the reason why people of color and queer people have supported Trump. Either they refuse to see who he really is, or they don't care about his conduct. Regardless, there is nothing that anyone could say or do that could change this.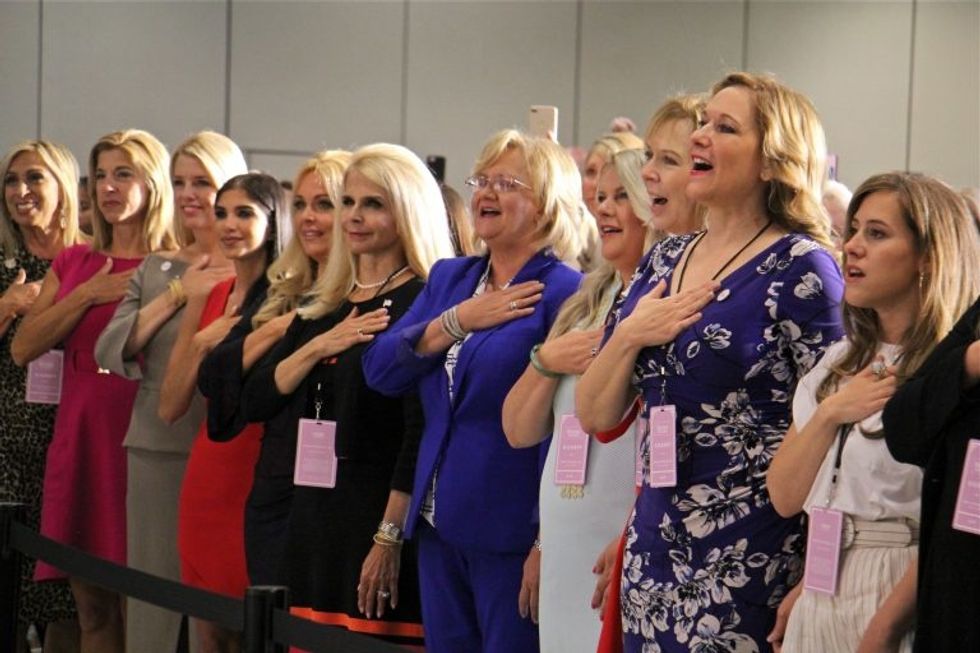 Image via WHYY.org
All this may stem from the bulletproof cult mentality Trump has built around himself. "What might look like corruption or cronyism to neutral observers is seen by the supporters of populists as doing the right thing for the right people, the "real people," said political theorist Jan-Werner Müller. "This is why the tribal appeal of populism is so crucial. Populist leaders thrive on distinctions between 'us' and 'them,' between 'the people' and 'the establishment.'"
On the other hand, some people don't even care that Trump has built a cult around himself, just like they don't care that Trump is a racist cult leader, just like they don't care that he's breeding hatred and distrust and fear.
What do they care about?
The answer is surprisingly simple.
Money, Money, Money
The number one thing that Trump has going for him, right now, is the U.S. economy. Unemployment is at its lowest in years, and this alone is the reason that many of his supporters have resolutely stuck by him. Nevermind that the seeds for this economic growth were planted by the Obama presidency—or that we are at risk of another recession—or that Trump has threatened to cut life-saving benefits, like welfare for poor people—or that climate change threatens to present the largest economic catastrophe in the history of the world—or that 2.2 million Americans are making minimum wage or less ($7.25 per hour), and only 0.1% of those 2.2 million can afford housing.
All that matters is that Americans are working their 9 to 5's, right?
Not exactly. Under Trump, the U.S.'s five largest banks earned tens of billions of dollars in the first half of 2019. Nevermind that Trump's policies led Rand Paul to block a funding bill for 9/11 victims and first responders—though Paul supported Trump's 2017 tax bill, which cut taxes drastically for mega-corporations. Nevermind that the number of corporations paying no taxes has increased from 30 to 60 percent since Trump's tax bill, which has been widely panned as a bust. Nevermind that Trump is still planning more tax cuts for the 1%.
At least he's not threatening us with socialism, right?
Why Are We So Obsessed With Money?
At the core of the division between Trump supporters and everyone else is that Trump supporters are married to a fundamental ideology of Republicanism, which recoils from any semblance of government interference. This division stems from the age-old battle between freedom and control that defines the Democratic-Republican split. This is the same divide that separates communism and capitalism and that stems from the division between collectivism and individualism.
Naturally, each side has positive points; neither is implicitly ill-intentioned. Each can be blown out of proportion, however, particularly when they're implemented by a demagogue.
And at the core of Republican free market values is an individualist mentality, one that proclaims that every person should be left alone to fend and fight for his or herself. This mentality has been so successfully drilled into the American psyche that it is successfully drowning out cries of racism, corruption, and evil. It's why Trump supporters are calling for Rep. Ilhan Omar to be shipped back home: her presence, and the rising prominence of progressive Democrats, represents a fundamental and very real threat to this ideology.
Nevermind that Trump is facilitating this ideology through cultish tactics, is warping America's legacy beyond belief, is imprisoning children, is threatening the world's future, is deepening economic divides, is spreading hatred, is an overt racist. The "right" to own guns—and what it symbolizes—overshadows all of this.
This is the truth: An archaic construct of "liberty" is more important to Trump supporters than any and everything else. It's more important than equality. It's more important than reality. It's more important than taxing the massive corporations and banks that rake in billions each month. It appears that this form of "liberty" is more important than life itself.
If you're not a Trump supporter, then looking out into this alternate reality feels like peering over the edge of another dimension. And it should remain that way. We should not try to empathize with Trump supporters, should not humanize or normalize his actions, should not ever apologize for standing up for human decency, compassion, and the true meaning of American freedom, which is supposed to mean that everyone has the right to the same opportunities.
What we can do is deepen our understanding of this construct of "liberty," so we can effectively identify the holes in it. The gaps and cracks in this terrible freedom are visible, if you know where to look—trace the tapestry of time, trace modern income inequality to slavery to Columbus's genocidal attack on indigenous Americans, and you'll see that America has never been the land of the free. Perhaps it was the land of the free for upper and middle class white people, once upon a time..Perhaps the ideology that fostered that era has been twisted out of shape by relentless corporate greed, twisted into some strange, gilded god, lording over an America where the wealthy are able to grow wealthier and the poor are kept poor, where hatred reigns supreme, where the government is a smiling mask over the ugly corporate bone structure that really runs this nation.
Perhaps the only thing that most of us can agree on is a hatred of corporations and Wall Street companies. (Of course, Trump took $72 million from superPACs during the 2016 election, against his word).
But for Trump supporters, none of this matters.
Similarly, people who love serial killers will often make excuses for their murderous beloveds until the bitter end. They'll insist on the killer's innocence, even if the confession has already been delivered and the footage of the crime scene has been discovered.
The blood has been tested; the fingerprints are there for all to see. And yet, just like hundreds of girls who showed up at Ted Bundy's trial, Trump supporters will keep on flocking to the rallies—and the polls—just to see their star.
Climate despair is becoming so widespread that some people are losing their will to live. Is this the new normal?
If you're reading this, you probably know that the earth is not doing well. A 2018 UN report declared that we have 12 years to keep the global climate from rising more than 1.5 degrees, or we'll face catastrophic warming levels. Even knowing this, our worldwide carbon emissions have only continued to rise, with atmospheric CO2 reaching a record high at 417.4 ppm in May 2019.
In essence, we know the world is ending, we know why, and yet we have done nothing to stop it. In fact, things are getting worse.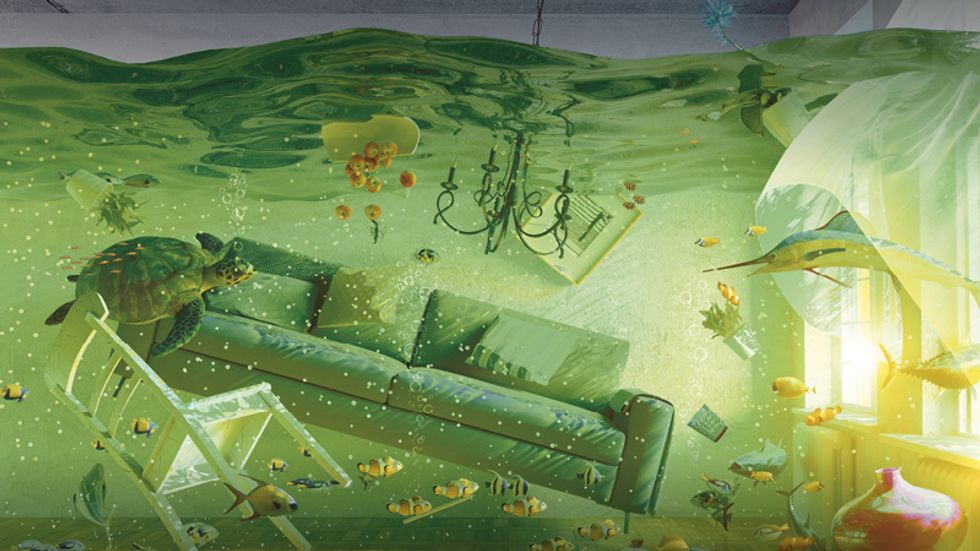 Image via blog.derby.ac.uk
The Argument for Despair
Faced with this truth, it's all too easy to slip into despair, and this is what's happening to people all over the world. A recent VICE article explored the mental health crises that many people are experiencing because of climate change. Known as "climate despair," sometimes called "eco-nihilism" or "human futilitarianism," chronic feelings of hopelessness about climate change are becoming all too common among those who have allowed themselves to fully comprehend the extent of the crisis.
For people who suffer from these feelings, it doesn't help that life appears to be continuing on as normal, while only a few of us seem to care that the world is burning down. This creates a sense of duality that can be even more painful than consciously accepting the reality of climate change, as it involves a deep suppression of pain and fear, which is then left to fester in the psyche. Living this "double life," according to Joanna Macy's essay "Working Through Environmental Despair," can be detrimental. "Awesome and unprecedented in the history of humanity, the awareness lurks there, with an anguish beyond naming," she writes.
This awareness can manifest in many ways; and often it has lead to depression or suicidal thoughts. Even therapists are having trouble knowing how to handle the looming specter of climate despair. Several people quoted in the VICE article described how their therapists attempted to trace their terror of climate change back to personal traumas, instead of acknowledging the validity of these fears.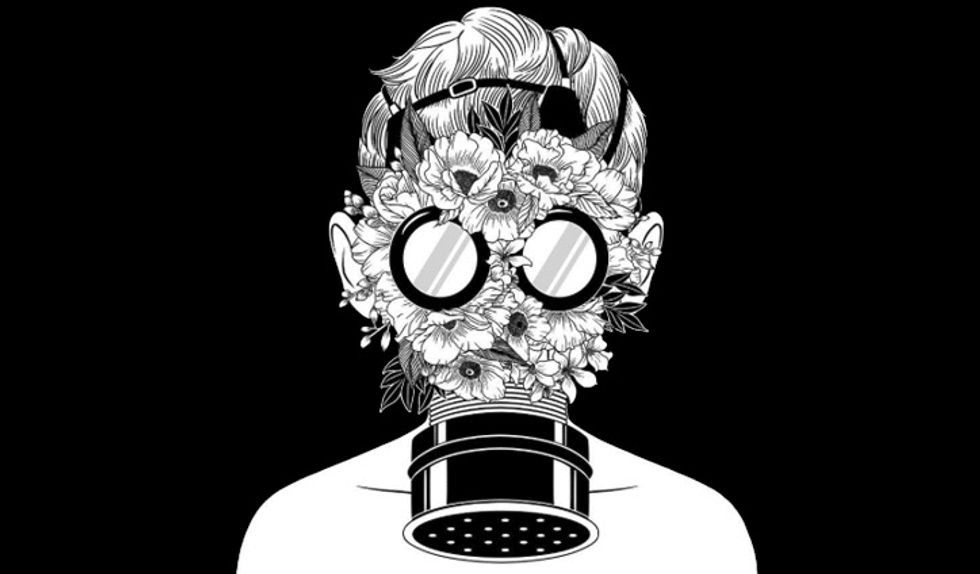 Image via Its Nice That
Children are just as vulnerable to these feelings as adults. As they watch governments refuse to act, kids are growing up in the world with little faith in the government or the adults around them, and with the knowledge that they've been born into a disaster they never asked for but have to deal with.

Greta Thunberg was one of these kids. She's spoken extensively about the feelings of despair that nearly paralyzed her as she became more and more aware of the climate crisis. "Before I started school striking, I was … so depressed and I didn't want to do anything," she once said.
But when she began to speak, as many of us know, she became one of the most outspoken and well-known climate activists in the world. According to Thunberg, this was not a choice. "I feel like dying inside if I don't protest," she said. For those suffering from climate despair, that feeling of dying inside is a familiar one. But Greta's inspiring actions contain seeds of hope, perhaps the best hope against climate despair.
The truth is that things are only hopeless if we don't take action. Conveniently, taking action might also be one of the best things we can possibly do to work through climate despair.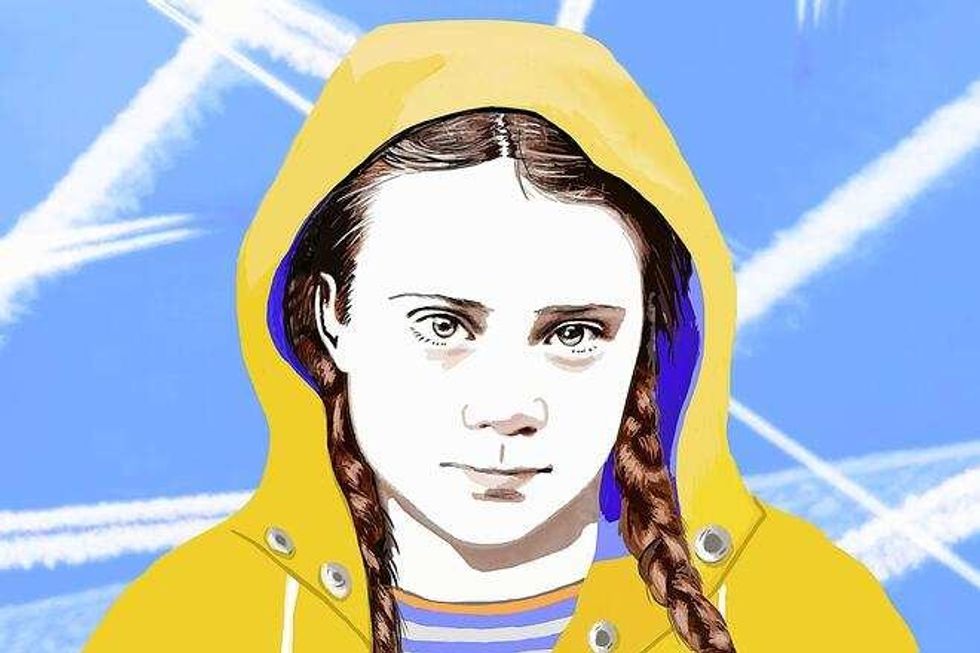 Image via Handelszeitung
Our Best Shot at Hope
Although they might be realistic responses to the threat of climate change, feelings of despair—when they aren't turned into action, or are suffered through in solitude— present a terminal danger to the climate movement, as they promote stagnation when what is truly needed is unity and protest.
This doesn't mean that we should deny the gravity of the situation. Action begins with admitting the problem, not stuffing it away under layers of performative normalcy. "Until we find ways of acknowledging and integrating that level of anguished awareness," continues Joanna Macy, "we repress it; and with that repression we are drained of the energy we need for action and clear thinking."
Still, the answer is also not necessarily to let oneself fall down a hole of hopelessness. Often, the doomsday-esque reports that are inundating the Internet and certain academic circles can be the opposite of productive. Sometimes, these reports are inaccurate, overly dramatized and apocalyptic. These alarmist articles that proclaim that we are all doomed often have the opposite effect, shaking people into complicity when the truth is that though things are really bad, there is definitely hope.
There is hope.
Though we won't be able to reverse climate change, it is possible to salvage so much of the world and to prevent the worst consequences of ecological decline. Human beings have mobilized massively before—we've split atoms and spread cell phones across the globe in less than a decade—and we can do it again. We have the technology, the money, and the capability: All we need to avert immediate crisis is the will and the public support to elect people into office who will take action.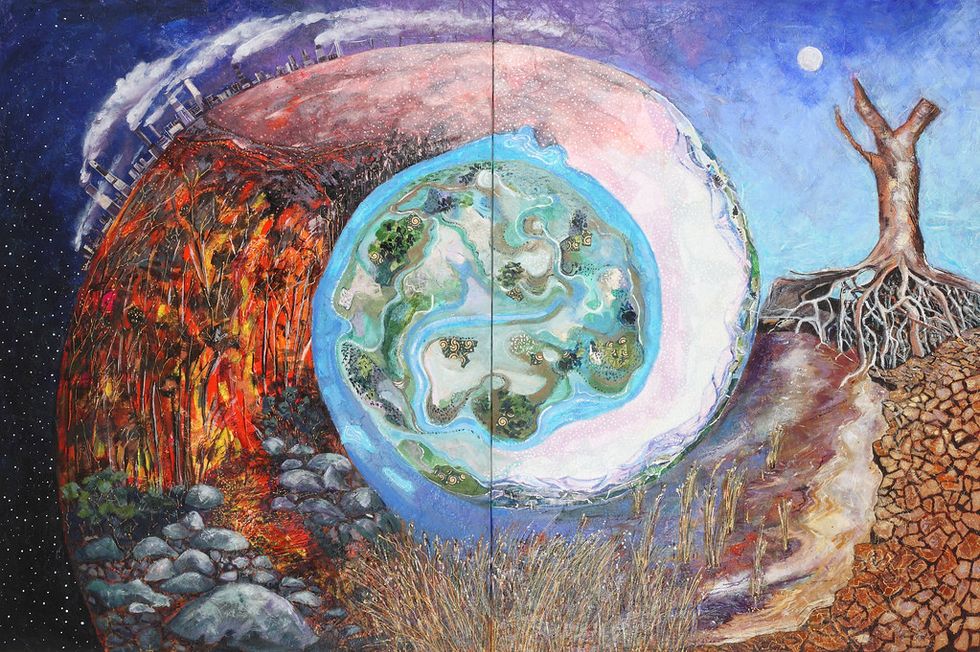 Image via Flickr
We have the resources to fight climate change. Many countries are instituting programs to reduce their carbon emissions. Small nations like Denmark and Belgium have successfully slashed their carbon emissions, and plans like the Paris Agreement are promising attempts at global change. What we need to do is fight, to spread awareness, to elect people into office who will take action, and to make it clear that we as a human race won't go down at the hands of an elite cult of carbon-worshipers determined to ruin all of our futures for the sake of their own fortunes.
Climate activism doesn't solely have to be a fight against something, though: it can be a fight for a better world. Though climate change is often painted as an entirely doom-and-gloom issue, some of the things that fighting it will combat it could actually benefit our whole society, healing some of the deep wounds that have caused our modern epidemic of mental illness, addiction, and loneliness.
According to Naomi Klein, author of This Changes Everything: Capitalism vs. The Climate, this impasse at the brink between oblivion and climate disaster presents an unprecedented opportunity for positive change. This crisis can be a beginning, not an ending, she argues: the beginning of a movement towards a more interconnected and compassionate world.
"Climate change—if treated as a true planetary emergency akin to those rising flood waters—could become a galvanizing force for humanity, leaving us all not just safer from extreme weather, but with societies that are safer and fairer in all kinds of other ways as well," she writes. "The resources required to rapidly move away from fossil fuels and prepare for the coming heavy weather could pull huge swaths of humanity out of poverty, providing services now sorely lacking, from clean water to electricity. This is a vision of the future that goes beyond just surviving or enduring climate change...It is a vision in which we collectively use the crisis to leap somewhere that seems, frankly, better than where we are right now."
This kind of future would require a paradigm shift, a complete departure from our current free-market model that glorifies isolated successes and prizes maximum consumption above all else. It would require that, among other things, we sacrifice our own desires for the good of everyone else.
We need to sacrifice the concept that the goal of life is to be able to pursue one's individual fortune to the highest level: And we have to acknowledge that we operate in an interconnected network, and must lift each other and our planet up, if we wish to continue to live on this earth.
The shift is already beginning. Organizations like Sunrise and Extinction Rebellion have emerged at the forefront of the fight against climate change; and artists are starting to wake up, too. But even if you don't have a massive platform or aren't going to protests, even just talking about the ecological crisis with others can ignite powerful chain reactions. Overall, probably the most meaningful thing you can do is work to elect officials who will make good on their promises to cut emissions and create a better world while doing it.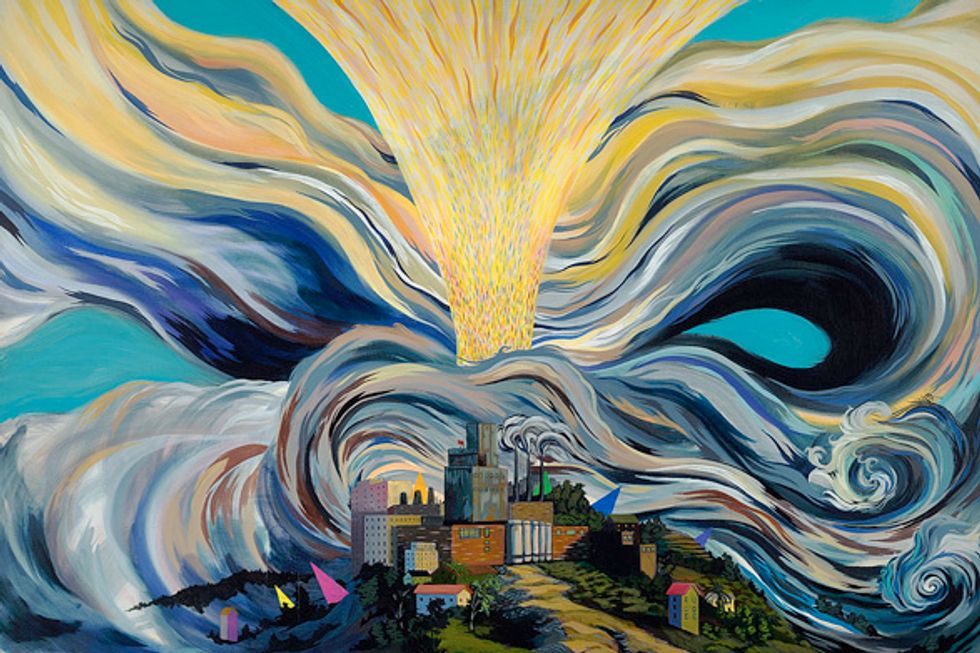 Image via Ethics and International Affairs
Where We Go From Here
Still, considering the amount of mobilization and effort that these changes require—and considering how determined major, extremely wealthy fossil fuel companies are to squander these efforts—it's extremely difficult to be hopeful all the time when it comes to the climate crisis. Plus we've already damaged some things beyond repair, and we've lost many people to the wildfires and hurricanes rooted in climate change; to name a few, the 79 people lost in California's Camp Fire, and the nearly 3,000 people who lost their lives in Hurricane Maria.
And so, as the VICE article proposes, to comprehend the full extent of the climate crisis, first we need to let ourselves grieve. We need to allow ourselves to grieve as we would in the face of any other tragedy—to comprehend the harm that we've done to our planet and to recognize and honor our feelings about it.
Once we recognize these feelings, we can begin to deal with them. As Macy continues, "To experience pain as we register what is happening to our world is a measure of our evolution as open systems. This is true not only from the perspective of systems science but from that of religion as well. How many mystics in their spiritual journey have spoken of the 'dark night of the soul'? Brave enough to let go of accustomed assurances, they let their old convictions and conformities dissolve into nothingness, and stood naked to the terror of the unknown. They let processes, which their minds could not encompass, work through them. It is in that darkness that birth takes place."

While it's important to embrace one's despair and grief regarding climate, it's equally important to view these feelings as starting points for a spiritual and political revolution, instead of hindrances that need to be suppressed. If we view climate as a consequence of evils we've always been peripherally cognizant of—like selfishness, greed, and the hypocrisy that plagues human society—then we can view the climate crisis as an opportunity to at the very least connect with other people who understand that we, collectively, cannot continue this way.
Through this lens, climate despair is far from an end point. Rather, it connects us to the world around us, and to other people who care enough to want to see a better future for everyone and everything. "As our pain for the world is rooted in our interconnectedness with all life, so surely is our power," writes Macy.
So if you're pained by climate change, good. That pain means you love something. That love means you're alive.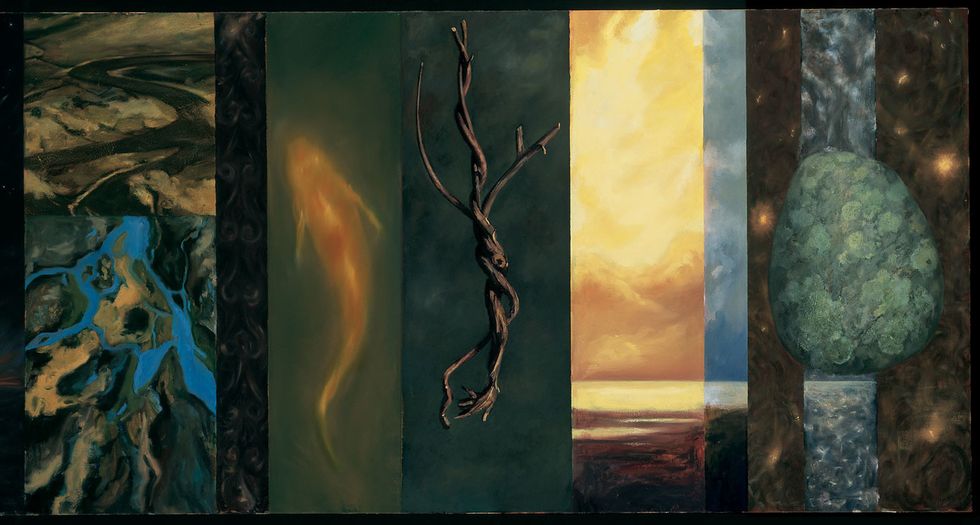 Image via Occidental Arts and Ecology Center
The pain and struggle in those camps must be spun into a persuasive narrative; and the phrase "concentration camps" comes with a narrative, with implications, with images of something that we globally swore we would never let happen again.
In New York City there's an organization that sometimes operates out of empty college classrooms and sometimes out of church basements.
Every week, hundreds of undocumented people flow into the crowded rooms, working with translators to fit their stories into I-589 asylum application forms.

One week a woman came in with her eight-year-old son. Her court date was in days, but she had yet to begin filling out her official forms; just part of her story lay in disarray on an intake sheet. As she told her story—which involved rape and murder and decades of abuse—she began to sob. If she went back to Honduras, she said, she would die.
Her story, which would likely make worldwide headlines if any fraction of it was being told by a white woman in America, is not unique at all; abuse of the kind she experienced is one of the most common reasons why migrants come to the U.S.-Mexico border to seek refuge. If you present yourself at the border as seeking asylum, you are legally entitled to a hearing, under domestic and international law; and once she tells her story to the court she may well not receive asylum. Still, for now she is one of the lucky ones: she made it past the camps at the border.
The Semantics of a Human Rights Crisis
This week, Alexandria Ocasio-Cortez described the camps holding migrants at the U.S. border as "concentration camps." Immediately, she faced protests from politicians across the nation, most of whom have never been to the camps at the border and whose main point of contestation was the argument that the prisons at the U.S. border cannot be compared to the concentration camps of Nazi Germany.
This administration has established concentration camps on the southern border of the United States for immigrants,… https://t.co/40xPvnY41a

— Alexandria Ocasio-Cortez (@Alexandria Ocasio-Cortez)1560863001.0
Criticism of Ocasio-Cortez's word choice is a convenient and fundamentally flawed distraction from the reality of what is happening. Firstly, both the Jewish people who experienced that genocide and the migrants who are attempting to cross the border are being caged, dehumanized, and denounced as vicious security and economic threats. Arguments that propose the suffering of the Jews is incomparable to the suffering of these migrants are a sort of Olympics of tyranny on the most depraved scale. How can the pain of one group delegitimize the suffering of another?

As a Jewish woman, I feel strongly that any trauma lingering in my bone marrow from the deaths of my family does more to link me to the migrants at the border than it does to separate me from them. We are not solitary in our persecution. Our struggle, as well as the lessons we have learned, means that we should feel a nauseating shock of recognition upon hearing that a group of people is being caged in brutal conditions on the basis of where they were born.
Though the meaning behind words is ultimately more important than the words themselves, semantics and word choice are undeniably powerful. As humans, we cling to symbols and patterns to make sense of our disorderly world. Words have sway over us, which is perhaps why calling the border camps concentration camps has sent such shockwaves across news outlets—more shockwaves than the reports of freezing cages, desert shootings, and persistent abuse in government facilities have created. In truth, words and our ability to freely speak them are often more incendiary than incidents of abuse and human suffering.
This is why calling the camps at the border concentration camps is a powerful act of political protest, one that merits repeating. In order to effectively protest these camps, merely telling stories of the human suffering that occur within them is not enough. The pain and struggle in those camps must be spun into a persuasive narrative; and the phrase "concentration camps" comes with a narrative, with implications, with images of something that we globally swore we would never let happen again.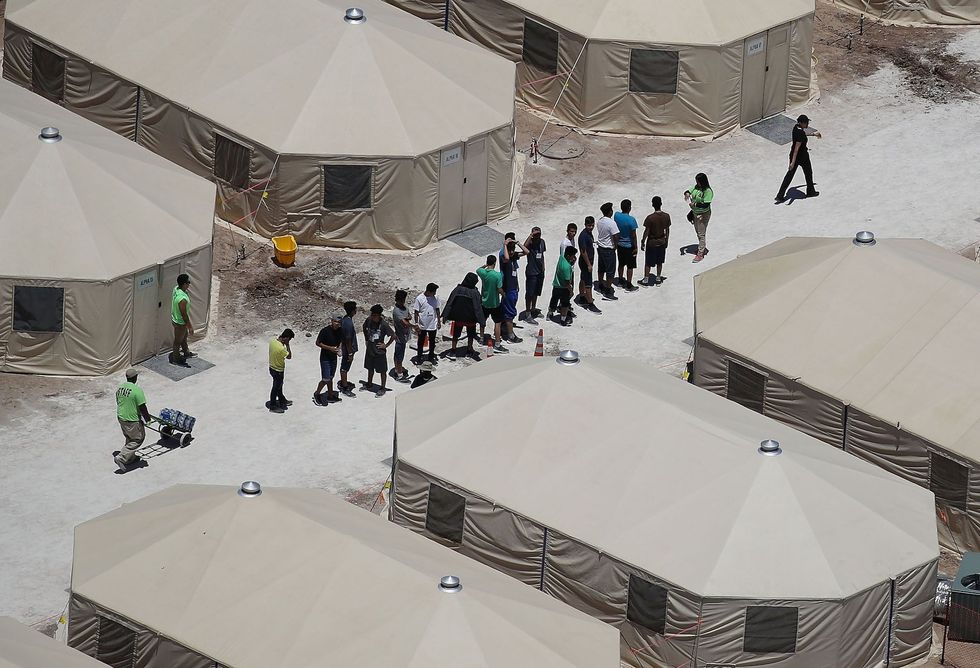 Image via Esquire
Another Holocaust?
The Holocaust, like most genocides, did not arise spontaneously. It began because of money—because of economic insecurity in Germany, a nation that had once been powerful but found itself suffering after wartime loss and a recession. It began with scattered proposals that Jewish people and other minority groups were to blame for these problems. It took off as a way of making Jews leave the country. The violence started with sporadic murders. The camps came later.
Even if the U.S.'s persecution of migrants at the border never reaches the level of the Final Solution, this does not legitimize the mistreatment and brutality that are occurring in those overcrowded, freezing prisons in the desert. Should the Holocaust be the standard that we expect human rights violations to live up to in order to merit serious criticism?
Andrea Pitzer, author of "One Long Night: A Global History of Concentration Camps," writes that the border camps qualify as concentration camps because the prisoners there are detained "without regard to individual circumstances, treating people as one mass, one group," and that the U.S. government, like the German government, is "presenting them as a national security threat to the country and then using as punitive means as the system will allow to detain them."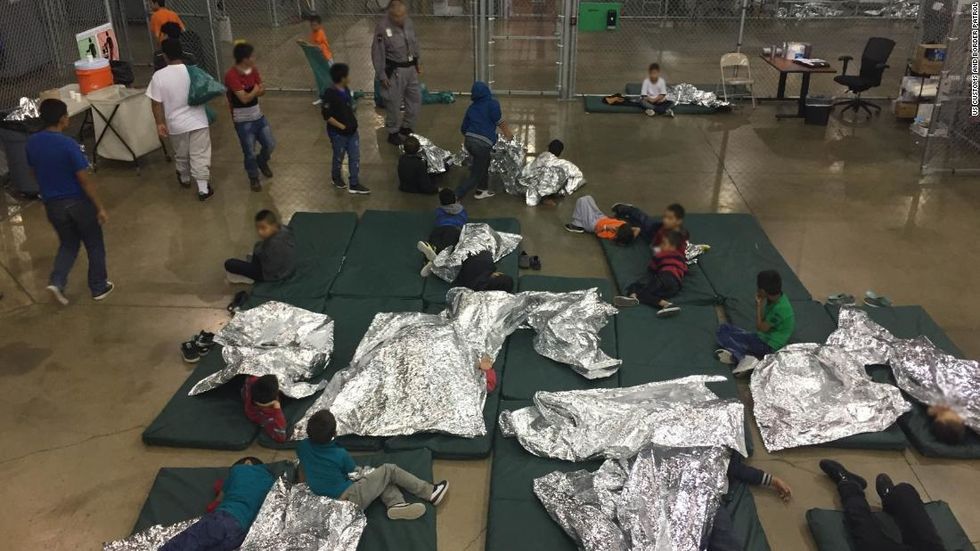 Image via CNN
This is a key requirement for the success of concentration camps: prisoners must be turned into shadowy, menacing masses. Through a variety of rhetorical strategies, the U.S. government has implemented this technique. Many Americans are convinced that migrants are criminals who should keep out of this country. They argue that refugees are not deserving of our justice system or our charity, nevermind that the justice system systemically targets poor and non-white people and that we are the richest nation in the world.
Most of the detainees are not criminals. Conditions in these migrants' homes are unbearable; the fact that they are willing to risk death at the U.S. border to escape shows this clearly. Migrants are usually not asking for charity or trying to steal the salaries of U.S. workers. They are asking for asylum. For mercy. For America to be a fraction of what some people once dreamed it could've been.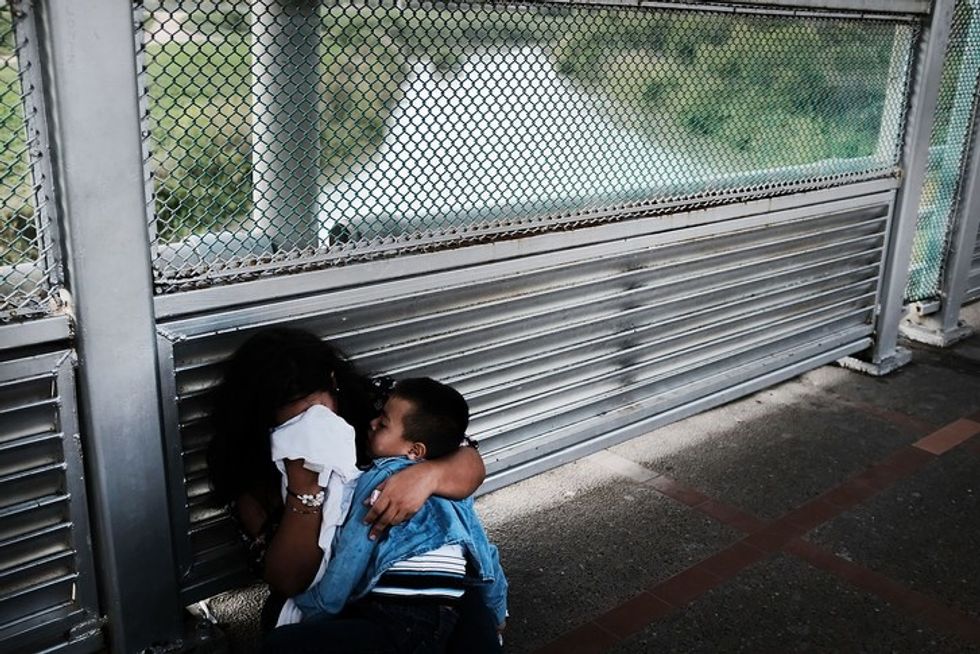 Image via The New Yorker
Call Them By Their Real Names
Rebecca Solnit writes that once we call injustices by their names, "we can start having a real conversation about our priorities and values. Because the revolt against brutality begins with a revolt against the language that hides that brutality." Alexandria Ocasio-Cortez has shown that she is unafraid to put this into practice, to look the murky viciousness of the U.S.'s treatment of migrants at the border straight in the eye. By calling the concentration camps what they are, she is replacing the language that legitimizes these injustices with language that condemns them. Unfortunately, she is largely alone in this.
Here is the name of our American S.S., the group that is fostering the concentration camps at the border: the ICE, or Immigration and Customs Enforcement. (Like the leaders of S.S., they also believe they're simply "doing their jobs").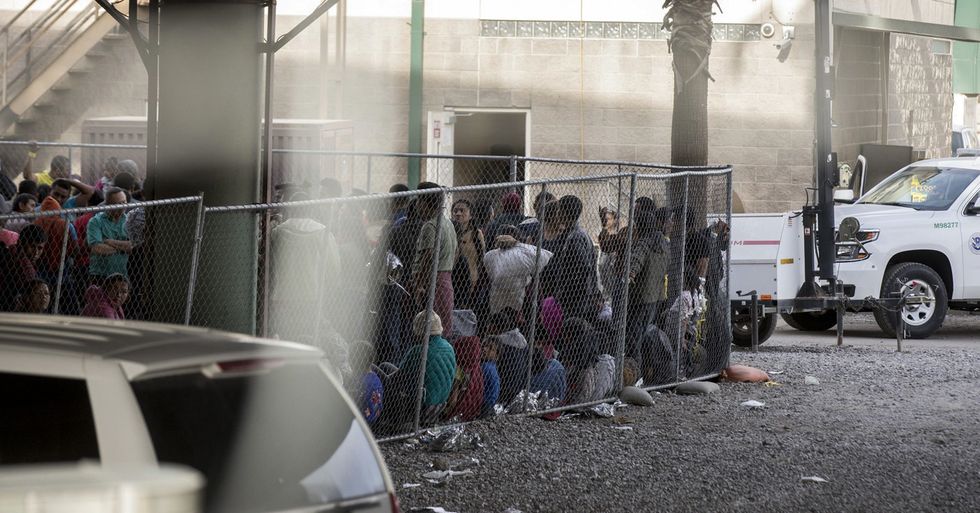 Image via BuzzFeed News
Here is a number: the ICE held 42,000 migrants in its detention camps last year.

Here is a list of DHS reports about the conditions at the border, including titles like "Lack of Planning Hinders Effective Oversight and Management" and "Immigration and Customs Officials Do Not Follow Federal Procurement Guidelines When Contracting For Detention Services."
Here are just a few quotes from official statements about the camps: A 2017 inspection found "problems that undermine the protection of detainees' rights, their humane treatment, and the provision of a safe and healthy environment." A Reuters report about the Paso Del Norte facility stated that "single adults were held in cells designed for one-fifth as many detainees as were housed there and were wearing soiled clothing for days or weeks with limited access to showers." It also stated that inspectors saw "detainees standing on toilets in the cells to make room and gain breathing space, limiting access to toilets." Additionally, there are reports of extreme temperatures, of physical and sexual abuse, of solitary confinement.
Right now, even the Customs and Border Patrol Commissioner John Sanders is demanding that the Senate pass a $4.6 billion dollar bill in emergency funding. If the bill is not passed, he testified, kids will keep dying.
Here are the names of some of the legally innocent people who have died at the border. Jakelin Caal Maquin, 7. Felipe Alonzo-Gomez, 8. Gurupreet Kaur, age 6, dead of dehydration in the Arizona desert. Roxana Hernandez, dead of untreated septic shock and HIV. Osmar Epifanio Gonzalez-Gadma, Jeancarlo Jiminez-Joseph, and Efrain Romero De La Rosa, all dead by suicide while in ICE facilities. Sergio Alonso Lopez, dead of internal bleeding after prison staff did not administer doses of methadone he needed to survive.
These names don't do justice to who they were and how they lived. No migrant story does, because migrants are whole people who want nothing but to live in America. They come for many reasons; they come knowing that they will be hated and discriminated against all their lives here—because, as poet Warsan Shire writes, "the insults are easier to swallow / than rubble / than bone / than your child body / in pieces."
Here are the names of some of the 200 ICE facilities:
The Adelanto Detention Center in California.
La Salle Processing Center in Louisiana.
The Aurora Detention Facility in Colorado.
Essex County Correctional Facility in New Jersey.
Fort Sill, an Oklahoma military base used to house Japanese immigrants during World War II.
The nameless makeshift camp underneath Paso Del Norte International Bridge, which connects Ciudad Juarez with El Paso, where hundreds of migrants were held outside behind a chain-link fence covered in razor wire.
The Tornillo Camp in Texas, meant to hold 400, now holding 2,400.
Here is the name of what these detention centers are: concentration camps. Remember these names. Imagine what you'll say when someone asks in the future: Did you know?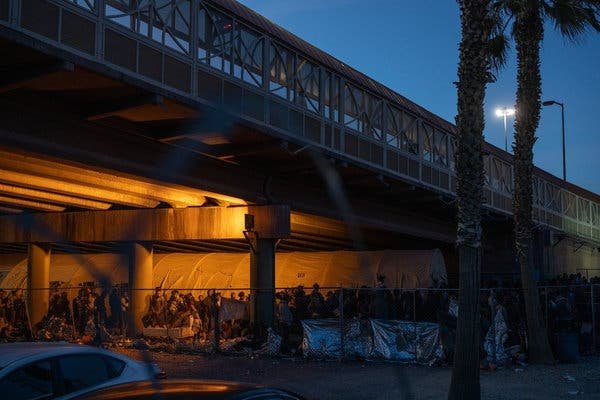 Image via The New York Times