"A tree is best measured when it is down," the poet Carl Sandburg once observed, "and so it is with people." The recent death of Harry Belafonte at the age of 96 has prompted many assessments of what this pioneering singer-actor-activist accomplished in a long and fruitful life.
Belafonte's career as a ground-breaking entertainer brought him substantial wealth and fame; according to Playbill magazine, "By 1959, he was the highest paid Black entertainer in the industry, appearing in raucously successful engagements in Las Vegas, New York, and Los Angeles." He scored on Broadway, winning a 1954 Tony for Best Featured Actor in a Musical – John Murray Anderson's Almanac. Belafonte was the first Black person to win the prestigious award. A 1960 television special, "Tonight with Belafonte," brought him an Emmy for Outstanding Performance in a Variety or Musical Program or Series, making him the first Black person to win that award. He found equal success in the recording studio, bringing Calypso music to the masses via such hits as "Day-O (The Banana Boat Song)" and "Jamaica Farewell."
Harry Belafonte - Day-O (The Banana Boat Song) (Live)www.youtube.com
Belafonte's blockbuster stardom is all the more remarkable for happening in a world plagued by virulent systemic racism. Though he never stopped performing, by the early 1960s he'd shifted his energies to the nascent Civil Right movement. He was a friend and adviser to the Reverend Doctor Martin Luther King, Jr. and, as the New York Times stated, Belafonte "put up much of the seed money to help start the Student Nonviolent Coordinating Committee and was one of the principal fund-raisers for that organization and Dr. King's Southern Christian Leadership Conference."
The Southern Poverty Law Center notes that "he helped launch one of Mississippi's first voter registration drives and provided funding for the Freedom Riders. His activism extended beyond the U.S. as he fought against apartheid alongside Nelson Mandela and Miriam Makeba, campaigned for Mandela's release from prison, and advocated for famine relief in Africa." And in 1987, he received an appointment to UNICEF as a goodwill ambassador.
Over a career spanning more than seventy years, Belafonte brought joy to millions of people. He also did something that is, perhaps, even greater: he fostered the hope that a better world for all could be created. And, by his example, demonstrated how we might go about bringing that world into existence.
While their founder is far from perfect, their model of policing could go a long way to easing tensions
When you imagine a 66-year-old white man taking justice into his own hand to face down looters in the ongoing protests of police brutality, it sounds horrible.
And in many ways Curtis Sliwa, the founder of the Guardian Angels, would probably meet your expectations. He is a brash Republican talk show host who is hoping to unseat Bill De Blasio as mayor in 2021. He's fond of dramatic publicity stunts, he's currently advocating for more aggressive police action to break up the protests...of aggressive police action, and he referred to the East Village Foot Locker he and his fellow Guardian Angels defended from violent looters on Tuesday night as "the jewel in the crown" because he assumes that rioters "were looking for the sneakers, limited edition." In other words, Sliwa is kind of gross, but his organization is surprisingly not.
An unarmed volunteer organization that Sliwa founded in the late '70s to patrol streets and subways in order to deter crime and fight off muggers, the Guardian Angels' ranks were mainly made up of young black and latino men who wanted to fight back against the crime that ravaged their New York City communities. While that vigilante impulse has often led to violence and further injustice, the fact that the Guardian Angels were armed with nothing but their signature red berets and "karate," operating mainly through collective intimidation to deter crime in their own communities, speaks volumes in their favor.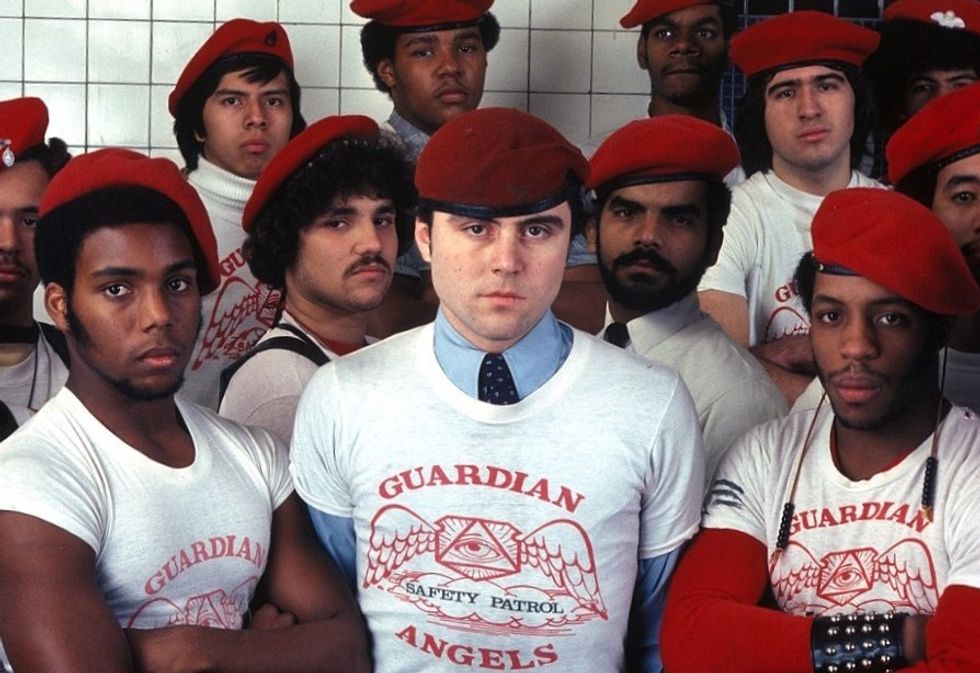 © Stephen Shames/Polaris
It's no wonder the organization grew so quickly, with chapters opening all over the world. Admittedly their prominence has declined somewhat in recent decades, but considering the adoption of hyper-violent vigilante symbols by many police officers, perhaps it's time for the Guardian Angel's model of vigilantism to have a resurgence—or perhaps even to be adopted for official police tactics.

Imagine a world where seeing a police uniform didn't automatically indicate someone with a gun. What if guns were reserved for certain officers and certain situations, and patrol cops relied on numbers, intimidation, and non-lethal force—including but not limited to martial arts (and maybe those sheets that Japanese police roll people up in)—to prevent, deter, and defuse violent crime. And imagine if those cops had close ties to communities they patrolled—actually lived in those neighborhoods—and had that added incentive to resolve situations peacefully.
While some cities have residency requirements for their police, these measures are often not enforced. And even in cities like New York, where police use of guns has declined, the constant threat of possible gun violence heightens tension between police and the communities they're intended to serve—especially when there is no sense that the officers have any investment in the neighborhoods they patrol.
Obviously the danger involved in fighting crime and arresting criminals shouldn't be downplayed—Sliwa and at least one other Guardian Angel were hospitalized with serious injuries following Tuesday night's confrontation with looters—and sometimes firearms are necessary in that work. But considering how many nations' police don't regularly carry guns—and the fact that pizza delivery is technically a more dangerous job—maybe the average beat cop can get by with a kevlar vest, a bodycam, and some martial arts training. Maybe these cops could be part-time or semi-professional—like an officially sanctioned neighborhood watch or citizen patrol with some training, arrest powers, and extra pocket money. If we dramatically scaled down the size of our traditional police forces, then we could afford programs with a less hostile approach to localized patrolling.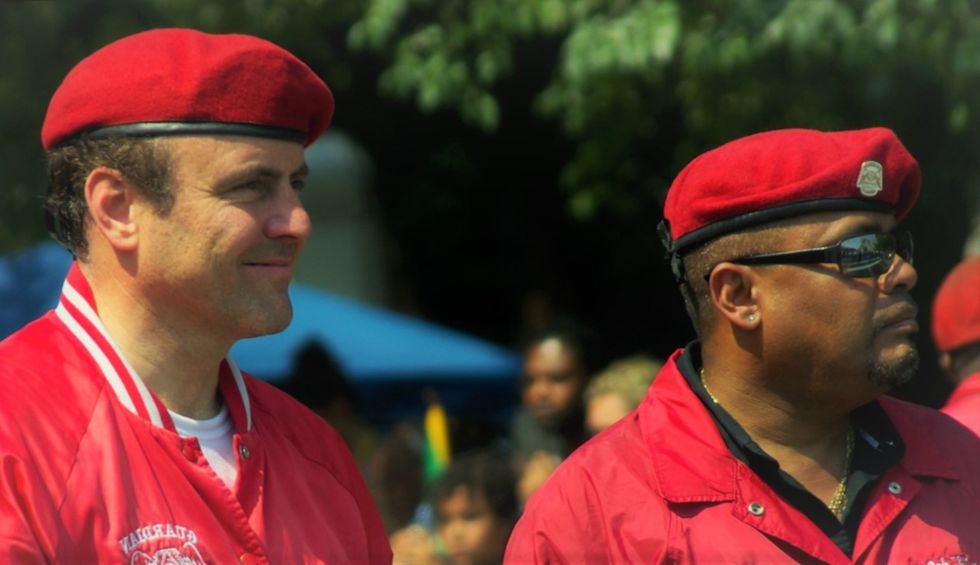 Curtis Sliwa and a fellow Guardian Angel survey the West Indian Day parade in Brooklyn, 2007
Needless to say this is in no way an endorsement of Curtis Silwa, who faked his own 1980 kidnapping and once had his members spraypaint "KKK" and "White Power" outside their headquarters for publicity. He was and remains a jackass, but even a jackass is entitled to a good idea now and then. And considering the current backlash against excessive force and the militarization of the police, maybe the Guardian Angels' model can point the way for some of the necessary reforms.

Would it solve everything? No. After all, Derek Chauvin didn't even need his gun when he killed George Floyd—only his knee. But we have to do something, and maybe treating our police more like red berets rather than green berets could begin to ease tensions in over-policed neighborhoods—and could start to heal the painful history of oppression and institutional violence in America's minority communities.
Over the course of two hours, ten candidates employed Trump's name for applause and support a total of 35 times.
The first round of Democratic debates are underway. Ten out of the twenty candidates who qualified for the debates were chosen at random to participate in the first half of NBC's debate last night. The goal for the Democratic Party is obviously to take the Oval Office and hopefully the Senate, but for most of the candidates, last night seemed more like a bid for positions in Elizabeth Warren's cabinet. Straight from the get-go, Warren stood strong like she had nothing to prove and answered every question directed at her with poise and eloquence. Consequently, she may have won the evening. Although, a couple of lesser-known candidates also made their marks, most notably Julian Castro and Jay Inslee.

We Get it, You Speak Spanish
Beto O'Rourke, former representative for Texas, spoke in Spanish during his first response of the evening. Evidently, neither Cory Booker or Elizabeth Warren could maintain their poker faces during the surprising moment. Booker and Warren appeared humored and stunned by the skinny white guy's pandering.
Oh, y'all thought I was just making a meme?!?!?! Here it is in its glorious video form: https://t.co/rdjSi7kbbY

— Jason Howerton (@Jason Howerton) 1561606757.0
To compete, Booker whipped out his Spanish, as well. Notably, the only Latinx candidate on stage, Julian Castro, did not speak in his family's native tongue until his closing comment, where he used his bilingual skills to celebrate the opportunity to represent his people.
Jimmy Kimmel?
Ok, when John Delaney, the Maryland Congressman, began speaking before the camera panned to him, did it sound to anyone else like Jimmy Kimmel was on stage? Unfortunately, Delaney is not as charismatic as the Jimmy Kimmel Live! host. He rubbed many the wrong way with his countless attempts to get a word in.
While it's crucial for the lesser-known candidates to elbow their way into the debate, Delaney came off as pathetic. At the end of the discussion about the separation of families at the border, Delaney tried to butt in a personal anecdote, disclosing, "My grandfather was actually separated from his family when he came to this country." Lester Holt rightfully moved on from the comment and switched to another pressing issue.
2020 Democratic Candidates Debate - Separated Grandfatherwww.youtube.com
Finally, when asked whether or not any of the candidates would choose to prosecute Trump after the Mueller Report, Delaney was indifferent. Out of all the references to Trump last night, this was the most important, because Trump could become the first president to be indicted after his term. Delaney claimed that everyday citizens don't care about Donald Trump breaking the law because it doesn't affect them. Although Delaney supports justice being served to criminals, he hypocritically proposed that Trump's indictment isn't a big enough concern to take up his time if he were president.
Yes, Women Care Too
While Washington Governor Jay Inslee had an overall good showing, his one big fumble occurred when he claimed to be the only one on stage to pass a reproductive rights act. Minnesota's Senator Klobuchar spoke for everyone when she interrupted Inslee, saying, "I just want to say there are three women up here that have fought pretty hard for a woman's right to choose, I'll start with that." The crowd gave Klobuchar resounding and deserved applause.
Recognition for the Trans Community

Early in the debate, San Antonio's finest, Julian Castro, highlighted an overlooked population that's affected by abortion restrictions: trans people. It was a standout moment for the former mayor.
Later on, Cory Booker piggybacked off Castro's sentiment. When Hawaii Representative, Tulsi Gabbard, was asked about her former dismissal of the LGBTQ community, she highlighted the work she's done for gay men and women since. Booker retorted that it's not enough:
"Look, civil rights is someplace to begin, but in the African-American civil right community, another place to focus was to stop the lynching of African-Americans. We do not talk enough about trans-Americans, especially African-American trans-Americans and the incredibly high rates of murder now."
Just like climate change is a national emergency and should be treated as such, so should the murder rates of trans people, especially POC trans people. Booker, as the only African-American candidate on stage, brought attention to historically under-represented issues.
Tulsi Gabbard Dunks on Tim Ryan

Army veteran Tusli Gabbard was the most googled candidate last night for good reason.
While she was one of the candidate who spoke the least, overall, she corrected and challenged Ohio Representative Tim Ryan when he asserted the troops should stay in Afghanistan longer to keep an eye on the Taliban.
Tusli Gabbard rips Tim Ryan over foreign policywww.youtube.com
Gabbard draws from her military experience to inform her non-interventionist position, and she memorably reminded Ryan that families want their children to finally come home, saying, "The Taliban was there long before we came in and will be there long before we leave. We cannot keep U.S. troops deployed to Afghanistan thinking that we are going to somehow squash this Taliban."
Ryan gustily clapped back, saying, "I didn't say squash them. When we weren't in there, they started flying planes into our buildings."
Gabbard corrected Ryan's outlandish error, notifying the Congressman, "The Taliban didn't attack us on 9/11. Al Qaeda did." While that should be common knowledge, Gabbard came out on top and successfully relayed her position on foreign policy, diplomacy, and war.
Castro Annihilates Beto
Besides Ryan and Delaney, Beto took the biggest L of the evening.
Throughout the night, O'Rourke failed to answer questions in an informed or committed fashion. For example, when discussion about immigration policies arose, Castro called out Beto for not supporting decriminalization of border crossing:
"Let's be very clear: The reason that they're separating these little children from their families is that they're using Section 1325 of that act, which criminalizes coming across the border, to incarcerate the parents and then separate them. Some of us on this stage have called to end that section, to terminate it. Some, like Congressman O'Rourke, have not."
Beto attempted to defend himself by explaining that he supports a complete rewrite of the bill, instead of just repealing Section 1325. He then tried to pivot by readdressing his support of asylum seekers. But asylum seekers are only a small portion of the immigrants affected (and now imprisoned) for attempting to cross the border.
Castro did not take the bait, putting an end to the exchange by suggesting, "You should do your homework on this issue."
Forget Trump

Among the ten candidates last night, eight referenced Trump in a total of thirty-five times. Over the course of two hours, candidates employed Trump's name for applause and support of their anti-Trump Democratic position.
The two candidates who refrained from name-dropping were Bill de Blasio and Elizabeth Warren. The two remained measured and composed throughout the evening, respectfully sticking to their ideas, raising concerns, and focusing on change.
While Elizabeth Warren did not have any quippy moments, she stood out as the strongest candidate, never wavering from her beliefs, policy ideas, or promises. Her comprehensive vision for America involves restructuring broken systems that don't work for the majority of citizens.
Although Warren shined, it's possible that the absence of other frontrunners, Joe Biden and Bernie Sanders, contributed to this. Only time will tell how the three will stack up agaisnt one another, but tonight we'll see how Biden and Sanders fare among hopefuls like Kamala Harris and Pete Buttigieg.
Come Jan. 1, 2019, the non-binary marker will become a NYC milestone

d3jkudlc7u70kh.cloudfront.net
Along with California, Washington, New Jersey, and Oregon, NYC is moving away from pre-determined gender identification at birth by adding an "X" option to birth certificates along with "male" and "female." This is a huge step towards greater equality and dignity, not only for transgender and nonconforming New Yorkers, but for the next generation, who will now have the ability to start their lives without a label to live up to. As The Source explains, "The option could be used by parents of intersex children or by parents who want their child to be able to choose a gender at a later date," as well.

As per NBC News, "The New York City Council and Board of Health voted on Wednesday (9-12-18) to include a third gender category, 'X,' on birth certificates starting Jan. 1, 2019. Furthermore, the legislation will discontinue the need for a doctor's note or health care provider's affidavit to change one's gender marker." The bill was adopted by a 41-6 vote. This means people can also update their existing birth certificate to reflect their identity retroactively.
The proposal for this change was presented in June 2018 by Mayor Bill de Blasio and City Council Speaker Corey Johnson. Johnson stated, "This groundbreaking legislation will make New York birth certificates more inclusive for all and will send a powerful signal to the world that New York City government works for everyone."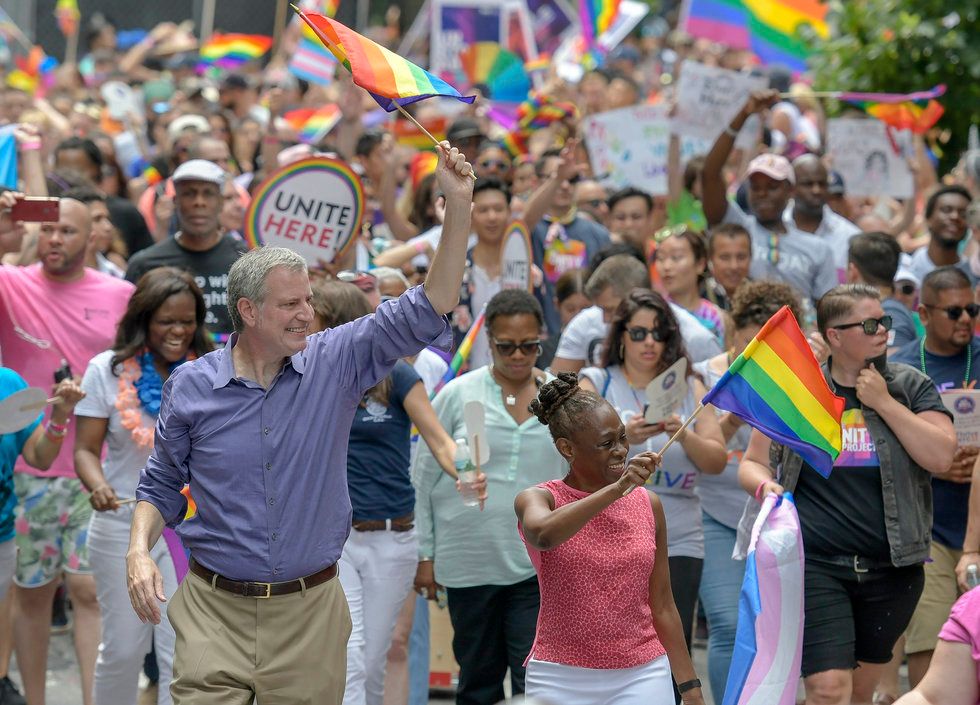 media3.s-nbcnews.com
Health Commissioner Dr. Mary T. Bassett added, "By allowing self-attestation and 'X,' the Health Department and City Council are reaffirming our commitment to the self-determination of the transgender and gender nonconforming community. We know that being able to live your authentic gender and gender expression is critical to physical and mental health. Now more than ever, we must ensure that all people can live their best and healthiest lives."
Along with California, Washington, New Jersey, and Oregon who are already on board with the "X" option for birth certificates, additional states are making strides in this direction too. As NBC News reports, "Maine, Oregon, and Washington, D.C., currently enable residents to opt for a nonbinary gender marker on their driver's license, and California will join them starting in January." Other states have gender-change laws in place, most only for male-to-female (and vice versa) updates. For a state-by-state listing, see the Intersex & Genderqueer Recognition Project's report.
"Today is a historic day for New York in its role as a worldwide champion for inclusivity and equality," City Council Speaker Corey Johnson told NBC News. Will the remainder of the country follow in the Big Apple's footsteps? From the looks of things thus far, change is contagious.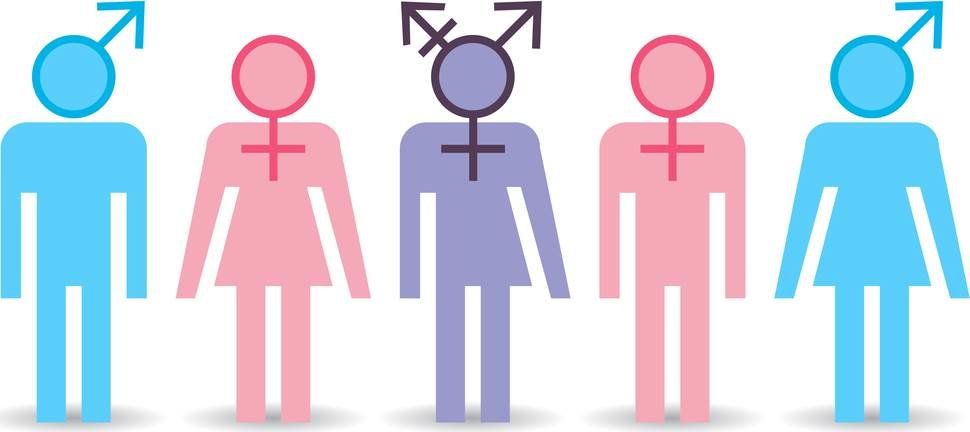 www.thescopeatryerson.ca