Dall-E Mini, the AI-powered text-to-image generator has taken over the internet. With its ability to render nearly anything your meme-loving heart desires, anyone can make their dreams come true.
DALL-E 2, a portmanteau of Salvador Dali, the surrealist and Wall-E, the Pixar robot, was created by OpenAI and is not widely available; it creates far cleaner imagery and was recently used to launch Cosmpolitan's first AI-generated cover. The art world has been one of the first industries to truly embrace AI.
The open-sourced miniature version is what's responsible for the memes. Programmer Boris Dayma wants to make AI more accessible; he built the Dall-E Mini program as part of a competition held by Google and an AI community called Hugging Face.
And with great technology, comes great memes. Typing a short phrase into Dall-E Mini will manifest 9 different amalgamations, theoretically shaping into reality the strange images you've conjured. Its popularity leads to too much traffic, often resulting in an error that can be fixed by refreshing the page or trying again later.
If you want to be a part of the creation of AI-powered engines, it all starts with code. CodeAcademy explains that Dall-E Mini is a seq2seq model, "typically used in natural language processing (NLP) for things like translation and conversational modeling." CodeAcademy's Text Generation course will teach you how to utilize seq2seq, but they also offer opportunities to learn 14+ coding languages at your own pace.
You can choose the Machine Learning Specialist career path if you want to become a Data Scientist who develops these types of programs, but you can also choose courses by language, subject (what is cybersecurity?) or even skill - build a website with HTML, CSS, and more.
CodeAcademy offers many classes for free as well as a free trial; it's an invaluable resource for giving people of all experience levels the fundamentals they need to build the world they want to see.
As for Dall-E Mini, while some have opted to create beauty, most have opted for memes. Here are some of the internet's favorites:
There's no looking back now, not once you've seen Pugachu; artificial intelligence is here to stay.
A single, minor attack on a police officer can not be held up as evidence of societal collapse.
I have a lot of thoughts about the police — and the NYPD in particular — many of which seem contradictory at first blush.
I think NYPD's rookie officers should be getting significantly better pay. I also think the department should be broadly defunded in favor of better forms of community intervention.
There's a police precinct near my home where groups of officers are often loitering out front, and I always feel anxious and uncomfortable as I pass by. Even as a white guy minding my own business, the presence of people authorized to commit violence for the state is intimidating. But, at the same time, I've had occasion to be grateful that they're so nearby and have had pleasant interactions with officers who seemed like they were doing their best to be helpful.
I'm glad that the NYPD doesn't use their guns as often as many other American police forces — with consistently far fewer "officer-involved shootings" than in Los Angeles, a city half New York's size (though that's faint praise considering the history of the LAPD).
But I also know that's far from an antidote to police violence, and the biggest difference between the killing of George Floyd and that of Eric Garner is that — unlike Derek Chauvin — fired NYPD officer Daniel Pantaleo was never put on trial.
Eric Garner's Daughter Exits Court Yelling 'Fire Pantaleo!' After DOJ Decides No Charges for Cop www.youtube.com
I also tend to think that a popular narrative that "All Cops Are Bastards" is generally unhelpful. But I'm certain that it's not nearly as harmful as the institutional pressure never to hold the "bad apples" accountable — a practice that is more or less guaranteed to "spoil the bunch."
Like around 20 million or so of my fellow citizens, I marched with Black Lives Matter as part of the largest protest movement in American history, following the murder of George Floyd. But the fact that I — unlike my Black and brown neighbors — have never been the target of stop-and-frisk or other forms of racial profiling at the hands of the NYPD, has kept these issues at a distance.
Apart from a vague anxiety walking past them, I've never had a reason to wish ill on any individual cops I've encountered. So when I saw a recent video of a police officer being attacked in my neighborhood, I was — as usual — conflicted.
The video, posted to Twitter by The Detectives' Endowment Association of the City of New York — a police union, shows a detective taking notes on a recent burglary when a man walks up behind him with what appears to be a one of those fiberglass poles used to mark the edges of a driveway, and he strikes him over the head with it before jogging off.
It first came to my attention when much of Twitter started mocking it, and the temptation to join in was strong. But the fact that I know that block in Flushing — that my wife and I have been meaning to try the restaurant in the background, that the cop is likely based in the precinct down the street — gave me pause, and I found myself digging deeper.
The main criticism was that the incident looked staged, and it's hard to argue that it doesn't. For a start, there's the question of why anyone was filming such a dull scene before anything happened. And the assailant — identified by the NYPD as 25-year-old Akeele Morgan — was so seemingly casual in the way he walked up to the detective and swung the pole.
There was hardly any force in the attack, after which Morgan backed away several steps before taking off at a light run, with other police in pursuit. Meanwhile, the detective Morgan struck had buckled over, clutching his head.
On first viewing, it doesn't even look like the pole hits the detective's head — it looks more like it comes in contact with his shoulder. But that turns out to be a trick of the camera angle, as closer inspection reveals the detective's glasses being knocked loose as the pole makes contact.
Still, there's something so surreal about the whole scene. It doesn't look like a genuine attack. It certainly doesn't look anything like the supposed phenomenon the union seemed to think it exemplified: "emboldened criminals, who have quickly realized there are no consequences for law breakers in our city."

Add to that the fact that the Detectives' Endowment Association has a proven record of hyperbole, and it all gets even harder to believe. Last year the union was called out for spreading misinformation about an alleged malicious poisoning involving some Shake Shack Milkshakes that tasted funny — it turned out to be a harmless amount of cleaning fluid that an employee had failed to wipe off the milkshake machine.
This fits the mold of the Kansas police officer who wrote "****ing pig" on his own coffee cup, the myth that pallets of bricks were being provided to protesters, and the "McMuffin Cop" who interpreted a delayed order as evidence of a plot against her.
The current climate of criticism and scrutiny being applied to the police has been met with disproportionate paranoia and efforts to frame innoccuous events as anti-cop violence.
Unfortunately, skepticism of these events can go too far, as well. Earlier this month, footage of a traffic stop was shared by the NYPD's official Twitter account. The driver threw a cup of liquid on the officer before fleeing, and the post referred to the liquid as "a chemical," adding that the driver later threw a Molotov cocktail at officers.
Users were quick to express their skepticism, insisting that the "chemical" was just a cup of water. But according to reports, the driver has since admitted to throwing bleach in the officer's face and of driving around with Molotov cocktails — one of which he attempted to use — with the intention of targeting police.
So, while we have good reason to question accounts of events offered by the police — and by the NYPD in particular, with its history of "testilying" — that can clearly go too far. Their tendency to exaggerate the dangers of the job doesn't mean that it's not genuinely dangerous.
There really are people who will violently attack a cop just for being a cop, and rhetoric claiming that they're "all bastards" may serve to inflame this violence. But what the Detectives' Endowment Association tweeted was far worse.
Seeing an isolated incidence of fairly mild violence — the detective was reportedly taken to a nearby hospital for "minor injuries," presumably meaning a small welt — and instantly framing it as an indication of societal collapse is a diseased sort of thinking.
It's also a train of thought that's familiar enough among political pundits who build their careers on "us vs. them" narratives. But when that same approach infects a public institution — the group nominally tasked to "protect and serve" the people who are increasingly on the other side of that dichotomy — that institution makes the strongest case for its abolition.
Because as horrifying as it is every time an unarmed civilian is killed by police seemingly on a whim, these incidents are still relatively rare. Most cops are obviously not murderers.
What's more pervasive is the sense of impunity — the fact that it's so hard to get justice when a police officer commits a crime — and the way every effort toward accountability is met with anger and resistance.
All police should unambiguously celebrate when punishment is doled out to the likes of Derek Chauvin. To use their logic, he was one of those "bad apples" that painted them all in a negative light.
So shouldn't they celebrate the fact that he's facing consequences? While some did, of course, far too many of his fellow cops took issue with his conviction.
In the aftermath of Chauvin's conviction on April 20th, Ed Mullins of the Sergeants Benevolent Association — another NYPD union — released a statement claiming that "it is hard to imagine a tougher time to be a member of the law enforcement profession," adding that "our elected officials are complicit in perpetuating the myth that we are the enemy."
This is the response when a cop is treated fairly in the justice system, instead of being allowed to walk the streets like Daniel Pantaleo. But somehow it's criminals like Akeele Morgan — who was arrested shortly after the video was taken and is being charged with assault, resisting arrest, criminal possession of a weapon, and disorderly conduct — whom police unions say we should think of as one of the city's "emboldened criminals."
Crowd reacts as Derek Chauvin found guilty over death of George Floyd – BBC News www.youtube.com
Many police unions would like us to think it's these civilians, lashing out ineffectually at representatives of power, that we should really be worried about. These are the people who supposedly face "no consequences."
But imagine making that kind of argument to Eric Garner's family. Imagine how they feel knowing that his killer is free because he wore a badge.
It seems unlikely that this latest video — as suspicious as it looks on its face — was staged for the sake of police union propaganda. Nonetheless, the union's message in that tweet was clear: "If citizens don't live in fear that we can kill them with impunity, we can't do our job."
If that's true of the cops in my neighborhood, whom I've otherwise felt okay about, then I will have no choice but to accept another premise I've been hesitant to embrace: That all cops are bastards, and that we must abolish the institution.
Maybe Flushing would be better off relying on concerned citizens, like the patrol groups that have formed to combat anti-Asian hate in recent months. Maybe the next time I'm tempted to call the police, I should turn to my neighbors instead.
I still think there's a better way — that there's a version of policing that can work and that's important to work toward. But the louder voices like the Detectives' Endowment Association get, the less hope I have that we can get there.
Keep reading...
Show less
The quarterback said "I will never agree with anybody disrespecting the flag of the United States of America or our country." And then he tried to apologize. And only made it worse.
Drew Brees, a man who makes literally millions of dollars for throwing a ball, has come under fire for insensitive comments he made about NFL players kneeling during the National Anthem to protest police brutality.
"I will never agree with anybody disrespecting the flag of the United States of America or our country," Brees said in the interview with Yahoo Finance. He clarified that this was in part because he envisioned his grandfathers, who fought in World War II, during the National Anthem. He continued, saying, "And is everything right with our country right now? No. It's not. We still have a long way to go. But I think what you do by standing there and showing respect to the flag with your hand over your heart, is it shows unity. It shows that we are all in this together. We can all do better. And that we are all part of the solution."
This isn't the first time Brees made it clear that he cares more for the idea of a make-believe unified America than he does for actual human lives. In 2016, he criticized Colin Kaepernick for kneeling during the anthem, saying it was "disrespectful to the American flag" and "an oxymoron" because the flag gave critics the right to speak out in the first place.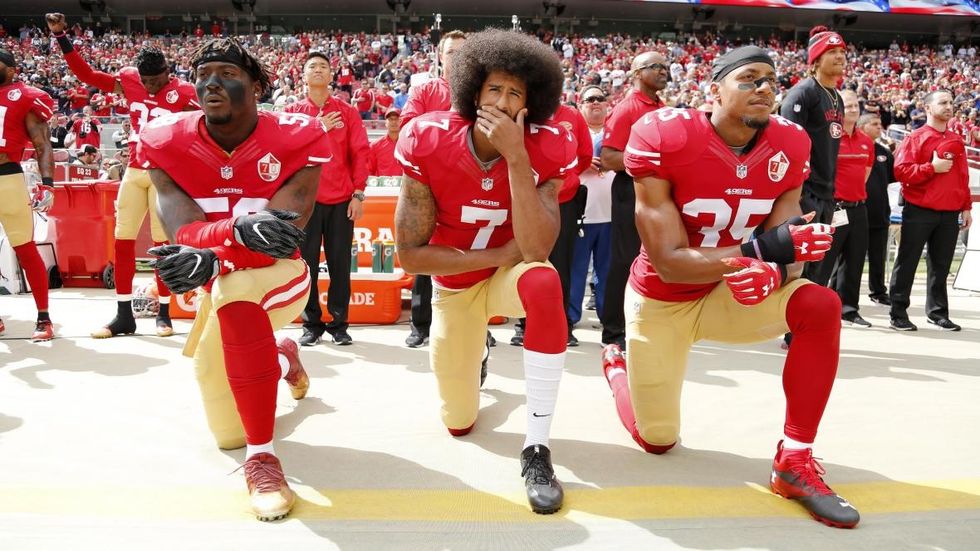 Colin Kaepernick kneeling in protest of racist police brutality
Of course, the flag's alleged ideals have been proven to only be applicable to wealthy, white men—men like Brees. Sure, his grandfathers did a noble thing when they fought under the US flag during WWII, and no one, including Kaepernick, has ever said that sacrifice isn't worth respecting. Thanks to the sacrifices of many people (including the enslaved Black backs upon which this country was built, including the scores of routinely abused Black soldiers who fought for American lives), America has offered opportunity and peace for many, many people. In particular, Ole' Glory has been very kind to men like Brees: rich, white men who still control the majority of the power and the wealth in the United States.
But what about the rest of us, Drew? What about George Floyd whose neck was crushed by a police officer who kneeled on him so casually that he didn't even take his hand out of his pocket? What about Ahmaud Arbery, who was shot for the crime of being Black and going for a jog? What about Breonna Taylor, a black woman who was murdered by police in her home in the middle of the night for a crime that had nothing to do with her? What about Tony McDade, Drew–have you heard his name? Have you heard about the 38-year-old Black trans man who was gunned down in Florida last week? Do you understand why these people's family's may harbor just a bit of disrespect for your precious flag?
Is it possible for you to realize, Drew, that your wish for "unity" is not a wish for progress, but a wish to maintain the status quo? When you call for unity under the American flag, you're talking about your flag, the flag that represents a long, sordid history of racial oppression and violence. There is no unity where there is no justice. When you say that "we are all in this together," what you're saying is that we all have roles to play in the version of society that has served you so well. For your part, you'll be a rich, white man, and for Black people's part, they'll continue to be victims of state-sanctioned murders– but hopefully more quietly, hopefully in a manner that doesn't make you uncomfortable?
When you say, "We can all do better. And that we are all part of the solution," what you mean to say is that POC and their allies are at fault. Sure, you probably agree that Derek Chauvin took it a bit too far, and you probably feel a little self-conscious that he's brought all this "Black rights" stuff up again. But when you say "all," you place blame on the victims who are dying under a broken system. And what, exactly, do you expect POC to do differently, Drew? Ahmaud Arbery was just out jogging, and still he died. George Floyd was just trying to pay a cashier, and still he died. POC and their allies try to peacefully protest by marching in the streets or taking a knee at a football game, and still white people condemn and criticize. Still the police shoot.
After much criticism, Brees did attempt an apology on Instagram, where he posted a hilariously corny stock photo of a Black and white hand clasped together. His caption, though possibly well-intentioned, made it even clearer that his understanding of the movement for Black lives is thoroughly lacking.
Highlights of the "apology" include his immediate attempt to exonerate himself from culpability, claiming that his words were misconstrued, saying of his previous statement: "Those words have become divisive and hurtful and have misled people into believing that somehow I am an enemy. This could not be further from the truth, and is not an accurate reflection of my heart or my character." Unfortunately, Drew, white people like you are the "enemy," as you put it, because by default you are at the very least part of the problem. No one is accusing you of being an overt racist, Drew; no one thinks you actively and consciously detest Black people. But your lack of empathy, your apathy, and your unwillingness to unlearn your own biases are precisely what has persisted in the hearts and minds of well-meaning white Americans for centuries.
Next, you say, "I recognize that I am part of the solution and can be a leader for the Black community in this movement." No, Drew. Just no. Black people don't need white people's savior complexes to interfere in their organizing; what they need is for us to shut up and listen. What they need is for us to get our knees off of their necks.
Finally, you say, "I have ALWAYS been an ally, never an enemy." This, Drew, is suspiciously similar to saying, "But I'm one of the good whites!" The fact of the matter is that feeling the need to prove your allyship is not about helping a movement; it's about feeding your own ego. Not only that, but your emphasis on "ALWAYS" does a pretty good job of making it clear that you don't think you have a racist bone in your body and that you have taken great offense at any accusations to the contrary. I have some news for you, Drew: Every white person is racist. Sure, the levels vary, and while you may not be actively and consciously discriminating against POC, you have been brought up in a racist system, and your implicit biases are as strong as any other white person's. Your job now is to unlearn those biases and confront those subtle prejudices in yourself and in other white people. Maybe the first step in doing so is just shutting your f*cking mouth about kneeling at football games. Maybe you should even consider taking a knee yourself.
For other non-BIPOC trying to be better allies, check out one of these 68+ anti-racism resources.
While their founder is far from perfect, their model of policing could go a long way to easing tensions
When you imagine a 66-year-old white man taking justice into his own hand to face down looters in the ongoing protests of police brutality, it sounds horrible.
And in many ways Curtis Sliwa, the founder of the Guardian Angels, would probably meet your expectations. He is a brash Republican talk show host who is hoping to unseat Bill De Blasio as mayor in 2021. He's fond of dramatic publicity stunts, he's currently advocating for more aggressive police action to break up the protests...of aggressive police action, and he referred to the East Village Foot Locker he and his fellow Guardian Angels defended from violent looters on Tuesday night as "the jewel in the crown" because he assumes that rioters "were looking for the sneakers, limited edition." In other words, Sliwa is kind of gross, but his organization is surprisingly not.
An unarmed volunteer organization that Sliwa founded in the late '70s to patrol streets and subways in order to deter crime and fight off muggers, the Guardian Angels' ranks were mainly made up of young black and latino men who wanted to fight back against the crime that ravaged their New York City communities. While that vigilante impulse has often led to violence and further injustice, the fact that the Guardian Angels were armed with nothing but their signature red berets and "karate," operating mainly through collective intimidation to deter crime in their own communities, speaks volumes in their favor.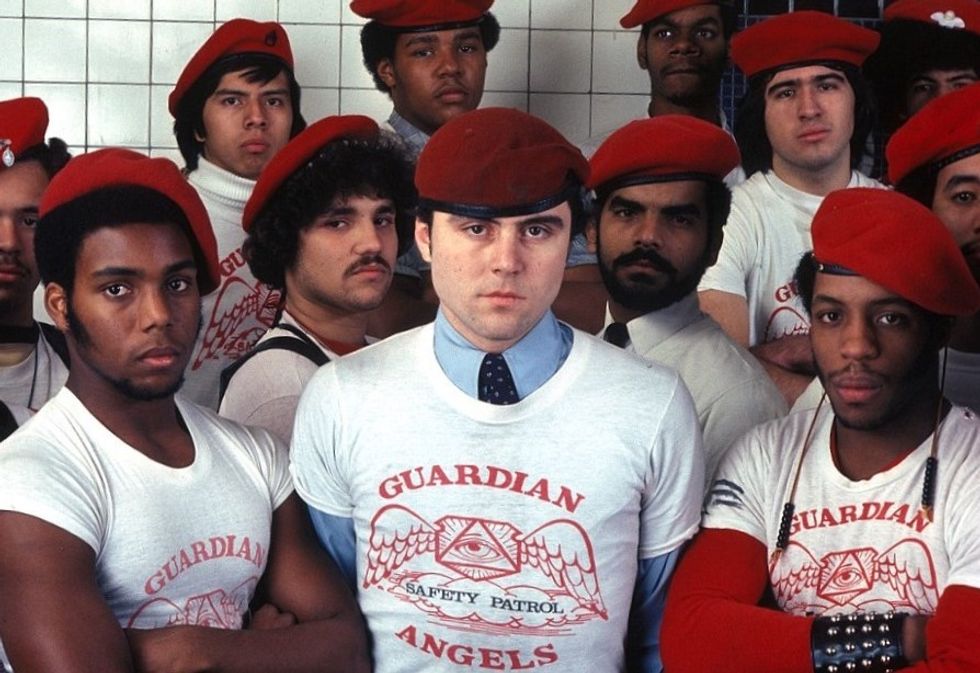 © Stephen Shames/Polaris
It's no wonder the organization grew so quickly, with chapters opening all over the world. Admittedly their prominence has declined somewhat in recent decades, but considering the adoption of hyper-violent vigilante symbols by many police officers, perhaps it's time for the Guardian Angel's model of vigilantism to have a resurgence—or perhaps even to be adopted for official police tactics.

Imagine a world where seeing a police uniform didn't automatically indicate someone with a gun. What if guns were reserved for certain officers and certain situations, and patrol cops relied on numbers, intimidation, and non-lethal force—including but not limited to martial arts (and maybe those sheets that Japanese police roll people up in)—to prevent, deter, and defuse violent crime. And imagine if those cops had close ties to communities they patrolled—actually lived in those neighborhoods—and had that added incentive to resolve situations peacefully.
While some cities have residency requirements for their police, these measures are often not enforced. And even in cities like New York, where police use of guns has declined, the constant threat of possible gun violence heightens tension between police and the communities they're intended to serve—especially when there is no sense that the officers have any investment in the neighborhoods they patrol.
Obviously the danger involved in fighting crime and arresting criminals shouldn't be downplayed—Sliwa and at least one other Guardian Angel were hospitalized with serious injuries following Tuesday night's confrontation with looters—and sometimes firearms are necessary in that work. But considering how many nations' police don't regularly carry guns—and the fact that pizza delivery is technically a more dangerous job—maybe the average beat cop can get by with a kevlar vest, a bodycam, and some martial arts training. Maybe these cops could be part-time or semi-professional—like an officially sanctioned neighborhood watch or citizen patrol with some training, arrest powers, and extra pocket money. If we dramatically scaled down the size of our traditional police forces, then we could afford programs with a less hostile approach to localized patrolling.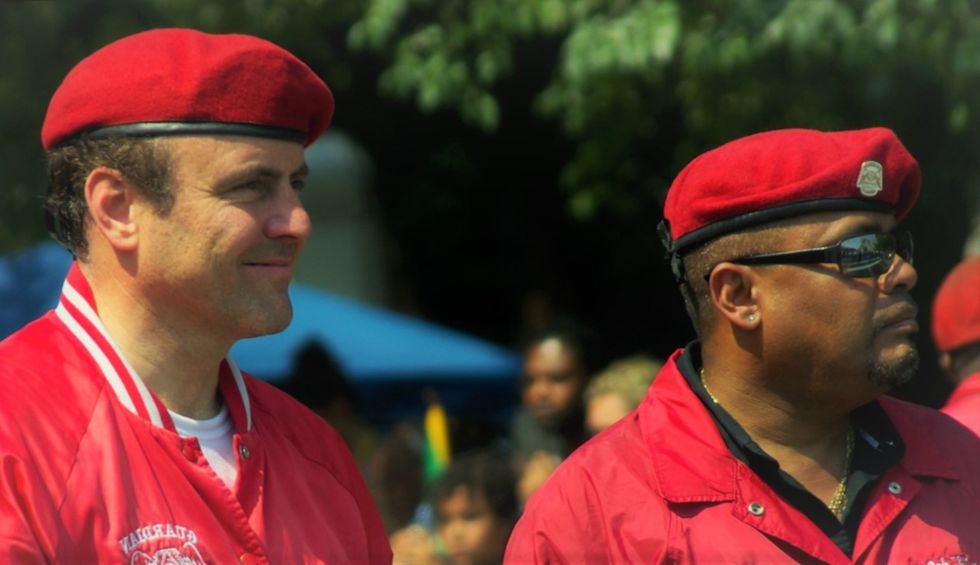 Curtis Sliwa and a fellow Guardian Angel survey the West Indian Day parade in Brooklyn, 2007
Needless to say this is in no way an endorsement of Curtis Silwa, who faked his own 1980 kidnapping and once had his members spraypaint "KKK" and "White Power" outside their headquarters for publicity. He was and remains a jackass, but even a jackass is entitled to a good idea now and then. And considering the current backlash against excessive force and the militarization of the police, maybe the Guardian Angels' model can point the way for some of the necessary reforms.

Would it solve everything? No. After all, Derek Chauvin didn't even need his gun when he killed George Floyd—only his knee. But we have to do something, and maybe treating our police more like red berets rather than green berets could begin to ease tensions in over-policed neighborhoods—and could start to heal the painful history of oppression and institutional violence in America's minority communities.
His language threatens to escalate tensions while Twitter continues to enforce their standards
Shortly after midnight Friday morning, Donald Trump tweeted a message that would prompt the second instance of Twitter "censoring" him for a violation of their policies.
In this case his use of the phrase "when the looting starts, the shooting starts"—in reference to the riots that have taken hold of Minneapolis in the wake of George Floyd's death—was deemed to be "glorifying violence," and the Tweet was hidden. Twitter's decision was based in part on the phrase's connection (intentional or otherwise) to 1960s Miami police chief Walter Headley, who made the phrase famous in conjunction with the statement, "We don't mind being accused of police brutality. They haven't seen anything yet."
It was later determined that Headley's aggressive and inhumane approach to civil rights activists were a major factor contributing to violent Miami riots in 1968. So whether Trump's intended reading was as a threat against looters—whom he deemed "thugs" in what should be readily recognized as a thinly veiled racial slur—or (as some have claimed) concern about the looters themselves resorting to gun violence, really doesn't matter. If a man with millions of gun-toting, militia-joining, race-war fantasists prefers not to incite racist violence, he needs to take two seconds to think before he tweets—and should thank Twitter for spotting such an unfortunate "mistake."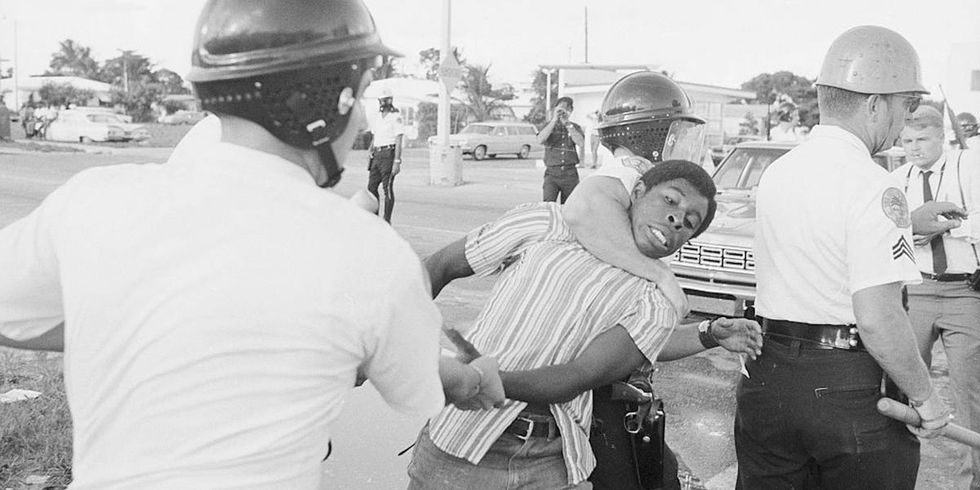 Miami police manhandling a black man during the 1968 clash
But considering how little Donald Trump cares to think about the consequences of his actions, and how much he has been milking his feud with Twitter, he's far more likely to be thanking them for another opportunity to rage against them. Speaking of raging against things—in this case, the machine—let's talk about the rioters:

The differences between a protest and a riot and a revolution are subtle. In every large political demonstration there are bound to be some bad actors who will take any opportunity to sow some chaos—steal things, break things, etc. At what point is there a critical mass of that kind of behavior that qualifies a demonstration as a riot?
There's no clear answer, but the general consensus within the media is that events in Minneapolis have passed through any gray area—protesters have become rioters. Civil disobedience has given way to looting and arson. But with so-called rioters taking over and destroying a police precinct, there is another threshold on the horizon. How many government buildings will violent groups of citizens need to take over before the riot is recognized as a revolt—a rebellion building toward revolution?
With this in mind, there are a number of reasonable ways to look at what's happening in Minneapolis—none of which include calling the people involved "thugs" or invoking the prospect of gun violence.
Black CNN reporter arrested live on TV by Minnesota police while covering race protests www.youtube.com
The first, more obvious way to view the riots is as a sad but predictable consequence of a horrifying injustice. People in Minneapolis witnessed what amounts to a murder carried out by the police while both the victim himself and bystanders politely asked officer Derek Chauvin to let George Floyd breathe. It makes sense that the citizens of Minneapolis—particularly black citizens who are all too familiar with racially-targeted police violence—are angry. And angry people (particularly in large groups) often behave irrationally. As a result, many of them are participating in violence that—according to this perspective—doesn't really help anything.

From this view, efforts to suppress the riots make sense—even if the use of tear gas and rubber bullets seems to have been much more of an option in recent days than it was, for instance, against armed protesters threatening the lives of Michigan legislators. If you take this view, then anything that can be done to encourage people to go home—even mass arrests that result in a black CNN reporter being handcuffed live on air—is for the best and will help this matter be resolved peacefully through the official channels.
From another perspective: F*** the official channels. Calls for a return to order and peace echo the sentiments of white moderates decried by Martin Luther King Jr. as preferring "a negative peace which is the absence of tension to a positive peace which is the presence of justice." Burning a police precinct may be the best way to ensure that police operate in fear of this kind of reprisal in the future—that they know their actions have consequences and that their monopoly on violence can be revoked by the citizens they're meant to serve.
When civility leads to death, revolting is the only logical reaction. The cries for peace will rain down, and whe… https://t.co/oCOivqBZ58

— Colin Kaepernick (@Colin Kaepernick) 1590683894.0
And in a time when tens of millions are struggling to make ends meet while corporations are bailed out, and the police are used as a force to protect capital—so much so that a man can be killed over an allegedly buying food with a fake $20 bill—even looting can be framed as a form of restorative justice. Revolt, violence, and insurrection may be the only way to topple existing power structures so that they can be remade into something more just.

Complicating the issue further, there are reasons to suspect that some of the worst aspects of the riots have been instigated by outside agitators with no interest in the demonstration's cause—only a desire to fan the flames of chaos. In one case Internet detectives believed they had even found evidence that a Minnesota police officer had smashed the windows of the autozone. While this account of events has been denied by police officials, there is no clear evidence one way or another.
It is not unreasonable—considering what we've seen—to consider that there might be a generally adversarial relationship between Minneapolis police and the communities they "serve." And the fact that—as of the most recent analysis—only about 5% of white police officers in the Minneapolis police force were living within the city, suggests that many of the most hostile police officers could have little personal incentive to maintain order—particularly those harboring a racist desire for an excuse to retaliate.
Who is the Minneapolis Umbrella Man? www.youtube.com
Regardless of which perspective you take, any suggestion that the current tensions should or must lead to gun violence is out of proportion to even the most dramatic aspects of the riots. Destruction of property—even on a massive scale—is not on par with murder, and you can't cure the anger arising from an unnecessary use of deadly force by invoking further unnecessary use of deadly force.

If President Trump doesn't start to handle this situation more carefully (hey, it could happen…), then he runs the risk of escalating the violence to new levels.
Keep reading...
Show less