Dall-E Mini, the AI-powered text-to-image generator has taken over the internet. With its ability to render nearly anything your meme-loving heart desires, anyone can make their dreams come true.
DALL-E 2, a portmanteau of Salvador Dali, the surrealist and Wall-E, the Pixar robot, was created by OpenAI and is not widely available; it creates far cleaner imagery and was recently used to launch Cosmpolitan's first AI-generated cover. The art world has been one of the first industries to truly embrace AI.
The open-sourced miniature version is what's responsible for the memes. Programmer Boris Dayma wants to make AI more accessible; he built the Dall-E Mini program as part of a competition held by Google and an AI community called Hugging Face.
And with great technology, comes great memes. Typing a short phrase into Dall-E Mini will manifest 9 different amalgamations, theoretically shaping into reality the strange images you've conjured. Its popularity leads to too much traffic, often resulting in an error that can be fixed by refreshing the page or trying again later.
If you want to be a part of the creation of AI-powered engines, it all starts with code. CodeAcademy explains that Dall-E Mini is a seq2seq model, "typically used in natural language processing (NLP) for things like translation and conversational modeling." CodeAcademy's Text Generation course will teach you how to utilize seq2seq, but they also offer opportunities to learn 14+ coding languages at your own pace.
You can choose the Machine Learning Specialist career path if you want to become a Data Scientist who develops these types of programs, but you can also choose courses by language, subject (what is cybersecurity?) or even skill - build a website with HTML, CSS, and more.
CodeAcademy offers many classes for free as well as a free trial; it's an invaluable resource for giving people of all experience levels the fundamentals they need to build the world they want to see.
As for Dall-E Mini, while some have opted to create beauty, most have opted for memes. Here are some of the internet's favorites:
There's no looking back now, not once you've seen Pugachu; artificial intelligence is here to stay.
POLITICS
Democrats Took Back the House of Representatives, So Now What?
Axios
It was an election night of firsts.
While the midterm elections didn't bring the overwhelming blue wave Democrats had hoped for, they managed to win an important moral victory, electing several representatives from demographics that had never before been represented in Congress.
In the 2018 midterms, the U.S. elected its first Muslim congresswomen, Ilhan Omar of Minnesota and Rashida Tlaib of Michigan, both Democrats. Kansas and New Mexico elected the nation's first Native American women to join congress, Democrats Deb Haaland (KS) and Sharice Davids (NM). South Dakota and Maine elected their first female governors, Tennessee and Arizona sent women to the Senate for the first time, and Massachusetts and Connecticut elected their first-ever black women to the House. These milestones are joined by America's first lesbian mom in congress (Angie Craig, Minnesota), the first openly gay man elected as a state's governor (Jared Polis, Colorado), and the youngest woman ever elected to Congress, twenty-nine-year-old Democrat Alexandria Ocasio-Cortez (NY).
As NPR reports, "record numbers of Native Americans, Muslim Americans and women, including many women of color, ran for office in 2018. A 'rainbow wave' of LGBTQ candidates also sought office. And after the ballots were cast, all those groups notched notable firsts."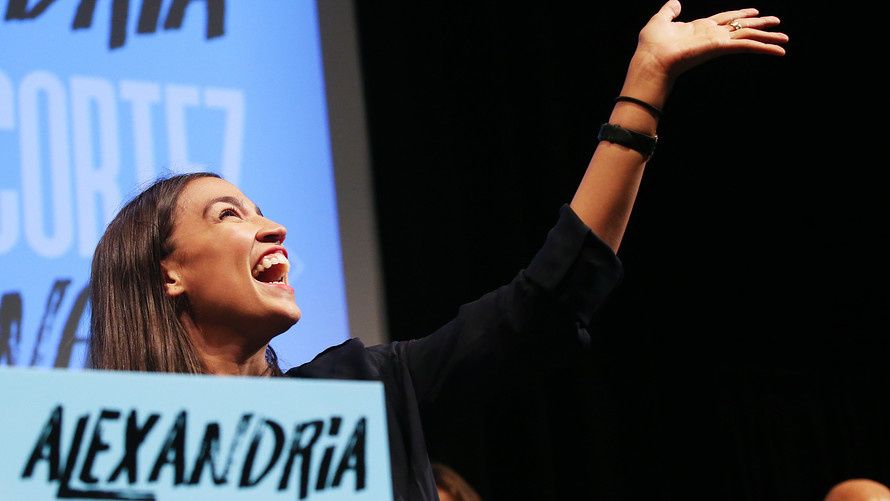 Alexandria Ocasio-CortezMarketWatch
These candidates can likely thank a record turnout by women and young people for their victories. The polls found that voters under 30 favored Democrats by a 35-point margin over Republicans, compared with an 11-point margin in 2014, and women chose the Democratic Party by 19 points — the largest margin in the history of US midterms — compared with their margin of four points in 2014, according to network exit surveys from CNN.
Despite these Democratic victories, Trump can take comfort in the fact that Republicans managed to retain control of the Senate, exposing an America deeply divided. As CNN points out, the midterm results "underscored a political and cultural gulf among diverse and affluent liberals living in big cities and their suburbs and the mostly, white, working class and rural conservative bloc of voters for whom Trump remains an iconic figure." The midterm elections proved that the extreme polarization of political leanings, to which many attribute Trump's 2016 election, are still alive and well in America.
But even with consistent support from his base, this new influx of progressives to Washington spells bad news for the Trump administration, as Democrats are prepared to closely scrutinize Trump's policies on immigration, education, and healthcare. But progressive leaders have also made it clear that they don't plan to immediately pursue impeachment, as former House Majority leader Nancy Pelosi said that a call for impeachment "would have to be bipartisan, and the evidence would have to be so conclusive."
Despite this, Trump has already begun threatening Democrats with retaliation if they move to investigate him, tweeting:
If the Democrats think they are going to waste Taxpayer Money investigating us at the House level, then we will likewise be forced to consider investigating them for all of the leaks of Classified Information, and much else, at the Senate level. Two can play that game!
— Donald J. Trump (@realDonaldTrump) November 7, 2018
Senate Majority Leader Mitch McConnell (R-Ky.) has also picked up this defensive tune, telling reporters Wednesday morning that he cautioned Democrats against engaging in "presidential harassment."

In response, Democratic Rep. Jerrold Nadler, the likely leader of the House Judiciary Committee, cautioned Republicans that the election was about accountability for Trump. "He's going to learn that he's not above the law," Nadler said.
Brooke Ivey Johnson is a Brooklyn based writer, playwright, and human woman. To read more of her work visit her blog or follow her twitter @BrookeIJohnson.