Dall-E Mini, the AI-powered text-to-image generator has taken over the internet. With its ability to render nearly anything your meme-loving heart desires, anyone can make their dreams come true.
DALL-E 2, a portmanteau of Salvador Dali, the surrealist and Wall-E, the Pixar robot, was created by OpenAI and is not widely available; it creates far cleaner imagery and was recently used to launch Cosmpolitan's first AI-generated cover. The art world has been one of the first industries to truly embrace AI.
The open-sourced miniature version is what's responsible for the memes. Programmer Boris Dayma wants to make AI more accessible; he built the Dall-E Mini program as part of a competition held by Google and an AI community called Hugging Face.
And with great technology, comes great memes. Typing a short phrase into Dall-E Mini will manifest 9 different amalgamations, theoretically shaping into reality the strange images you've conjured. Its popularity leads to too much traffic, often resulting in an error that can be fixed by refreshing the page or trying again later.
If you want to be a part of the creation of AI-powered engines, it all starts with code. CodeAcademy explains that Dall-E Mini is a seq2seq model, "typically used in natural language processing (NLP) for things like translation and conversational modeling." CodeAcademy's Text Generation course will teach you how to utilize seq2seq, but they also offer opportunities to learn 14+ coding languages at your own pace.
You can choose the Machine Learning Specialist career path if you want to become a Data Scientist who develops these types of programs, but you can also choose courses by language, subject (what is cybersecurity?) or even skill - build a website with HTML, CSS, and more.
CodeAcademy offers many classes for free as well as a free trial; it's an invaluable resource for giving people of all experience levels the fundamentals they need to build the world they want to see.
As for Dall-E Mini, while some have opted to create beauty, most have opted for memes. Here are some of the internet's favorites:
There's no looking back now, not once you've seen Pugachu; artificial intelligence is here to stay.
Why the only amendment never brought before the supreme court may be more important than you think
You'd be hard pressed to find someone living in the U.S.A. (and, perhaps in Russia) who could not tell you that the Second Amendment involved the right to bear arms. And, most people understand that something in the Bill of Rights protects them against unlawful search and seizure, even if they don't know that it's the Fourth Amendment that does so. But sandwiched in between these two celebrity amendments is the all-but-forgotten Third Amendment. Since its inclusion in the Bill of Rights (the first 10 amendments to the constitution), the Third Amendment has been the subject of a small handful of cases, and not one of them has gone before the Supreme Court. Here it is:

No Soldier shall, in time of peace be quartered in any house, without the consent of the Owner, nor in time of war, but in a manner to be prescribed by law.
Called the "runt piglet" of the Constitution by the American Bar Association, the Third Amendment would seem on the face of it to have little place in our lives. Does anyone think the government is going to try to use our homes as barracks? The idea is almost laughable. At the same time, this anachronistic addition to our Constitution is fundamentally concerned with the same issue as its better known siblings, namely protecting citizens from excessive government authority, and the elemental conflict between the rights of the individual versus the rights of the federal government. As such, the Third Amendment actually does have some relevance today, and could have even more in the future.
Militarized police force
Written by James Madison in response to calls from several states for greater constitutional protection for individual liberties, the Bill of Rights lists specific prohibitions on governmental power. Its purpose was not to grant rights but to protect rights the framers saw as fundamental and to place specific limits on government power. Third Amendment centers around the individual's right to privacy in their homes, and underscores that citizens have the right not to have the government intrude in that sacred space, even in times of war. When the amendment was written in the eighteenth century, quartering troops in private homes would have been top of mind for Americans and Englishmen. In fact, one of the many accusations Congress leveled against the king in The Declaration of Independence were his "quartering large Bodies of Armed Troops among us." One issue then, as now, is a balance between the rights of individual citizens and the needs of the military. For example, what if the military claims they need to occupy a home in order to surveil a suspected terrorist cell next door? Beyond that, what actually constitutes "military?" Civil liberties activates warn that our nation's police forces have increasingly taken on a military role, and that the increased use of police in this capacity is bound to create conflicts.
Back in 2013, a family in Nevada claimed that police had occupied their home to gain a tactical advantage against a suspect in a near-by house, there-by violating that families' Third Amendment rights. The case was dismissed in federal court because, among other findings, Judge Andrew Gordon ruled that a municipal police officer is not a soldier. Judge Gordon also followed a 1982 decision that the Amendment does not relate to state governments. But, as the lines between the police and the military are increasingly blurred, if not obliterated, we might expect to see more of these Third Amendment cases being brought before the courts. As Ilya Somin of the Washington Post pointed out in 2015, "The difficult issues raised by the militarization of police forces suggest that it may be time to stop treating the Third Amendment as just a punchline for clever legal humor."
A surveillance society
The Third Amendment is the only part of the Bill of Rights, and the Constitution as a whole, that actually addresses the relationship between citizens' rights and the military. Scholars have pointed out that it actually underscores civilian control over the military. That power dynamic would be important in any era, but takes on another layer of significance today when what passes for, and acts in the capacity of, the military is very different from what it was in 1791. We live in a world where people leave a digital trail of data wherever they go, and where we rely on the use of independent contractors, satellite surveillance and drones for our national defense, and let's not forget about AI. In a not-too-distant future when our military may be more machine than human, what could having "soldiers" in our "homes" mean?
A 2015 article "Could the Third Amendment be used to fight the surveillance state?" quoted law professor Steven Friedland, who had an idea.
"The Third Amendment no longer will be the forgotten amendment if it is considered to interlock with the Fourth Amendment to provide a check on some domestic mass surveillance intruding on civil life, particularly within the home, business or curtilage of each. In the digital era, the dual purposes of the Amendment should be understood to potentially limit the reach of cyber soldiers and protect the enjoyment of a private tenancy without governmental incursion."
Home is where the heart is
While the US Constitution itself does not contain an express right to privacy, the Bill of Rights reflects the Framers' concerns for protecting specific aspects of it, namely; the right to privacy of beliefs in the 1st Amendment, the right to privacy for person and possessions against unreasonable search and seizure in the 4th amendment, and the right to privacy in the home, the Third Amendment.
The right to a private space we call home is not just an American right. It is unquestionably a fundamental human right. The Third Amendment is largely forgotten in today's world of bots, drones, data, and virtual reality, but that "runt piglet" may end up being the very thing we need to call upon to protect it.
Keep reading...
Show less
Tali Sharot's new novel explores the science behind changing people's minds.
With her new book, The Influential Mind, cognitive neuroscientist Tali Sharot has set out to map the psychological mechanisms that control how people react to information. The thesis of the book is simple: once beliefs are formed, people become very stubborn and it can be difficult to change their minds. That said, according to Sharot, by using specific techniques that better align with our natural tendencies, we can change people's minds much more easily. At first glance, this idea feels like a pop psychology platitude, something from Malcolm Gladwell or Dale Carnegie. Still, unlike many of her contemporaries, Sharot conducted many of the experiments discussed in the book herself, with many of her studies based on Peter Wason's theories on confirmation bias.
Confirmation bias is the idea that people are more likely to look for and readily believe information that confirms their worldview. In a talk conducted with Google, Sharot showed the power of confirmation bias by playing a game with the audience. She wrote down the numbers two, four, and six. She then asked two questions. The first, was to come up with a set of three numbers. She would then tell the person whether or not those numbers fit the rule. After this, the person was asked what the rule is. The majority of people guessed trios like eight, ten, and twelve, and when asked what the rule was, said something about even numbers. In reality, any series of escalating numbers would have fit Sharot's rule. This exercise illustrated our tendency to formulate strong beliefs based off of limited data, and the immediacy with which we look for confirming evidence. The purpose in this exercise was to demonstrate how easily we pick evidence that comports with our beliefs, and how rarely we challenge those beliefs once we have them. Nowadays, with information so readily available, it's easy to go online and find evidence to backup any belief under the sun. With this in mind, it's easy to see how America became so socially and politically polarized.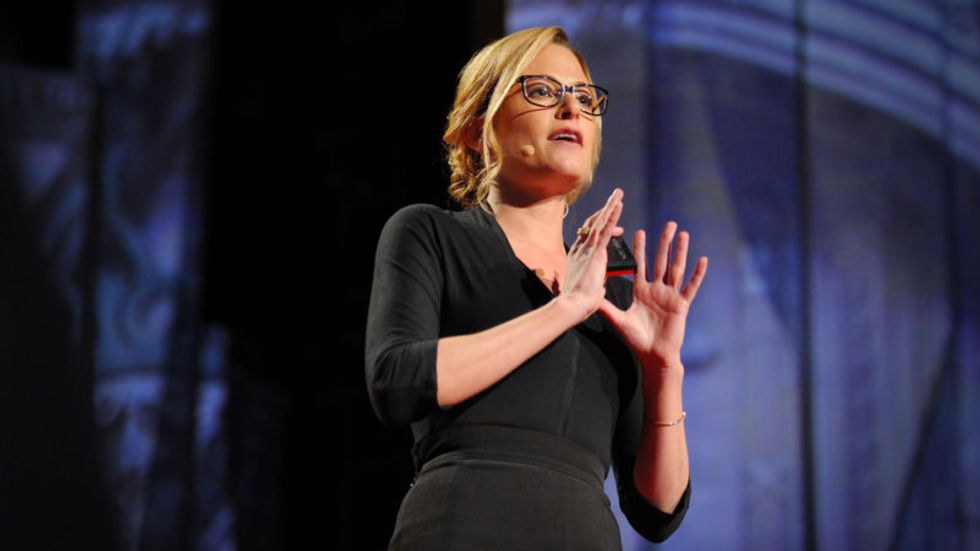 Tali Sharot discussing her theories
Sharot goes on to explain even further, and discusses a few experiments she conducted regarding the way we reckon with data. According to her, beliefs can directly interfere with our ability to understand information. This phenomenon isn't exclusive to people with cognitive impairments either. It would seem, according to Sharot, that most people aren't hardwired for doubt. This behavior also extends to the world of debate. By using MRI machines, Sharot was able to measure the brainwaves of people in conversation, and was able to show that when two people agree, confidence in an opinion rises. On the flipside, brainwaves more or less shut down when people disagree. While this isn't surprising to anyone who spends Thanksgiving with their family, it's always worth noting when idiomatic beliefs, through careful study and observation, bleed into the world of cognitive psychology.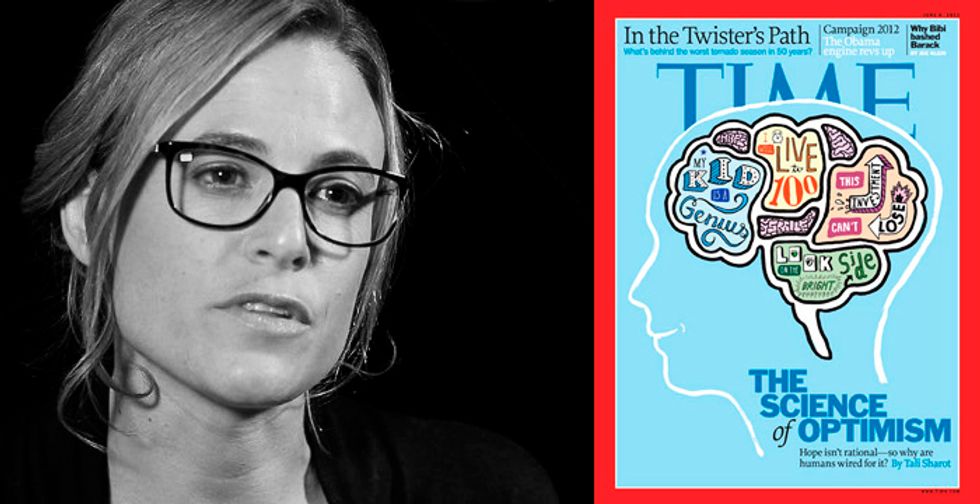 Tali Sharot with her Time cover
The real question is, now that we have scientific proof that these phenomenons govern our behavior, how do we use this information to our advantage? According to Sharot, we react to positive information similarly to the way in which we react to tangible rewards. When it comes to bad news however, our brain tends to prefer ignorance and "frantically distorts" information that a person doesn't agree with. The way to successfully discuss our differences is by framing them in ways the brain will naturally understand. For example, people learn more from good news than they do from bad. People also tend to believe positive statistics more than negative ones. By approaching a conversation from the positive, a person is more likely to be successful in convincing others of their point of view.
It'd be easy for an uninformed or casual reader to walk away thinking that
The Influential Mind
is about the power of positivity, and that Sharot's experiments are anecdotes designed to support this idea. This is the problem with pop psychology writ large. It forces brilliant scientists to condense their research. While the book is good for readers looking for a working knowledge of Sharot's theories, it necessarily eschews certain details in favor of readability. It's a good primer, but after finishing the book, more curious readers will probably want to dig into Sharot's academic papers in order to gain a stronger understanding of her work.
Keep reading...
Show less
Musings: From two perspectives of tech conglomerate fines, antitrust laws, and the tech world as a whole
Lauren: The EU has given Google a $2.7 billion fine due to alleged antitrust violations. According to EU antitrust regulators, the internet giant is a monopoly. And so Google now has to prove that it has rivals that had made substantial inroads to its businesses, including specialized search categories, mobile phones, and online ad buying. This fine and punishment could also set a precedent for other tech giants. Seems like they're not as unstoppable as many have believed.

Jane: It would set a precedent in Europe. Google has been doing that here forever. But the application of antitrust laws to tech companies interesting. Amazon, Google, Apple, and etc. easily outpace other smaller companies and since they dominate the newer, harder to regulate marketplaces, there is a lack of checks and balances in place
L: The law is definitely slow to catch up in this area. It feels like the second a new law addressing internet companies or online privacy passes, things are updated into something new that needs a whole new framework of regulations. The pace of advancement in technology and regulations just don't match up. Because of this, so much of what is done online is in a legal gray area. That's why it's interesting that Europe is attacking the problem using antitrust law. Those laws are pretty old, but are working in the context of the 21st century.
It feels like the second a new law addressing internet companies or online privacy passes, things are updated into something new that needs a whole new framework of regulations
J: The concept is still the same. Make sure the market is in favor of the consumer. Limiting competition does the exact opposite. Manipulating search results when Google is the primary search engine is shady.
L: This also shows how much the digital world can affect the real one. If you can't Google a business, it might as well not exist. When you think about it, Google has immense power over our lives. So does Facebook or Amazon. These websites and companies are deeply ingrained in our daily lives and our economy.
J: Amazon is trying to be the one-stop shop for everything. They've been trying to get into the grocery business for a long time and buying Whole Foods would cement them in the industry. It could be very successful or they can run the grocery story to the ground since Amazon's model is vastly different from Whole Foods.
L: I think Amazon might use Whole Foods as a testing ground for their new grocery shopping concept Amazon Go. That will be a huge change for the industry.
J: It would definitely blur industry lines even more but Amazon has a history of doing that anyway. Bezos purchased the Washington Post a few years ago. In Whole Foods case, prices might possibly go down. But you never know. There's a lot of unknown as tech companies melded and absorb other traditional companies.
Keep reading...
Show less
Every individual must find a path to true happiness on their own, but these tips may help.
When was the last time you were truly happy? How do you even know that you are truly happy? Life is full of many disappointments and we can get easily carried away and forget to appreciate the small things. Here are 5 surprising secrets of true happiness to help you appreciate life more.
Don't Compare Your Achievements
As humans, it is normal for us to be naturally competitive. There is always that voice within us that keeps telling us that we can be and do better; that silent whisper in our head that keeps motivating us to push further. However, the problem comes in when we start comparing our achievements with those of other people. For example, if we start comparing our fitness goals with those of others, we will end up getting disappointed since different people have totally different lifestyles. Therefore, if you want to attain true happiness in life, stop comparing your achievements with others; compete with yourself instead.
Do Things That Scare You
When was the last time you did something new? When was the last time you went to a place you've never been to before? When was the last time you did something random? When was the last time you did things that scared you? The whole world is out there reaching out to you to embrace it. Stop being too predictable in everything you do. Take a random trip to a new place on Friday after work. Quit your job and start that business that you've always been procrastinating. Take a bus and talk to the stranger sitting next to you. They say that life is what happens when you are busy making other plans, and I say true happiness is found in the strangest of places.
Live in the Present
What if you don't land that job? What if he doesn't propose after years of dating? What if…. We are all prone to get carried away by the uncertainty of the future that we forget to embrace and enjoy our present. We do not know what the future holds, and worrying about it every second will not change a thing. Sometimes it's good to just let things happen. Enjoy everything you have in your present because tomorrow it could be a privilege you wish you had.
Relish in Your Alone Time
When was the last time you had a conversation with yourself? If you cannot recall the answer to that question, then it's high time you created some alone time. Alone time is always a good opportunity for you to evaluate your life and see the best direction for you to take. It is the best time for you to make some critical life decisions. What can you do to be happy? Who do you need to let go in your life so you could be happier? These decisions are best made when you have an honest conversation with yourself in your alone time.
Listen to Your Inner Voice
It is always advisable to follow your intuition. Your heart always knows what your head hasn't figured out. If you have a bad feeling about something, it is best if you don't follow through with it. On the same note, if you have a good feeling about someone, it is advisable to give them a chance, and who knows, you could make the best memories with them.
The key to happiness is in your hand. With all the disappointments that life keeps throwing at us every day, we are left with the option of creating our own happiness. If you want to be truly happy and you have no idea where to start, try making use of these 5 surprising secrets of true happiness and thank me later!
Keep reading...
Show less
The imagination is valuable, and we must clear space to let it live and thrive.
As children, our creativity is boundless. We have a few things that fuel it: energy, curiosity, and a passion for the make-believe. When I was a kid, I filmed my stuffed animals in hyper-human situations. I pretended to ride horses with my friends around the playground. I looked out over the slide to watch giant sea beasts. I pretended I lived in the 18th century, speaking in a foreign tongue. I drew cartoons of talking amoebas. None of it was real, and I loved it.

Instead of your ability to imagine, it becomes your ability to predict that starts to count. Instead of the fantasy of your stories, it's how good of a liar you can be that's more important. The adult world is less about color and more about stroke. Creativity is judged by one's ability to find new ways to trick people into doing what you want them to do.
In the adult world, creativity metamorphoses into something more profit-driven.
Young kids do not necessarily have to be stimulated by a "muse" to produce something creative. But as we age, we're less inclined to have these spontaneous thoughts. They're considered unproductive or silly. But daydreaming performs an essential function: that of stimulating different parts of our brain that need some serious dusting off.
How do we get back to that precious state of creativity? We need to free ourselves from repetitive and mundane tasks. Opening our eyes to the beautiful things around us instead of just seeing what we expect to see: the same street signs, the same faces.
We also need to perform a more difficult task. According to Buddhist nun Jeong Kwan, who is the culinary artist behind South Korean temple food, creativity and the ego cannot exist side by side. If one is to grow creatively, one has to let go of the ego. Now, everyone has ego, but having too much of it limits our ability to move forward because we are always keeping judgment at the forefront of our minds. When we stop thinking about what others think of us, we can access a new level of freedom from within, the freedom to be creative again.
But what does letting go of your ego mean? For a lot of us, this means tempering ourselves on social media, or not allowing ourselves to feel superior or inferior to anyone. We must go into situations knowing that people will be people, and we have to let them do their thing so that we can do ours. We fill our brain space with too much minutiae so we don't have any room left for our imagination. The imagination is valuable, and we must clear space to let it live.
Keep reading...
Show less
It's important to make your workplace a healthy, mentally stimulating environment for yourself.
Some people are lucky enough to work in jobs that keep them fit year-round, like Pilates instructors and Olympic athletes. The rest of us deal with prolonged sitting, donut days and weekly birthday celebrations, and then work on recovering in the after hours. But don't let those 8-hour days sabotage your efforts. Follow these tips to help keep you on the healthy track while at work.

Plan meals and snacks in advance
Men and women who plan their meals are much less likely to be obese than those who don't, according to a 2017 International Journal of Behavioral Nutrition and Physical Activitystudy. The same study also found that people who planned their meals enjoyed better variety and improved diet quality. Depending on your goals and eating habits, improving the quality of your meals may help you lose weight.
Another benefit to meal planning is that it leaves uncertainty off the table. When you know when and what you're going to eat, you're less likely to much on junk food.
Meal planning includes breakfast too. When you've eaten a healthy, fiber-filled breakfast, you'll be satiated for longer and will be less likely to hit the vending machine before lunch.
Eat more Lipotropic foods
While you're planning those work-day meals, consider adding more lipotropic foods to the mix. Lipotropic foods contain organic compounds that break down fat stores, prevent excess fat storage and help cleanse the liver of toxic build-up.
Major lipotropic nutrients include methionine, choline, inositol, betaine and vitamin B12.
Consider packing lunches with the following lipotropic-rich foods:
Vegetables
Broccoli
Eggplant
Spinach
Beets
Beans & nuts
Brazil nuts
Almonds
Flax seeds
Soy beans
Animal proteins
Grains
Quinoa
Oatmeal
Barley
Brown Rice
Hydrate well
Although it can be difficult to track how much water you're drinking at work, you must stay hydrated throughout the day. Dehydration can cause you to be drowsy and sluggish, which aren't desirable conditions at work.
Water has many health benefits, including its ability to help flush out toxins, maintain regularity and improve your complexion.
Try getting between six and eight glasses of water every day and up your intake of fresh, juicy fruits. These offer another great way to help keep you hydrated.
Make a habit of washing your hands
Throughout the work day, we encounter many people and surfaces that carry germs. Germs cause infection and this is how we get sick. To keep yourself healthy, wash your hands periodically throughout the day with soap for a minimum of 10 seconds at a time. Research done by Rutgers University shows that this is the most effective way to remove germs.
How often you wash your hands is up to you, but you should be washing after every time you use the bathroom and before you eat. If you have a cold, wash your hands more often to avoid spreading germs around the office.
Limit caffeine
Caffeine will give you a boost of energy to help start your day, but it can also lead to a mid-afternoon crash when the effect wears off. If you're drinking too much coffee, it can aggravate the nervous system and cause the adrenal gland to release cortisol. This is similar to being in a constant state of stress, and that's not good for your health. Work can be stressful enough. Limit the caffeine to one to two cups of coffee or tea per day to avoid negative consequences.
Continue your healthy habits while at work, and it'll be easier to maintain them at home. A healthy lifestyle includes a balanced diet, regular exercise and good habits. Try to keep these things going regardless of where you are and you'll be on the right track.
Keep reading...
Show less