Studies find that millennials have the highest incidence of mental health problems.
October 10th marks the World Health Organization's (WHO) official observation of World Mental Health Day, with this year's theme focusing on "Young People and Mental Health in a Changing World."
In a prelude to this week's commemoration, Lady Gaga and the WHO director-general Tedros Adhanom co-wrote an op-ed on suicide, stigma, and mental health services for The Guardian. "By the time you finish reading this," they warn, "at least six people will have killed themselves around the world."
Gaga and Adhanom opine that "despite the universality of the issue, we struggle to talk about it openly or to offer adequate care or resources." Indeed, a shameful legacy of social stigma has shadowed mental health sufferers, allowing society to "ostracize, blame, and condemn" them due to a historical lack of tools and understanding. The piece outlines the WHO's hopes that countries around the world will encourage their citizens to openly discuss psychological issues and open channels for non-judgmental communication and mental healthcare. With Lady Gaga penning a condemnation of the world community that gives less than 1% of global aid to mental health, we can appreciate a public figure using her platform to highlight a crucial social issue — but it's another diagnosis without a cure.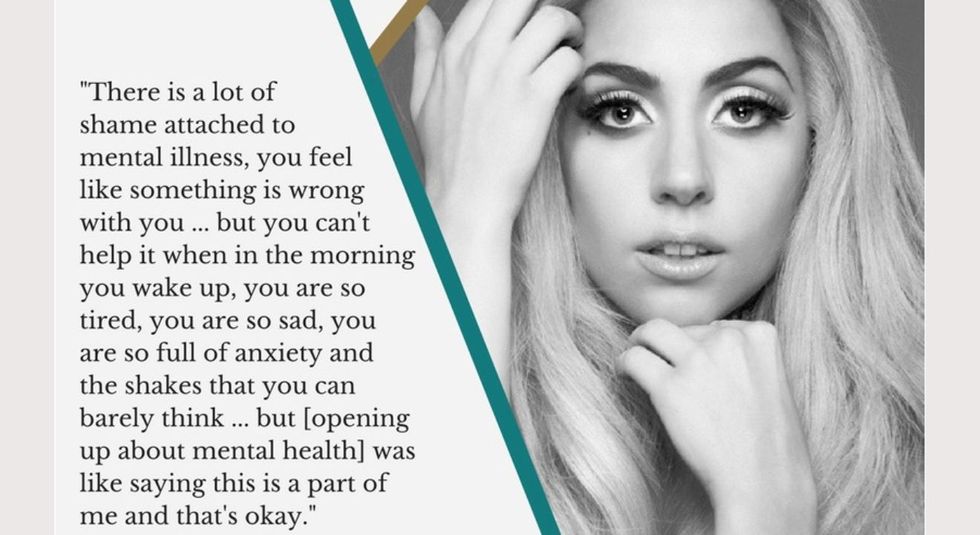 Entity Mag
Millennials, in particular, are very accustomed to discussing their struggles with mental illness, more so than any generation prior. With Selena Gomez recently entering treatment after an "emotional breakdown," Kanye West announcing he's off medication, and Demi Lovato publicly struggling with long-term "emotional and physical issues," there's a greater issue in the headlines than just the cost of a high-profile life. At least every celebrity blurb about a high profile figure battling mental illness opens another discussion about mental health.
Yet the core of the problem eludes us. While having those conversations makes progress towards destigmatizing psychological issues, various studies of the last year suggest that we still don't know how to have those conversations, and we might not be fully equipped to handle them when we do.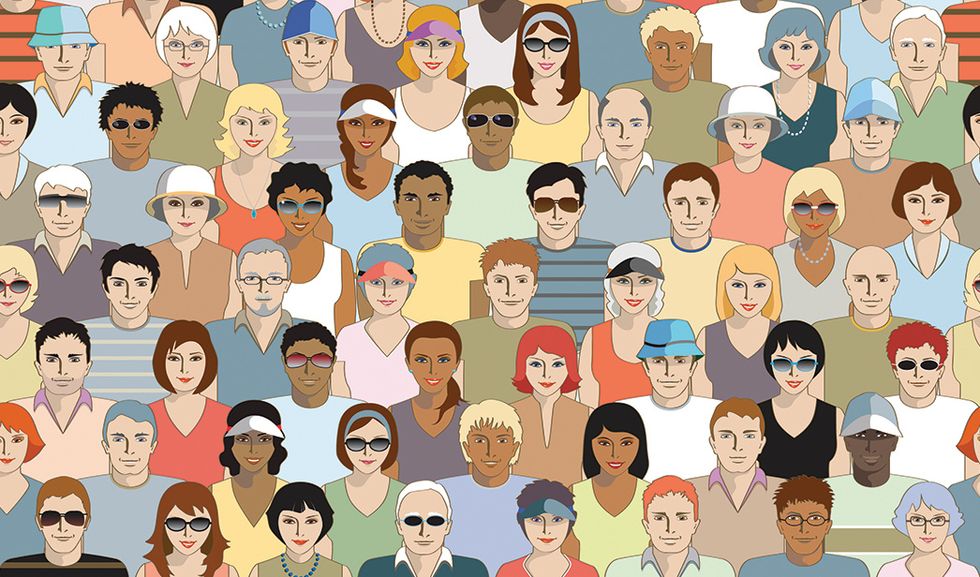 CMO
An assortment of studies in the past year have prefaced the WHO's focus on young people to highlight that millenials are the "most anxious generation" when compared to their predecessors dating back to the baby boomers (born 1945-64). While it's easy to malign millennials for their culture of abundance, youth centrism, and self-styling on social media, science has been weighing in that these privileges come at a cost. According to the American Psychological Association (APA), 12% of millennials have received a medical diagnosis of an anxiety disorder. Gaga and Adhanom cite in The Guardian, "One in four of us will have to deal with a mental health condition at some point in our lives," but they highlight, "Our young people are particularly vulnerable, with suicide being the second leading cause of death globally among 15-29 year olds and half of all mental illness beginning by the age of 14."

Statistics point to possible causes including lower employment rates, larger student loan debts, and decreased home ownership among millennials. However, other studies on the qualitative stressors on young people note epidemic detriment from "multidimensional perfectionism." Many millennials are the first to come of age under the unprecedented pressures of social media "to measure up to an ever-growing number of criteria," aiming for unrealistic perfection in work, school, romance, the arts, and an illustrious online persona. Of course "striving to reach impossible standards increases the risk of anxiety, depression, an eating disorder, and even suicidal ideation."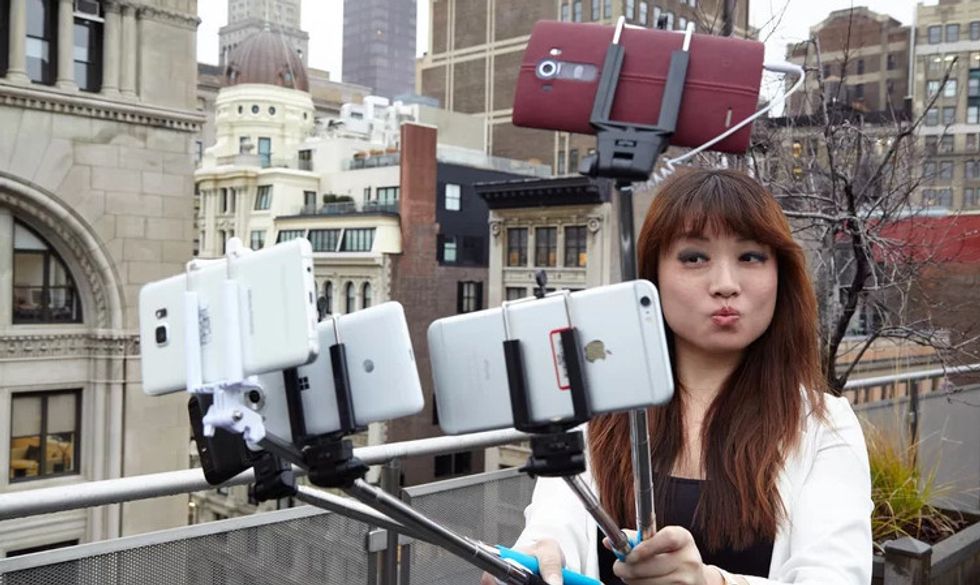 Curious Mind Magazine
While open dialogue about psychological issues is the first step to addressing them, we still risk being distracted by the celebrity gossip, the tragic suicide, or the newest controversial study that prompts us. How well we manage those conversations towards productive insights into stress management and coping strategies is the aim of our openness and turning point in improving world mental health. Rather than rumination (which can turn into commiseration) about mental health problems, there is the enduring truth that, "Stress is inevitable. You can either crumble and fall prey to it or ride it out," as neuropsychiatrist Dr. Era Dutta underscores in his work specializing in millennials' mental health.

Lady Gaga and Adhanom rally in their essay, "We can all be a part of a new movement – including people who have faced mental illness themselves – to call on governments and industry to put mental health at the top of their agendas." But we as individuals self-direct our conversations and manage our expectations — we know the diagnosis is too much silence, now how do we handle the cure?
Meg Hanson is a Brooklyn-based writer, teacher, and jaywalker. Find Meg at her website and on Twitter @megsoyung.
Tali Sharot's new novel explores the science behind changing people's minds.
With her new book, The Influential Mind, cognitive neuroscientist Tali Sharot has set out to map the psychological mechanisms that control how people react to information. The thesis of the book is simple: once beliefs are formed, people become very stubborn and it can be difficult to change their minds. That said, according to Sharot, by using specific techniques that better align with our natural tendencies, we can change people's minds much more easily. At first glance, this idea feels like a pop psychology platitude, something from Malcolm Gladwell or Dale Carnegie. Still, unlike many of her contemporaries, Sharot conducted many of the experiments discussed in the book herself, with many of her studies based on Peter Wason's theories on confirmation bias.
Confirmation bias is the idea that people are more likely to look for and readily believe information that confirms their worldview. In a talk conducted with Google, Sharot showed the power of confirmation bias by playing a game with the audience. She wrote down the numbers two, four, and six. She then asked two questions. The first, was to come up with a set of three numbers. She would then tell the person whether or not those numbers fit the rule. After this, the person was asked what the rule is. The majority of people guessed trios like eight, ten, and twelve, and when asked what the rule was, said something about even numbers. In reality, any series of escalating numbers would have fit Sharot's rule. This exercise illustrated our tendency to formulate strong beliefs based off of limited data, and the immediacy with which we look for confirming evidence. The purpose in this exercise was to demonstrate how easily we pick evidence that comports with our beliefs, and how rarely we challenge those beliefs once we have them. Nowadays, with information so readily available, it's easy to go online and find evidence to backup any belief under the sun. With this in mind, it's easy to see how America became so socially and politically polarized.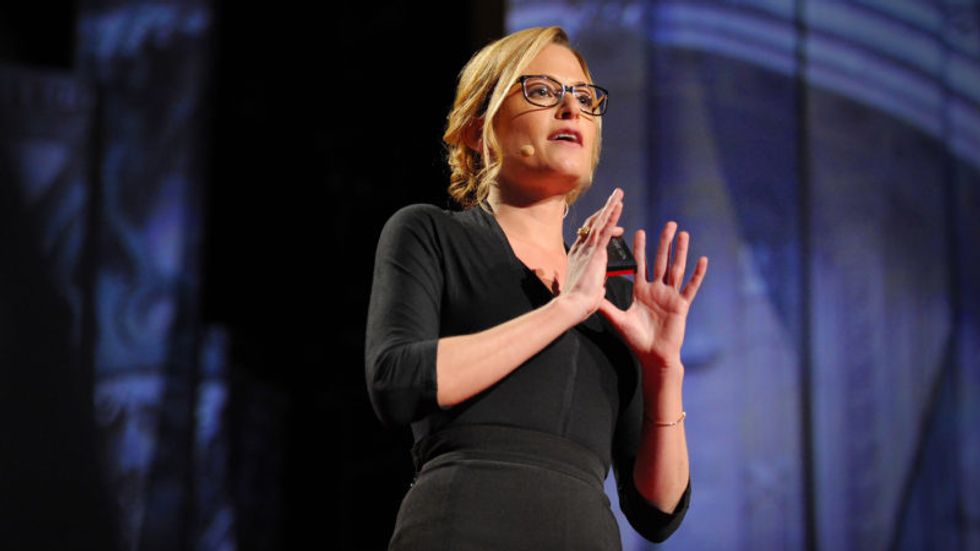 Tali Sharot discussing her theories
Sharot goes on to explain even further, and discusses a few experiments she conducted regarding the way we reckon with data. According to her, beliefs can directly interfere with our ability to understand information. This phenomenon isn't exclusive to people with cognitive impairments either. It would seem, according to Sharot, that most people aren't hardwired for doubt. This behavior also extends to the world of debate. By using MRI machines, Sharot was able to measure the brainwaves of people in conversation, and was able to show that when two people agree, confidence in an opinion rises. On the flipside, brainwaves more or less shut down when people disagree. While this isn't surprising to anyone who spends Thanksgiving with their family, it's always worth noting when idiomatic beliefs, through careful study and observation, bleed into the world of cognitive psychology.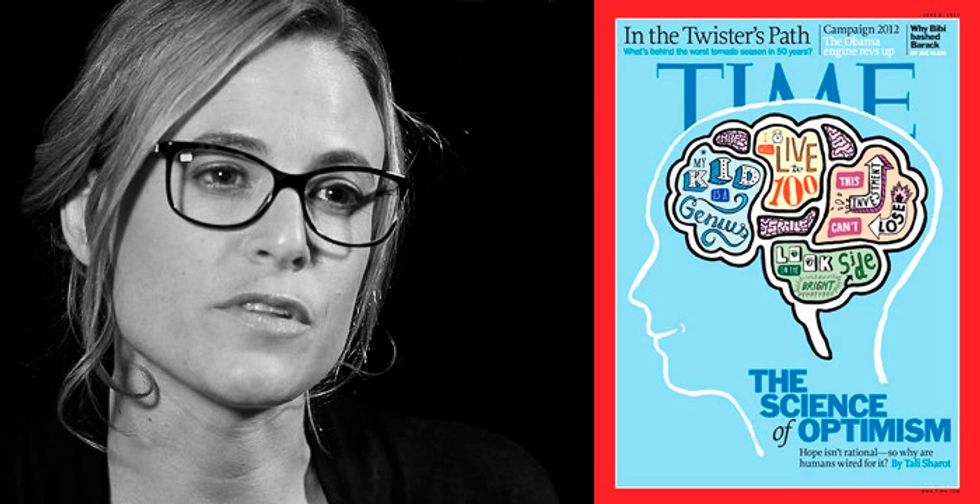 Tali Sharot with her Time cover
The real question is, now that we have scientific proof that these phenomenons govern our behavior, how do we use this information to our advantage? According to Sharot, we react to positive information similarly to the way in which we react to tangible rewards. When it comes to bad news however, our brain tends to prefer ignorance and "frantically distorts" information that a person doesn't agree with. The way to successfully discuss our differences is by framing them in ways the brain will naturally understand. For example, people learn more from good news than they do from bad. People also tend to believe positive statistics more than negative ones. By approaching a conversation from the positive, a person is more likely to be successful in convincing others of their point of view.
It'd be easy for an uninformed or casual reader to walk away thinking that
The Influential Mind
is about the power of positivity, and that Sharot's experiments are anecdotes designed to support this idea. This is the problem with pop psychology writ large. It forces brilliant scientists to condense their research. While the book is good for readers looking for a working knowledge of Sharot's theories, it necessarily eschews certain details in favor of readability. It's a good primer, but after finishing the book, more curious readers will probably want to dig into Sharot's academic papers in order to gain a stronger understanding of her work.
Keep reading...
Show less