"A tree is best measured when it is down," the poet Carl Sandburg once observed, "and so it is with people." The recent death of Harry Belafonte at the age of 96 has prompted many assessments of what this pioneering singer-actor-activist accomplished in a long and fruitful life.
Belafonte's career as a ground-breaking entertainer brought him substantial wealth and fame; according to Playbill magazine, "By 1959, he was the highest paid Black entertainer in the industry, appearing in raucously successful engagements in Las Vegas, New York, and Los Angeles." He scored on Broadway, winning a 1954 Tony for Best Featured Actor in a Musical – John Murray Anderson's Almanac. Belafonte was the first Black person to win the prestigious award. A 1960 television special, "Tonight with Belafonte," brought him an Emmy for Outstanding Performance in a Variety or Musical Program or Series, making him the first Black person to win that award. He found equal success in the recording studio, bringing Calypso music to the masses via such hits as "Day-O (The Banana Boat Song)" and "Jamaica Farewell."
Harry Belafonte - Day-O (The Banana Boat Song) (Live)www.youtube.com
Belafonte's blockbuster stardom is all the more remarkable for happening in a world plagued by virulent systemic racism. Though he never stopped performing, by the early 1960s he'd shifted his energies to the nascent Civil Right movement. He was a friend and adviser to the Reverend Doctor Martin Luther King, Jr. and, as the New York Times stated, Belafonte "put up much of the seed money to help start the Student Nonviolent Coordinating Committee and was one of the principal fund-raisers for that organization and Dr. King's Southern Christian Leadership Conference."
The Southern Poverty Law Center notes that "he helped launch one of Mississippi's first voter registration drives and provided funding for the Freedom Riders. His activism extended beyond the U.S. as he fought against apartheid alongside Nelson Mandela and Miriam Makeba, campaigned for Mandela's release from prison, and advocated for famine relief in Africa." And in 1987, he received an appointment to UNICEF as a goodwill ambassador.
Over a career spanning more than seventy years, Belafonte brought joy to millions of people. He also did something that is, perhaps, even greater: he fostered the hope that a better world for all could be created. And, by his example, demonstrated how we might go about bringing that world into existence.
Bernie Sanders is no longer running for president, but he had an indelible impact on American politics.
Bernie Sanders dropped out of the presidential race on Wednesday, April 8th. The news broke at around 11AM ET, and Sanders addressed his supporters in a live-streamed press conference starting at 11:45.
Standing inside his home, flanked by framed photos of bucolic houses, the Brooklyn-born Vermont senator thanked his supporters—specifically mentioning his campaign staff, all the people who called and texted for him, and all the artists and writers who did their best to promote his unprecedented campaign for president.
"The greatest obstacle to social change is the corporate and political establishment," he told the audience as comments flickered down the side of the screen—a Trump 2020 troll, then a Biden supporter, then a disappointed fan calling for him to re-enter.
Sanders, broadcasting from Burlington, Vermont seemed calm, yet focused. He referenced the Nelson Mandela quote, "It always seems impossible until it's done." He reminded his followers that while Medicare for All was a fringe idea in 2016, now multiple democratic candidates supported it in the presidential race, and now progressive ideals have pervaded mainstream American consciousness.
What Bernie Sanders created was a clearing, an opening for ideas that had fallen out of fashion, and for expanding… https://t.co/jJii3DfYo5

— Charles P. Pierce (@Charles P. Pierce) 1586376367.0
"Few would deny...our movement has won the ideological struggle," he said. "A majority of the American people now understand that we must raise the minimum wage...that we must guarantee healthcare as a right...that we must transform our energy system away from fossil fuels...and that higher education must be available to all, regardless of income."

Bernie was always a policy candidate, fixated on the issues at hand, clearly tormented by the idea that people are still sleeping on the streets in the richest nation in the world. The rest of the image surrounding him—the toxic masculinity, the Internet trolls—may have been true in part, and perhaps that played a role in his campaign's demise, but the truth is that Bernie's campaign failed for the same reason it won the support of millions of young people and working class people across the country: It was always about supporting and uplifting the working class.
"A member of Congress for nearly 30 years, Mr. Sanders has been bitingly frank about the way that money strangles American democracy," wrote Elizabeth Bruenig in a rare pro-Bernie New York Times op-ed, published conveniently after Sanders dropped out. "Rich individuals with a vested interest in defanging egalitarian politics donate to campaigns, PACs, universities and think tanks in hopes of purchasing lawmakers' loyalties and rigging the legislative process in their favor. These oligarchs — the Koch brothers, the Mercers and Michael Bloomberg, among others — exert control over our politics that far exceeds the one vote accorded to each citizen."
In a nation that worships wealth above all else, and that's truly led by massive corporations, perhaps this was a doomed endeavor. Sanders certainly invoked ire across political parties; and sometimes, Bernie supporters did exhibit somewhat cult-like behavior—though from personal experience, this cult mostly consisted people who were deeply inspired and committed to healing American society.
For some, that Sanders dropped out in the midst of the coronavirus crisis only adds insult to injury. As Keeanga-Yamahtta Taylor wrote in the brilliant New Yorker article "Reality Has Endorsed Bernie Sanders"—published a week before he dropped out—coronavirus is starkly illuminating the validity of points that Bernie has been making all along. "The class-driven hierarchy of our society will encourage the spread of this virus unless dramatic and previously unthinkable solutions are immediately put on the table," Taylor writes. "As Sanders has counseled, we must think in unprecedented ways… The Sanders campaign...has shown public appetite, even desire, for vast spending and new programs. These desires did not translate into votes because they seemed like a risky endeavor when the consequence was four more years of Trump. But the mushrooming crisis of COVID-19 is changing the calculus. As federal officials announce new trillion-dollar aid packages daily, we can never go back to banal discussions of 'How will we pay for it?' How can we not?"
Though Bernie's acquiescence to Joe Biden is a devastating loss for many of his supporters, particularly those who were never able to even cast a vote for him, in many ways Sanders' decision to drop out was a logical and even ethical choice. As Sanders himself stated in the broadcast, there was no clear path to his election—a crushing Biden victory on Super Tuesday made that clear—and in addition, holding primary elections during the coronavirus crisis poses its own unique health dangers and inevitably would distort the results.
Now, for all intents and purposes, Biden is the Democratic nominee. Though he fell short of actually endorsing Biden, Bernie called the former vice president a "very decent man" and promised to do his best to promote his progressive ideals in the forthcoming campaign.
The road ahead will be long and difficult, regardless of who wins this November. But our Vermont savior, who symbolized such a potent and promising new world, at the very least laid down some seeds. We may not see them this season, but maybe in future years, the ideas Bernie Sanders planted will be able to grow.
"Now is a moment to remake our society anew," Taylor writes. To say Bernie made an indelible impact on American politics is an understatement. In a critical and volatile moment, he inspired a new wave of young progressives to organize, and made millions of voters question the status quo. He prioritized morality in his campaign in an era that seems entirely devoid of it—not morality in terms of tolerance that disguises inaction, but morality defined by what we truly owe to each other.
These ideas will not die out after Sanders exits the primary. If anything, they'll become more local, more grassroots, more rooted in people power. After all, mainstream political parties in America have never been at the forefront of radical people-focused action. That kind of change will always have to come from the actions of everyday folks, organizing and fighting tirelessly for people they don't know.
We're here, and we're growing in numbers.
Everybody knows that young people have the lowest voting turnout rates of any demographic. It's a statistic that's often used against us to support allegations that we're lazy, self-involved, and too apathetic to care about the future of politics. For some of us, that's true. But within that 18-29 year-old demographic, there's a community that's too often overlooked.
A recent estimate from Pew Research Center finds that naturalized citizens will comprise about 10% of the eligible voters in the 2020 election–that's about 23 million people, a 93% increase since 2000. That's right: We're here, and we're growing.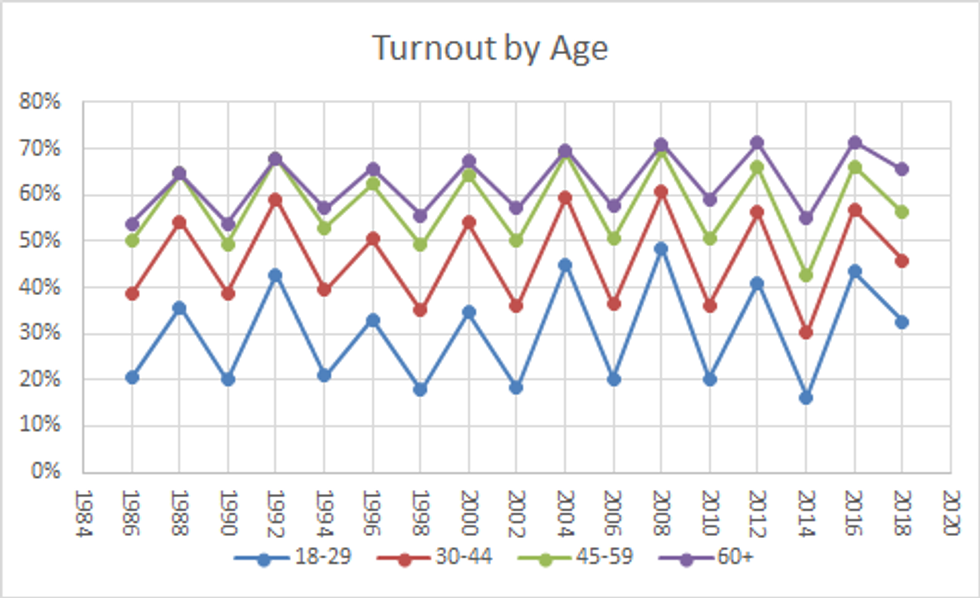 ElectProject
The power of naturalized citizen voters shouldn't be underestimated. Generally speaking, voting turnout rates of naturalized citizens are higher than natural citizens. According to Pew, 34% of naturalized citizen voters are Latinx and 31% identify as Asian; in each of those communities, more foreign-born immigrants show up to vote than non-immigrants. Where are these voters located? 56% of U.S. immigrants reside in the country's four most populated states. Of course, these are also the states with the most members of the electoral college: California (55), New York (29), Texas (38), and Florida (29).

It's no wonder why naturalized voter turnout would be high. Even as a naturalized citizen since I was one and a half years old, I can't take my right to vote for granted. Not even my jaded attitude as an academic or an irony-poisoned millennial can make me forget that 55 years ago, people like me were barely allowed into this country, thanks to immigration quotas and plain discrimination. The Immigration and Nationality Act of 1965 eliminated the quota system, and while the new immigration policy still favored northern and western Europeans, the law allowed increased flow of immigrants from Asia, Africa, and Latin America.
Amidst today's immigration crisis under the Trump administration, a growing number of voters are immigrants or the children of immigrants and shouldn't be ignored or dismissed. Even if immigration trends stay the same (rather than increase, as they are more likely to), then today's 10% of voters who are naturalized citizens will become at least 20% by 2040, with immigrants predicted to be the driving force of population growth in the U.S. in coming years.
These numbers impact the turnout of young voters like me and young people's investment in the policies and overall political system, which has turned away people who looked like me and which may turn away those people in the future if policies aren't changed. I'm a naturalized citizen, so I vote.
And Their Jobs Owe Them Money for It.
Election day is here.
Not the big one that the whole county is obsessed with—that's still a year away. This is the little one in which your voice can actually make a difference.
All across the country, on Tuesday November 5th, local elections and special elections give a voice to the tiny fraction of voters who will actually show up. Historically speaking, these are likely to be aging voters who no longer work or have the luxury to set their own schedules. Historically speaking, young people have allowed the local government to be ruled by this privileged and aberrant minority of voters, even as their interests and agendas have drifted further from the cultural center. Historically speaking, we've thrown our power away—and not just our power, we've been throwing away paid time off work!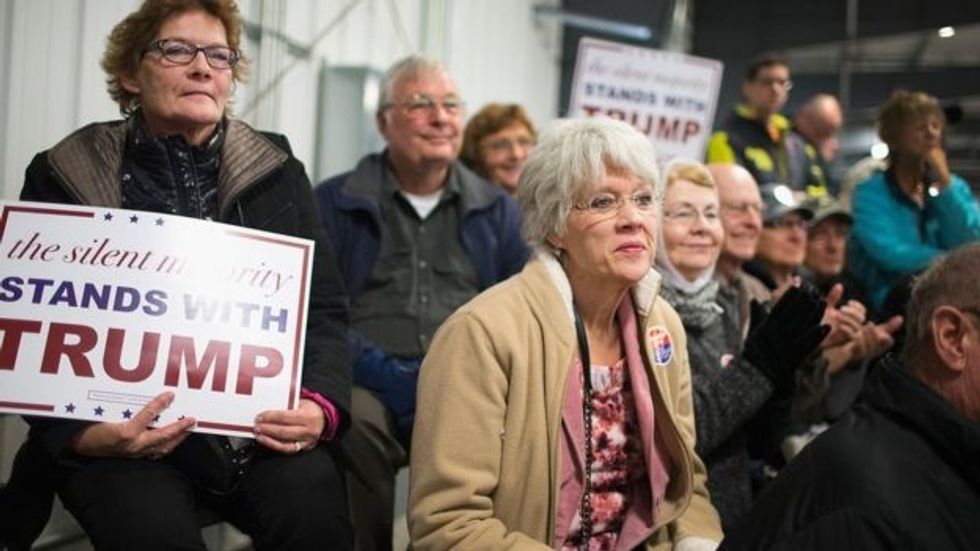 Getty
This is not like us. Aren't we the generation of entitled slackers who use any excuse to skip work? Is that just a myth created by baby boomers to make us sound way cooler—and therefore more threatening—than we actually are? In almost every state in the US, your boss is legally required to give you time off on election day to go vote! And in most states, that time off is paid!
In New York, any employee scheduled to work on Election Day is allowed three hours paid time off. In California, it's two hours. So why would you give away your labor? Find out where your polling place is, and figure out how long it takes to get there. If it's less than the time you're getting paid for, have you considered walking? If there's one thing better than a lovely Autumn stroll in the afternoon sun, it's getting your boss to pay for it.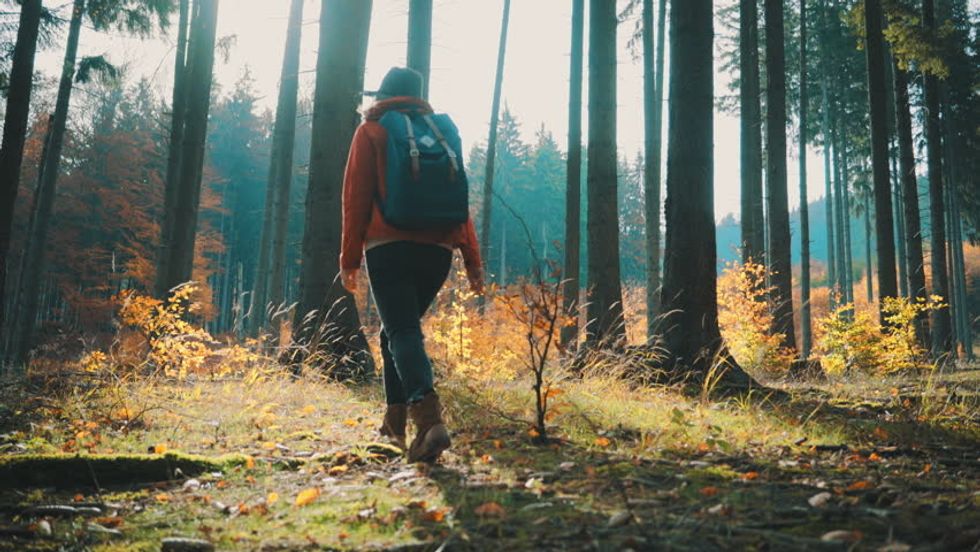 What getting paid could look like on TuesdayShutterstock
Along with the countless municipal elections that will otherwise be decided by retirees, there are a number of state-level races worth watching, from the Virginia state legislature elections, which could flip both houses, to the effort to reinstate affirmative action measures in Washington state. In New York, several ballot measures have been getting attention, in particular the issue of ranked-choice voting, which will go into effect in 2021 if the voters choose it tomorrow.
Would you rather that decision be made by people who might not live to see it take effect? Or would you rather you and all your friends get a half-day to go vote? Remember how much you love half-days? So, take one! Spend ten minutes on ballotpedia, then take three hours off work.
Even if you think electoralism is a joke, and you devote your life to activism that will tear down the state and rebuild it from scratch, elections can build enthusiasm and political engagement. If anything, show up and write in "voting is for chumps." Maybe a surprising turnout of young people will get some more people to start the long process of waking up to to political realities. Maybe some candidates will notice the demographics and start shifting their politics to appeal to people like you. It could happen!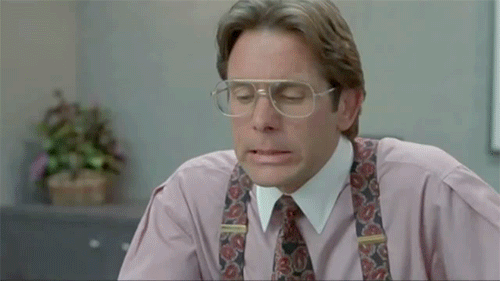 Office Space
Or maybe you'll just get a paid afternoon off, and watch your boss try—and fail—to argue with the law. Win-win.
Here are three crucial ways the digital age complicates your protections under the Fourth Amendment.
When the Fourth Amendment codified citizens' protections against government spying in 1791, Americans couldn't say, "Alexa: turn off the lights." With technology pervasively conducting our daily errands, the amendment against illegal search and seizure is not equipped to protect digital users. In fact, David Cole, a law professor of constitutional law and national security at Georgetown University, critiques, "In the modern digital age, it means very, very little."
To be clear, the totality of the Fourth Amendment reads: "The right of the people to be secure in their persons, houses, papers, and effects, against unreasonable searches and seizures, shall not be violated, and no Warrants shall issue, but upon probable cause, supported by Oath or affirmation, and particularly describing the place to be searched, and the persons or things to be seized."
Here are three crucial ways the digital age complicates your protections under the Fourth Amendment:
1. Law enforcement doesn't always require a search warrant to enter your home
When police want to mine your private information on suspicion that you've committed a crime, they have to meet the familiar requirement of "probable cause." Traditionally, they must convince a judge that there is a sound reason to search and/or bug your property for surveillance. True to the wording of the law, your protected personal belongings include your physical body, "houses, papers, and effects."
However, "probable cause" includes the "plain view" clause, wherein authorities have the right to enter your home if they see evidence, contraband, or suspicious materials in your home. In the age of social media, a picture, check-in, or status you post could very well justify law enforcement entering your home without a warrant. The ruling in Katz v. United States stands as the most notable example that qualifies the Fourth Amendment as only applying to situations in which "an individual has a reasonable expectation of privacy." When you're sharing the details of your life on social media sites, you waive much of that expectation.
2. Your personal information is no longer "private" from the government once shared on social media
A series of rulings in the 1960s and 1970s began to add exceptions to the "probable cause" requirement. Namely, the government does not need a search warrant to obtain any personal information that you've already shared with somebody else. Hence, the government can obtain any private information given to credit card companies, banks, or phone companies, because you've technically de-privatized the information by using those services.
Of course the same applies to any and all social media accounts. All the government needs is a subpoena, which experts say is "trivially easy to issue."
3. Your location can be tracked by the government
While it may seem obvious to be wary of broadcasting your location at any given time, some personal devices and social media sites automatically tag and record your location. Your whereabouts cease to be a topic of government surveillance when you share the information willingly (which you do by using digital services). As Justice Alito noted when presiding over the United States v. Jones, social media tools "will . . . shape the average person's expectations about the privacy of his or her daily movements." Traditional protections simply don't apply to what you publicize yourself.
Even though some Millennials are almost forty, people are still bashing them.
Last year the New York Post ran an article about Millennials making up the largest portion of the American workforce, ignoring a glaringly obvious point: of course 22-37 year olds are the largest portion of the labor market; they're adults. In an effort to make a distinctly un-newsworthy article newsworthy, the Post settled on an old trope, pick on the Millennials. For its part, this article wasn't as bad as most. The author refrained from using words like "entitled" and "coddled" and "irresponsible," but there's still a certain connotation attached to the term Millennial, particularly in the way it pertains to work ethic and maturity. Repudiating a stereotype often doesn't have the desired effect; in fact, it has a tendency of validating the stereotyper.* That said, my editor's asked me to dissect the maelstrom of insults and unfair generalizations that surround my generation, so here it goes.
In order to parse the general themes of Millennial bashing from the tsunami of bull shit that's been thrown our way, it's important to acknowledge how it all started. In many ways, a lot of the Millennial-centric ire feels natural. Baby Boomers hated Gen Xers. WWII Vets were critical of Boomers. There's always been something decidedly adversarial about the relationship between a young generation and their parents. This is fine. It's one of the many growing pains associated with being a young professional. The strange thing is how long this anti-Millennial sentiment has lasted. Complaints about young folks usually stop before those young folks are forty.
One theory about Millennial bashing's longevity is that it's a symptom of the economic anxiety created by the financial crisis of 2008. Parents had already been lambasting Millennials for being entitled and not wanting to sacrifice their twenties to careers paths they weren't interested in and didn't respect. Boomers were more concerned with being pragmatic, while Millennials wanted to find meaning in their work. Naturally, this caused friction. Still, there was nothing out of the ordinary. At this point, Millennials were college and high school students.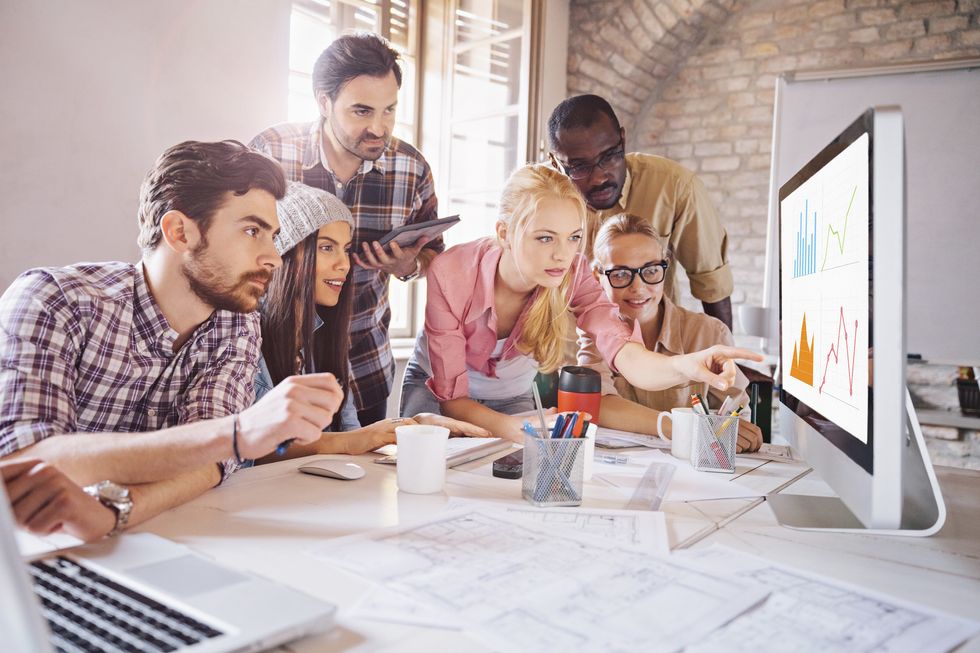 We're just gathering around a single computer monitor to check out some sweet graphs. You know, millennial stuff.
Following the Great Recession, however, this friction was compounded, as Boomers and Gen Xers everywhere lost pensions and 401ks, and their supposedly 'safe' jobs went up in smoke. When slapped in the face by reality, Boomers realized that sacrificing the best years of their lives to jobs they hated yielded very few tangible results. They were understandably upset. There's plenty of pop psychology out there that'll tell you people hate being wrong, but when by virtue of being wrong, their entire life is called into question, something interesting happens. Back in the 50s, a study was done on a doomsday cult in Chicago. The cult predicted that a massive flood would destroy the West Coast of the United States and that flying saucers would rescue the chosen believers before the cataclysm struck. Obviously, it never happened. Strangely, after the prophecy failed, rather than admitting they'd been duped, folks in the cult doubled down on their beliefs, assuming that their prayers had been answered by God and that he decided to spare the planet on their behalf.
Applying similar logic, Boomers, rather than admitting that the system they'd bought into wasn't really looking out for their best interest, doubled down, intensifying their rhetoric against lazy and entitled Millennials. Inasmuch as all invectives are projections of a speaker's insecurities, Boomers and Gen Xers are really saying one of two things when they blindly lash out. One: they made the wrong choices when they were young, and feel they missed The Road Not Taken. Two: they feel that they didn't work hard enough to inoculate themselves from the effects of our failing economy. The former is sad. The latter is terrifying.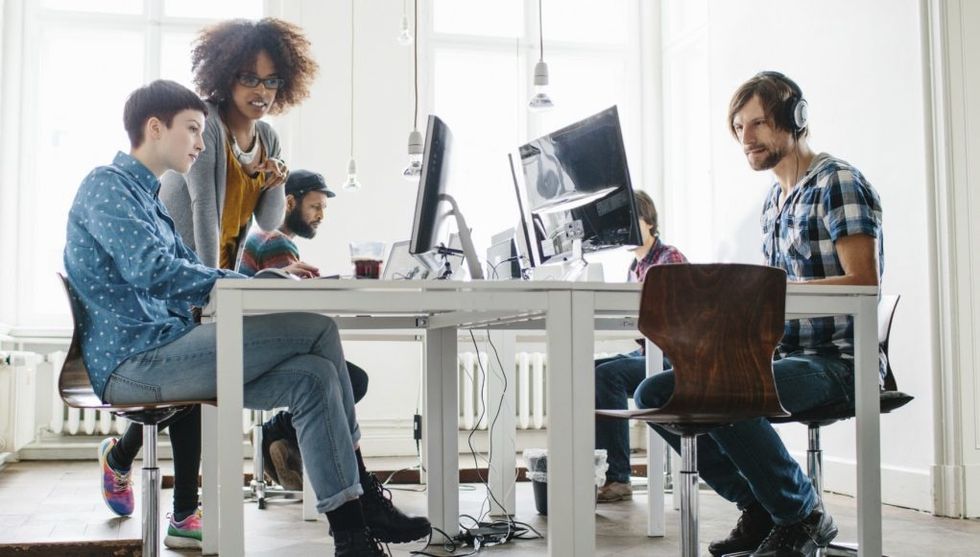 Millennials don't care about dressing up for work.
Another way to look at this issue is via the lens of corporate America. As pointed out by Tucker Max**, the corporate formula is simple: sacrifice youth in exchange for status and financial security. The problem is, status is only worthwhile if people believe in the power structures it's attached to. Money certainly still commands respect, but middle managers aren't exactly rolling in it. With this in mind, it's easy to look at Boomers' Millennial fixation as an obsession with preserving the status quo (pun intended). In their world, being respected can feel like the end all be all of adult life. If Millennials don't buy into the existing systems of power, then the prestige Boomers have strived for is meaningless.
There's always a disconnect between generations, but the way in which Millennials have been used as scapegoats for economic issues is beyond the pale. Many of us own homes and have families already. Some of us are prominent business owners. If 1996 is a strict cutoff, then this coming school year will be the last college graduating class primarily comprised of Millennials. We're adults, in every sense of the word. Still, the stereotypes attached to Millennials have persisted, and while I've discussed the hows and whys, I haven't directly addressed the crimes my generation is accused of.
Here's a shortlist of refutations:
-Millennials are not as addicted to their phones as Boomers and Gen Xers.
-Millennials do not want participation trophies. Those were invented to coddle and reassure parents that their children are special. I have a box of them at home. They mean nothing to me.
-Every generation since the Boomers has been called "The Me Generation."
-Millennials aren't stupid. They're the most educated generation ever. Full stop.
-Millennials aren't lazy or entitled. We just won't work for less than what we're worth. Anyone who thinks refusing to work for free is an entitlement, has no spine.
-Our debt is not due to a lack of fiscal responsibility. Boomers destroyed the economy, and we're shouldering 1.2 trillion dollars in student debt because we were taught that higher education is a prerequisite to success in this country.
---
* This is because discourse is predicated on the idea that each side of an argument has merit. A potential side effect of debate, however, is the creation of a neutral center, a nebulous region in which values from either end of the discussion are combined and redefined ad infinitum. Often, the center is painted as the domain of the rational thinker, the one who can clearly see both sides of an argument. The problem is, in a debate with, say, a neo-nazi, the center must by this definition, at least partially endorse certain ethno-fascist ideals. In this way, the creation of an ideological middle ground always benefits the more radical opinion.

**Listen...I know. I didn't see the author until after I read the article, but it makes some pretty good points. Yes, his books are still bad.
---
Matt Clibanoff is a writer and editor based in New York City who covers music, politics, sports and pop culture. His editorial work can be found in Inked Magazine, Popdust, The Liberty Project, and All Things Go. His fiction has been published in Forth Magazine. -- Find Matt at his website and on Twitter: @mattclibanoff