"A tree is best measured when it is down," the poet Carl Sandburg once observed, "and so it is with people." The recent death of Harry Belafonte at the age of 96 has prompted many assessments of what this pioneering singer-actor-activist accomplished in a long and fruitful life.
Belafonte's career as a ground-breaking entertainer brought him substantial wealth and fame; according to Playbill magazine, "By 1959, he was the highest paid Black entertainer in the industry, appearing in raucously successful engagements in Las Vegas, New York, and Los Angeles." He scored on Broadway, winning a 1954 Tony for Best Featured Actor in a Musical – John Murray Anderson's Almanac. Belafonte was the first Black person to win the prestigious award. A 1960 television special, "Tonight with Belafonte," brought him an Emmy for Outstanding Performance in a Variety or Musical Program or Series, making him the first Black person to win that award. He found equal success in the recording studio, bringing Calypso music to the masses via such hits as "Day-O (The Banana Boat Song)" and "Jamaica Farewell."
Harry Belafonte - Day-O (The Banana Boat Song) (Live)www.youtube.com
Belafonte's blockbuster stardom is all the more remarkable for happening in a world plagued by virulent systemic racism. Though he never stopped performing, by the early 1960s he'd shifted his energies to the nascent Civil Right movement. He was a friend and adviser to the Reverend Doctor Martin Luther King, Jr. and, as the New York Times stated, Belafonte "put up much of the seed money to help start the Student Nonviolent Coordinating Committee and was one of the principal fund-raisers for that organization and Dr. King's Southern Christian Leadership Conference."
The Southern Poverty Law Center notes that "he helped launch one of Mississippi's first voter registration drives and provided funding for the Freedom Riders. His activism extended beyond the U.S. as he fought against apartheid alongside Nelson Mandela and Miriam Makeba, campaigned for Mandela's release from prison, and advocated for famine relief in Africa." And in 1987, he received an appointment to UNICEF as a goodwill ambassador.
Over a career spanning more than seventy years, Belafonte brought joy to millions of people. He also did something that is, perhaps, even greater: he fostered the hope that a better world for all could be created. And, by his example, demonstrated how we might go about bringing that world into existence.
Home of celebrities and neo-nazis, Twitter has it all. With nearly 400 million users globally — half of them active — the social networking and micro-blogging platform remains the central spot for 280-character musings.
Known for its fandoms, spam bots, garbage discourse, and the tantalizing opportunity to respond directly to even the most famous of people, it's now going to be known for Elon Musk's desecration of it.
The multi-billionaire — ex-husband of Grimes — and purchaser of the title of "founder of Tesla" boasts 100 million+ Twitter followers, 20k+ tweets, and the title of CEO as of 2022.
Despite the goal of redefining Twitter as an innovation of grand proportions and as a "free speech" haven, Musk's tyrannical management style may cause the platform to grind to a screeching halt any moment. Instead of a slow sinking ship, Musk crashed into the iceberg and then set off rocket launchers at the escaping boats.
Here's a timeline of Musk's acquisition and subsequent murder of Twitter:
Most recent news at the top — scroll down and read up for a full chronological timeline (this will be updated frequently)
Then-CEO Jack Dorsey replied, "Same." A user suggested the multi-millionaire should buy Twitter and Musk replied, "How much is it?" So technically, this dumpster fire has been 5 years in the making.
On March 22nd, Senator Bernie Sanders and Elon Musk entered a debate over the fate of the world.

It began when Sanders published a very in-character tweet. "We are in a moment in American history where two guys — Elon Musk and Jeff Bezos — own more wealth than the bottom 40% of people in this country," he wrote. "That level of greed and inequality is not only immoral. It is unsustainable."
Elon Musk, the Tesla and SpaceX CEO who briefly surpassed Jeff Bezos in early 2021 to become the wealthiest man in the world, had a ready-made response. In a Tweet, he wrote, "I am accumulating resources to help make life multiplanetary & extend the light of consciousness to the stars."
@cleantechnica I am accumulating resources to help make life multiplanetary & extend the light of consciousness to the stars

— Elon Musk (@Elon Musk) 1616304691.0
Sanders's reply remained laser-focused on his lifelong mission to fight income inequality on Earth. He wrote, "Space travel is an exciting idea, but right now we need to focus on Earth and create a progressive tax system so that children don't go hungry, people are not homeless and all Americans have healthcare. The level of inequality in America is obscene and a threat to our democracy."
Musk's starry-eyed statement has since faded into the ether of Twitter, but the context of this debate raises larger questions about futuristic technologies, the present-day interests and needs of humans on Earth, and the ongoing battle between them.
Billionaires dream of flying machines
As the Earth speeds towards irreversible climate disaster, many people's minds have naturally turned towards the stars. The distant, spinning nebulae and gleaming planets above us have long been idealized as potential escape routes for the unhappily earthbound.
But as the climate crisis grows more dire on Earth and space travel ramps up, thanks to ambitious patrons, some (like Elon Musk) have proposed that space may be our best shot at collective survival.
Famously, Musk founded SpaceX because he believed that NASA was not working hard enough to bring humans to Mars, and he feared that humanity is approaching its last chance to escape Earth before our planet becomes an uninhabitable hellscape.
His fellow Bernie Sanders nemesis Jeff Bezos has expressed similarly apocalyptic concerns. Bezos, who founded a rocket and aerospace travel company called Blue Origin in 2000, recently stepped down from his position as CEO of Amazon, claiming he planned on investing more time in his work with Blue Origin and his efforts to fight climate change.
Like Musk, Bezos aims to colonize space by investing ambitiously in new technologies that could help people reach the stars. And also like Musk, he fears for the future of civilization — and sees space as the place where these problems might be solved.
"Hundreds of years into the future, we will move all the polluting industries to space and other planets, where we have infinite resources for all practical purposes and Earth will only be (used for) light industries and residential," Bezos stated in a conversation with Amazon India chief Amit Agarwal in New Delhi.
This plan, which Bezos calls the New Inversion, is a long-term vision that would effectively move all pollution to the cosmos. "I would think, kind of [a] time frame of hundreds of years," Bezos added, reiterating that "we have to preserve this planet and we can do that using the resources of space."
The "space escape" as an escape route for the super-rich
Bezos, Musk, and their future-focused peers may claim that their plans to reach the stars are efforts to ensure a future for humanity, but their own reputations and vast fortunes have raised many questions about who this interplanetary future would actually serve.
At the moment, the future of space travel appears to be reserved for the super-rich — the sort of people who are already least affected by earthly calamities like climate change, despite unleashing the vast majority of the world's carbon emissions. For example, private spaceflight companies such as Axiom reportedly charge up to $55 million to send travelers into specially designed rooms located in the International Space Station.
It is likely that even if space travel begins to evolve in step with Moore's law (the theory that computers' processing power tends to double every two years), whatever world we build in the cosmos will remain reserved for the 1% for quite a long time. In this light, the futures preached by techno-prophets like Bezos and Musk start to look like thin cloaks for a kind of moon-eyed eugenics that would leave billions of people in the literal dust.
"The space barons are shrewdly — one might say cynically — tapping into our respect for astronauts and our idealism about what space represents," Ceridwen Dovey writes in The New Yorker. "They seem to be counting on us to be awestruck by whatever it is they do in space, and to overlook the fact that their motives are not exactly pure, nor are their methods of getting us there egalitarian."
Humans are drawn to mystery and beauty, and space is such a tantalizing frontier that it's difficult to completely write off billionaires' ambitious plans to penetrate it, even though we know their earthly work typically involves hoarding vast amounts of wealth while underpaying and mistreating masses of workers.
The ongoing battle between technological innovation and human-centered reform
Similar contradictions plague a multitude of existing plans to address climate change on Earth, and they are particularly endemic to plans broadcasted by corporate entities who have nothing to gain and everything to lose from substantial climate action.
For example, Jeff Bezos recently pledged $10 billion of his $188 billion net worth to the Bezos Earth Fund, yet his overall approach to climate and philanthropy has continuously come under fire.
First, there's the fact that despite all his talk of concern about climate change, Bezos's company continues to belch out carbon emissions, releasing around 51.17 million metric tons of carbon dioxide in 2019 – up 15% from the previous year despite various green pledges. The company has also been slammed with reports about its poor treatment of workers, and prior to the Capitol riots, Bezos also reportedly donated thousands of dollars to conservative politicians such as progressive disruptor-in-chief Mitch McConnell.
Then there's the fact that Bezos failed to donate more than roughly 0.1% of his net worth prior to his 2020 donations — and the latter comprised less than 8% of his vast net worth, a sum that, along with Musk's wealth, is equivalent to the collective wealth of the United States's poorest 40% of people.
The $10 billion Bezos did donate via the Earth Fund was also met with criticism, particularly from groups invested in climate justice. The vast majority of Bezos's donations went to established environmental organizations like the Environmental Defense Fund and World Wildlife Fund, most of which already possess endowments in the millions. Critics said that many of these contributions will never reach communities already subject to the worst effects of climate-caused floods, wildfires, pollution, and destruction, and many of their ultimate goals involve conserving an existing status quo rather than addressing interconnected crises like racism and economic inequality.
In a statement released in December, a group of community-focused NGOs called the Climate Justice Alliance released a statement in protest of Bezos's donations. It found that "less than a quarter of the first-round grants will go to intermediary funds that support thousands of grassroots communities cultivating solutions on the frontlines of the climate emergency. The inequities couldn't be more striking."
This could also be said of the work of many of the "Big Green" environmental groups, particularly those historically focused on conservation rather than human-focused social change. Conservation movements have historically been bound up with white supremacy, and a look at the bigger picture reveals that white supremacy created and perpetuates the conditions for climate change, itself is an inherently racist crisis.
Other billionaires and corporations' efforts have been subject to similar critiques. For example, Elon Musk recently launched a competition offering $50 million to whomever could invent the best carbon capture techniques. Carbon capture technology has long been an alluring yet elusive potential solution to climate change, and it has also been the recipient of generous funding.
Despite all this investment, no miracle technology with the ability to stop climate change has ever emerged, and waiting for one feels more and more like waiting for a doomsday savior who will never arrive.

False promises further threaten any chance of climate action
An April 2020 study from Lancaster University argues against promises that glorify miraculous technologies, because "overreliance on promises of new technology to solve climate change is enabling delay."
Hinging the solution of climate change on miraculous technological breakthroughs like ice-restoration, nuclear fusion power, massive carbon-eating machines, and extraterrestrial offshoring can "feed systemic 'moral corruption', in which current elites are enabled to pursue self-serving pathways, while passing off risk onto vulnerable people in the future and in the global South," say researchers Duncan McLaren and Nils Markusson, who encourage "cultural, social and political transformation" over placing hopes in instant solutions.
It seems that any genuine "cultural, social and political transformation" will not come directly from billionaires and massive corporations, who naturally often benefit most from current cultural, social, and political structures and hierarchies. Recent corporate efforts to combat climate change have been hollow and hypocritical; and many corporations are being accused of greenwashing as they release statements and pledges that appear to be commitments to fighting climate change but that are really efforts to deflect opposition.
A January 2021 report from the Sierra Club entitled "The Dirty Truth About Utility Climate Pledges" graded utility companies on their plans to cut emissions and transition to clean energy solutions and issued many failing grades to companies that have released "carbon neutral" pledges and similar statements. "
The infuriating truth is that many utilities are not only protecting their coal plants from retirement, but are also actively planning to build out climate destabilizing gas plants," said Mary Anne Hitt, who is the Director of Campaigns at the Sierra Club. "The consequences of allowing utilities to continue to delay the transition to clean energy will be particularly disastrous for low-income communities and communities of color."
Learning from the people and the planet
So where will change come from, if not rockets to stars or carbon pledges or the latest addictive inventions of Silicon Valley coders? Perhaps the answer is not above us but rather below our feet. Perhaps we have everything we need already here on Earth.
"We already have a safe and natural technology for carbon capture and storage (CCS)," writes Francis Seymour in a report for the Center for Global Development. It's called 'tropical forests.'"
We already have everything we need to transition to clean energy, and we already have enough food to feed the world's population. What is needed is a redistribution of wealth and resources — something billionaires, conservative politicians, and oil companies have fought against since climate change was exposed as a dangerous reality in the '80s.
Slowly but surely, the idea of wealth redistribution as an investment in fighting climate change is seeping into reality in the form of modern politics. Joe Biden's infrastructure plan will be paid for, in part, by taxing the super-rich. Still, there's a long way to go.
As things grow more dire, environmentalists increasingly view a cross-racial, cross-class movement as the only feasible solution to climate change. This framework, long supported by environmental justice movements and knitted into intersectional plans like the Green New Deal, sees the solutions to climate change as bound up with ending capitalism, racial injustice, and other interconnected global plagues.
The new vanguard of the climate movement also acknowledges how important Indigenous knowledge of land stewardship and conservation, frontline communities' understanding of environmental racism and the stakes of the climate crisis, and ongoing working class and BIPOC struggles for justice are to any just transition away from a fossil fuel-based economy.
Clearly, billionaires' expensive efforts to colonize space would be low on the priority list of any intersectional response to climate change.
Is there any place for space in the climate fight?
All this being said, it's unlikely that humans will ever totally abandon our desire to explore distant galaxies. Our desire to know the cosmos is as innate as our childhood desires to explore the deep green mysteries of the nearby woods. Fortunately, we don't have to write space exploration out completely in the fight for Earth.
Actually, Jeff Bezos wasn't wrong when he said space could be key to helping us fight climate change. NASA, the UN, and other organizations have consistently reported that some solutions to the climate crisis might be found through space-based technology capable of deepening our understanding of the climate crisis and providing key evidence of its effects.
For example, satellites can detect changing temperature levels, rising sea levels, and other factors that could be vital in the current global effort to halt warming at 1.5°C. On a more theoretical level, thinking about how alien civilizations may have responded to climate change could help us address our own situation.
It seems that for now, space travel's greatest contribution is its ability to help humans look back at Earth — either to measure its changes or to feel awed by what Carl Sagan called our "pale blue dot," as many astronauts have been when they viewed Earth from space and experienced the famous "Overview Effect." (Upon seeing the Earth from space, astronauts report a newfound sense of compassion for and responsibility to the planet and for the interconnected webs of life that live upon it).
Plus, the sheer ambition of the space race provides an excellent blueprint for the kind of effort it will take to actually address the climate crisis. All in all, there is room for space travel within a just transition to an ethical future.
But for now, it seems that the "light of consciousness," as Elon Musk put it, would be best directed towards Earth's living, breathing beings rather than towards a few billionaires and their efforts to further puncture the edges of our already damaged, airless, eternally silent atmosphere.
Enough with the Elon Musk hero worship.
A World Economic Forum survey found that Millennials consider Elon Musk to be the third-most admirable public figure in the world, finally confirming, once and for all, that Millenials are the worst.
If you haven't read Rolling Stone's bleak profile of Musk yet, don't bother. The experience is kind of like watching a mashup of all the sad parts of Spike Jonze's her; entertaining, but you're left feeling like you need a shower. The piece presents readers with an emotionally stunted, socially bizarre man, who finds solace only in the possibilities of technology. I am not implying that I think Elon Musk would fuck a Tesla; but I'm not not.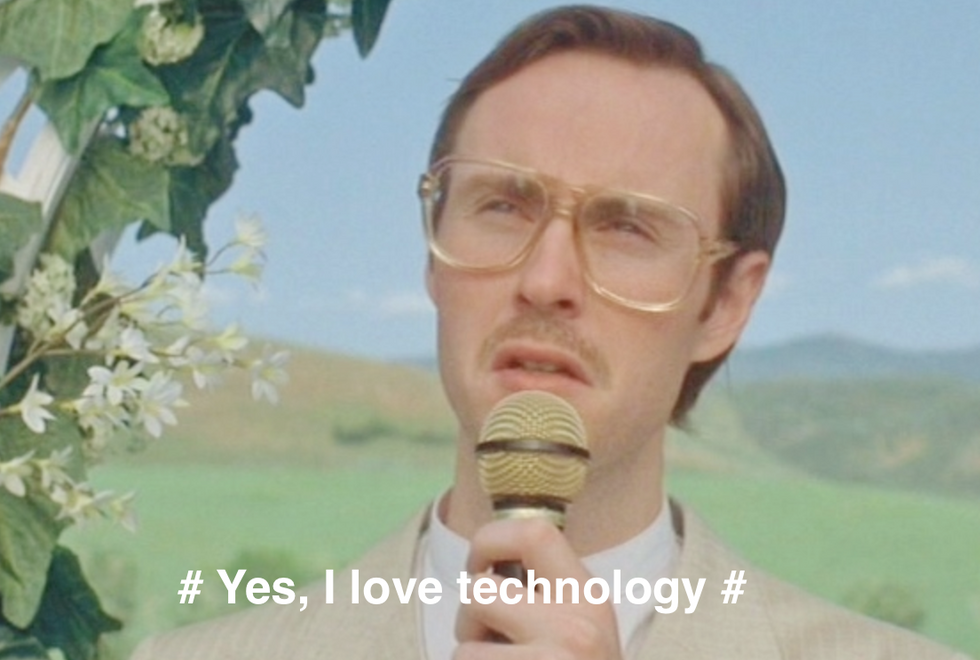 The latest mess up in a string of blunders that the New York Times recently called Elon Musk's " No Good, Very Bad Year" is the result of one fateful tweet.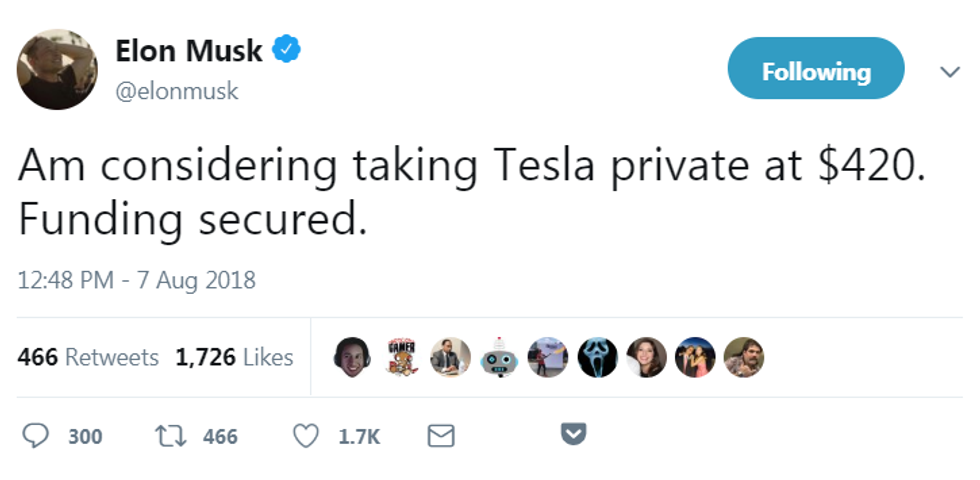 The Security and Exchange Commission sued Musk for making "false and misleading" statements to investors. It turned out Musk had not actually secured the funding mentioned in the Tweet. The SEC elaborated, "In truth and in fact, Musk had not even discussed, much less confirmed, key deal terms, including price, with any potential funding source." People on Pinterest probably didn't realize when they re-pinned Musk's inspirational quote, "Brand is just a perception, and perception will match reality over time," what Musk meant by that was: "Just lie."

While the flamethrower-making, weed-smoking entrepreneur is popular among a generation of people desperate for a role model as uncomfortable with human contact as they are, Musk's online bluff didn't go over well with investors. The SEC claims that the Tweet and subsequent tweets from Musk over the next several hours caused "significant confusion and disruption in the market for Tesla's stock." After Musk's tweet, Tesla's stock shot up nearly 9% but then dropped more than 11% in after-hours trading Thursday.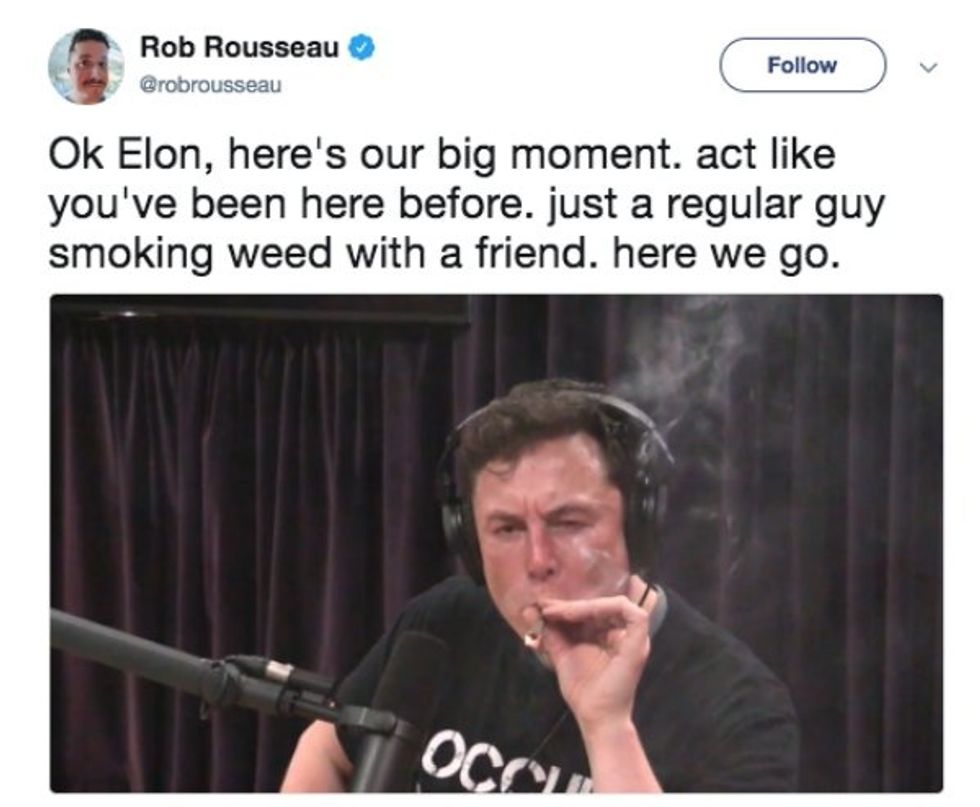 As a result of the complaint, the Iron Man-wanna-be agreed Saturday to step down as chairman of Tesla and pay a $20 million fine to settle the charges. According to CNN, once the settlement is approved in courts, "Musk will be allowed to stay as CEO but must leave his role as chairman of the board within 45 days. He cannot seek reelection for three years, according to court filings."
Whether the now infamous August 7th Tweet was a poorly executed PR move, Musk had a secret source of funding for privatizing the company, or the technicians at Tesla just forgot to update his software and caused him to glitch, Musk has denied any wrongdoing on his part. He responded to the complaint in a statement saying, "This unjustified action by the SEC leaves me deeply saddened and disappointed, I have always taken action in the best interests of truth, transparency and investors. Integrity is the most important value in my life and the facts will show I never compromised this in any way." We can only assume the transparency he refers to is that which he exhibited in a May 2018 conference call, when he called an analyst's inquiry about Tesla's finances a "boring bonehead question" and refused to answer.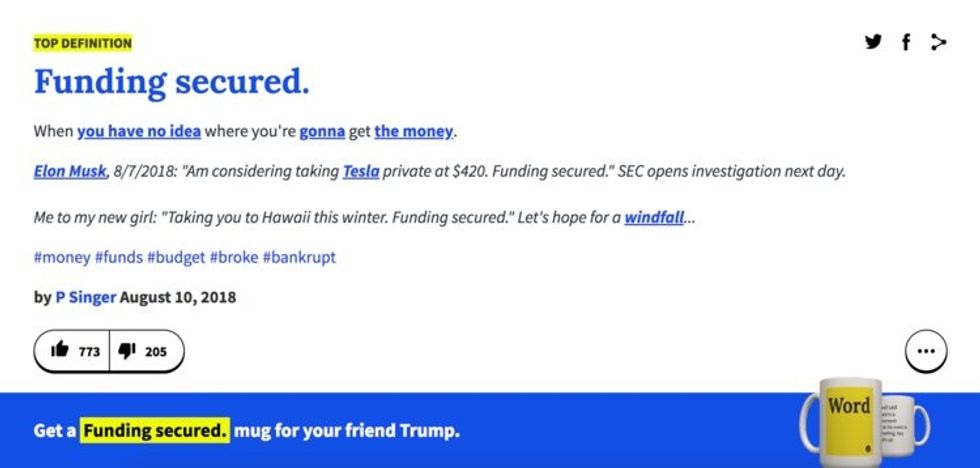 Urban Dictionary Trolling Musk's August 7th Tweet
To add further interest to the disintegration of America's favorite Robot with feelings, rapper Azealia Banks is now claiming that Musk was on acid at the time of the Tweet. She stated, in the best series of quotes to ever grace the internet, "I waited around all weekend while grimes coddled her boyfriend for being too stupid to know not to go on twitter on acid," Banks wrote, concluding that, "it was probably some weird threesome sex shit to begin with."
This writer would be shirking her journalistic responsibility to the truth if she didn't include that Banks said of Musk, "He's not cute at all in person." Musk has denied that he was on drugs at the time of the Tweet and would probably want to add that he is actually very handsome - and he's definitely cool enough to take acid if he felt like it.
Perhaps Musk's recently self-diagnosed " severe emotional pain" is to blame for his string of strange behaviors. After reading any of Musk's recent interviews in which he seems to be actively spiraling - even once asking the interviewer, "Is there anybody you think I should date?"- it can be easy to feel bad for him. But, when the pity starts to creep in, just remember: he recently bought his fifth multi-million dollar home within a one mile radius of his four other multi-million dollar homes; he goes on Trump-style "fake news" Twitter rants anytime anything negative is written about him or his companies; his girlfriend creepily wore a collar shaped like the Tesla logo to the Met ball; and he unjustly called one of the divers that rescued the trapped Thai soccer team a pedophile. So save your sympathy for, well, literally anyone else.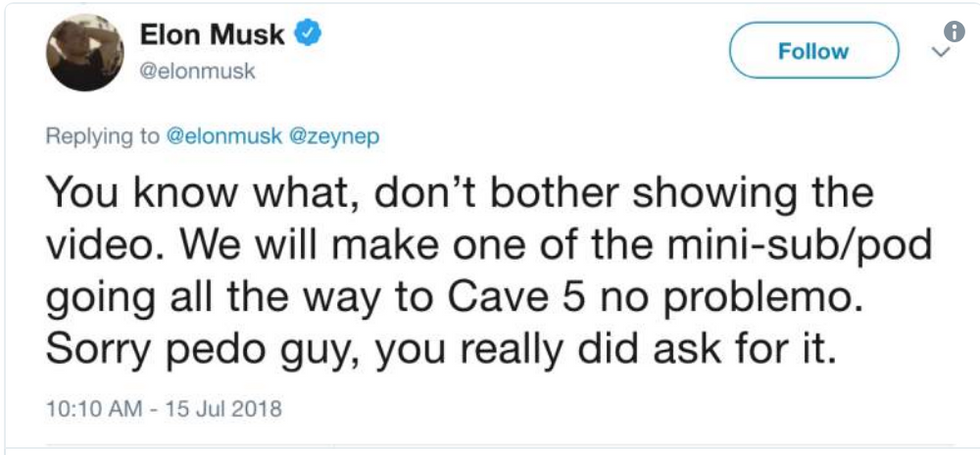 ---
Brooke Ivey Johnson is a Brooklyn based writer, playwright, and human woman. To read more of her work visit her blog or follow her twitter @BrookeIJohnson.
And is this a good thing?
Test runs of self-driving cars conducted by both Uber and Tesla have recently caused some of the first fatalities associated with automated vehicles. The companies' respective responses to these tragedies were apologetic but came off somewhat cynical, as if human life were just an associated cost of progress. Still, many believe that self-driving cars can make the road a safer place, and frankly, they may have a point. 40,000 people died on the road in 2017, and human error was a factor in about 90% of these collisions. Currently, the technology just isn't there, but considering the amount of money being pumped into the idea, it's only a matter of time before self-driving vehicles take over the road. As we inch closer to the technocratic dream of super highways filled with robot cars, it's important to remember that disruptive technology–that necessarily obsolesces certain industries–has a very real impact on society.
Last year, Elon Musk unveiled his fully electric semi truck. It can travel 500 miles before needing a charge, and features a very advanced autopilot system. Tesla claims the truck can drive itself on highways, and while it's far from completely automated, it's pretty clear what Musk hopes the next version will have. This is bad news for a large portion of the American workforce.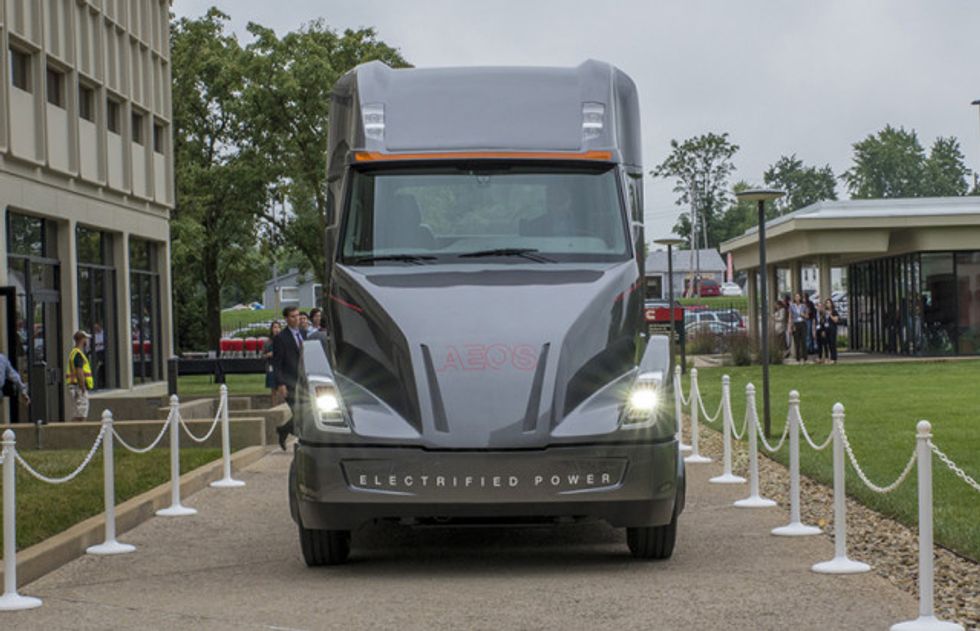 An electric semi truck
Currently, there are 3.5 million truck drivers in the United States. Including non-drivers, the trucking industry employs one in fifteen American workers. On top of this, there are around 375,000 taxi drivers and chauffeurs, and close to 700,000 bus drivers. It's not just jobs that will be affected by automated vehicles though. Ancillary jobs, such as auto repair, will also fall by the wayside as new safety features begin reducing the amount of traffic accidents. While there are numerous benefits to automated vehicles, such as more efficient parking and emergency services, the transition from human drivers to autopilot is going to be incredibly bumpy. The assertion made by Joel Lee (editor in chief of Make Use Of) that "the long-term gains that we'll see as a society far outweigh the short-term growing pains and inconveniences," is one that echoes the sentiments of technocrats like Elon Musk and Dara Khosrowshahi. That said, someone would have to be deliriously out of touch to call the loss of over five million jobs (about 4% of our total workforce) an "inconvenience."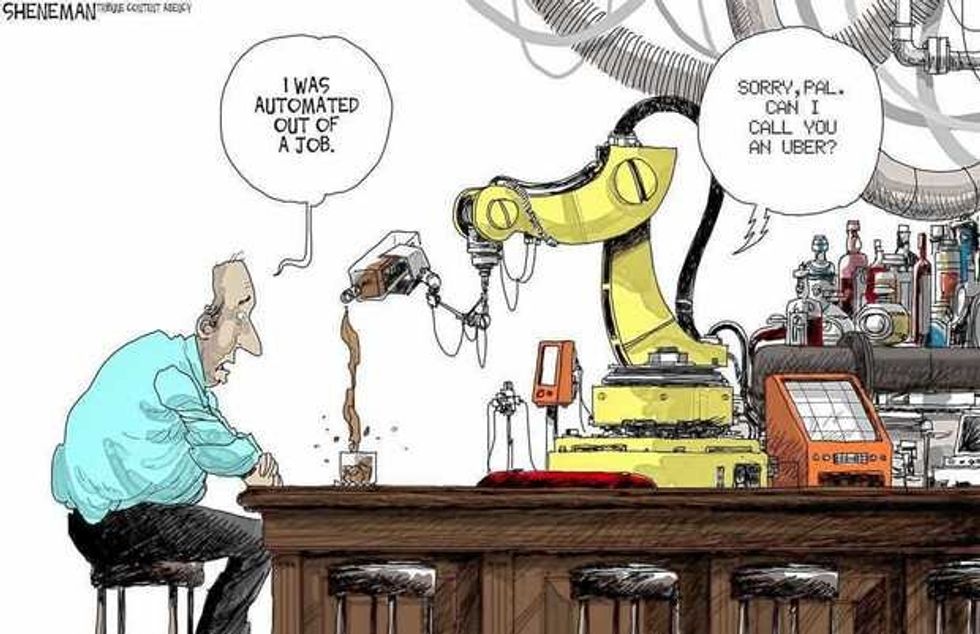 The future
The average age of an American truck driver is 55-years-old. The median income is around $42,000 a year. It's not a job that'll make someone rich, but it's enough to pay the bills and has been a safe career path for those without a college education. For many of these drivers, re-education isn't an option. Middle-aged people with families and mortgages can't afford to uproot their lives and go back to school. Self-driving cars may be a net good for society, but the technology definitely comes with some risks.

That said, the propensity to eliminate jobs isn't a feature that's unique to self-driving vehicles. There are some who believe that within 30 years, most of our jobs will be automated, resulting in unemployment rates as high as 50%. Less optimistic estimates have stated that up to 73 million jobs will be eliminated by 2030. Essentially what we're staring down the barrel of, is a Player Piano-type situation, in which the demand for work severely outweighs the supply. Unfortunately, the technological advancements that will eventually lead to our occupational undoing are going to continue. As professor Moshe Vardi put it, "the genie is out of the bottle." There seems to be only two options going forward. Either American society moves to address the issue of mass unemployment, setting up programs like Universal Basic Income and supporting those who can't work, or it doesn't, and we end up in class system that's so rigidly defined, the people at the bottom might as well be slaves.